Make homemade Instant Pot Mashed Potatoes the easy way without peeling the potatoes or even draining the water! These one-pot mashed potatoes are creamy, fluffy, and absolutely delicious!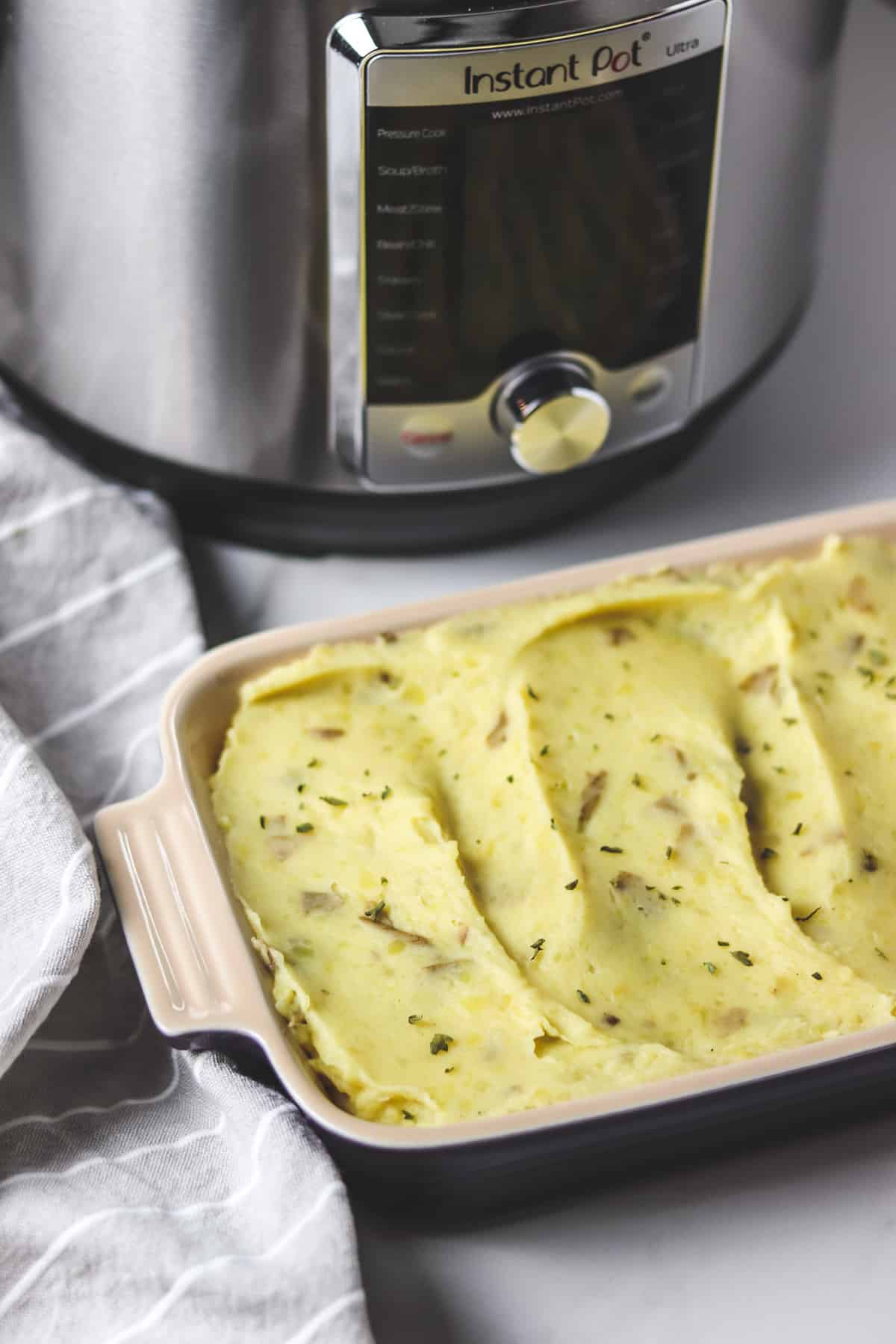 Do you love eating mashed potatoes but hate the hassle of making them? I'm definitely in that boat! One of my least favorite jobs is peeling potatoes. It seems to always take me ages to get them all peeled. That's why I created this recipe that involves NO PEELING!
Boiling potatoes can also be quite a hassle. You have to watch them and make sure they don't boil over, and then you have to drain the water when you're done cooking. The Instant Pot makes this part really easy!
You can very easily cook the potatoes in the Instant Pot and they won't need any attention. Simply dump in the ingredients and hit start! The moisture naturally evaporates and absorbs into the potatoes, and you won't need to drain them.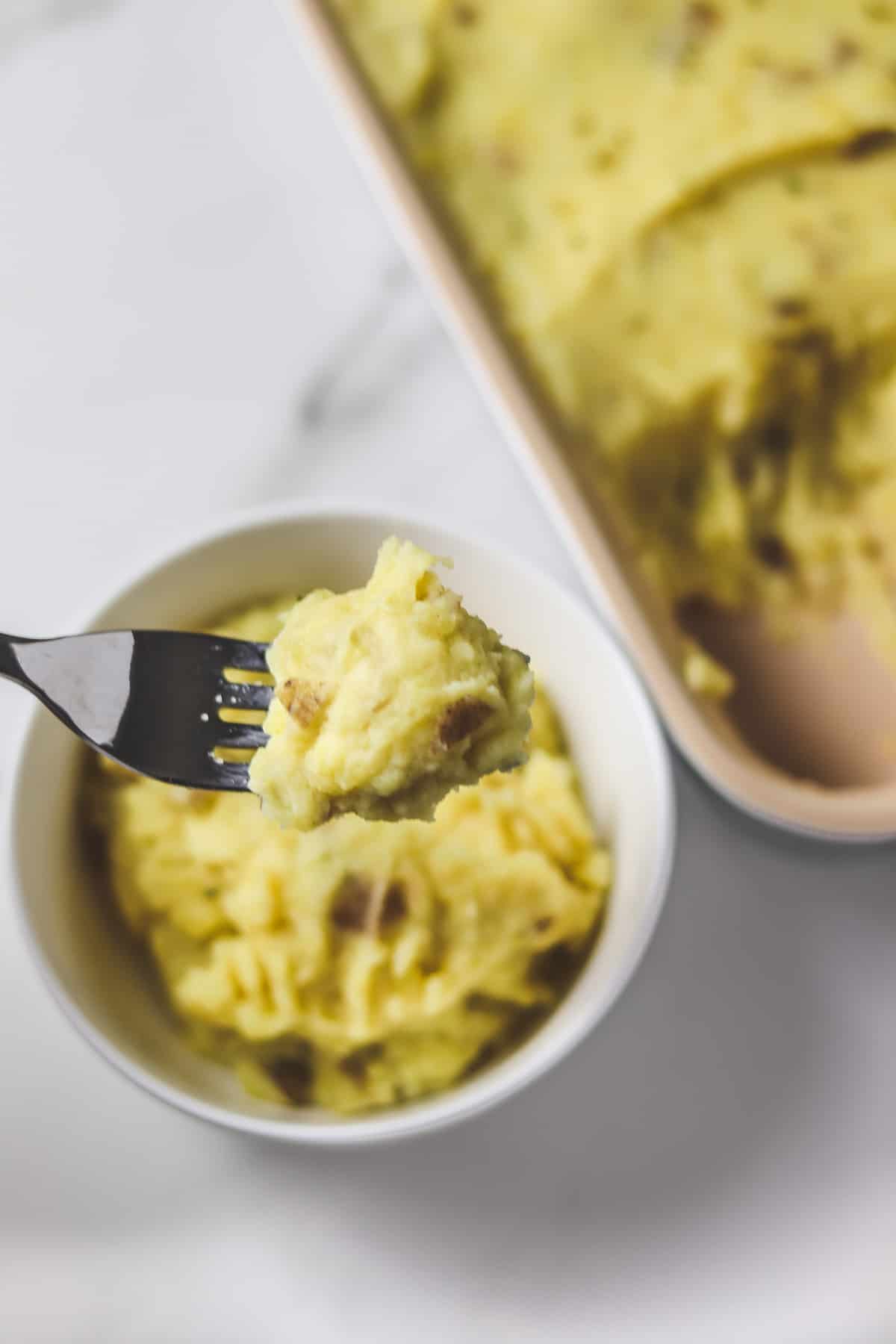 You can season the potatoes any way you like, but I have a simple recipe that minimizes the amount of butter and fat in the potatoes. They are still very delicious and creamy mashed potatoes!
Mashed Potatoes are always a favorite side dish for any family gathering or potluck! These are so easy you can even have time to make them on a weeknight.
Jump to:
What Kind of Potatoes to Use
My favorite kind of potatoes to use are Yukon gold potatoes, otherwise known as yellow potatoes.
There area few reasons why I like Yukon golds:
Thin peels - leaving the peels in won't drastically change the texture of the mashed potatoes
Fluffy - who doesn't like fluffy mashed potatoes!
Buttery texture - delicious flavor and texture when mashed!
I highly recommend using Yukon golds for the best results with this recipe! If you substitute russet potatoes, the thicker skins will remain a little "chewy" if you don't peel them.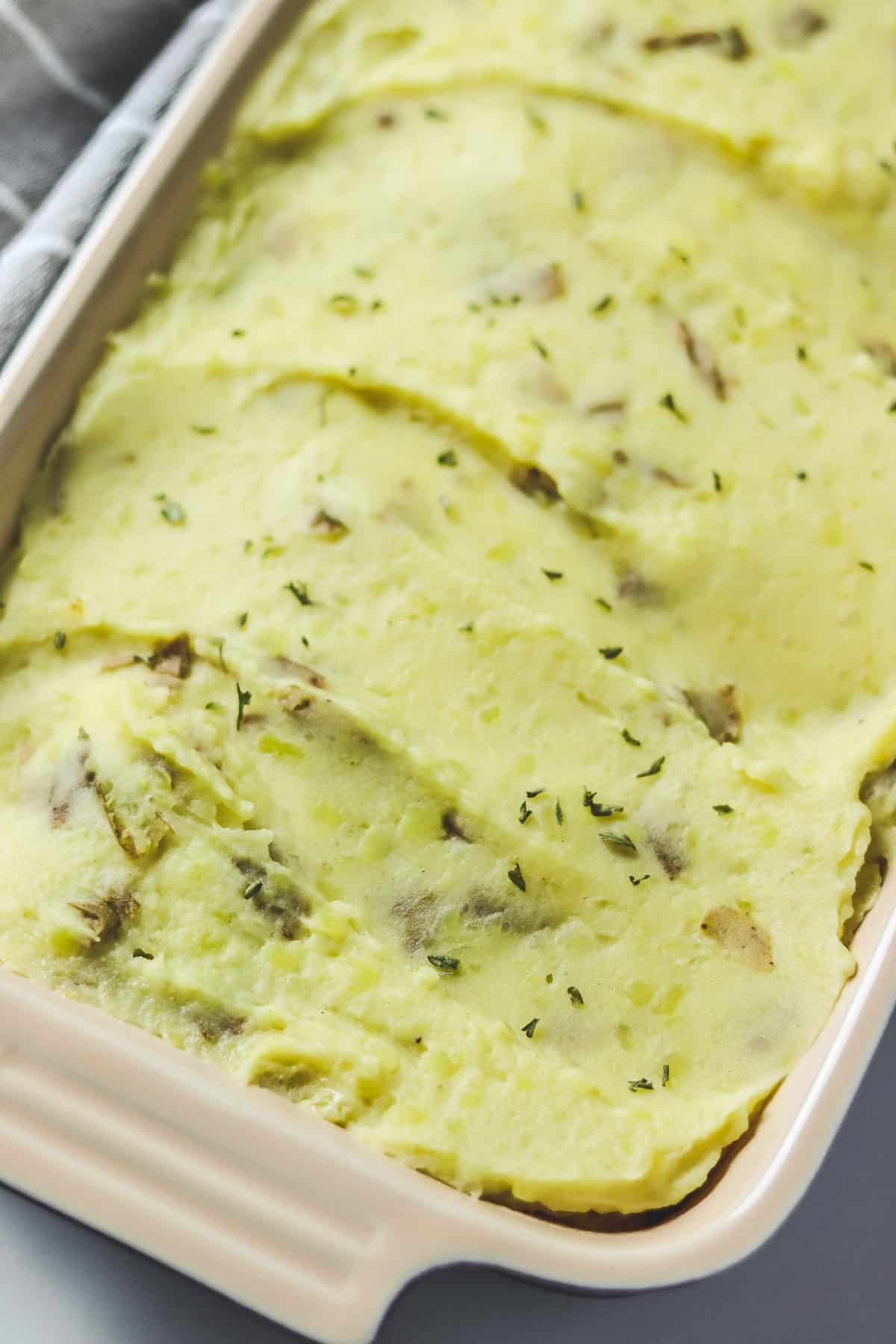 To Peel or Not Peel
Some people feel strongly about this topic, but I am firmly in the no-peel camp. Not only do you save a ton of time and work by not peeling, but the peels also are highly nutritions.
Some people hate the texture of peels in mashed potatoes, but the thin skins of Yukon gold potatoes are hardly noticeable. Trust me, give it a try! Even the picky eaters in my house will eat these mashed potatoes with the peels.
Ingredients
These are the Ingredients in Instant Pot No Peel Mashed Potatoes:
3 pounds Yukon gold potatoes
1 cup chicken broth
4 oz low fat cream cheese (½ block)
2 tablespoons butter
¼ cup evaporated milk
1 tablespoon seasoned salt, to taste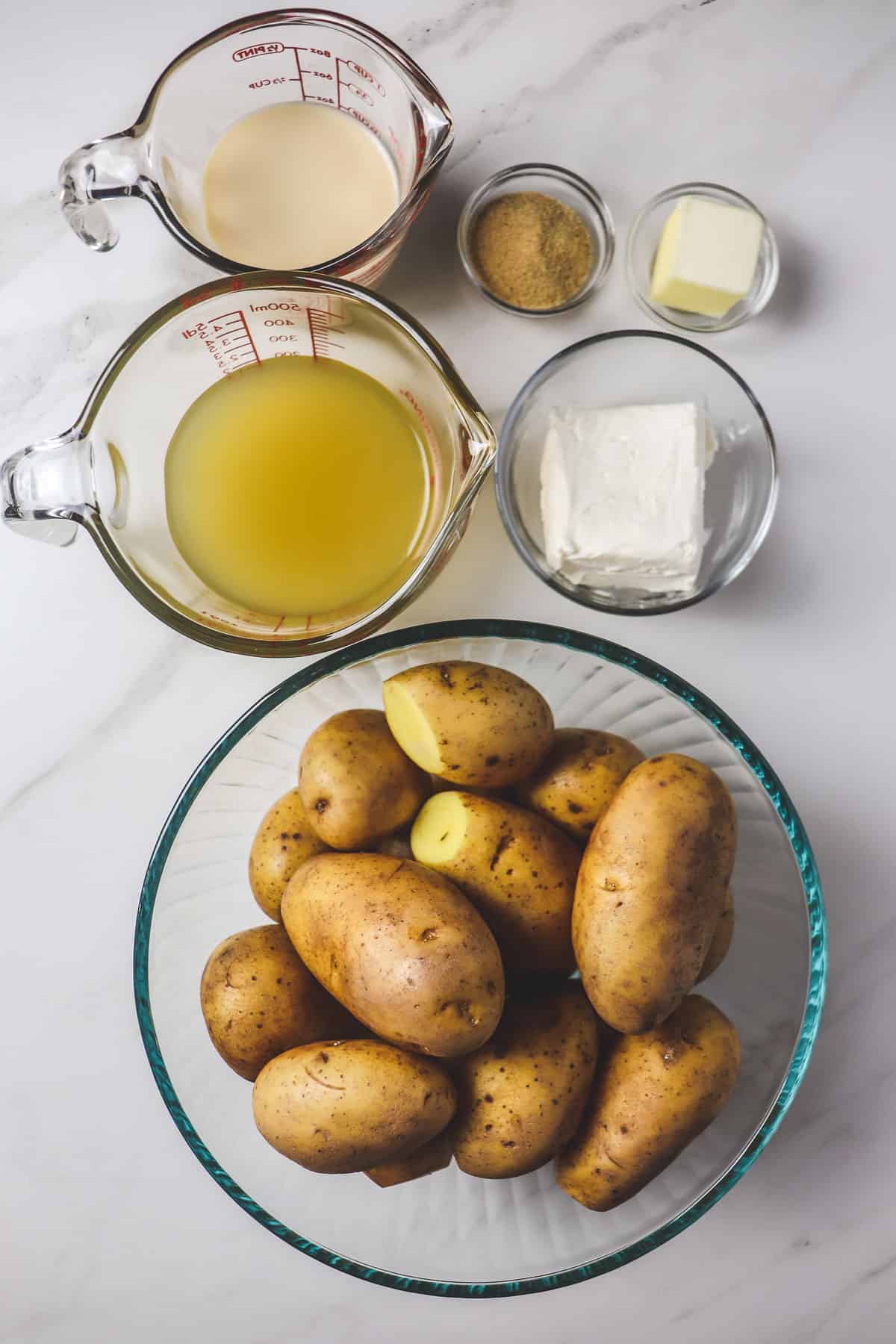 If you don't like cream cheese, low-fat sour cream makes a good substitute. But it is not quite as creamy as the cream cheese!
You can also substitute evaporated milk for regular milk or heavy cream. Just make sure to add a little bit of liquid at a time to make sure potatoes don't get too thin.
Instructions
First, thoroughly wash the potatoes and scrub the skins to make sure they are clean. If there are any black spots on the potatoes, cut them off.
Cut any large potatoes in half. Smaller potatoes (3 inches or less) can be left whole.
Place the potatoes in the Instant Pot liner and add 1 cup of chicken broth. You can substitute water for the chicken broth, but I like the additional flavor added by using broth instead.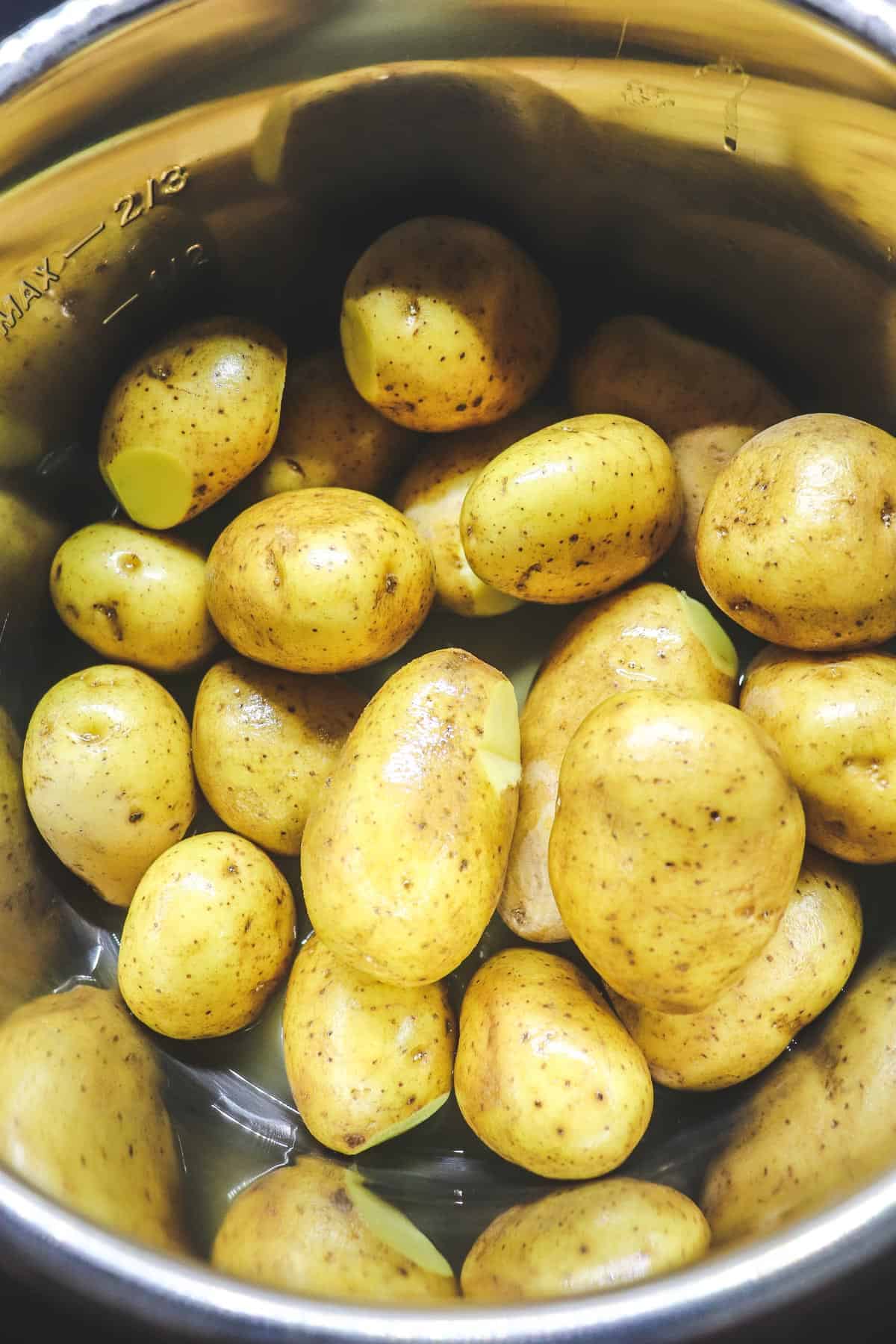 Put the lid on the Instant Pot and set it to 18 minutes high pressure. After the 18 minutes is up, do a quick release and release the remaining pressure.
Open the lid of the Instant Pot and add the butter and cream cheese.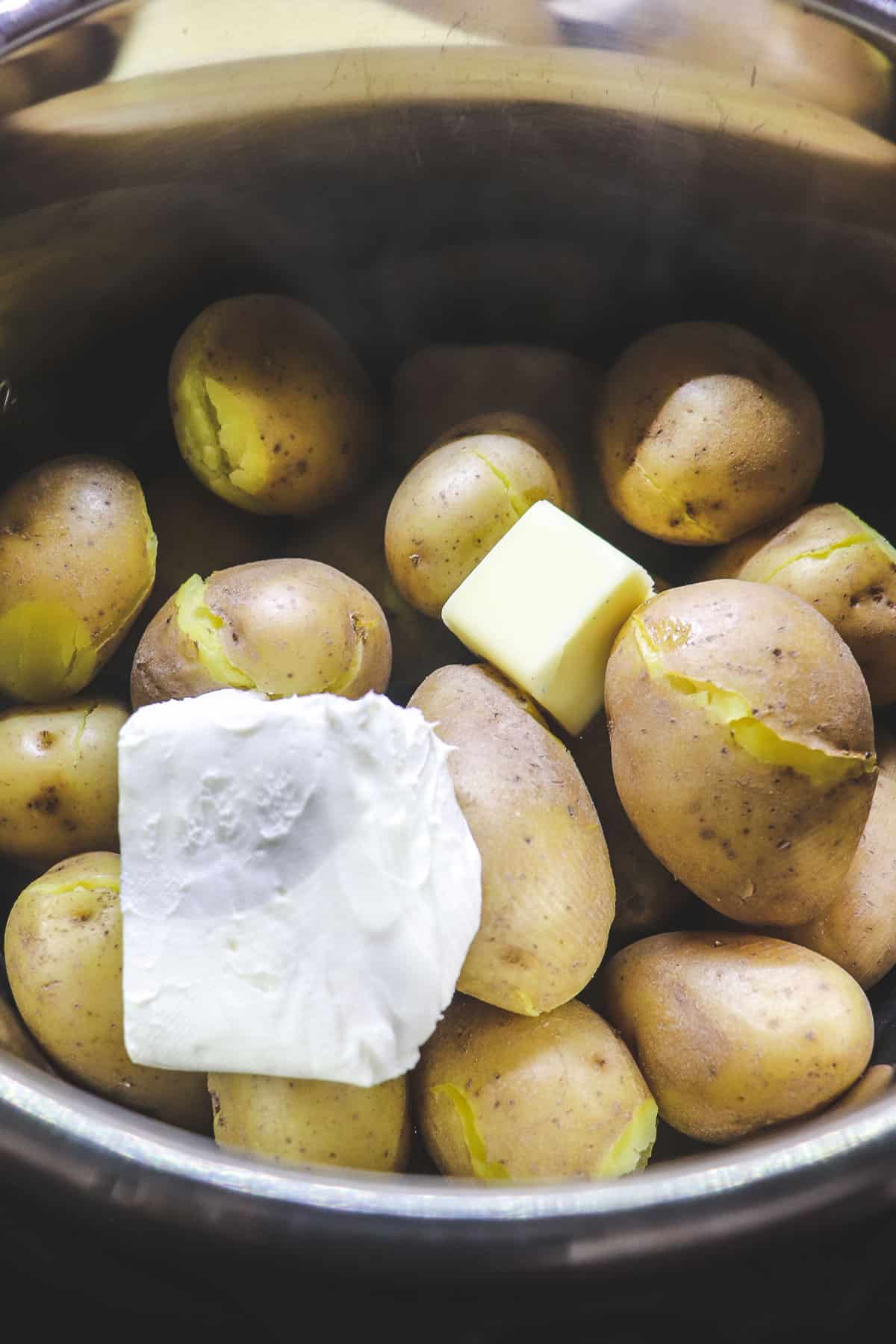 Grab a potato masher and start mashing! Keep mashing for a few minutes until the potatoes are creamy and the butter and cream cheese is melted. The liquid remaining in the pot will continue to evaporate as you mash the potatoes.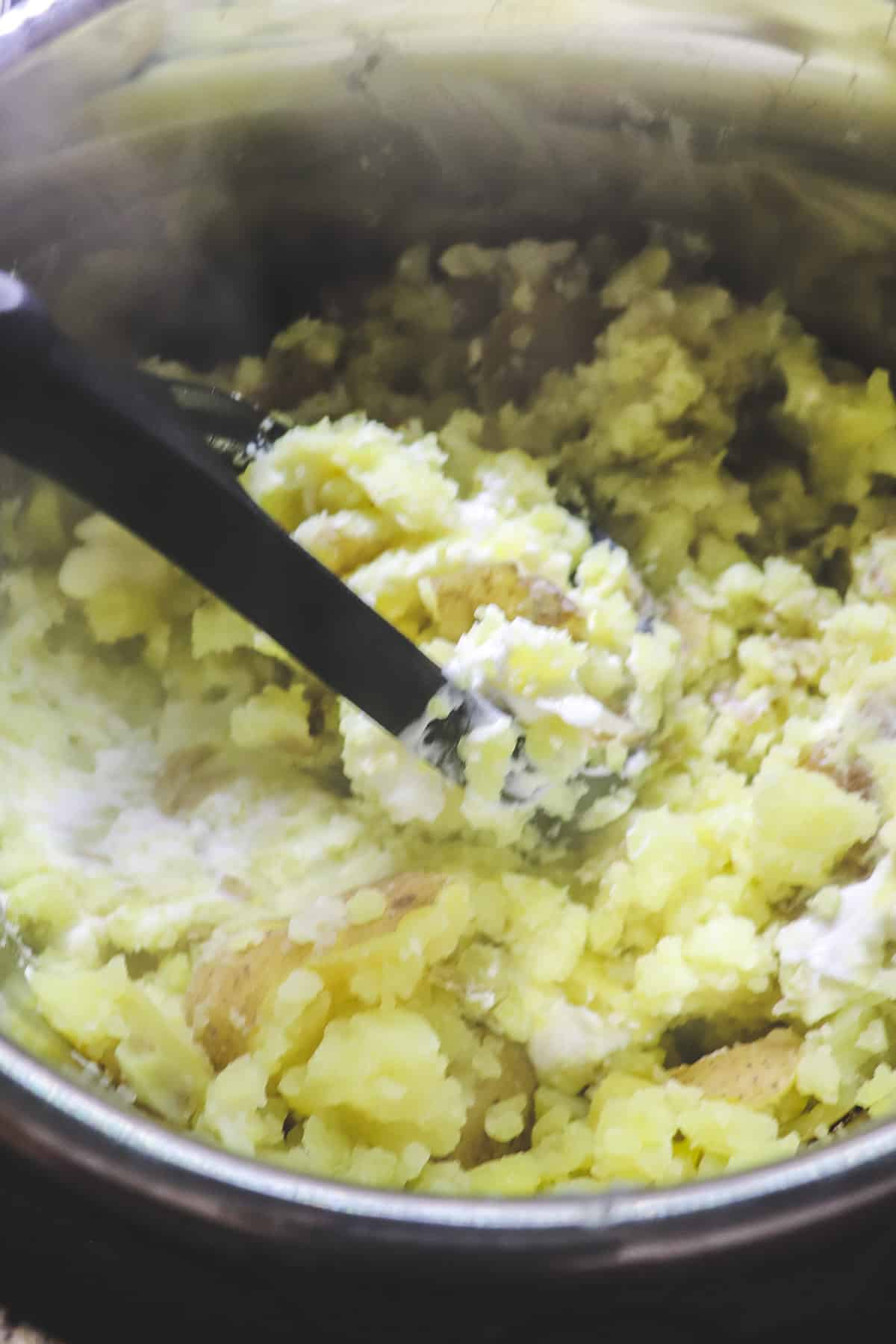 Finally, add in the seasoned salt (to taste) along with the evaporated milk. Evaporated milk is extra-creamy but still much lower in fat and calories than heavy cream.
Stir until ingredients are well combined, and then your mashed potatoes are ready to serve!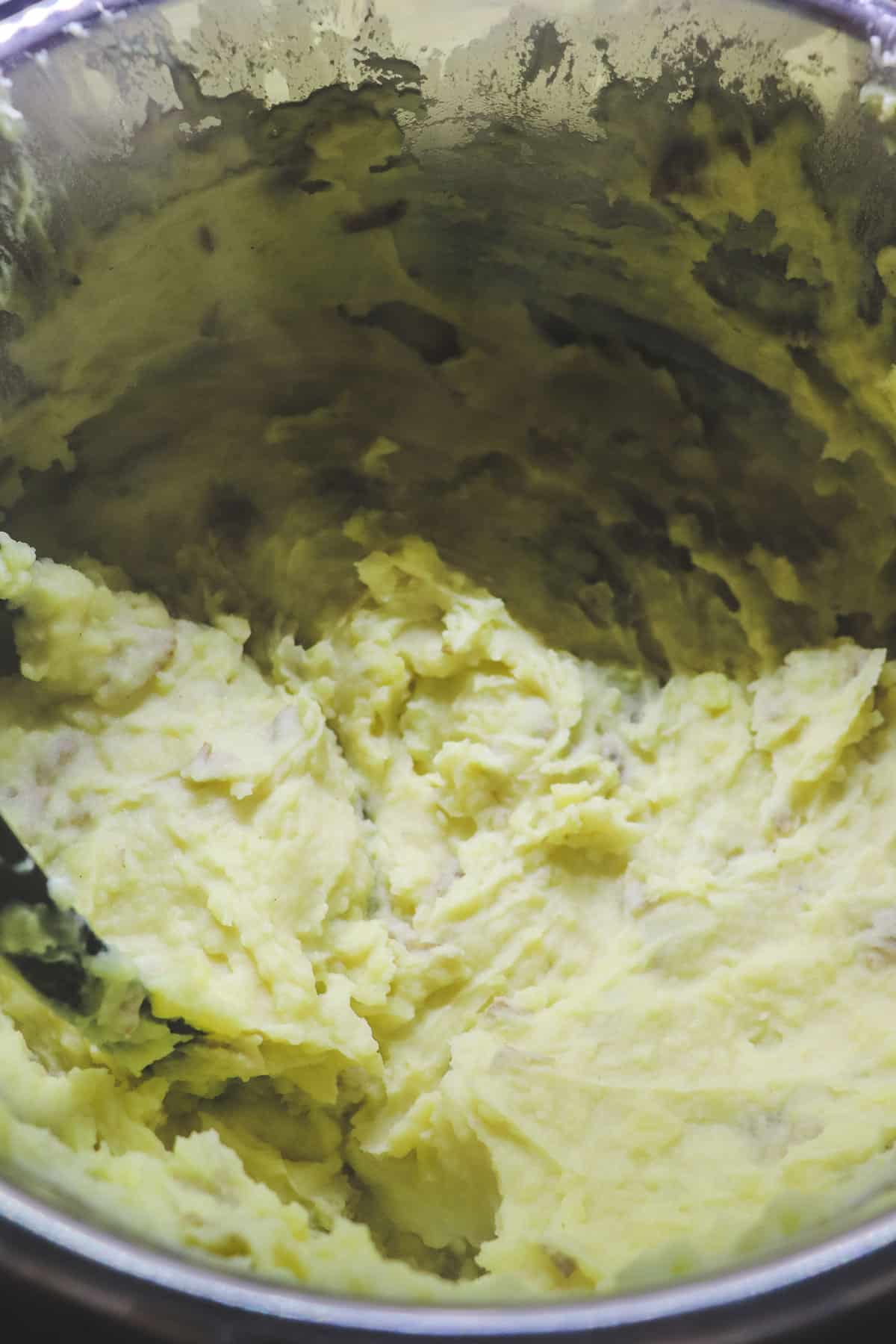 How to Season
While you can use any seasoning you like, I love using seasoned salt. It's a pre-mixed blend of salt, herbs, and spices. Seasoned salt is simple and easy to add into your mashed potatoes without having to measure out a bunch of spices.
You can also substitute your favorite seasoning if you would like. Garlic powder, garlic salt, or simple salt and black pepper also make good options!
How to Serve
Mashed potatoes go well with pretty much any dish! I love making mashed potatoes with my Crock Pot Roast with Gravy - the gravy is delicious on these mashed potatoes.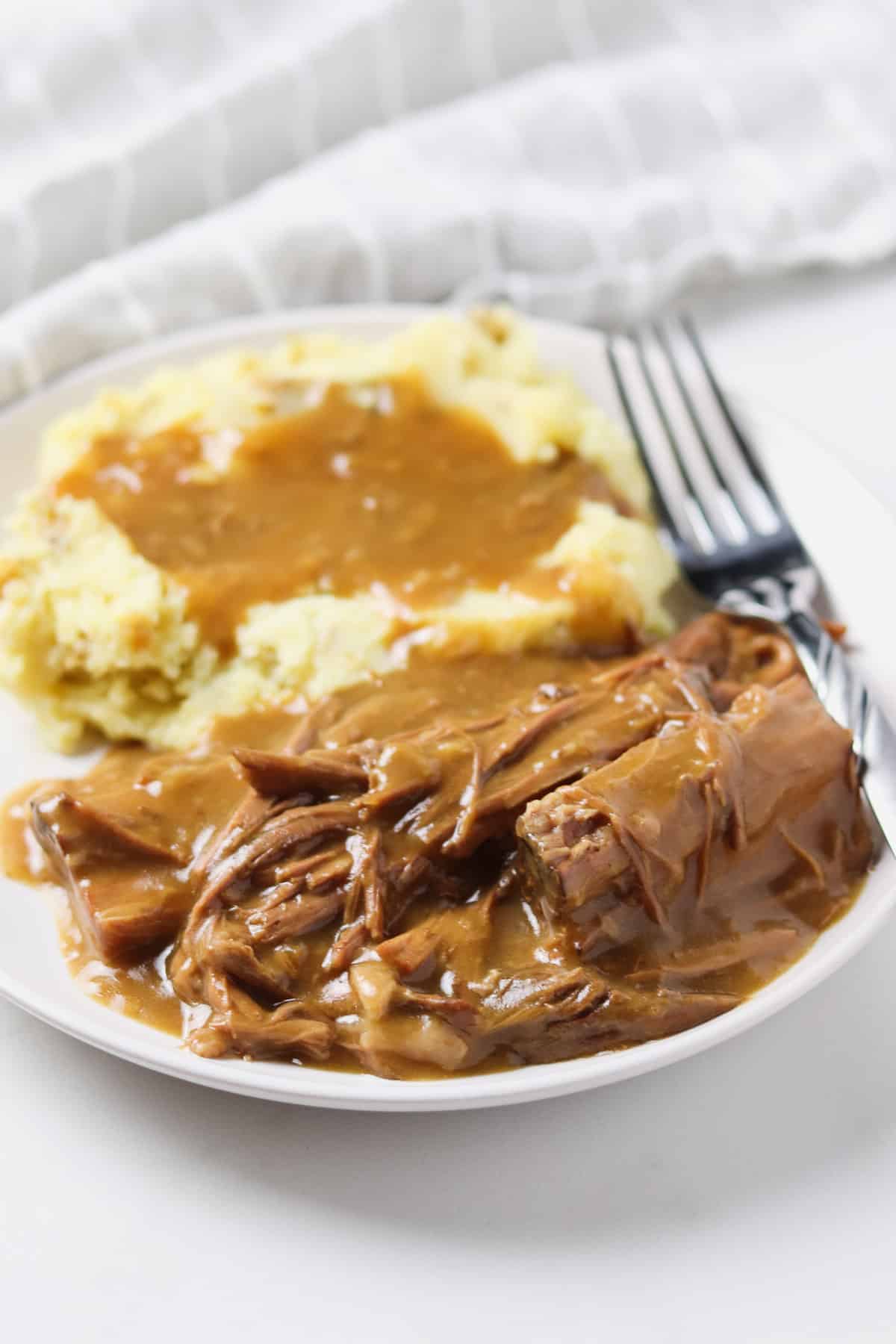 Mashed potatoes also go well with chicken dishes, such as my Air Fryer Chicken Tenders or Chicken Nuggets.
How to Make Ahead
If needed, you can make-ahead this recipe and reheat just before serving. After mashing the potatoes in the Instant Pot and seasoning them, transfer potatoes into a medium-sized baking dish or aluminum disposable pan. Allow them to cool on the counter for an hour and then cover with plastic wrap and refrigerate.
Potatoes can be re-heated in the oven at 350 degrees. Bake for about 20-30 minutes or until warmed through.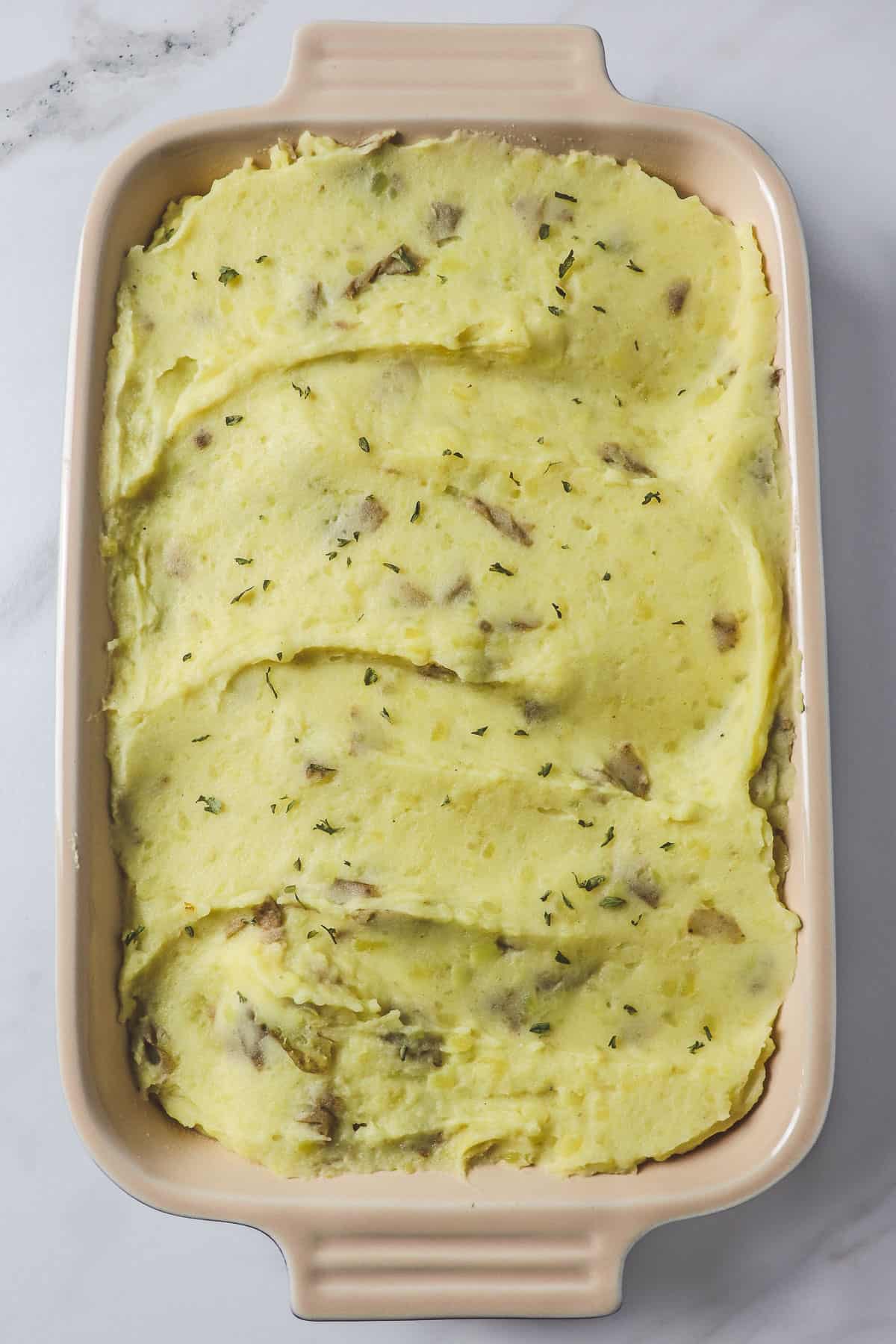 How to Freeze
This recipe makes a LOT of mashed potatoes. You can freeze any leftovers in plastic storage containers for 1-2 months. It's so convenient to keep small packs of mashed potatoes on-hand in the freezer!
A day or two before you want to eat the mashed potatoes, put them in the refrigerator to thaw. In a pinch, you can also defrost them in the microwave using the defrost setting.
To reheat, microwave at 50% power until heated through (about 8-10 minutes). The potatoes may seem a little watery at first, but keep microwaving them and they will eventually return to a normal consistency.
If the potatoes are too thick, you can add a splash of milk to thin them out a little bit.
You can also reheat potatoes in the oven if you transfer them to an oven-safe baking dish. Cook thawed potatoes for 20-30 minutes in a 350-degree oven until warmed through.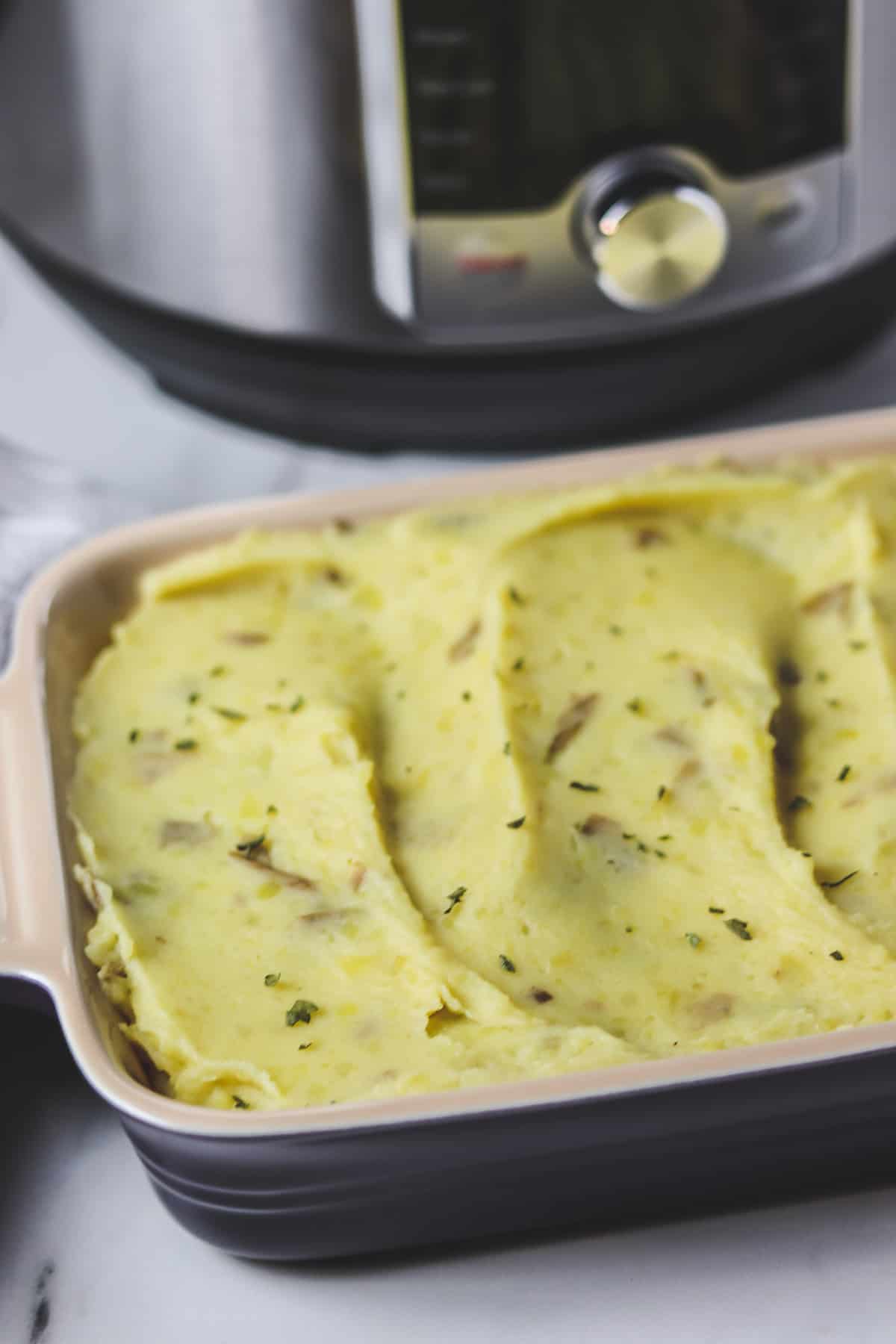 Calories Per Serving
In moderation, mashed potatoes are a healthy side dish. If you follow this recipe exactly, one serving of 4 oz or ½ cup is about 120 calories.
This recipe avoids heavy cream and adding a lot of butter, which really helps lower the calorie count! I always use low-fat cream cheese and fat-free evaporated milk in my mashed potatoes. As long as you watch your portion size, mashed potatoes can be a great low-calorie side dish option.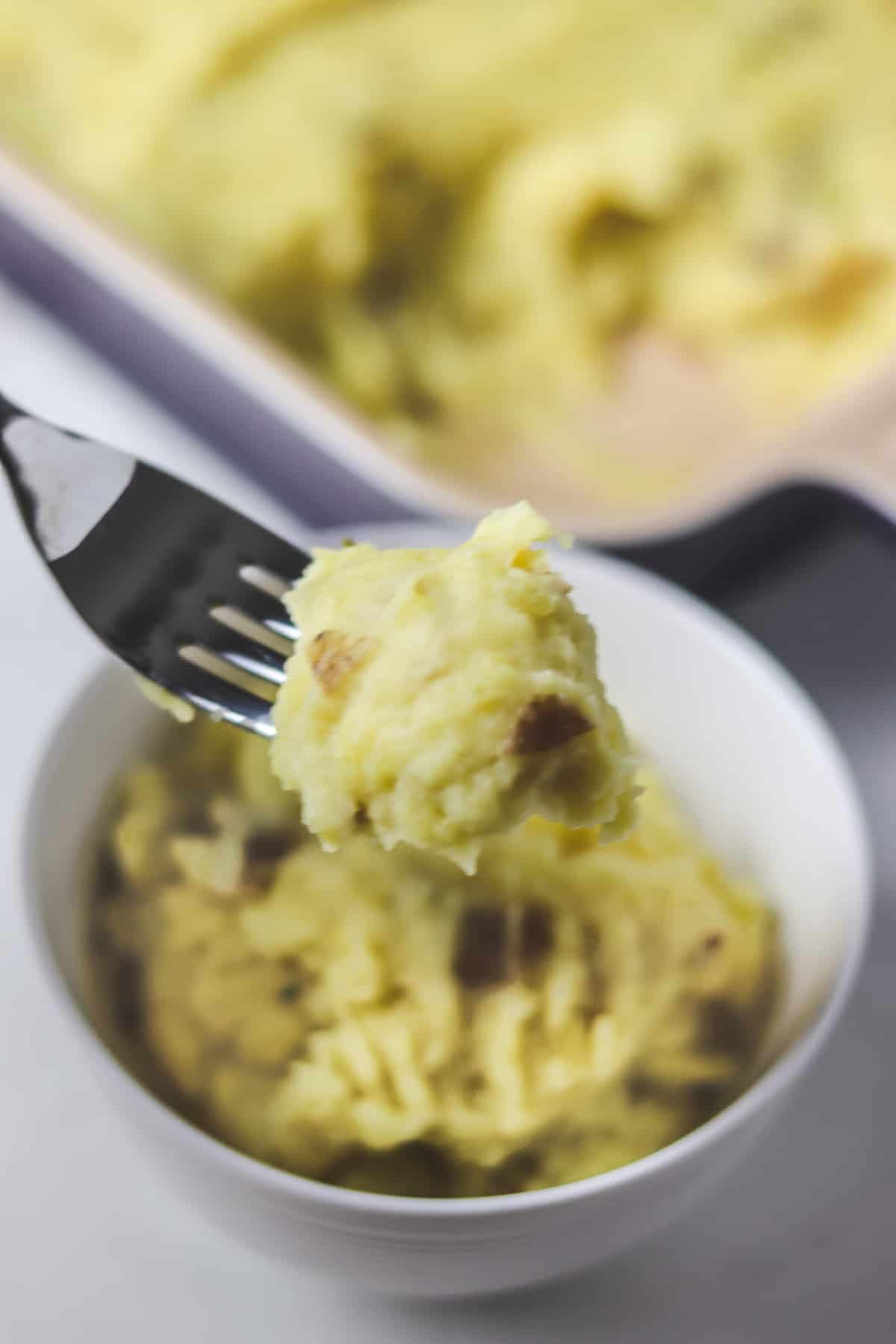 Recipe