These delicious Air Fryer Baked Apples are soft and gooey on the inside with a crunchy cinnamon sugar oat topping! Tender apples packed with cinnamon sugar flavor make a healthy, indulgent dessert under 100 calories.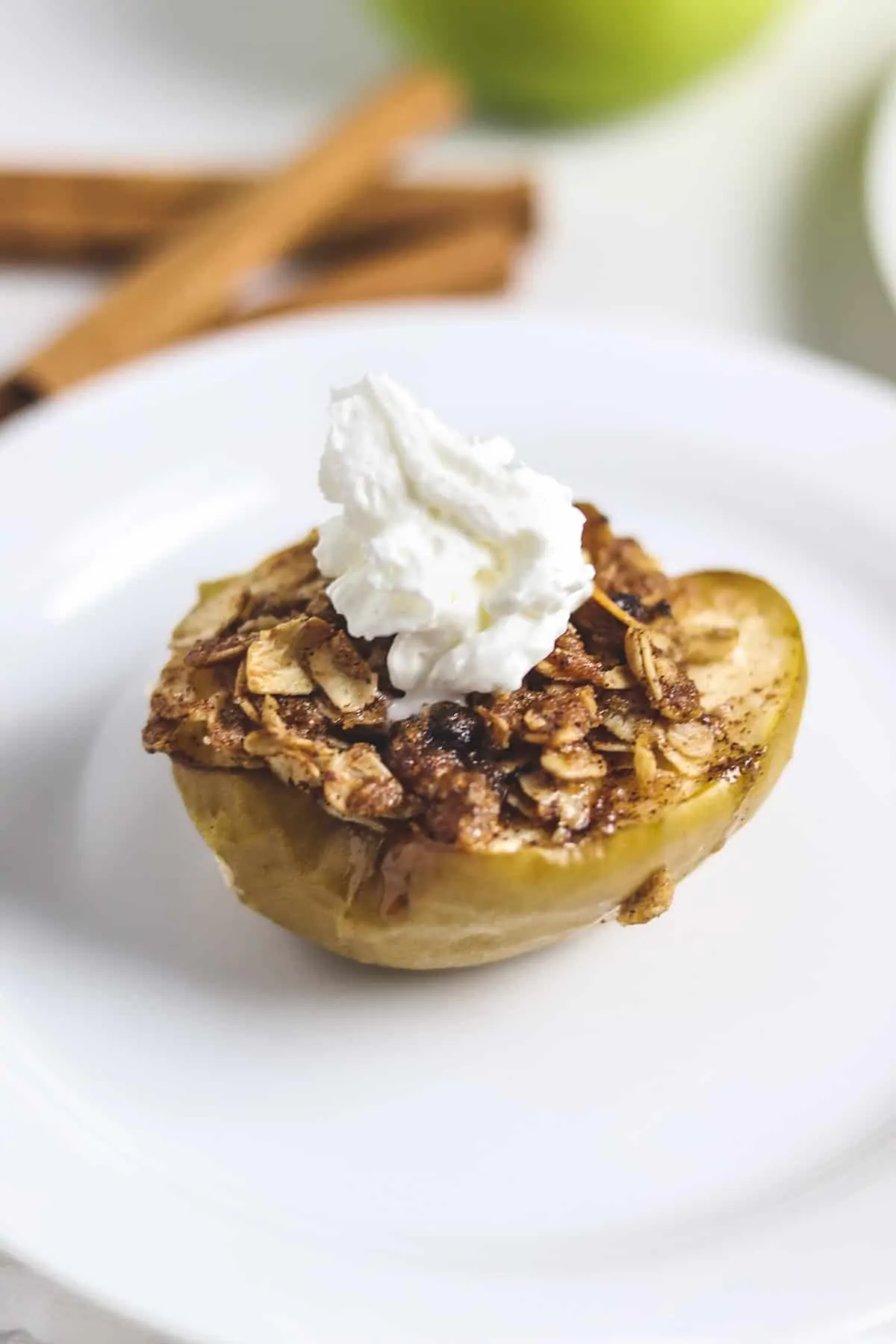 Fruit-based desserts often make good options for a low-calorie dessert. While apples do have some sugar, the natural sugar in the apples means that you don't have to add much more sugar to make a yummy dessert out of them. One serving of this recipe only has about 100 calories!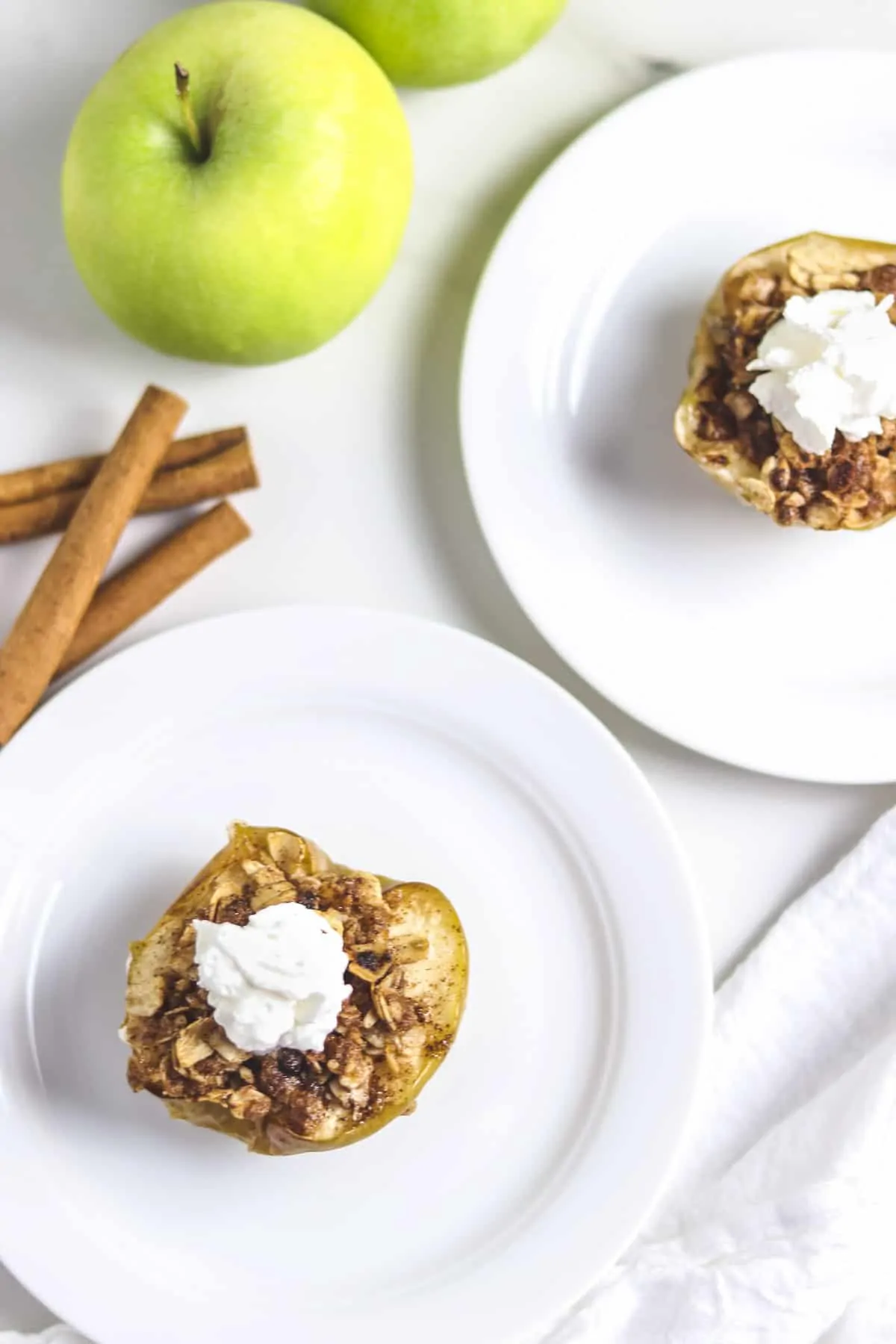 One thing I love about this recipe is that it is very easy to portion size. Unlike measuring out a slice of apple pie, it's easy to divide the apple halves.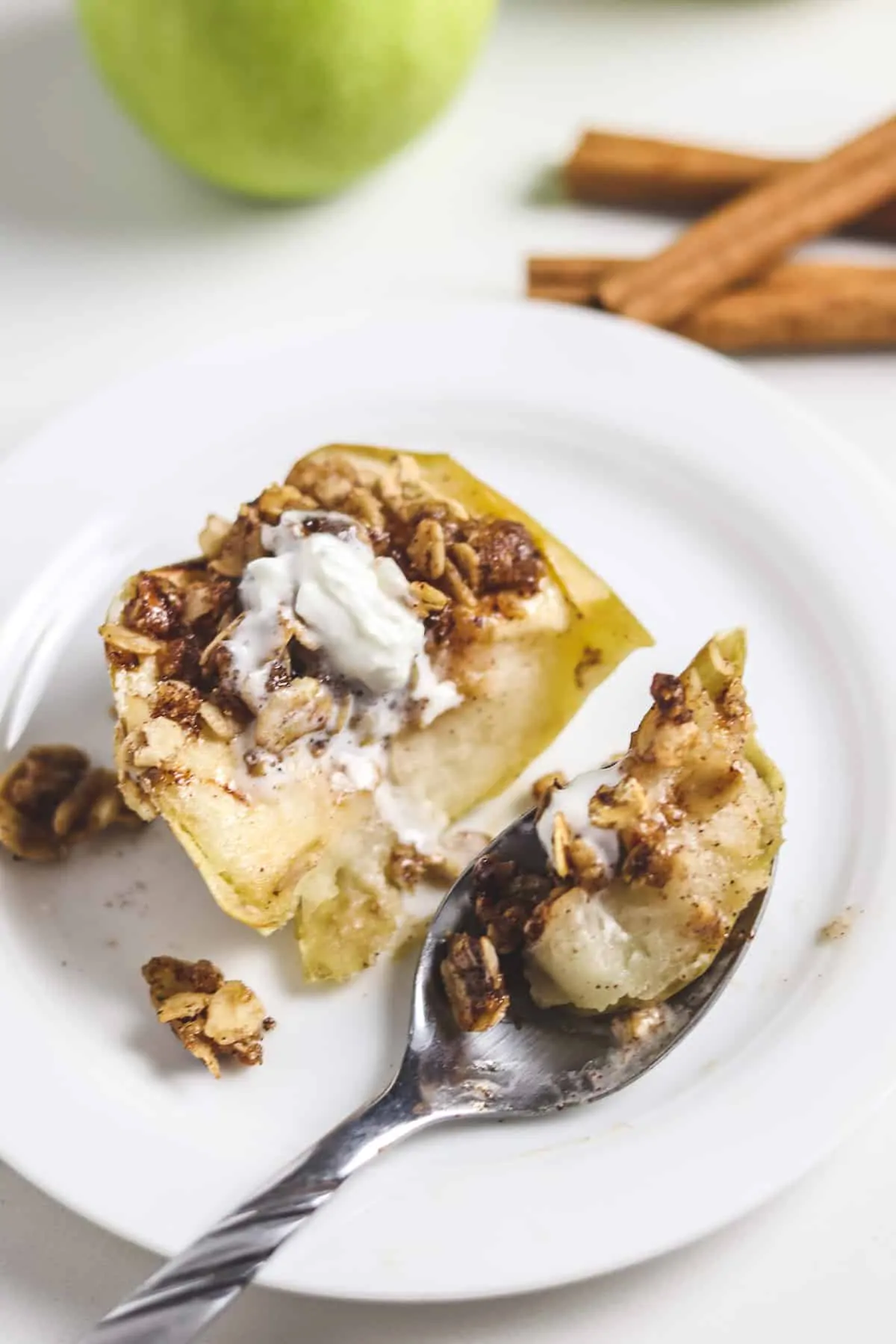 These are so quick and easy to prepare in the Air Fryer! And with only 5 ingredients they are so simple. When an apple pie craving hits, you can have these ready in no time!
Jump to:
Ingredients
You will need:
2 granny smith apples, halved and cored
¼ cup old fashioned oats (not the instant kind)
1 tablespoon butter, melted
2 tablespoon brown sugar
½ teaspoon cinnamon
What Kind of Apples to Use
My favorite choice for this recipe is green granny smith apples. I love the slightly tart flavor to balance out the brown sugar. However, pretty much any type of apple would work for this recipe. On the sweeter side, I also really like gala apples. Use your favorite variety!
How to Make it Sugar-Free
While you can't eliminate the sugar from the apples themselves, you could substitute the brown sugar for a sugar-free alternative. Swerve brown sugar or any other brown sugar substitute will work.
How to Core Apples
The trickiest part of this recipe is coring the apple halves. You want to remove the core while keeping the apple halves intact. There are several different methods for coring apples.
The easiest method is to use a cylindrical apple corer. These will accomplish the job easily. I don't have one of these, so I use a melon baller scoop to scoop out the core. Simply spoon out the core in pieces until it's all removed.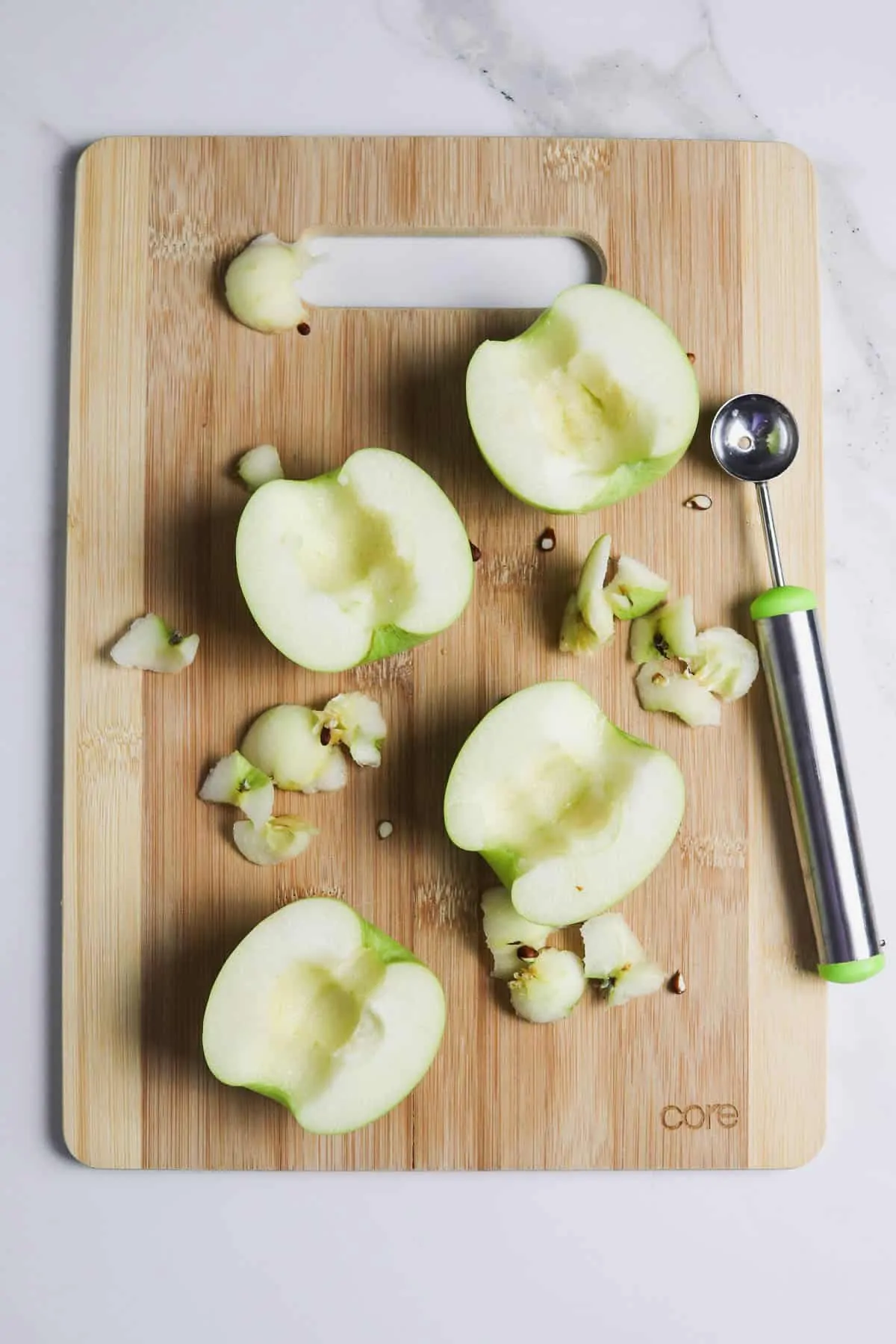 If all else fails, you can try to use a knife to cut out the core, but that method is a little dangerous and hard to manage. I highly recommend picking up an apple corer or melon baller if you don't already have one!
Instructions
Step 1: Air Fry Apples for 10 Minutes
First, load your apple halves into a single layer in the air fryer basket. If your apples are trying to fall over, you can use scrunched up aluminum foil to help keep them upright. Air fry apples at 350 degrees for 10 minutes.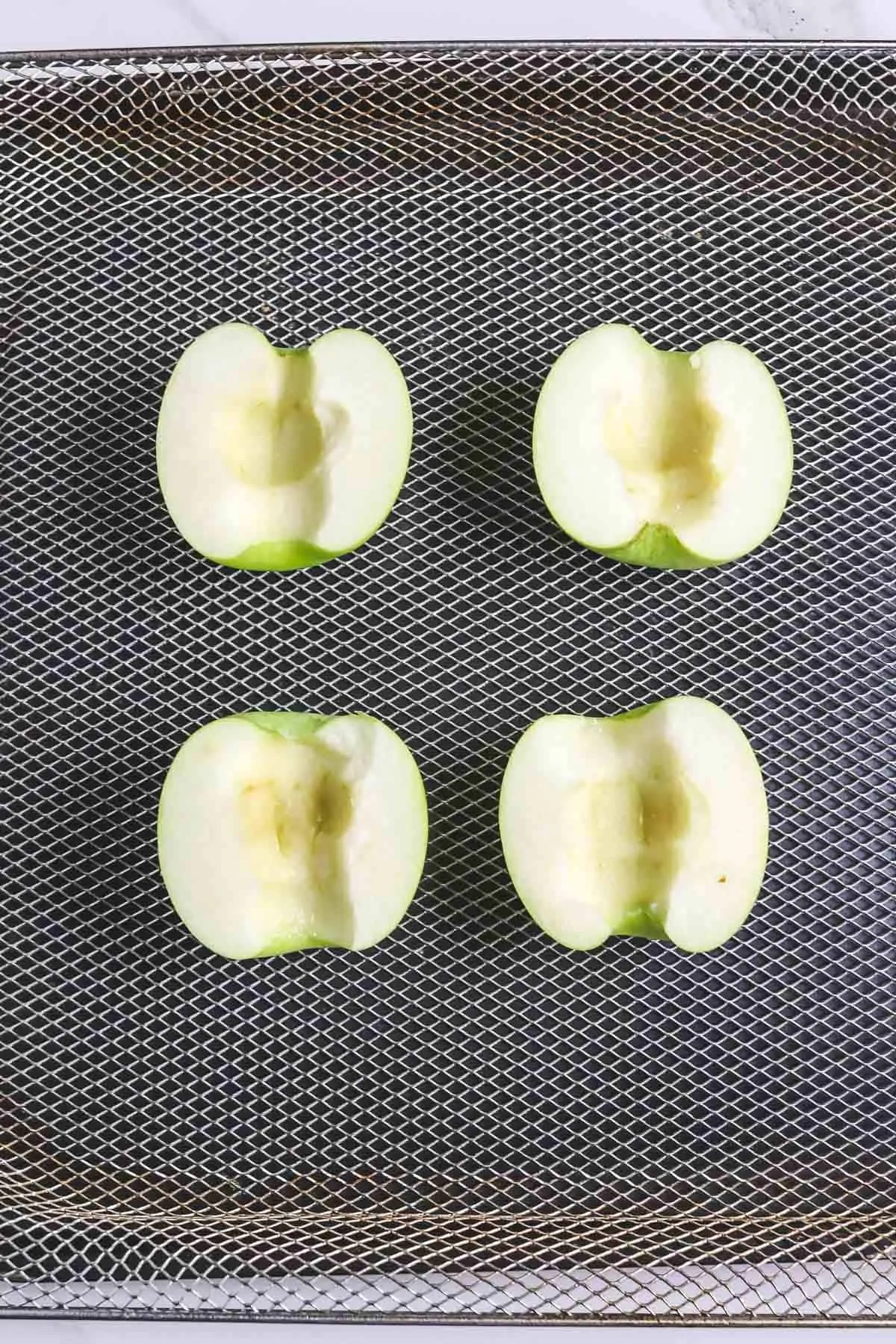 Step 2: Mix Up Topping
While the apples are baking, mix up the topping. Combine the melted butter, oats, cinnamon, and brown sugar in a small mixing bowl. Toss until mixture is well combined.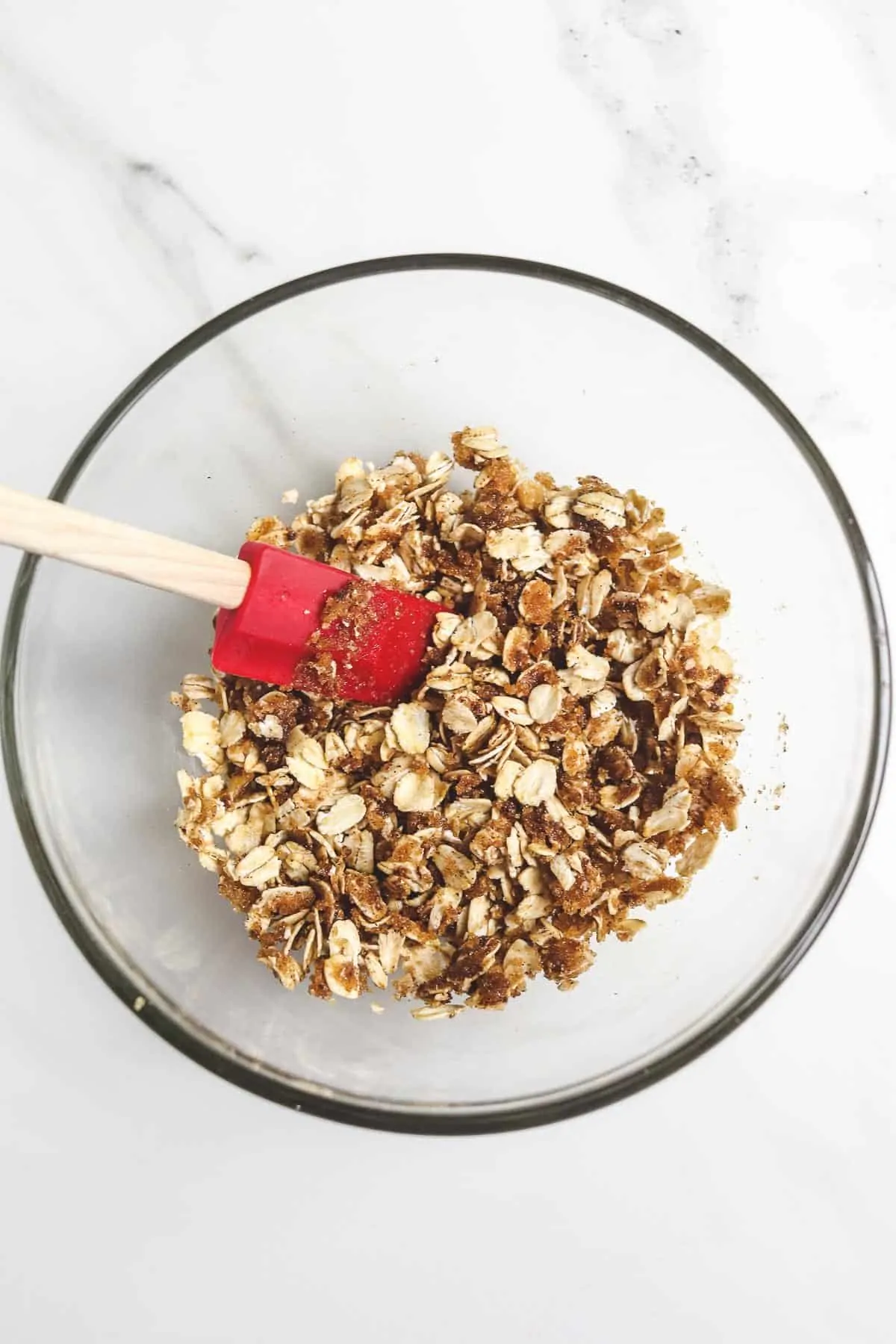 Step 3: Add Topping and Finish Baking
After air frying apples for 10 minutes, remove them and add the topping. Distribute the topping evenly among the apple halves.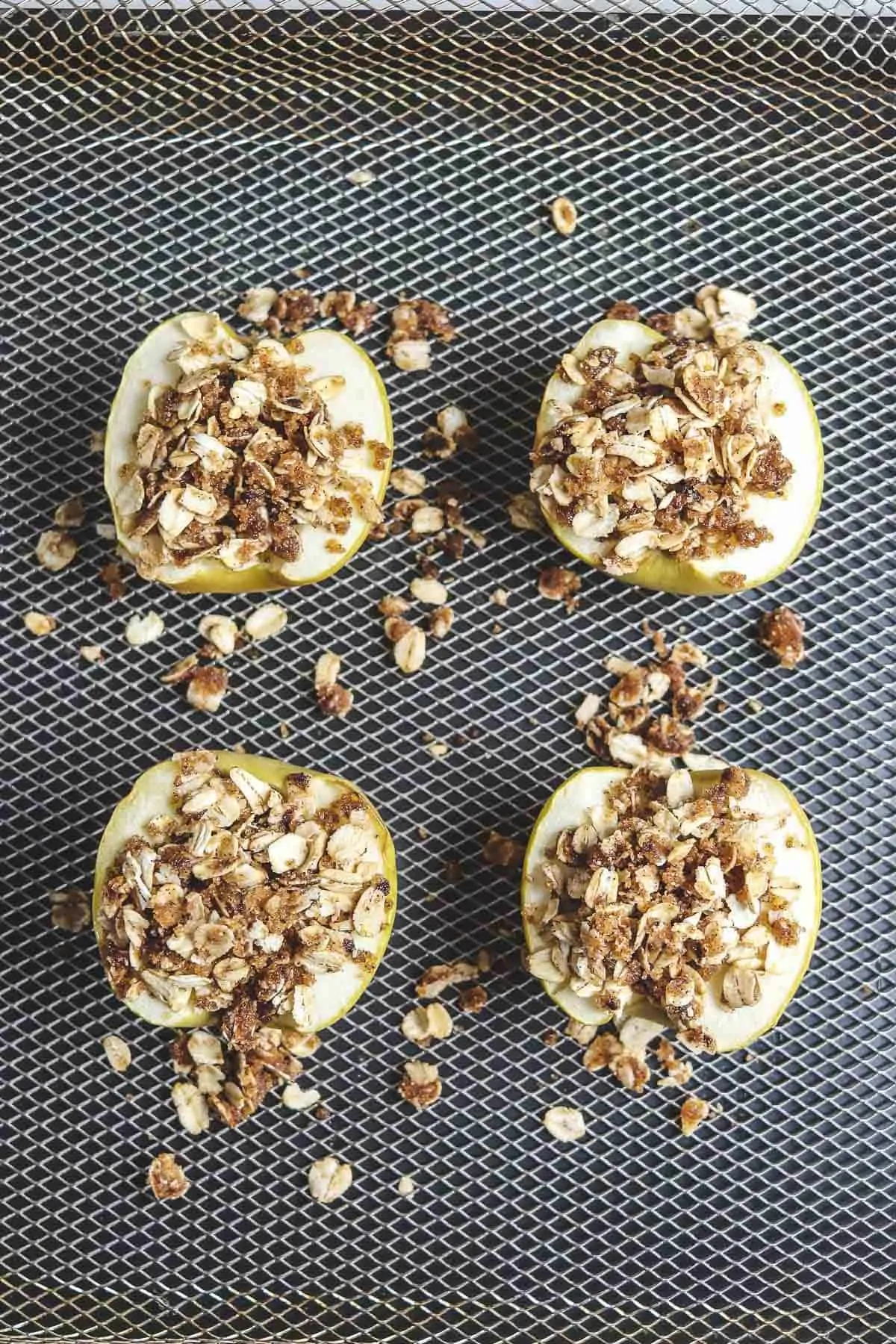 Put the apples back in the air fryer and continue baking at 350 degrees for 5-10 minutes or until apples are soft in the center. Apples should feel tender when you poke them with a fork.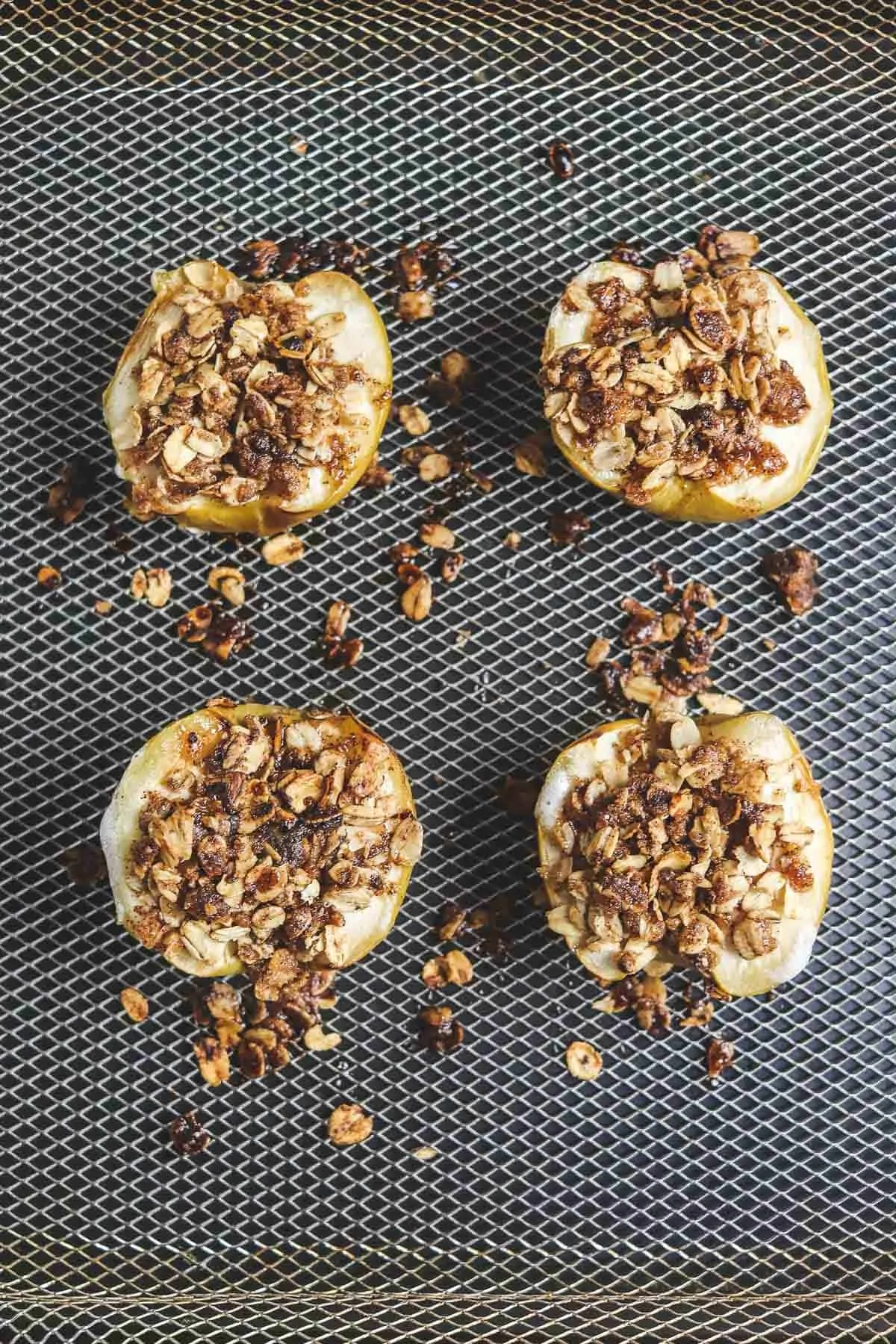 Top Tips
Bake the apples for 10 minutes before adding the topping. When I tried adding the topping before doing any baking, the topping became too crunchy and burnt in the air fryer. It's good to let the apples bake some on their own so that they can start to tenderize before you add the oatmeal topping.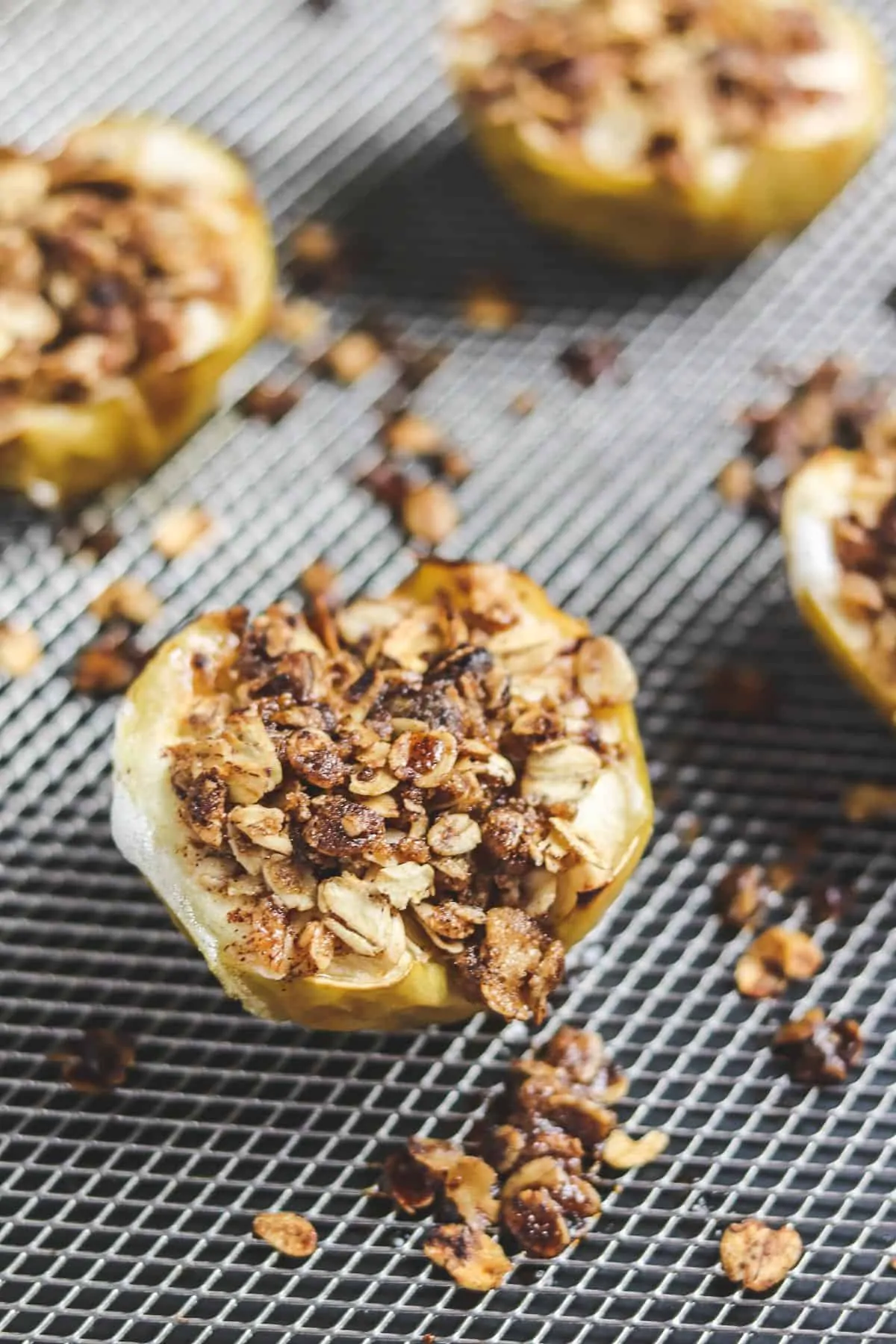 Use aluminum foil for balance if your apples topple over. If your apples do not want to stay flat on their side, you can scrunch up some aluminum foil underneath them to keep them upright.
Make sure you remove all of the tough apple core before baking. Grab your apple corer or melon baller and make sure you remove all of the tough insides before baking! This will help you achieve the best texture.
Continue cooking until apples are nice and soft! To make sure your apples are soft, poke them with a fork and check if the inside is soft. If the apple still feels firm inside, continue air frying for a few more minutes. The exact amount of cook time you need depends on how large your apples are and your air fryer model.
Toppings
Toppings will make these air fried apples even better! You could top them with:
Whipped cream
Vanilla ice cream
Cool whip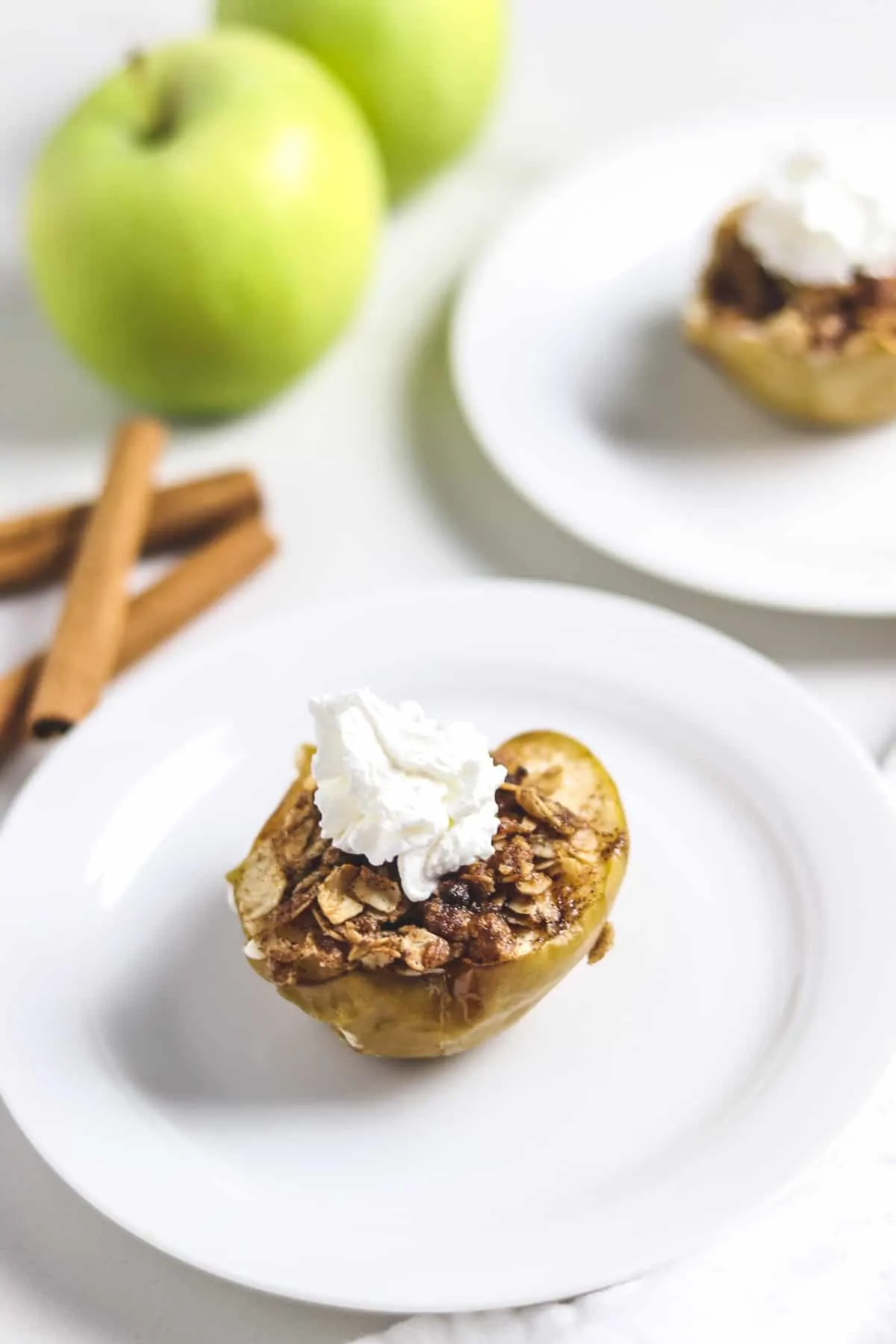 My favorite is to use a dollop of low-fat whipped cream, which doesn't add too many calories. If I'm feeling extra indulgent, a little vanilla ice cream is always delicious!
How to Double the Recipe
If you have a larger air fryer (such as an oven-style air fryer), you may be able to double the recipe and fit in eight apple halves. If you have a more standard basket-style air fryer, you may not be able to fit in a double recipe. You could cook it in batches.
Make sure that you do not stack the apples - they need to be in one single layer in the air fryer.
How to Store
If you have any leftovers, baked apples can be stored in an airtight container and refrigerated for 3-4 days. I reheat mine in the microwave for about 30 seconds and serve warm.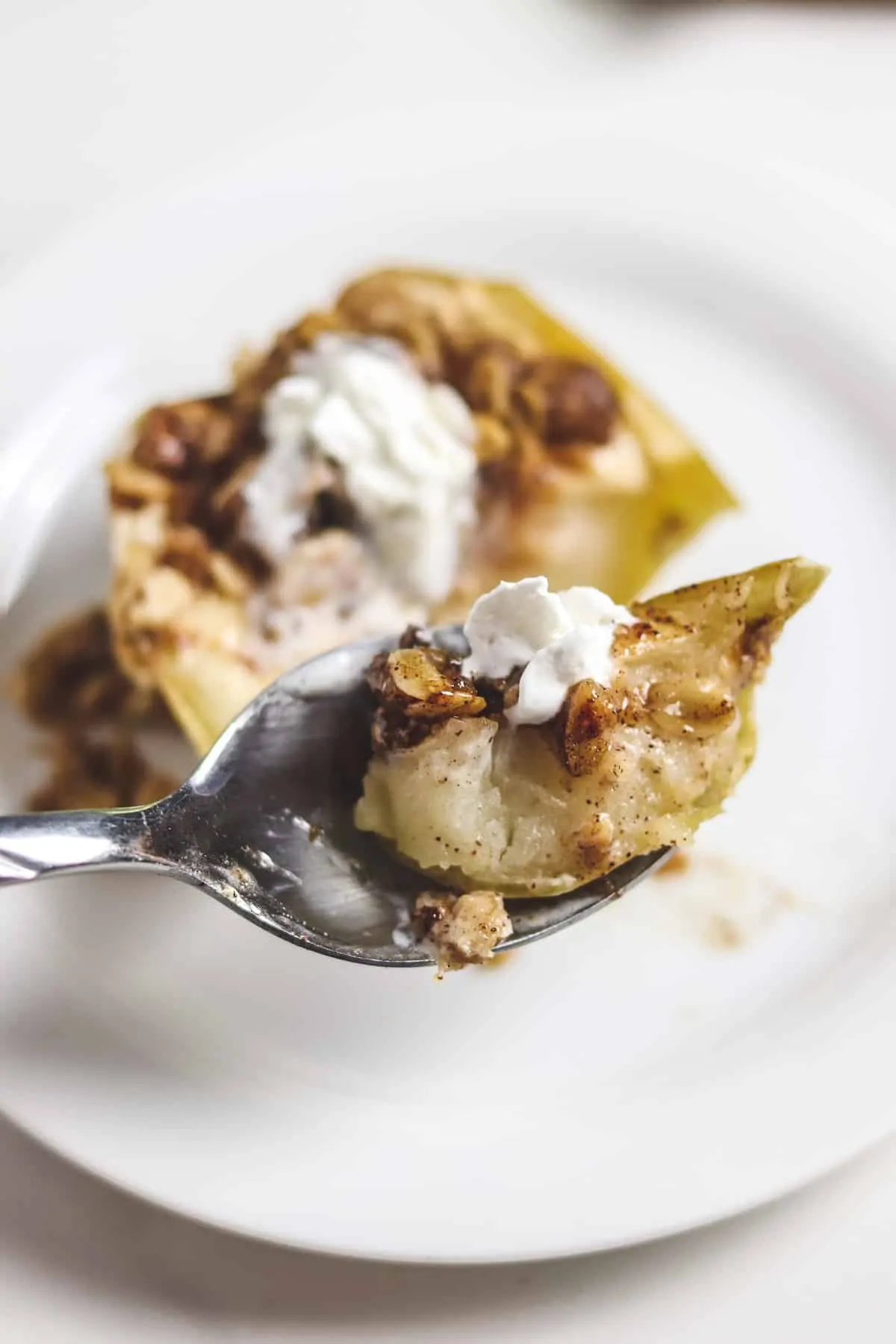 Calories Per Serving
One apple half has about 100 calories per serving. You can even have two apple halves for under 200 calories! Adding two tablespoons of fat-free whipped cream will only add about 5 calories. This makes for a great low-calorie dessert!
Recipe