This no-bake cheesecake for one is low in calories, sugar, and fat! Made with a Greek yogurt base, this healthy take on cheesecake makes the perfect guilt-free dessert.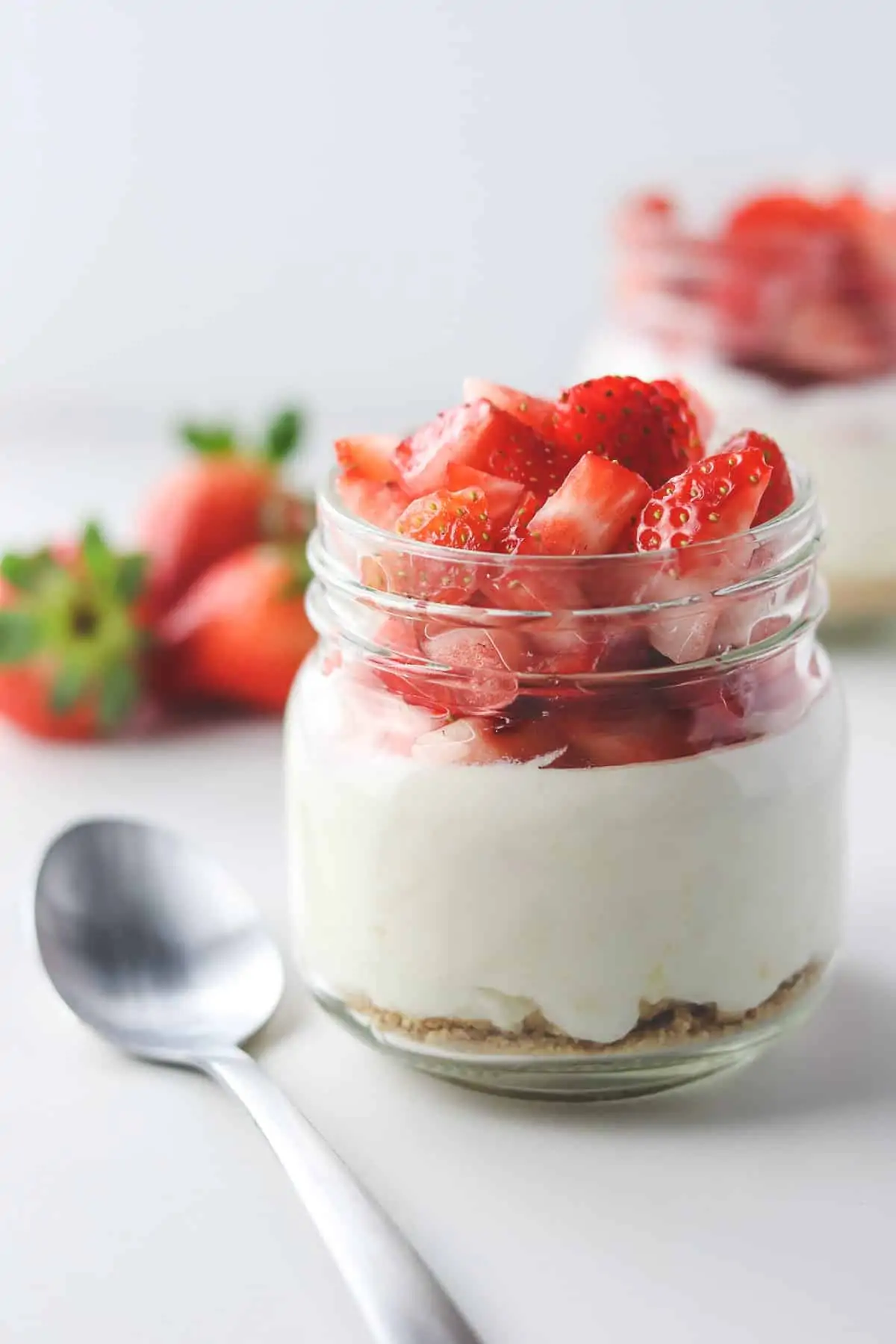 Made with just 5 ingredients, this easy recipe will only take you a few minutes to prepare. No baking or chilling required! You can eat it immediately, or put it in the refrigerator to enjoy layer.
While a normal slice of cheesecake has 500 - 1000 calories, this single-serving cheesecake in a jar has less than 200 calories for the entire thing! Plus the Greek yogurt even gives it added protein to keep you full.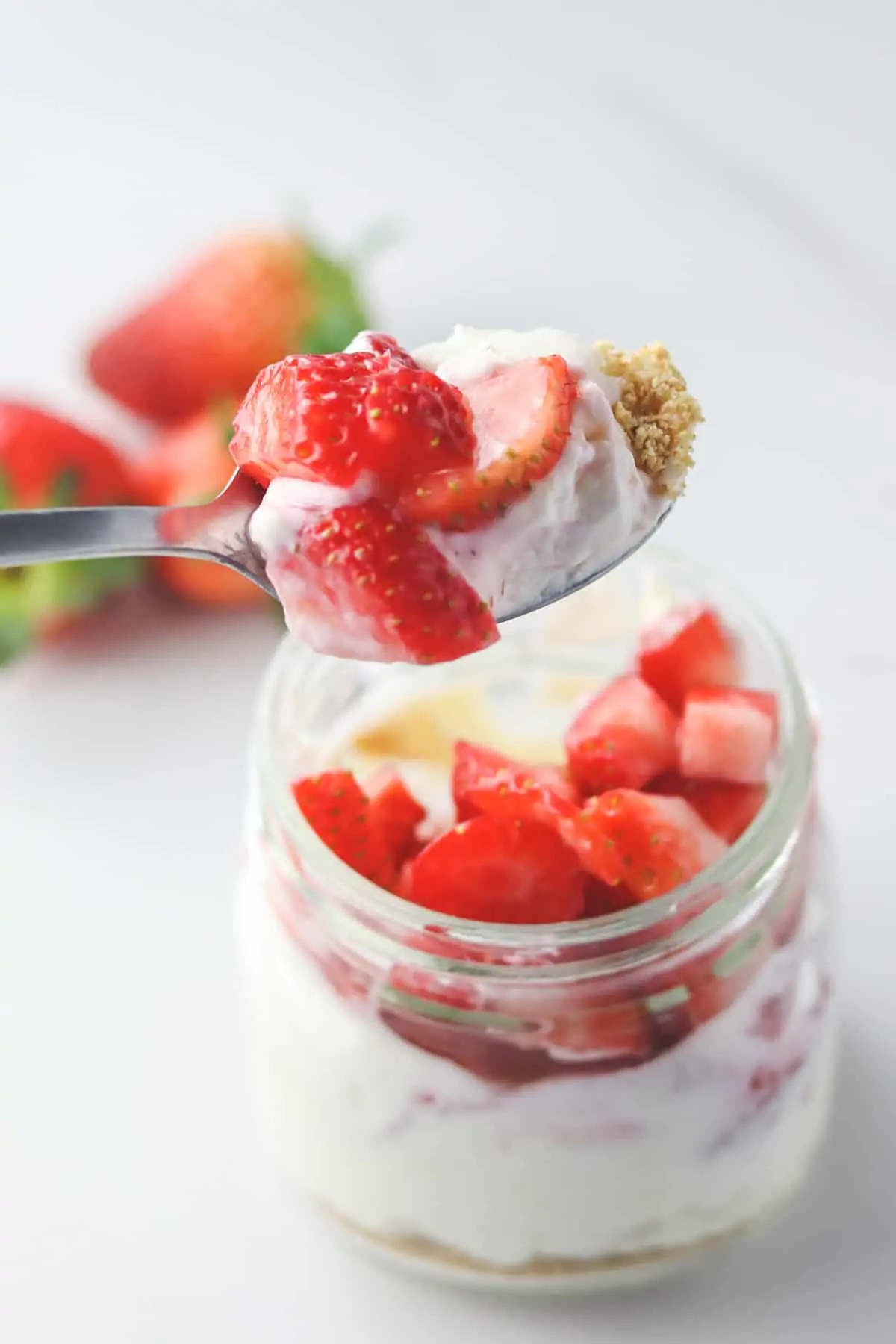 Making just a single serving ensures you won't have a problem with portion control! If you want to make a larger batch, check out the rest of this post for instructions on making a batch of 4 jars.
Jump to:
Ingredients
You will need: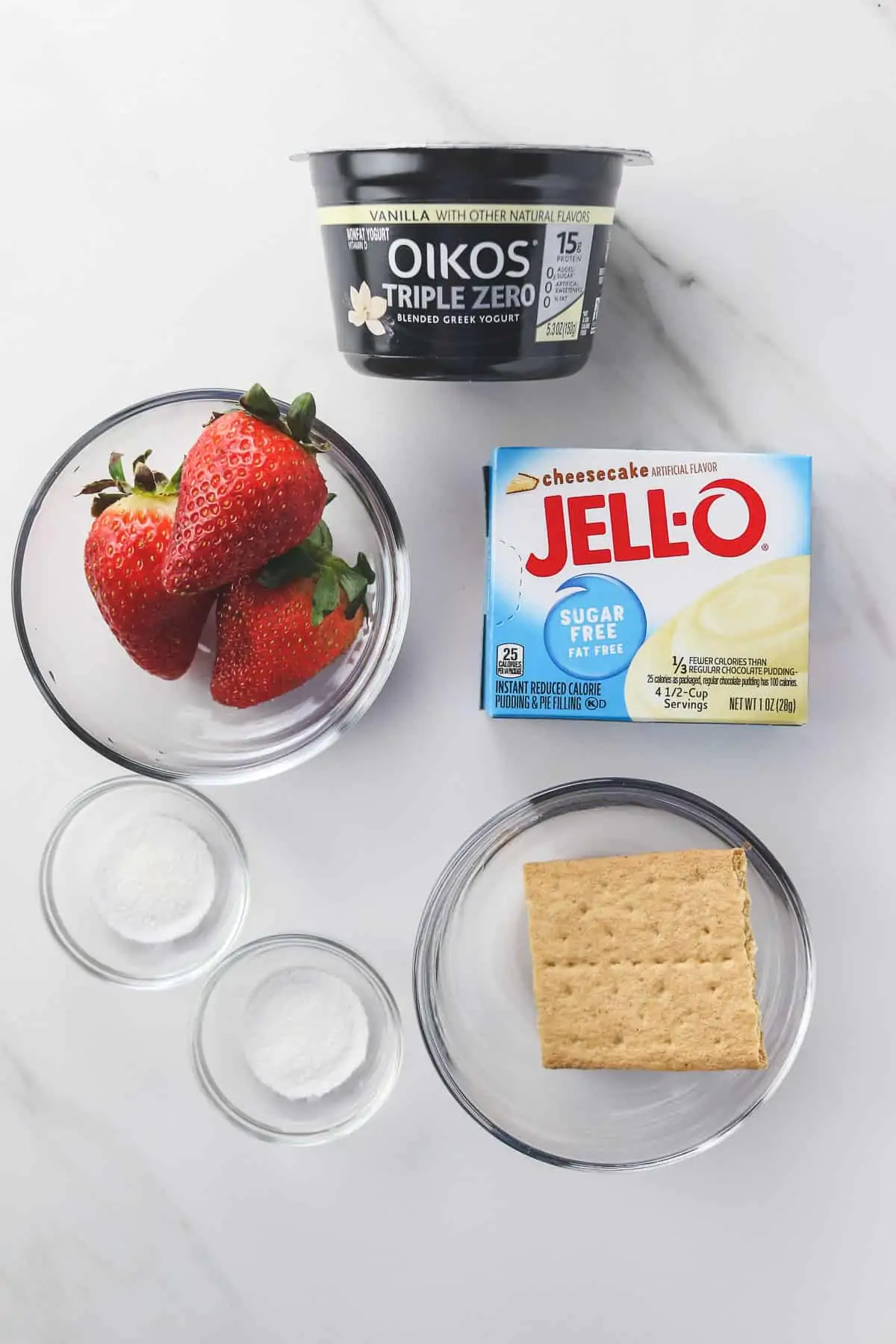 Substitutions
Nonfat Vanilla Greek Yogurt - I typically use Danon Oikos Triple Zero. Any brand or flavor of Greek yogurt will work for this recipe. If you use plain Greek yogurt you may want to add a few drops of vanilla extract.
Sugar-Free Jello Cheesecake Pudding Mix - sometimes the cheesecake flavor can be a little difficult to find at the grocery store. If you can't find the cheesecake flavor you can use vanilla flavor for a similar texture (it will just taste a little more like vanilla and a little less like cheesecake).
Sweetener - you can use regular sugar or any granular sugar substitute. My go-to is usually Swerve or Splenda.
Strawberries - any fruit will work. Strawberries are the classic cheesecake topping but you could definitely substitute blueberries, blackberries, raspberries, or pretty much any type of berry or fruit. You could also leave off the fruit topping entirely if you don't have any fruit on hand.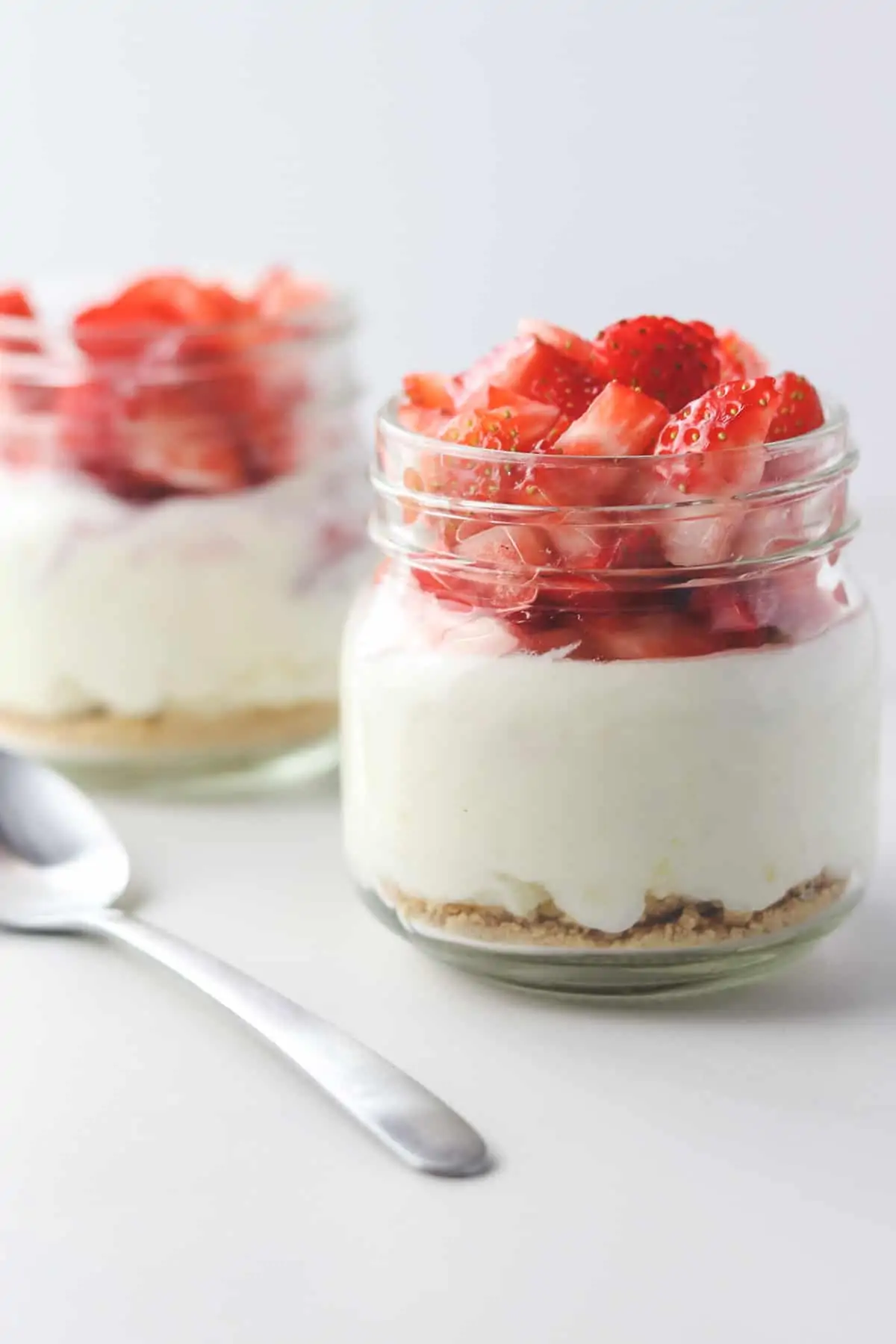 Equipment
For this recipe, I use these glass jars. 8 ounces, or ½ pint, is just the right size for this recipe. You could also make it in a bowl or plastic container that is around the same size.
You could also make this recipe into two 4 oz jars for even smaller cheesecakes.
Instructions
First, start out by making the graham cracker crust layer. Place ½ sheet of graham cracker into a plastic bag and use a rolling pin to crush the cracker into fine crumbs.
Add ¼ teaspoon of sweetener to the bag and shake to combine. Set aside.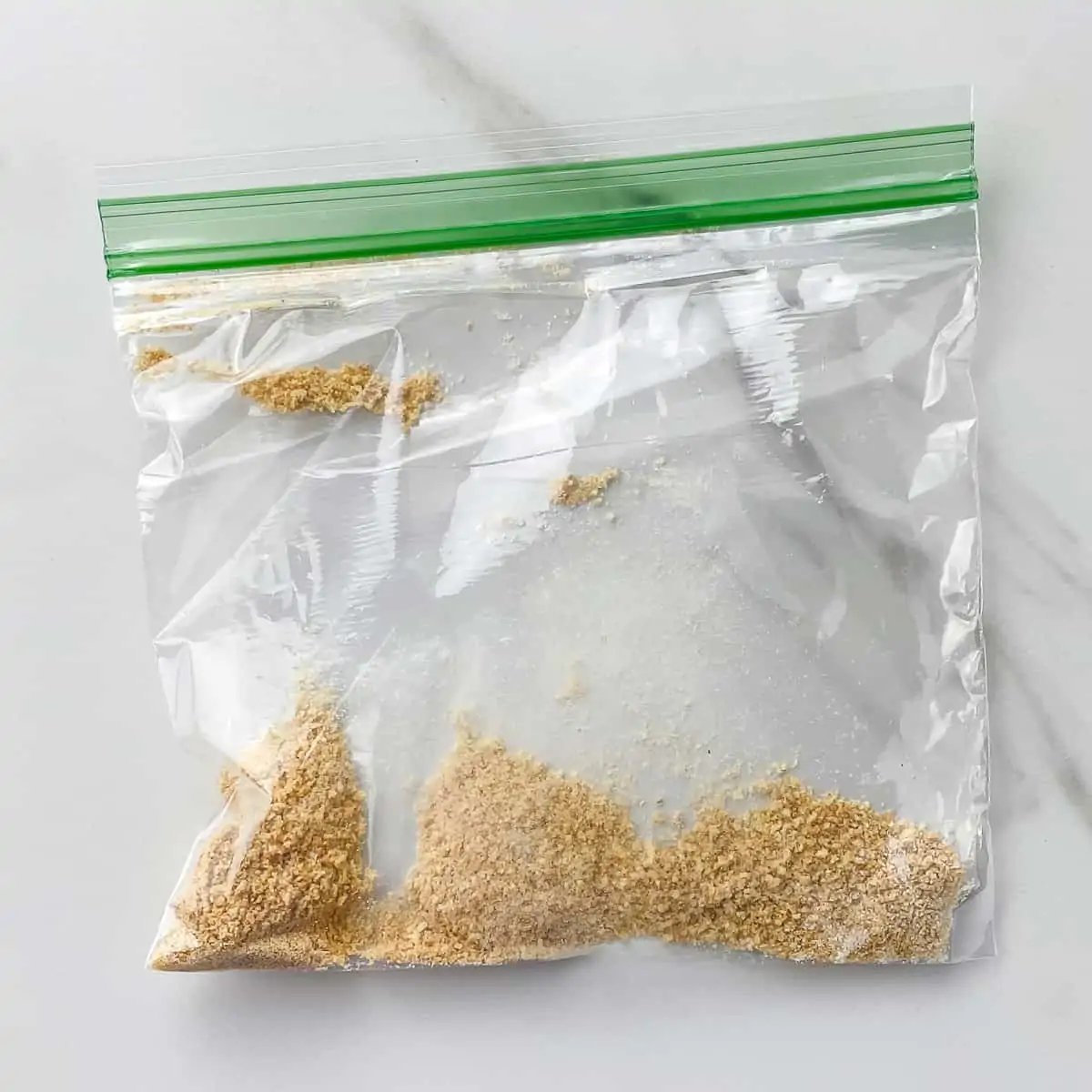 Next, make the cheesecake filling layer. Add 1 tablespoon of the sugar-free cheesecake pudding mix to the vanilla nonfat Greek yogurt and stir until smooth. It will be very thick once combined.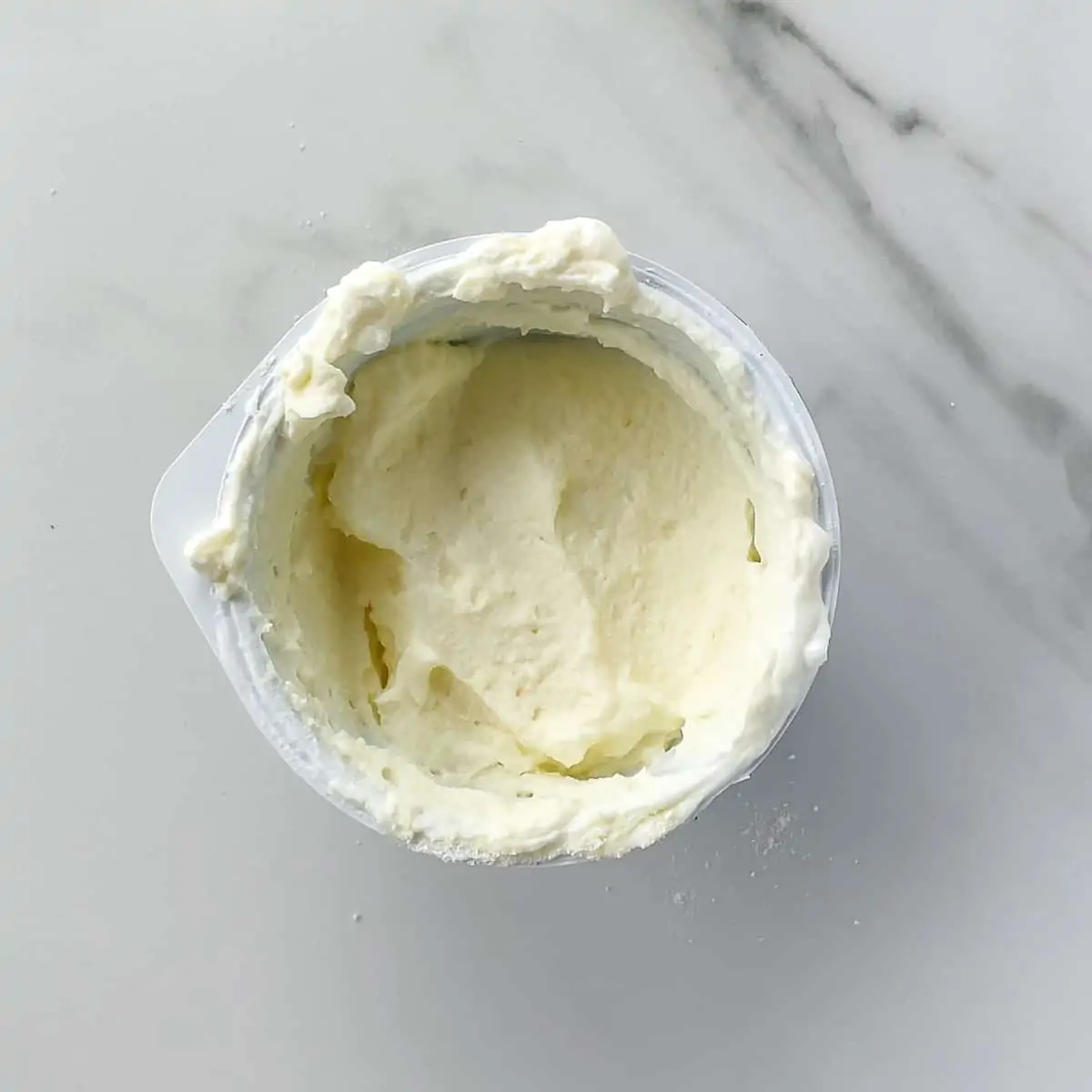 Finally, for the topping dice up three strawberries (or your fruit of choice). Toss the diced strawberries with ¼ teaspoon of sweetener.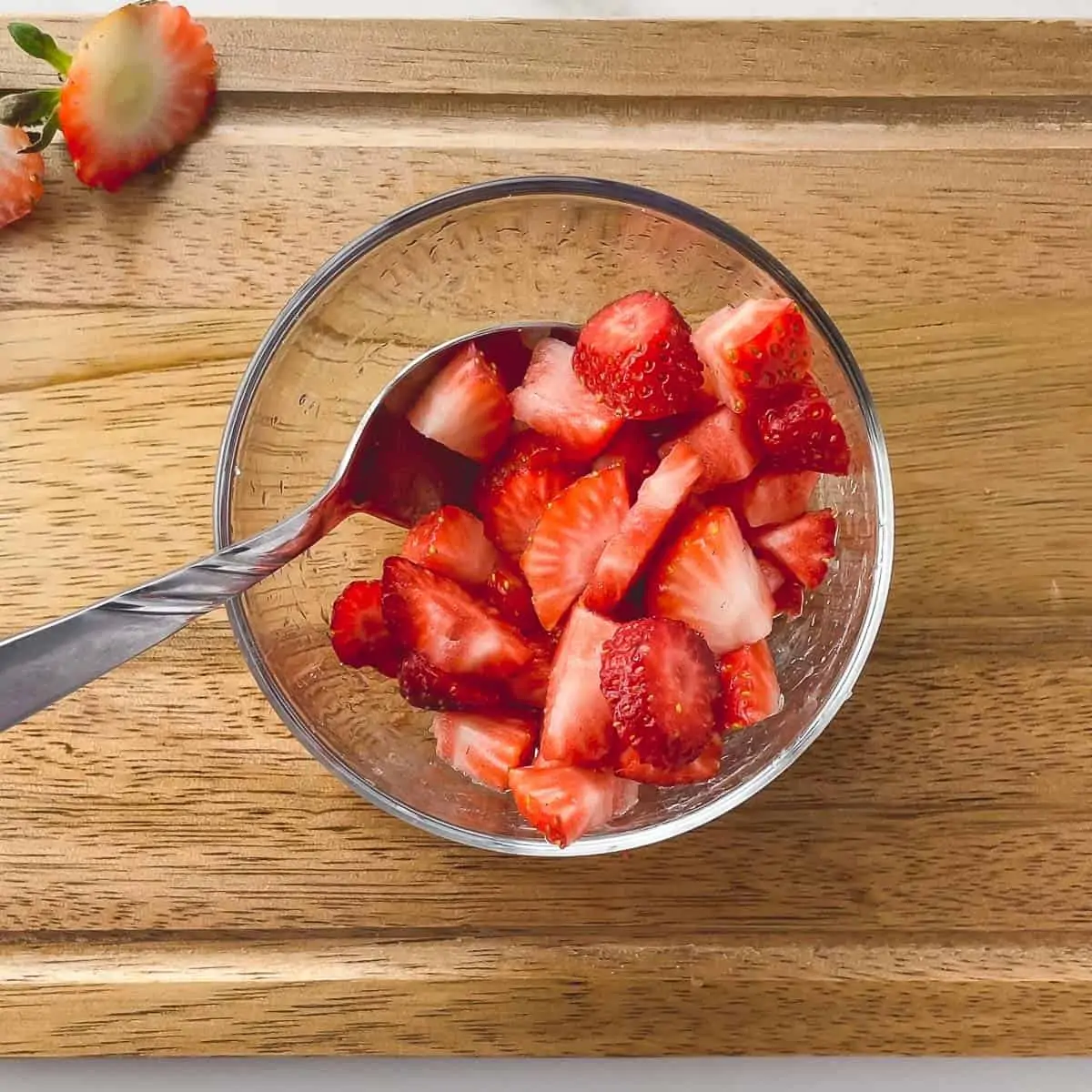 Now, you're ready to assemble your cheesecake! In an 8 oz jar, pour the graham cracker crumbs in the bottom and spread them into an even layer. Next, scoop the yogurt mixture on top and push it down into the graham cracker crumbs. Finally, put the diced strawberries on top.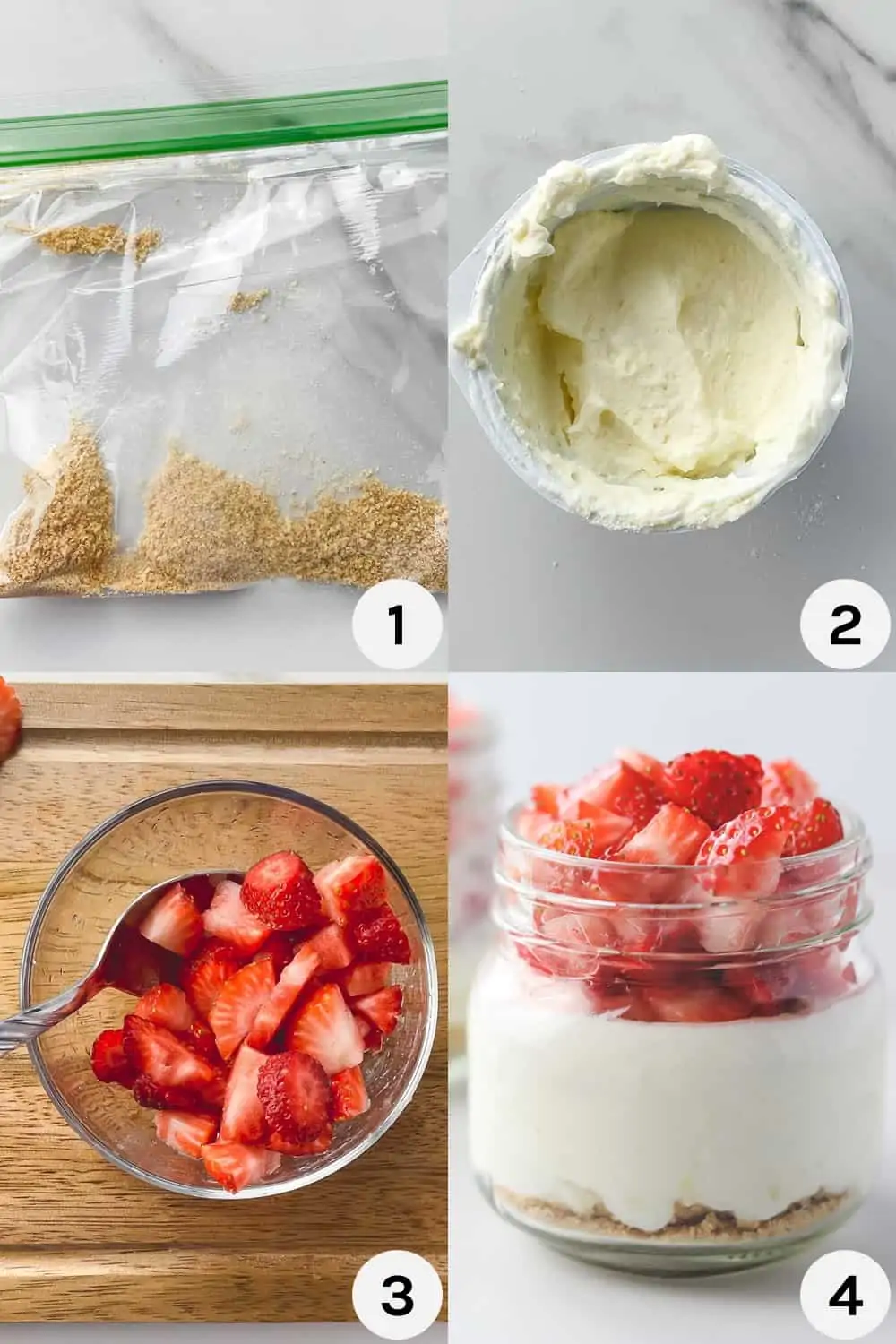 Enjoy immediately or refrigerate to save for later!
Low Calorie Topping Options
While this recipe calls for a diced strawberries, there are many topping options you could use instead! Here are some ideas:
Fresh Fruit - strawberries, blueberries, blackberries, raspberries, etc
Sugar-Free Chocolate Syrup
Sugar-Free Caramel Syrup
Light or Sugar-Free Cool Whip or whipped cream
Sugar-Free fruit preserves
No sugar added cherry pie filling
Chocolate chips or shaved chocolate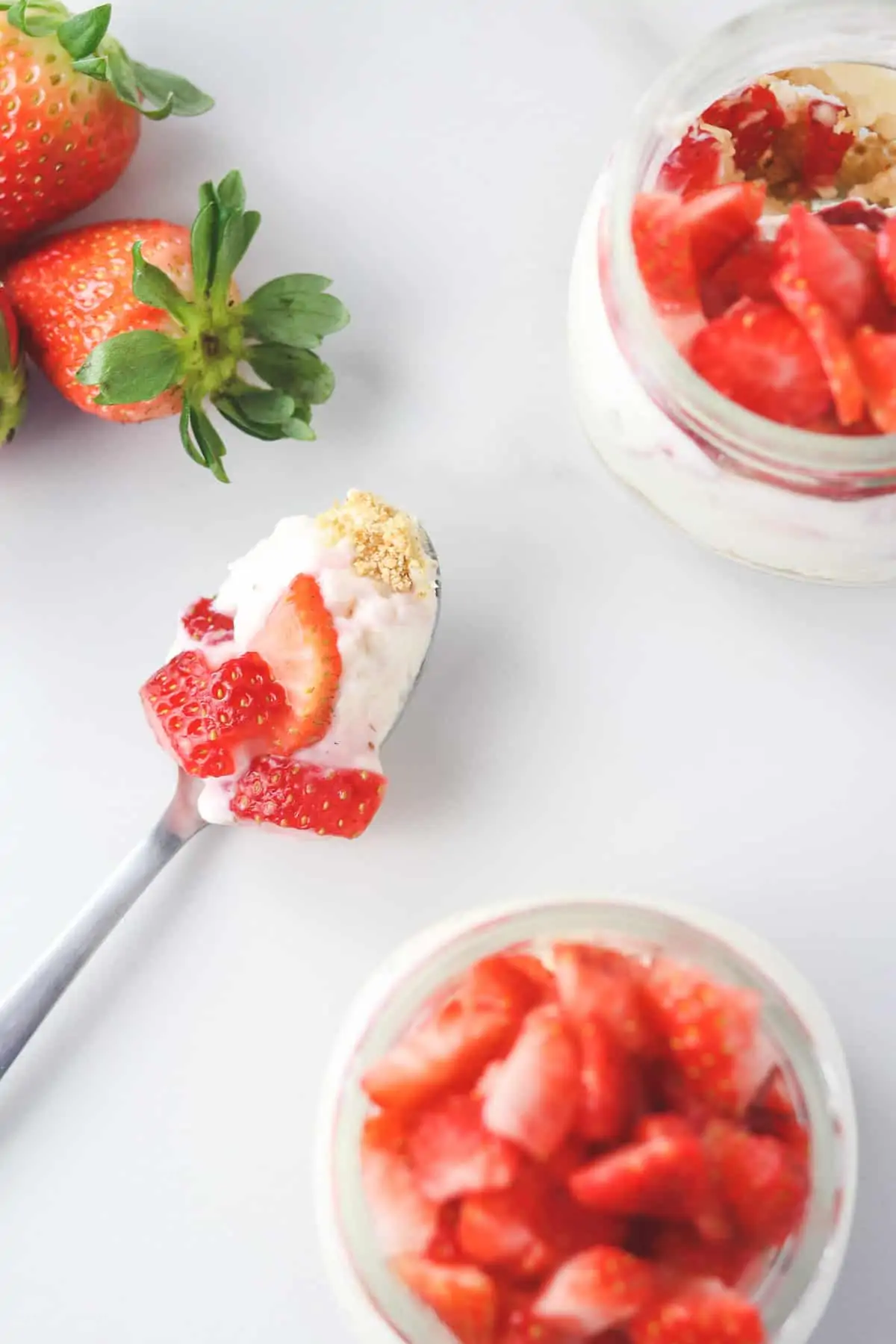 How to Make a Larger Batch
If you want to make a large batch, use the following recipe to mix up 4 cheesecake jars:
Divide this recipe up into four 8 oz jars to make 4 servings.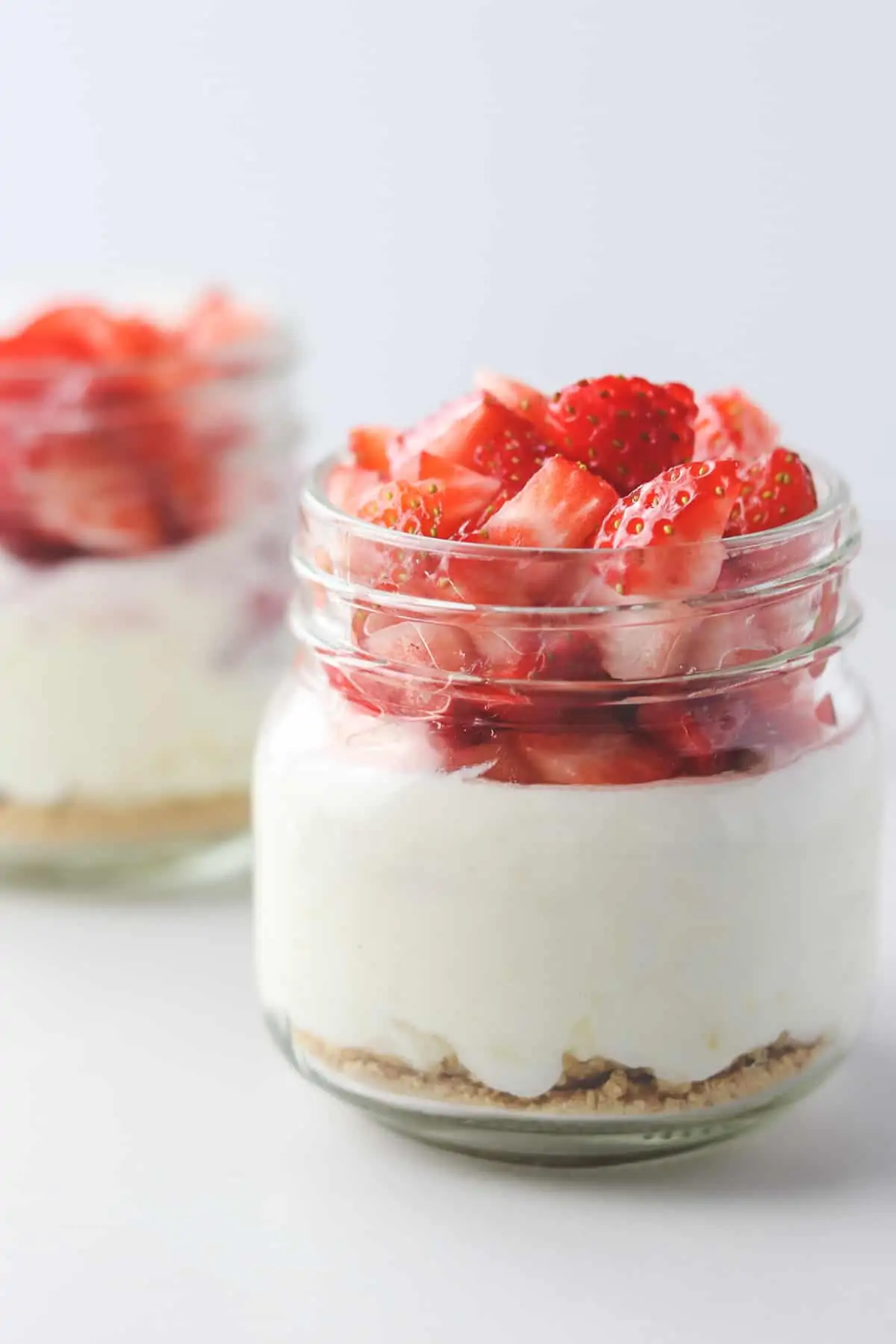 How to Store
If you don't eat your cheesecake immediately, place a lid or plastic wrap on top of the jar and store it in the refrigerator. This must be kept chilled.
It will keep fresh in the refrigerator for 2-3 days. For best results, make the strawberry topping just before you're ready to eat.
Calories & Serving Size
If you follow the recipe as written, the entire cheesecake jar only has 175 calories! You can divide it in half (use 4 oz jars) to make a sub-100 calorie dessert.
Keep in mind, the type of yogurt used will impact the calorie count. I use Danon Oikos Triple Zero which has 100 calories per cup.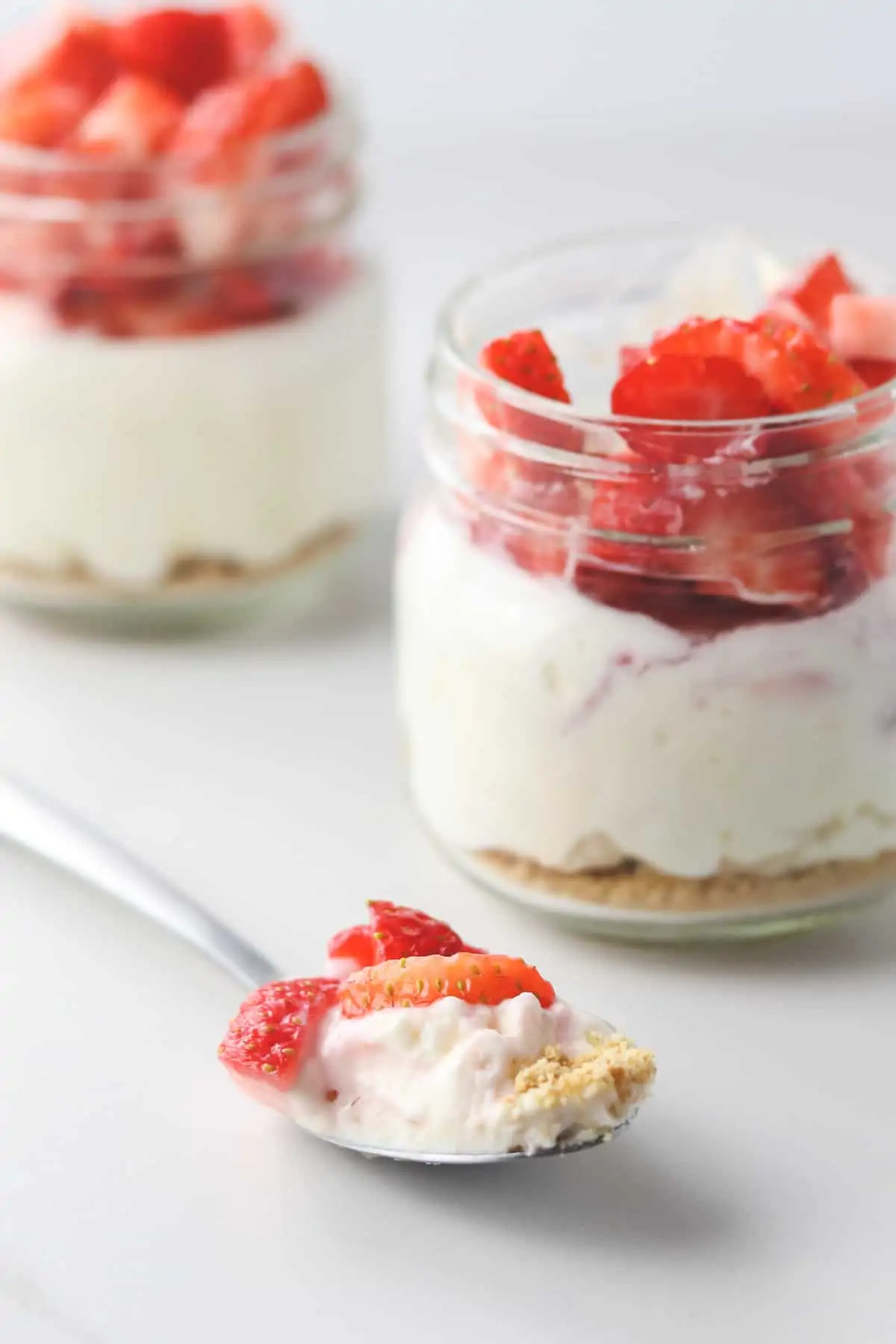 Related Recipes
If you liked this recipe, check out these other low-calorie desserts!