This Instant Pot Cilantro Lime Rice makes the perfect Mexican side dish or burrito filling! Tender and fluffy rice is flavored with fresh cilantro and lime juice.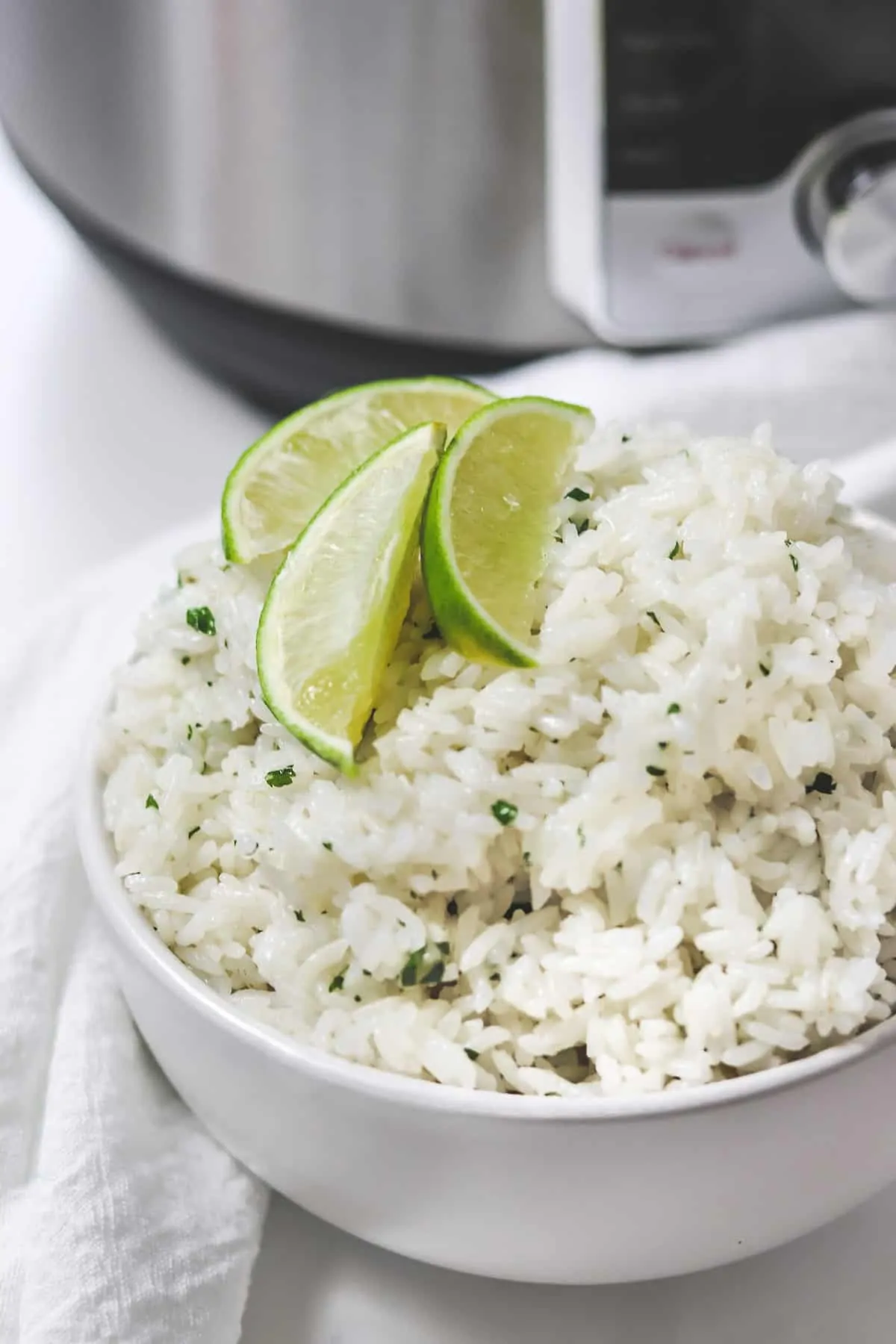 I love re-creating Chipotle's cilantro lime rice at home in my Instant Pot. This recipe is quick, easy, and comes out perfectly every time. The Instant Pot is by far the easiest way to make rice. It's so much easier than having to watch over the stovetop.
I make this recipe several times a month for Taco Tuesday - often to go with my Instant Pot Chicken Tacos or Crock Pot Cheesy Mexican Chicken.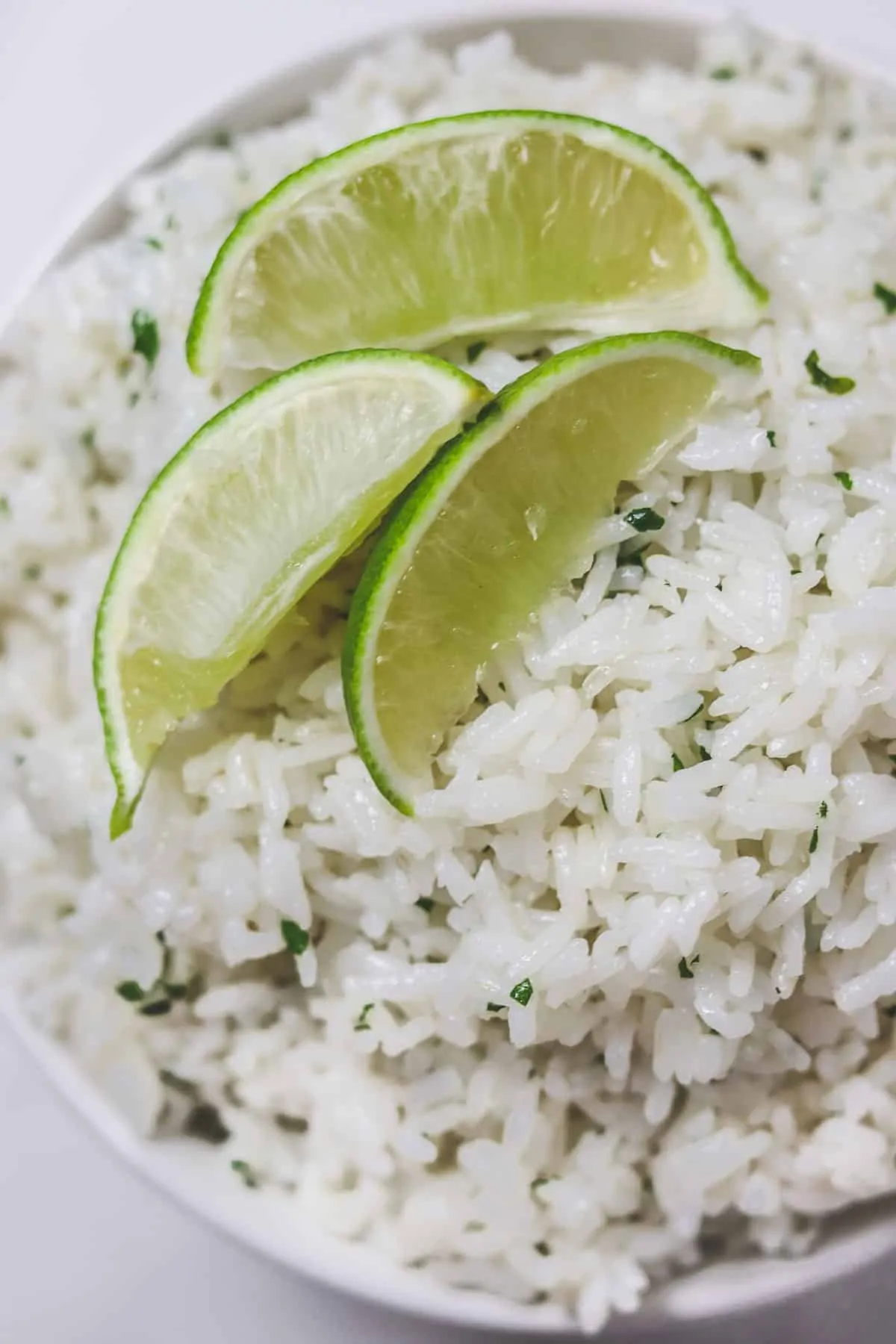 This rice is so much better than any boxed rice mix. The chipotle and lime flavor is just enough without being too strong and overwhelming. Kids and picky eaters will eat this right up! Serve it with your favorite Mexican Dish or turn it into burritos or burrito bowls.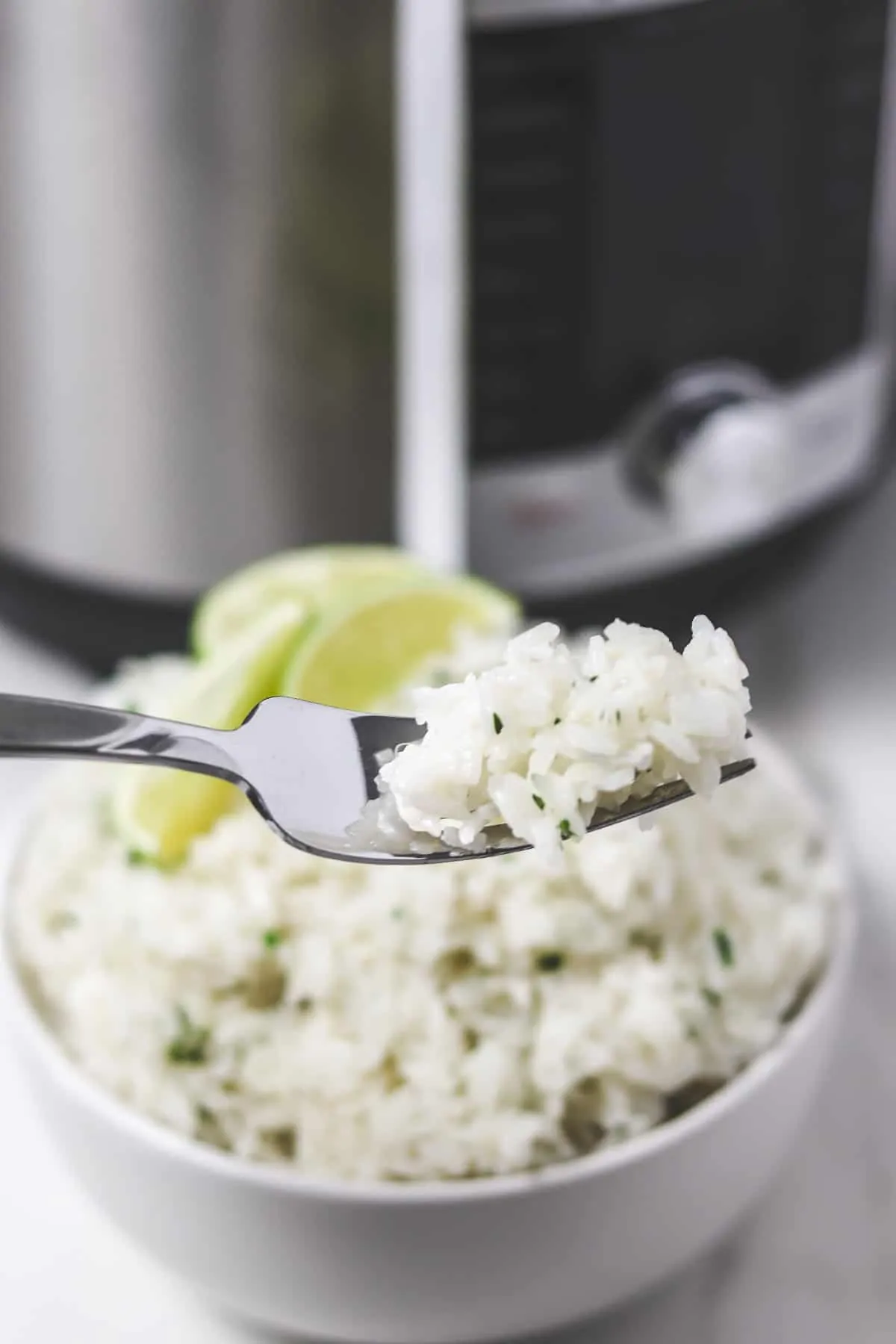 Jump to:
Ingredients
Here's what you'll need:
2 cups white rice, rinsed and drained
2 cups water
1 tablespoon lime juice
1 tablespoon fresh cilantro, finely chopped
1 tablespoon vegetable oil
¾ teaspoon salt, to taste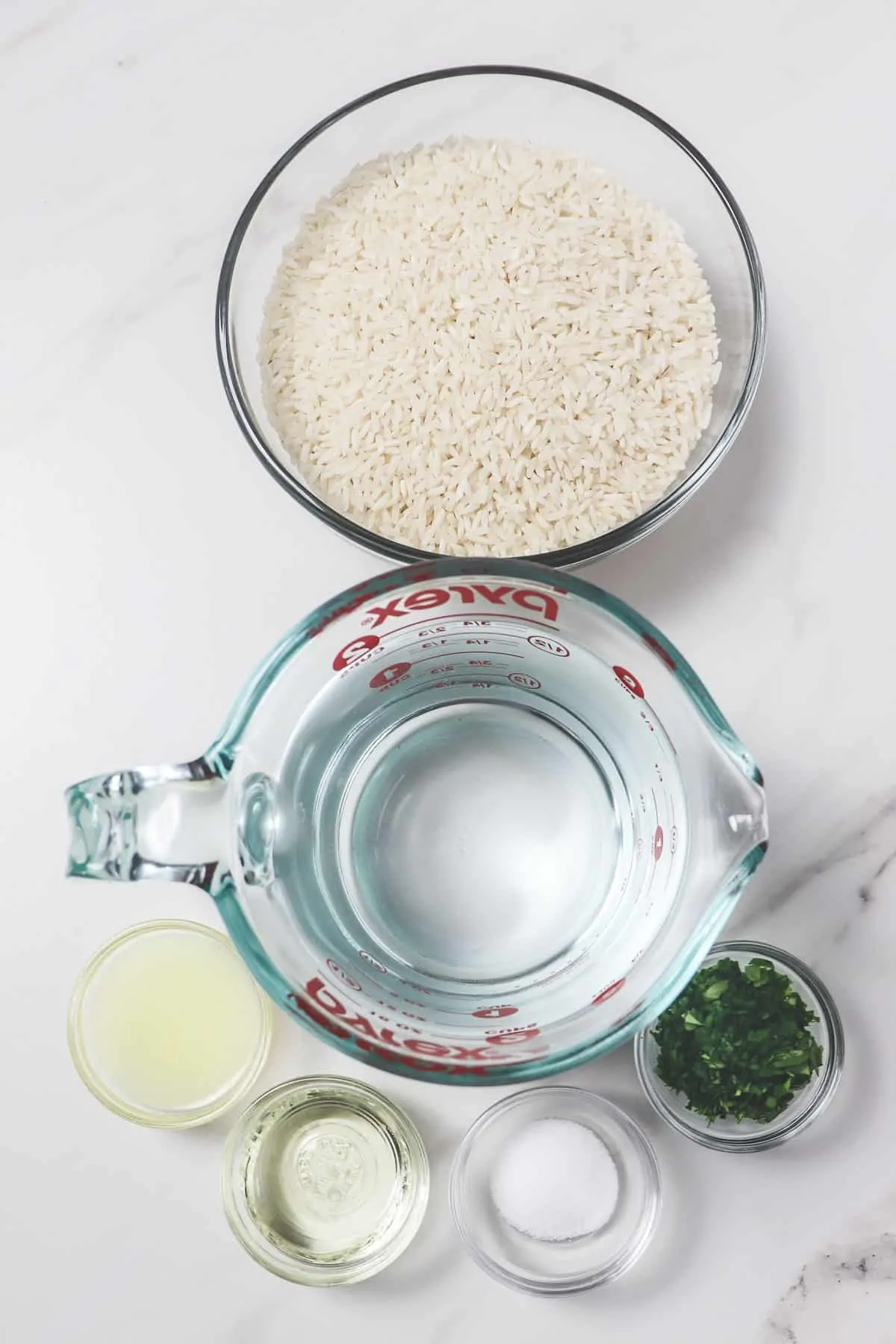 Substitutions
White Rice: I normally use long grain white rice for this recipe. You can also use Jasmine rice with no change to the instructions. To use brown rice, increase the cooking time to 22 minutes and then allow a 10 minute natural release.
Lime Juice: If you have a fresh lime on-hand, you can use freshly squeezed lime juice. Just try to measure out about 1 tablespoon of juice (about ½ of a lime). You can also increase the amount of lime juice if you want a stronger lime flavor.
Fresh Cilantro: If you don't have fresh cilantro on-hand you can substitute about 1 teaspoon dried cilantro. You can also increase the amount of cilantro if you want a stronger cilantro flavor. Cilantro is very strong so I like to keep it pretty mild.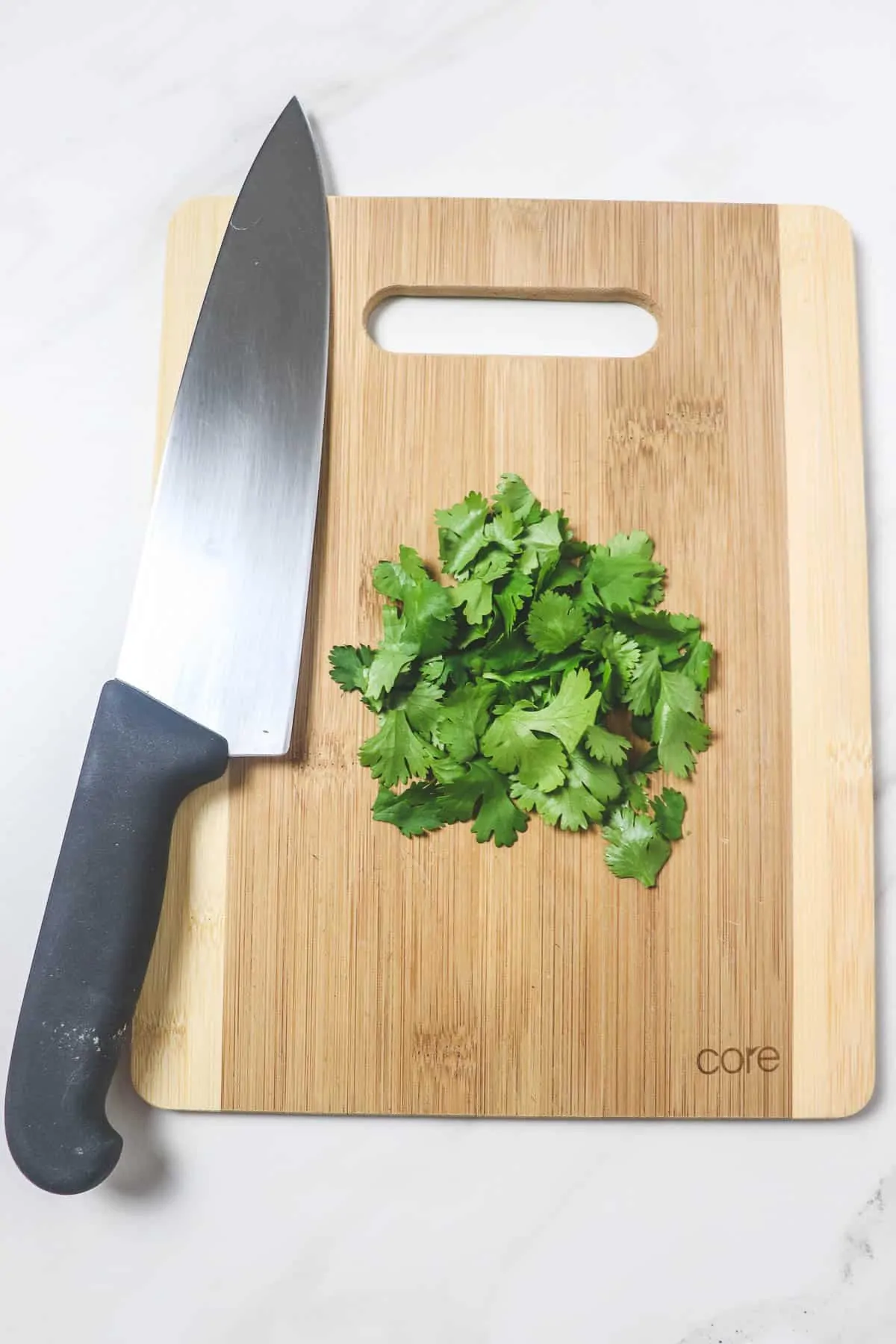 Vegetable Oil: Any kind of oil will work ok. You could use butter, too. The 1 tablespoon of oil helps prevent the rice from sticking together too much.
Equipment
Instant Pot: I have an Instant Pot Ultra but any 6 or 8 quart Instant Pot will work!
Metal Strainer: A metal strainer is a great tool for rinsing the rice.
Lime Juicer (Optional): If you want to use a fresh lime, you'll need a juicer.
How to Rinse the Rice
Rinsing the rice is a very important step! Don't skip it! This helps remove the excess starch from the rice which will help prevent it from sticking together, sticking to the bottom of the Instant Pot, and becoming gummy.
The easiest way is to grab a metal strainer and run the rice under cool water for about 2 minutes.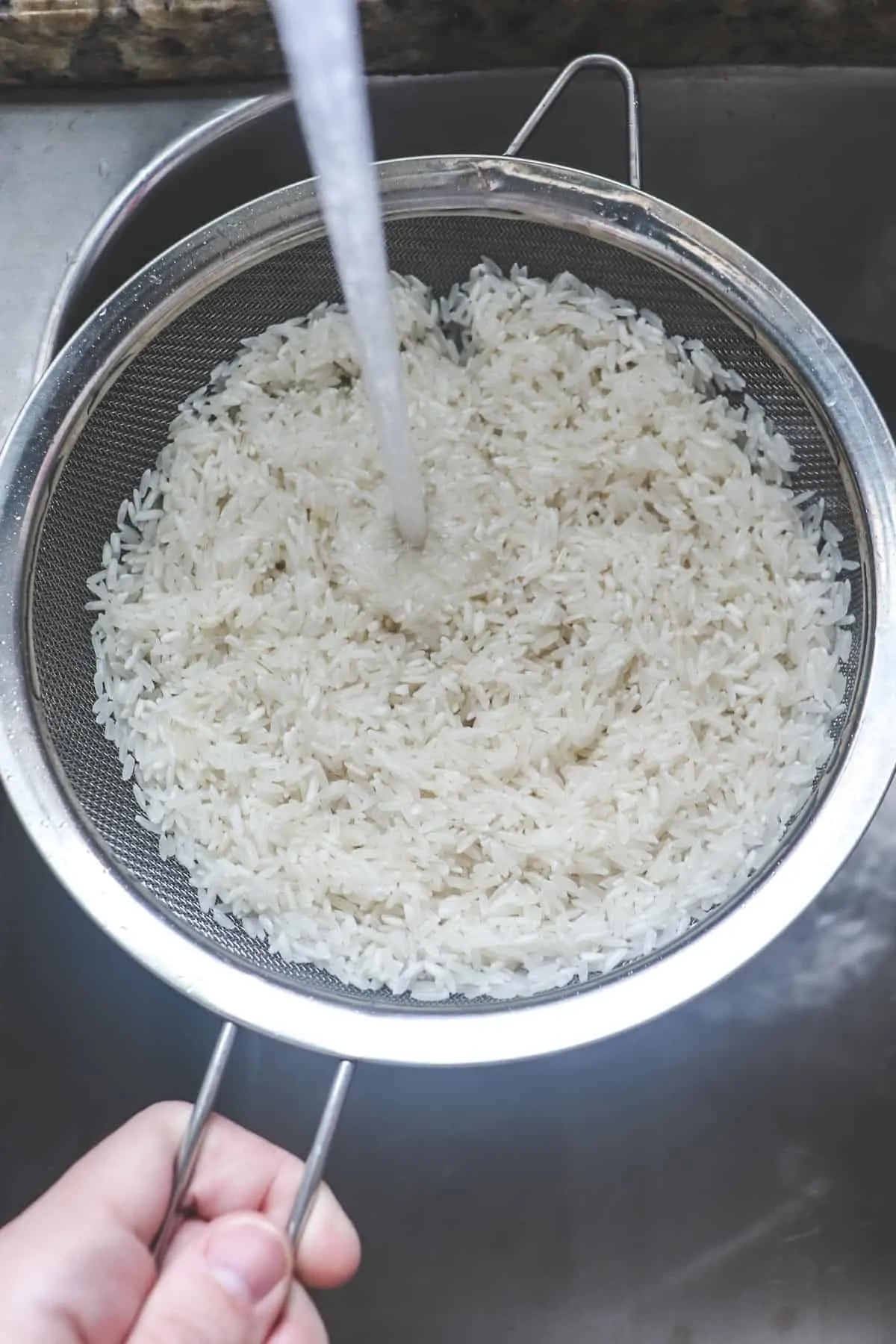 Instructions
First, chop the fresh cilantro into fine pieces and set aside. Measure out about 1 tablespoon of finely chopped cilantro (to taste).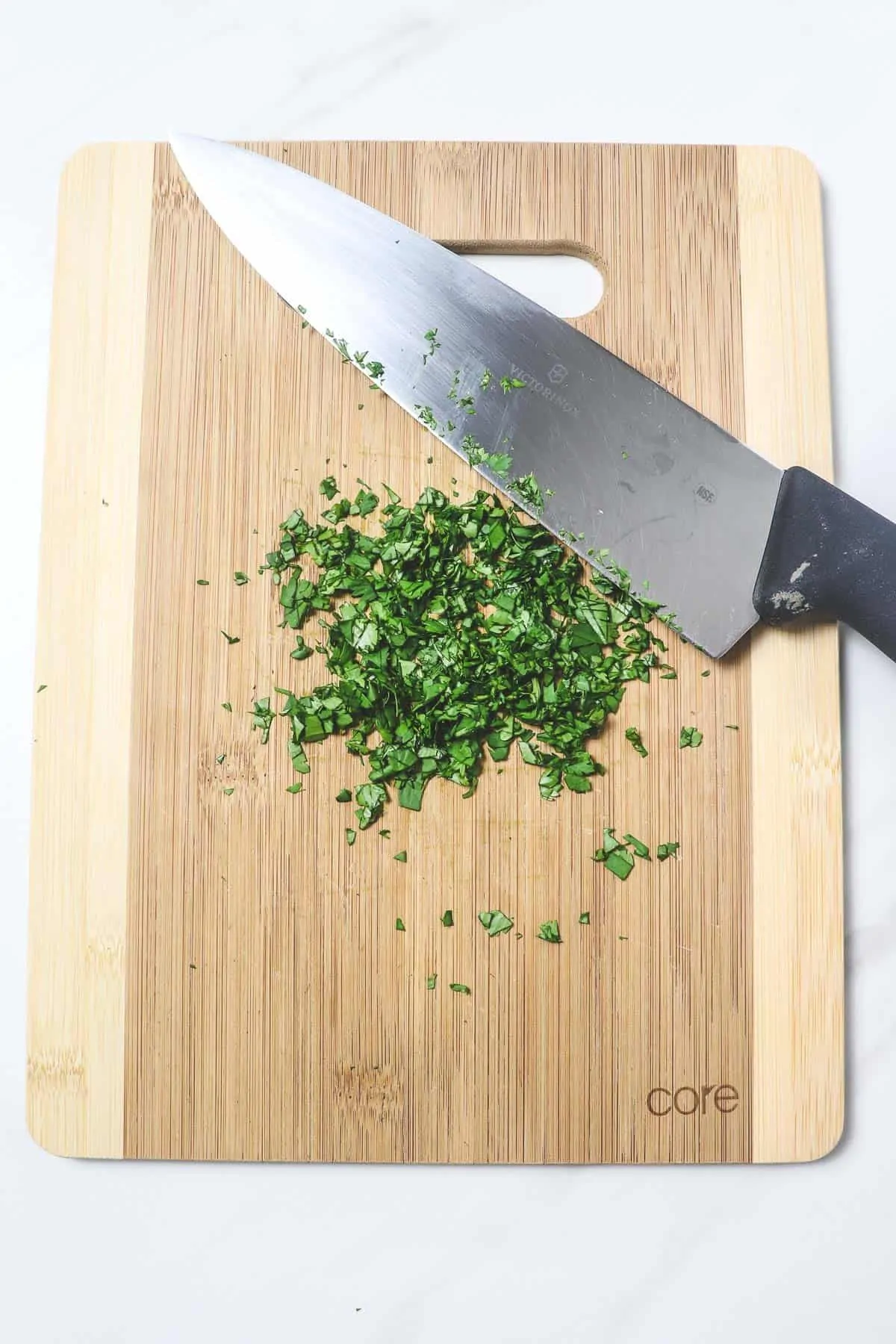 In the Instant Pot, combine the rinsed and drained rice with 2 cups water, the lime juice, oil, and salt. Do not add the cilantro yet (it gets added after cooking).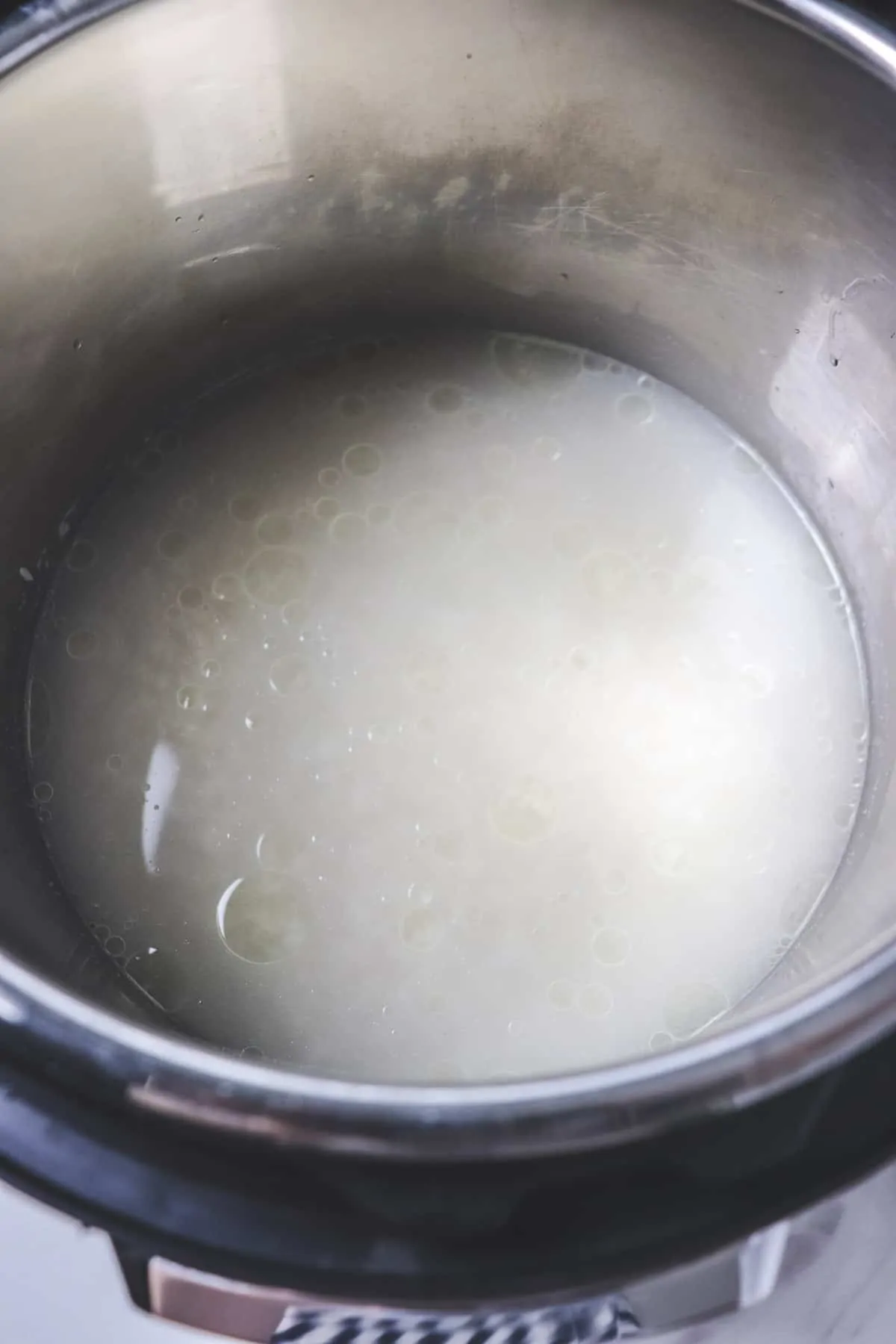 Put the lid on the Instant Pot and set the Instant Pot to 4 minutes high pressure.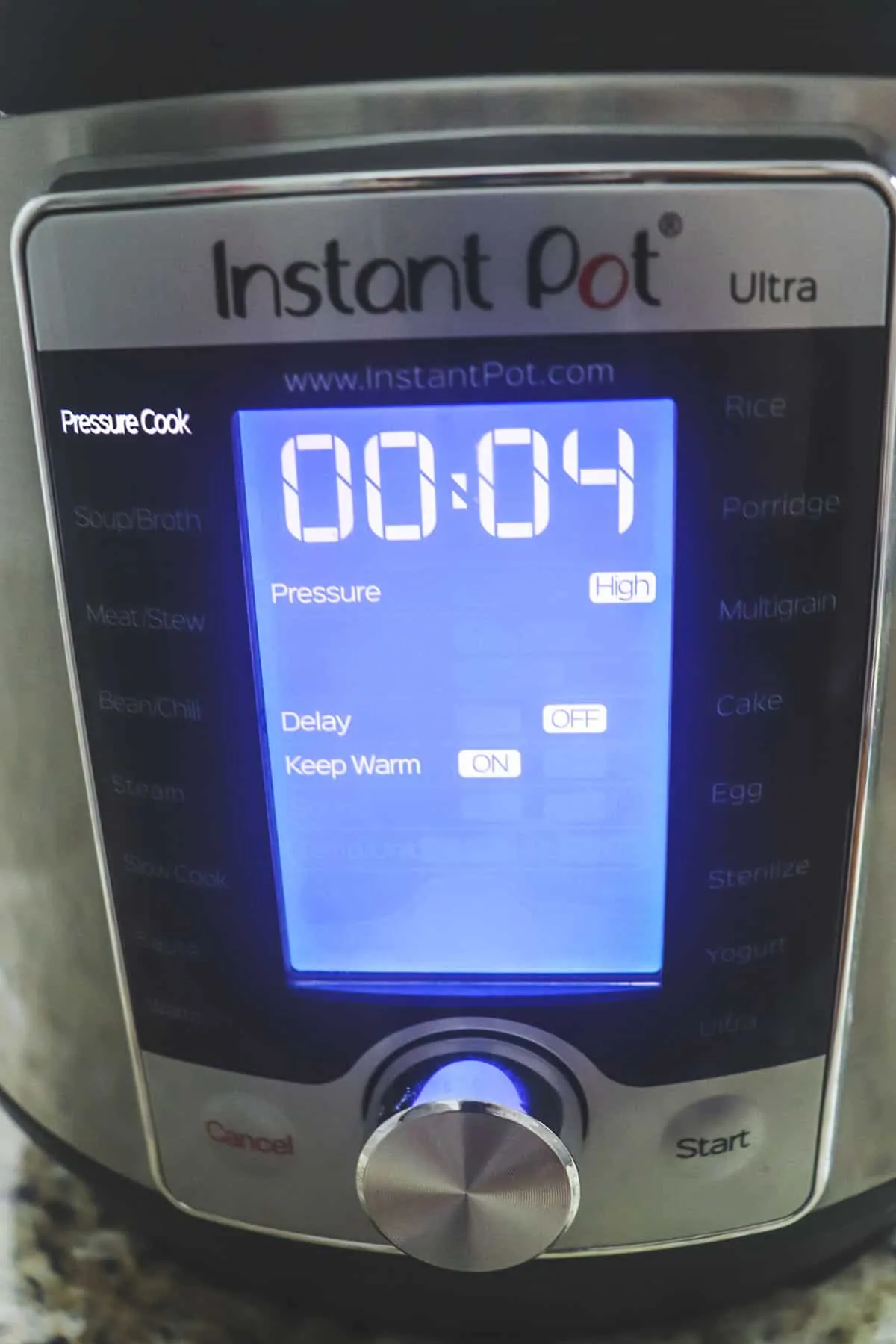 After the 4 minutes is up, allow a 10 minute natural release before releasing remaining pressure. Remove the lid and lightly fluff rice. Rice should be perfectly cooked and all water should be absorbed.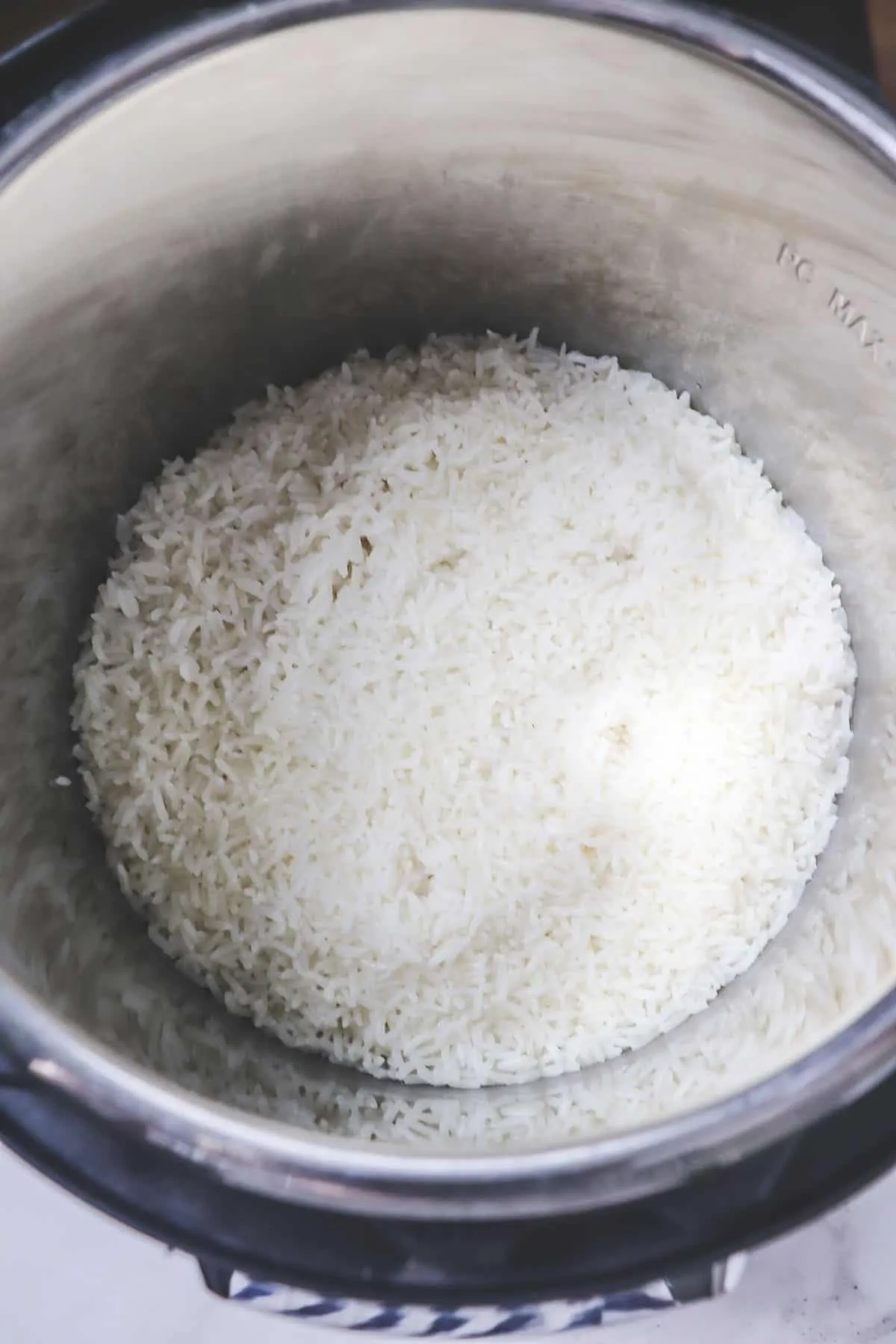 Finally, stir in the fresh cilantro. You can add additional cilantro or lime juice (to taste) if you want a stronger flavor.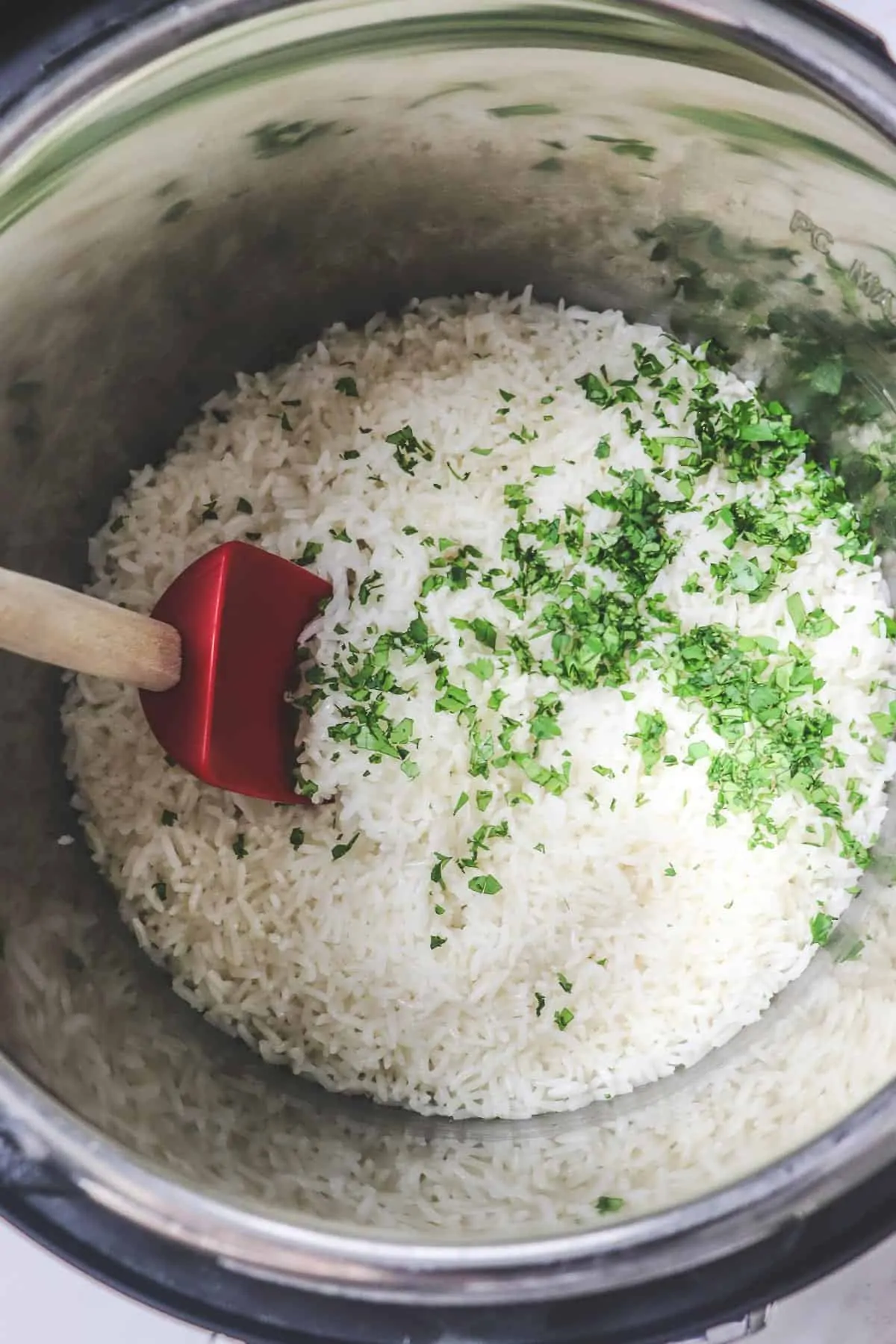 Stir rice until cilantro is well distributed, and then rice is ready to serve!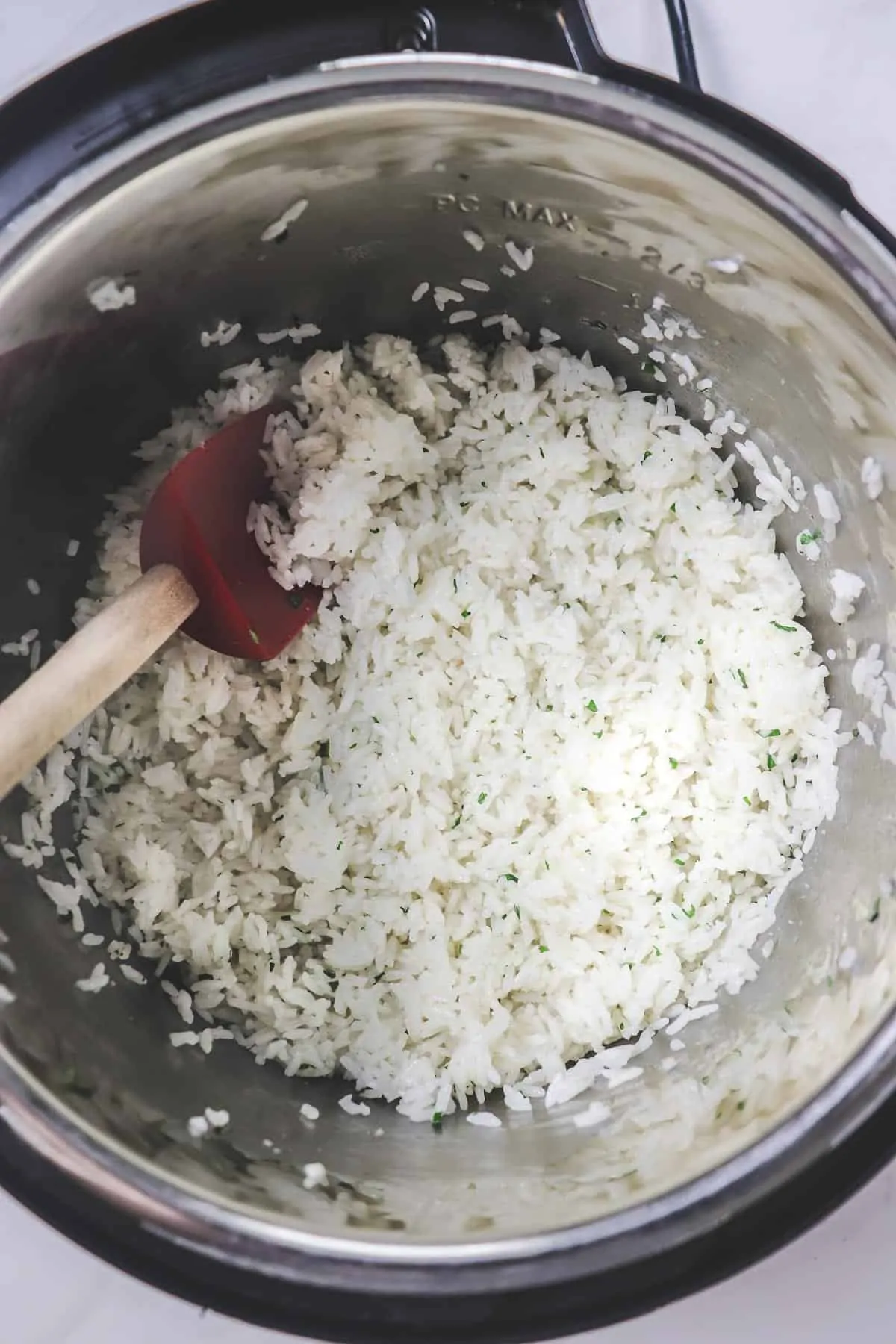 Top Tips
Add Cilantro and Lime Juice to Taste: because both cilantro and lime juice are very strong, it's best to start with a small amount and then add more after tasting. The first time I ever made cilantro lime rice I added way too much cilantro and it was inedible! Remember that Cilantro is a very potent herb. The recipe as written is mild and should not be too overpowering.
Finely Chop the Cilantro: chop the cilantro as small as possible so you don't have huge leaves of cilantro in your rice. I also completely remove the stems for the best possible texture.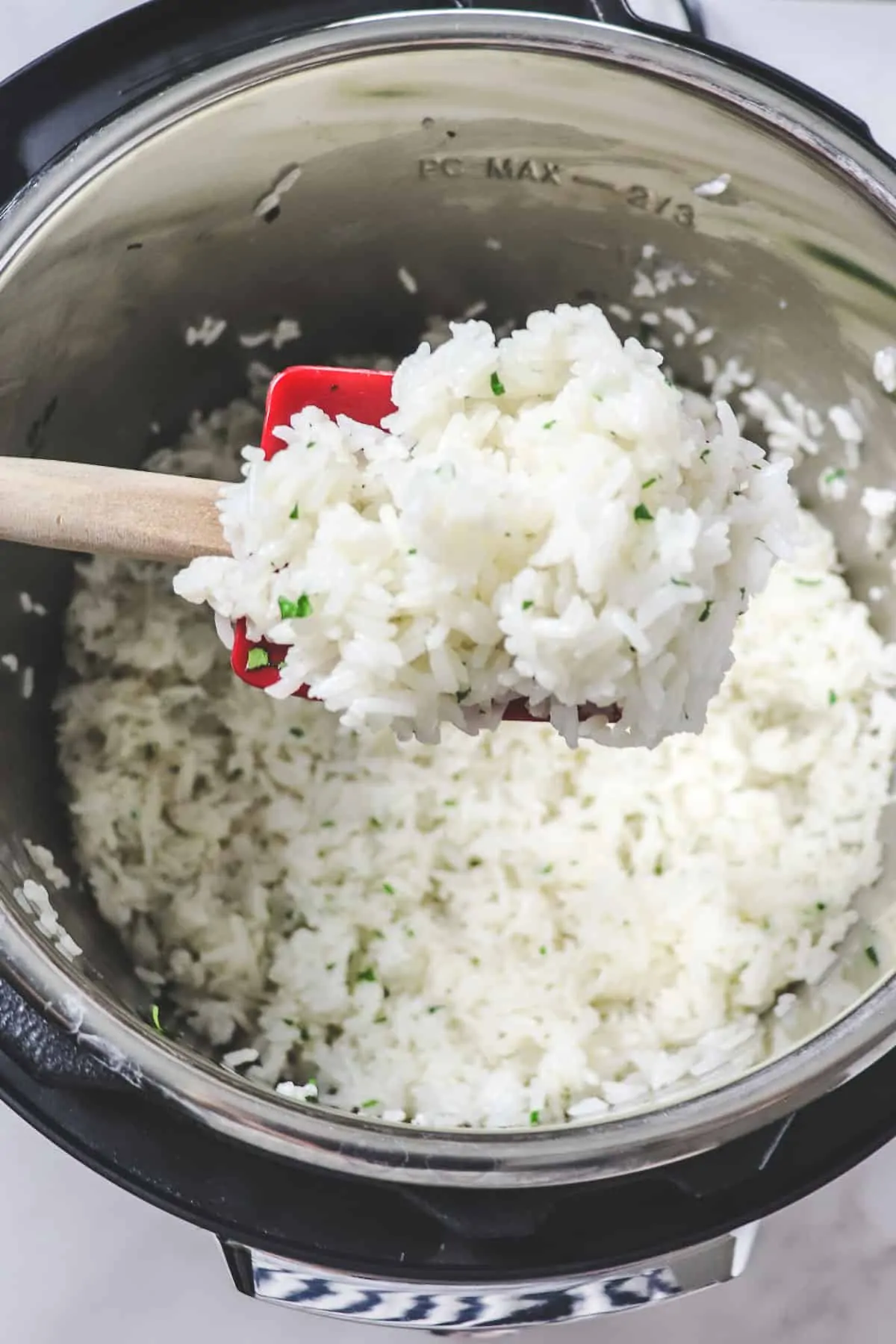 Don't use the Rice Button: even if your Instant Pot has a rice button, don't use it. Be sure you follow the cooking instructions (4 minutes high pressure with 10 minutes natural release).
Rinse the Rice: rinsing the rice really helps improve the final texture and prevent it from being too sticky and mushy. Don't skip this step!
How to Serve
This recipe goes great with any kind of Mexican dish! It's very versatile.
It goes really well with my Instant Pot Chicken Tacos recipe or Crock Pot Cheesy Mexican Chicken!
You can also use it as:
Burrito or burrito bowl filling
Topping for taco salad or nachos (try these Air Fryer Tortilla Chips!)
Side dish with tacos or enchiladas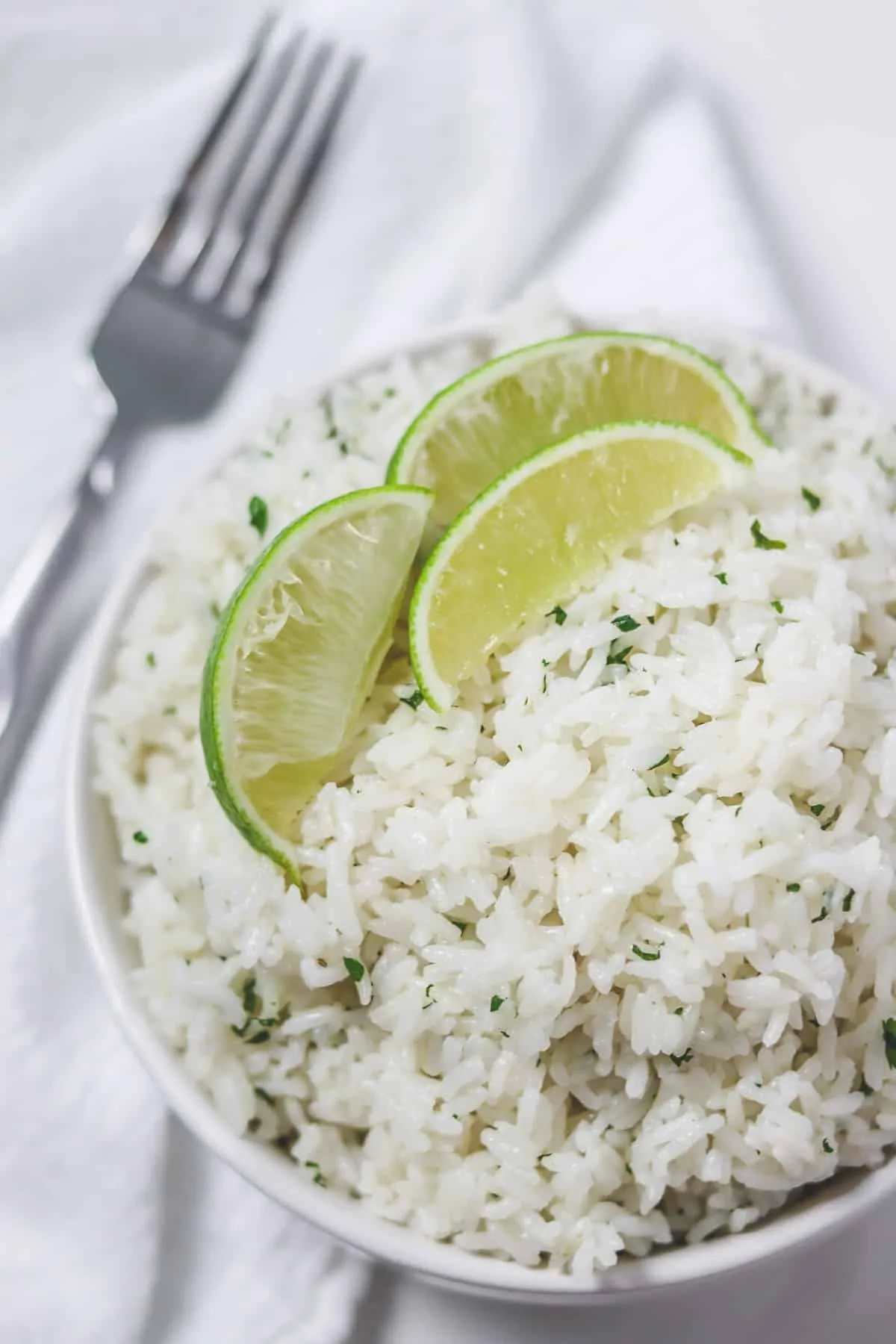 How to Double the Recipe
To double this recipe, simply double all of the ingredients but keep the cooking time the same. You should be able to make a double batch without any issues!
I wouldn't make more than a double batch in a 6 quart Instant Pot, but I think you could probably make a triple batch in an 8 quart Instant Pot.
How to Make Ahead
This recipe can easily be made ahead and reheated easily in the microwave. It will keep fresh in the refrigerator in an airtight container for 3-4 days. To reheat, add a small amount of water (1-2 tsp) and microwave in 30 s increments until heated through.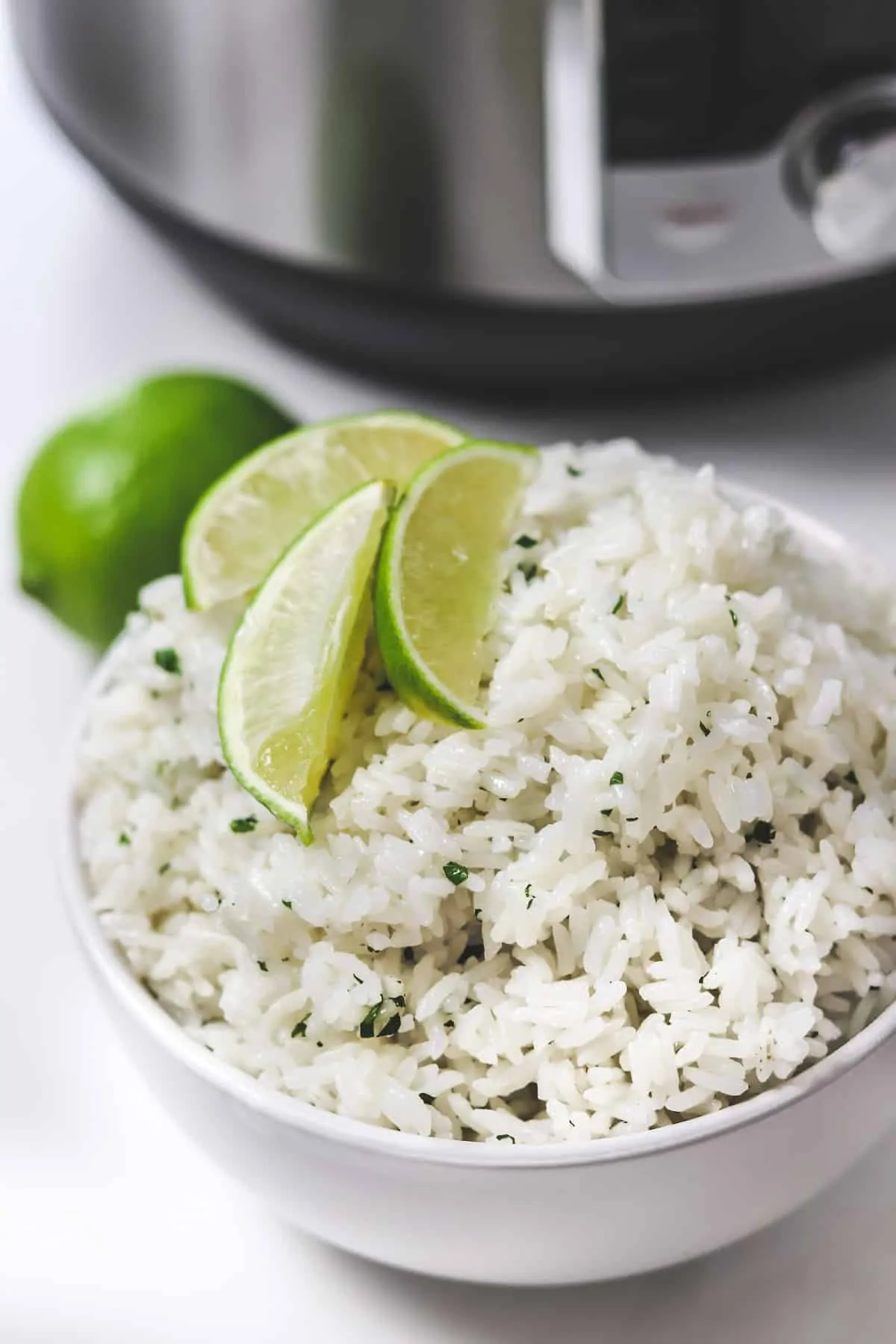 How to Freeze
The easiest way to freeze rice is to put it into a freezer zip-top plastic bag (packed flat) or plastic container. To reheat, add a tablespoon of water and microwave in 30 s increments until heated through. If you have time, defrost it in the refrigerator first.
Calories Per Serving
A serving size of about ½ cup cooked rice has about 130 calories. This recipe makes about 12 total servings, or about 6 cups of rice.
Rice can be part of a healthy diet in moderation, but be sure to measure out your portion sizes! I use a ½ cup measuring cup to portion my rice servings.
Recipe