This healthy mac and cheese can be enjoyed without all the guilt! Made with whole wheat noodles and lighter ingredients, this creamy mac and cheese is lower in calories and fat than the traditional recipe.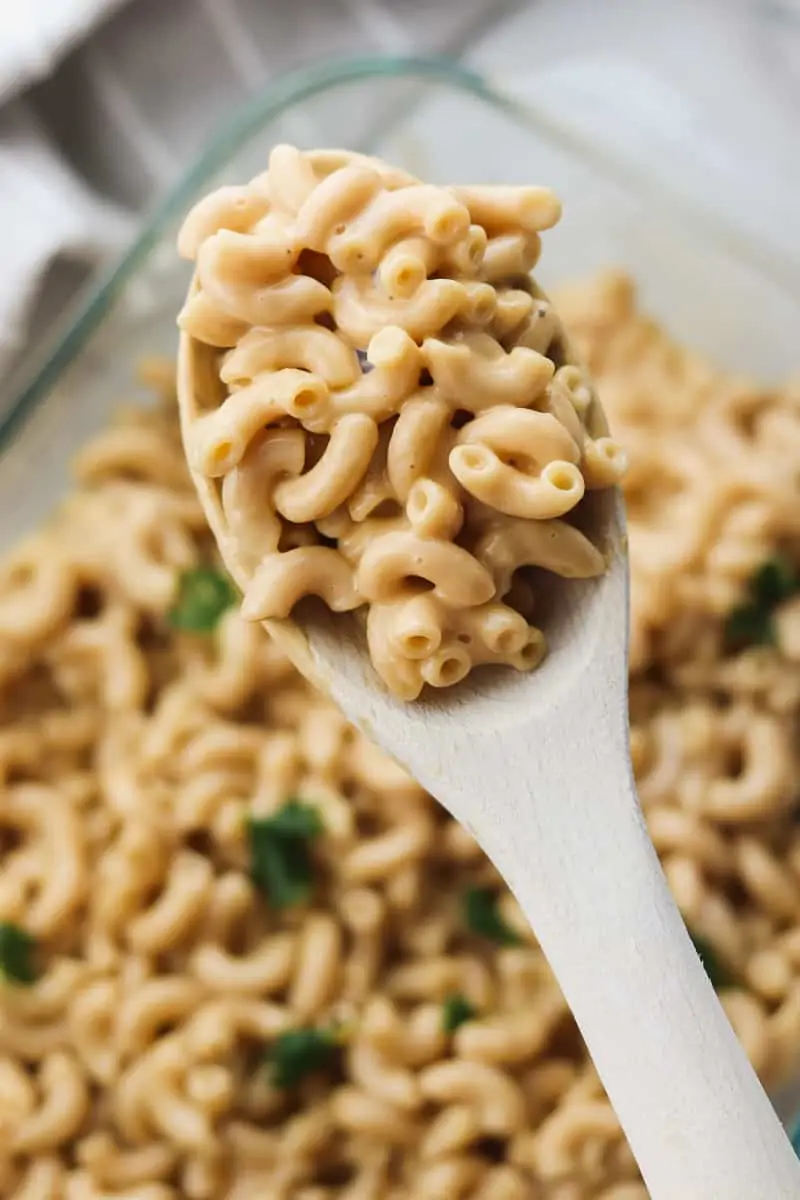 You will love this creamy, cheesy, stove-top mac and cheese! The whole wheat noodles add extra fiber, while the laughing cow cheese wedges and fat-free evaporated milk help reduce the fat and calories without sacrificing taste. Sharp cheddar gives it that familiar mac and cheese flavor.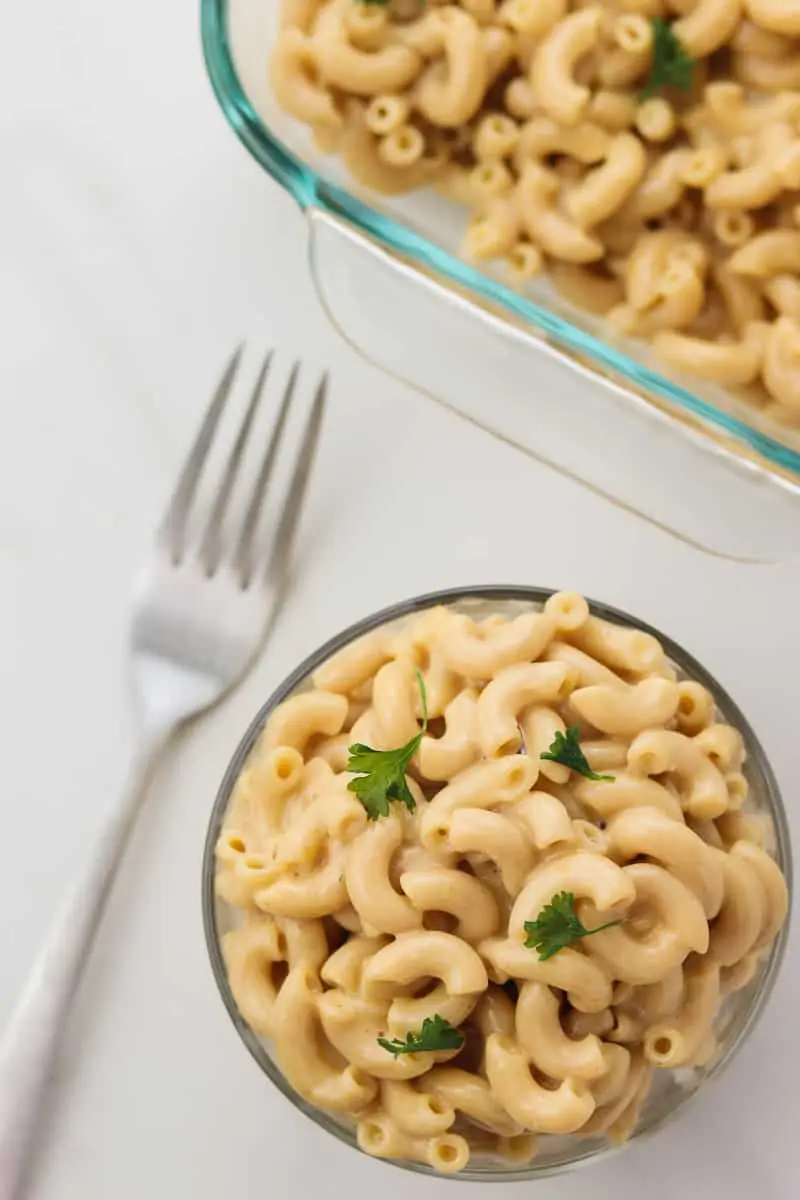 Ready in only a few minutes, this recipe is made in one pot with no baking required! Not baking the mac and cheese also helps keep it extra creamy and smooth. Your kids will like this healthy recipe, and you can even add in chicken and veggies to make it a meal!
Jump to:
Ingredients
You will need:
3 wedges of laughing cow light cheese
1 cup shredded sharp cheddar cheese
6 oz (¾ cup) fat-free evaporated milk
2 tablespoon butter
1 teaspoon salt
¼ teaspoon dry mustard
Black pepper, to taste
Pinch of cayenne pepper, optional
Laughing cow light wedges are the secret ingredient to this macaroni and cheese! They add to the creaminess and help thicken the sauce without needing to add more butter and flour.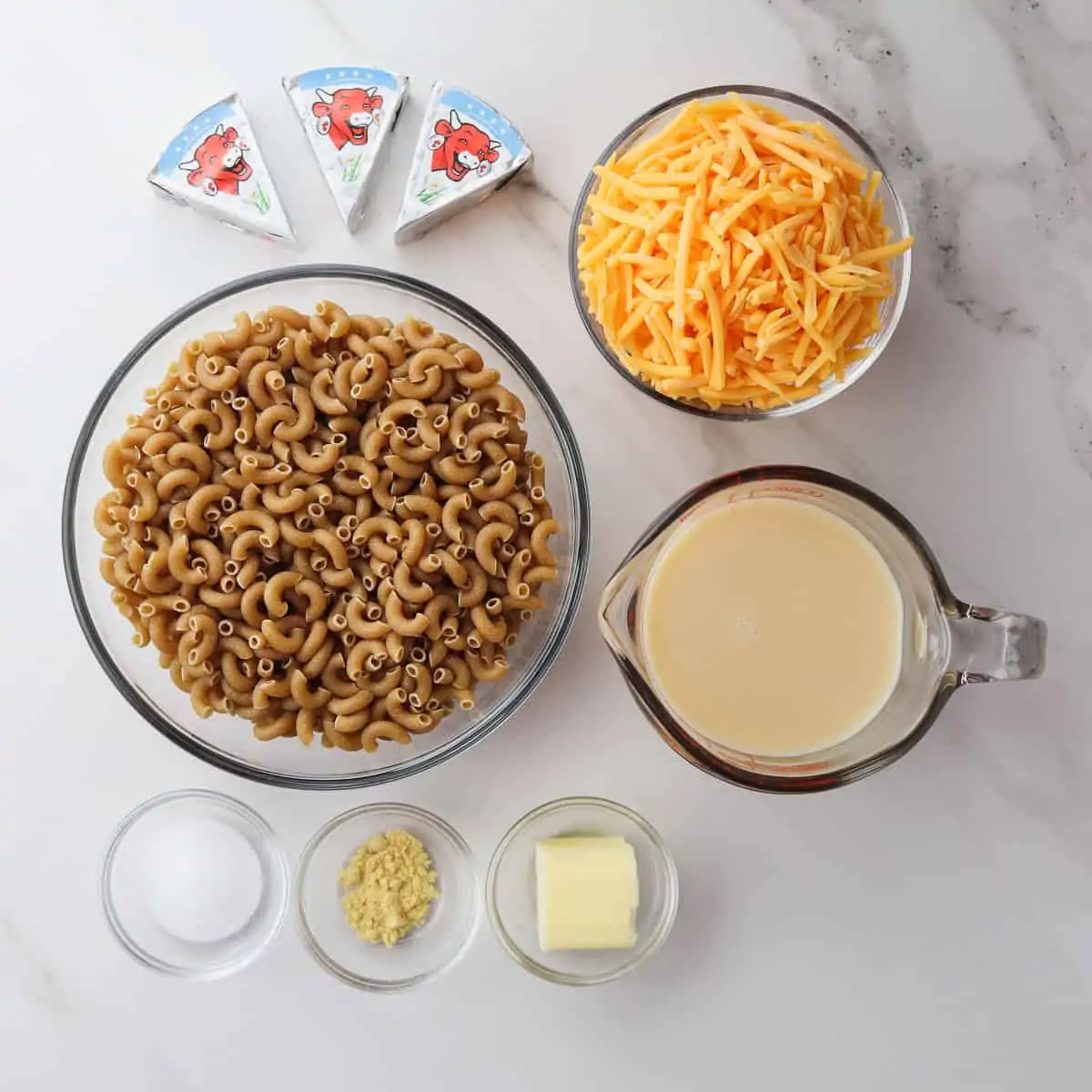 Substitutions
Laughing Cow light wedges - you can substitute another flavor of laughing cow, but I normally use the original light. If you don't want to use Laughing Cow wedges, you can substitute about 2 oz of light or low-fat cream cheese.
Whole-wheat elbow macaroni - regular elbow macaroni could be used instead of whole-wheat, and it will have a similar calorie count. The whole-wheat noodles do add extra fiber. You can also use a different shape of noodles if desired, such as whole-wheat rotini or penne.
Fat-free evaporated milk - if you don't have evaporated milk, you can use regular milk. Using regular milk will make the sauce a little bit thinner, so you may want to use a little bit less than if using evaporated milk.
Pinch of cayenne pepper - a dash of hot sauce also works great if you don't have any cayenne pepper!
Stove-Top Instructions
First, boil the whole wheat noodles on the stovetop according to package instructions (about 8-9 minutes). Drain the water from the noodles (I love my clip-on pot strainer!) and return the noodles to the pot.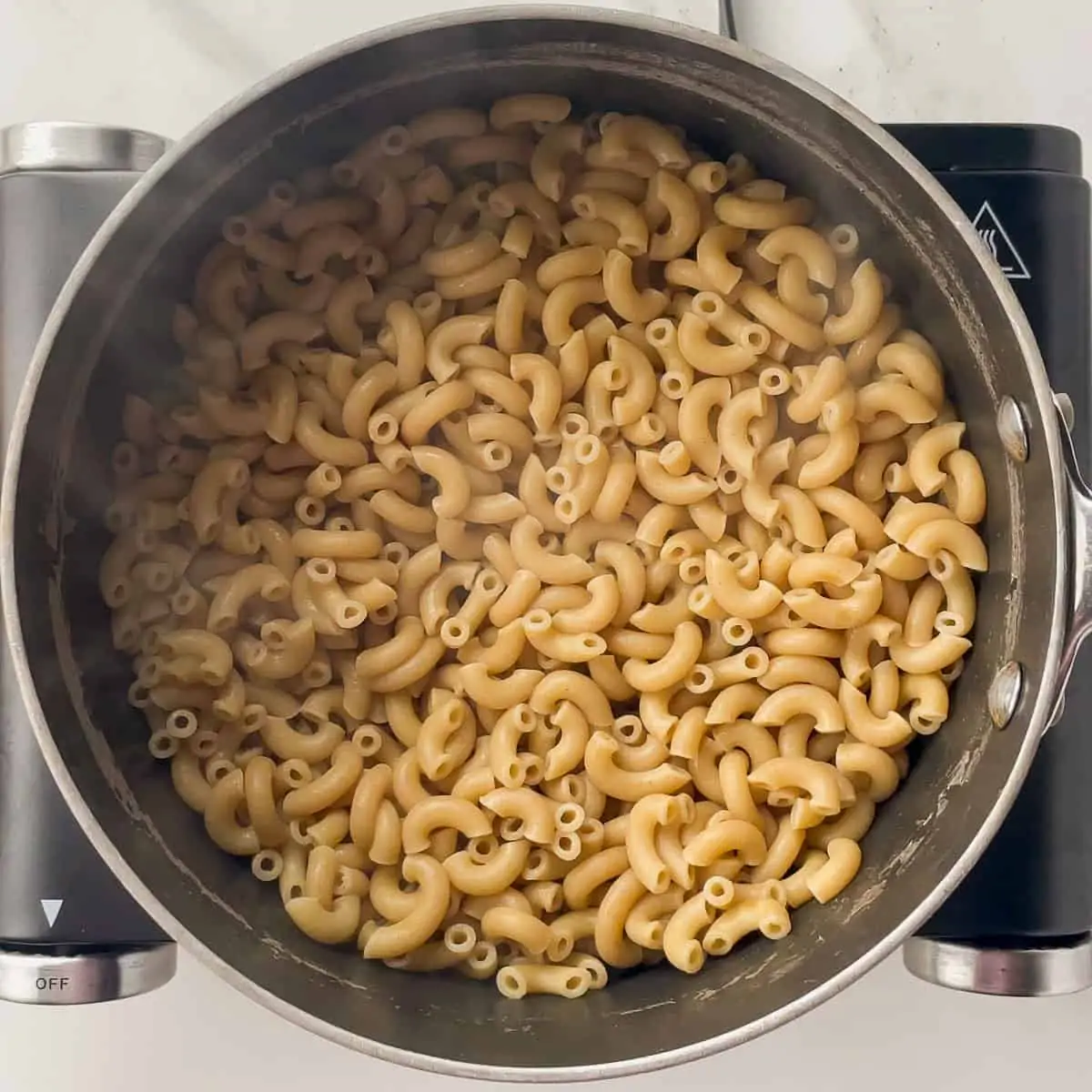 Set the stovetop to low heat, add the butter to the noodles, and stir until melted. Then add the laughing cow wedges and stir until the cheese is melted.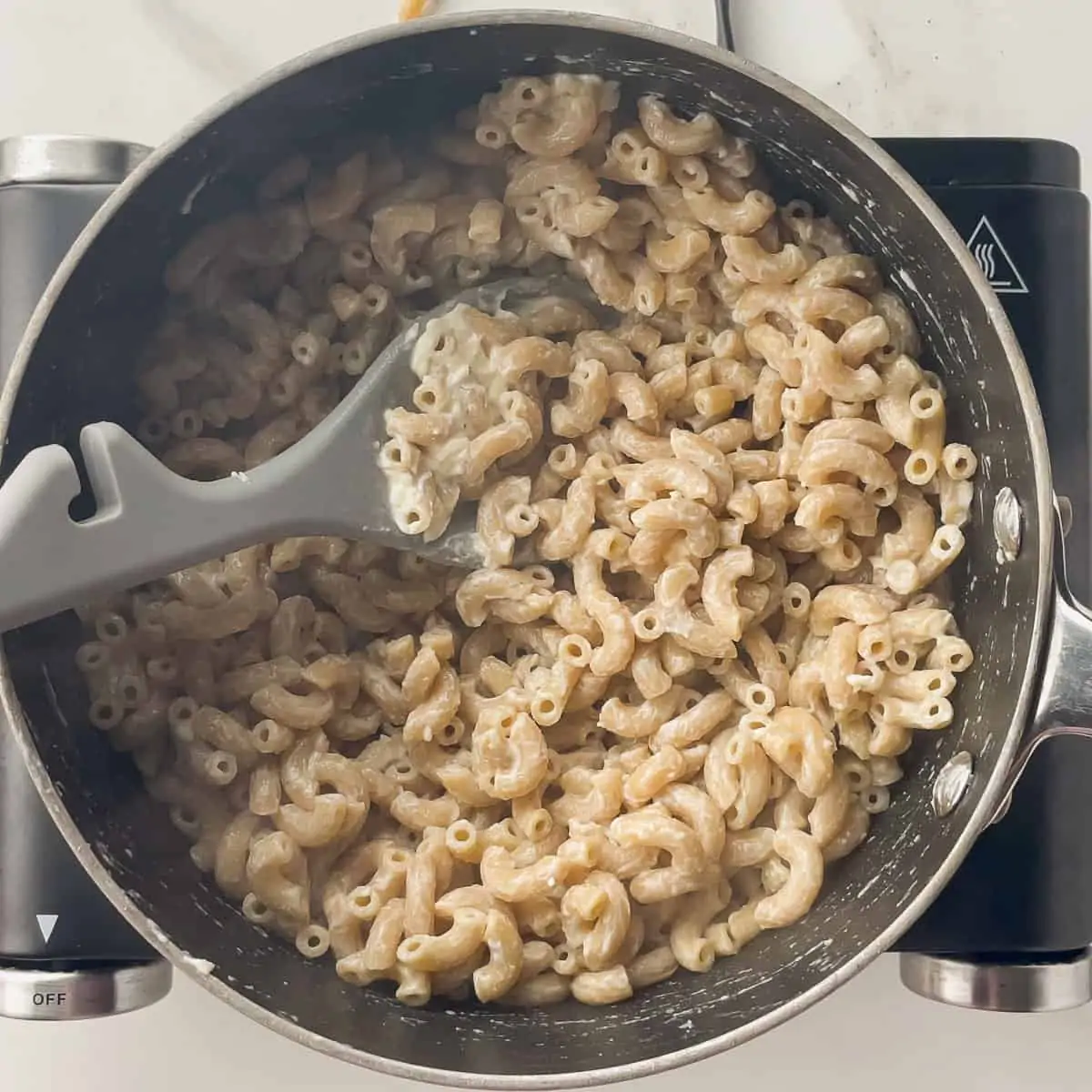 Next, add the cheddar cheese, evaporated milk, and seasonings.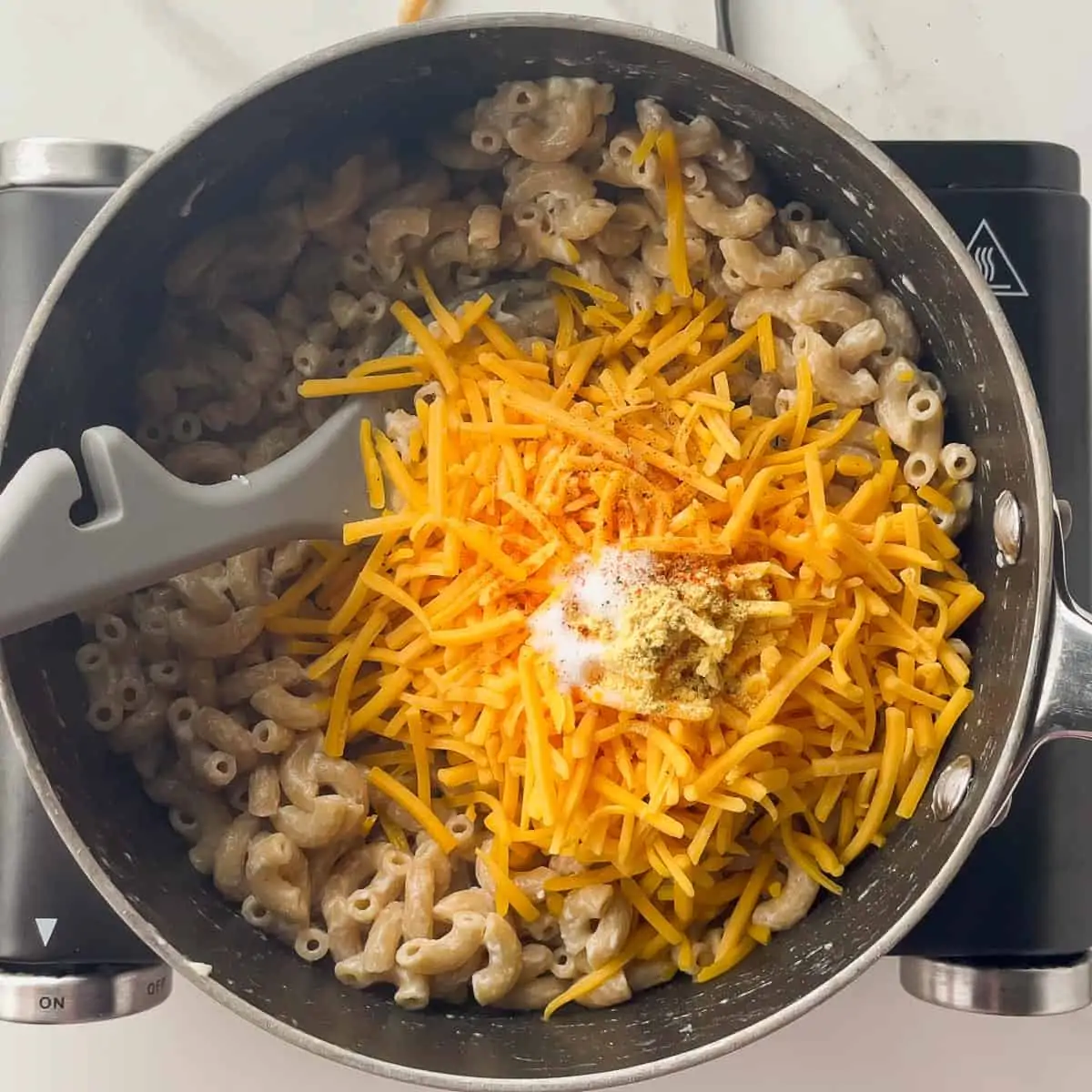 Keep stirring until the cheese is completely melted and the sauce reaches the desired consistency. The sauce will continue thickening as you heat and stir it.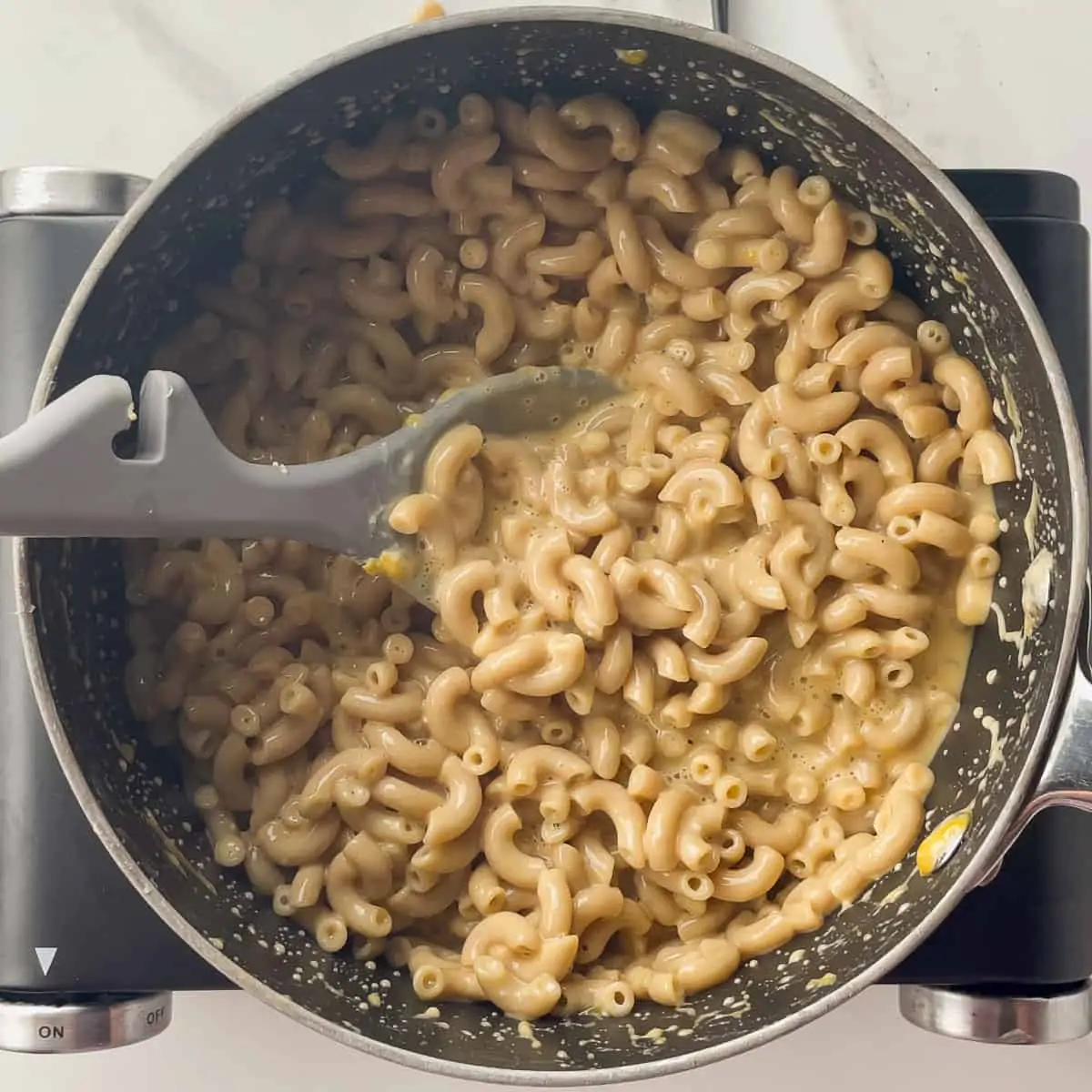 Serve hot! Optionally, you can top it with an extra layer of shredded cheese and a dash of fresh parsley.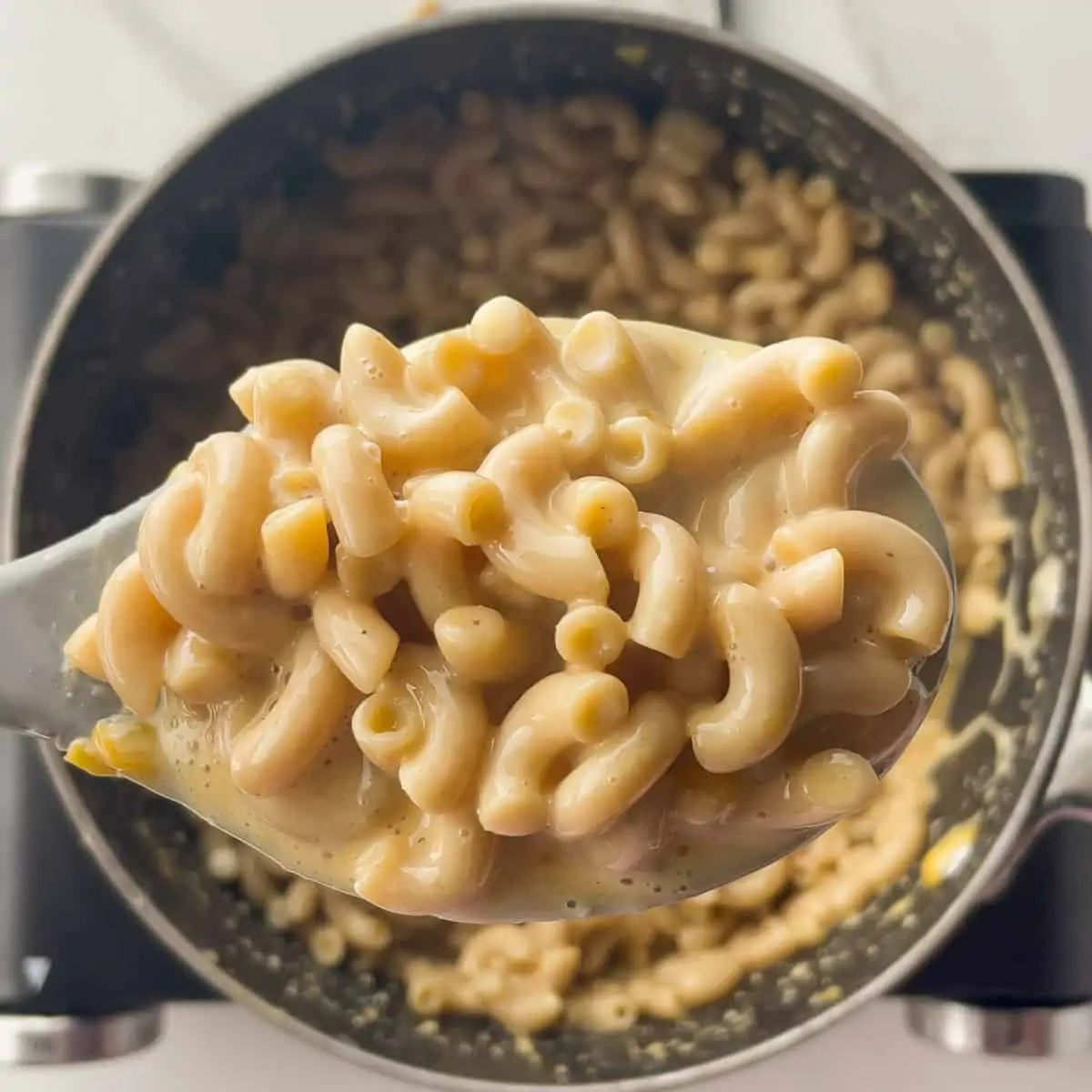 Instant Pot Instructions
You can also make this recipe easily using your Instant Pot! To cook the noodles in the Instant Pot, add 8 oz of elbow macaroni and 2 cups of water. Put the lid on the Instant Pot and set it to High Pressure for 4 minutes, followed by a quick release.
Once you open the lid, there is no need to drain the pasta. Most of the water should have been absorbed into the noodles. From this point on, you can follow the stove-top instructions to make the cheese sauce. You can set the Instant Pot to saute, low heat, while you melt the cheese sauce.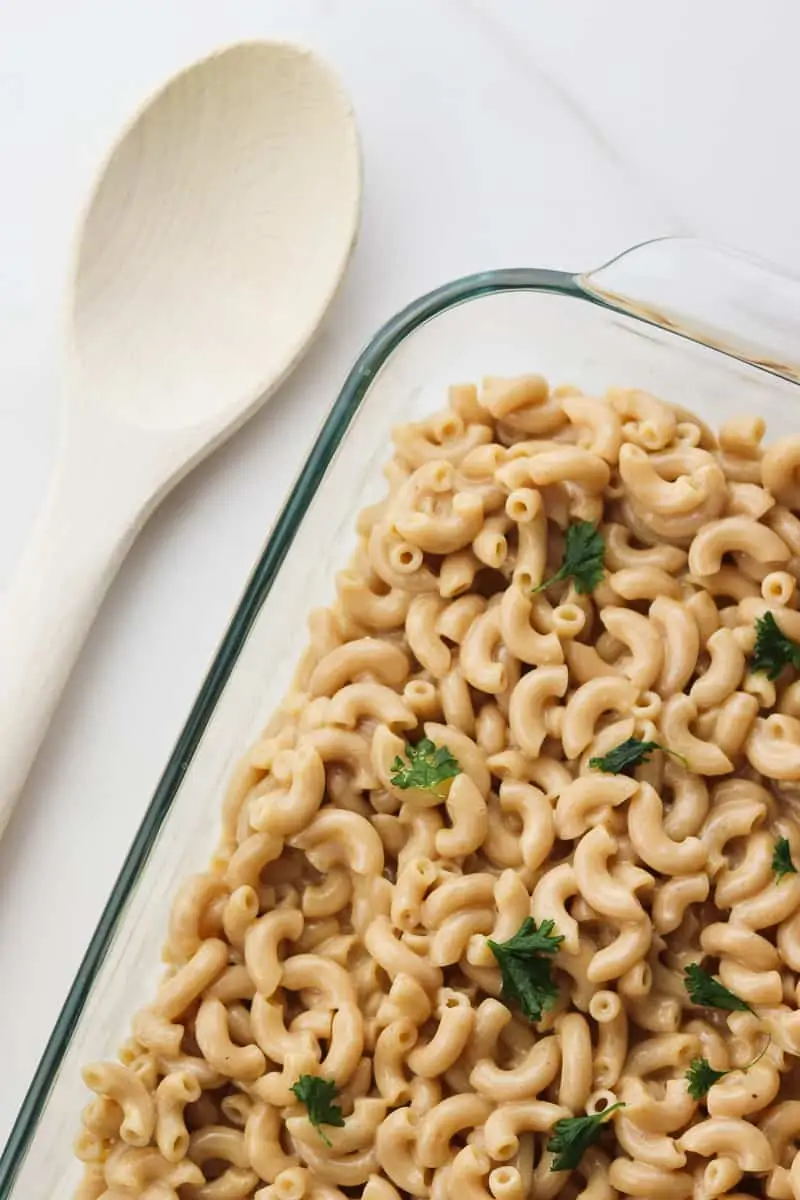 Top Tips
If the sauce is too thin, add in additional evaporated milk, one tablespoon at a time.
If the sauce is too thick, continue to heat and stir at low to medium heat until it reaches a thicker consistency. It will thicken up as some of the liquid boils off.
Add some meat and veggies to make it a full meal! Check out the next section for suggestions.
Measure your portion size using a food scale if you are closely watching your calorie count. Sometimes it can be easy to over-estimate the portion size.
If you use regular white noodles instead of whole-wheat elbows, the recipe will have a similar calorie count but less fiber.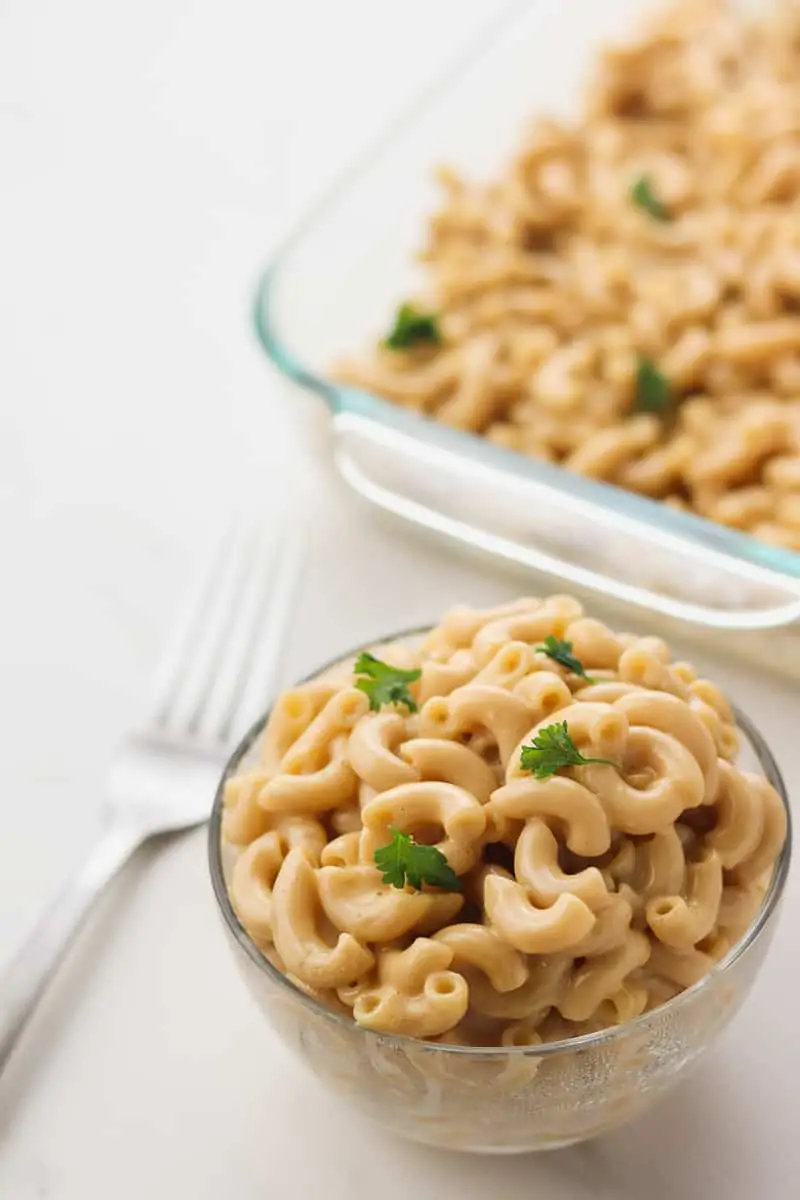 Toppings and Add-Ons
Easily turn your mac and cheese into a healthy meal by adding a meat of your choice and even mix in some veggies. When adding any mix-ins or toppings, be sure to fully cook them first. Veggies can be quickly steamed in the microwave before you mix them in.
Protein Toppings:
Vegetable Mix-Ins:
Broccoli
Cauliflower
Mixed vegetables (steam in the bag veggies are ready fast!)
Green peas
Sauteed onions, mushrooms, or peppers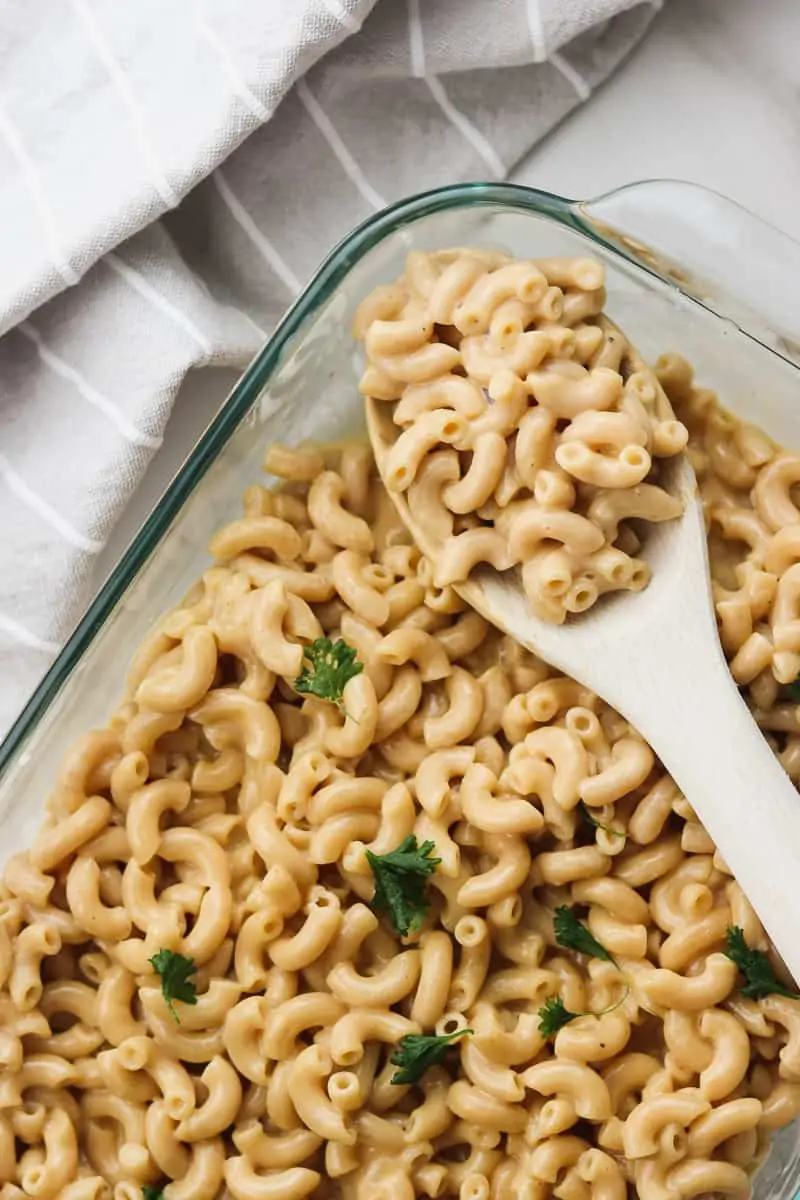 How to Double the Recipe
You can easily double this recipe if cooking it on the stove-top or Instant Pot. Make sure you use a large enough pot if cooking on the stovetop. For the Instant Pot, the cooking time stays at 4 minutes even if you double the recipe (make sure you double the amount of water).
How to Store
Leftovers can be kept in the refrigerator for 3-4 days. To reheat, microwave in 30 second increments until warmed through. If the sauce gets too thick, you can add a small splash of milk.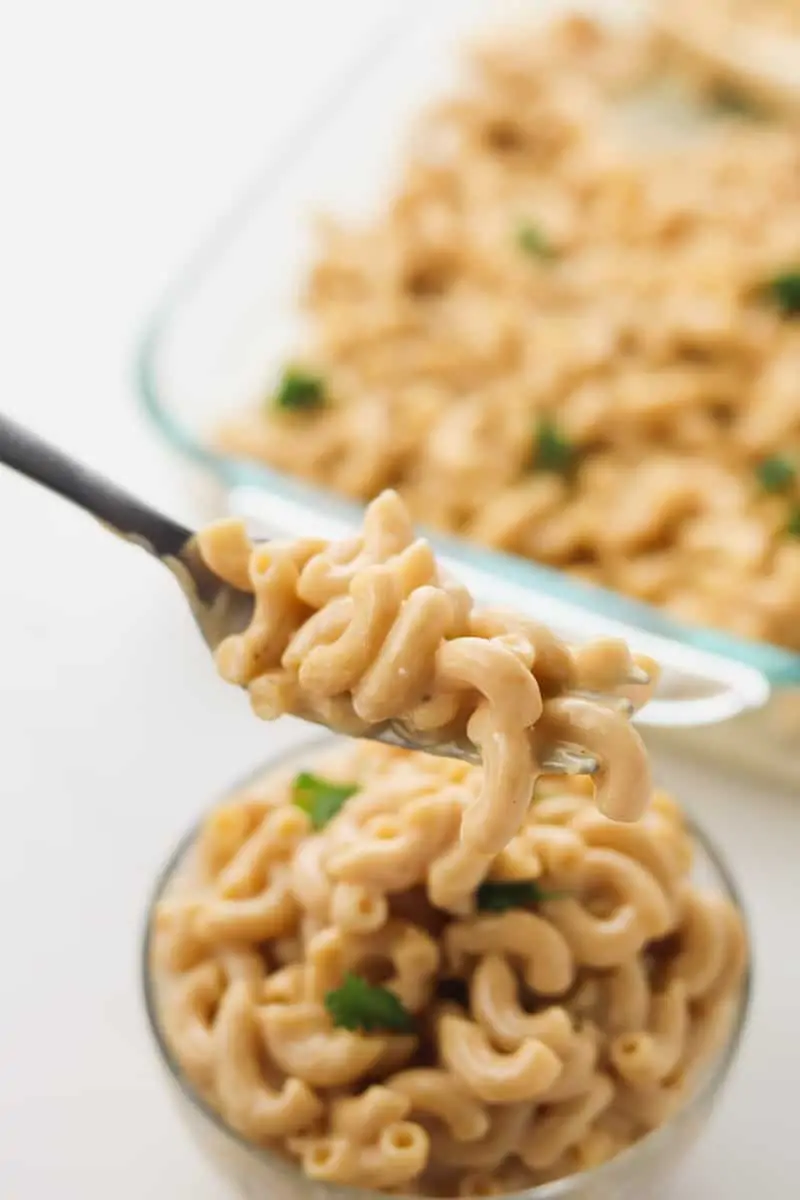 Calories & Serving Size
A serving size is ⅛ of the recipe or about a heaping ½ cup. Each serving size has about 200 calories. To make it a meal, double up the serving for a 400 calorie dish and add on some toppings!
More Healthy Side Dishes
If you liked this recipe, try these other healthy sides!