Air Fryer Nachos make the perfect quick and easy snack, appetizer, or meal! You can make crispy, cheesy air-fried nachos in less than 5 minutes!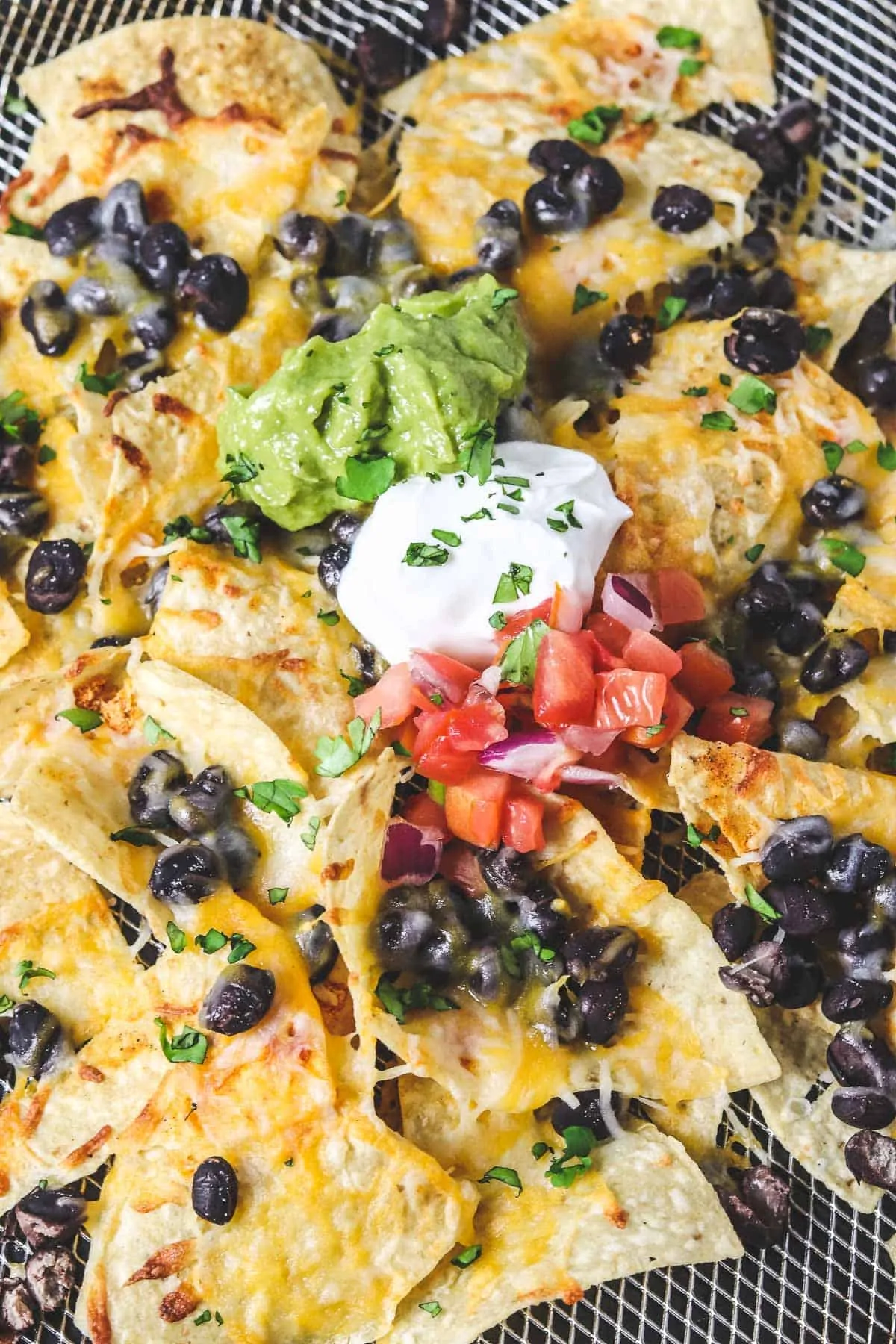 The air fryer perfectly crisps the chips while melting the cheese - no soggy nachos! These can be fully customized to add your favorite toppings - sour cream, guacamole, pico de gallo, salsa, lettuce, or other veggies.
By making your own nachos at home, you can save calories by measuring out the amount of chips, cheese, and toppings. I love to use black beans on nachos to add protein. Adding the black beans truly turns them into a filling meal!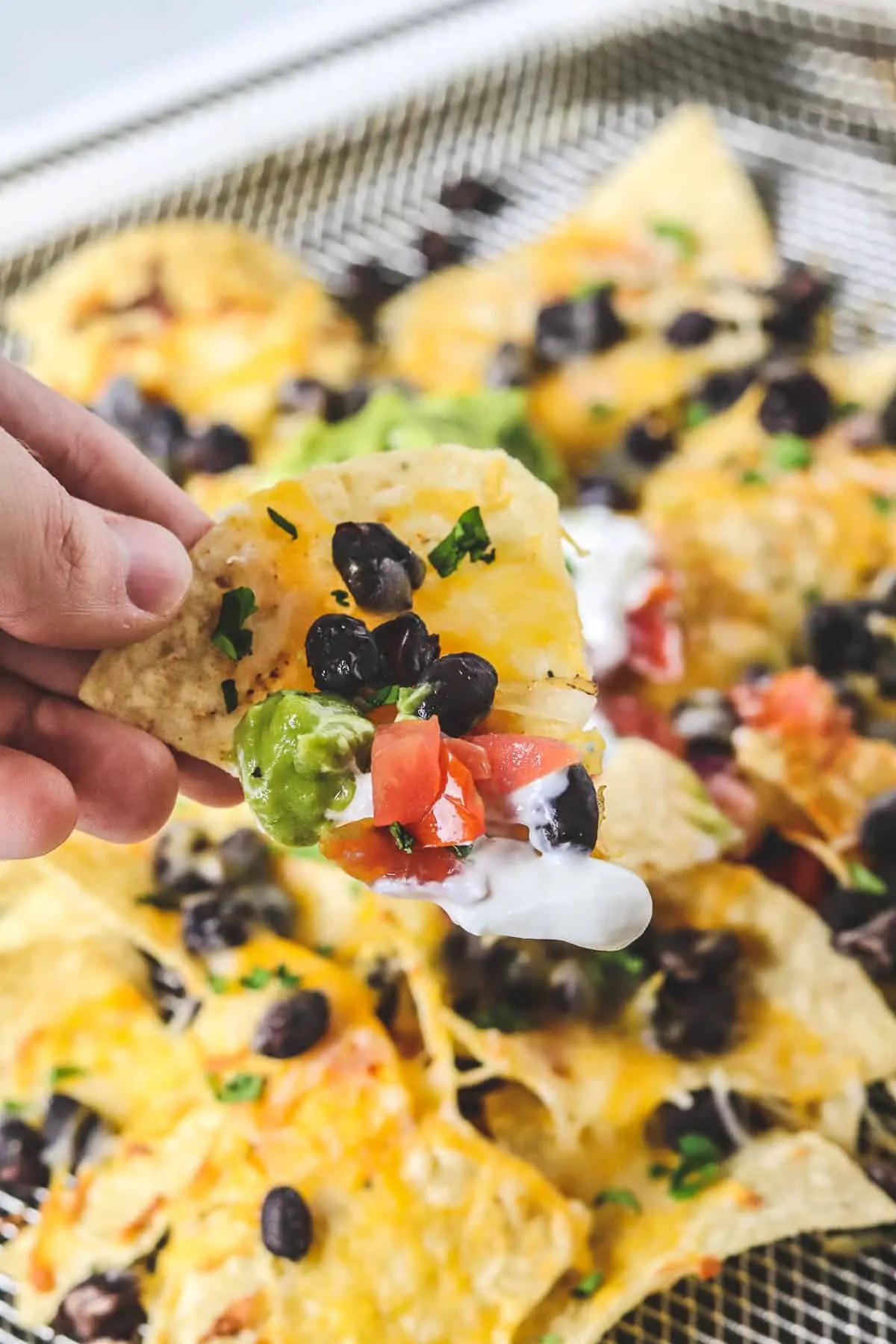 These nachos are great for game-day or anytime you're craving a cheesy snack! Eat the full recipe to make it a meal, or share with friends to make it a snack.
Jump to:
Base Ingredients
You will need:
Tortilla chips
Taco seasoning
Black beans (I used canned black beans, rinsed and drained).
Shredded Mexican blend cheese (4 cheese blend)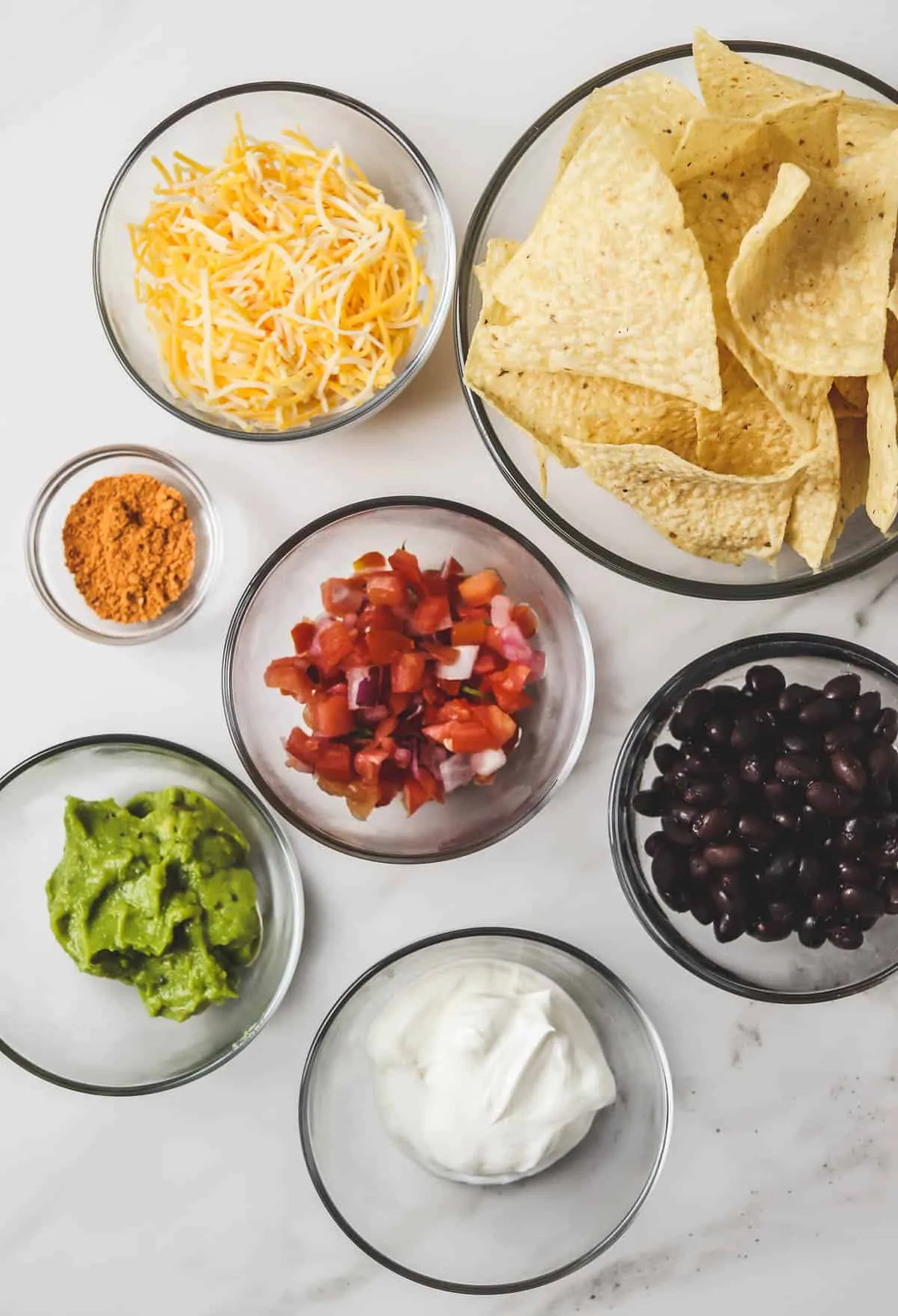 The most important part of nachos is of course the tortilla chips! You can make your own tortilla chips in your Air Fryer. If using bought chips, I like Tostito's Cantina thin and crispy chips. I prefer thinner chips because you can eat many more chips for the same number of calories!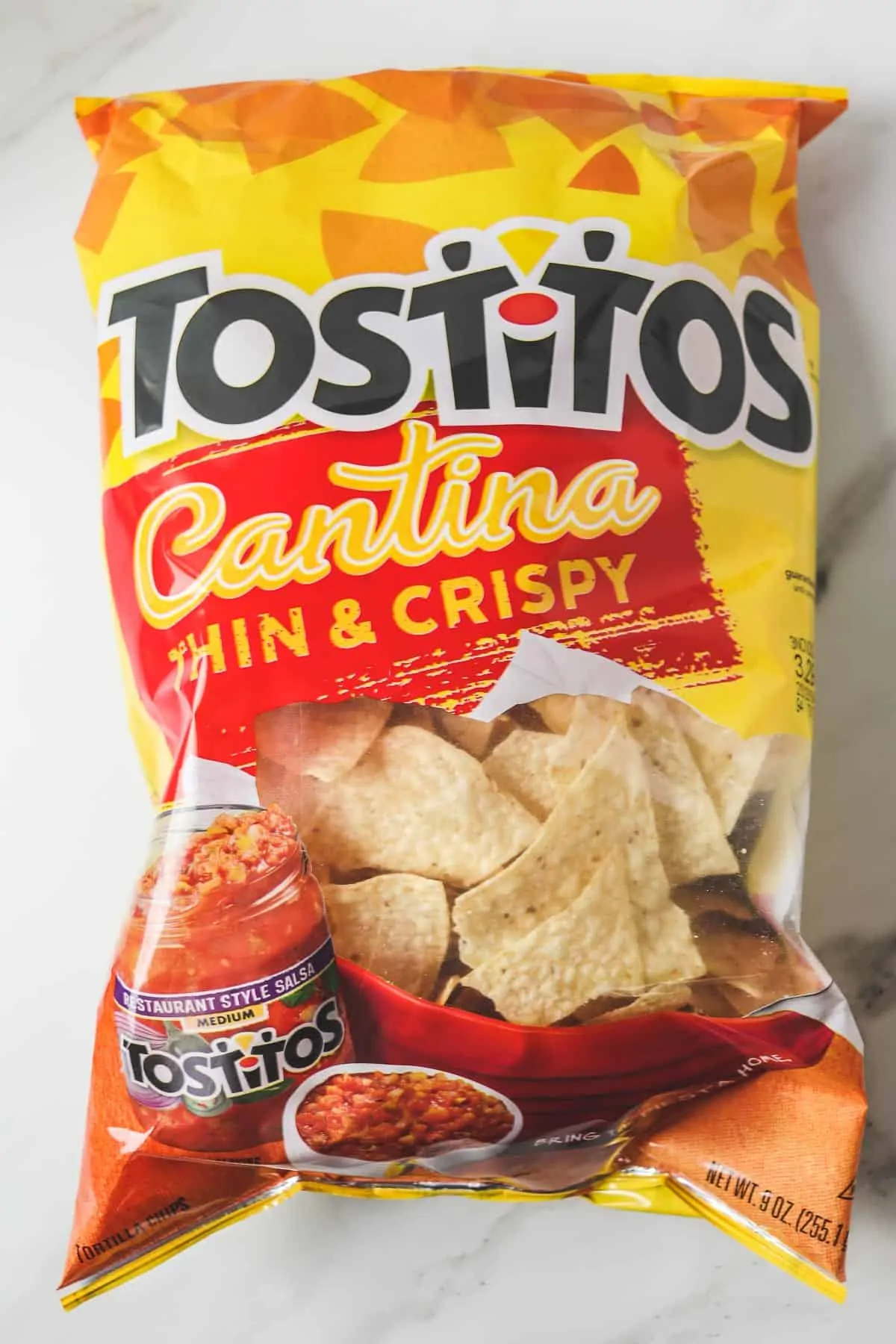 Optional Toppings
After air frying your nachos, you can add on any toppings as desired. These are some of the toppings I like:
Light sour cream
Guacamole
Pico de gallo or salsa
Sauteed peppers and onions (for fajita-style nachos)
Shredded lettuce
Jalapenos
Fresh cilantro
Hot sauce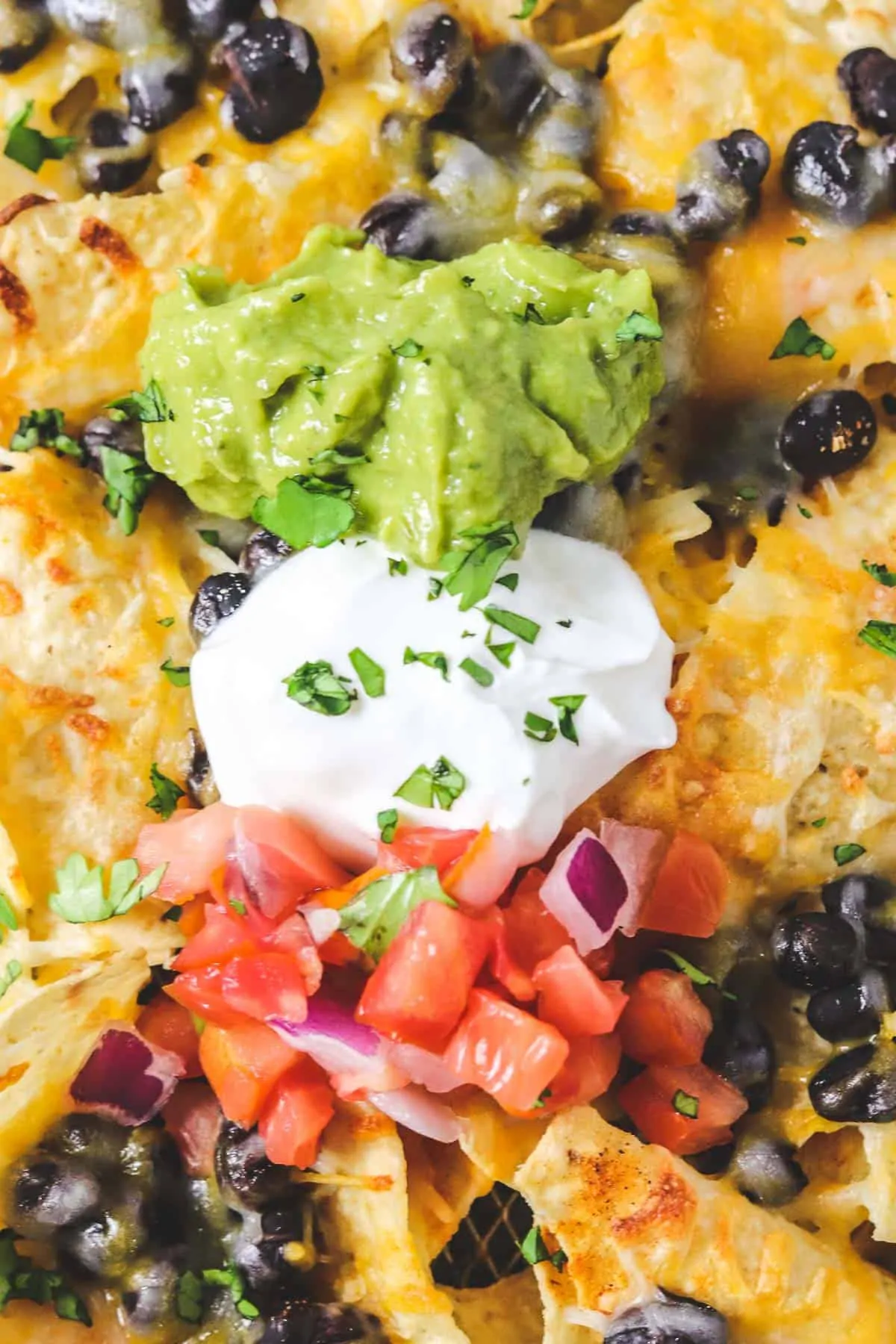 Substitutions
Black Beans - if you don't want to use black beans, you can leave them off entirely or substitute with any other meat. Cooked chicken (diced or shredded) or cooked ground beef or turkey are also delicious on Nachos! You can also swap black beans for pinto beans or refried beans.
Shredded Mexican Cheese Blend - you can use any type of cheese here, but Mexican blend is probably my favorite. Cheddar cheese would also taste great! You can also use refrigerated white queso cheese dip instead of shredded cheese. If your queso is very thick, you may need to warm it slightly in the microwave in order to spread it across the chips.
Instructions
Step 1: Layer Nachos
First, lightly spray your air fryer basket with nonstick spray. Spread tortilla chips in a solid layer in the air fryer basket. Aim to make one solid layer of chips with minimal overlap. I have a larger oven-style air fryer, so my basket has plenty of space.
Next, lightly dust the chips with taco seasoning. This is optional, but it will give your nachos a nice punch of taco flavor!
Then add the black beans (or your meat of choice). Top with the shredded cheese.
Step 2: Air Fry Nachos
Set the air fryer to 350 degrees, and Air Fry for about 3-4 minutes. Nachos are ready when the cheese is melted and just starting to brown slightly on the edges. Nachos will cook very quickly in the air fryer!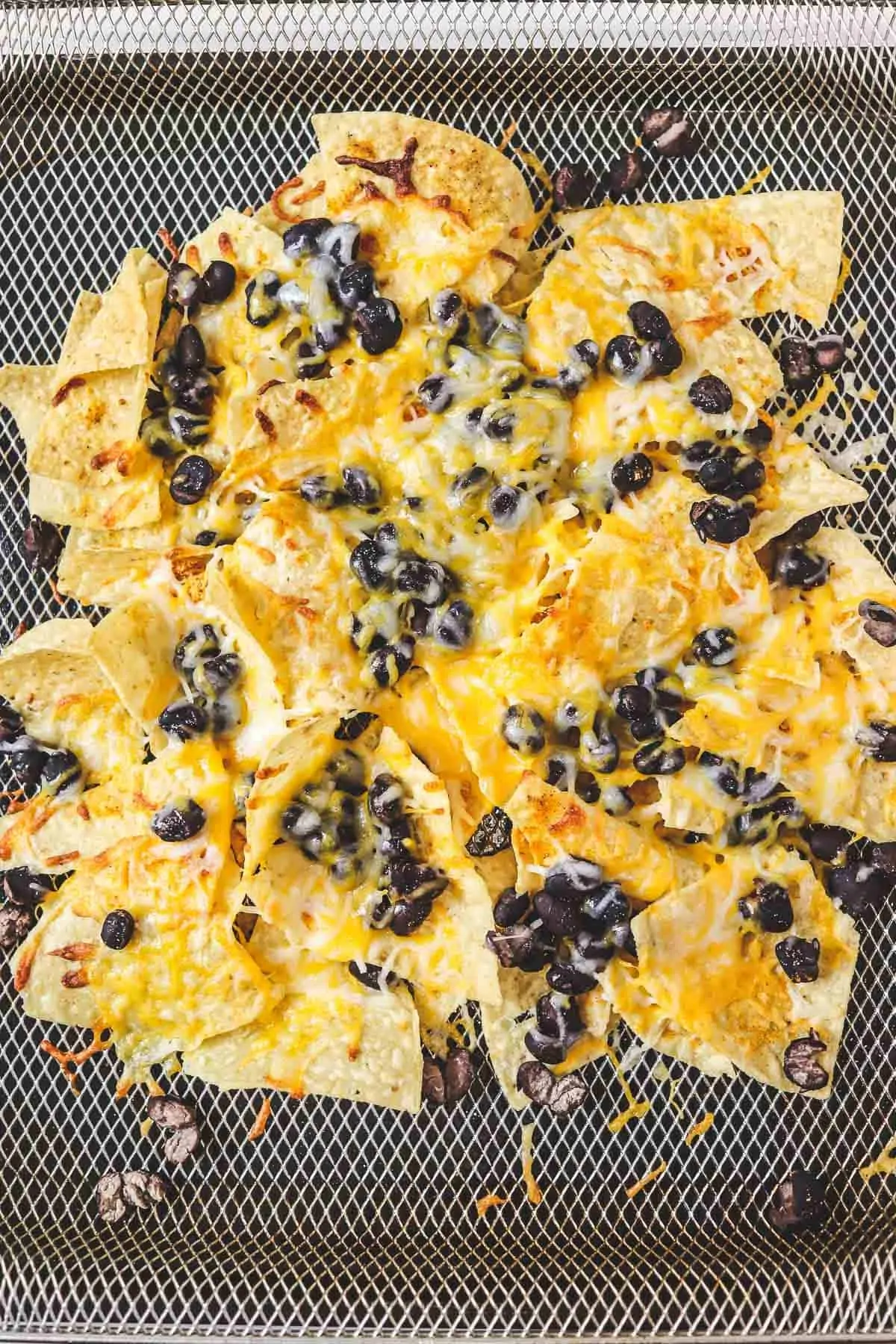 Step 3: Add Toppings
After removing cooked nachos from the air fryer, add your favorite toppings and serve immediately! Everyone in the family can customize these to their own preferences!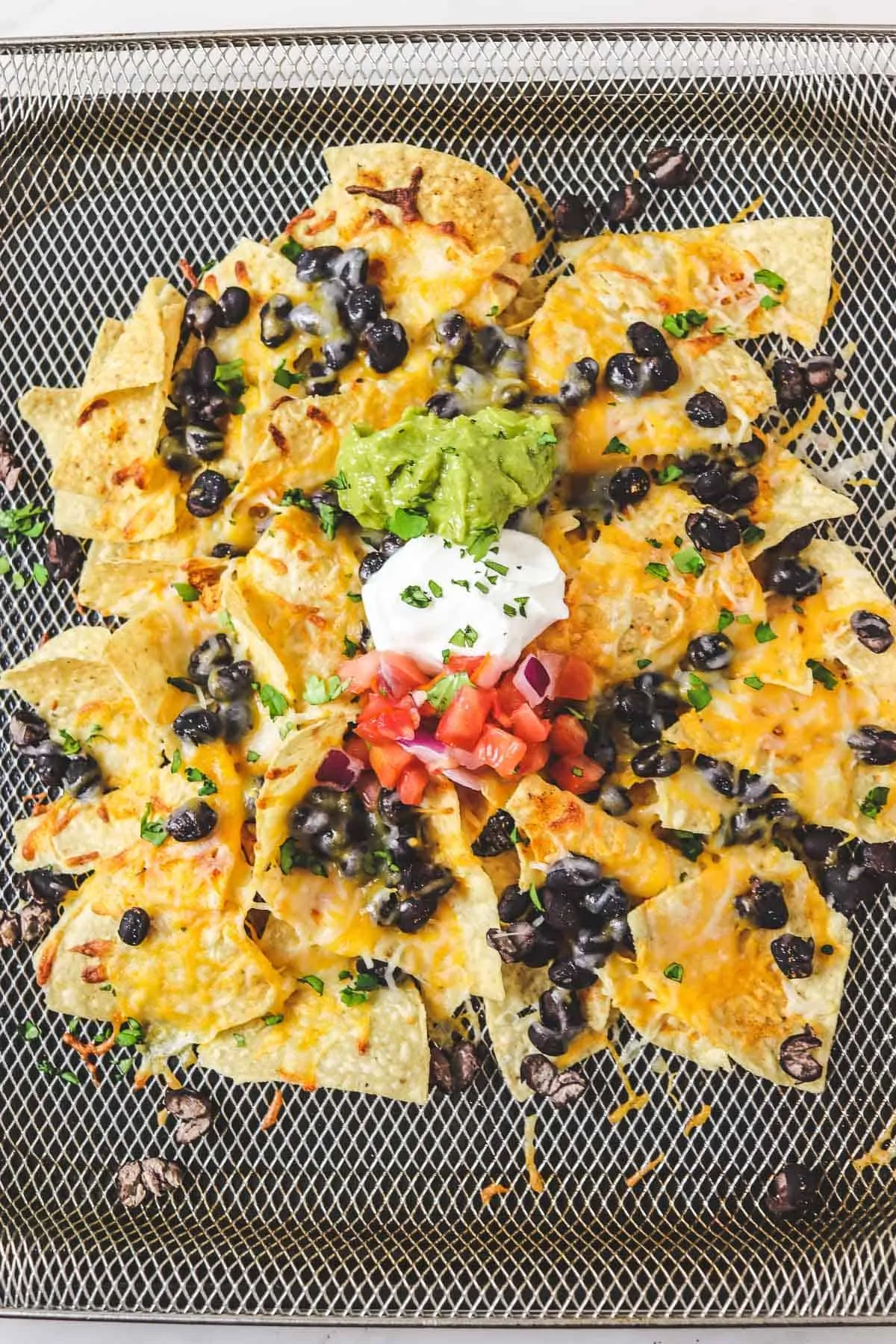 How to Serve
If you want to transfer these to a plate, you can use a spatula to scoop them out of the air fryer basket. The melted cheese should mostly hold it all together. If you sprayed the basket with nonstick spray, they shouldn't stick. Alternatively, sometimes I eat these straight out of the basket!
Top Tips
Nachos cook FAST in the air fryer. Watch these closely to make sure they don't burn! The exact cooking time will vary slightly depending on which air fryer model you have.
Be creative with your toppings! Everyone in the family can choose what they want.
Swap the black beans for any cooked meat that you have on hand - chicken, steak, ground beef, or ground turkey are good substitutes!
How to Double the Recipe
If you want to double this recipe, I recommend cooking in two batches (unless you have a very large air fryer). It's best to keep the chips in a single layer so that you don't have a ton of chips on the bottom with no toppings on them.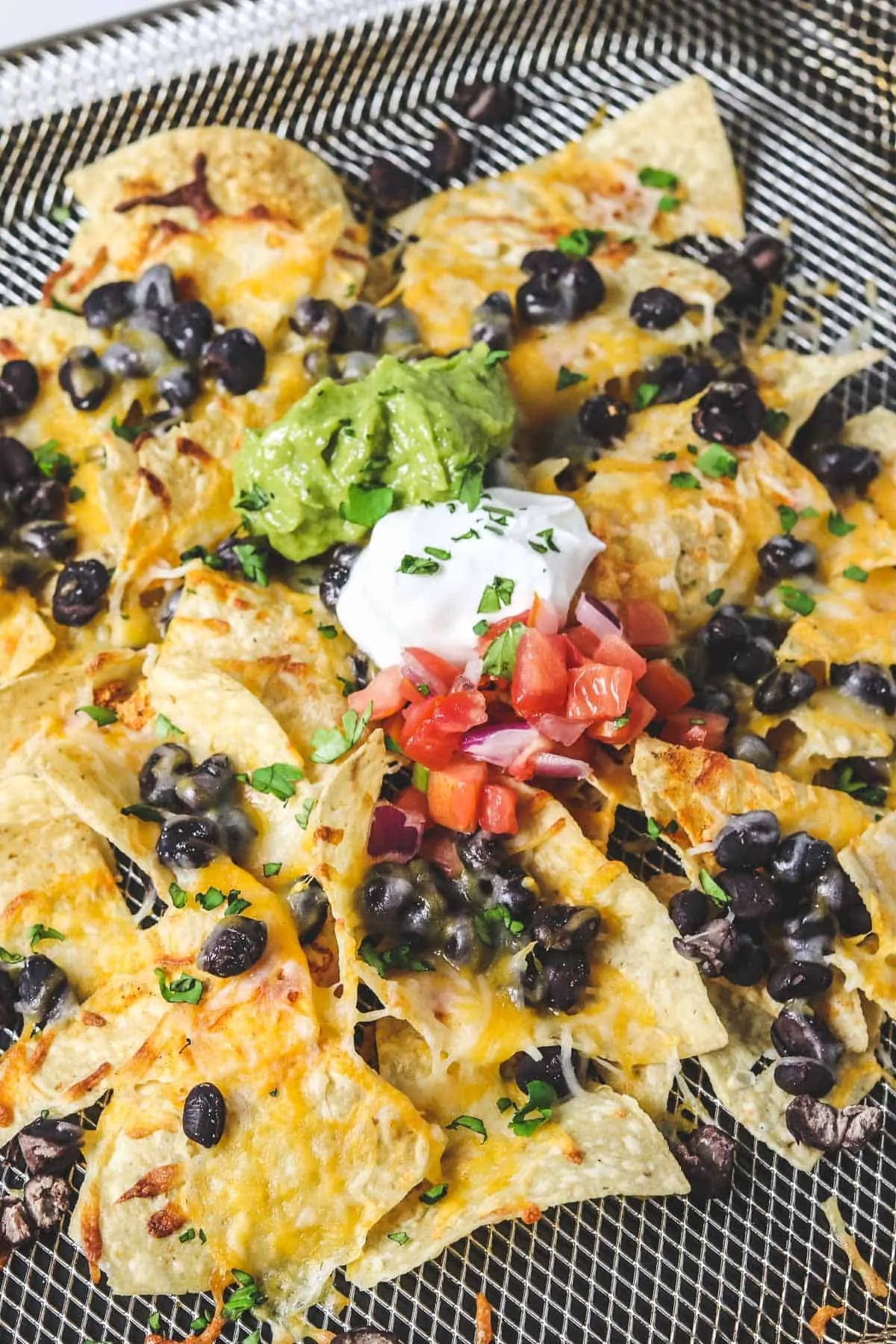 How to Reheat Nachos in the Air Fryer
If you have leftover nachos, they are best if you reheat them in the air fryer. This will help remove some of the sogginesses. Set the air fryer to 350 degrees and cook for 3-5 minutes, until warmed through.
Calories Per Serving
If you follow this recipe exactly and don't add any toppings, there are about 290 calories in ½ of the recipe. If you're watching your calories, I highly recommend the "thin and crispy" style tortilla chips because you can get a lot more chips in 1 oz.
Low calorie toppings include pico de gallo, salsa, shredded lettuce, or other veggies. Light sour cream and guacamole can also be enjoyed as long as you watch your portion size! Personally, I love sour cream so I don't skip it!
Recipe