This sugar-free frosting recipe is light, fluffy, and delicious! With only 2 g carbs and 20 calories per serving, this frosting is the perfect low-carb topping for cake, cupcakes, or cookies!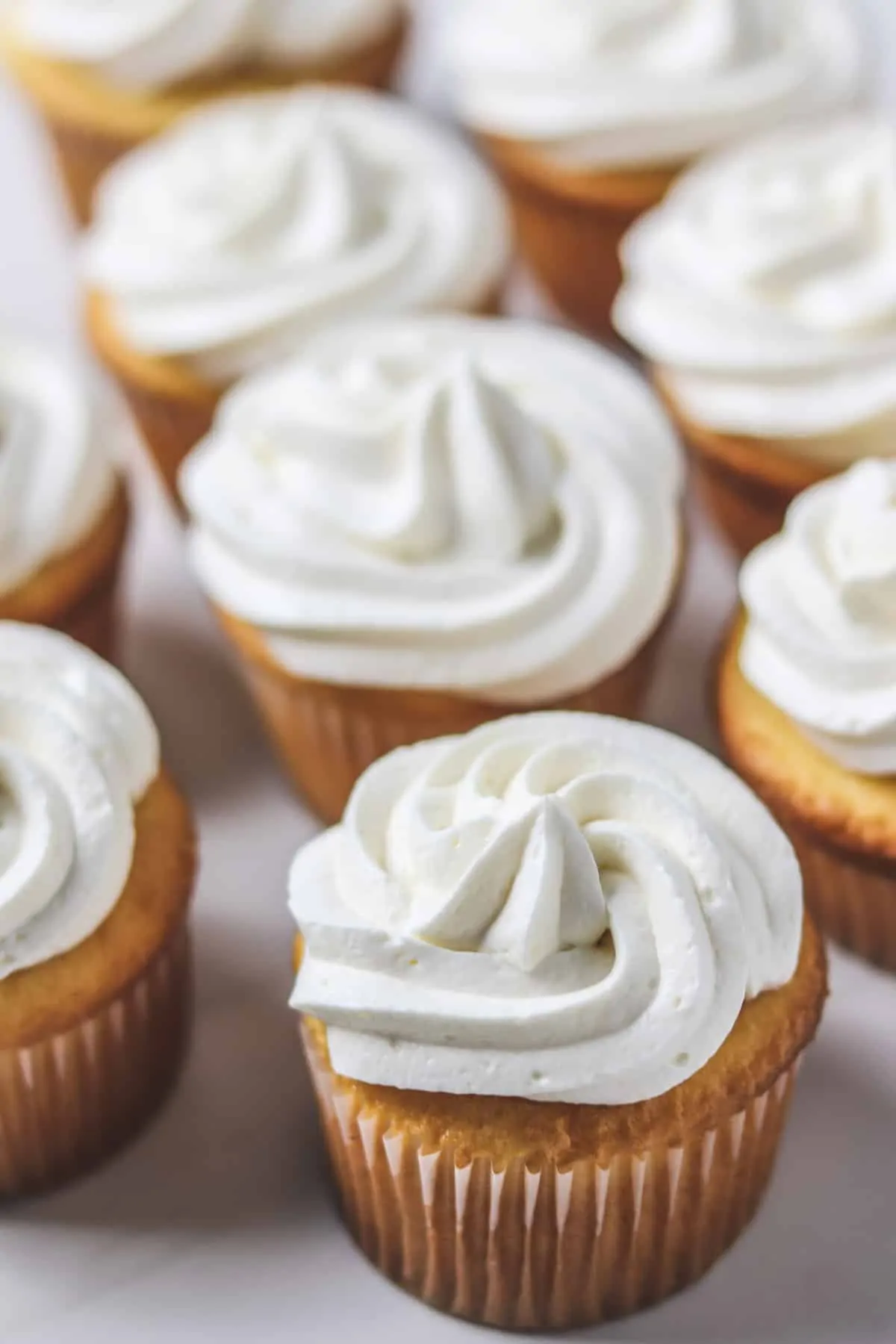 Regular frosting is loaded in sugar, calories, and fat. In many cases, the icing on top of store-bought cupcakes can have more calories than the cake part! I love using this simple whipped frosting recipe to make lower-calorie frosting that I can enjoy guilt-free!
This easy recipe is thrown together with only 4 ingredients, and it only takes a few minutes to whip up a batch. While it doesn't form a crust on the outside like a traditional buttercream, you can load it in a piping bag to make pretty cupcakes or decorate a cake.
You can take this same base recipe and make many different flavors - whether you want vanilla or chocolate. You can also add food coloring to make it any color!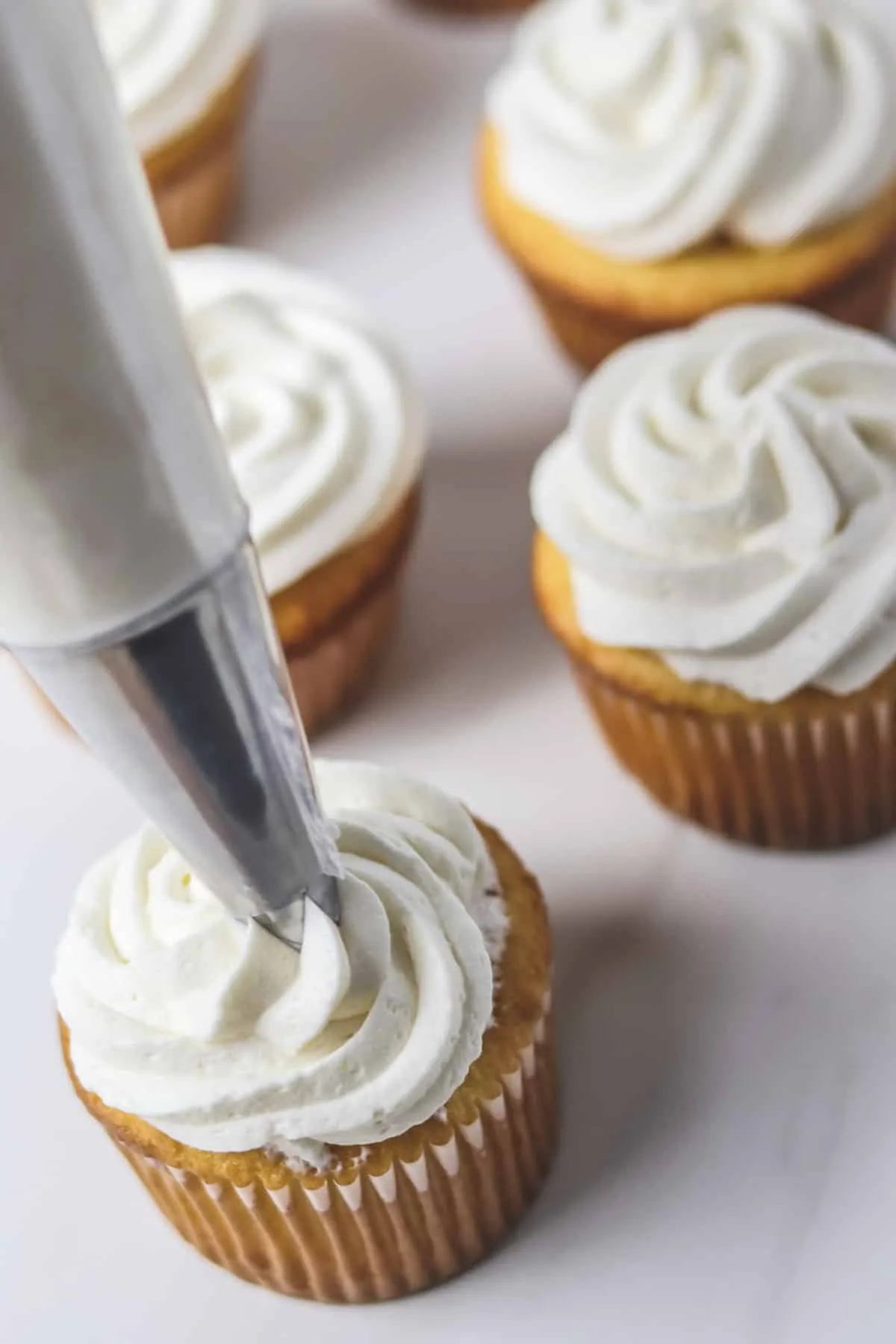 Jump to:
Ingredients
You will need:
1 cup fat-free milk
1 small package sugar-free white chocolate instant pudding mix (1 oz)
8 oz sugar-free cool whip, thawed (regular-sized tub)
1 teaspoon vanilla extract (optional)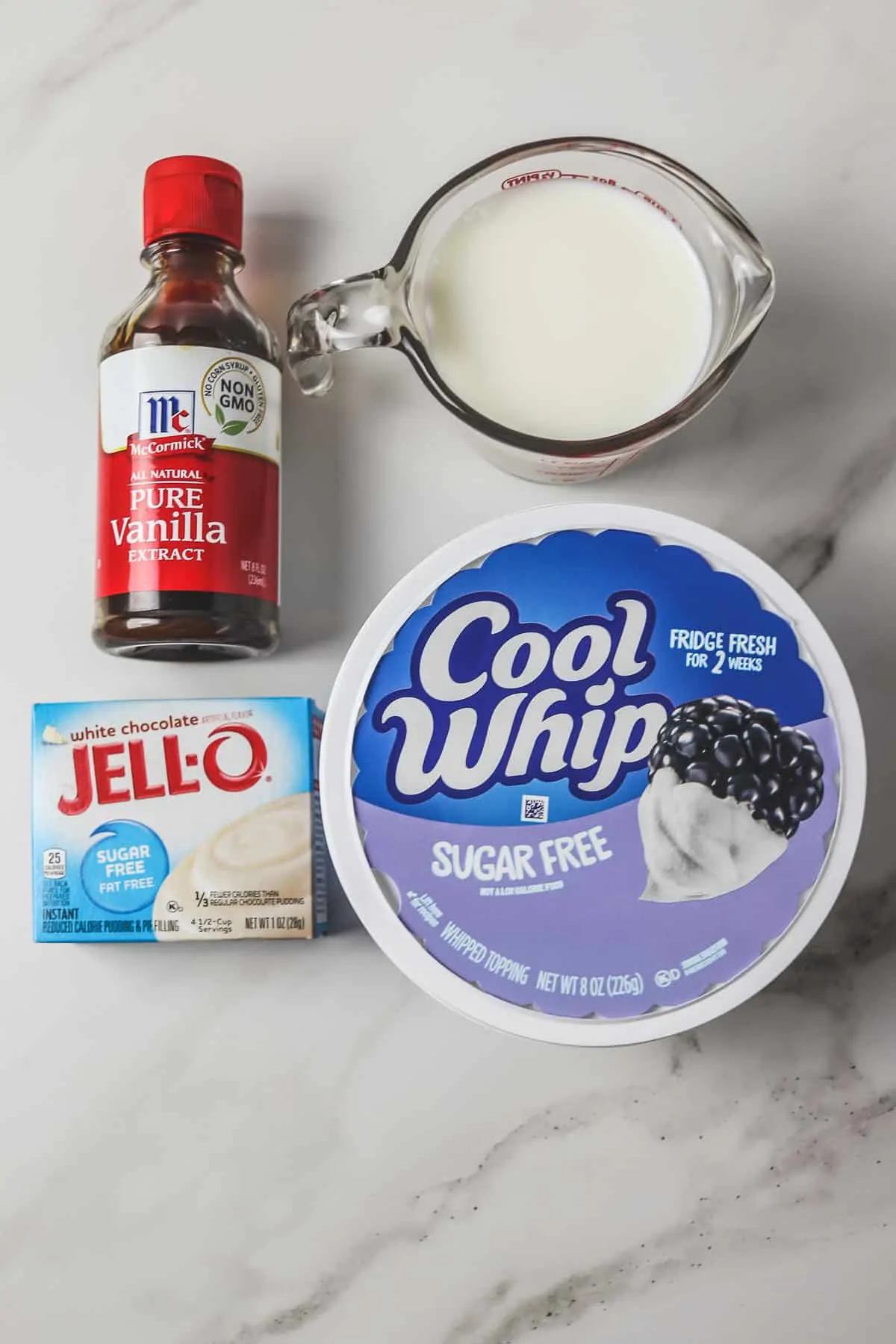 Substitutions
Sugar-free pudding mix – I use white chocolate flavor if I want to make a bright white icing. Vanilla pudding mix is also delicious, but it will give the icing a yellow tint. You can substitute any flavor that you'd like – chocolate, vanilla, cheesecake, pistachio, or banana cream.
Sugar-free cool whip – there is not a good substitute for cool whip, but you could use any variety (light, sugar-free, or regular). Store brand cool whip will work just fine!
Milk - regular cow's milk works best with the instant pudding mix. I normally use nonfat or 1% milk, but 2% or whole milk will also work. Your frosting will not get as thick if you use almond milk or soy milk. To reach the proper consistency, be sure you use regular milk (cow's milk).
Vanilla extract - you could also substitute almond extract or any other flavor you like. You can also skip the extract, if desired.
Instructions
First, whisk the milk and the pudding mix together until the pudding mix is completely dissolved and starts to thicken. This will take about 2 minutes of whisking.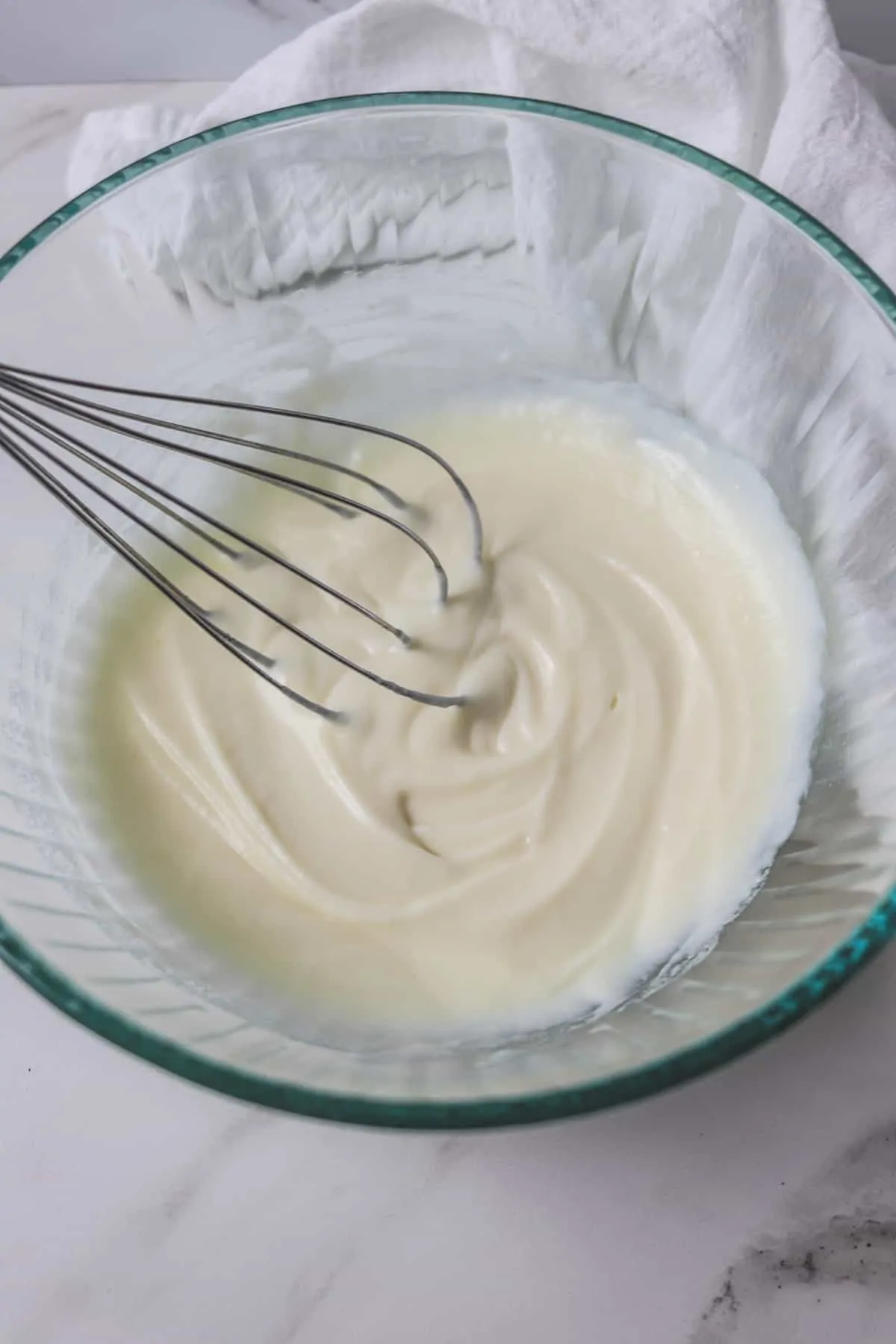 Next, add in the vanilla extract. Add the cool whip and fold it in until the mixture is smooth. If lumps remain, beat the frosting with a whisk until the lumps go away.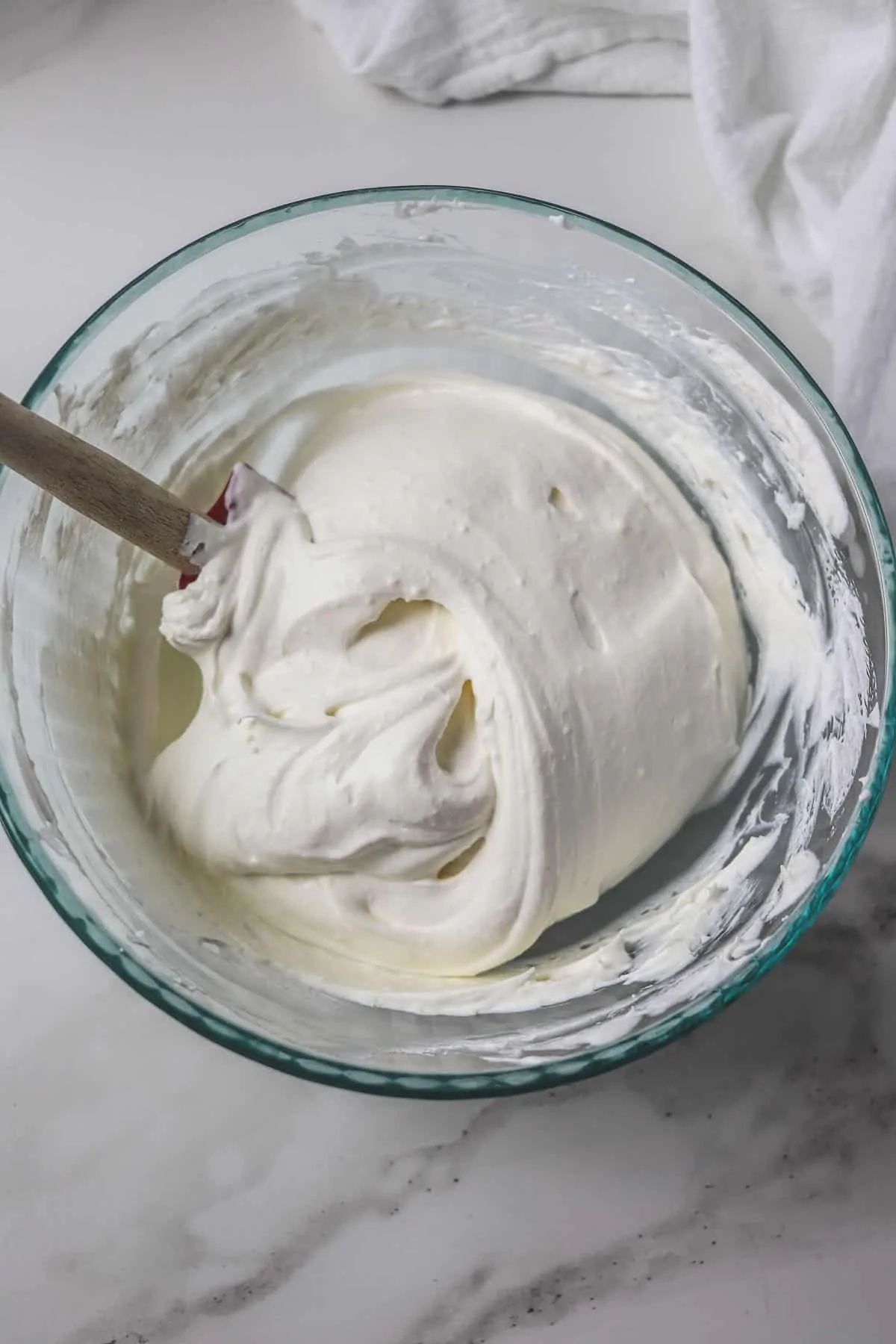 Cover and refrigerate frosting for at least 30 minutes. It will firm up as it chills.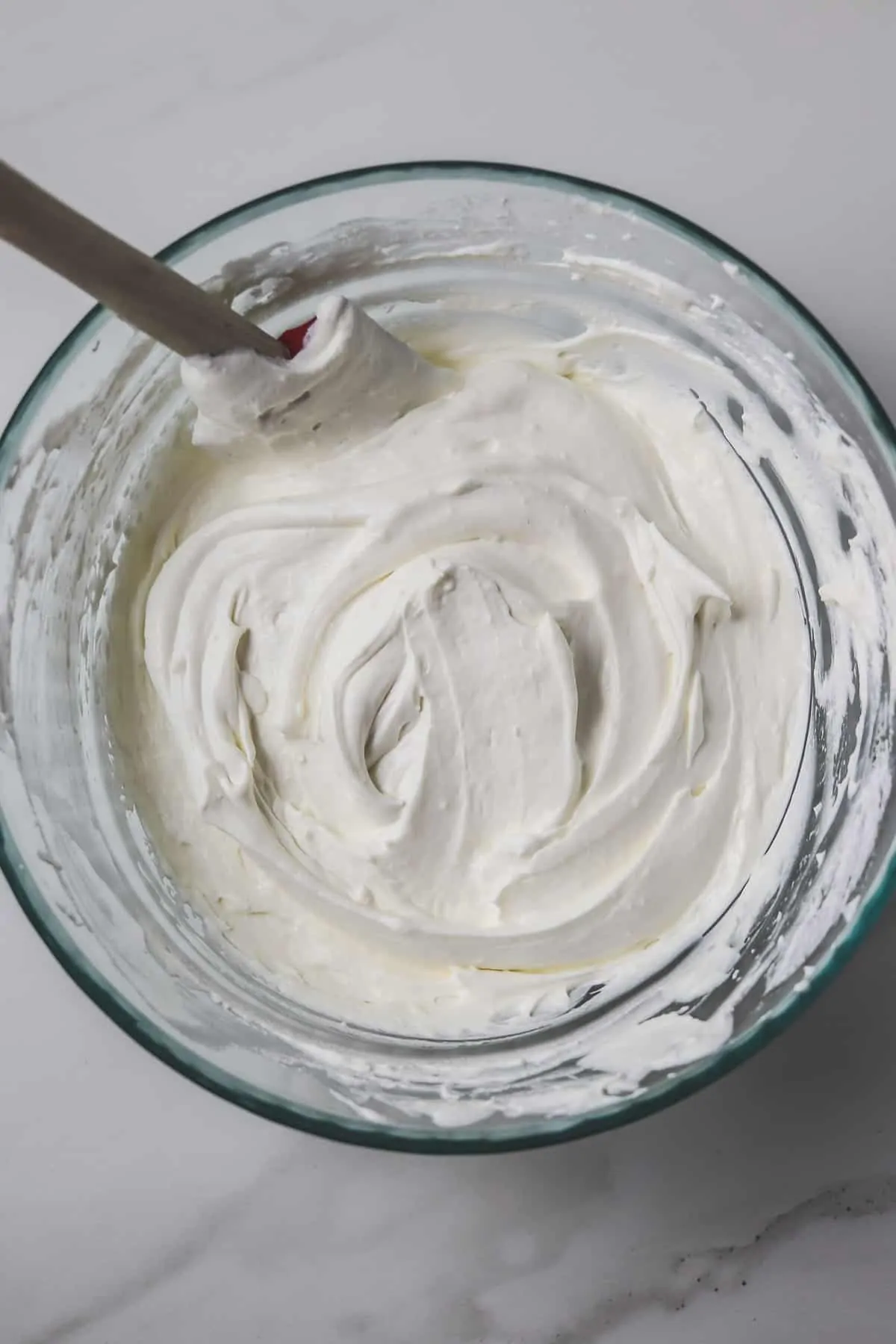 If desired, you can load it into a piping bag to decorate cakes or cupcakes. You could also color it with food coloring.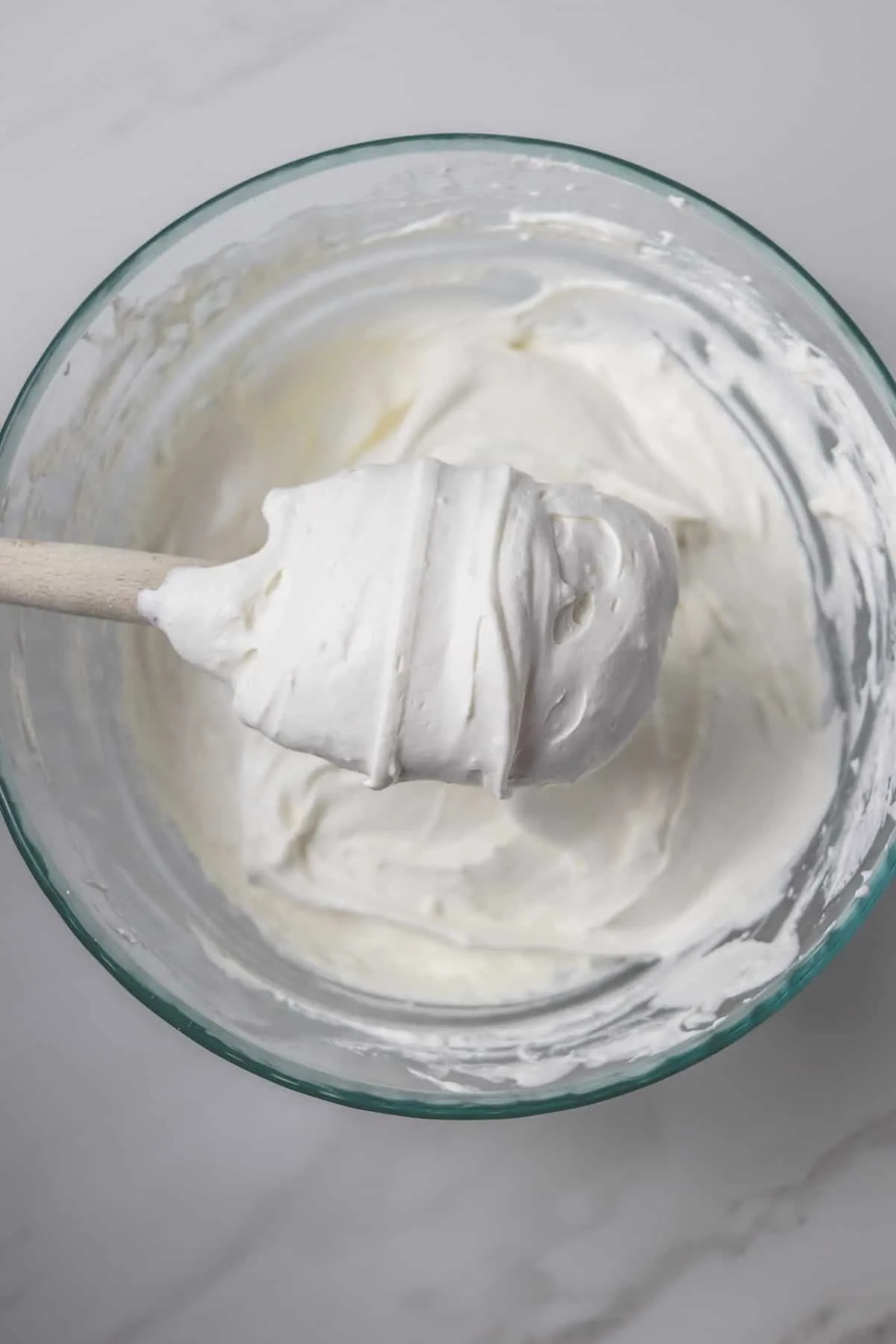 How to Frost with a Piping Bag
My favorite trick for loading icing into a piping bag is to use a glass to help hold up a bag. Grab a piping bag with a tip installed and fold the top of the bag back down over the sides of the glass. Place the opened piping bag in a heavy glass. With the piping bag held in the glass, you can easily fill it up with frosting.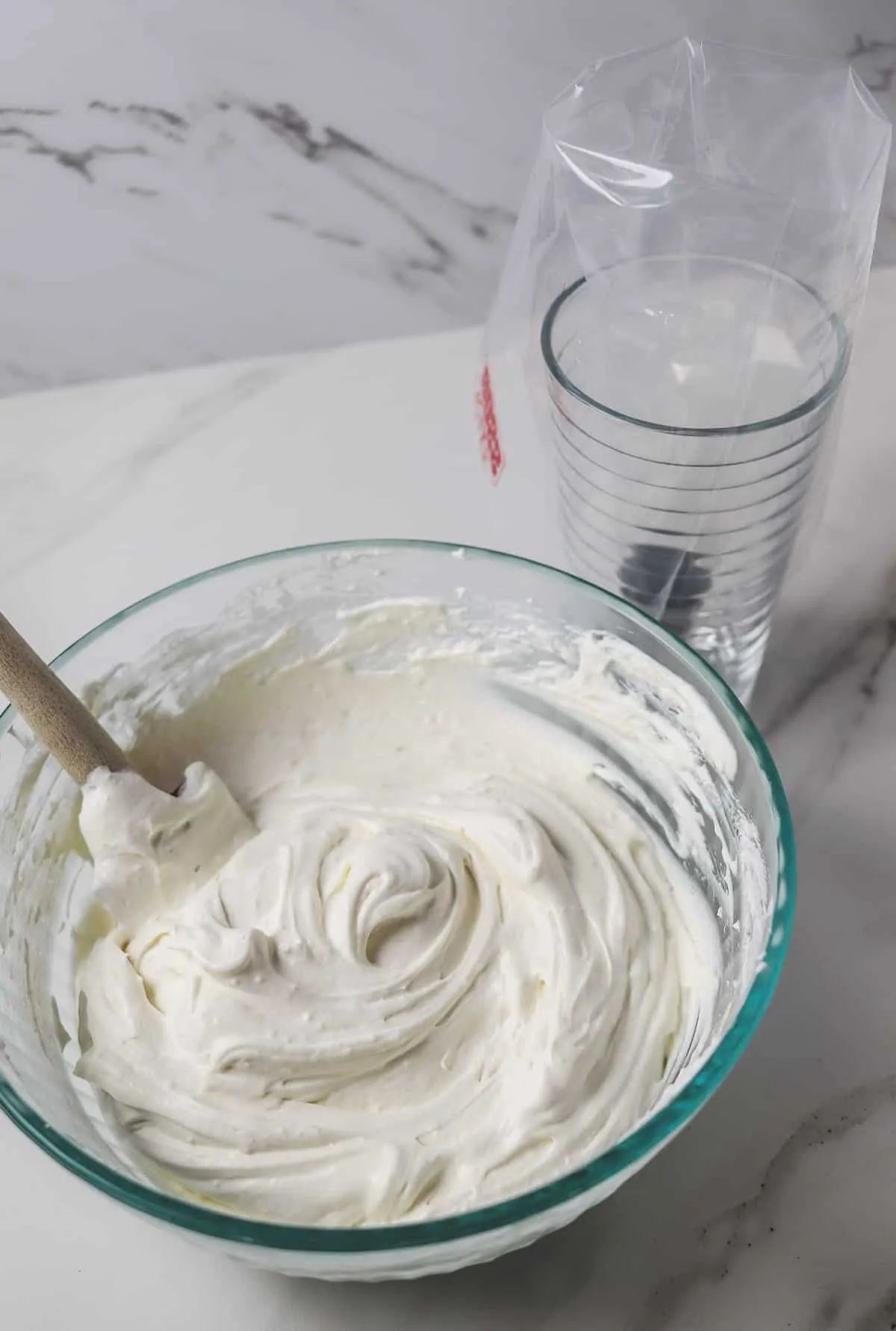 For cupcakes, I like using these jumbo-sized tips. Frosting cupcakes with a jumbo tip makes them look professional and cute with very little effort!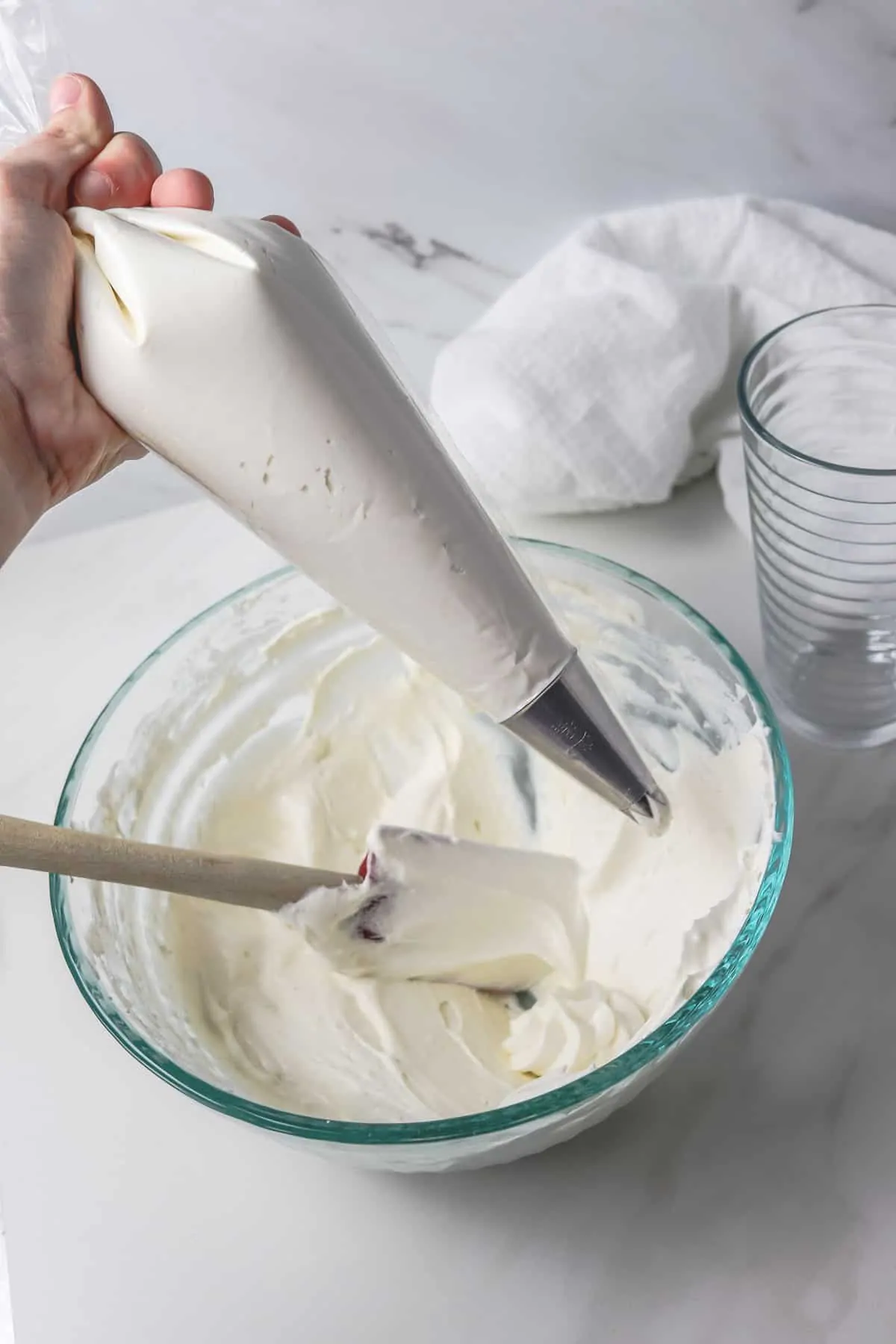 Once I have the bag loaded up, I can pipe the frosting on all of them in only a couple minutes. For me, it's much easier to quickly pipe them all instead of trying to use a knife to spread the frosting on top.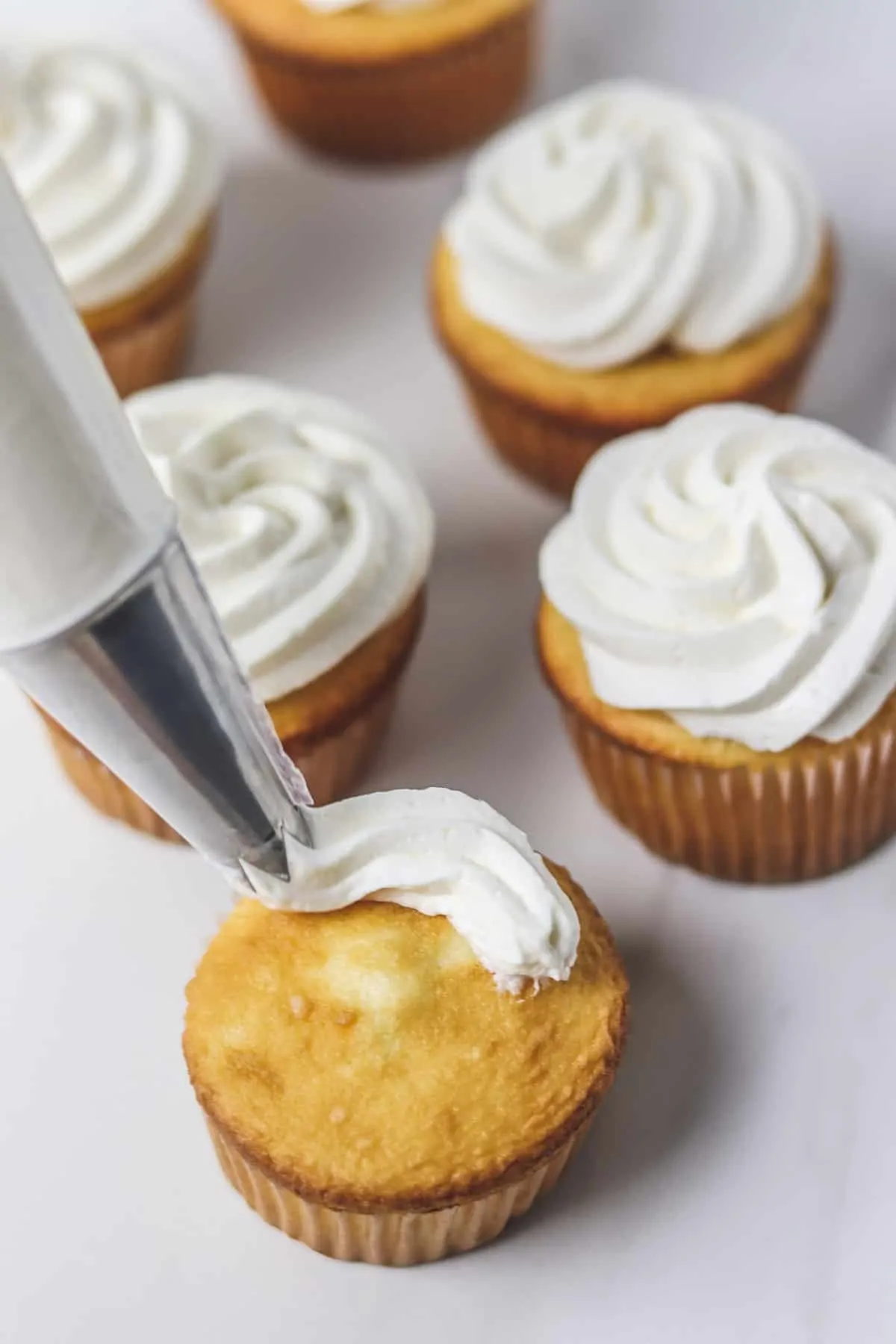 How to Thaw Cool Whip
To make this recipe properly, you must use thawed cool whip (not frozen). The best way to thaw cool whip is to put it in the refrigerator for 4-5 hours, or overnight.
In a pinch, you can use the defrost setting on your microwave. Microwave for 30 seconds on defrost then stir. Keep microwaving in 15-second increments until the cool whip is softened.
How to Make Chocolate Sugar-Free Frosting
To make chocolate sugar-free frosting, substitute chocolate sugar-free pudding mix instead of using white chocolate. If you want it to be more chocolatey, you can also add in unsweetened cocoa powder, to taste.
How to Make it Sweeter
As written, this frosting is light, fluffy, and not overly sweet. If you try it and want something a little bit sweeter, add in some zero-calorie powdered sweetener, such as swerve confectioner's sugar until you reach the desired level of sweetness.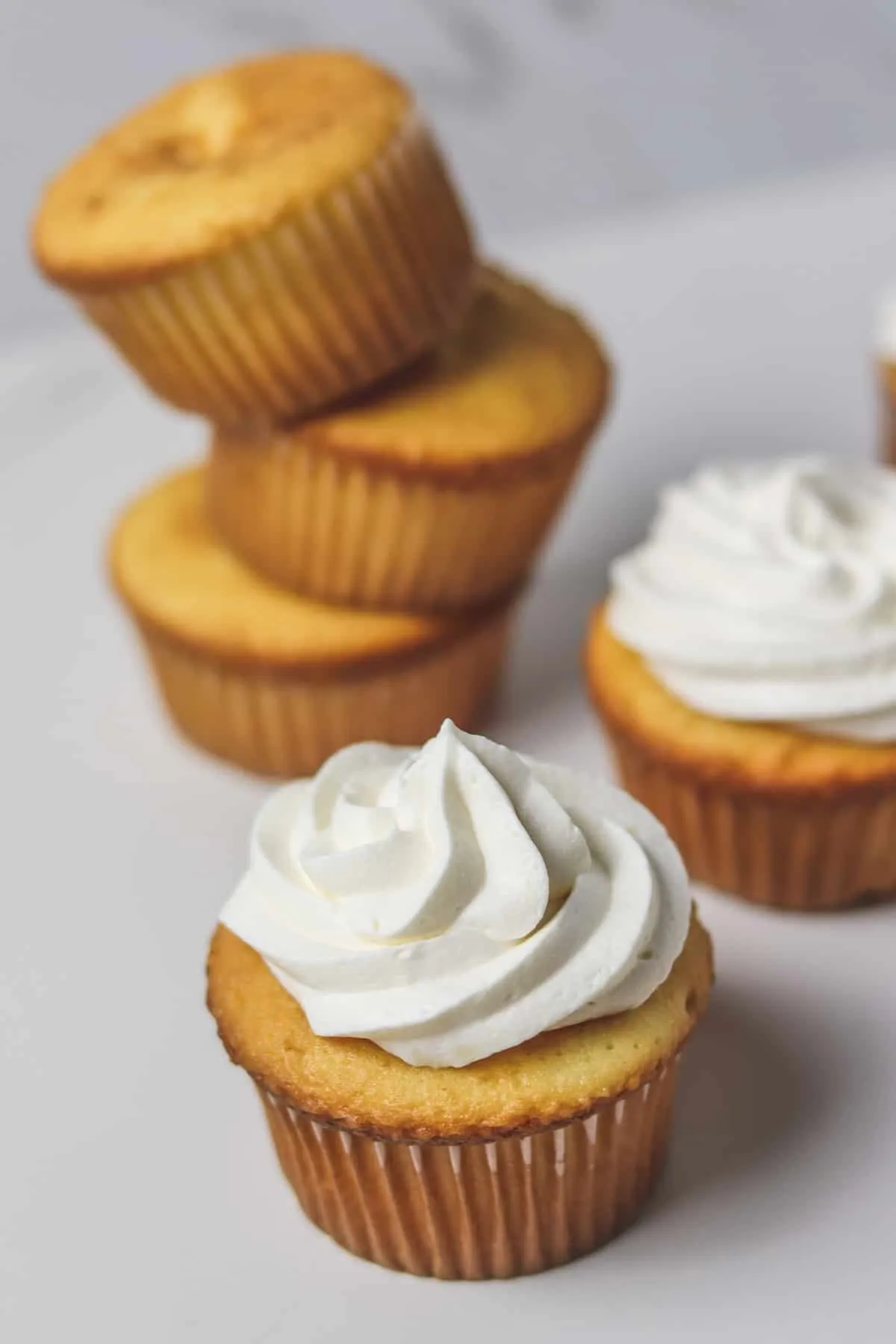 How to Serve and Store
This frosting must be kept in the refrigerator because of the milk and cool whip. Frosted cake or cupcakes can sit out on the countertop for a few minutes for serving, but I would not leave them out for more than an hour.
Store extra frosting in the refrigerator in an airtight container. It will keep fresh for about a week in the refrigerator.
Calories Per Serving
If you follow this recipe exactly, one serving of about 2 tablespoons (enough to frost a cupcake), has only 20 calories!
With only 2 g carbs, it's definitely a keto-friendly frosting recipe! The few carbs in this recipe come from the cup of milk.
Recipe