Instant Pot Chicken Spaghetti is the ultimate comfort food! Spaghetti noodles, cheesy sauce, and tender chicken come together perfectly in the Instant Pot!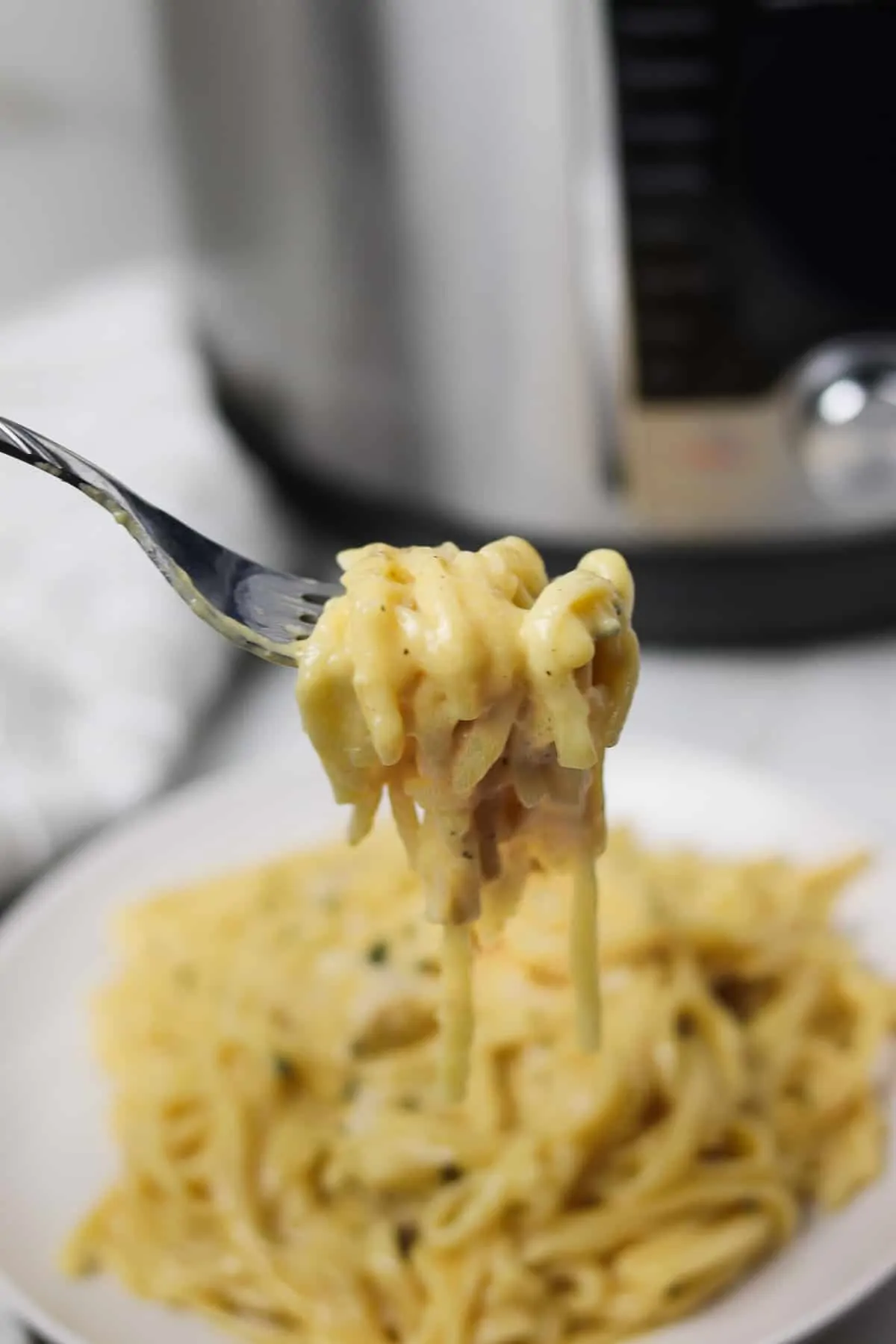 The cheesy sauce is SO GOOD! The secret ingredient is the green chiles, which give it a nice kick. There is just a hint of pepper and spice, but not too much. The sauce is thick, creamy, and addictively good!
This is definitely not my lightest recipe, but it's worth the calories! All things can be enjoyed in moderation. I just make sure I eat a reasonable portion and pair it with something light such as a side salad or green beans.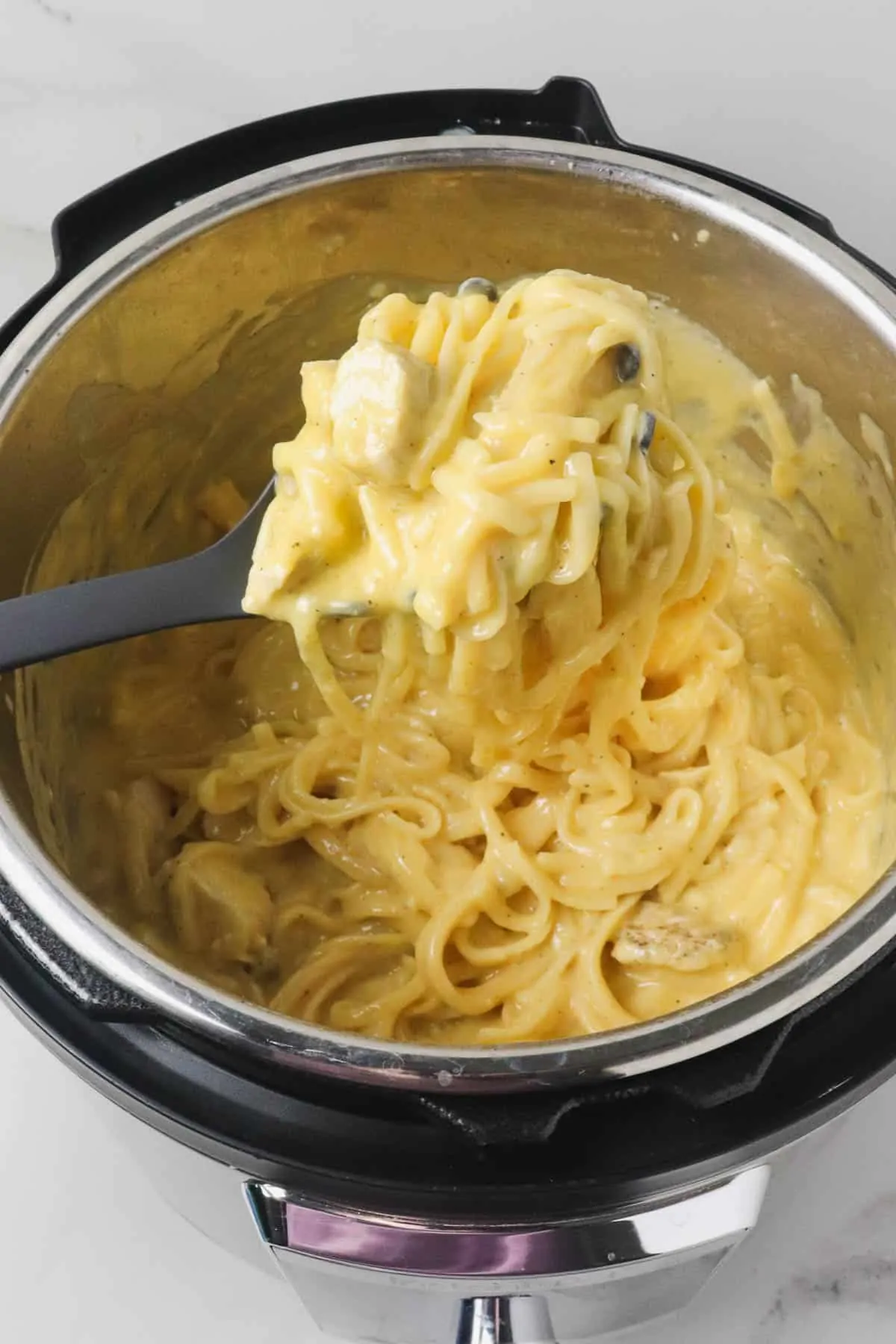 I've always loved chicken spaghetti, but I never enjoyed the huge amount of time it takes to make it. Before baking the traditional chicken spaghetti you have to boil the noodles and cook the chicken. And then you have to bake it for a half-hour or more. It takes a LONG time - definitely too long for a weeknight meal.
Using the Instant Pot you can cook all of the ingredients together in about 30 minutes in ONE POT! The noodles, chicken, and sauce all cook together at the same time. That means you only have to wash one dish, and there is no watching over the stove!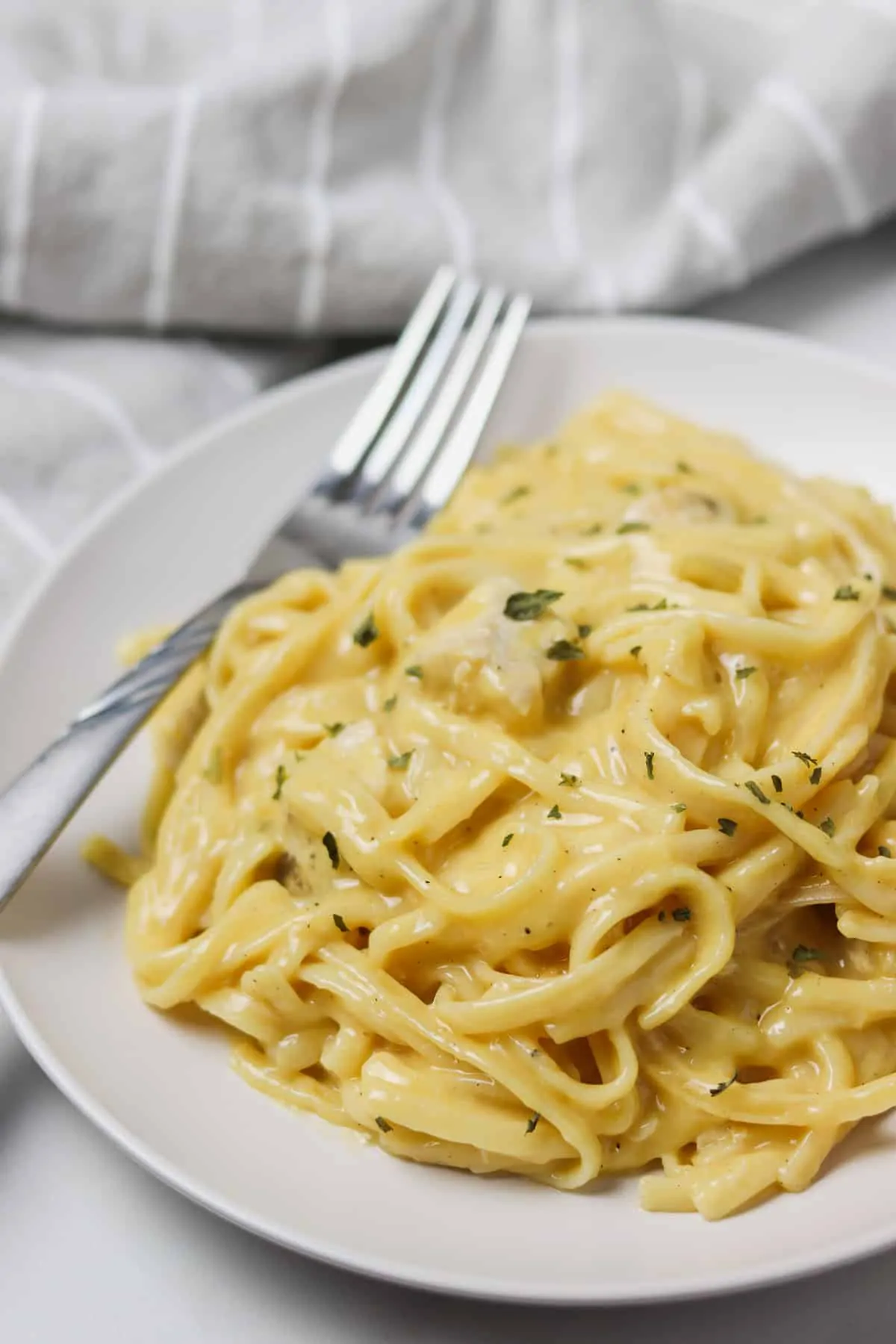 Jump to:
Ingredients
You will need:
3 cups chicken broth
12 oz linguine noodles (thick spaghetti)
1 pound frozen chicken tenders
1 can cream of chicken soup
2 oz diced green chiles (½ of a small can)
½ teaspoon salt
½ teaspoon pepper
2 cups shredded sharp cheddar cheese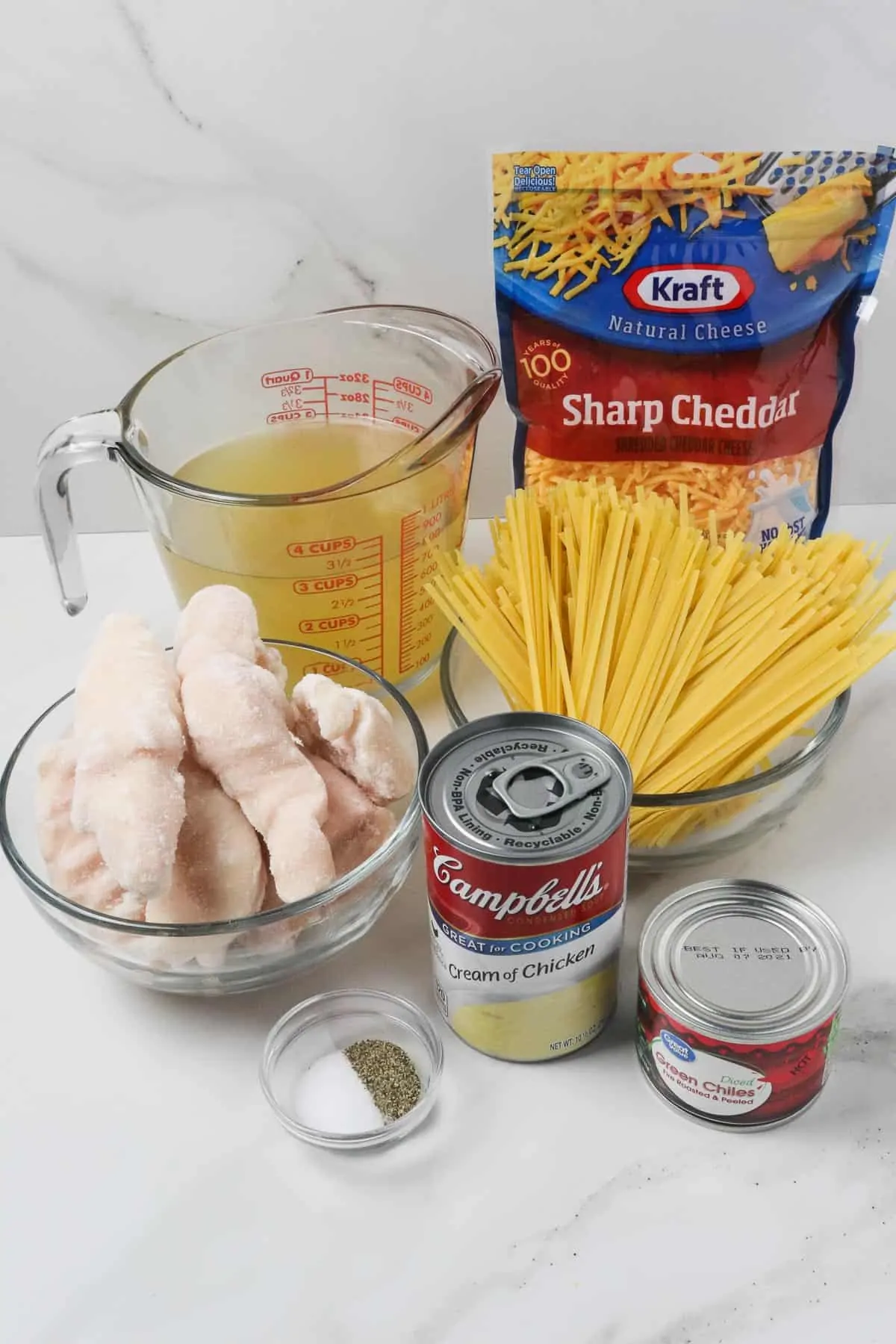 Substitutions
Fresh or frozen chicken tenders - I normally use the individually frozen chicken tenders that you can buy frozen in a bag. If you want to use fresh, defrosted chicken tenders you will need to swap the linguine for spaghetti and cook for 3 minutes high pressure with a 5 minute natural release.
Chicken breasts - I do NOT recommend using chicken breasts because they will take too long to cook compared to the noodles. If you have fresh chicken breasts, you could cut them into tender-sized pieces and then follow the instructions for fresh chicken tenders above (3 minutes high pressure with a 5 minute natural release).
Linguine noodles - You could use any type of noodle with a similar cook time on the box as linguine (13-14 minutes). If you want to use regular spaghetti noodles, or any other kind of noodle with a shorter cook time, swap the frozen chicken tenders for fresh chicken tenders and cook for 3 minutes high pressure with a 5 minute natural release.
Cream of chicken soup - any cream soup would work ok, but I like the flavor of cream of chicken the best! You could use cream of mushroom.
Cheddar cheese - I like the flavor of cheddar, but you could use any kind of cheese. Avoid stringy cheese such as mozzarella, or your pasta may end up a little stringy.
Diced green chiles - If you want no spice, you could leave the green chiles out entirely. You can purchase mild, medium, or hot green chiles depending on how much heat you want. I normally use medium or hot. Using mild green chiles will give it a slightly sweeter flavor. You could also use a diced bell pepper in place of the green chiles.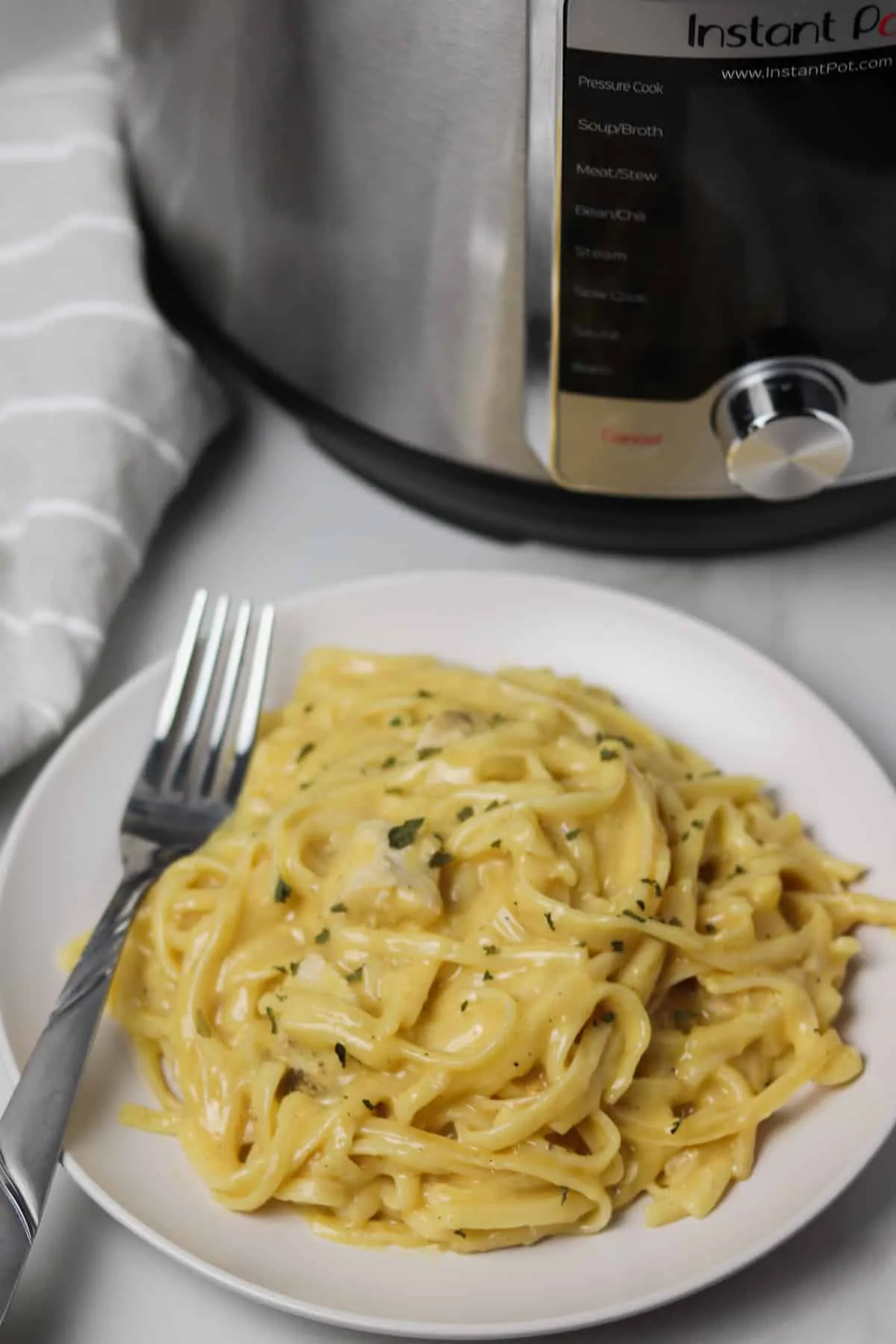 Optional Add-Ins
My favorite thing to add to this dish is steamed vegetables! To easily add some veggies to your chicken spaghetti, you can mix them in at the end (after you mix in the cheese). A steam in the bag pack of frozen veggies works great for this! Steam them in the microwave and then toss them in the Instant Pot.
Broccoli, cauliflower, carrots, or peas are all delicious add-ins! Be sure to add your veggies after pressure cooking. Otherwise they will end up way too soft.
Instructions
Layer the Ingredients
In the Instant Pot, add the chicken broth and noodles. Break the noodles in half and criss-cross them in the Instant Pot. Press the noodles down into the liquid, making sure most noodles are submerged.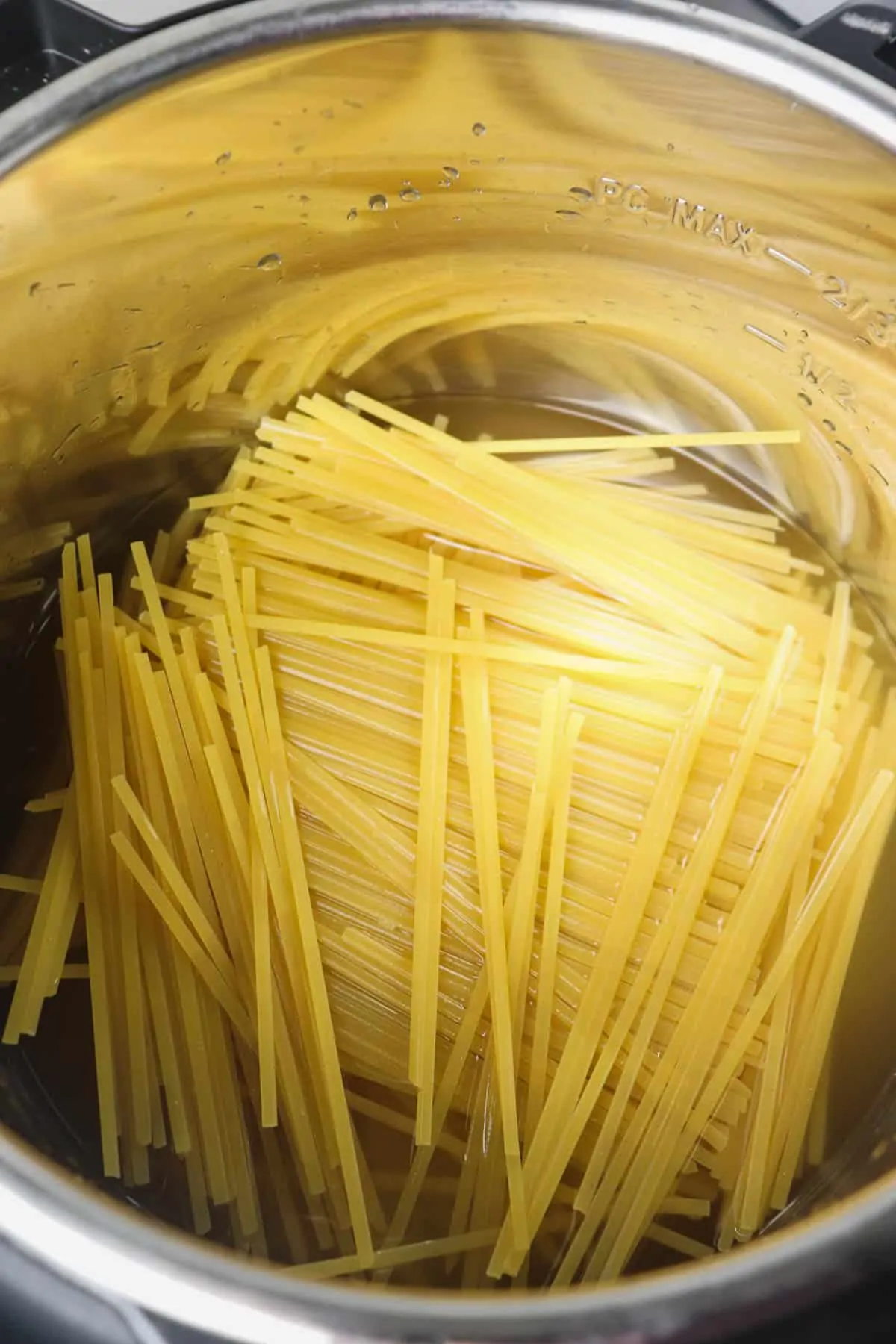 On top of the noodles, add the chicken tenders in a single layer.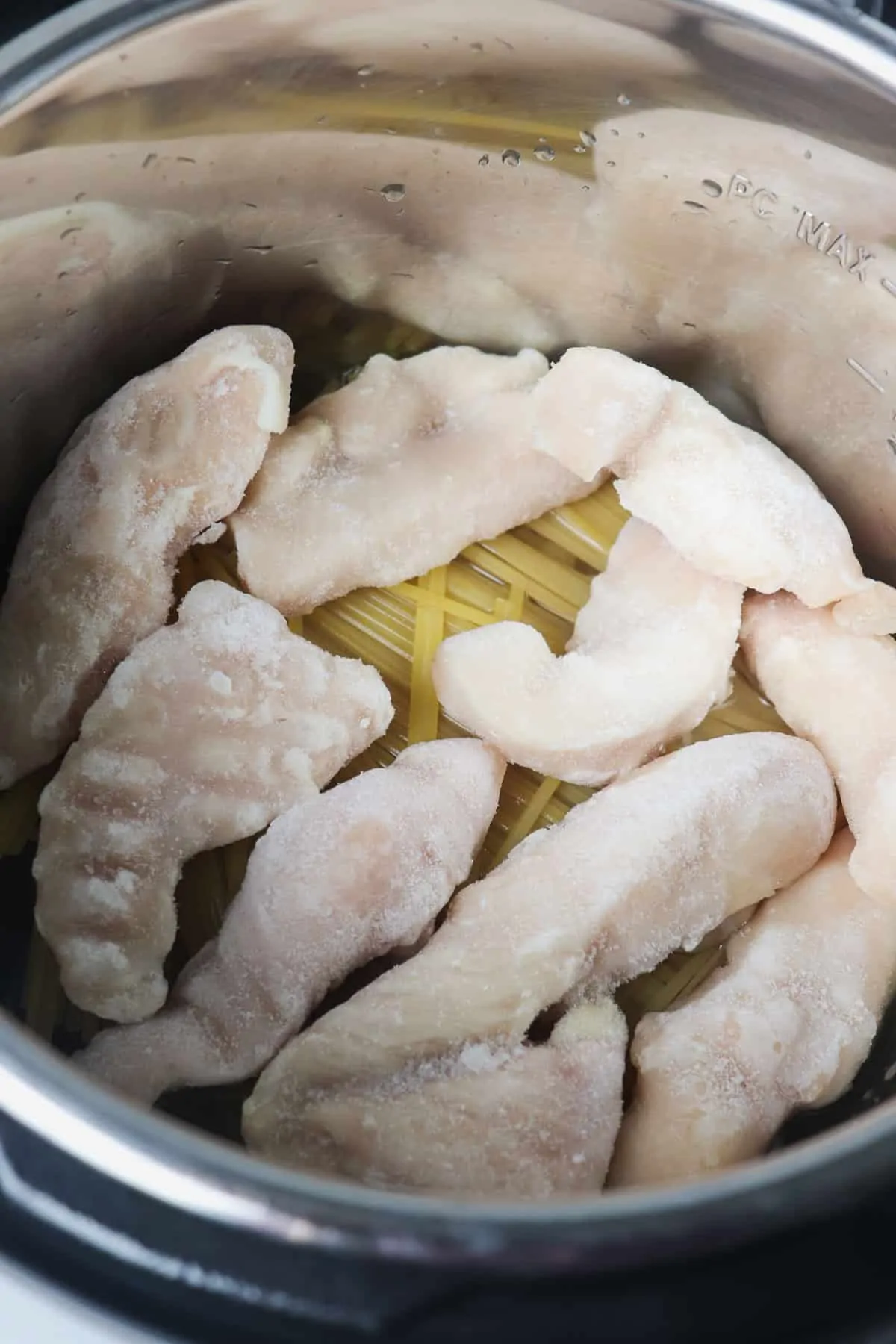 Next, add the green chiles, salt, and pepper. On top of the seasoning add the cream of chicken soup.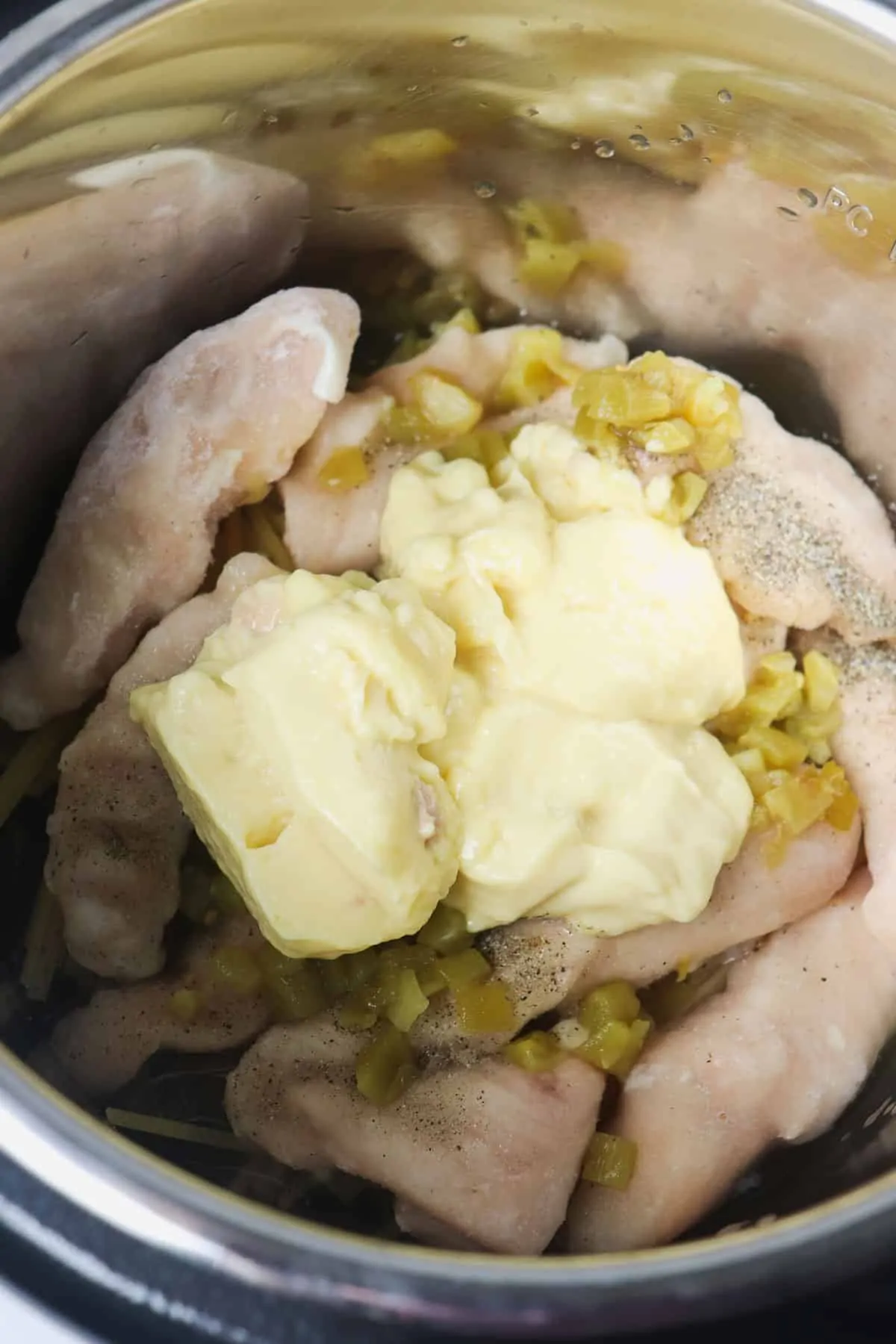 DO NOT STIR! Leave everything in the order you added it.
Pressure Cook
Now you're ready to pressure cook! Put the lid on the Instant Pot.
For frozen chicken tenders and linguine noodles (thick spaghetti): cook for 6 minutes high pressure with 5 minutes natural release.
For fresh chicken tenders with regular spaghetti noodles: cook for 3 minutes high pressure with 5 minutes natural release.
Whether you're using fresh or frozen chicken, you will need a 5 minute natural release after the cooking time is up. That means letting the pot sit undisturbed for 5 minutes before you hit the quick release button to let out the remaining pressure.
Finishing Touches
After opening the lid, remove the chicken tenders. Set the chicken aside and dice into bite-sized pieces.
Add the shredded cheese to the Instant pot and stir to combine with noodles. A few noodles may be stuck together, but continue stirring them and they should break apart. Continue stirring until the cheese is completely melted.
Finally, add back the diced chicken and stir. Now you're ready to eat!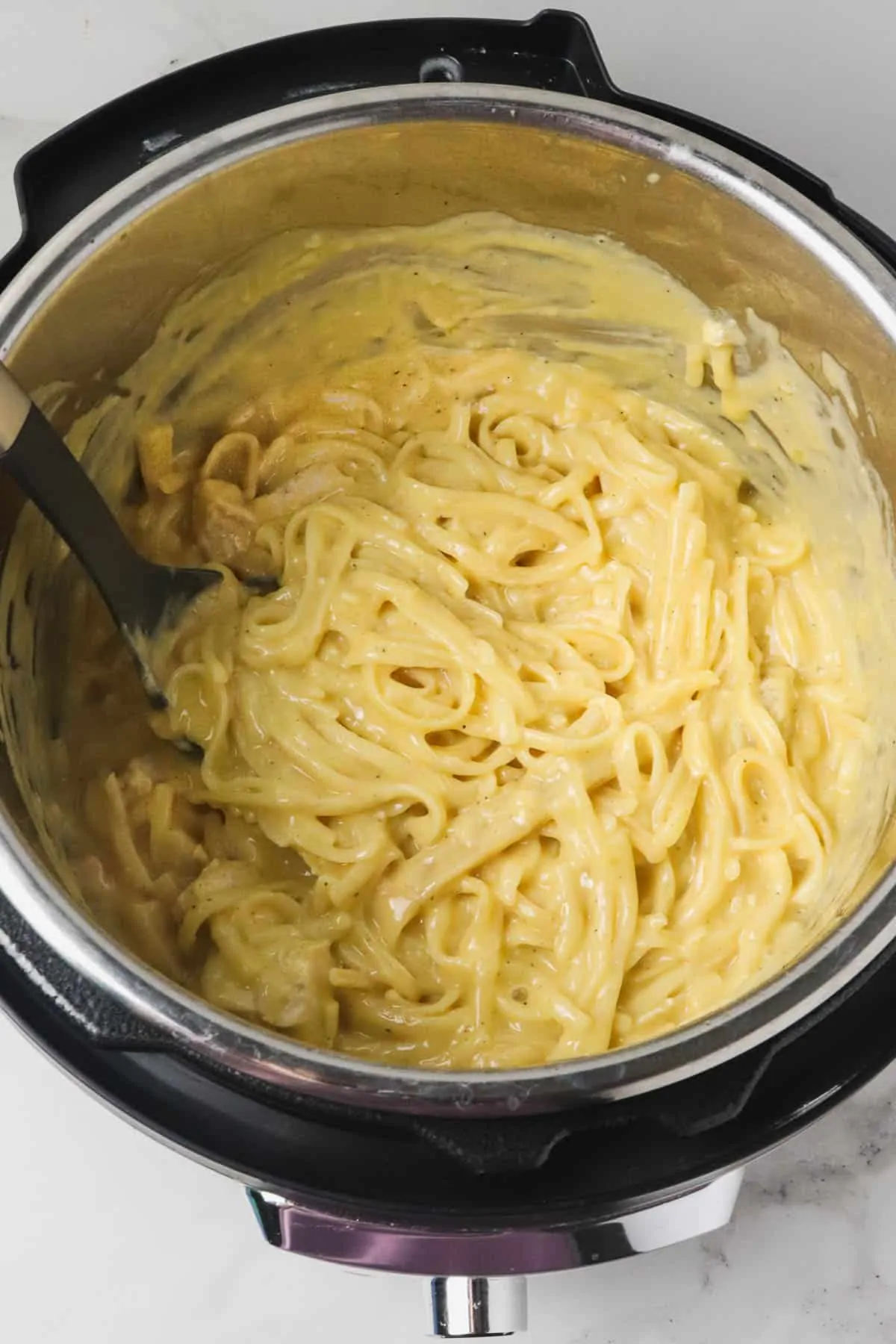 Top Tips
Green chiles give the sauce a great flavor! Try them out, and adjust the amount to your liking. Start with about 2 oz (half the can) and add more at the end if you want added spice.
Use chicken tenders - tenders are evenly sized and are fool-proof in the Instant Pot. Chicken tenders also have a much shorter cooking time than breasts, so they can finish cooking before the pasta gets mushy.
Verify chicken reaches at least 165 degrees. Use a meat thermometer to verify the temperature. If the chicken is slightly underdone, put the lid back on the Instant Pot and let it sit for 2-3 minutes. The heat trapped inside the lid will continue cooking the chicken.
If your sauce is too thick, you can add a splash of chicken broth to thin it down to the desired consistency. Add 1 tablespoon of broth at a time until the sauce is thinned to your liking.
If your sauce is too thin, you can set the Instant Pot to Saute Low and cook for 2-3 minutes over low heat.
How to Serve
Because this dish is so heavy, it goes well with a light side salad or vegetable, such as broccoli or carrots.
Make sure you serve hot, because it will thicken up significantly as it cools.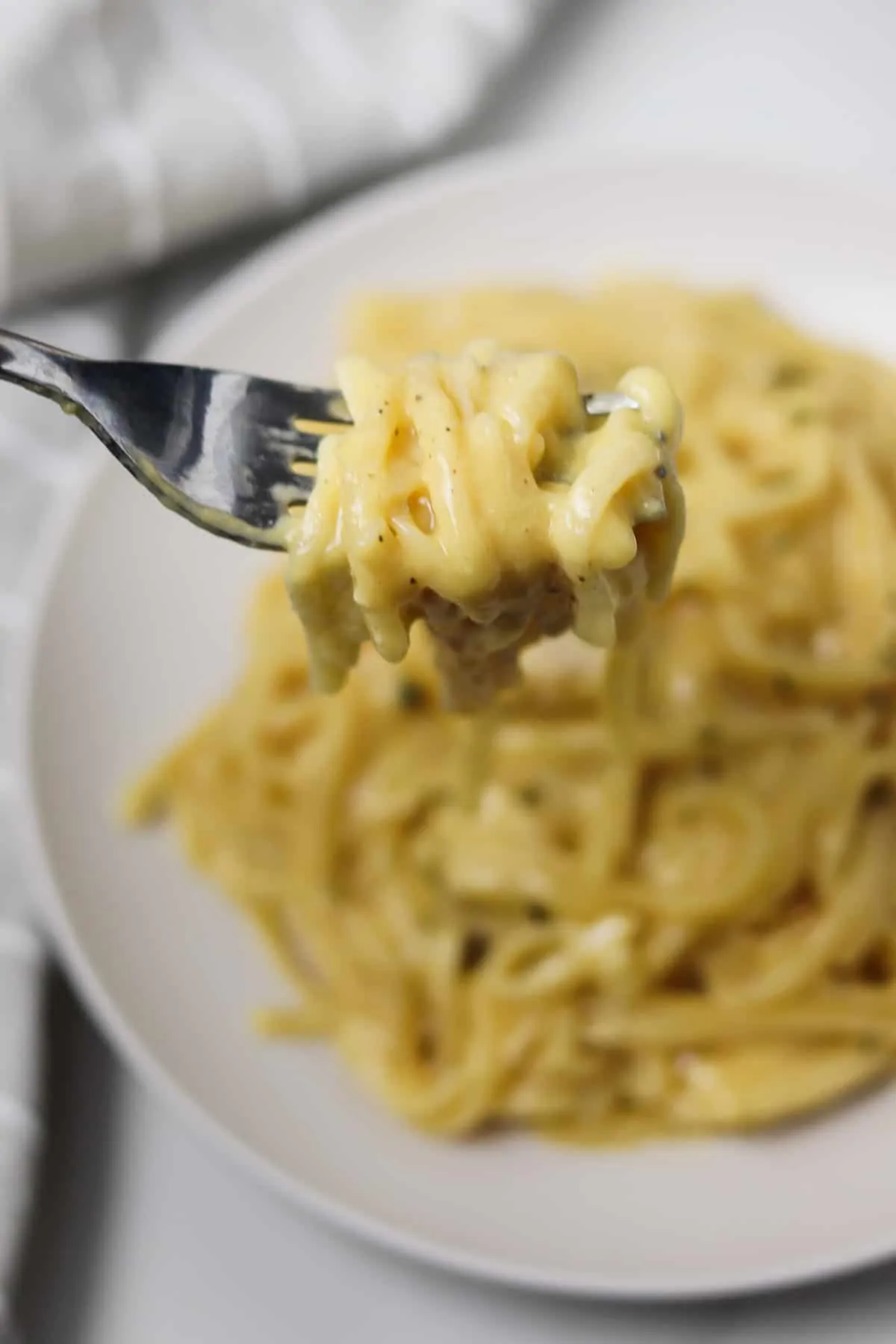 How to Double the Recipe
If you have a 6 quart Instant Pot I would NOT recommend doubling the recipe.
If you have an 8 quart you may be able fit in a double recipe. Make sure you stay under the max fill line in your Instant Pot. You can double all of the ingredients while keeping the cooking time the same.
How to Store
You can store leftovers in the refrigerator for 3-4 days.
This recipe also freezes well. I like to freeze individual servings in small plastic containers. You can pull them out of the freezer when needed for a quick lunch or dinner! Reheat in the microwave on 50% power until warmed through, checking and stirring every 2 minutes.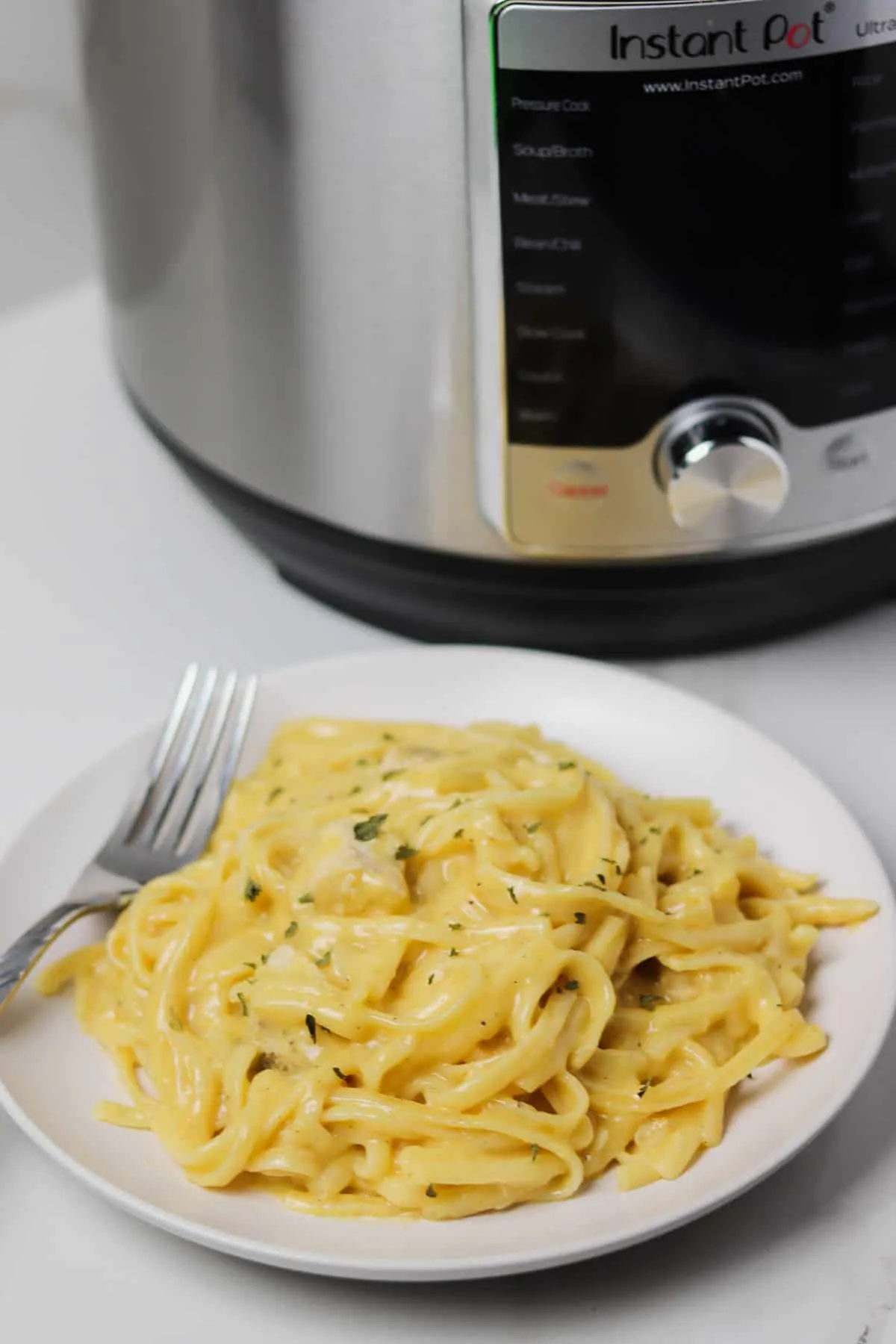 Calories Per Serving
One serving (⅙ of the recipe) is about 12 ounces or 1.5 cups. Each serving has about 460 calories. So as long as you watch your portion size, you can definitely enjoy this cheesy chicken spaghetti!
The easiest way to measure a portion size is by using a digital food scale to weigh it out.
You can also stretch this dish a little further by adding in some steamed veggies at the end (after you've mixed in the cheese). The veggies will add very few calories!
Recipe