Instant Pot Hamburger Helper is so much better than the boxed stuff! Creamy mac and cheese with ground turkey or lean ground beef makes a delicious and healthy one-pot dinner!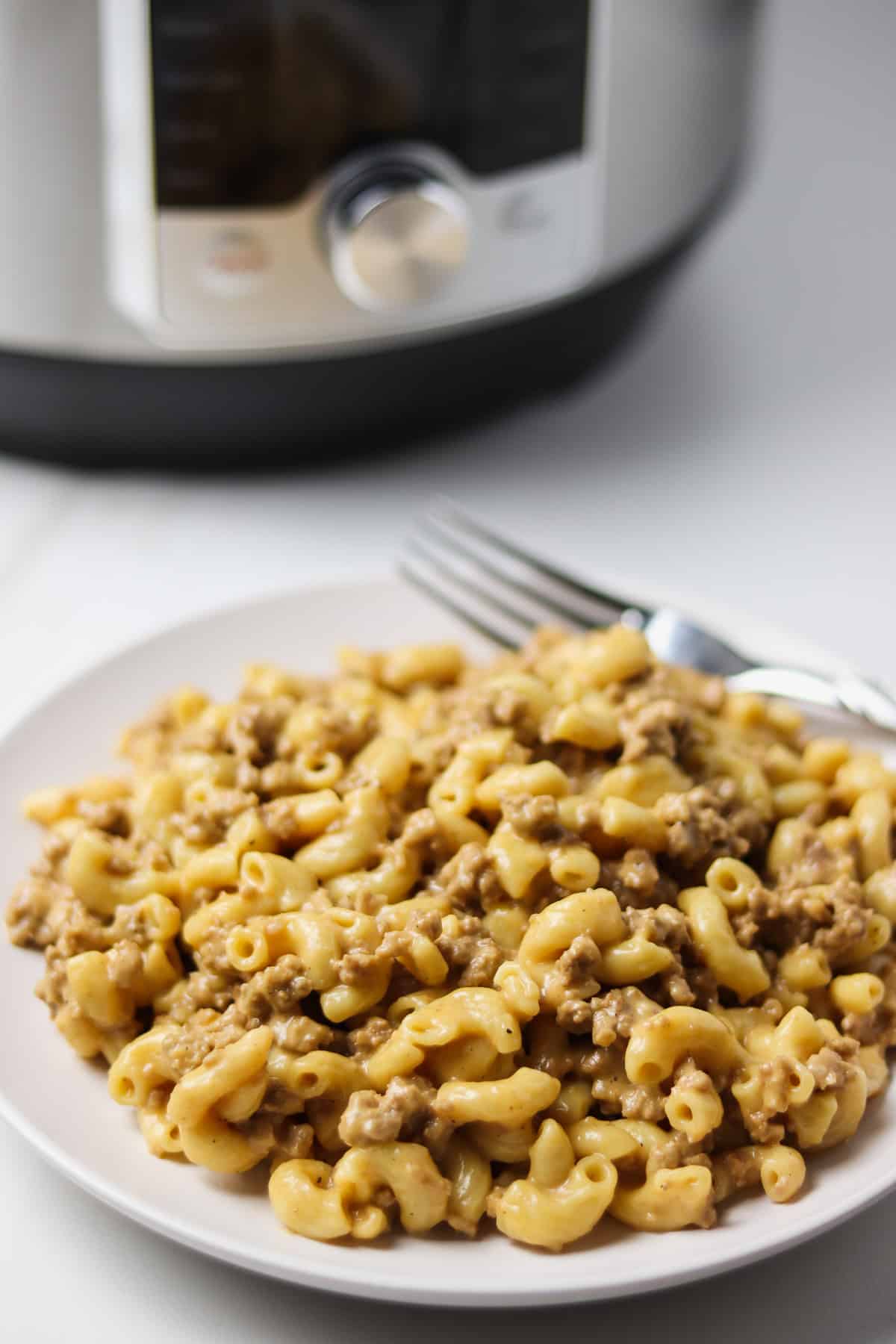 Hamburger helper is a traditional boxed macaroni and cheese mix that you add to a pound of browned hamburger meat. It was always a staple in my family growing up. It's simple, easy, inexpensive, and kids love it!
I used to make my own version of homemade hamburger helper on the stove-top using a big covered skillet. It tasted good, but it was a huge pain! I had to constantly watch it because the milk would boil over very easily and make a big mess.
I adapted my cheeseburger macaroni recipe for the Instant Pot and it is SO much easier! You can do all of the steps in the Instant Pot - even browning the meat! Using the Instant Pot means fewer dishes, and you can walk away and do other things while it pressure cooks.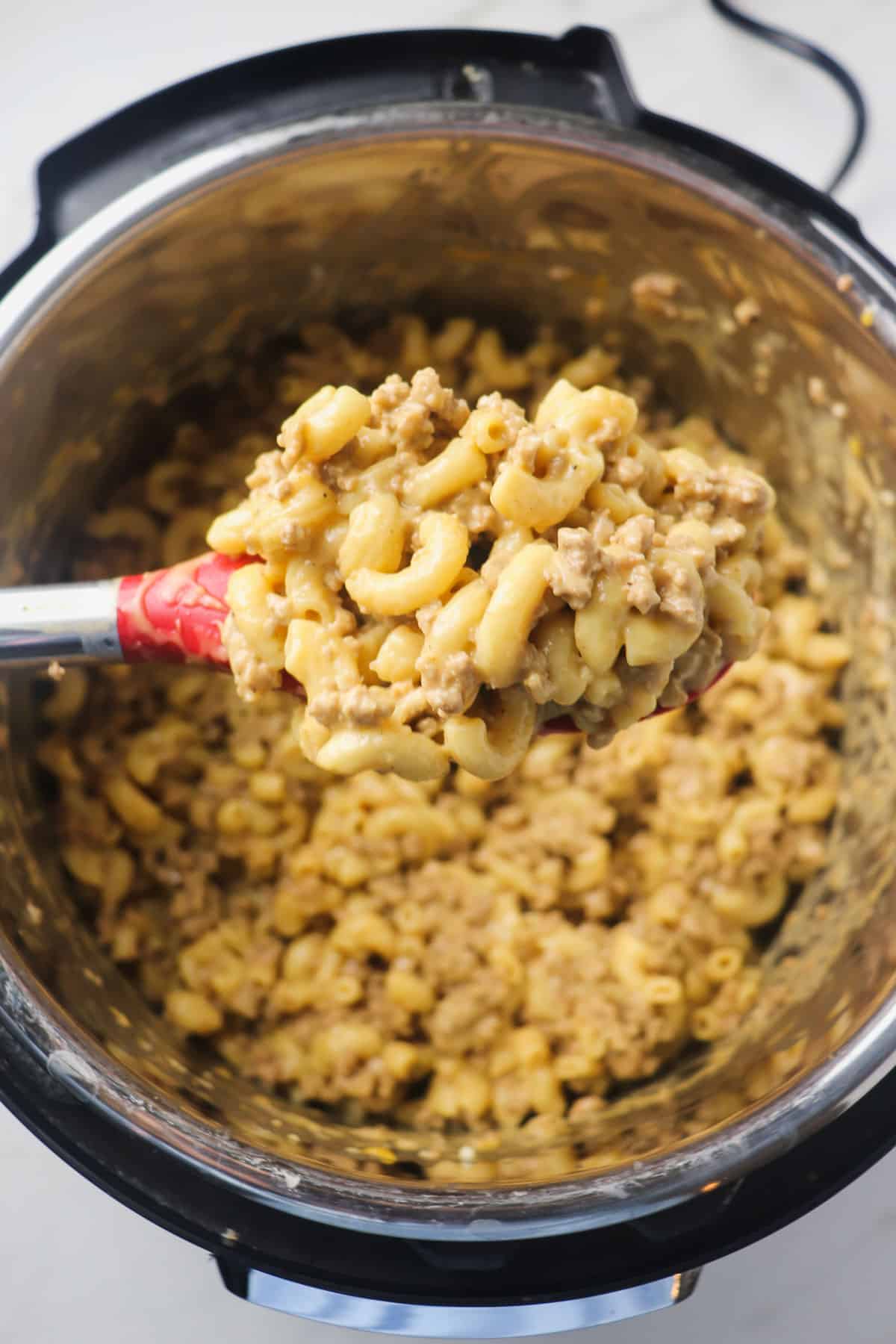 With a simple list of spices and ingredients, it is just as easy to make this homemade hamburger helper as the boxed mix. Trust me, using real sharp cheddar cheese instead of powdered cheese is a game-changer!
Kids and picky adults will love this recipe! It's on my weekly rotation!
Jump to:
Ingredients
These are the ingredients for Instant Pot Hamburger Helper:
1.5 pounds lean ground turkey (or ground beef)
12 oz elbow macaroni noodles (about 3 cups dry noodles)
3 cups beef broth
2 tsp minced garlic
1 tbsp dry minced onion
1 tsp Worcestershire sauce
1 tsp dry mustard powder
½ tsp salt (to taste)
½ tsp pepper (to taste)
2 oz ⅓ less fat cream cheese (softened)
6 oz fat free evaporated milk
2 cups shredded sharp cheddar cheese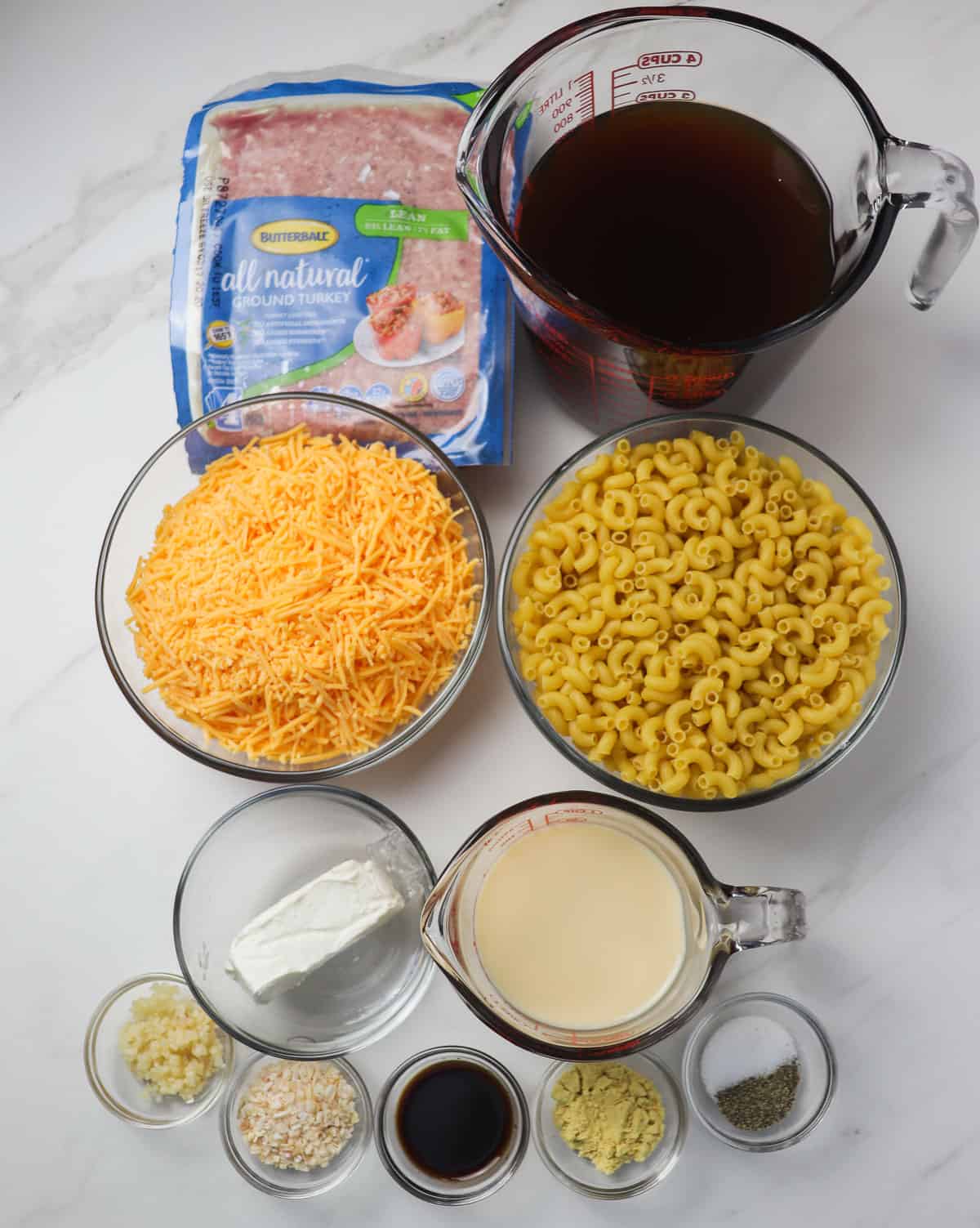 The dry mustard powder, Worcestershire sauce, garlic, and onion give this recipe a delicious flavor!
You can substitute the 1 tablespoon dry minced onion for about ⅓ cup raw minced onion or 1 teaspoon onion powder.
If you don't have evaporated milk, you can substitute regular milk. Using regular milk will make the sauce a little bit thinner, but it should still be tasty!
What Kind of Meat to Use
For a healthy twist, I love to make this recipe with ground turkey! With all of the yummy flavors in this dish, you can barely tell that you are eating turkey. I prefer the 93% lean / 7% fat ground turkey.
Of course, it also works with ground beef. If using ground beef, I recommend getting lean or extra lean ground beef so there is not too much fat.
What Kind of Cheese to Use
My favorite cheese for this recipe is sharp cheddar! Sharp cheddar works really well in mac and cheese. However, you could substitute a different type of cheese. I would avoid stringy cheeses such as mozzarella.
Adding a touch of cream cheese (2 oz) gives the sauce an amazing creamy texture. Don't skip it!
Instructions
Brown the Meat
First, set the Instant Pot to Saute, medium temperature. Brown the meat until no pink remains (about 8-10 minutes). I crumble my meat using a handy meat chopper tool!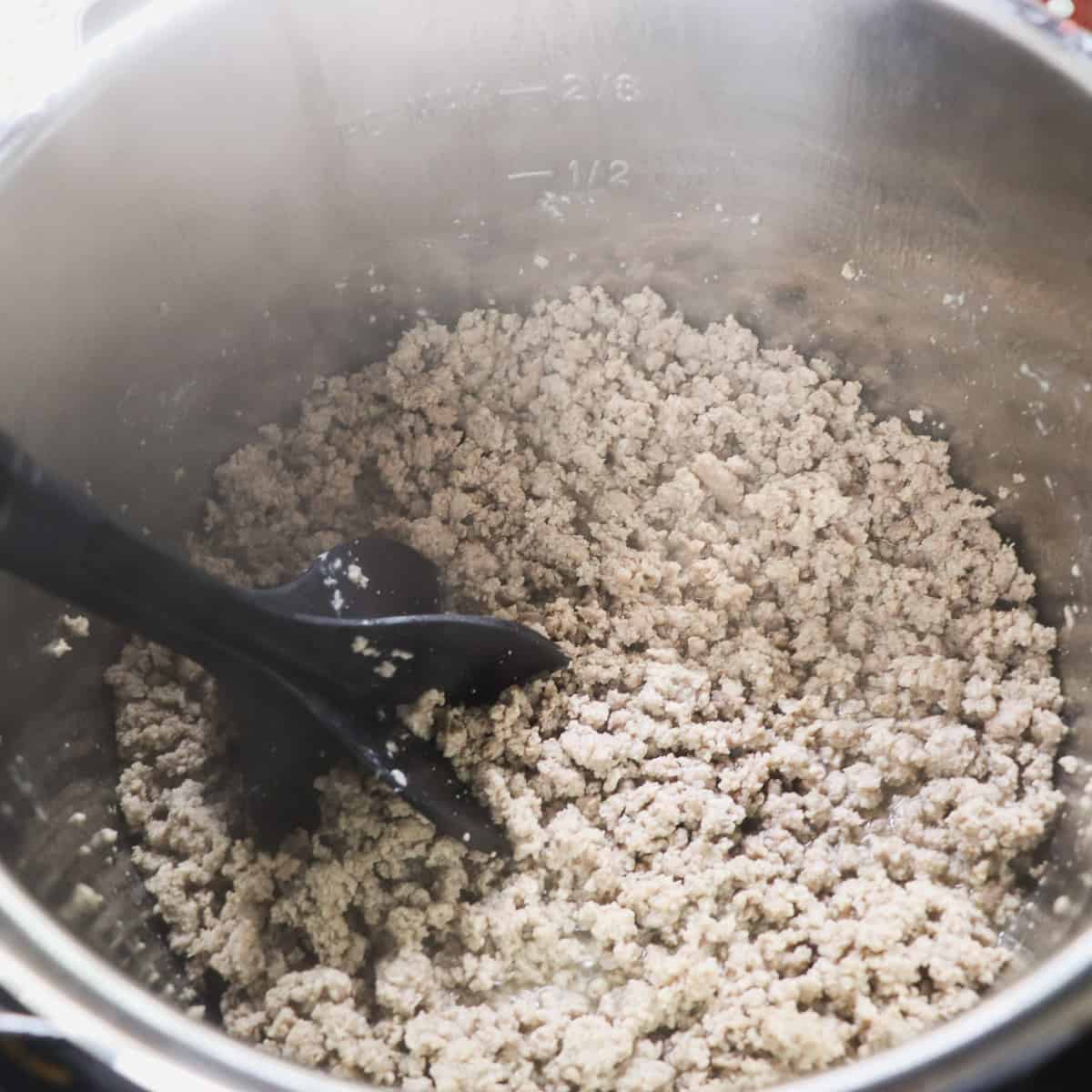 Drain the Fat
Draining the fat from the meat is optional, but I recommend doing so. Even if cooking with 93% lean ground turkey, there is still quite a bit of fat and liquid you can drain off. I prefer to remove any extra calories that I can!
There are a few different techniques you can use for draining the fat:
Dump the Instant Pot liner contents into a metal strainer
Use paper towels to soak up the extra fat/liquid
Use a turkey baster to suck out the extra fat/liquid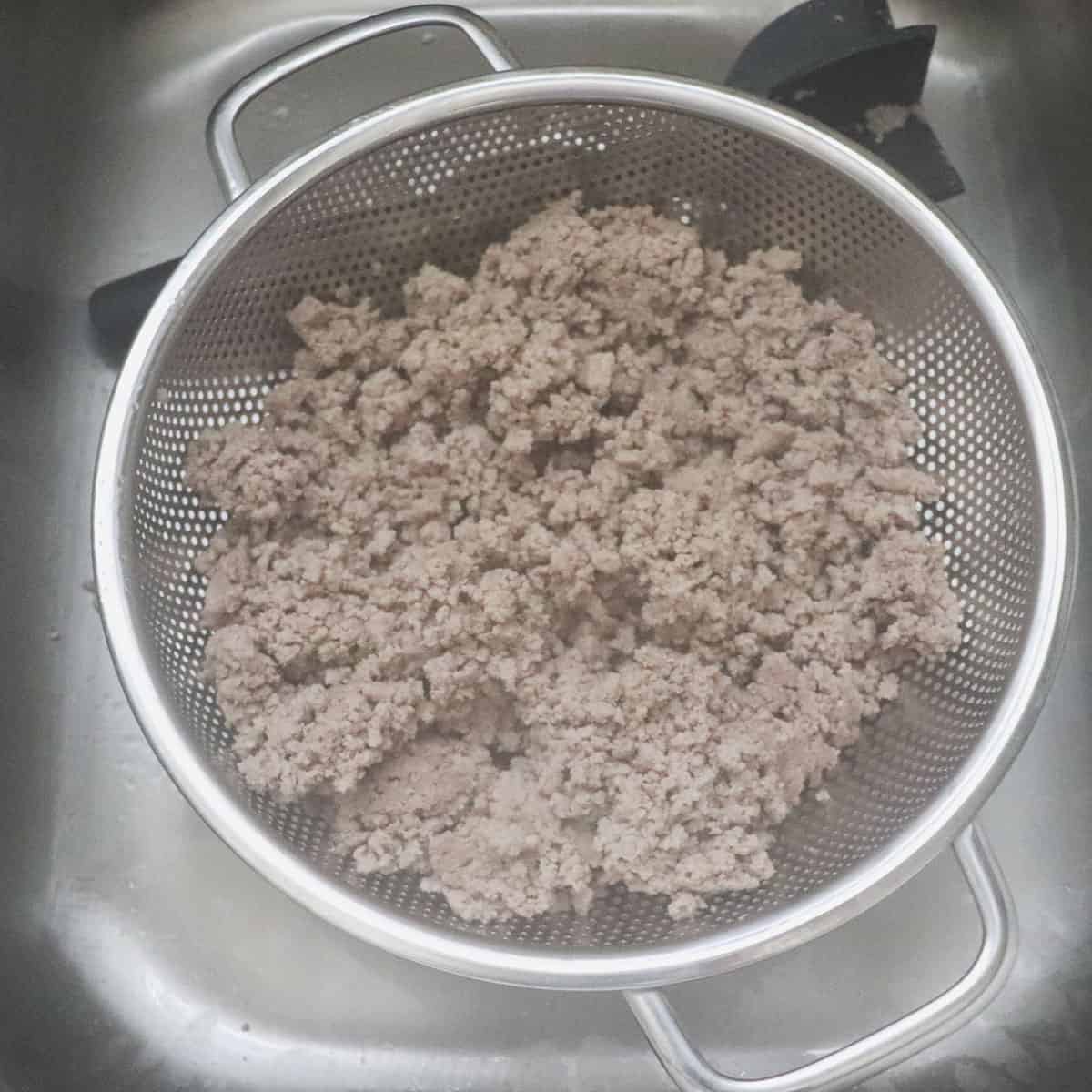 My method of choice is to use a metal strainer to drain the excess fat. Just be careful to use potholders to grab ahold of the Instant Pot liner and dump it out. It will be hot!
Deglaze the Instant Pot Liner
It's very important to deglaze the pot and remove any burnt bits. These can cause the dreaded "burn" notice during pressure cooking.
Pour about 1 cup of the beef broth into the Instant Pot liner and set the temperature to saute, medium. Scrape the bottom of the liner with a spatula until all of the burnt bits are loosened. The hot liquid should loosen anything stuck to the bottom.
If you aren't draining your meat with a strainer, you can complete this step with the browned meat still in the pot. Just make sure you thoroughly scrape the bottom of the pot.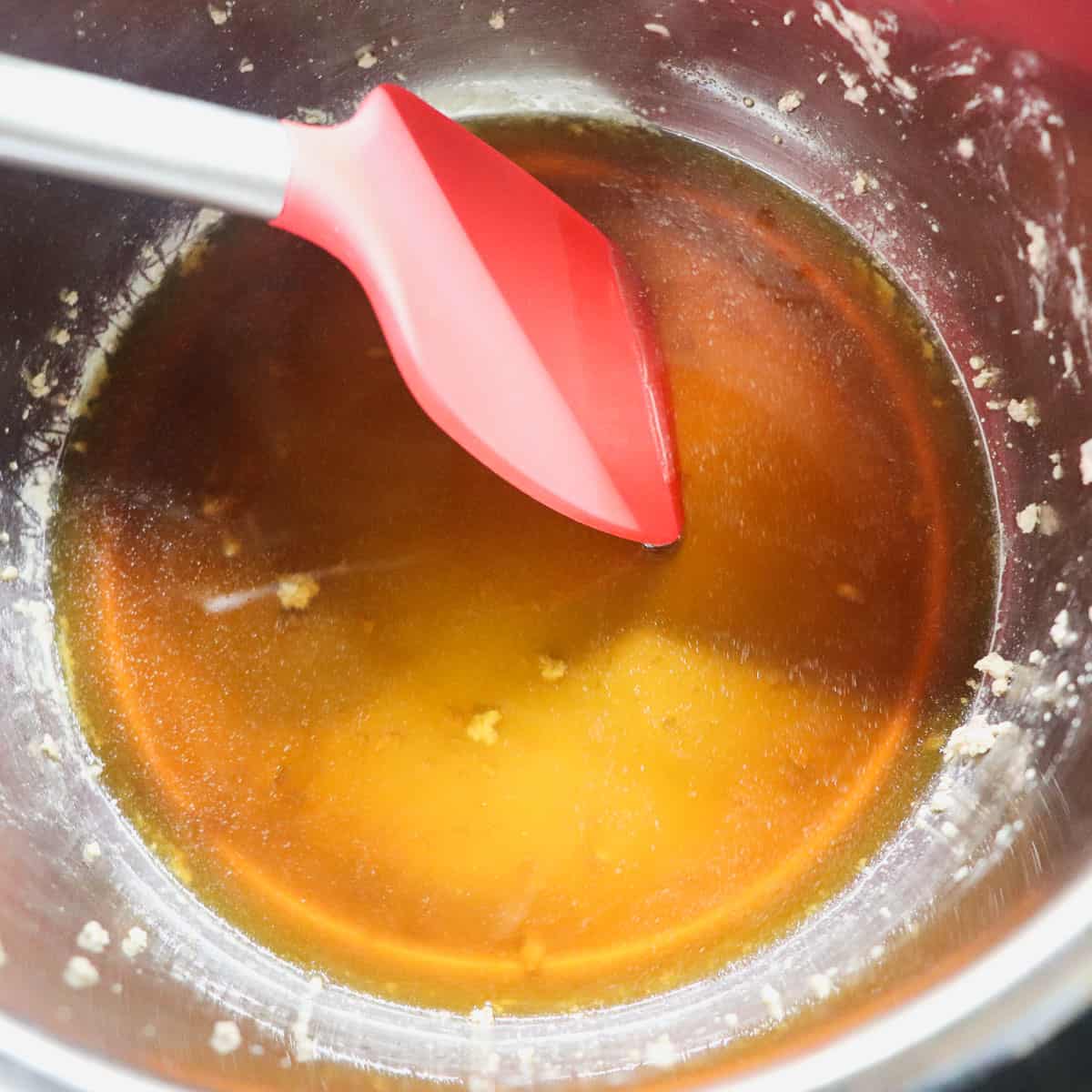 Pressure Cook
Now, it's time to pressure cook. Add your browned meat, macaroni noodles, the remaining beef broth, and all spices to the Instant Pot and stir until well combined. Try to press down the macaroni noodles until most are submerged under the liquid.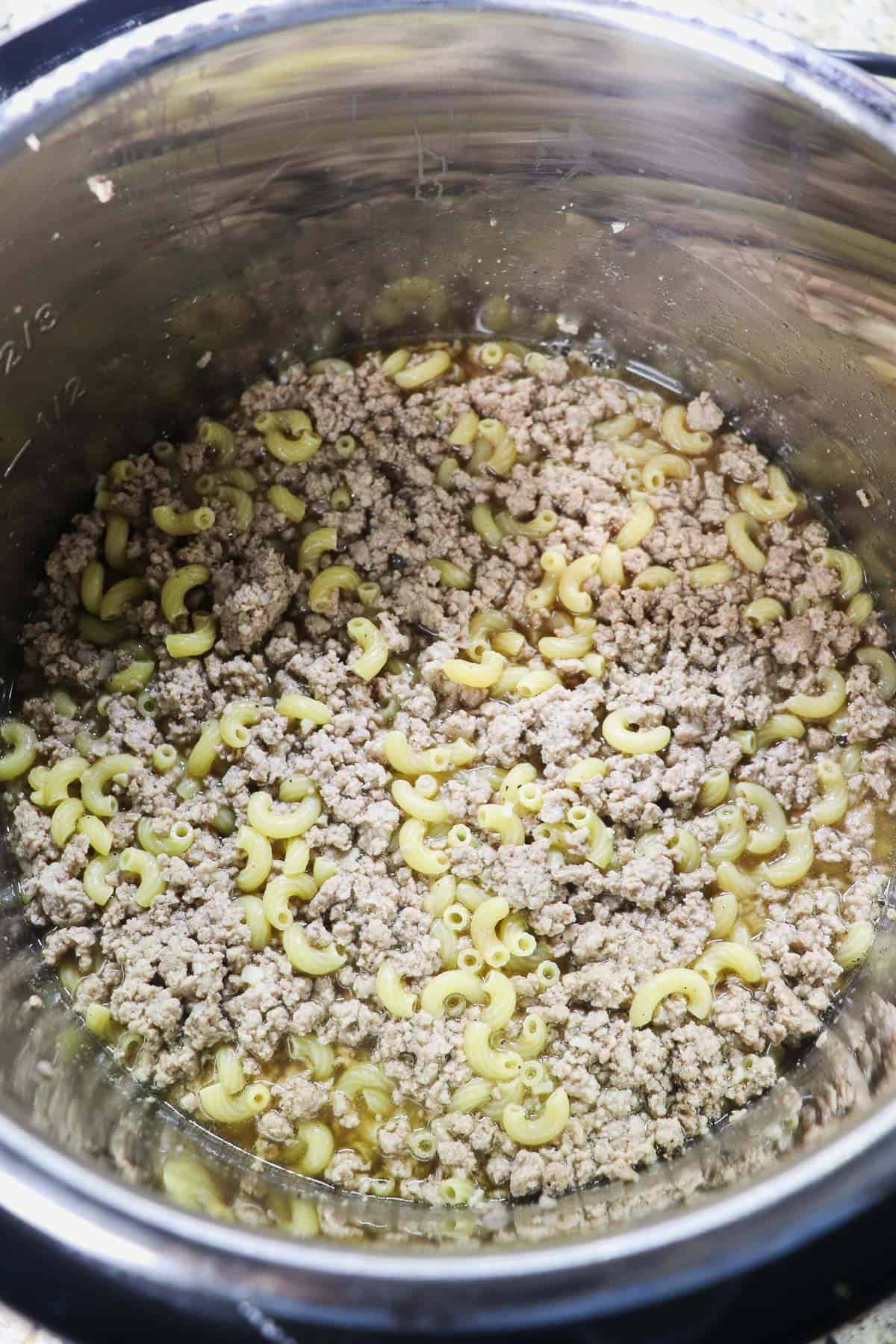 Put the lid on the Instant Pot and set to 4 minutes, High Pressure.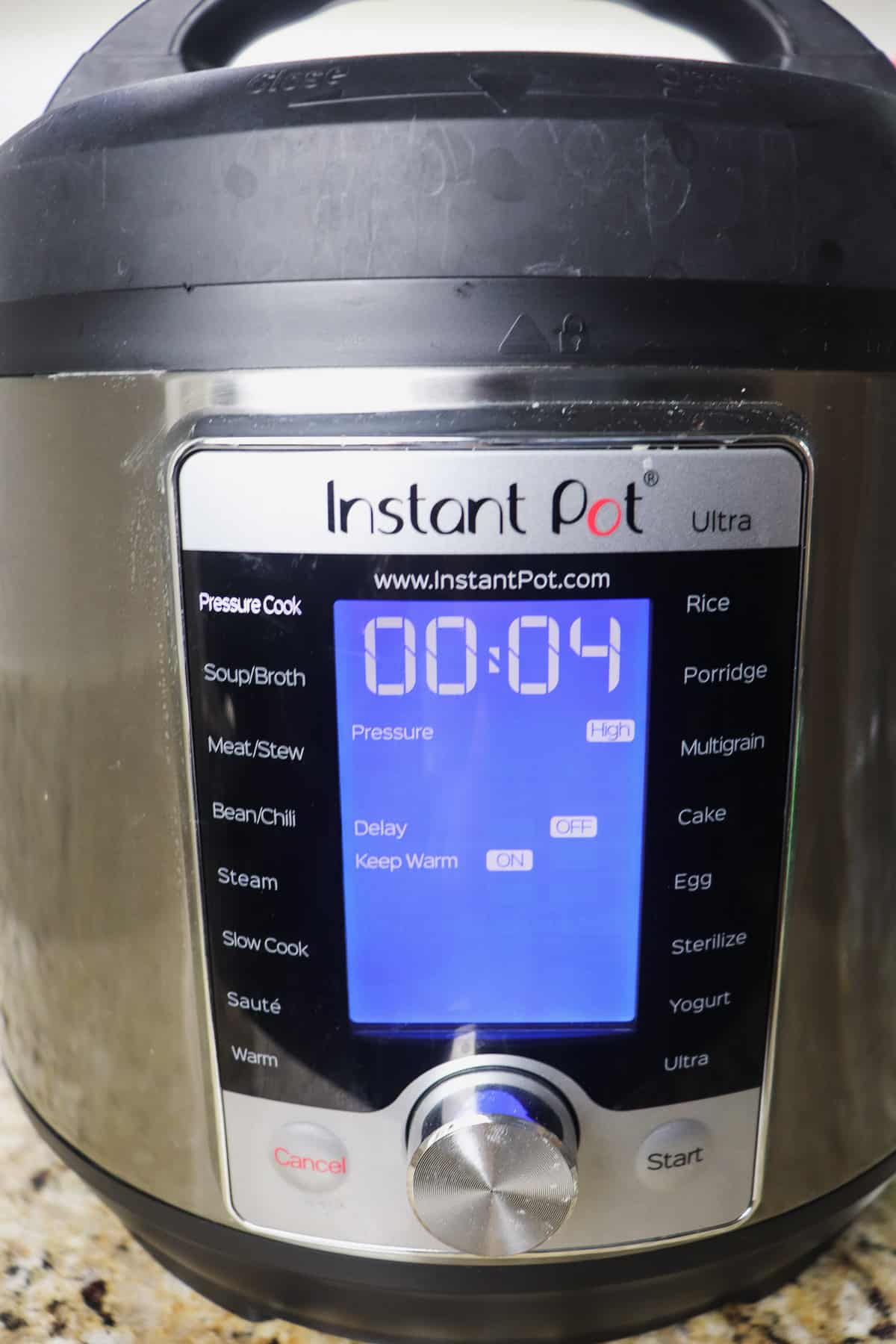 After the 4 minute cook time has elapsed, do a quick release to let out the pressure.
Mix in the Sauce
Once the noodles are cooked, it's time to make the sauce. First, add the cream cheese to the Instant Pot and stir until completely melted.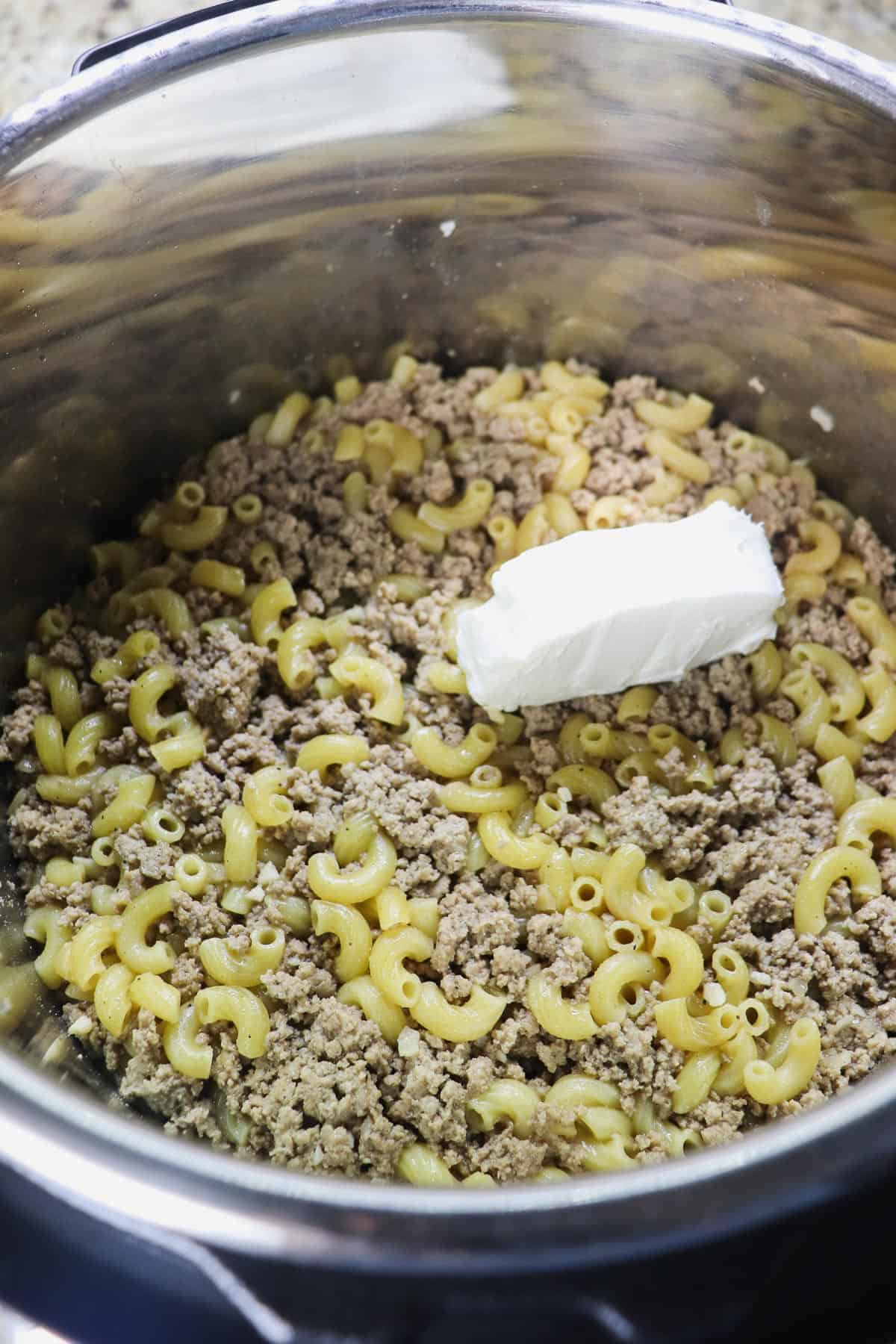 Once the cream cheese is melted, add the milk and shredded cheddar cheese.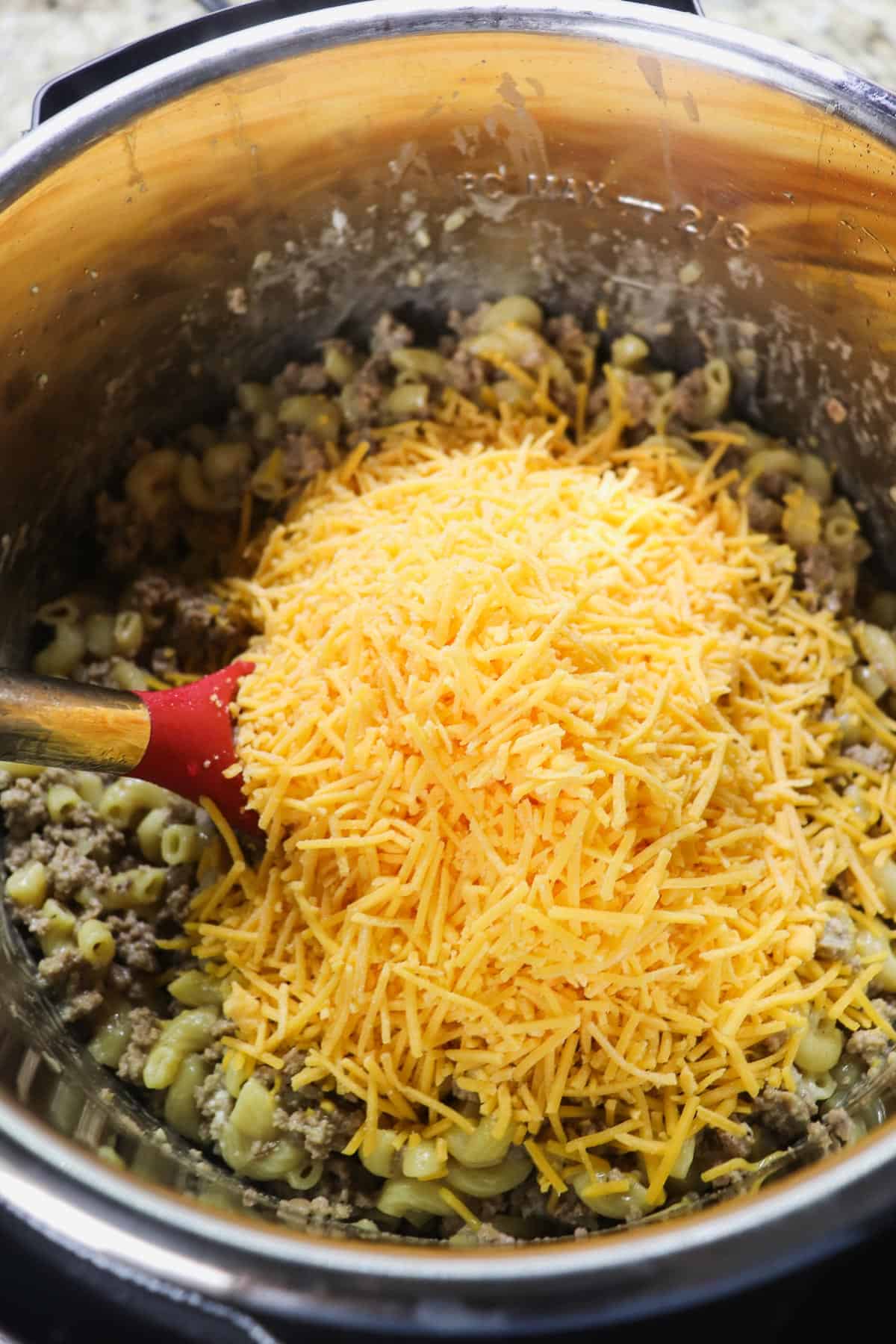 Stir until the cheese is completely melted, and now your homemade hamburger helper is ready to eat!
If your sauce is too thin, sautee on low temperature until excess liquid has evaporated.
If your sauce is too thick, add a little additional milk, 1 tablespoon at a time.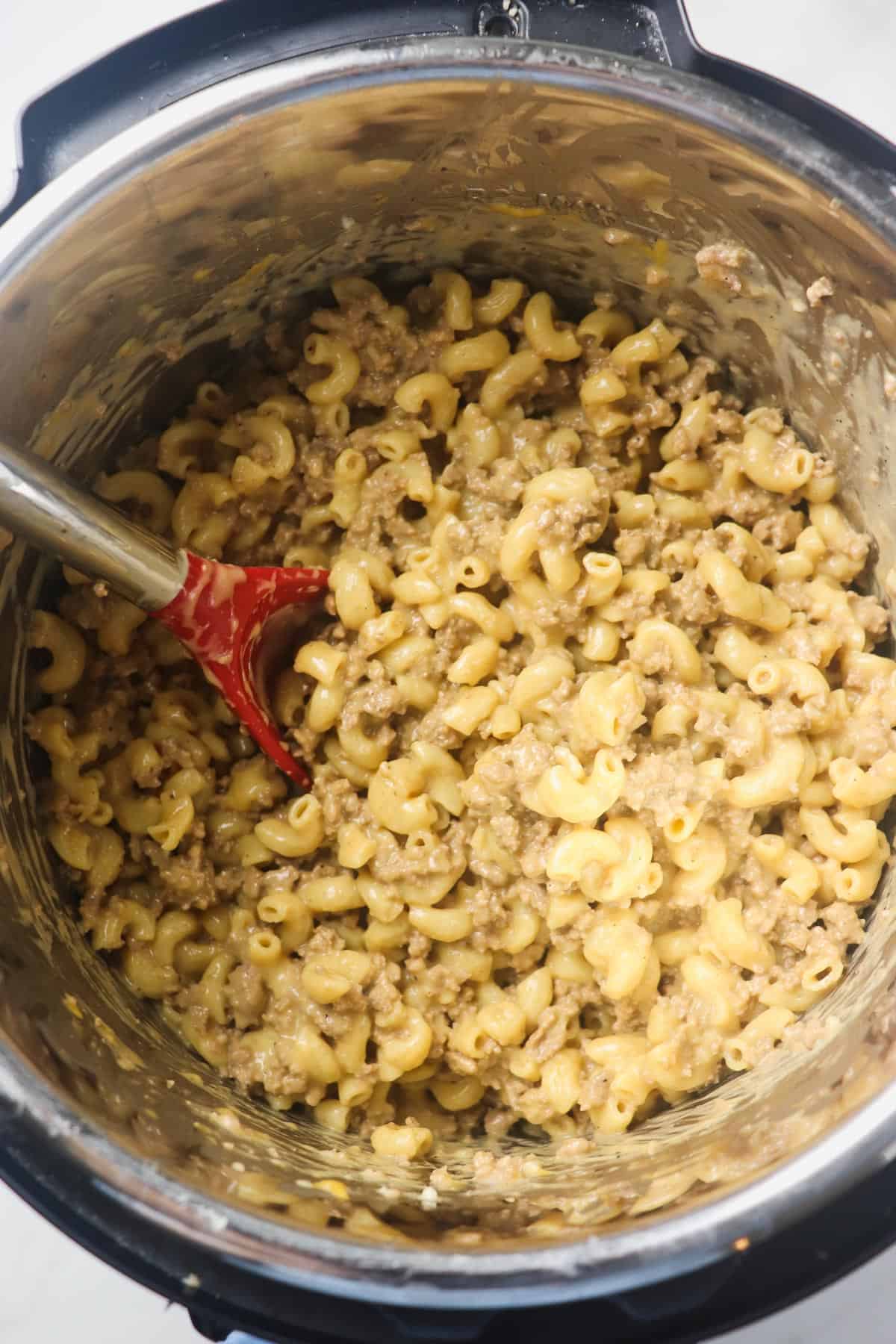 Storage
Hamburger helper does work well as a freezer meal. I like to freeze individual portions in plastic containers. It's easy to pull one out for a quick lunch or dinner.
To reheat from frozen, microwave on 50% power for about 5-10 minutes, until completely heated through. If the sauce is too thick, add a splash of milk and stir it in.
How to Serve
To make hamburger helper a complete meal, try adding a simple veggie side or side salad. I like to make Instant Pot Green Beans to serve on the side with this recipe!
For a quick and easy veggie side, try some steam-in-the-bag veggies.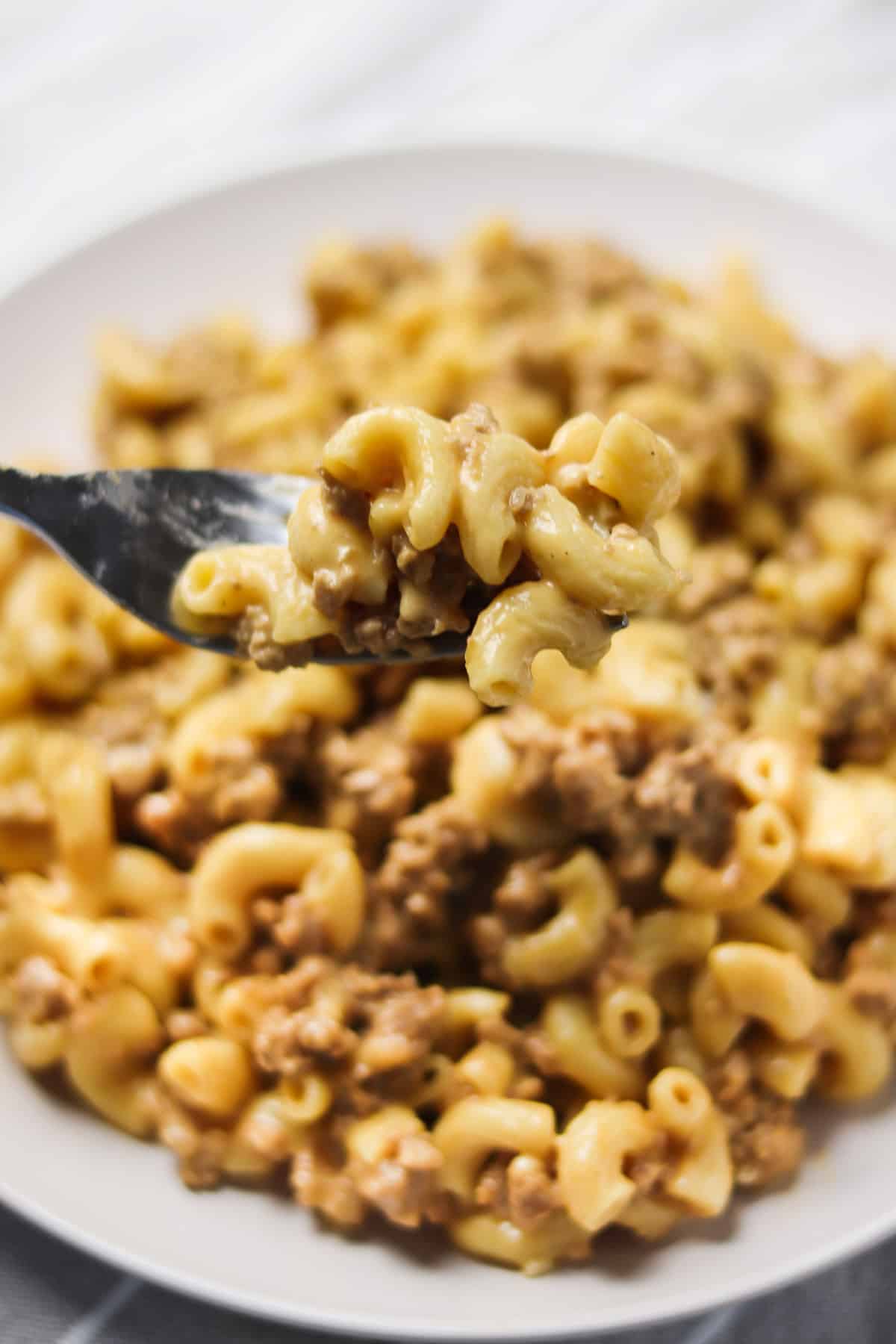 Calories Per Serving
Especially if you use ground turkey, Instant Pot Hamburger Helper is a fairly healthy and low-calorie meal! A serving size of 10 ounces (approximately ⅛ of the recipe) is about 430 calories.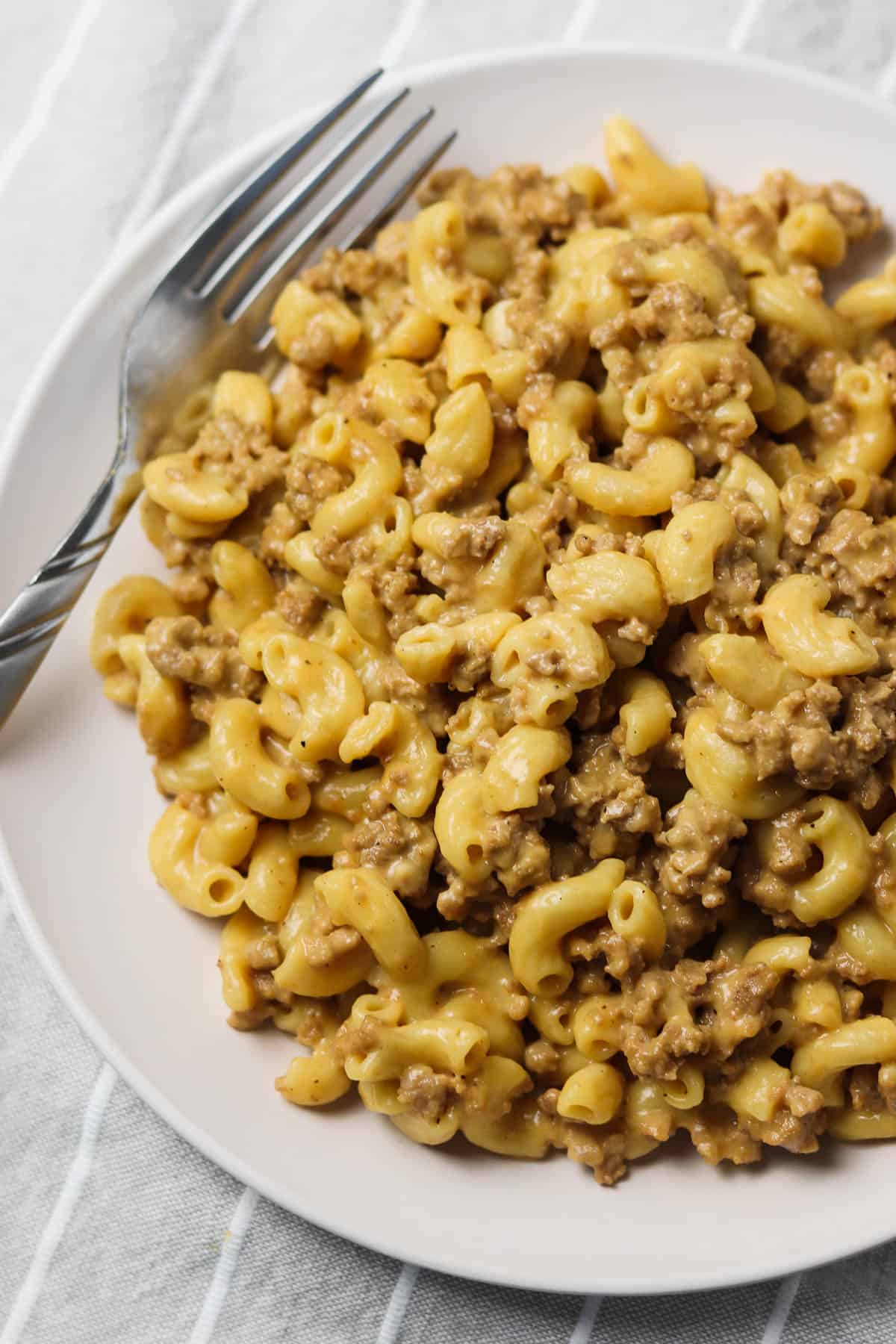 More Instant Pot Recipes
Check out these other pasta recipes for the Instant Pot: