Instant Pot Chicken Alfredo is a quick, easy, and delicious one-pot meal! This version is lighter in calories thanks to using milk instead of heavy cream!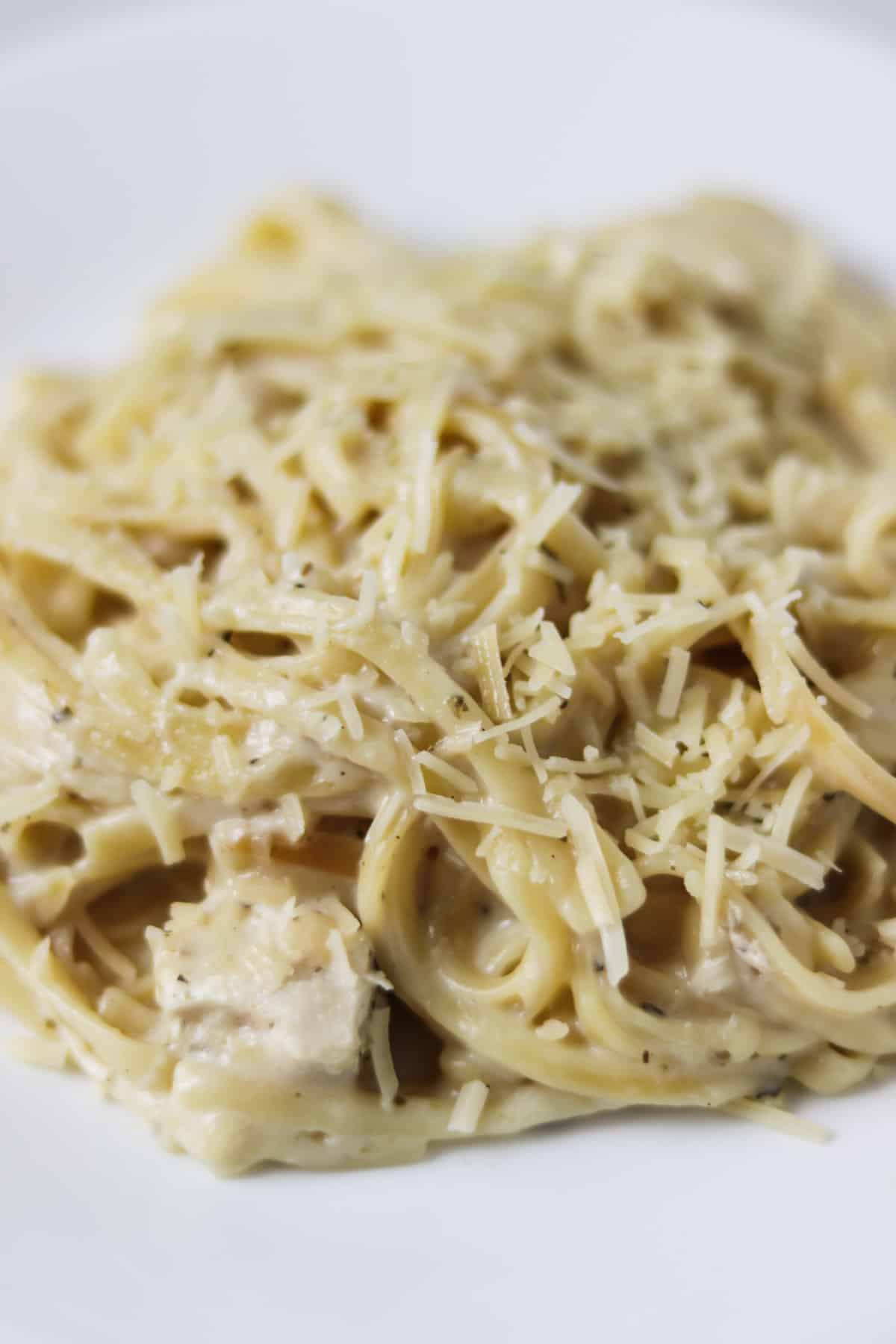 It's super creamy and comforting without being loaded in fat like most restaurant versions! This "Skinny" version doesn't taste like you're missing out on all that fat. It's also kid-friendly and picky-eater friendly.
Using frozen chicken tenders makes this recipe SO EASY. I don't have to remember to defrost the chicken the day before. I can just grab the chicken tenders out of the freezer and throw them in the Instant Pot!
With a few simple ingredients, it's easy to make simple homemade alfredo sauce and it is a million times better than sauce from a jar.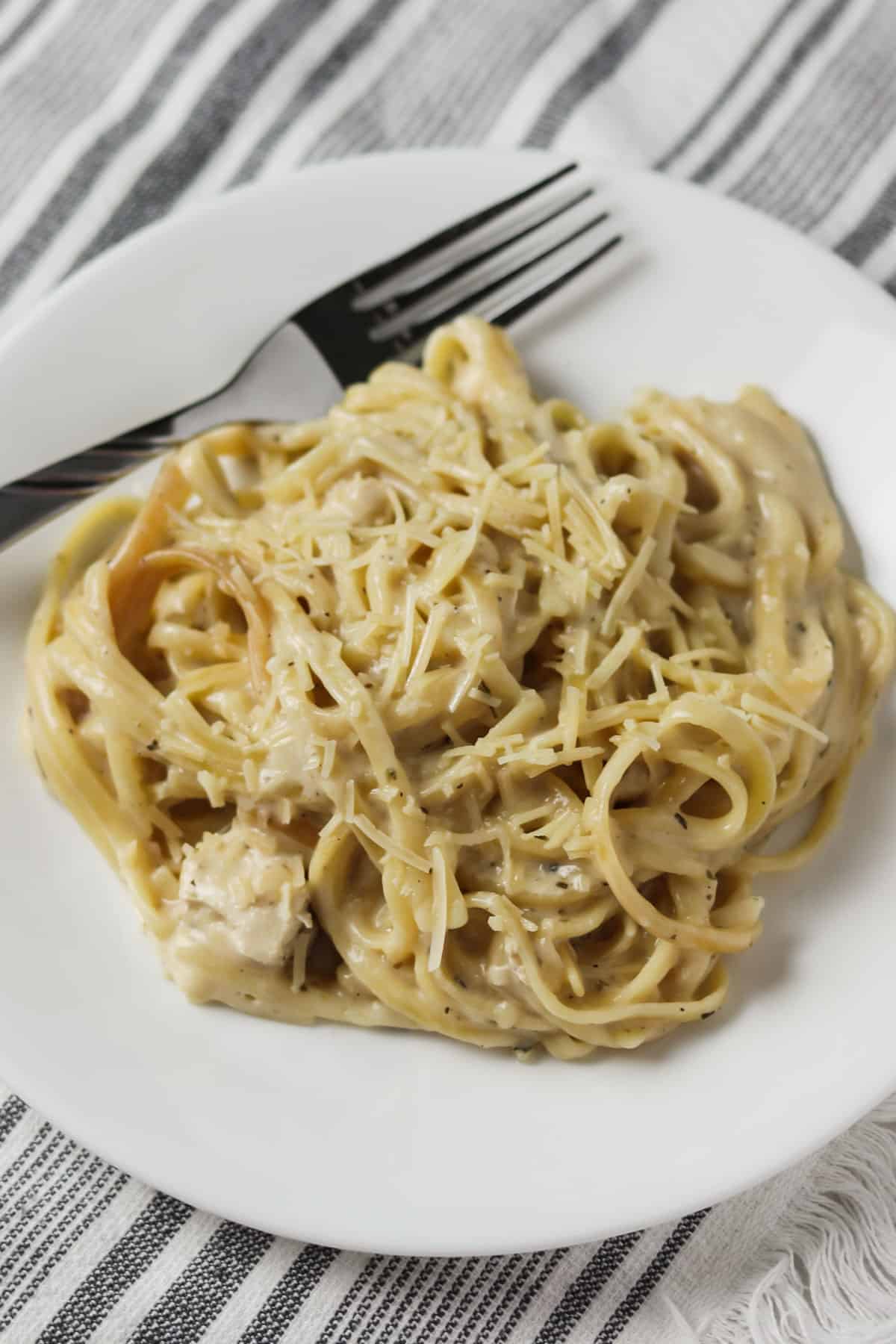 How to Make Homemade Alfredo Sauce Without Heavy Cream
I make homemade "skinny" alfredo sauce using a combination of evaporated milk, cream cheese, and parmesan cheese.
My recipe uses fat free evaporated milk instead of heavy cream.
6 ounces of fat free evaporated milk has only 150 calories. For comparison, 6 ounces of heavy cream has a whopping 600 calories!
The secret to making your alfredo sauce still creamy without the heavy cream is adding a touch of cream cheese. The cream cheese gives the sauce that little bit of extra creaminess that will make you think you're still eating the full-fat version!
Ingredients
Here are the simple ingredients in Instant Pot Chicken Alfredo:
8 oz dry linguine noodles
2 cups chicken broth
1 pound frozen chicken tenderloins (about 5 tenders). These are the individually frozen (ice glazed) raw chicken tenders you can purchase in a bag in the freezer section.
6 ounces fat-free evaporated milk
1 cup shredded parmesan (use fresh shredded parmesan, not the grated parmesan in the can)
2 oz low fat cream cheese
2 teaspoon Italian seasoning
2 teaspoon minced garlic
0.25 teaspoon salt, to taste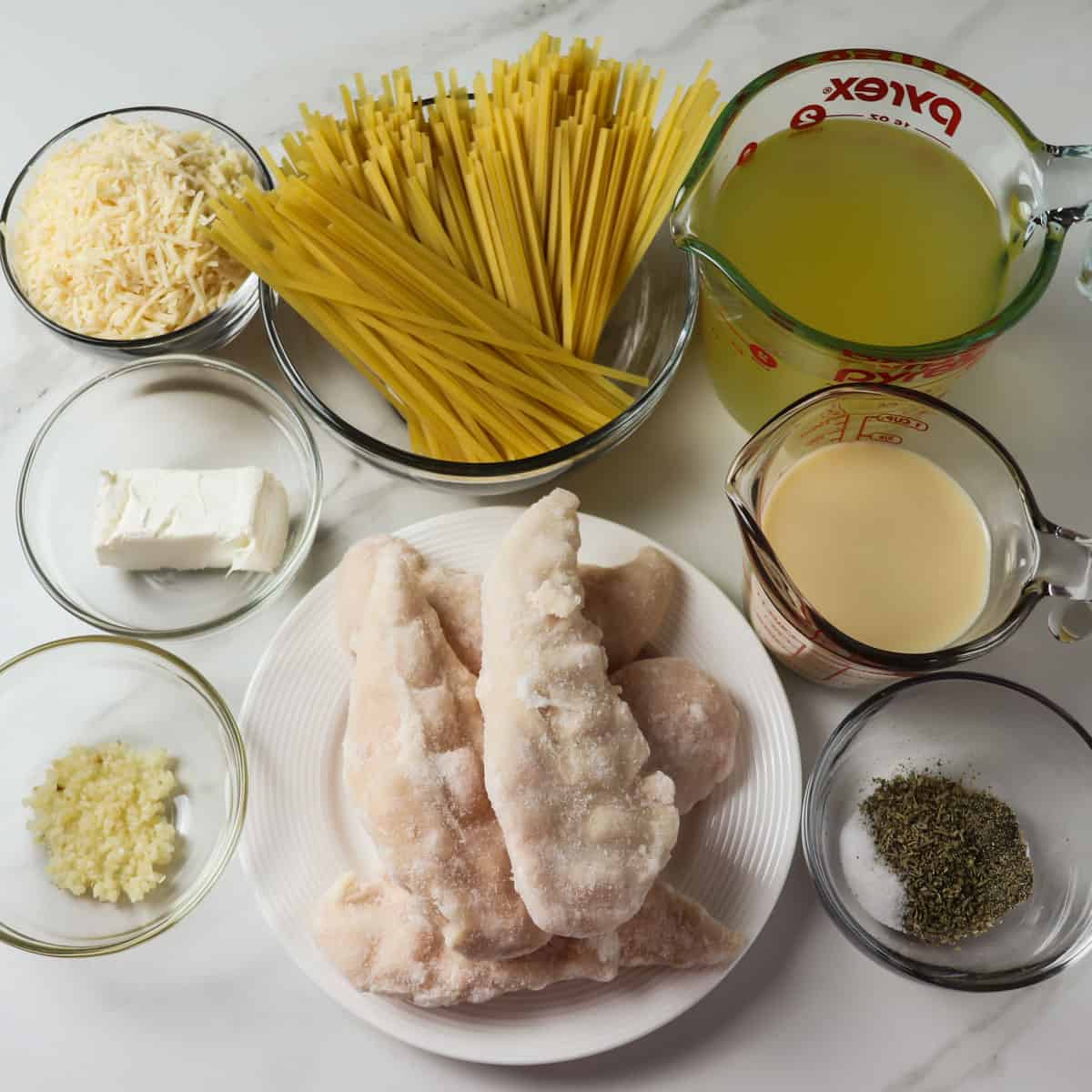 Why Use Linguine Instead of Fettuccine
When testing this recipe, I found that the flat fettuccine noodles don't work well in the Instant Pot. They easily stick together and stick to the bottom of the pot.
Linguine noodles (which are thicker spaghetti noodles) cook more evenly in the Instant Pot and stick together less, so that's what I recommend for this recipe.
Can I Use Fresh Chicken Tenders Instead of Frozen?
Yes, you can use fresh chicken tenders for this recipe. However, if you use fresh, thawed chicken tenders I recommend making these adjustments:
Cook for 3 minutes high pressure with a 5-minute natural release.
Use spaghetti noodles instead of linguine (you need to use a type of noodle with a slightly shorter cook time)
Can I Use Chicken Breasts Instead of Chicken Tenders?
No, chicken breasts will take too long to cook and you'll end up with overcooked pasta by the time the chicken would be done.
If you have fresh chicken breasts, you could cut them into tender-sized pieces and then follow the above directions for using fresh chicken tenders instead of frozen.
Another option is to cook the chicken separately (not in the Instant Pot) and then add in the diced chicken at the end.
Instructions
This recipe has three main steps: layer the ingredients, pressure cook the pasta and chicken, and then mix up the alfredo sauce.
Layer the Ingredients
For this recipe, it's important to layer the ingredients in a certain order!
First, put your chicken broth and noodles in the Instant Pot. Break the linguine noodles in half and layer them crossways in the pot.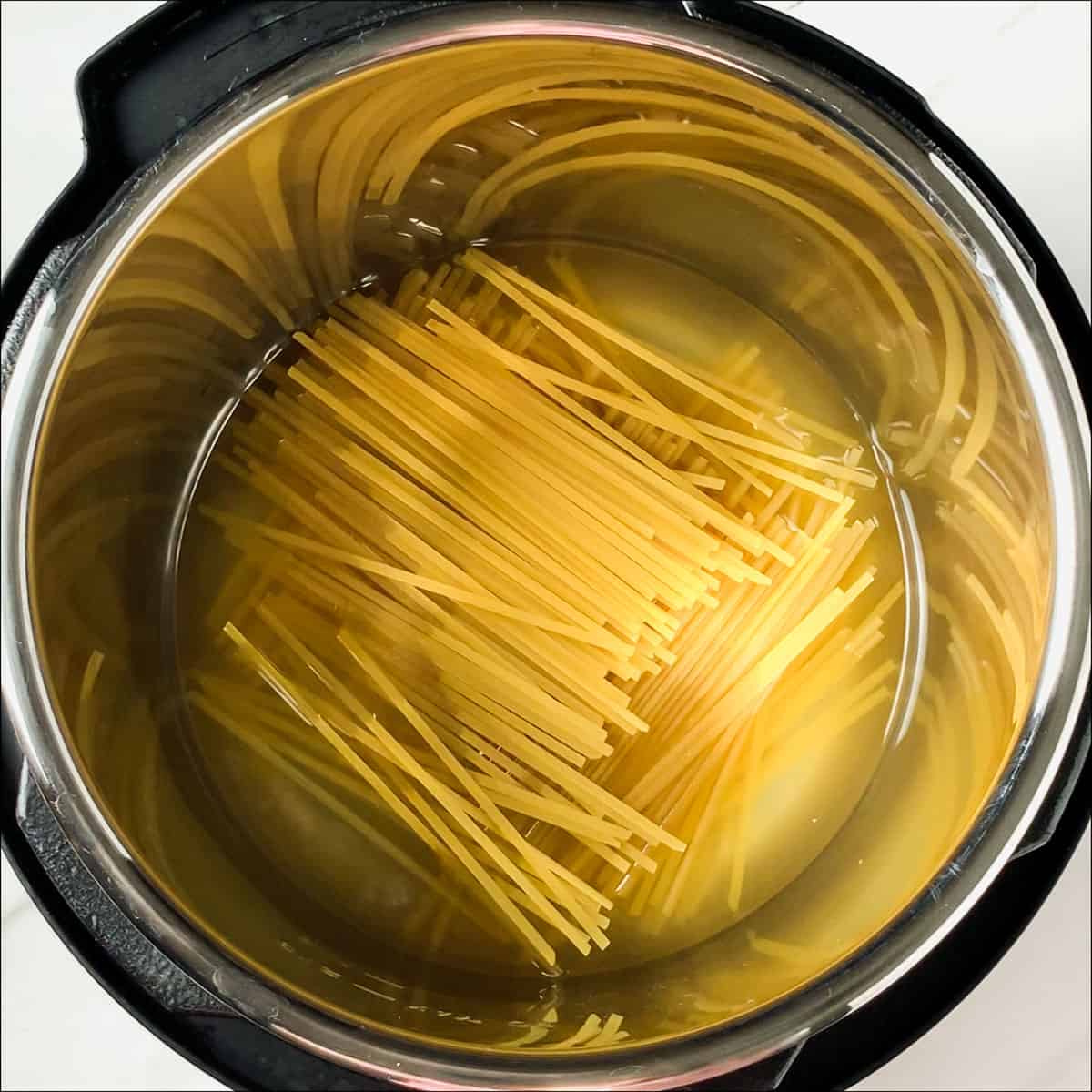 You want most of the noodles to be submerged in the broth but it's ok if a few noodles are sticking up a little.
Next, put the frozen chicken tenders on top of the noodles. Try to arrange them in a single layer on top.
Sprinkle the garlic, Italian seasoning, and salt on top of the chicken and noodles. Now, you're ready to pressure cook!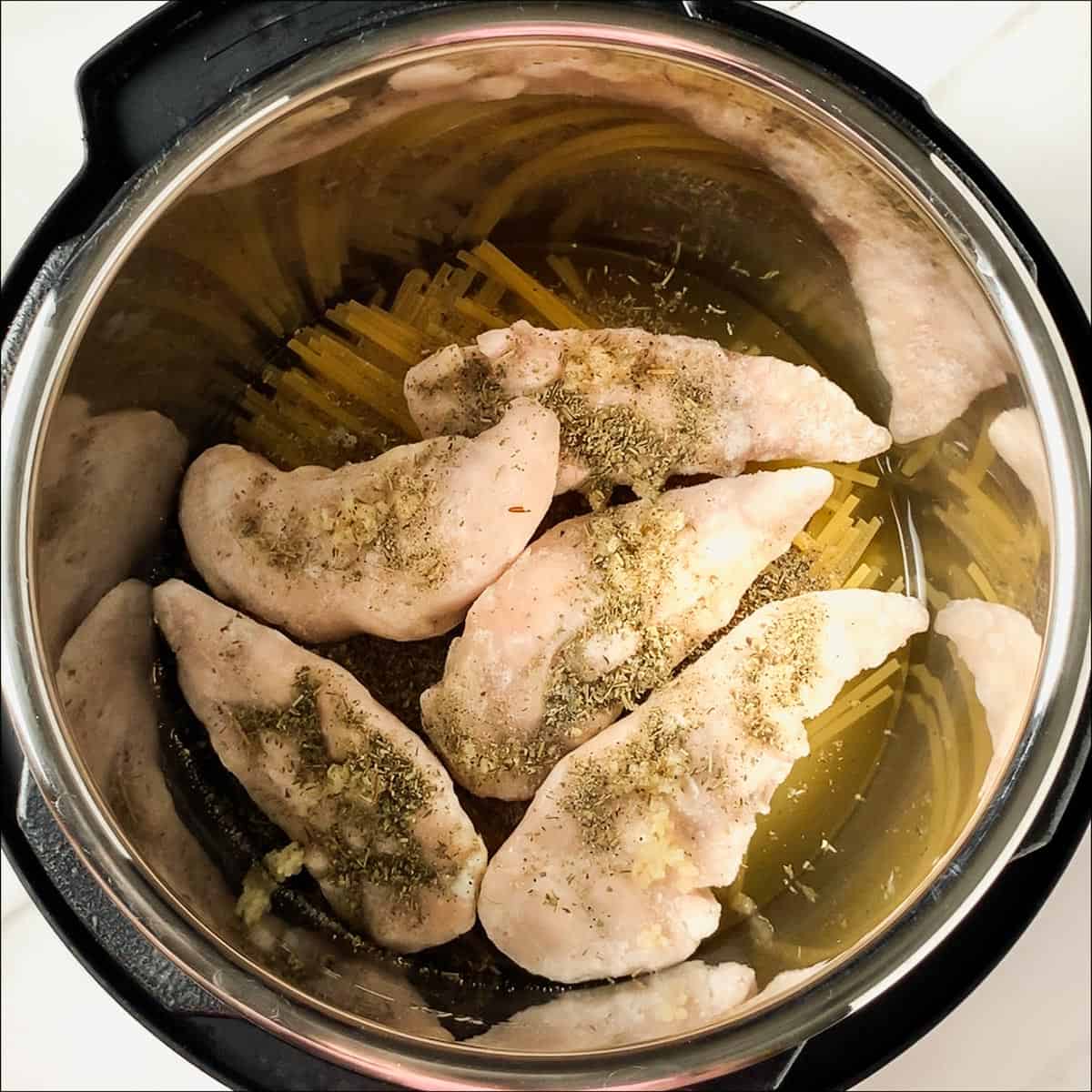 Pressure Cook Pasta and Chicken
Put the lid on the Instant Pot and set to 6 minutes high pressure. After 6 minutes is up, allow a 5-minute natural release before releasing the remaining pressure.
After you open up the Instant Pot, remove the cooked chicken tenders and set aside. Us a meat thermometer and verify that chicken has reached at least 165 degrees inside.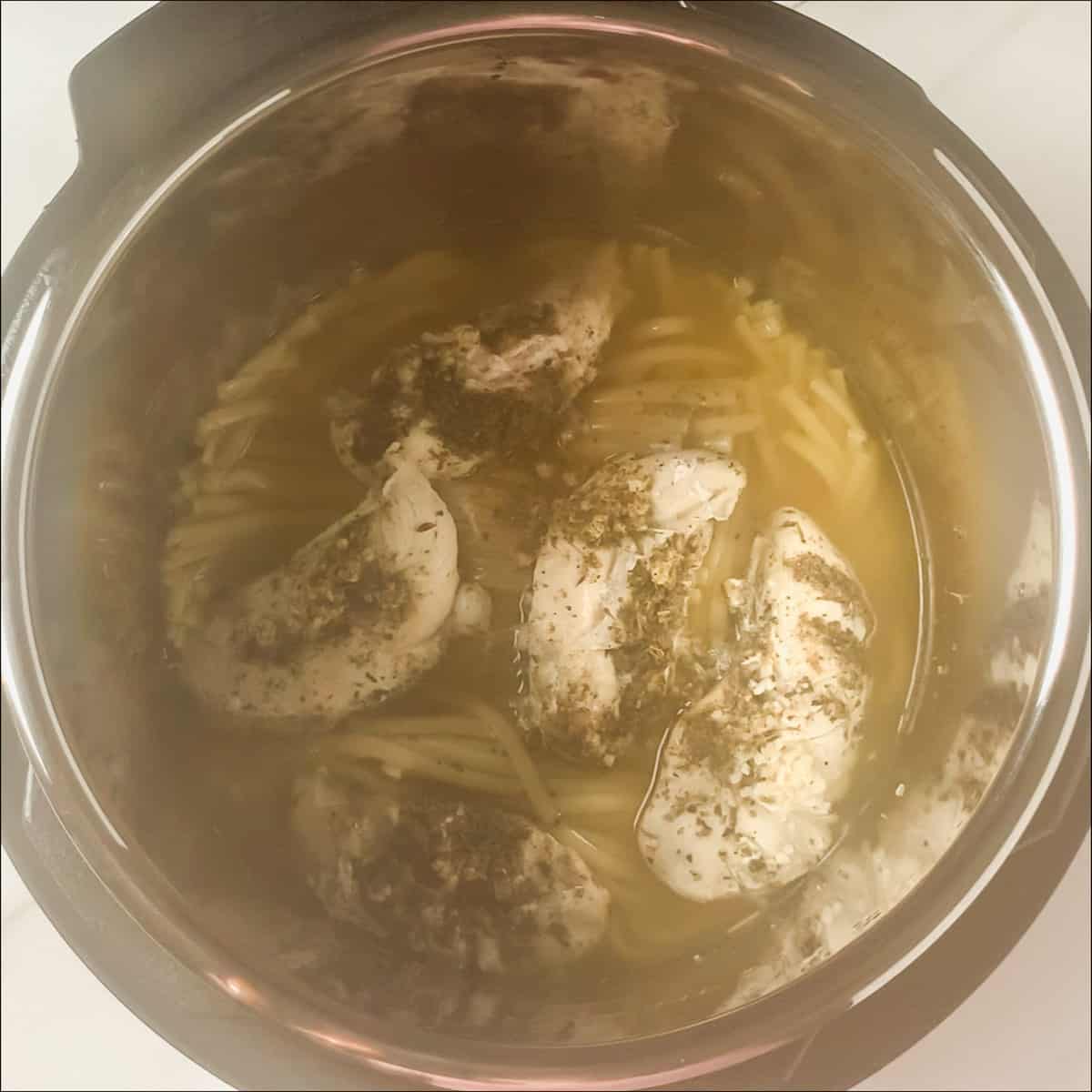 Mix Up the Alfredo Sauce
It's ok if there is some extra chicken broth in the noodles! It will thicken up as you mix up the sauce.
With the chicken tenders removed, set the Instant Pot to Sautee Low temperature. Add the cream cheese and stir until cream cheese is completely melted (2-3 minutes).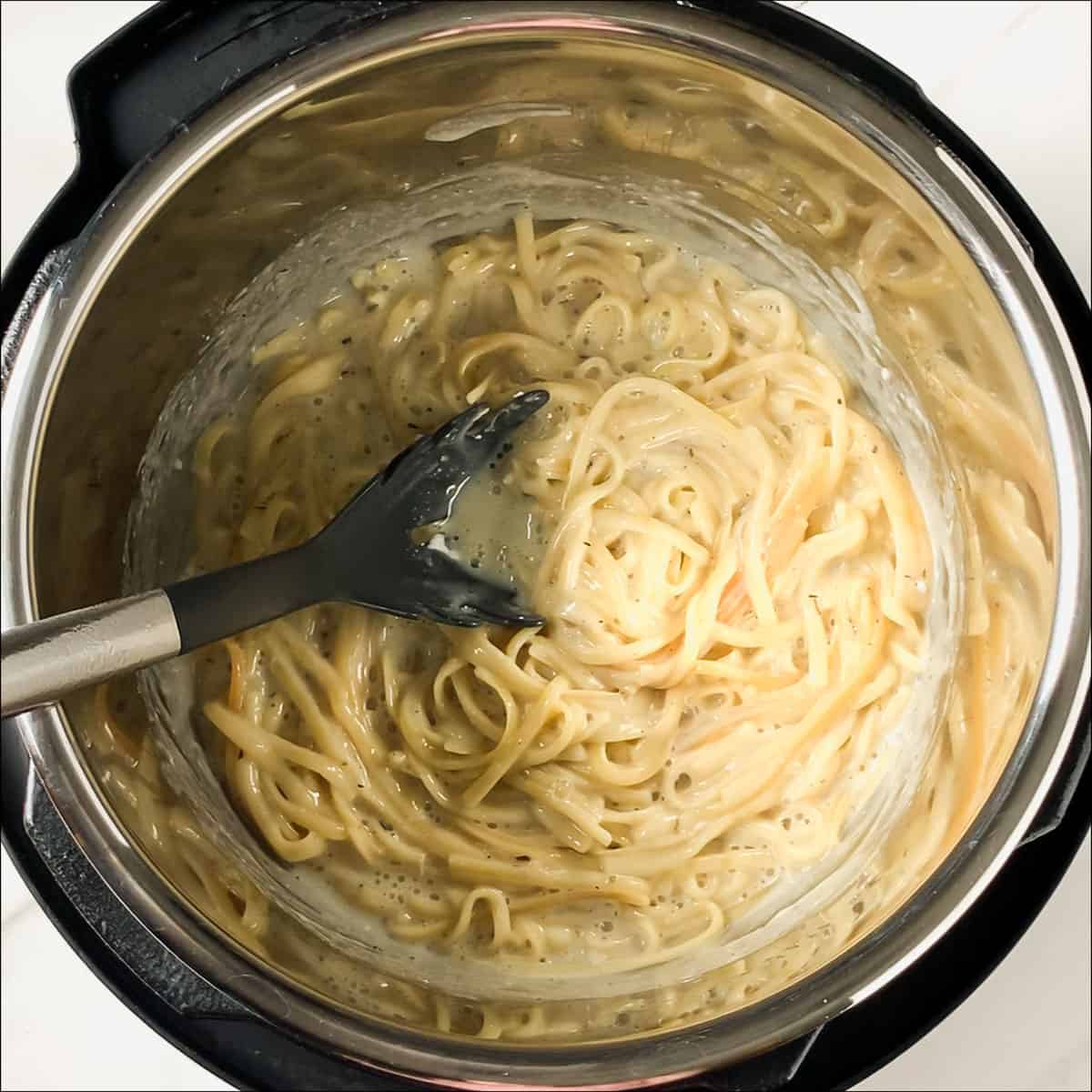 Next, add the evaporated milk and parmesan cheese. Stir until cheese is melted and sauce begins to thicken (2-3) minutes.
If your alfredo sauce is too thin, keep sauteeing for a few more minutes and it will thicken up as the liquid cooks off.
If your alfredo sauce is too thick, add additional evaporated milk to thin the sauce.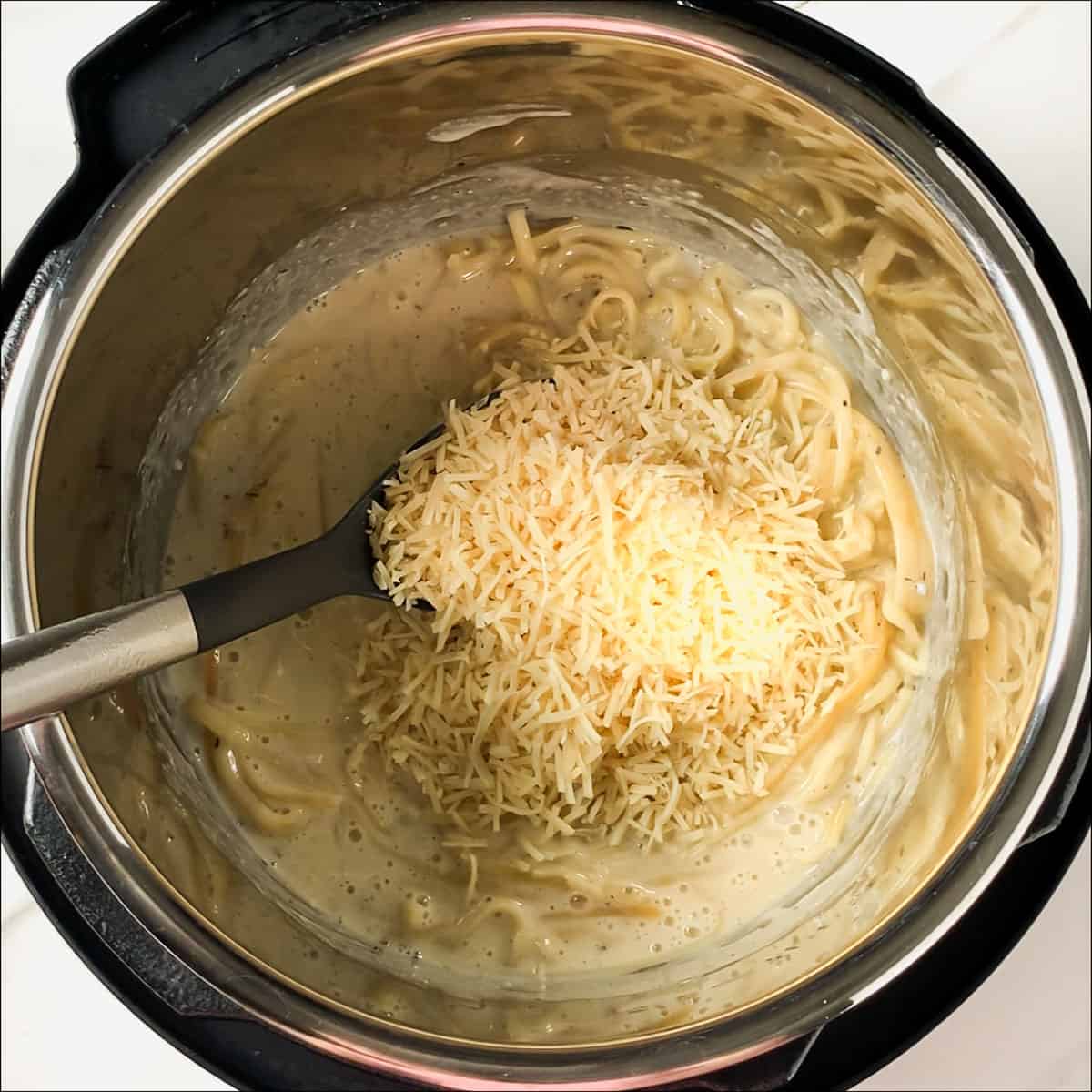 Meanwhile, dice up your chicken. After alfredo sauce has reached the desired consistency, add the diced chicken back into the Instant Pot and combine.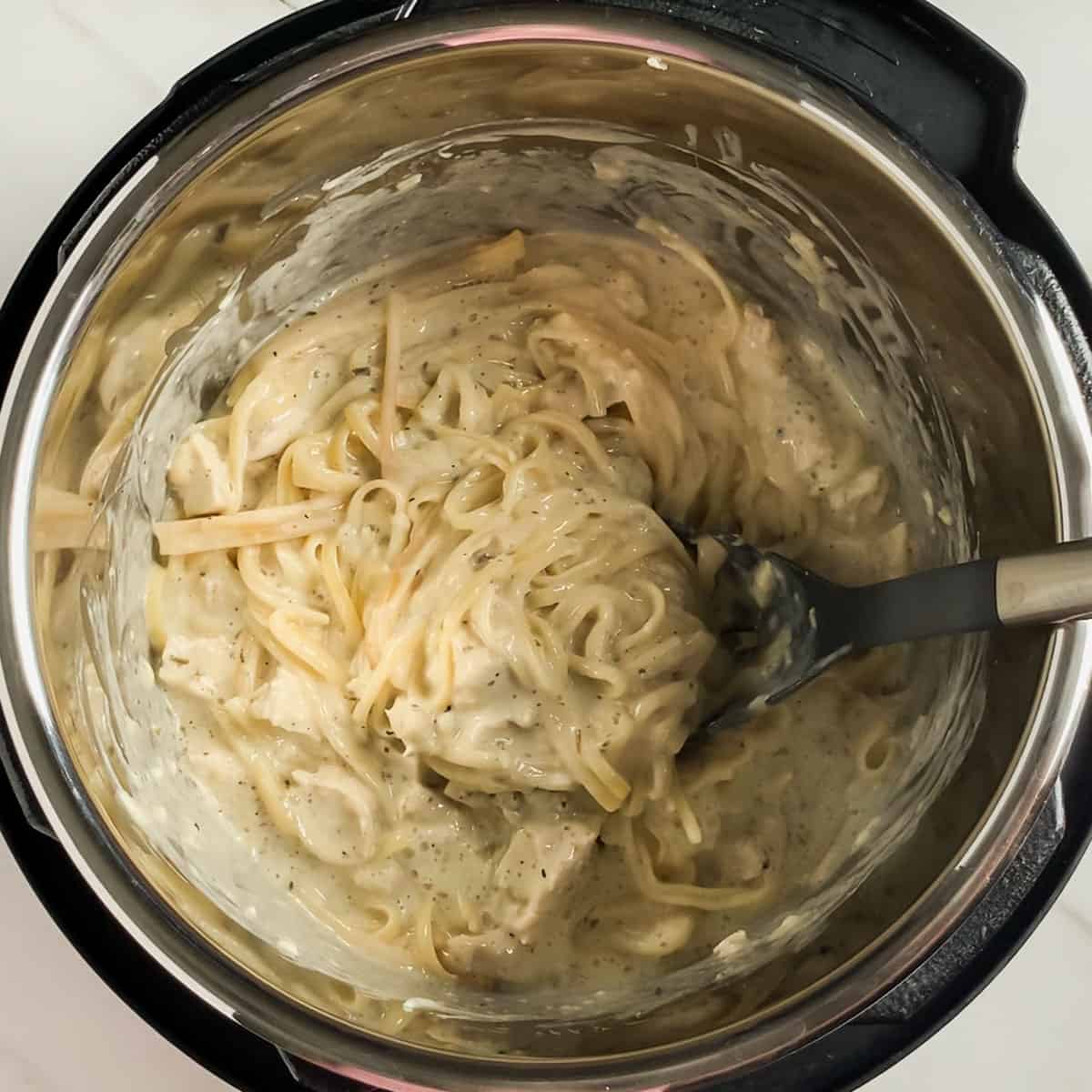 You're now ready to eat! Grab a big spoonful and it's dinner time!
How to Freeze
This recipe does freeze well. I freeze individual servings in plastic containers and often eat them for lunch. To reheat, cook in the microwave at 50% power until heated through.
What to Serve with Chicken Alfredo
I usually serve chicken alfredo with a simple side salad or vegetable. A side of broccoli or green beans goes well with this to round out a complete meal!
Calories Per Serving
One serving of this recipe has 497 calories. Not too bad for a filling pasta dinner!
One serving is about 13 oz or a heaping 1.5 cups. The recipe makes 4 total servings.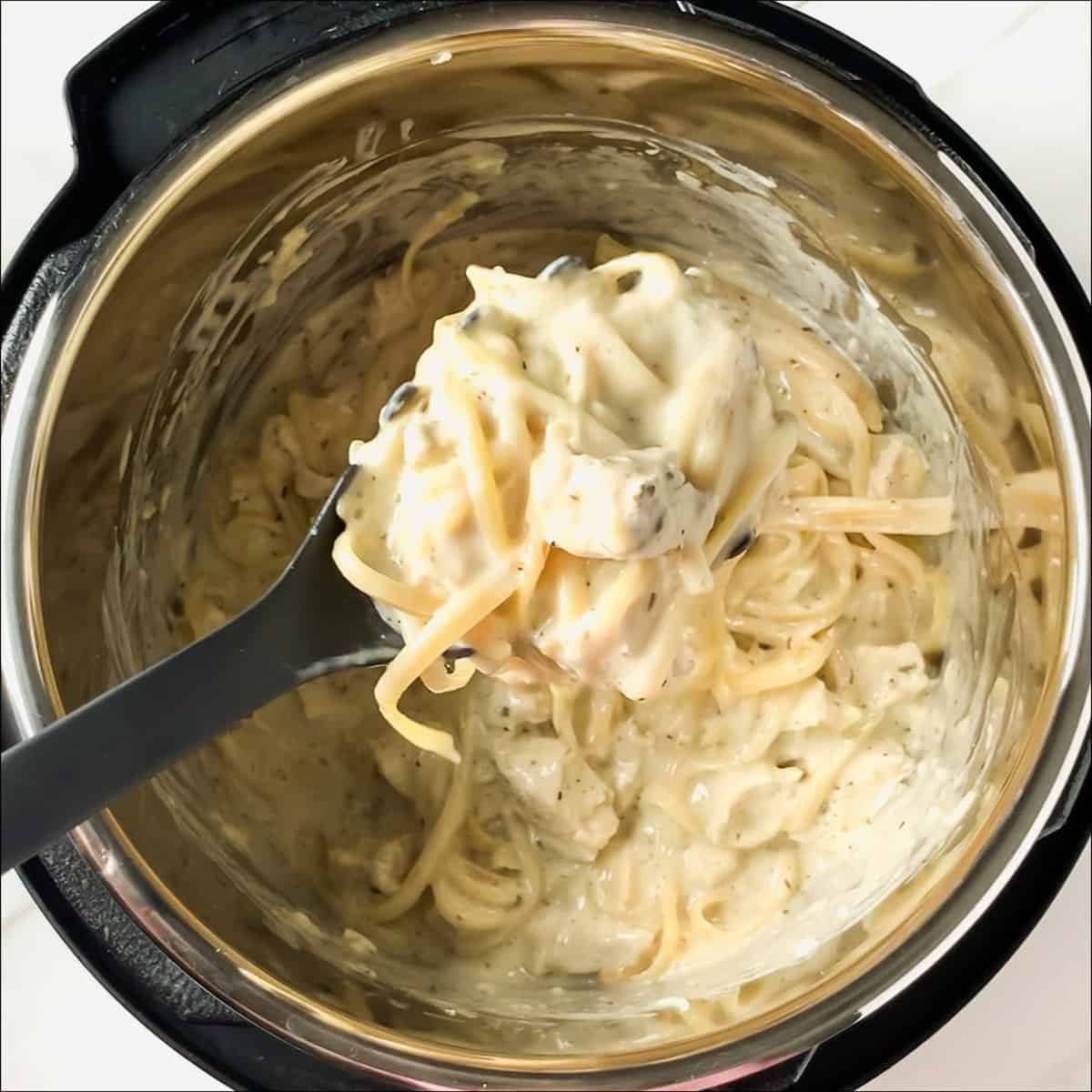 More Easy and Healthy Instant Pot Recipes
Looking for more Instant Pot Recipes? Try these!