This lighter take on dunkaroo dip is packed with cake batter flavor! Cool whip, vanilla yogurt, and cake mix combine to make an irresistible 3 ingredient dessert!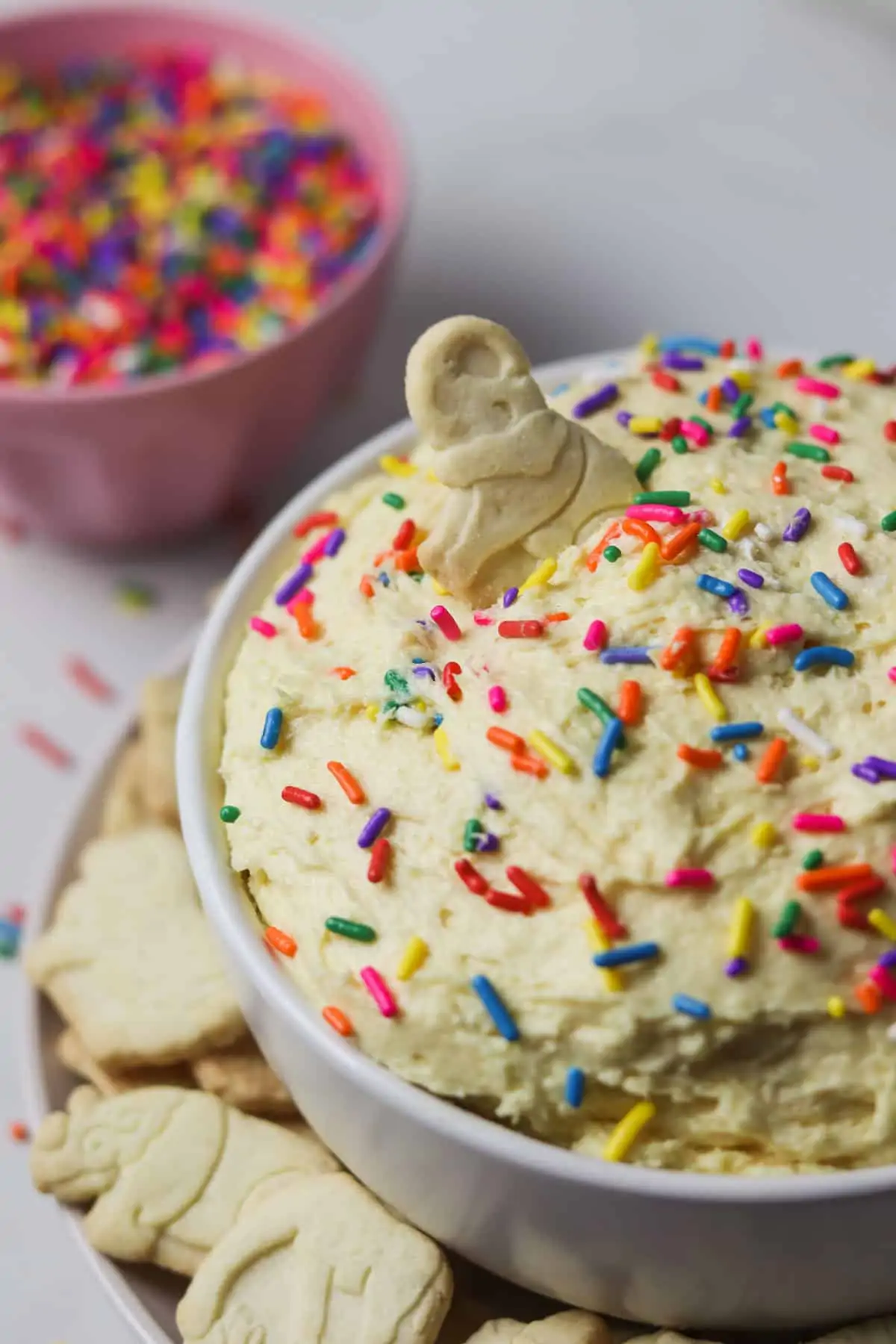 Made with sugar-free and low fat ingredients, this dip won't ruin your diet. For anyone that enjoyed licking the cake batter bowl, this dip is for you! It's got all the flavor of cake batter without the raw eggs, butter, or sugar.
It's delicious with animal crackers, graham crackers, nilla wafers, teddy grahams, fruit, or just about any dipper you can think of! Kids will love this, too! You can optionally top it with rainbow sprinkles to make it a fun kid-friendly dessert.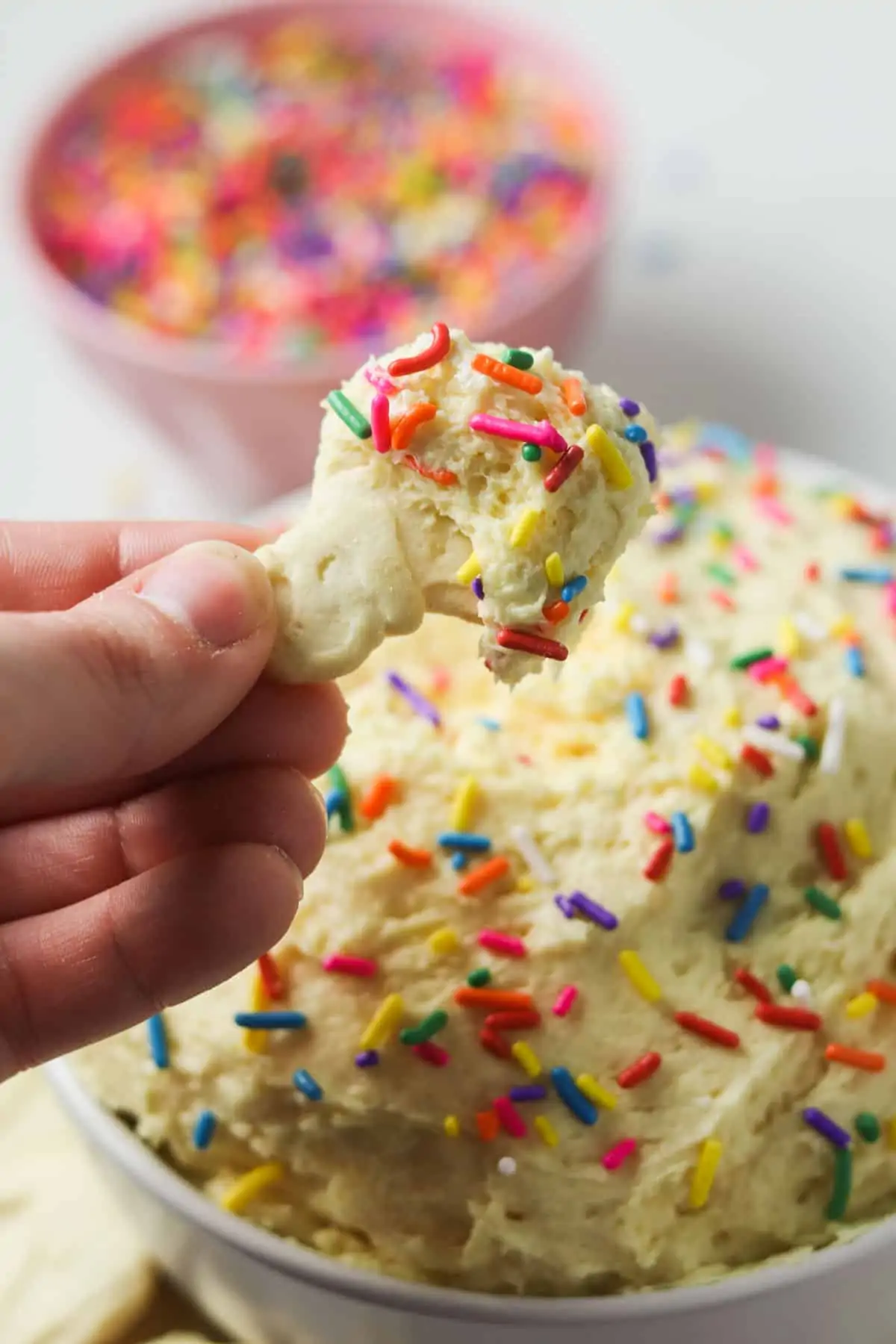 Jump to:
What is Dunkaroo Dip?
Dunkaroos were a childhood staple in the 90's! If you don't remember eating them, they were little packs of vanilla cookies with a sweet rainbow sprinkle frosting dip. They discontinued them in 2012, although I heard rumors they may be coming back to stores.
This dunkaroo dip recipe is inspired by the classic childhood snack! It's got all of the flavors of the vanilla cookies and frosting in one dip.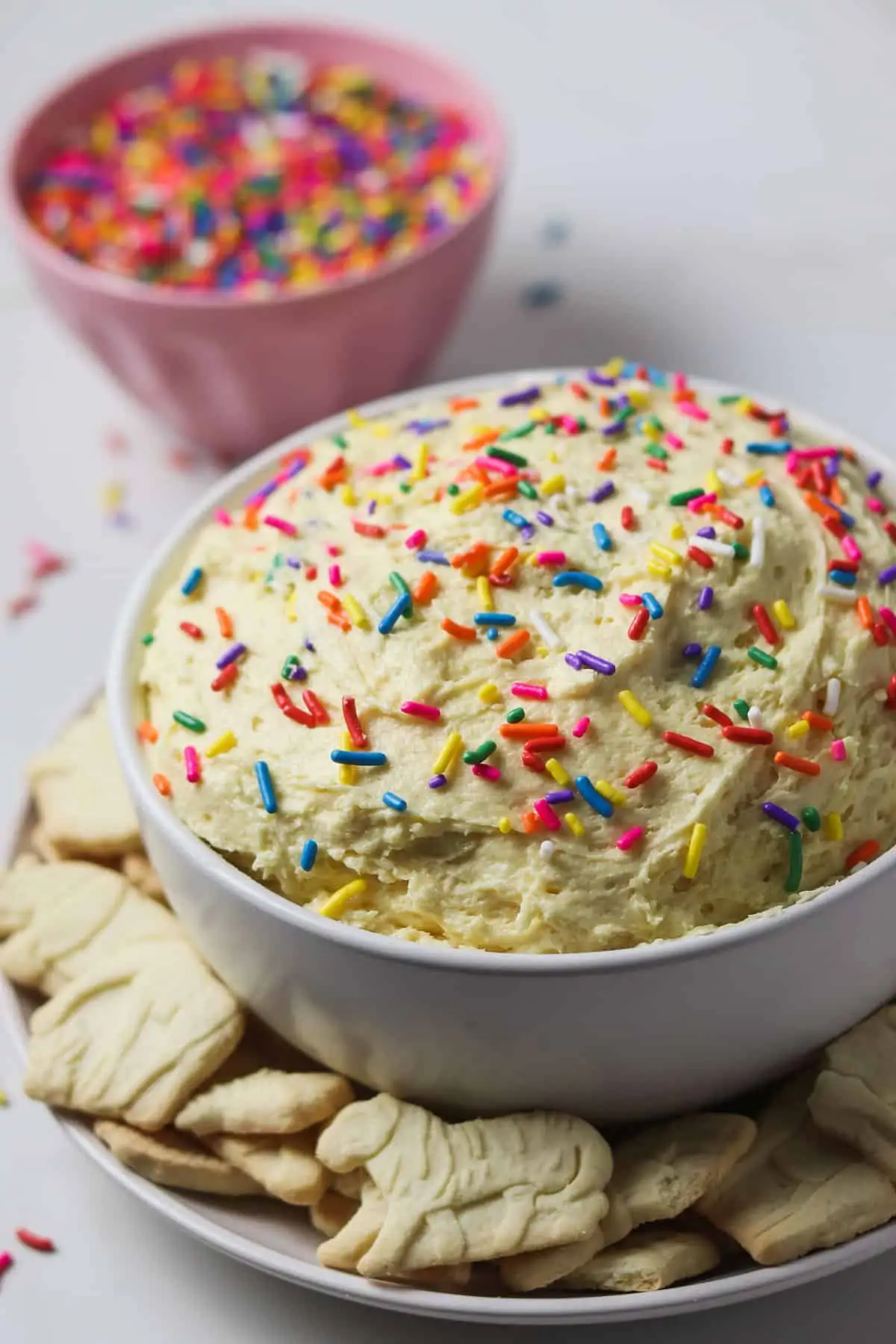 Ingredients
You will need:
1 box of sugar-free yellow cake mix (16 oz)
1 regular sized container sugar-free or light cool whip, thawed (8 oz)
2 individual containers of nonfat vanilla greek yogurt (5.3 oz each)
1 teaspoon vanilla extract, optional
Rainbow sprinkles, optional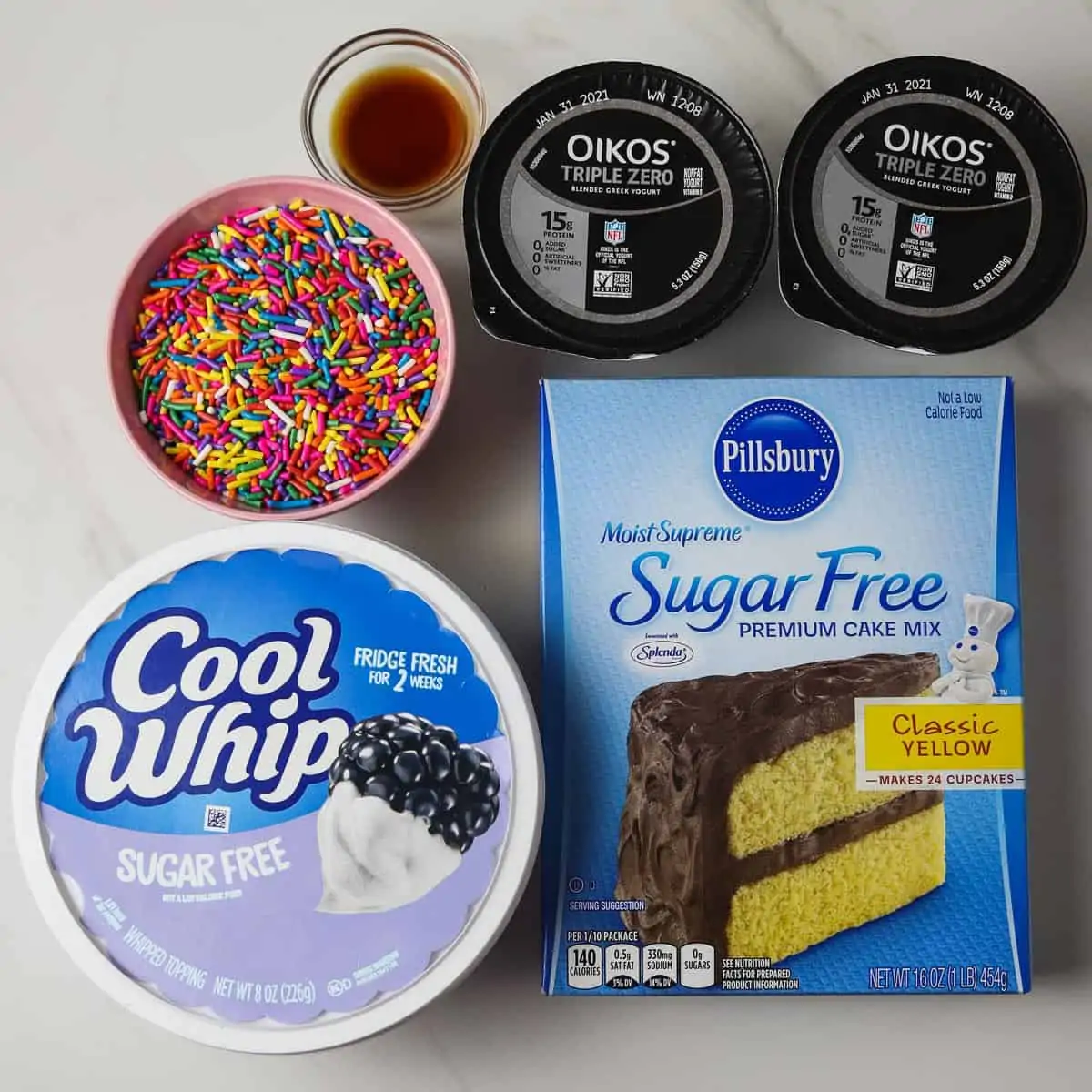 The vanilla extract and sprinkles are optional, but I typically include both! I like the added vanilla flavor.
You could mix sprinkles into the dip, but instead I normally just add a light dash of sprinkles on top for serving. The sprinkles don't really add any flavor to the dip, but they do add a fun splash of color! You can also customize your sprinkles for any holiday or color for a themed party (such as Christmas, Valentine's Day, Halloween, etc).
Substitutions
Sugar-free cake mix - I typically choose the Pillsbury brand but any kind of cake mix (regular or sugar-free) around 15.25 - 16 oz will work for this recipe. You can even mix it up with different flavors of cake mix such as chocolate. If you use a box of funfetti cake mix, it will already have the sprinkles mixed in.
Cool whip - there isn't a good substitute for cool whip but you can use any variety - regular, light, or sugar-free. I normally choose light or sugar-free. Make sure your cool whip is thawed in the refrigerator.
Nonfat vanilla greek yogurt - you could use plain greek yogurt for this recipe, but be sure to add the optional vanilla extract. Any type of yogurt (regular or greek) should work ok for this recipe. This time I used Oikos Triple Zero vanilla yogurt.
Instructions
Grab a medium-sized mixing bowl and add the cake mix, yogurt, cool whip, and optional vanilla extract.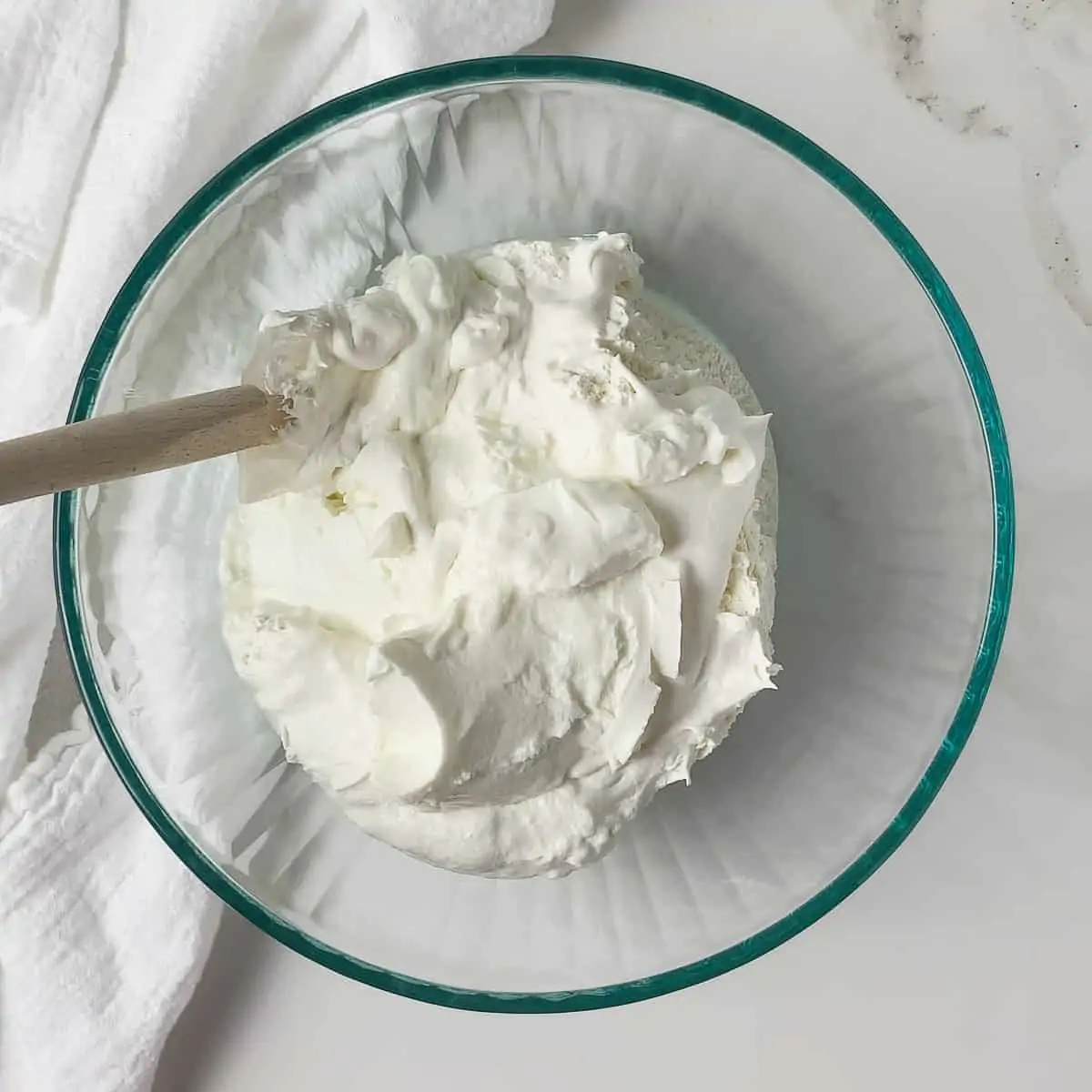 Stir until the mixture is well combined. Cover and refrigerate the dip for 1-2 hours to allow the flavors to mesh together.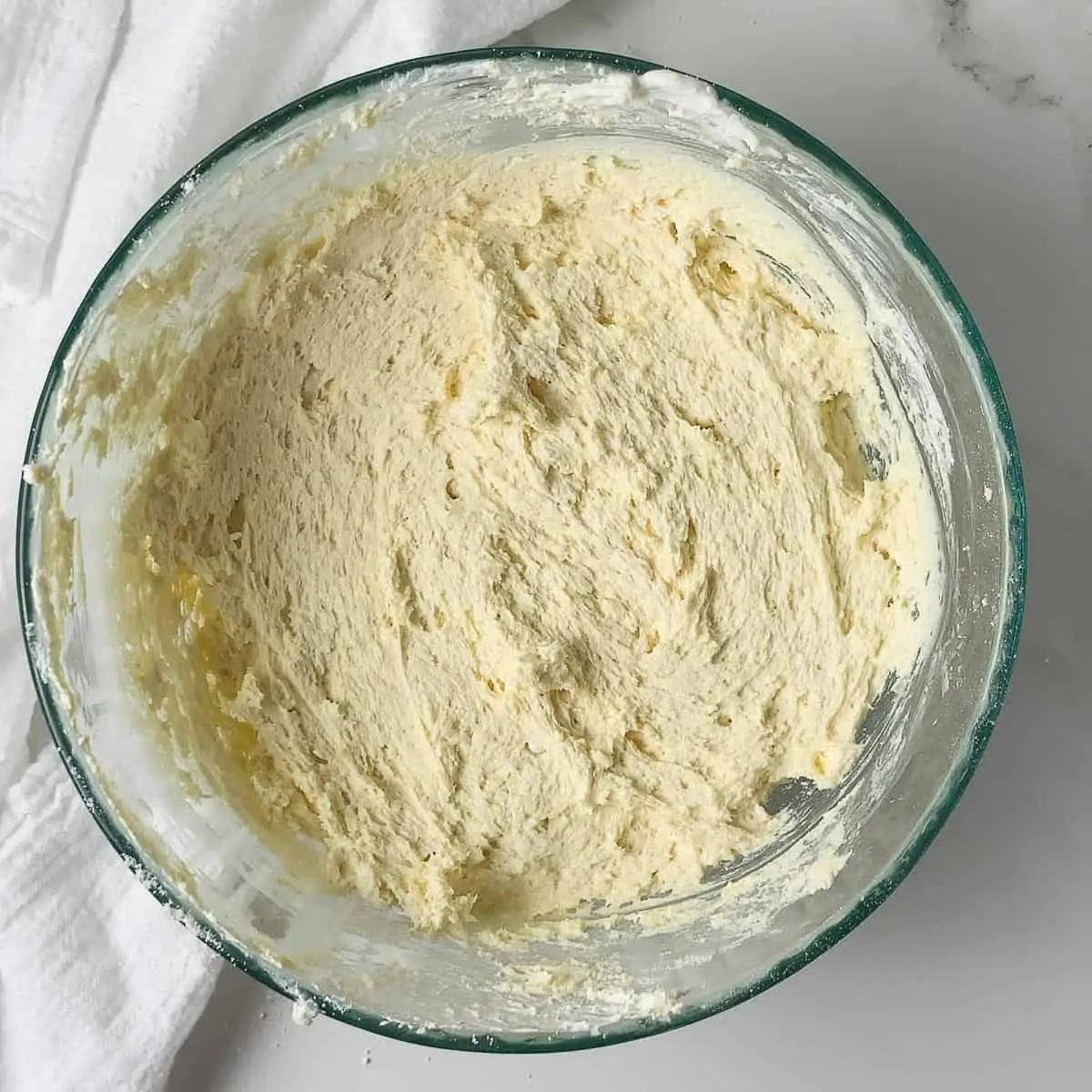 Serve dip chilled with an assortment of dippers. Optionally, top with a few rainbow sprinkles. You can even use sugar-free sprinkles if you'd like!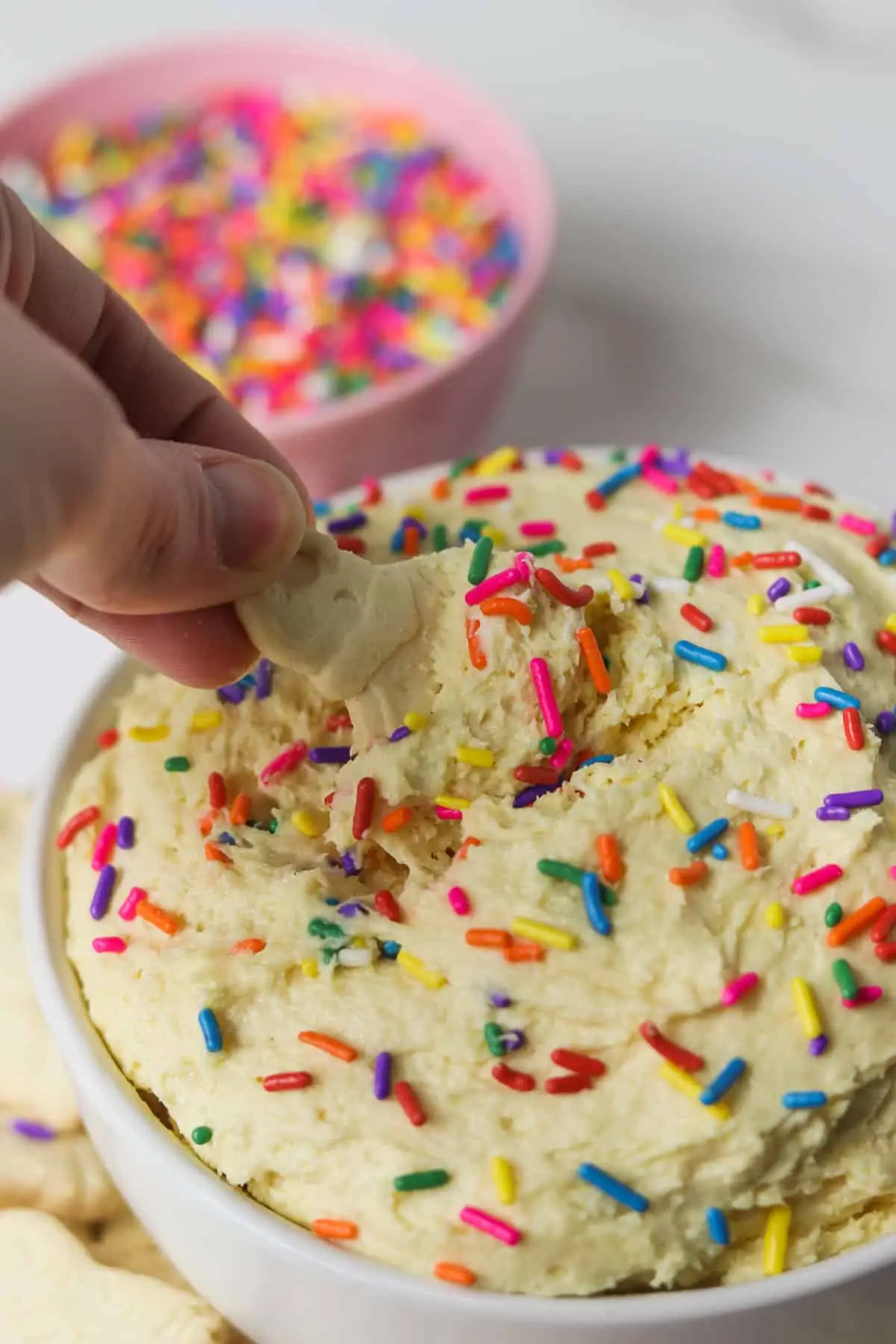 Dippers
You can really get creative with the dippers for dunkaroo dip! Here are my favorites:
Graham crackers
Nilla wafers
Teddy grahams
Pretzels
Strawberries
Nilla wafers
Animal crackers
Apple slices
For a healthy option, dip it with fruits such as strawberries or apple slices! Pretzels are also a great low-calorie option for a sweet and salty snack.
How to Make Ahead
This recipe is perfect to make ahead for parties. You can mix it up the night before and store it in an airtight container in the refrigerator. Pack it in a cooler with a little ice to keep it chilled. Once you arrive at your destination, load up a tray with your dip and dippers. Finally, add a few sprinkles on top to complete your tray.
How to Store
This dip must be stored in the refrigerator due to the cool whip and yogurt. It will keep fresh for about a week in an airtight container in the refrigerator.
Calories & Serving Size
A serving size of this recipe is ¼ cup. Each serving will have about 112 calories if you follow the recipe as written. For a low-calorie dipper option, try strawberries, apple slices, or pretzels. Or, you can even just eat it plain with a spoon!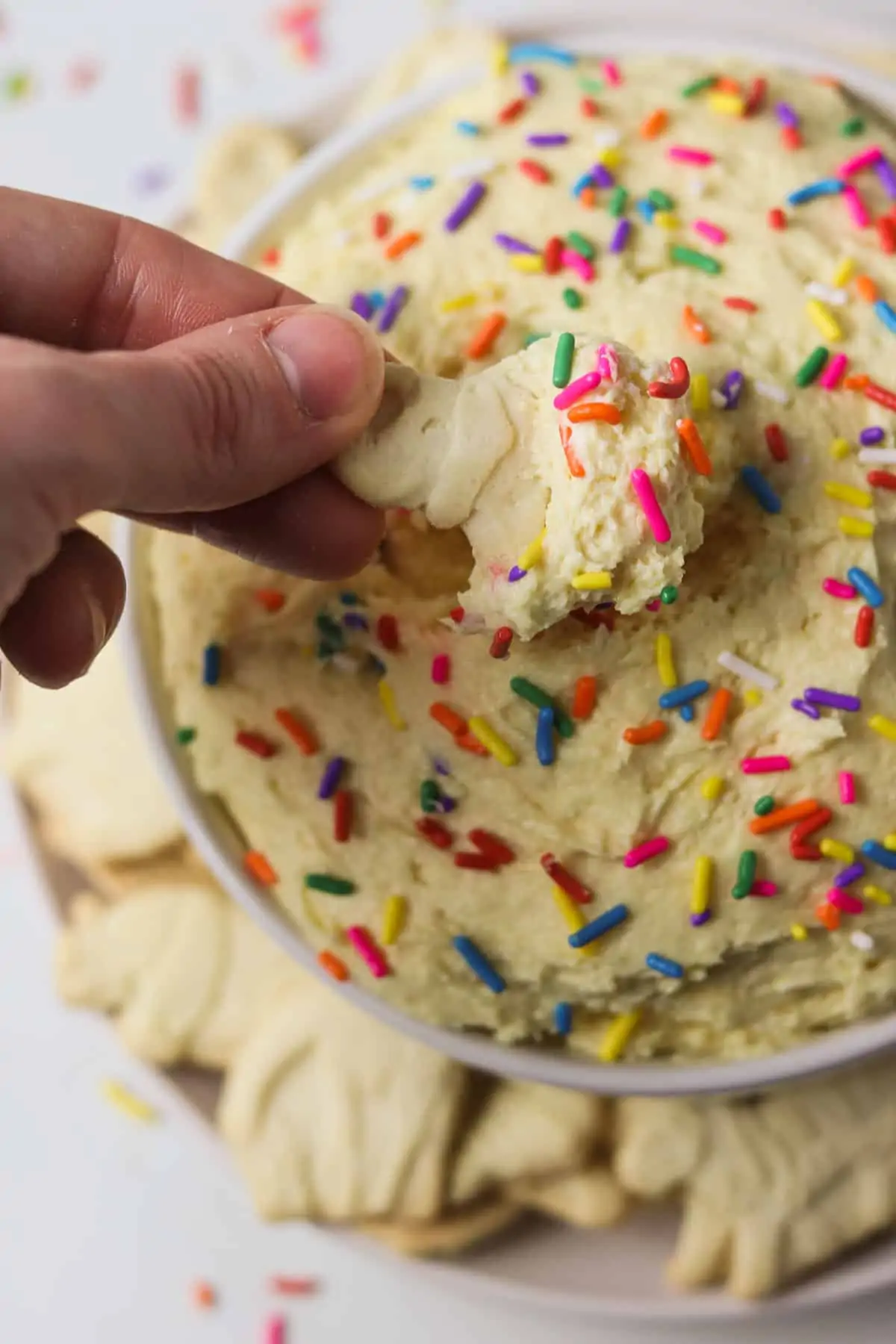 More Light Cool Whip Desserts
If you liked this recipe, check out these other skinny desserts made with cool whip: