These no bake peanut butter balls with rice krispies are easy to make and delicious. There are only 3 ingredients in the peanut butter filling! Dip these in chocolate to create a yummy dessert.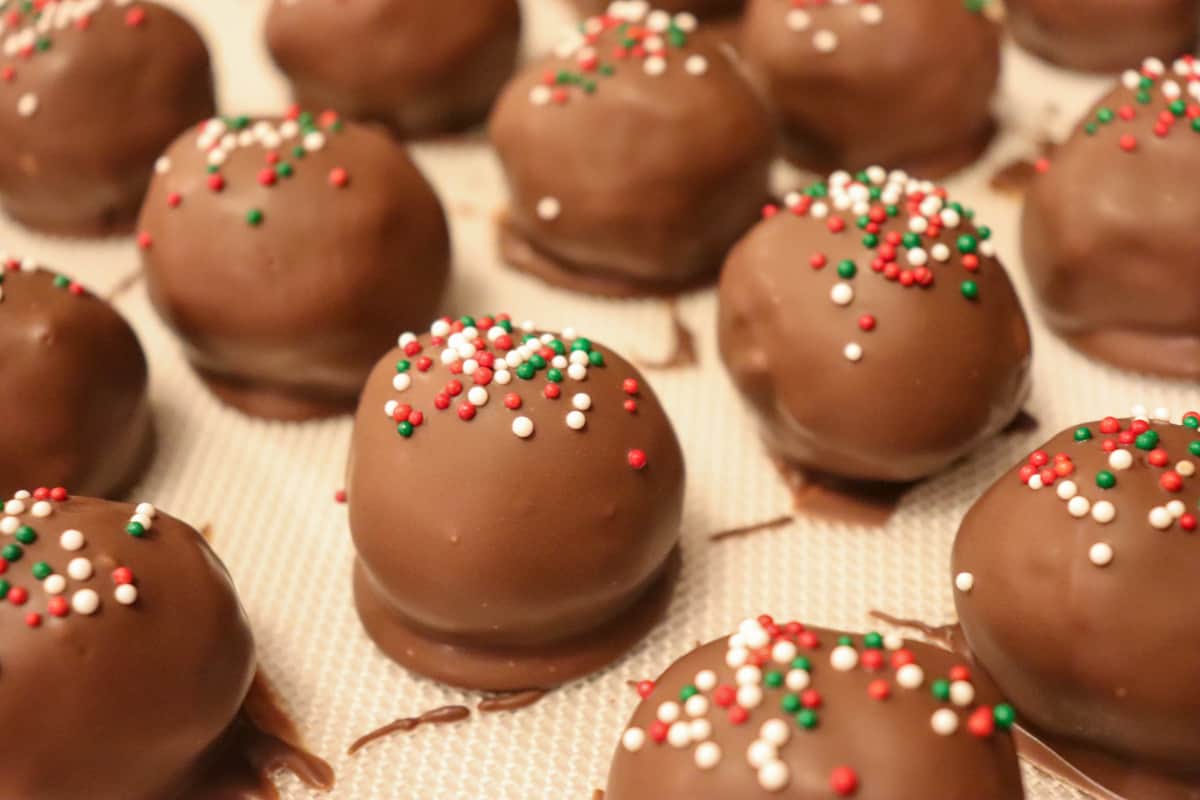 Unlike some recipes that call for lots of butter and powdered sugar, these are a little bit lighter thanks to the marshmallow cream and rice krispie cereal, which adds crunch and volume to the balls.
A lot of recipes that I have tried are too sweet. While these are certainly sweet, they are just sweet enough! Recipes with butter and powdered sugar can be overly sweet and dense. These are more crunchy and fluffy, which I really enjoy.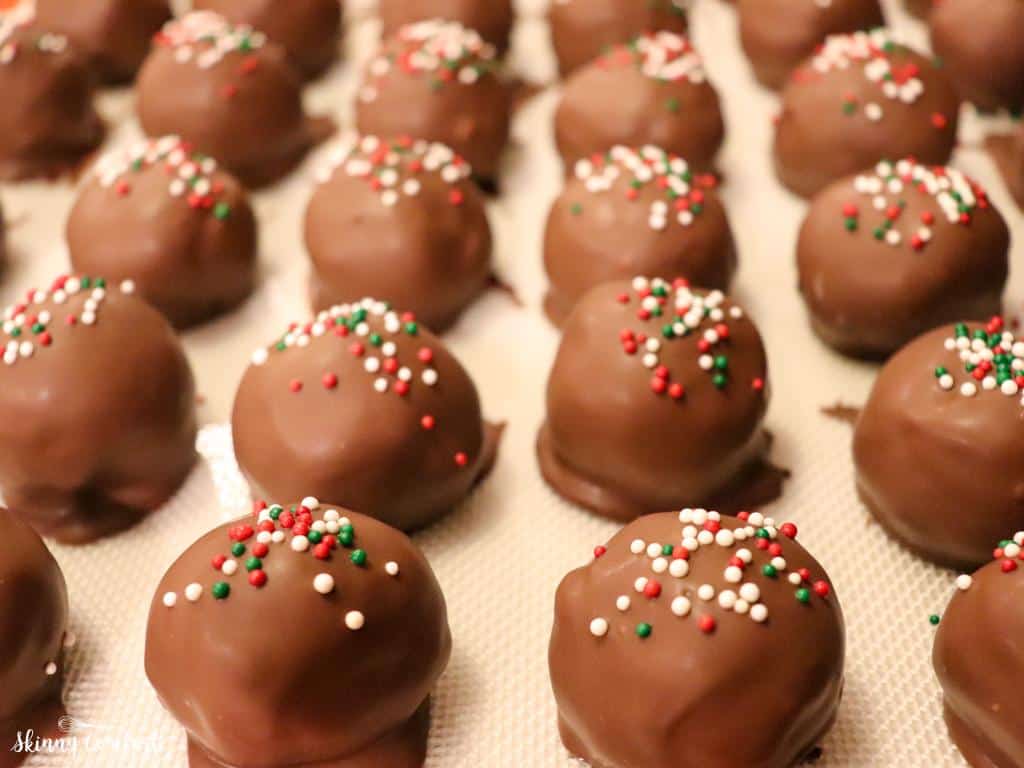 While these aren't exactly a "health food", if you limit yourself to one ball at a time they won't break your calorie budget at about 150 calories each for large peanut butter balls (about 2 tablespoons each). I find that just one of these balls is very satisfying. You don't need a lot to satisfy your peanut butter craving!
Thankfully peanut butter balls are pre-portioned so I highly recommend grabbing one and walking away from the container. Warning: they can be a little addictive! So I try to limit myself to one ball for a small dessert or two balls for bigger dessert if I have more calories to spare.
Ingredients
This is one of the simplest and easiest peanut butter ball recipes I have ever made. The filling is just 3 ingredients: marshmallow cream, peanut butter, and rice krispie cereal. Off-brand "Crispy Rice" cereal works just fine. This is the same cereal you would use to make Rice Krispie Treats.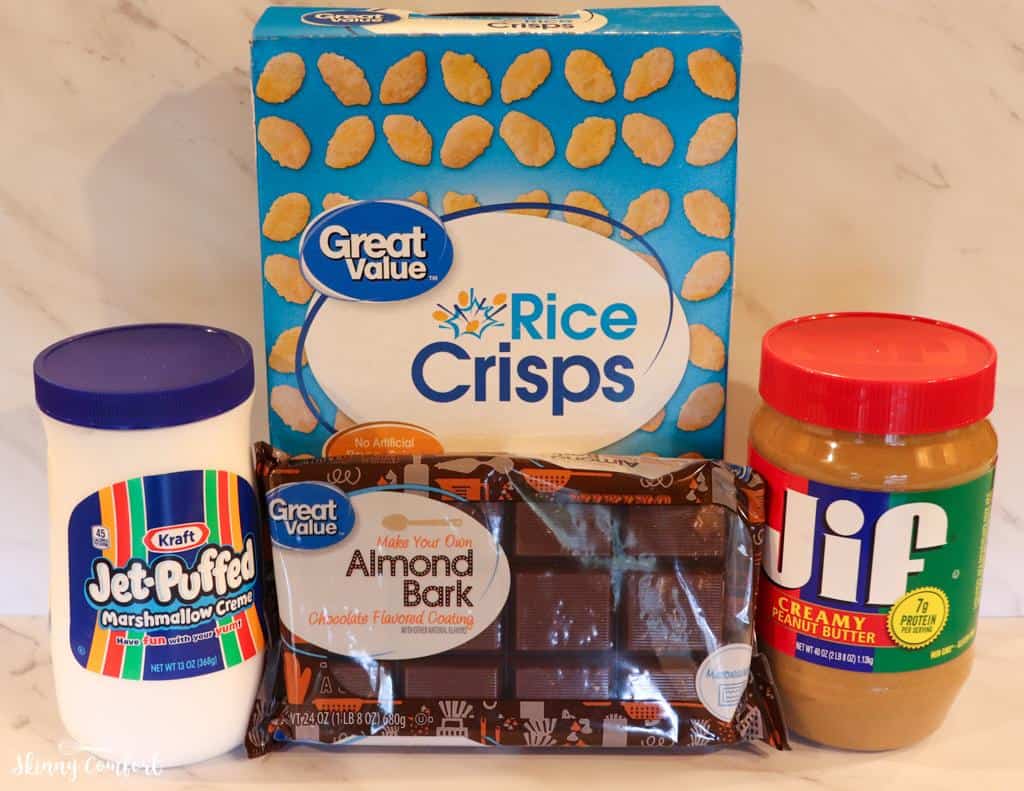 You'll also need your chocolate of choice for dipping. I usually purchase chocolate almond bark or vanilla almond bark, which will melt easily in your microwave for dipping.
How to Make the Filling
First, you'll need to mix up the peanut butter filling and form into balls. Cream together the marshmallow cream and peanut butter until it reaches a smooth consistency.
Helpful hint: try spraying your spoon with cooking spray before trying to get all of the marshmallow cream out of the jar. Otherwise, your spoon will turn into a sticky gooey mess, and it can be very hard to get all of the marshmallow cream out!
Once your peanut butter mixture is well combined, fold in the rice krispie cereal. Be careful not to over-mix and crush all of the cereal. I typically fold in the cereal using a silicone spatula, not my electric mixer. You want your balls to maintain a nice crunch.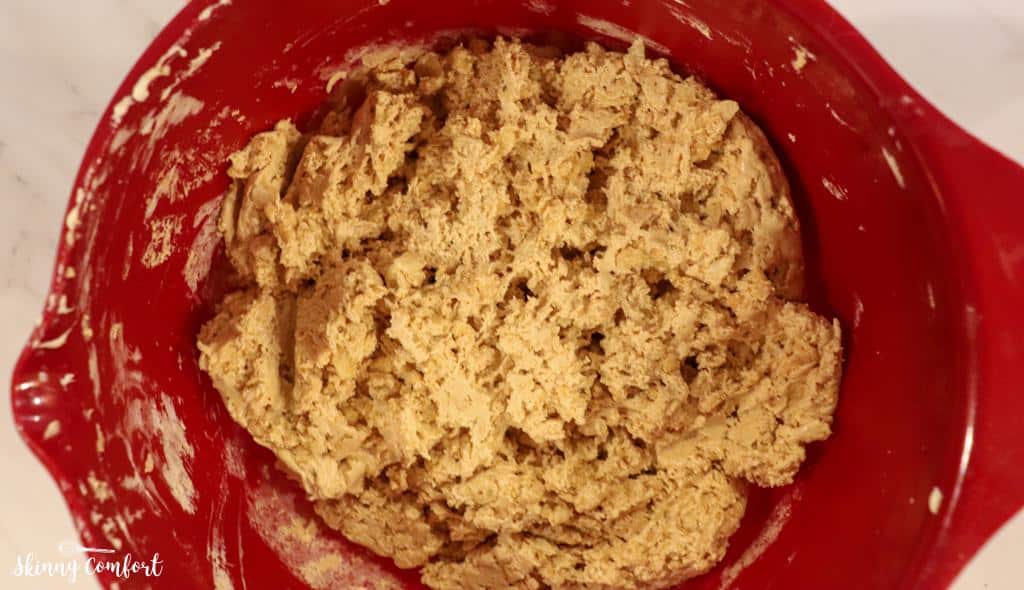 Now you're ready to form the balls! You can make these any size you prefer, but I am for about 1.5-2 tablespoon balls. A cookie scoop is a handy tool to help keep the sizes consistent!
Form into balls and refrigerate for about an hour. The refrigeration step is optional, but I do recommend refrigerating so that the balls are easier to dip and maintain their shape a little better.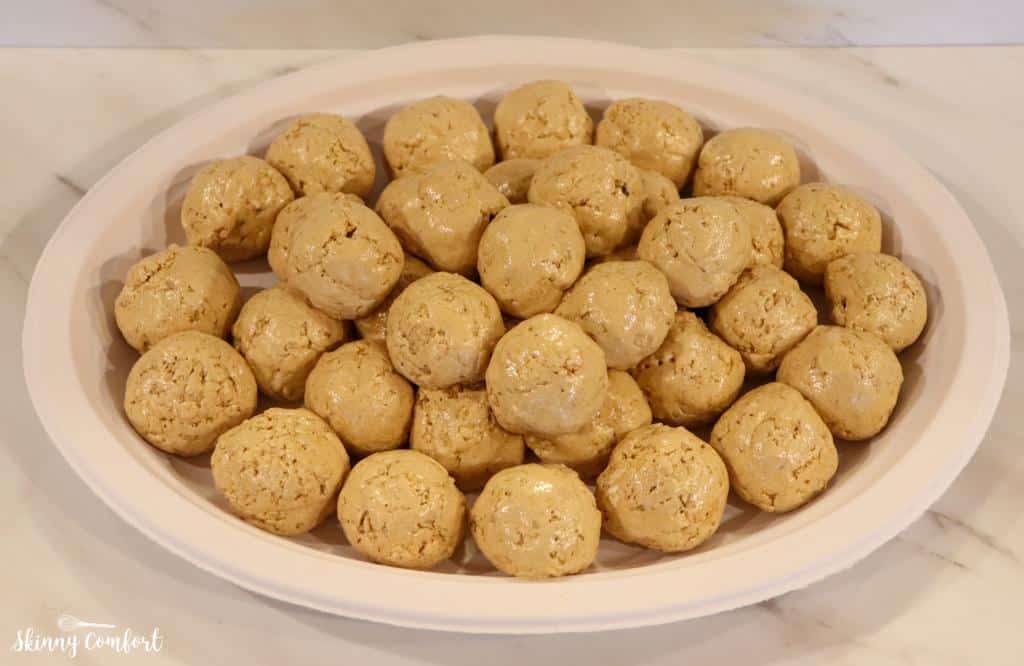 How to Dip Balls in Chocolate
Now, time to dip! Melt your chocolate almond bark in the microwave according to package instructions. I use a microwave-safe glass measuring cup.
I break apart the chocolate into pieces and first microwave on high for 60 seconds. Then I stir and microwave in 15 s increments until the chocolate is completely melted.
Be careful not to over-microwave your chocolate or it will burn in the microwave. If your chocolate starts to get a strange thick consistency even though it is very hot, you may have over-cooked it.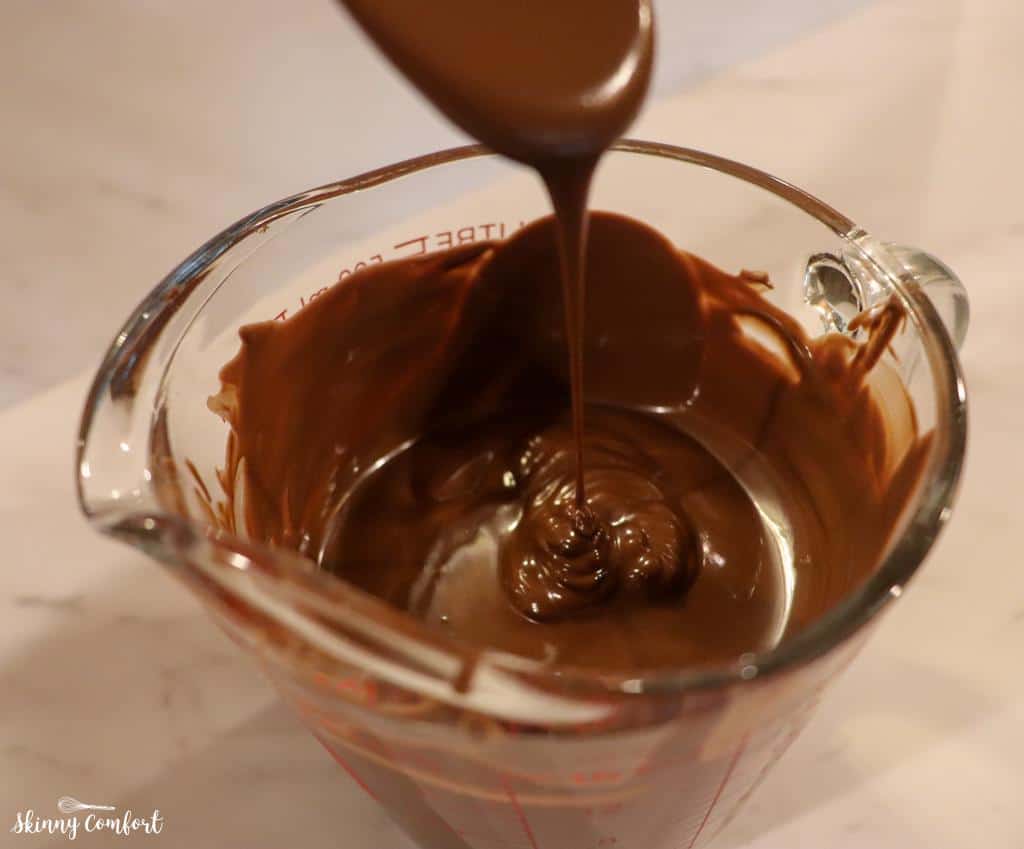 Once your chocolate is melted, dip your balls and lay them out on wax paper or a silicone baking mat to dry.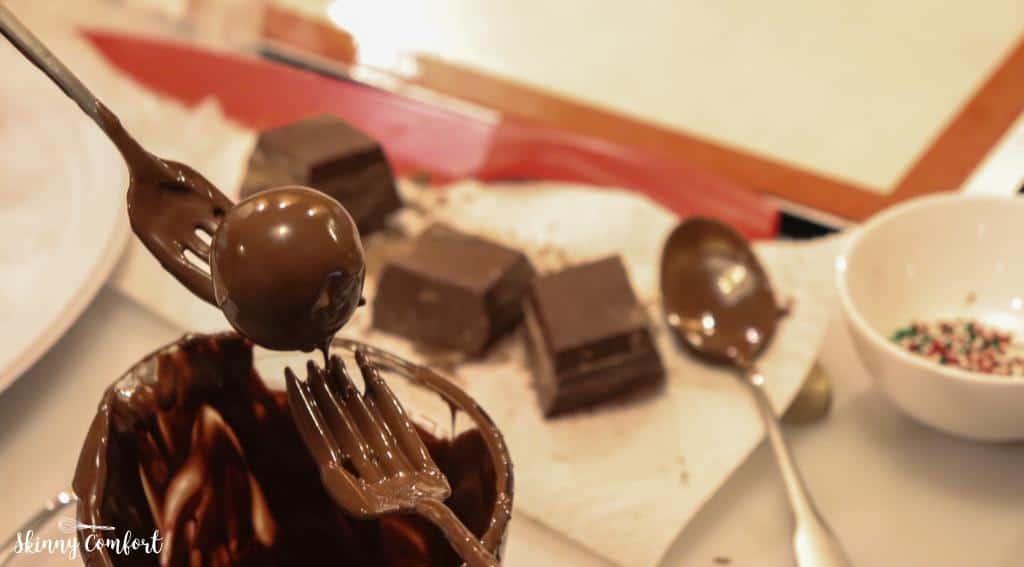 I dip my balls using the two fork method. Use two forks to toss your balls in the melted chocolate, then transfer the ball on one fork and let the excess chocolate drain off. Then move over to your wax paper or a silicone mat and use the second fork to push off the ball onto your drying surface.
If your chocolate starts to get too thick, put it back in the microwave for 10 seconds and stir. However, usually I can dip quickly enough that I don't have to reheat.
Chocolate should be completely hardened in about an hour.
How to Decorate
This is the fun part! You can easily decorate peanut butter balls for any holiday or theme - Christmas, Birthdays, Thanksgiving, Valentine's Day, 4th of July...pretty much anything!
The easiest way to decorate is to use sprinkles. Right after you dip your balls, add your sprinkles of choice on top. Use any color or holiday sprinkles to customize for the occasion. It's important to put the sprinkles on immediately after dipping before the chocolate begins to harden. That way your sprinkles don't fall off! If you put the sprinkles on wet chocolate, they will easily stay put.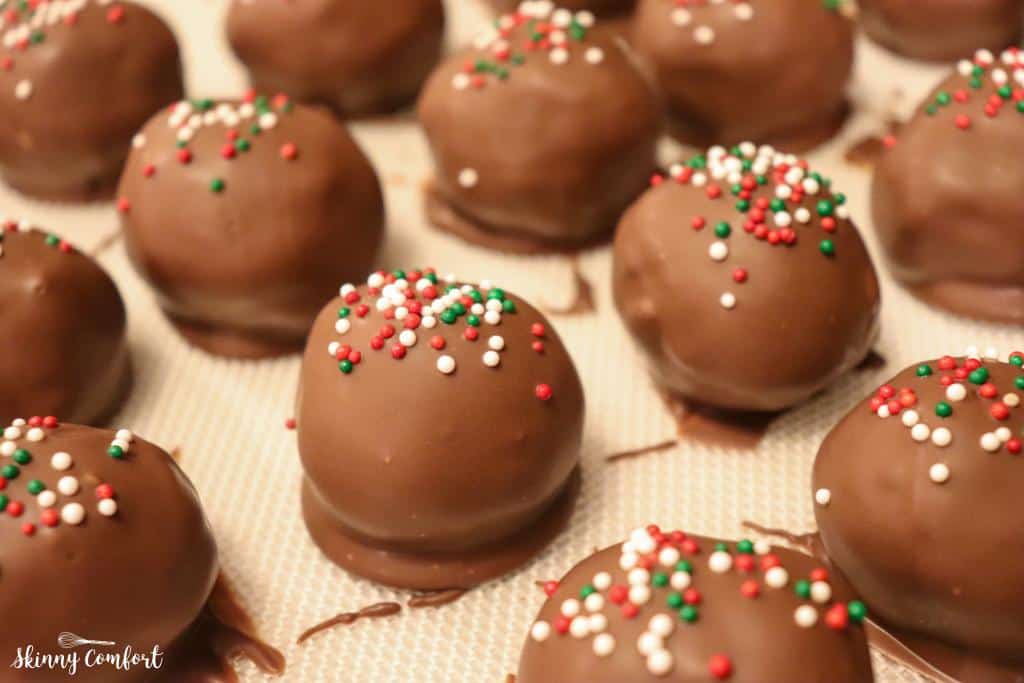 Another way I like to decorate is by using a chocolate drizzle. Melt some white chocolate in the microwave, pour it into a ziploc bag, and snip off the end. Quickly drizzle the chocolate on top of the balls in a zig-zag pattern. These is an easy way to make your balls look much fancier!
I often use white chocolate, but you could also add some food coloring to make the drizzle any color you like. A pink or blue drizzle is a great way to make these for a baby shower!
Calories in Peanut Butter Balls
I made my balls about 2 tablespoons in size. If you exactly follow the recipe below and make your recipe into 40 balls, they will have about 150 calories per ball.
These are big balls! I find that one at a time is plenty satisfying. If you make your balls smaller or larger, scale the calorie count up or down to match your portion size.
Storage Instructions
Peanut butter balls should be stored in an airtight container and do not need to be refrigerated. They will keep fresh for 1-2 weeks in an airtight container.
Your balls may keep fresh for a little bit longer if you refrigerate them. They do taste good cold, but it depends on your personal preference. If you like cold or frozen Reese's cups, try refrigerating these!