Air Fryer Biscuit Donuts are so easy to make and are so much healthier than deep-fried donuts! Using canned biscuit dough, you can throw these together in the air fryer with only about 5 minutes prep. No mixing and no waiting on the dough to rise!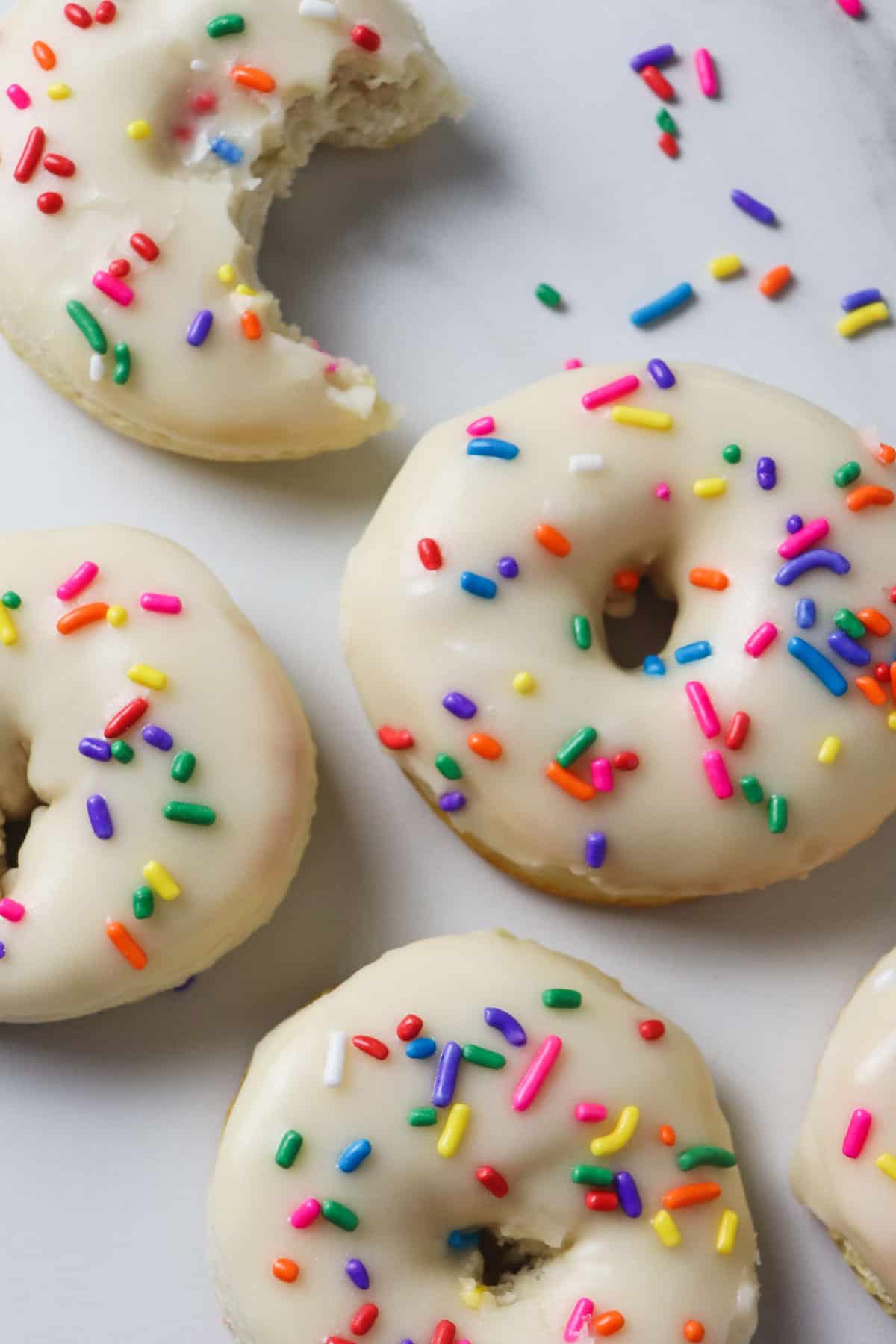 I make these often on Saturday morning as a special sweet treat (except I don't have to feel too guilty since these are air-fried!). By using the air fryer, you can cut back the calories compared to a traditional donut.
Yes, they really do taste like donuts even though you haven't deep fried them! I also think using the air fryer is much easier than dealing with traditional frying - I hate dealing with hot oil splattering everywhere!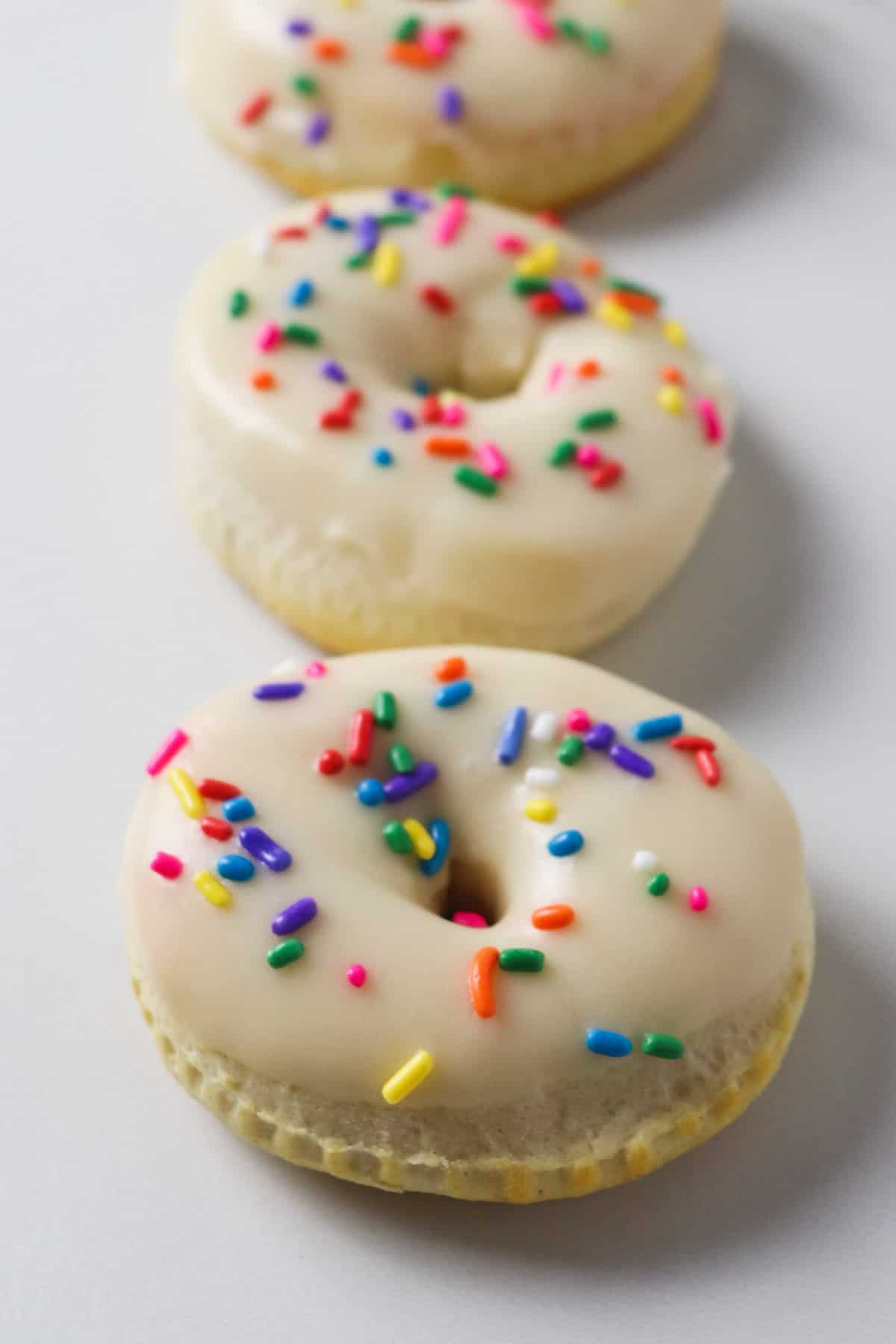 Instructions
Homemade donuts are really easy to make using canned biscuits!
What Kind of Canned Biscuits to Use for Donuts
First, start by buying some canned biscuits. For this recipe, I am using the small can of buttermilk biscuits: 7.5 oz / 10 count buttermilk biscuits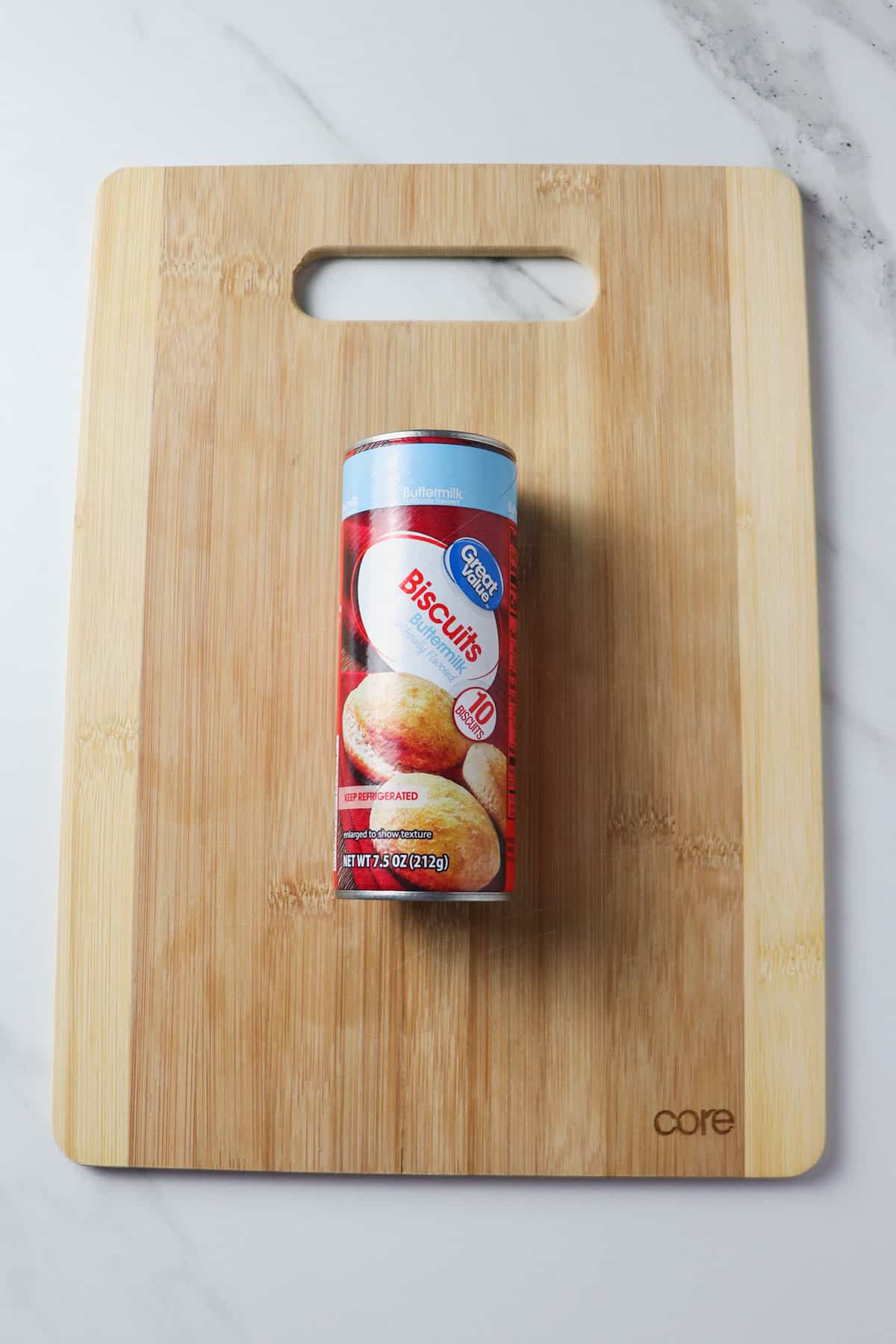 You can make air fryer donuts with Pillsbury buttermilk biscuits or any store brand (I'm cheap and I buy the store brand!).
I like using this type of biscuits because they are small in size. That means I can eat more than one! YES!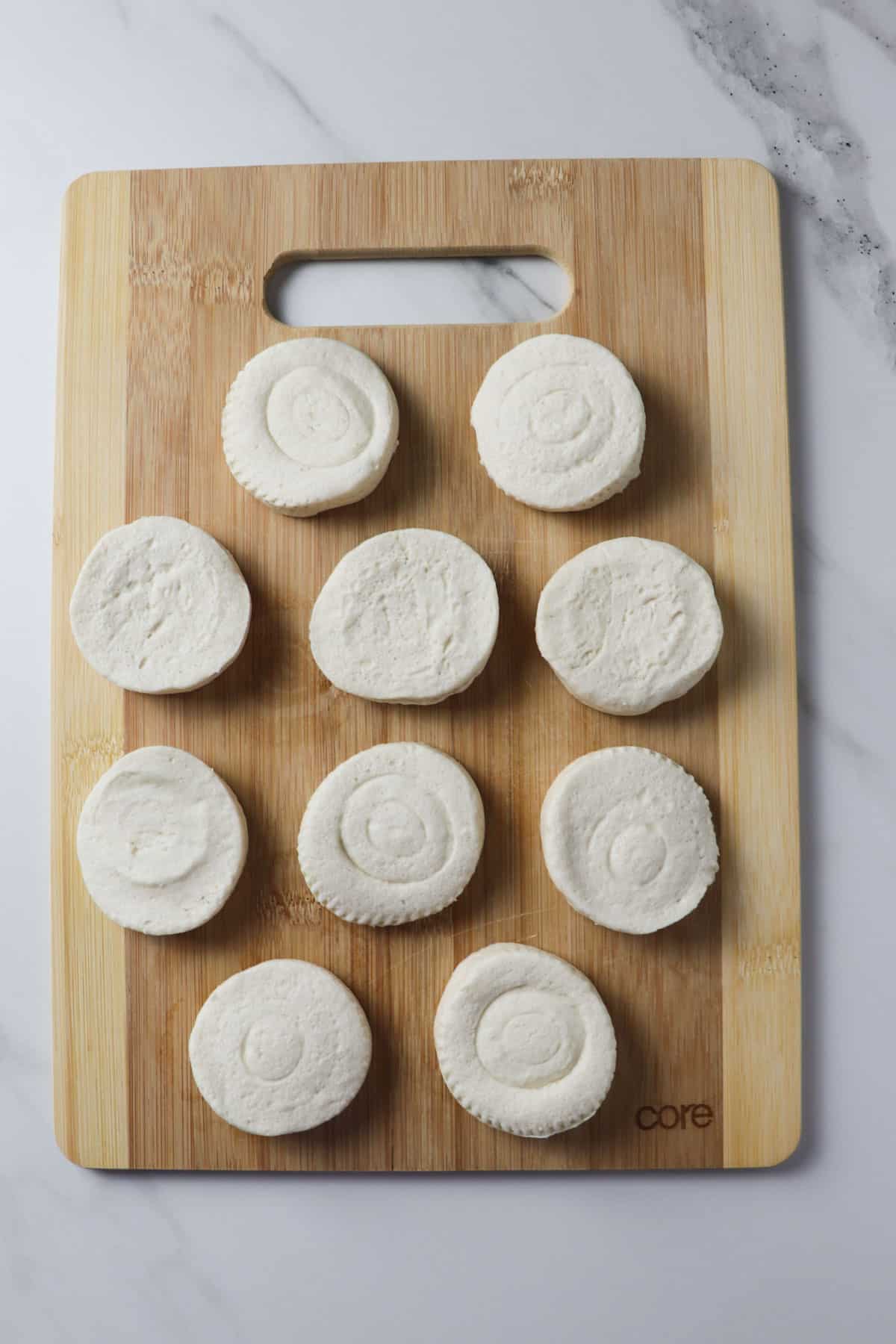 These will be somewhere in-between a full-sized donut and the mini size powdered sugar donuts you can buy at the grocery store.
You can make donuts with larger biscuits, but you may need to increase the cooking time accordingly.
How to Form Biscuits into a Donut Shape
I use a pinch method to form the donut shape. I pinch together my thumb and pointer finger in the middle of the donut to pinch out a hole. Then I lightly stretch the hole to make it a little larger.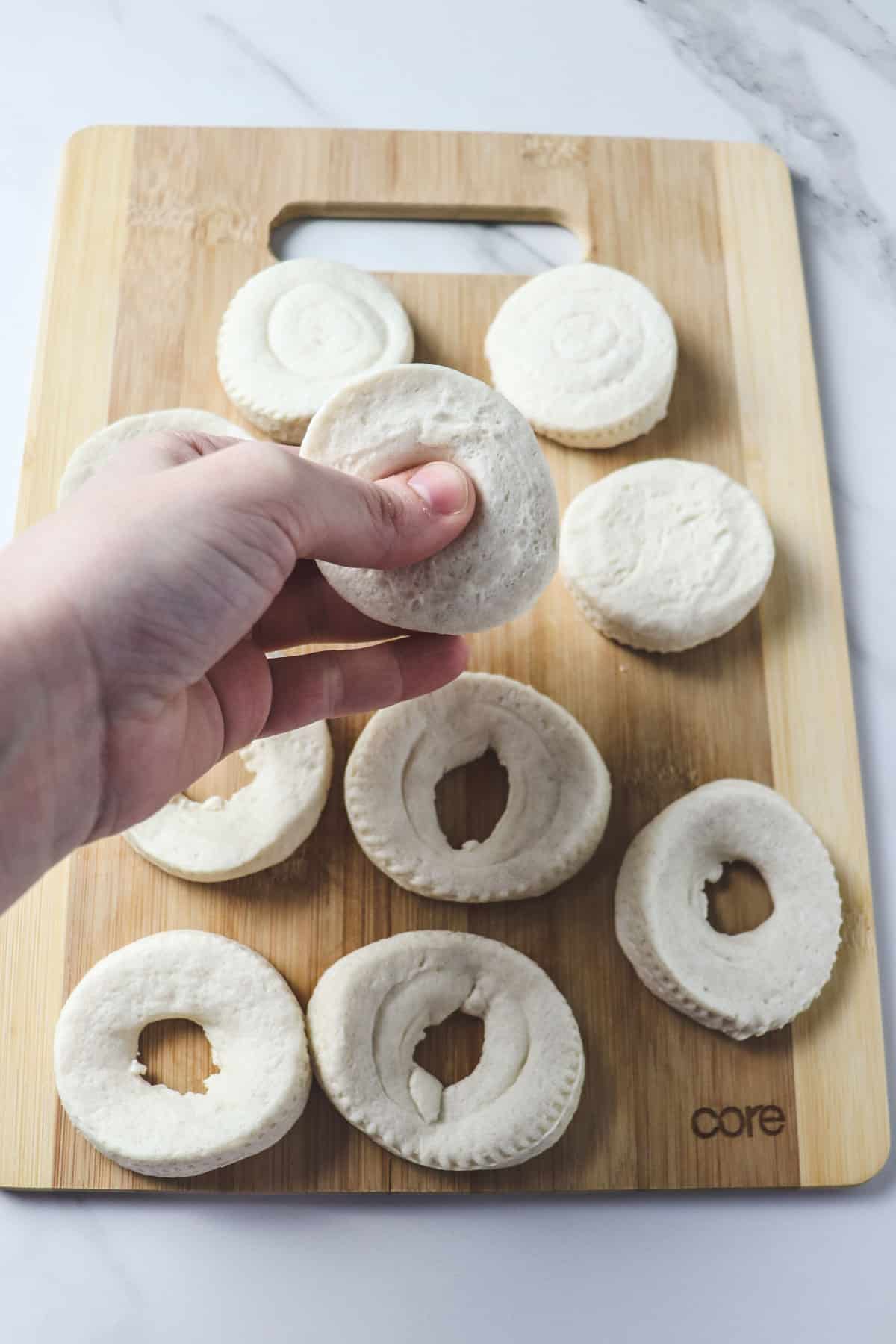 I do not cut out the donut hole. You can cut out the hole if you prefer, but I find it easier to just pinch and stretch the dough to form the hole.
Be careful to lightly stretch the dough out to form the hole. If you pull too hard, you may tear your biscuit dough.
Aim for your holes to be about 1 - 1.5 inches in diameter. Remember, the hole will shrink significantly as the dough cooks and puffs up.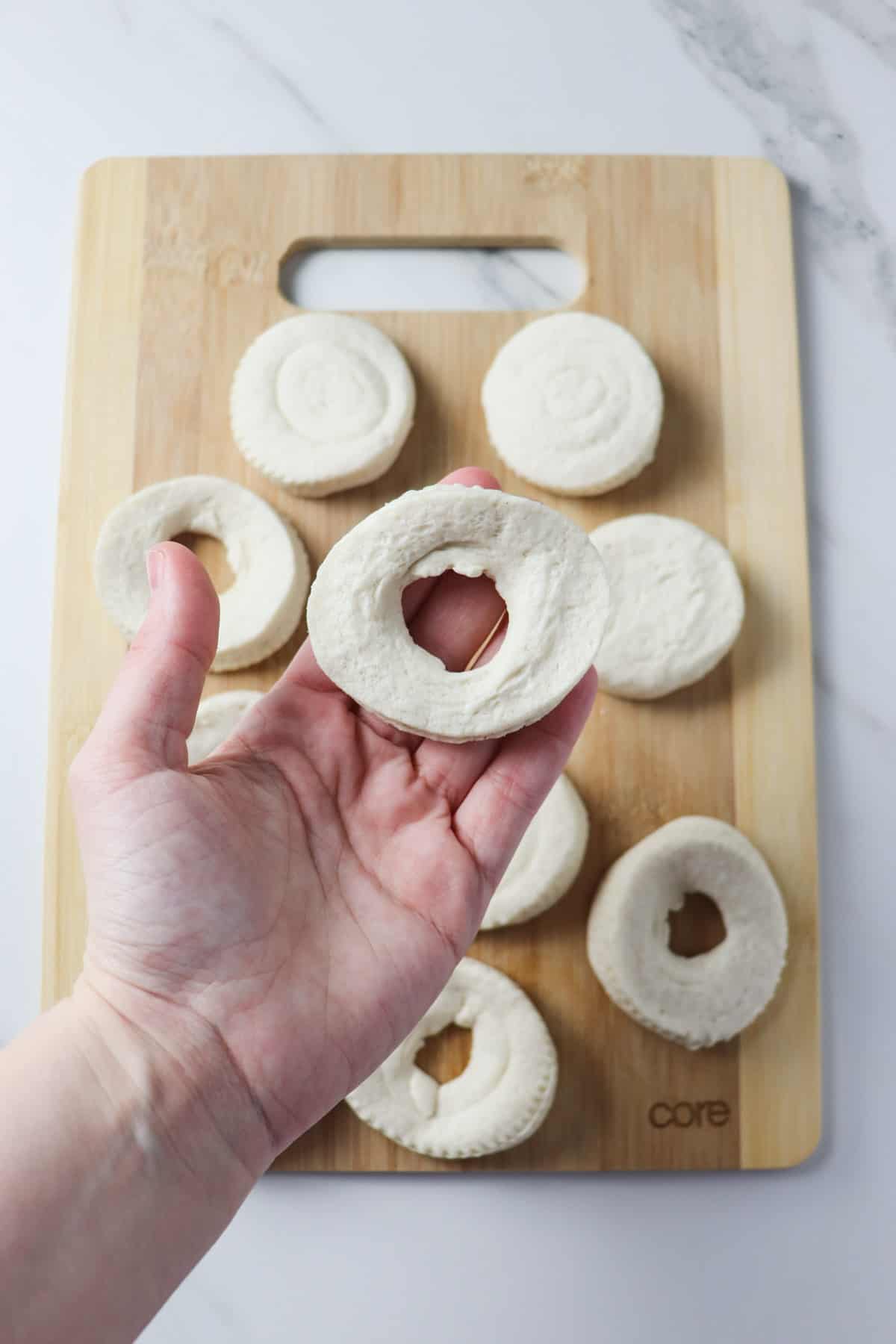 Spray with Oil and Load into Air Fryer Basket
Next, you will need to lightly spray your donuts with oil. I typically use canola oil, but any type of spray oil should work just fine. Use your favorite oil!
Spray donuts with oil on both sides and load them into your air fryer basket.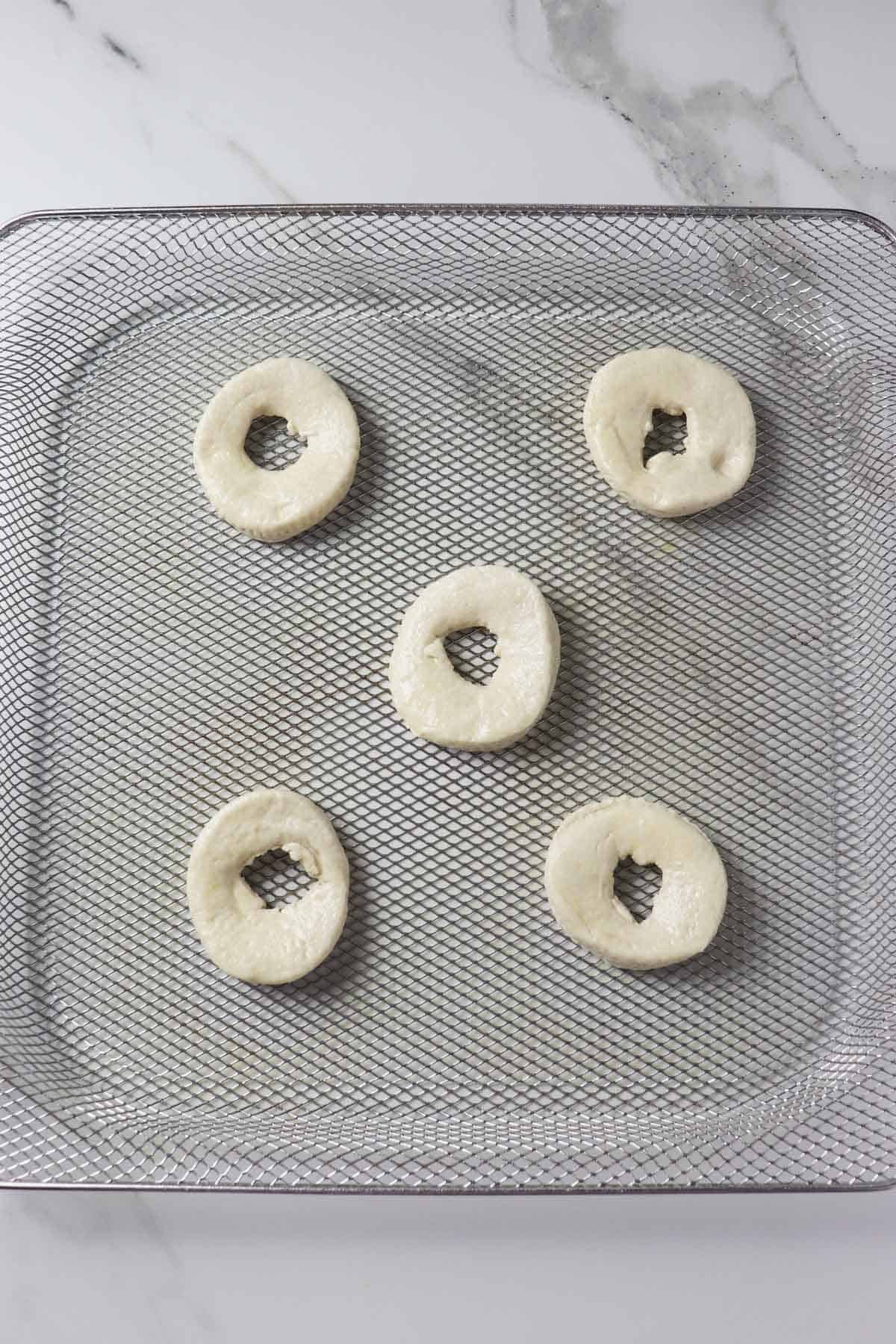 I have an oven-style air fryer so I have a shallow basket, but the deep basket style air fryer will work just as well!
Be sure donuts are not touching and separated by at least 1". Depending on the size of your air fryer, you may need to cook the donuts in multiple batches.
How Long to Air Fry Donuts
Preheat your air fryer to 350 degrees. Cook for about 5 minutes, flipping halfway through.
Air fry for about 5 minutes until donuts are lightly golden brown.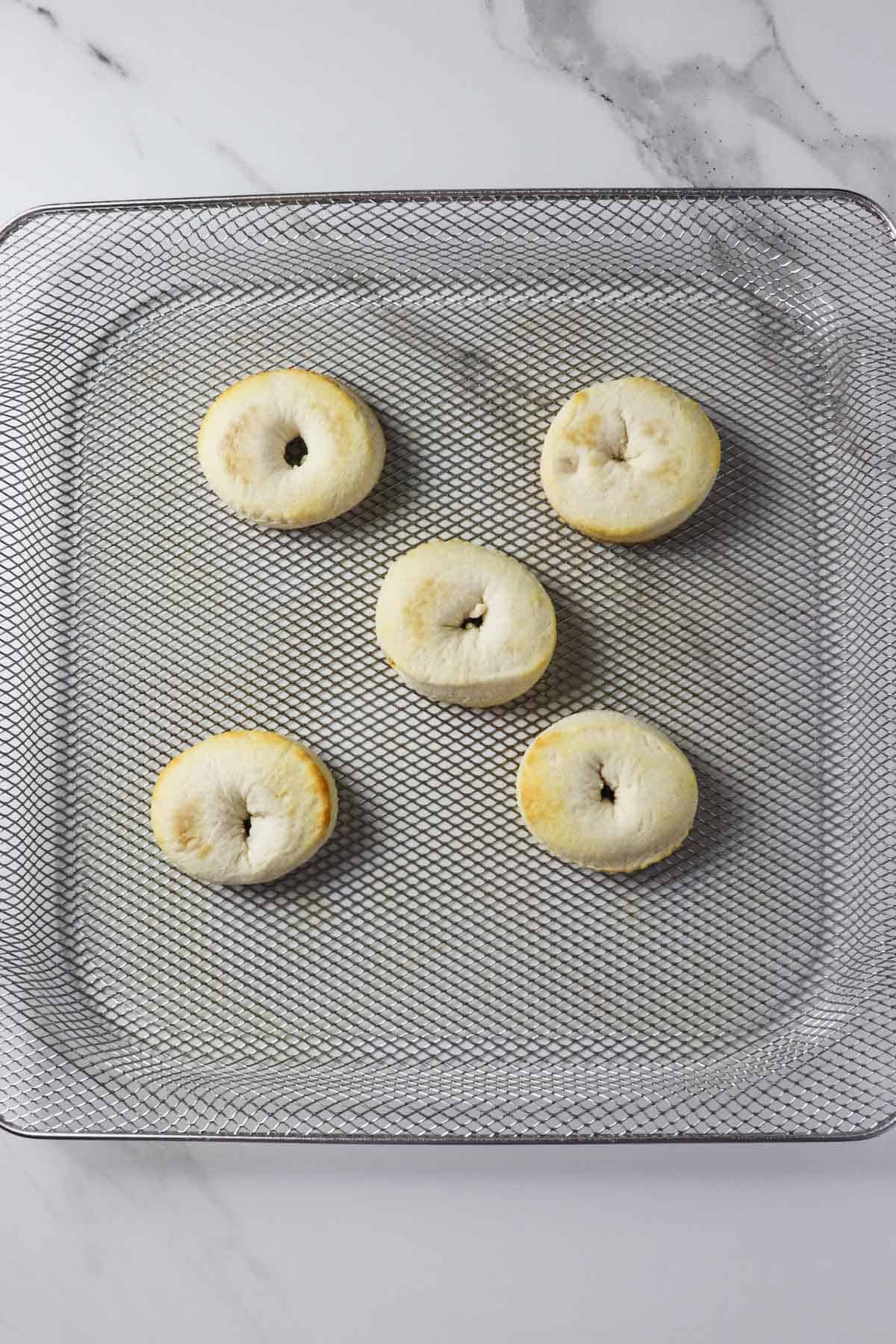 Note: If you are using larger donuts than specified in this recipe, you may need a slightly longer cook time.
How to Make Donut Glaze
To make donut glaze, mix together 2 tablespoon melted butter, 1 cup powdered sugar, ½ teaspoon vanilla extract, and 1 tablespoon milk. Continue adding milk, slowly, until the glaze reaches the desired thickness.
I typically use about 2 tablespoon milk in total. You want your donut glaze to be thin enough to dip donuts, but thick enough to get a solid coat of glaze on.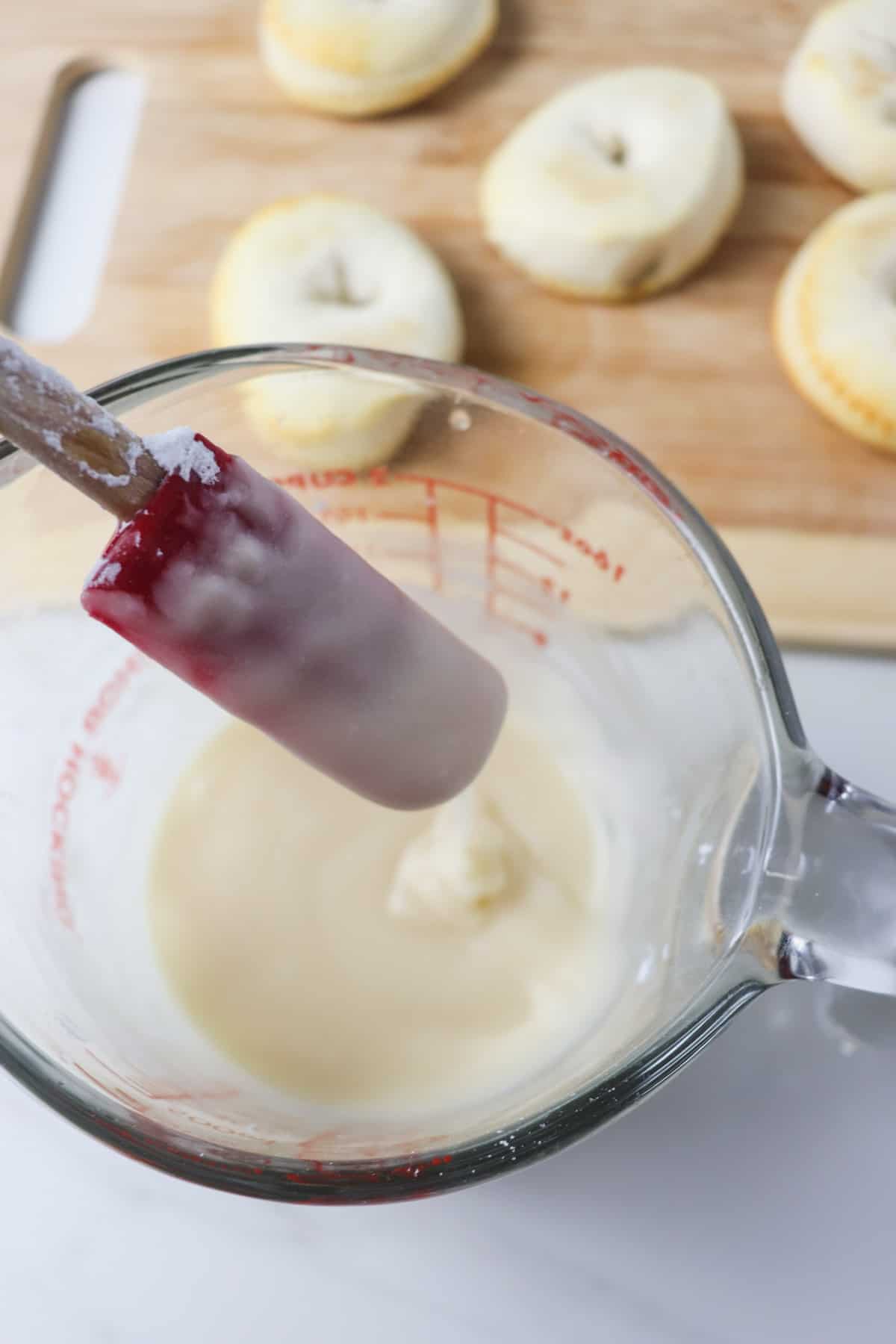 If the glaze is too thin, add extra powdered sugar
If the glaze is too thick, add more milk.
How to Dip Donuts in Glaze
Put your glaze into a container that is slightly larger in width than your donuts. A 2-cup measuring cup works perfectly for this!
Grab your donut on each side, dip the top into the glaze, and then slowly pull it out of the glaze. Allow excess to drip off, and then set it down to dry.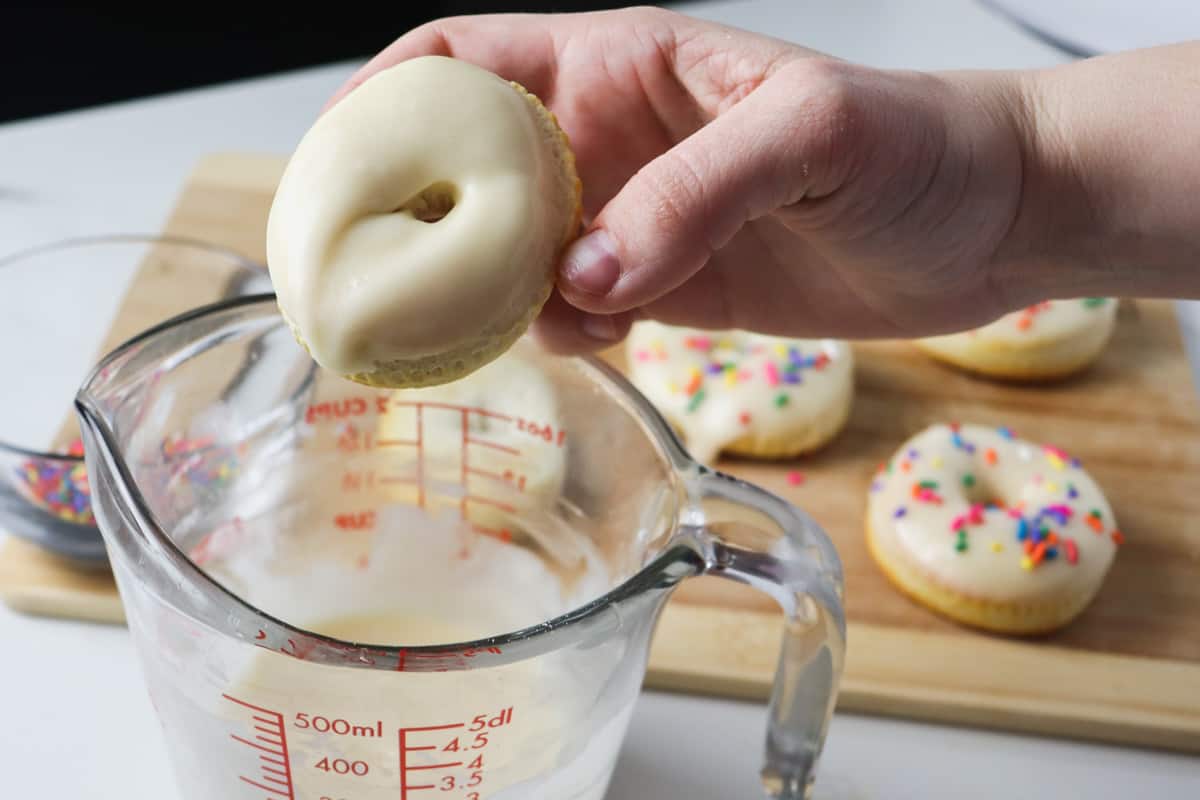 How to Decorate
This step is optional, but I think that sprinkles make the donuts much more fun!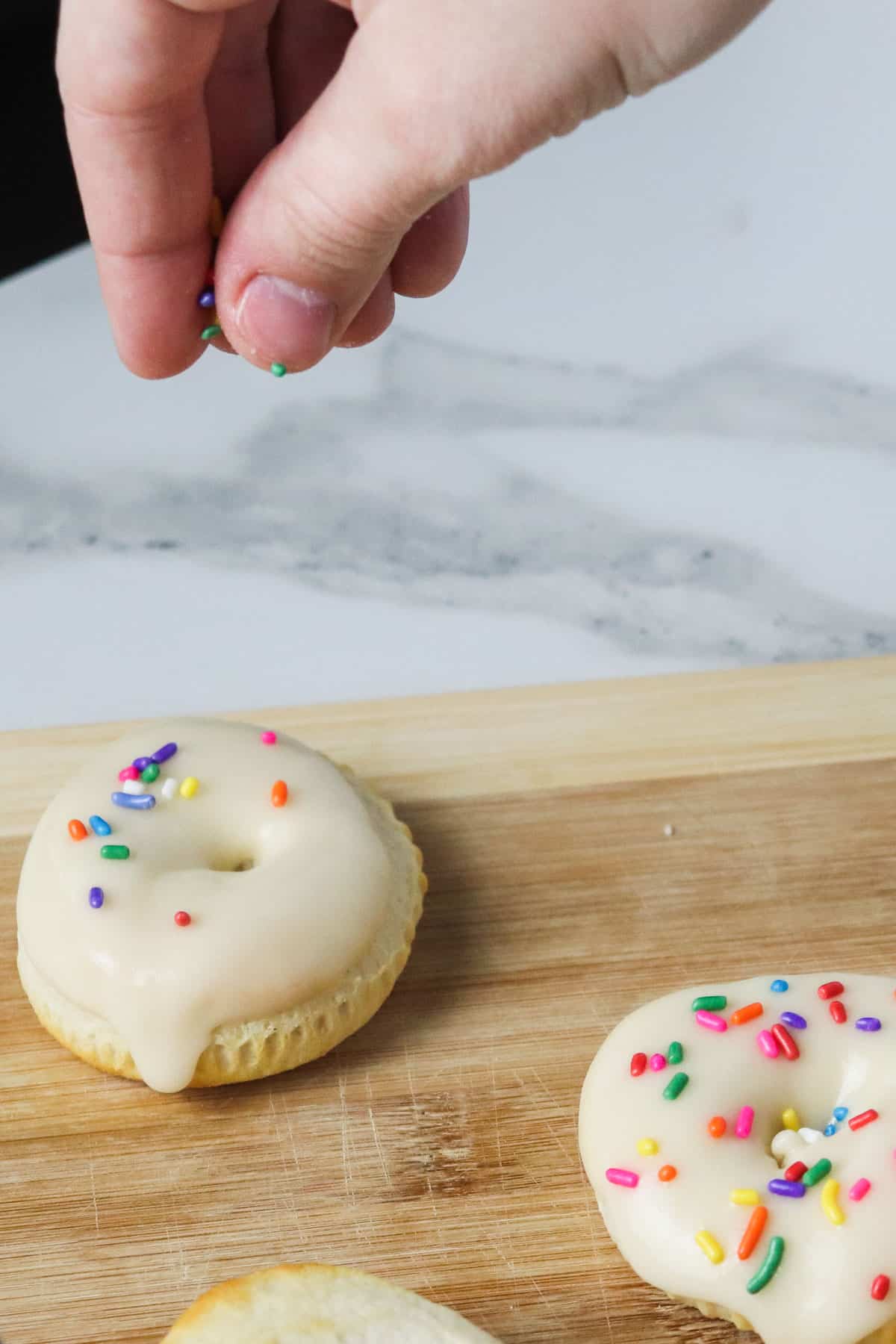 After you dip donuts in the glaze, immediately sprinkle them! You want to make sure to put on the sprinkles before the glaze dries.
More Donut Decorating Ideas
Use food coloring to make the glaze any color. You could dip the entire donut in colored glaze, or dip the donuts in a white glaze and then drizzle a colored glaze on top
Melt some milk chocolate and drizzle on top
Sprinkles - any color for any occasion! Rainbow, Christmas, Valentine's, Easter, Halloween, you name it
Calories per Serving
A serving size of 2 donuts is about 165 calories. These donuts are guilt-free! You can eat two of these for fewer calories than one Krispy Kreme.
Note: the calorie count is based on using about ⅓ of the glaze. The recipe calls for making more glaze so that you have plenty to dip with, but you won't use every bit of the glaze on the donuts themselves.
Your calorie count may be slightly different if your glaze is thicker or if you use a different type of canned biscuit.
More Air Fryer Recipes
Looking for more easy air fryer recipes? Check these out!