This No-Bake Skinny Key Lime Pie is easy to make and much lower in calories than traditional key lime pie! This pie makes a delicious and satisfying lime dessert!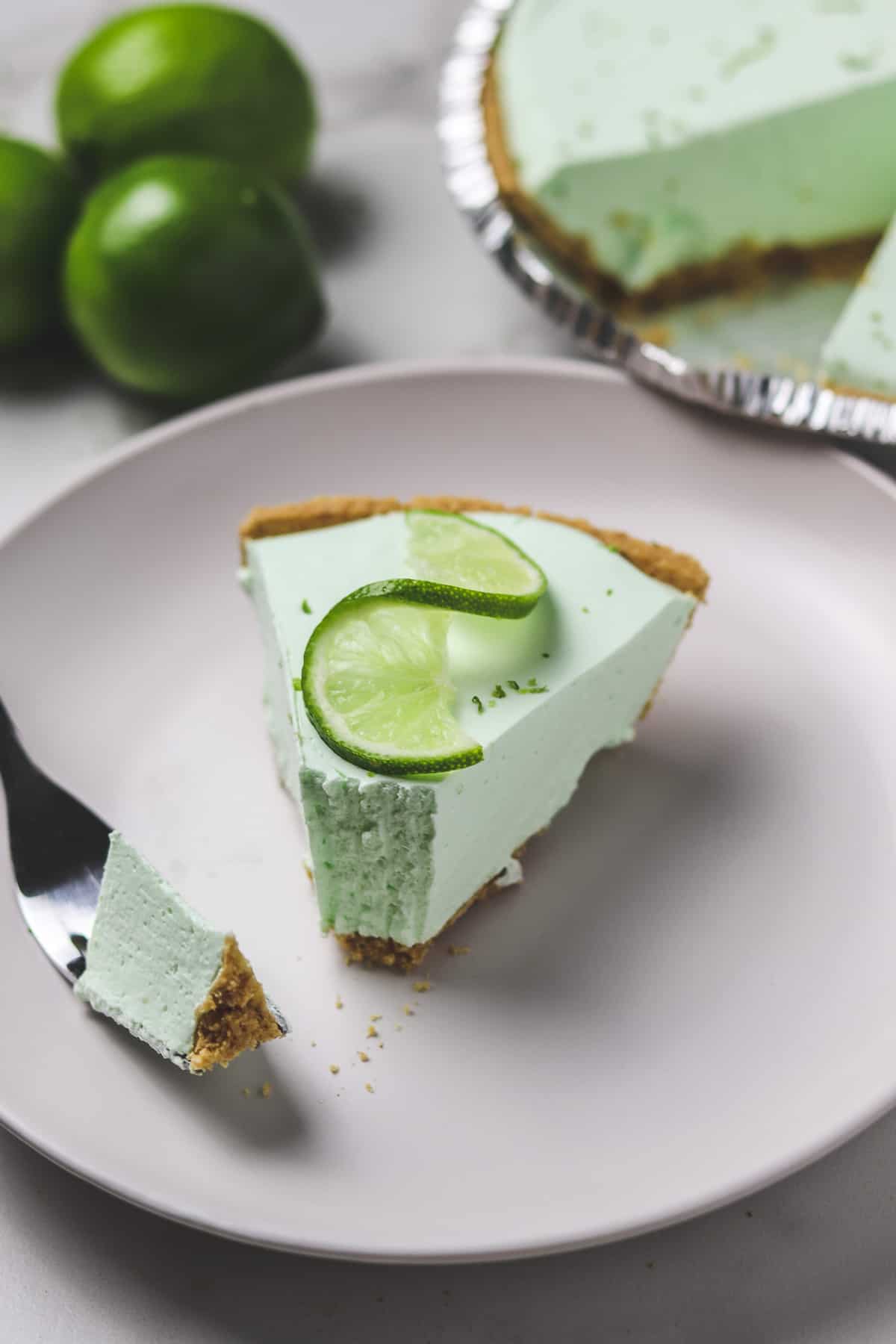 The pie filling has only 3 simple ingredients: cool whip, key lime yogurt, and sugar-free lime jello. It takes only minutes to throw it together. After you let it set up in the refrigerator for a few hours, it's ready to eat! No baking!
At under 200 calories per slice, this skinny version will satisfy your pie craving without completely blowing your diet! I love having a slice of this pie for dessert after dinner - even on a weeknight!
This pie is great for summertime celebrations or if you want to enjoy a fun green dessert for St. Patrick's Day.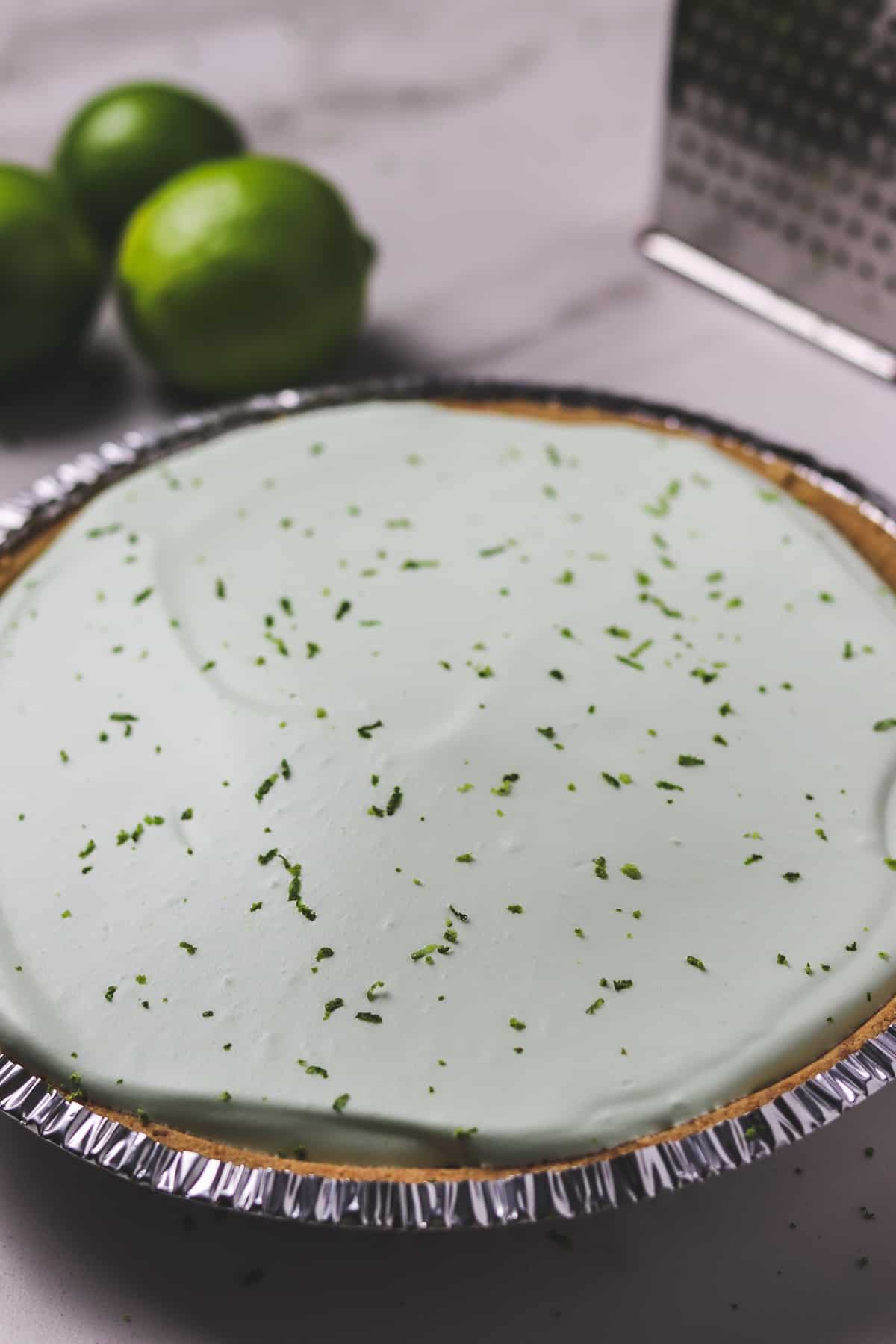 Jump to:
Ingredients
Sugar-Free Lime Jello (small 0.3 oz box, or ½ of a large 0.6 oz box)
2 containers Key Lime Yogurt
Light Cool Whip (or Sugar-Free), thawed
9" graham cracker crust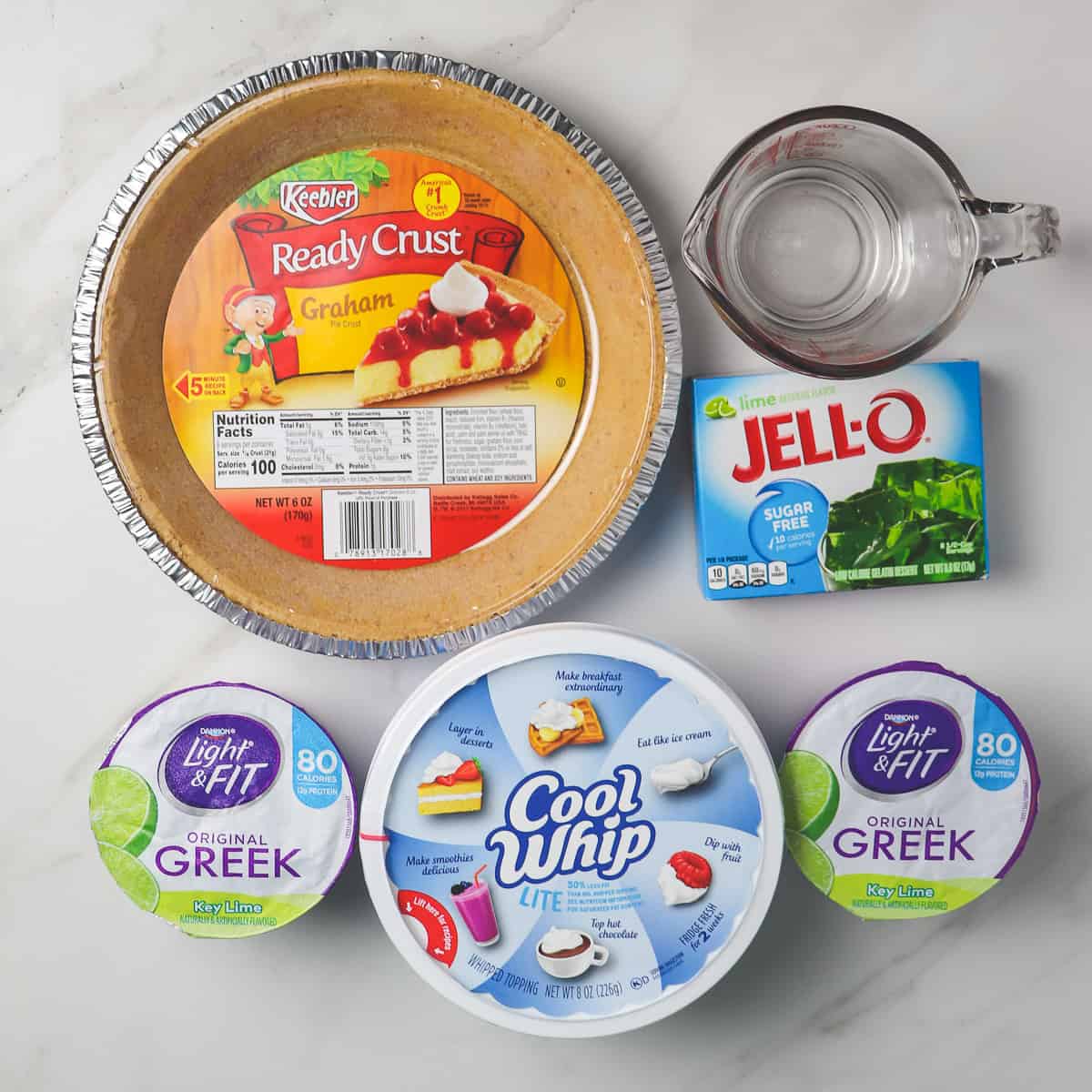 Using light and sugar-free ingredients helps make this pie "skinny". However, you can certainly substitute full-sugar ingredients if you'd like.
Make sure you get the small 0.3 oz box of sugar-free lime jello. Look for the 4-serving box. My grocery store only sells the larger 0.6 oz boxes of jello so I have to divide it in half by weight using a small electric scale.
For the Key Lime Yogurt, I use the Danon Light and Fit Greek Key Lime flavor, which has 80 calories per container. Any type of Lime-flavored yogurt (Greek or regular) would work for this recipe. Key Lime flavor works the best, but if you can't find that you could just a normal Lime flavor.
Optional Ingredients
To make your pie look prettier, you can use the zest of one lime (regular or key lime) on top of the pie for garnish.
You can also take an extra lime and create some easy lime twists to put on top of the pie. These are completely optional! If you are making this for a party, the lime twists are a nice touch!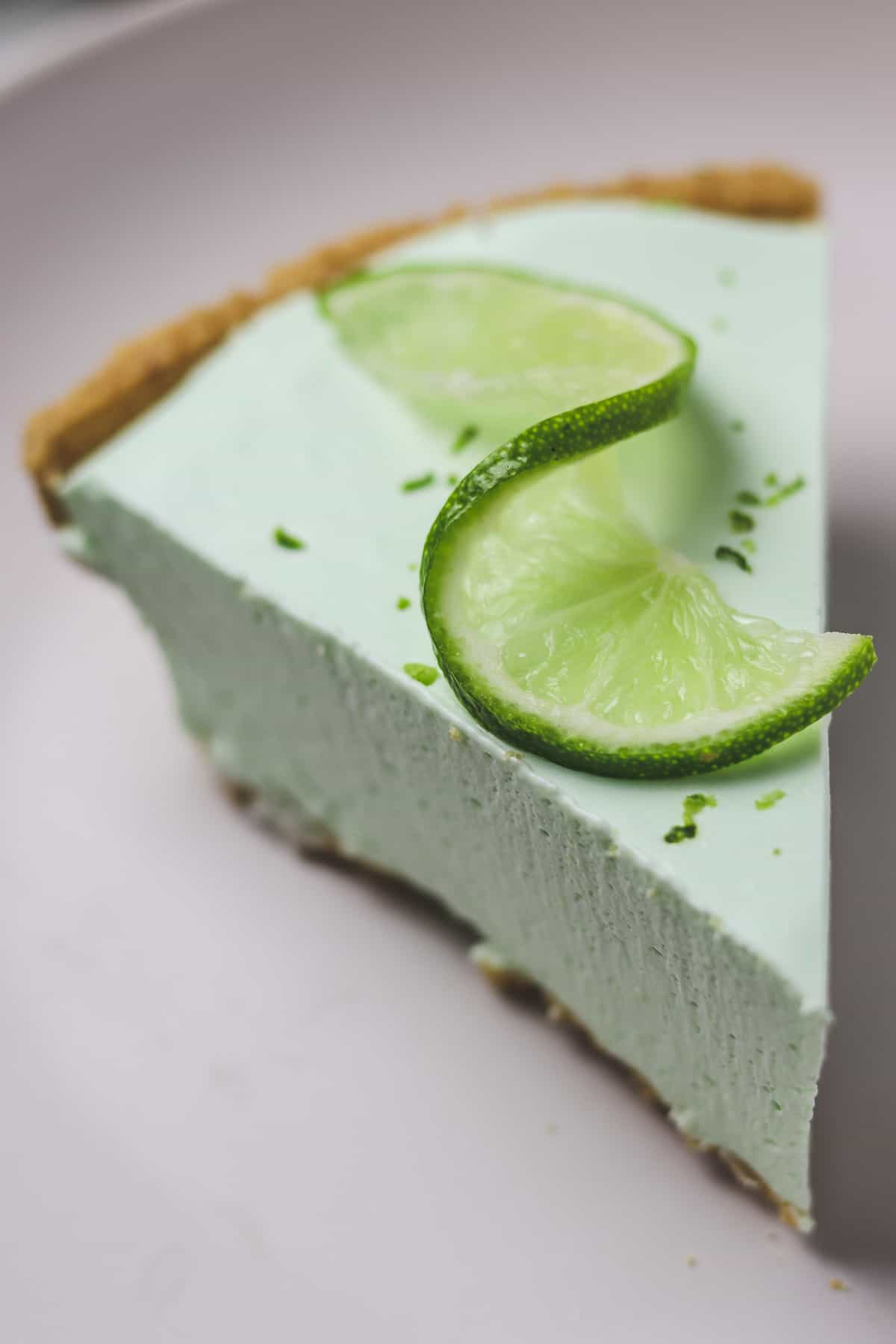 Additionally, if you want the pie to have a stronger green color you can add in a few drops of green food coloring. As shown in the photos in this post, I did not add any additional green food coloring.
How to Thaw Cool Whip
You want to make sure your cool whip is thawed for this recipe. The best way to thaw cool whip is by putting it in the refrigerator for 4-5 hours, or overnight.
In a pinch, microwave it on the defrost setting in 30-second increments until it is thawed.
Instructions
Put ¼ cup of water in a microwave-safe measuring cup and heat for about 60 seconds until boiling. Add the jello powder to the boiling water and whisk until well combined. Ensure the jello powder is fully dissolved and there are no lumps remaining.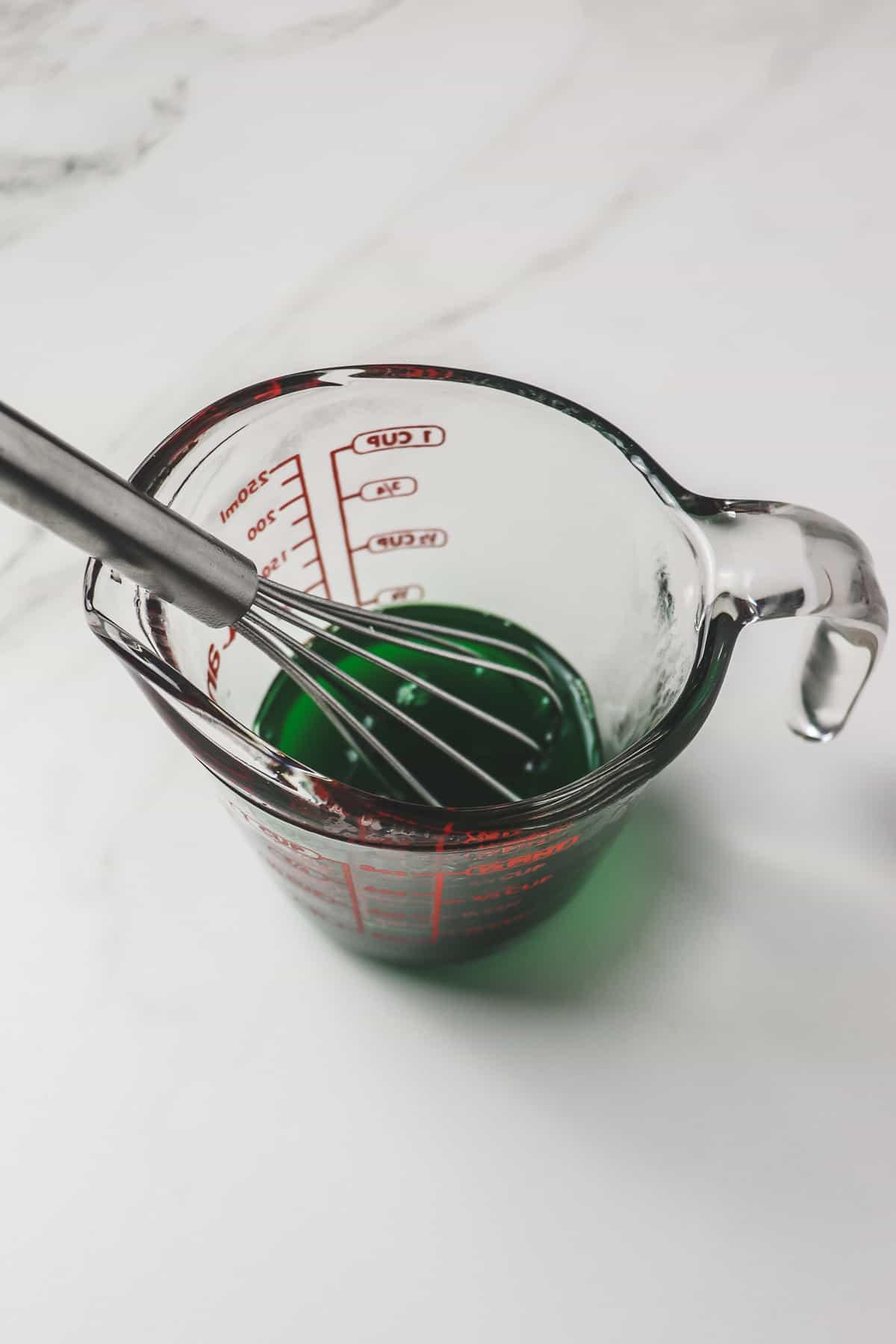 Next, whisk in the yogurt with the jello mixture in a medium-sized mixing bowl until well combined.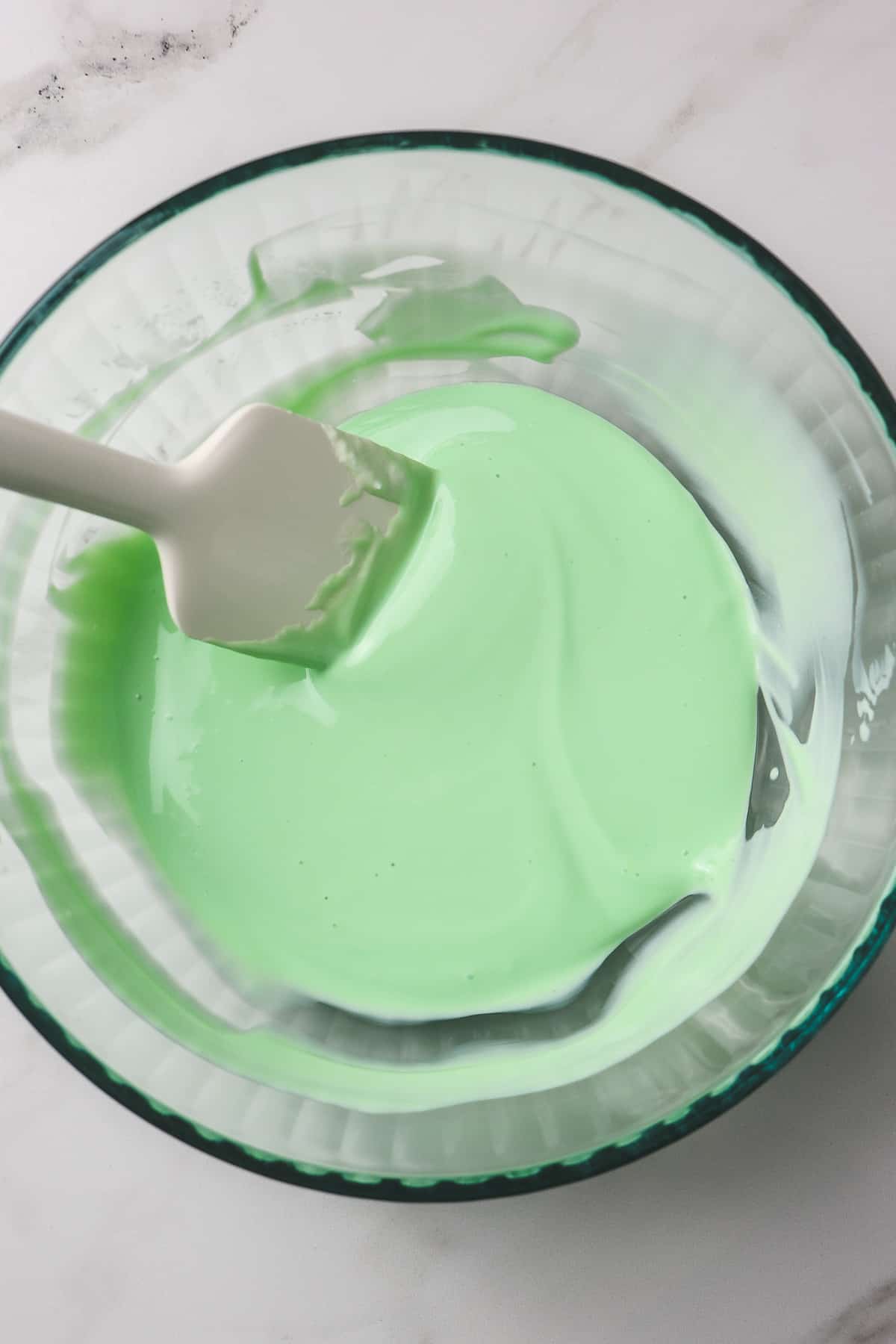 Finally, gently fold in the thawed cool whip until the mixture is smooth.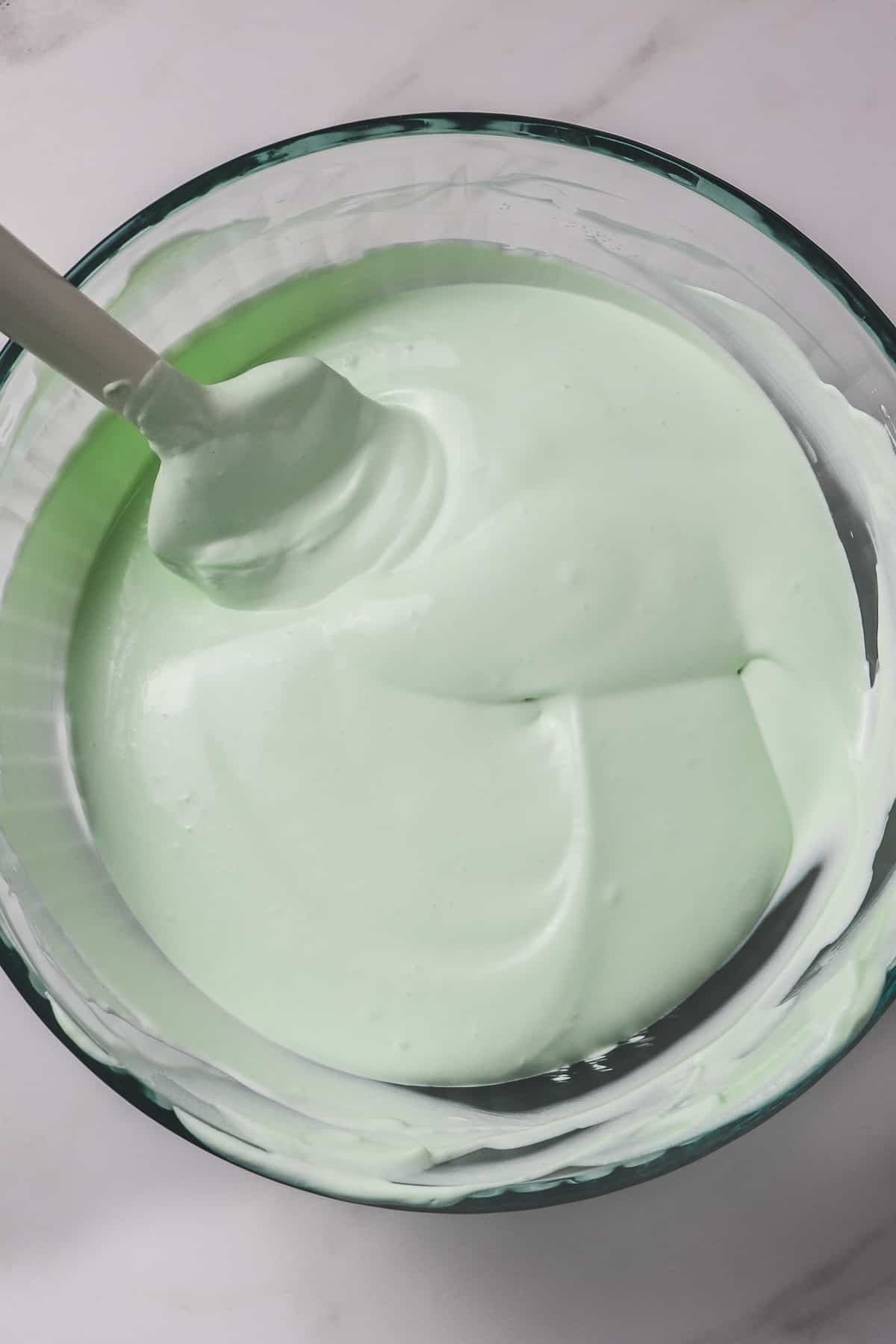 Pour the filling into a premade graham cracker pie crust and smooth over the top.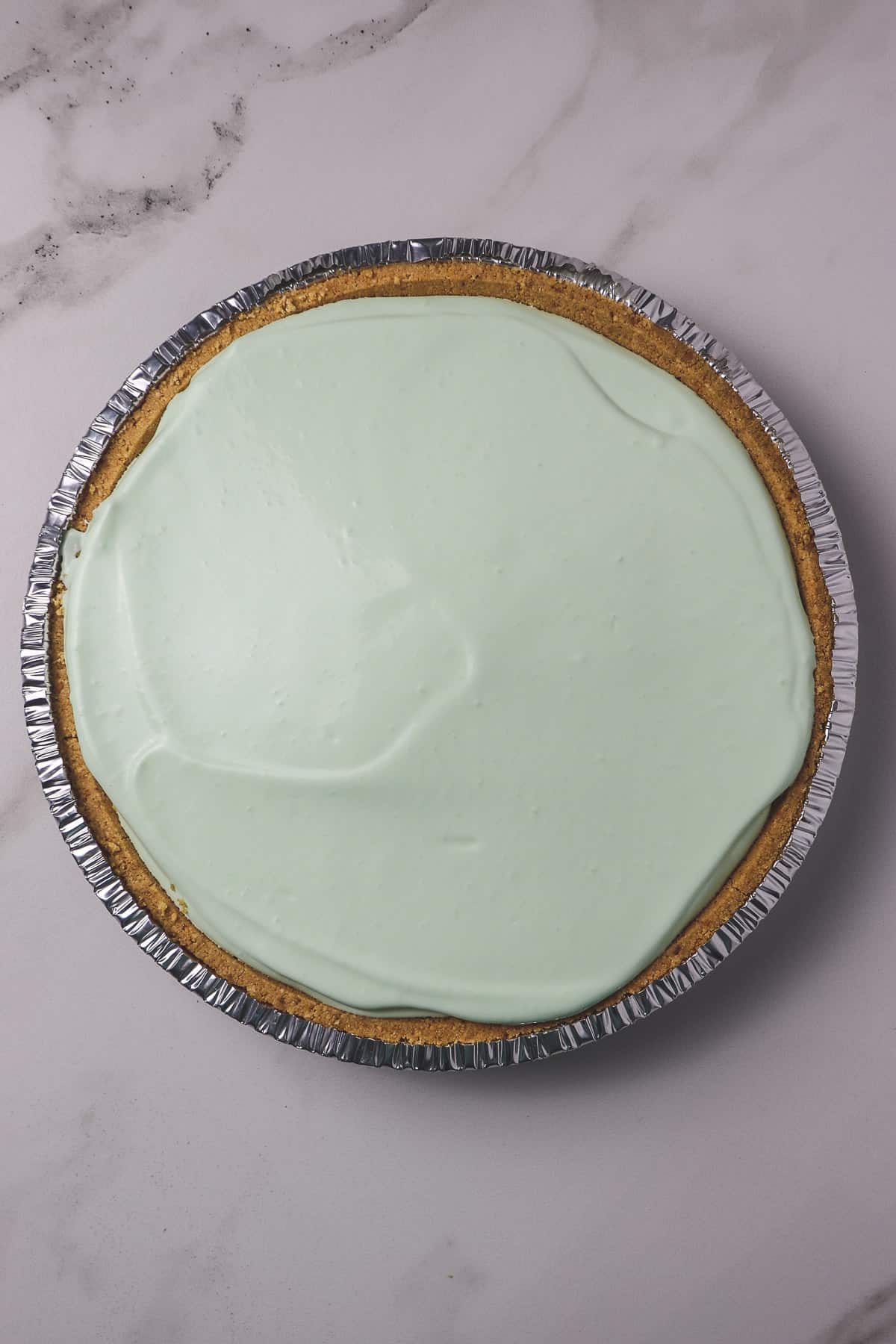 Optionally, grab a lime zester add a little lime zest on top of your pie!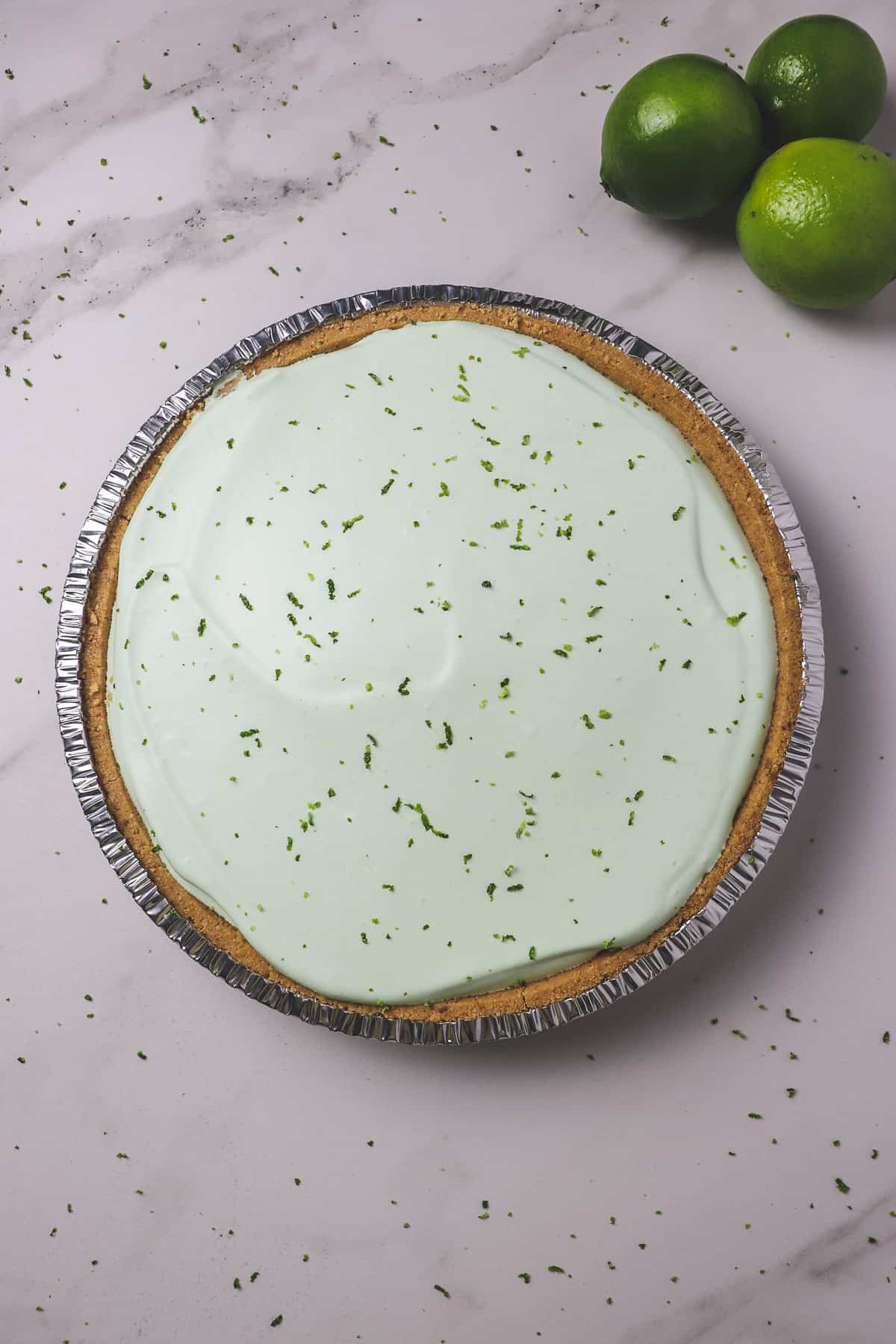 Refrigerate the pie for at least 4 hours before serving.
How to Make a Lime Twist
To make a lime twist to decorate your pie, cut a very thin slice of lime. Then, cut across the center of the slice. You want to cut almost all of the way across, but leave the peel intact on one side. Simply twist the lime around and you've made a pretty lime twist!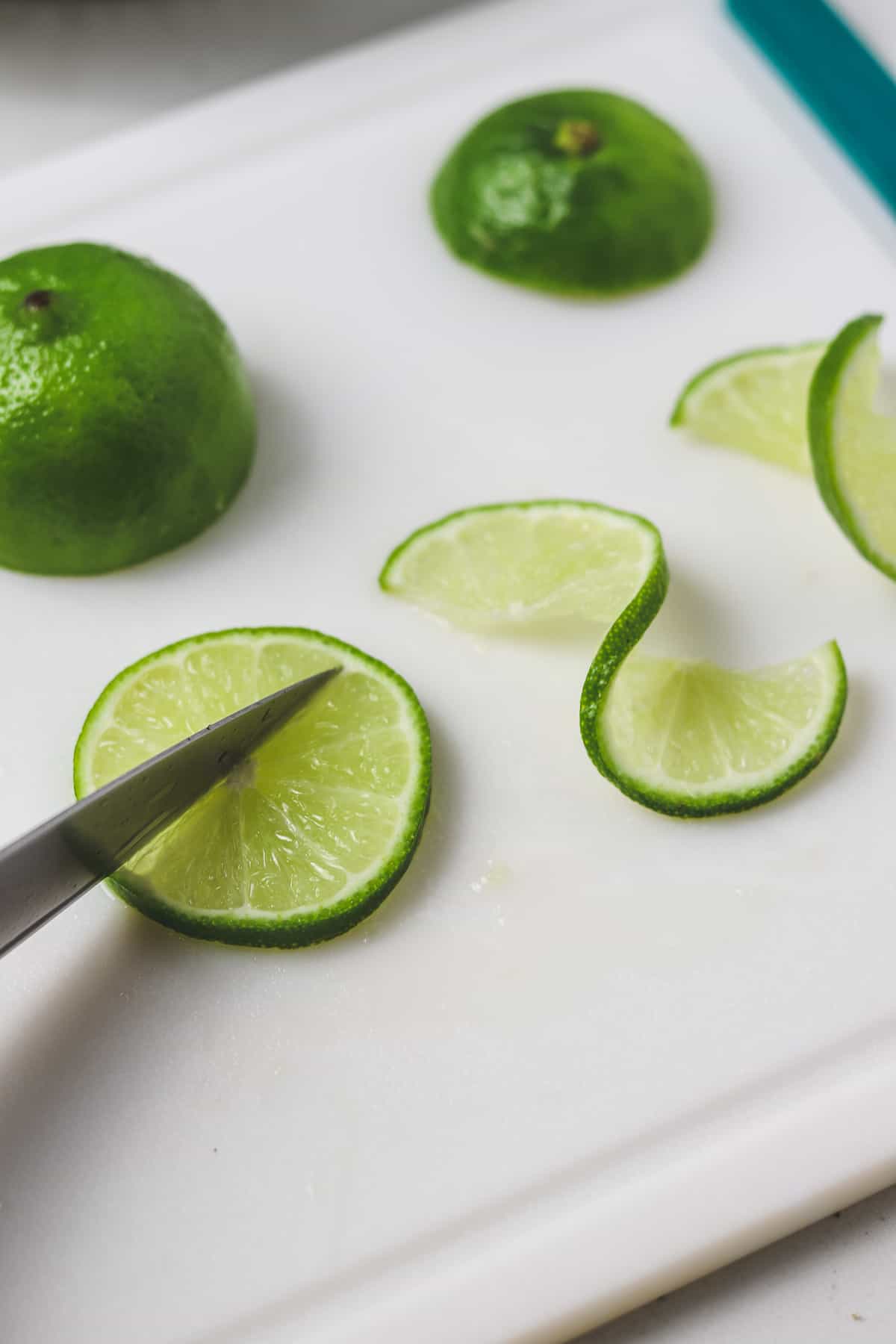 You can arrange these on top of the pie, or put one on each individual piece before serving.
Calories Per Serving
If you follow this recipe exactly, there are 187 calories in each piece of the pie. I cut each pie into a total of 10 pieces, so the serving size is 1/10 of the pie.
While a normal piece of key lime pie may have 400-500 calories, this recipe has less than half the calories! You don't have to feel too guilty about this dessert! It still tastes great without all that extra sugar and fat!
How to Freeze
If you have extra pie leftover, you can wrap individual pieces in plastic wrap and freeze them. Let the pie piece thaw for about 30 minutes after pulling it out of the freezer before eating.
This pie is very tasty frozen! It's handy to keep a few pieces in the freezer so that you can have a single serving when you're craving something sweet.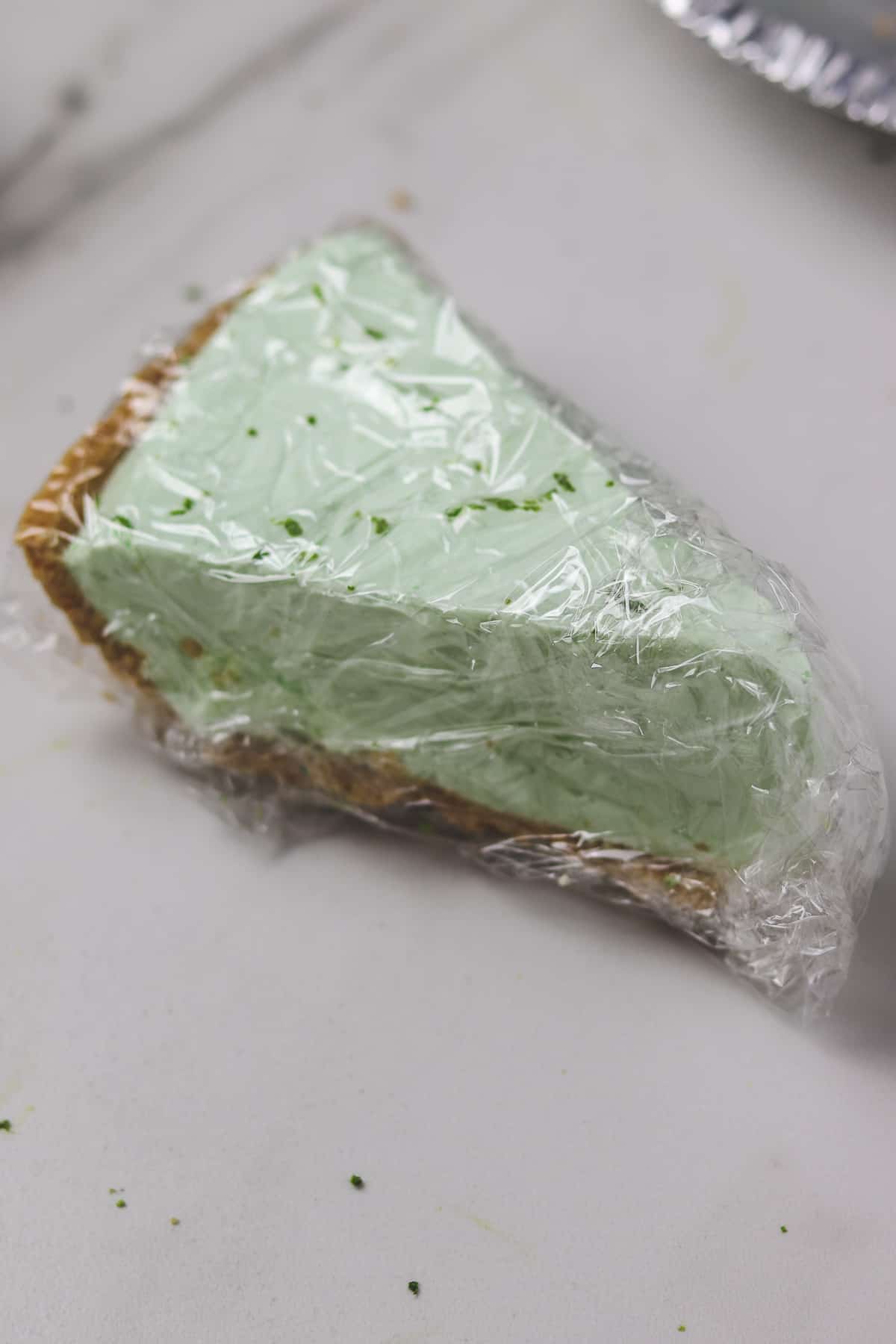 More Low-Calorie Dessert Recipes