Make your own homemade yogurt the easy way with Instant Pot Cold Start Yogurt! Using only two ingredients, you can make creamy, delicious, and healthy fat-free yogurt. Even better, you can flavor your yogurt using simple sugar-free ingredients.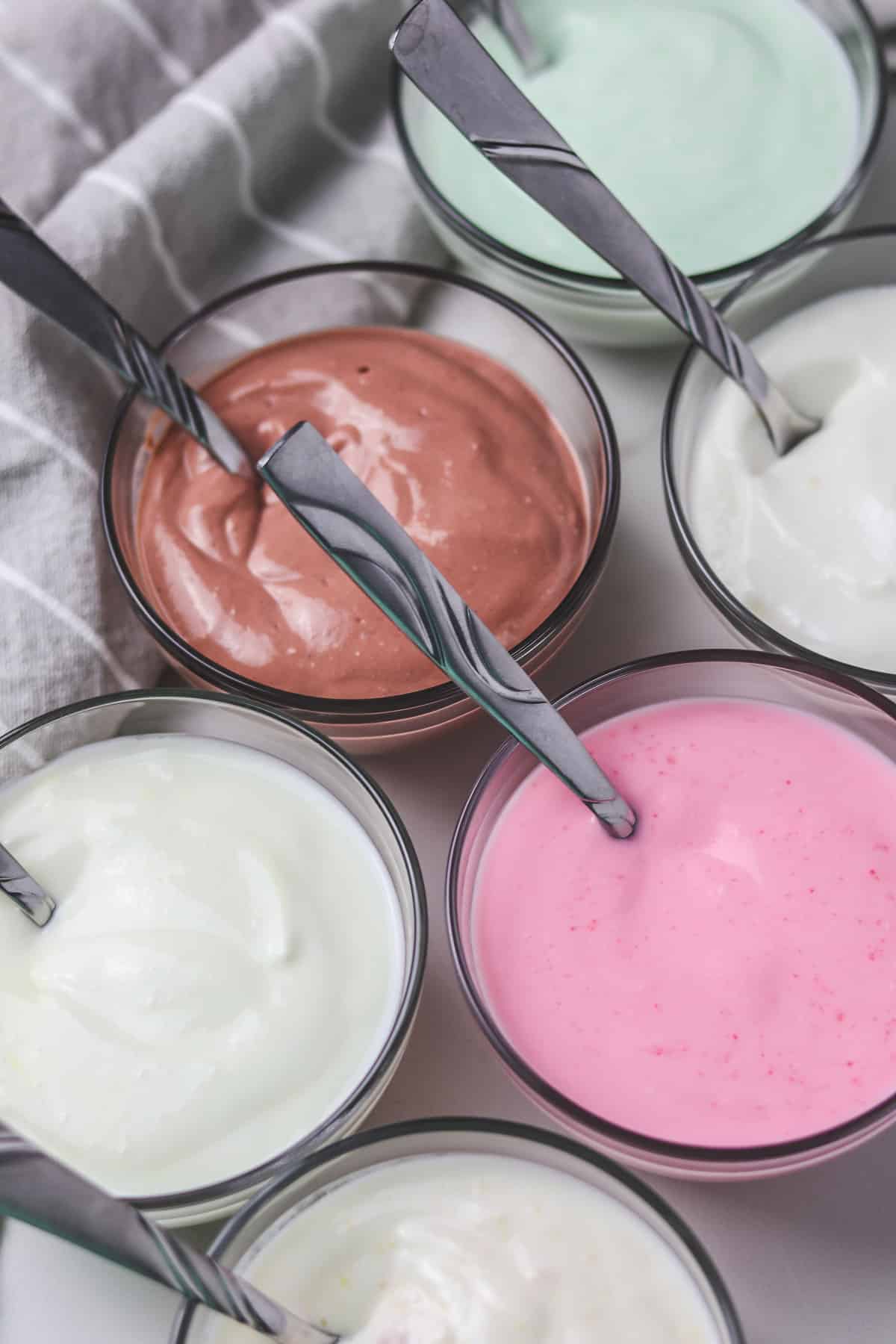 As soon as I got my Instant Pot, I quickly learned that everyone was making yogurt! So, of course, I had to give it a try. Many recipes called for using whole milk, which is high in calories. After some experimenting, I found an easy method that works for me using fat-free milk!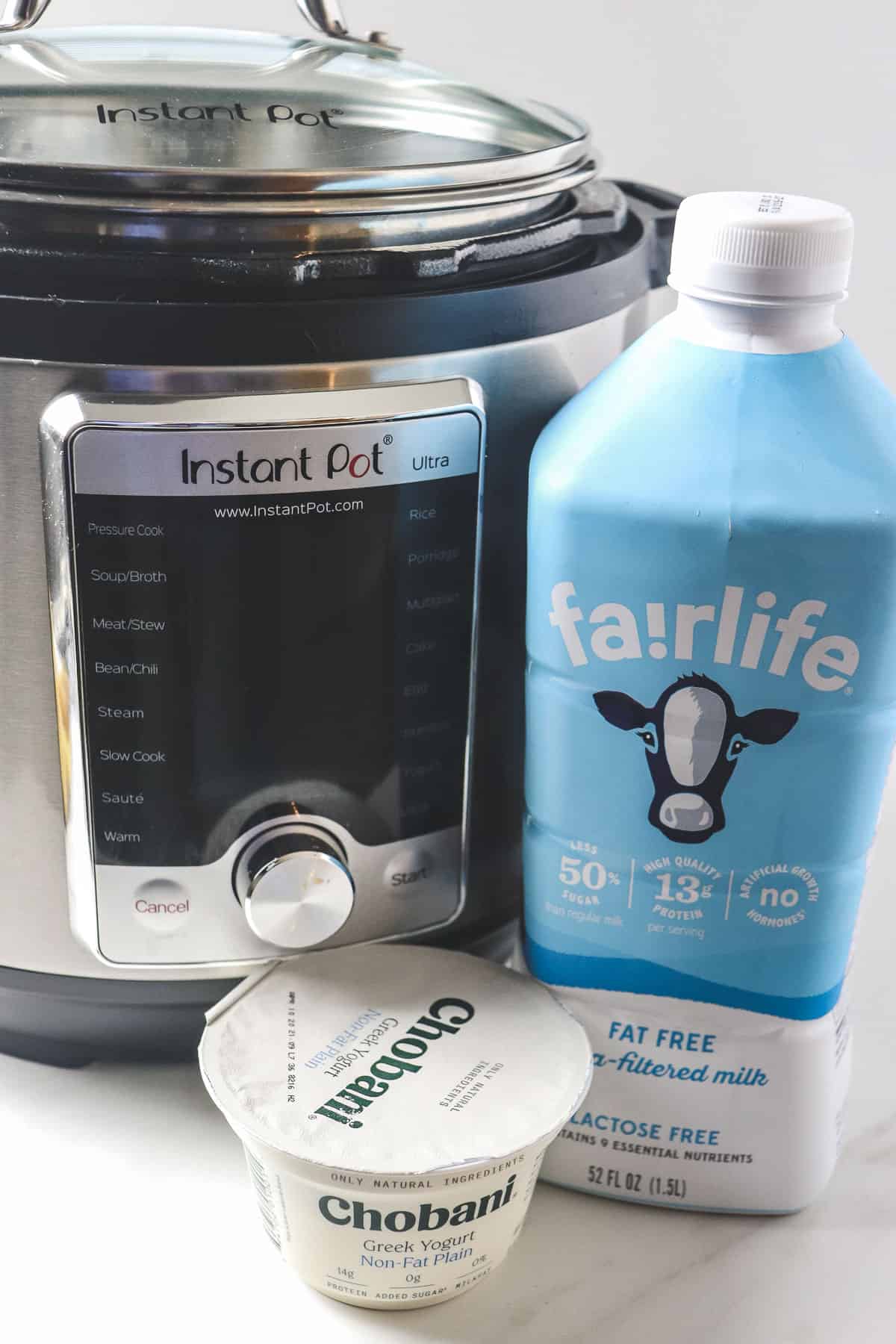 I also experimented with several different low-calorie and sugar-free flavoring options. In this post, I will show you how to make six different sugar-free flavors of yogurt. I'm not a huge fan of plain yogurt - I need some sweetness and flavor!
Instant Pot Cold Start yogurt is healthy, easy, and much cheaper than buying yogurt at the grocery store. Once you try it, you won't go back to store-bought yogurt!
Jump to:
What is Cold Start Yogurt?
Before starting the yogurt incubation process, you have to first eliminate the extra bacteria in the milk. You have two options:
Use normal milk and boil it yourself ("Hot Start")
Use milk that is ultra-filtered ("Cold Start")
Cold Start means that you do not have to boil the milk prior to making yogurt. You simply add the milk and starter to the Instant Pot and let the yogurt start incubating.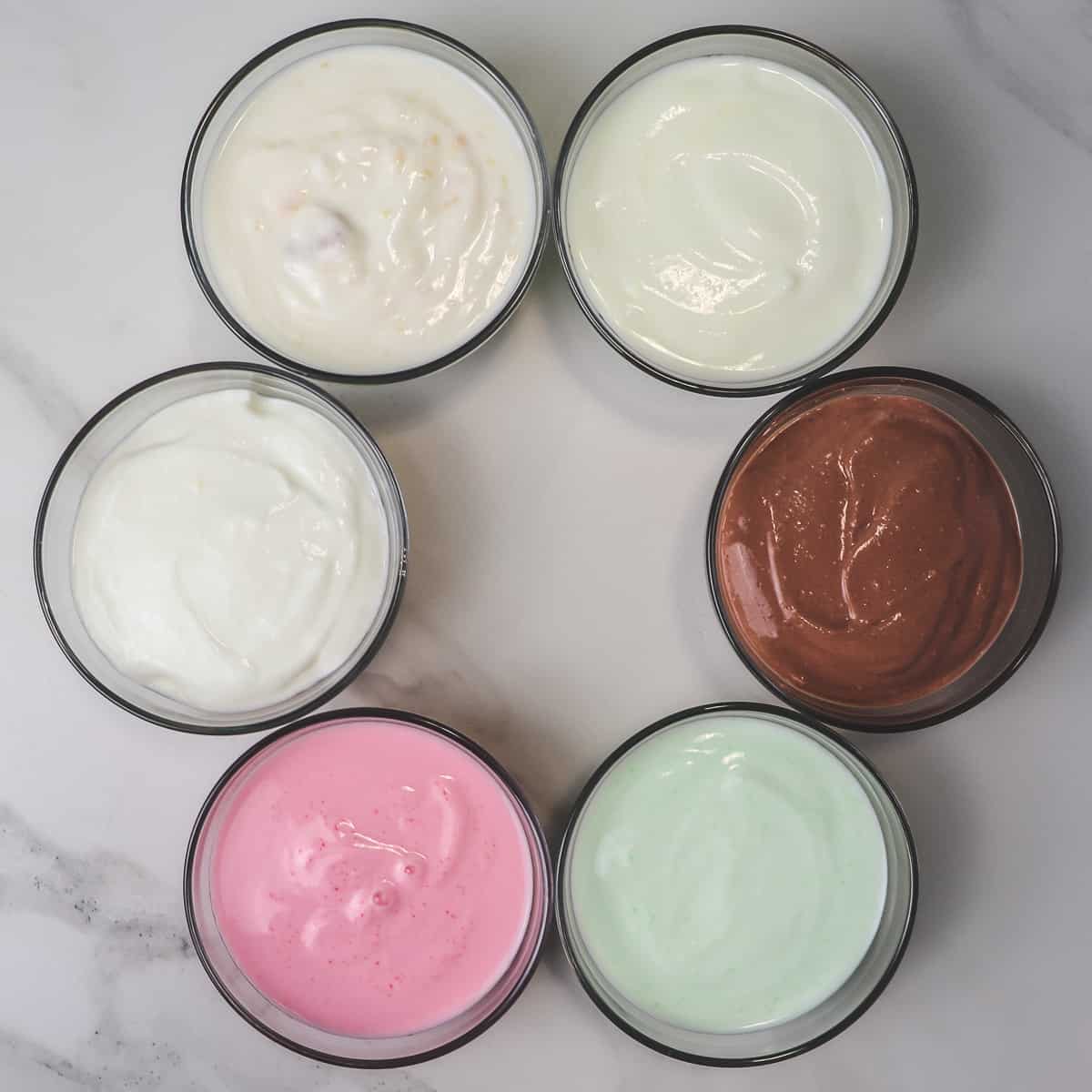 Advantages of Cold Start Yogurt
Overall, making cold start yogurt is much easier than boil-method yogurt. Here's why:
Simpler and fewer steps! It literally only takes 2 minutes to mix together and start making yogurt.
Less guessing on temperatures for boiling milk
Fail-proof! You really cannot mess it up!
I highly recommend trying cold start yogurt in your Instant Pot, especially if it is your first time making yogurt! Making yogurt can sound intimidating, but I couldn't believe how easy it was using the cold start method.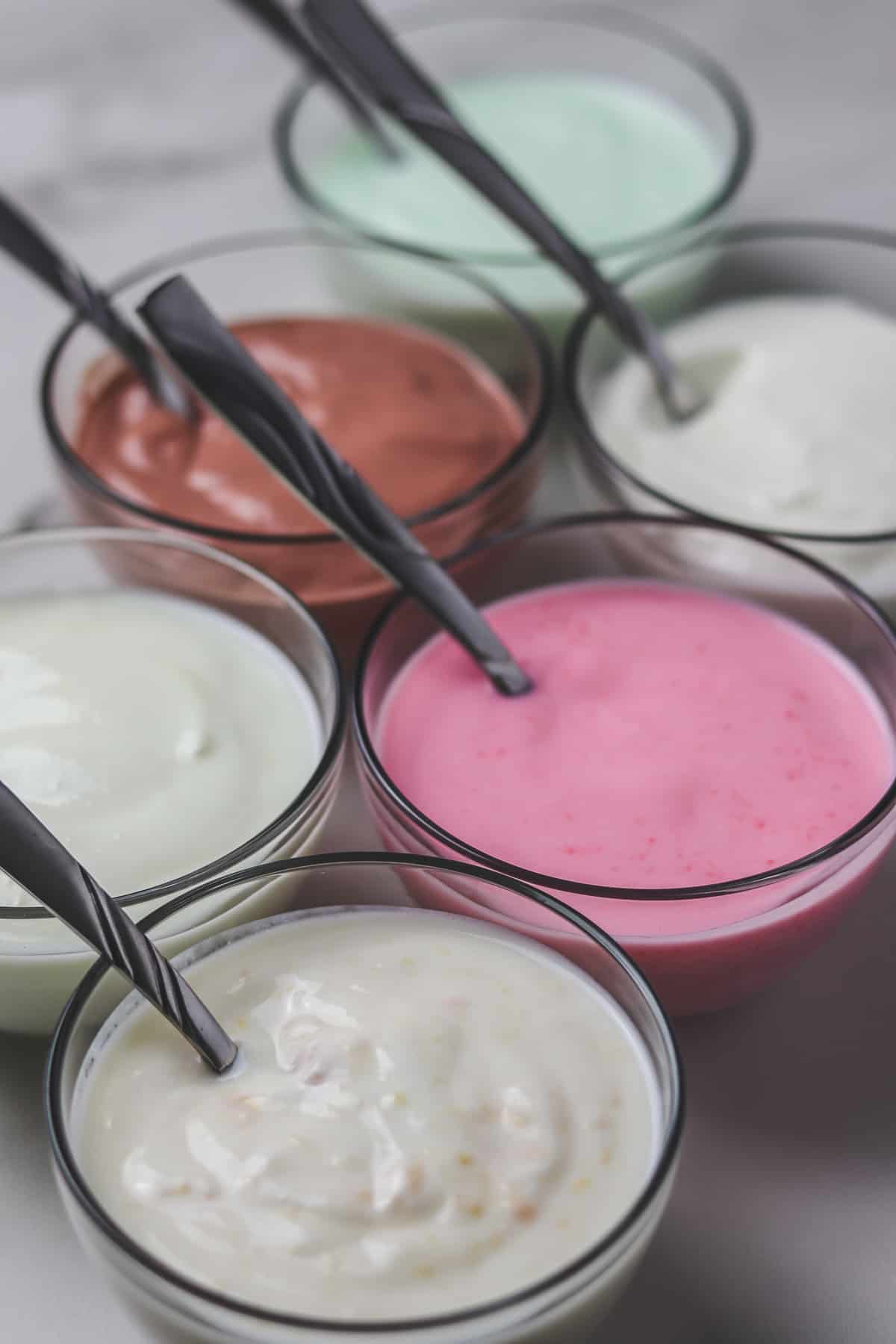 Which Instant Pots Have a Yogurt Button?
Most of the popular Instant Pot models do have a yogurt button. I have an Instant Pot Ultra, which does have a yogurt button.
According to the Instant Pot Product Comparison chart, these models DO have a yogurt button:
While it is possible to make Instant Pot Yogurt without the yogurt button, it is much easier to make if you do have a yogurt button. The recipe in this post assumes that you DO have the yogurt button.
Ingredients
There are only 2 ingredients in cold start yogurt:
1 52 oz bottle Fairlife ultra-filtered milk (I like fat-free, but whole, 2%, or 1% will also work)
2 tablespoon plain nonfat greek yogurt (for your starter)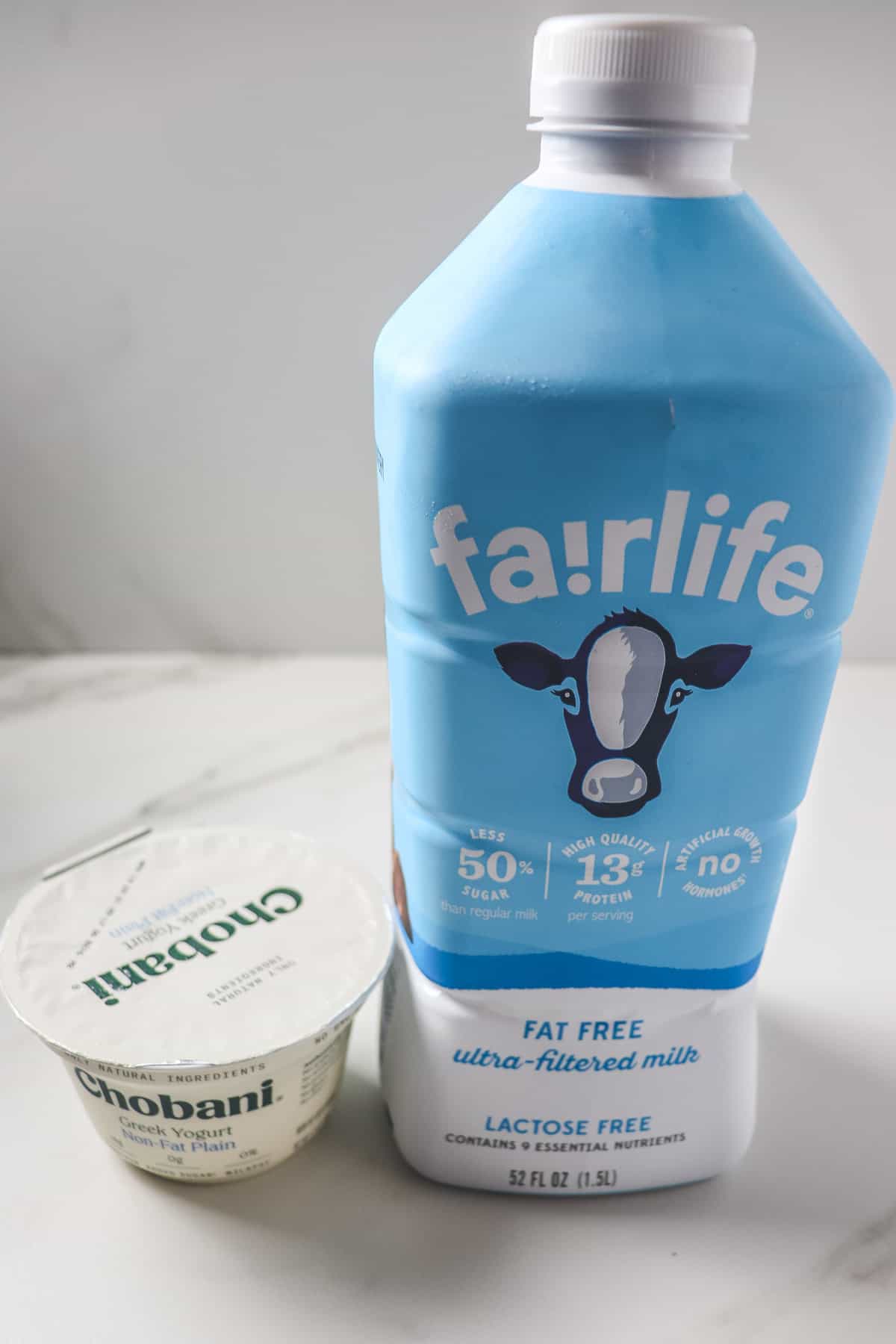 I highly recommend the Fairlife brand milk. I have tested it many times, and it always turns out perfectly. For cold start yogurt, milk must be Ultra-Filtered. Look for the words "Ultra-Filtered" on the label.
What is a Yogurt Starter?
To make yogurt, you need to have a "starter" yogurt containing the live active cultures needed to make more yogurt. You can use any brand of plain store-bought yogurt.
Here's what I look for in a yogurt starter:
Plain yogurt (not flavored)
Must contain live active cultures (look for this on the package)
No additives or stabilizers (to improve consistency you want pure, plain yogurt)
Nonfat (if you are making fat-free yogurt)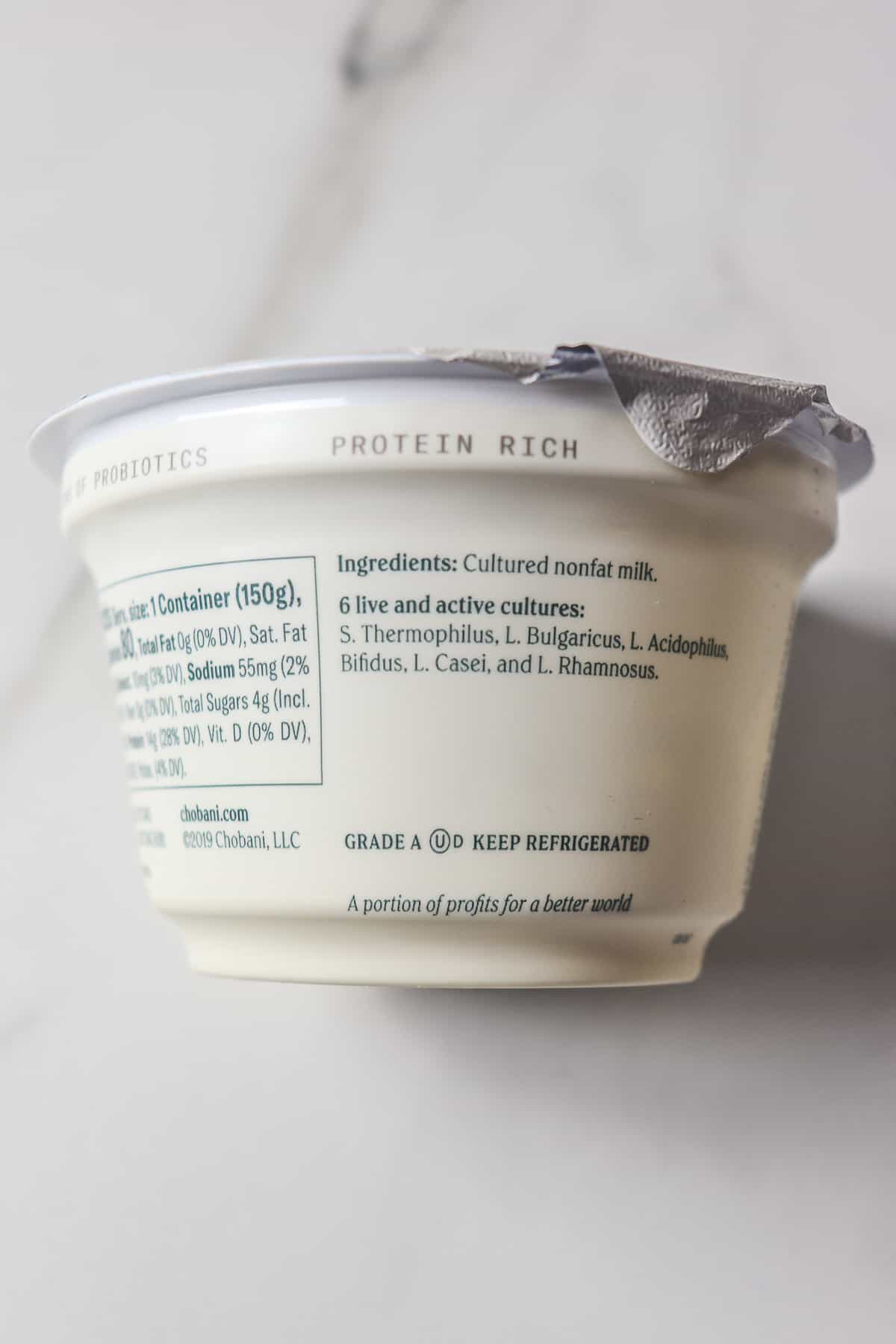 Once you make one good batch of yogurt, you can save 2 tablespoon portions in your freezer and use them to make your next batch of yogurt! Just defrost in the refrigerator for a day before you want to make a new batch of yogurt.
Instructions
First, Pour the milk in the Instant Pot liner and whisk in 2 tablespoon of yogurt starter.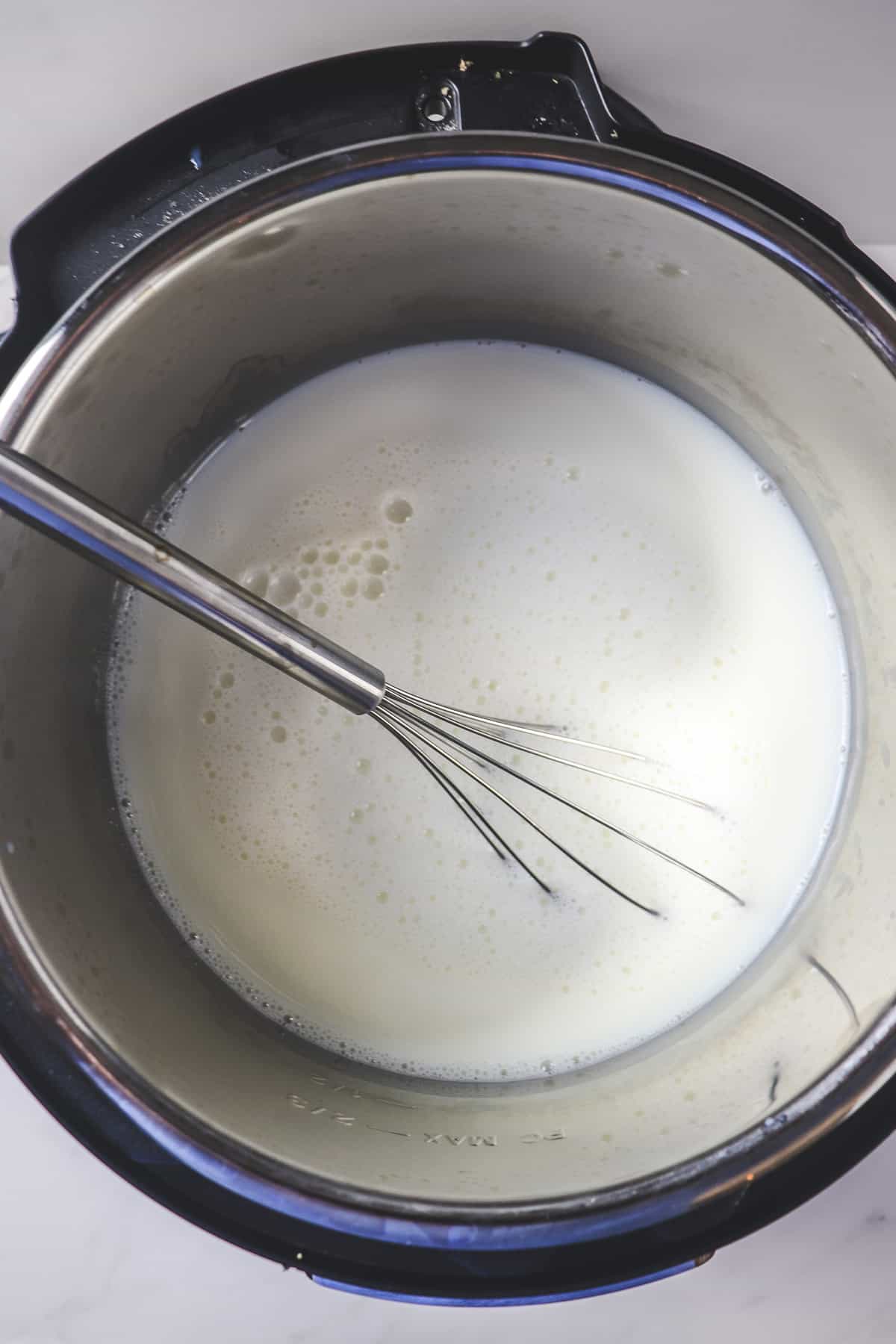 Place the lid on the Instant Pot (you can use the glass lid, silicone lid, or regular lid without the silicone ring). Yogurt does NOT cook at pressure so you do not have to use the regular lid with the silicone ring. If you are using the normal lid, you can remove the ring.
I usually use my glass lid to make yogurt. That way I can see inside while it cooks.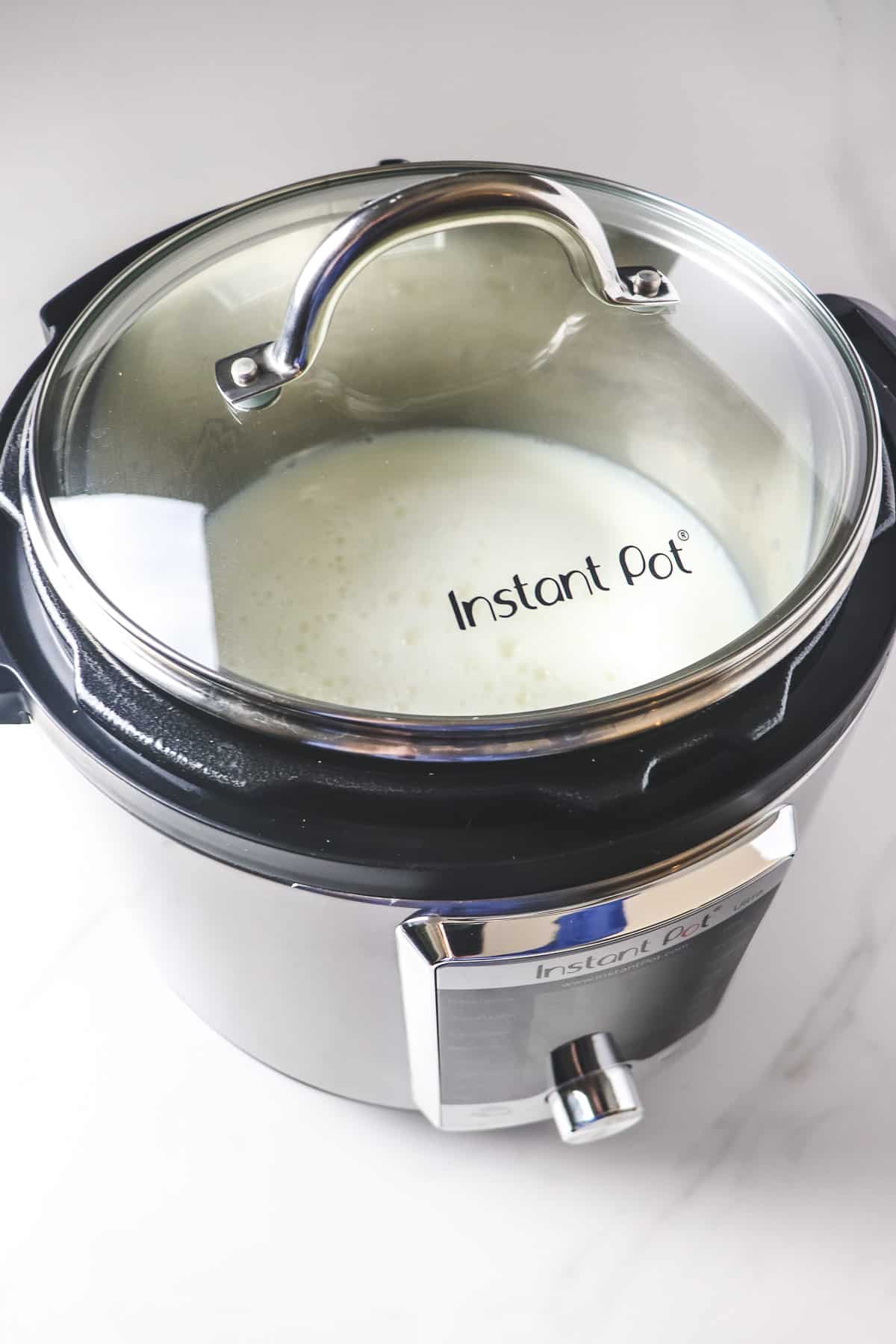 Press the Yogurt button and set it to the default Medium temperature. Set the time to 8 hours and hit start.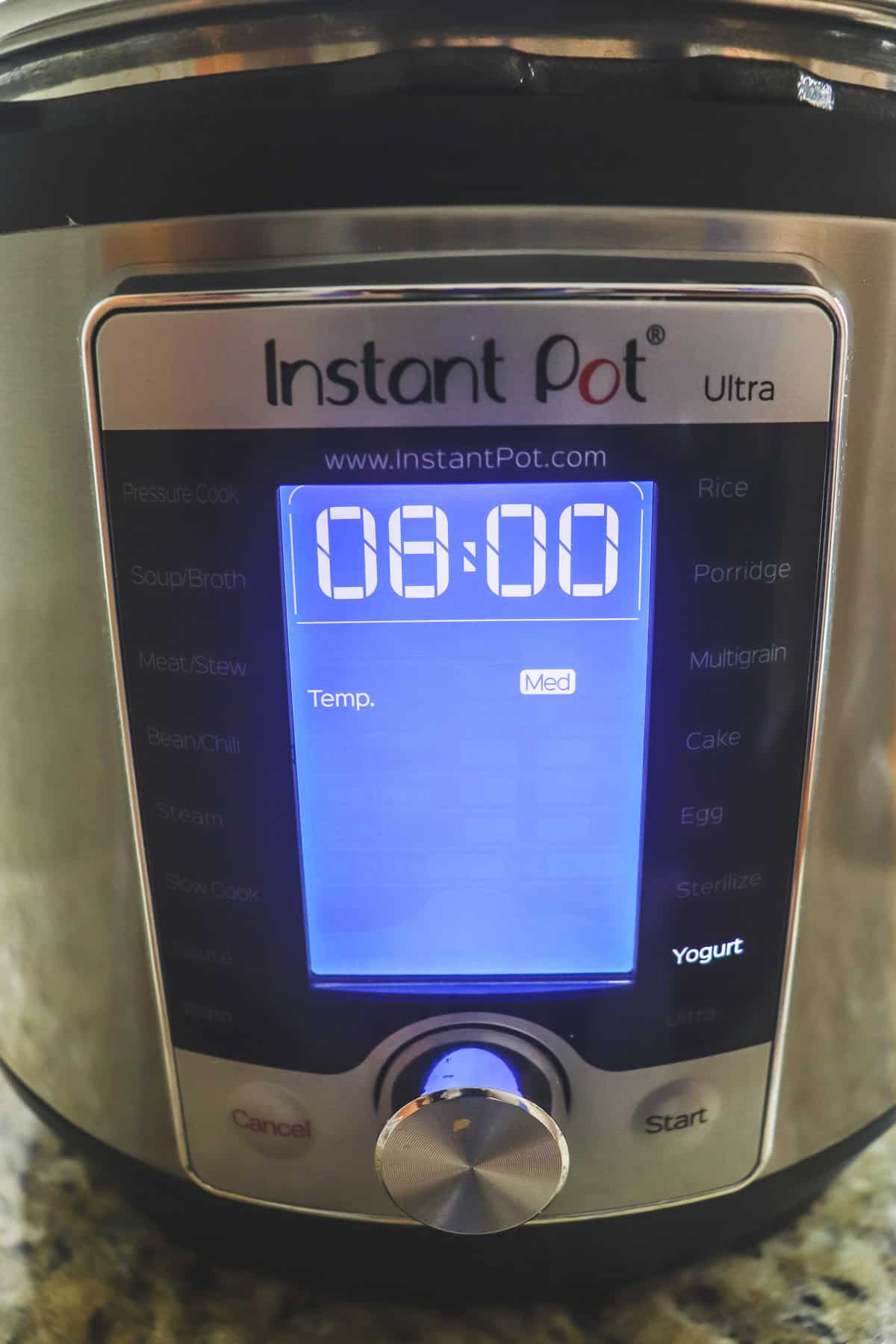 After 8 hours of incubation, put a lid on the Instant Pot liner and immediately put it in the refrigerator. The Instant pot silicone lid works great for storage! Cool for at least 8 hours or overnight.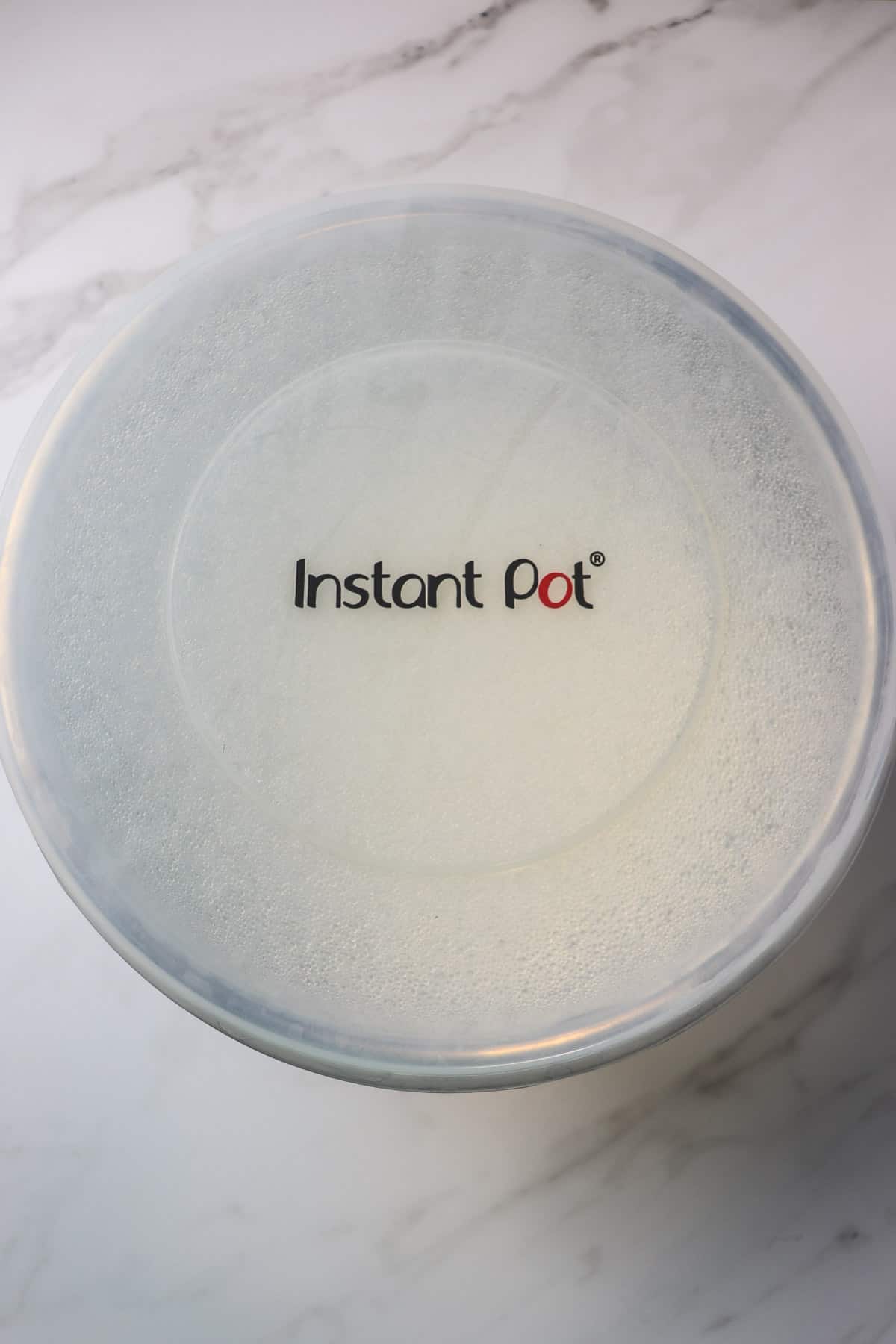 After the yogurt has cooled, stir it up and mix in any flavoring if desired. If yogurt is a little lumpy, use a whisk to stir it for 2-3 minutes until completely smooth.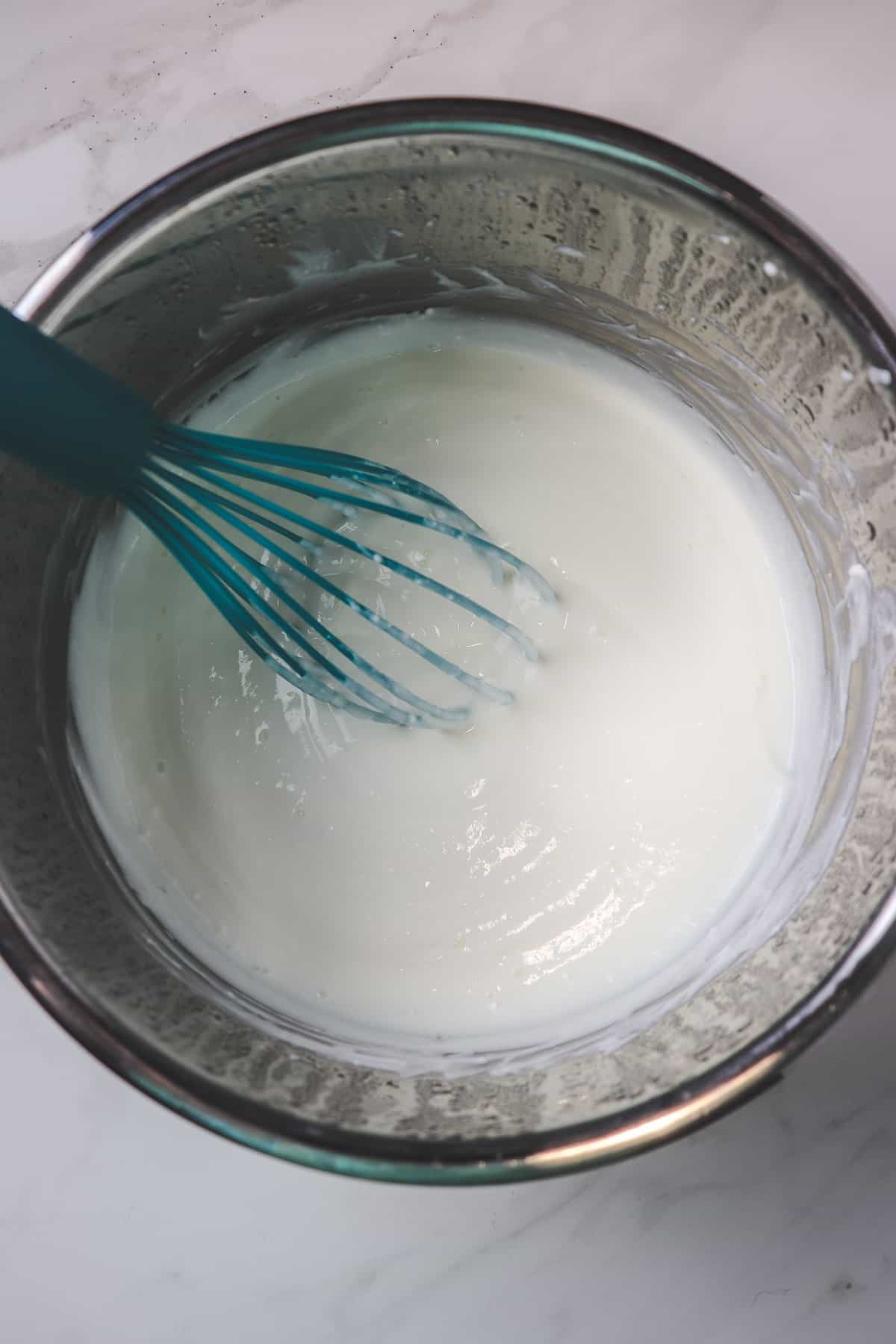 If desired, you can measure out 6 oz portions of yogurt and store them in individual containers (glass or plastic).
How Long to Incubate
Incubation time changes how tart the yogurt will taste. So this is up to your personal preference!
Less tart - 7 hours
Average - 8 hours
More Tart - 9 hours
I always use 8 hours of incubation time, but you can experiment and decide what you like best!
How to Flavor
There are a lot of different ways you can flavor your yogurt. Popular options are sweetened condensed milk or natural bliss creamer. You can mix these in with the milk at the beginning of the yogurt making process.
While the sweetened condensed milk or creamer do taste good, I experimented to find some easy lower-calorie and sugar-free options!
To start with, I use a food scale and divide my yogurt into 6 oz portions (which are around 100 calories each).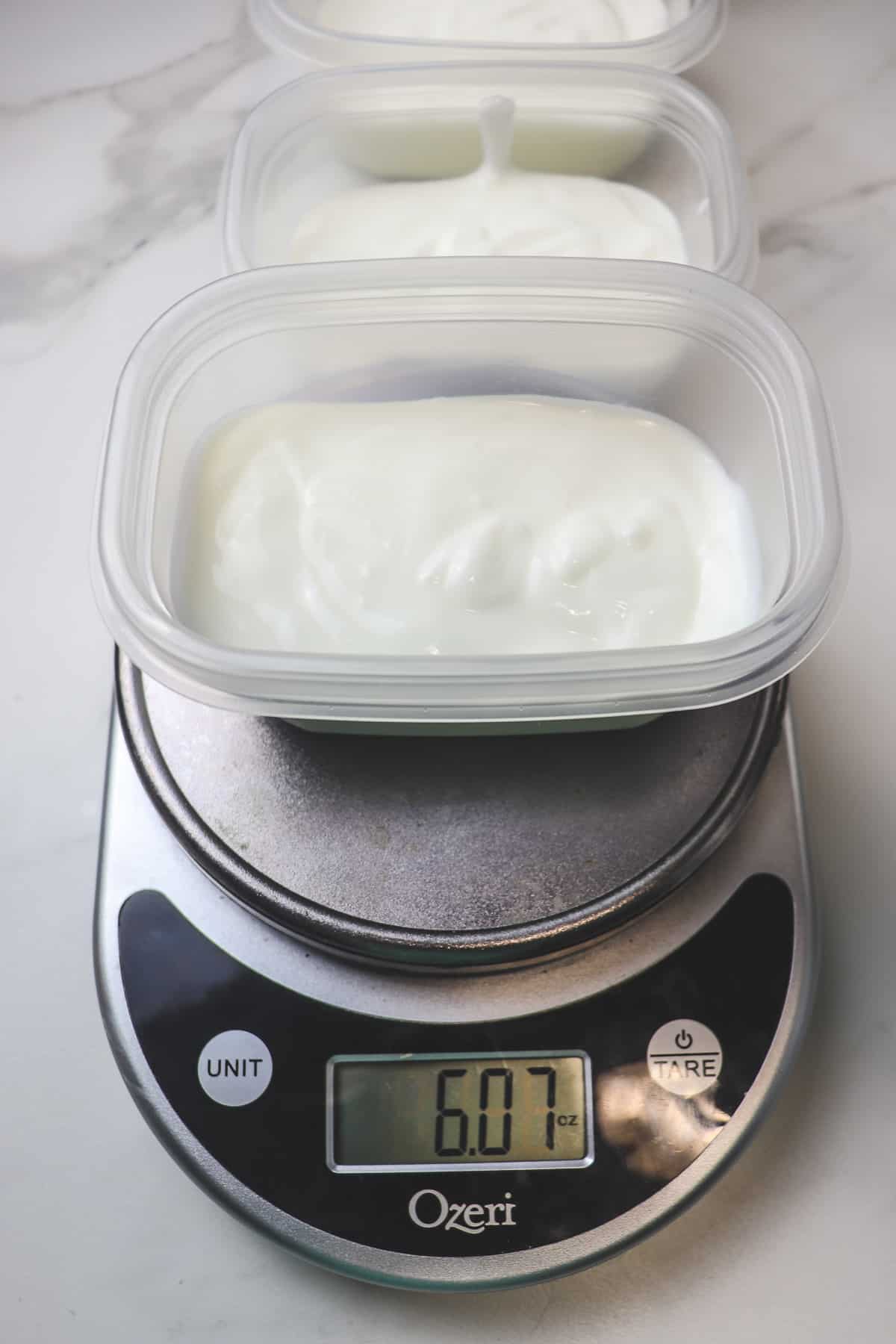 I make several different flavors to make myself a variety of options!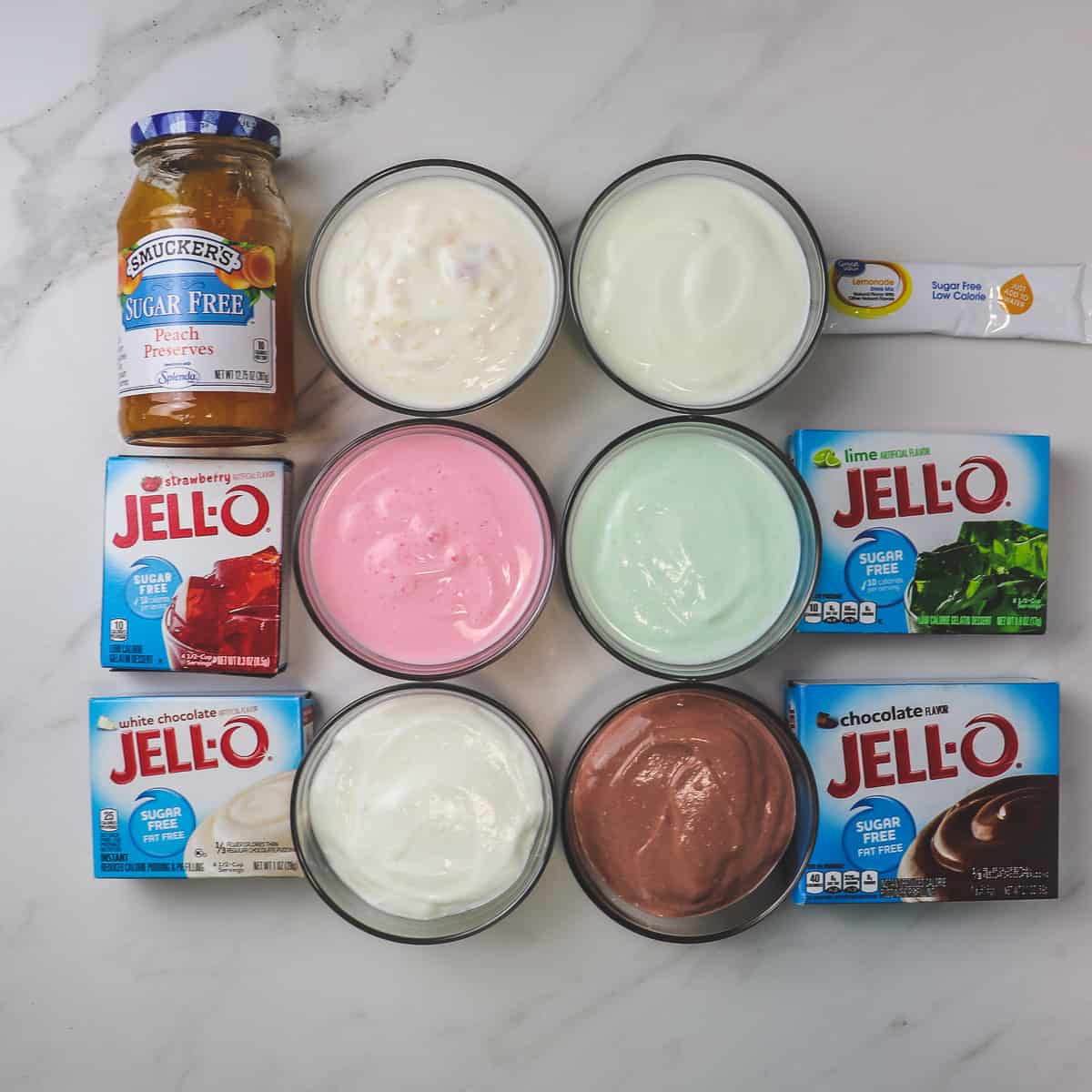 All of the options below add very few calories to your yogurt if you use sugar-free varieties.
Jello Mix
Any flavor of sugar-free jello mix is really good mixed in with yogurt! My favorites are strawberry or lime.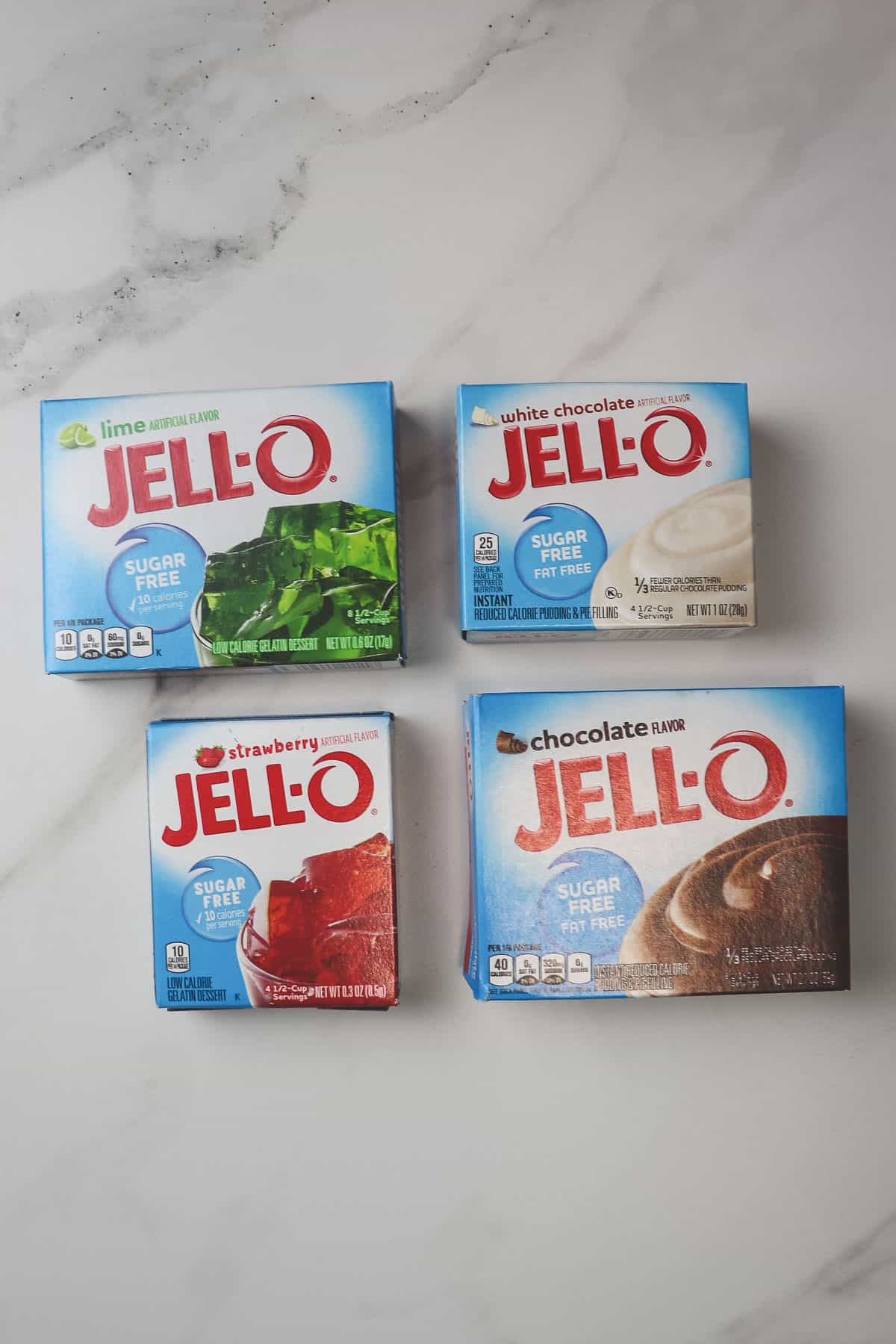 To flavor a 6 oz portion: mix in ¼ teaspoon jello mix
To flavor a full batch of yogurt: mix in 2 teaspoon jello mix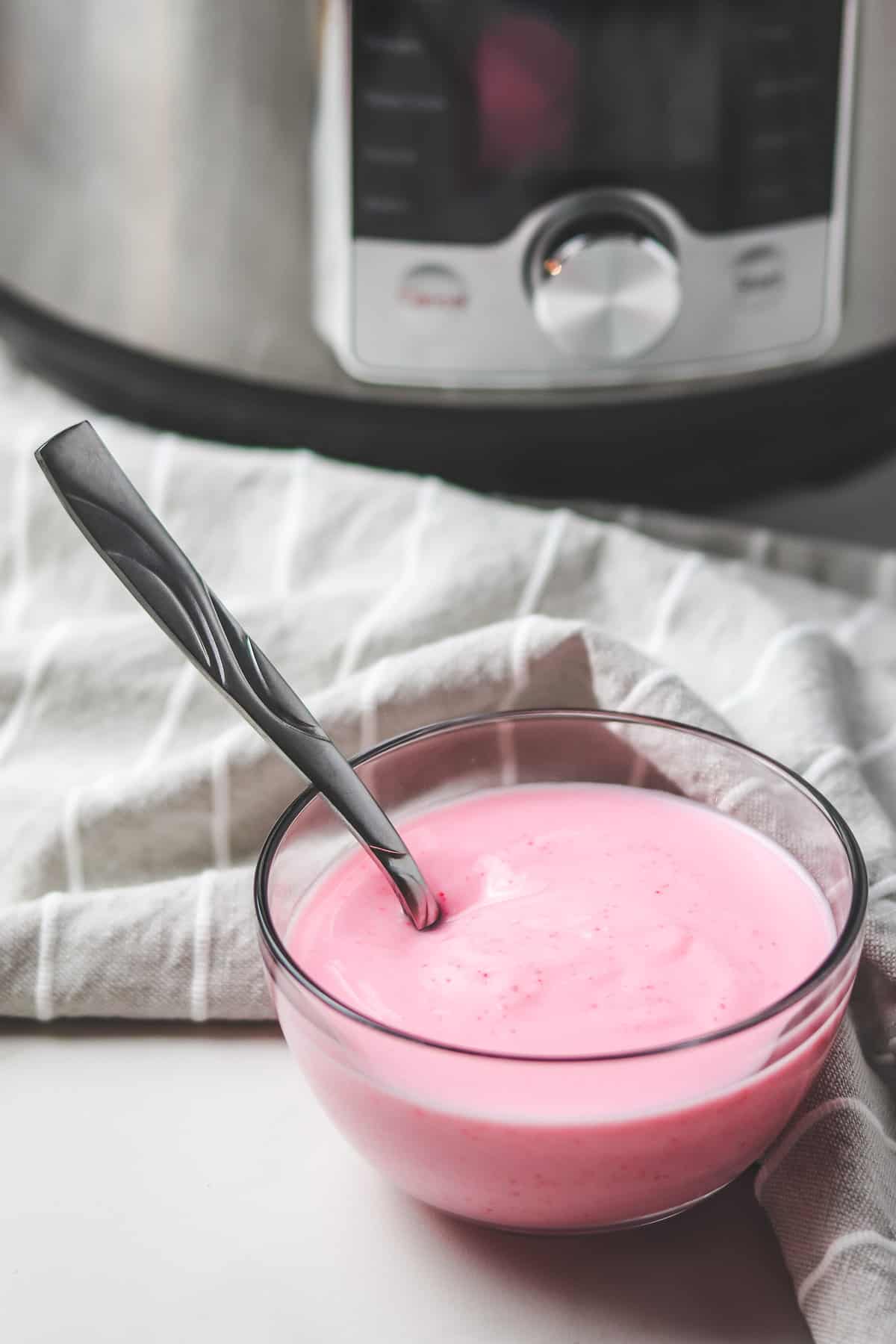 Jello Pudding Mix
Any flavor of sugar-free jello pudding mixes also make good mix-ins! The pudding mix will also slightly thicken your yogurt, which is an added bonus. My personal favorite is chocolate flavor, but you can use any flavor you like!
To flavor a 6 oz portion: mix in 2 teaspoon jello pudding mix
To flavor a full batch of yogurt: mix in 6 tablespoons jello pudding mix
Drink Mixes
Lemonade drink mix is amazing to make lemon-flavored yogurt! You could also use other flavors - fruit punch, strawberry lemonade, peach, etc.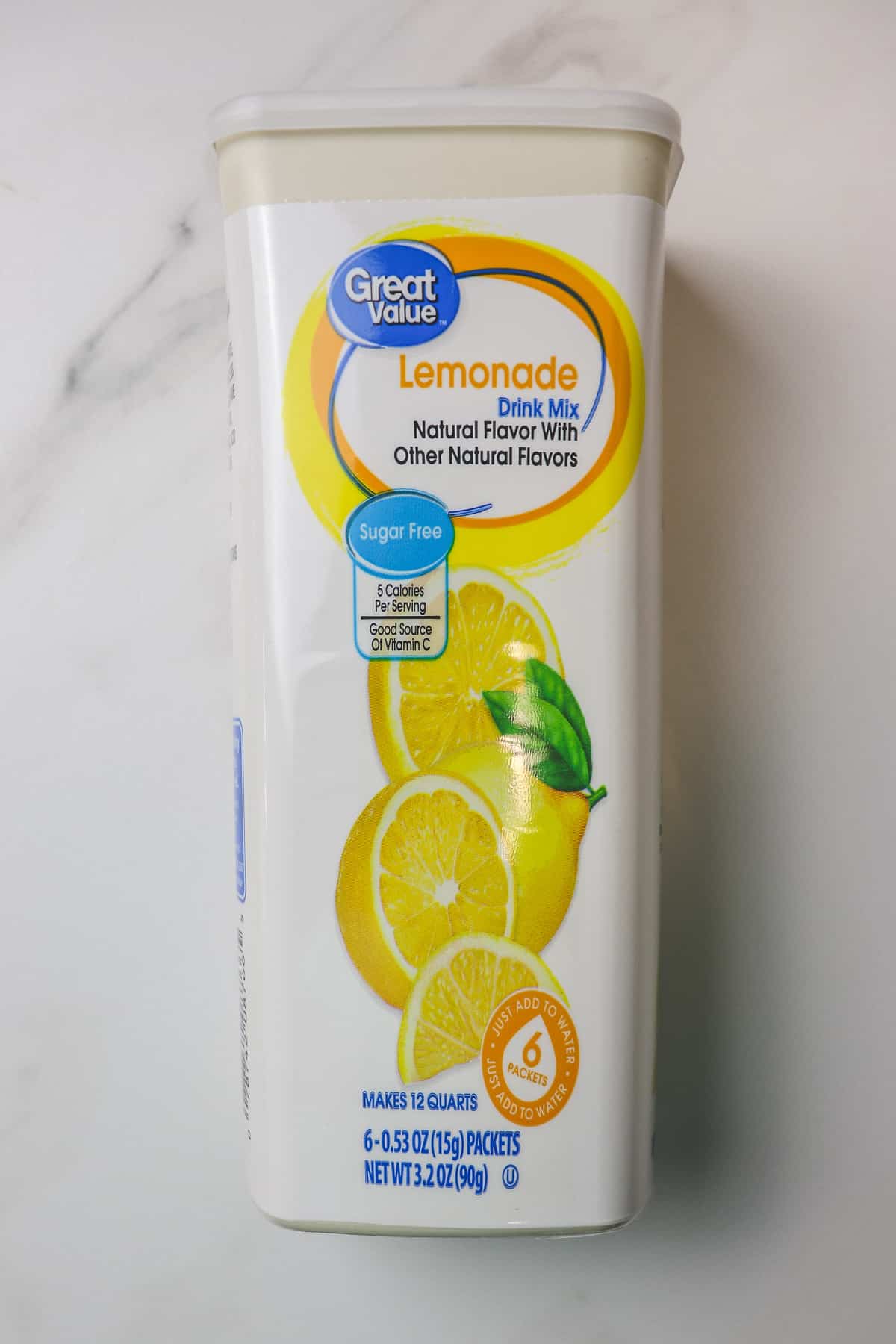 To flavor a 6 oz portion: mix in ¼ teaspoon lemonade mix
To flavor a full batch of yogurt: mix in 2 teaspoon lemonade mix
Fruit Preserves
Sugar-free fruit preserves are also another good option. I like raspberry or peach the best!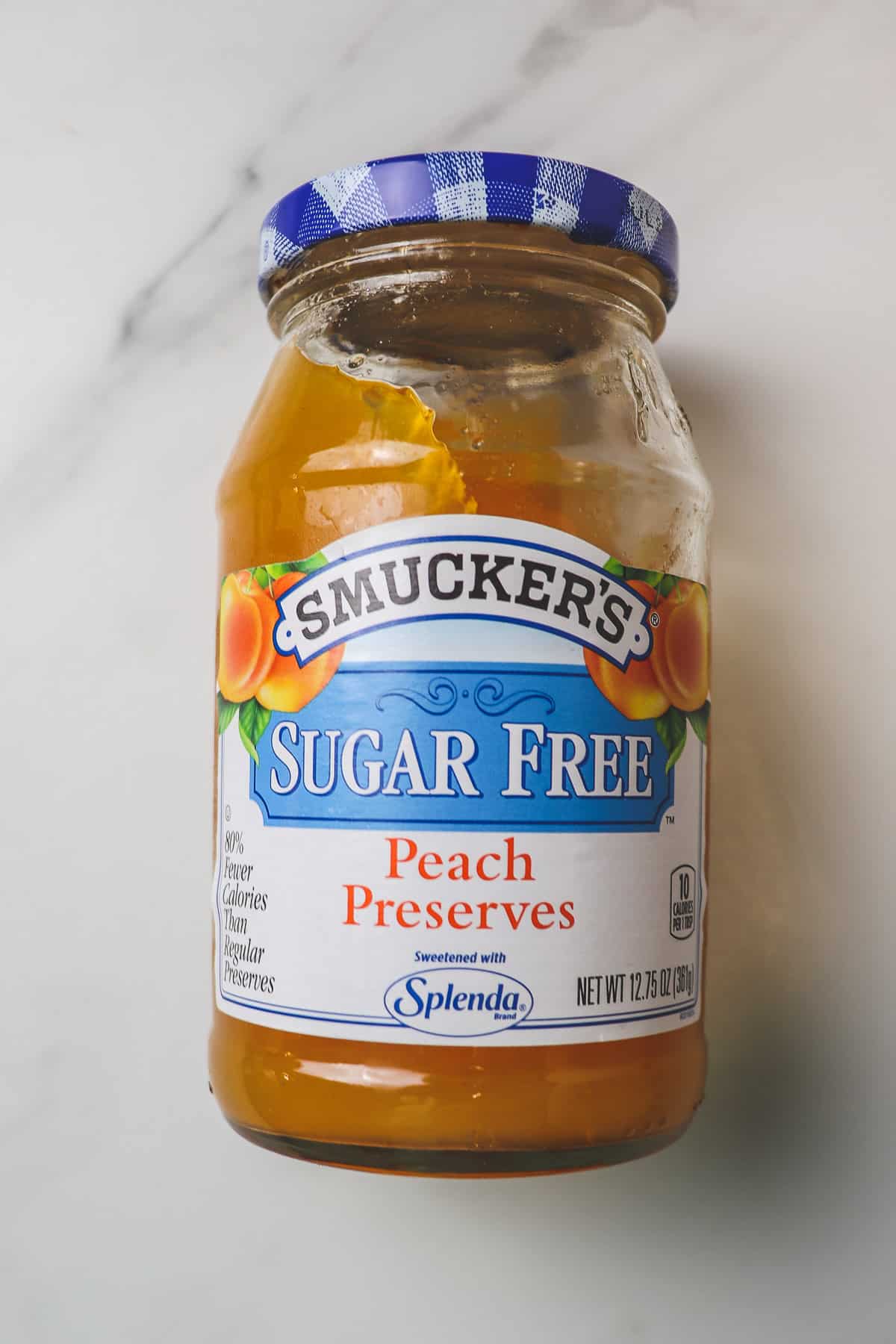 To flavor a 6 oz portion: mix in 2 tablespoon fruit preserves
To flavor a full batch of yogurt: mix in 1 cup fruit preserves
How to Make Smooth Yogurt
If your yogurt is lumpy after refrigeration, use a whisk to mix it up. This will help a lot in removing lumps to make perfectly smooth yogurt! Keep whisking and it will get smoother.
It also helps to be sure to use a plain yogurt starter (not flavored) with no additives or extra preservatives. Sometimes ingredients in your yogurt starter can mess up the consistency of your batch of yogurt.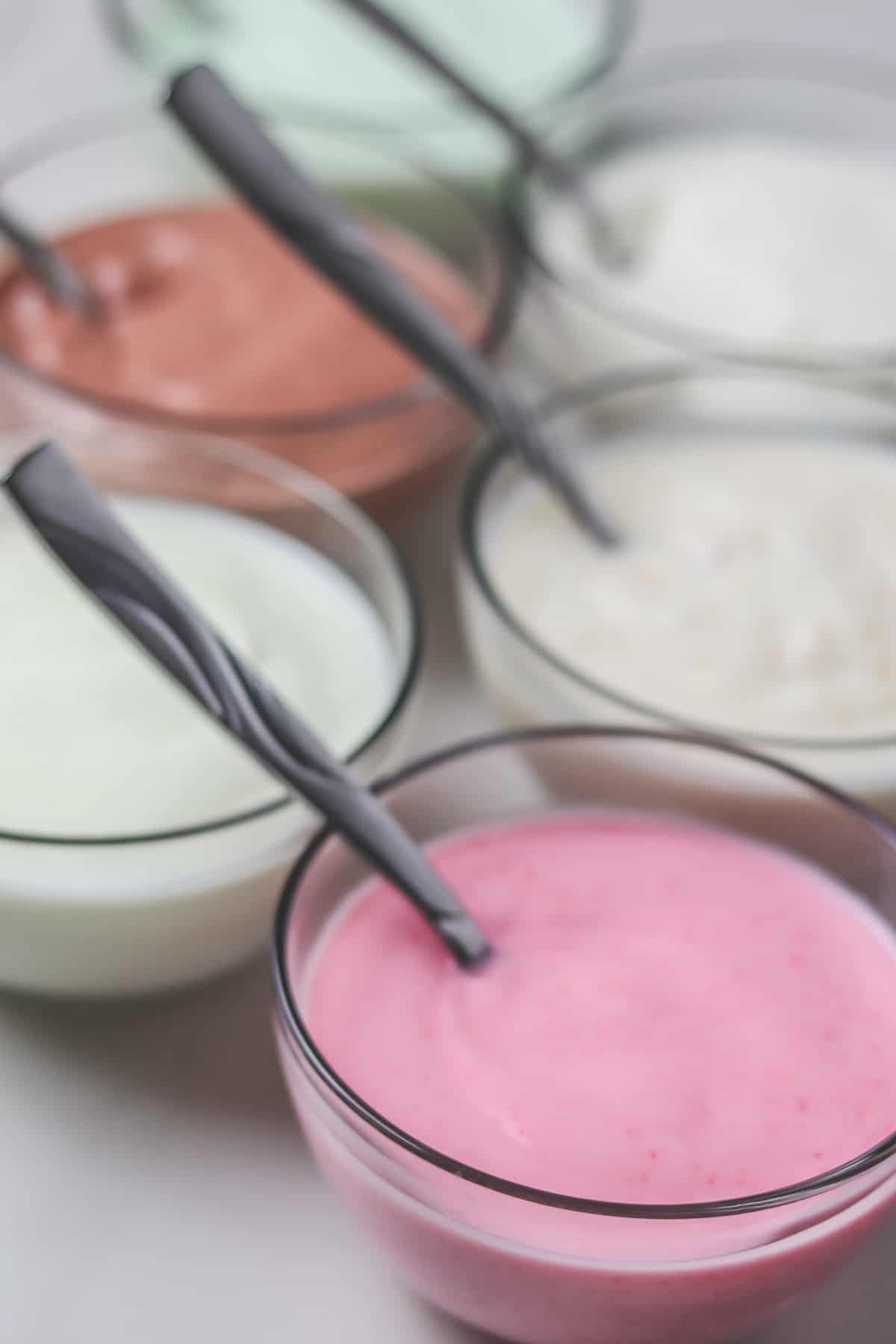 How to Make Yogurt Thicker
To make the yogurt thicker, you have a few options:
Strain your yogurt to remove extra liquid. You can buy a special yogurt strainer to create greek yogurt-like consistency.
Fat-free milk is always going to make a little bit thinner yogurt than using milk that has some amount of fat in it. You could try using 1% or 2% milk instead.
Use a pudding mix to flavor your yogurt. The pudding mix will thicken up the mixture nicely!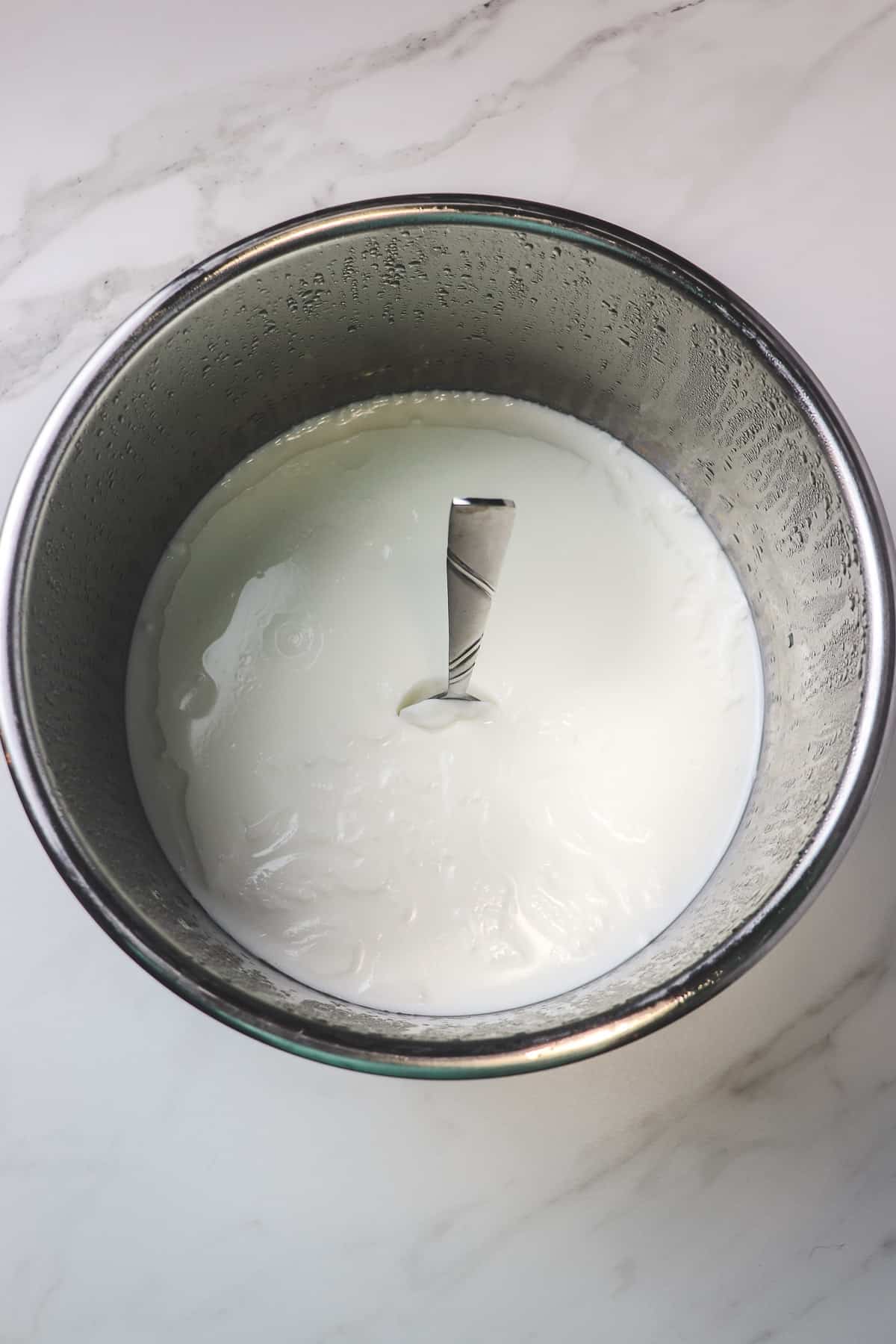 How to Serve
Unflavored yogurt can be use as a substitute for sour cream or mayonnaise. I typically keep some yogurt plain and flavor the rest of it in 6 oz portions. These make quick and easy grab and go breakfasts!
I like making a variety of flavors so that I don't have to eat the same thing every day!
Calories per Serving
If you follow this recipe exactly, one 6 oz serving is about 112 calories. This recipe has no added sugars, and if you use sugar-free flavoring options you won't be adding any extra sugar to flavor it.
To save calories, avoid adding anything to your yogurt with a lot of sugar in it. Sweetened condensed milk or natural bliss creamer are not good options if you want low-calorie yogurt!
More Instant Pot Recipes
Check out these other Instant Pot Recipes!