This Italian Chicken Pasta Salad is super easy to make in the Instant Pot - you can cook the chicken and the pasta at the same time!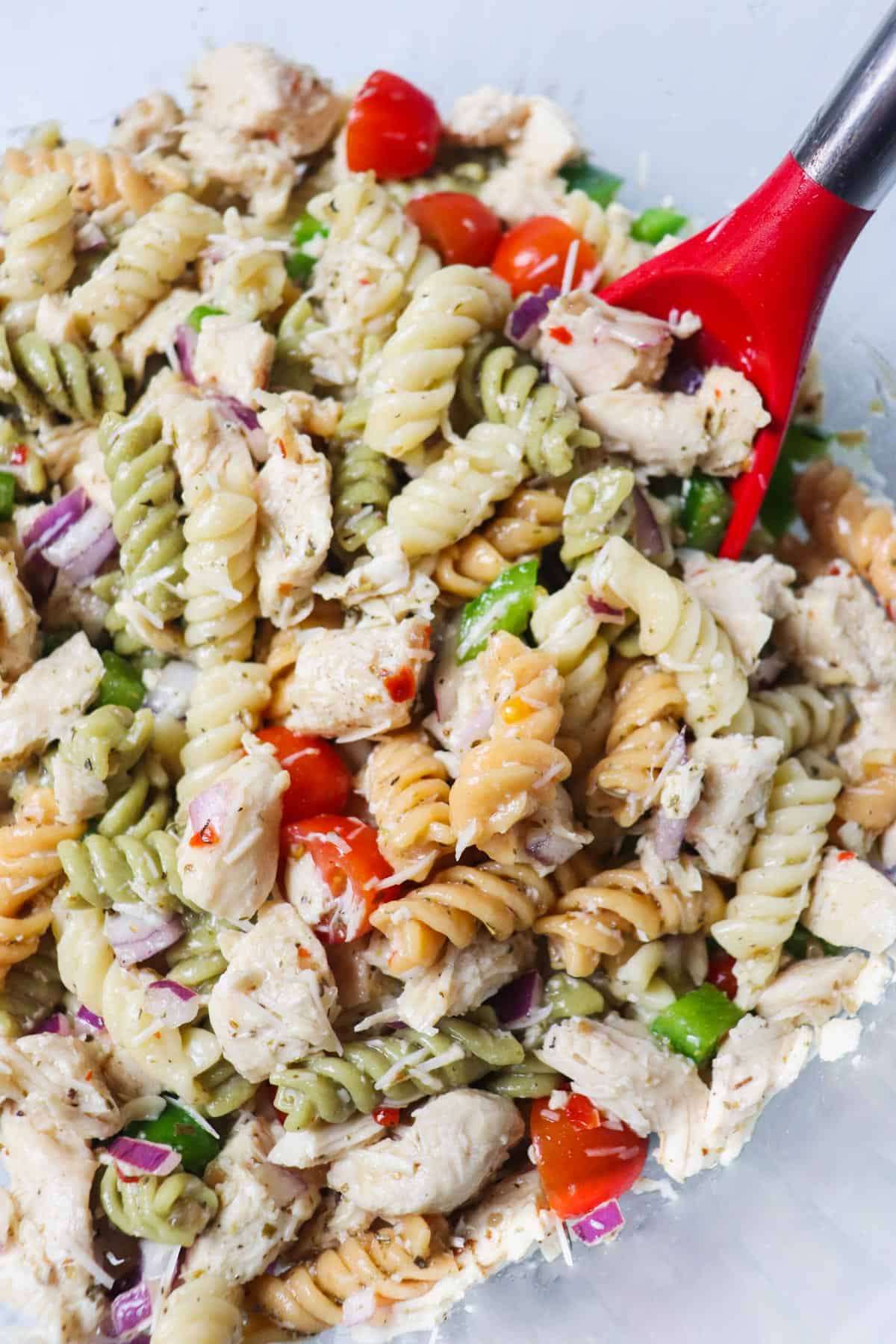 Chicken, tomatoes, onions, bell peppers, and Italian dressing make this a delicious and healthy pasta salad recipe.
One of my very favorite things about the Instant Pot is that I can throw the ingredients in and walk away until it's finished. I love cooking this all together, instead of having to pre-prep cooked chicken and then cook my pasta separately on the stovetop.
Ingredients
Tri-Colored Rotini (you don't have to use the tri-colored, but it is prettier than regular rotini!)
Raw chicken tenders (not frozen). If using chicken breasts, slice into smaller tender-sized pieces.
Chicken broth, for the cooking liquid
Italian salad dressing (use your favorite brand)
Veggies of your choice. I typically use tomatoes, red onions, and bell peppers, but feel free to add any of your favorite veggies.
Parmesan cheese. In my opinion, any Italian-related food needs a little parmesan cheese!
Seasoning - Italian seasoning and salt + pepper, to taste
How to Make Chicken Pasta Salad in the Instant Pot
The key to cooking chicken and pasta together in the Instant Pot is finding a pasta that has a similar cook time as your noodles. Rotini noodles work very well with raw chicken tenders, so that is what I recommend for this recipe.
First, put chicken broth and noodles on the bottom of the Instant Pot. Use a ratio of 2 cups liquid for 8 oz of dry pasta.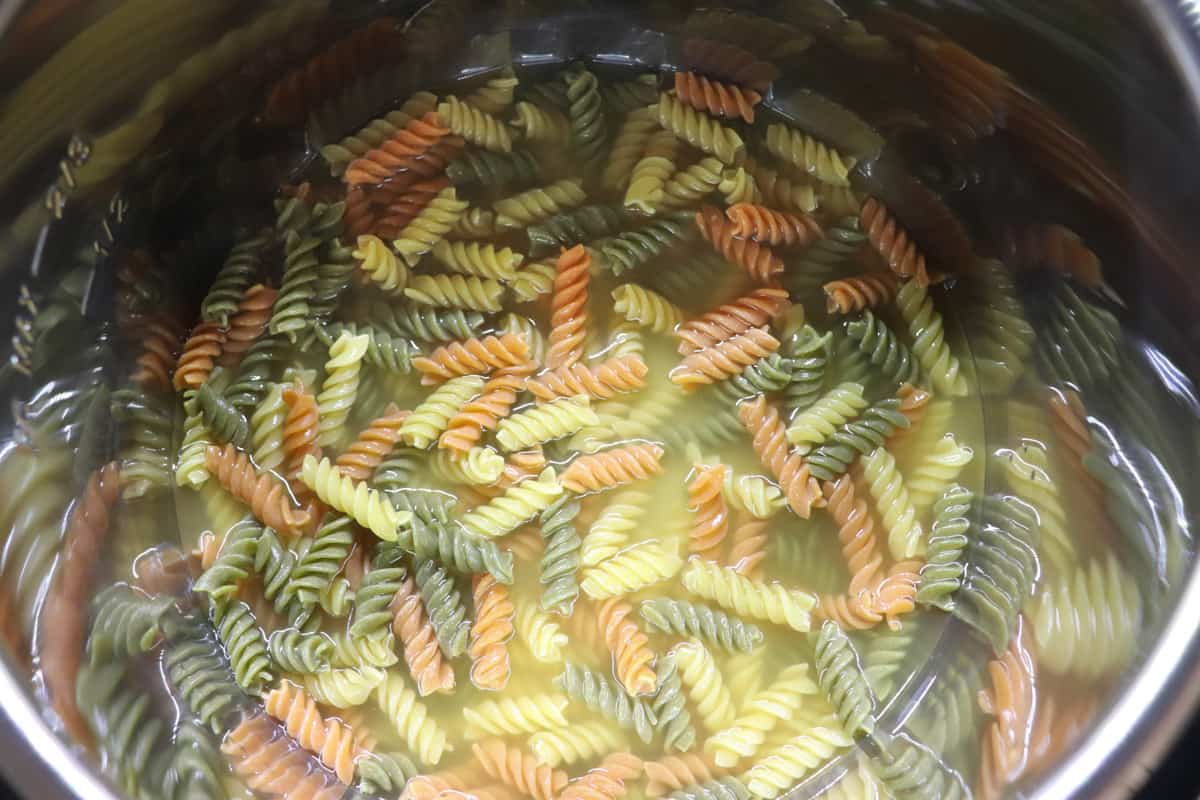 Next, put chicken tenders (raw and defrosted) on top of the pasta. Lightly sprinkle salt and pepper on top of the chicken.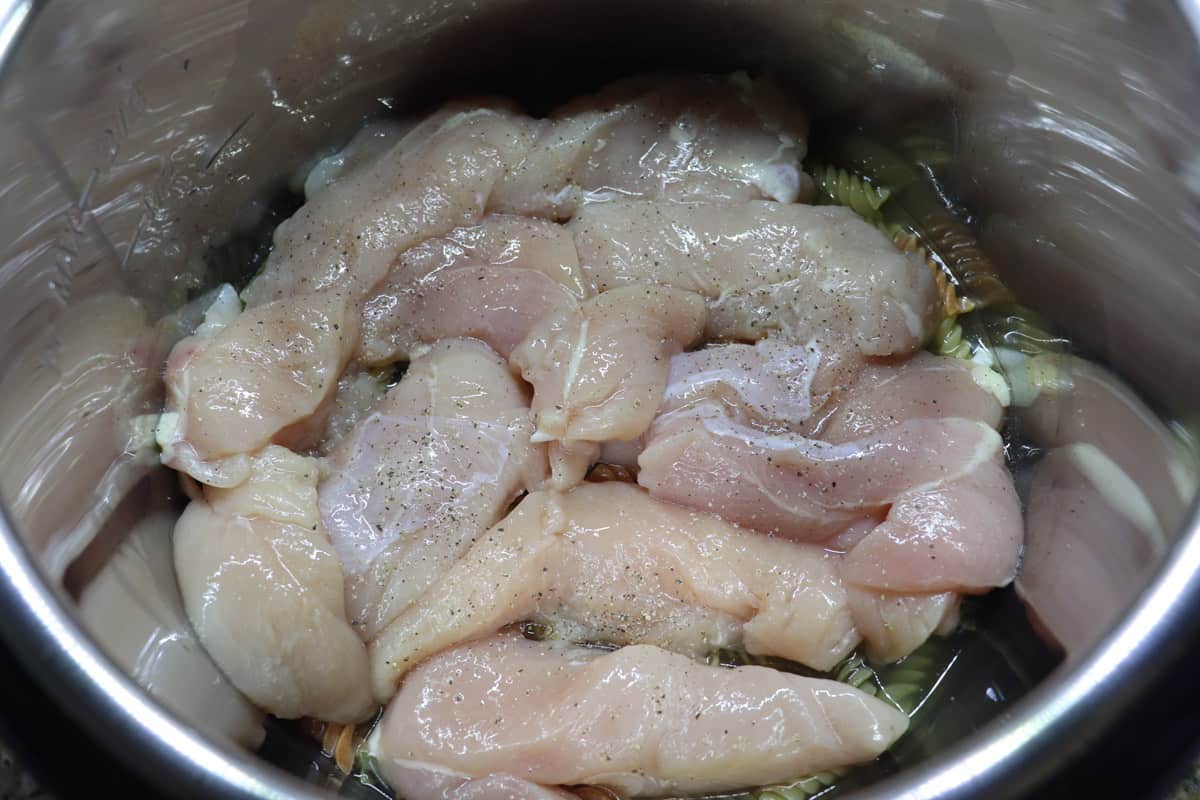 Put the lid on the Instant Pot and cook for 3 minutes high pressure, and then allow 5 minutes natural release.
Once you open the lid, don't worry if the pasta is a little watery because you are about to drain / rinse it. Verify that chicken tenders have reached 165 degrees and are fully cooked.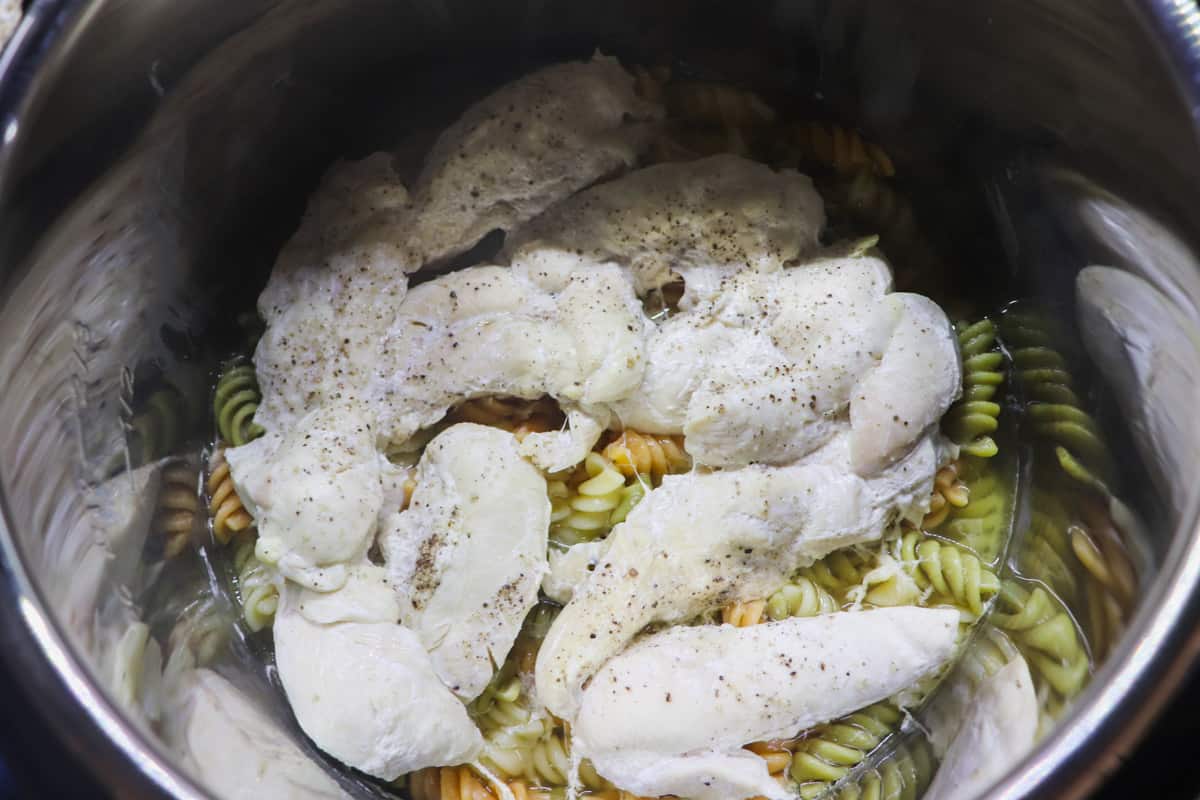 Remove chicken and set aside to let it cool. Put pasta in a strainer and rinse with cold water.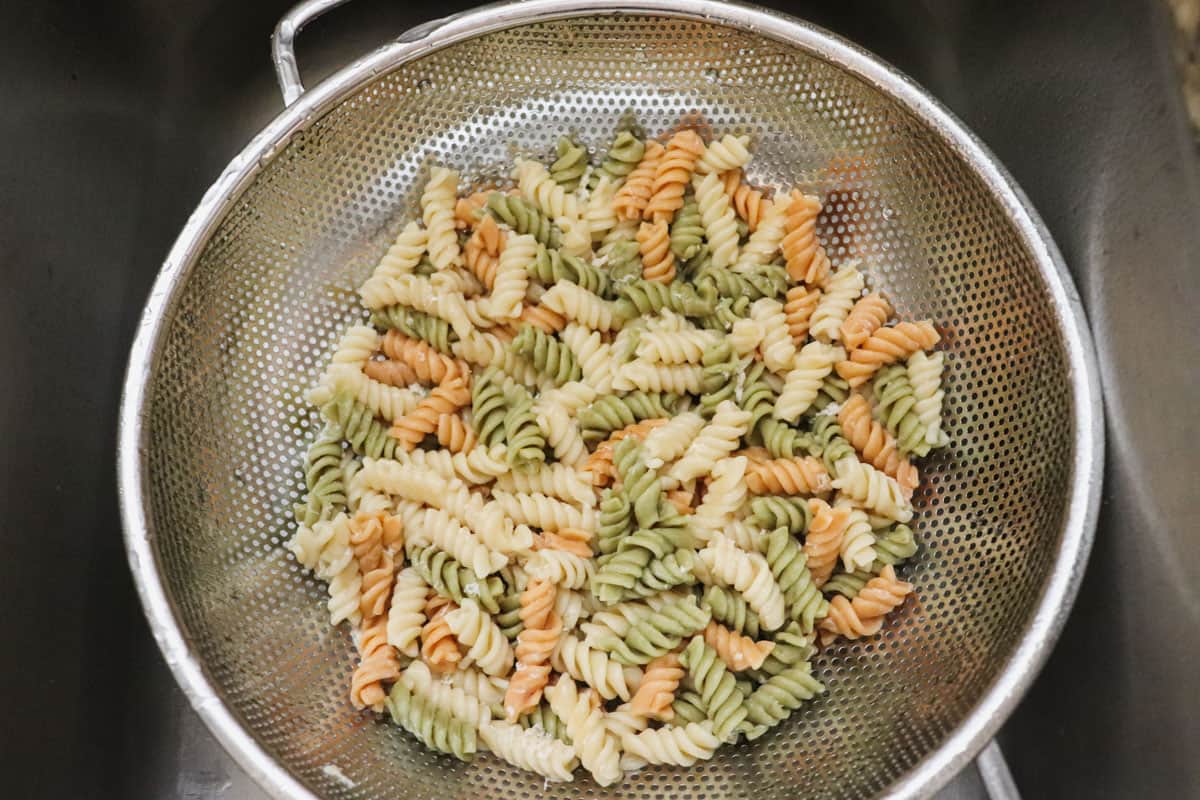 While chicken is cooling, chop up your veggies (onion, bell peppers, and tomatoes). Once the chicken has cooled, dice it up into bite-sized pieces.
Add pasta, chicken, veggies, Italian dressing, Italian seasoning, and parmesan cheese to a large mixing bowl and toss until well combined. If desired, add additional salt and pepper, to taste. I add about ¼ teaspoon salt and pepper.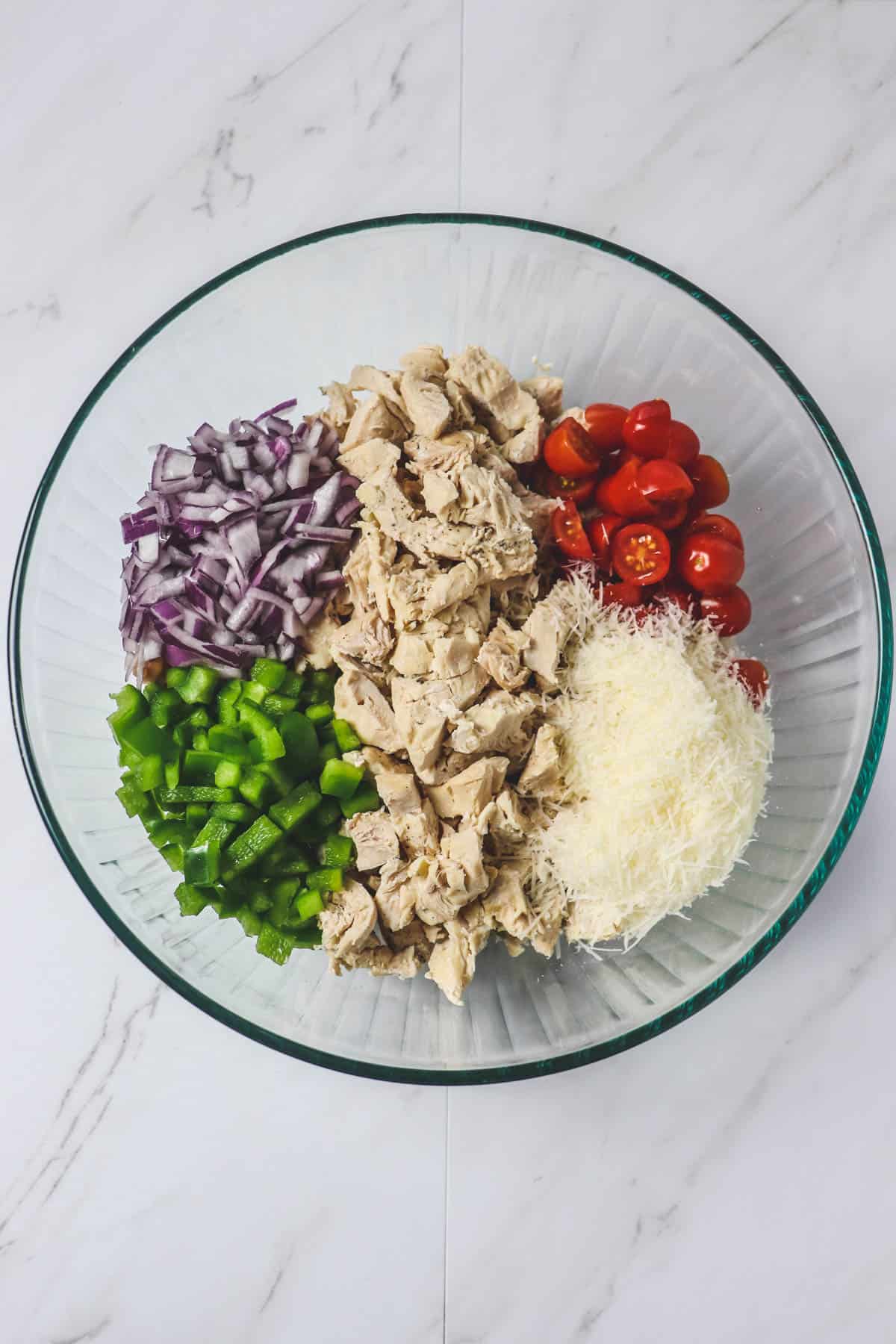 Refrigerate pasta salad for at least 2 hours before serving to allow flavors to mesh together. Serve chilled!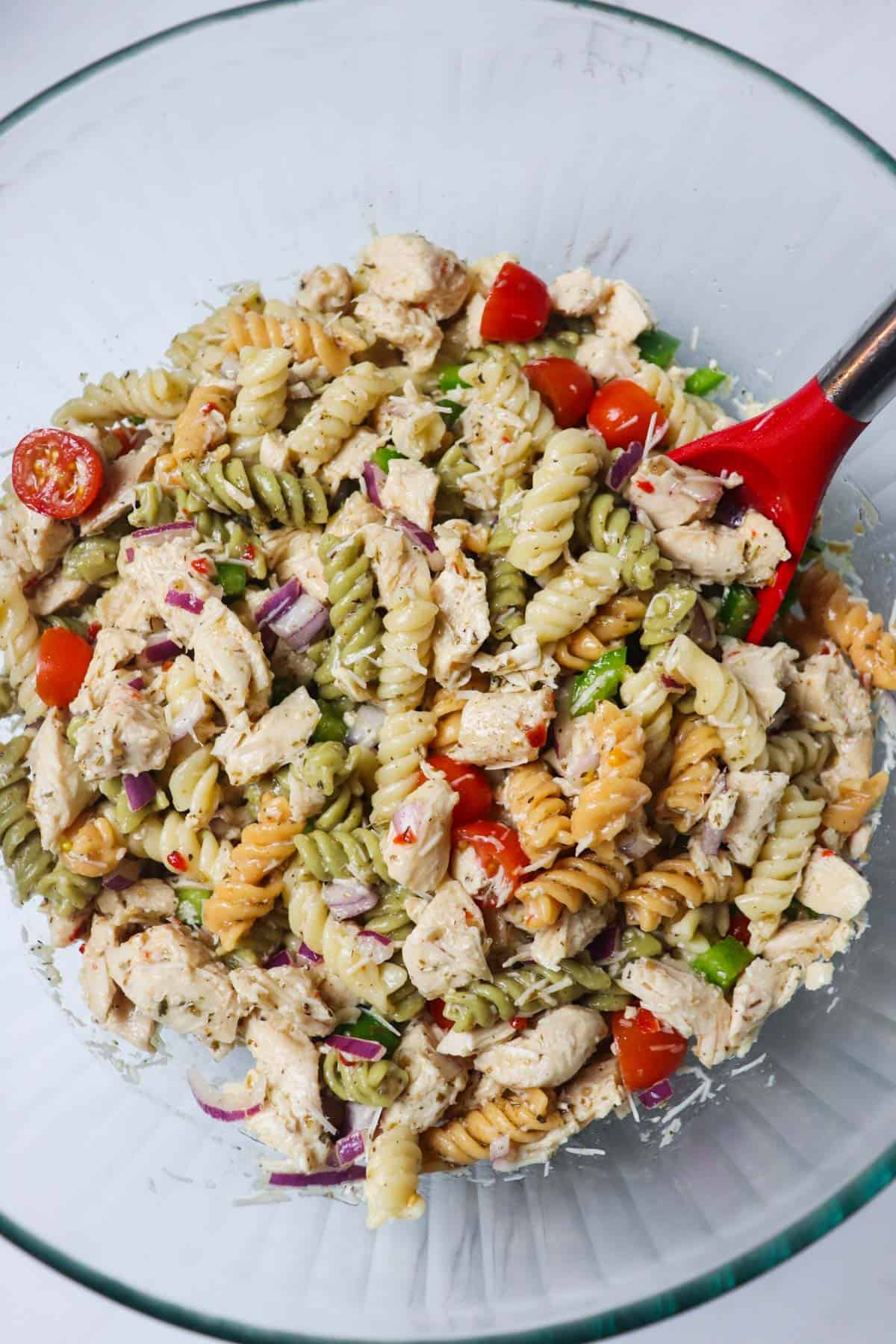 How to Meal Prep Pasta Salad
Pasta salad can absolutely be made in advance. It keeps very well in the refrigerator for about a week.
This is a great meal prep recipe! Sometimes I make a batch of this on Sunday and load it into my favorite lunchbox containers.
Throw it in your lunch box with an ice pack, and you've got an easy and delicious lunch ready to go. No microwaving!
Calories Per Serving
Even though this recipe does contain pasta, it is a fairly low calorie when eaten in moderation. The chicken and veggies make this more filling than a normal pasta salad recipe. Also, there is no greasy and high-calorie pepperoni in my recipe!
One large serving of about ¾ cup is about 180 calories. To eat this for lunch, I usually eat two servings to make it a 360 calorie lunch. With all that yummy Italian chicken, it is very filling!
Looking for More Instant Pot Recipes?
Try these other easy Instant Pot Recipes: