Make yourself a single serving of cookie dough deliciousness with this edible sugar cookie dough for one recipe! With built-in portion control, this is the perfect indulgent dessert!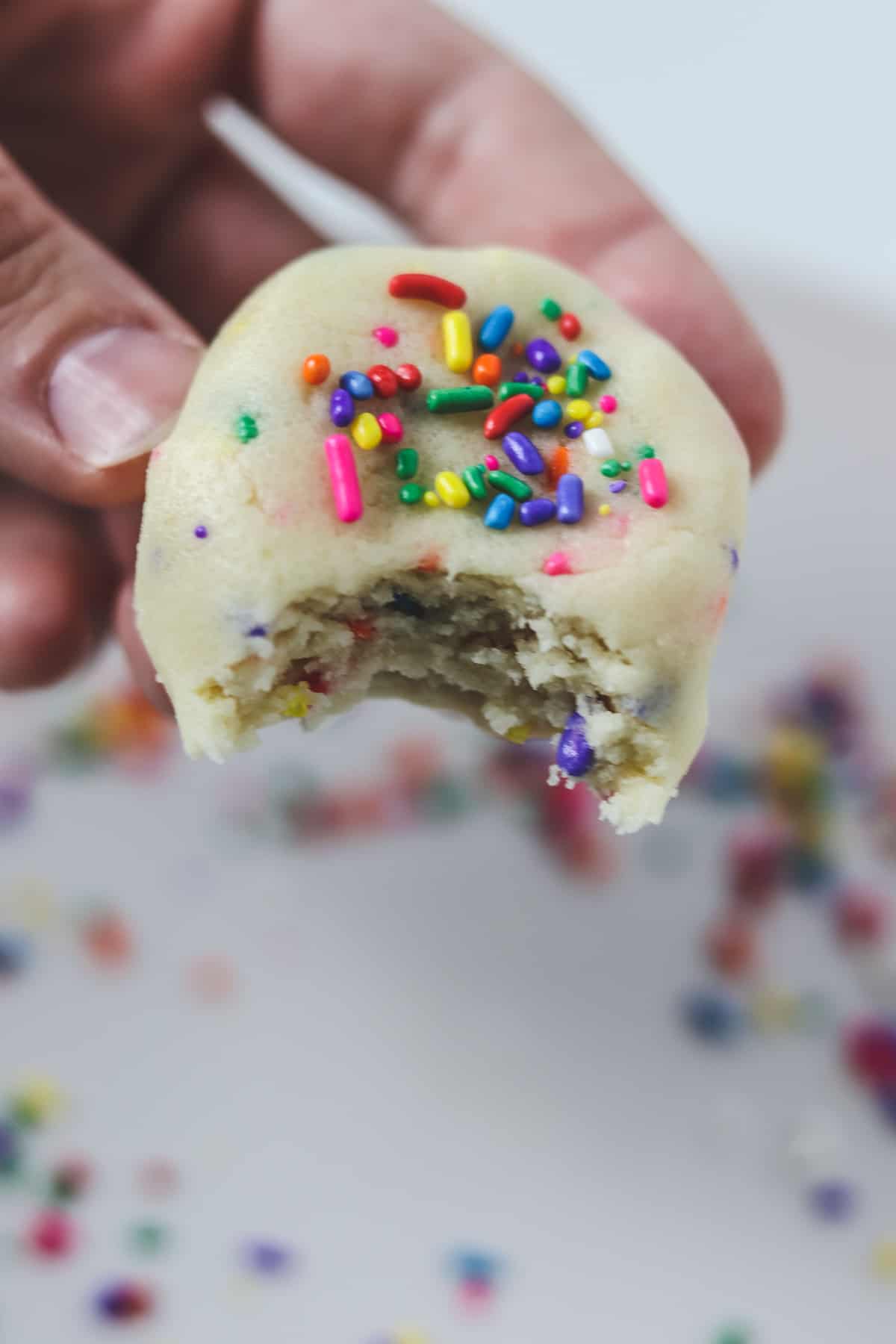 I don't know about y'all, but I really can't stop myself from eating cookie dough. I'm addicted! If I buy a roll of sugar cookie dough, it tends to disappear in no time.
Making myself just one serving is the perfect solution because I can only eat as much as I make! You can still indulge and enjoy a sweet treat without ending up with way too much cookie dough on your hands.
This single-serving cookie dough recipe keeps you to a limit of about 200 calories, which is not too bad for a satisfying dessert. You can even cut it in half and make two 100 calorie cookie dough bites.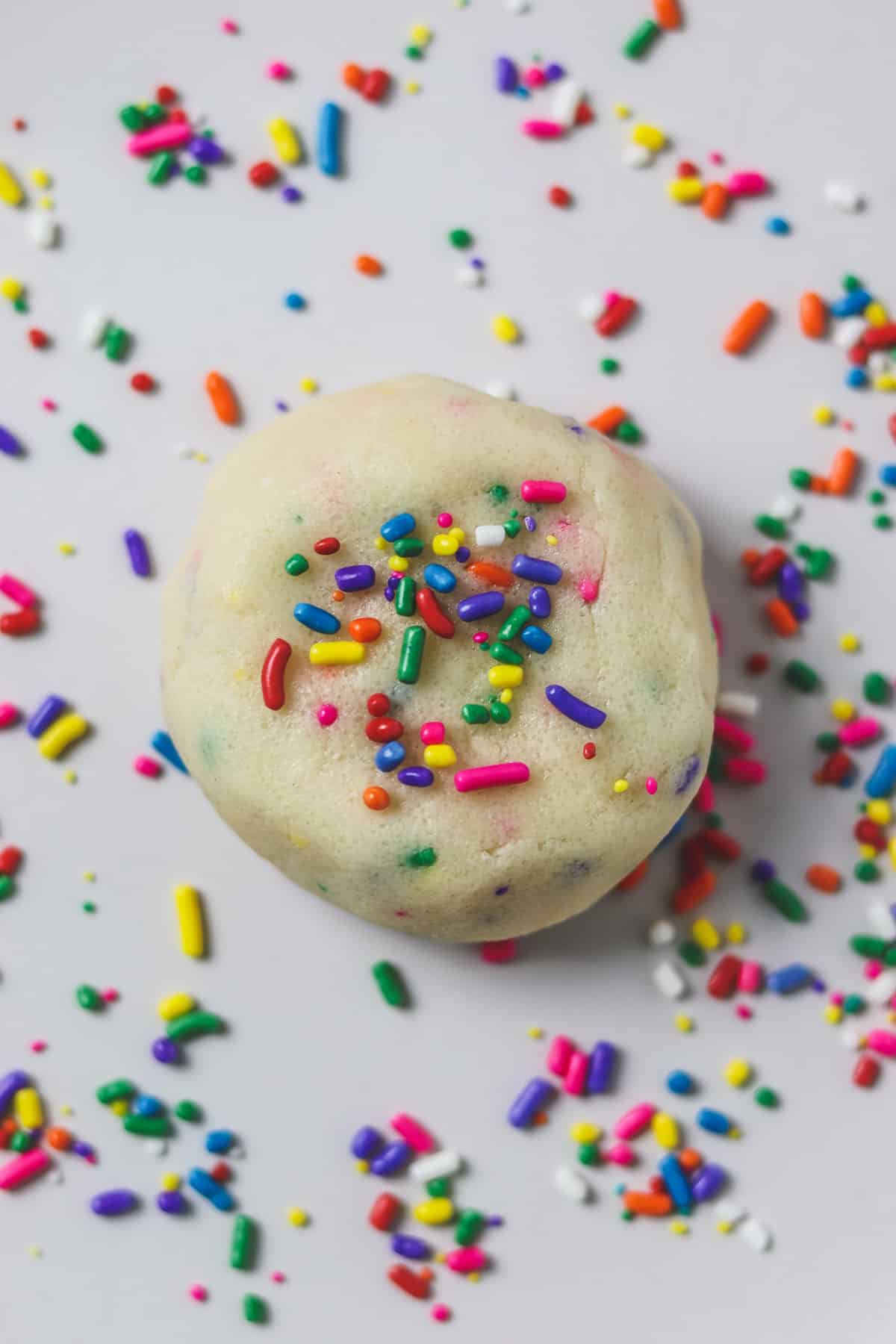 On top of this recipe being perfect for its built-in portion control, it is also egg-free and safe to eat raw! I'll show you how to heat-treat your flour so that it is safe to eat uncooked.
This recipe is quick, easy, and kids will love it! If you're not willing to share, you can double up the recipe to make enough for a friend!
Jump to:
Ingredients
You'll need these ingredients to make this eggless sugar cookie dough:
2 tablespoon flour, heat treated
1 tablespoon butter, softened
4 teaspoon sugar
⅛ teaspoon vanilla extract
Pinch of salt
½ teaspoon sprinkles (optional)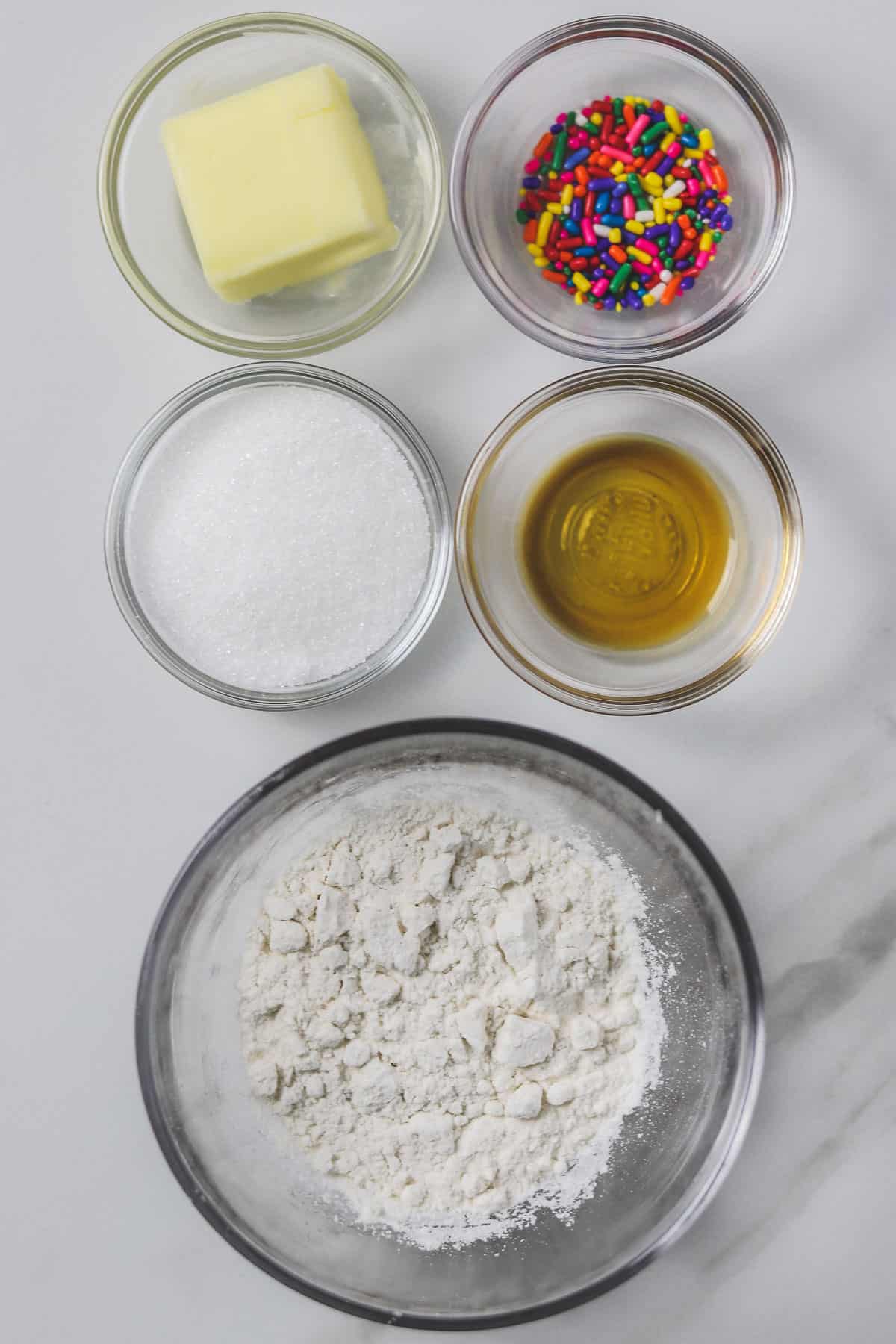 How to Heat-Treat Flour
While many people think the eggs are the dangerous part of raw cookie dough, according to the FDA the raw flour could contain dangerous bacteria. To make it safe to eat, you must heat treat it first.
The easy way to do this is to microwave the flour until it reaches at least 165 degrees.
Place flour in a microwave-safe bowl and heat for 30 seconds. Stir and continue heating in 15-second increments until the flour has reached at least 165 degrees. You can use a meat thermometer or candy thermometer to measure the temperature of the flour.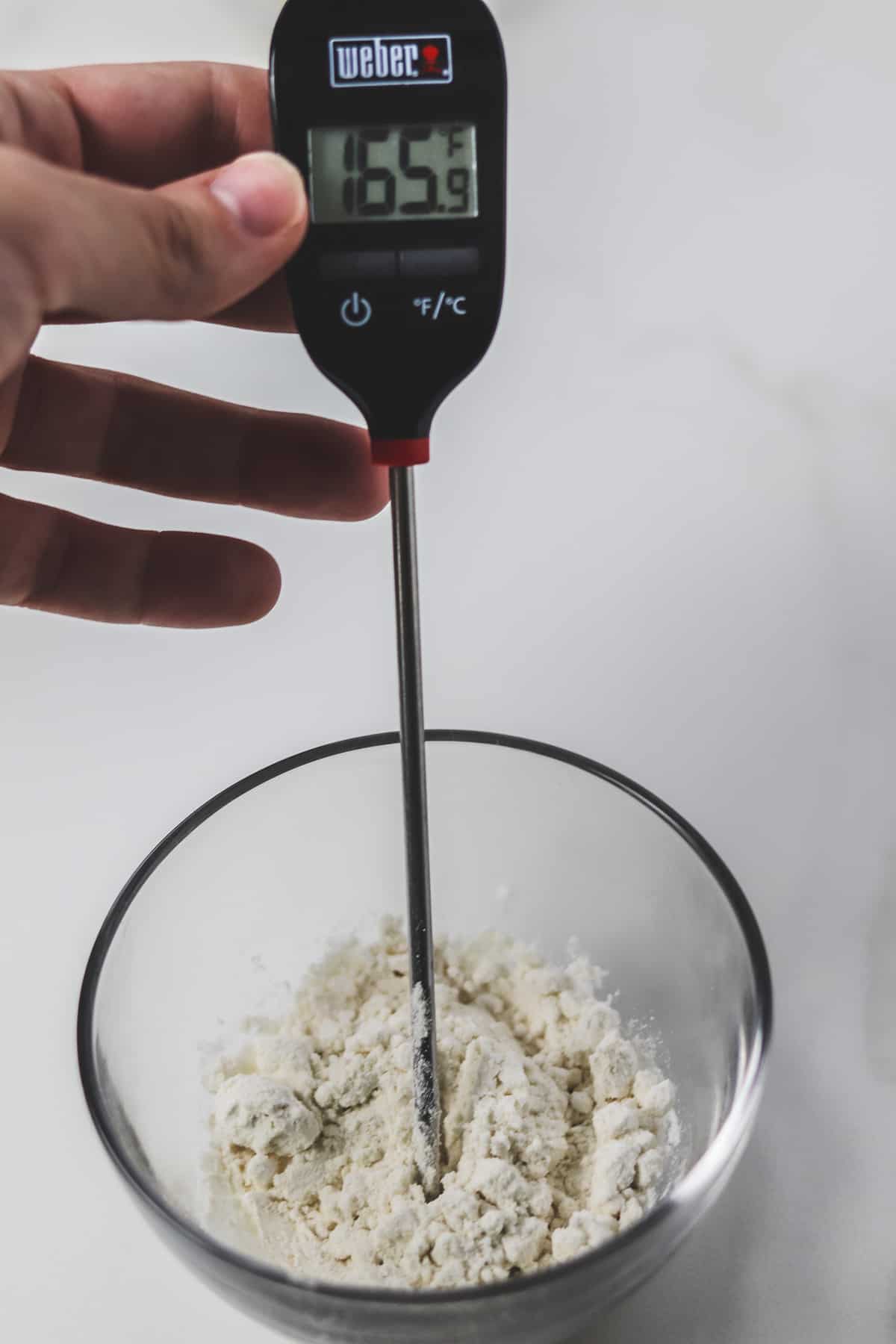 In my microwave, it took a total of 45 seconds for the flour to get hot enough. Make sure that you stir and verify that all of the flour is sufficiently heated. There could be hot spots from microwaving.
DO NOT SKIP THIS STEP. It is very important to heat-treat the flour to kill any dangerous bacteria.
How to Make Edible Sugar Cookie Dough
After you've heat-treated your flour, it's time to make the cookie dough!
Soften the Butter
Your butter must be softened for this recipe. You can either let it sit on the counter at room temperature for 20-30 minutes, or you can microwave it in 10-second increments until soft.
In my microwave, it takes about 20 seconds total to soften 1 tablespoon of butter. Make sure the butter is soft but not melting.
Cream the Butter and Sugar
In a small bowl cream together the butter and sugar until smooth and well combined. A mini silicone spatula works great for this!
You can mix the dough in your mixer, but I don't think it's worth the hassle of dragging out my mixer when just making a single serving of cookie dough.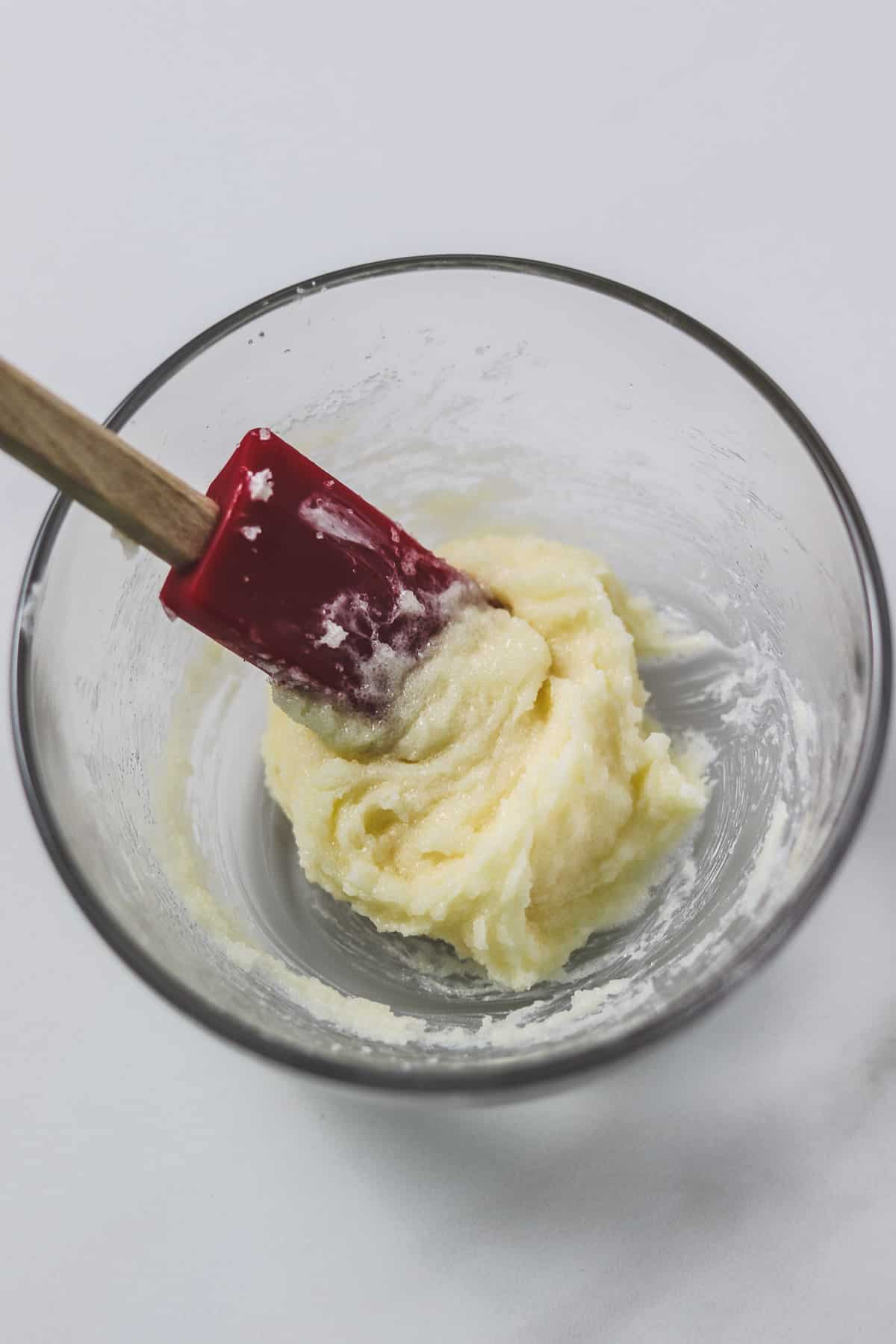 Mix the Other Ingredients
Add in the vanilla extract, flour, and pinch of salt. If your butter is salted, you can skip the pinch of salt.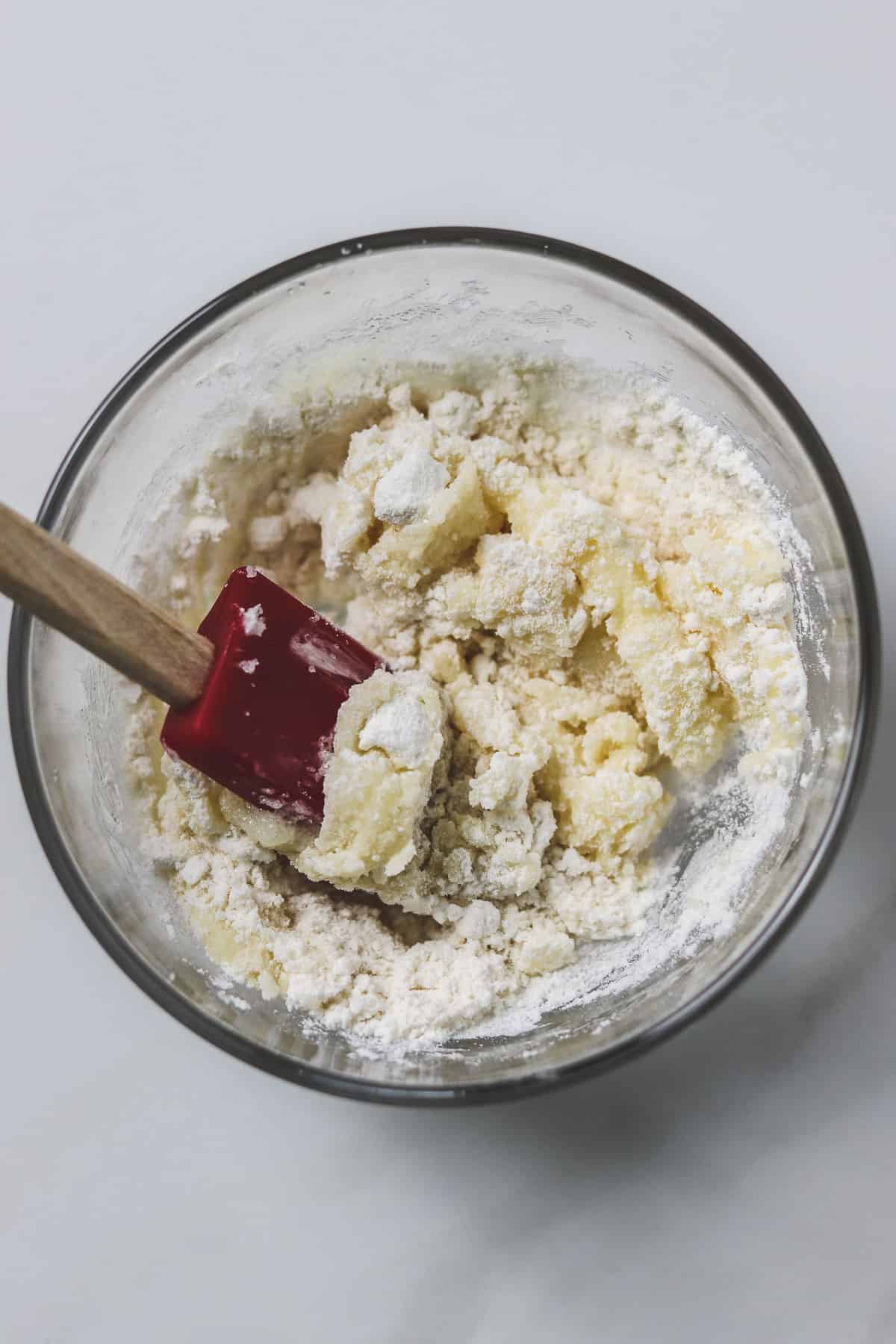 Mix thoroughly until a smooth dough forms.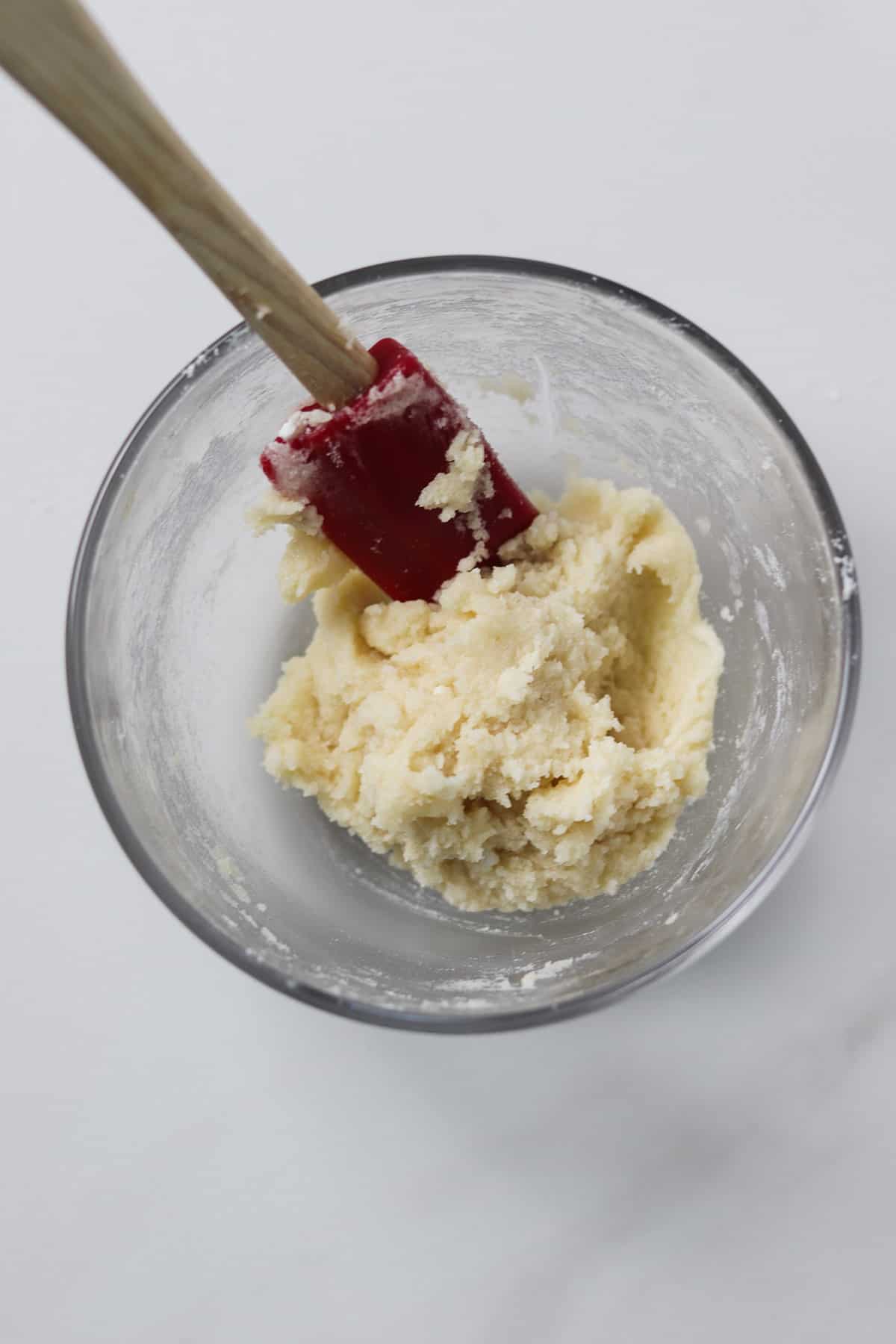 Finally, add in the rainbow sprinkles (if desired).
Refrigerate
If you prefer to eat the cookie dough cold, refrigerate for at least 10 minutes to cool it down.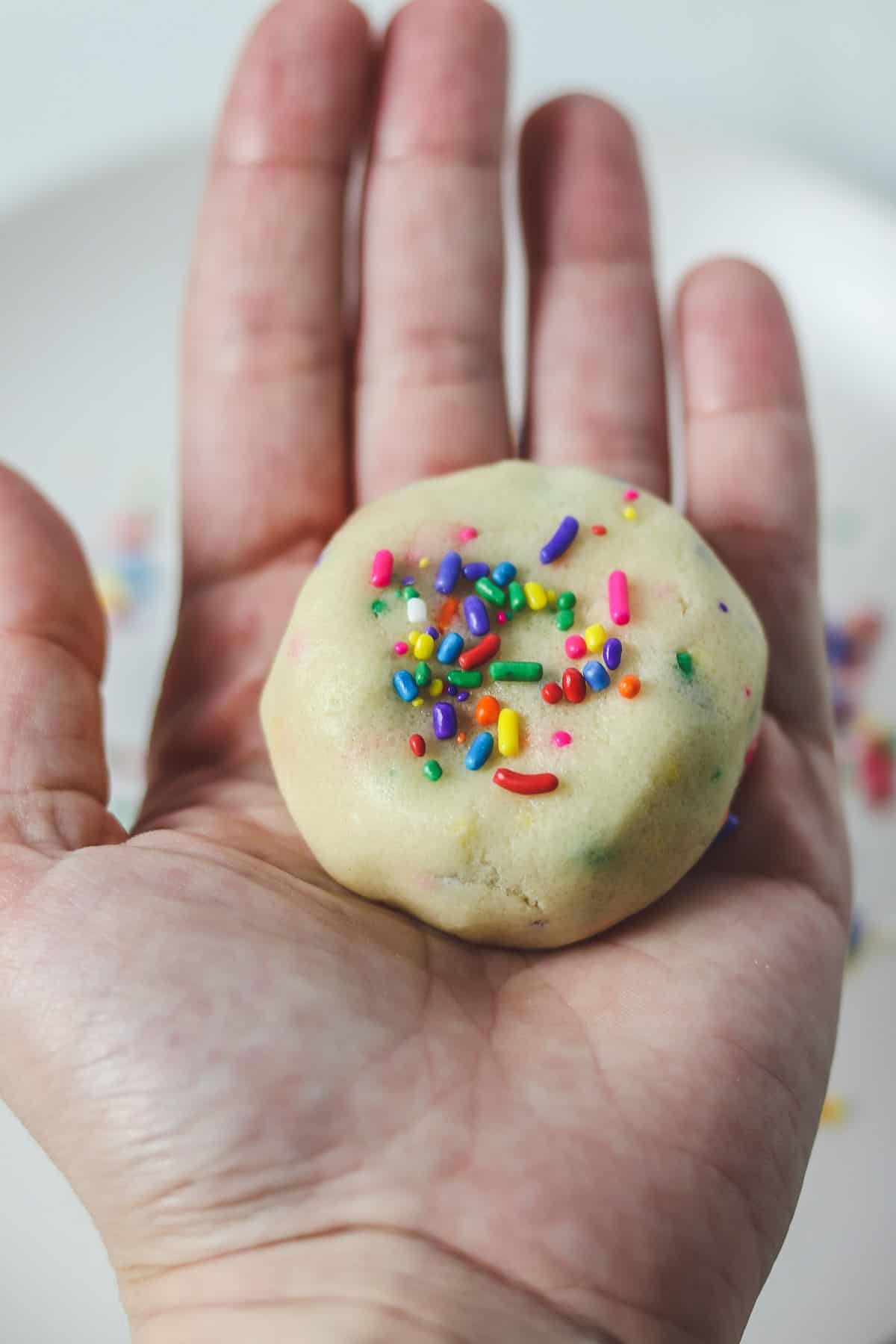 How to Make it Sugar-Free
You can substitute the sugar for any sugar-free sweetener of your choice. You could use Splenda, Swerve, or any other sweetener. Remember if you are using something sweeter than sugar to adjust the amount appropriately.
You don't have to worry too much about the sweetener changing the texture of the dough since you aren't baking this cookie dough. However, using a sweetener designed for baking may yield better results, since the texture will be more like regular sugar.
Can I Bake it?
NO! Do not bake this cookie dough. It will not turn out properly without egg, baking powder, etc. This eggless cookie dough is meant for eating raw only.
On top of missing a few critical ingredients for baking, microwaving the flour may ruin its baking integrity as well. Stick to eating the raw dough!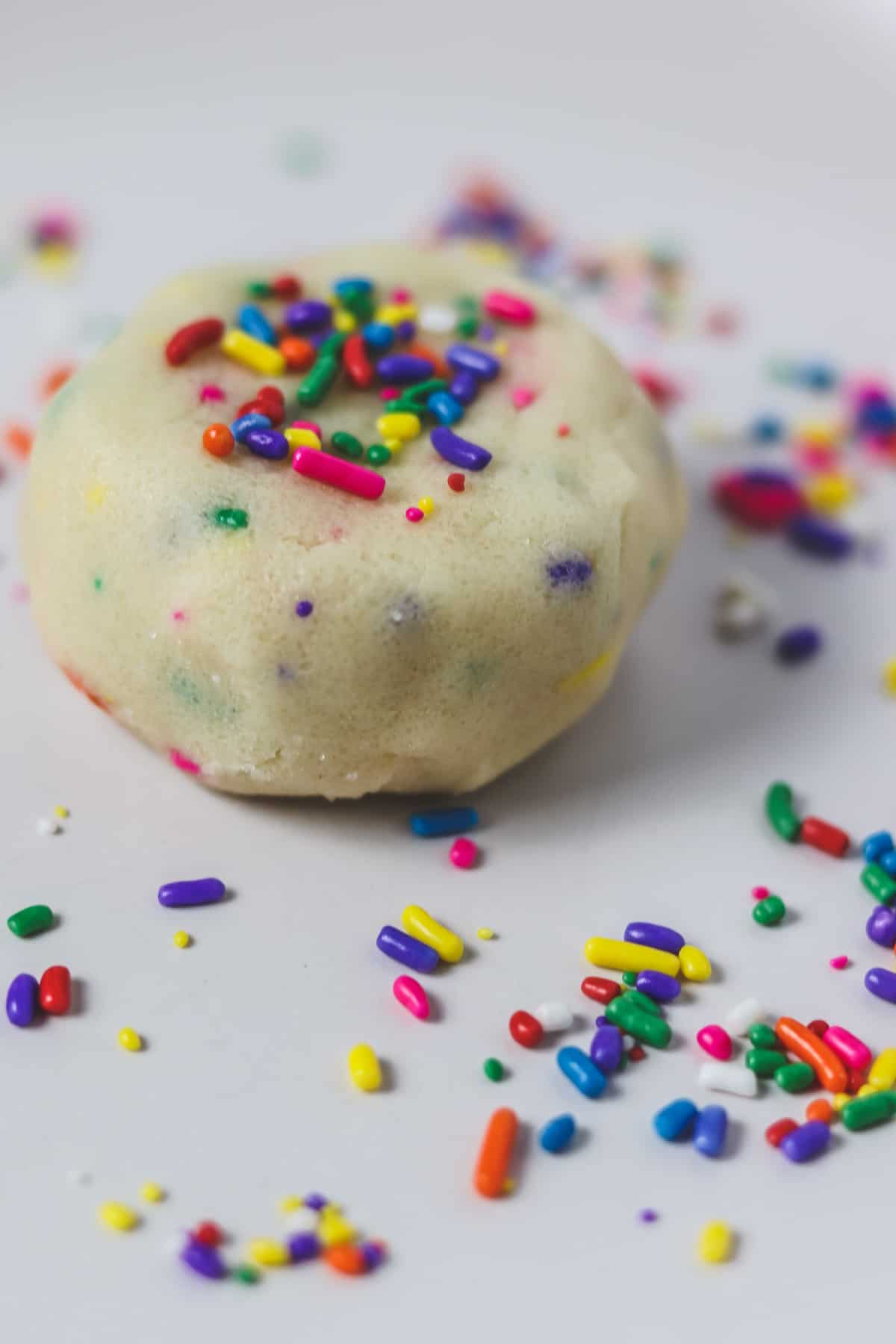 How to Make a Larger Batch
If you want to make more than one serving, you can double, triple, or quadruple the recipe.
To make a family-sized batch (4 servings), here are the recipe quantities:
½ cup flour
¼ cup butter, softened
⅓ cup sugar
½ teaspoon vanilla extract
⅛ teaspoon salt
2 teaspoon sprinkles (optional)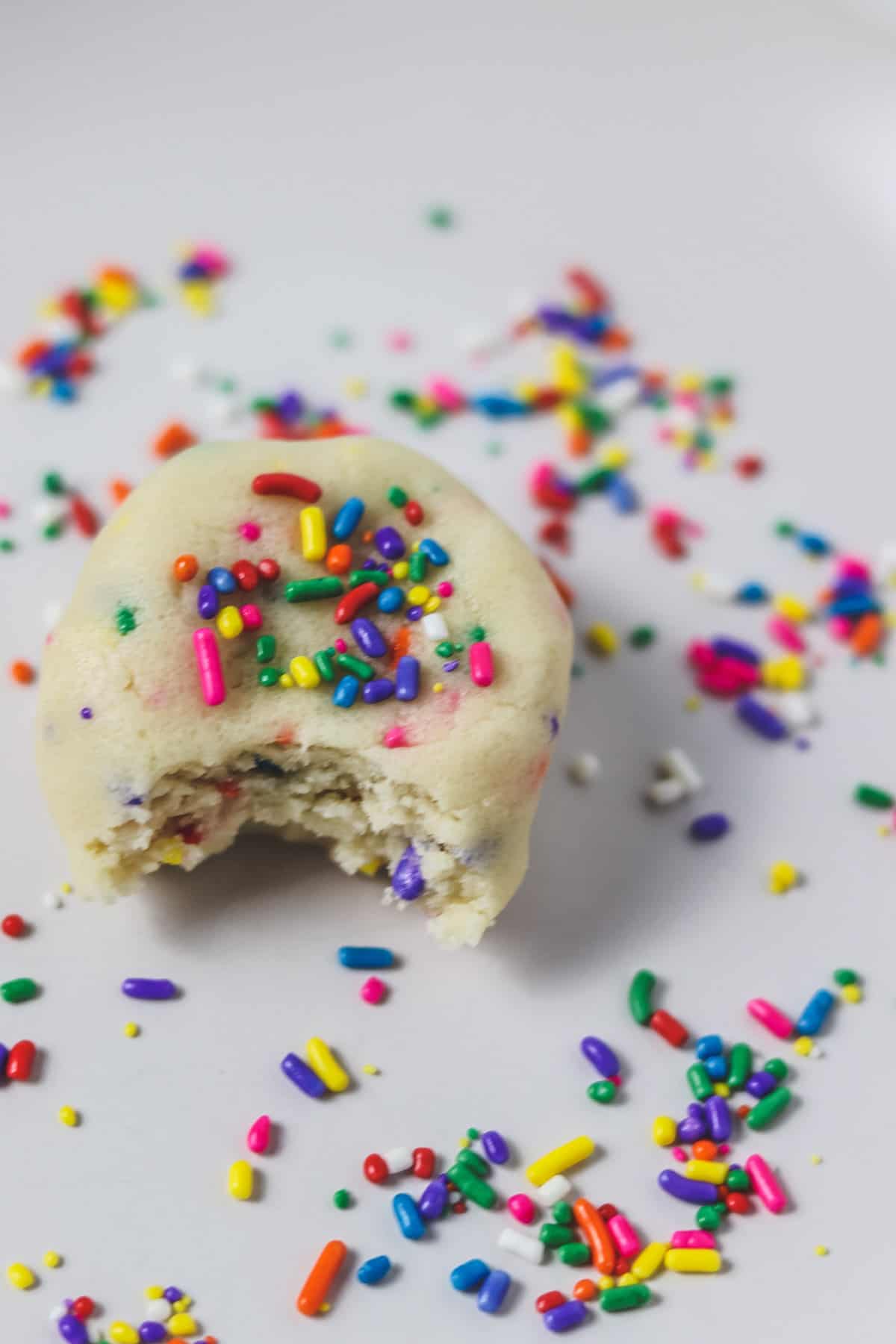 Calories Per Serving
There are 225 calories in this recipe if you follow it exactly. This makes a pretty good portion of dough - about the same as a large cookie. You can cut it in half or split it with a friend to make a (nearly) 100 calorie treat. Leftovers can be stored in the refrigerator for 3-4 days.
If you substitute the sugar for a zero-calorie sweetener, the calorie count will be lowered to about 160 calories.
Recipe