This greek yogurt cake makes the perfect low-calorie dessert! A sugar-free yellow cake mix combined and some nonfat vanilla greek yogurt are the only ingredients you need for this simple and easy recipe.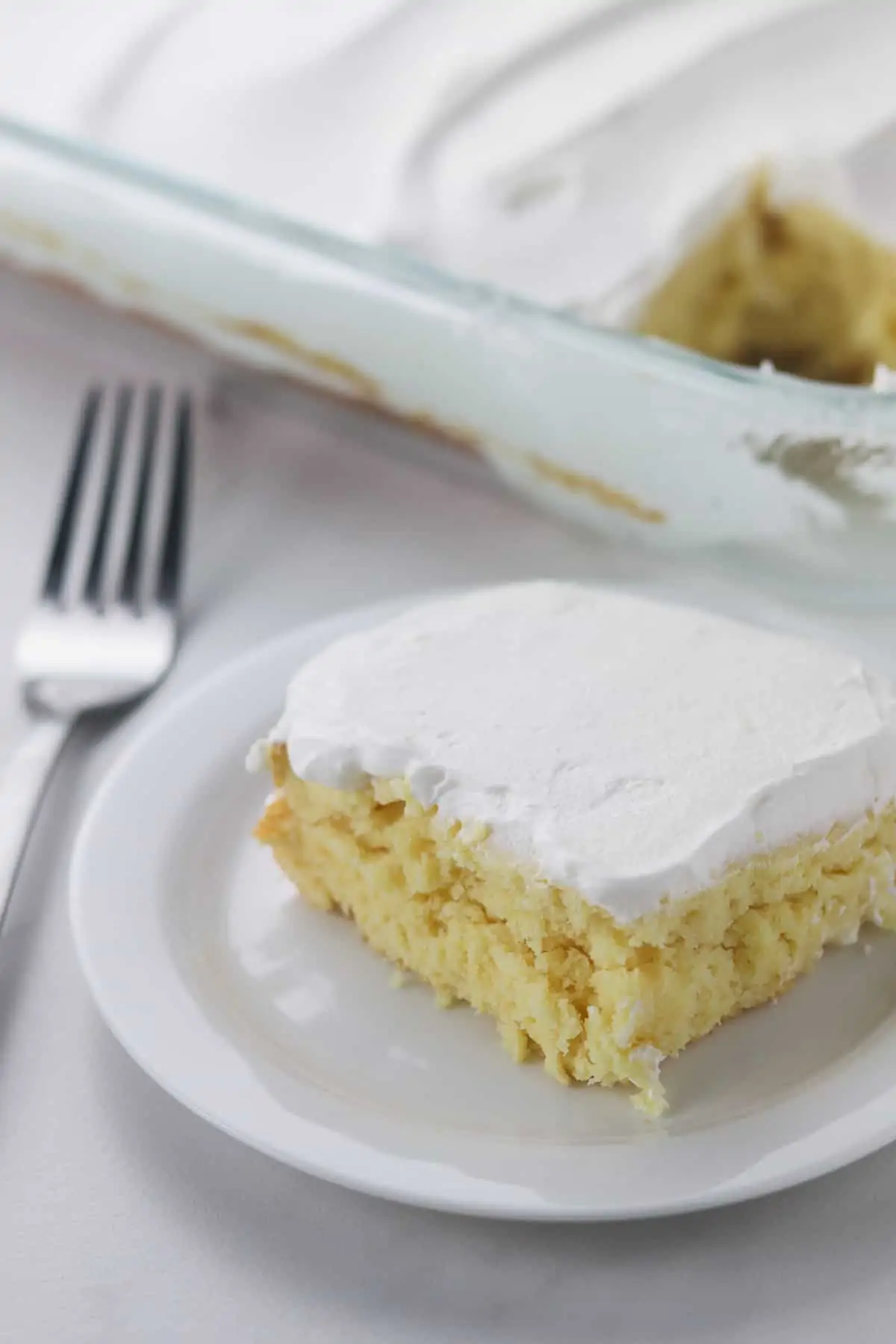 If you're looking for an extremely easy cake recipe without all of the usual oil, eggs, and sugar, this is the recipe for you! Similar to my low-calorie banana bread, yogurt is the secret ingredient in this cake recipe. Yogurt can often make a great low-calorie substitute for oil in baked goods.
This recipe pairs perfectly with my sugar-free frosting recipe for a low-calorie cake topping. Or if you're really just craving cake batter, skip the baking and try out this dunkaroo dip.
Jump to:
Ingredients
You will need: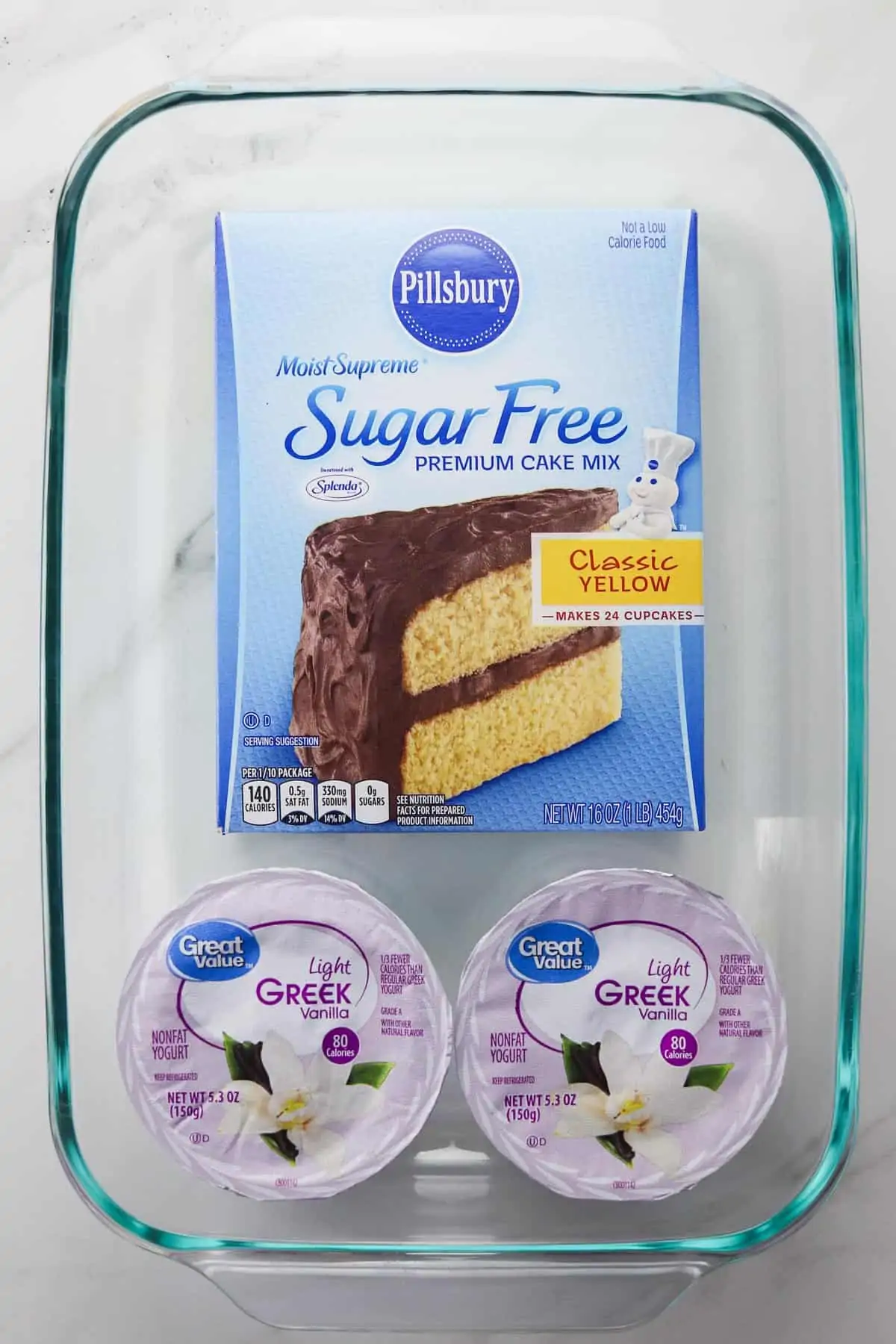 1 box sugar-free yellow cake mix (16 oz), or any 15-16 oz box cake mix
2 individual sized containers (5.3 oz each) nonfat vanilla greek yogurt
1 cup water
8 oz container cool whip, optional, for frosting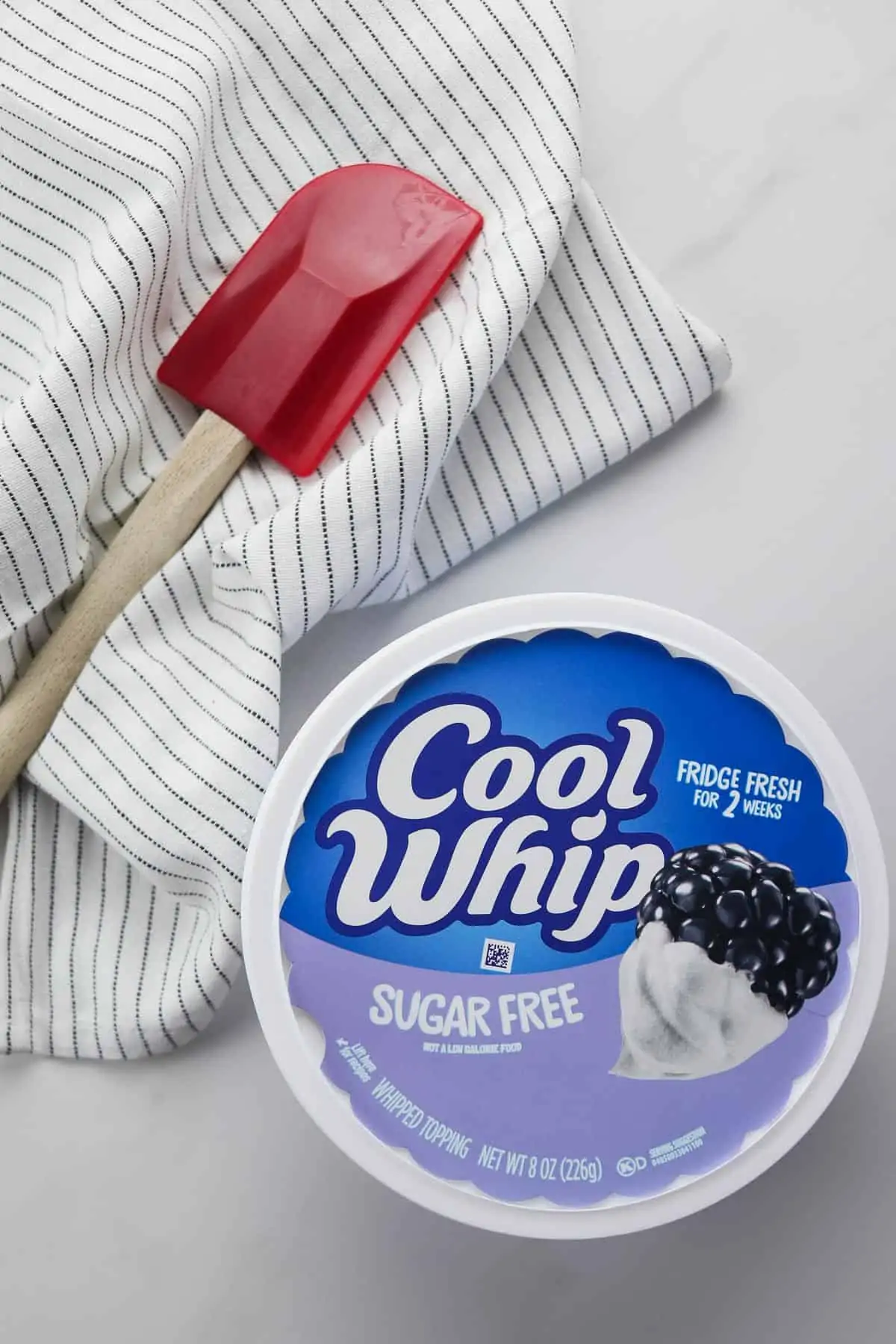 Instructions
First, preheat your oven to 325 degrees F. Next, mix up the batter. Add the cake mix, yogurt, and water to a medium-sized mixing bowl.
Using a stand mixer or handheld mixer, beat the cake batter on medium speed for 2-3 minutes, or until no lumps remain.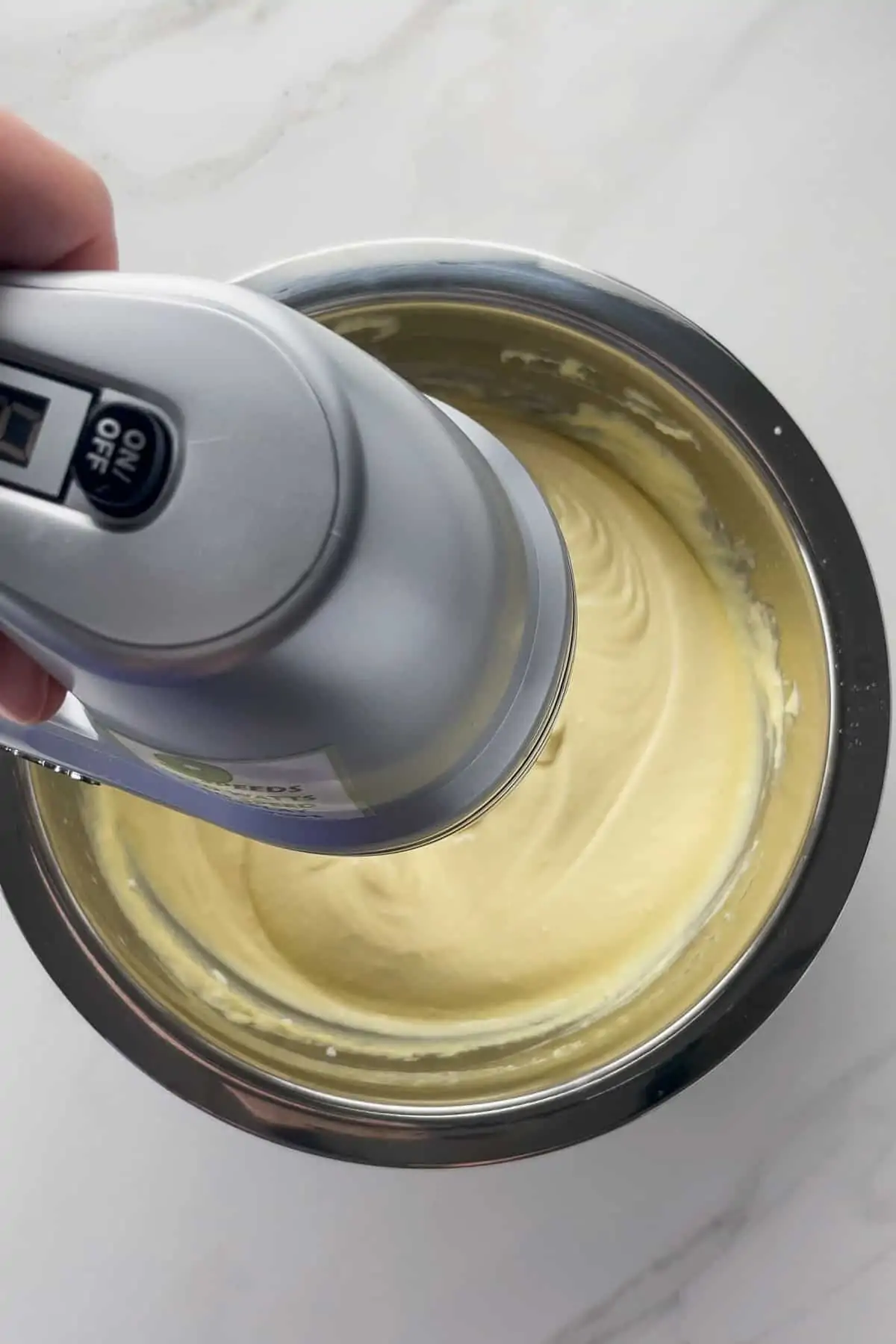 Spray a 9x13 pan with nonstick cooking spray, and pour the batter into the pan. Spread the batter into one even layer.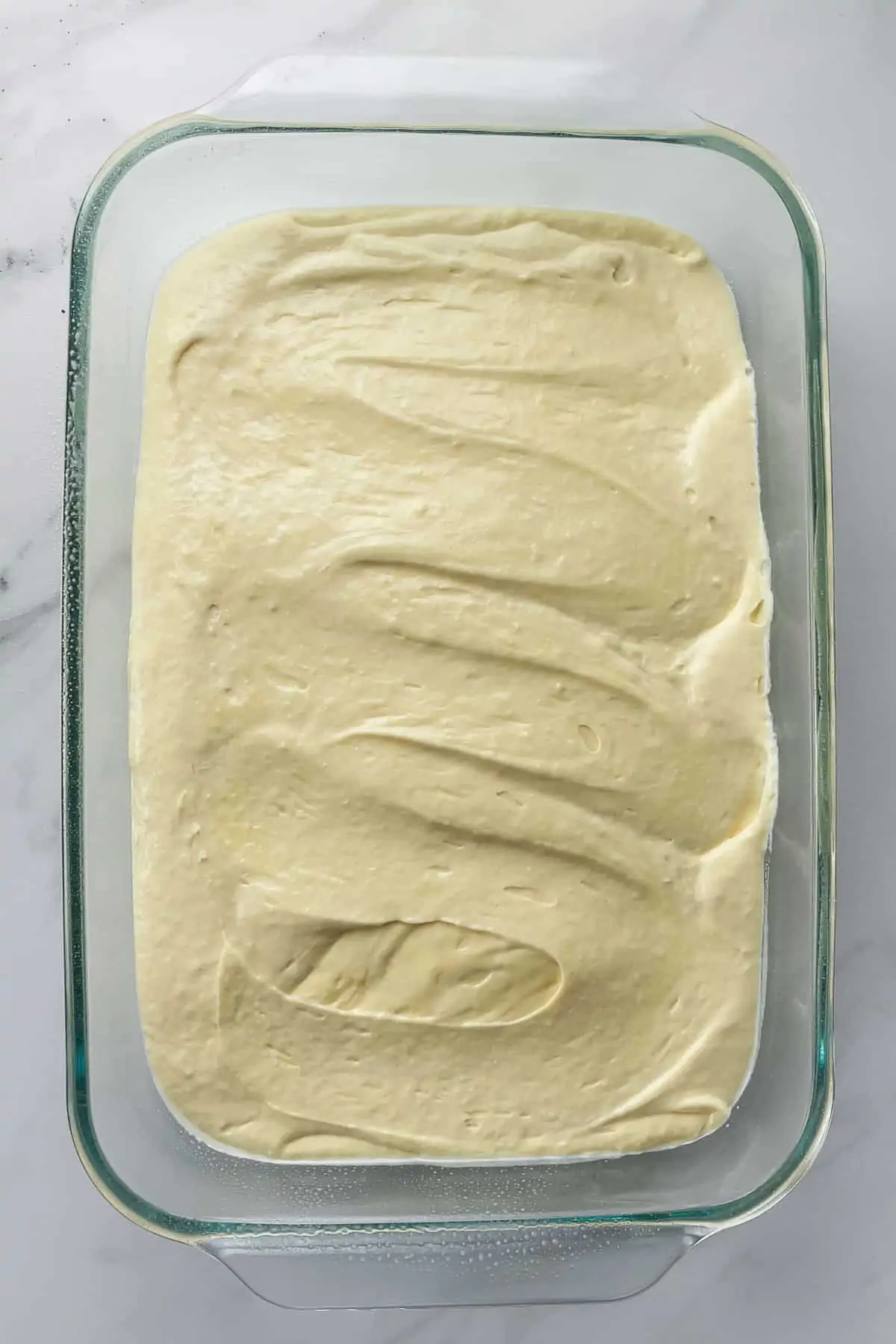 Bake at 325 degrees F for 34-38 minutes or until a toothpick inserted into the center comes out clean. If you're making cupcakes or smaller cakes, be sure to follow the baking instructions on the cake mix box.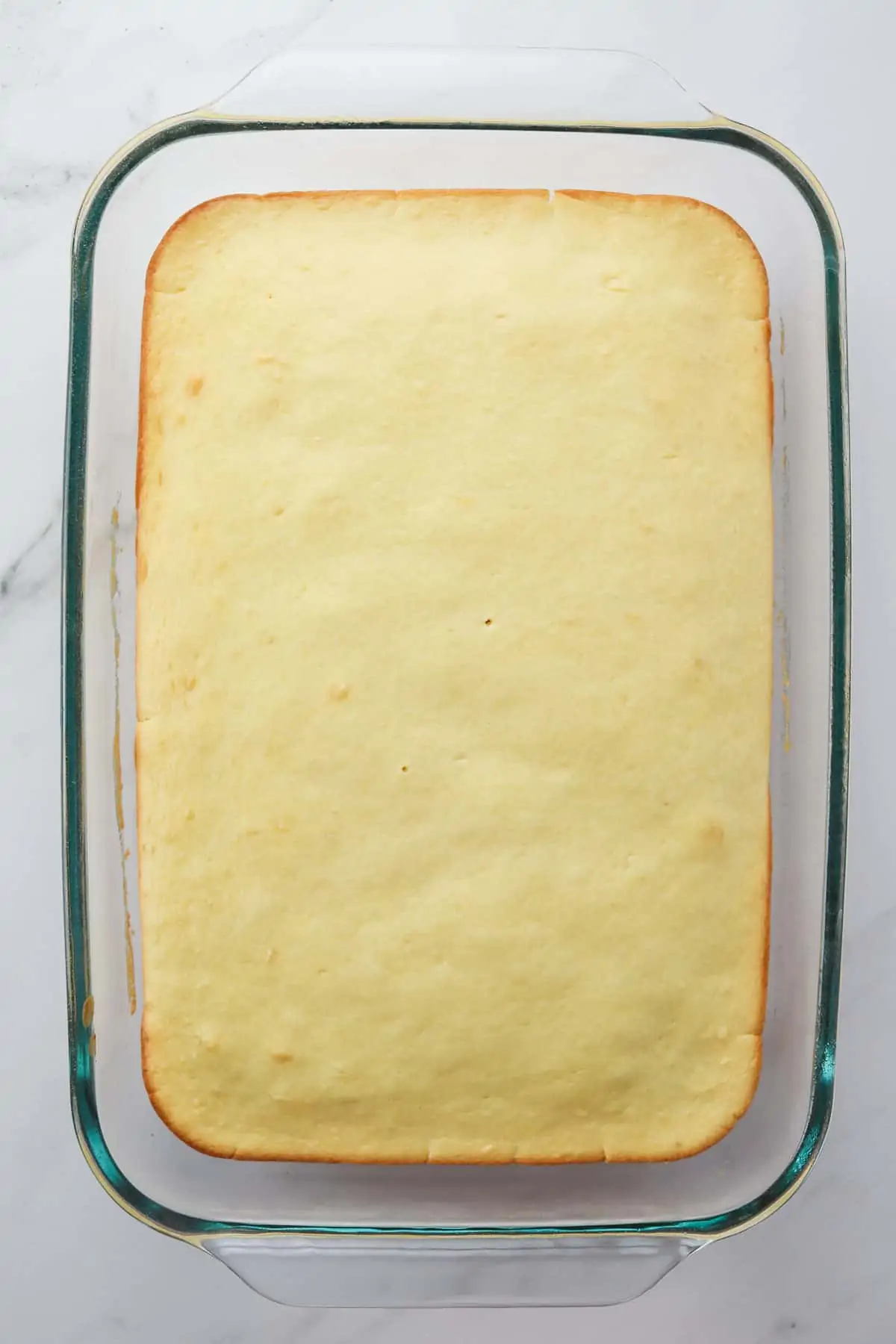 Allow the cake to completely cool before frosting. Top with plain cool whip, a recipe of sugar-free whipped frosting, or your frosting of choice.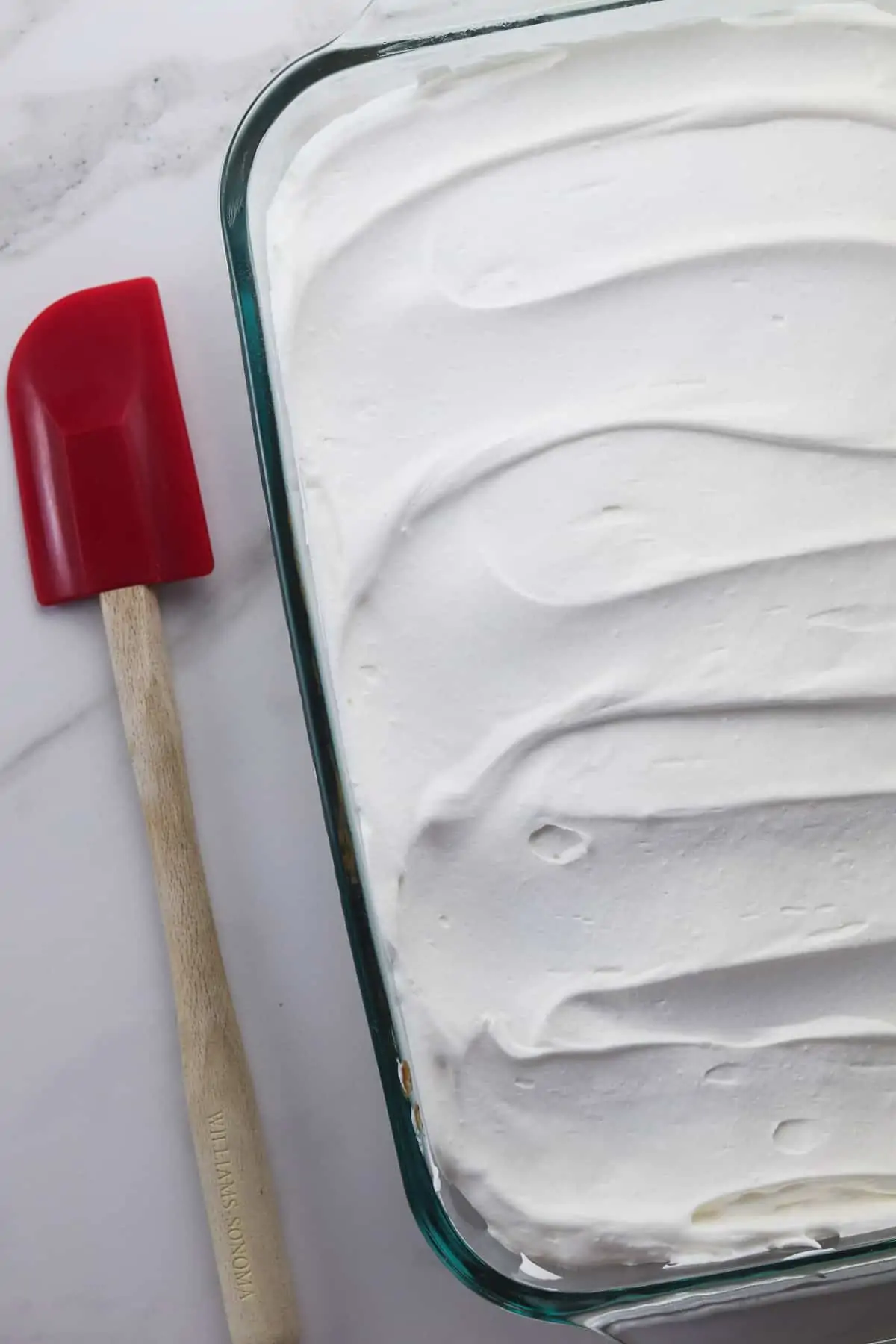 Variations
Cake Mix Flavors - while my favorite is to use the Pillsbury sugar-free yellow cake mix, you can use any box of cake mix that is roughly 15-16 oz. Choose your favorite brand and flavor! To make your recipe as low-calorie as possible, use a sugar-free mix. Chocolate cake mix is also a good choice!
Yogurt Flavors - if you dislike the tangy flavor of greek yogurt, you could also use regular yogurt instead. You can use any flavor of yogurt that mixes well with your chosen cake mix flavor. I would avoid any yogurt with chunks of fruit in it (smooth varieties work best!).
Cupcakes or 8" rounds - to make cupcakes or smaller round cakes instead of a 9x13, just follow the baking times listed on the cake mix box. Smaller cakes won't take as long to bake as one 9x13.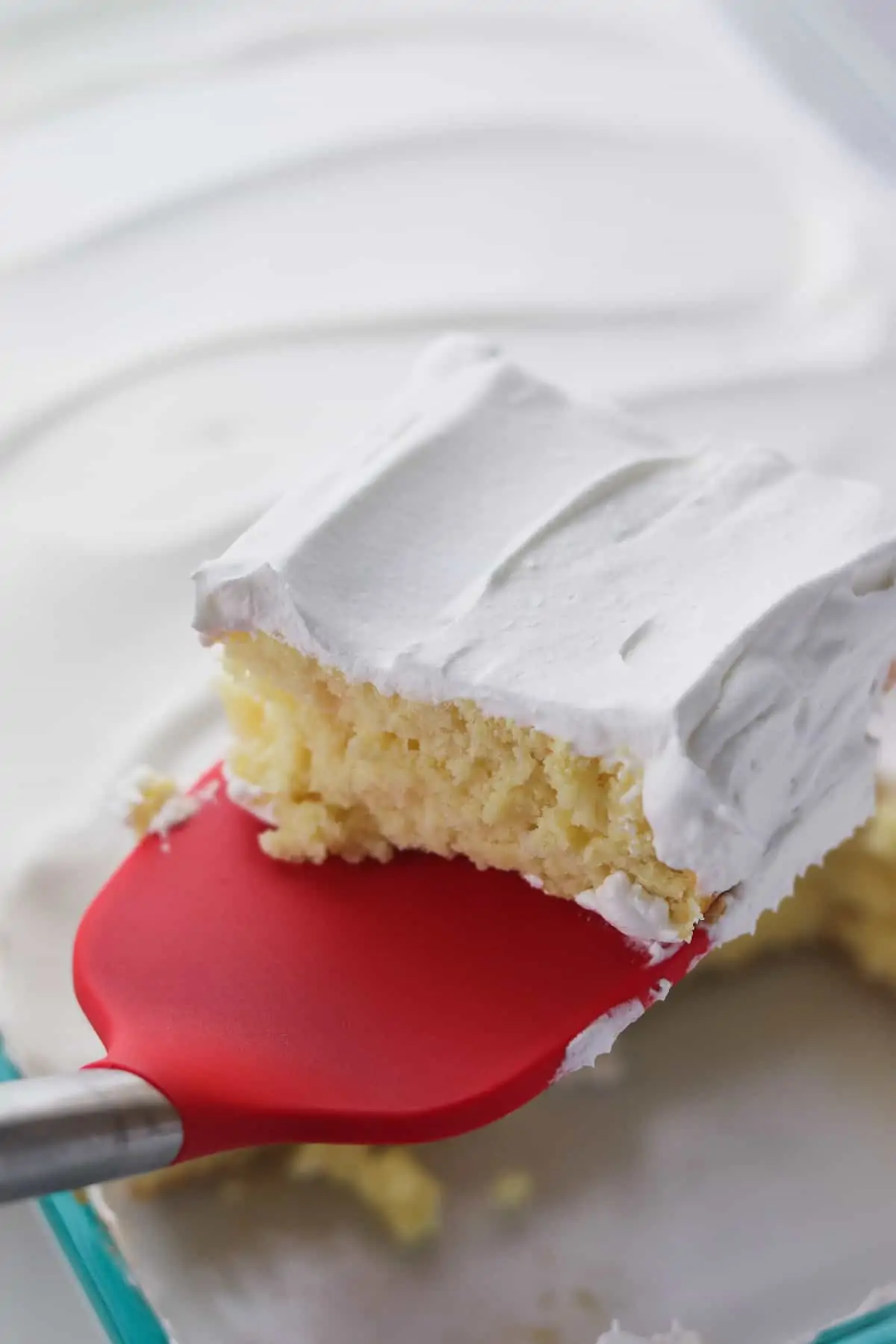 Toppings
This cake is delicious topped with light cool whip or a batch of sugar-free frosting. To add a pop of color, you can also top with fresh fruit such as strawberries, blueberries, kiwi, pineapple, or mandarin oranges. The fruit will add even more flavor without adding many calories to your dessert.
Storage
This cake is best stored in the refrigerator in an airtight container. It will keep fresh for 3-4 days. If you top it with cool whip, you must keep it refrigerated. Be sure to not leave it on the counter for more than 30 minutes or so to keep the cool whip fresh.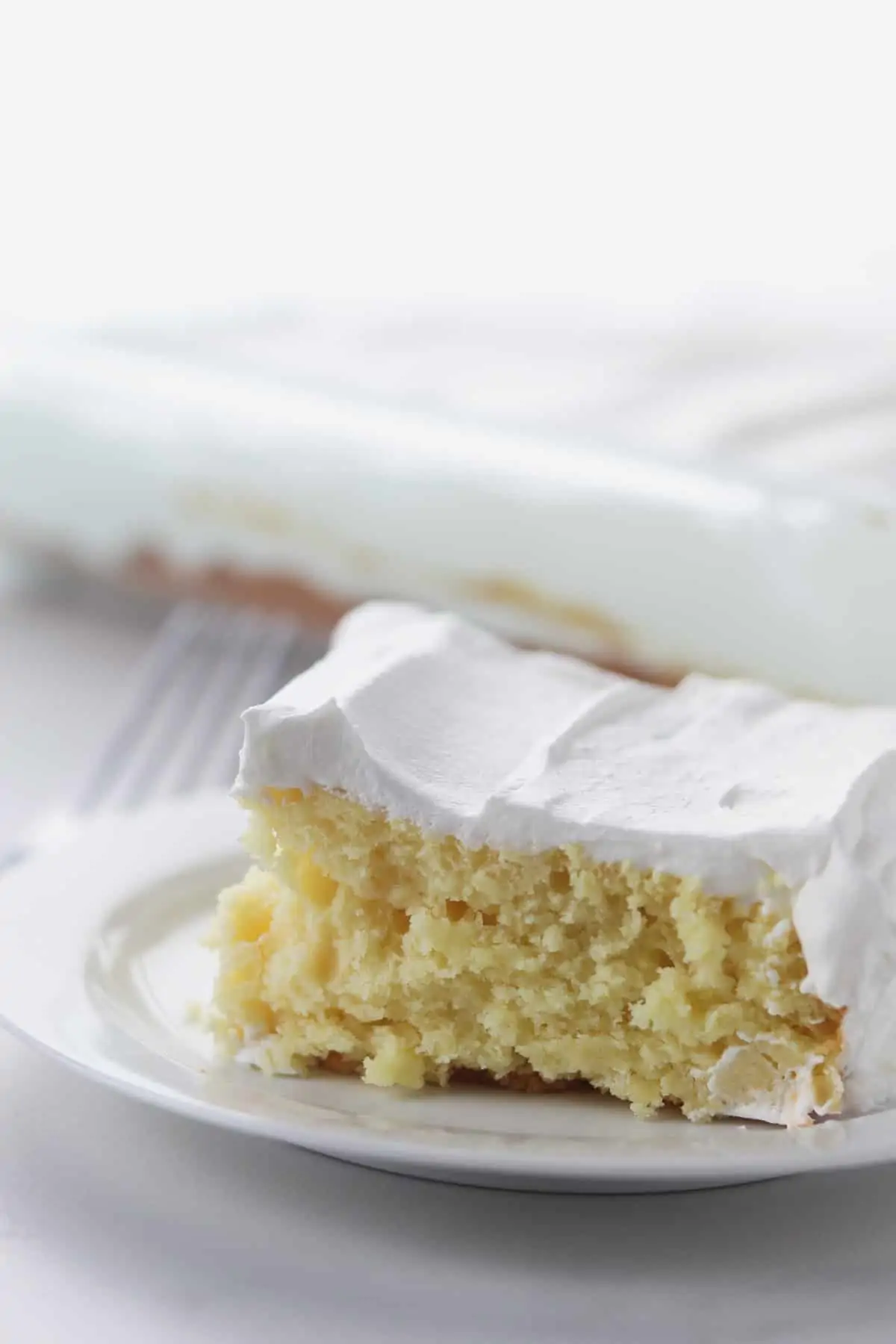 Calories & Serving Size
One serving of this cake (1/24 of the cake or about a 2" by 2" slice) has only about 70 calories! You can add on 2 tablespoons of sugar-free cool whip for only 20 calories, making the entire piece under 100 calories. You don't have to feel guilty about this cake!
To slice your cake into 24 servings, cut it into a 4x6 grid (roughly 2" by 2" pieces).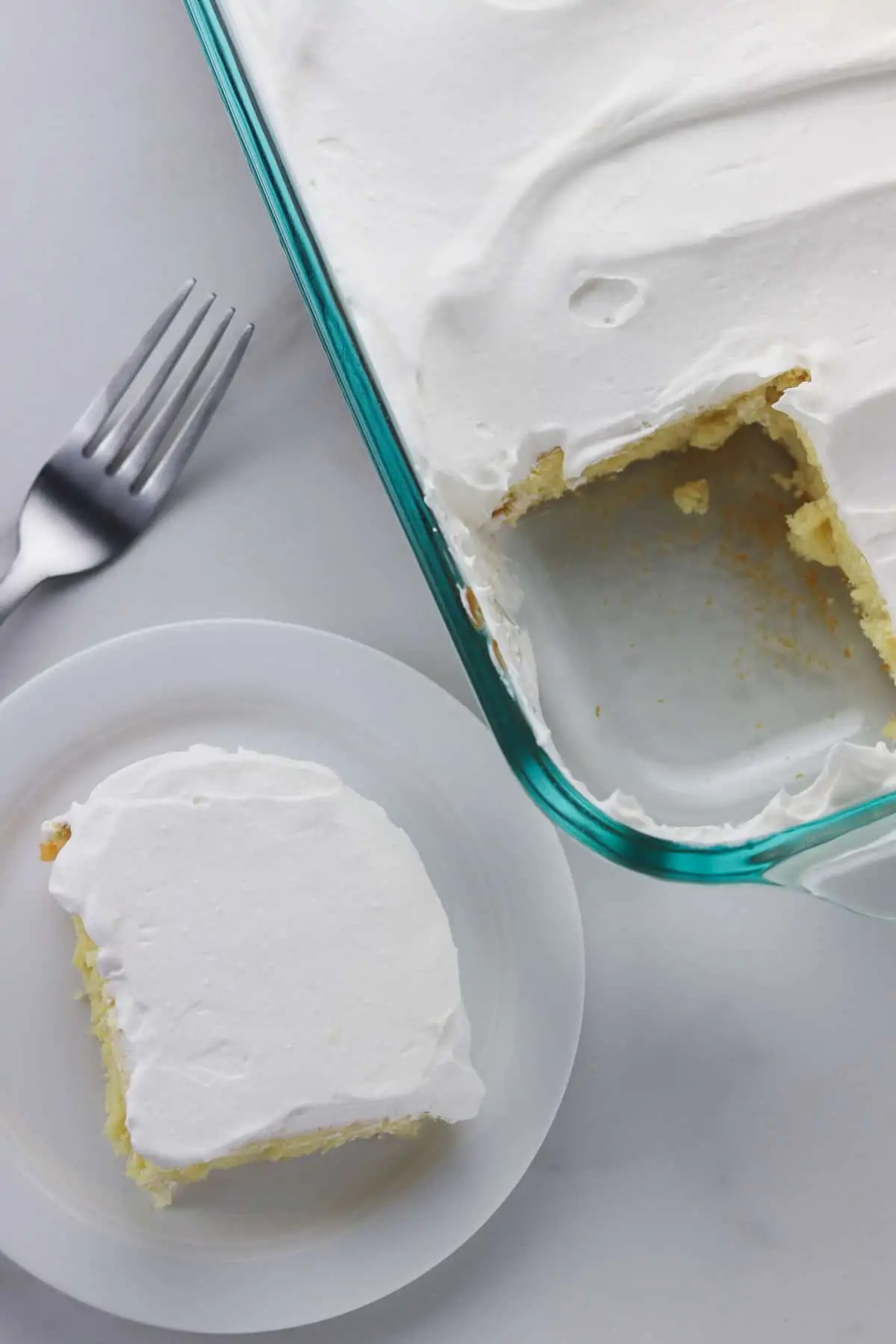 Recipe