This low-calorie banana bread cuts the calories, fat, and sugar while still being incredibly moist and delicious! You won't miss all those extra calories once you try this healthy banana bread.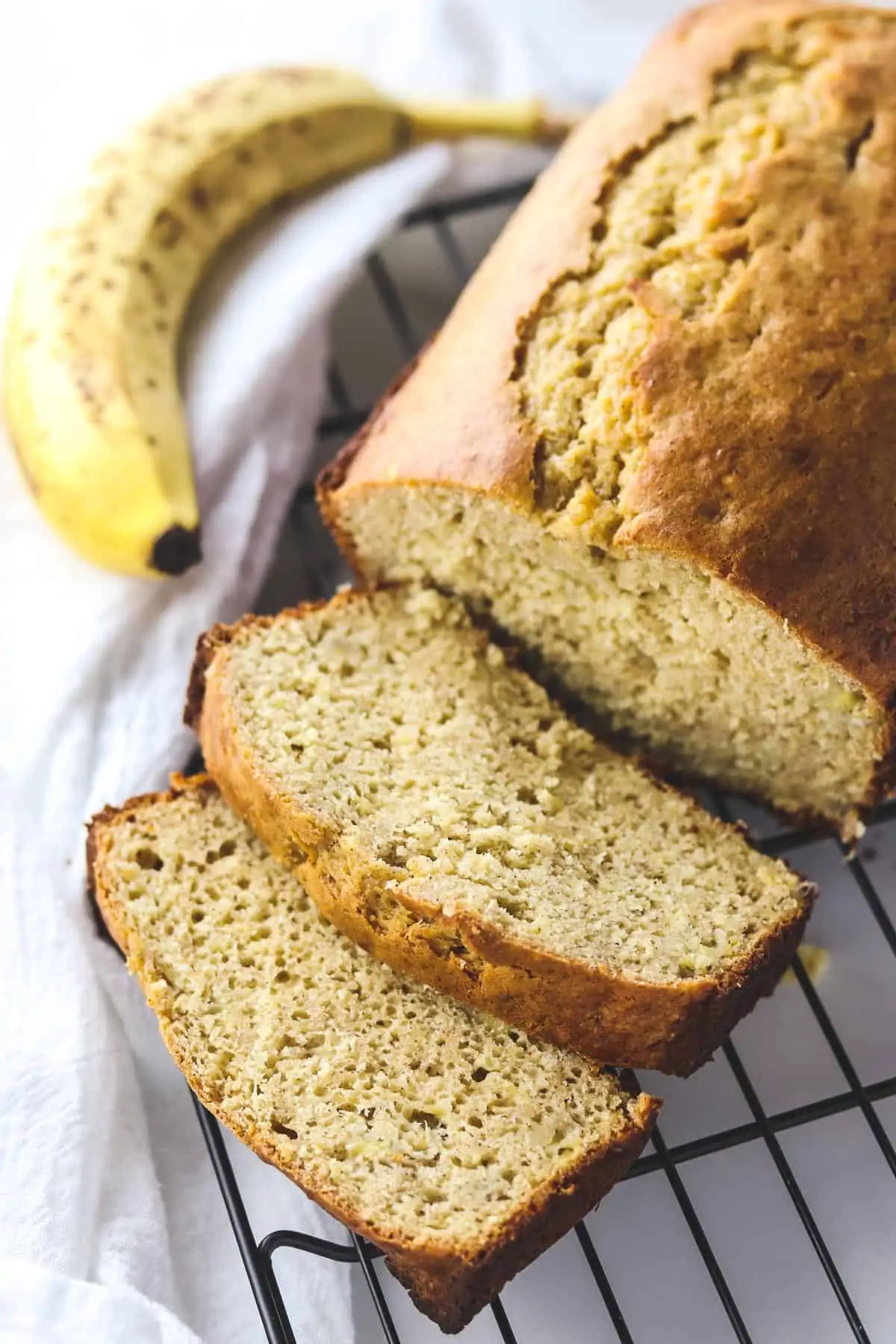 This easy recipe starts off with 3 ripe bananas and a box of yellow sugar-free cake mix. Greek yogurt and a couple of eggs bring it all together without adding any extra fat or sugar. A splash of vanilla extract and a touch of ground cinnamon add extra flavor. Slice it up in ½" thick pieces for only about 100 calories per slice!
You can even add in chocolate chips to make it extra kid-friendly. Everyone in your family will love this skinny banana bread!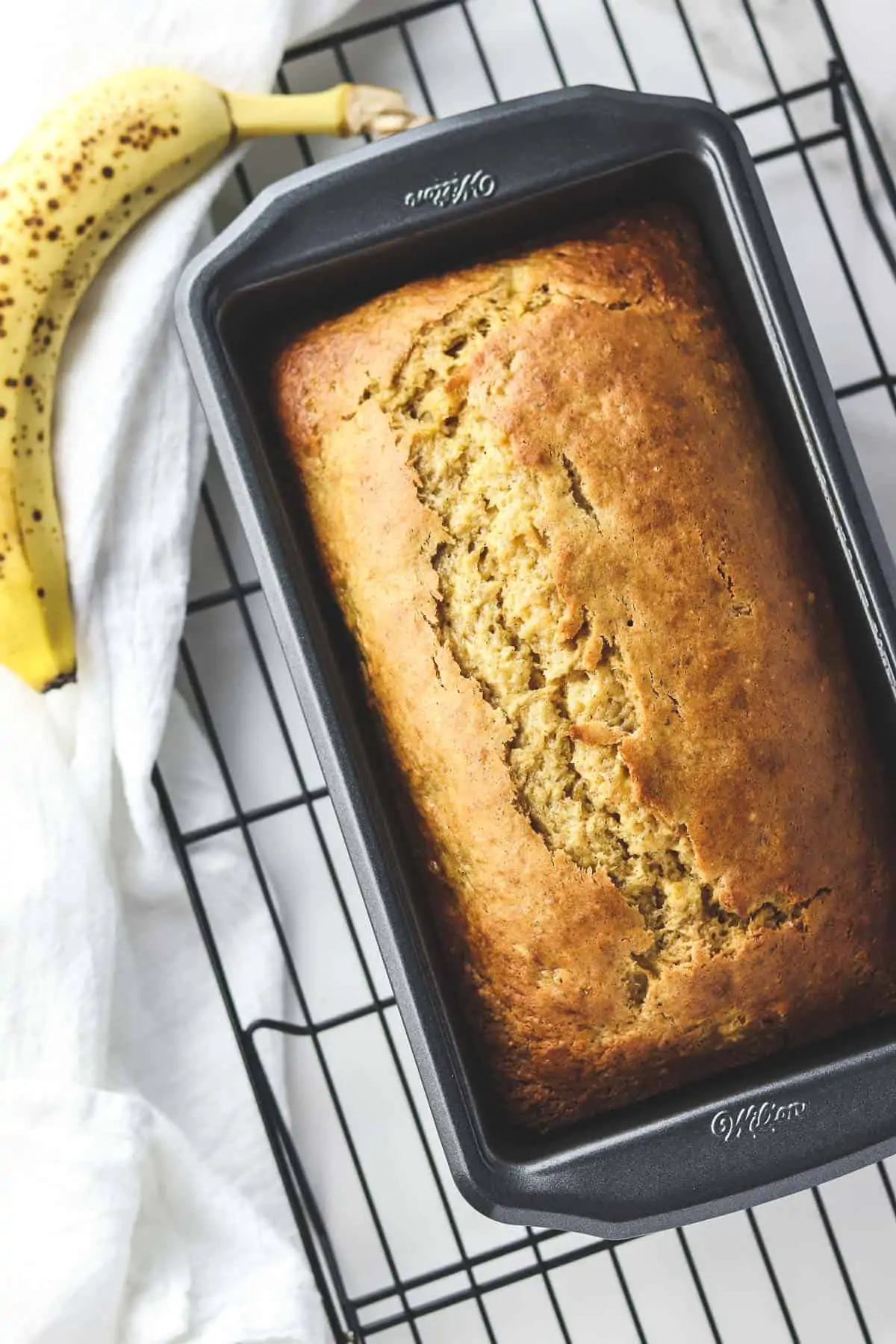 Jump to:
How to Cut the Calories
To make healthier banana bread with fewer calories, this recipe has less sugar and less fat than traditional banana bread:
Reducing the sugar - because this recipe uses a boxed sugar-free cake mix as the base, it does not have nearly as much sugar as the typical banana bread. The only sugar in this recipe is from the bananas themselves (and a trace amount in the yogurt and eggs)
Reducing the fat - this recipe has no butter or oil, making it overall very low in fat. The combination of nonfat greek yogurt, mashed banana, and eggs helps hold the bread together with very little oil and fat.
You can also reduce the calories in banana bread by closely watching the slice size. Aim for thinner slices about ½" thick to get similar serving sizes as calculated in the nutritional information (found in the recipe card).
Ingredients
You will need:
1.5 cups mashed bananas (about 3-4 ripe bananas)
2 large eggs
½ cup vanilla nonfat Greek yogurt
1 teaspoon vanilla extract
1 teaspoon ground cinnamon, optional
1 box Pillsbury sugar-free yellow cake mix (16 oz)
Choosing Bananas
In general, riper is better! Ripe bananas will be softer and sweeter. You absolutely don't want the bananas to have any green on them or be yellow with few brown spots. Ideally, your bananas should be fairly covered in brown spots. The inside should be soft (but not black or rotting).
You can also freeze expiring bananas and thaw them to use in banana bread.
Substitutions
Sugar-Free Yellow Cake Mix - I normally use the Pillsbury brand (made with Splenda), but any other similarly-sized box of sugar-free yellow or white cake mix would work for this recipe. You could also use a regular cake mix with sugar, as long as the box is similarly sized (15.25 - 16 oz). Using a regular cake mix made with sugar will add additional calories.
Nonfat Vanilla Greek Yogurt .- you could substitute plain greek yogurt or sour cream instead of vanilla greek yogurt. For the fewest calories, use nonfat or low-fat yogurt or sour cream. However, full-fat varieties will also work for this recipe.
Ground Cinnamon - you can leave out the cinnamon if you don't like a cinnamon flavor, or reduce the amount to ½ tsp. A dash of nutmeg also goes well in this recipe.
Equipment
To make this recipe, you will need a 9" x 5" loaf pan. You could use several mini loaf pants instead of one full size pan, but they will cook faster than the recipe instructions.
You'll also need a mixing bowl and silicone spatula to stir up the batter. You don't need a mixer for this recipe because you can easily stir it by hand.
Finally, a cooling rack is very handy for cooling your banana bread. This helps protect your countertop and also help it cool faster.
Instructions
First, start off by mashing and measuring the bananas. Place 3-4 bananas in a bowl and mash them with a fork.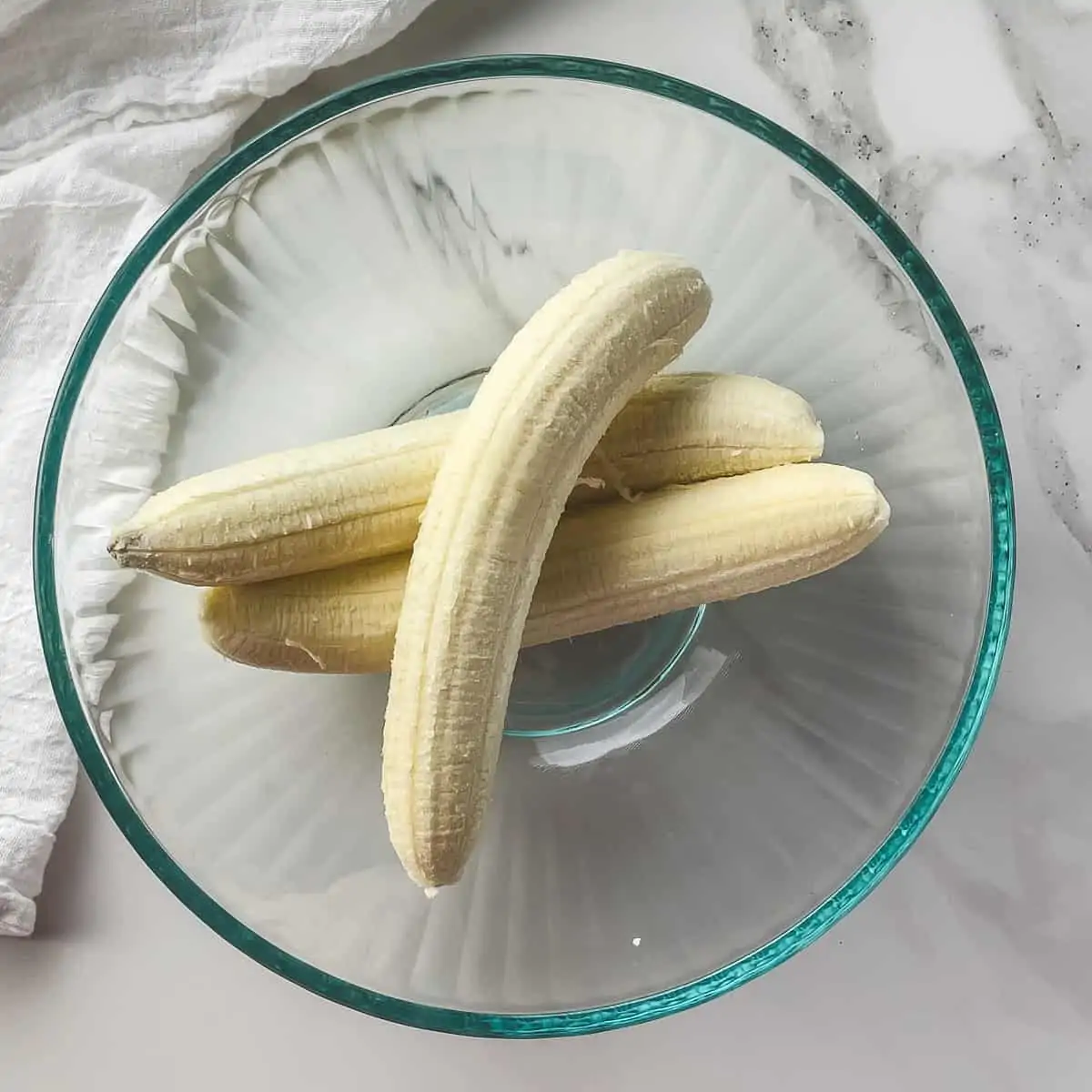 I like to mash mine so there are no large chunks of banana remaining, but you can leave some chunks if you like chunkier banana bread. Next, measure your mashed bananas to make sure you have about 1.5 cups. If needed, mash up an extra banana. 4 smaller bananas or 3 larger bananas should be about 1.5 cups.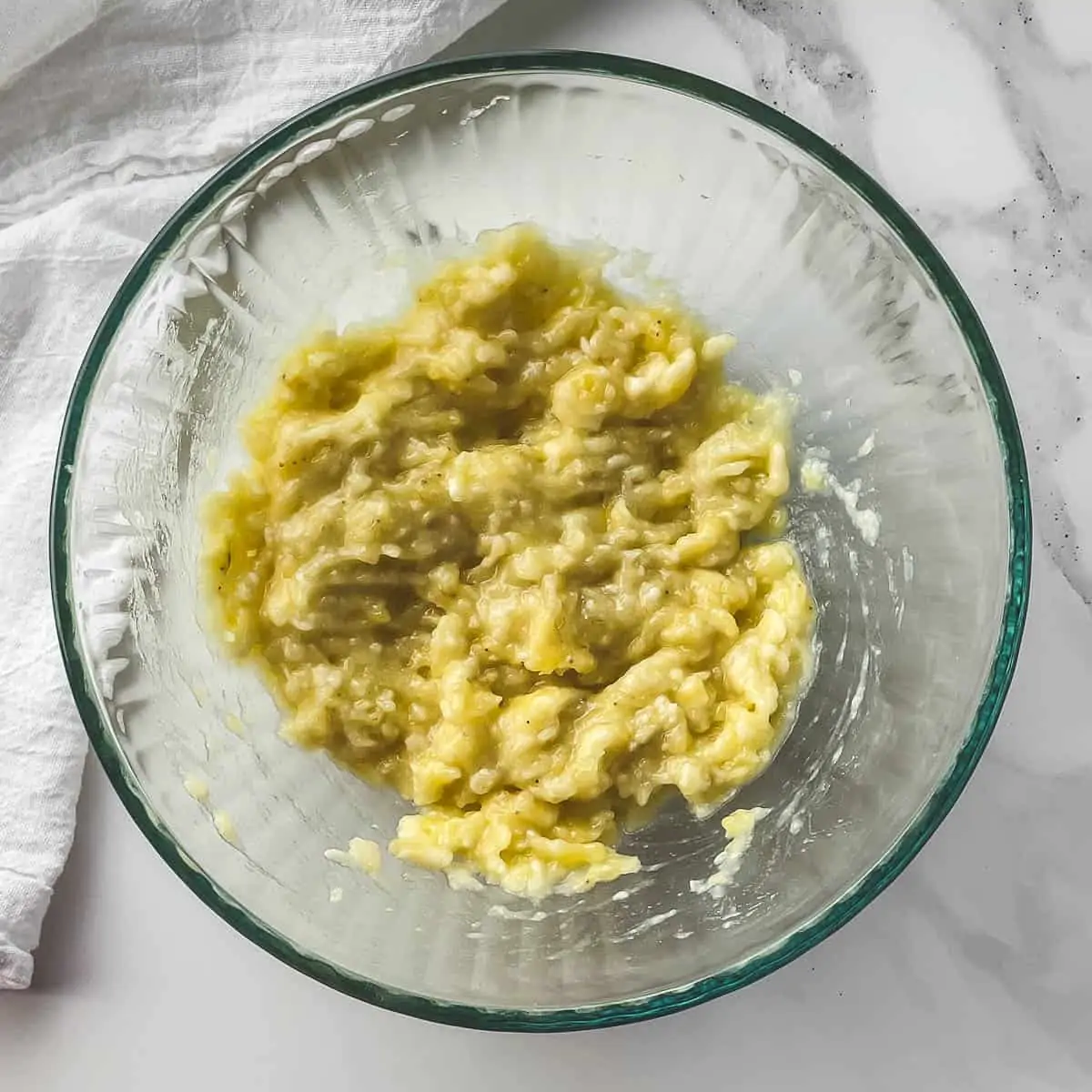 In a medium-sized mixing bowl, add the yogurt, vanilla, eggs, and cinnamon and stir until well combined.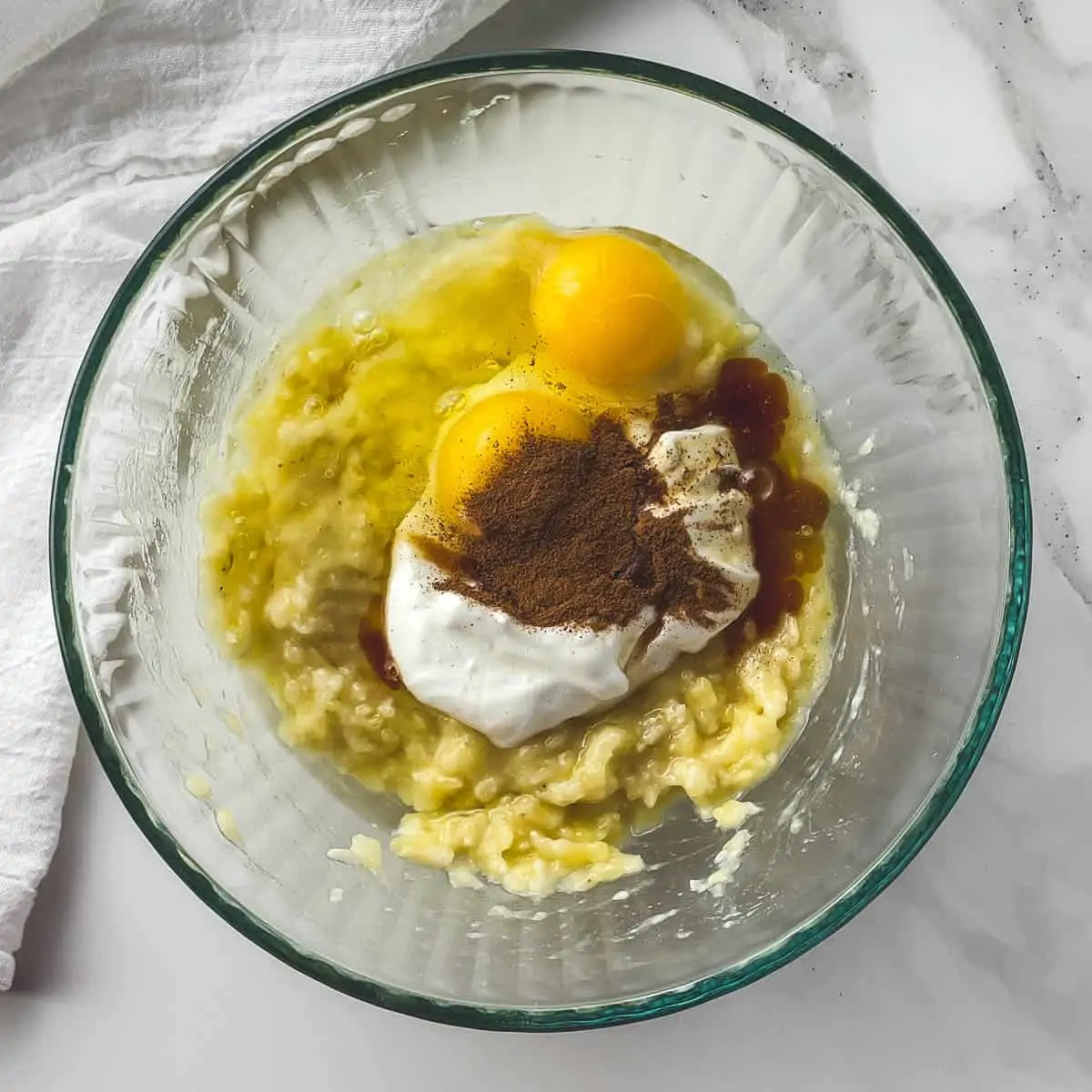 Add the box of cake mix to the wet ingredients and stir until a batter forms.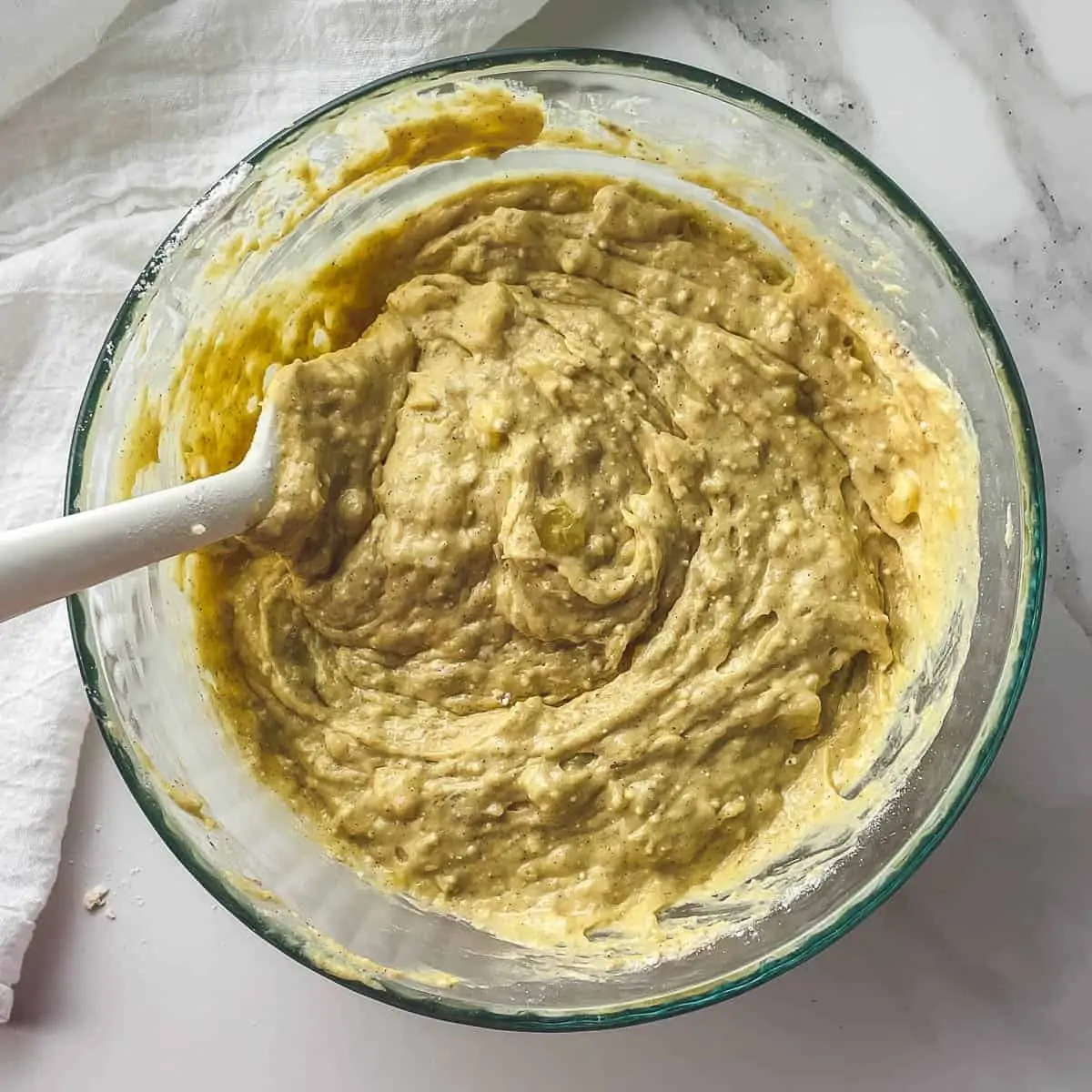 Spray a 9x5 loaf pan with nonstick spray, pour in the batter, and smooth the top as flat as possible.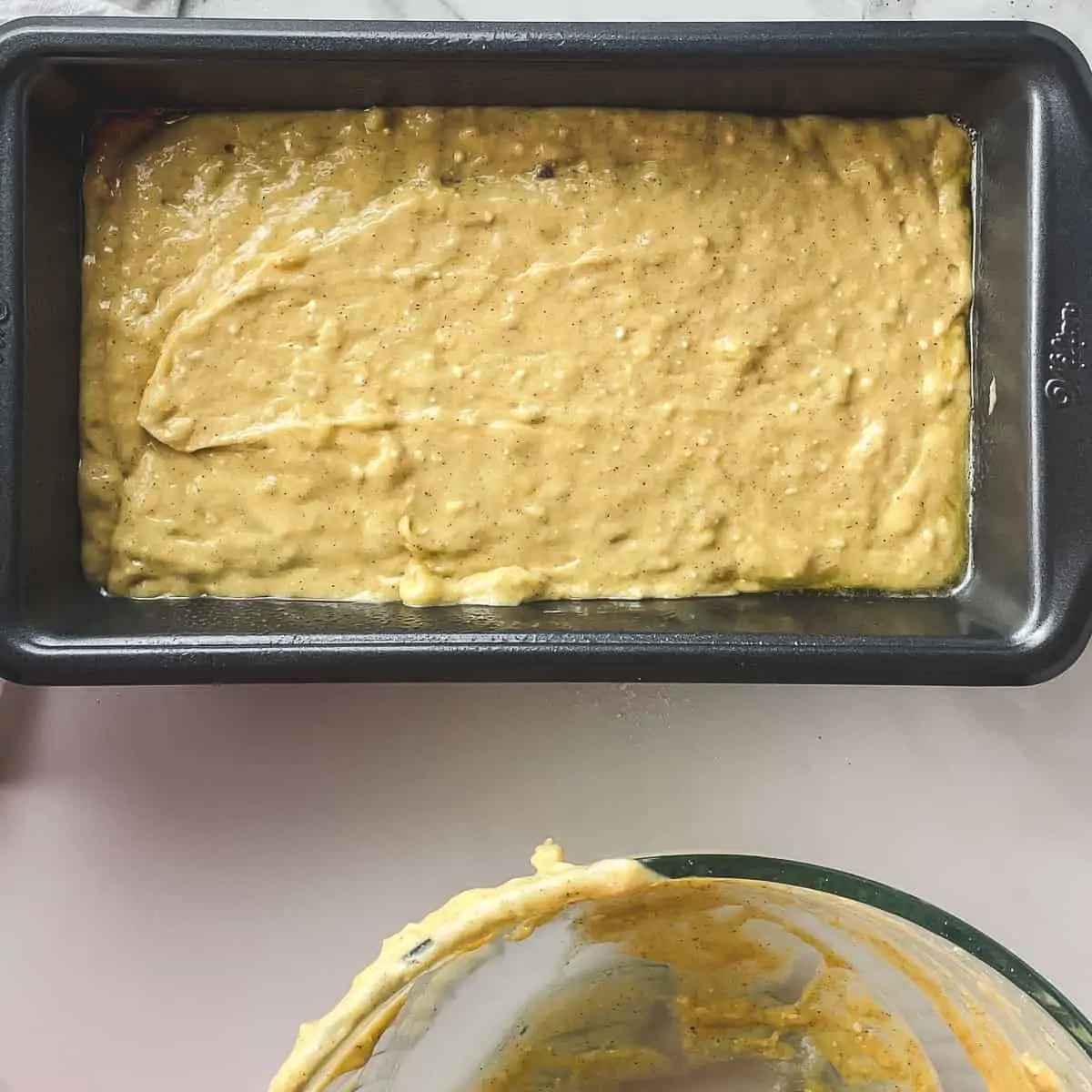 Bake in a preheated 350-degree oven for 45-55 minutes. Banana bread is ready when it's no longer jiggly and an inserted toothpick comes out clean.
Place the pan on a cooling rack and allow the banana bread to cool completely in the pan.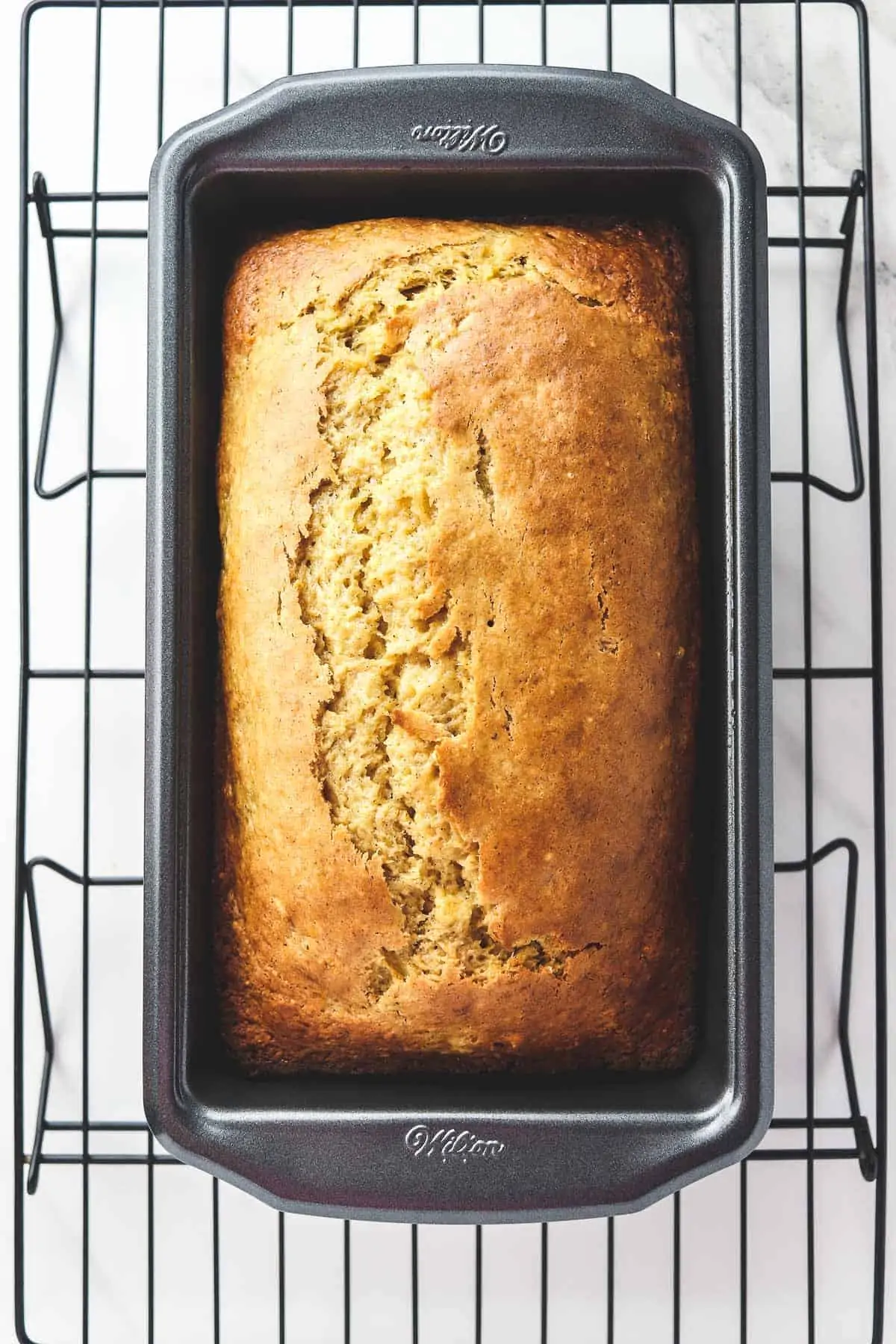 Top Tips
Don't forget to use nonstick spray to make sure it comes out of the pan easily. Alternatively, you could make a parchment paper sling to easily lift out the finished banana bread.
If your banana bread is getting too brown on top, you can put a piece of aluminum foil on top mid-way through the cooking time.
How to tell when banana bread is done - insert a toothpick into the middle of the bread. If it comes out clean the bread is finished cooking.
Banana bread tastes better the second day after the flavors have extra time to meld together.
Store wrapped tightly in plastic wrap to seal in moisture.
Freeze individual slices as leftovers - if you're baking for one or a small family, wrap up slices and put them in the freezer. This makes for a delicious breakfast for another day!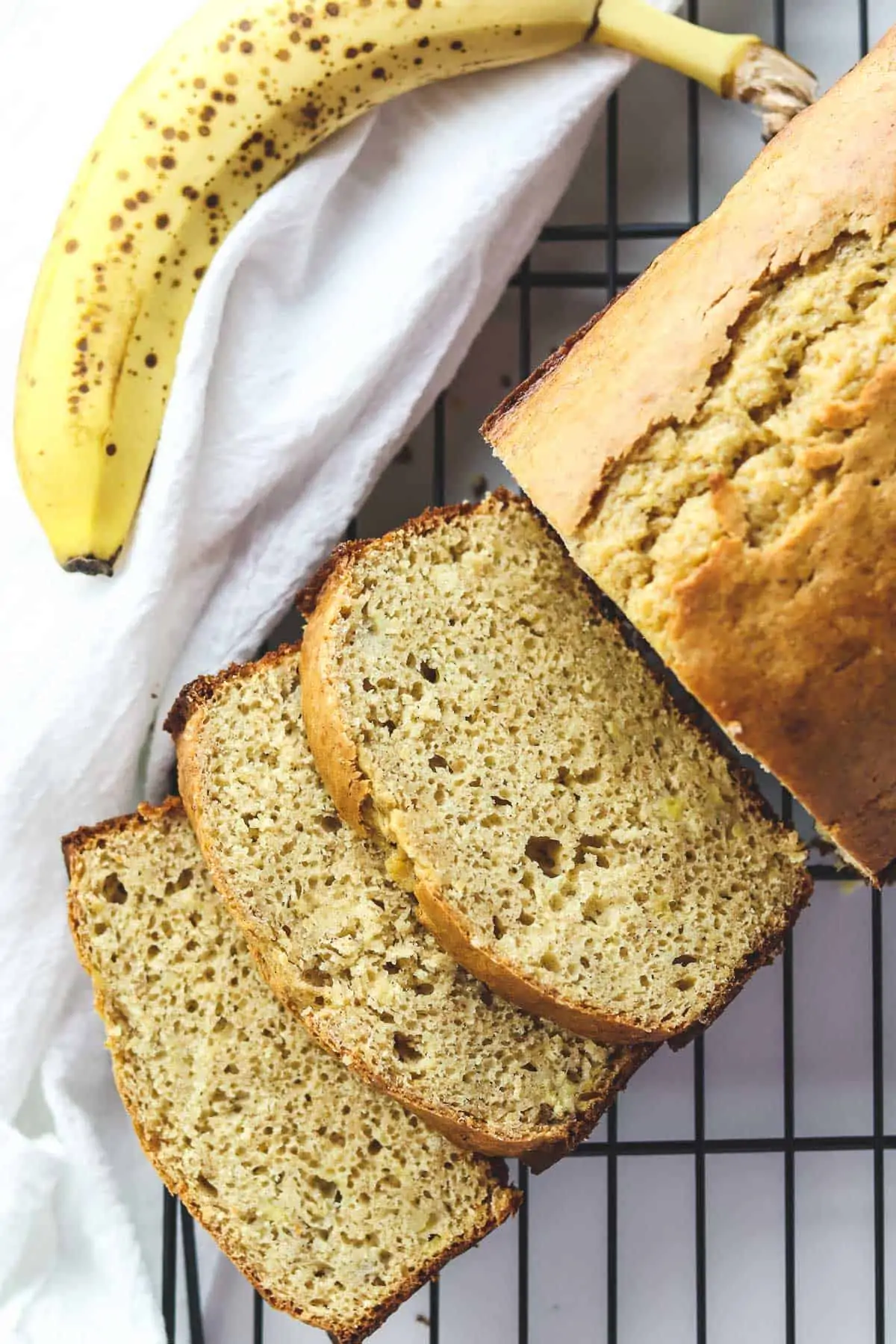 Optional Add-Ins
While this recipe is for plain banana bread, you could also use this as a base recipe and add in optional mix-ins. You could add:
Semisweet chocolate chips (regular or sugar-free)
White chocolate chips
Chopped walnuts
Peanut butter
Dried cranberries
Coconut
Depending on which add-in you're using, you may want between ¼ cup and 1 cup added in. For solid add-ins (like nuts or chocolate chips), fold them into the finished batter after incorporating the cake mix.
How to Serve
Use a sharp knife to cleanly slice pieces of banana bread. I aim for about ½" thick slices to make sure to maintain the low-calorie count. On top of your bread, you could put a small pat of butter or a couple of tablespoons of whipped cream. However, most of the time I just eat it plain!
You can also warm up slices in the microwave by heating for 15-30 seconds.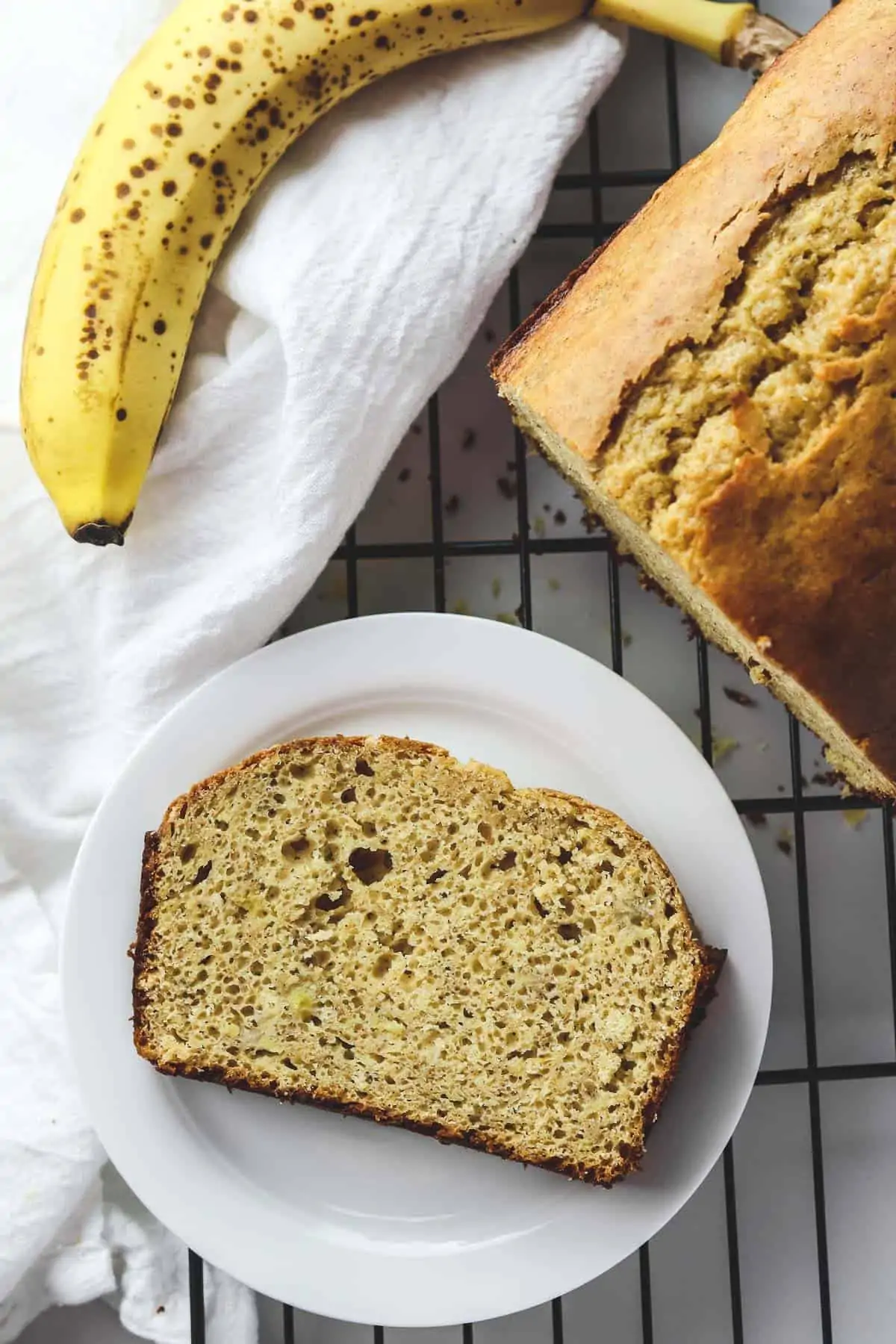 How to Store
Banana bread should be stored at room temperature on the countertop. After banana bread has cooled completely, wrap it tightly with plastic wrap or aluminum foil. This will help keep the moisture in the bread. Bread will keep fresh for about 4-5 days.
You can freeze individual slices by wrapping them in plastic wrap and placing them in the freezer. Frozen slices will keep fresh for 1-2 months.
Calories & Serving Size
If you follow the recipe exactly and slice the bread into ½" slices, there are about 100 calories per slice. Use a 9x5 loaf pan and you should end up with 18 total slices. Even if you cut 1" thick slices, you're still looking at only about 200 calories!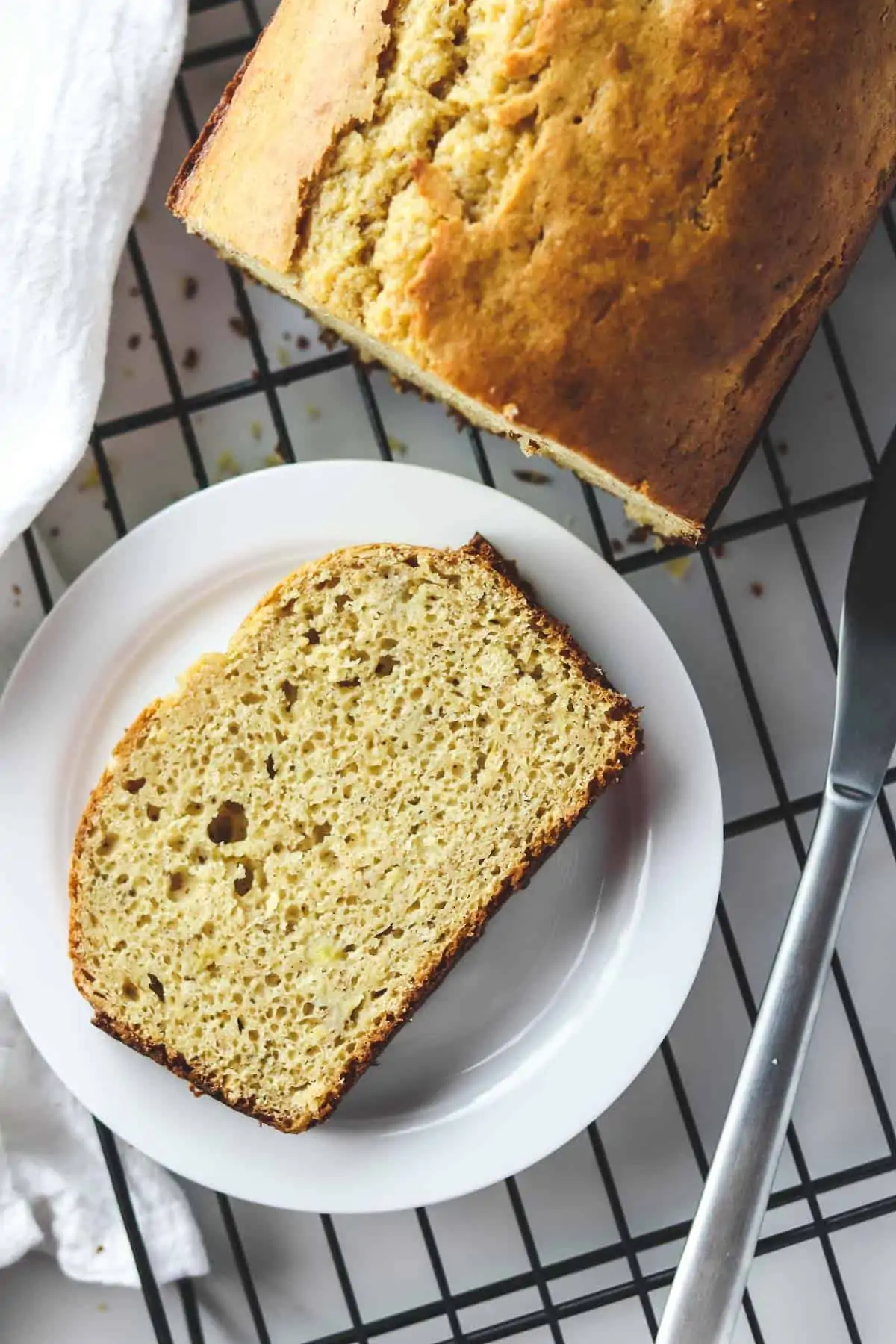 More Low-Calorie Desserts
If you liked this recipe, try these other low calorie desserts!