Enjoy delicious pancakes without all the calories! These healthy pancakes made with bananas and Greek yogurt are low in calories, fat, and sugar.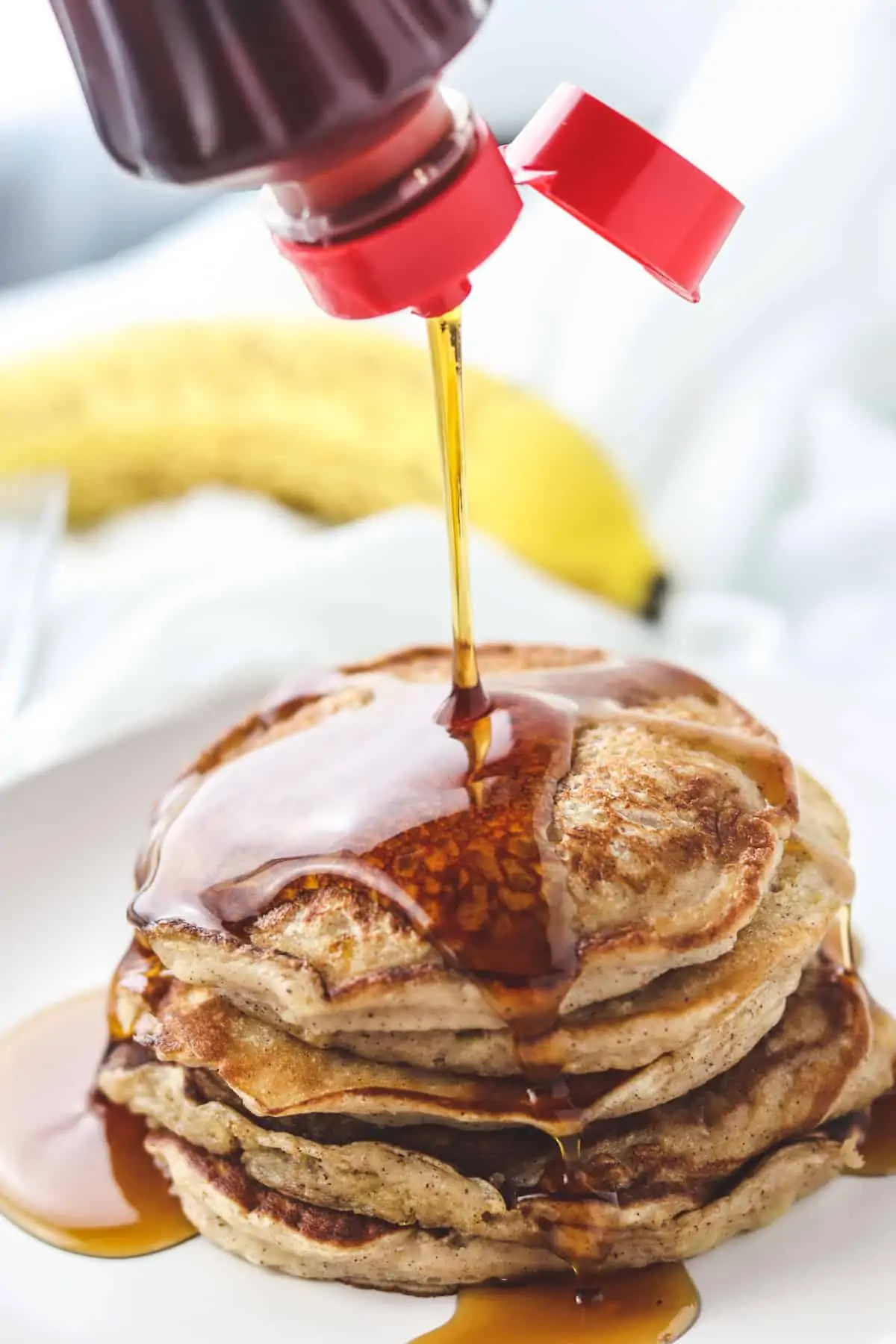 With this simple recipe, you can whip up delicious pancakes in no time that won't bust your diet! They are so good that you won't miss all the extra fat and sugar in traditional pancakes.
By including some flour in the recipe (and not just bananas and eggs), these low calorie pancakes actually do resemble regular pancakes. Adding cinnamon to the recipe will also help mask the banana flavor if you aren't a huge banana fan.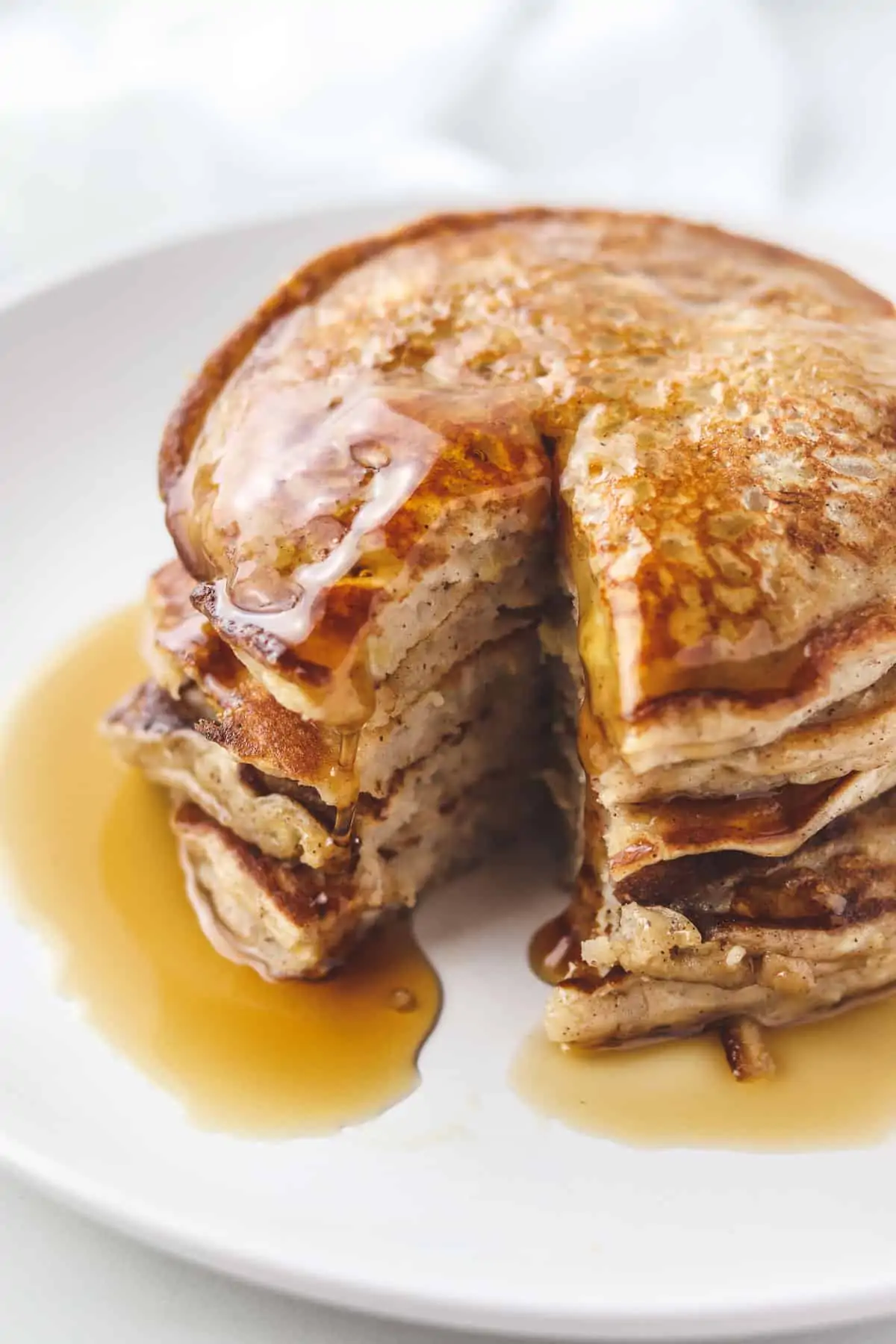 Jump to:
How to Cut the Calories
Here's how this recipe cuts the calories to make healthier pancakes:
No added butter or oil - nonfat Greek yogurt and bananas help form the batter without using any extra fat
No added sugar - the only sugar in this recipe comes from the natural sugar in the bananas. There is no extra sugar added in the batter
Less flour - by using the banana, you can reduce the flour. The thick mashed banana helps make up for some of the lost flour.
Unsweetened vanilla almond milk - it tastes delicious and is much lower in calories than whole milk!
Egg white - using an egg white instead of a full egg binds the batter together with fewer calories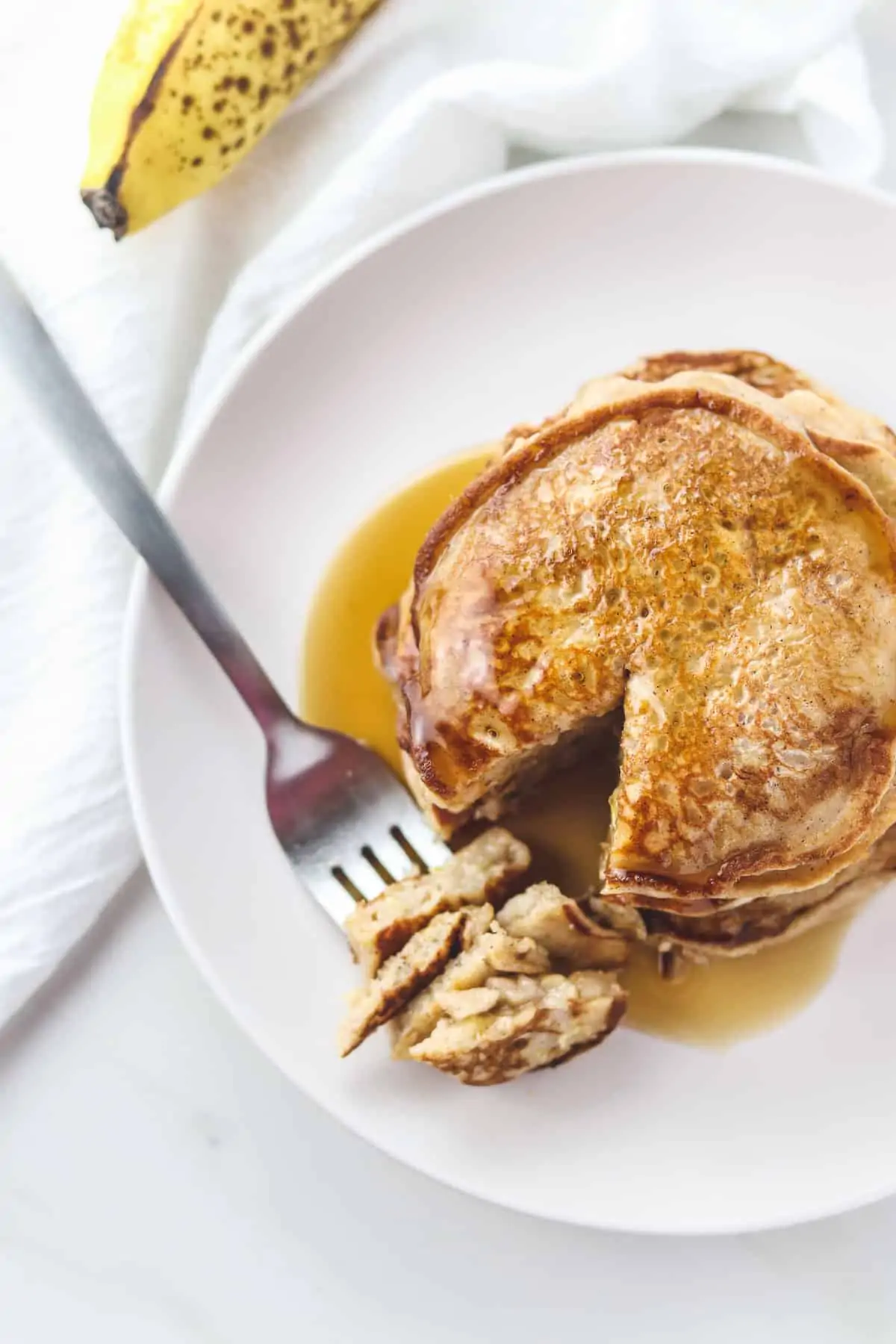 Ingredients
To make this recipe, you will need:
1 ripe banana, mashed (about ½ cup mashed banana)
1 egg white
½ cup vanilla nonfat Greek yogurt
¼ cup unsweetened vanilla almond milk
½ tsp vanilla extract
½ cup all-purpose flour
1 teaspoon baking powder
½ tsp cinnamon, optional
Much like making banana bread, the riper the bananas are, the better! Riper bananas are soft and sweeter on the inside.
Using cinnamon and sweetener is completely optional, but I think they make these pancakes taste extra delicious! But you can leave it out according to your taste preference.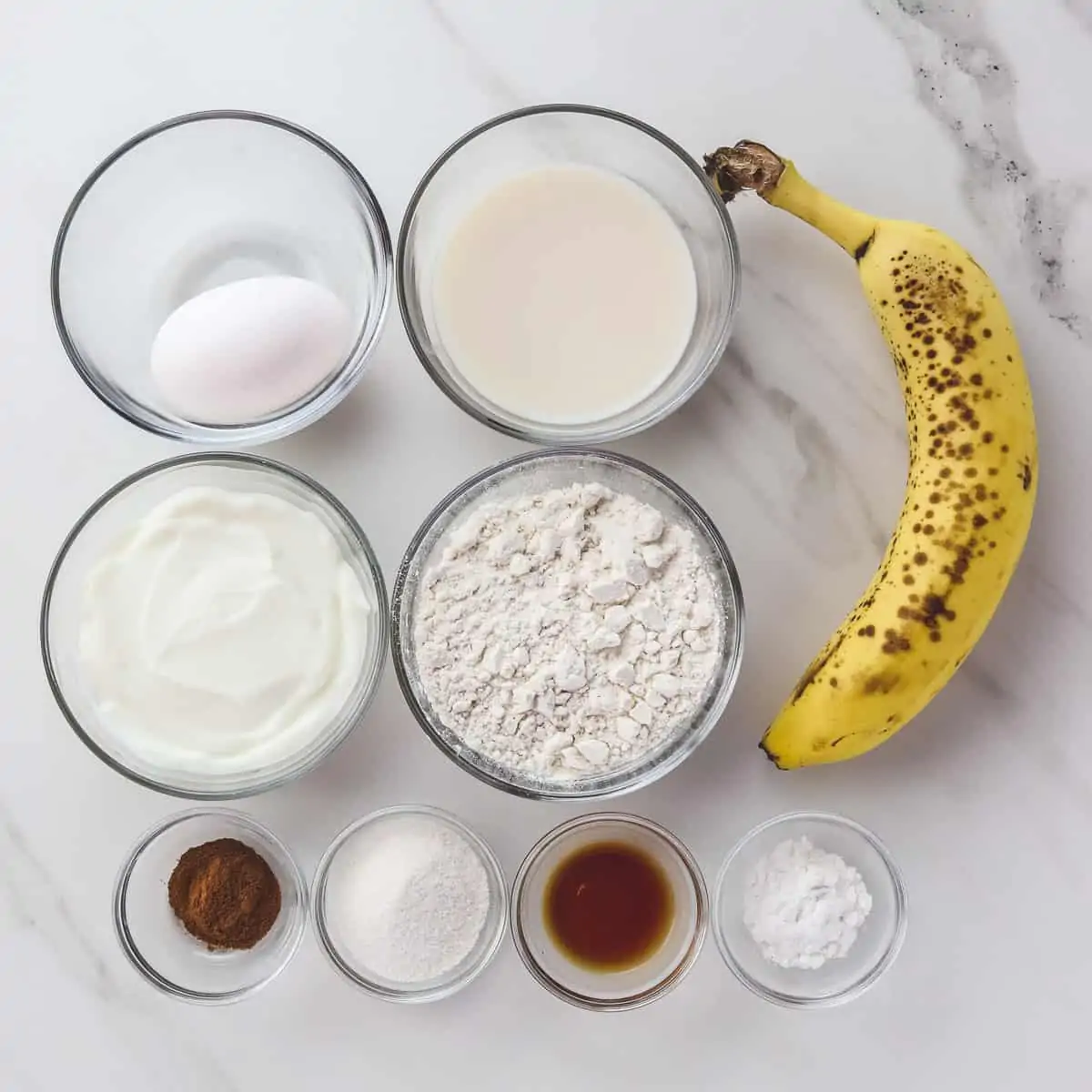 Instructions
To make the pancake batter, first start by mashing the banana. I use a large glass measuring cup and mash the banana with a fork. You should have about ½ cup of mashed banana. I prefer to finely mash the bananas so there are no large chunks remaining.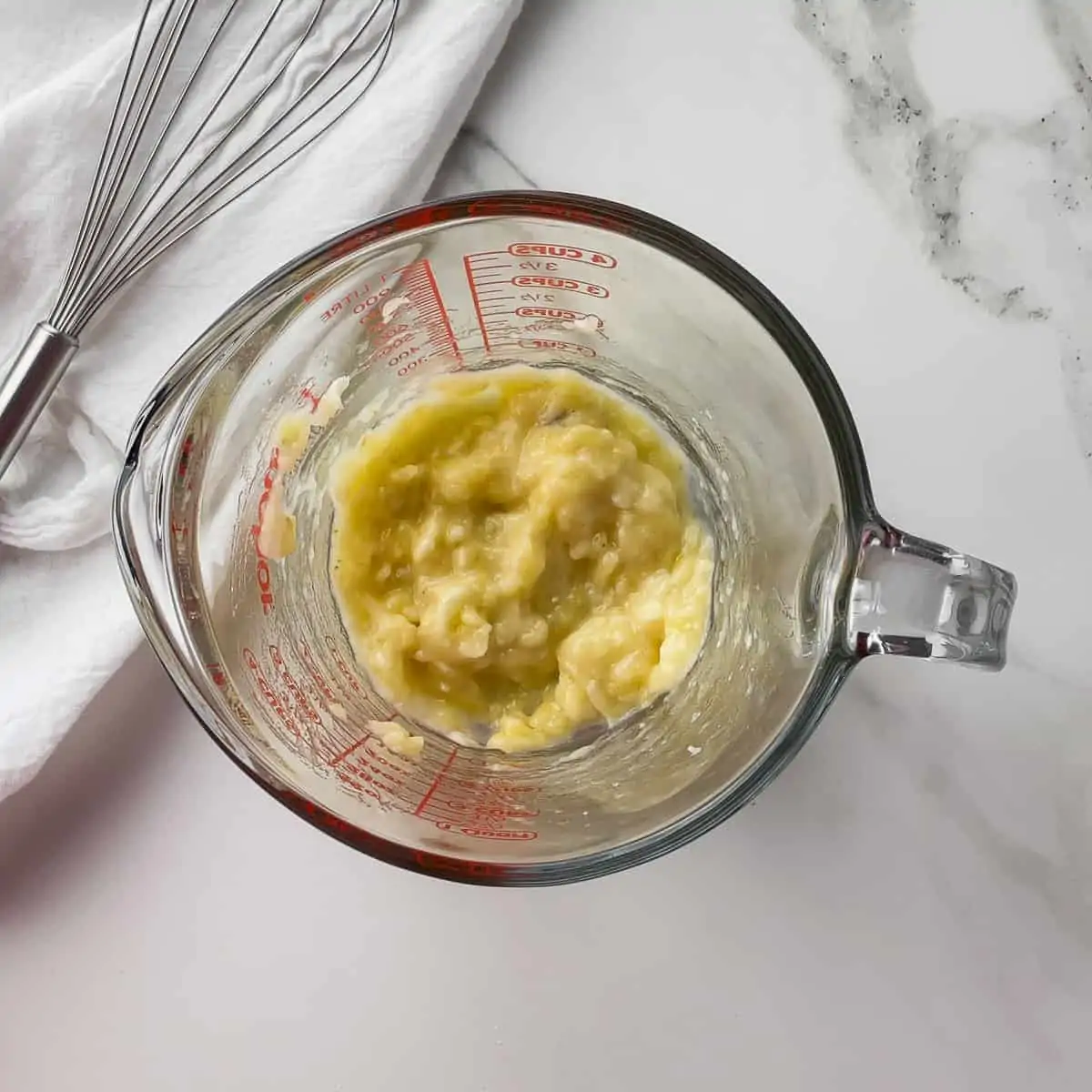 Next, mix in the egg white, Greek yogurt, almond milk, and vanilla extract. Stir until the wet ingredients are well mixed with the mashed banana.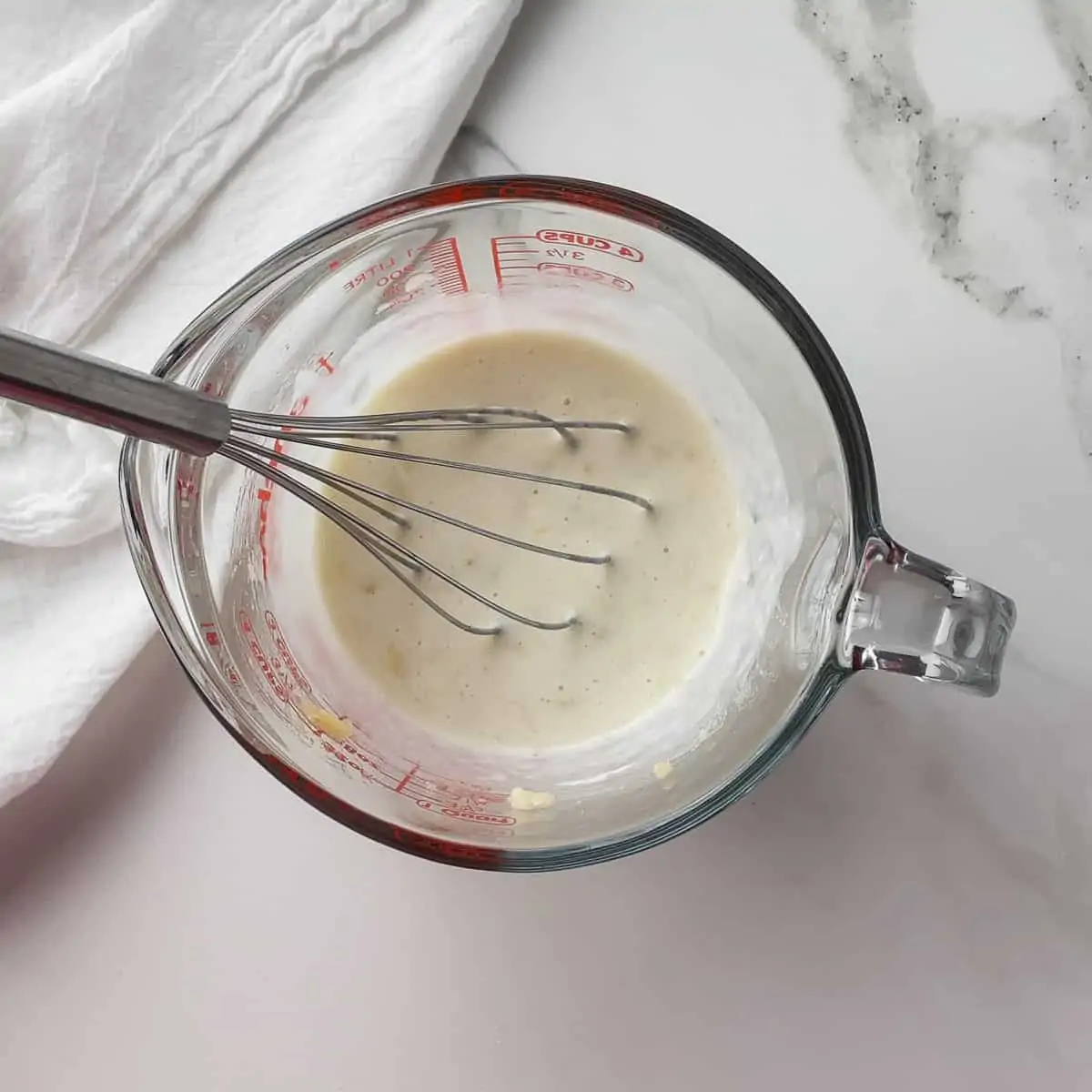 Then add the flour, baking powder, cinnamon, and sweetener. Stir until the batter is well mixed.
If the batter is too thin, you can add an extra tablespoon of flour. If the batter is too thick, you can add an extra tablespoon of almond milk. The batter should be a somewhat thick but pourable liquid, much like your average pancake batter.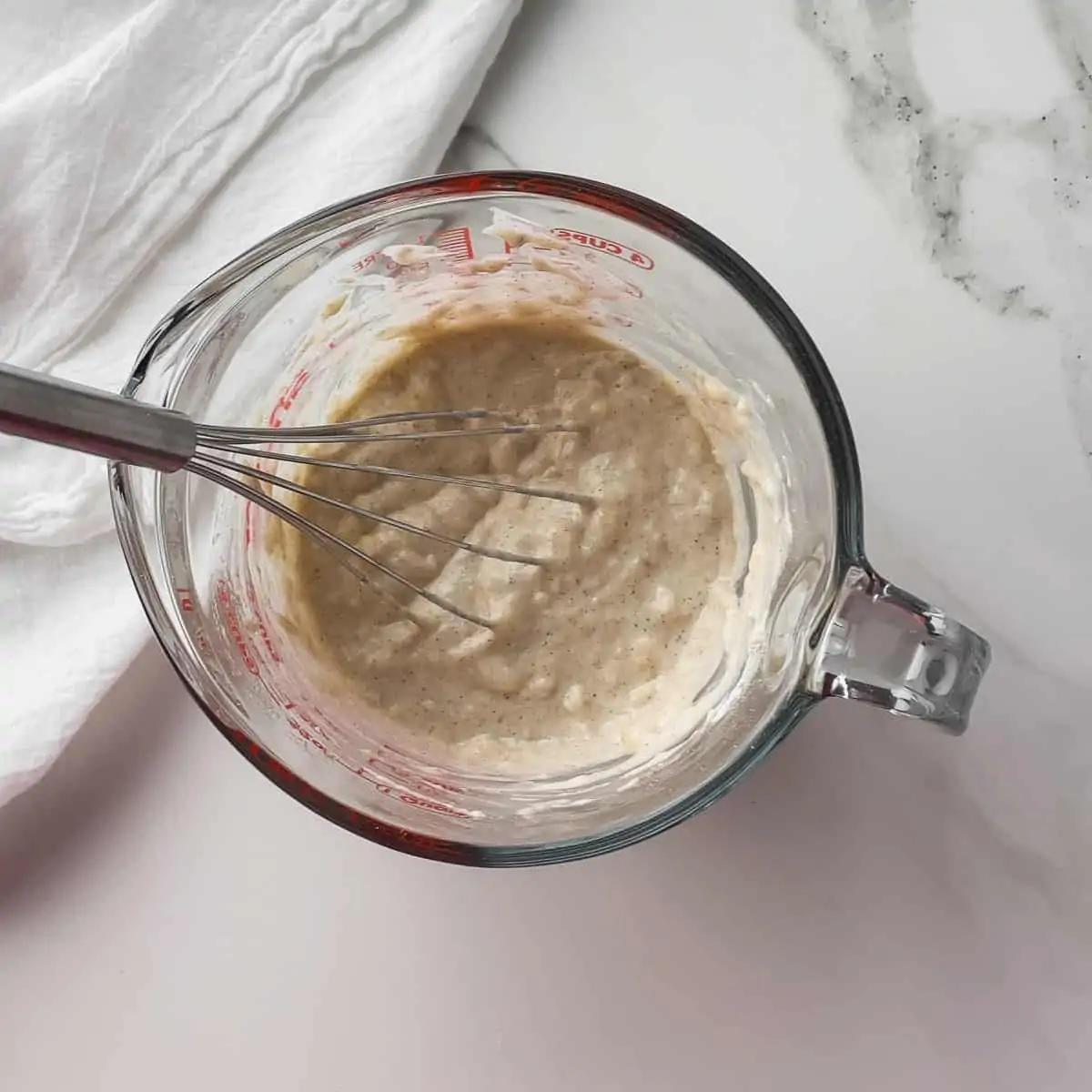 Preheat a skillet or griddle pan to medium heat. Spray the pan with nonstick spray. Pour about ¼ cup of batter per pancake. Cook each pancake for 2-3 minutes until the pancake is barely set around the edges. You should see some bubbles forming in the center of the pancake.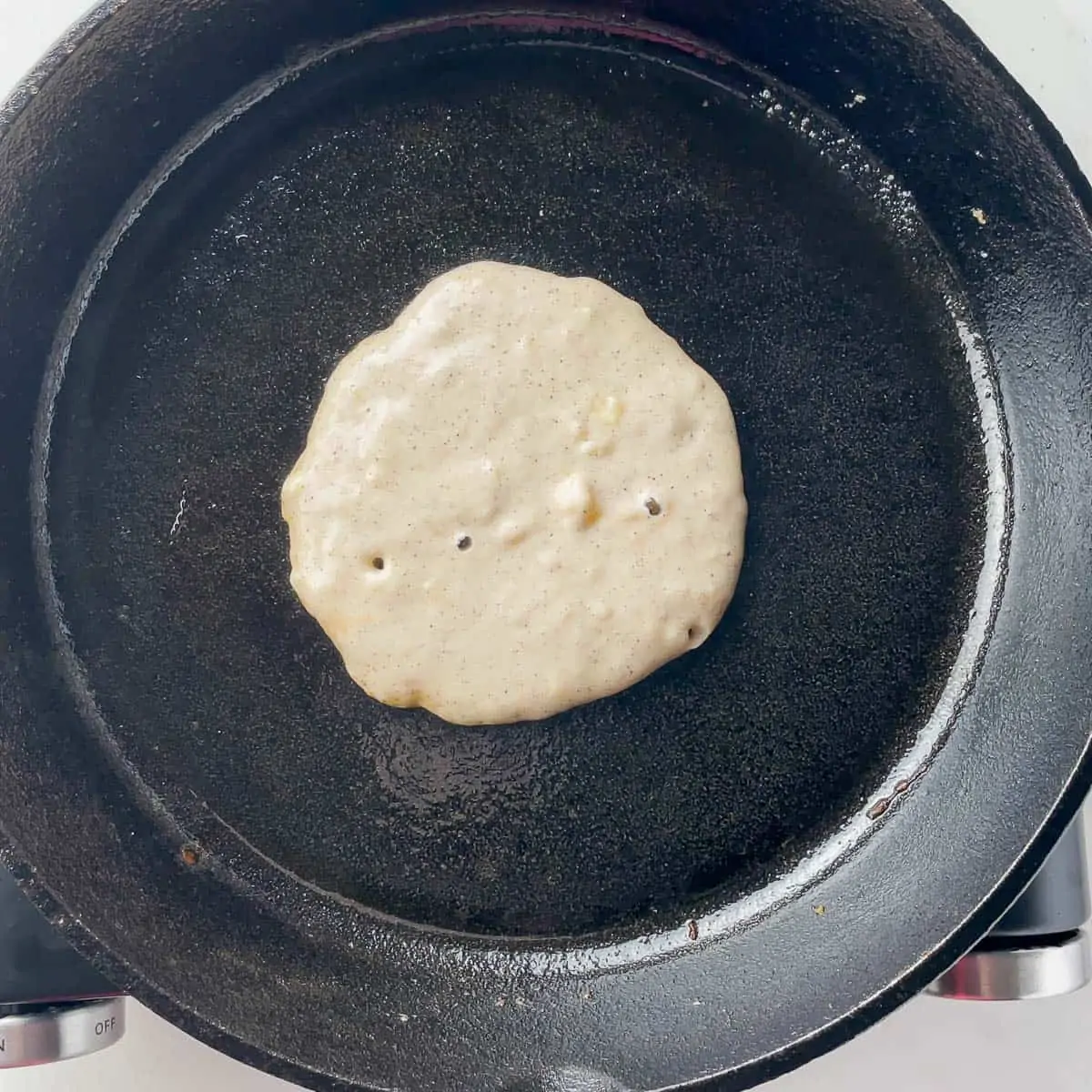 Flip and cook the pancakes for another 2 minutes on the other side. Pancakes should be cooked through and golden brown.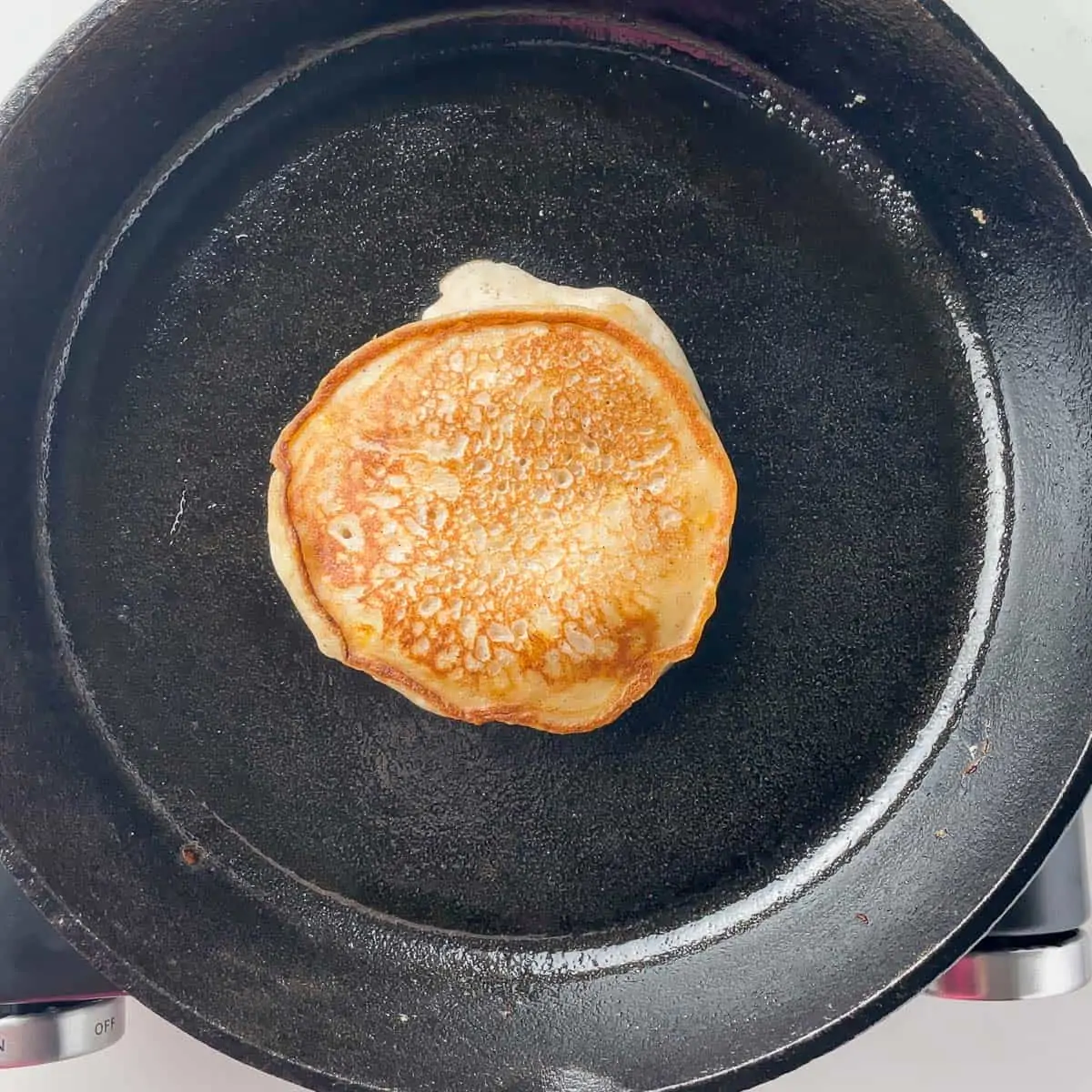 Working in batches, finish cooking the remaining pancakes. Serve warm with toppings of your choice!
Optional Mix-Ins
This is a great base recipe that you can customize to your liking! After pouring your pancake batter onto the pan, you can sprinkle on some extras such as:
Blueberries
Blackberries
Diced strawberries
Chocolate chips
Diced walnuts
Coconut
It's really easy to add-in any fruit or other other mix-ins you have on-hand. Adding fruit won't add many calories to the pancakes. Blueberries are probably my favorite!
Top Tips
If pancakes are getting too brown, lower the heat and cook them more slowly
Spray the pan with nonstick spray - this helps prevent the pancakes from sticking. Add a fresh coat of spray between every batch.
If batter is too thick, add another tablespoon of almond milk
If batter is too thin, add another tablespoon of flour
Double or triple the recipe if making pancakes for a family - this recipe only makes pancakes for one or two people (one large serving, or two average servings)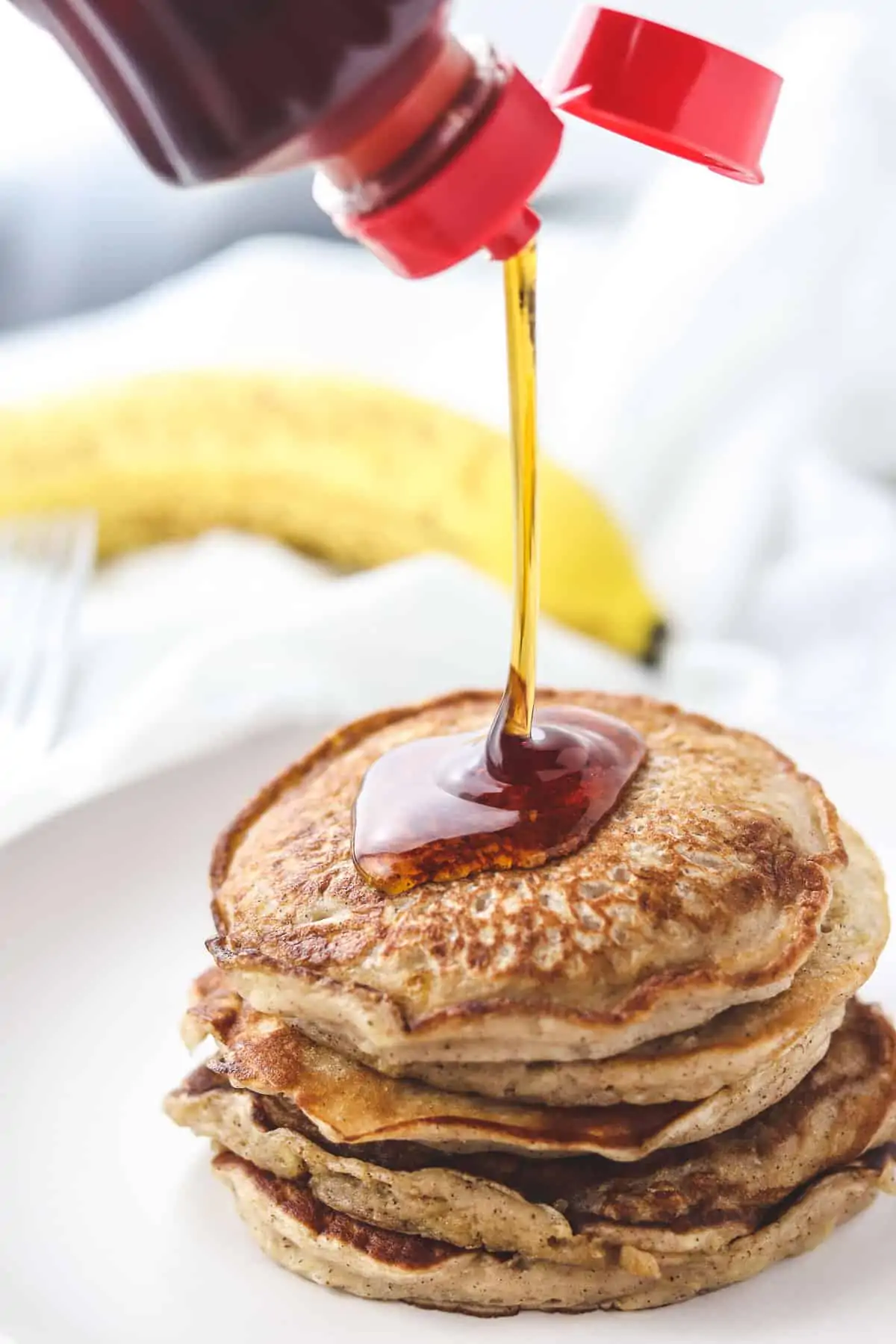 Low-Calorie Toppings
Of course, no pancake is complete without a little syrup! They do make delicious sugar-free syrup that is very low in calories (only about 15 calories per ¼ cup). You can also buy light syrup that is about ½ the calories of regular syrup.
Besides syrup, a small dash of whipped cream on top adds a nice touch! A couple tablespoons of light whipped cream is only about 20 calories.
You can also top your pancakes with a little bit of fruit, coconut, or diced nuts!
How to Store
Leftover pancakes can be stored in an airtight container in the refrigerator for 3-4 days. Reheat them in the microwave in 30 second increments until warmed through.
Calories & Serving Size
This recipe should make about 6 pancakes (using ¼ cup batter per pancake). One serving size of 3 pancakes only has about 216 calories! Not bad at all for a filling low-calorie breakfast!
You can add on ¼ cup of sugar-free syrup for about 15 calories and 2 tablespoons of light whipped cream for about 20 calories.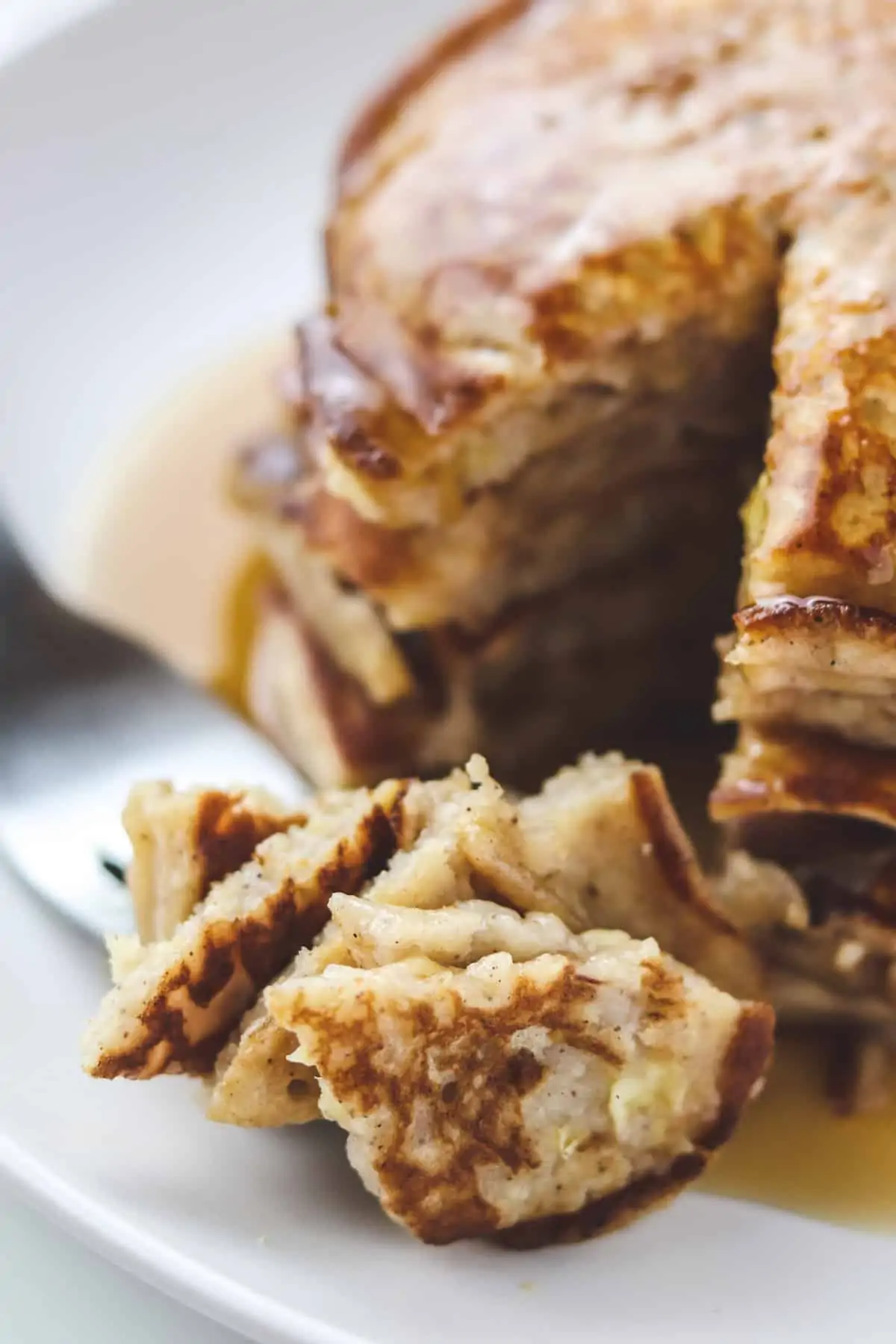 More Low-Calorie Breakfast Recipes
If you liked this recipe, check out these other light breakfast recipes: