This Air Fryer French Toast makes a quick and delicious breakfast packed with cinnamon sugar flavor!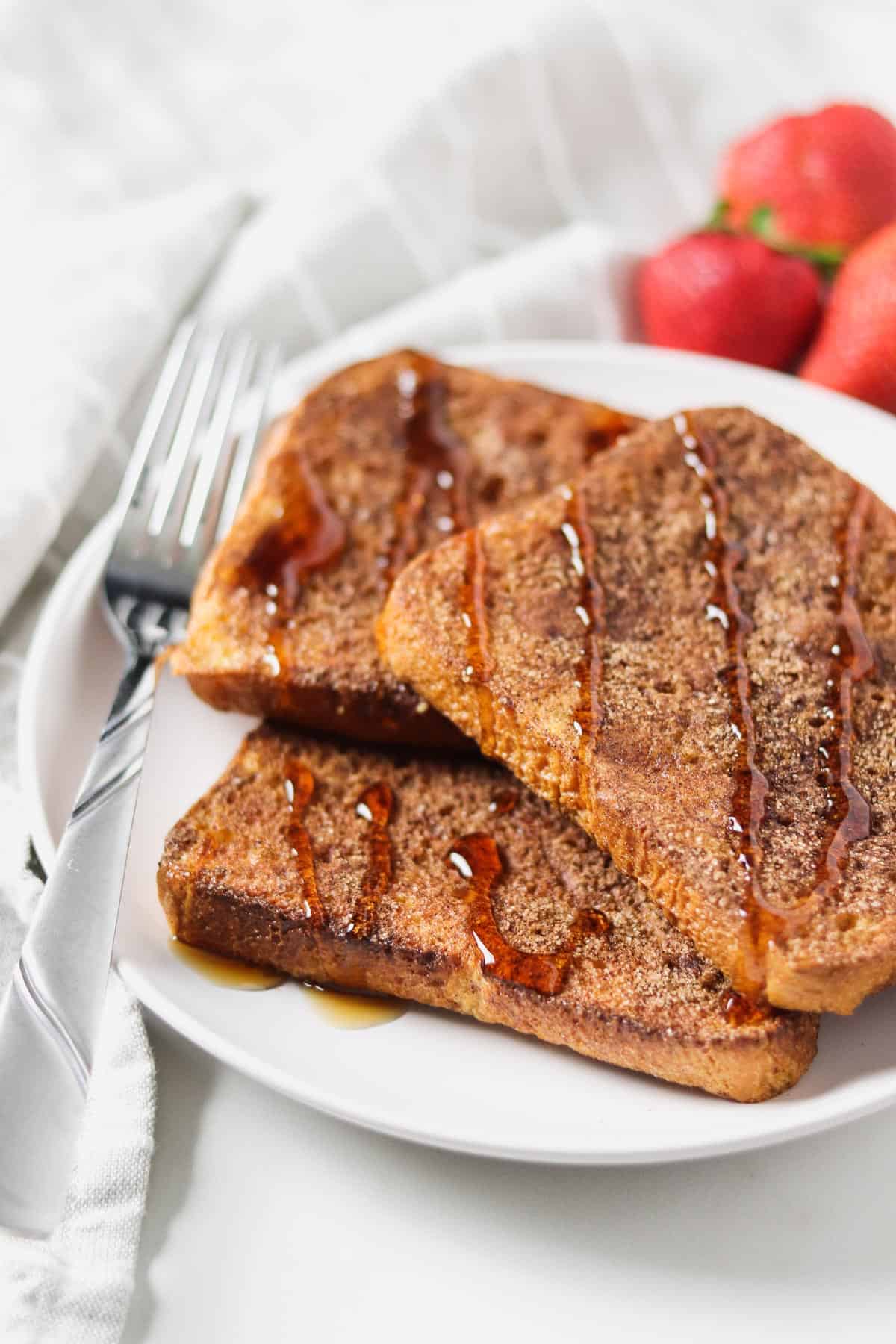 French Toast is one of my favorite weekend brunch foods. The air fryer makes this french toast crispy on the outside while being soft on the inside.
I love to roll my french toast in cinnamon sugar to make it extra sweet and delicious! All you need is a light drizzle of syrup on top to finish the dish.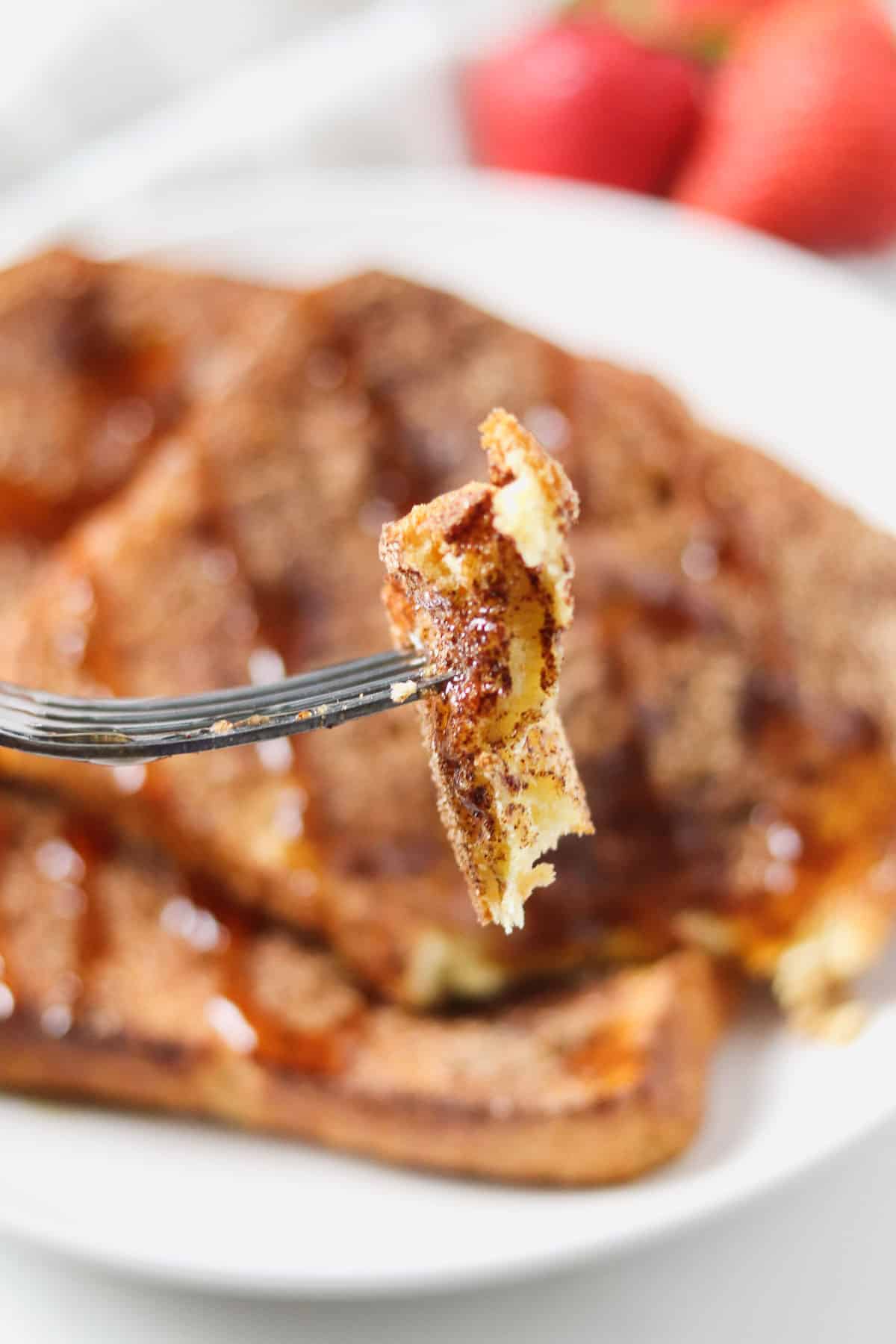 This is an easy kid-friendly recipe that is great for a family breakfast, brunch, or even to have breakfast for dinner!
Jump to:
Ingredients
Here's what you need to make french toast:
6 slices Texas Toast bread (or any thick-sliced bread)
⅓ cup fat-free evaporated milk
1 tablespoon butter, melted
1 teaspoon vanilla
2 eggs
1 tablespoon cinnamon
4 tablespoon sugar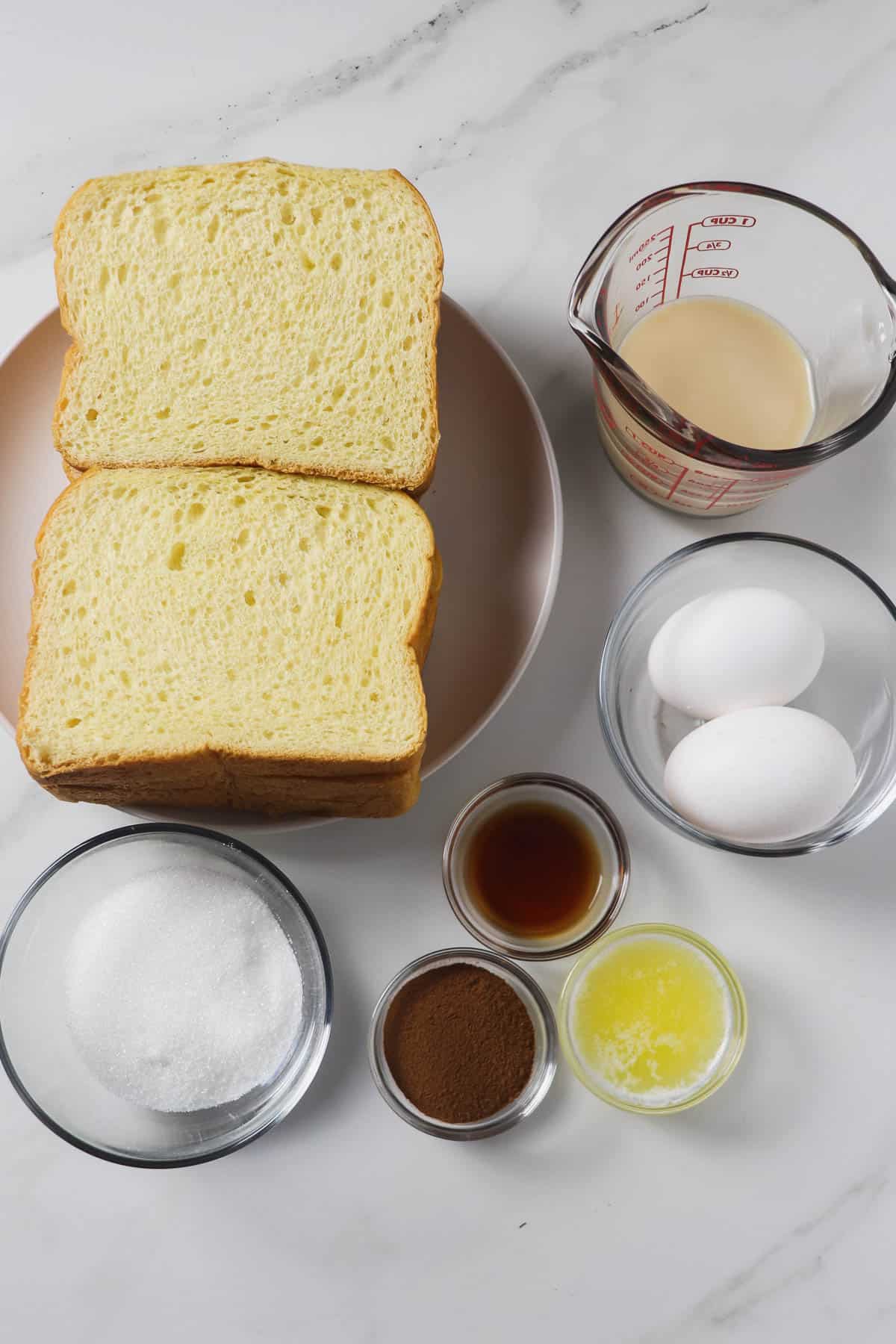 Substitutions
Texas Toast Bread - Any thick-slice bread will work! If you decide to use regular sliced bread that is thinner, you may need to reduce the cook time by a couple minutes.
Evaporated Milk - I like to use fat-free evaporated milk since to make it extra creamy, but you could easily substitute full-fat evaporated milk, regular milk, half and half, or heavy cream.
Cinnamon + Sugar - Adding the cinnamon sugar is optional but highly recommended. I love my French Toast extra cinnamon sugar-y, but you could skip the cinnamon sugar and make plain french toast.
Sugar-Free Options - To make this sugar-free, you can swap the sugar for your zero-calorie sweetener of choice. If your sweetener is sweeter than sugar, be sure to adjust the amount appropriately. My favorite no-calorie sweetener is Pyure Organic Stevia. Swerve, Splenda, or Truvia are also good choices.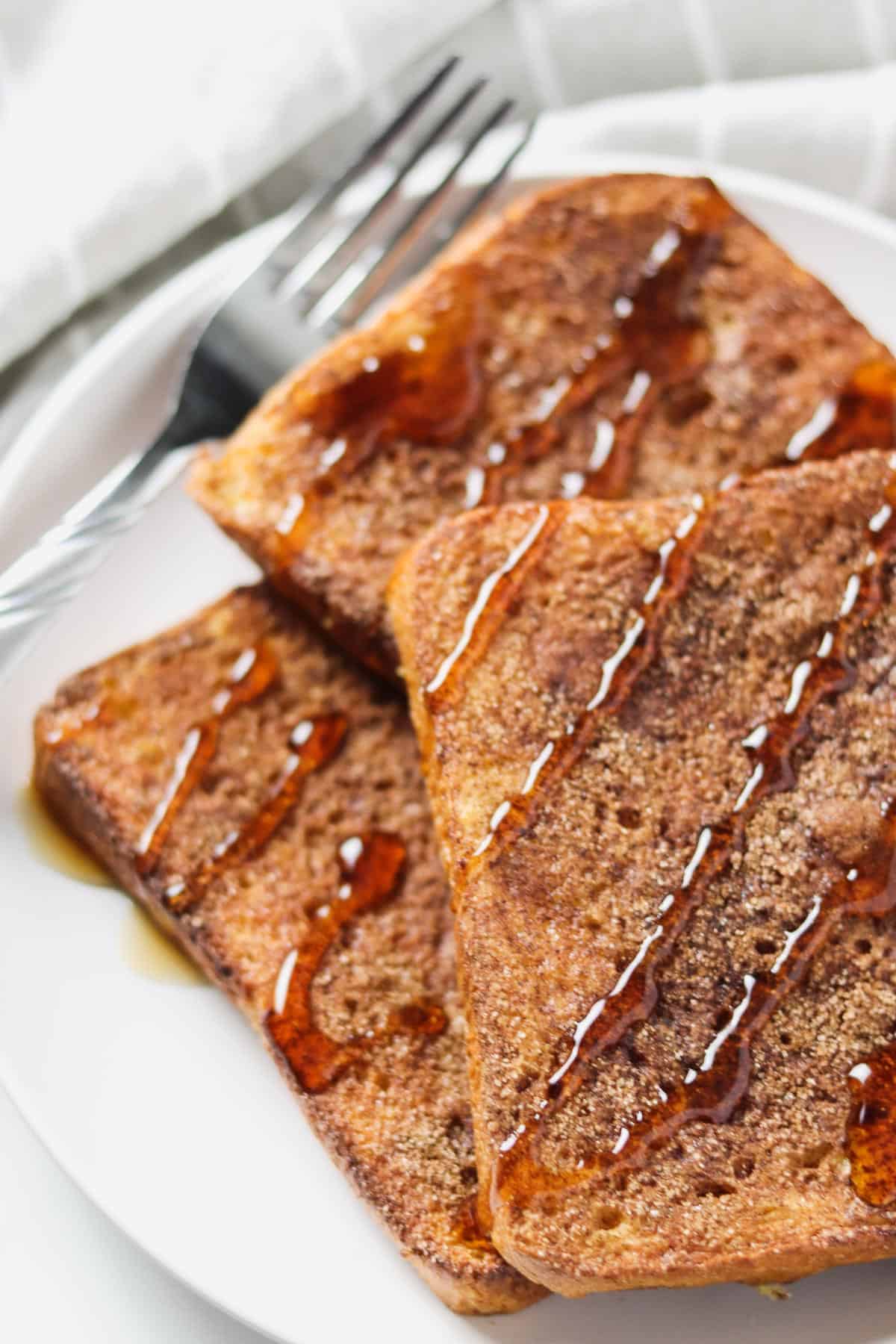 Equipment
For this recipe, you will need an Air Fryer. I absolutely love my Ninja Oven-Style Air Fryer. I easily fit 4-6 pieces of French Toast in the basket.
If you're working with a smaller Air Fryer, you may need to cook in multiple batches.
You could also make this recipe in the oven, but you'll need a few minutes extra cooking time because the oven won't cook as fast as the air fryer.
Instructions
First, take a flat plastic container (a sandwich size container works great for this) and mix up the evaporated milk, butter, egg, and vanilla. Use a whisk to beat the eggs until the mixture is well mixed and fluffy.
In a small bowl mix together the sugar and cinnamon. Set it to the side.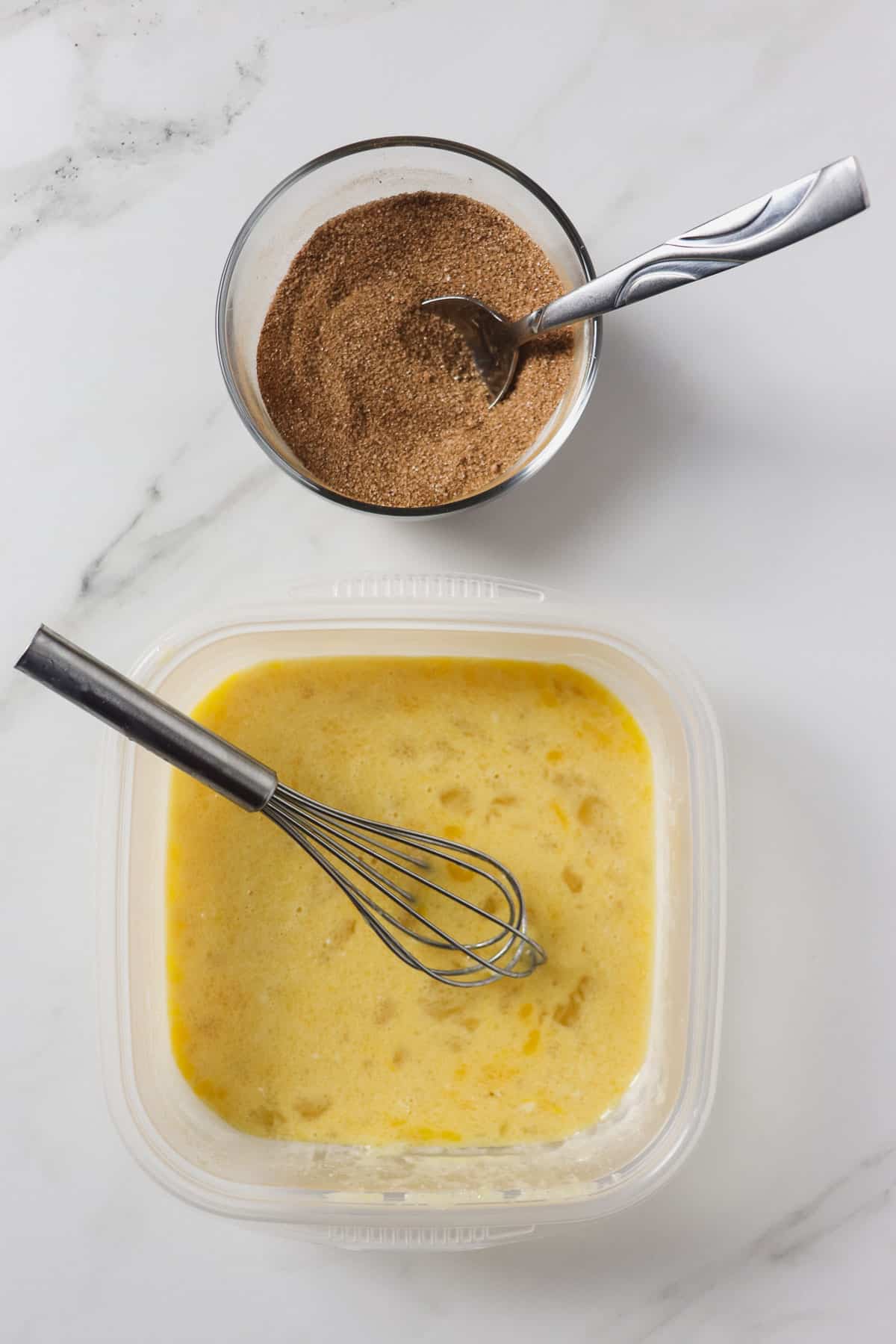 Dip each slice of bread in the egg mixture, making sure to fully coat both sides.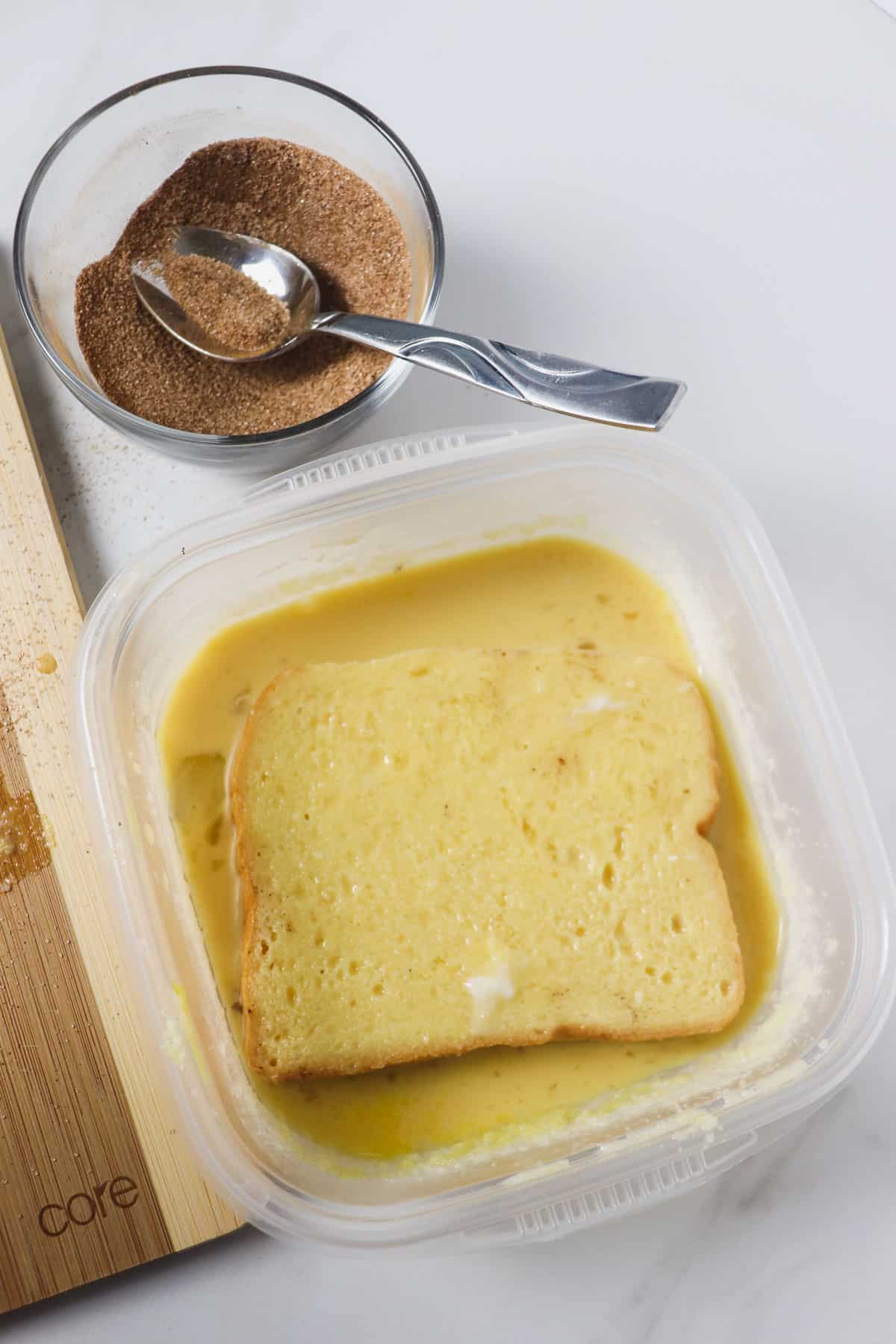 Then use a spoon to sprinkle a coat of cinnamon sugar on each side.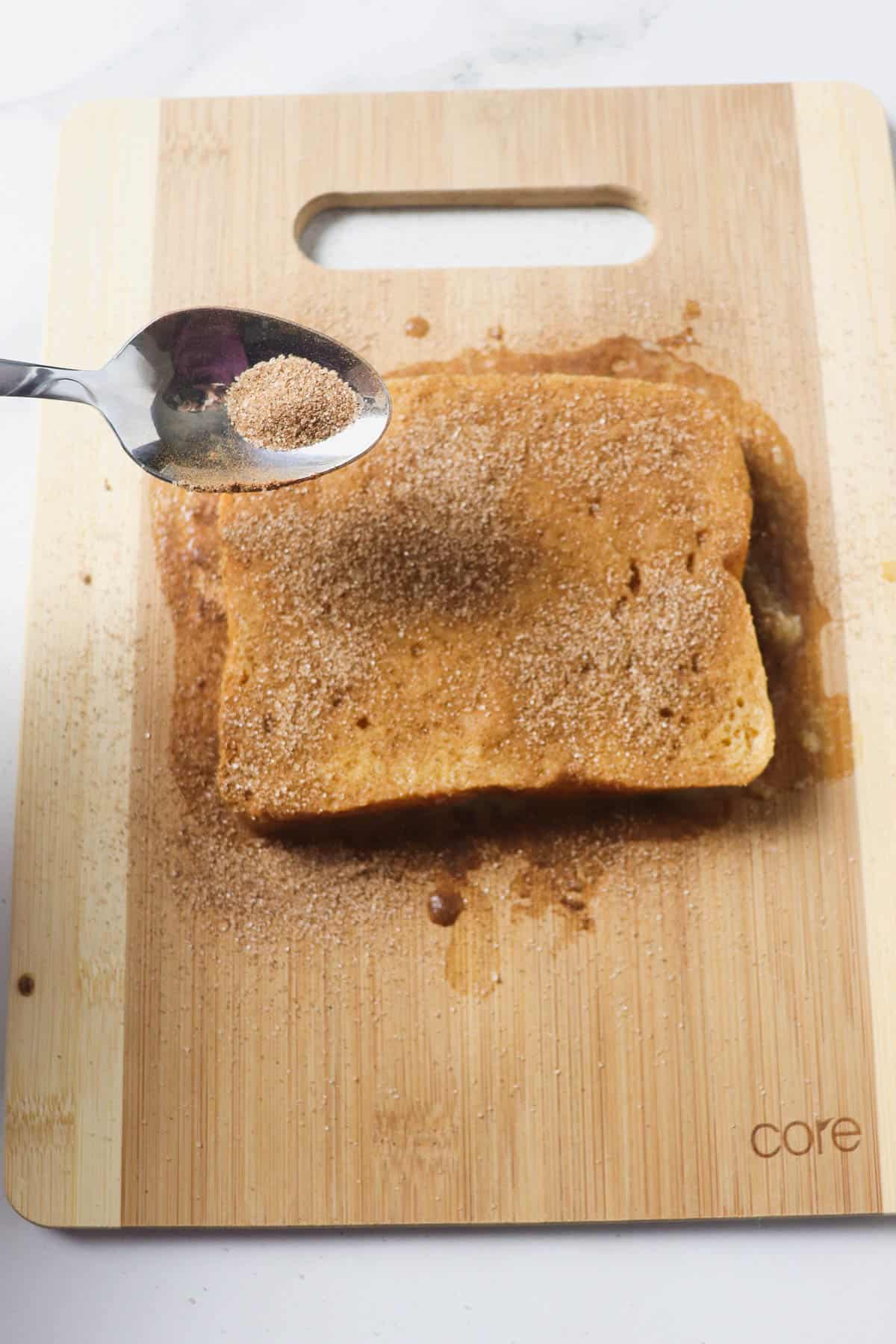 Continue these steps until all slices of bread have been dipped in the egg mixture and coated in cinnamon sugar.
Spray the Air Fryer basket with nonstick spray or line with parchment paper. Place the french toast pieces in a single layer in the air fryer basket, making sure the pieces do not touch. Depending on the size of your air fryer, you may have to cook in multiple batches.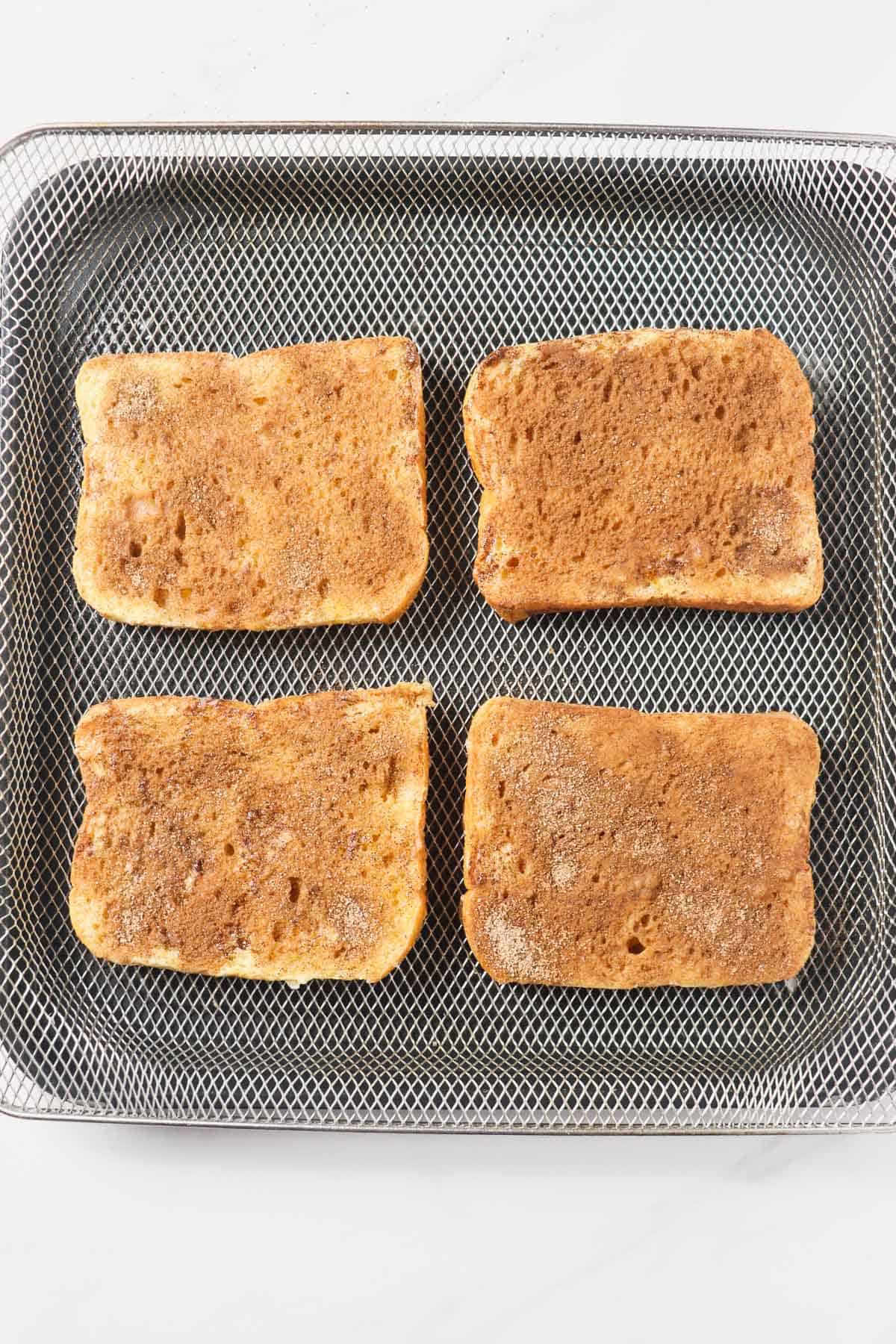 Air Fry at 350 degrees for 8-10 minutes, until the edges are slightly brown and crispy.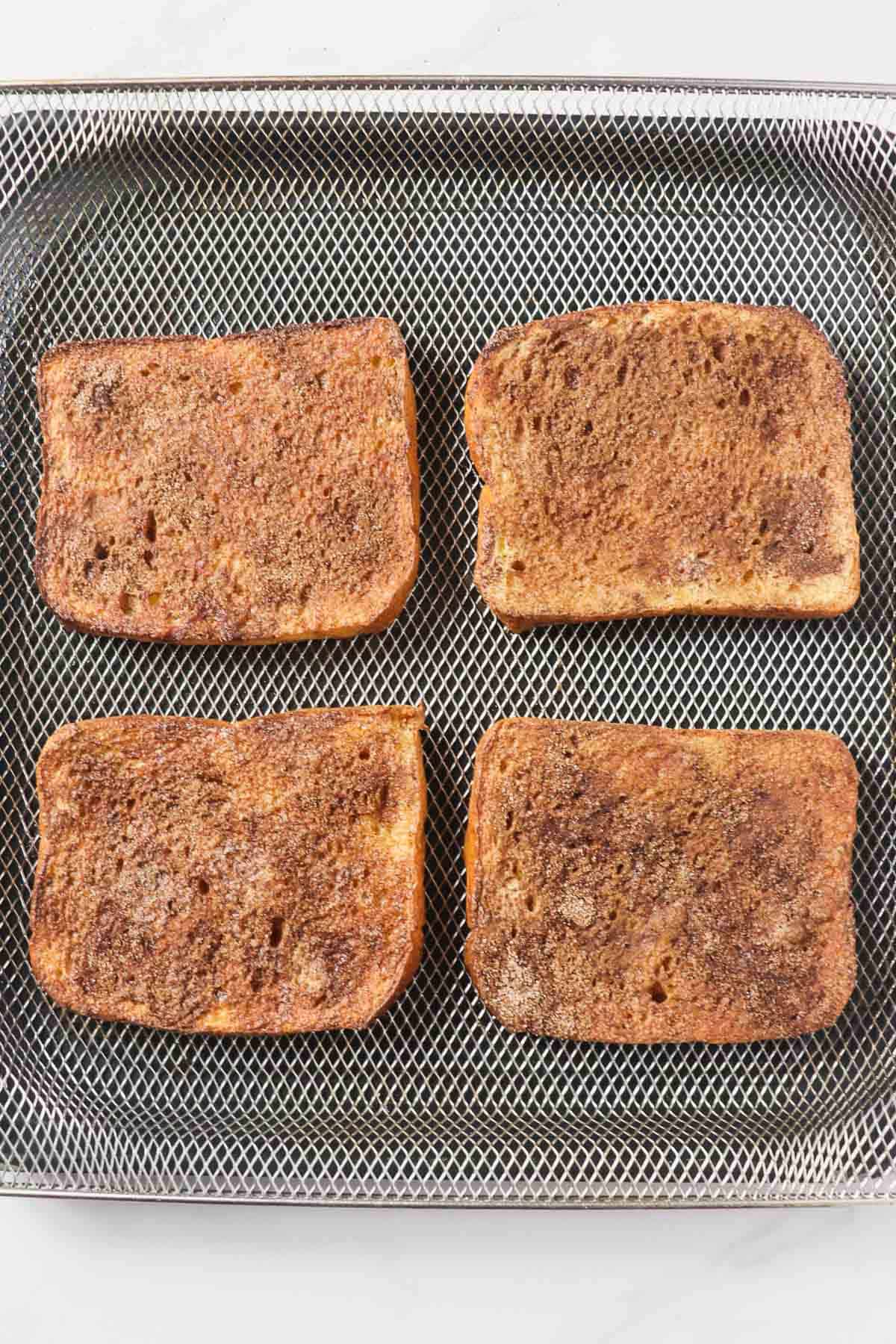 Now, you're ready to serve it up!
How to Make French Toast Sticks
As a kid, I was obsessed with French Toast sticks! If desired, you can definitely make this recipe into French Toast sticks instead of full slices. Simply cut each slice of toast into 3-4 sticks, about 1" thick.
If using smaller pieces of bread, you will need to lower the cook time to about 6-8 minutes at 350 degrees. The french toast sticks are ready as soon as the edges start to brown slightly and become crispy.
Toppings
Here are some ideas for healthy and low-calorie toppings for your french toast:
Light or sugar-free syrup
Light or fat-free whipped cream or cool whip
Fruit - strawberries, blueberries, raspberries, bananas
Toasted coconut
Powdered sugar, or sugar-free powdered sweetener such as Swerve Confectioner's Sugar
My favorite is to add just a dash bit of light syrup and then top with fruit!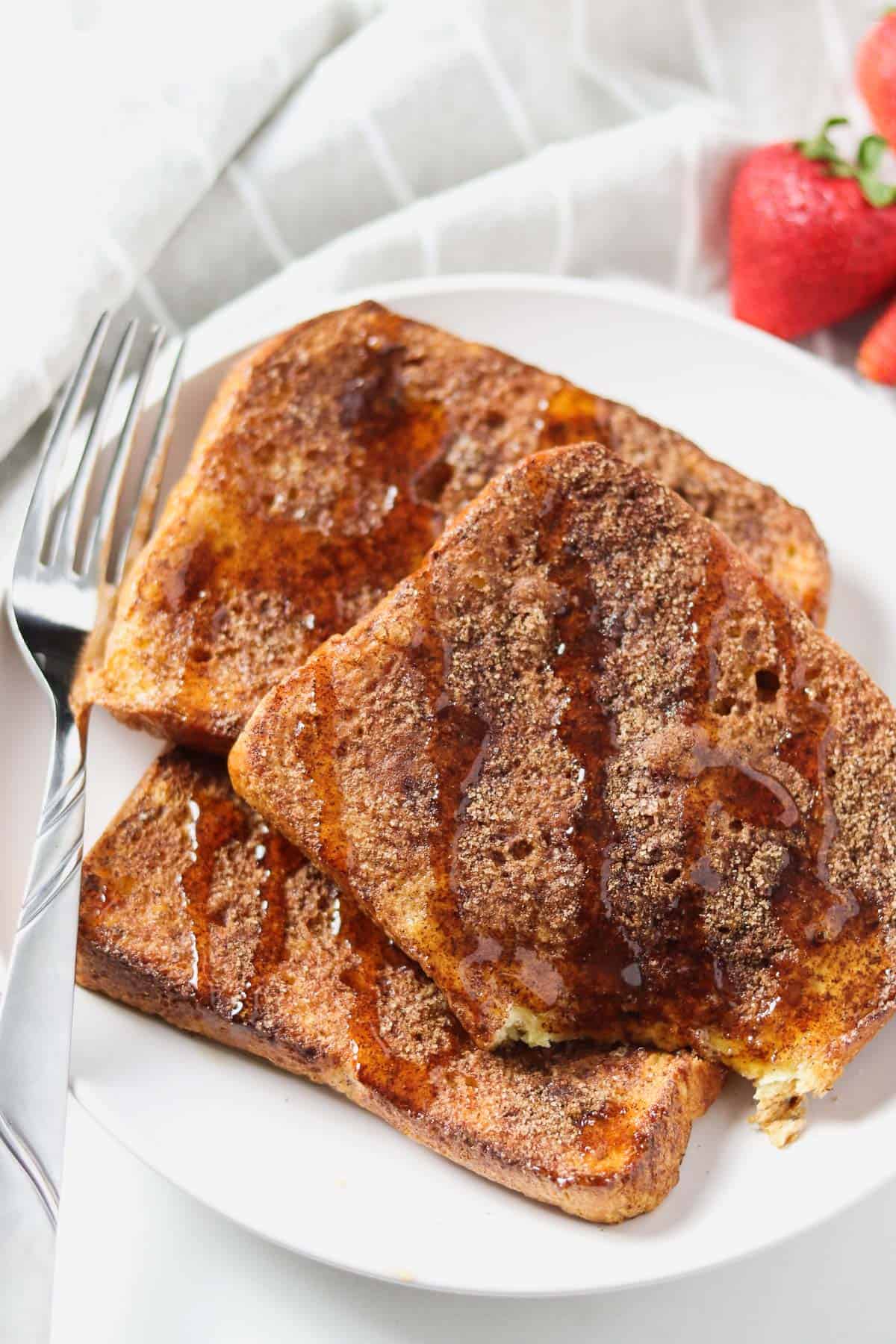 Top Tips
Here are my expert tips for making the best french toast in your air fryer!
Use thick-sliced bread: thick-sliced bread makes the best French Toast! Texas Toast or thick sliced brioche bread works best.
Add toppings: be creative with your toppings! Cool whip, pancake syrup, or fruit are delicious on top of french toast! Check out the list of suggestions above.
Don't stack it: in order for this to cook correctly, the bread slices must be in a single layer and separated slightly so they are not touching.
Oven-style air fryer: an air fryer with a large basket works best for this recipe. My air fryer has a 13x13 inch basket which means I can cook 4-6 slices of French Toast at once.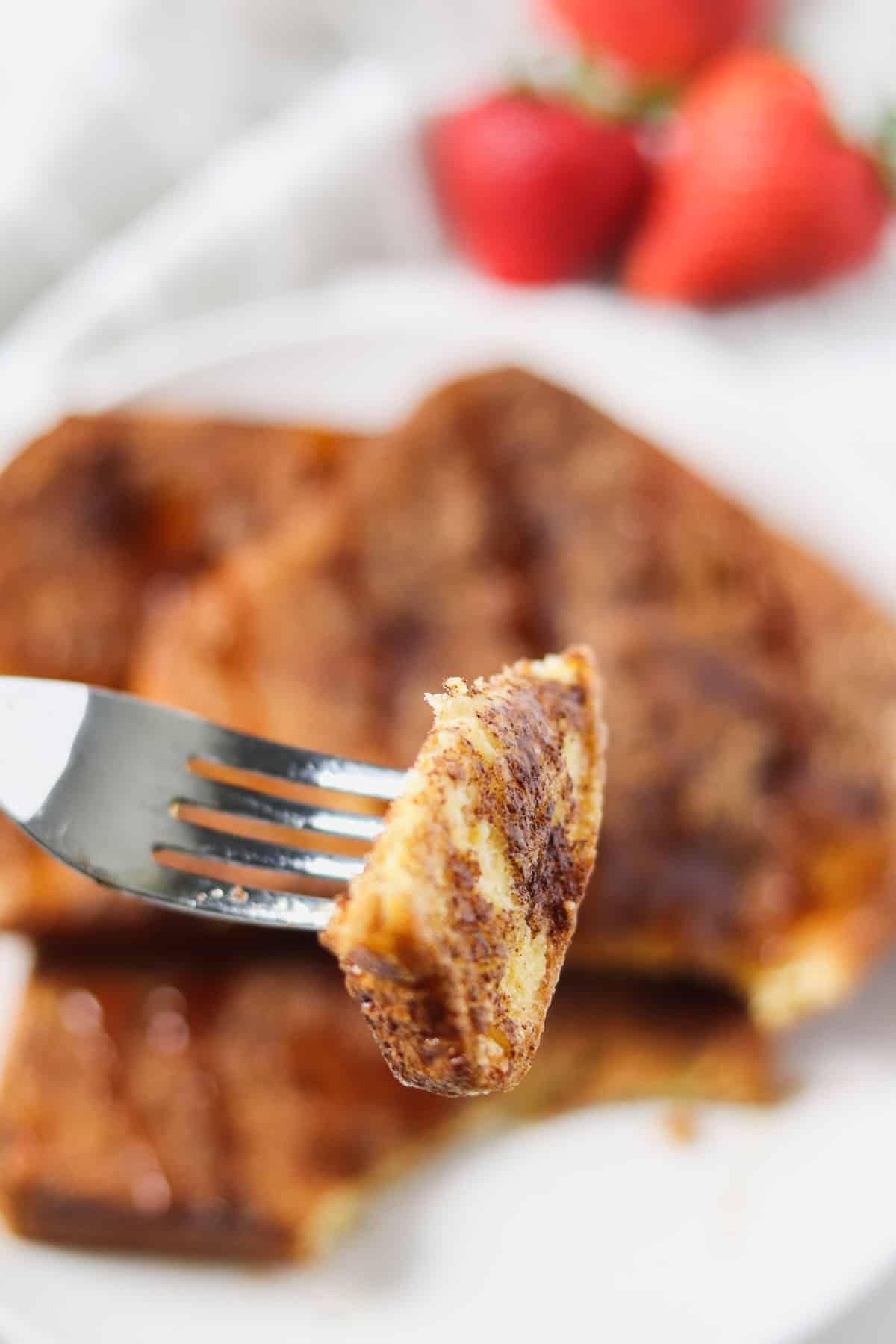 Calories Per Serving
As long as you don't go too heavy on the syrup or whipped cream, the calorie count isn't too bad for this sweet and indulgent breakfast! One slice of French Toast without toppings is about 230 calories. Top with fat-free whipped cream, sugar-free syrup, or fruit to keep the calorie count low.
Recipe