These air fryer rotisserie chicken bites make for a delicious, easy, and healthy meal! Low in both carbs and calories, these are great for a keto or low-calorie diet.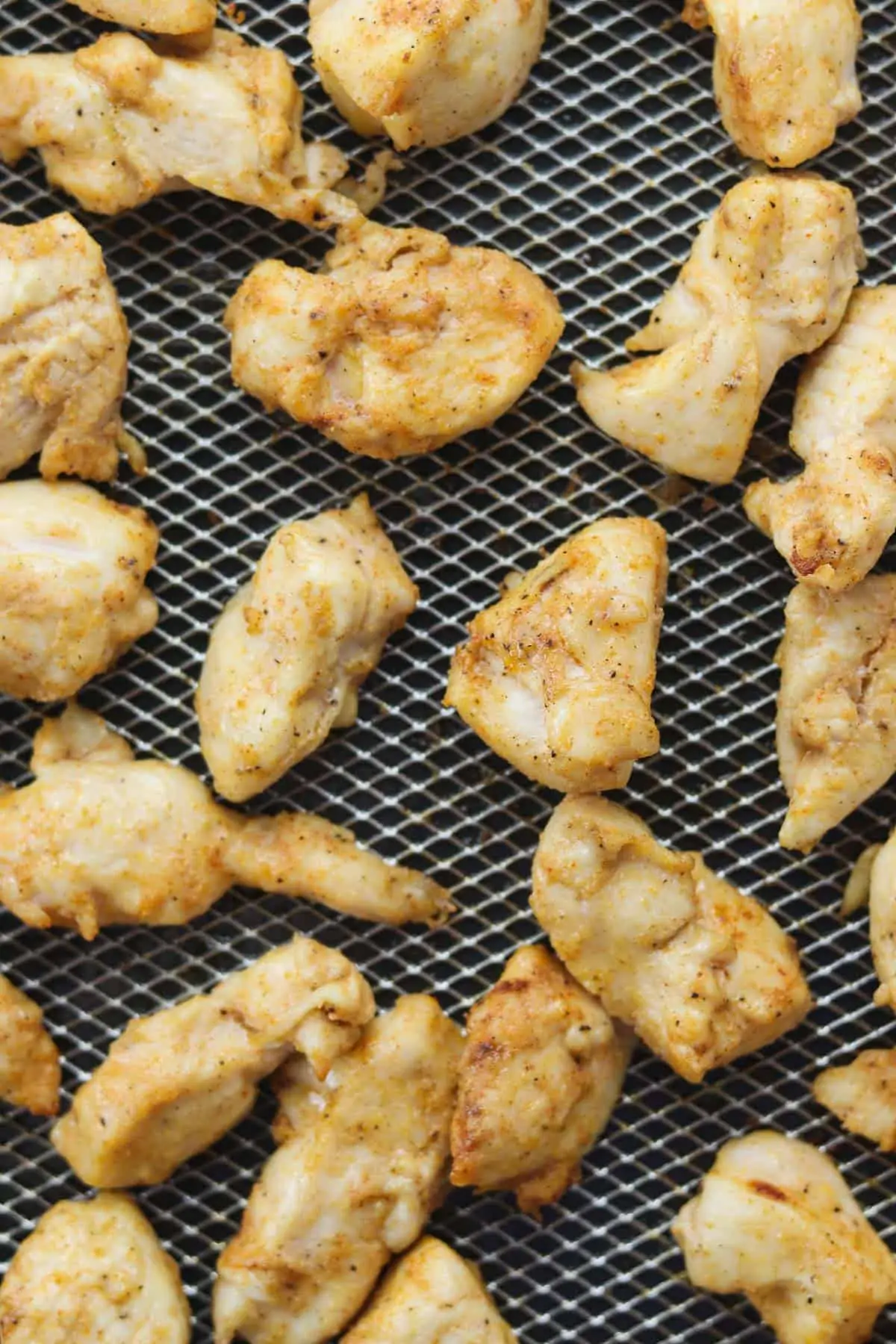 If you're craving chicken nuggets but want to skip the breading, these chicken bites are for you! Seasoned to taste just like your favorite rotisserie chicken, these bites are still full of flavor without being breaded and fried. They are also ready in less than 10 minutes thanks to the air fryer!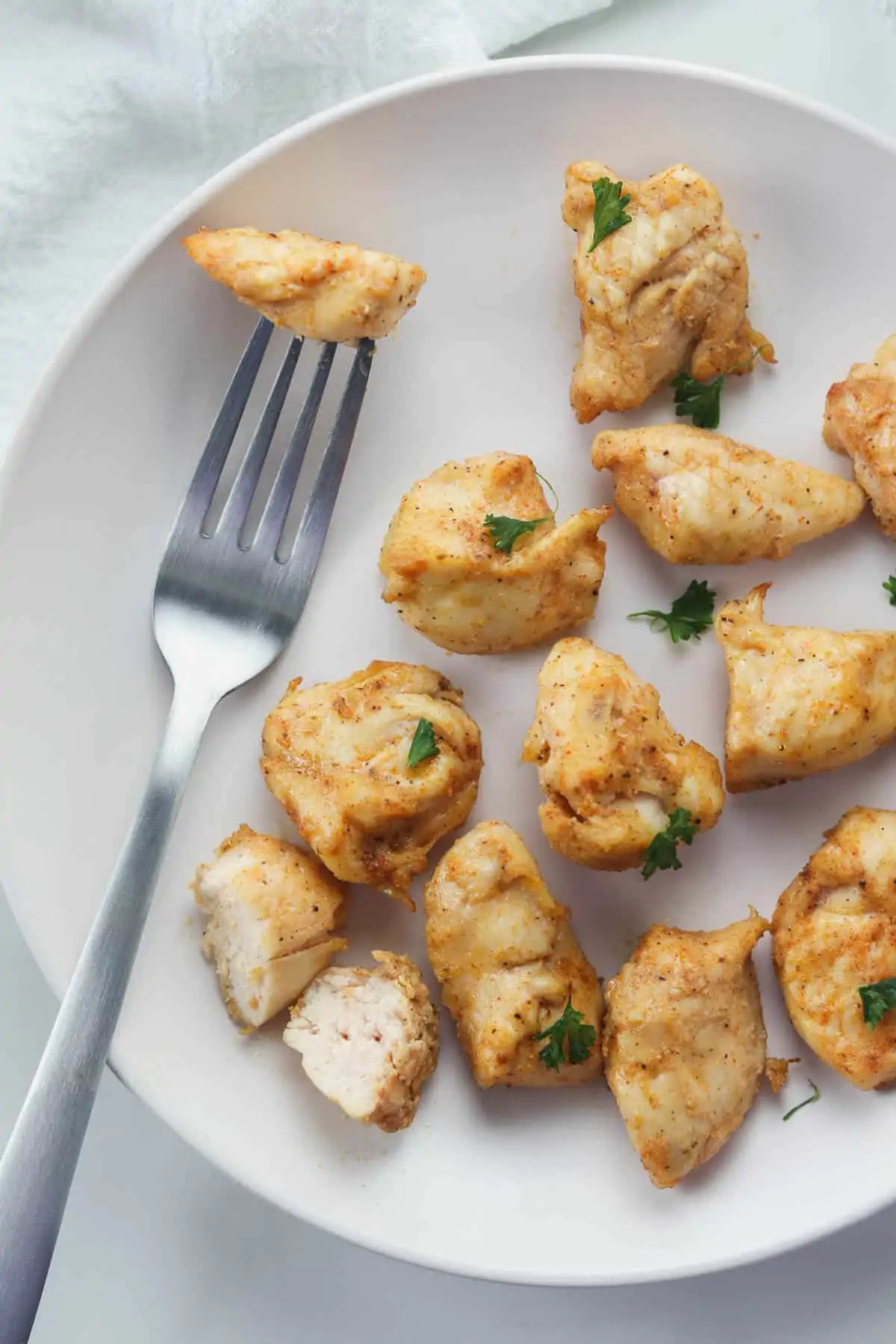 These chicken bites were inspired by my no-breading air fryer chicken tenders, which is a similar recipe for chicken tenderloin. I love to fix these chicken bites with a side of green beans or roasted potatoes to round out a healthy meal!
Jump to:
Ingredients
You will need: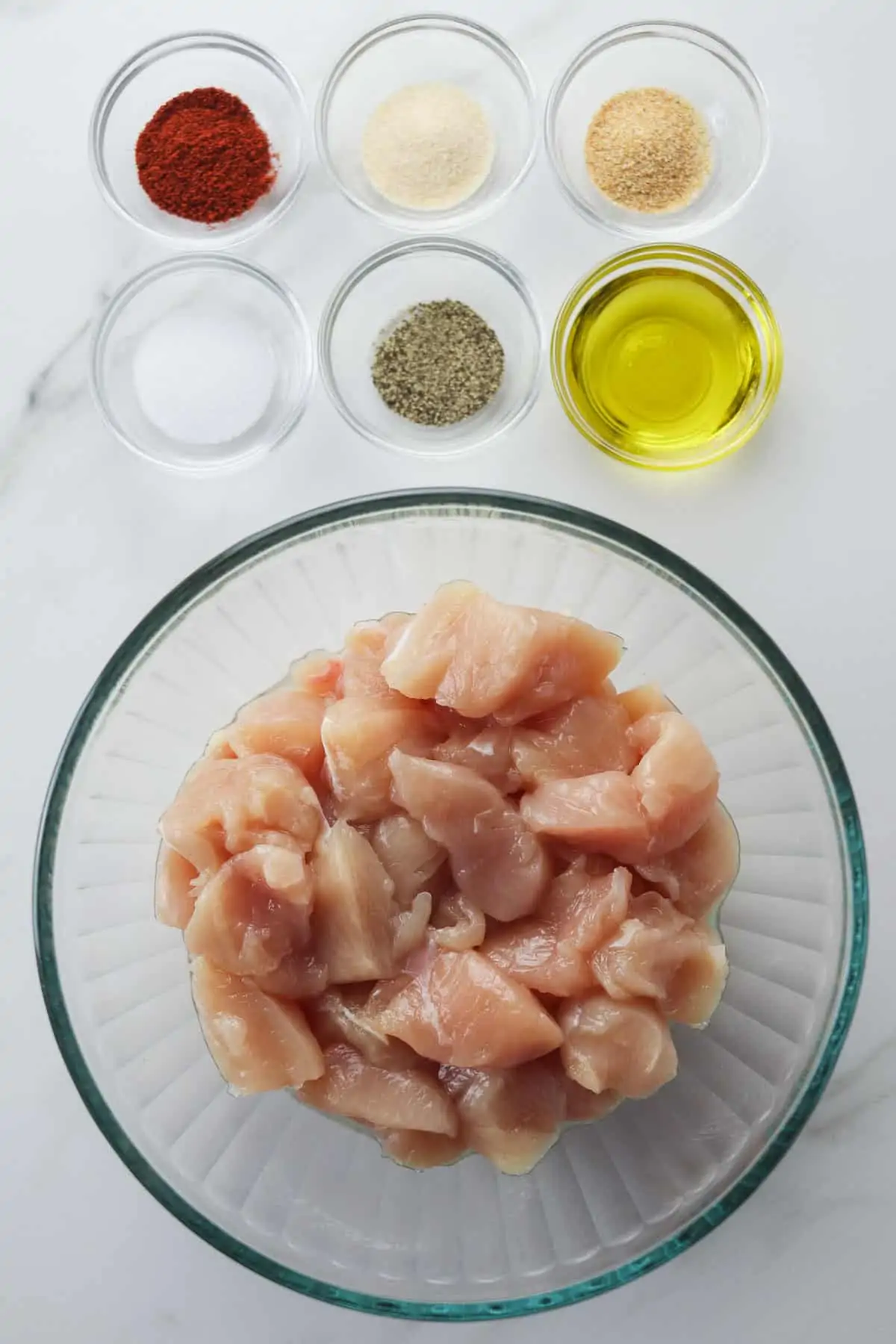 1 pound chicken breast or chicken tenderloin, cut into 1" pieces
1 tablespoon olive oil
½ teaspoon paprika
½ teaspoon garlic powder
½ teaspoon onion powder
½ teaspoon salt
¼ teaspoon black pepper
Instructions
First, cut up your chicken into bite-sized pieces (about 1" cubes). I normally use chicken tenderloin, so I can quickly cut the strips into pieces.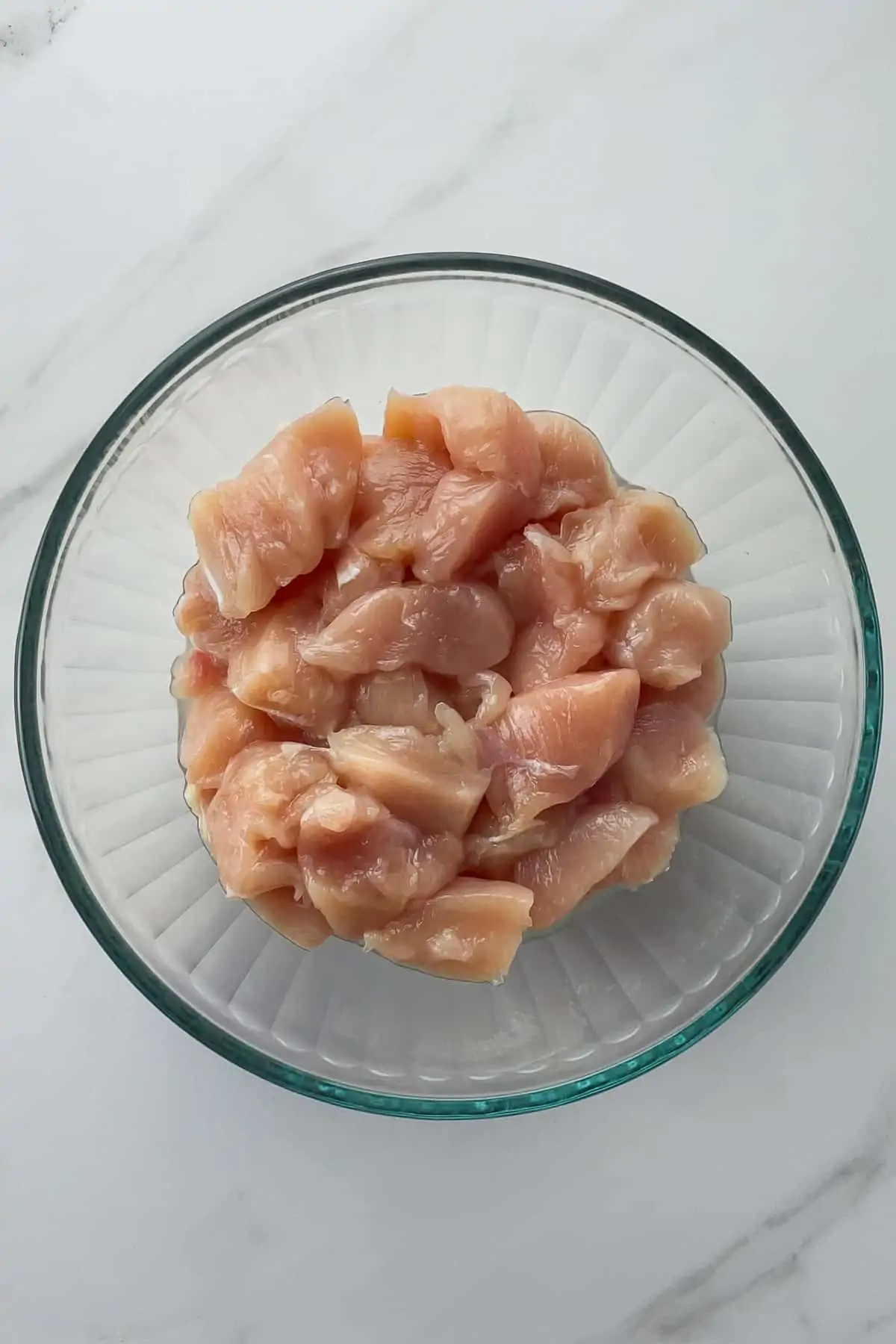 In a mixing bowl, add the chicken, olive oil, and seasonings. Stir until the chicken is well coated with the seasoning mixture.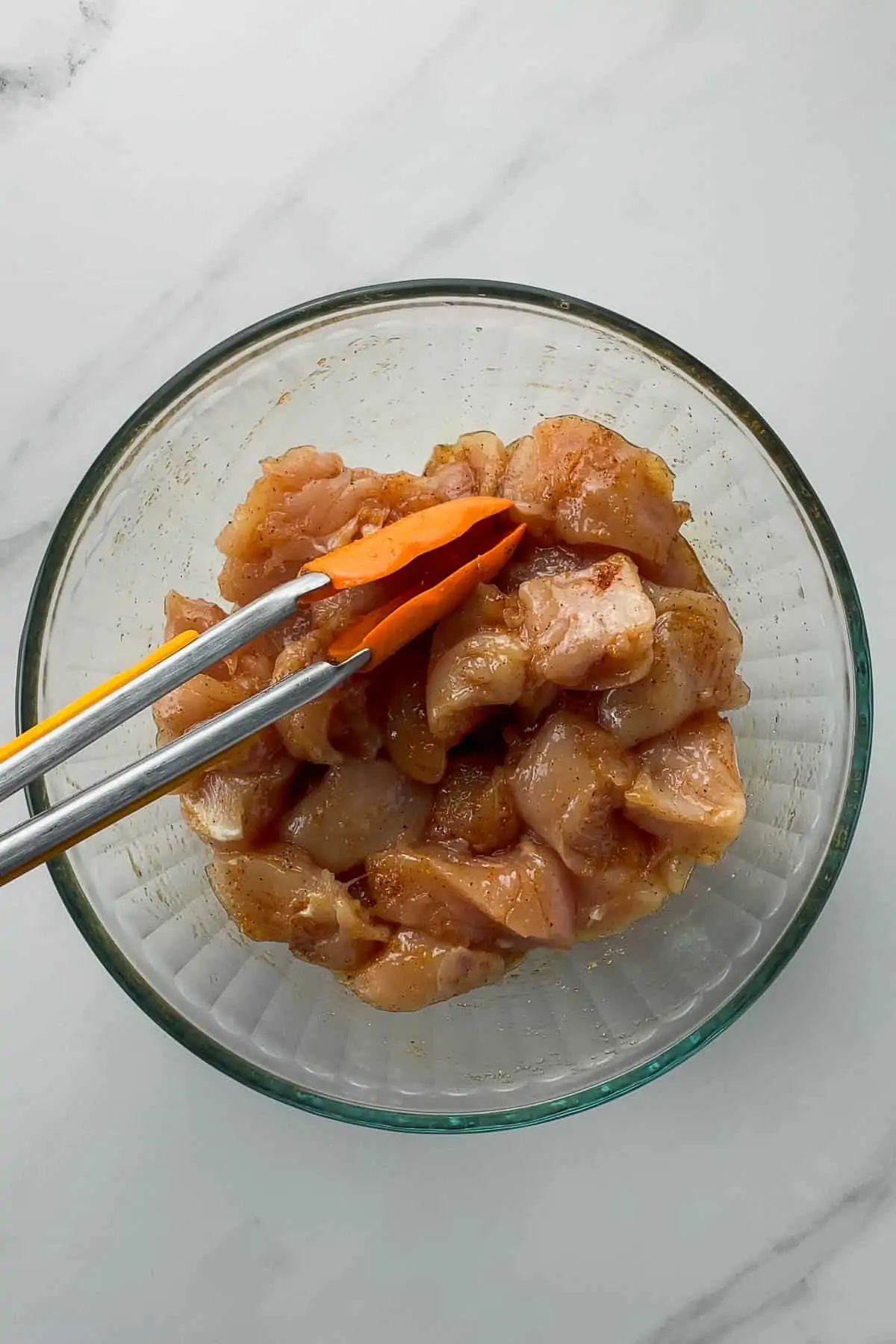 Lightly spray the air fryer basket with nonstick cooking spray. Spread the chicken pieces in a single layer in the air fryer basket. It's best to separate the pieces as much as possible so that they're not touching. If needed, you may have to work in batches.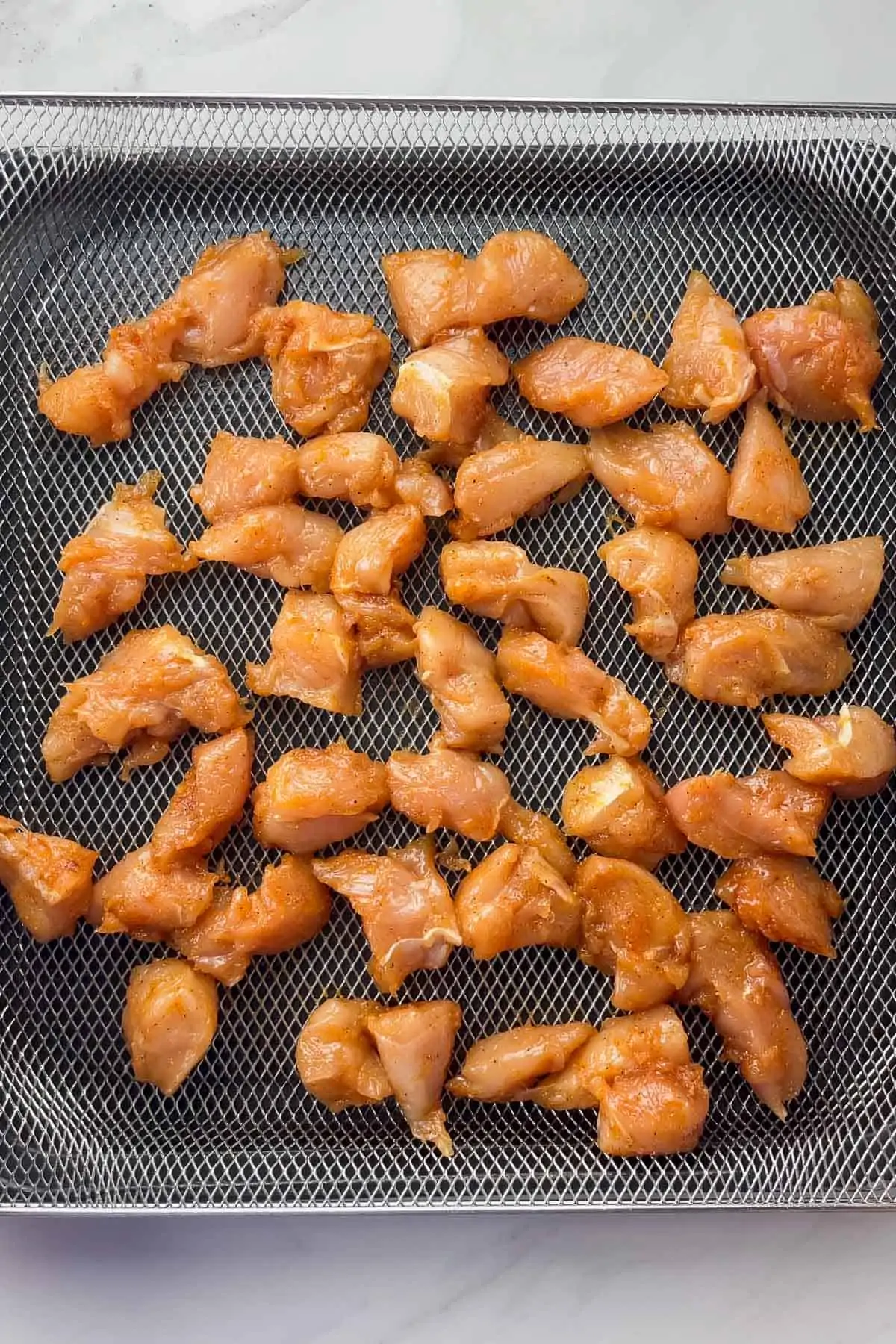 Air fry at 400 degrees for 6-8 minutes, flipping halfway through the cooking time. The chicken bites are done when they are golden brown and at least 165 degrees F on the inside when measured with a meat thermometer.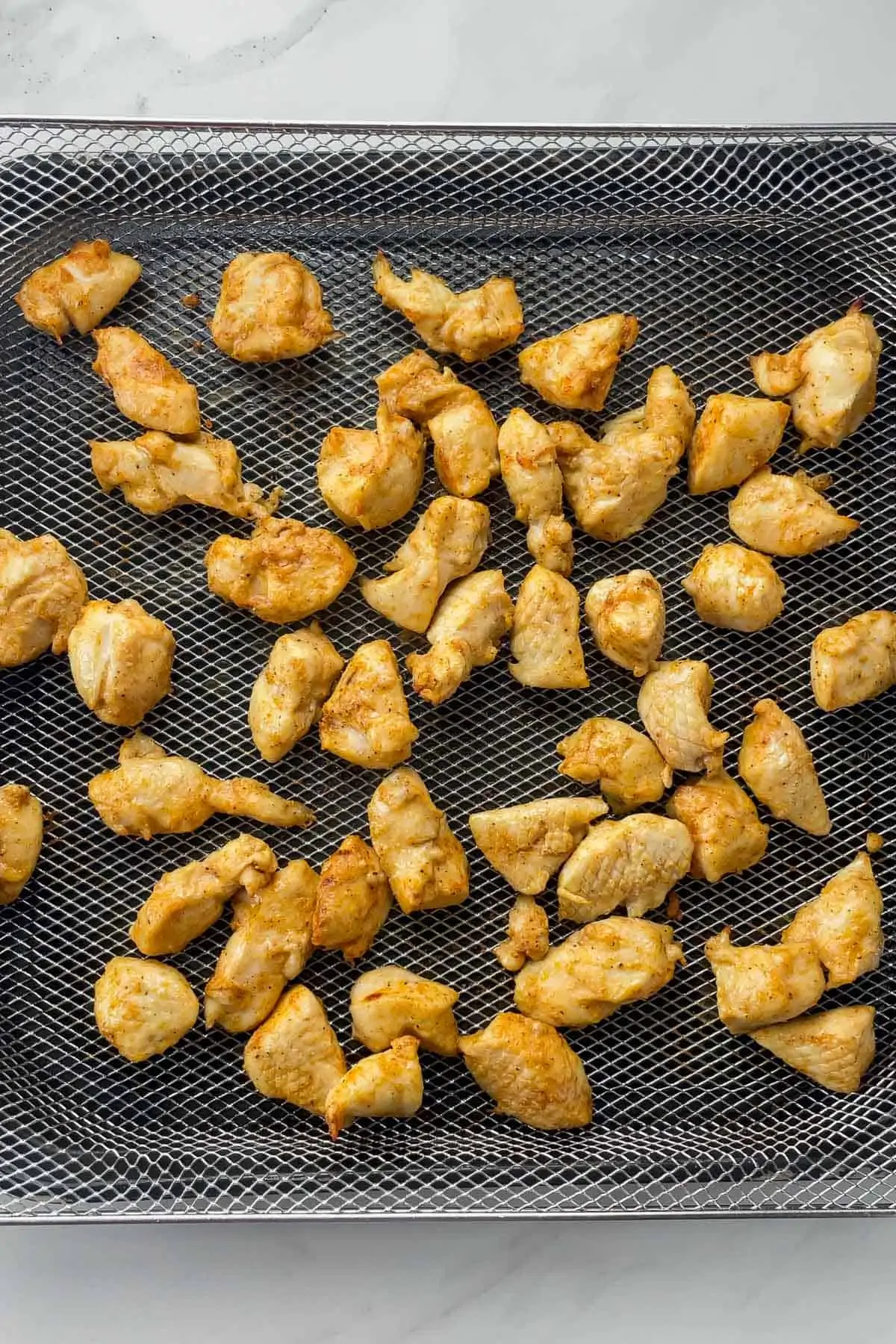 Serve warm with your favorite dipping sauce! Ketchup, light ranch, bbq, or light honey mustard are good options.
Variations
Chicken tenders or chicken breasts - you can also make this recipe as whole chicken tenders or breasts, rather than cutting the chicken up into bites. Chicken tenders will take about 10-12 minutes to cook. Chicken breasts will take 15-25 minutes to cook, depending on the size of the breasts.
Seasoning options - you can definitely change up the seasoning to your favorite flavors or pre-mixed seasonings. This recipe calls for a simple rotisserie chicken seasoning blend, but you can definitely mix it up! The montreal chicken blend of seasoning works well, or you can even use something simple like seasoned salt. Butt rub seasoning is also a great option if you like a barbeque flavor.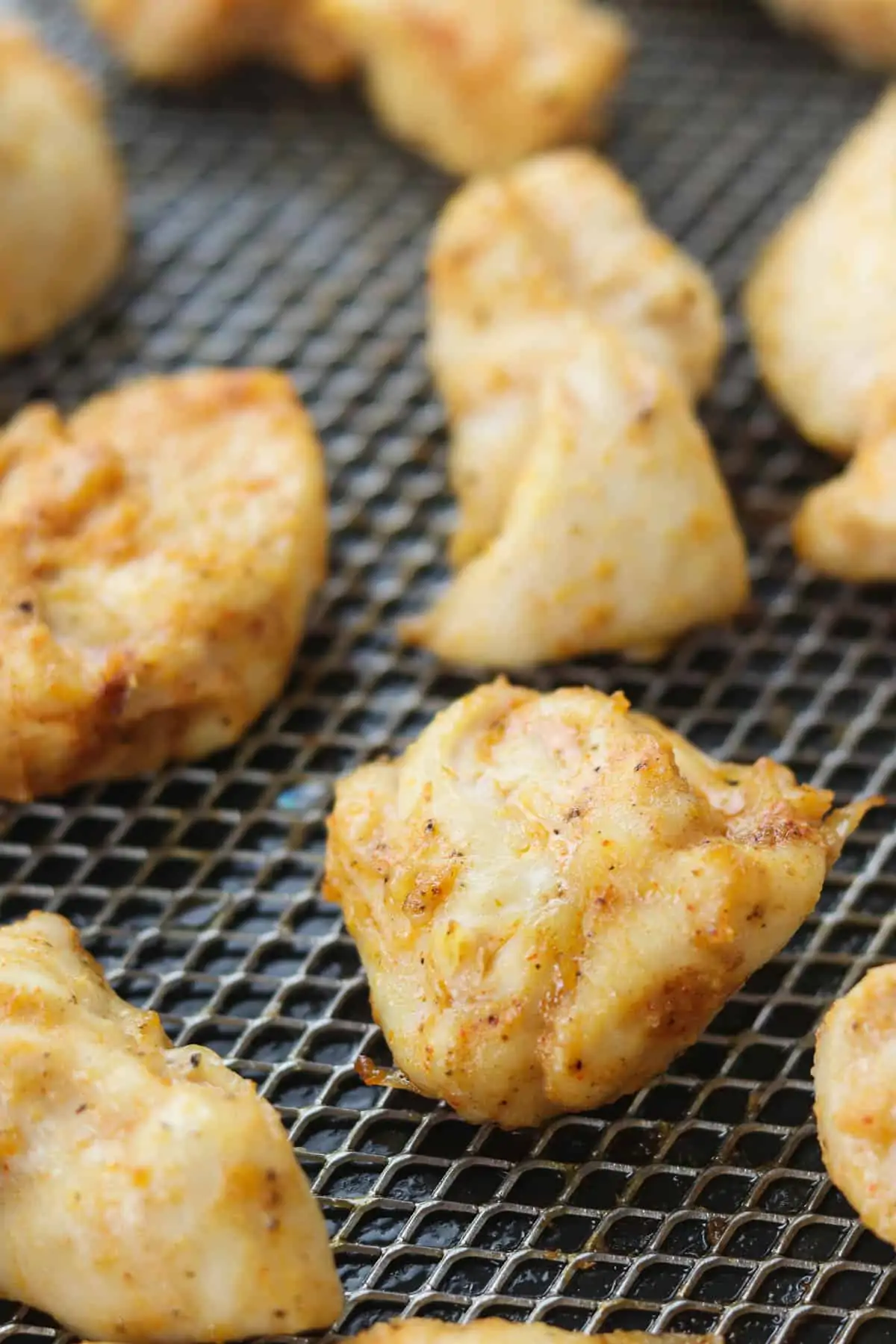 Top Tips
Doubling the Recipe - if you want to make more than 1 pound of chicken, you will likely need to cook in multiple batches. Make sure you cook the chicken in a single layer.
Making it Ahead -this recipe is great for meal prep or lunches! If you make these bites ahead of time and refrigerate them, they are great to throw in your lunch box. They taste great cold if you want to use them as a salad topper or inside a wrap for lunch.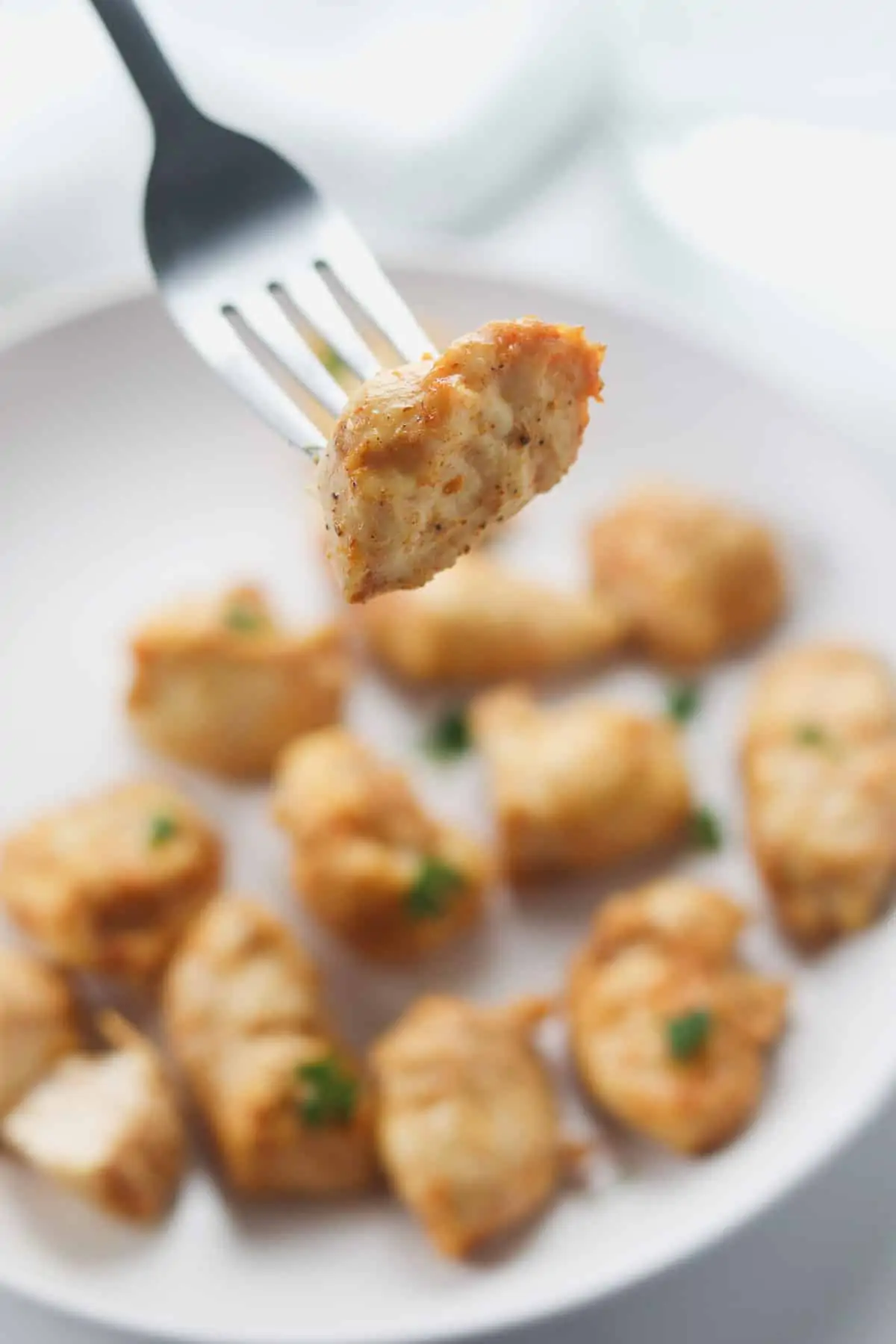 How to Serve
These versatile chicken bites can be served in many different ways. You can use them in almost any recipe where you want to use grilled chicken. Here are some of my favorite ways to enjoy these:
Plain, with dipping sauces such as light ranch, bbq, honey mustard, or ketchup
On a salad (great for lunch!)
Inside a tortilla with lettuce and other veggies
Inside a lettuce wrap, for a low-carb option
On top of your favorite pasta dish
Skewer them with toothpicks to make an easy appetizer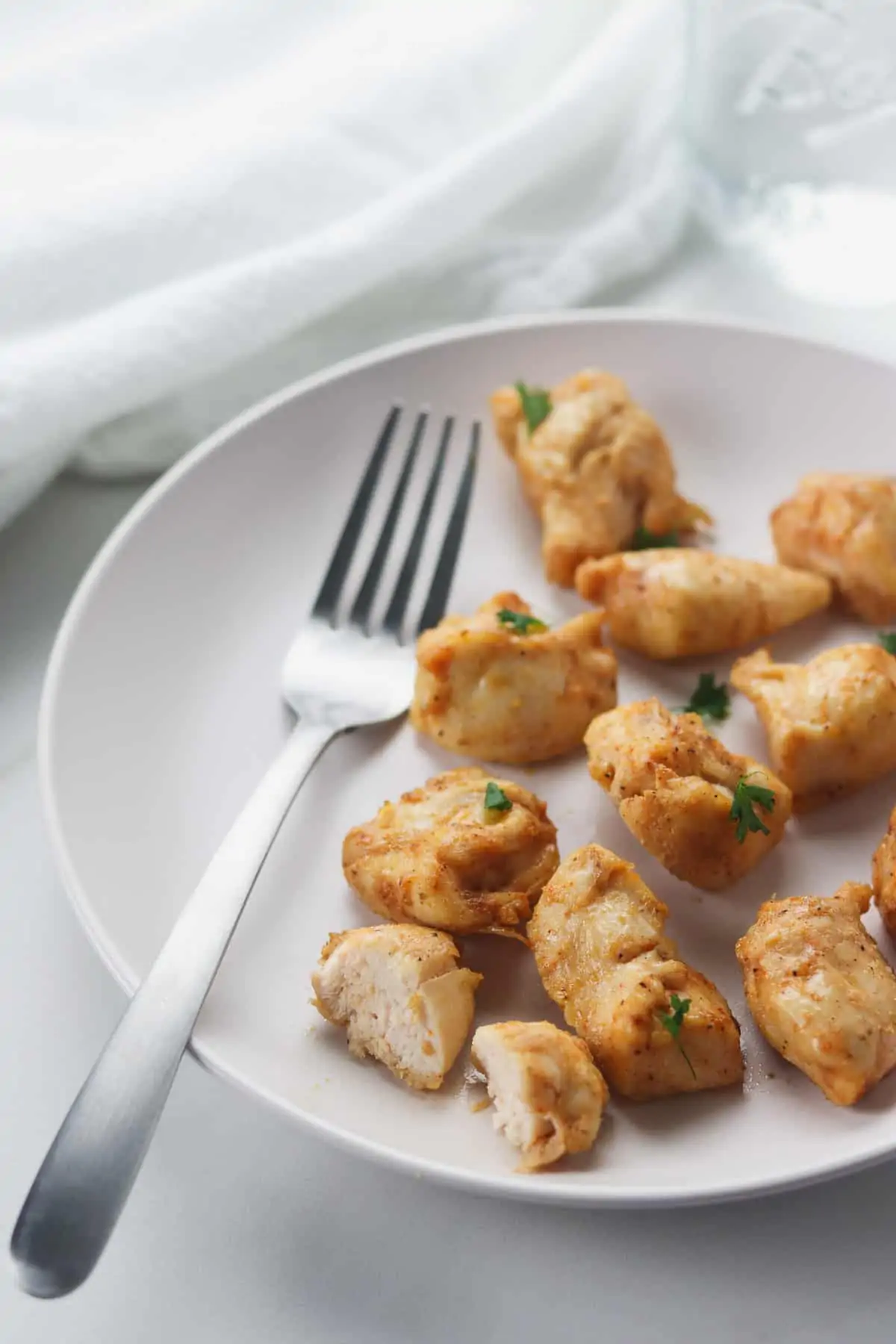 Storage
These chicken bites will keep fresh in the refrigerator for 3-4 days. Store refrigerated in an airtight container.
Calories & Serving Size
One serving of this recipe (about 4 oz, or ¼ of the recipe) has only about 220 calories and only 1 carb. These are great for low-calorie or low-carb diets!