Make perfectly tender and juicy "naked" chicken tenders in your air fryer with no breading! These make a great option for a low-carb and low-calorie dinner.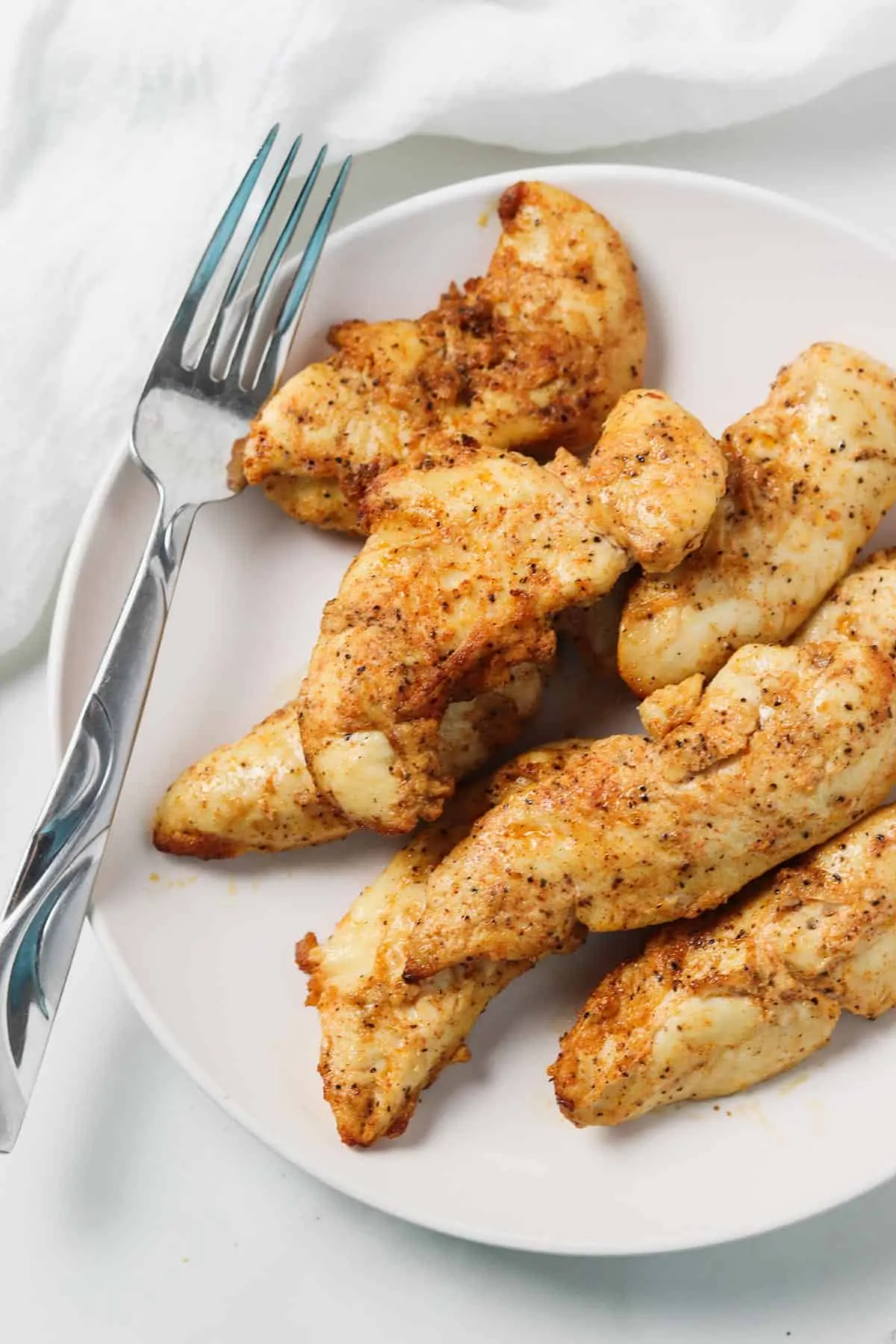 I have always enjoyed grilled chicken, but it sure is a pain to pull out the grill. You can throw your chicken in the air fryer to create a similar flavor and texture without dealing with the grill.
Chicken tenders also cook very quickly in the Air Fryer - about 10 minutes with no preheating! Super fast and easy for a weeknight dinner.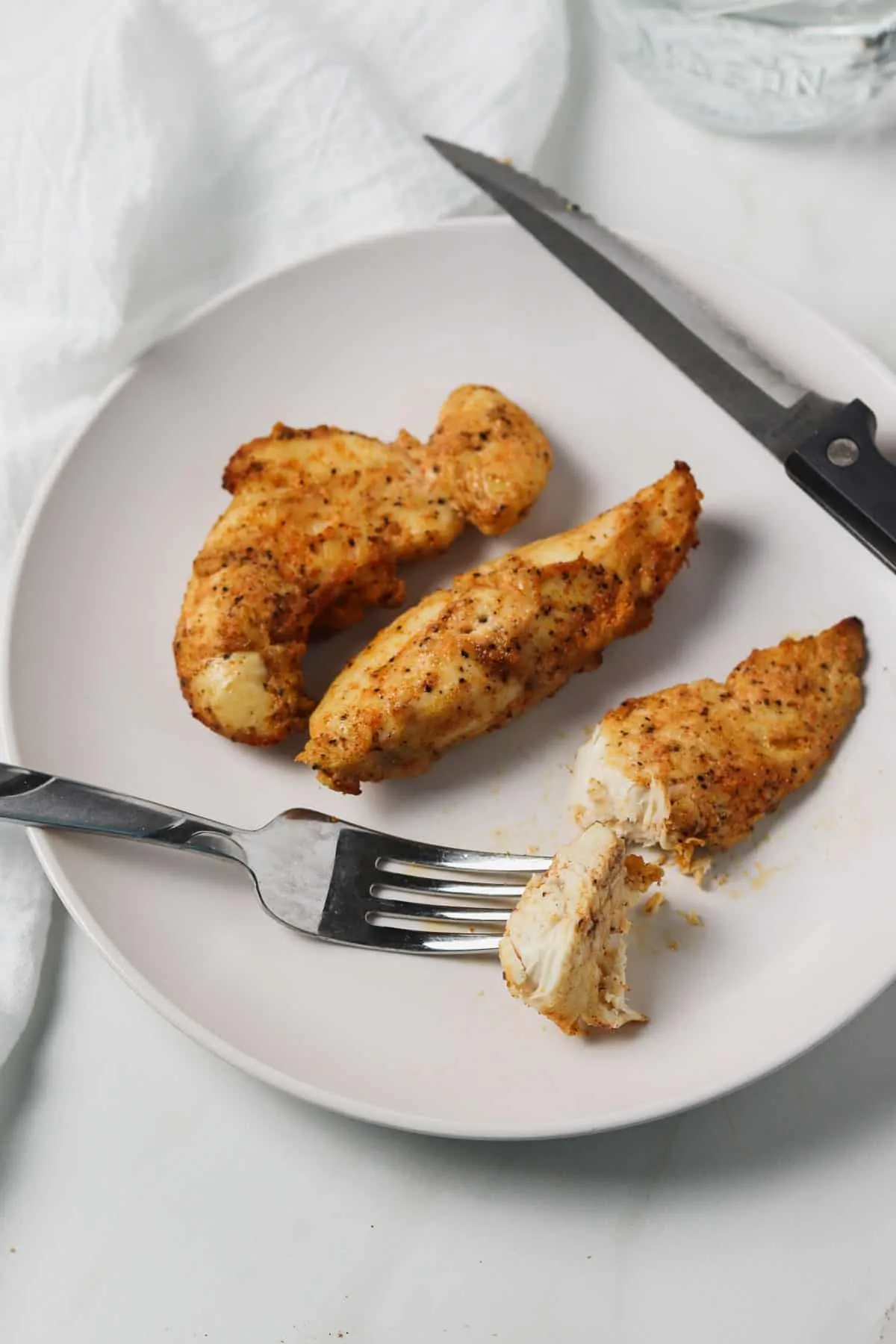 Marinated in a simple mixture of bbq dry rub, oil, and vinegar, these come out perfectly juicy and flavorful every time. You can customize this recipe by using your favorite seasoning blend.
These chicken tenders are very versatile and can be served standalone, on top of a salad, or even as a pasta topping.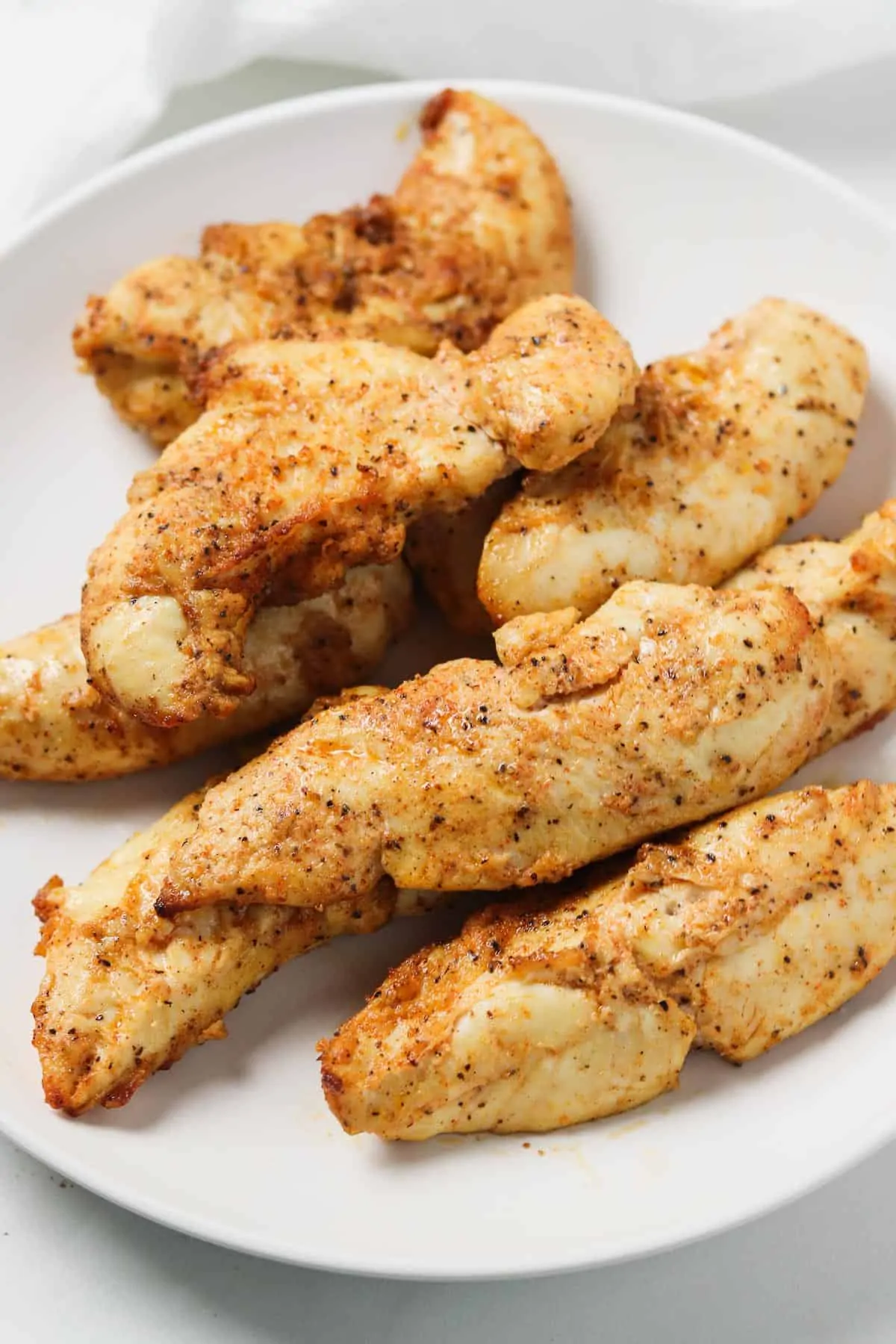 Jump to:
Ingredients
You will need:
1 pound raw chicken tenderloins (if frozen, be sure you thaw them first)
2 tablespoon canola oil (or the oil of your choice)
1 tablespoon vinegar (plain white vinegar)
1 tablespoon butt rub (dry-rub bbq seasoning)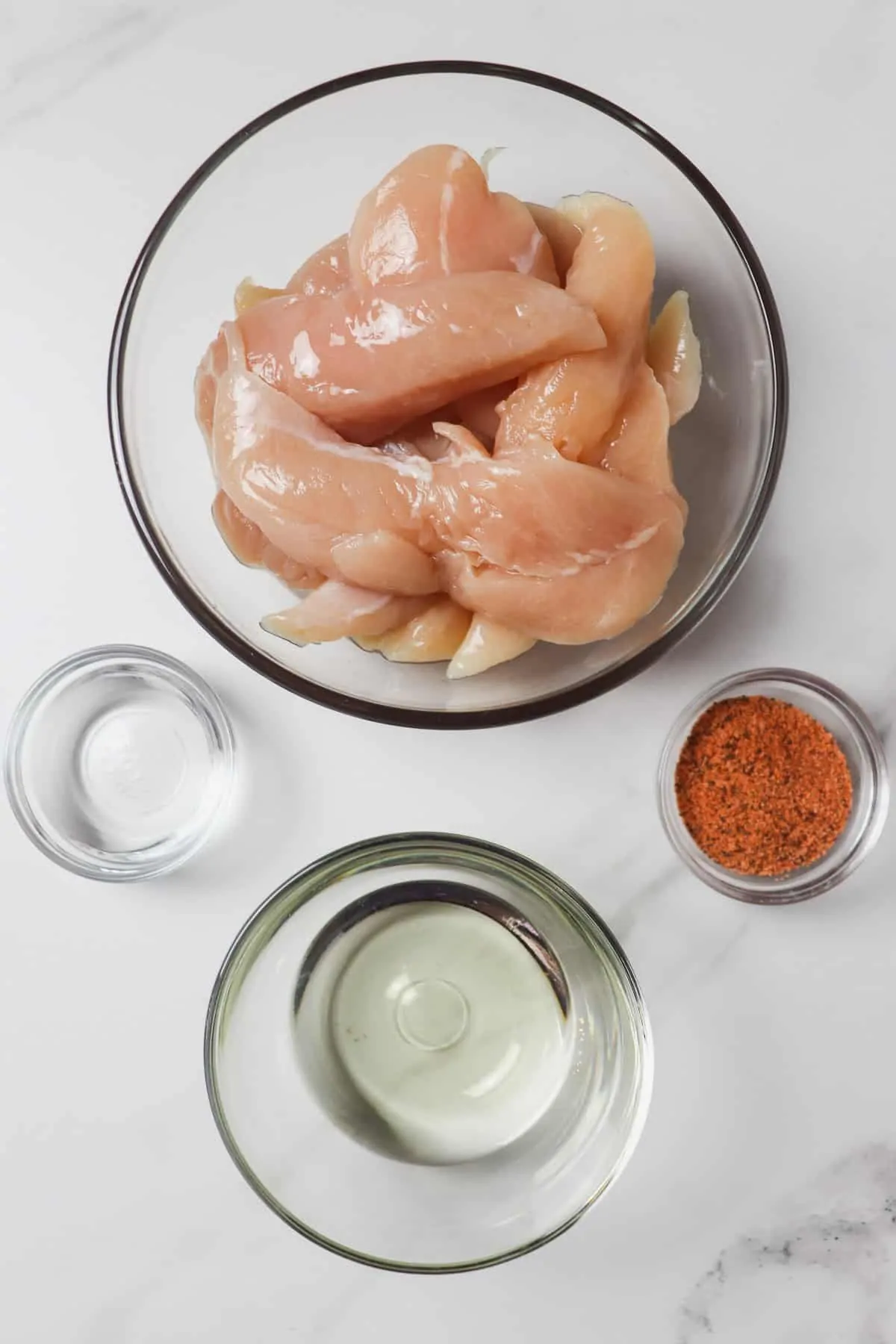 Substitutions
Chicken Breasts
To use chicken breasts instead of chicken tenders, slice breasts lengthwise into 3-4 tender-sized pieces (about 1" thick). If you don't cut the chicken breasts into smaller pieces, the chicken will take much longer to cook (15-20 minutes).
Seasoning
I am a huge fan of butt rub seasoning, but you can use any seasoning blend that you like. Butt rub has a nice dry rub bbq flavor - a blend of onion, garlic, salt, pepper, paprika, and chipotle. It's my favorite seasoning mix!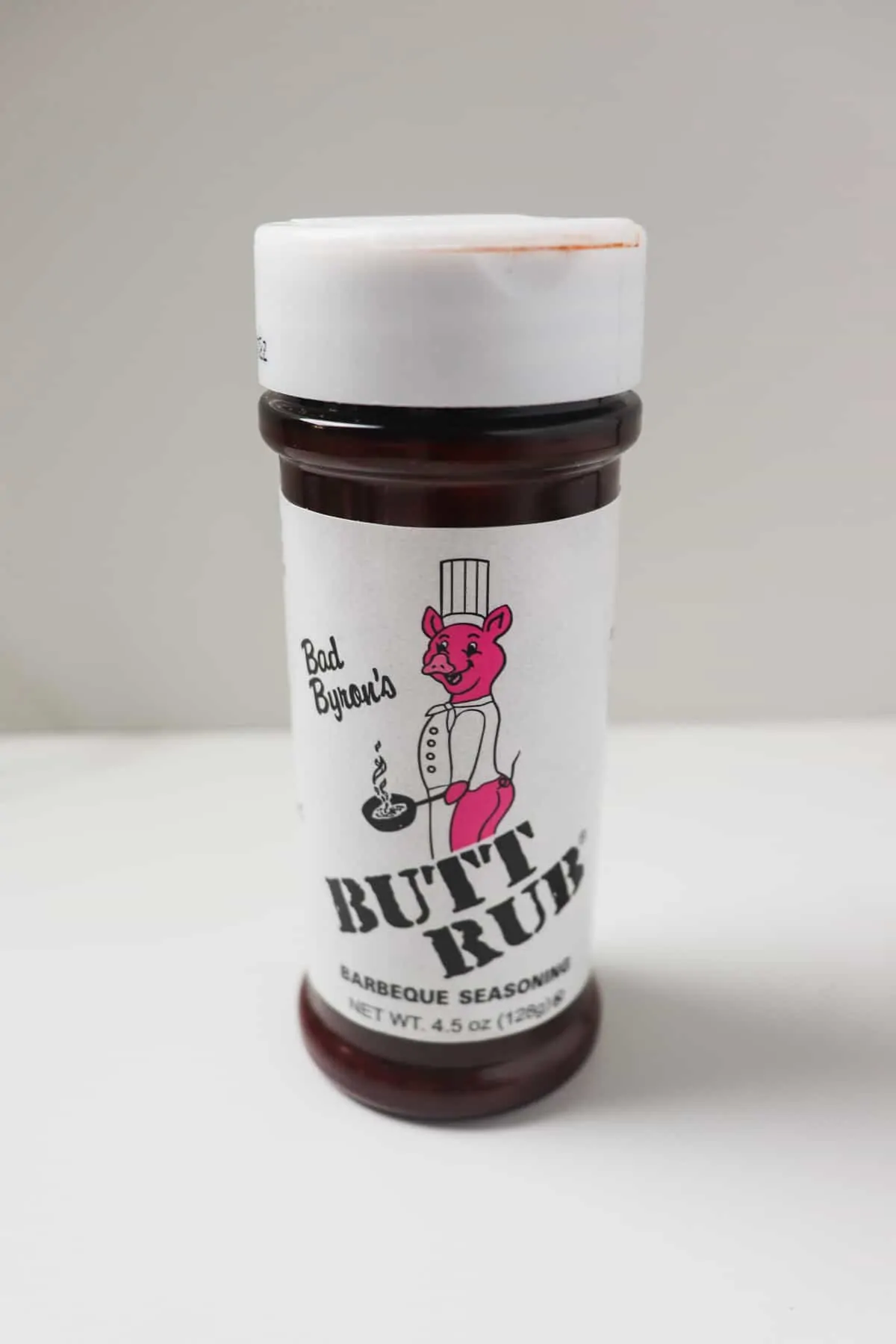 You could also make this recipe with any type of bbq seasoning, chicken seasoning, cajun seasoning blend, or even something simple such as seasoned salt.
If your seasoning blend is extra salty, I would reduce the amount of seasoning from 1 tablespoon to 1-2 teaspoons. If you're unsure how much seasoning to use, start with less seasoning and add more later, if needed.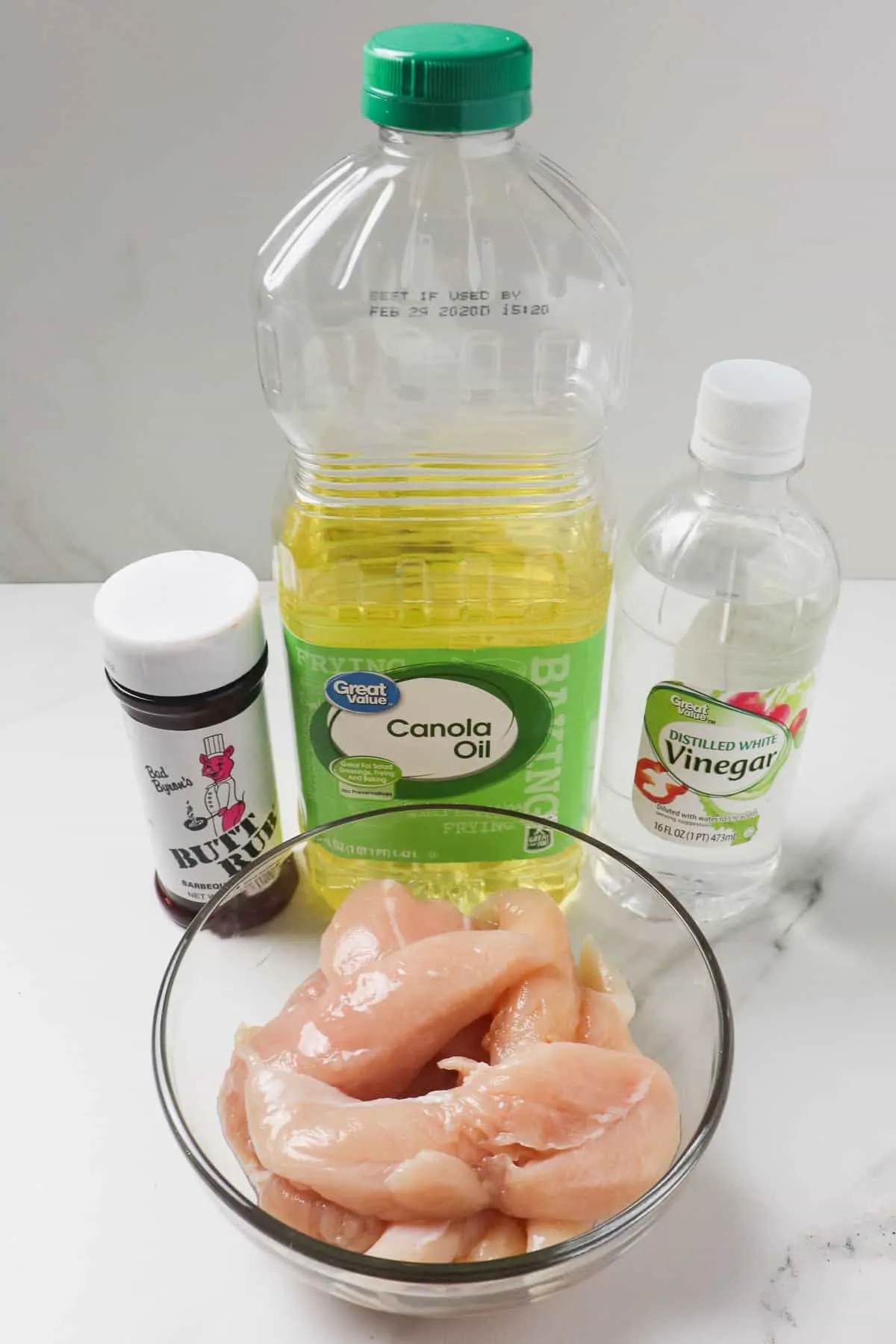 Equipment
You will need an air fryer for this recipe. I absolutely love my oven-style air fryer because the basket is huge and I can easily fit the entire recipe in the basket.
Any type of air fryer will work, but if you have a small basket you may need to cook the chicken in multiple batches. It's important to make sure the chicken pieces are in a single layer and not touching.
Instructions
Marinate the Chicken
Add the chicken tenders, oil, vinegar, and butt rub into a bowl or plastic bag.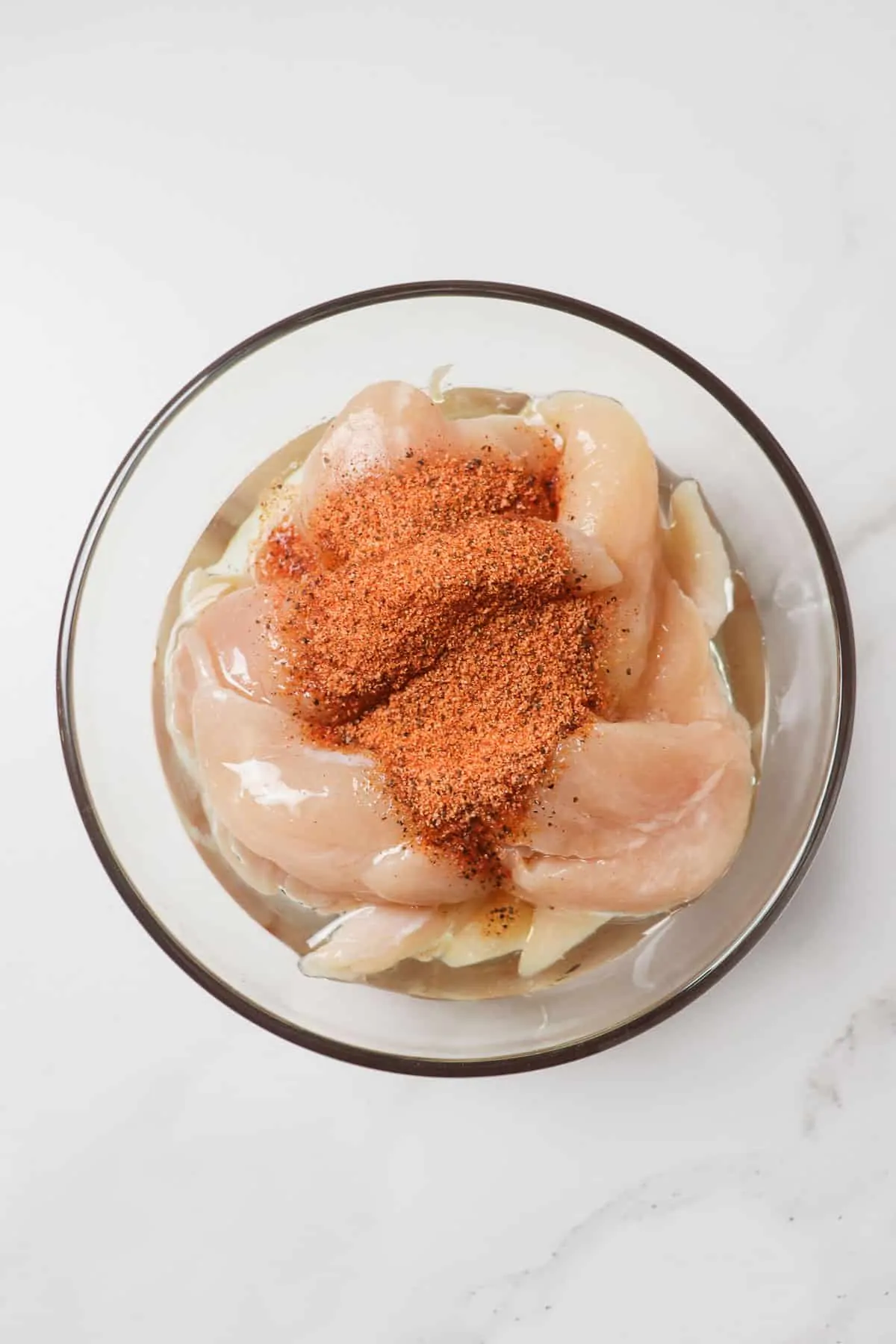 Toss ingredients until chicken is well coated in the marinade mixture and seasoning is evenly distributed.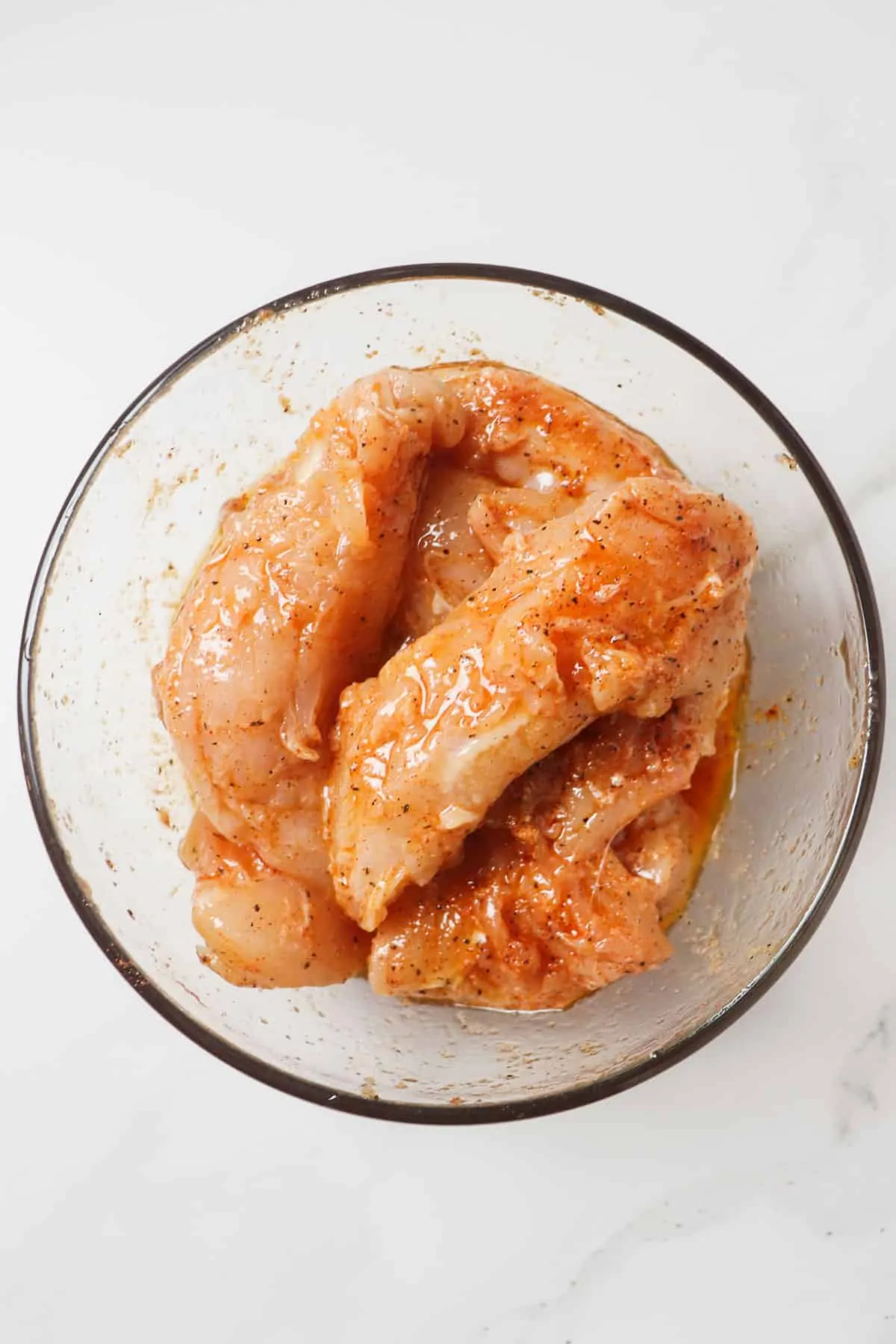 Put chicken in the refrigerator and allow to marinate at least 20 minutes. You can marinate for longer if you would like, but try to let it sit for at least 20 minutes.
Air Fry at 400 Degrees
Place chicken tenders in a single layer the air fryer basket. Make sure tenders are not touching.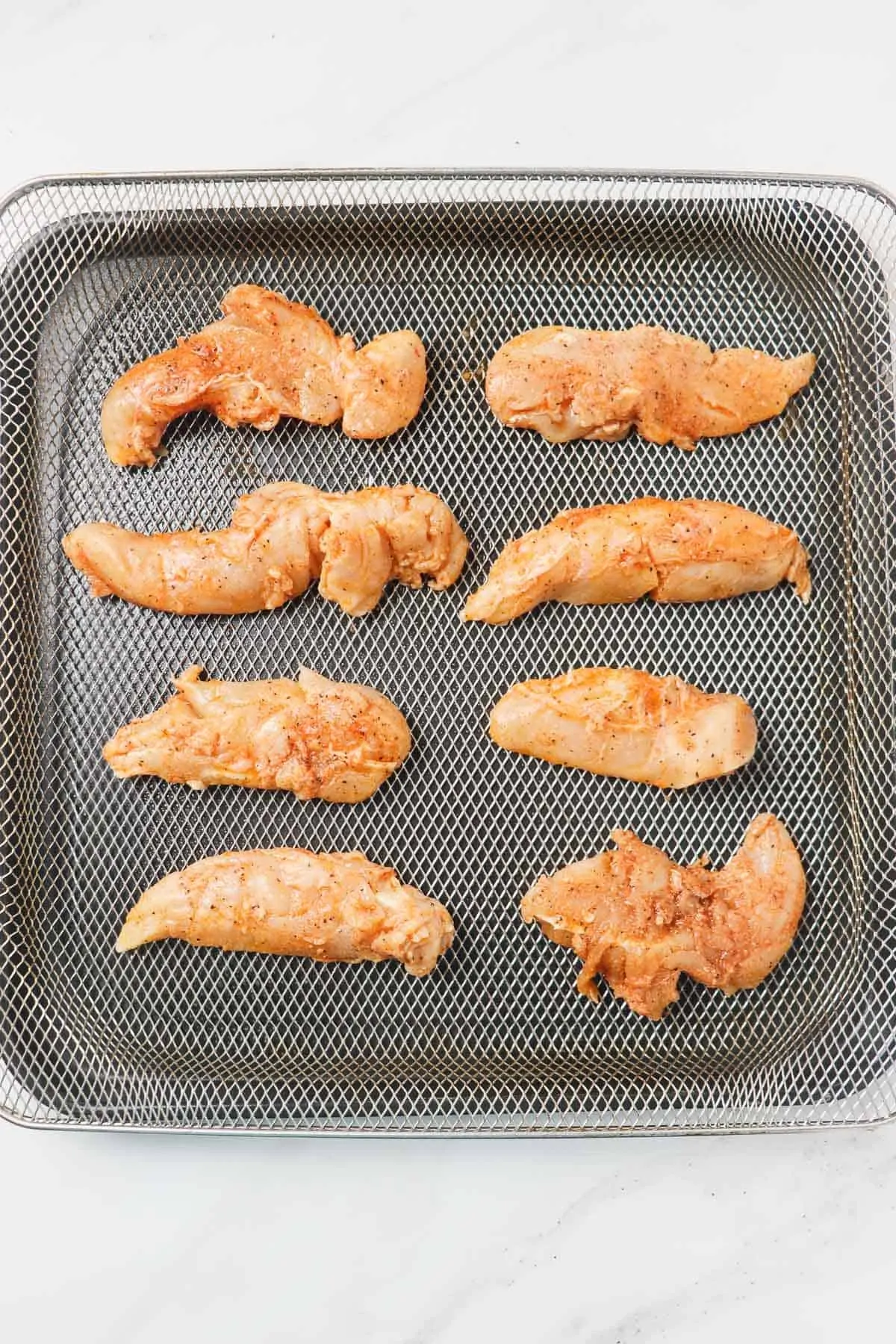 Air fry raw tenders at 400 degrees for 10-12 minutes, until chicken is cooked through. I didn't find that it was necessary to flip the chicken in my air fryer, but you could flip if halfway through if desired.
Use a meat thermometer to make sure the chicken reaches at least 165 degrees inside.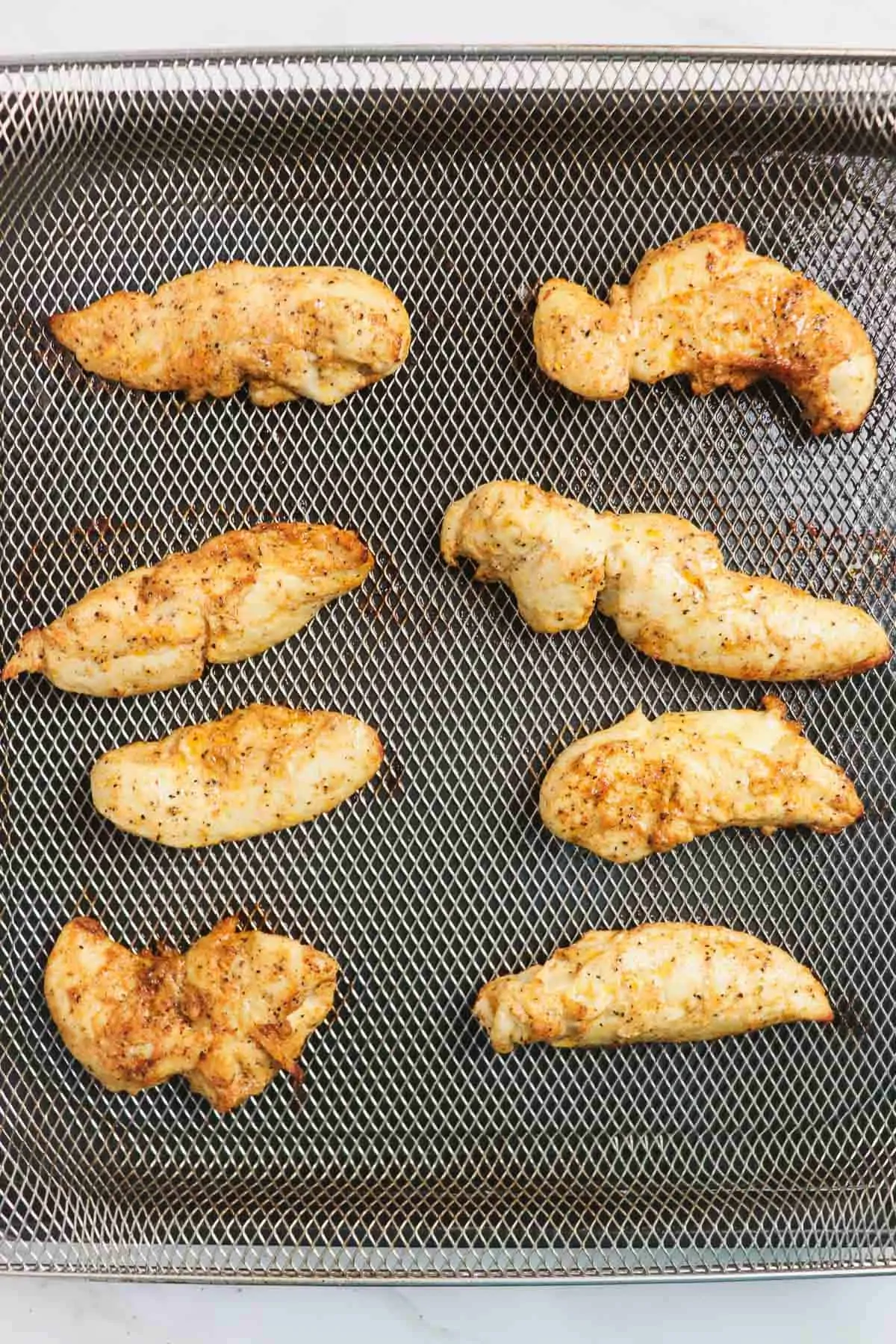 Oven Cooking Instructions
To make this in the oven instead of the air fryer, preheat your oven to 425 degrees. Cook tenders for 15-20 minutes, or until the inside reaches at least 165 degrees.
Top Tips
Don't skip the marination time - allowing the chicken to marinate for at least 20 minutes really allows the flavor to penetrate and the vinegar will tenderize the chicken. Don't skip this step!
Vinegar makes the chicken extra tender and juicy. Vinegar is an acid and really makes this come out perfectly tender! The cooked chicken will not taste strongly of vinegar.
Try butt rub seasoning blend - trust me, this stuff is awesome! It's so much easier to use a pre-mixed seasoning blend instead of having to measure out 5-6 different spices. This gives the chicken a great flavor.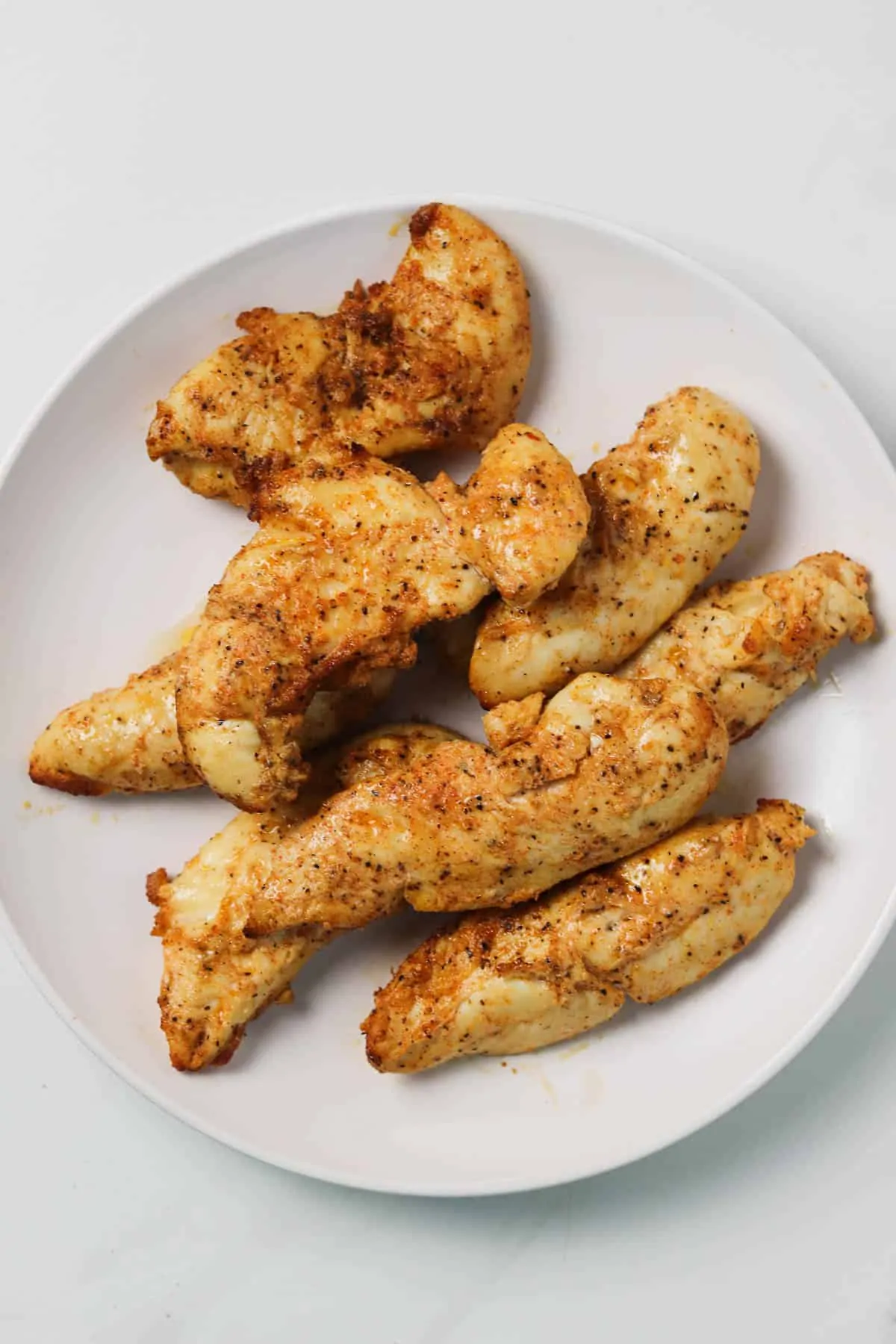 How to Serve
This is an extremely versatile recipe! You can substitute it for grilled chicken in any recipe. You could serve it:
On top of a salad
Slice and serve on top of pasta
Make it a sandwich
Slice and serve in tortillas to make tacos
For a healthy side dish option, try my Instant Pot Green Beans, Rice Pilaf, or Mashed Potatoes.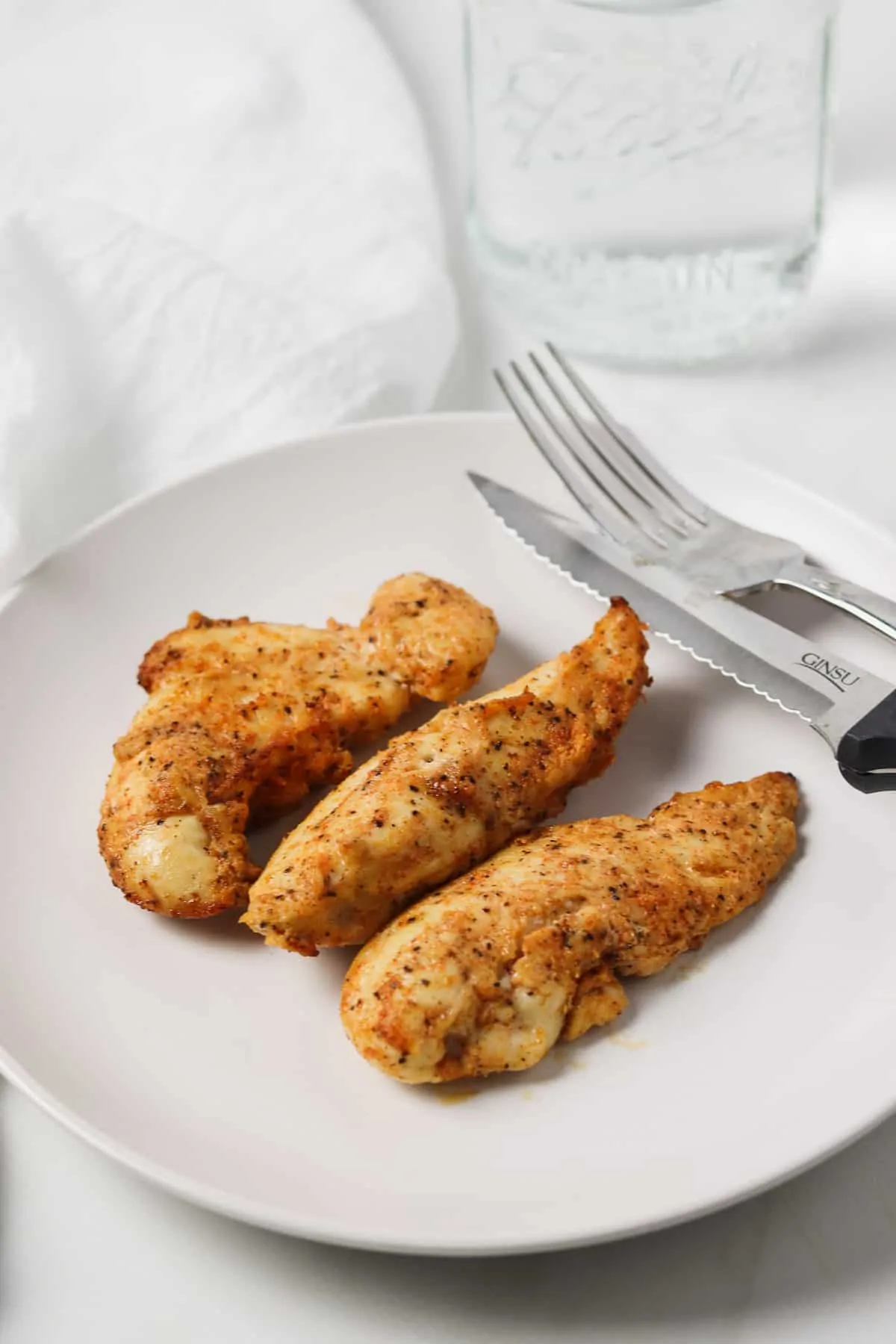 How to Double the Recipe
If you want to double this recipe, you will probably need to cook it in two batches in your Air Fryer. I have a larger oven-style air fryer, and I think I could only fit about 1.5 pounds of chicken in a single layer. You want to make sure the pieces are not touching.
How to Store
If you have leftover chicken tenders, you can store them in the refrigerator for 3-4 days. However, I find that this recipe is best served fresh because chicken can get a little tough after reheating.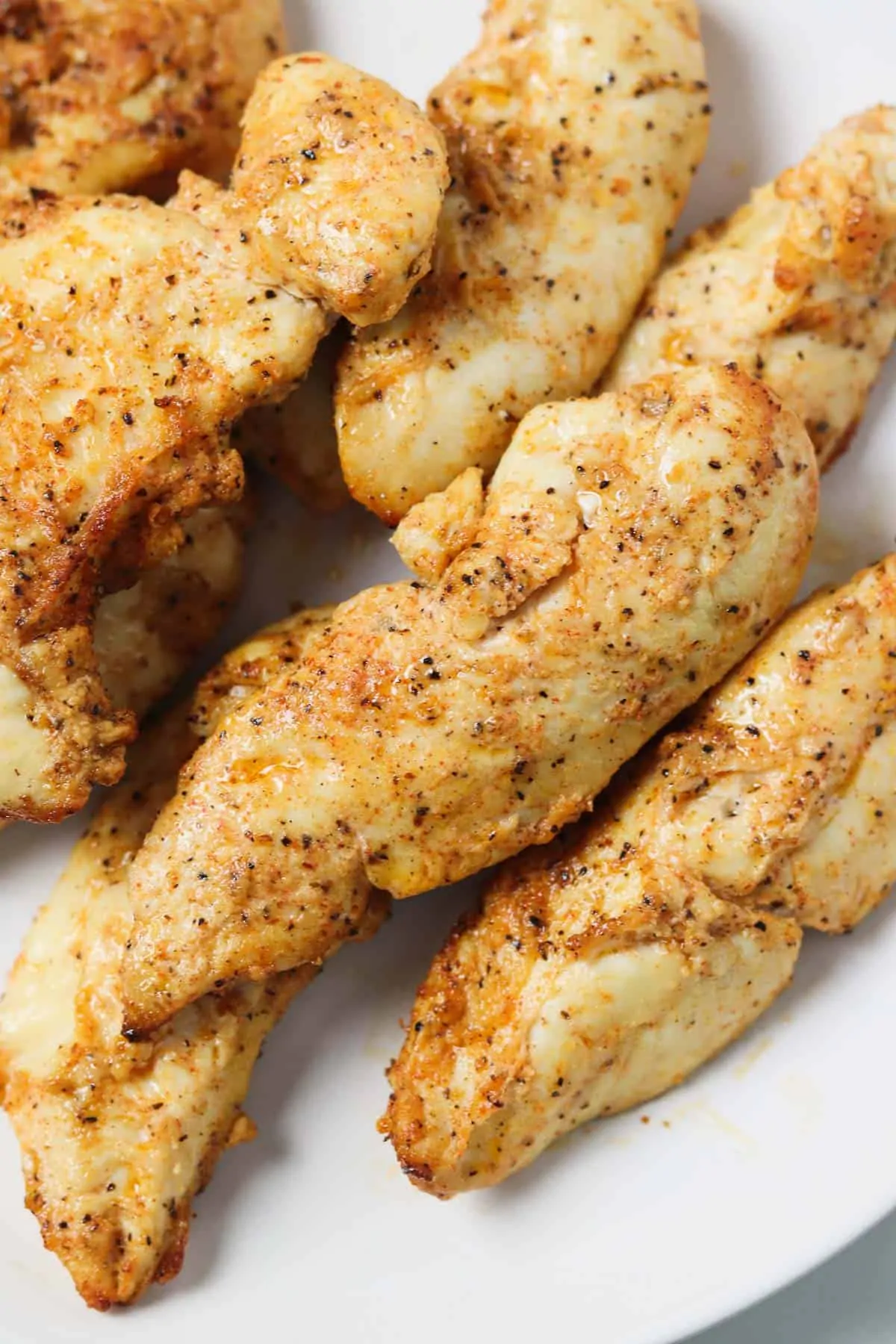 How to Meal Prep
This recipe is also a good option for meal prep! You can swap the usual grilled chicken for these air fried "naked" tenders. Add on some rice and veggies to make a healthy meal prep lunch. Chicken is lean, low calorie, and packed with protein that will keep you full!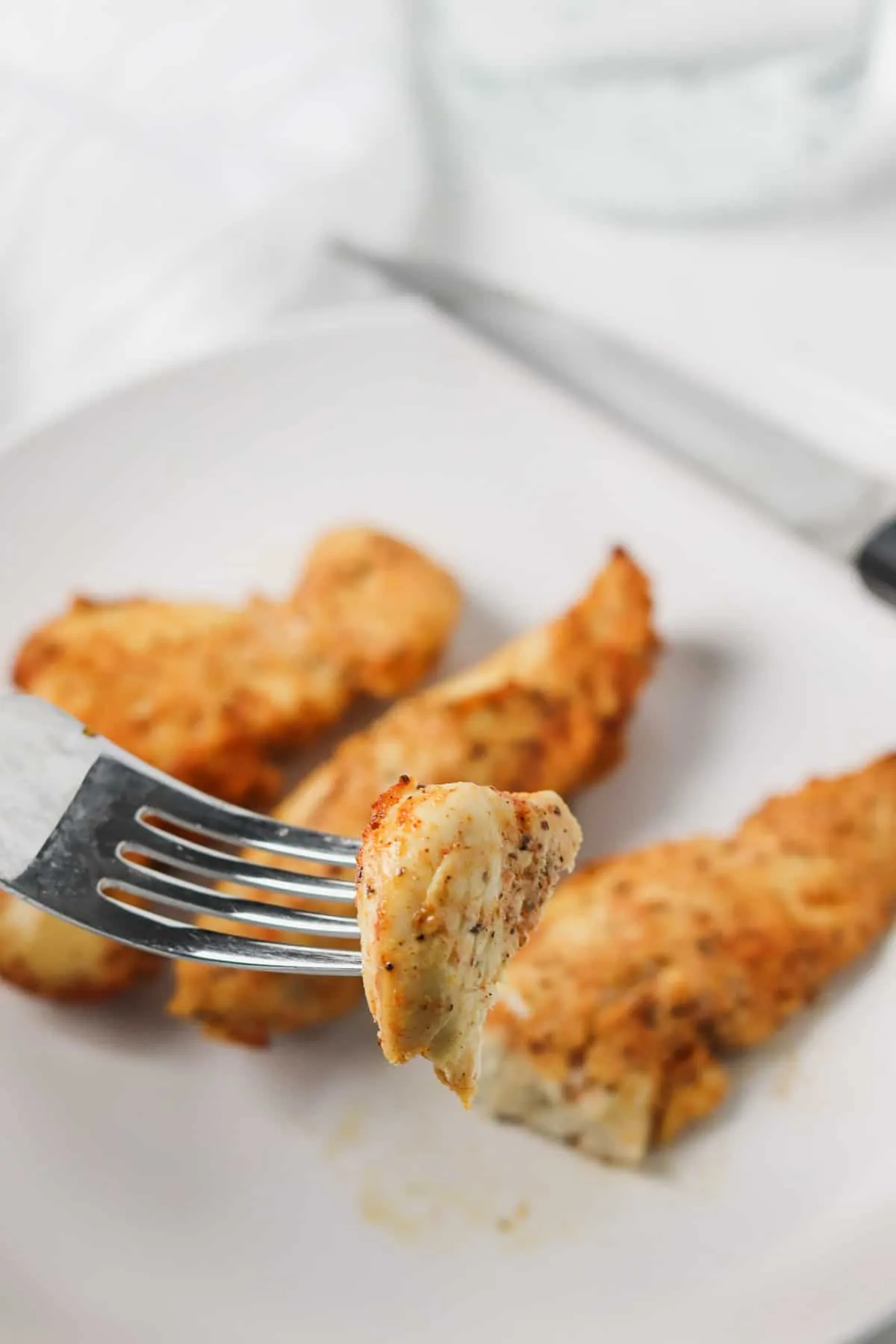 Calories Per Serving
One serving (¼ of the recipe) is about 4 oz of chicken or two chicken tenders. Each serving has only 168 calories and zero carbs, making it an extremely healthy option! "Naked" chicken without breading is perfect for a keto or low-carb diet!
Recipe