Air Fryer Chicken Parmesan is an easy and healthy dinner that the entire family will enjoy! Crispy breaded chicken breasts topped with marinara sauce and mozzarella cheese make a delicious and comforting meal!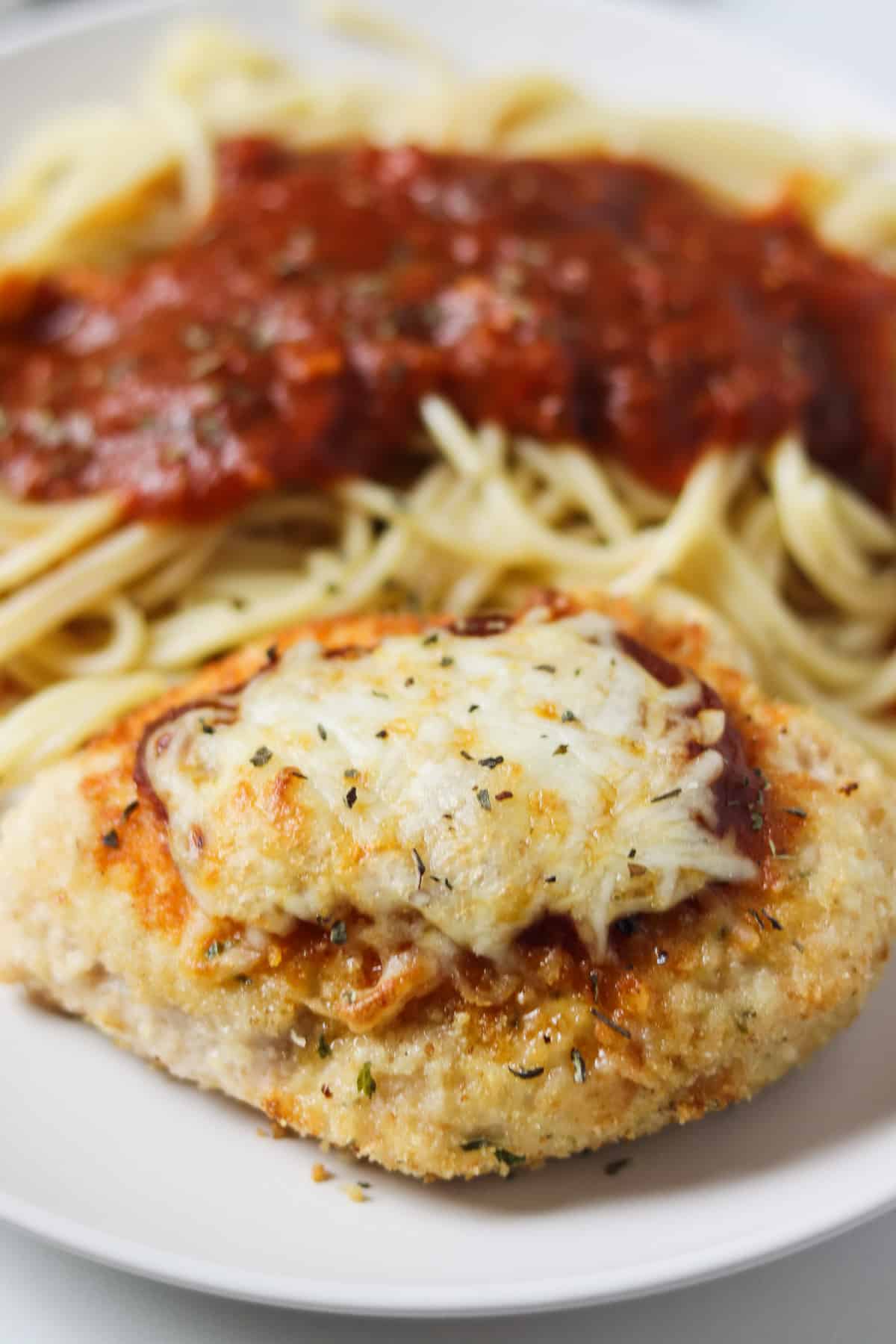 I love making this dish in my air fryer because you get all of the taste of traditional fried chicken parmesan without all of the excess oil and calories! Cooking this in the air fryer yields perfectly crispy, flavorful, and juicy chicken.
With only 6 ingredients in this chicken parmesan recipe, you can make this with only a few minutes of prep time. It's quick enough to make even on a weeknight.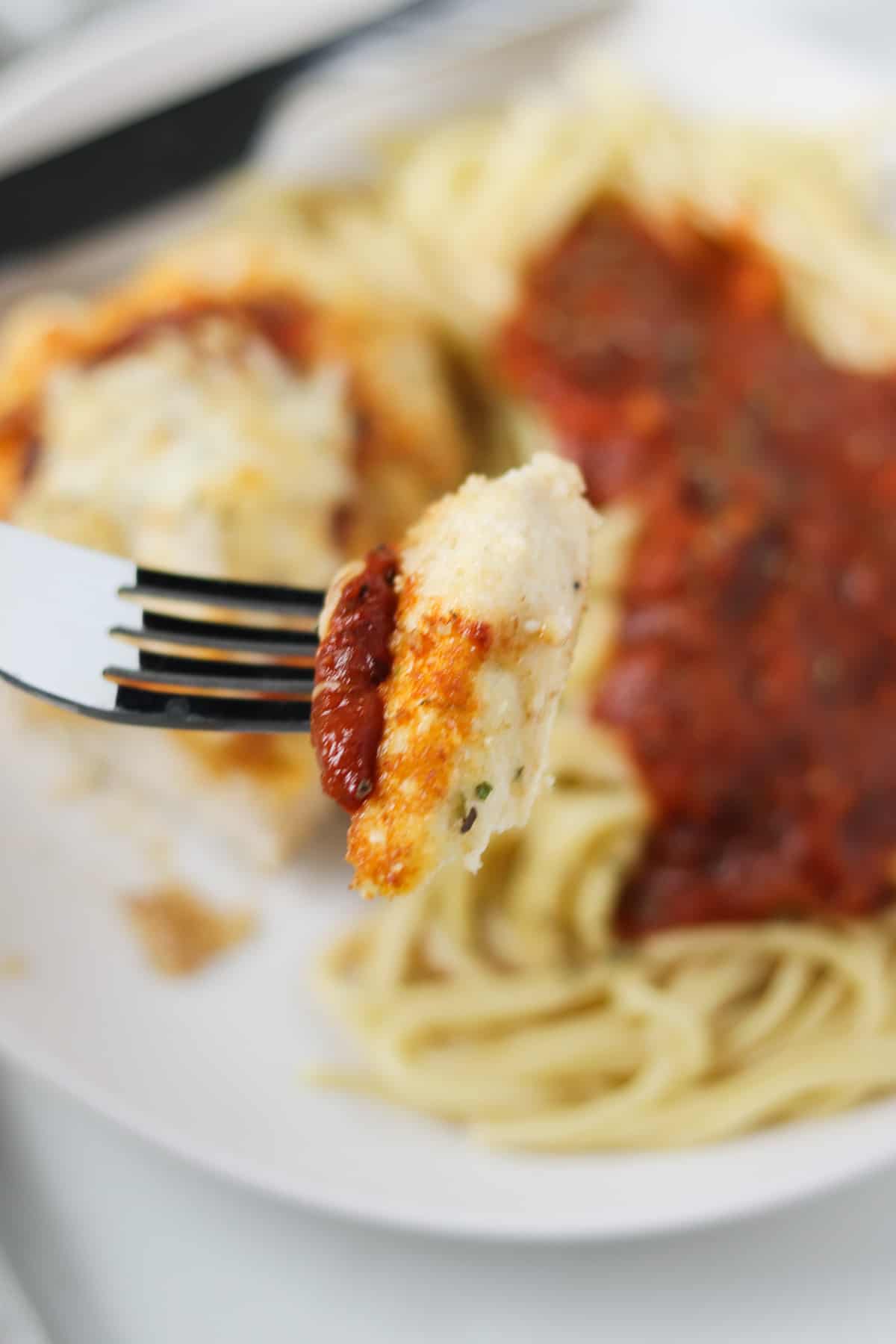 This meal is also very family-friendly! If your kids are super picky you can even leave off the marinara sauce and cheese on top and just make some pieces plain chicken or with cheese only.
Jump to:
Ingredients
These are the ingredients in Chicken Parmesan:
1 pound chicken breasts, pounded thin
¼ cup grated Parmesan cheese
1 cup Italian style bread crumbs
2 tablespoon butter, melted
½ cup marinara sauce
½ cup mozzarella cheese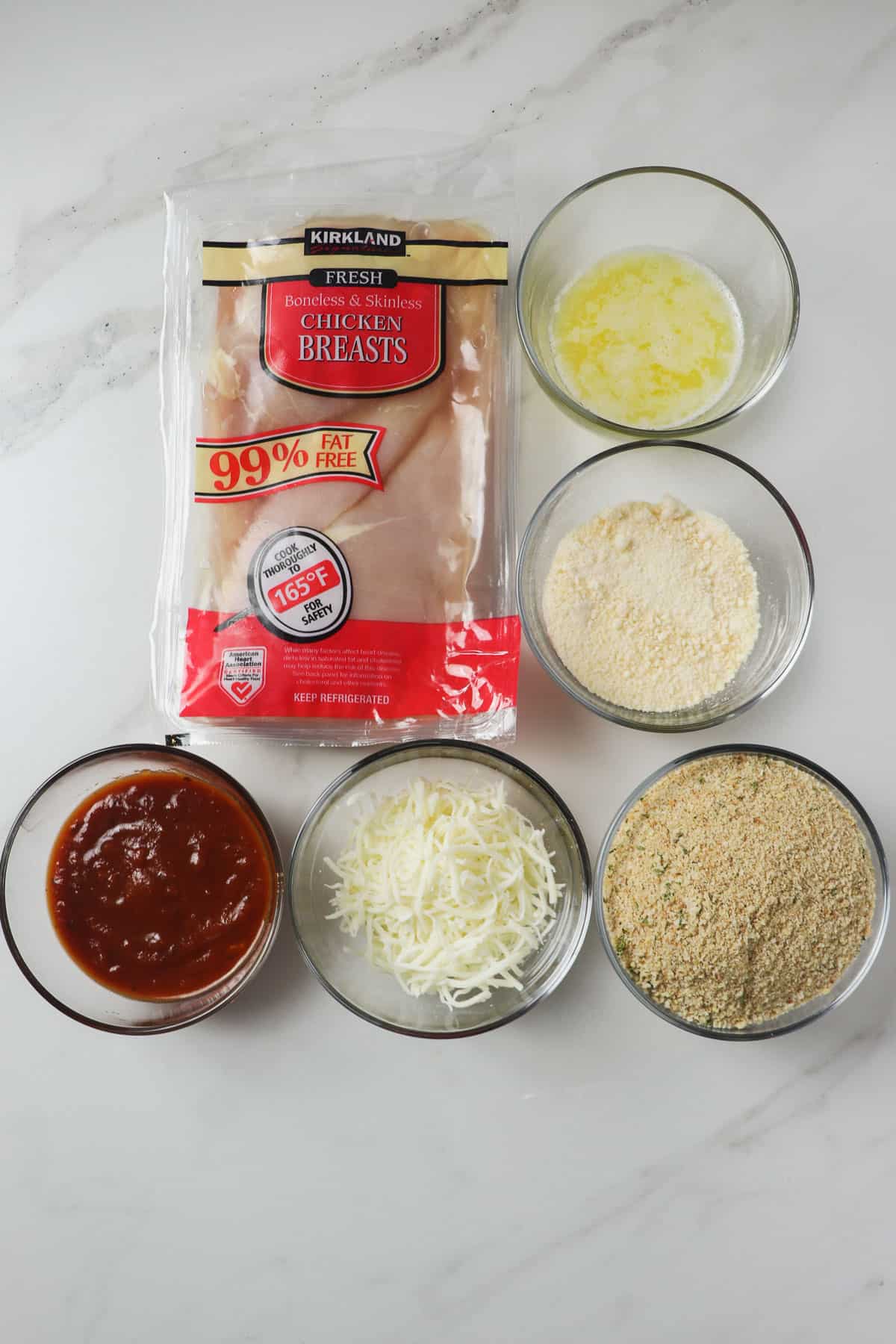 Instructions
Pound the Chicken Breasts
First, pound your chicken breasts into thin, even pieces. Cover chicken with plastic wrap to prevent any splatter. Use a meat tenderizer to pound the chicken until it is at least ¾ inch or thinner. You want the chicken to be of even thickness so that it will cook evenly.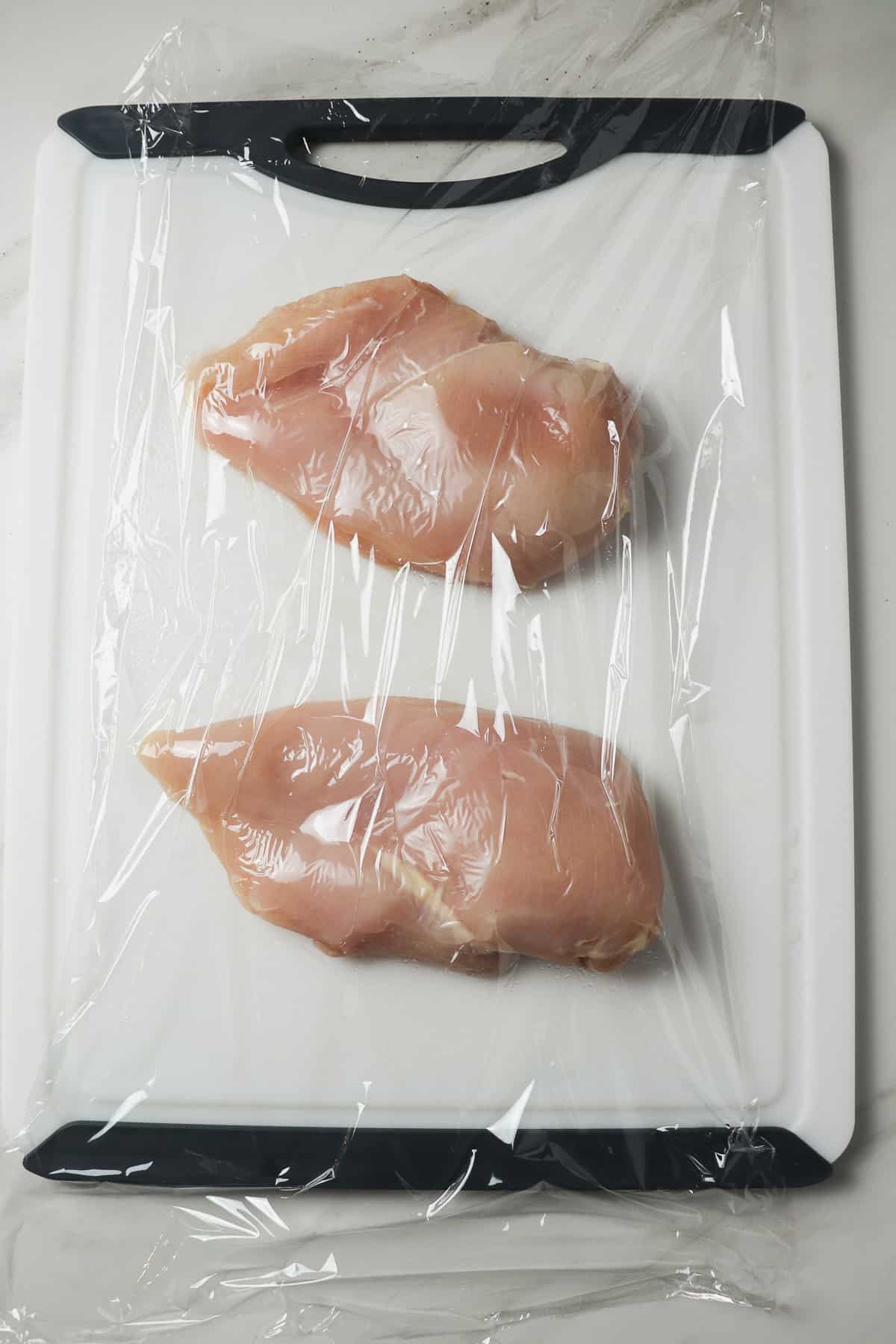 If your chicken breasts are fairly large (mine were about 8 oz each), cut each breast into two pieces. I ended up with four 4 oz pieces of chicken.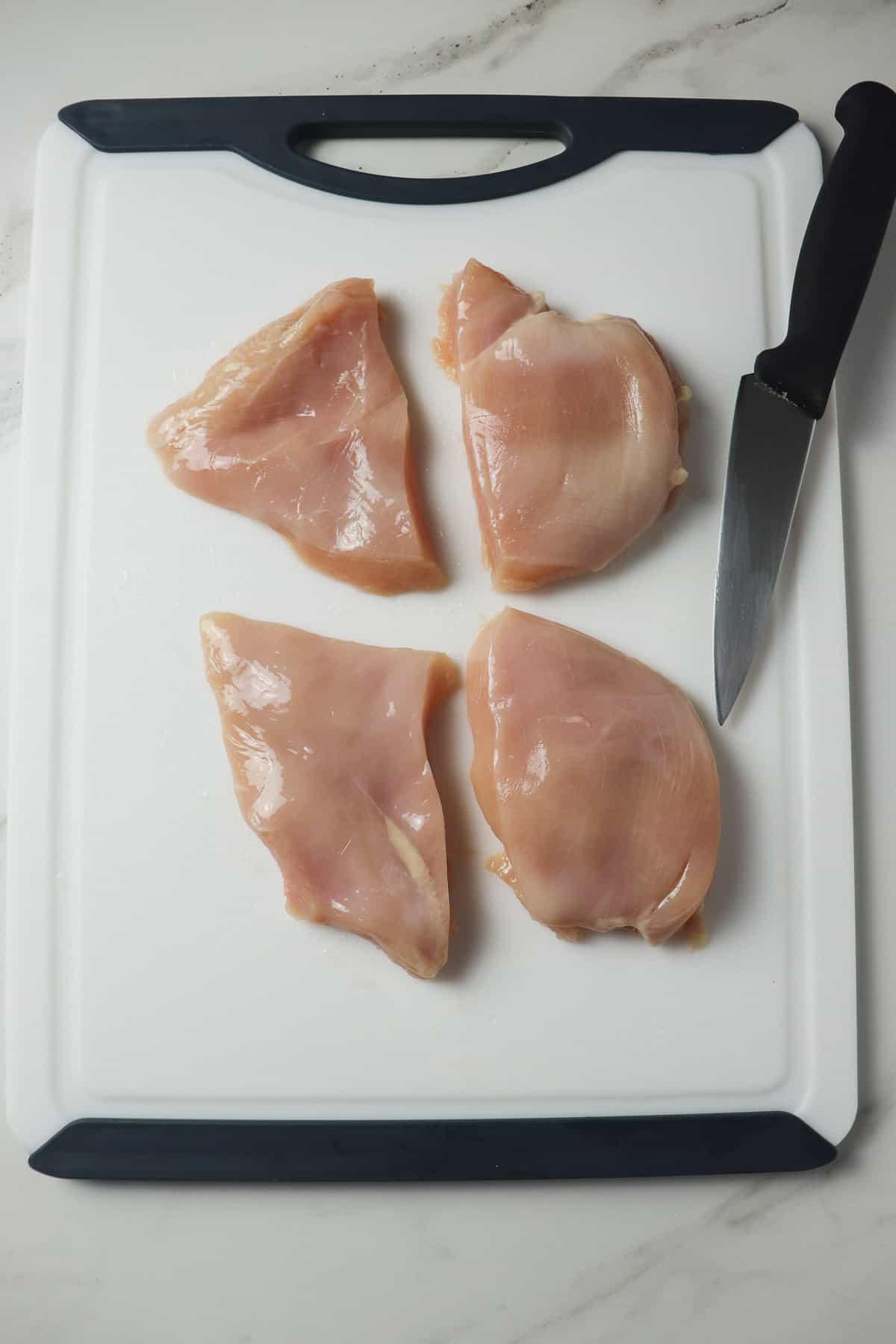 Bread the Chicken
Brush the chicken with melted butter on both sides.
To make the breadcrumb mixture, mix together the Italian breadcrumbs and grated parmesan cheese.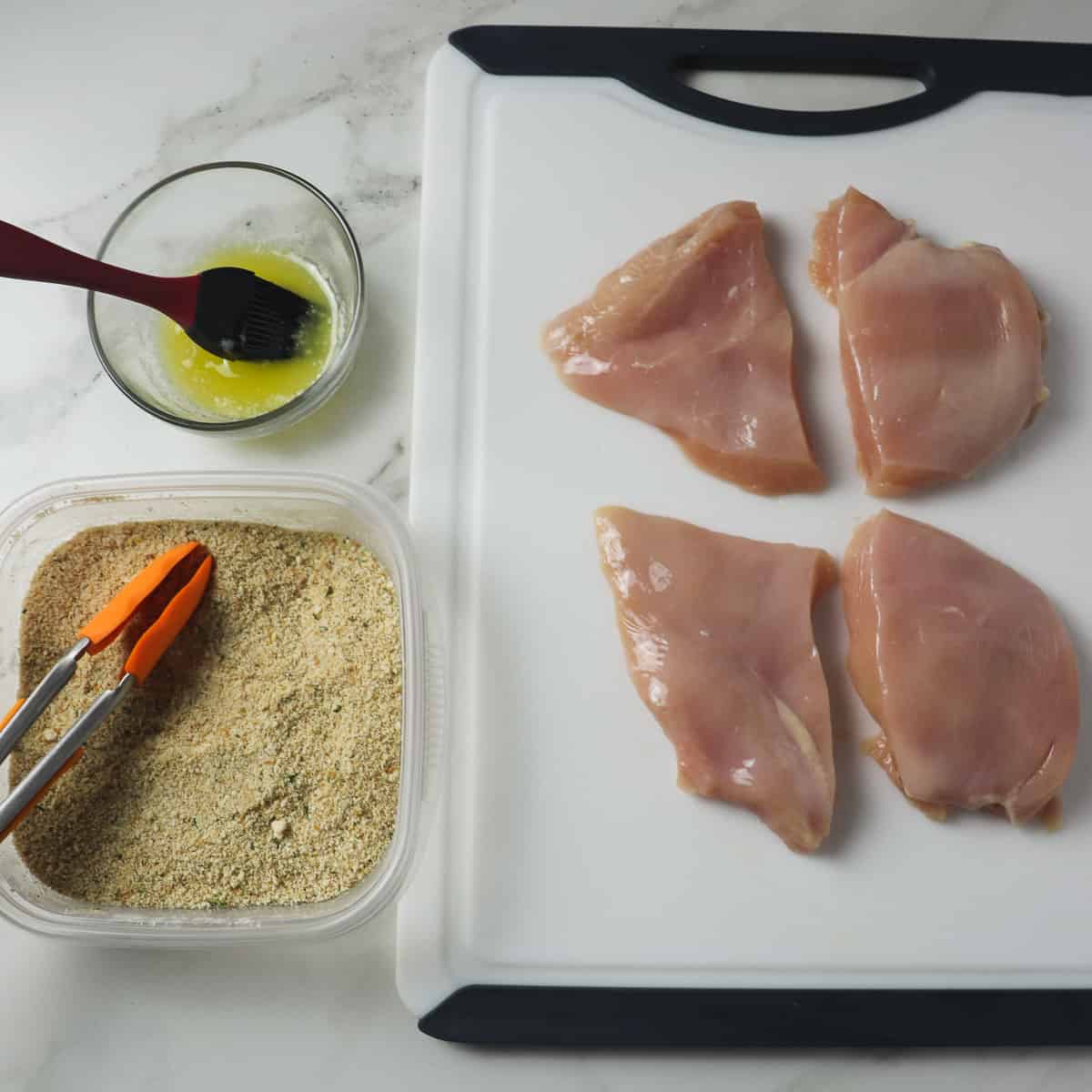 Use tongs to dip each chicken in the breadcrumb mixture on both sides and load them into the air fryer basket.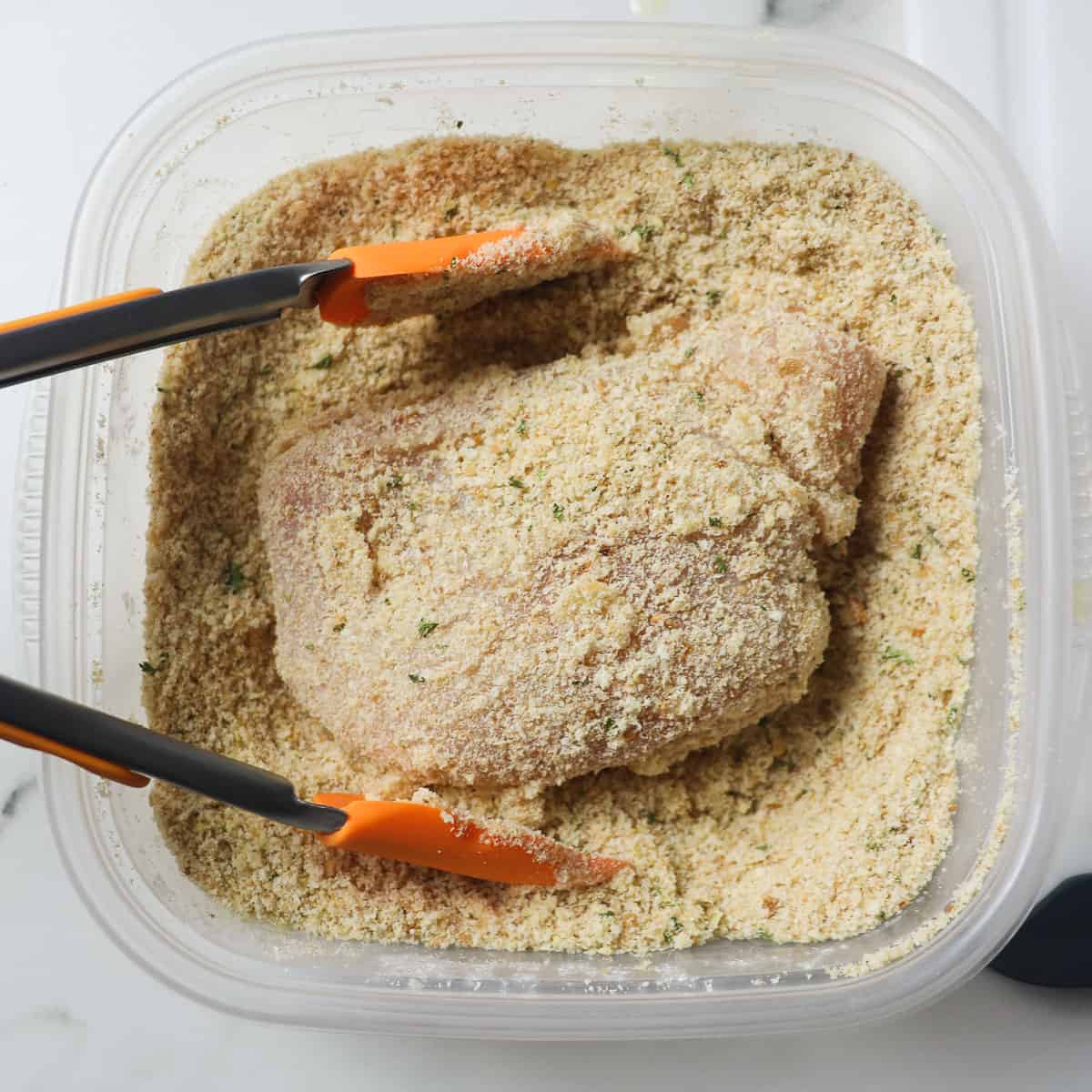 Because you have already dipped the chicken in butter, there is no need to spray the chicken breasts with oil.
Air Fry
Preheat the air fryer to 400 degrees and load the chicken into the air fryer basket. My air fryer is an oven-style air fryer with a shallow basket, but you can also use a deep basket style air fryer.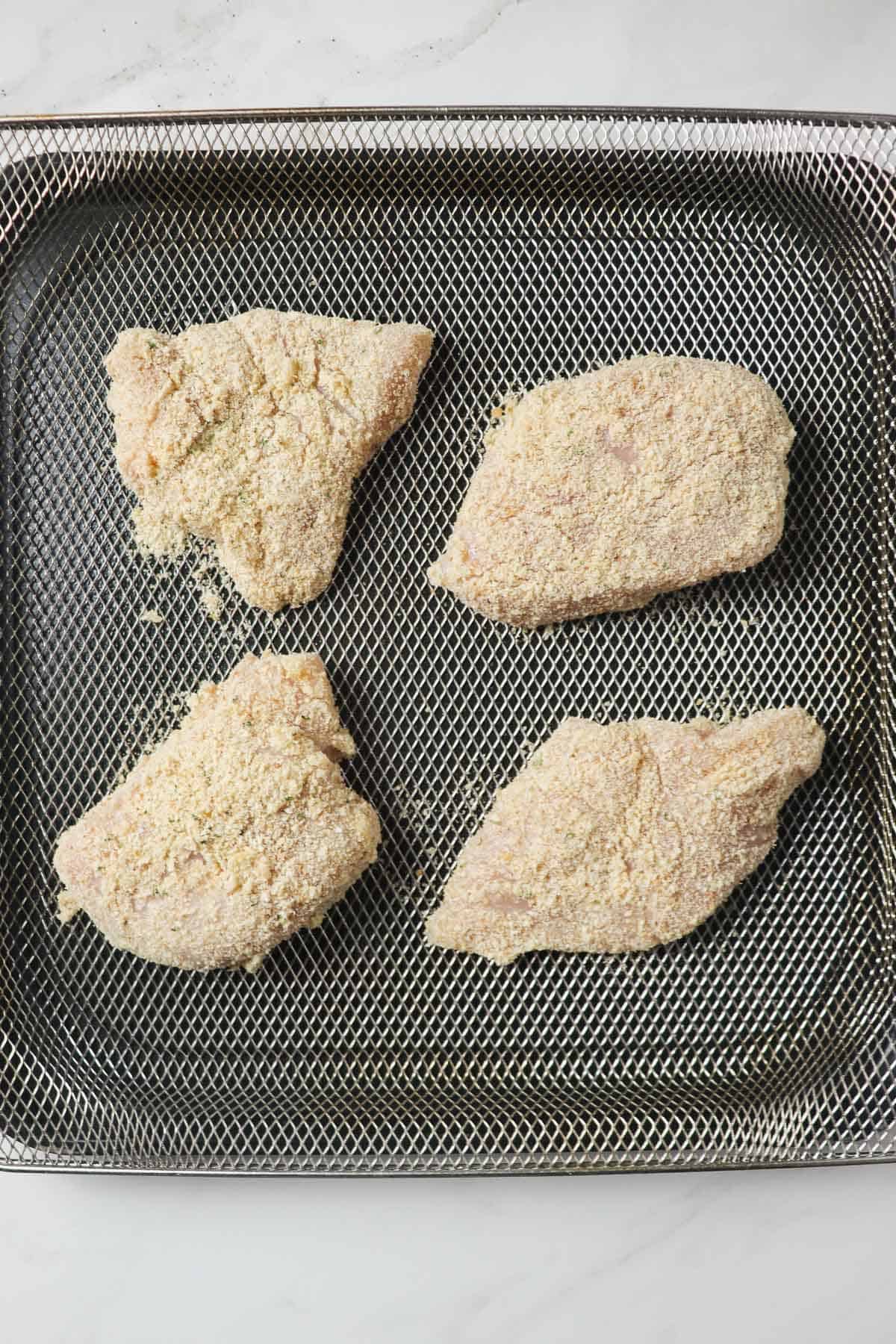 Air fry at 400 degrees for 10 minutes. After 10 minutes, flip the chicken and top each piece with about 2 tablespoons of marinara and two tablespoons of mozzarella cheese.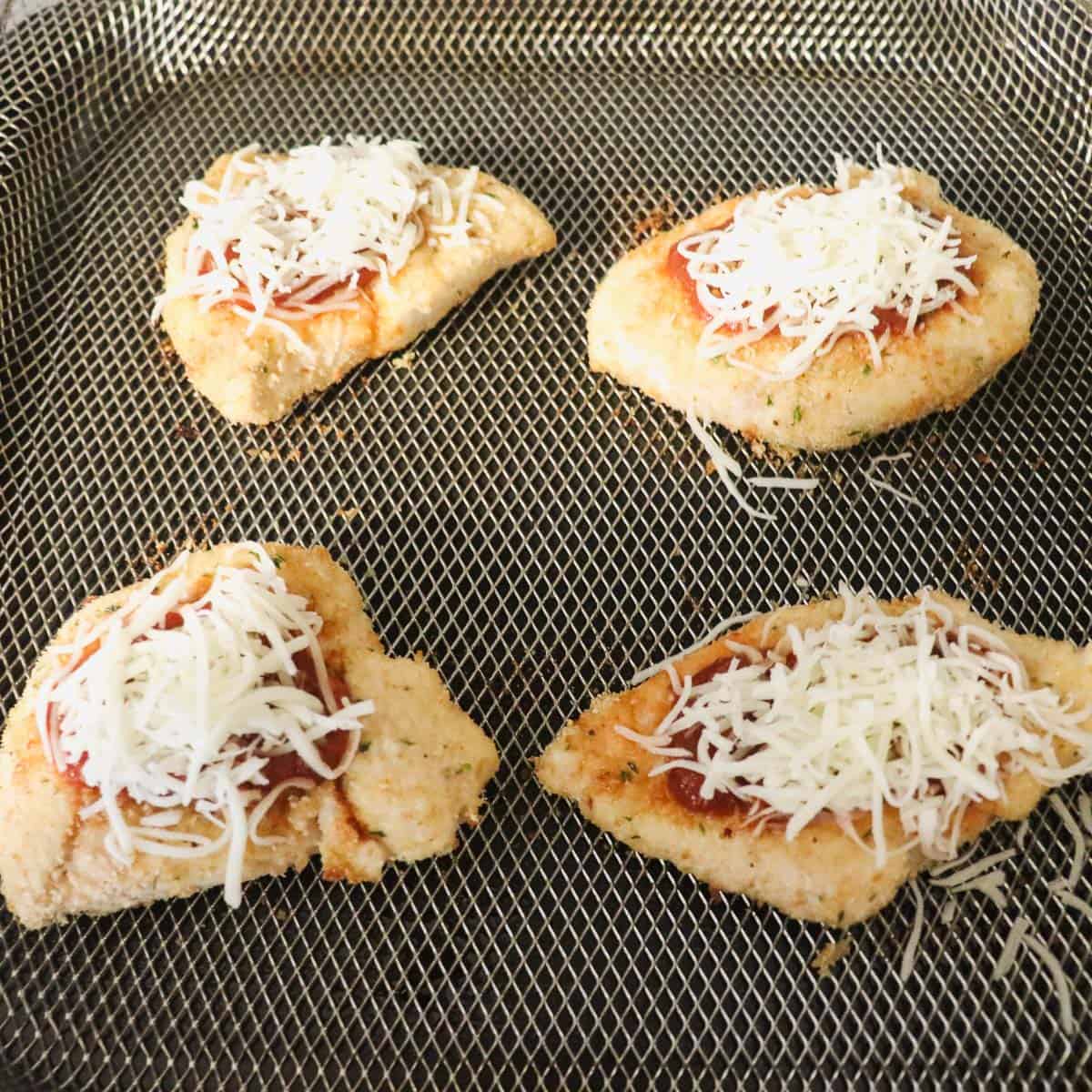 Return the chicken to the air fryer and continue cooking for 6-8 minutes until the chicken is cooked through and crispy on the outside. Cheese should be melted and slightly browned.
Verify with a meat thermometer that the inside temperature has reached at least 165 degrees.
Cook time will vary slightly depending on how thick your chicken is. Thicker pieces will need longer to cook.
Serve hot and dig in!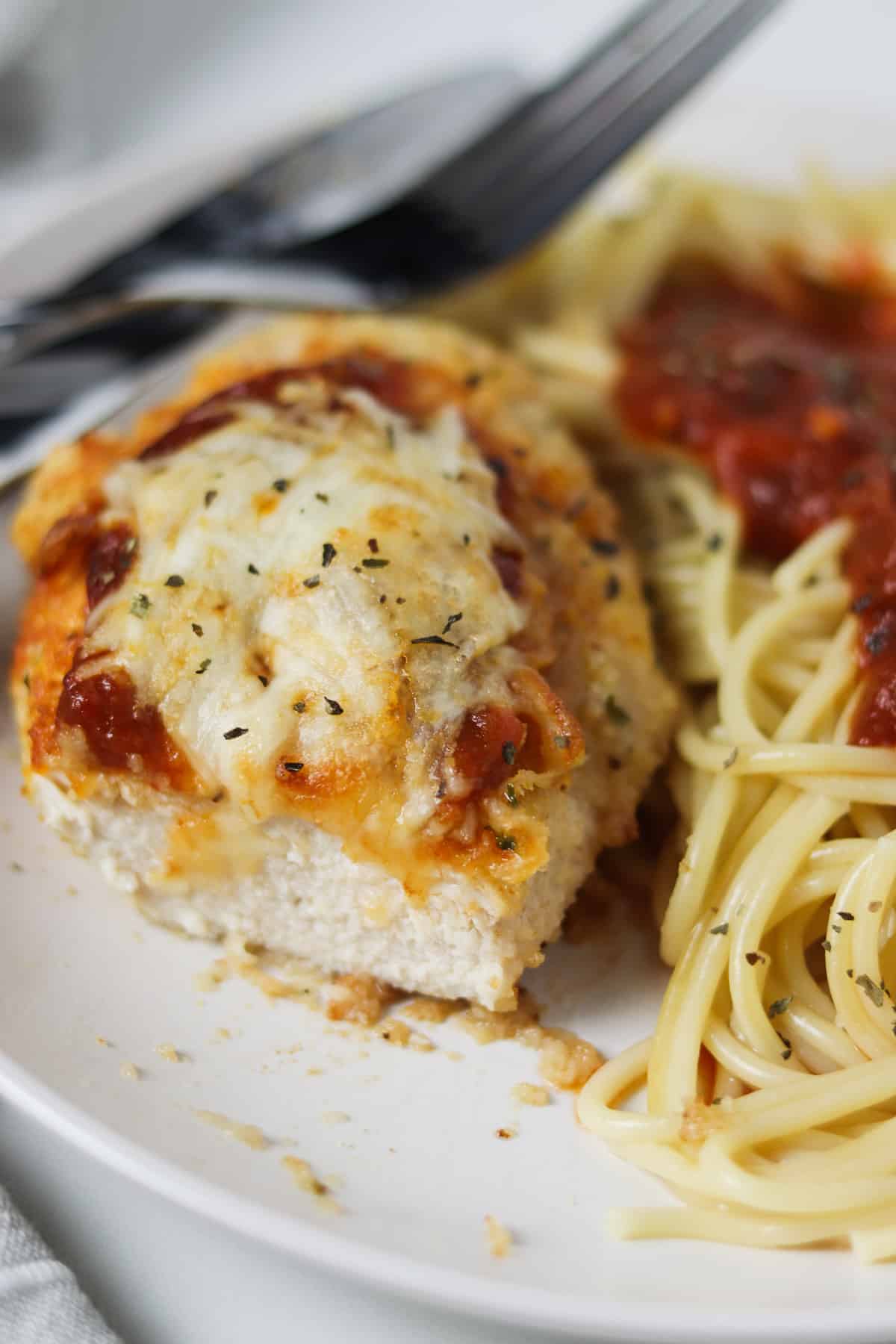 How to Substitute Chicken Tenders
If you have chicken tenders instead of chicken breasts, you can still make this recipe. Follow the same instructions for brushing the chicken with butter and breading the chicken tenders.
Air fry chicken tenders at 400 degrees for 8 minutes. Flip chicken tenders, add marinara sauce and cheese, and then cook for an additional 4-5 minutes until chicken is cooked through. Verify tenders reach at least 165 degrees.
How to Serve
Traditionally, I serve Chicken Parmesan with a side of spaghetti noodles with marinara. For a lower-calorie and lower-carb option, you could substitute the noodles for zucchini noodles, or "zoodles".
I also like to make a veggie side to go with it - either my Instant Pot Garlic Parmesan Green Beans or a side salad.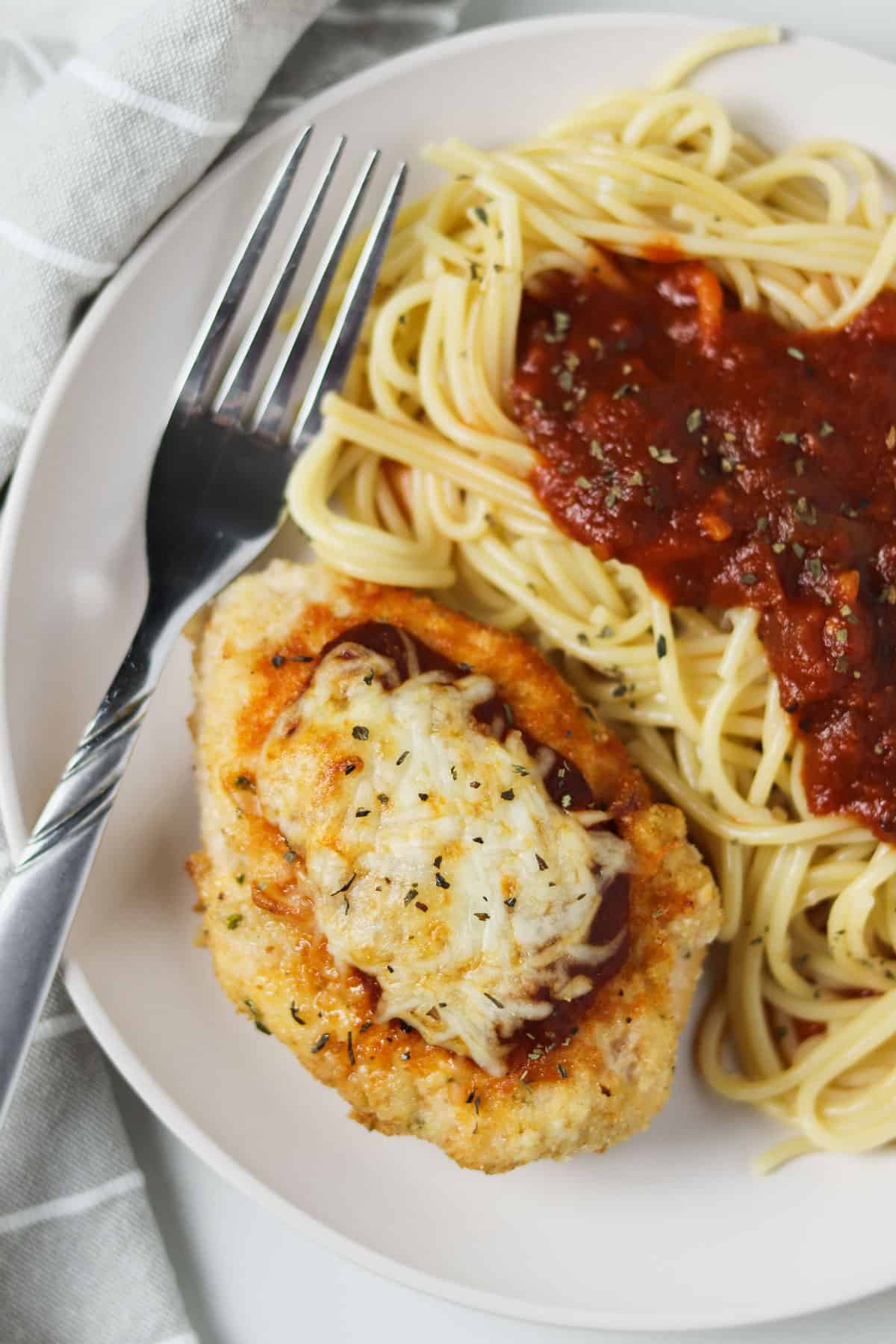 How to Reheat
For best results, reheat any leftovers in the air fryer. Preheat to 400 degrees and cook for about 10 minutes or until warmed through.
I find that microwaving chicken makes it get a little rubbery, so I highly recommend reheating in the air fryer or a toaster oven! This helps keep the chicken juicy and crispy.
Calories Per Serving
There are about 340 calories per piece of chicken parmesan. To keep the calories low, serve with zoodles or a side salad! See the recipe card for full nutritional information.
Recipe