These air fryer chicken nuggets are addictively good! Marinated in pickle juice, these taste just like Chickfila chicken nuggets!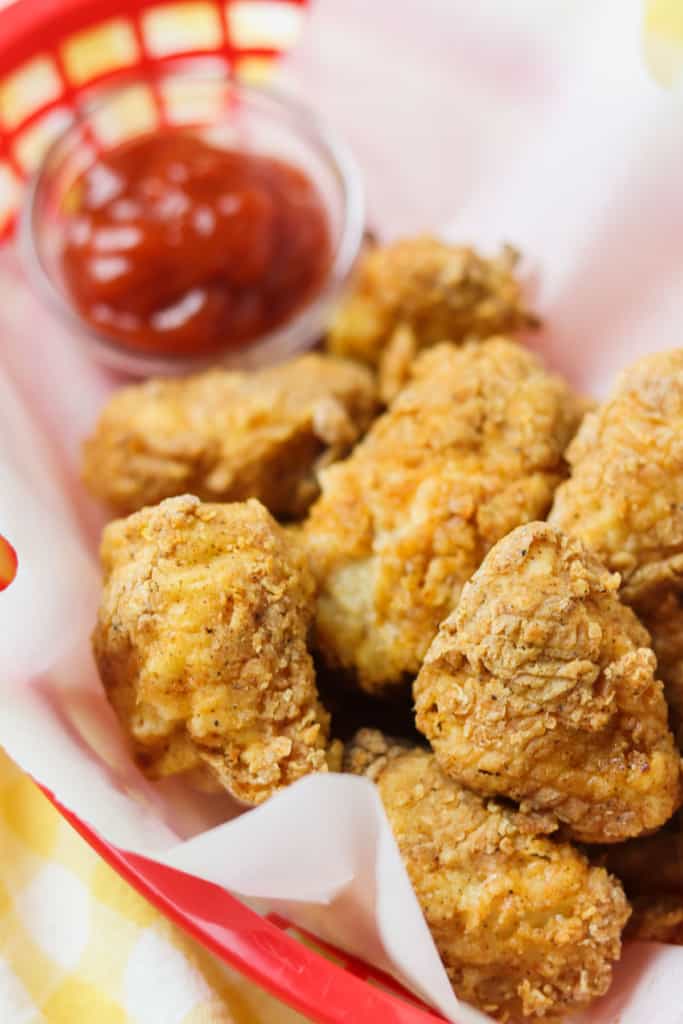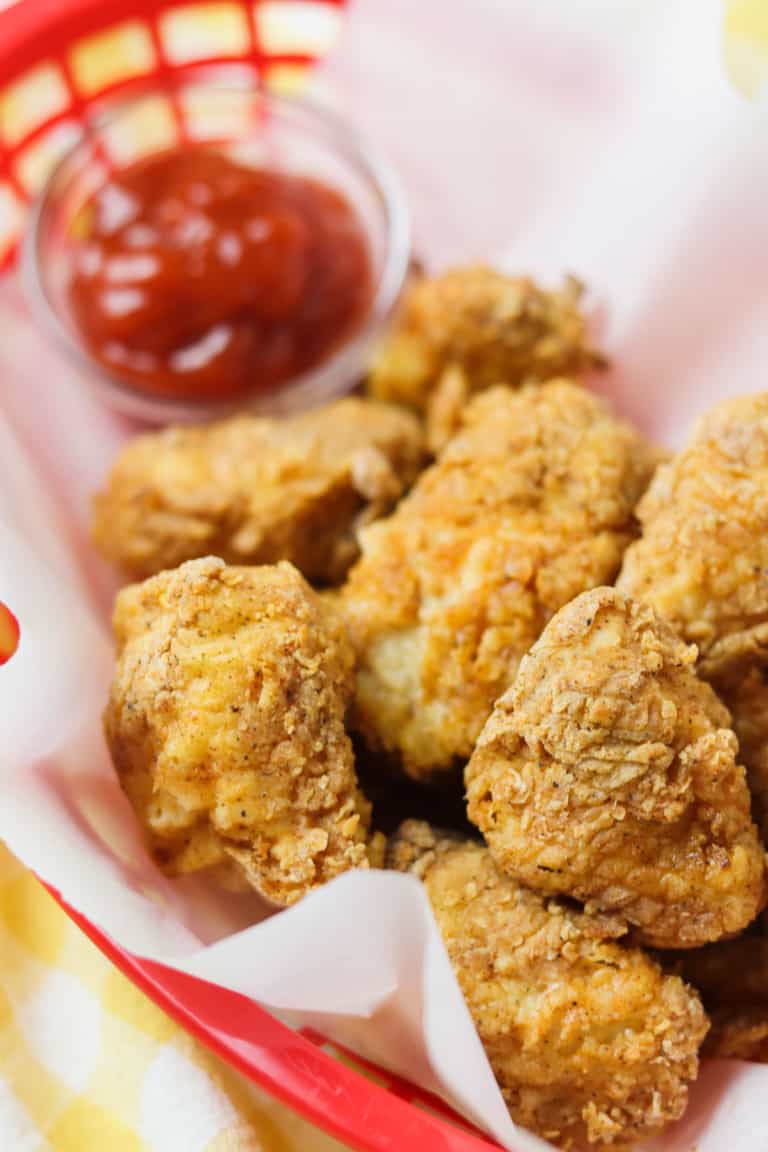 Everyone in the family will enjoy dinner when you make a batch of these nuggets. Kids, toddlers, and picky adults will love them! If it's Sunday and you can't go to Chickfila, these will absolutely satisfy your chicken nugget craving.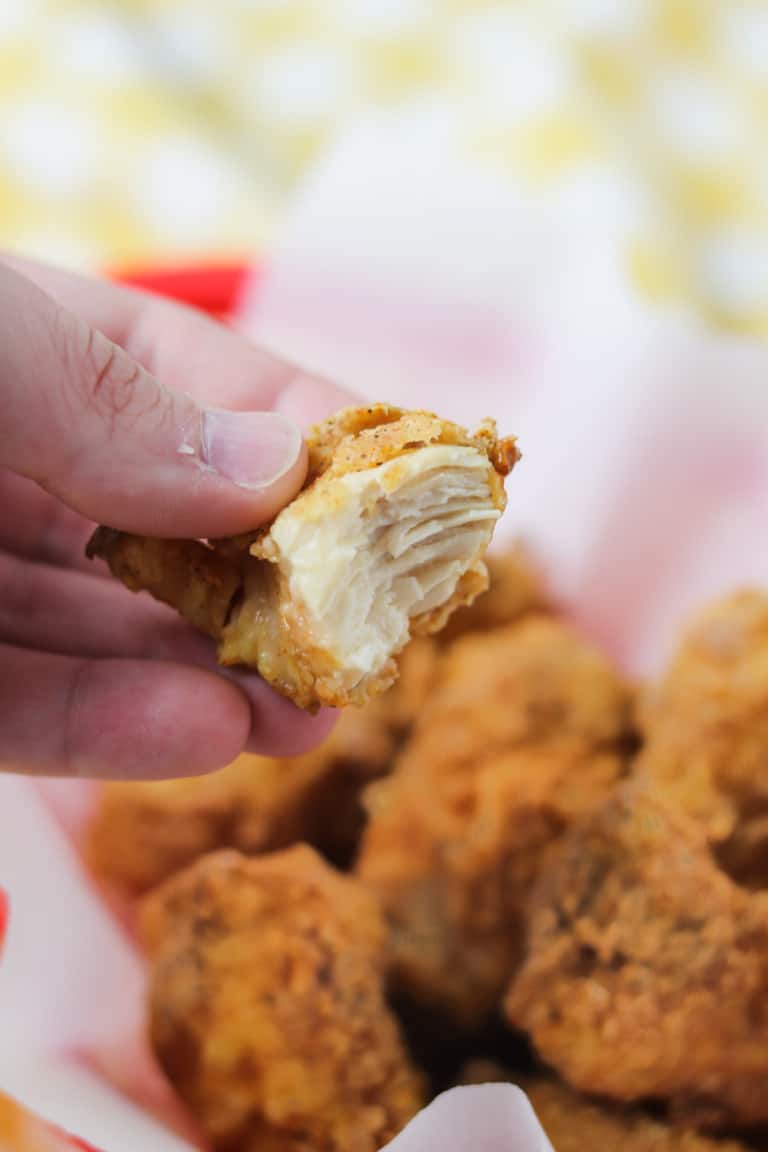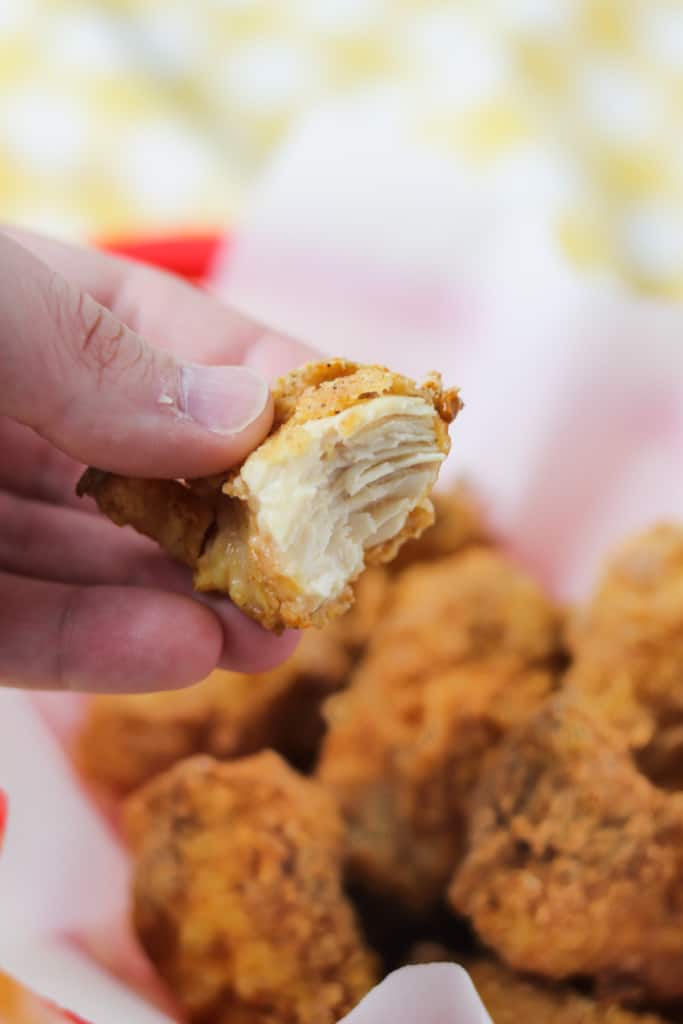 I am a huge fan of my air fryer! You can make all of your favorite fried foods healthier by making them with less oil. By air frying these nuggets instead of deep-frying them, you can lower the fat and calories compared to traditional chicken nuggets.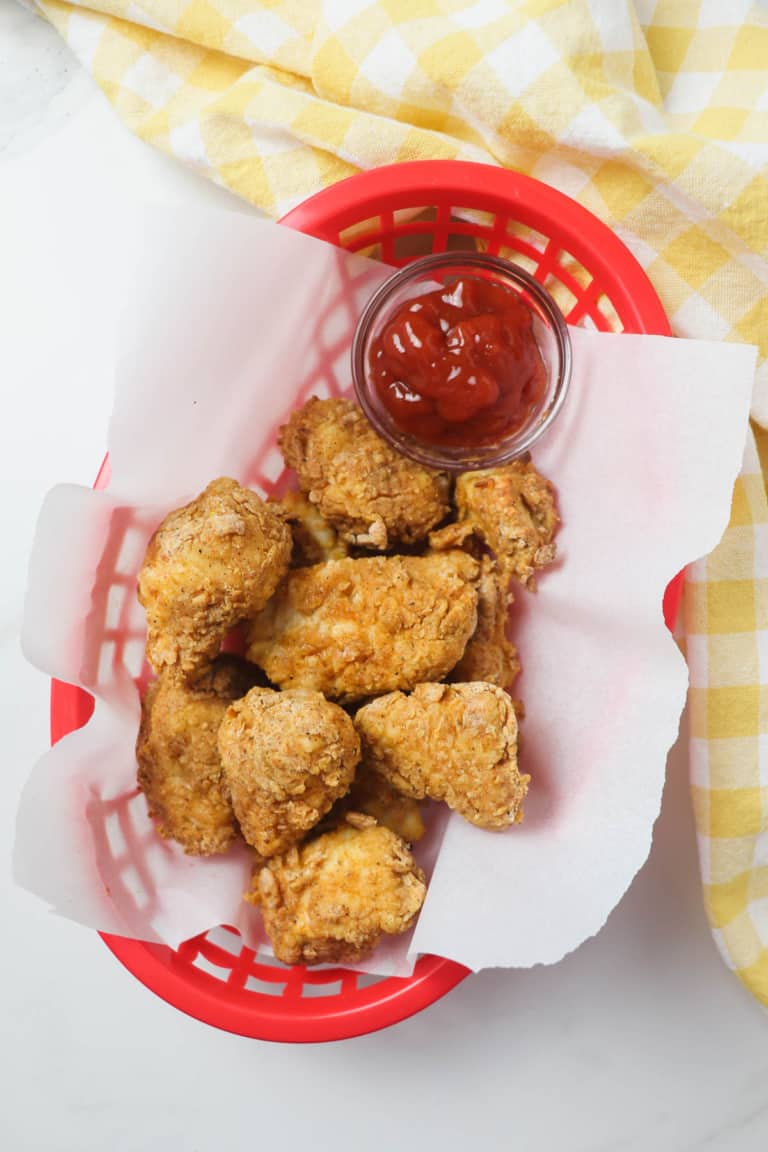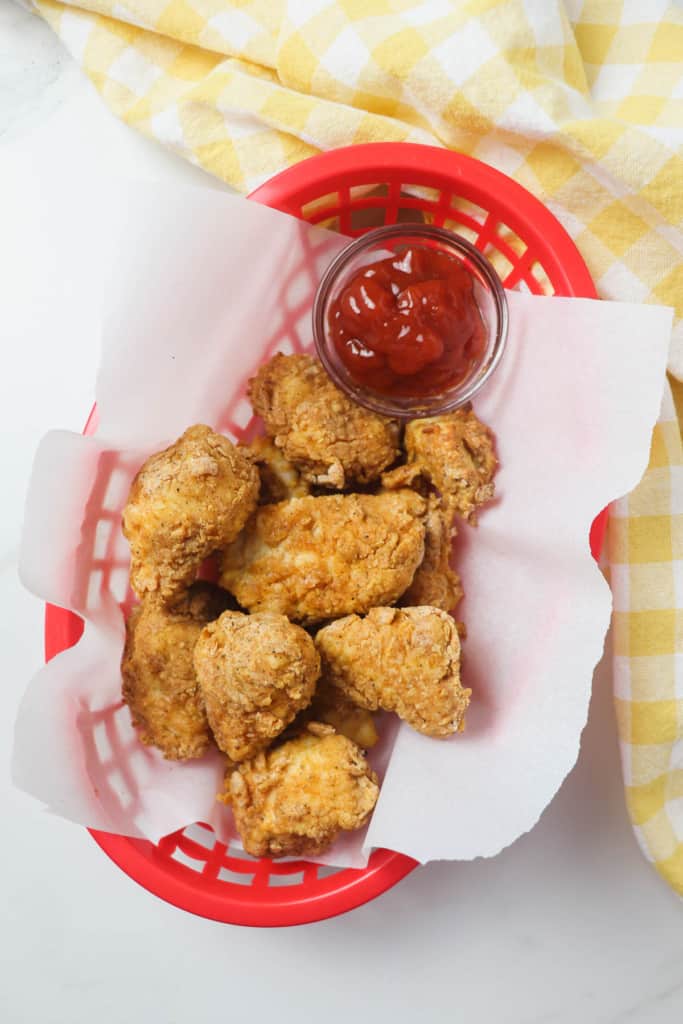 These nuggets are simple and easy enough to make even on a weeknight. My family loves these and they are on our weekly rotation!
Jump to:
Ingredients
Here are the ingredients in air fryer chicken nuggets:
1 lb chicken breasts, cut into 1-inch chunks
½ cup pickle juice
2 cups flour, all-purpose
1 TB paprika
2 TB powdered sugar
2 teaspoon salt
2 teaspoon pepper
2 eggs 
¼ cup milk
Spray oil (I use canola)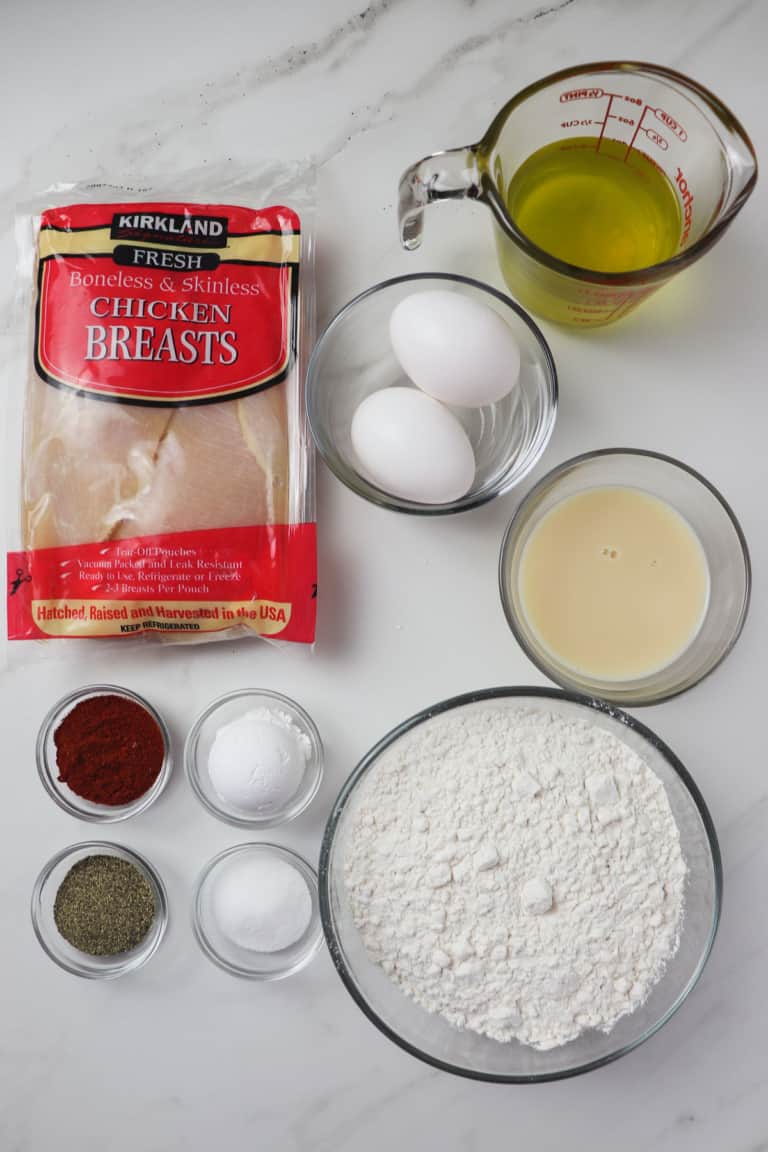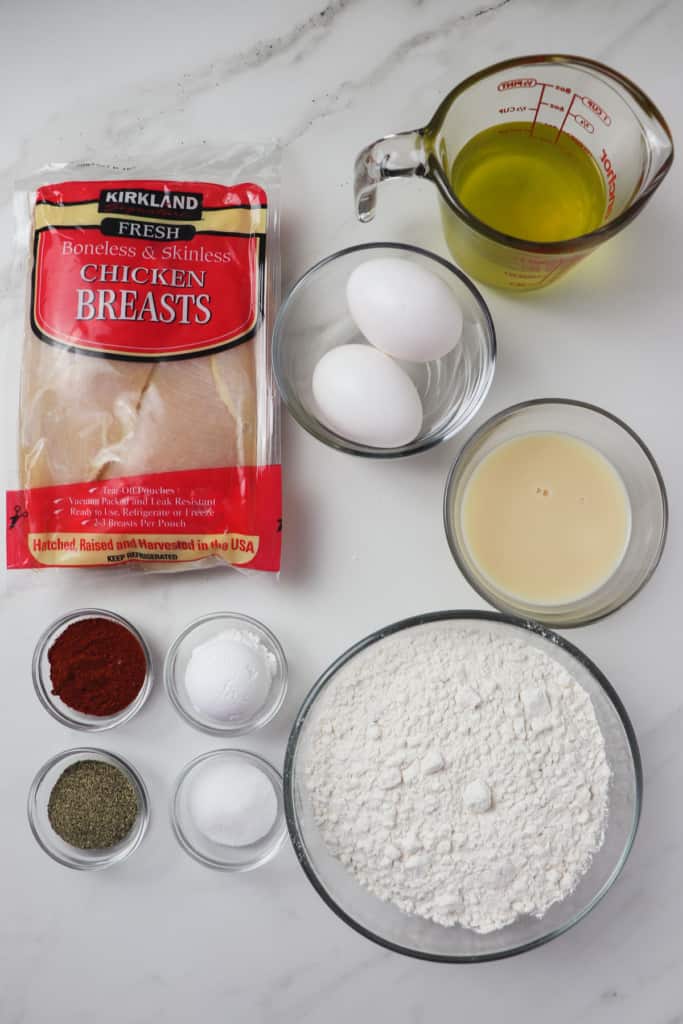 I typically use chicken breasts, but you can also use chicken tenderloins. Any type of chicken can work as long as you cut it up into 1-inch chunks.
How to Marinate Chicken in Pickle Juice
Marinating in pickle juice may sound a little strange, but trust me it really improves the taste of the nuggets! Personally I'm not a huge pickle fan but I really like these marinated in pickle juice.
Cut up your chicken into 1" pieces and place the chicken in a plastic bag with the pickle juice.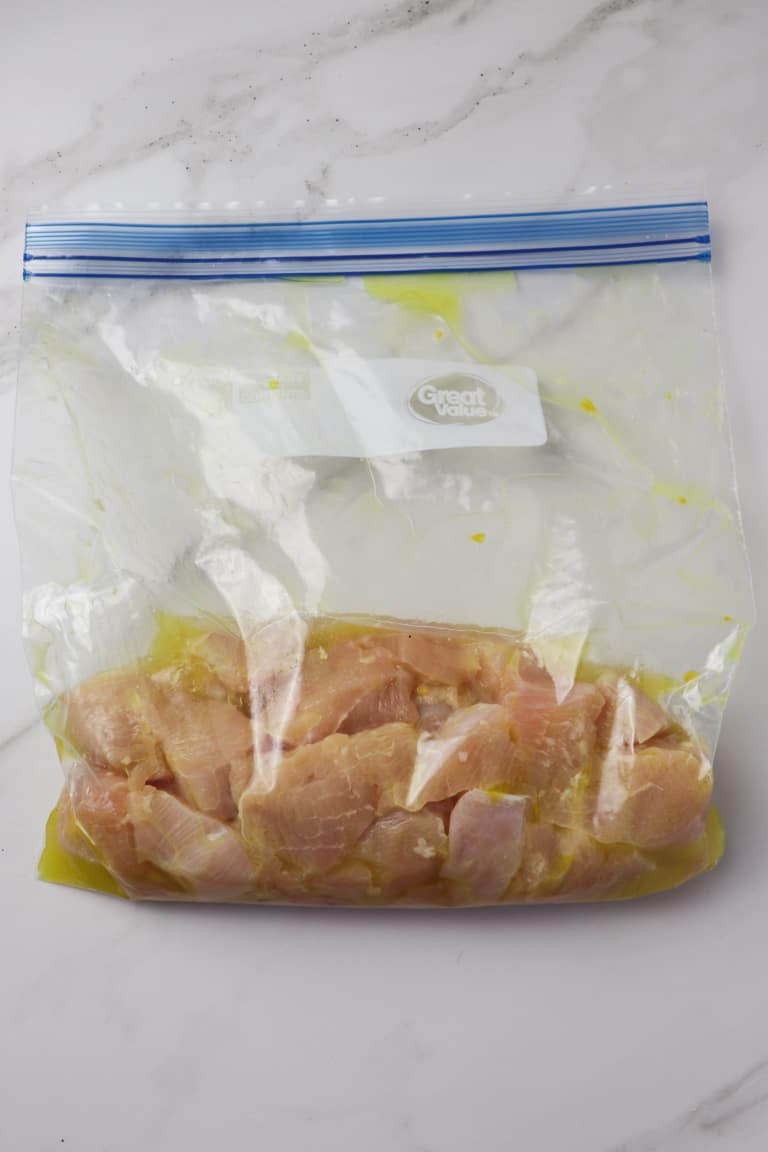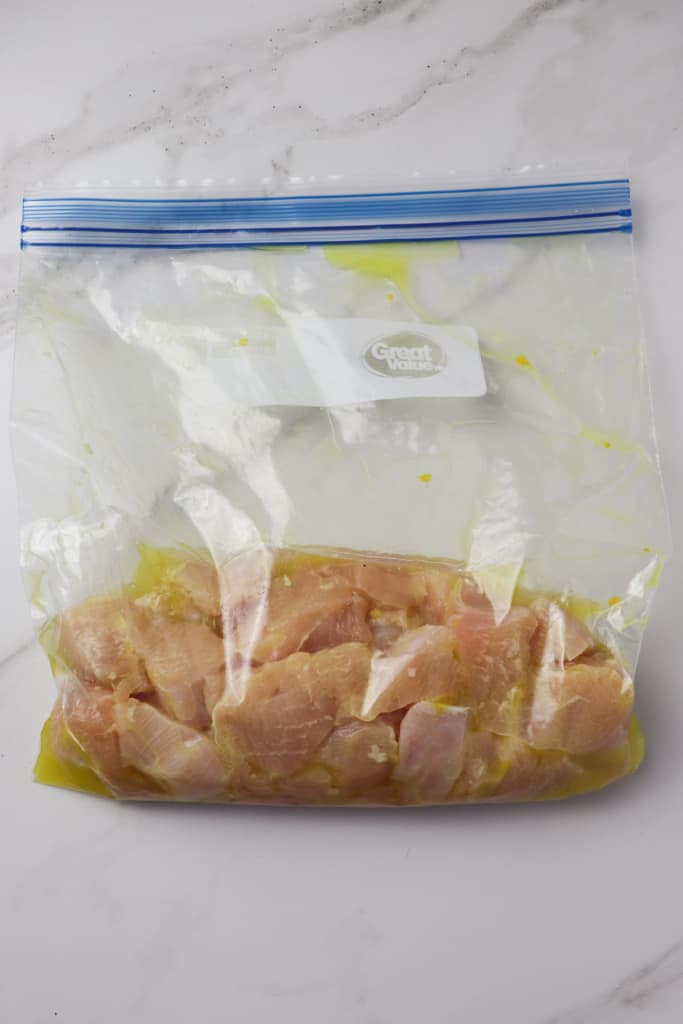 I experimented and found that 20 minutes of marinating time was about perfect for me. This gives the nuggets just a faint hint of pickle flavor. The longer you marinate, the stronger the pickle flavor will be.
For stronger pickle flavor, marinate for 30-40 minutes.
For weaker pickle flavor, marinate for only 10 minutes.
How to Bread Nuggets
Prepare the Flour and Egg Mixtures
To bread nuggets, you'll need to prepare the flour mixture and the egg mixture.
To make the flour mixture, combine the flour, paprika, powdered sugar, salt, and pepper.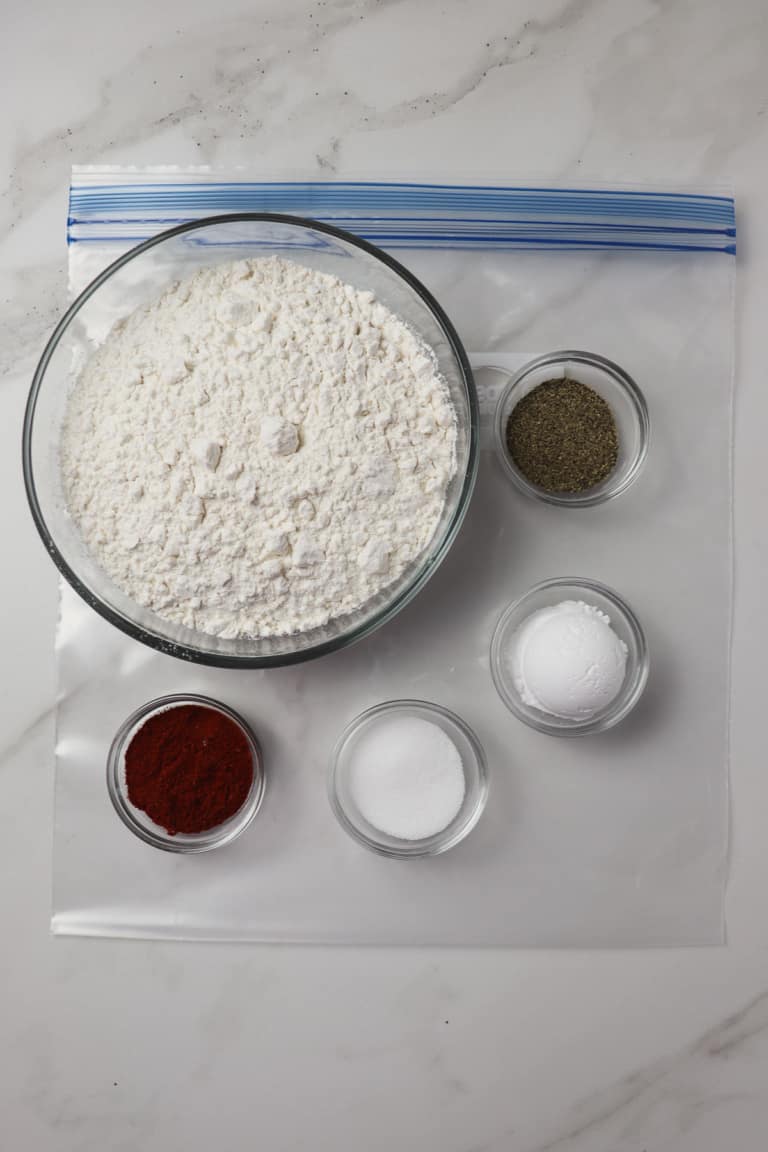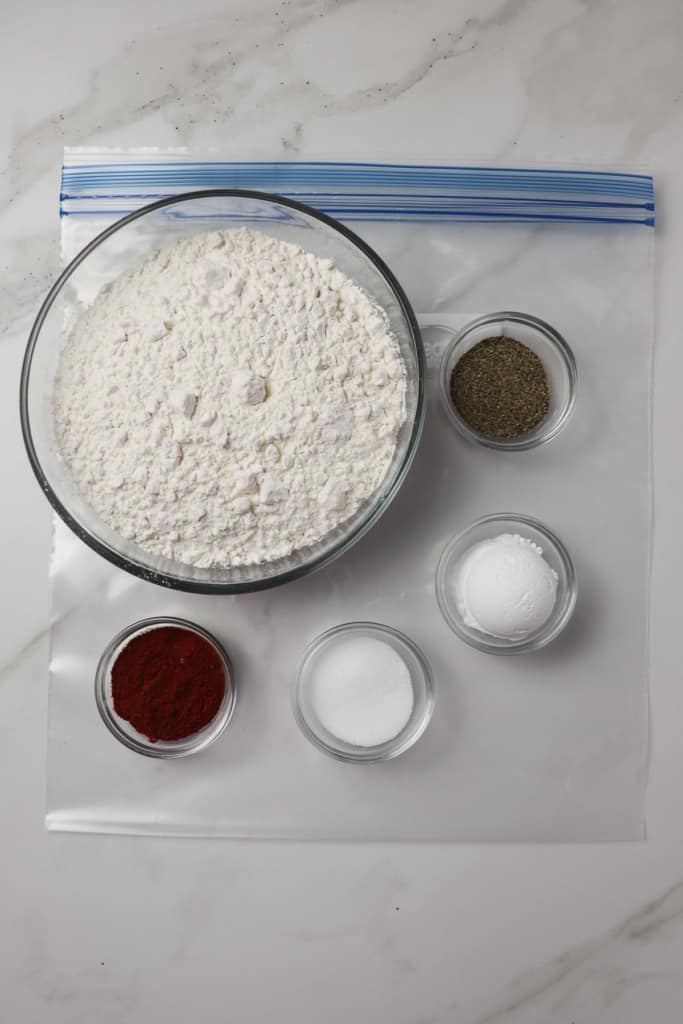 Seal the bag and shake it to mix together the dry ingredients.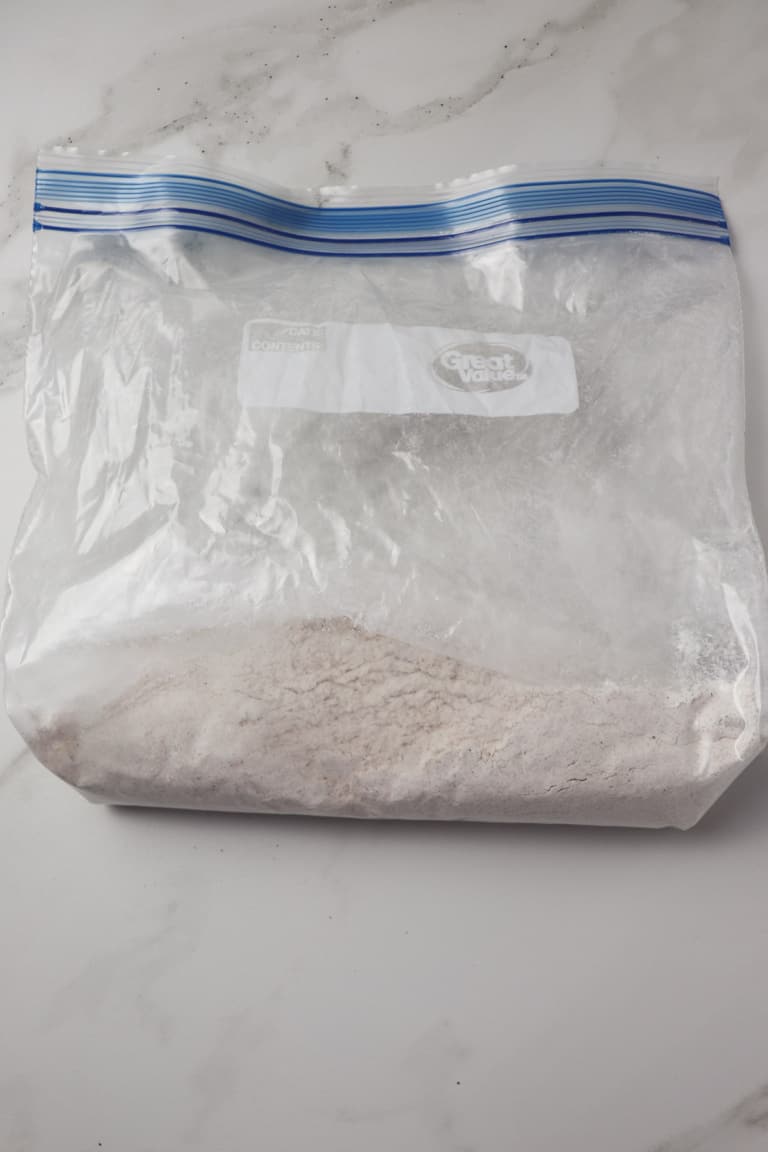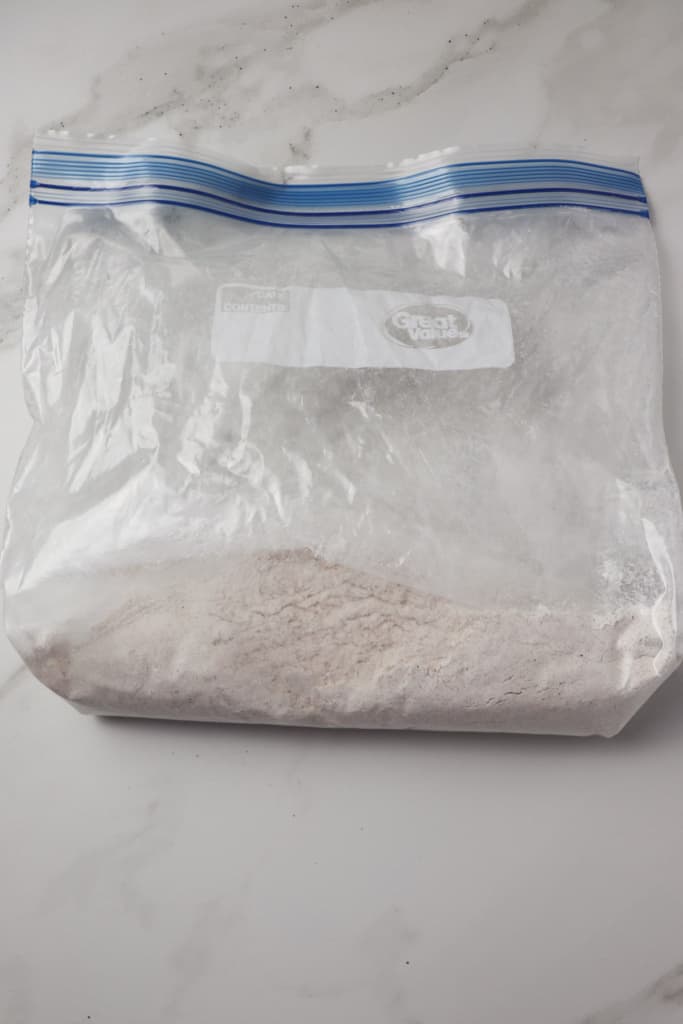 To make the egg mixture, whisk together the eggs and milk. You can substitute evaporated milk by combining half evaporated milk with half water.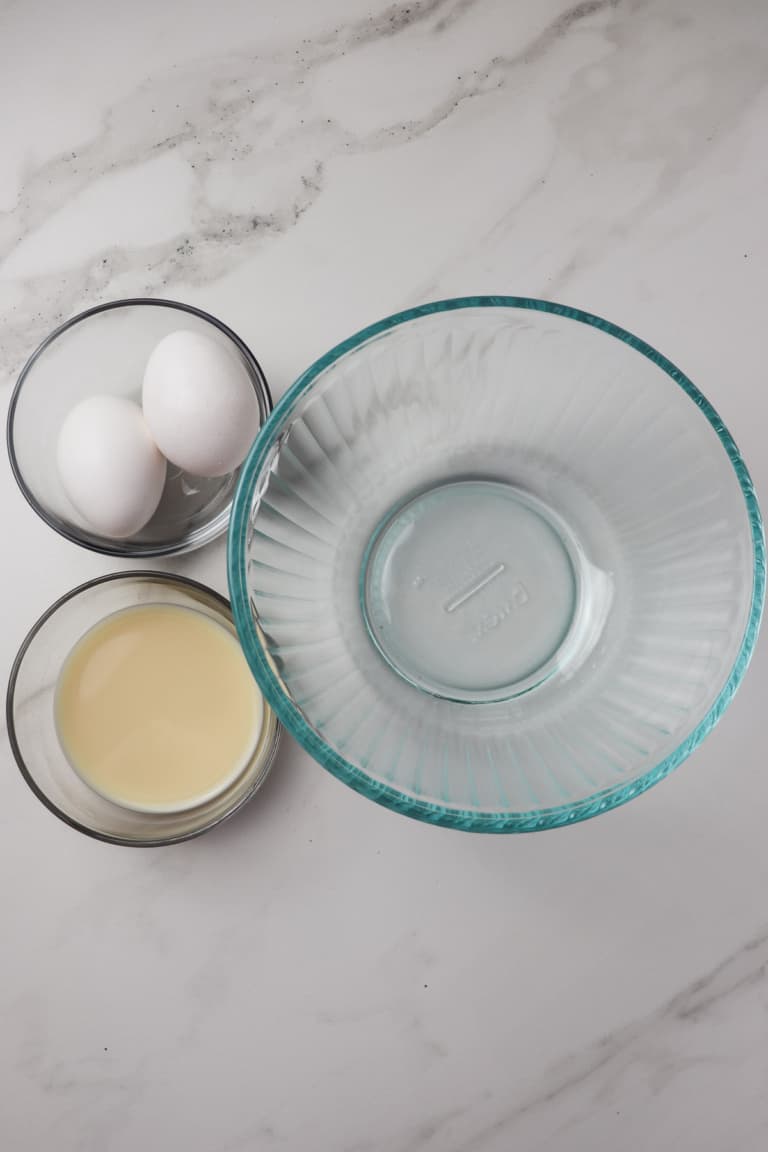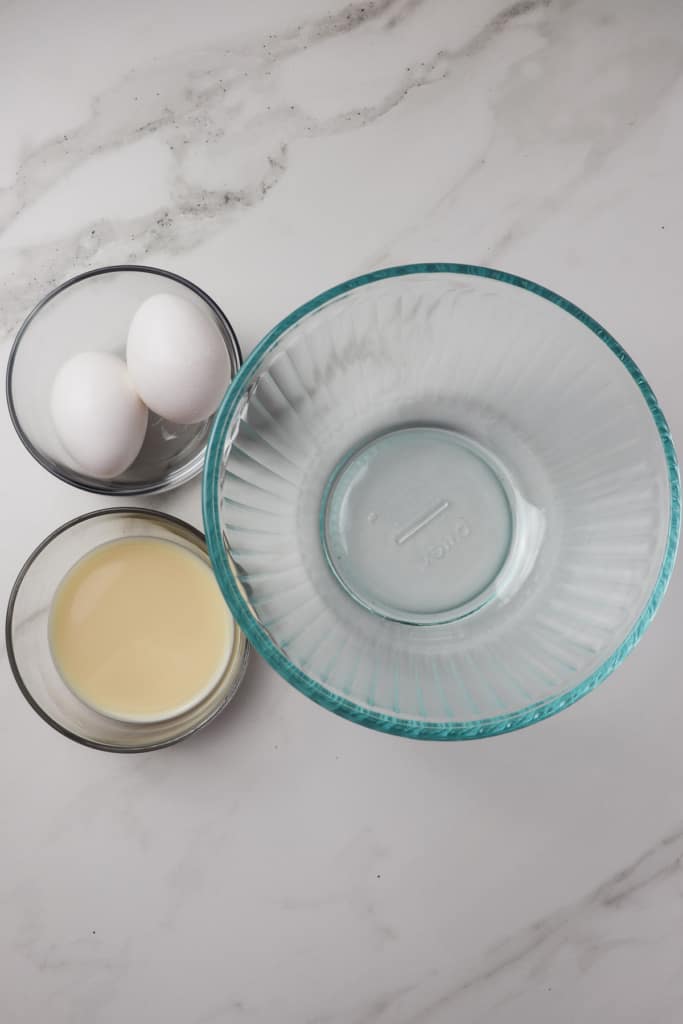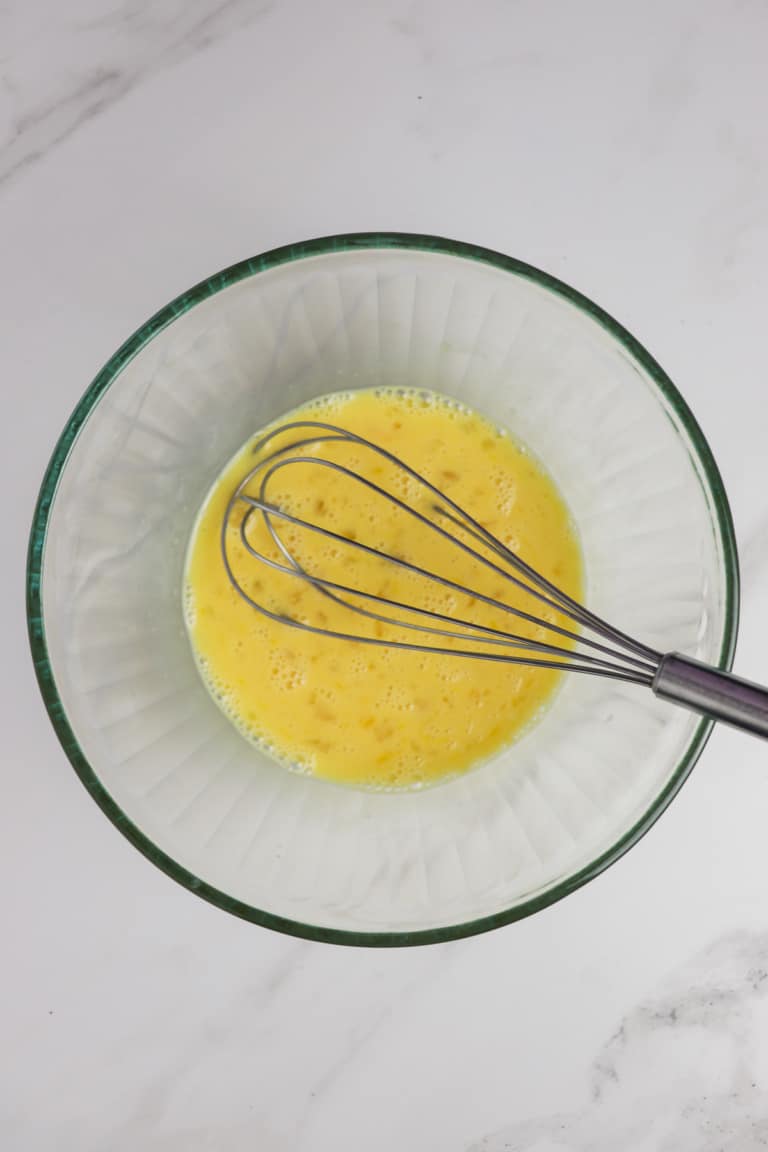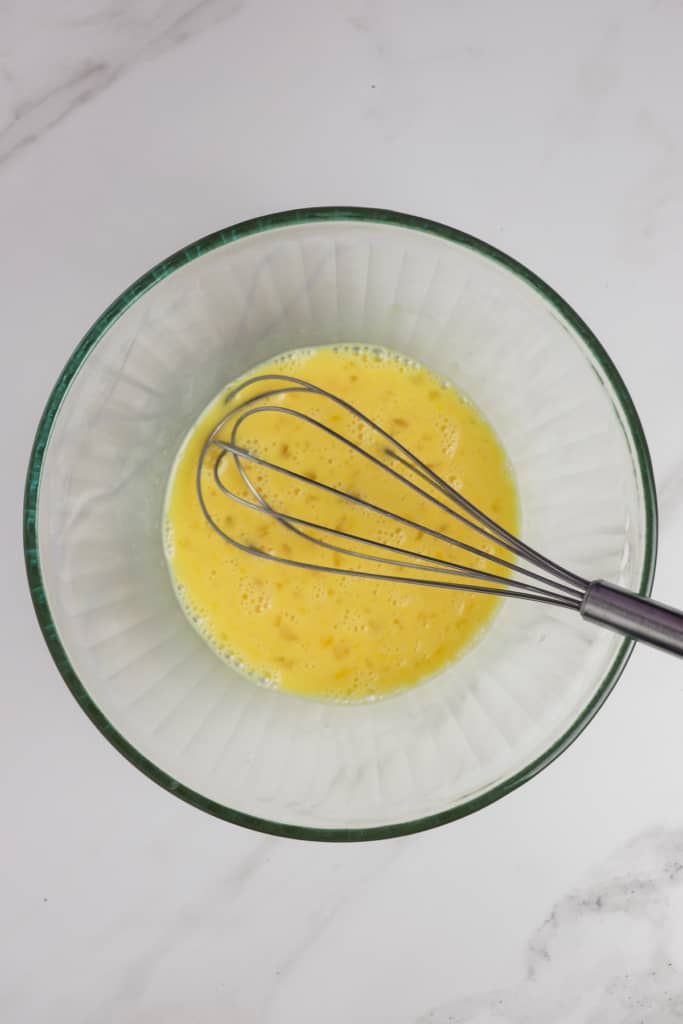 The chicken pieces will need to be dipped in the flour mixture, egg mixture, and then back into the flour mixture.
Toss Chicken in the Flour Mixture
First, use tongs to remove the chicken from the pickle juice marinade add the chicken into the plastic bag with the flour mixture. Seal the bag and shake until chicken is well coated.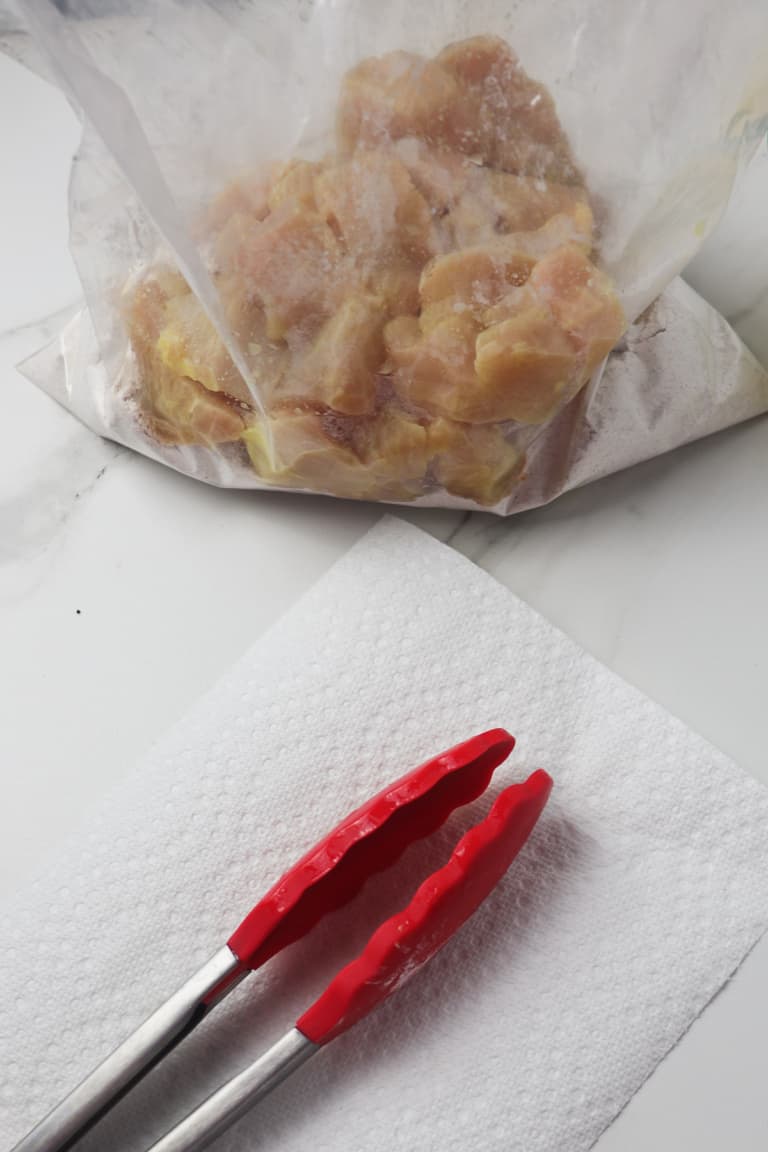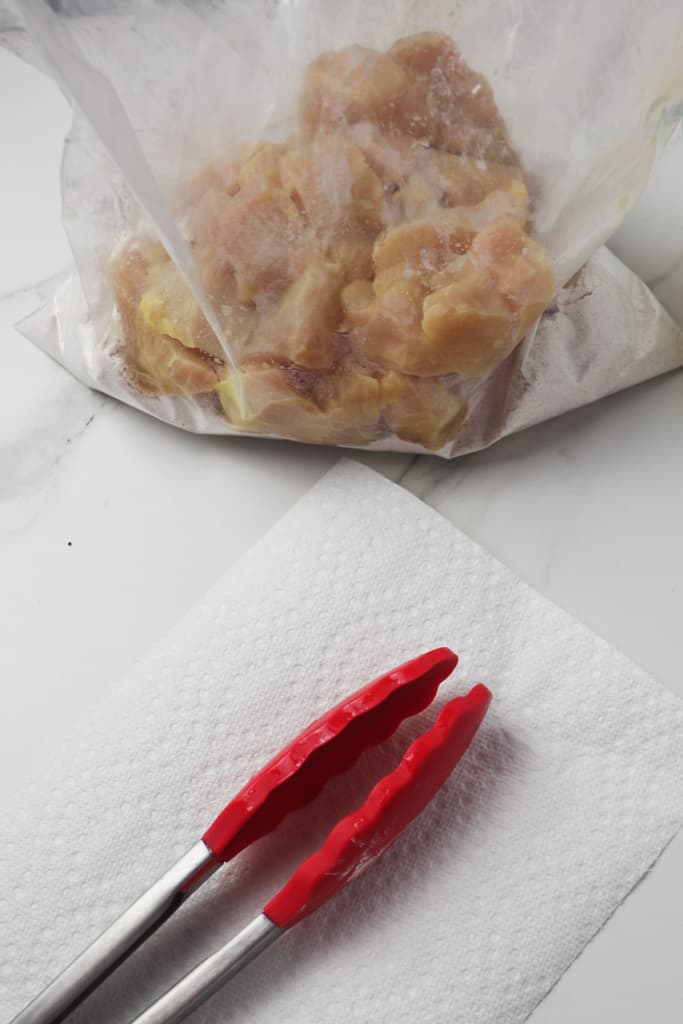 Toss Chicken in the Egg Mixture
Use tongs to remove the chicken pieces, shake off excess flour, and place them into the egg mixture.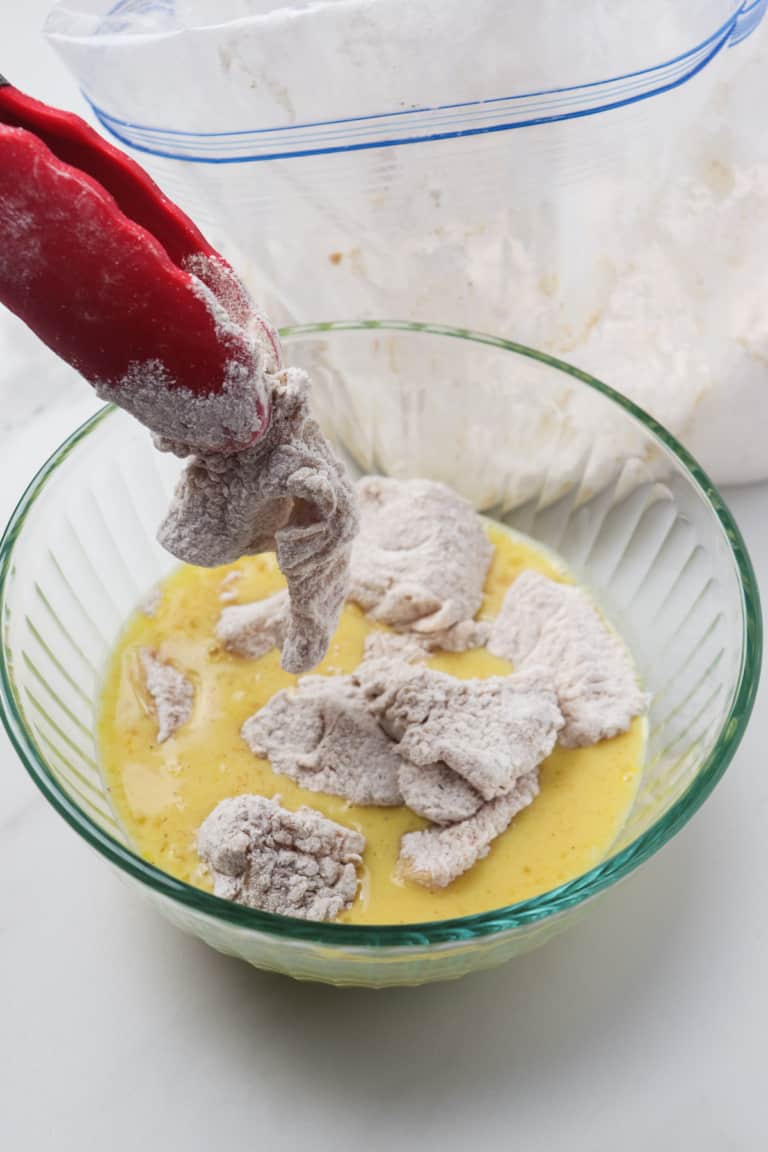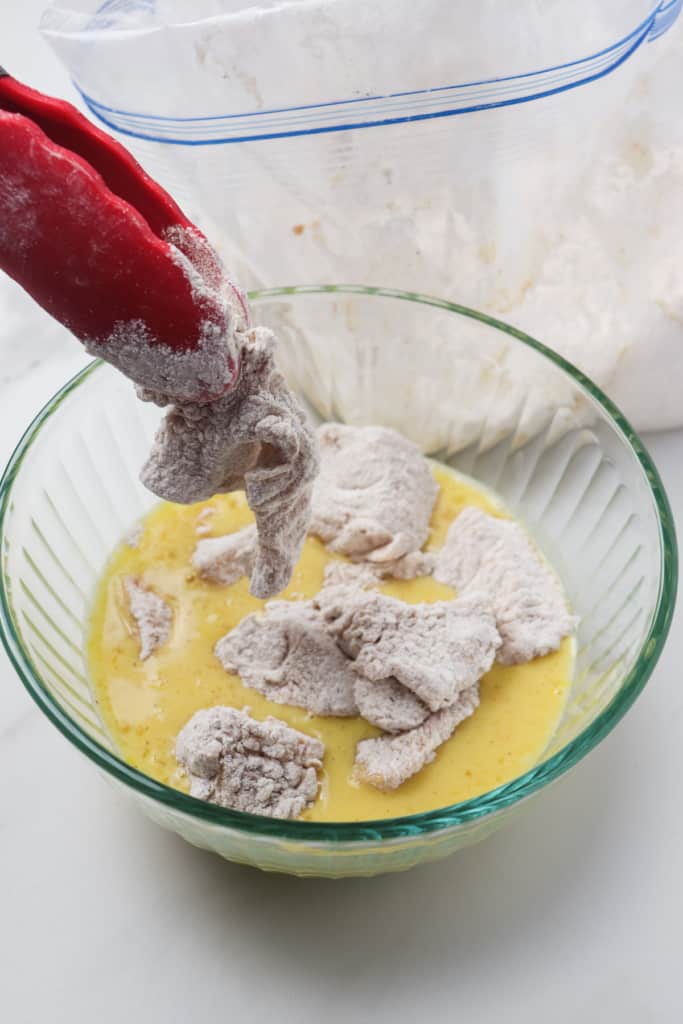 After all of the chicken has been moved over to the egg mixture, toss the chicken in the mixture until all pieces are well coated.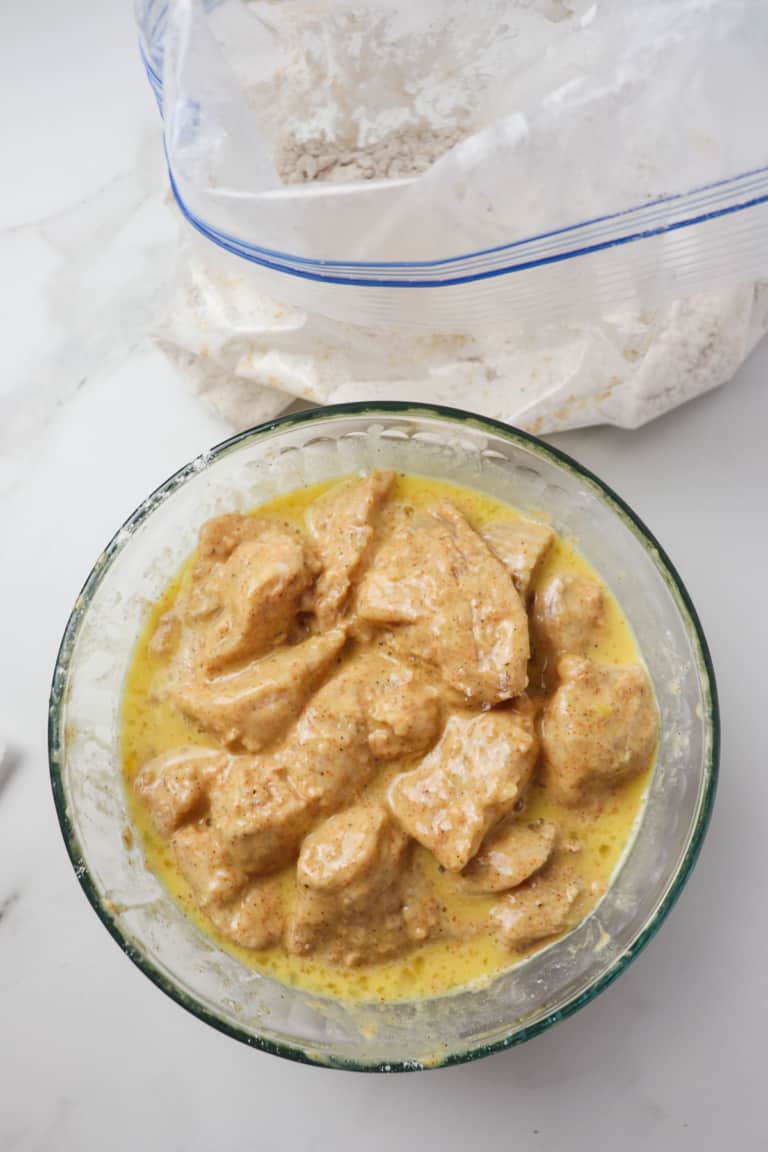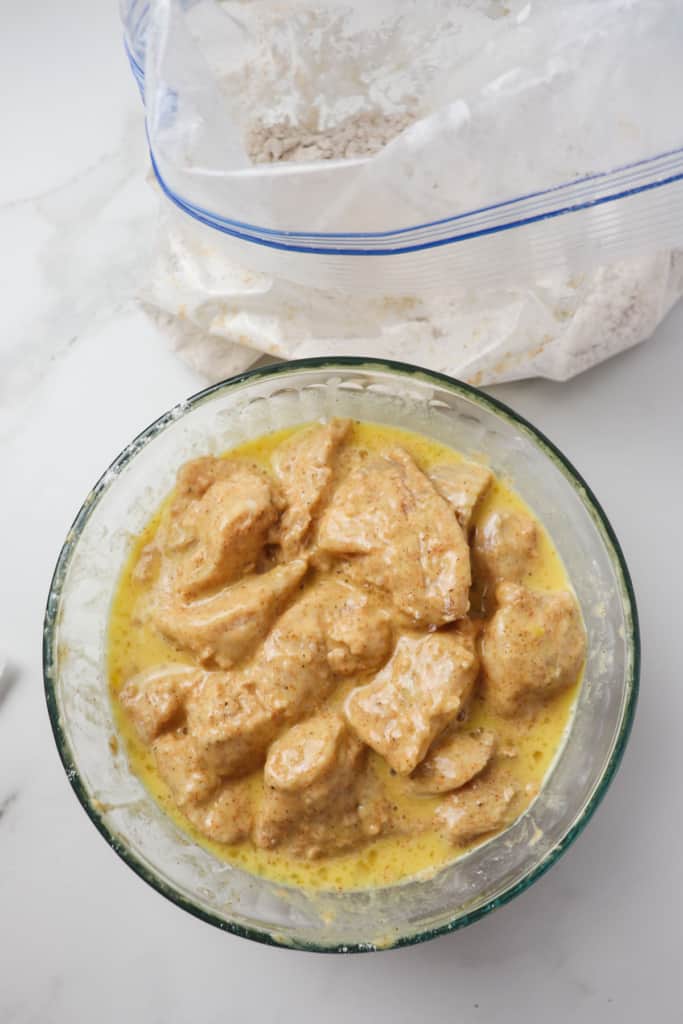 Toss Chicken in the Flour Mixture (Again)
Next, use tongs to remove the chicken pieces from the egg mixture and place them back into the flour mixture. Make sure you let any excess liquid drip off before placing each piece into the flour mixture bag.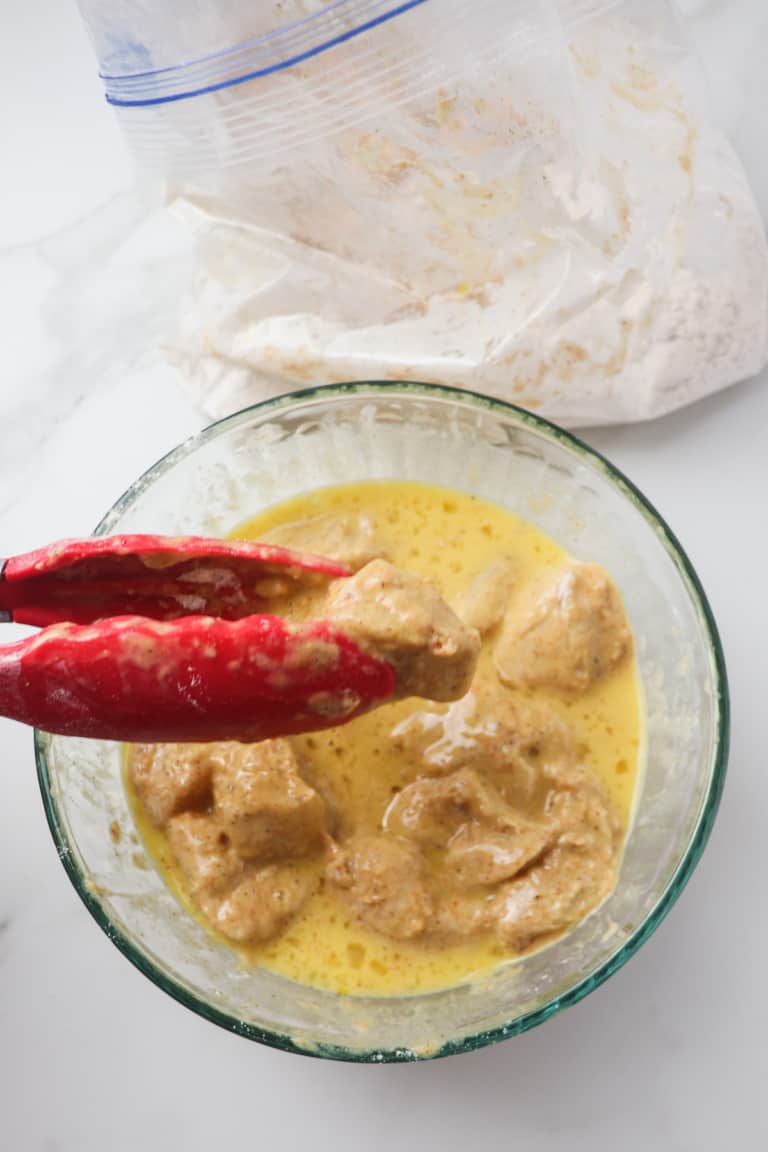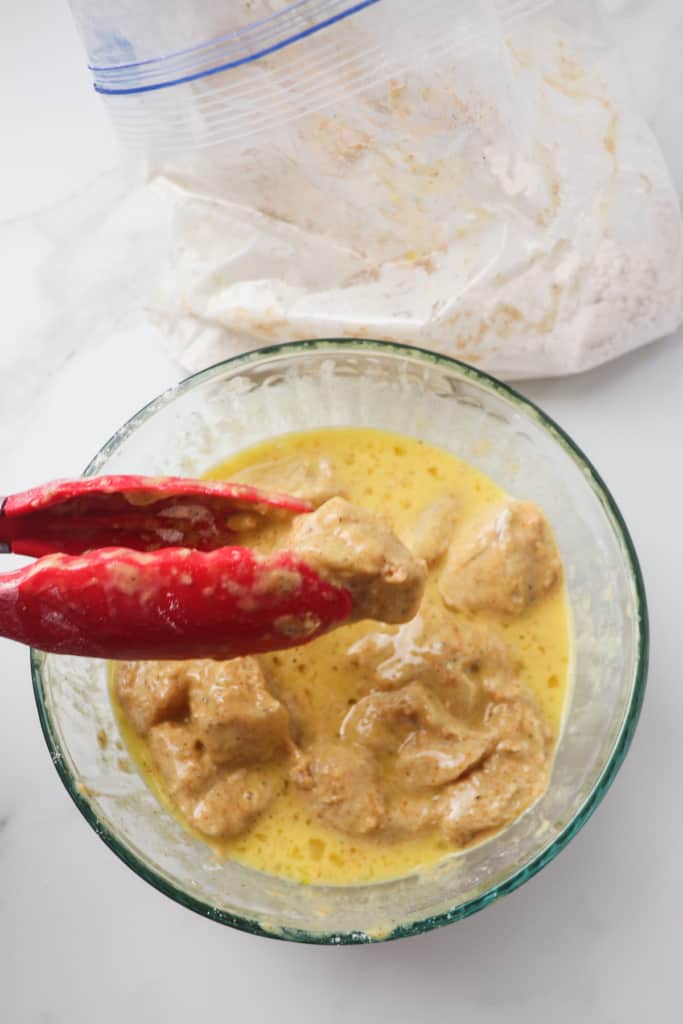 Once all chicken has been moved into the flour mixture, seal the bag and shake until all the nuggets are coated in the flour mixture. If the mixture gets too sticky, you can add in an additional ½ cup flour.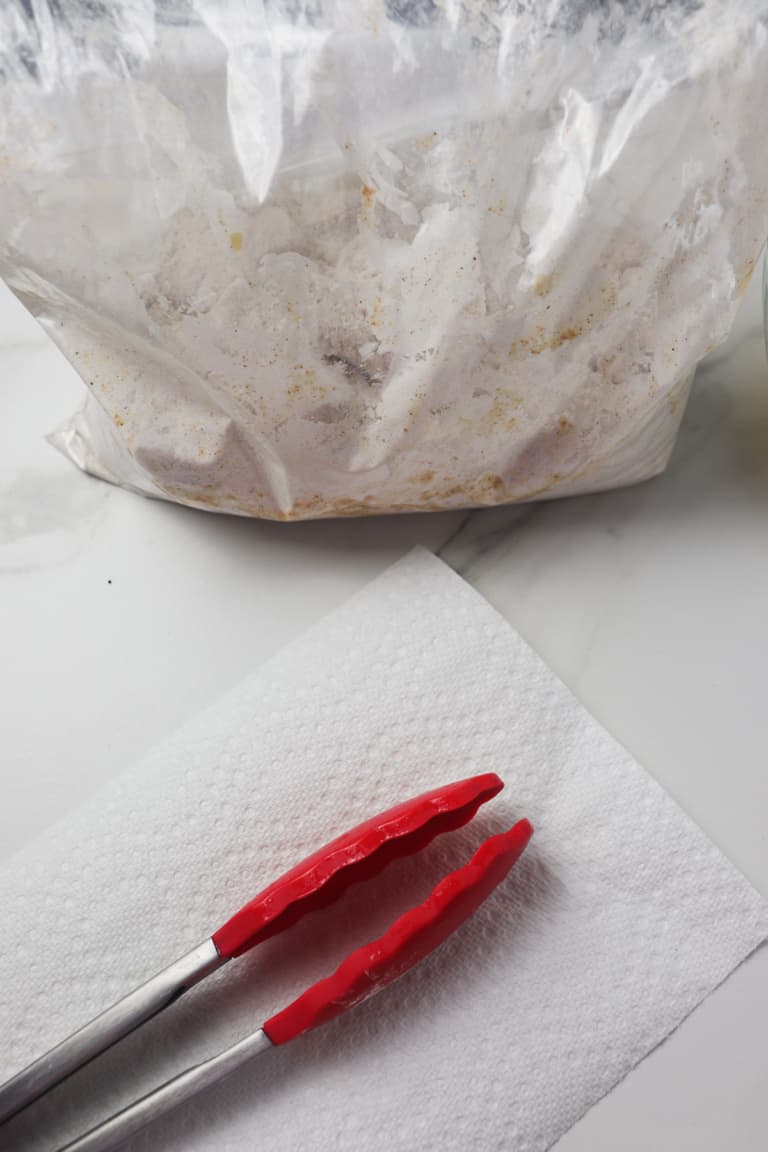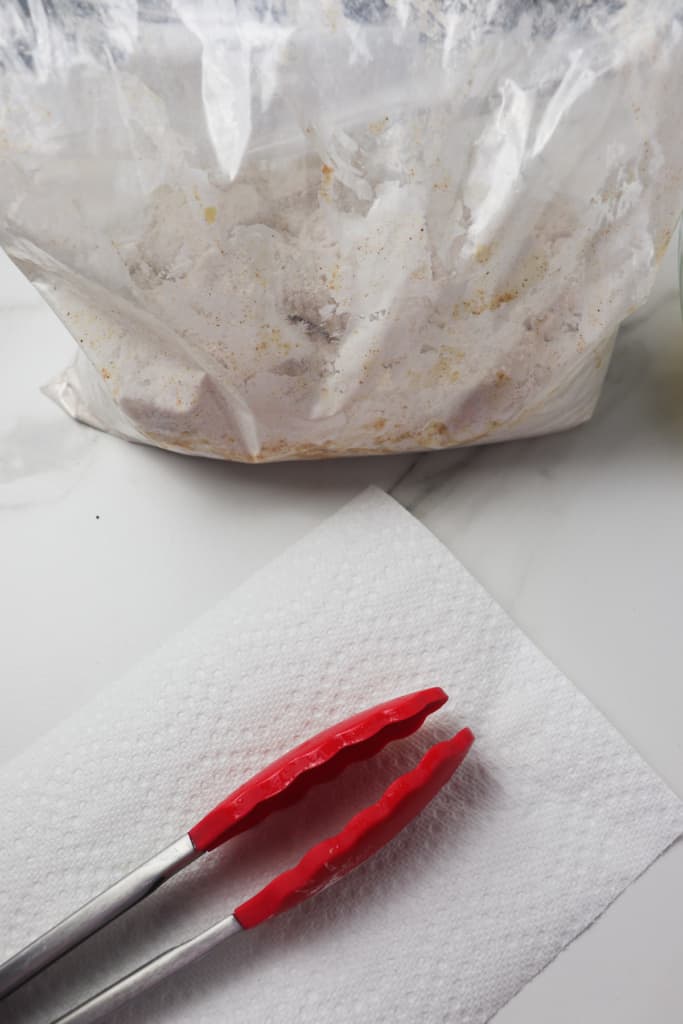 Load Chicken in Air Fryer Basket
Remove chicken nuggets from the bag and place them in a single layer in the air fryer basket. Depending on how large your air fryer is, you may need to work in batches. Make sure the chicken pieces are not touching.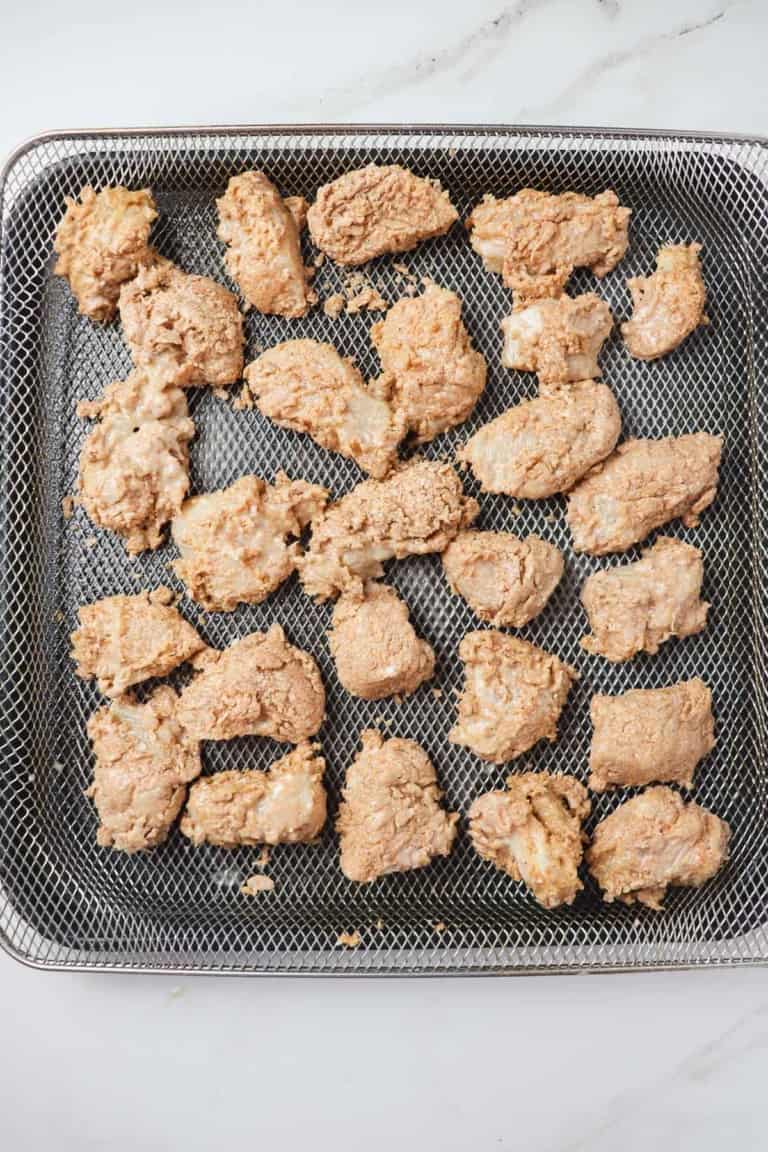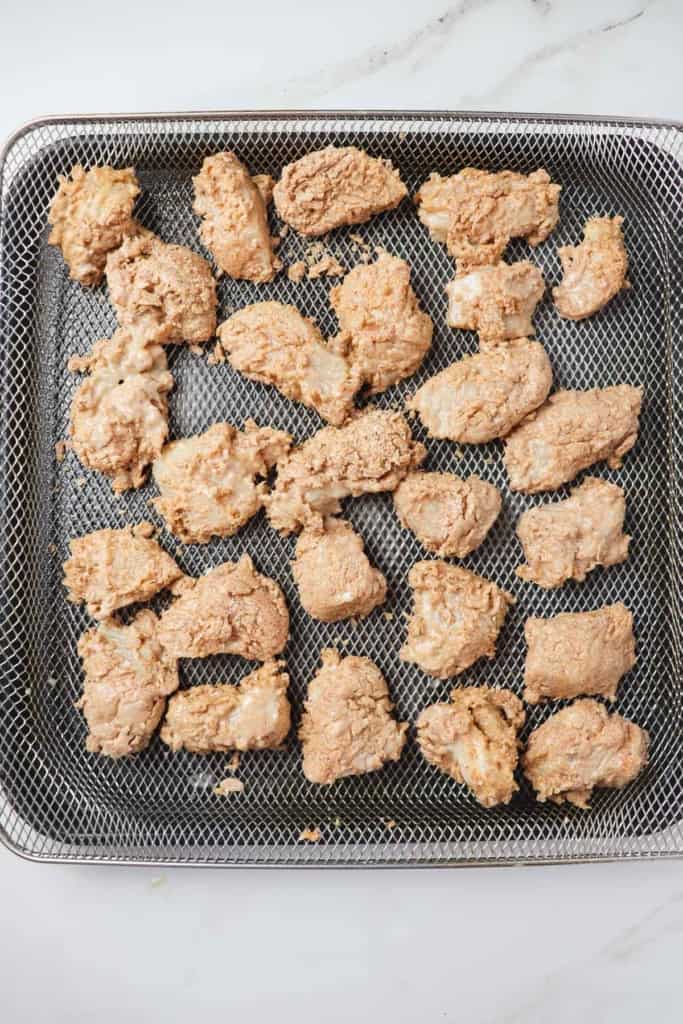 Spray chicken generously on both sides with oil (canola or vegetable oil spray work well).
Now, you're ready to air fry your nuggets!
Air Fryer Cooking Instructions
Preheat your air fryer to 400 degrees. Air fry for 6 minutes and then flip nuggets. Spray any white flour-coated spots with oil, and then air fry nuggets for an additional 5-7 minutes until nuggets are golden brown and chicken is cooked through.
Use a meat thermometer to verify that the inside of the nuggets has reached at least 165 degrees. Cook time may vary slightly for different air fryer models.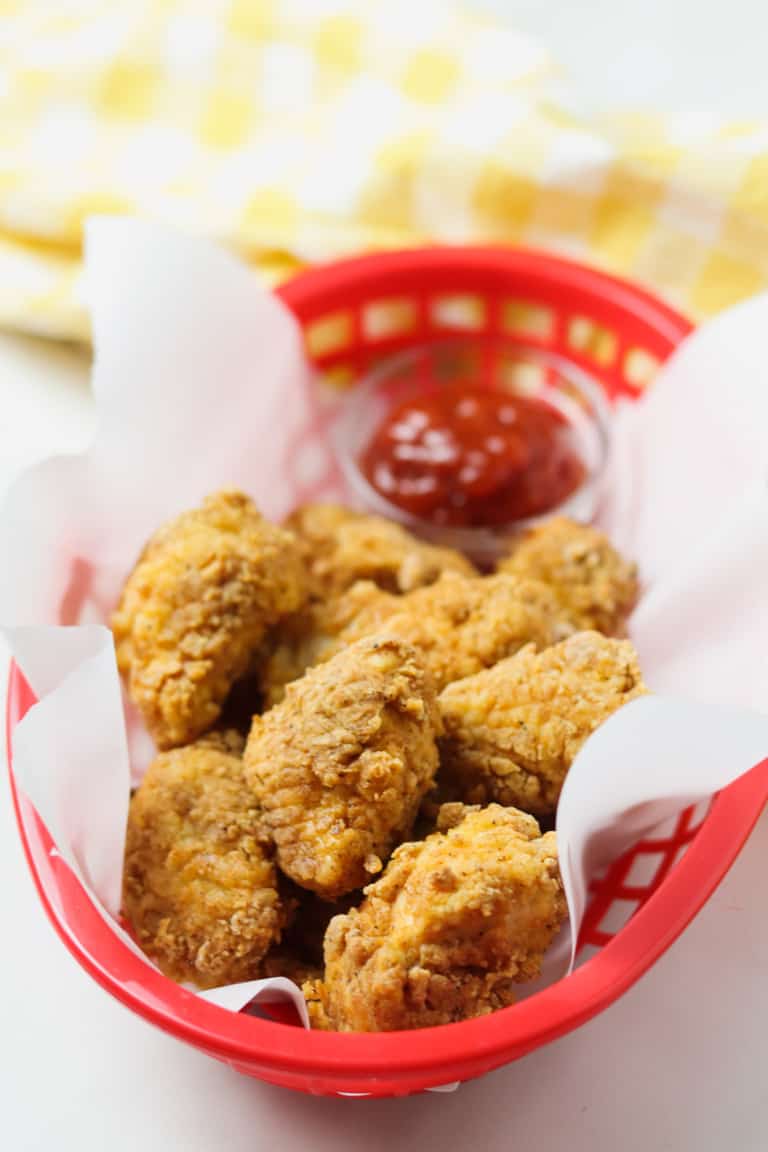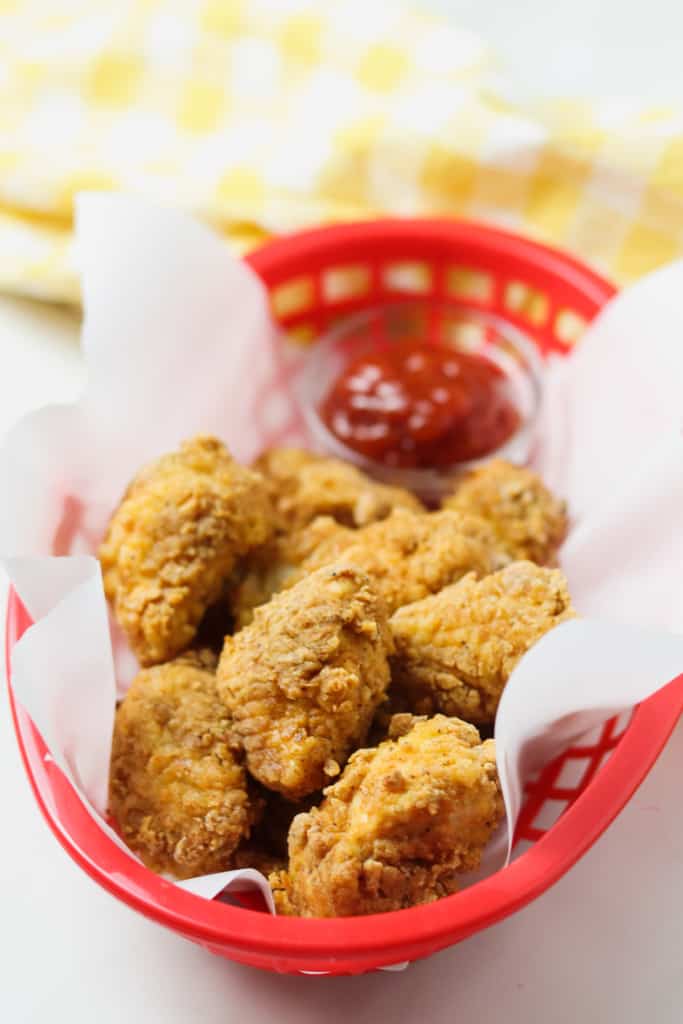 Tips and Tricks
Marinate chicken for exactly 20 minutes in the pickle juice. If you leave the chicken marinating for too long, it will taste too pickle-y. So don't marinate for too long unless you want your nuggets to be very pickle-y. 20 minutes is just right for me.
If flour mixture gets too wet/sticky, you can add additional flour. Add ½ cup more flour if the mixture starts getting too sticky. This will help absorb some of the excess liquid.
If any spots appear light and flour-coated, spray them with oil when you flip them over. This helps the shell of the nuggets get fully cooked and crispy.
Use a meat thermometer to ensure chicken nuggets are fully cooked and at least 165 degrees inside.
Preheat your air fryer before placing chicken inside. This ensures that the nuggets will get nice and crispy on the outside.
Make sure nuggets are not touching. They will not cook correctly if they are stacked or touching. You may need to work in multiple batches to cook all of the nuggets.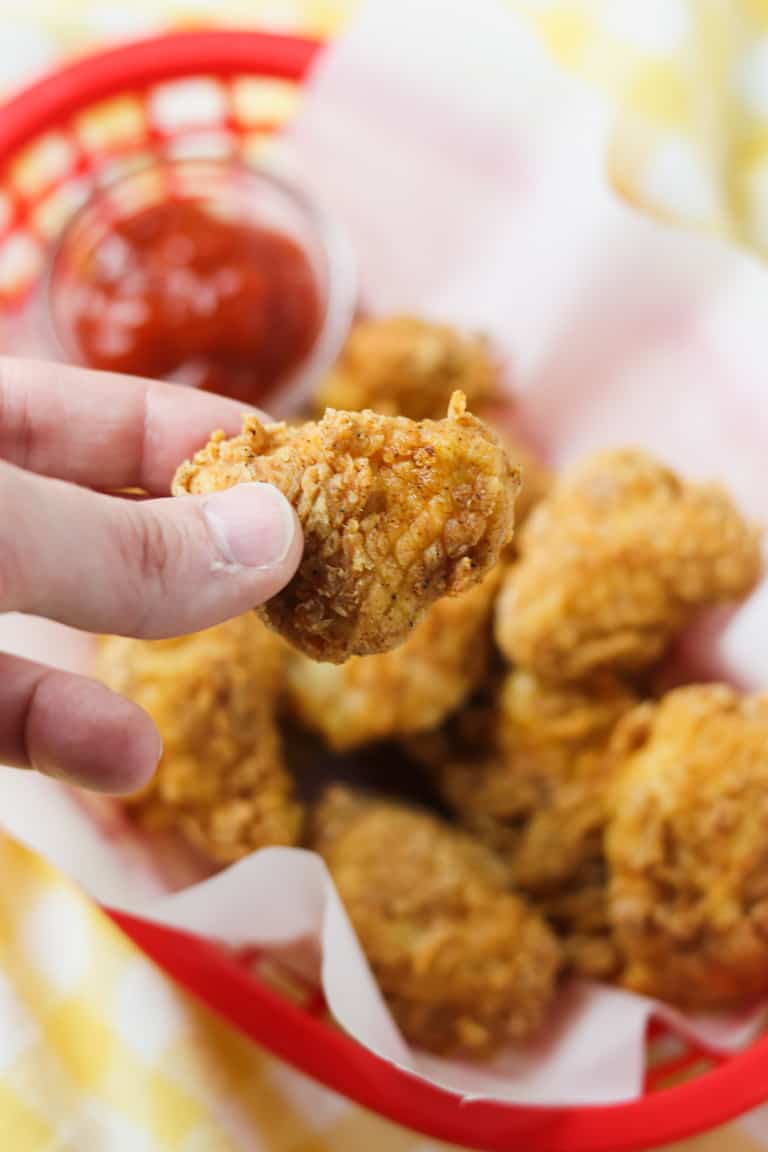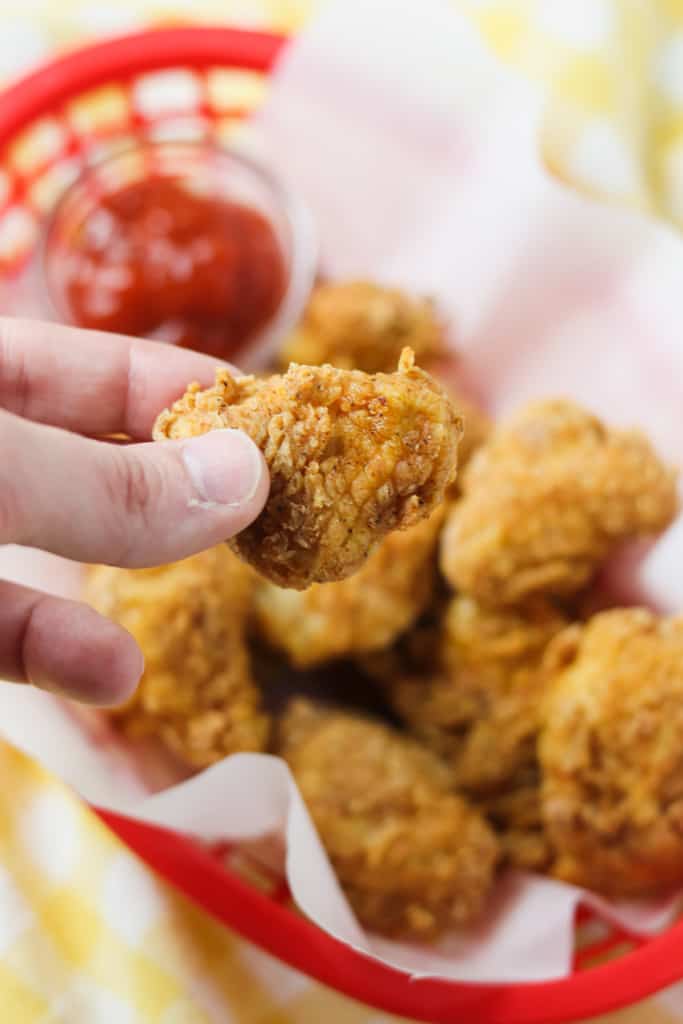 More Easy Air Fryer Recipes
Try these other easy air fryer recipes!