Air Fryer Grilled Cheese is an easy, delicious, and healthier way to make a grilled cheese! You can easily crisp your sandwich in the air fryer using only a small amount of oil.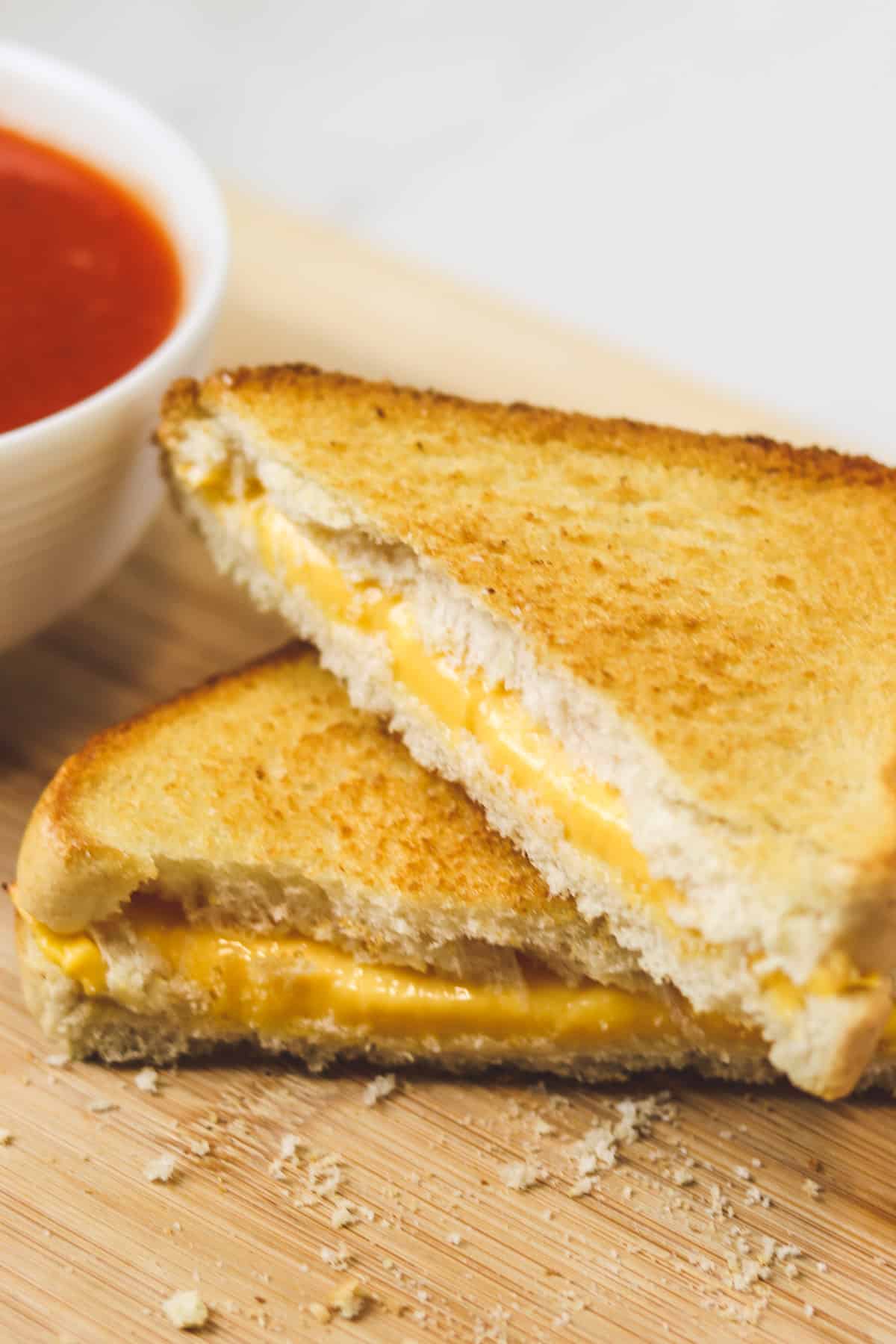 When you make a grilled cheese sandwich in a traditional skillet, you have to use quite a bit of butter or mayo. By making it in the air fryer, you can use just a small amount of spray oil instead. You can enjoy an air fried sandwich for fewer calories, and it still tastes great!
Grilled cheese is one of my favorite meals to make for a quick low-calorie lunch or dinner! Serve it up with a bowl of tomato soup to make a complete meal.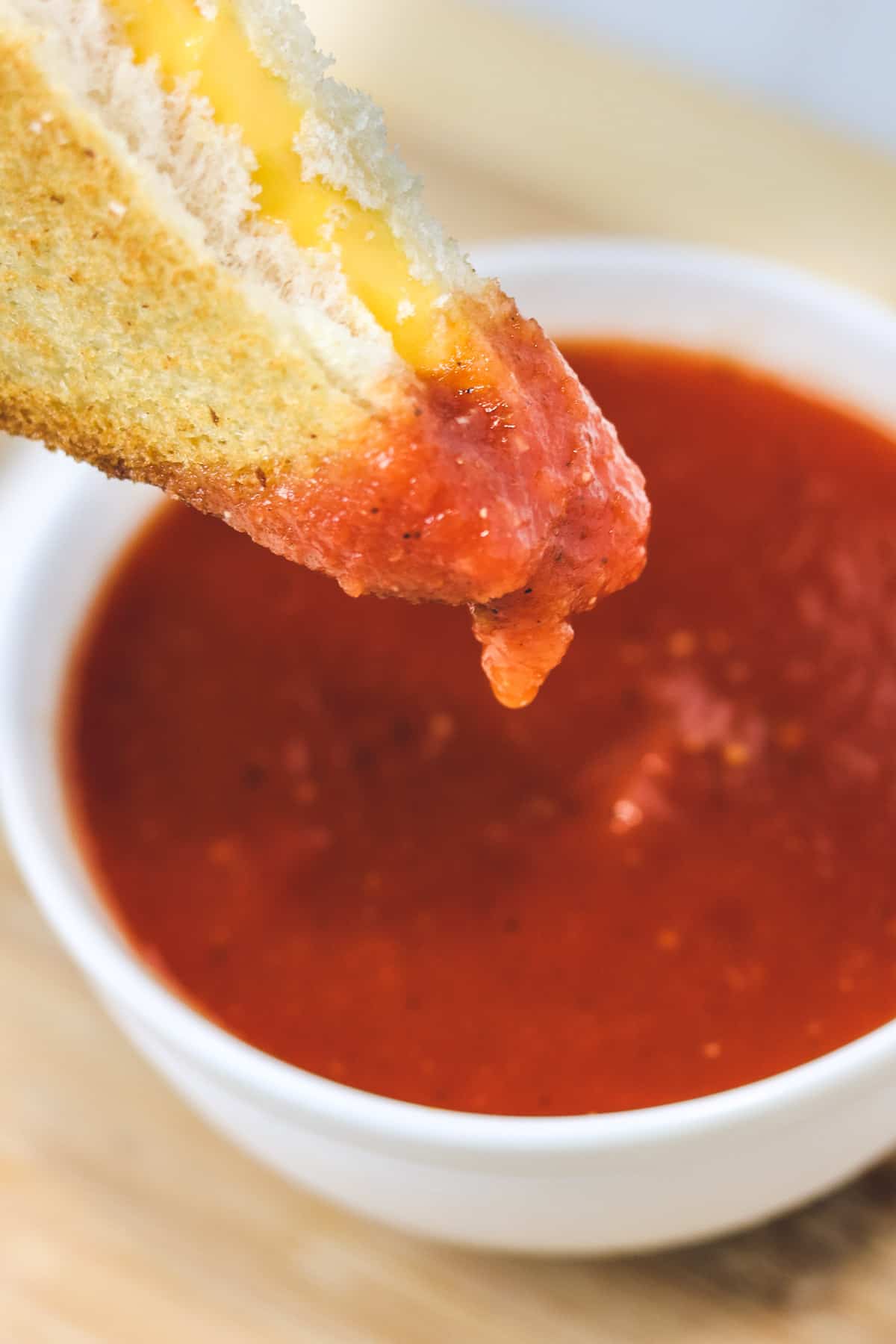 Jump to:
Ingredients
I usually go for the traditional ingredients: plain white sandwich bread and 2 slices of American cheese. You can easily customize this recipe to whatever ingredients you like best.
What Kind of Bread to Use
Here are several options:
Plain white sandwich bread: about 120 calories for two slices
Whole wheat sandwich bread: about 120 calories for two slices
Low-calorie wheat sandwich bread: 70-90 calories for two slices
Artisan bread, such as sourdough: 200+ calories for two slices
My go-to is usually plain white or wheat sandwich bread, which both have about 60 calories per slice or 120 calories for two slices. To cut the calories even further you can look for a low-calorie wheat bread that has 35-45 calories per slice.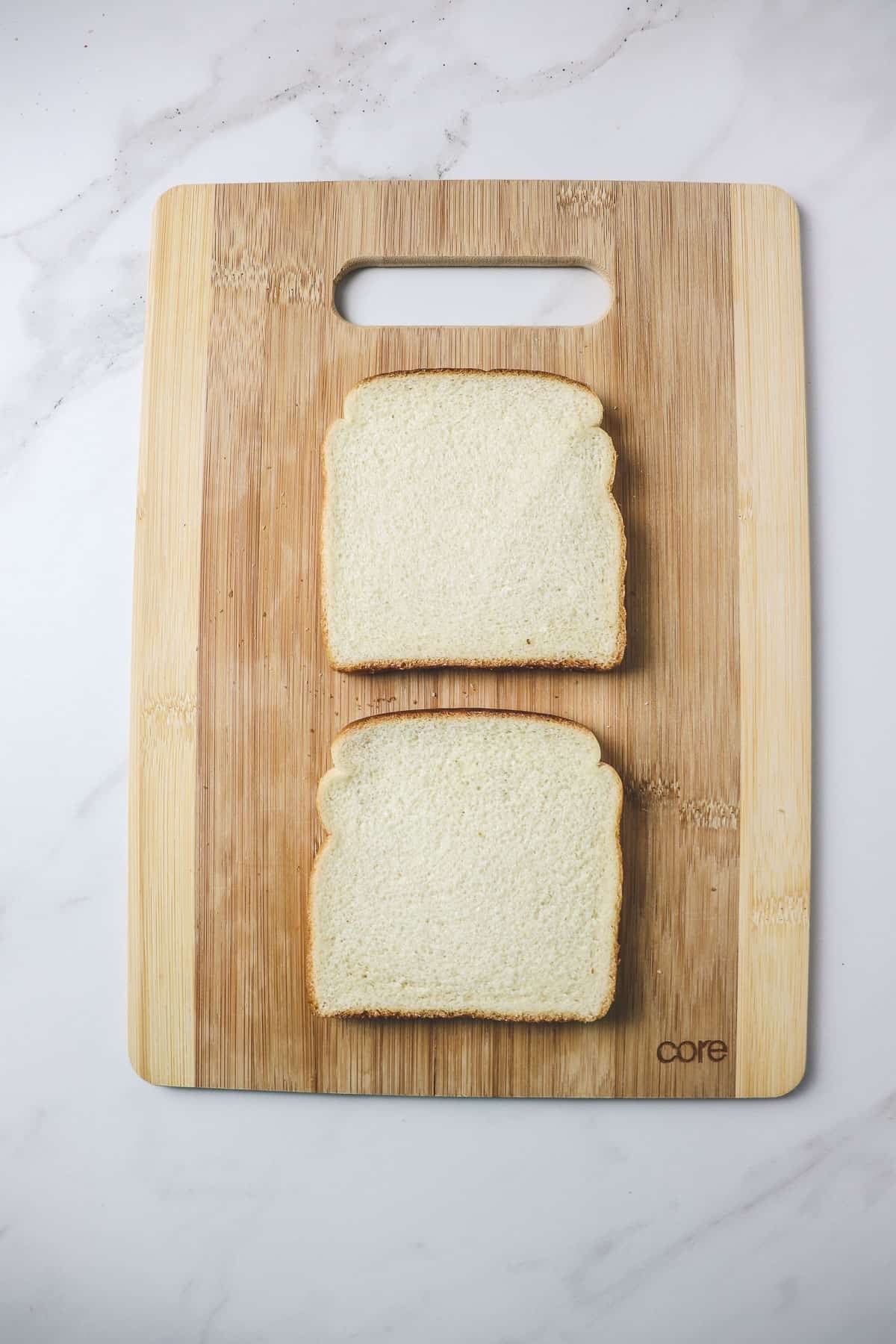 Fancier artisan bread, such as sourdough bread, tastes great for grilled cheese but can have a lot of calories. These types of bread are often large thick slices. If your bread slices are very large, you could try cutting each piece in half and making a sandwich out of one slice of bread instead of two.
What Kind of Cheese to Use
Any cheese that melts well is a good option for grilled cheese:
American singles
Mozzarella
Provolone
Cheddar
Colby Jack
Pepper Jack (for a spicy kick)
American cheese slices are usually about 60 calories each, while other cheese slices usually have 80-120 calories each (depending on the thickness).
My favorite cheese to use is plain American cheese slices (yes, the kind in the individual plastic wrappers). American slices melt really well inside a sandwich!
Of course, nearly any kind of cheese will work. Mozzarella and provolone are very good options if you don't like American cheese! Or, try a combination of cheeses.
Optional Ingredients
If you dont want a plain cheese sandwich, you can try adding another filling. Here are some ideas:
Cooked bacon slices
Deli sliced ham, turkey, or chicken
Avocado slices
A fried egg or scrambled egg
Instructions
First, assemble your sandwich. I use two slices of plain white bread with two slices of American cheese in the middle. Lightly spray both the top and bottom of the sandwich with spray oil (I use spray canola oil, but any type of oil spray will work).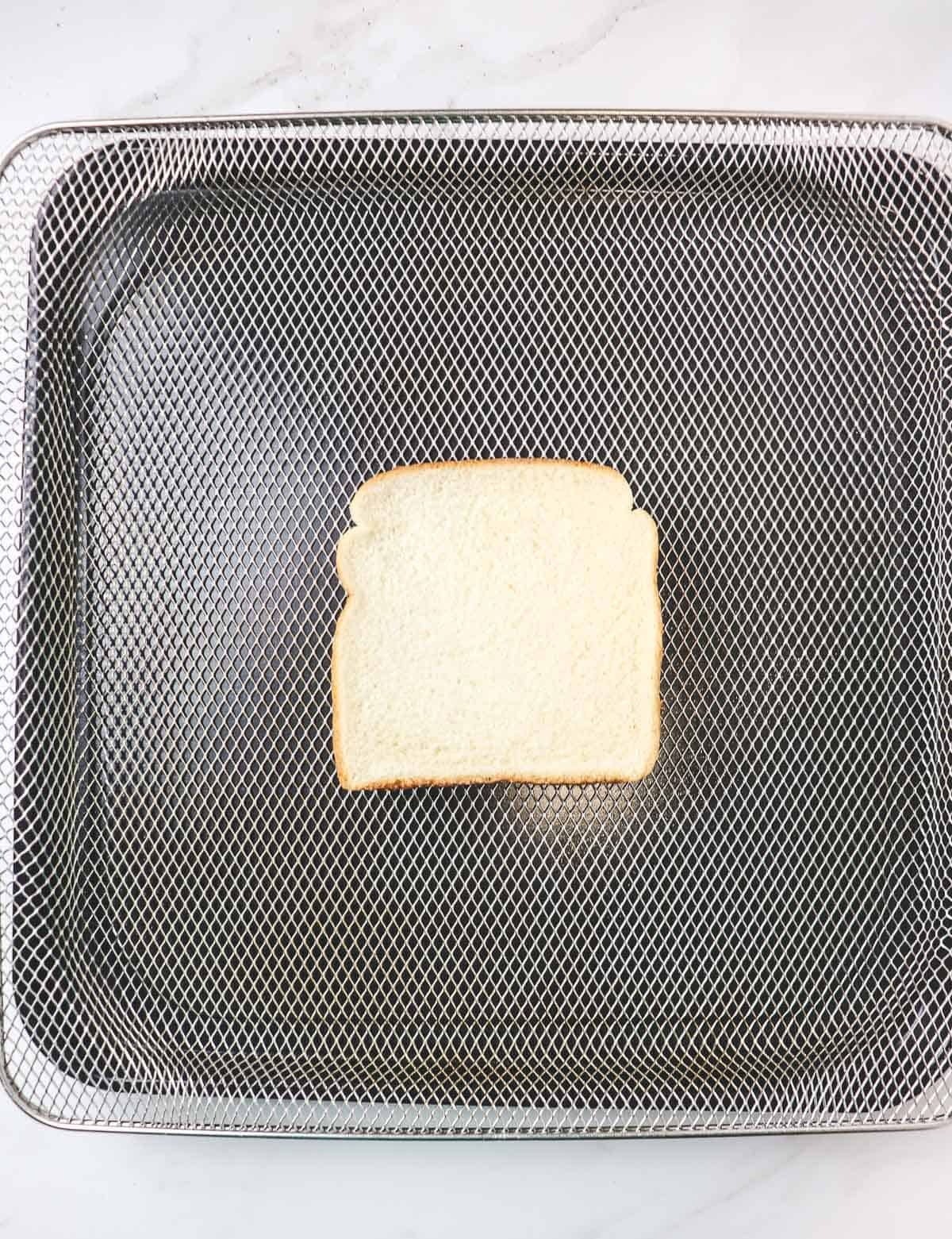 Load your sandwich into the air fryer basket, and preheat the air fryer to 300 degrees. Cook for 10-12 minutes until the bread is golden brown and cheese is melted.
Tips and Tricks
If you can fit more than one sandwich in the bottom of your basket, you can cook multiple grilled cheeses at once.
The lower cook temperature will help the cheese get melty before the bread gets too crispy. If your bread gets too browned and your cheese is still not fully melted, stick your sandwich in the microwave for 30 seconds to finish melting the cheese.
If you want to coat your bread in butter or mayo instead of spray oil, that will also work ok in the air fryer. It will just increase the calorie count a bit.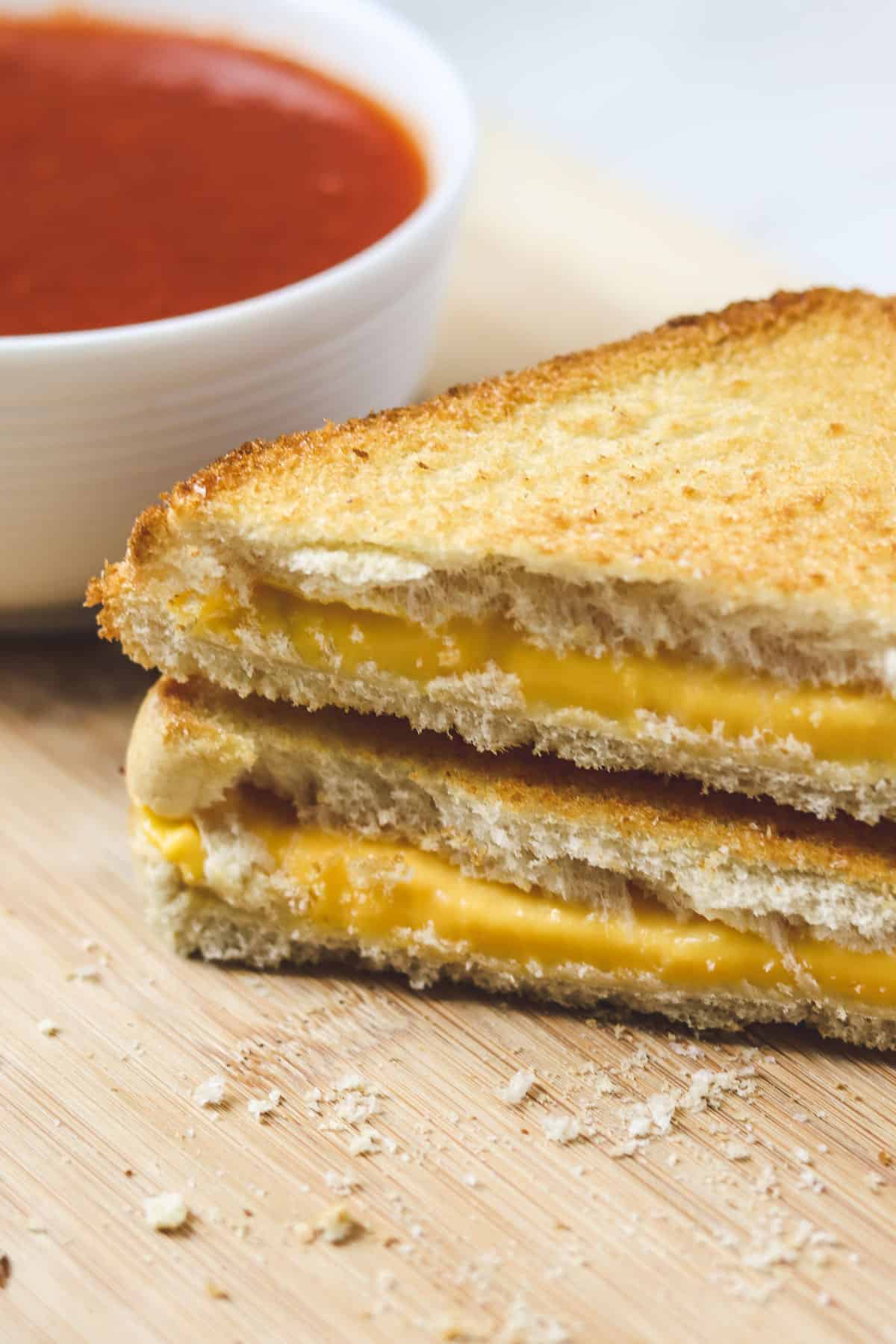 Calories Per Serving
If you make this recipe with two slices of white bread (60 calories each), two slices of American cheese (60 calories each), and a light spray of oil (about 10 calories), your sandwich will have about 250 calories. If you use a different type of bread or cheese, your calorie count will vary.
For the lowest calorie possible option, try two slices of low-calorie wheat bread (around 35 calories per slice) and only one slice of American cheese. That would add up to about 140 calories per sandwich.
If you are watching your calorie count, avoid thick slices of fancier bread (such as sourdough), which may have 200+ calories a slice.
Serve a grilled cheese sandwich with a cup of tomato soup to round out a low-calorie lunch!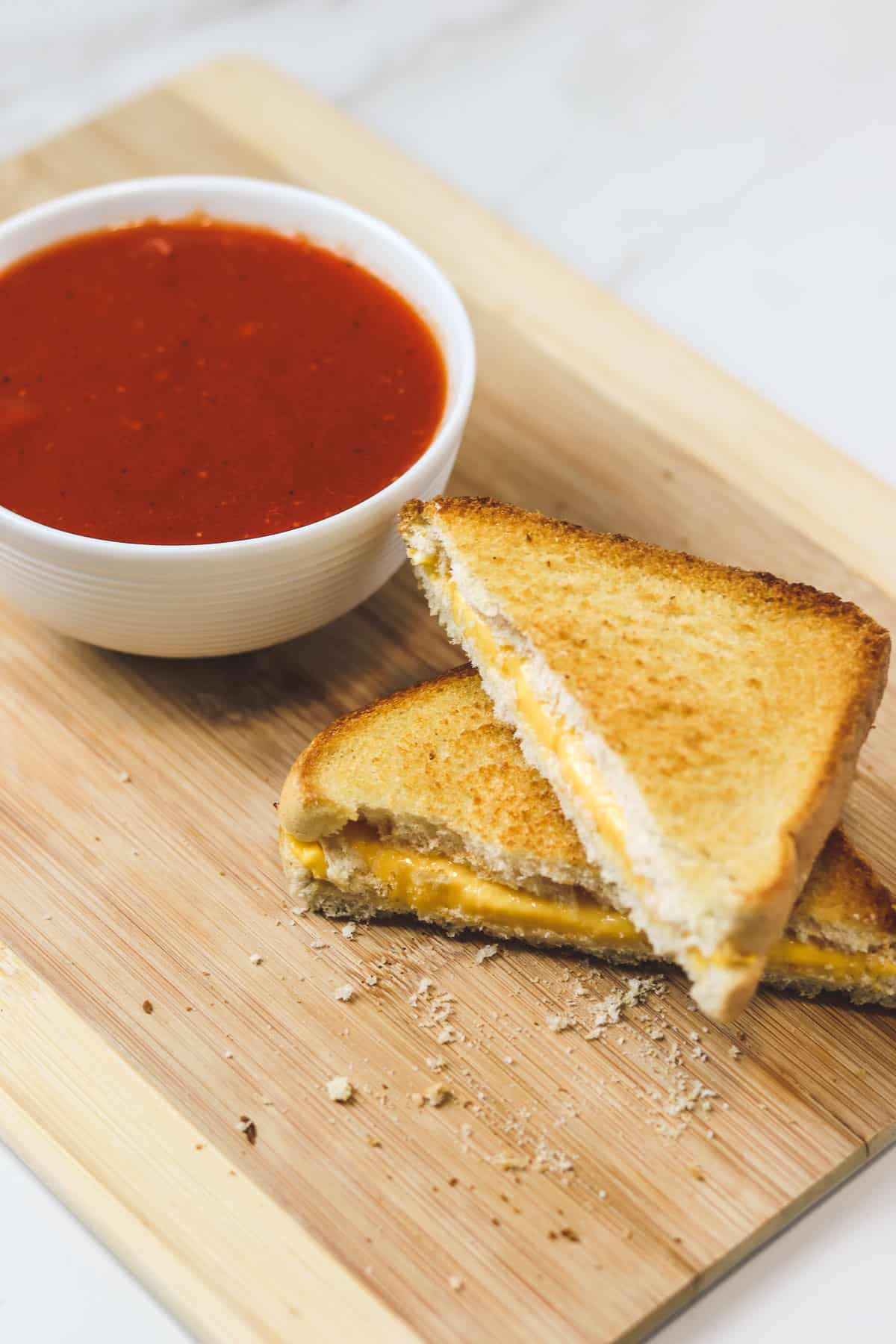 More Air Fryer Recipes