These homemade Air Fryer Pizza Rolls are easy, cheesy, and delicious! Perfect for a snack or quick meal for kids!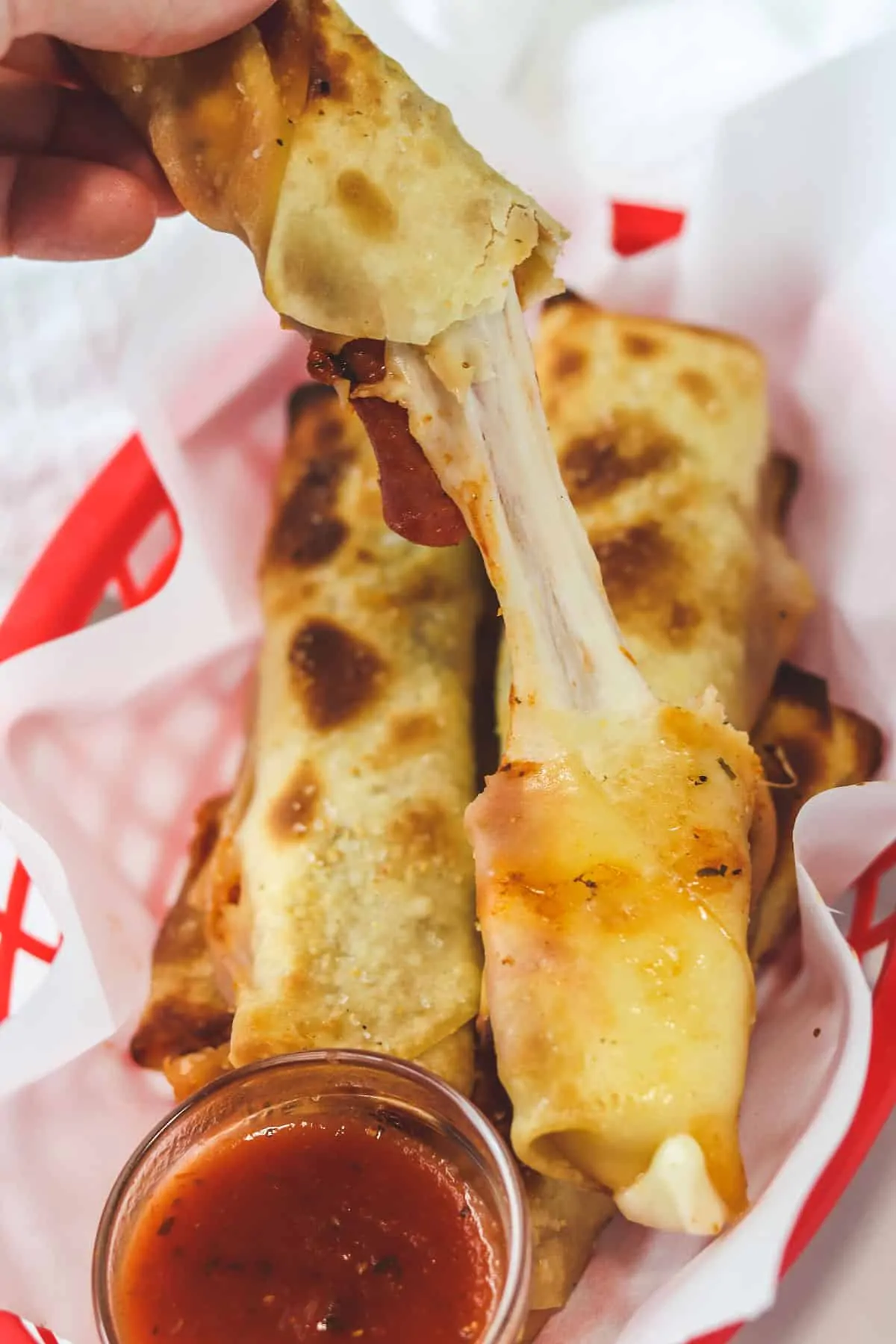 Dip these in pizza sauce to make an irresistible snack that's so much better than the frozen stuff! Customize rolls with pepperoni, sausage, veggies, or beef to make your favorite flavor. I like to use turkey pepperoni and low-fat mozzarella to make these lighter and lower in calories.
After many iterations of trying to make air fryer pizza rolls, I finally perfected the recipe. The two key ingredients are egg roll wrappers and mozzarella string cheese. While all other attempts ended in an oozing, limp mess, the egg roll wrappers make the perfect case for the filling. The thick pieces of string cheese don't melt too quickly and make these SO cheesy and delicious!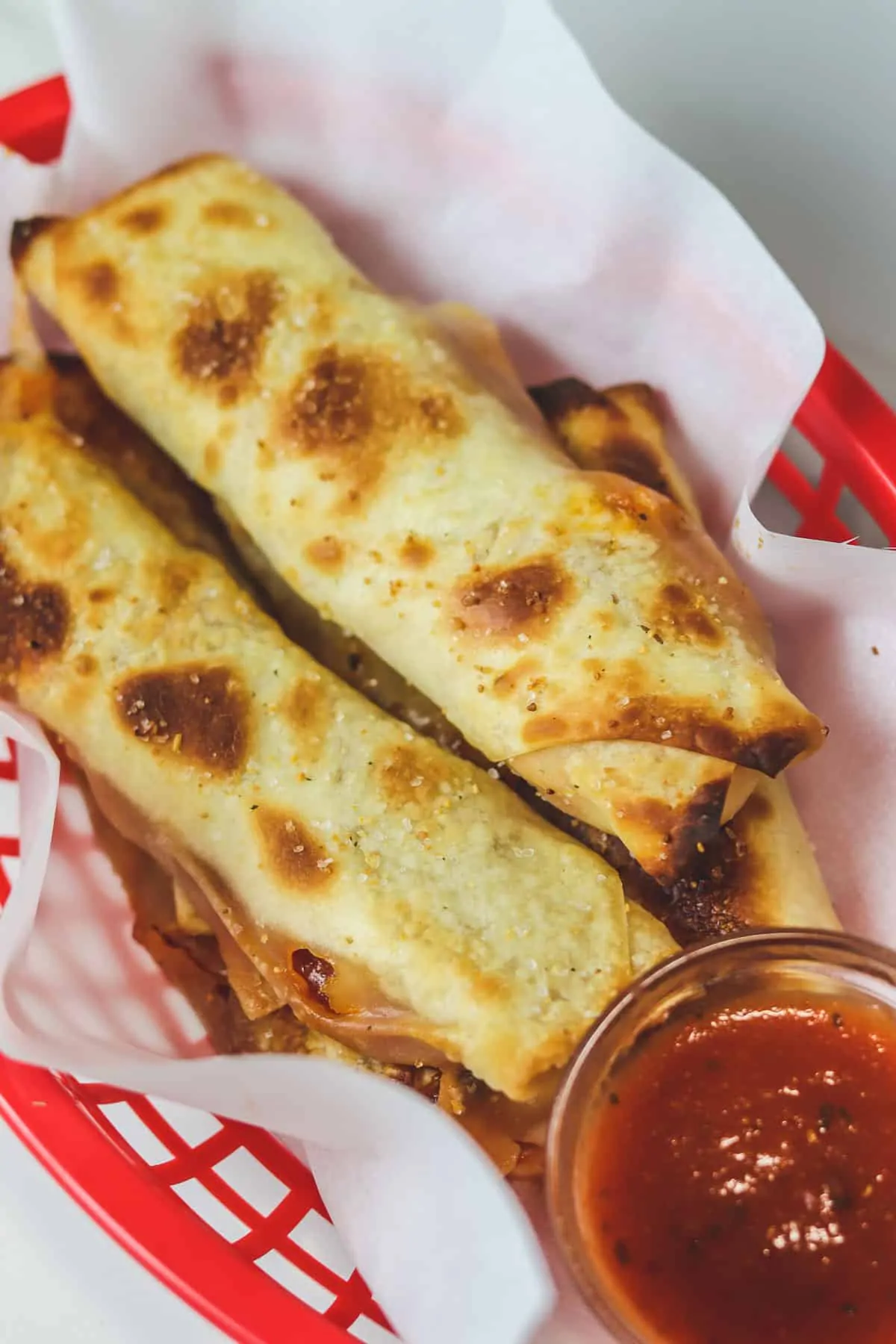 Jump to:
What Makes These Better Than Frozen
Once you try making homemade pizza rolls, you won't want to go back to the frozen stuff. These air fried pizza rolls are:
Fast and easy - these take only minutes to assemble and air fry
Customizable to any fillings you like!
Healthier than frozen rolls - you can very easily control the fat and calories by choosing your own ingredients (such as low-fat string cheese and turkey pepperoni)
Crispy and crunchy with very little oil - thanks to the Air Fryer!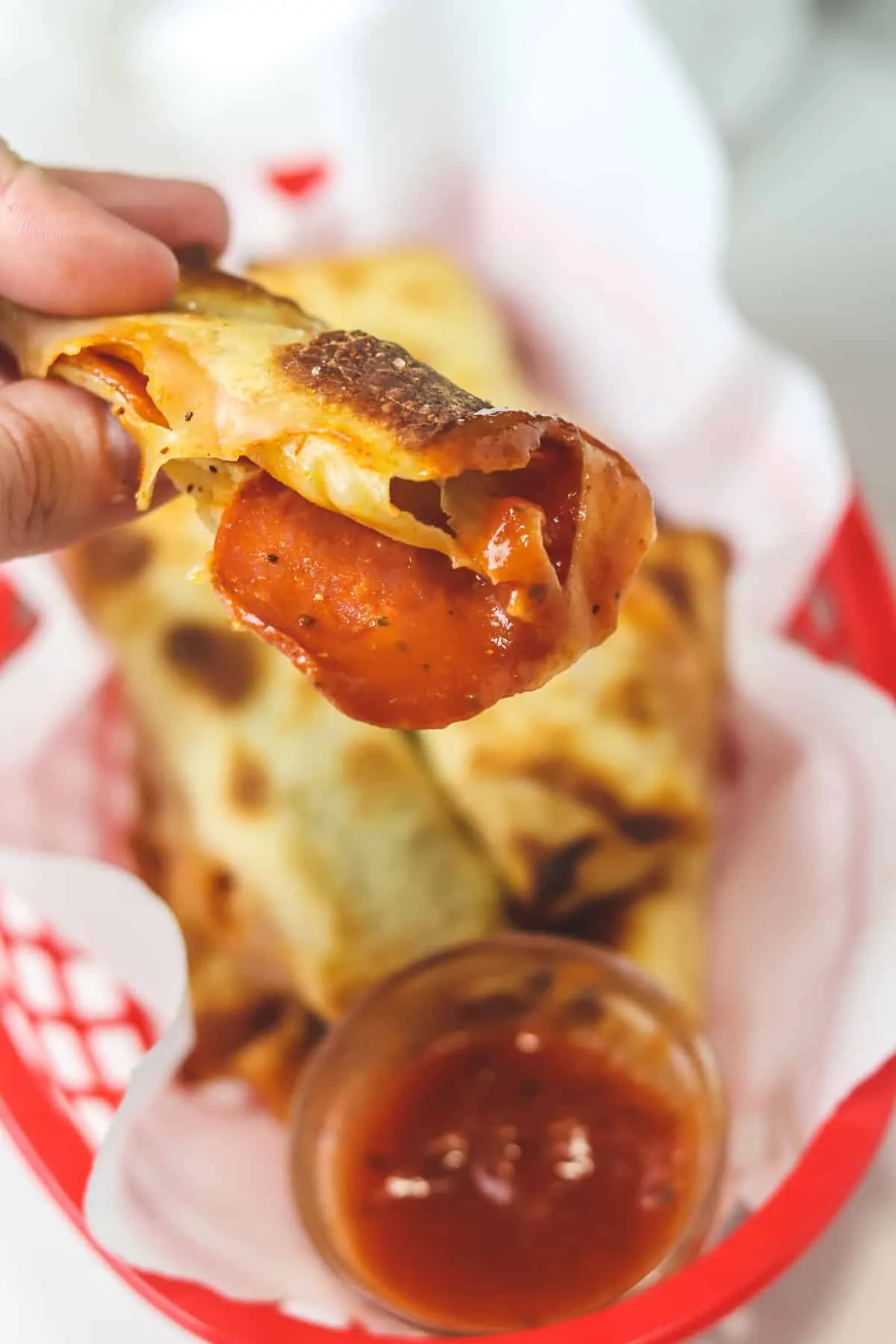 Ingredients
You will need:
12 egg roll wrappers
12 pieces light mozzarella string cheese
36 pieces of turkey pepperoni
¼ cup pizza sauce, plus extra for dipping
Garlic salt, to taste
Spray oil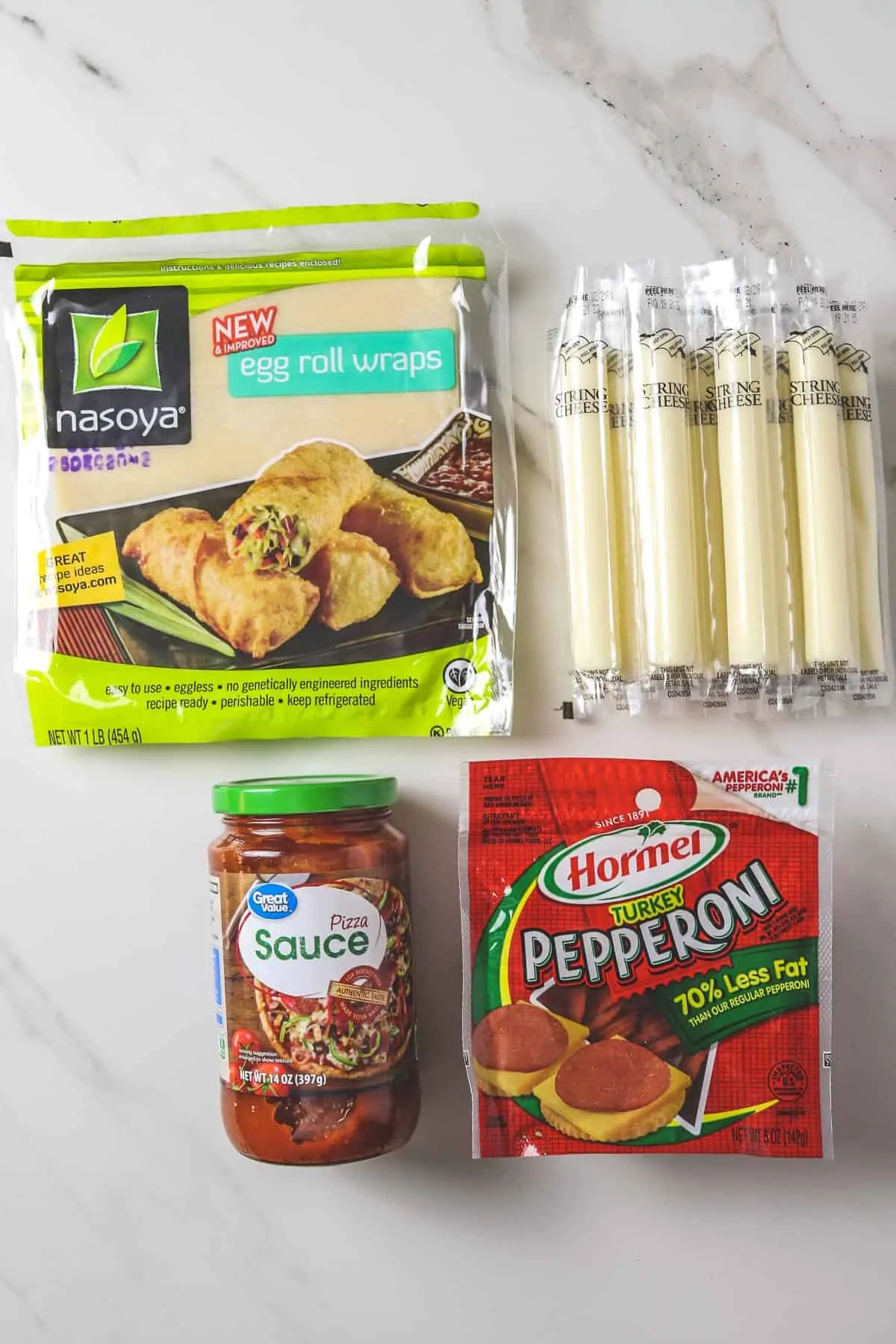 You should be able to find egg roll wrappers in the refrigerated ethnic food section of your grocery store. My store carries the Nasoya brand, so that is what I use to make this recipe. These make the perfect thin and crispy shell for pizza rolls!
Substitutions and Filling Options
Egg roll wrappers - I highly recommend using egg roll wrappers for this recipe. The only decent substitute is wonton wrappers, which are very similar to egg roll wrappers but smaller. If using wonton wrappers, you will need to cut the string cheese into thirds and make mini pizza rolls
Mozzarella string cheese - Do not substitute shredded cheese for this recipe. It melts too quickly and oozes out before the shells are cooked. I recommend using mozzarella string cheese (any type - regular or low fat). You could cut a block of cheese into pieces that are approximately the size of string cheese. It's important to use big chunks of cheese for this recipe.
Turkey Pepperoni - Instead of turkey pepperoni, you could use regular pepperoni or cooked and crumbled sausage or beef. I like turkey pepperoni because it's less greasy and lower in calories than regular pepperoni. You could also add diced veggies, such as peppers and onions. To make cheese-only pizza rolls, you can easily omit the meats.
Pizza Sauce - You could use marinara sauce or any type of tomato-based sauce. You could also skip the sauce entirely if you aren't a huge pizza sauce fan.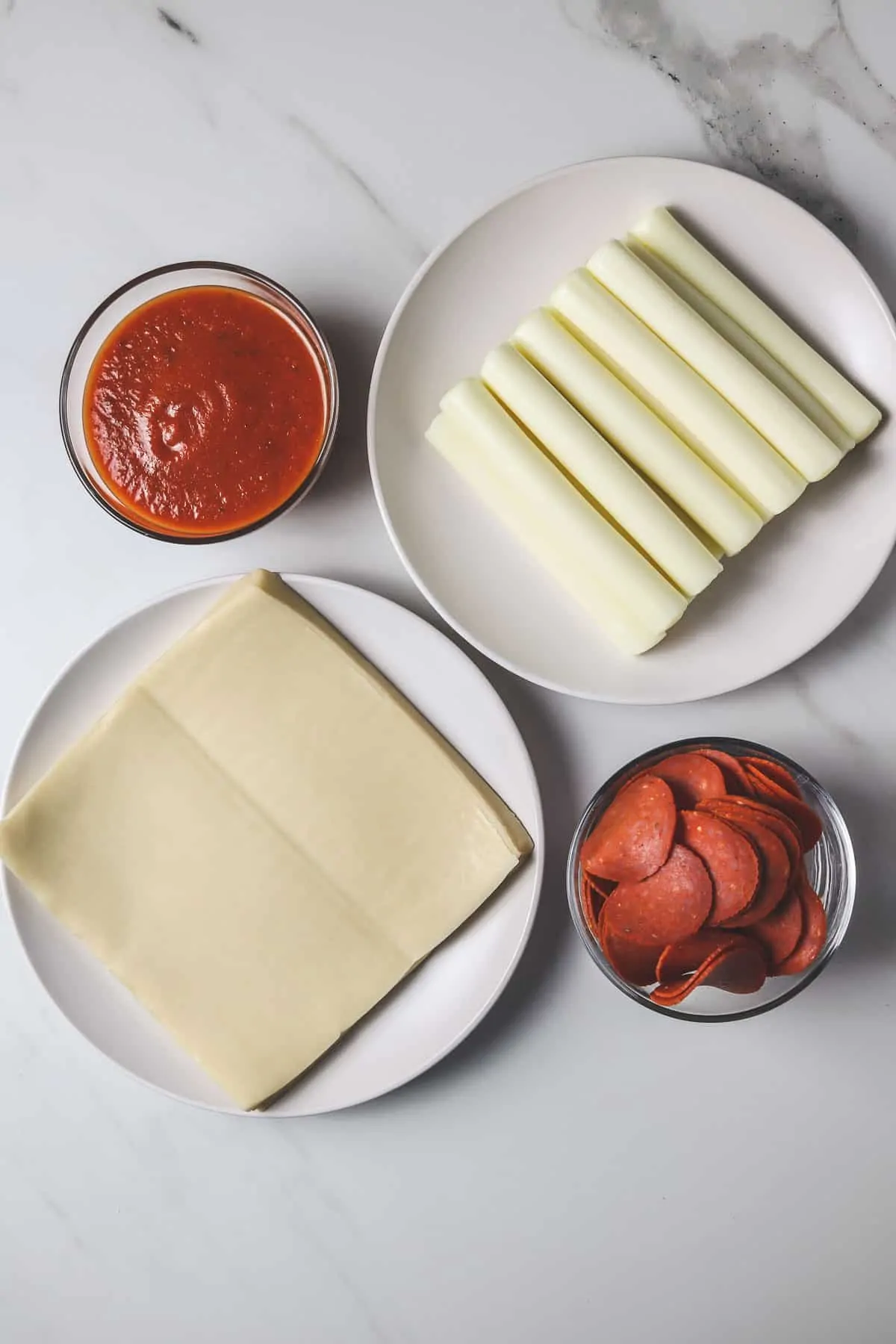 Instructions
To fill the pizza rolls, place a piece of string cheese diagonally on the egg roll wrapper. Add 1 teaspoon of sauce and 3 pepperonis on top (or your filling of choice).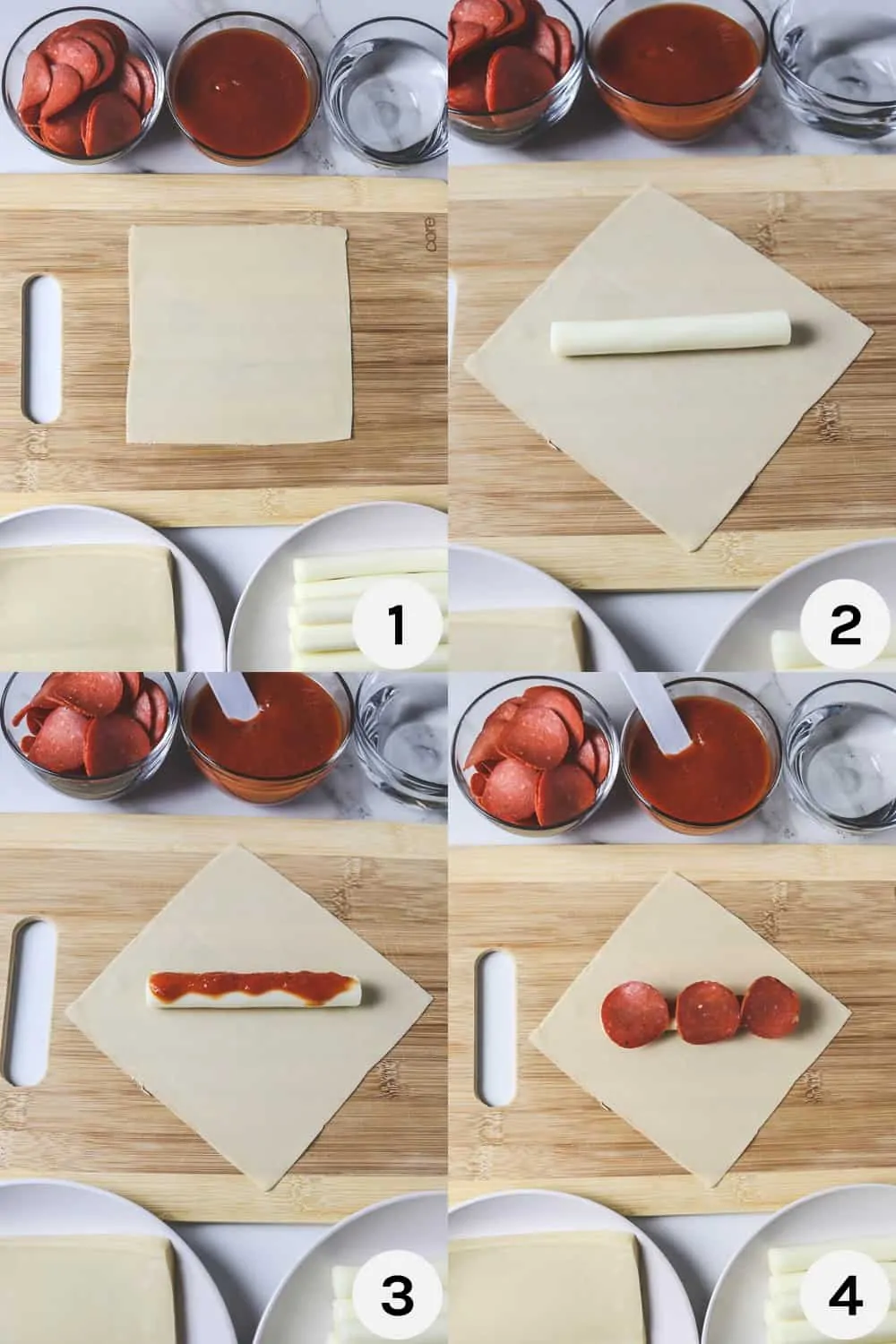 Before folding, coat each of the 4 sides lightly with water. The moisture helps the egg roll wrapper stick and form a solid seal.
To fold the rolls, you will form an envelope-like shape. First, fold the sides of the rolls in towards the center. Then roll the bottom up over the string cheese. Finally, roll towards the top to close the roll. Make sure to form a solid seal. If you accidentally tear the wrapper, I would recommend to grab another one and re-roll it.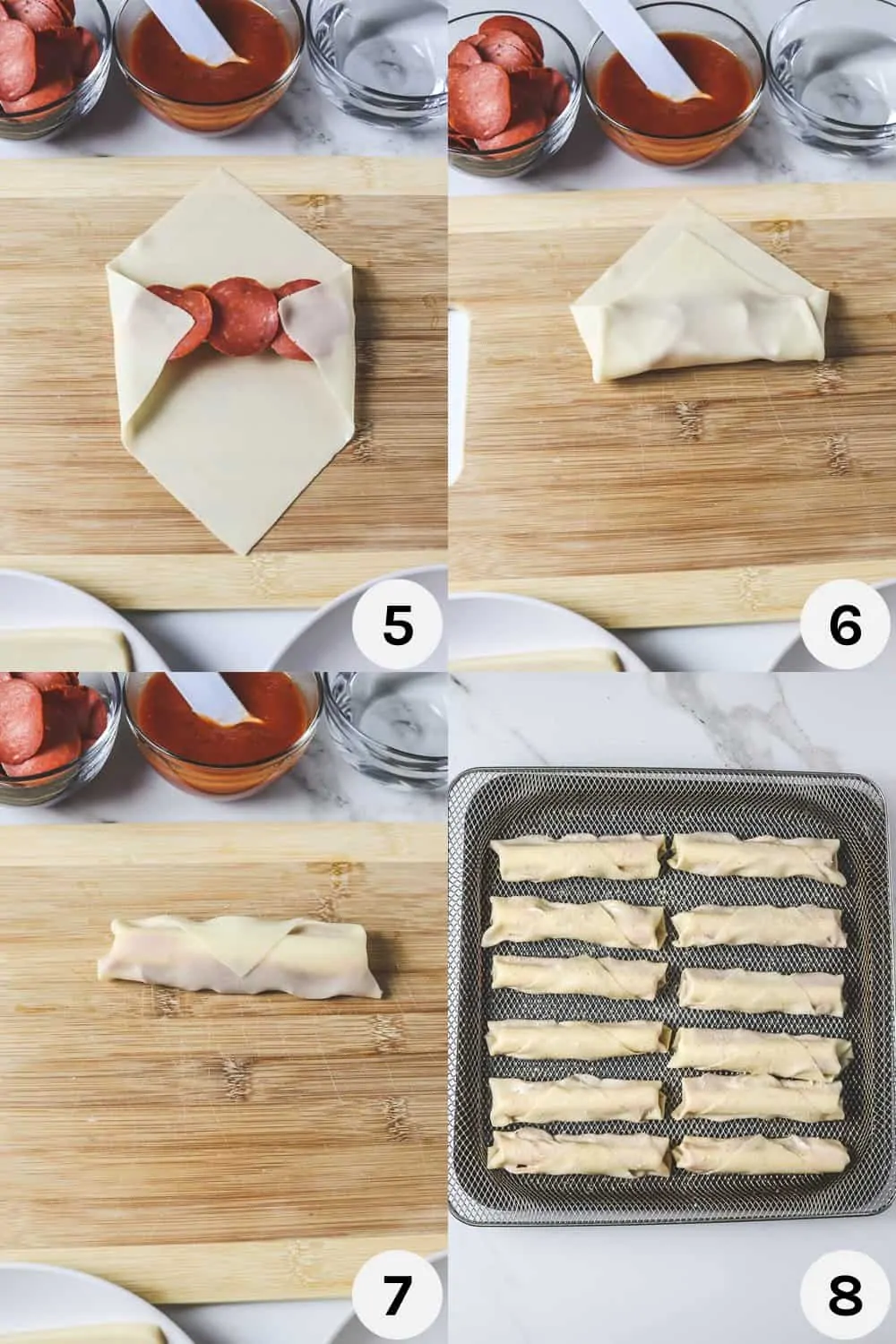 Load the pizza rolls in a single layer in the air fryer basket. Lightly spray rolls with oil on both sides. Shake garlic salt on both sides of the rolls, to taste.
Air fry at 400 degrees for about 8-10 minutes, flipping halfway through the cooking time. Rolls are ready when they are golden brown and crispy. A little bit of cheese may ooze out, but hopefully most of it will stay inside the rolls!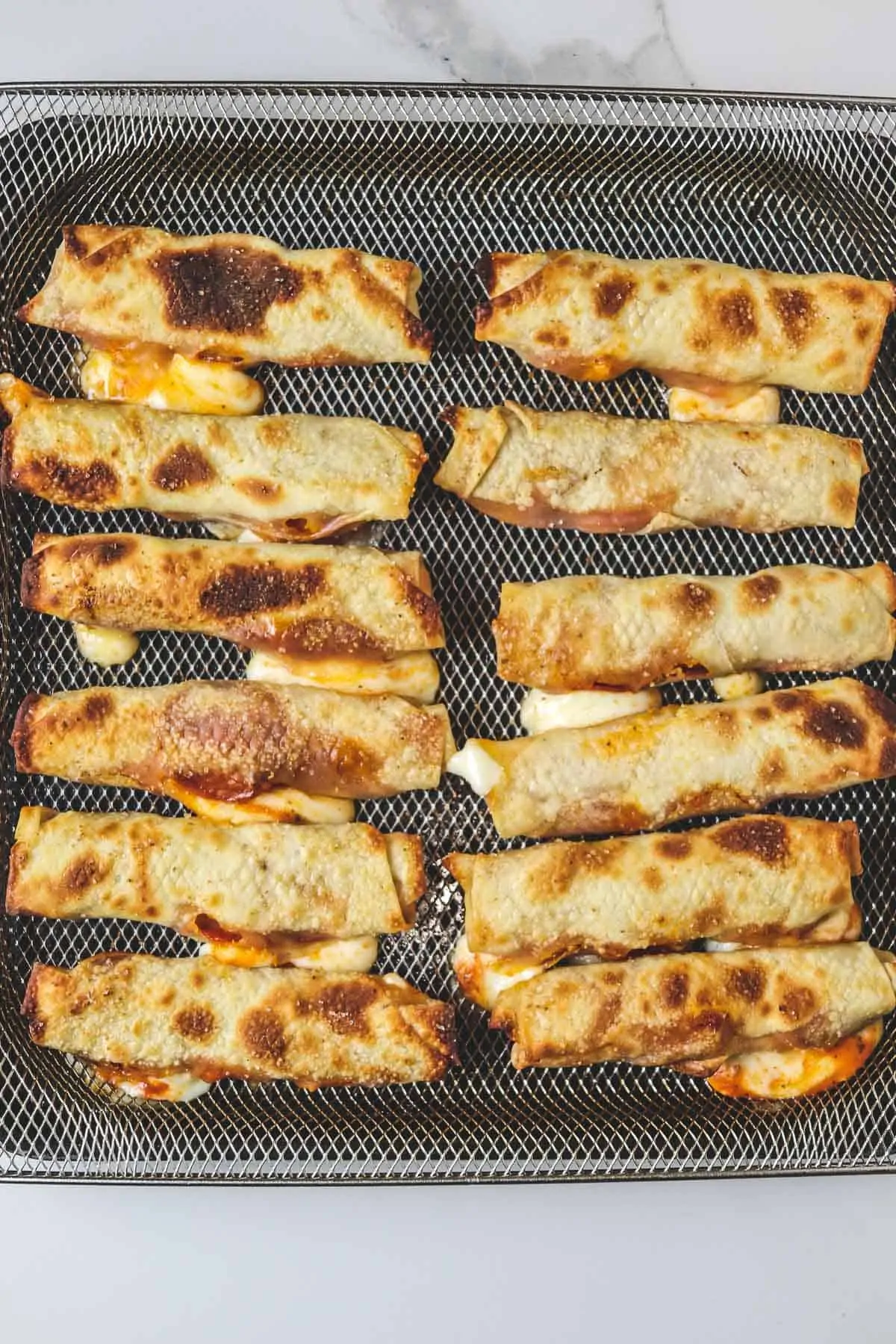 Top Tips
Fold rolls tightly and avoid tearing them - you want to fold the rolls as tightly as you can to help seal in the cheese. A little bit of cheese may ooze out, but you want to keep as much of it inside the rolls as possible!
Use water to seal the edges of the egg roll wrappers - again, this will help seal in the cheese and filling
Don't use shredded cheese or add extra sauce inside - using shredded cheese or too much sauce will cause the rolls to burst open. Use 1 string cheese and only 1 teaspoon sauce per pizza roll.
Sprinkle garlic salt generously on top - this gives the pizza rolls an added kick of flavor similar to the crust at pizza chains
Flip rolls halfway through the cooking time - this helps the rolls get nice and crispy
Cook rolls in one single layer (do not stack) - if your air fryer is small, you may need to cook in batches.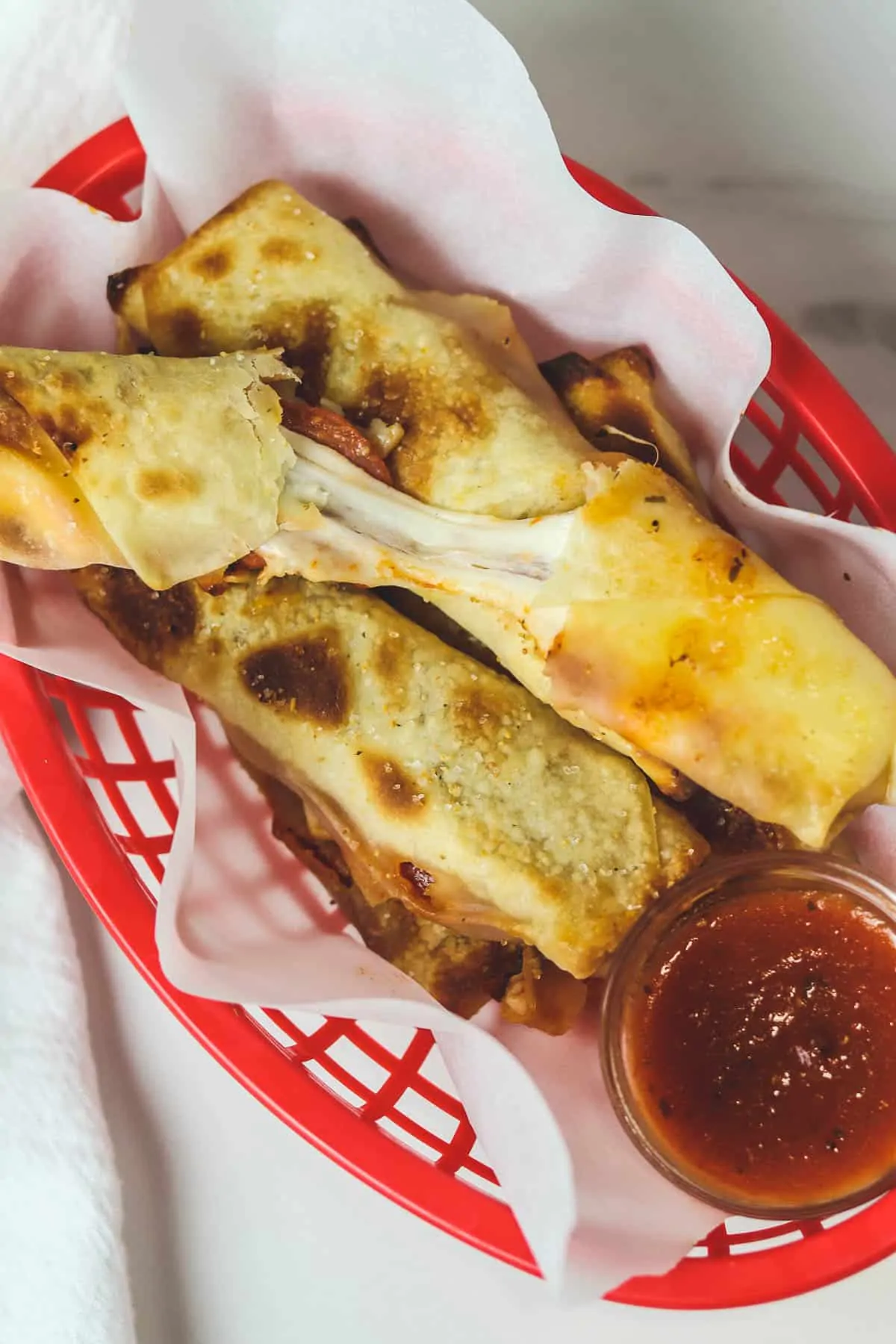 How to Serve
Pizza rolls should be served warm with extra dipping sauce. Your family will love the warm, oozing cheese inside the crispy shells. They are definitely best straight out of the Air Fryer! I love dipping these in extra pizza sauce to add flavor.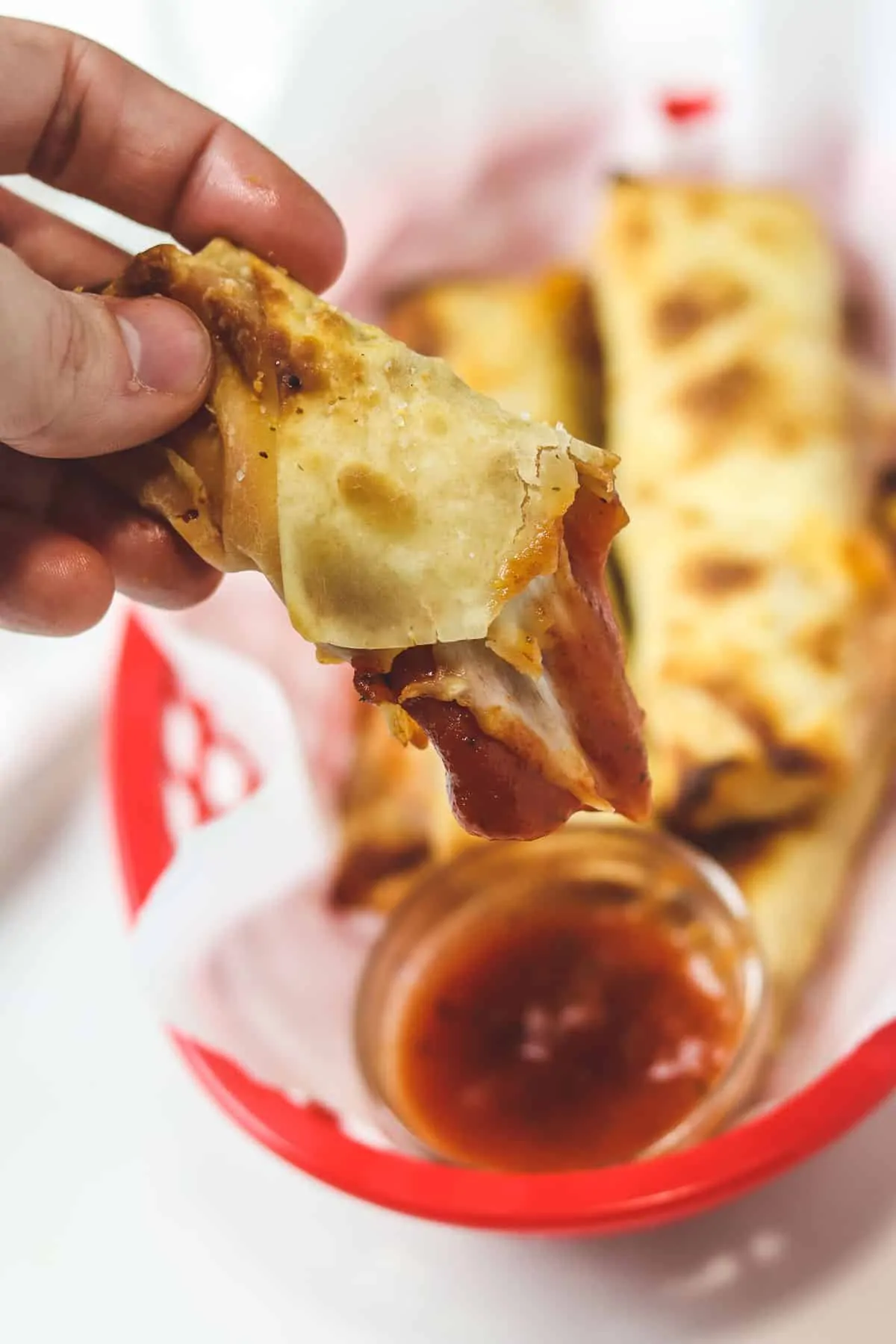 Dipping Sauce options:
You could also add some grated parmesan on top to finish off the dish! Who doesn't like a little parmesan on their pizza?
How to Store
You can store extra pizza rolls in the refrigerator for 3-4 days in an airtight container. I reccomend reheating pizza rolls in the air fryer instead of the microwave to make sure they stay crispy. Air fry at 400 degrees for about 5-7 minutes, or until warm.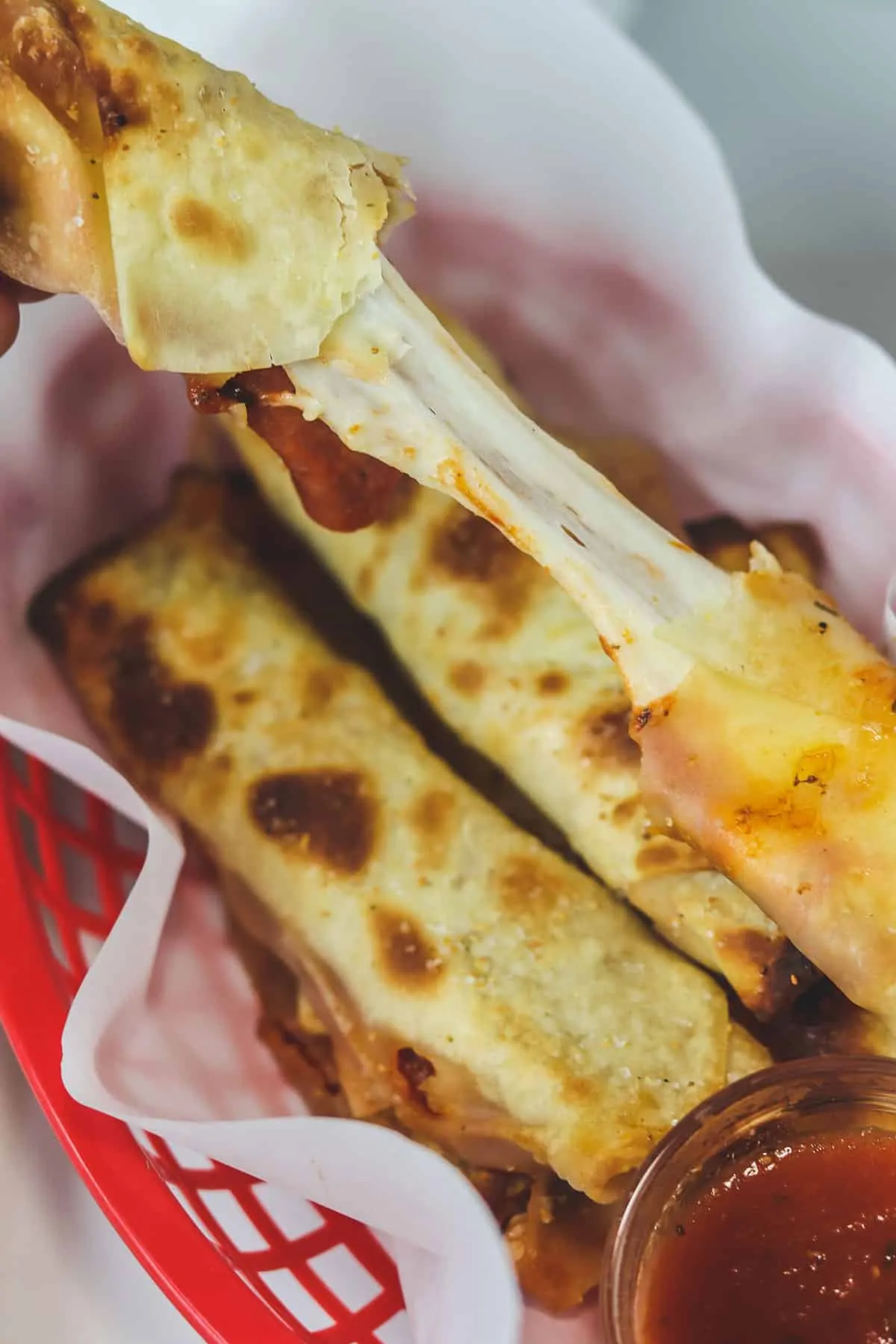 Calories and Serving Size
The serving size for this recipe is three pizza rolls. If you follow the recipe exactly, three pizza rolls have about 350 calories. I find that three rolls are pretty filling thanks to all of the cheese inside! If just making a small snack, you can have just one pizza roll for about 116 calories.
Any dipping sauces will add additional calories. If you stick to pizza sauce for dipping, ¼ cup is only about 25 calories.
More Air Fryer Snacks
If you liked this recipe, check out these other easy air fryer snacks: