Skip the bottled dressing and make your own homemade low-calorie buttermilk ranch dip! This easy to make ranch dip is perfect to pair with veggies for a healthy snack.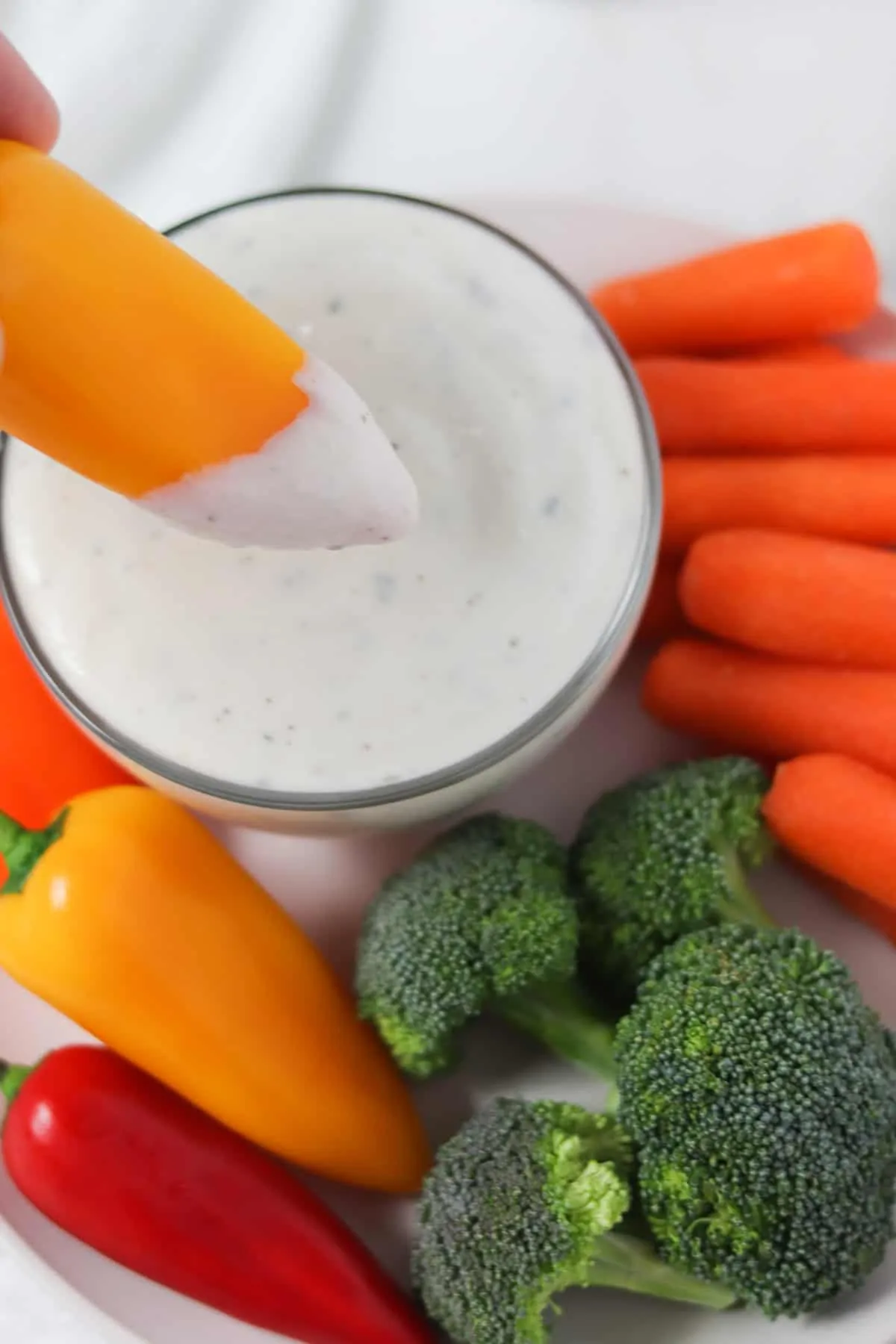 One serving of 2 tablespoon is only 36 calories. It's the perfect way to enjoy ranch without busting your calorie budget!
I have always been a huge fan of ranch but I've never cared for any of the pre-bottled light ranch dressings that I ever tried. Store-bought ranch dressings, especially the "light" ones, always taste a little bit funny.
Once I experimented with making my own homemade ranch, I discovered that using fresh buttermilk and sour cream makes it so much better!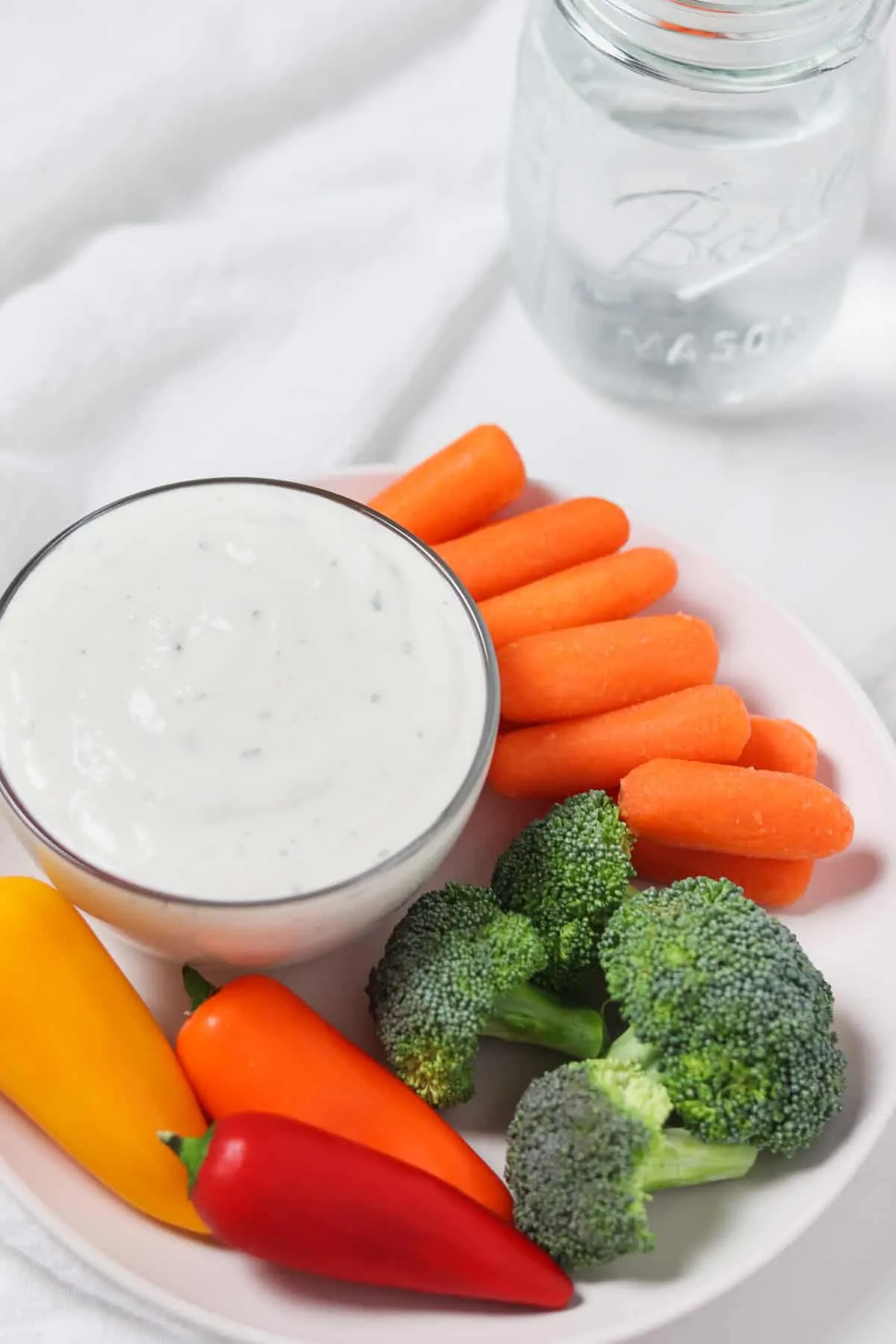 I simply mix up a packet of ranch with low-fat buttermilk and light sour cream to make a perfect ranch dip. If you make your own ranch, you can skip the high-calorie mayo and whole milk, and instead use lower-fat alternatives.
Jump to:
How to Reduce Calories in Ranch
The key way to reduce calories in ranch is by skipping the mayo! Ranch is often made with mayo and whole milk. But mayonnaise is very high calories. Regular mayo has about 90 calories in only 1 tablespoon! Ouch! In my opinion, it's not worth it!
I substitute the mayo for light sour cream, and I swap whole milk for low-fat buttermilk. The buttermilk adds a lot of flavor while still being fairly low in calories (about 100 calories per cup).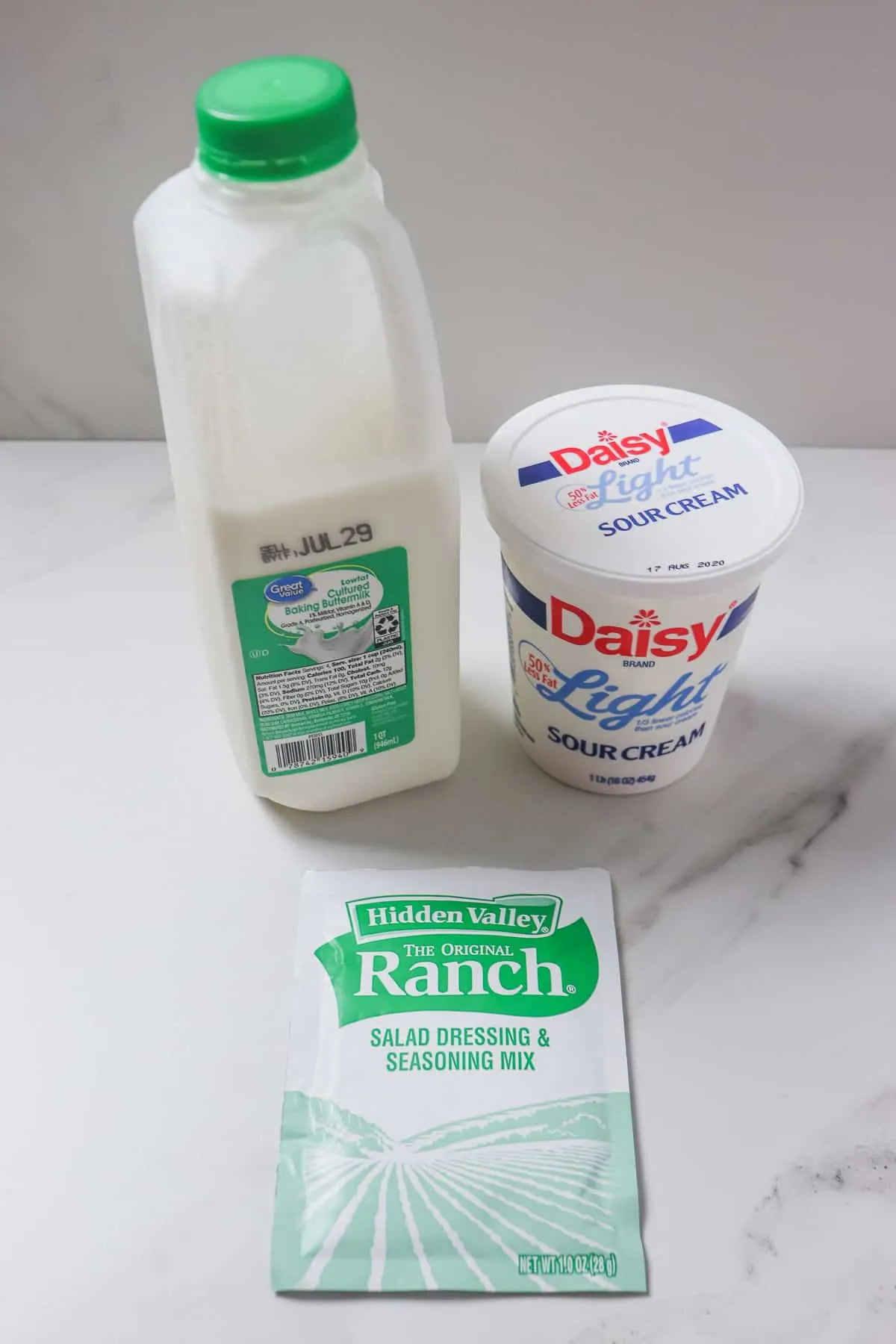 Ingredients
Here's what you'll need:
1 packet Ranch Mix (I use Hidden Valley)
1 cup low-fat buttermilk (1% fat)
1 cup light sour cream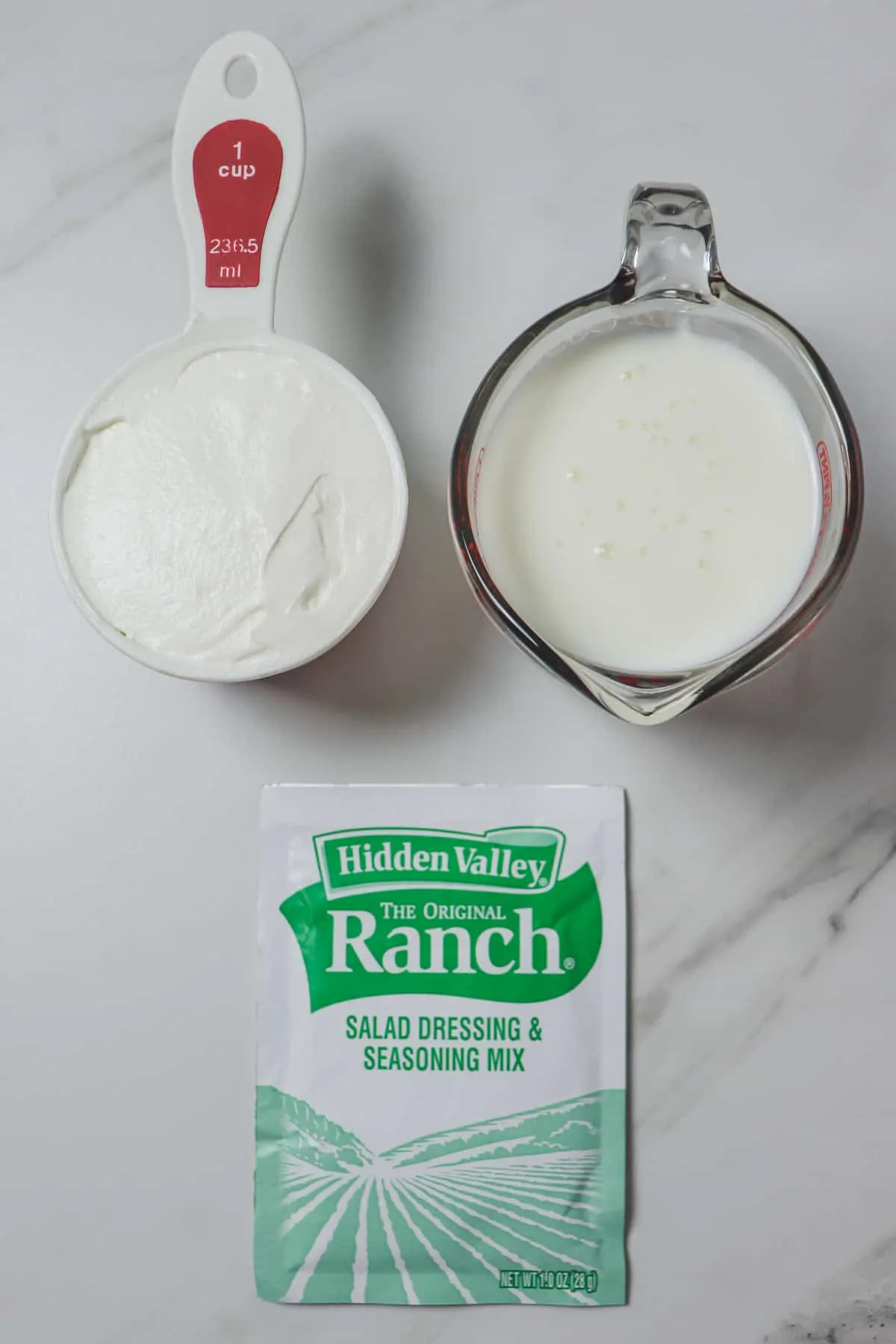 Substitutions
Ranch Mix Packet - if you don't want to use a store-bought Ranch Packet, you could make your own ranch seasoning. But the packet makes this recipe super easy! I like the Hidden Valley ranch packets, but generic will also work fine.
Buttermilk - personally, I really like the flavor of buttermilk in ranch dressing. Buttermilk is extra thick and a little bit tangier compared to regular milk. It gives it that extra kick that makes this ranch dip so delicious! You could use regular milk instead, but it may not taste quite as good, and it could be a little thin compared to using buttermilk.
I've heard that many restaurants use buttermilk in their ranch dressing, and that seems to be the secret ingredient to tasty ranch. Trust me - give it a try!
Light Sour Cream - you could use regular sour cream or fat-free sour cream if you can find it. You could also substitute geek yogurt, but I don't care for the added tangy taste from yogurt. Light mayo is a substitute for the sour cream if you don't like the sour cream flavor.
Instructions
Mix it Up
In a mixing bowl, combine the sour cream, buttermilk, and ranch packet.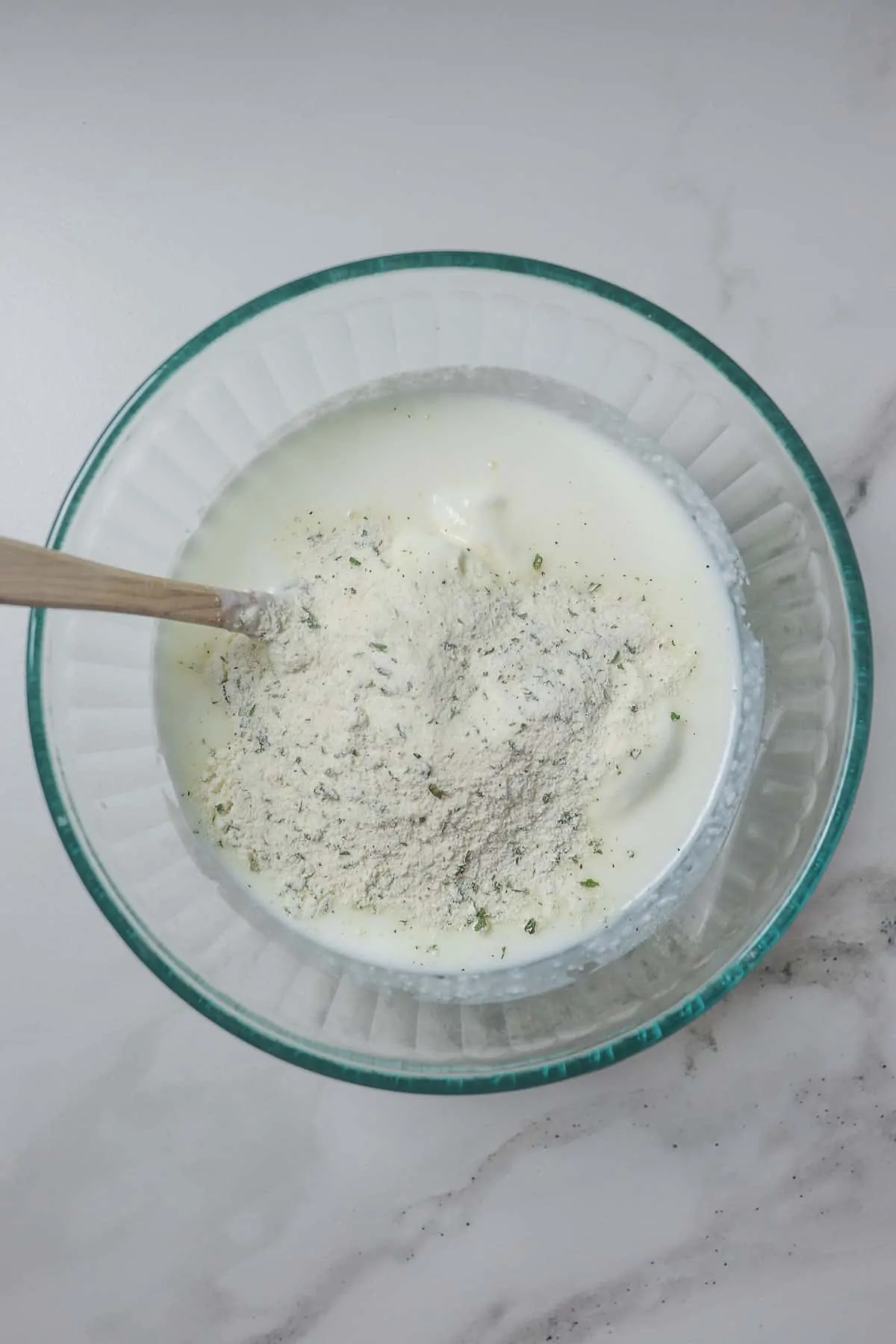 Stir until well blended.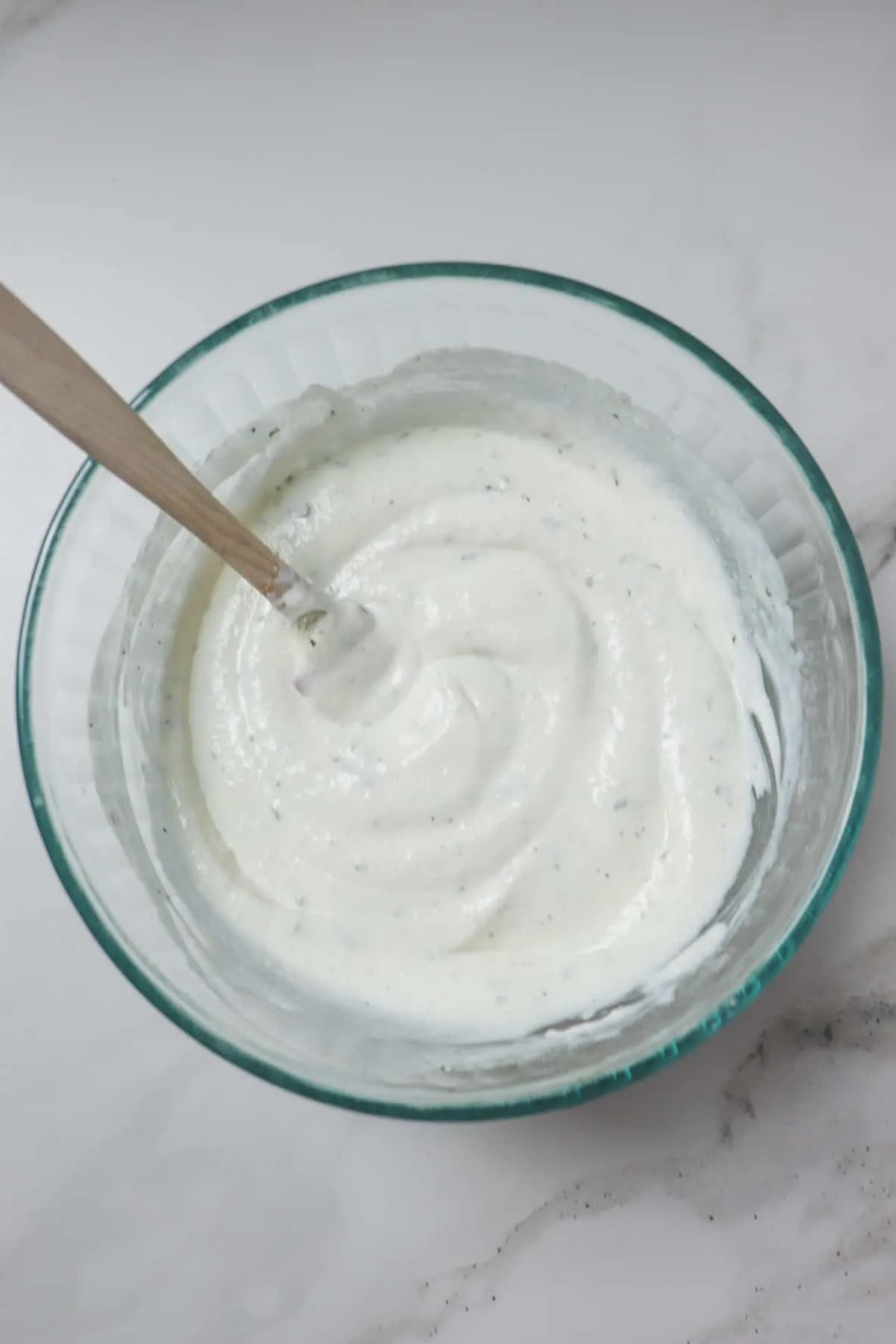 Refrigerate
Refrigerate ranch dip for about an hour, and it will thicken up a little bit. Serve chilled!
How to Serve
This buttermilk ranch is great for dipping:
Veggies - carrots, broccoli, peppers, or cauliflower
French fries or potato wedges
Wings
Pizza
You name it!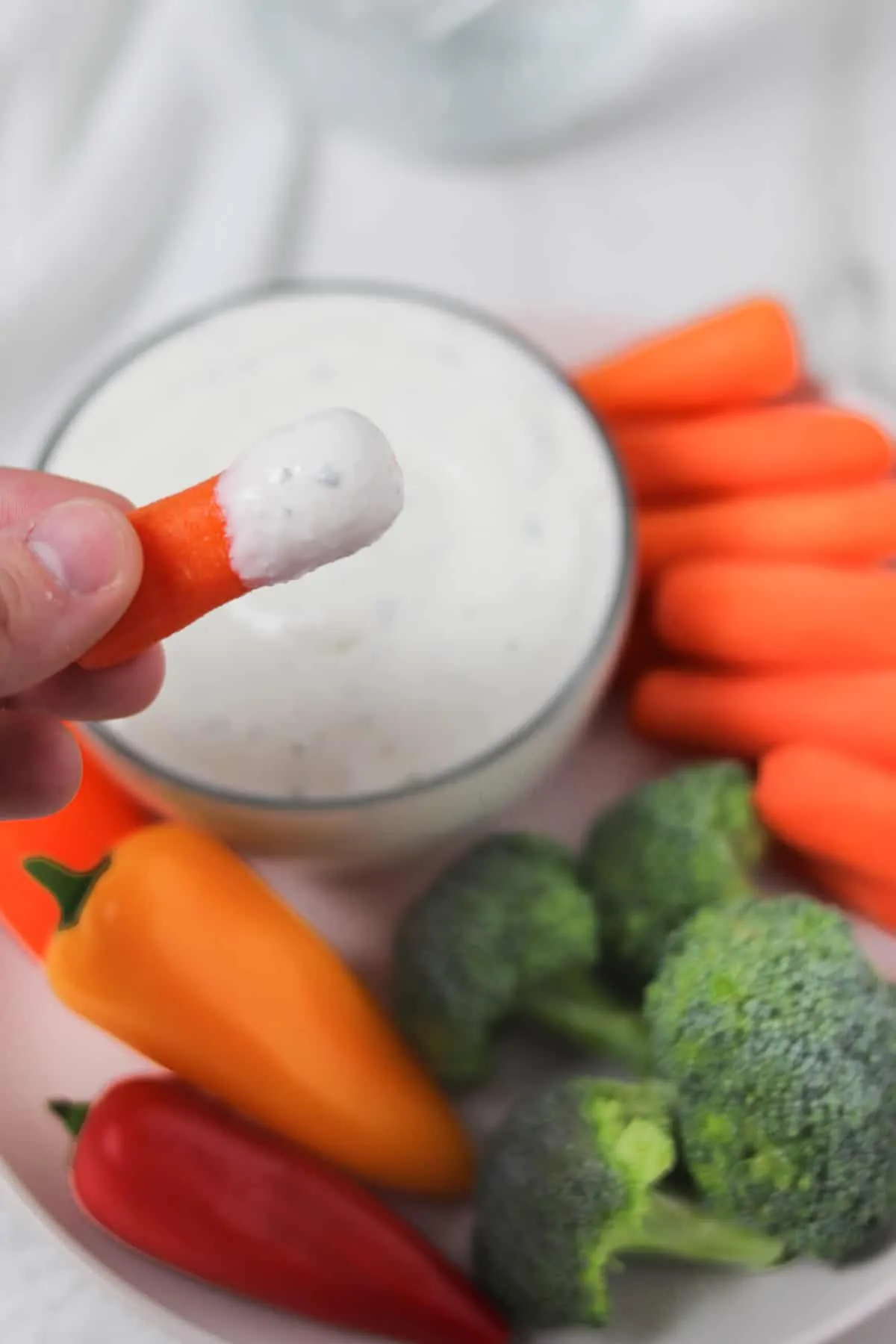 How to Make it Thinner
If you want to make this a thinner dressing-like consistency, all you need to do is add more buttermilk until it reaches the desired thickness. I would start by adding about ¼ cup extra buttermilk and then add more if desired.
Remember, the ranch does thicken up more in the refrigerator.
How to Store
This ranch dip keeps well in the refrigerator for about a week. You can store it in a mason jar or any plastic container.
If often pre-portion ranch into small plastic cups to pack in my lunches for work. This makes it quick and easy to pack my own healthy ranch on the go. I love packing this ranch dip with carrots for a healthy and low-calorie snack!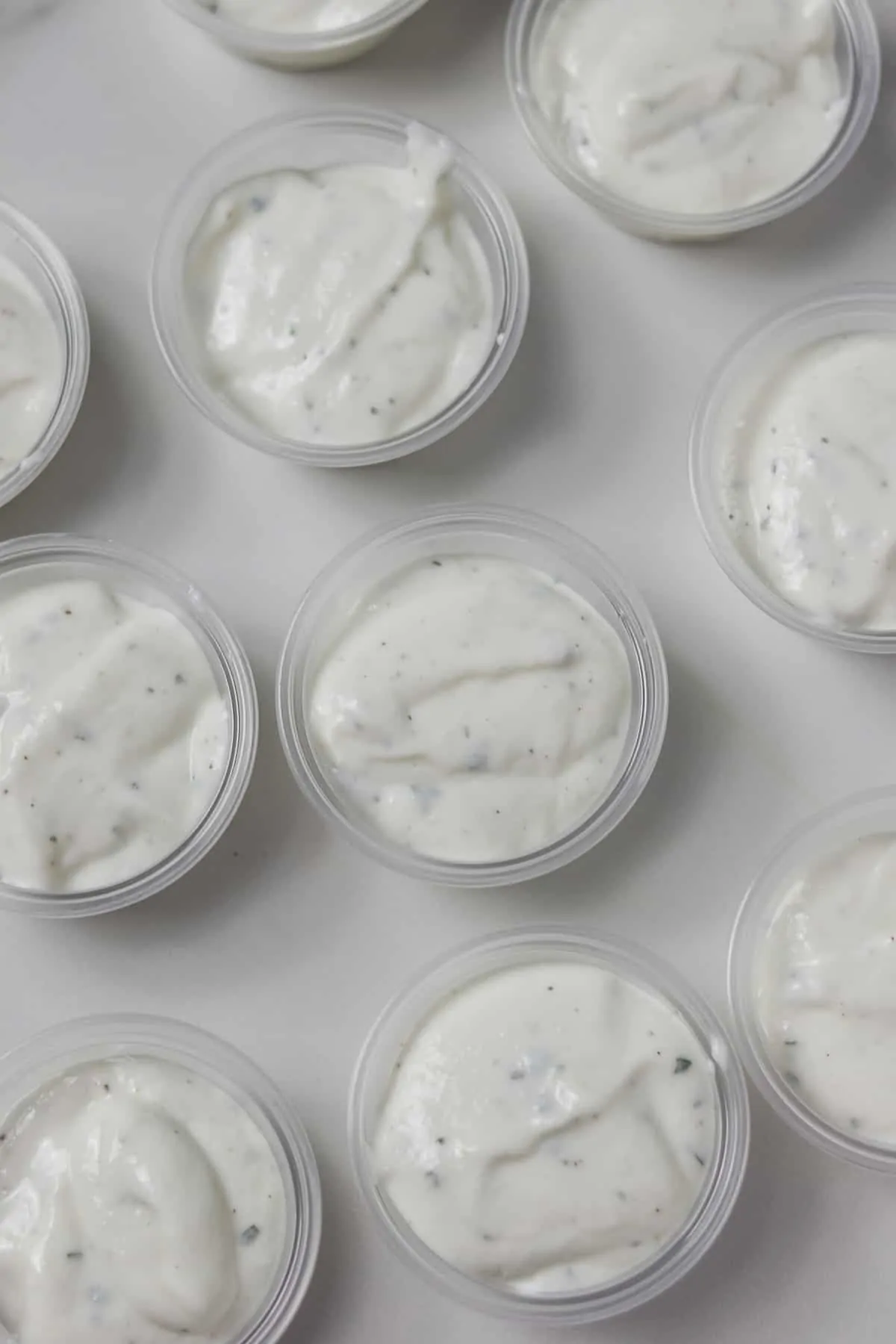 Calories Per Serving
One serving of 2 tablespoon only has 36 calories! This is much lighter than your standard bottled ranch dressing. Regular hidden valley ranch has 130 calories for 2 tablespoon - yikes! Even "light" ranch has about 70 calories in a serving, so using this recipe will really help reduce the calories.
Yes, you can eat ranch guilt-free! 36 calories per serving is not bad at all!
This recipe is also keto-friendly and low-carb, with only 2g carbs per serving.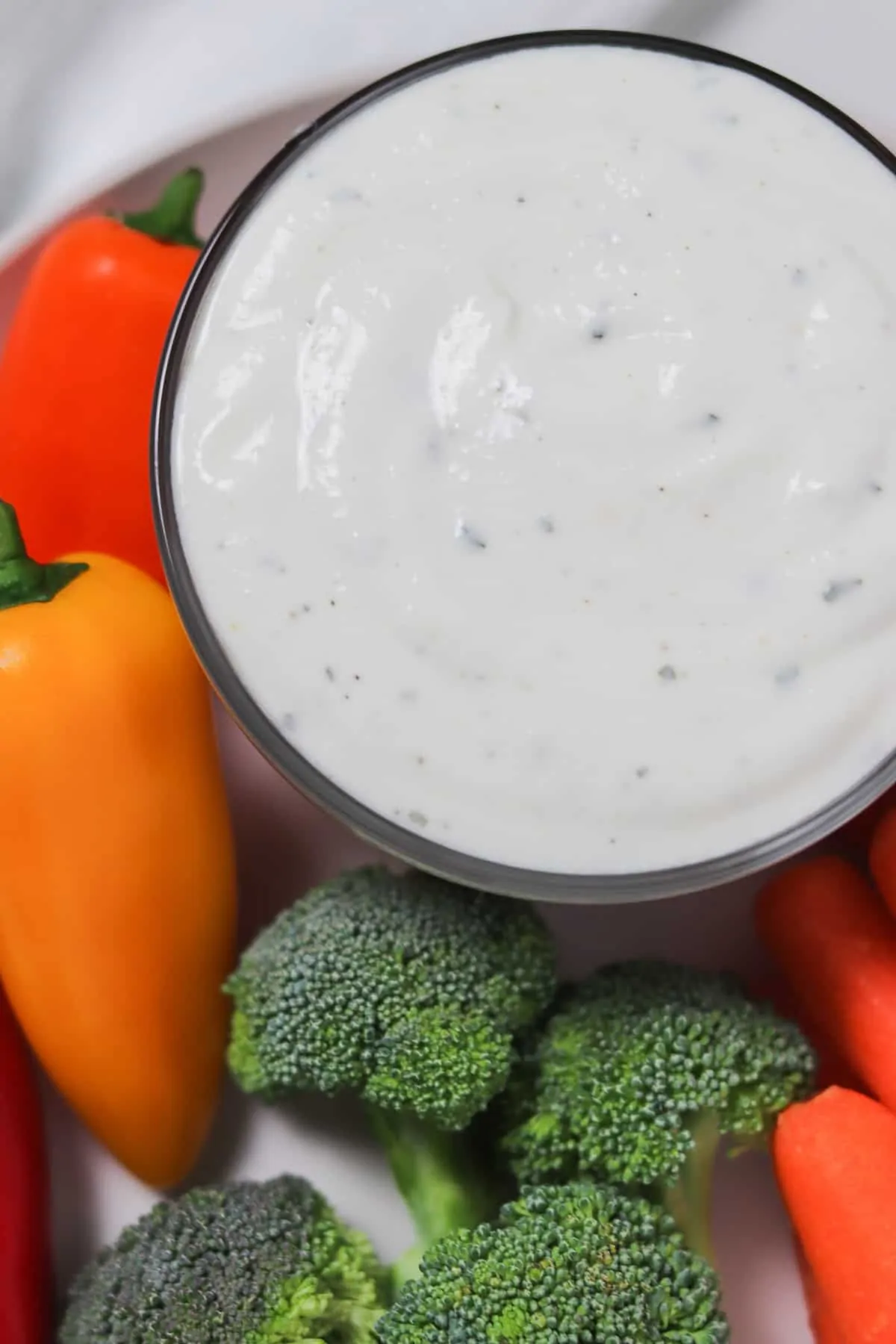 Recipe