No mayo pimento cheese is a delicious and easy appetizer or snack! It's creamy, cheesy, and spicy with less fat and fewer calories than the traditional recipe.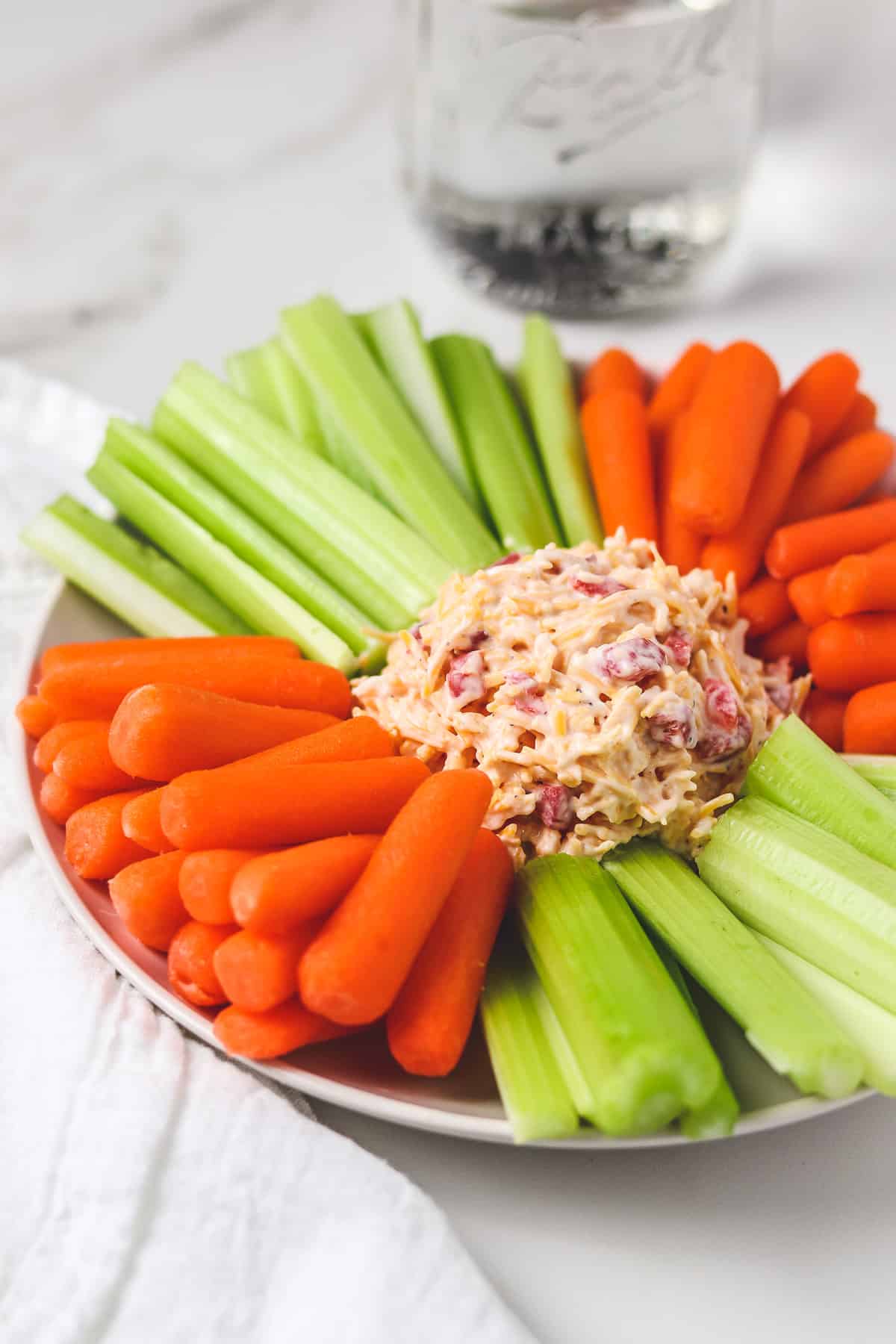 I have to admit, I am a huge cheese lover! Growing up in Alabama, pimento cheese was commonly served at potlucks and parties.
I often whip up a batch to make a quick sandwich or to meal prep my lunches for the week.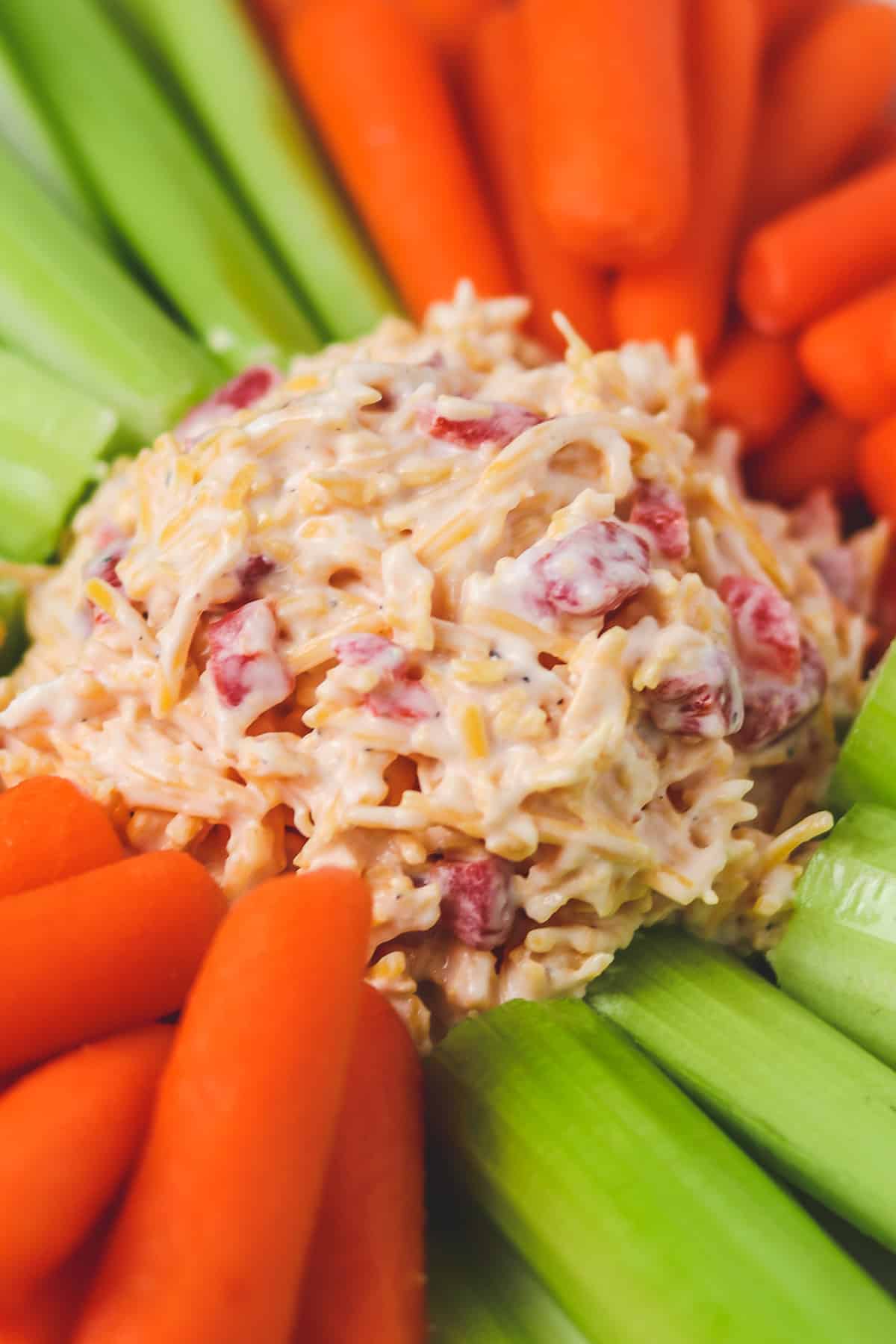 It's addictively delicious and is good on almost any dipper - crackers, vegetables, bread, you name it!
What is Pimento Cheese
Pimento cheese is a traditional southern spread made with cheese, mayonnaise, and pimentos.
Pimentos are red sweet peppers. They are a little bit spicy but not super spicy. You can find jars of diced pimentos in the grocery store near the pickles section.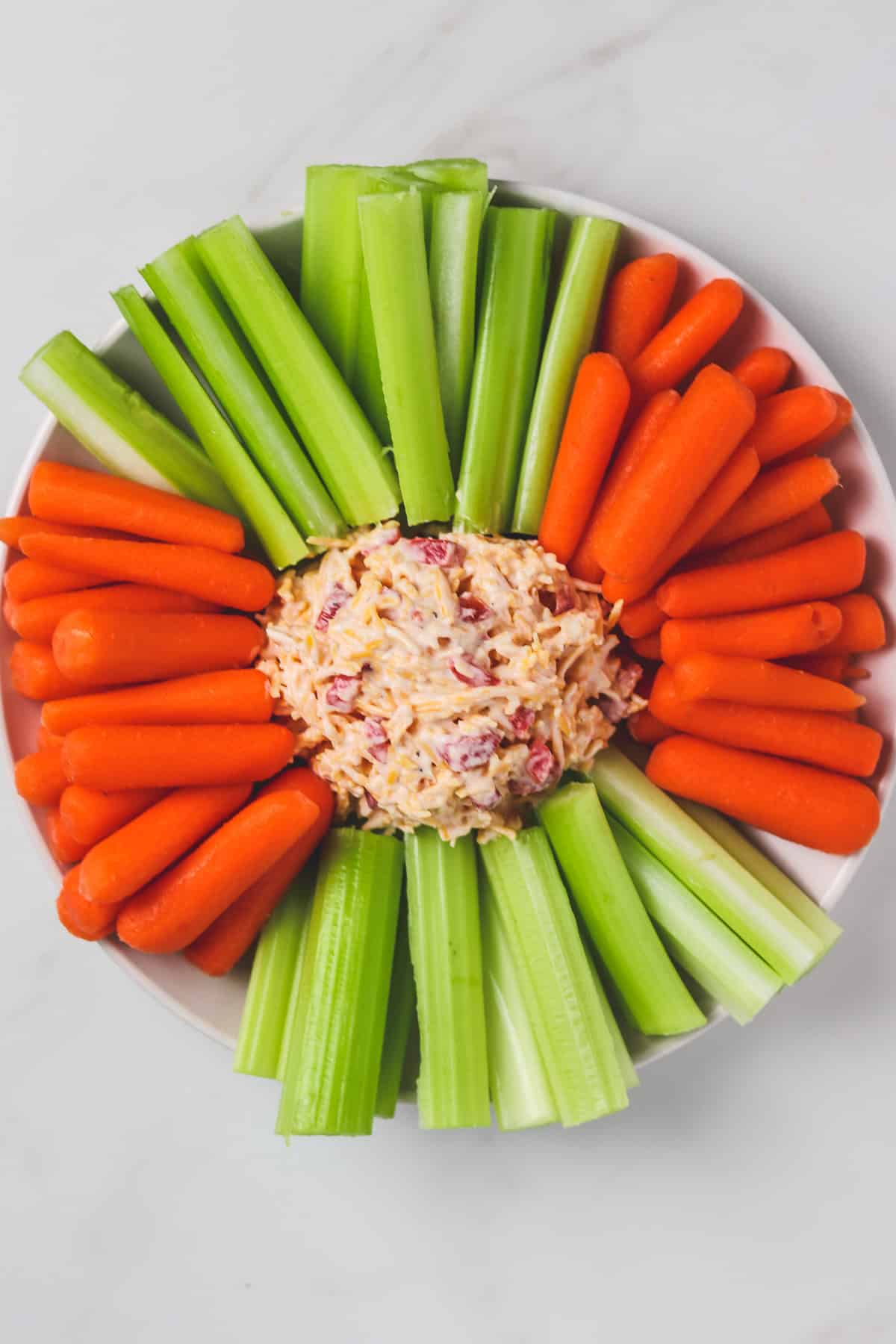 How to Substitute for Mayo
Mayo is the culprit for a lot of the calories in pimento cheese. Substituting the mayo for a combination of light cream cheese and light sour cream is really delicious and helps lighten it up quite a bit!
Using a combination of light cream cheese and light sour cream, I did not miss the mayo one bit! It still has that traditional creamy, cheesy, and spicy flavor.
In this recipe, you could substitute the light sour cream for plain nonfat greek yogurt. However, when testing this recipe I preferred the taste of sour cream to greek yogurt. If you use greek yogurt, you may taste a slightly tangy flavor.
Ingredients
4 oz ⅓ less fat cream cheese (½ block)
⅓ cup light sour cream
¼ teaspoon garlic powder
¼ teaspoon cayenne pepper
¼ teaspoon onion powder
¼ teaspoon salt
¼ teaspoon black pepper
4oz jar of diced pimentos
2 cups shredded sharp cheddar cheese
(Optional) To make this extra-spicy, add 1 jalapeno, seeded and minced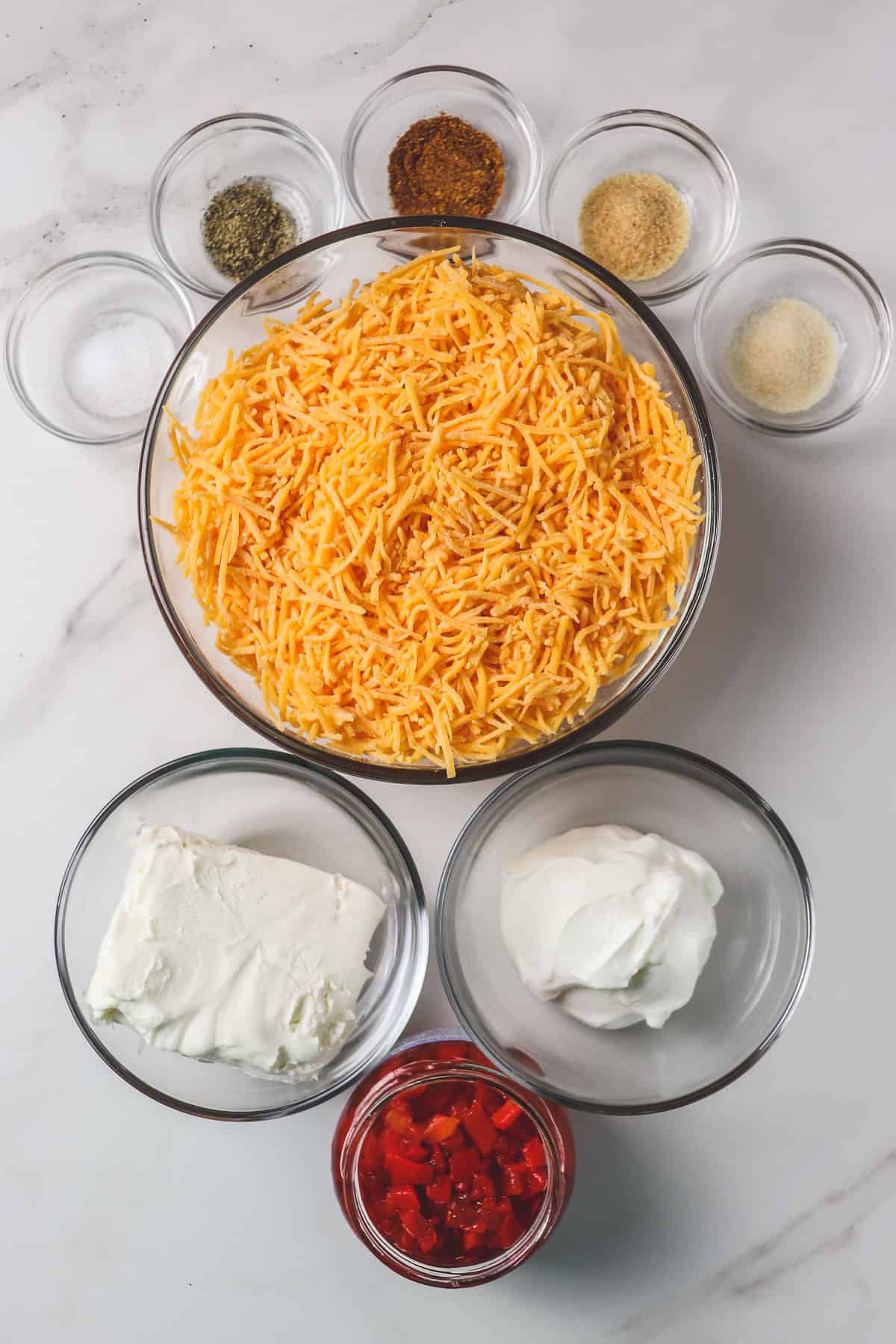 Instructions
First, mix together the cream cheese, sour cream, and seasonings in a medium-sized mixing bowl. You can do this either with an electric mixer or by hand.
If you want to make this without using an electric mixer, be sure your cream cheese is softened! To quickly soften cream cheese, put it in the microwave for 15 seconds.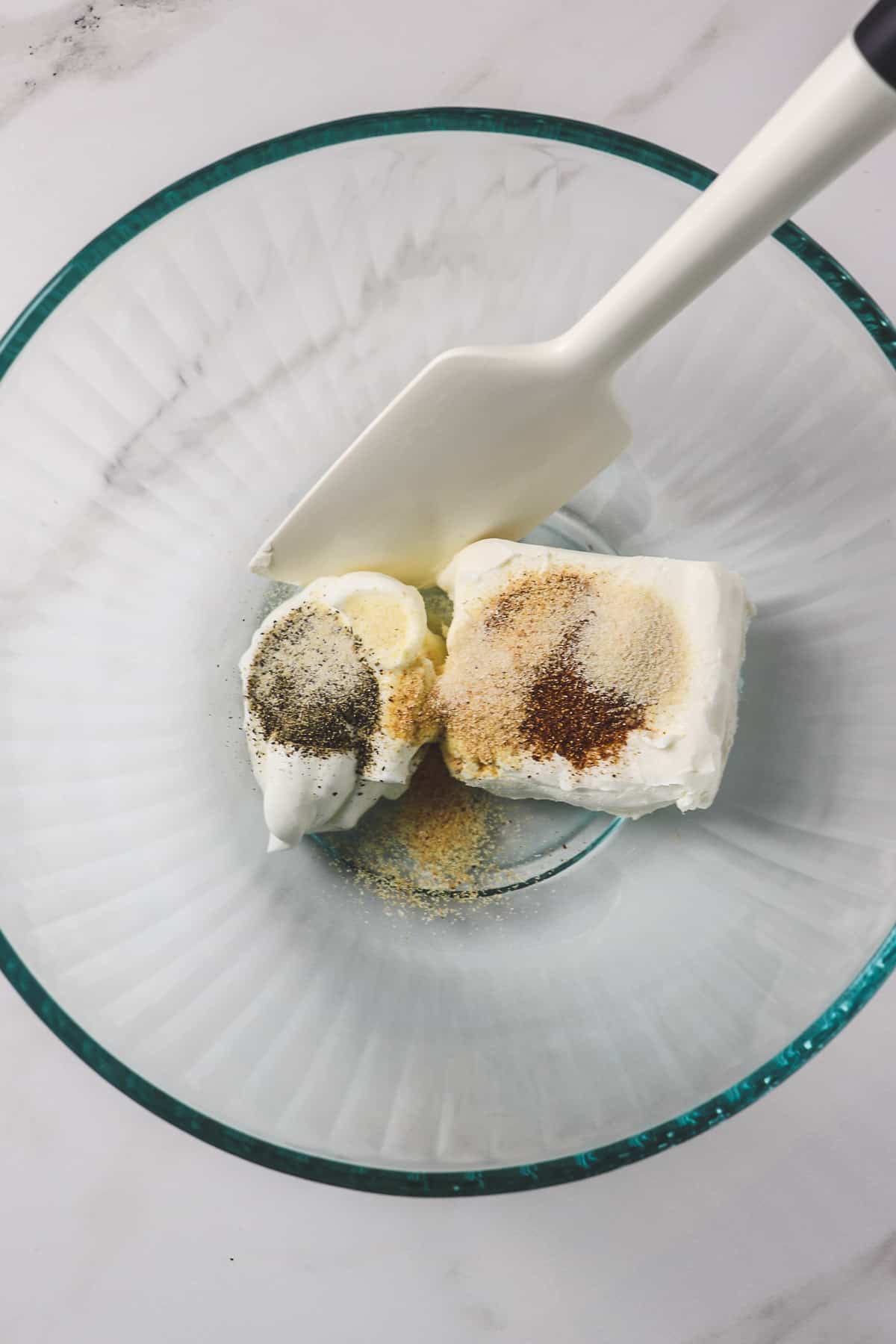 After the cream cheese and sour cream is well combined, add in the pimentos (drained). You want to be sure to drain the juice from the jar of pimentos to avoid the extra water.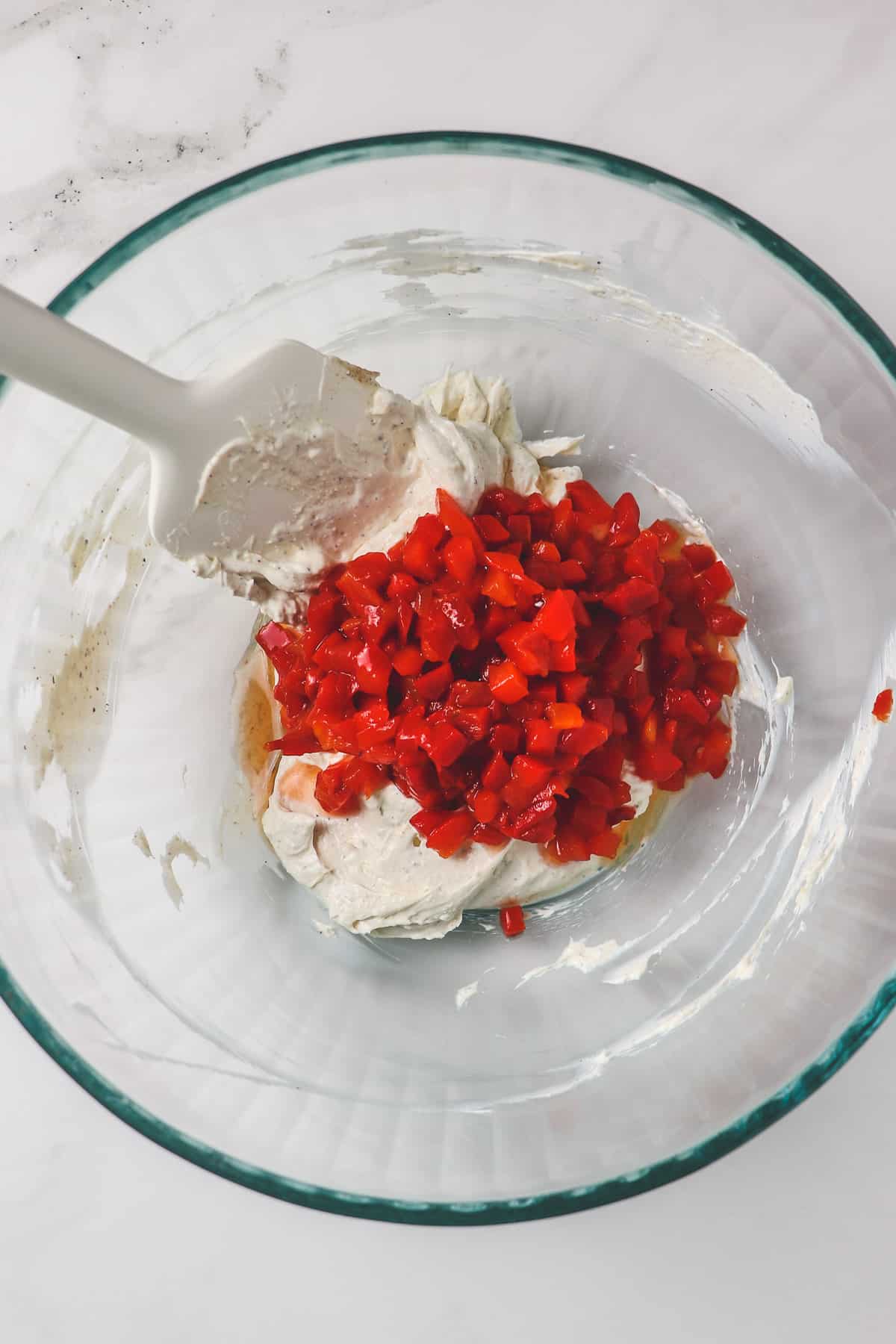 Gently fold in the pimentos until well combined.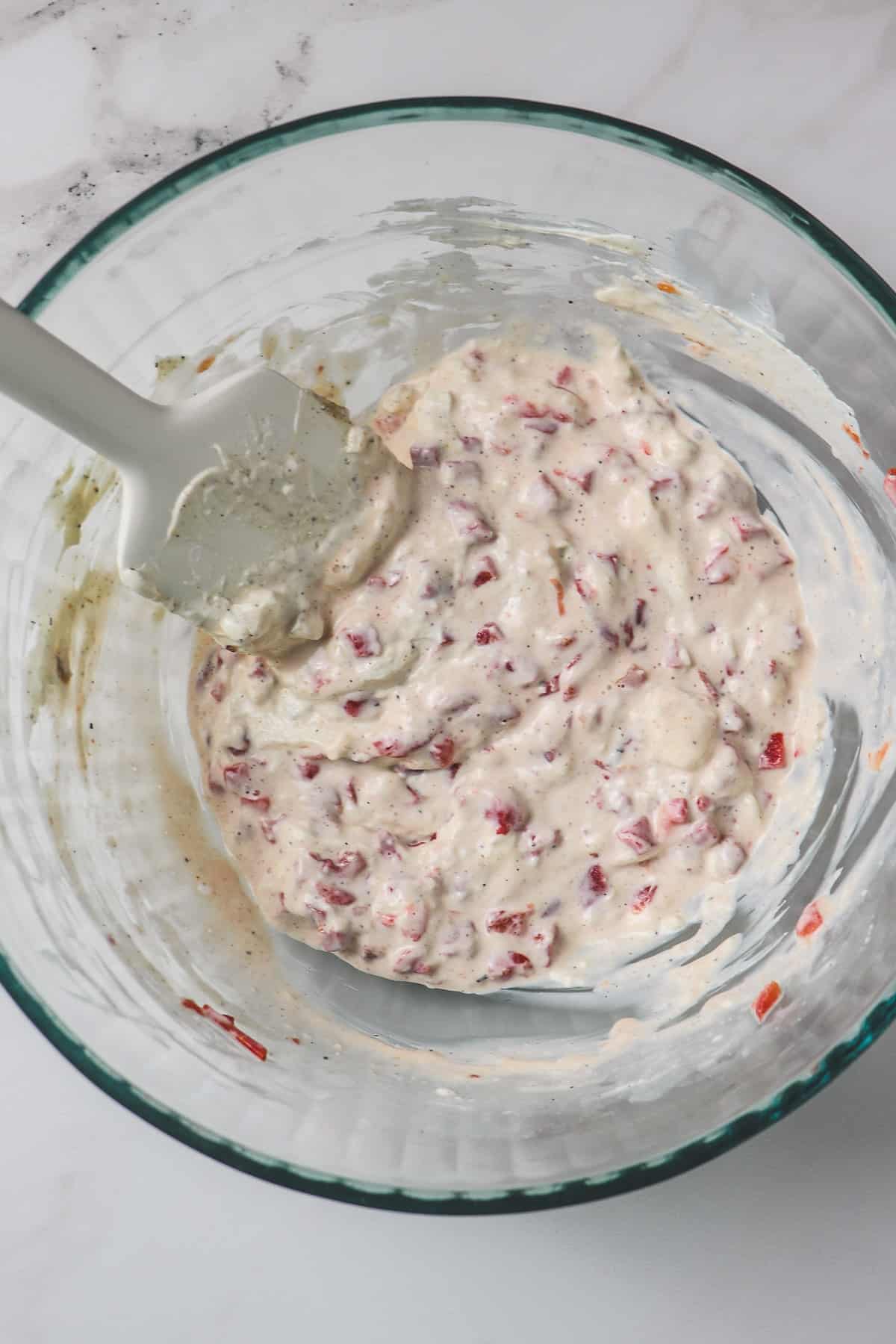 Finally, add in the shredded sharp cheddar cheese and fold the cheese into the pimento mixture.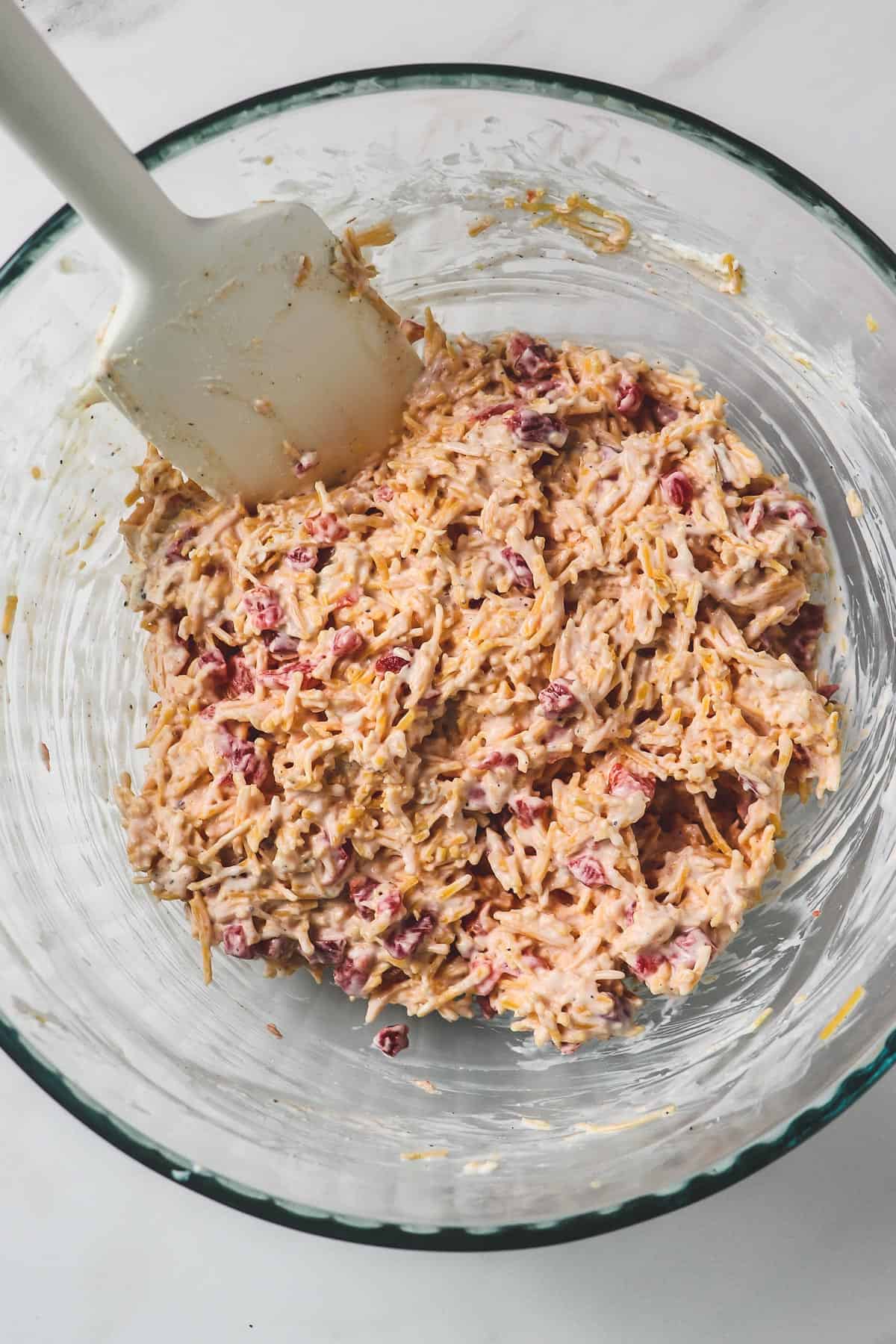 Now, refrigerate until you're ready to serve! It's best to let this refrigerate for a couple of hours before serving to let the flavors mesh together.
Low-Calorie Dipper Ideas
Pimento cheese goes well with nearly everything! Here are some of my favorite dippers:
Carrots
Celery
Bell pepper slices
Good thins crackers
Wheat thins crackers
Baked tortilla chips
Toasted low-calorie bread
As far as crackers go, I LOVE Good Thins corn crackers. They are my favorite! You can eat about 20 of them for 60 calories. They taste similar to Fritos corn chips but they are thinner and less greasy.
My favorite vegetable dipper is carrots. The sweet carrots go nicely with the spiciness of the dip!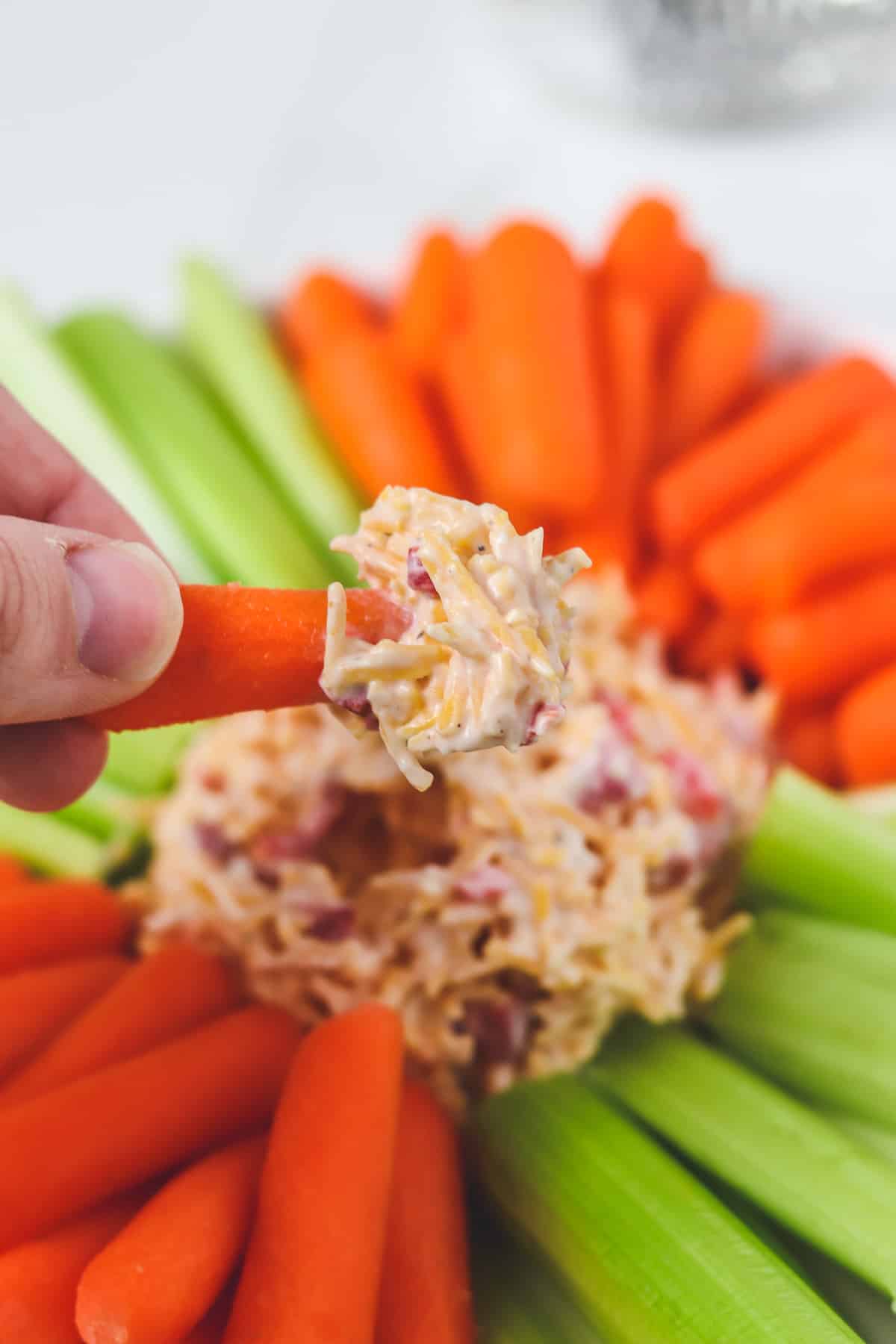 Calories Per Serving
If you follow this recipe exactly, one serving of about ¼ cup has 161 calories. To make this a full meal, I usually eat two servings (½ cup) and make it about 320 calories.
Combine pimento cheese with some low-calorie dippers (carrots, celery, or low-calorie crackers) to make a healthy lunch! 320 calories of dip with 80 calories of dippers will make a delicious lunch for only 400 calories! I like using the Easy Lunchboxes containers.
This recipe is an easy, healthy meal prep option! It will keep fresh in the refrigerator for about 5-7 days.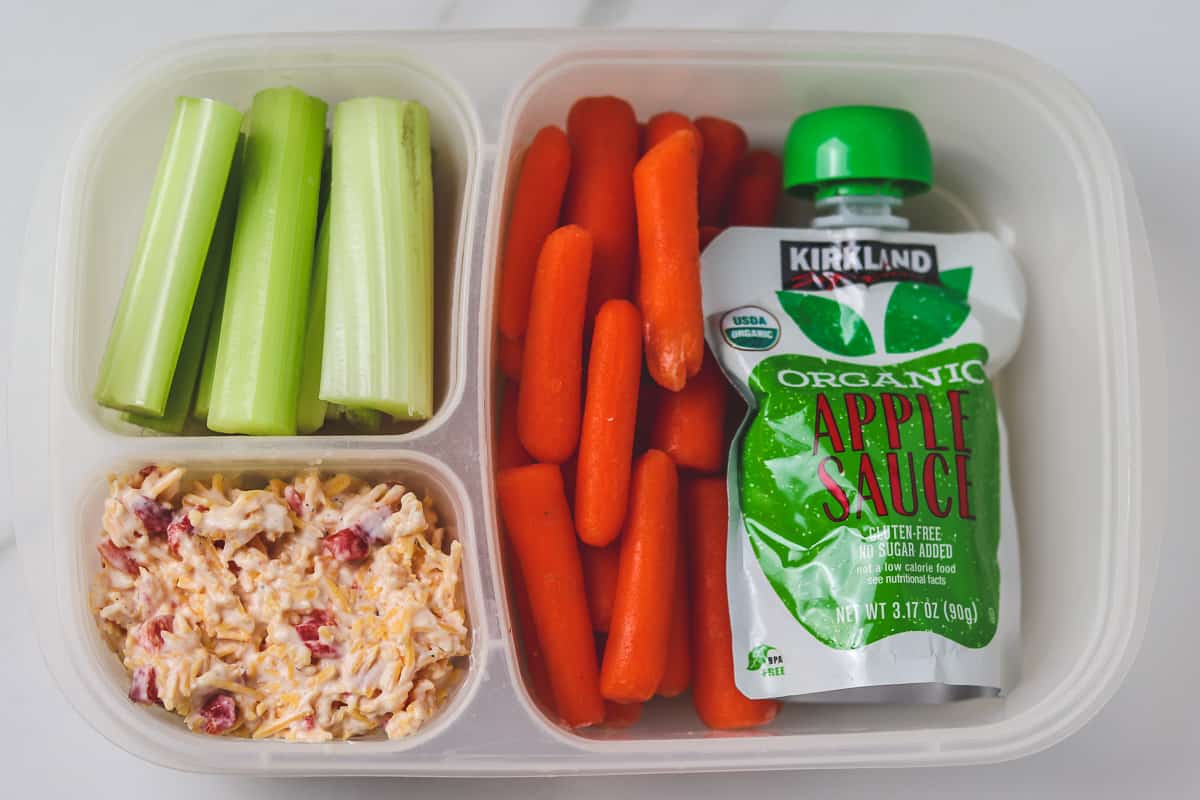 This recipe is also keto-friendly with only 4g carbs per serving. But you'll have to make sure you are using low carb dippers (or eat it plain). Dipping in veggies would be a good option to keep your meal low carb.
More Low-Calorie Snack Ideas:
Try these other low-calorie recipes!