These no mayo deviled eggs cut out calories while still being a delicious and easy appetizer! Whether you are a mayo-hater or want a healthier option, you will enjoy this classic deviled egg recipe.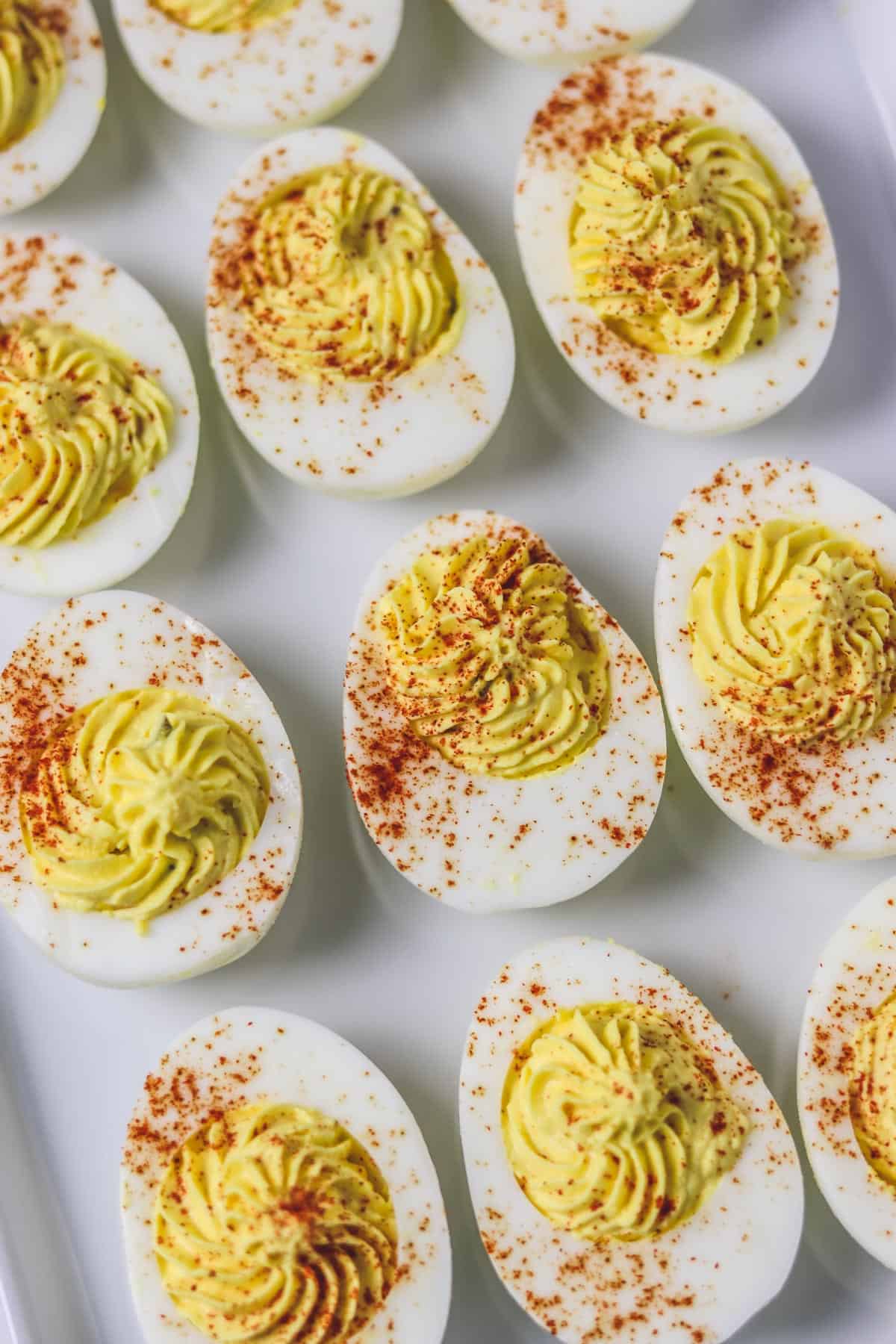 Now that I learned how easy it is to make hard-boiled eggs in the Instant Pot using the 5-5-5 method, deviled eggs are really easy to throw together! No more fighting peeling the eggshells - they easily slide right off every time when you use the Instant Pot.
Deviled eggs are great for bringing to potlucks or for a holiday appetizer. In my family, deviled eggs are a staple for Easter, Thanksgiving, and Christmas!
How to Substitute for Mayo
Here are the best substitutes for mayo in deviled eggs:
Light Sour Cream - ¼ cup has about 80 calories
Plain Nonfat Greek Yogurt - ¼ cup has about 40 calories
For comparison, regular mayonnaise has about 400 calories in ¼ cup. Ouch! You can really lighten up your deviled eggs if you lose the mayo! If you remove 320 calories across 6 servings, you have just cut out 53 calories per serving!
My favorite substitute is light sour cream.
I did try using greek yogurt when developing this recipe, but I found it to be a little too tangy. Sour cream is milder and blended better with the egg and other seasonings.
However, if you don't mind the tang of yogurt, you can definitely use greek yogurt in this recipe!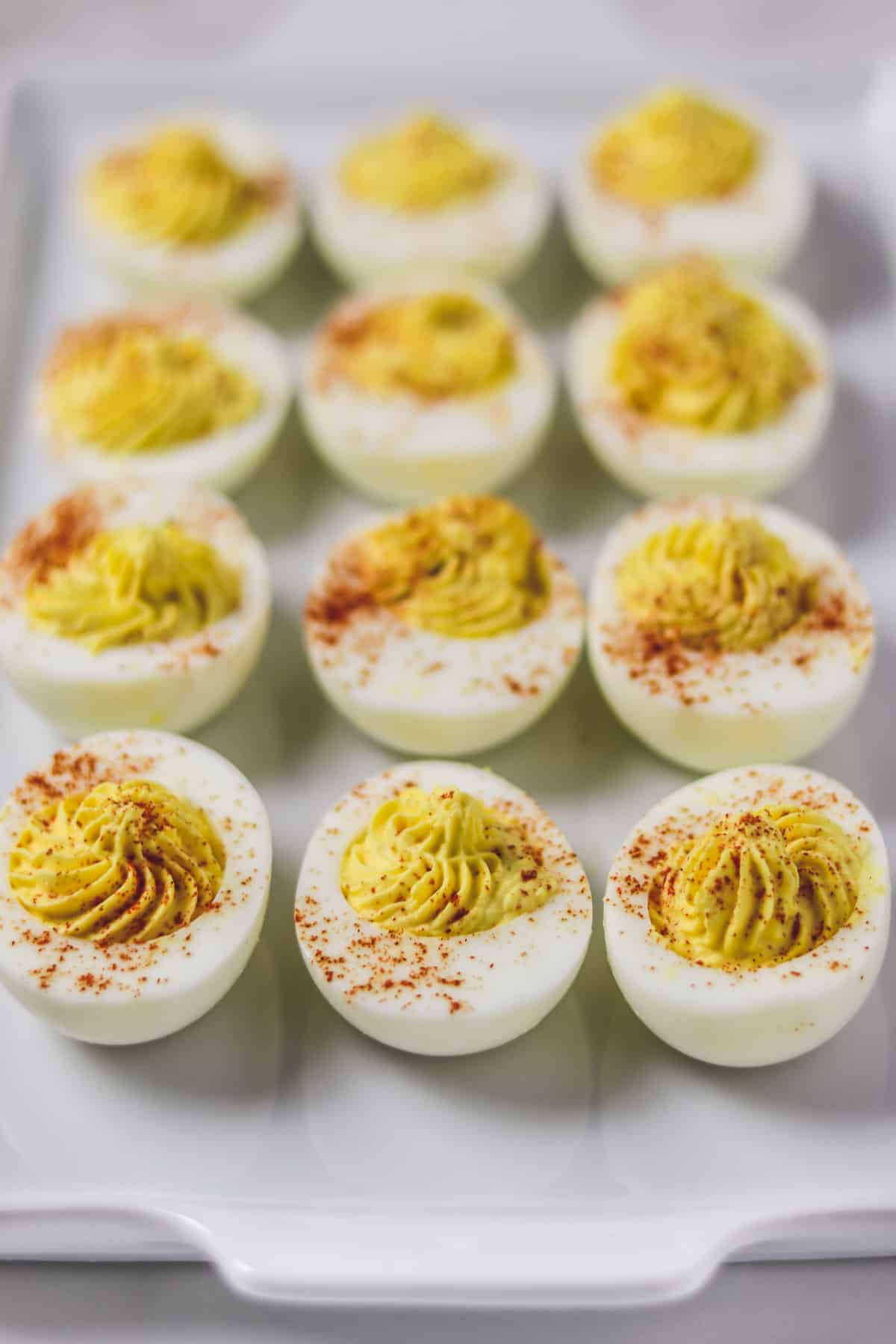 Ingredients
I make a simple and classic deviled egg recipe, with light sour cream substituted for mayo. Here's what I put in my deviled eggs:
6 hard-boiled eggs
¼ cup light sour cream
1 teaspoon mustard
1 teaspoon sweet pickle relish
⅛ teaspoon salt (to taste)
paprika, for garnish
As I mentioned earlier, you can swap the sour cream for greek yogurt (but it will have a slightly tangy taste). If you like a stronger pickle/vinegar flavor, you can increase the amount of relish.
How to Make Hard Boiled Eggs in the Instant Pot Using the 5-5-5 Method
The Instant Pot is a huge time saver for making perfect, easy to peel hard boiled eggs. I make them using the 5-5-5 method:
5 minutes high pressure
5 minutes natural release
5 minutes ice water bath
To start, add 1 cup water to Instant Pot, and put eggs on an egg rack, trivet, or in a steamer basket.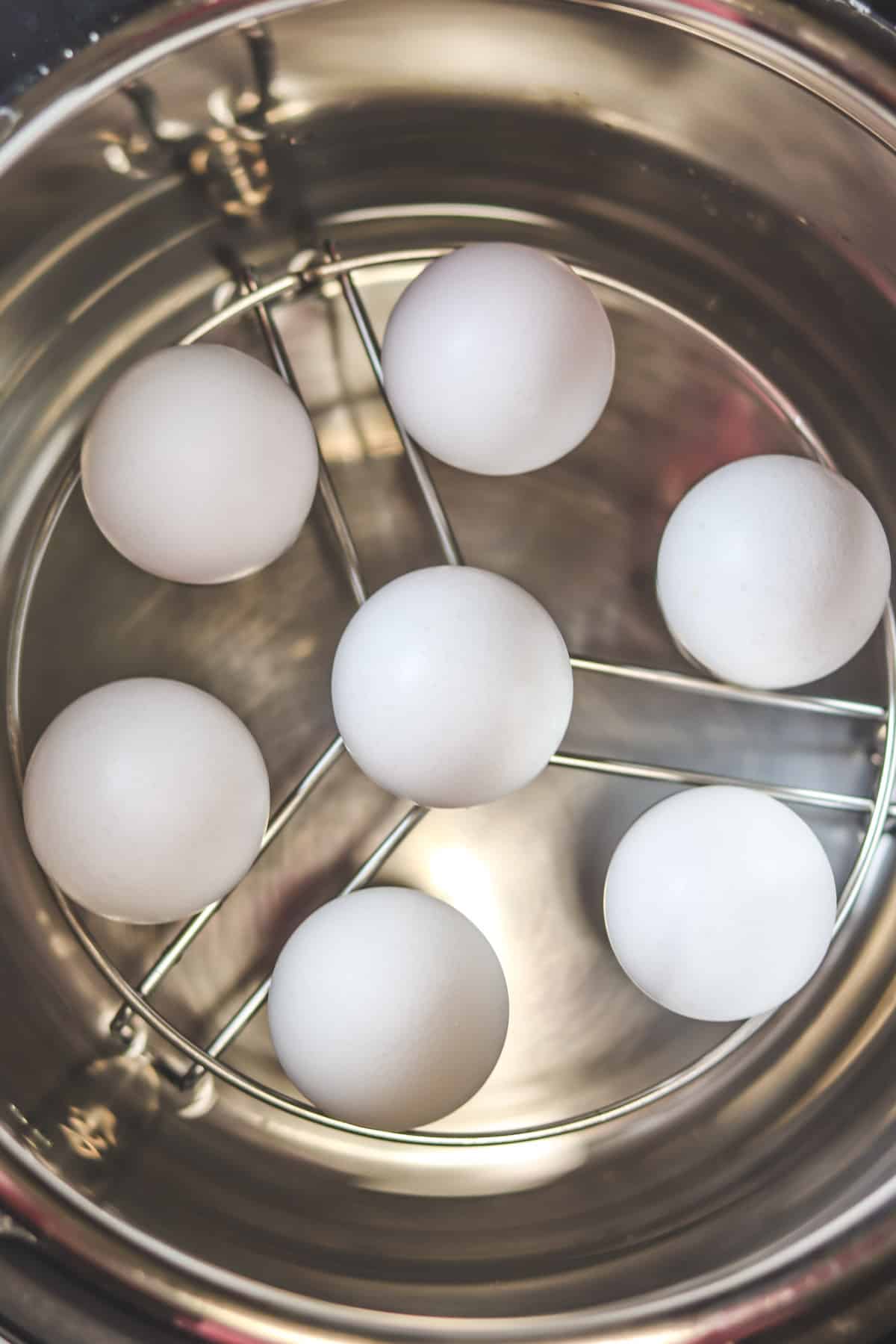 An egg rack will hold the eggs perfectly in place, but it isn't required. Just use either a trivet or steamer basket to lift the eggs above the water.
Put the lid on the Instant Pot and set to high pressure for 5 minutes. You can press the "Egg" button on the Instant Pot which is pre-set to 5 minutes.
After 5 minutes cook time is up, allow the pot to sit undisturbed for a 5-minute natural release before releasing remaining pressure. Immediately put eggs into an ice bath to cool them down.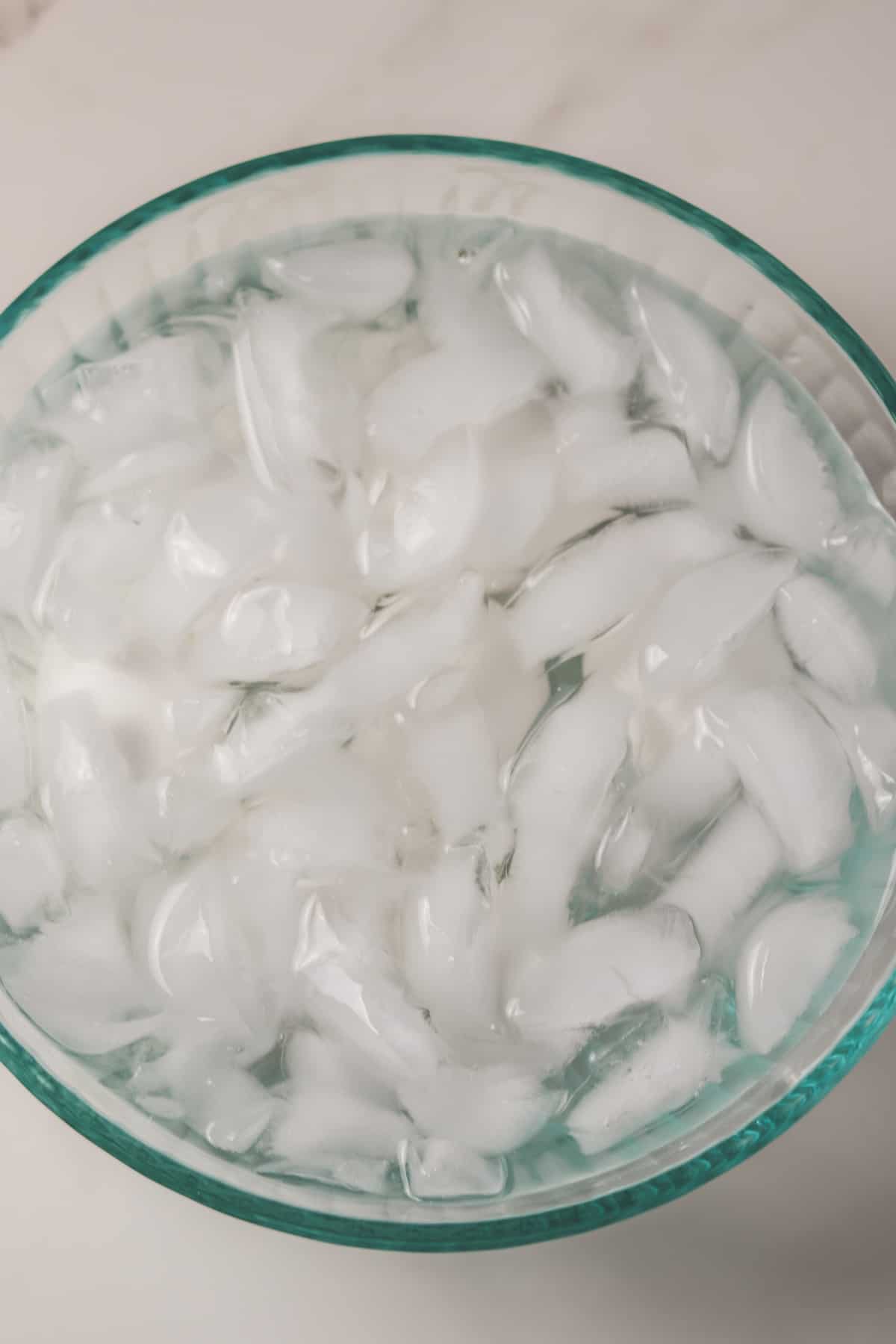 Let eggs sit in the ice bath for 5 minutes, and then they are ready to peel!
To peel eggs, lightly crack the shell all the way around, and then the shells should slide off easily. Eggs should peel very easily using the Instant Pot 5-5-5 method!
Finally, give the eggs a rinse to remove any excess shell after peeling.
How to Make Hard-Boiled Eggs on the Stovetop
While the Instant Pot is my preferred tool to make hard-boiled eggs, I used to always make them on the stovetop before I got my magical Instant Pot.
To hard boil on the stove:
Place eggs in saucepan and cover with about 1" of cool water on top.
Cover with lid and bring to a boil over medium-high heat
After water comes to a rolling boil, set a timer for 7 minutes.
Boil eggs for 7 minutes
After the timer is up, immediately drain water and put eggs into an ice bath.
After the eggs have cooled down in the ice bath for about 5 minutes, peel and rinse them.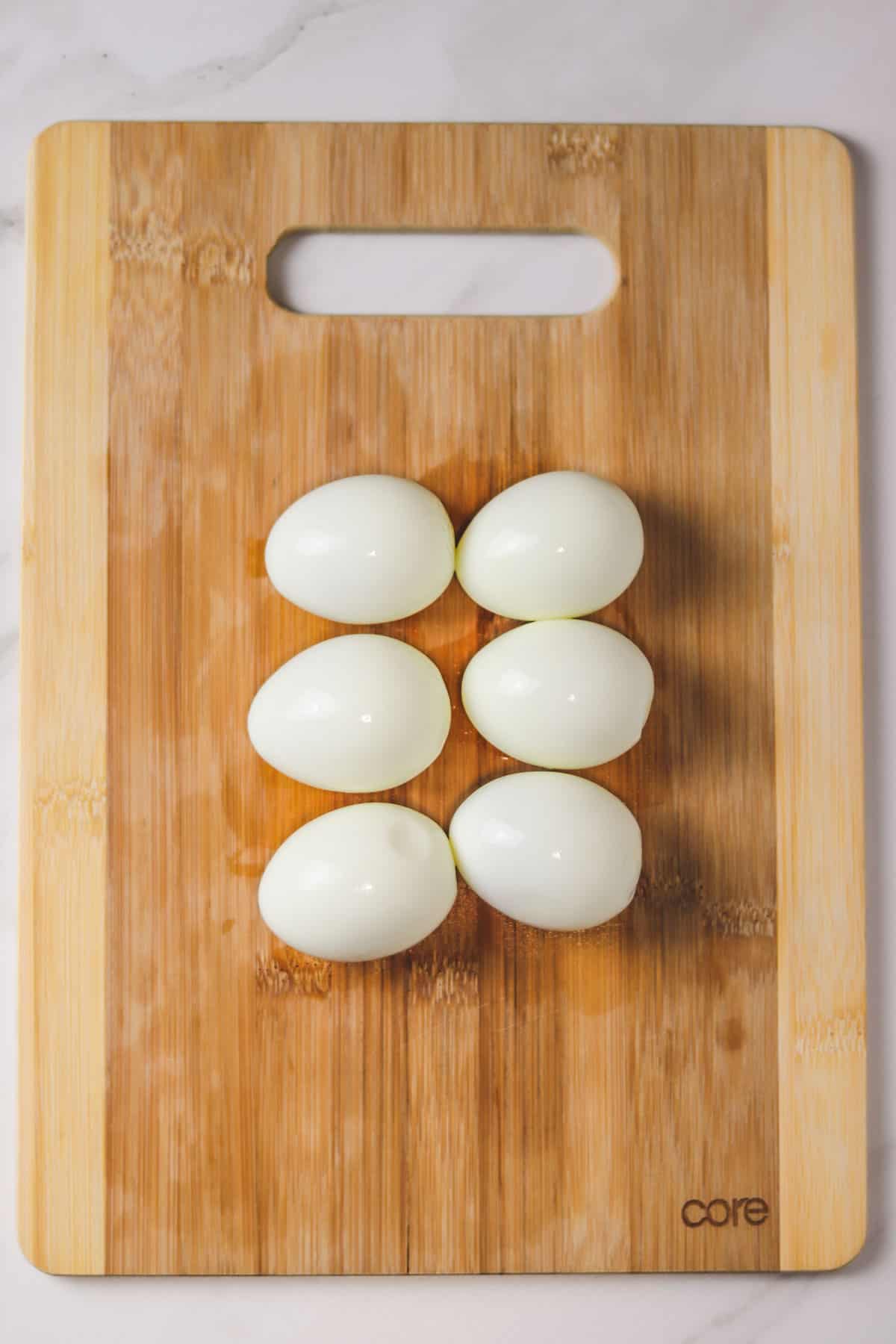 How to Make Deviled Eggs
After your hard-boiled eggs are cooked and peeled, slice them in half lengthwise.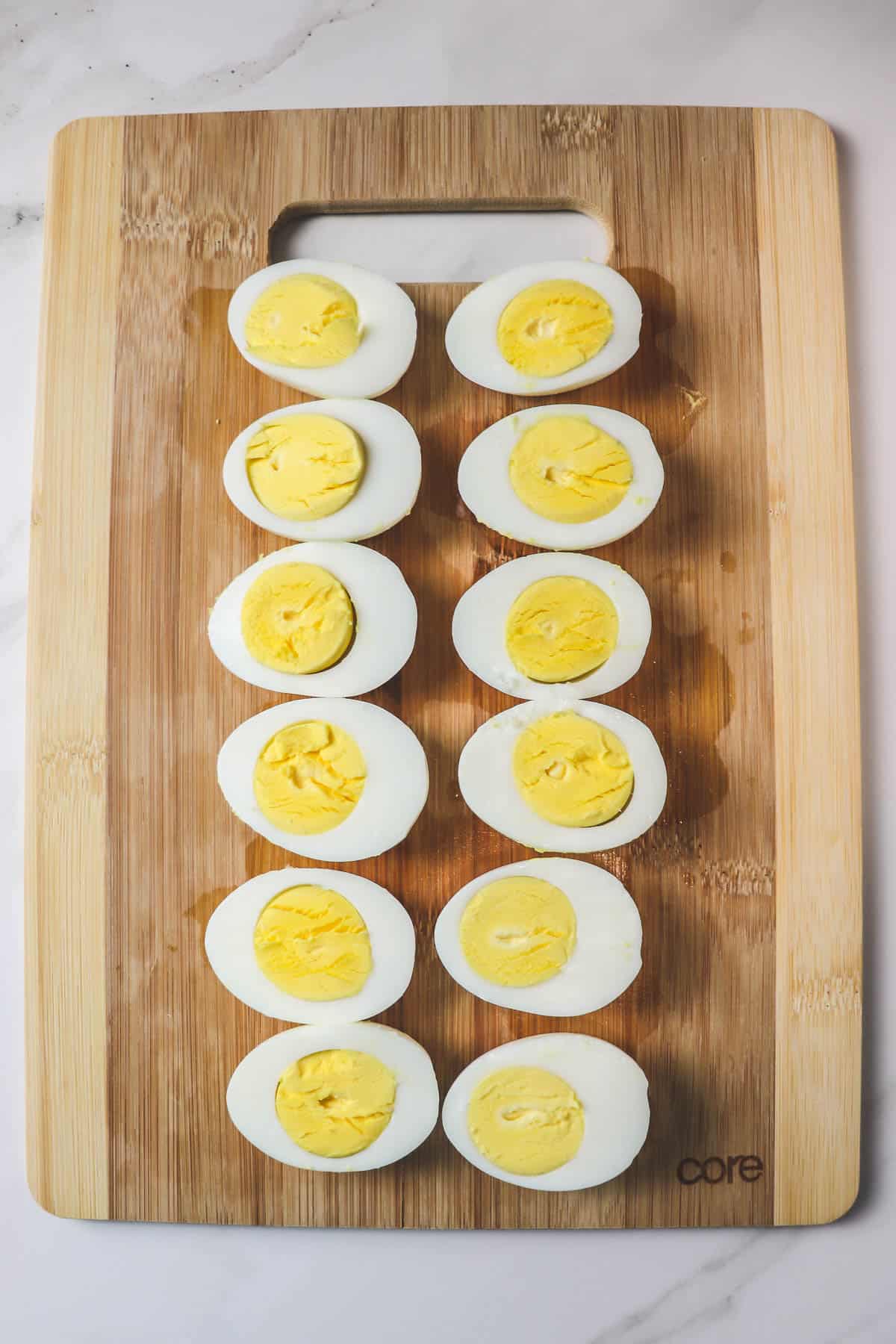 Now, separate the whites and the yolks. The egg yolks (yellow part of the egg) should easily pop out if you jiggle them. You can also lightly use a spoon to scoop them out.
Add all of the egg yolks into a mixing bowl to prepare the filling.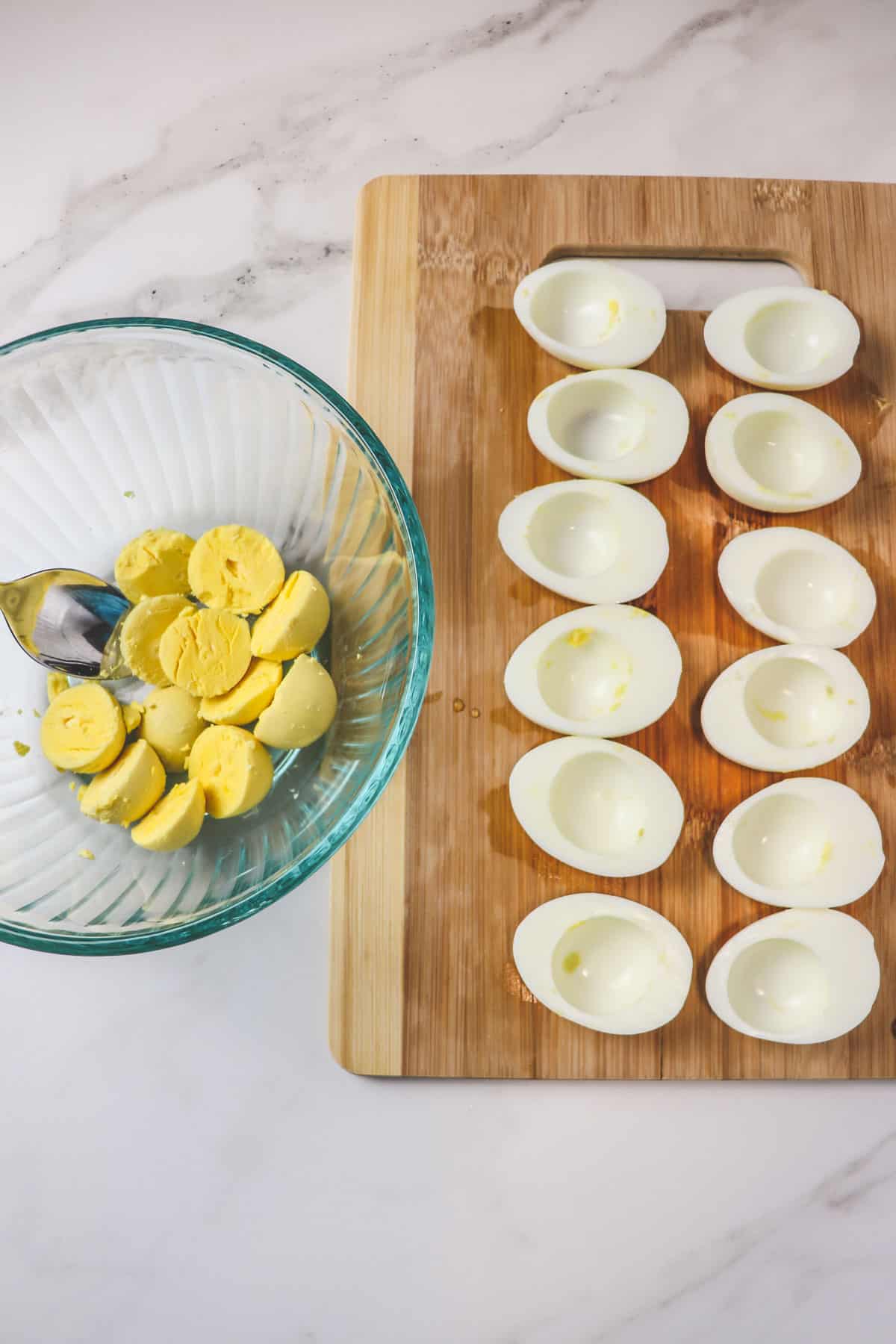 Next, mix up the filling in a medium-sized mixing bowl: egg yolks, sour cream, mustard, sweet pickle relish, and salt. Mash / stir until smooth and creamy.
Now, load the filling into a piping bag with a large tip. If you don't have a piping bag, use a ziploc bag and snip off a small triangle in the corner.
Helpful hint: turn the top of your bag down and set it in a heavy glass to hold it up. This makes it super easy to fill!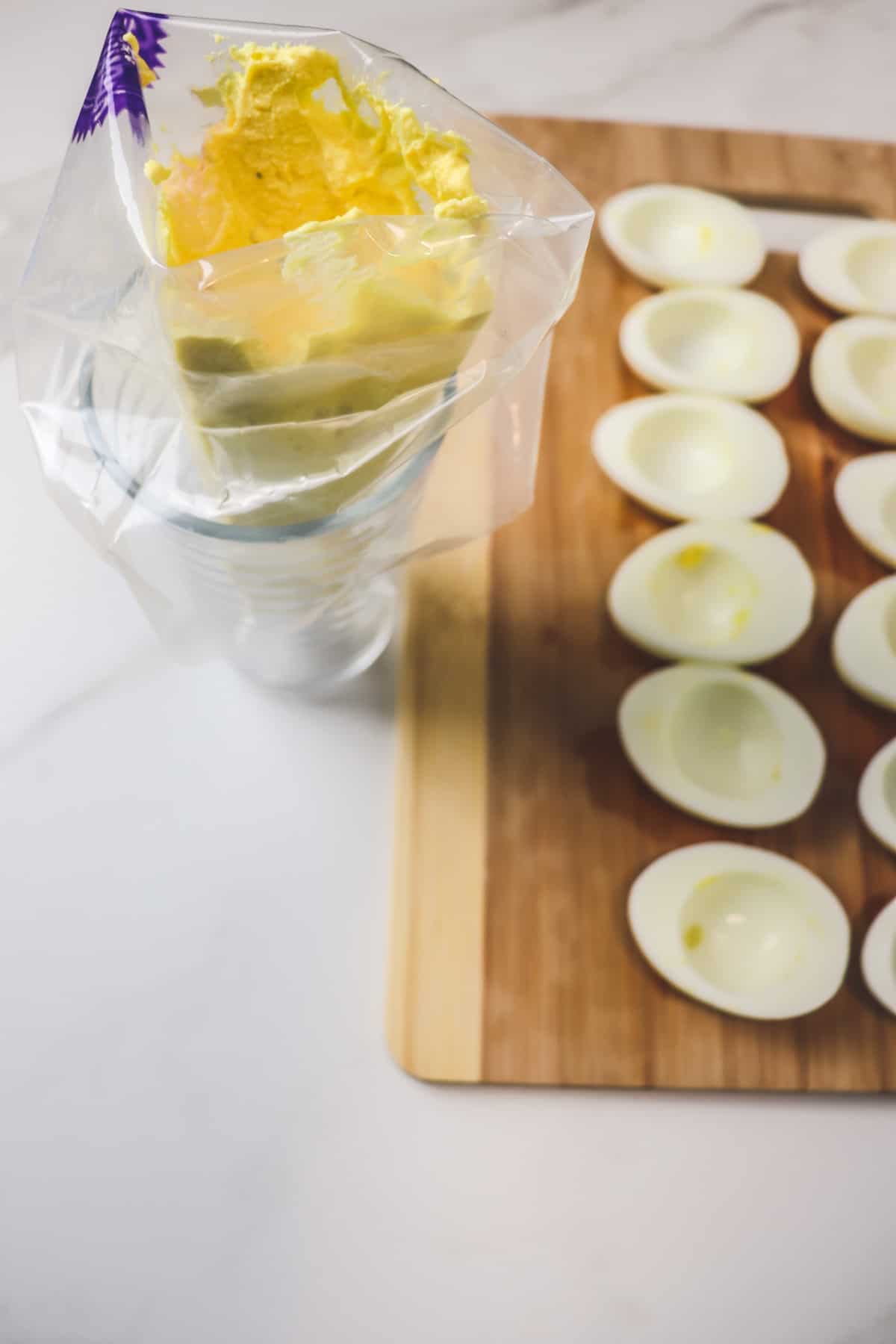 Pipe the filling in a swirl pattern in each egg. Fill up all 12 egg halves.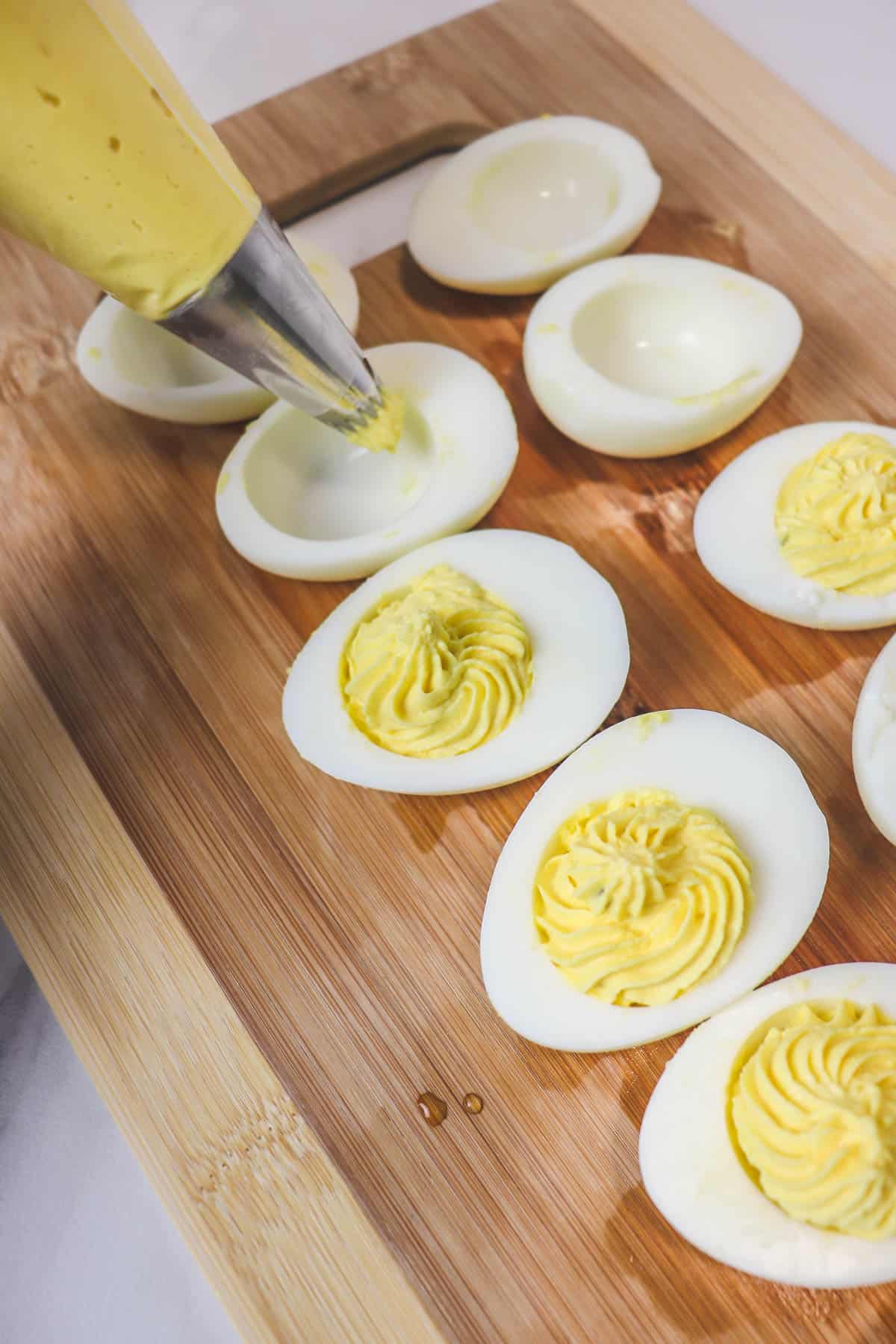 Finally, garnish with a little paprika and your eggs are ready to go to your next potluck!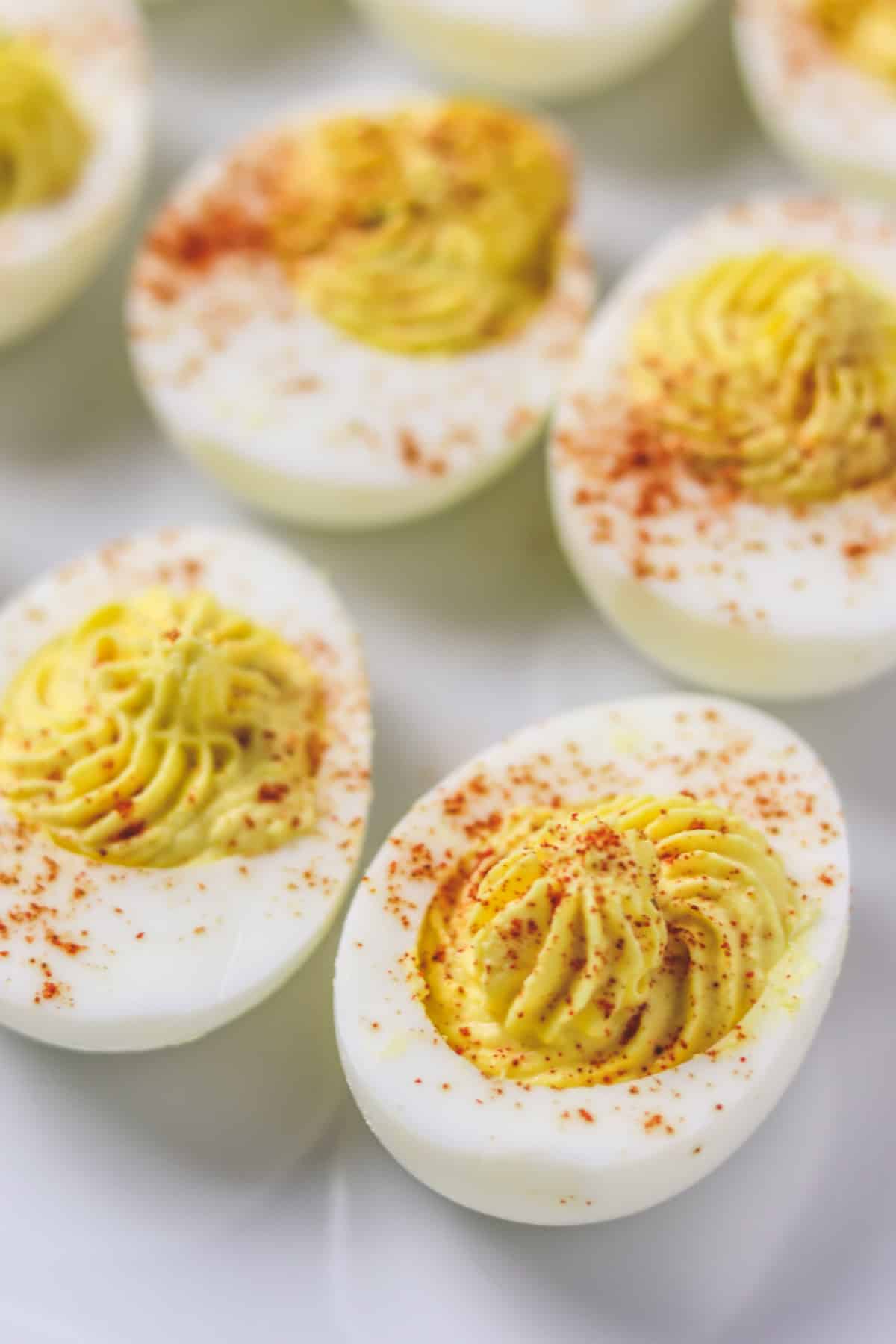 How to Make Ahead
To make ahead up to 3 days in advance, store the filling and eggs separately in the refrigerator. Just before serving, pipe the filling into the eggs.
I go ahead and load the filling into a piping bag and put a piece of plastic wrap on the end of the tip. That way, the filling is ready to go as soon as it's time to serve.
How to Transport
If you don't have a special egg tray that holds the eggs in place, I highly recommend filling the deviled eggs once you get to your destination. You can expect that they will slide around in the car.
If you wait to pipe the filling once you arrive (it only takes 2 minutes), you will have perfect deviled eggs! And you don't have to worry about messing them up on the way.
If you do have a special egg holder tray, the deviled eggs should hold together fine through a car ride. I don't have an egg tray, so I always assemble my eggs once I arrive at my destination.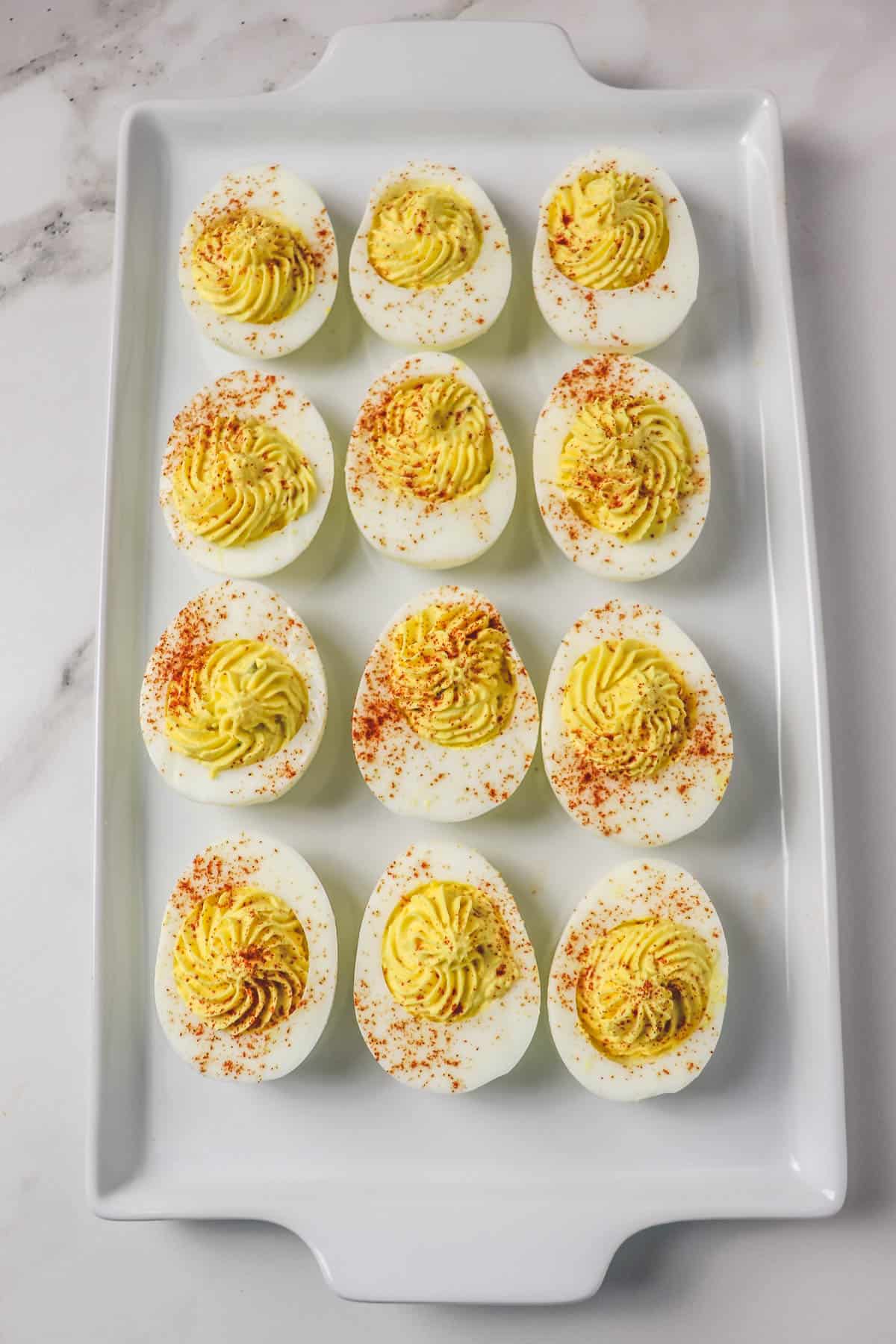 Can this recipe be doubled?
Yes, if you are making this recipe for a party I recommend doubling it to make a total of 24 egg halves. You can hard boil 12 eggs in the Instant Pot no problem! (Same 5-5-5 instructions)
Calories Per Serving
This recipe has 86 calories for two egg halves or about 43 calories per piece. You can eat two pieces or under 100 calories!
Deviled eggs are a good option for a low-calorie appetizer or snack!
Are Deviled Eggs Keto?
YES! Deviled eggs are keto. One serving (two egg halves) only has one carb. Deviled eggs make a great low carb appetizer or snack if you are watching your carb count.
More easy Instant Pot recipes:
Check out these other easy recipes you can make in the Instant Pot: