This is the EASIEST Instant Pot Mexican Rice recipe! Unlike many rice recipes that require chopping up a bunch of veggies and sauteing, this is a quick dump and start recipe!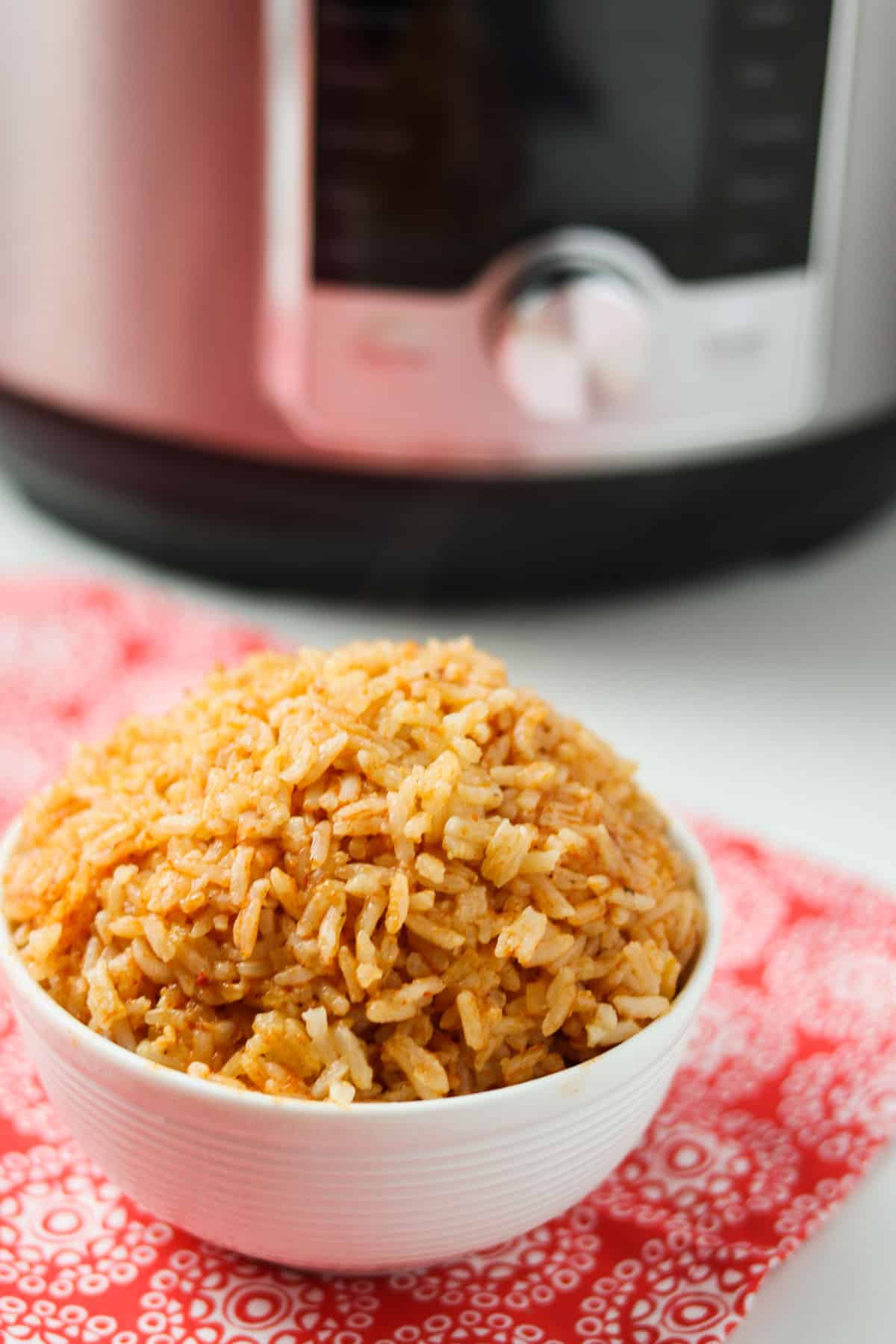 The rice is seasoned with tomato sauce, onion, and taco seasoning. This recipe has all of the flavors of restaurant-style Mexican rice without all the excess butter and oil. This recipe is butter and oil-free, making it much healthier than restaurant rice!
Kids and picky eaters will like this Mexican rice recipe because it is simple and they won't see any chopped veggies in it! My picky eater in the house gobbles this up without question.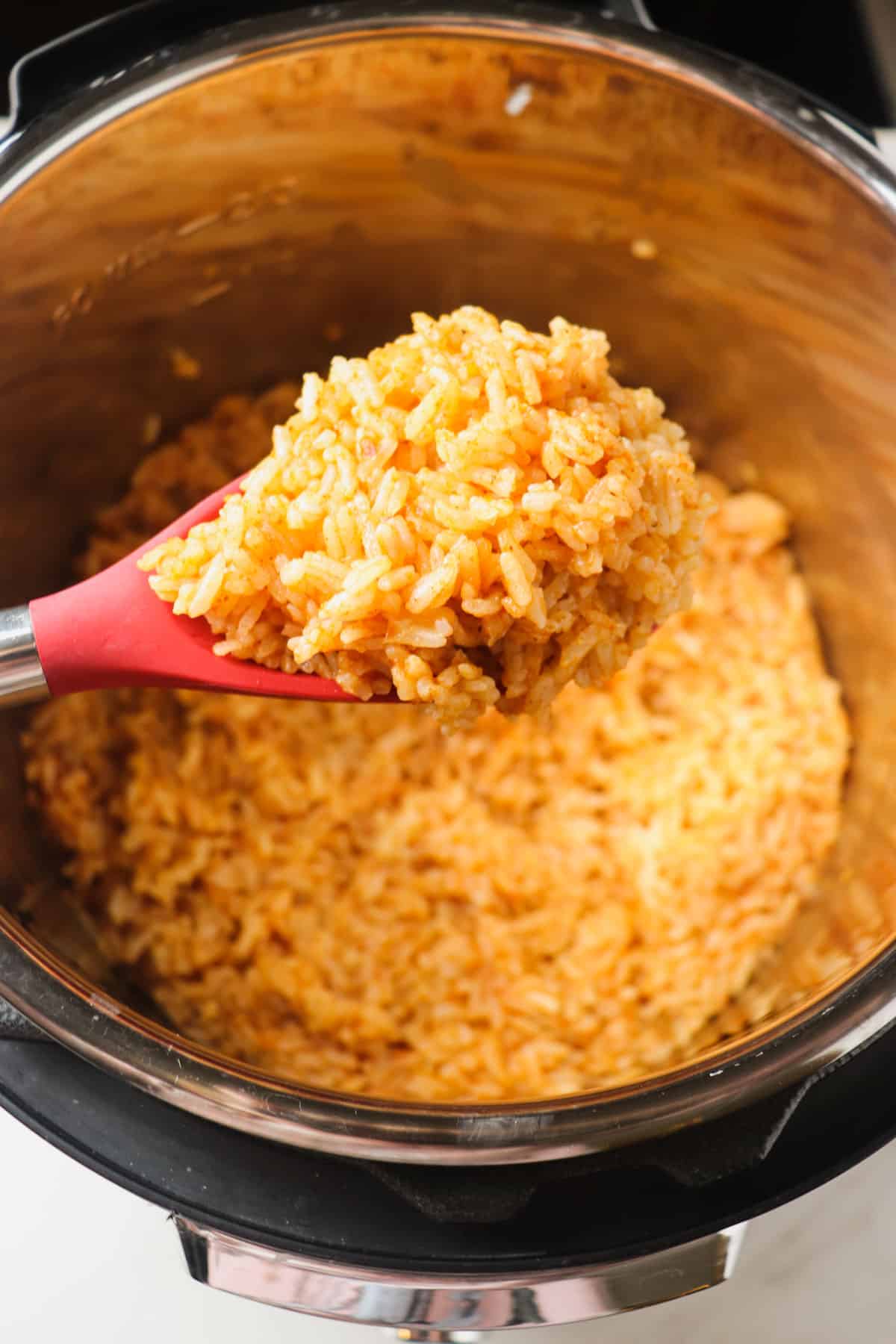 Taco Tuesday is a staple in my house, and whether it's nacho night, taco night, or quesadilla night, this recipe is on the menu! It goes well with any kind of Mexican food you can think of.
Jump to:
Ingredients
This recipe has only 5 ingredients, making it very quick and easy!
2 cups dry white rice, rinsed
2 cups chicken broth (you can substitute vegetable broth to make this vegetarian)
1 tablespoon dry minced onion
2 tablespoon taco seasoning
8 oz can tomato sauce (small can)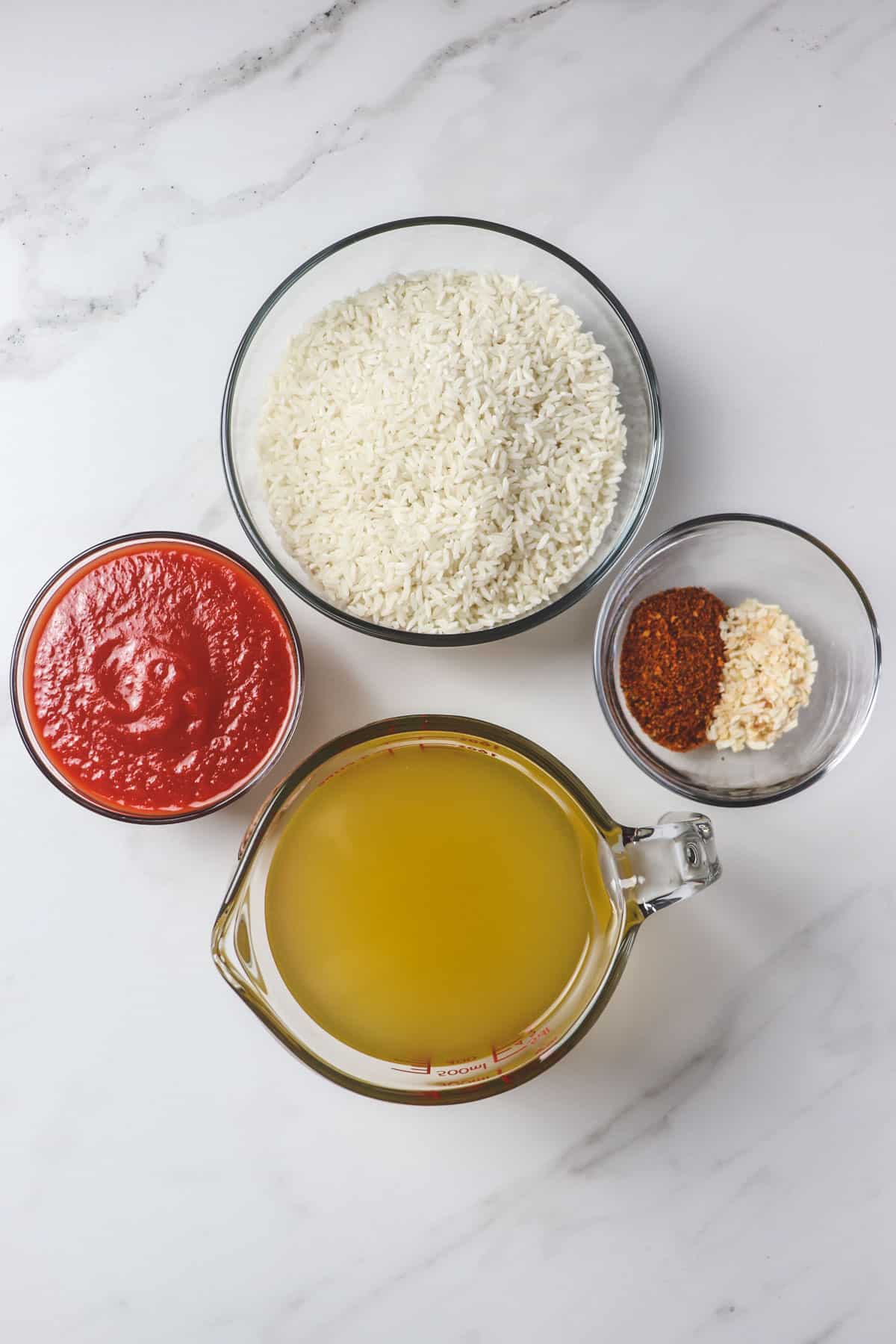 What Kind of Rice to Use
I highly recommend using regular long-grain white recipe for this recipe. White rice has a shorter cook time than other types of rice, which helps to avoid burning the tomato sauce.
Substitutions for Dry Minced Onion
I like using dry minced onion because it is easy to keep on-hand, no chopping is required, and it and still has a yummy onion flavor. Instead of using dry minced onion, you could try:
One small fresh onion, minced
1 teaspoon onion powder. Onion powder is much stronger than dry minced onion, so be sure to use less!
Instructions
This recipe has three main steps: rinse the rice, layer the ingredients, and then pressure cook.
Rinse Rice Before Cooking
First, rinse your rice. DO NOT SKIP RINSING THE RICE!
One time making this recipe, I accidentally forgot to rinse the rice and it did not turn out very well...oops. Without rinsing the rice, it started to burn to the bottom of the Instant Pot liner. If you rinse the rice, it will turn out perfectly every time!
I put my rice into a fine mesh strainer and put it under running water for a couple of minutes. The water draining off the rice should turn from a cloudy color to clear.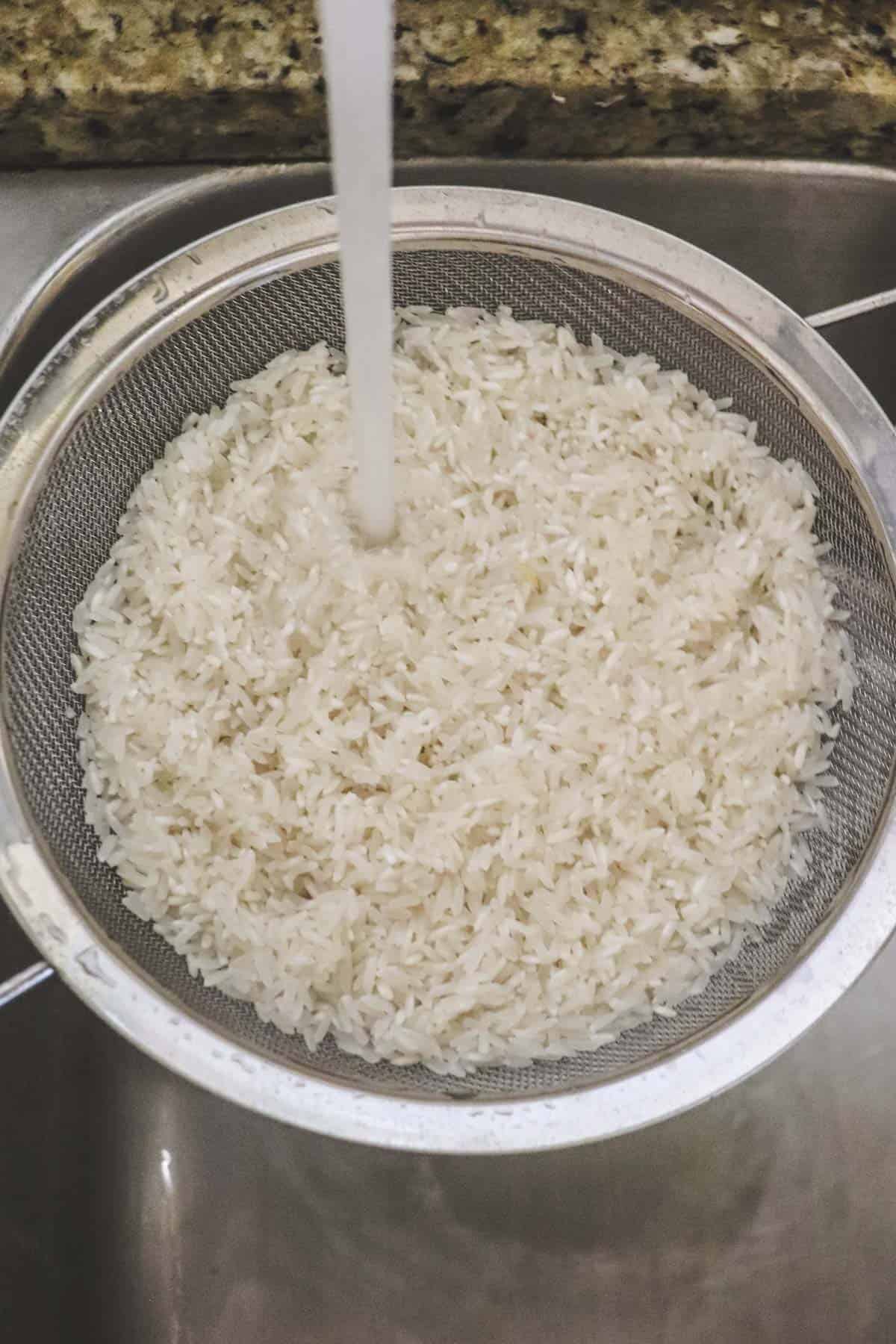 Rinsing the rice helps to remove starch from the surface of the rice. This helps the rice absorb water better, cook more evenly, and avoid a gummy texture.
When cooking rice in the Instant Pot, rinsing the rice also helps prevent it from sticking to the bottom of the pot and burning.
Layer Ingredients
Now that your rice is rinsed, pour the chicken broth and rice into the Instant Pot. You should use an equal ratio of broth and rice (2 cups water and 2 cups rice).
Next, sprinkle dry minced onion and taco seasoning on top of the broth / rice. Do not stir.
Finally, pour can of tomato sauce on top of the other ingredients. Do not stir.
Do not stir the tomato sauce or seasonings to avoid the dreaded "burn" notice. You don't want the seasoning and tomato sauce to end up in the bottom of your pot, where it might burn. The ingredients will mix on their own as they pressure cook.
Pressure Cook
Cook rice for 4 minutes high pressure, and then allow a 10-minute natural release.
Natural release means letting the pot sit undisturbed for 10 minutes after the cooking time is up. After 10 minutes, release any remaining pressure and open the lid.
For this recipe, I highly recommend using 4 minutes high pressure / 10 minutes natural release instead of the "Rice" button (found on some Instant Pot models). The rice button only works well for plain white rice.
Finally, stir the rice and it is ready to eat!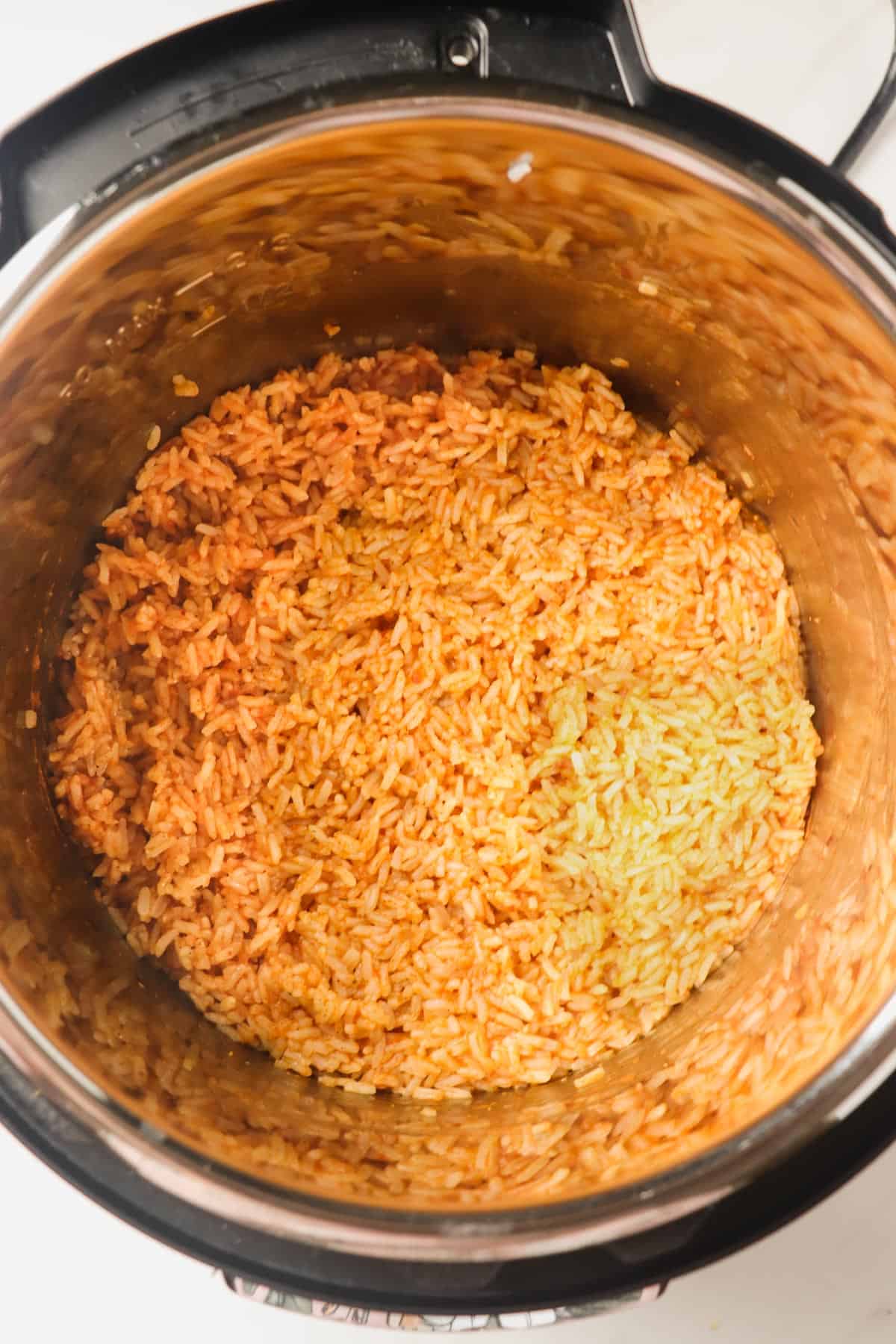 Calories Per Serving
One serving of Instant Pot Mexican rice (about ½ cup) has about 130 calories. This recipe makes 12 servings total.
Unlike the Mexican rice you may be served in a restaurant, this rice is not slathered in oil and butter. That makes the calorie count much lower!
How to Serve
This recipe goes well with nearly any kind of Mexican food. Here are some ideas:
Serve a bed of rice with grilled chicken on top. Top with queso, salsa, guacamole, or your favorite toppings
Put a serving of rice on a taco salad
Put inside a burrito, taco, or quesadilla
Serve as a side with enchiladas
To make cheesy rice, top each serving with a tablespoon of white queso dip! Trust me, this is AMAZING!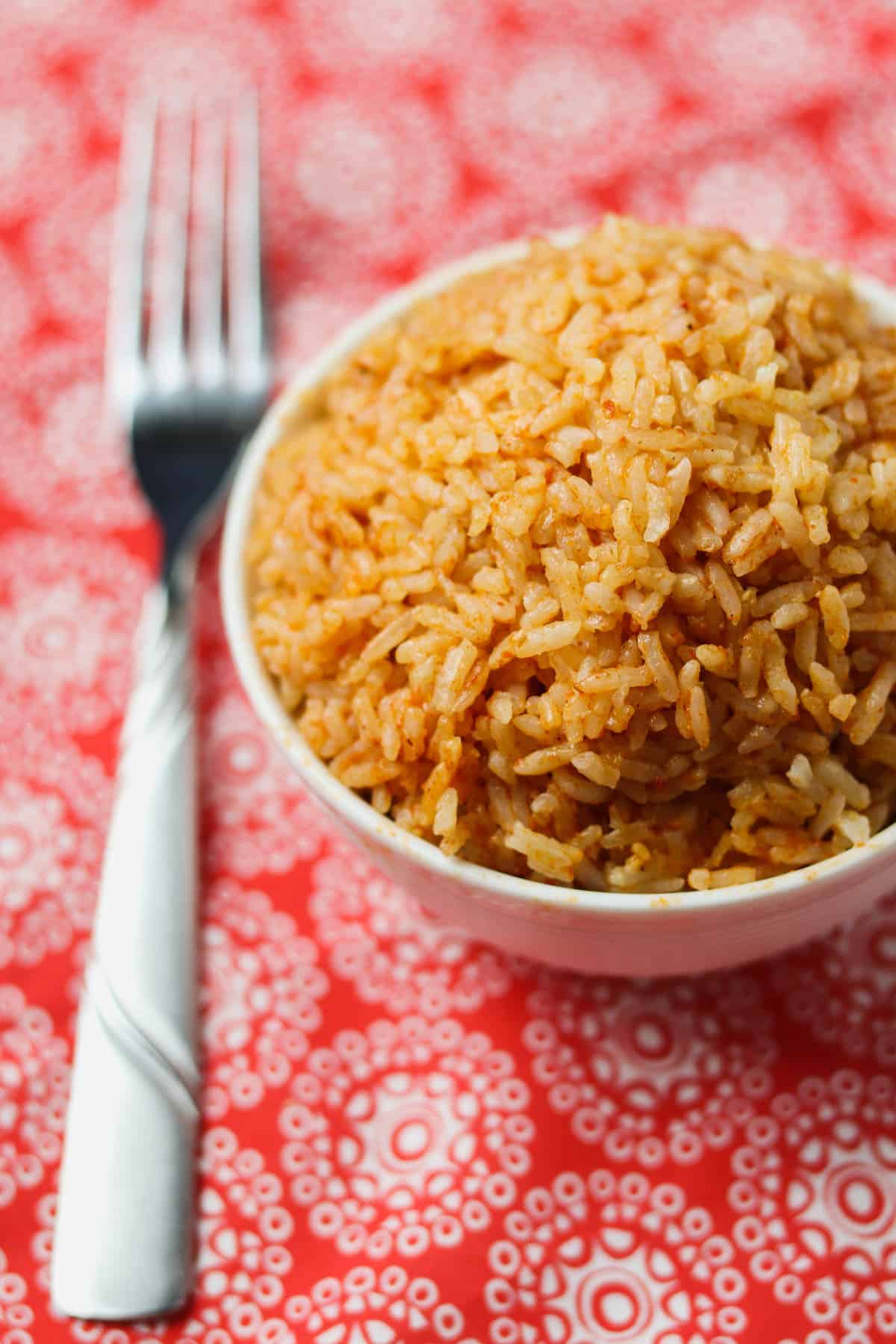 How to Store
Store extra rice in an airtight container in the refrigerator for 3-5 days. Reheat in the microwave for about 1 minute until warmed through.
You can also freeze the rice in a plastic container or plastic freezer bag. To reheat from frozen, add 1 tablespoon water and microwave until heated through.
More Instant Pot Recipes
Try these other easy recipes: