These Air Fryer Roasted Potatoes are crispy and full of rosemary and garlic flavor! Just throw together some diced potatoes, seasoning, and a little bit of olive oil to make a healthy side dish in your air fryer.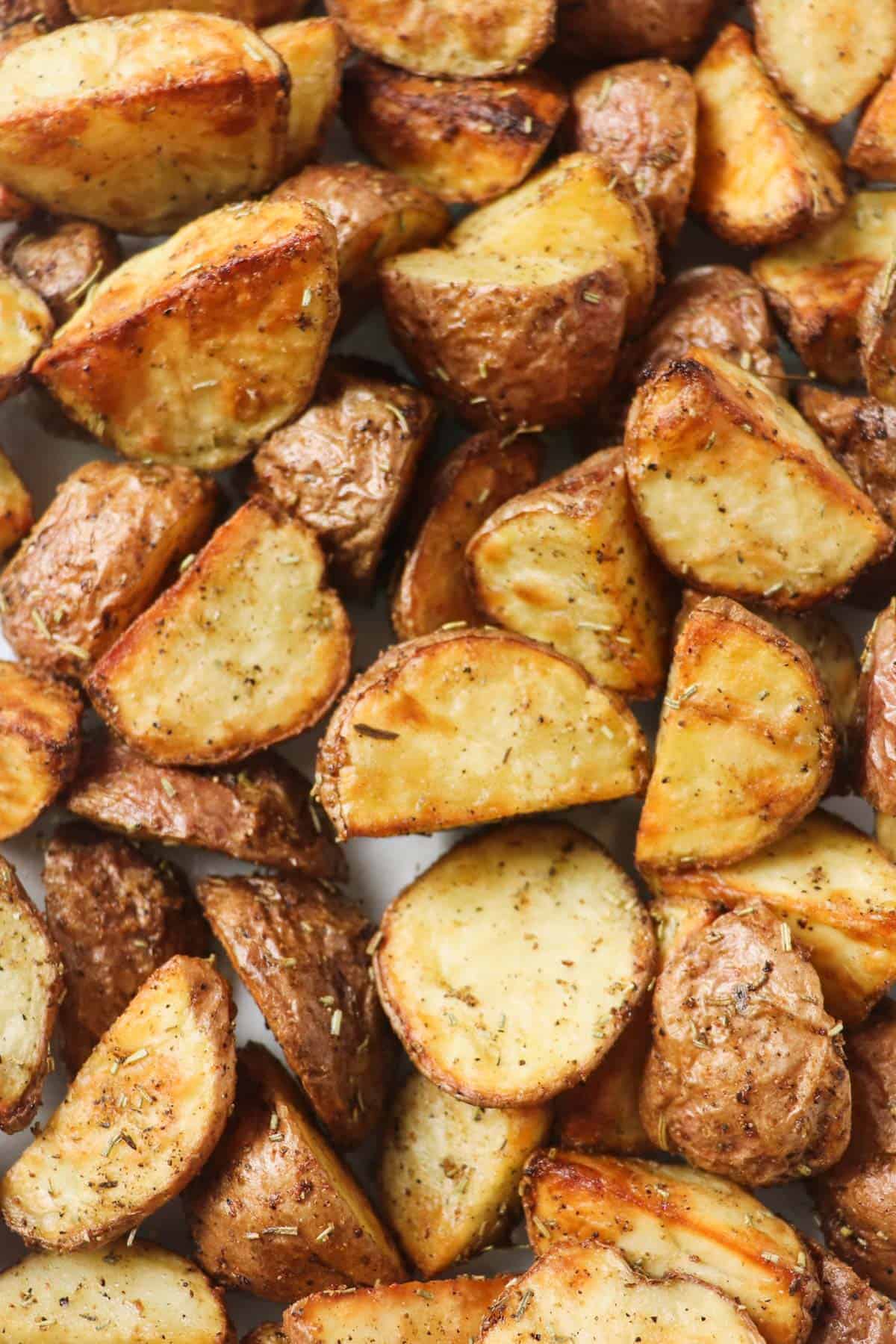 This is a versatile recipe that can be served with any meal - breakfast, lunch, or dinner! They go well with anything from a steak dinner to a bacon and egg breakfast.
These are such an EASY potato side! It only takes minutes to throw these together. No peeling the potatoes - just quickly quarter them and they are ready to go!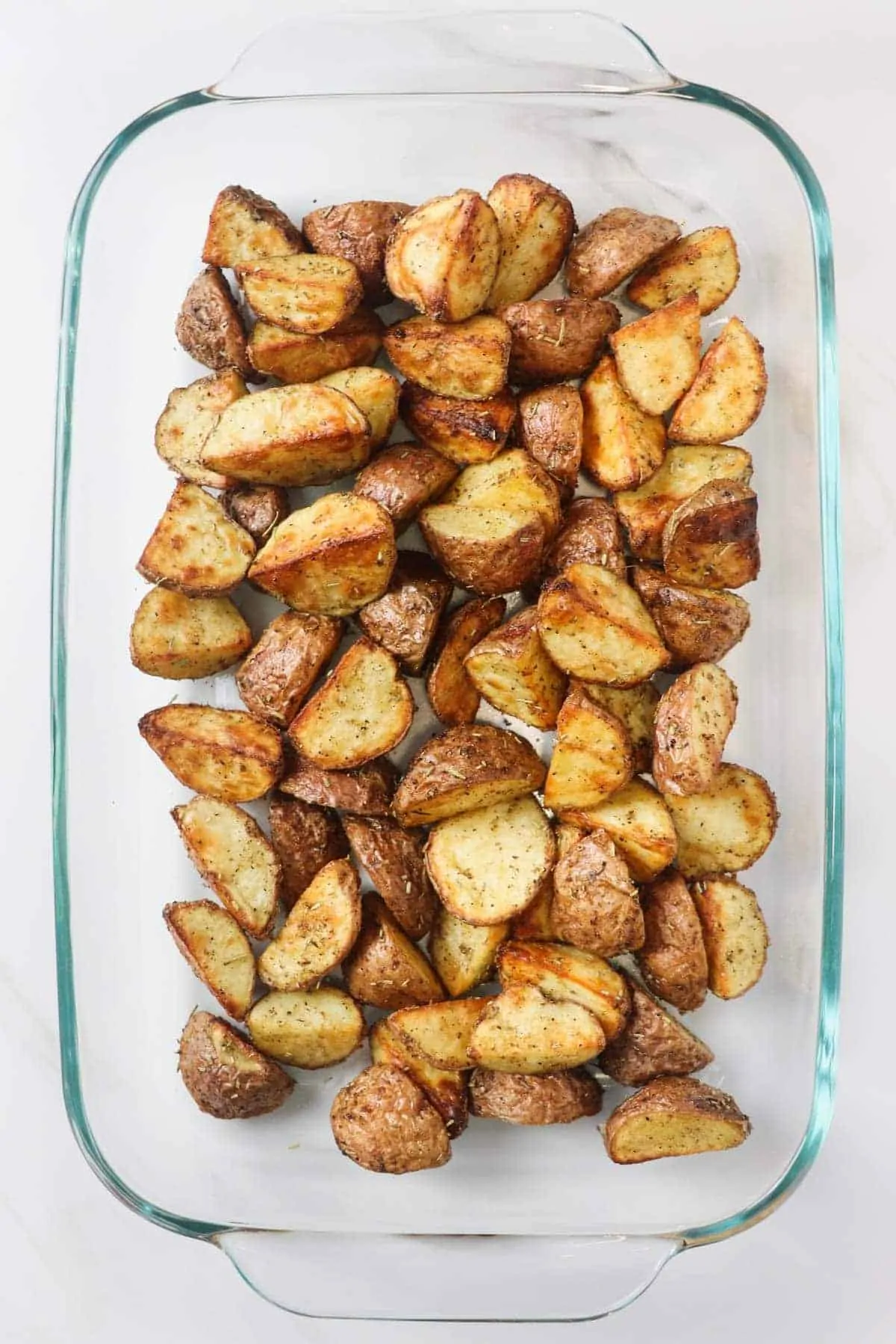 I don't always like potato skins too much, but the red skins on these roasted potatoes are so delicious! Thanks to the air fryer, they get nice and crispy!
Jump to:
Instructions
First, start off by dicing your potatoes. I aim for about 1" chunks.
If you are using baby red potatoes (like this recipe calls for), cut them into quarters. If using larger potatoes, you will need to cut each one into more pieces to get to about 1" chunks.
Place your diced potatoes into a medium-sized bowl.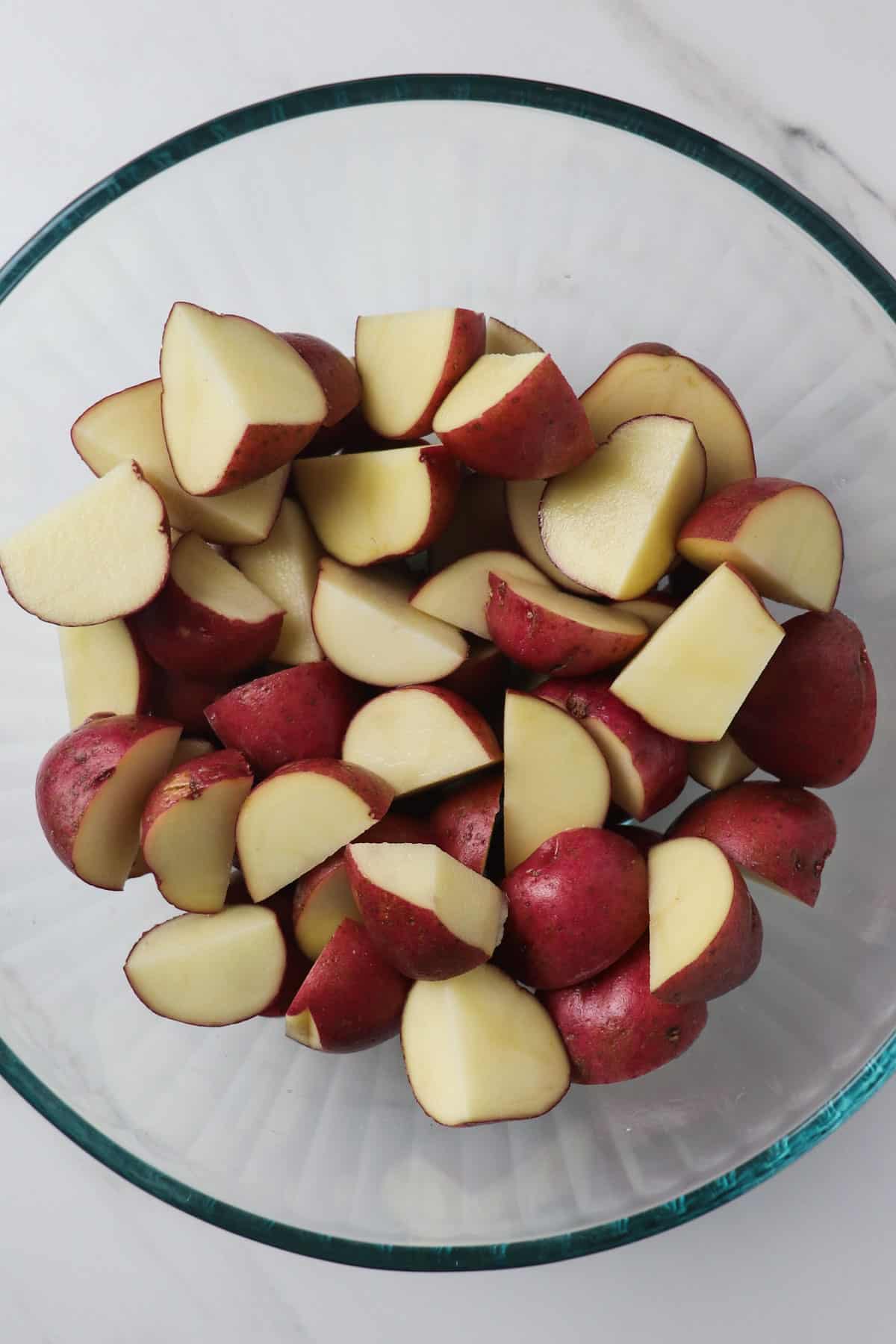 Now it's time to season! Toss potatoes with 1 tablespoon olive oil and then add seasoning:
Dried Rosemary
Garlic Powder
Salt
Black Pepper
Thoroughly toss potatoes until seasoning is well distributed.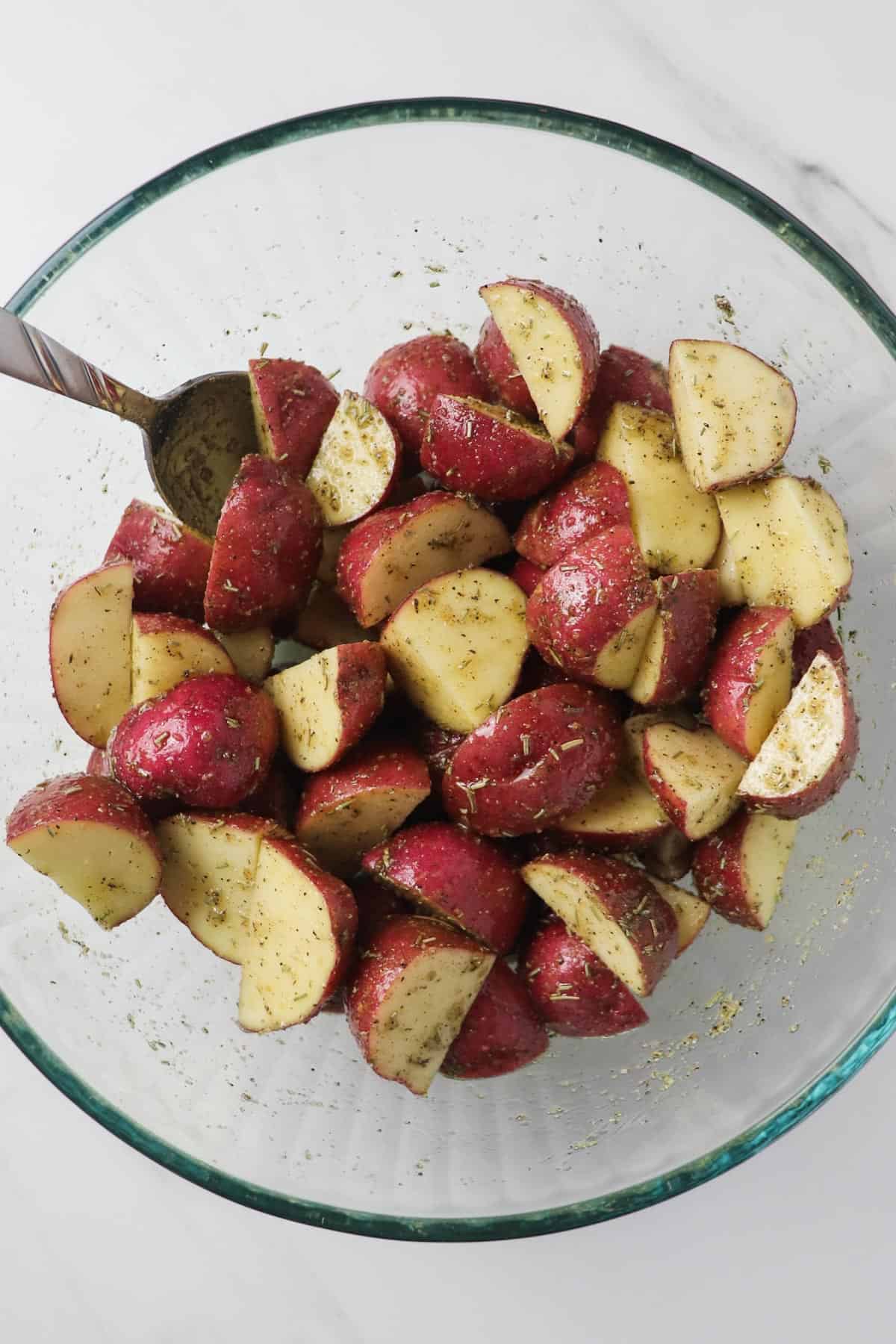 Next, load potato chunks into your air fryer basket. Try to ensure that potatoes are not touching too much and are separated as much as possible.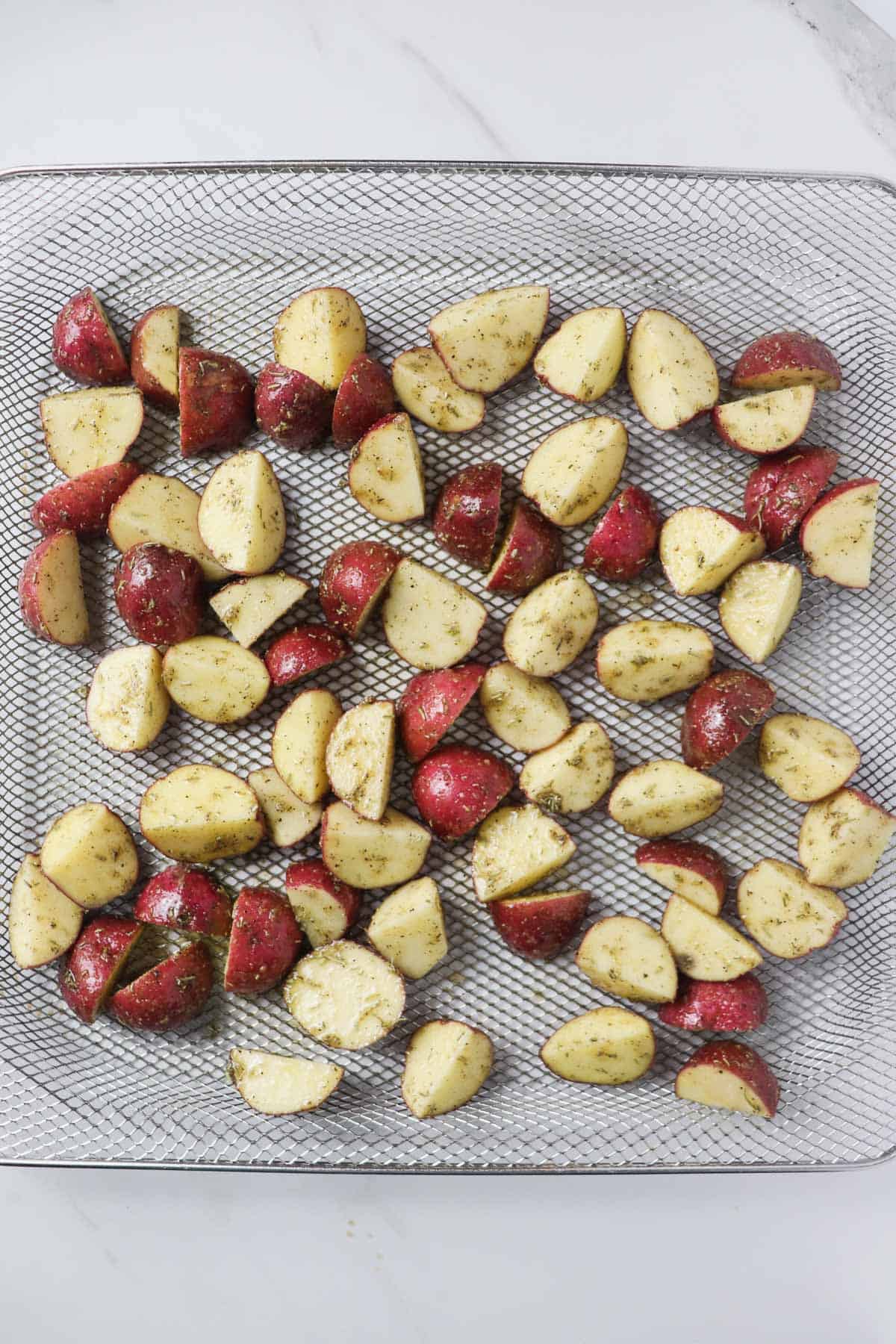 My air fryer is oven-style so I have a shallow basket, but the deep basket air fryer will work just as well!
Preheat the air fryer to 400 degrees.
Air Fryer Cook Time
Air fry potatoes at 400 degrees for approximately 25-30 minutes, tossing potatoes halfway through the cooking time.
Potatoes should be crispy and golden brown. Don't undercook these!
For best flavor, make sure they get nice and brown so that you get the delicious crispy flavor!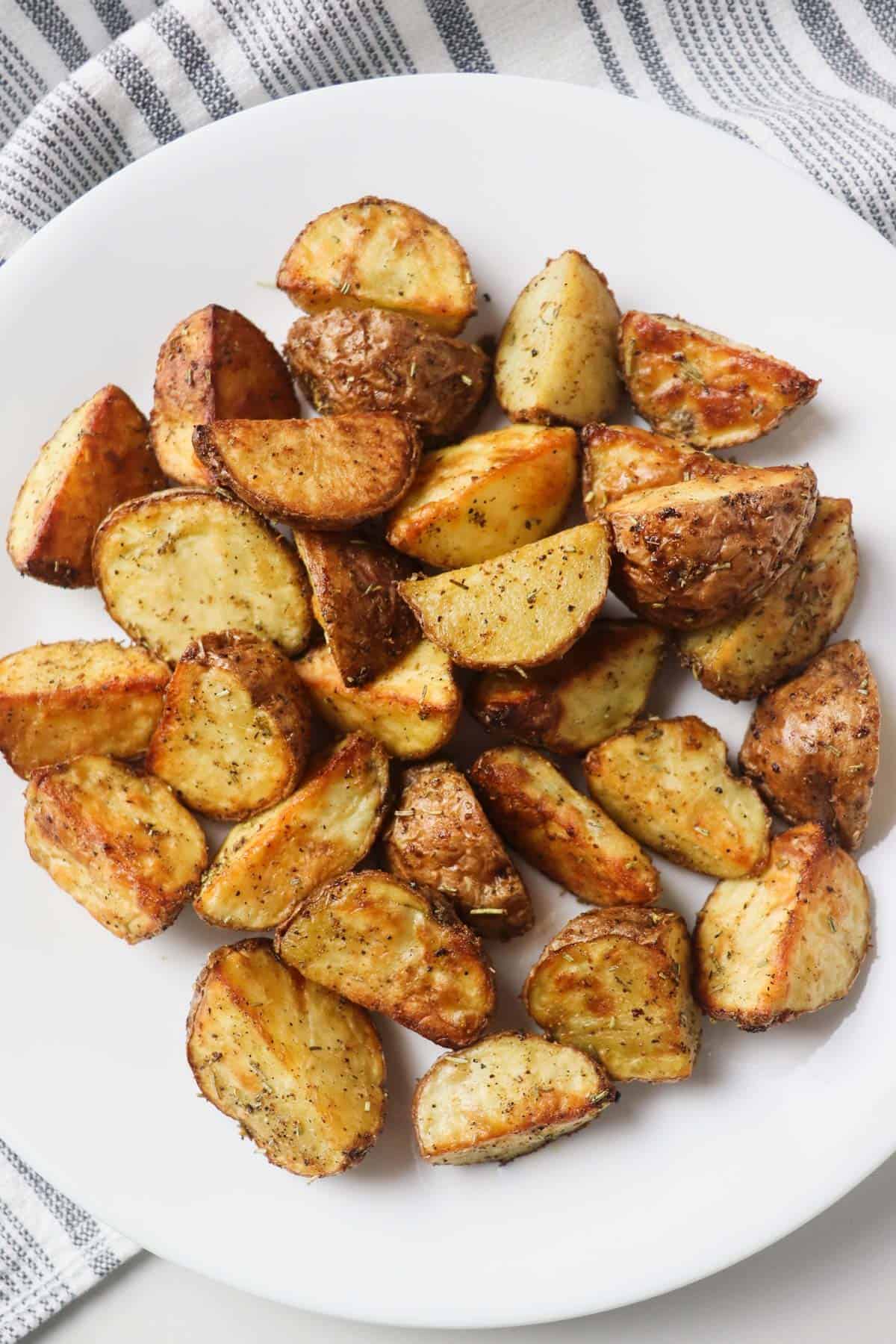 What Kind of Potatoes to Use
I highly recommend using baby red potatoes. Since these are already small, it is really easy to cut them into quarters. These also have a thin red skin that crisps up nicely in the air fryer.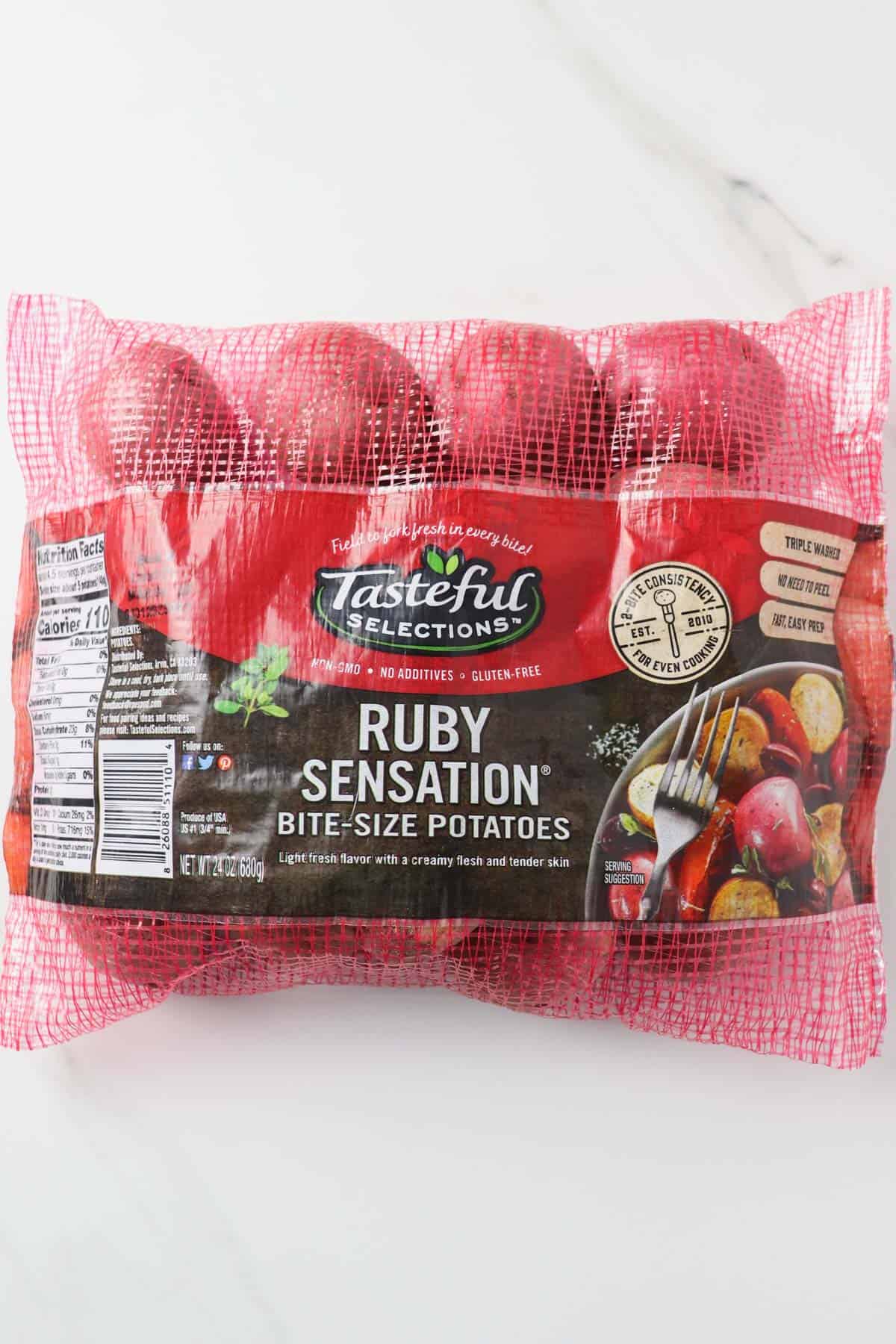 At my grocery store, these are sold as "Ruby Sensation" bite-sized potatoes.
If you can't find these, regular red potatoes will also work for this recipe.
If you are using larger potatoes (not baby-sized), be sure you cut the potatoes into small enough pieces (around 1" chunks).
What Herbs to Use
My favorite combination is rosemary, garlic powder, salt, and pepper. I really enjoy rosemary on potatoes! SO good!
If you have fresh rosemary, you could definitely substitute fresh rosemary for the dried rosemary. However, I normally use dried rosemary since that's what I have on hand.
If you want to mix it up, you can easily substitute the rosemary and garlic powder for other herbs or your favorite seasoning.
More seasoning ideas for roasted potatoes:
Garlic powder + parmesan cheese
Lemon pepper
Cajun/Creole seasoning
Italian seasoning + parmesan cheese
How to Reheat
If by some miracle you have potatoes leftover, reheat them in the air fryer or oven. Cook at 400 degrees for 15-20 minutes until warmed through.
If you microwave these, you will lose the lovely crispy texture. I highly recommend reheating in the air fryer or your regular oven!
More Air Fryer Recipes