This easy recipe for Air Fryer Italian Chicken Breast makes for the perfect healthy dinner! Marinated in a simple mix of Italian dressing and garlic, the chicken comes out perfectly cooked in the air fryer every time!
I love how the air fryer makes meats tender and juicy on the inside while nicely crisped and golden on the outside. Much like my air fryer chicken tenders, this recipe is perfect for a keto diet because there is no breading!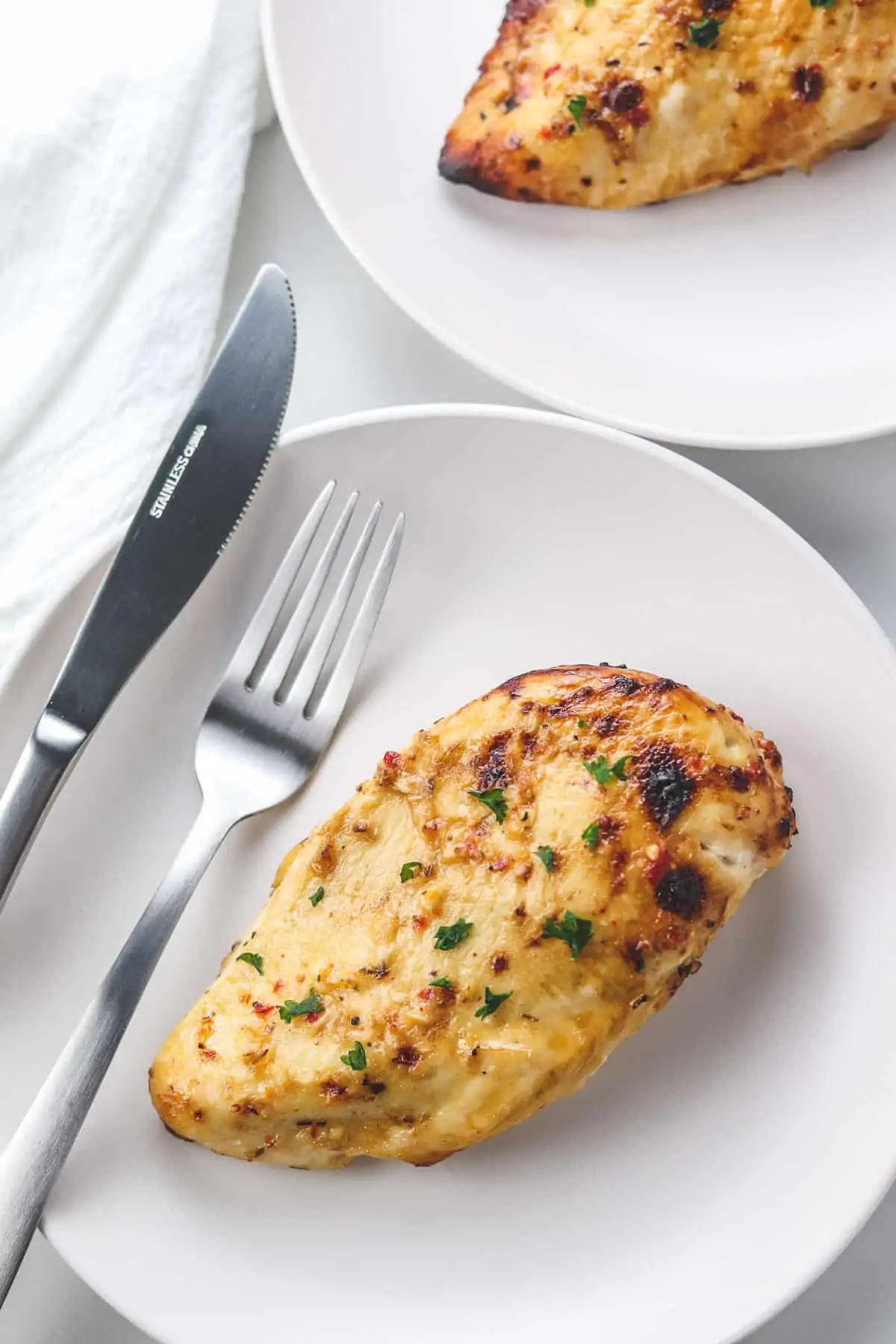 This low-calorie chicken can be served as an entrée, on a sandwich, or slice it up for a salad or wrap. It also goes well served over some noodles.
The easy 2 ingredient marinade is no-fail every time. I hate measuring out a long list of spices, so using the Italian dressing makes this recipe extremely easy!
Jump to:
Ingredients
You will need:
2 chicken breasts (about 1-1.5 pounds total)
½ cup Italian salad dressing (I normally use the store brand, but any brand will work)
1 tablespoon minced garlic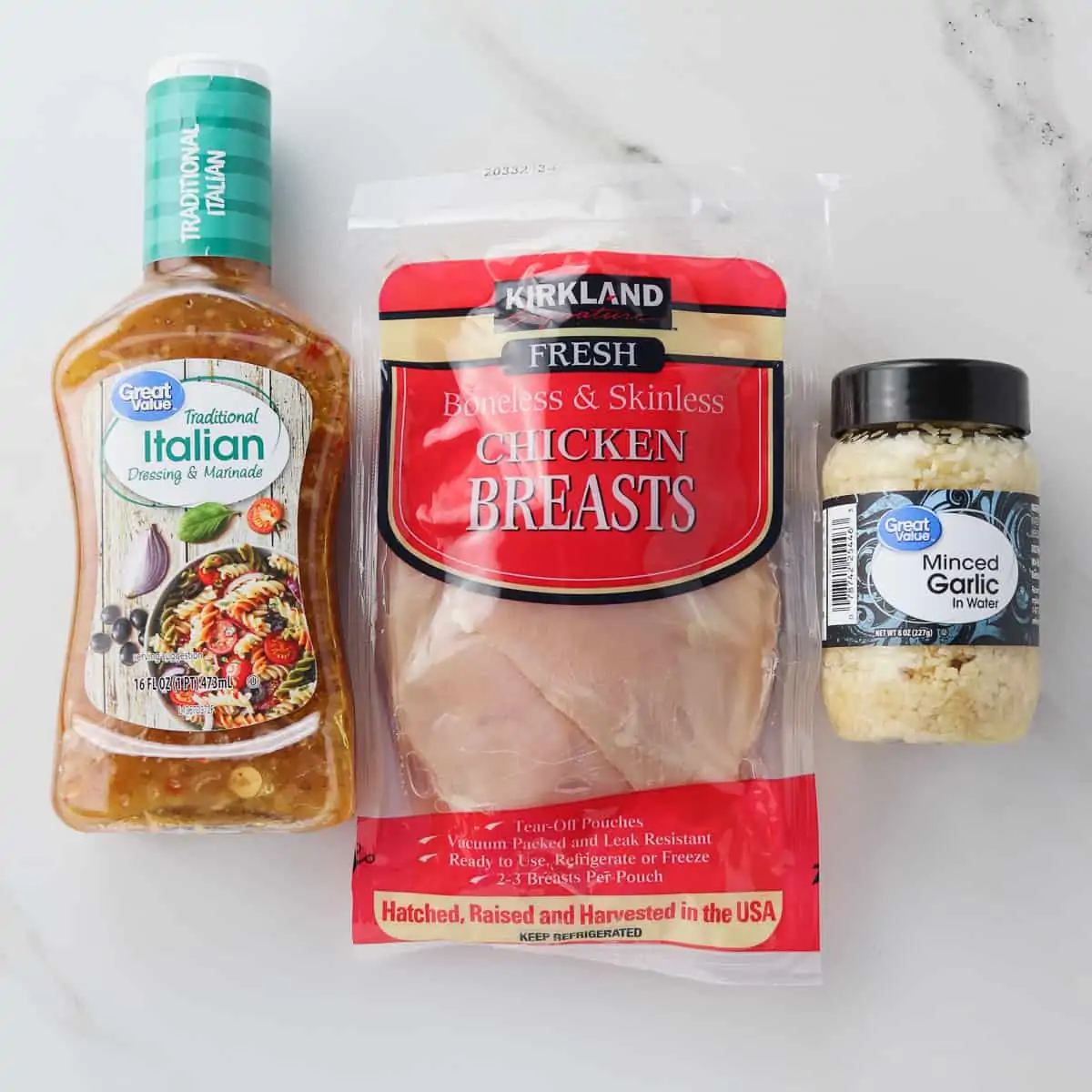 Substitutions
Italian salad dressing - if you don't want to use the dressing, you could substitute a couple of tablespoons of the Italian dressing. Any variety of Italian salad dressing (regular, light, or zesty Italian), should work fine for this recipe.
Chicken breast - you can substitute other cuts of chicken for this recipe (tenders, thighs, drumsticks, etc), but your cook time may change. No matter what kind of chicken you use, make sure the inside reaches at least 165 degrees F using a meat thermometer.
Instructions
First, pound the chicken breasts until they reach an even thickness. For a mess-free method, I place the chicken on a cutting board and cover it with plastic wrap. Then start pounding using a meat pouder.
It may seem like an unnecessary step, but pounding the chicken helps tenderize the chicken and allows it cook more evenly. Don't skip it!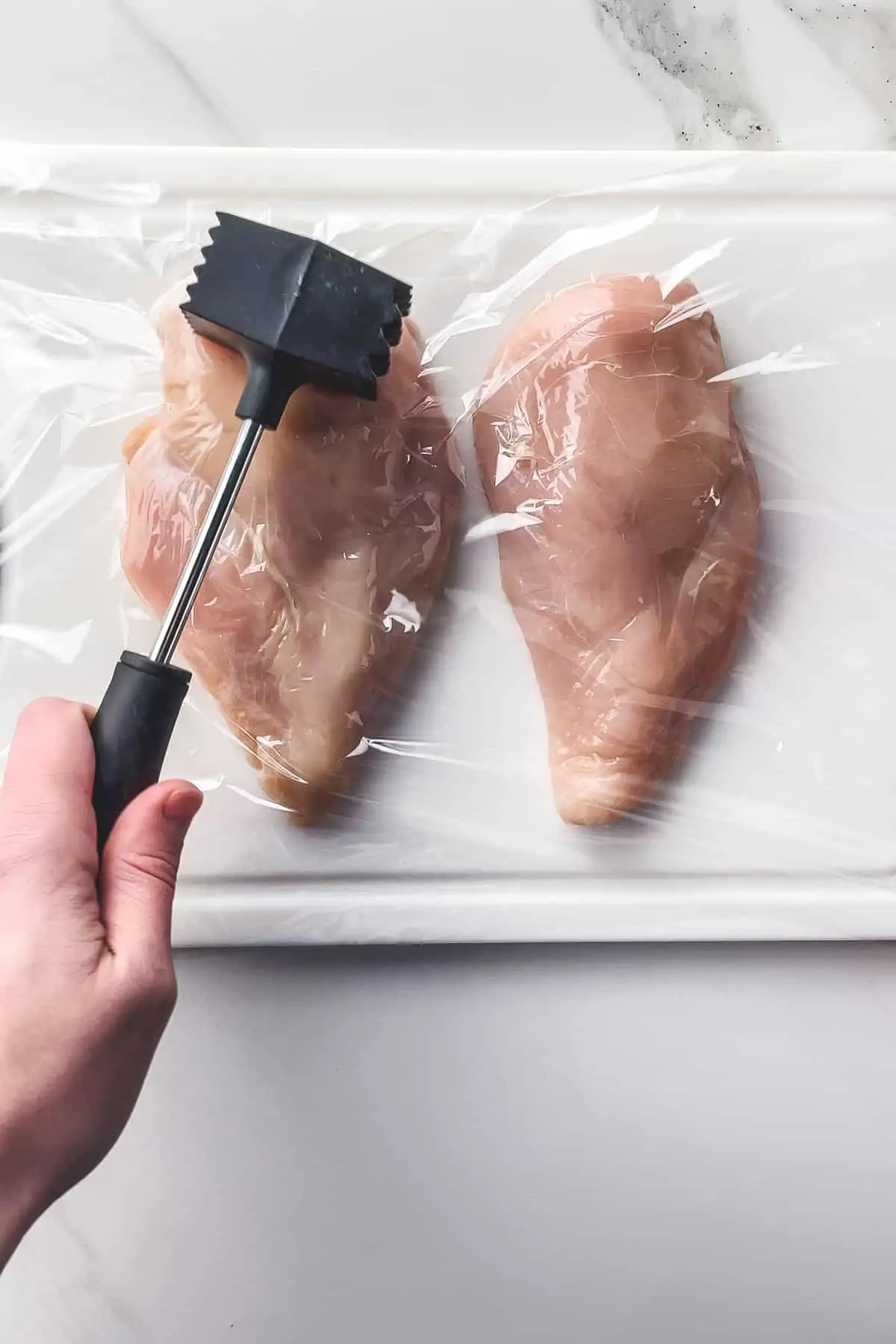 Next, prepare the chicken marinade. In a medium sized bowl or plastic bag, combine the chicken, Italian dressing, and garlic. Stir until well combined and refrigerate for at least 30 minutes, or up to overnight.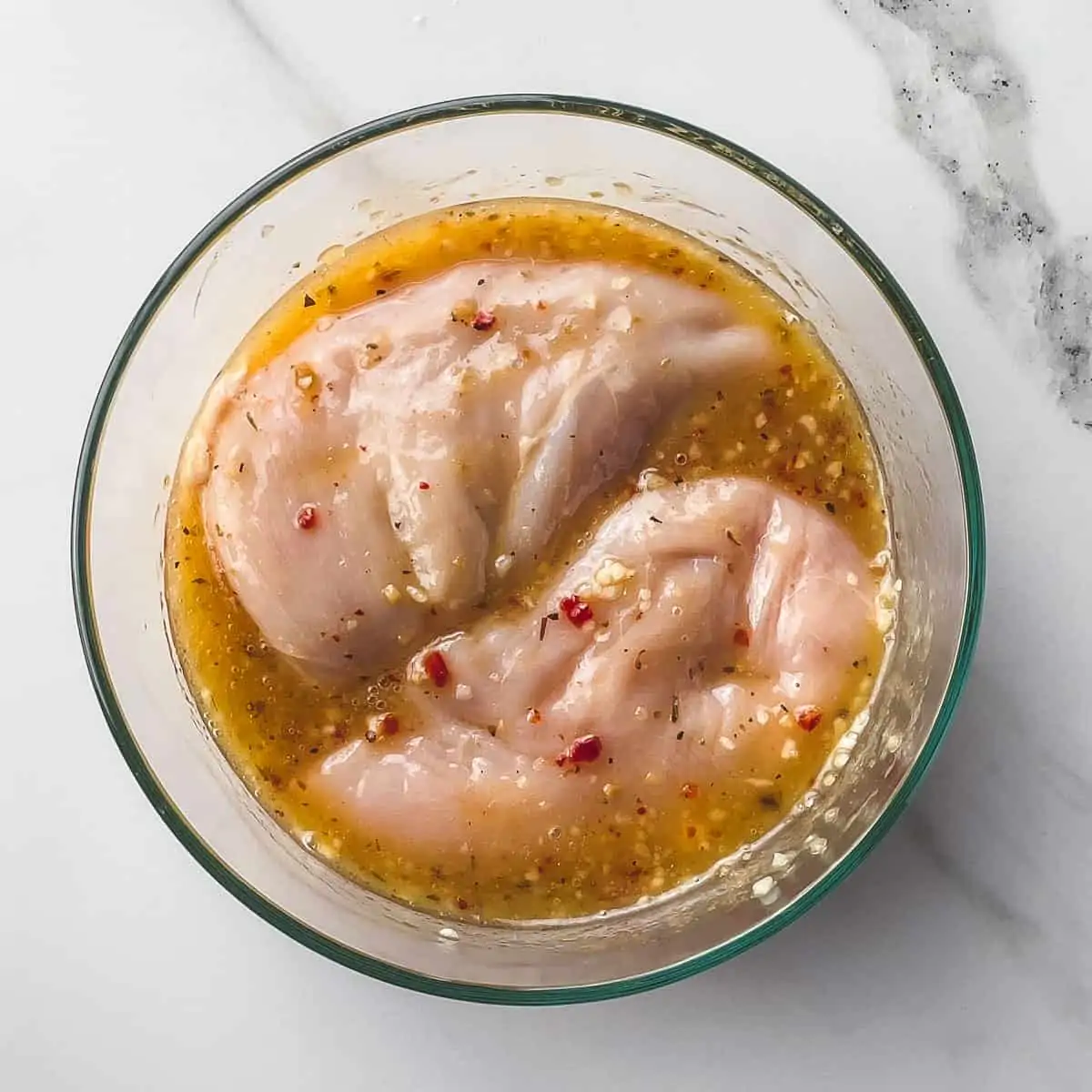 After marination, place chicken breasts in a single layer in the air fryer basket. Make sure they are not touching. If necessary, you may need to cook in multiple batches.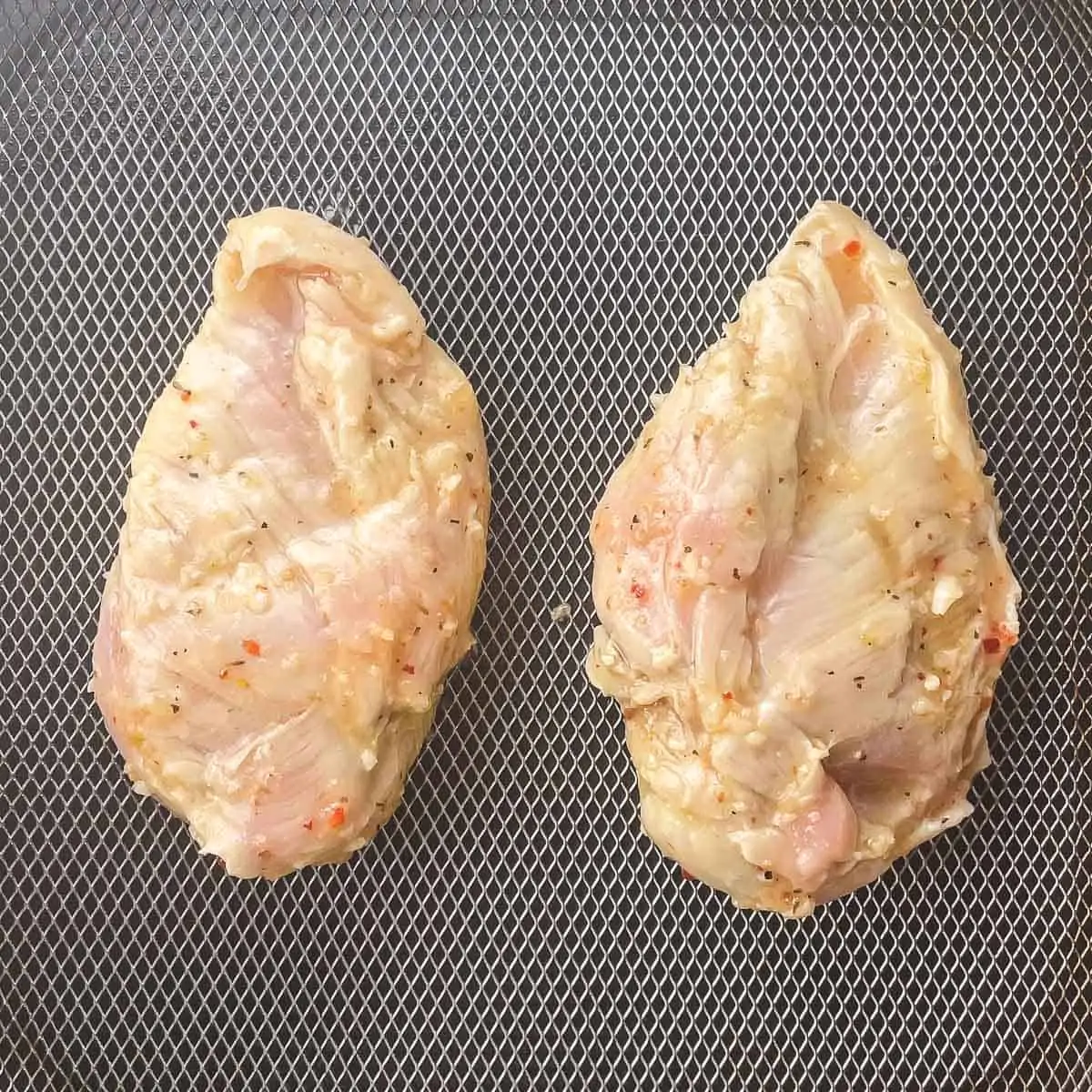 Cook Time
Set the air fryer to 360 degrees F. Cook time will depend on your exact air fryer model as well as the size of your chicken breasts.
You can use the times suggested below as a starting point, but always measure your chicken temperature using a meat thermometer. Weighing your chicken breasts with a kitchen scale will also help you determine the cooking time.
Air Fryer Cook Times (360 degrees F):
6 oz breast: 15-19 minutes
8 oz breast: 18-22 minutes
10 oz breast: 20-24 minutes
12 oz breast: 22-26 minutes
Flip chicken halfway through the cooking time. Optionally, you can also brush on some additional Italian dressing on top after flipping.
Remember, chicken is done when the internal temperature reaches at least 165 degrees with a meat thermometer. It should end up nicely golden brown. Start checking your chicken at the early side of the suggested times and then add on additional time as needed.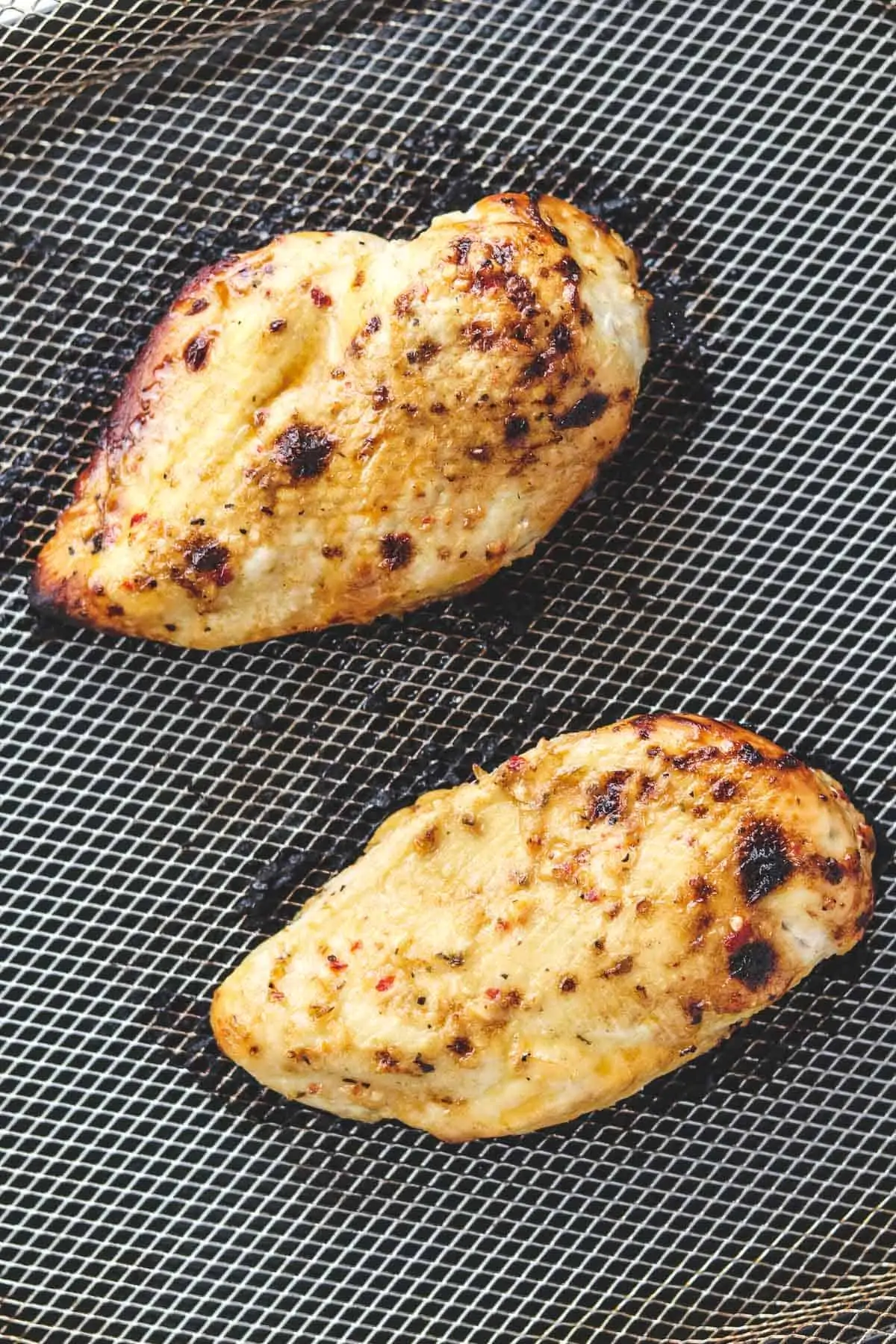 Making Frozen Chicken
If your chicken is frozen, you'll need to add an additional 5-10 minutes of cook time. Large thick pieces of frozen chicken may take quite a while to cook (make sure you check for doneness with your meat thermometer!)
Instead of marinating the chicken, brush on the marinade just before cooking. Brush on additional marinade halfway through the cooking time when you flip the chicken.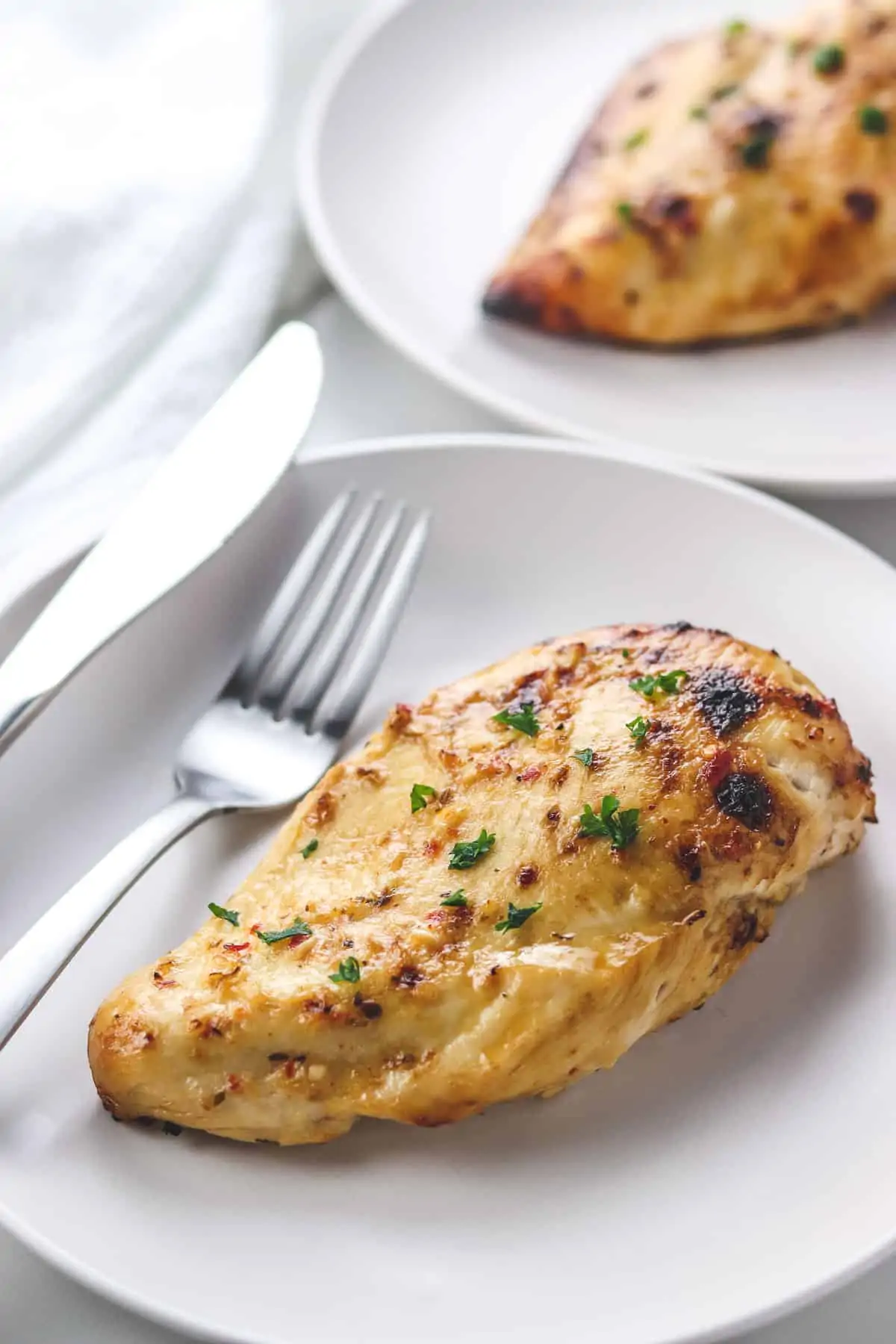 How to Serve
This is a very versatile recipe that you can serve in several ways:
As an entrée (like grilled chicken)
On a bed of pasta
On a salad
In a tortilla, sandwich, or lettuce wrap
Dice it up to make a quesadilla
Use in any recipe calling for sliced or diced cooked chicken
For healthy side dish options, try my Instant Pot Green Beans or these easy Mashed Potatoes.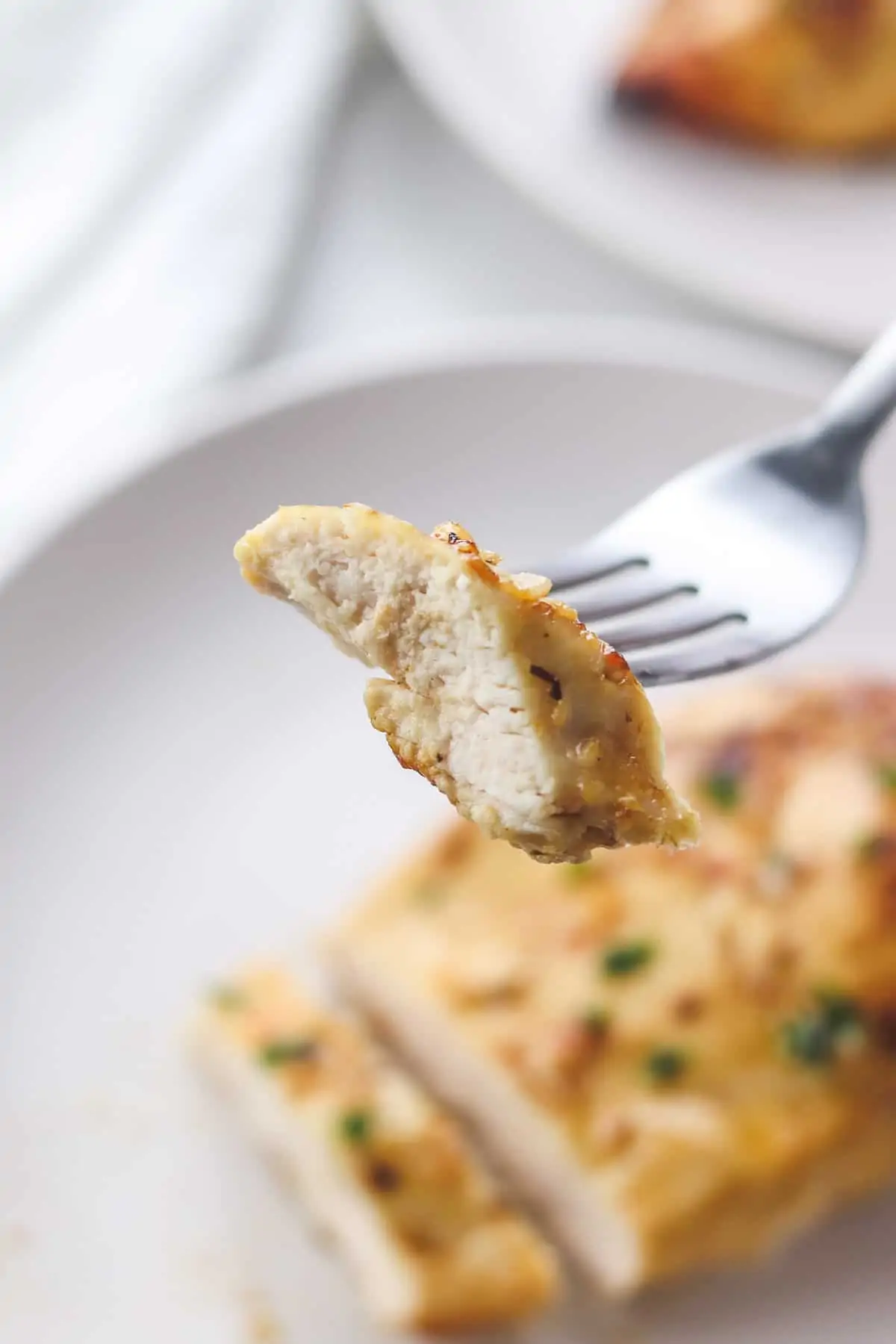 How to Double the Recipe
To make more than two chicken breasts, you may need to cook in batches depending on the size of your Air Fryer. Larger oven-style air fryers may be able to fit 4 chicken breasts. If adding more chicken, you will need to double the amount of marinade.
How to Store
Cooked chicken can be stored in an airtight container in the refrigerator for 3-4 days. You may want to go ahead and slice it up if you plan to use it later for a salad or sandwich.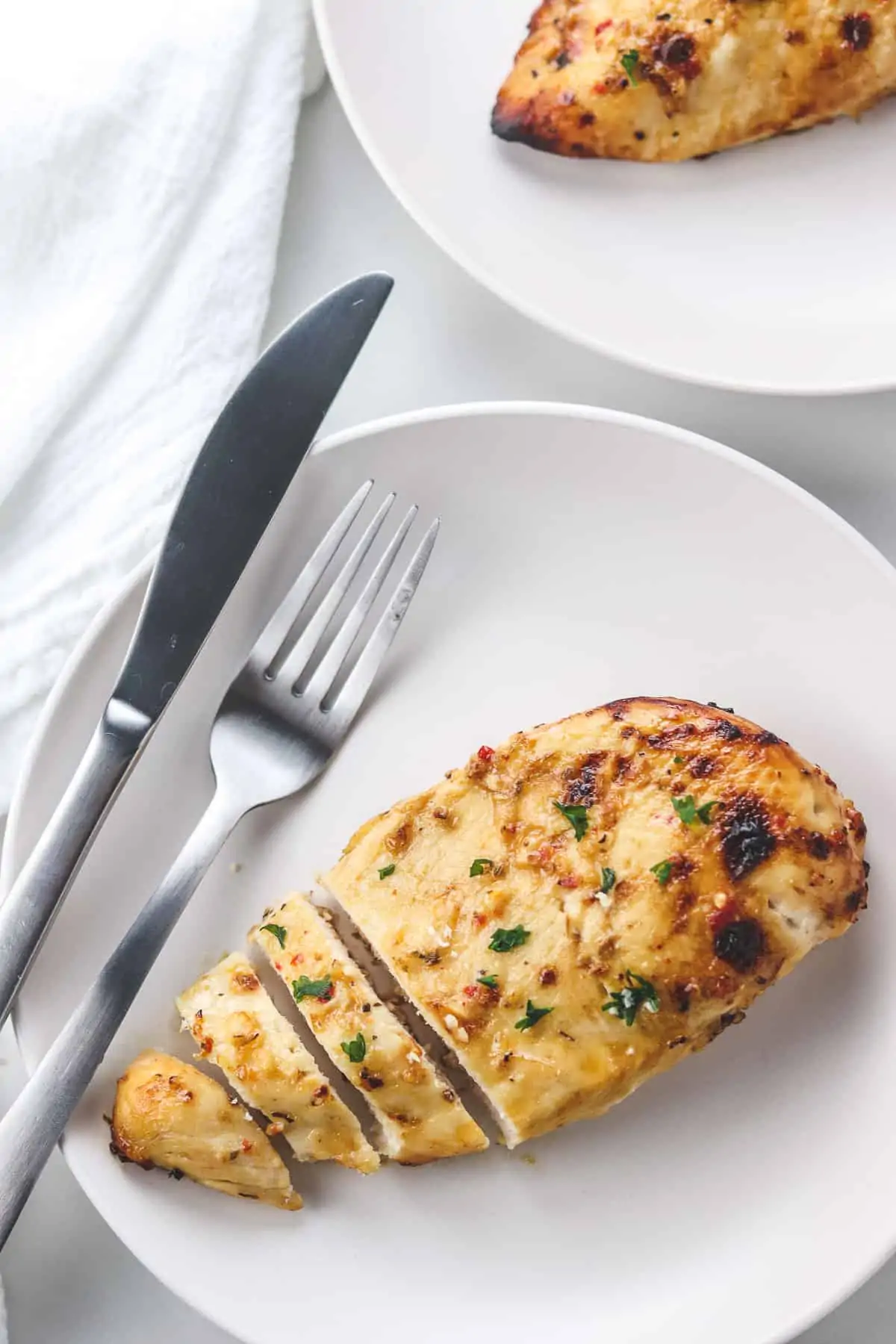 Calories & Serving Size
Chicken breast is naturally low in calories. For this recipe, most of the marinade stays in the bowl, not in the final dish. One serving of about 4 oz of chicken breast (half of one 8 oz breast) has about 174 calories. Each serving has 26 grams of protein which will help keep you full!
More Air Fryer Chicken Recipes
If you liked this recipe, check out these other easy air fryer chicken recipes: