These air fryer BBQ chicken tenders are crunchy, juicy, and full of barbecue flavor! It only takes 4 simple ingredients to make these in your air fryer.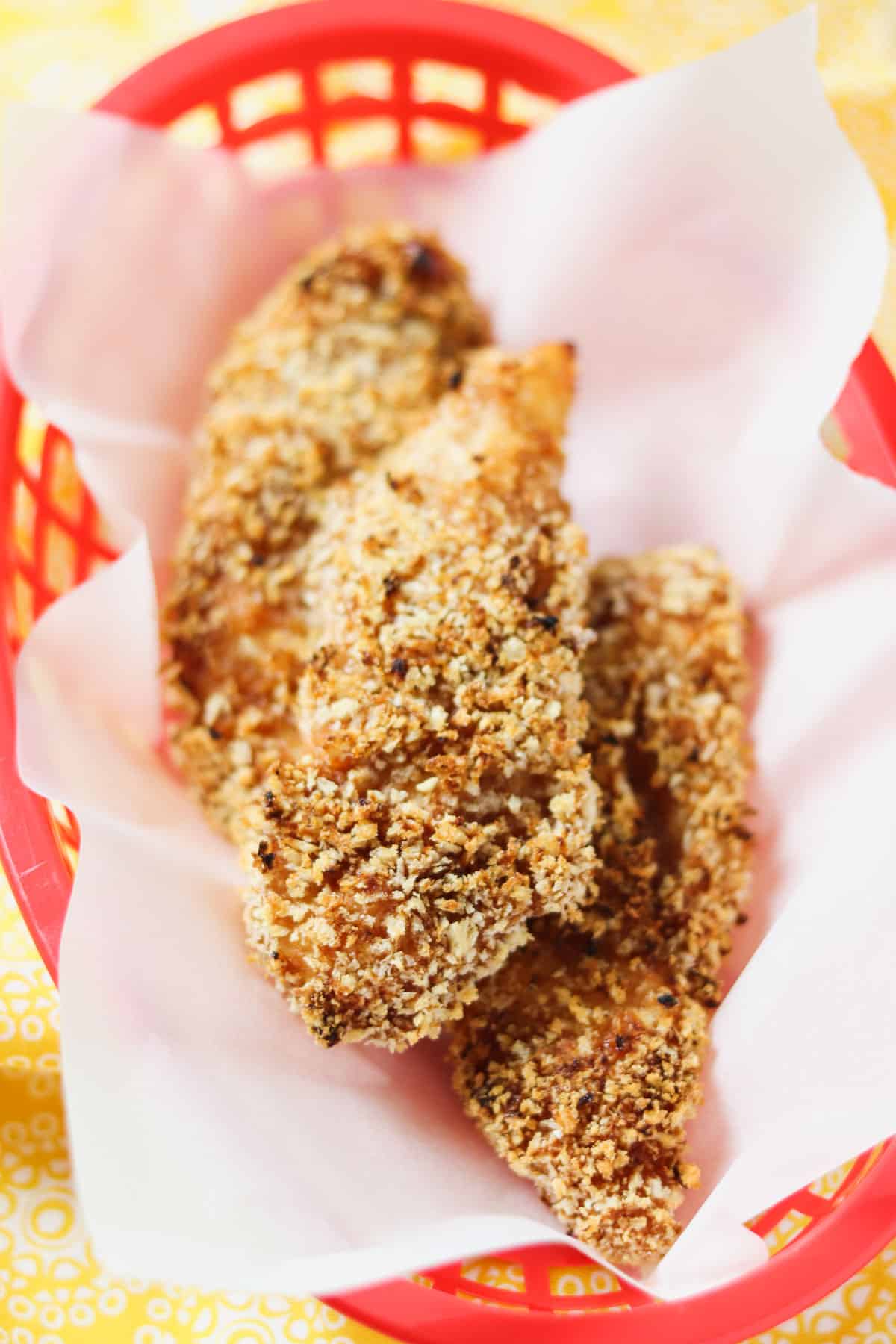 My air fryer is one of my favorite kitchen appliances! It makes the chicken tenders come out perfectly crispy and juicy every time.
Much like my regular Air Fryer Chicken Tenders, these bbq flavored tenders are easy to make with only a few minutes of prep time. They are kid-friendly and picky-eater friendly, too!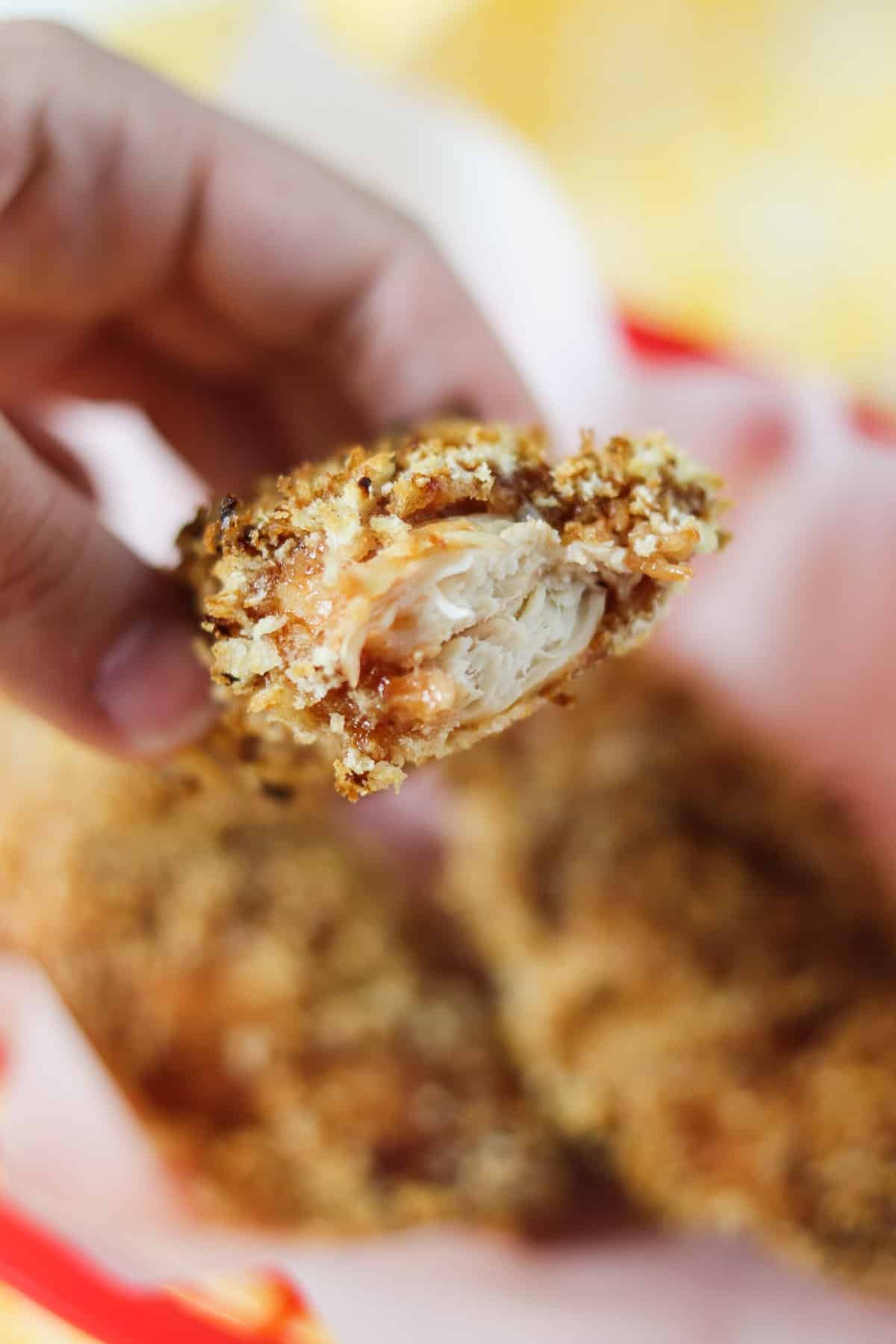 Marinated in bbq sauce and then rolled in a crunchy panko breadcrumb mixture, these chicken tenders are so delicious! These make a yummy weeknight meal that your entire family will enjoy. If you marinate the chicken ahead of time, these can be ready in under 30 minutes!
Ingredients
You will need these ingredients to make air fryer barbecue chicken tenders:
1 pound chicken tenderloin
1 cup bbq sauce (I like Sweet Baby Ray's)
1 cup panko breadcrumbs
1 teaspoon garlic salt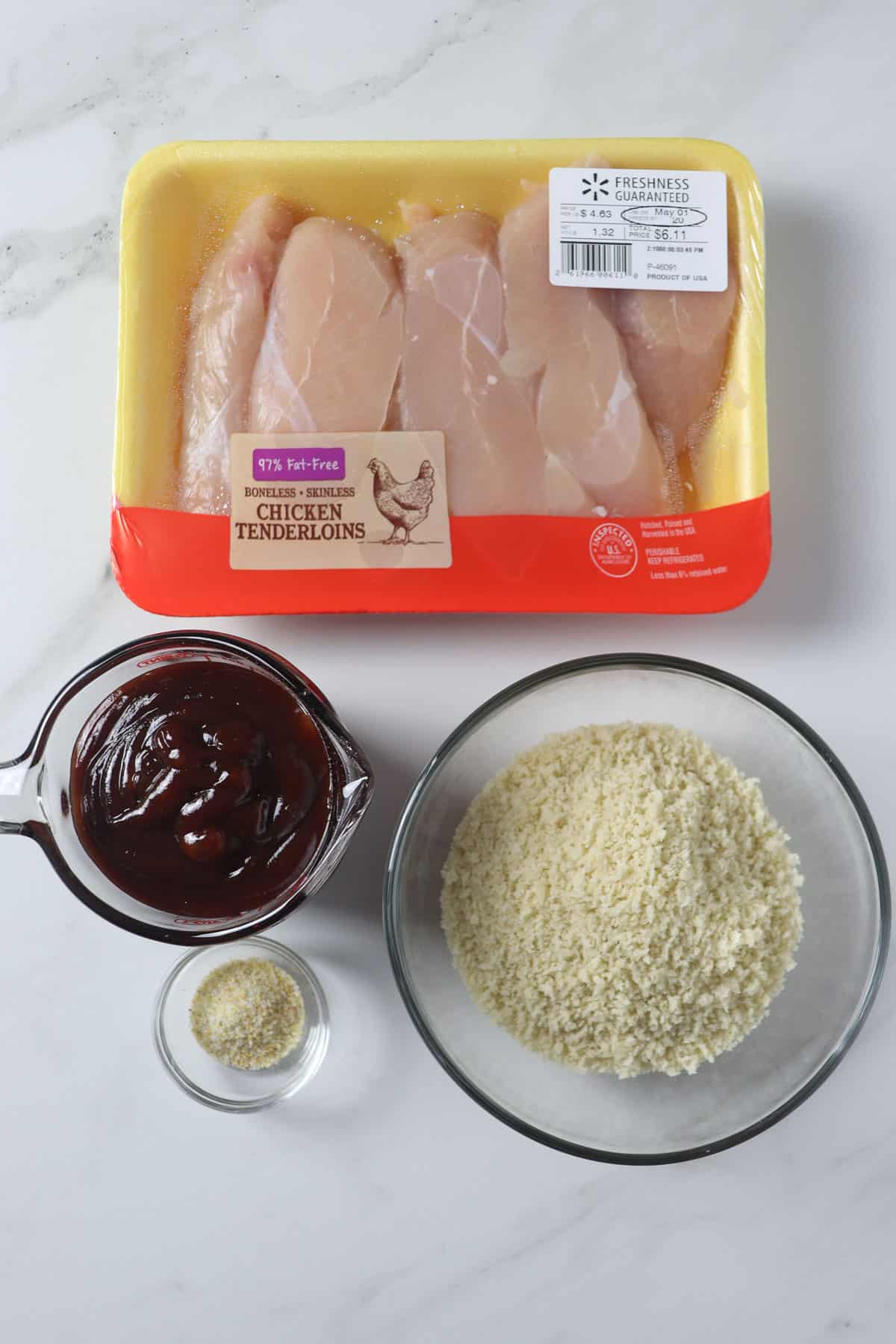 You can use your favorite barbecue sauce, but my favorite choice is Sweet Baby Ray's. It's thick and sweet, which makes a great marinade.
I use unseasoned plain panko breadcrumbs and add garlic salt for seasoning. If using seasoned panko breadcrumbs, you can skip adding the garlic salt.
Instructions
Marinate the Chicken
Add the chicken tenders and 1 cup bbq sauce into a large plastic bag. Mix the chicken and bbq sauce until the chicken is coated on all sides.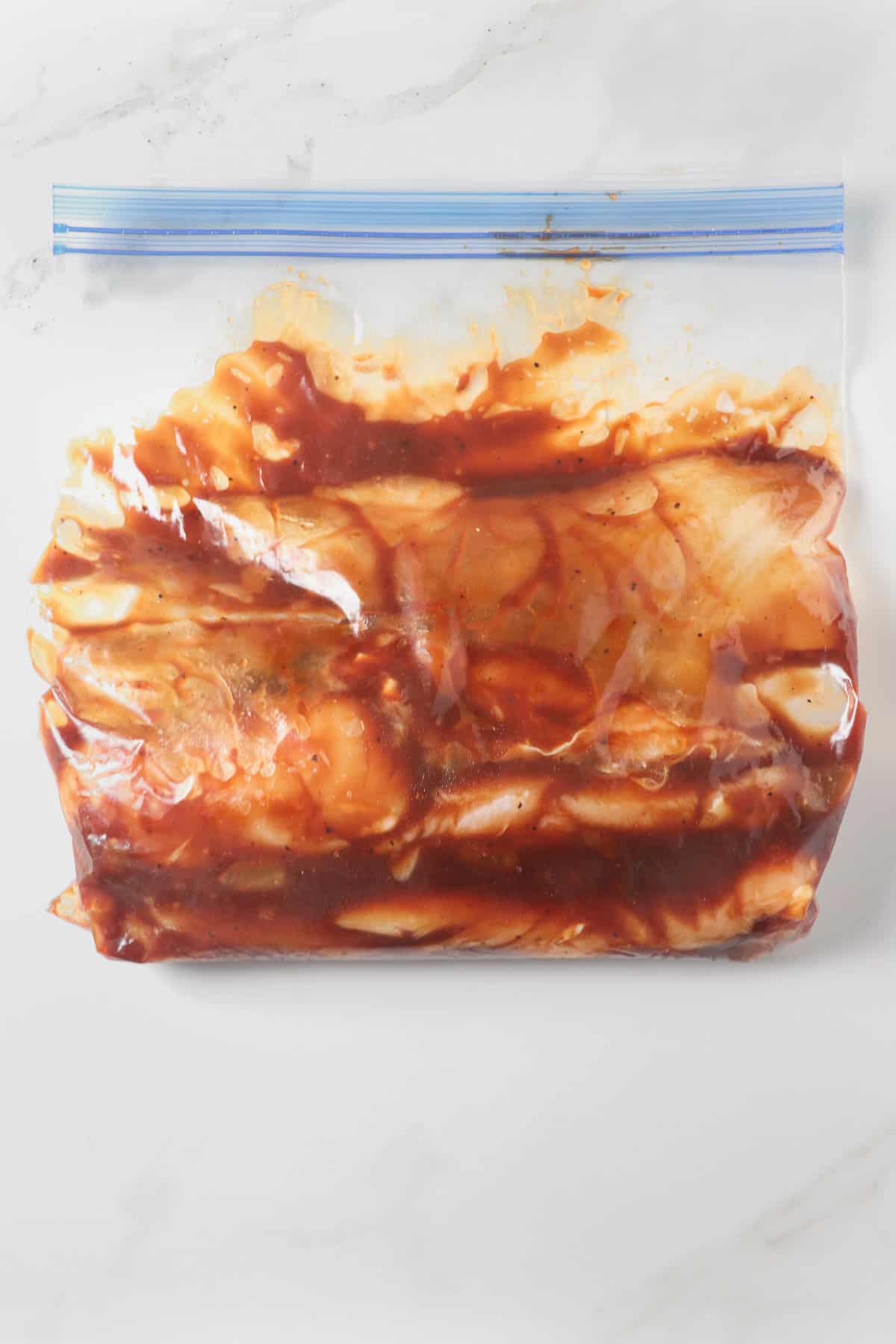 Seal the bag and place it into the refrigerator for at least 30 minutes. You can marinate the chicken longer if you'd like, but I highly recommend marinating for at least 30 minutes.
The marination time allows the bbq flavor to permeate into the chicken tenders.
Bread Tenders
To make the breadcrumb mixture, combine the panko and garlic salt in a small bowl.
Use tongs to remove each chicken tender from the bbq sauce marinade and dip them directly into the breadcrumbs. Leave the extra bbq sauce on each tender (don't rinse them or brush them off). The bbq sauce will help the breadcrumbs stick to the chicken.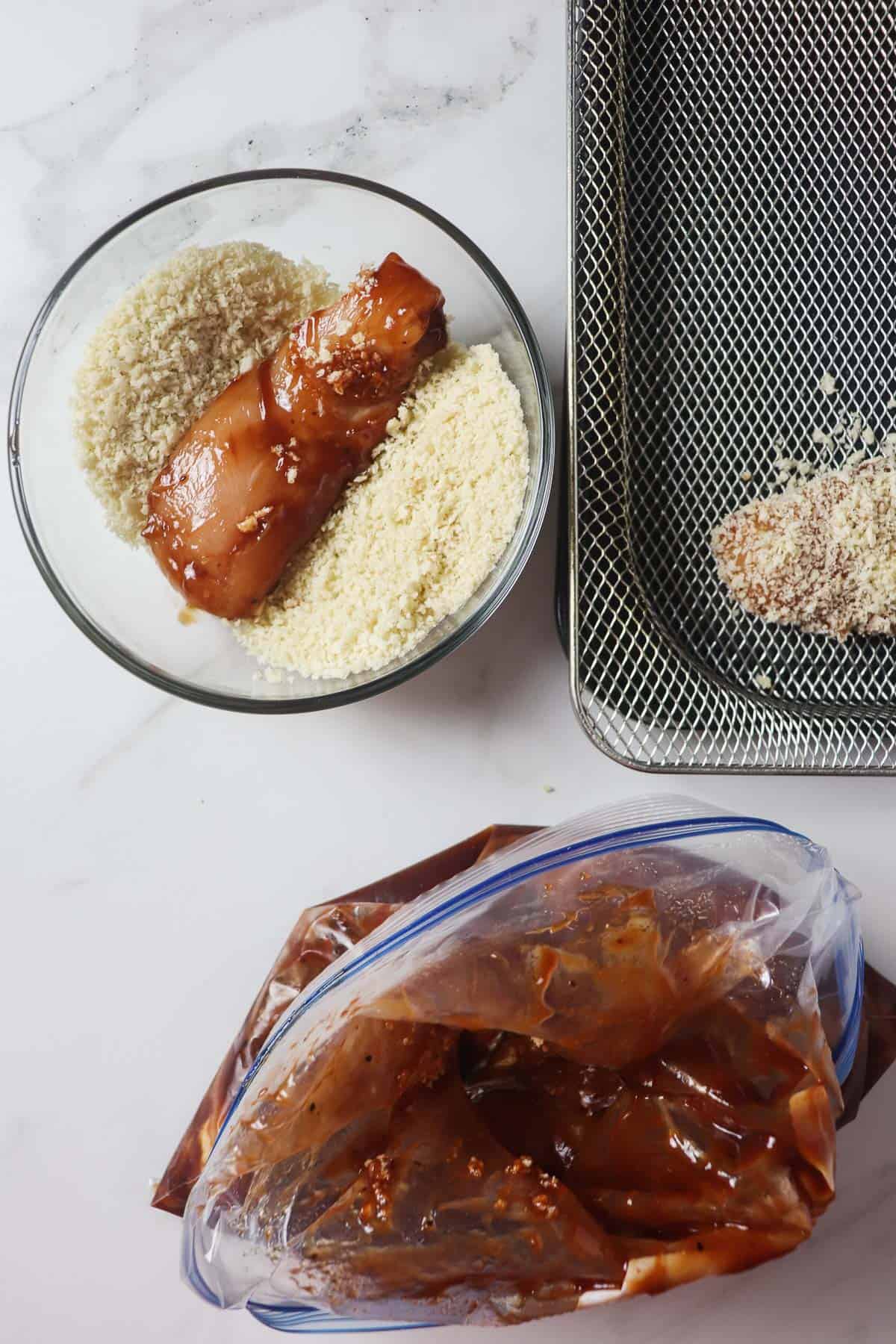 Roll the chicken in the breadcrumbs until there is a solid coat of breading on all sides. You may need to press the chicken into the breadcrumbs to make them stick well.
Air Fry
Spray the bottom of your air fryer basket with nonstick spray and place the breaded chicken tenders in the basket. Ensure that chicken tenders do not touch.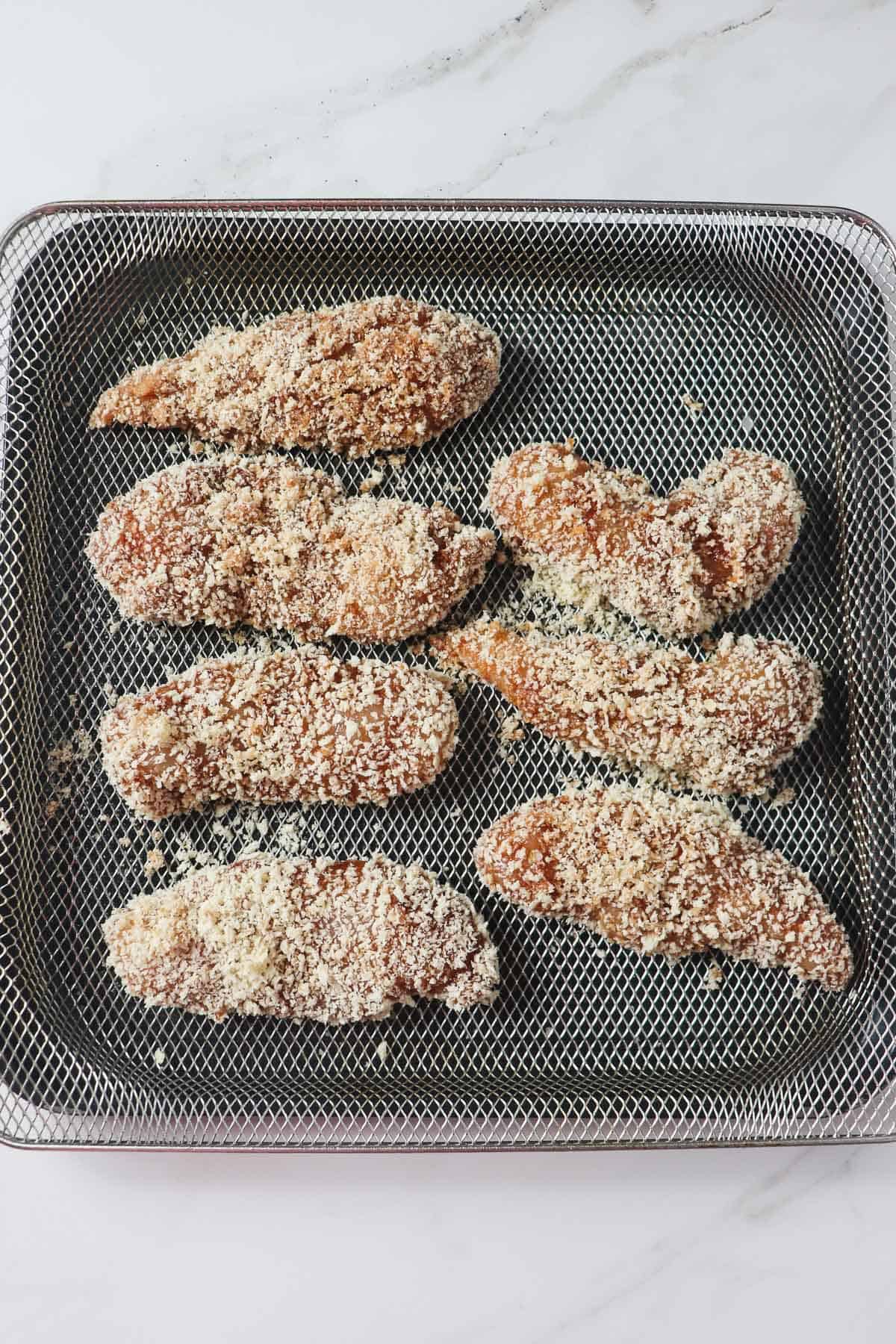 If needed, you may need to work in batches. I love my oven-style air fryer because I can fit an entire batch of chicken tenders no problem!
Preheat the air fryer to 400 degrees. Air fry for 15-20 minutes, flipping halfway through. Make sure chicken tenders are crispy on the outside and have reached at least 165 degrees on the inside. Use a meat thermometer to verify that chicken is fully cooked.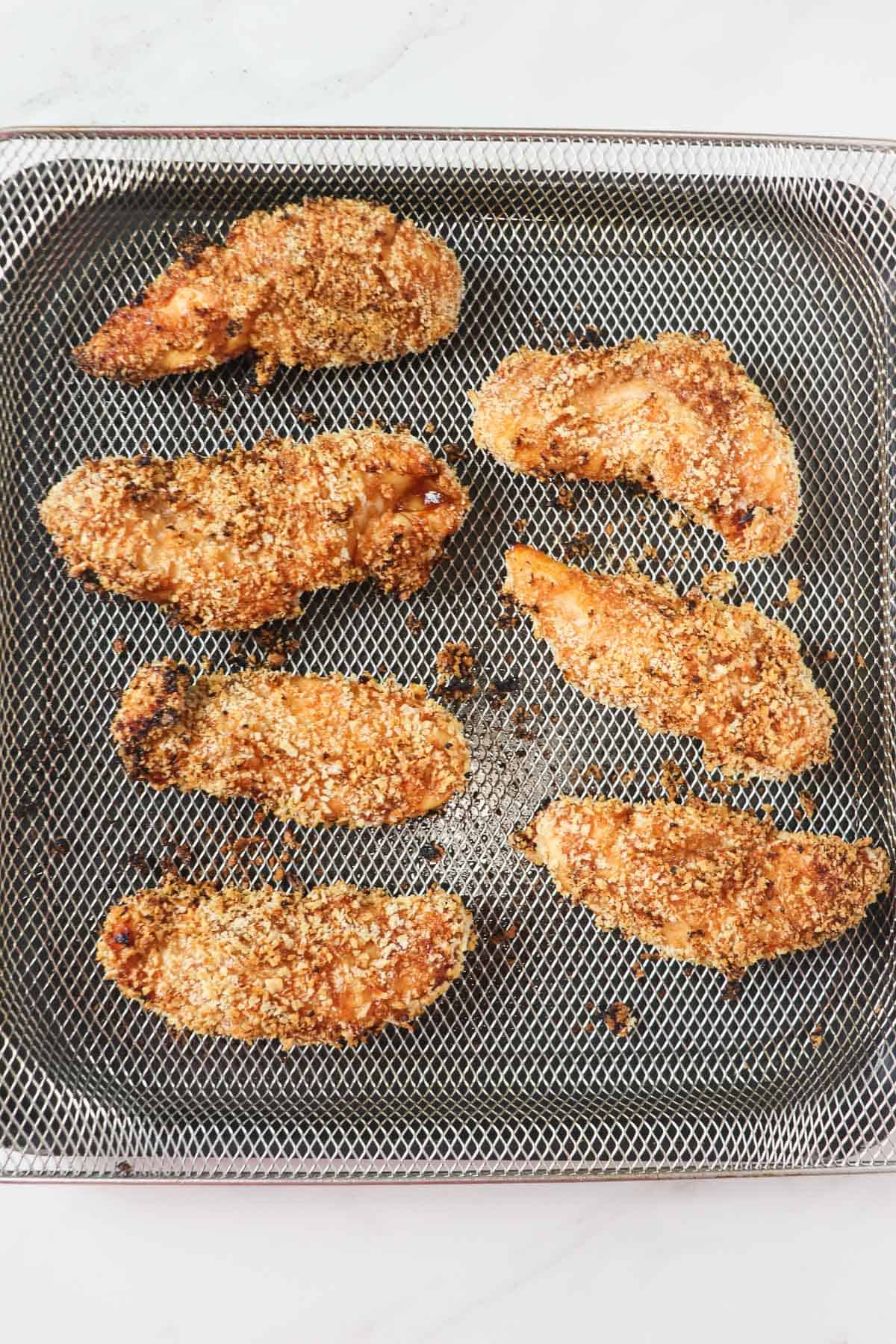 How to Substitute Chicken Breasts
To substitute chicken breasts, slice the breasts lengthwise into tender-shaped pieces. Aim for about 1" thick pieces. By cutting the chicken into smaller pieces, you can get more flavor and crunch into each bite.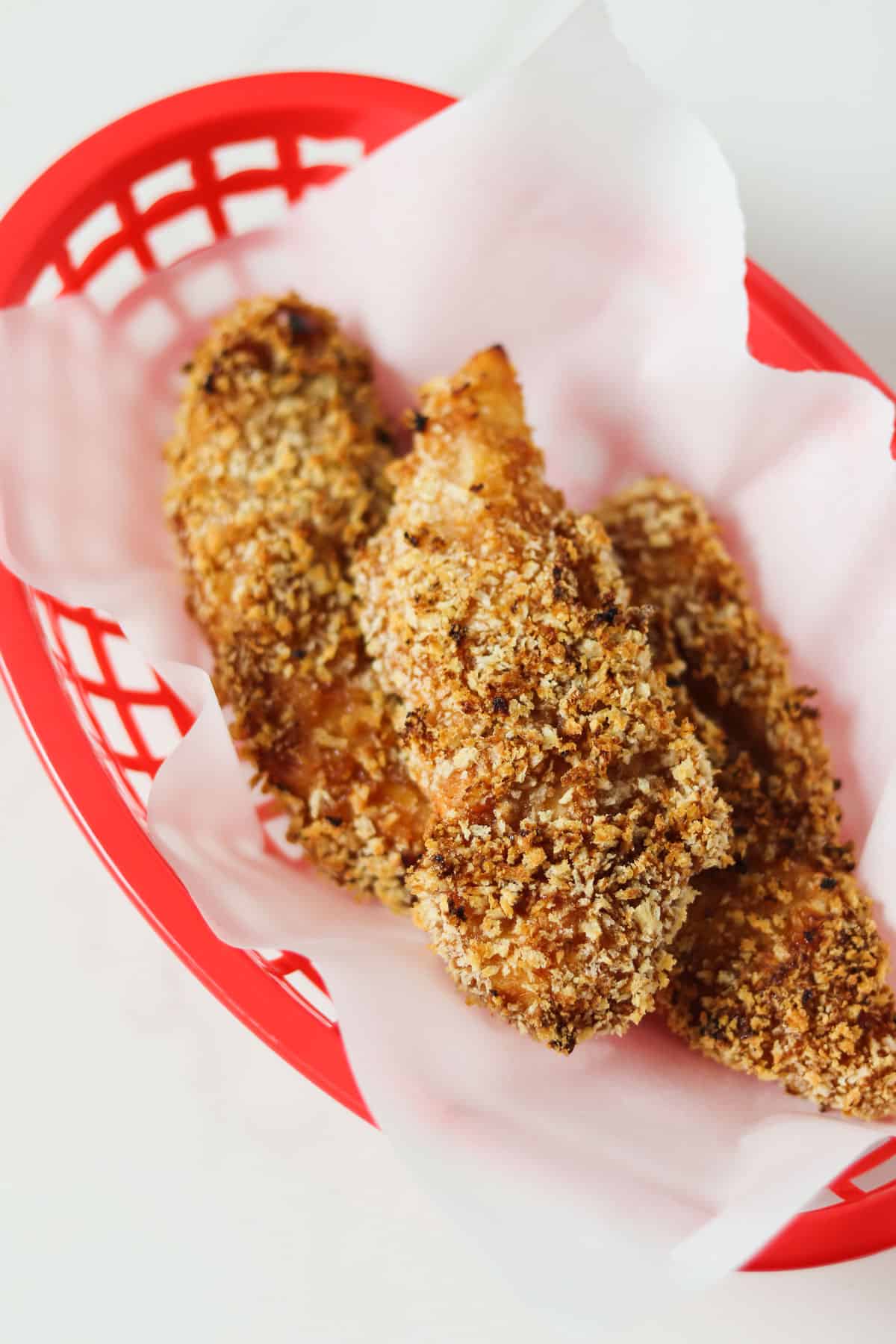 How to Marinate Ahead of Time
If needed, you can marinate the chicken overnight in the bbq sauce. The 30 minute marination time is a minimum - if you marinate for longer the chicken will just have a slightly stronger bbq flavor (which is not a bad thing!).
You can marinate the chicken for up to 24 hours before cooking. If making this recipe on a weeknight, I often prepare the tenders and marinate the night beforehand so it's ready to go when I get home from work!
Calories Per Serving
One serving of about 2 chicken tenders is about 363 calories. I find that two of these tenders make a pretty filling main dish!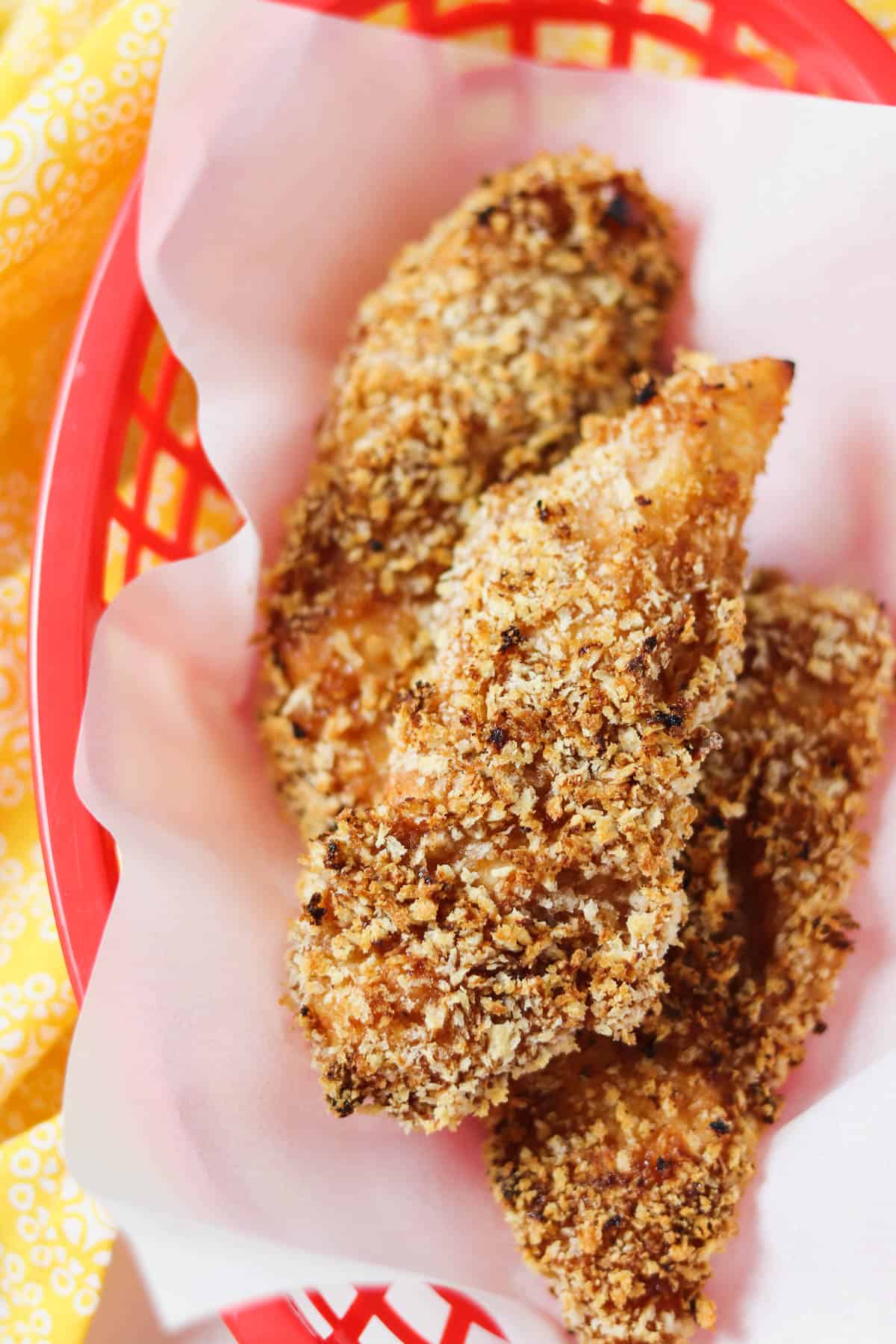 How to Make it a Meal
To make it a meal, these are great with a side of Instant Pot Mashed Potatoes or Air Fryer Roasted Potatoes! For a vegetable side add on a simple side salad or some Garlic Parmesan Green Beans.
Recipe