This Skinny Chicken Mac and Cheese is one of my favorite foods! Add some extra protein to your mac and cheese by adding chicken, and you have turned it into a complete meal. Even better, this entire meal can be made in your Instant Pot!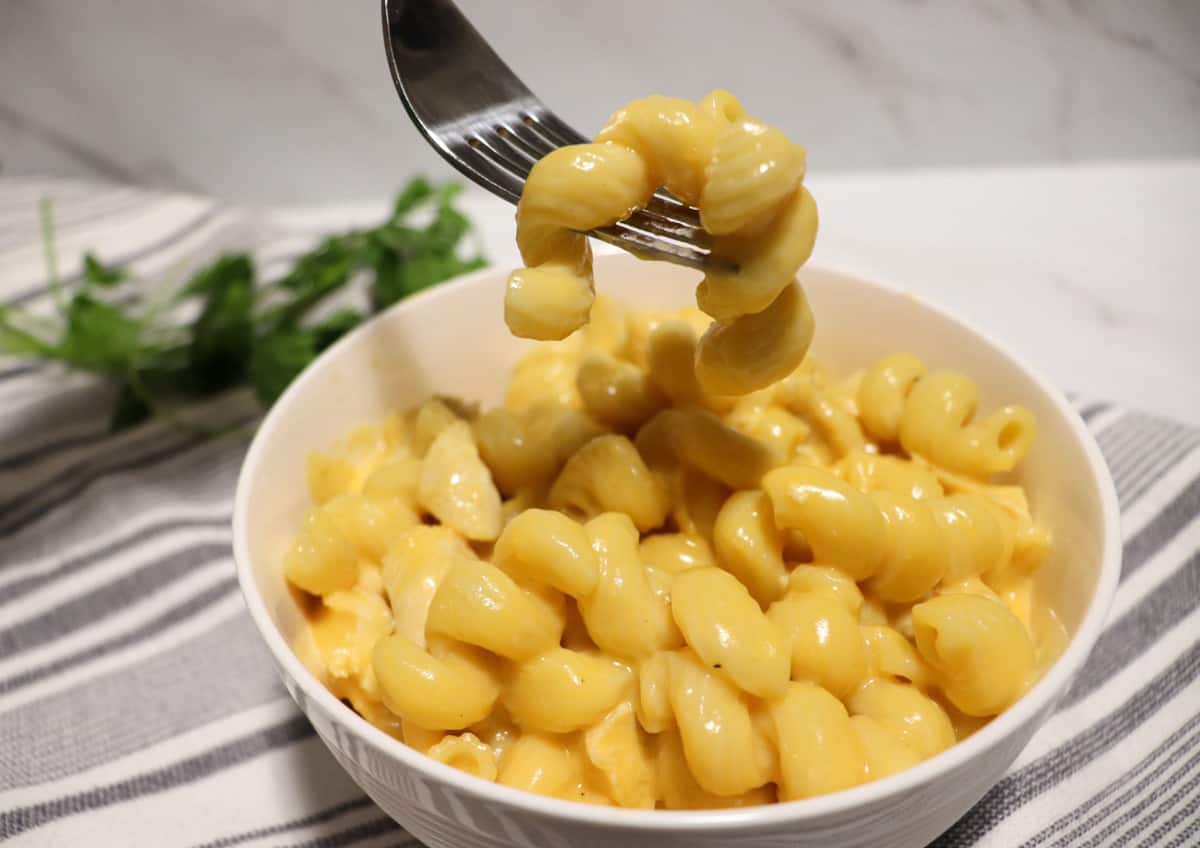 This comforting one pot meal has been lightened-up by reducing the butter and using fat free evaporated milk instead of heavy cream. The chicken adds more protein without adding too many calories. You can enjoy a full satisfying meal of cheesy chicken pasta for only about 500 calories!
This recipe is on my weekly rotation! Both adults and kids will enjoy this classic comfort food.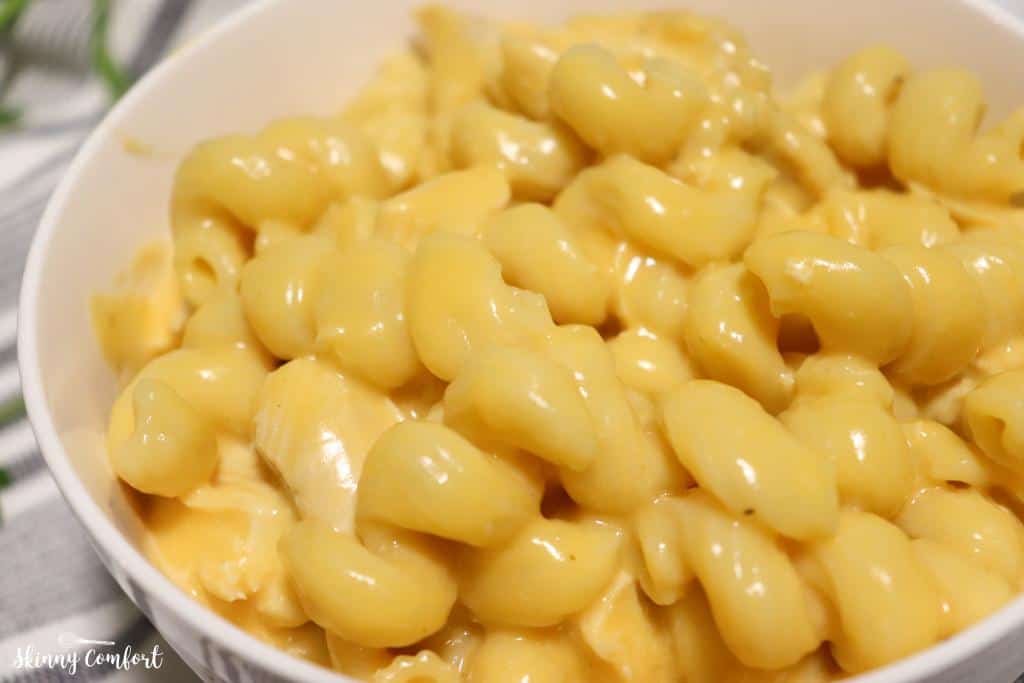 Ingredients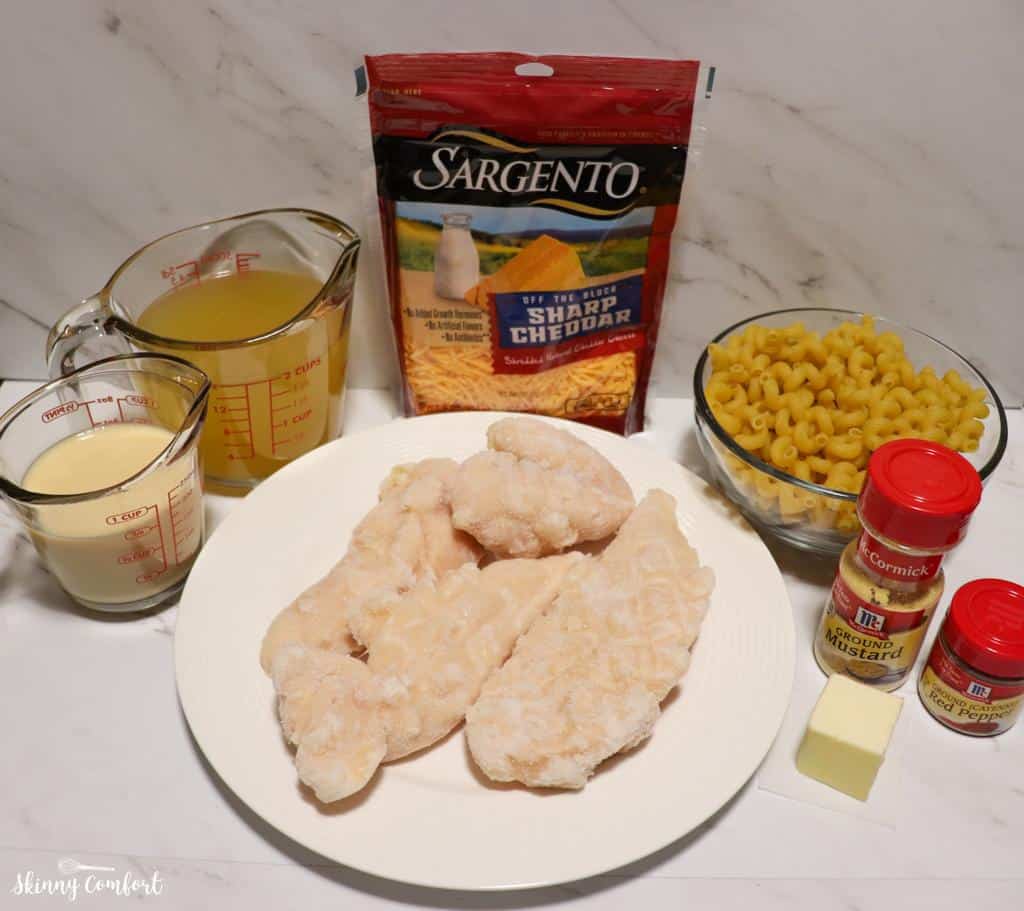 This recipe is pretty simple. It uses corkscrew pasta, frozen chicken tenders (ice glazed), sharp cheddar, chicken broth, evaporated milk, butter, and seasonings.
Cooking the pasta in chicken broth gives it a delicious flavor that compliments the cheese nicely.
Instructions
First, start by putting the chicken broth and noodles into the instant pot liner.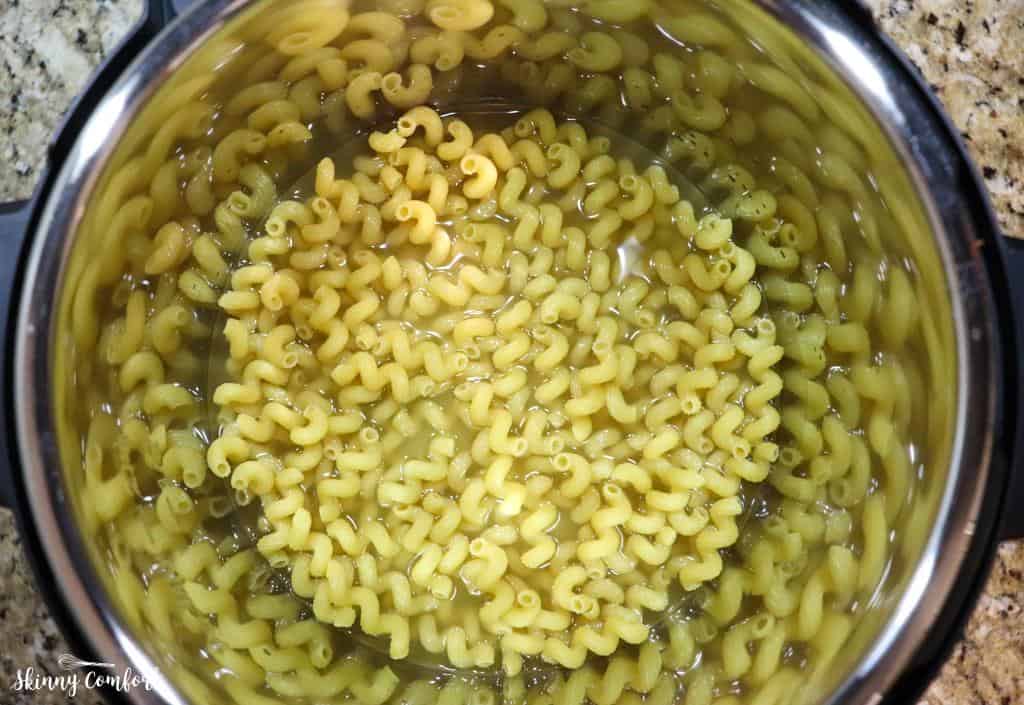 Try to spread the noodles evenly in the liquid, but it's ok if they stick up slightly. The steam of the pressure cooking will make sure the entire noodle gets cooked.
Next, add the frozen chicken tenders on top of the pasta. Lightly season with salt and pepper.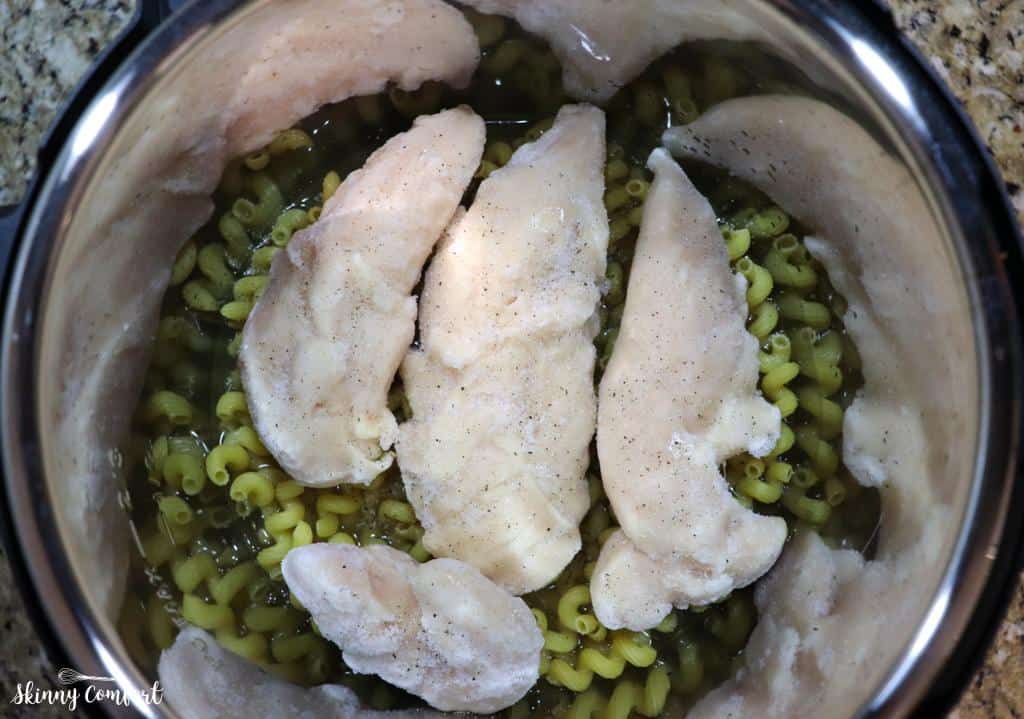 That's it! Put the lid on your instant pot, set to sealing, and set to pressure cook for 6 minutes.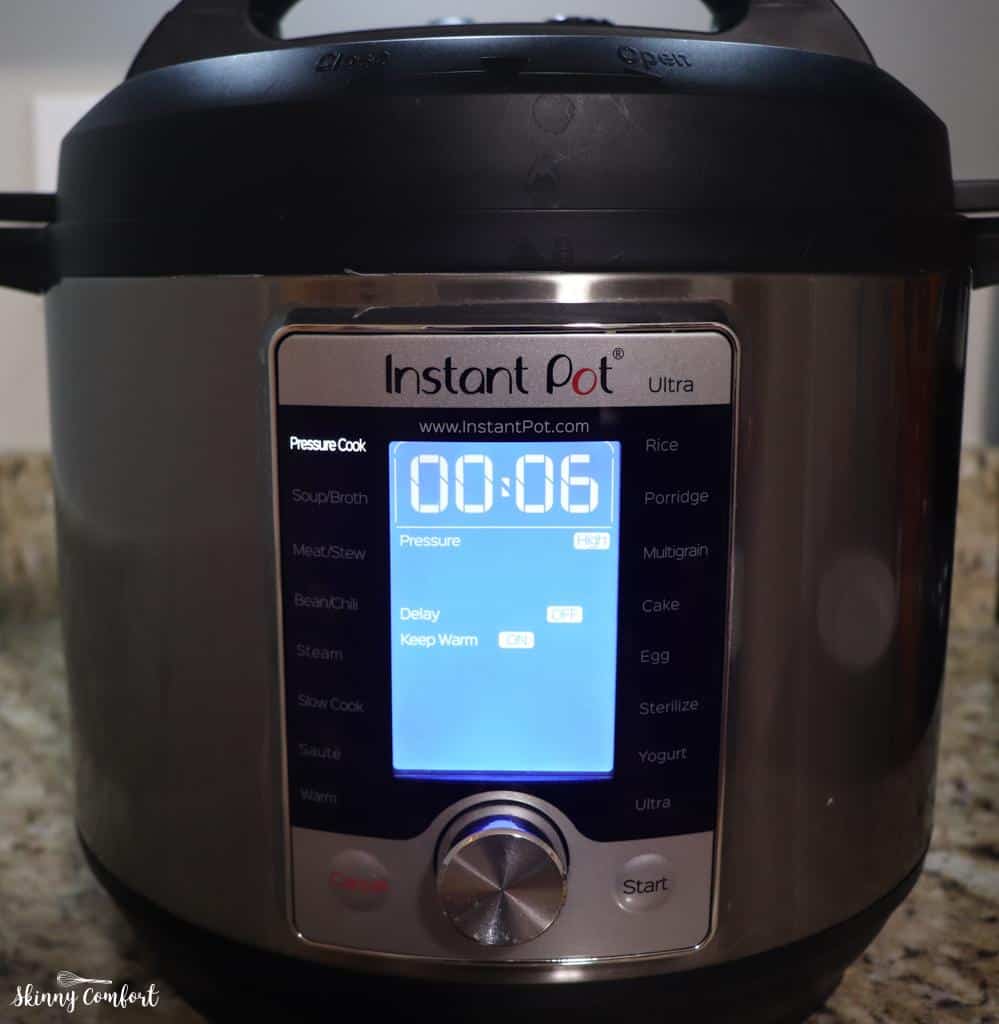 Once 6 minutes is up, allow the pot to sit undisturbed for another 6 minutes (natural release) and then release the remaining steam.
Once you open the pot your pasta should be tender and your chicken should be fully cooked. Verify using a meat thermometer that the temperature has reached at least 165 degrees. It's ok if there is still a little bit of broth still remaining in the pasta - it will evaporate as you make the cheese sauce.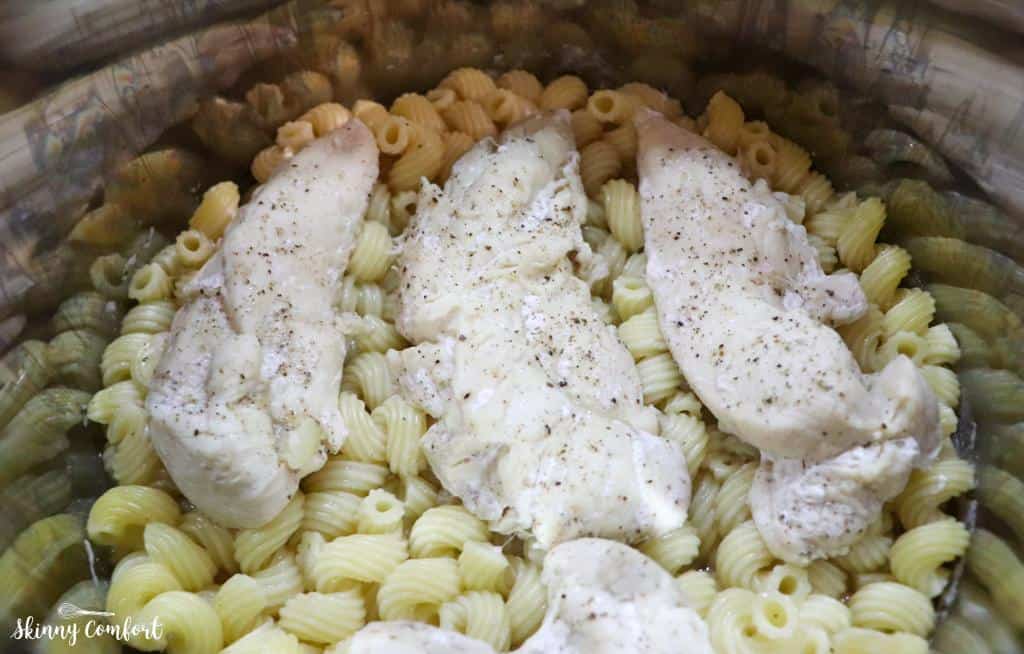 Remove chicken tenders from the pot and dice. Set the instant pot to low temperature saute. Add butter to pasta and stir until melted. Then add evaporated milk, seasonings, and cheese to pasta and stir.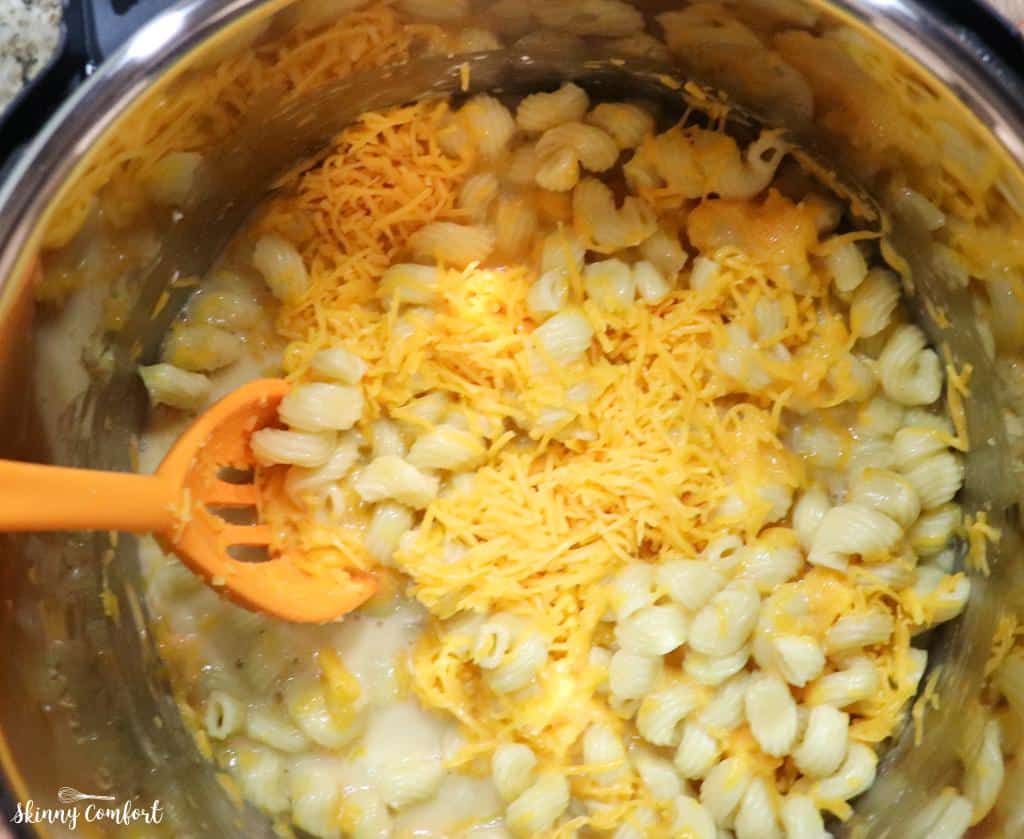 Keep stirring until cheese is completely melted and cheese sauce begins to thicken, Then, add your diced chicken back to the pasta and stir.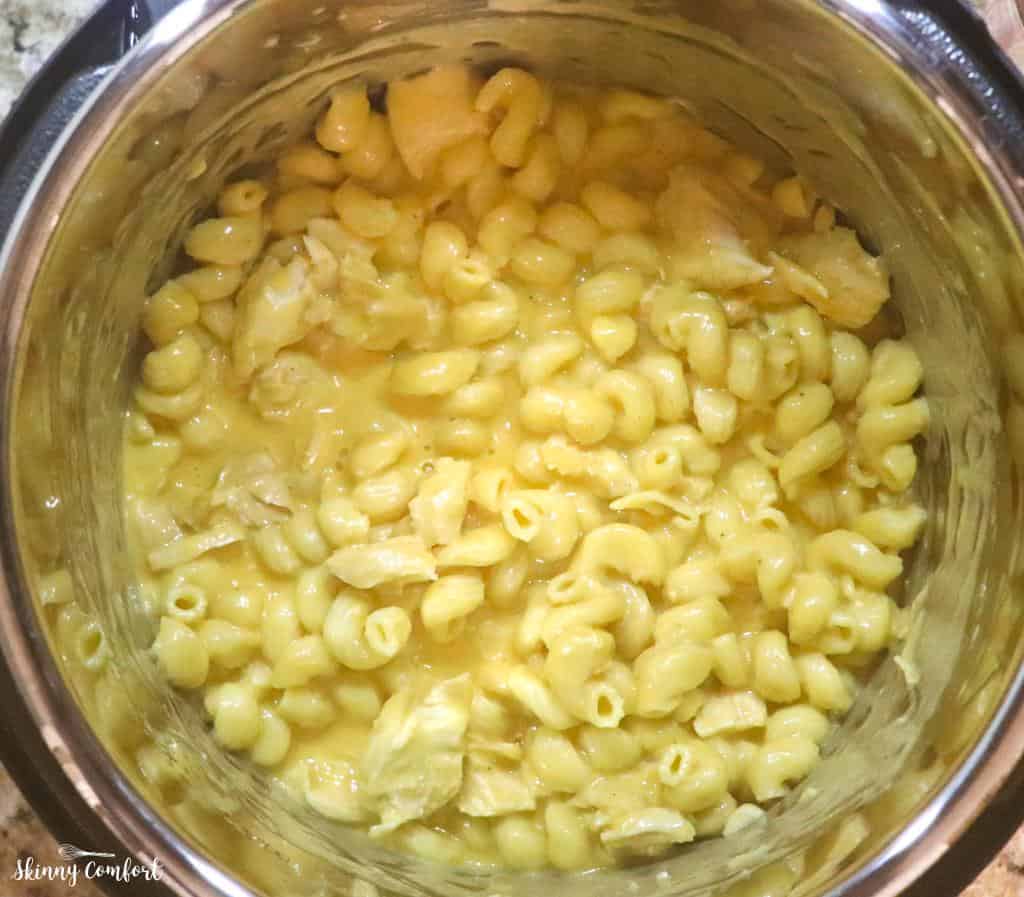 Yummy! Look at that cheesy goodness!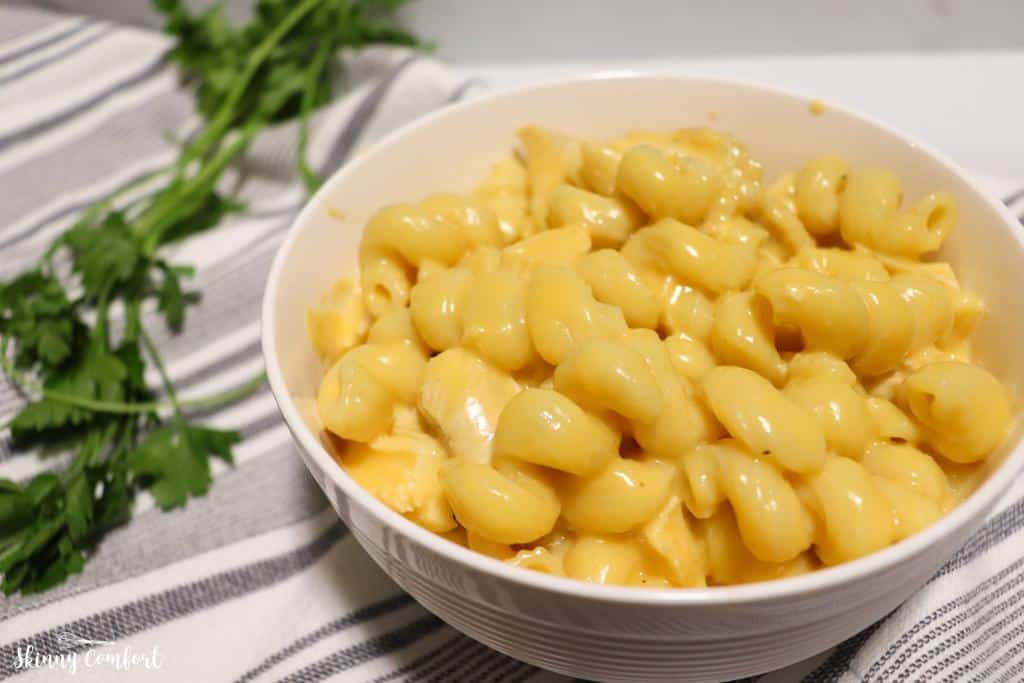 Can I Use Thawed Chicken Tenders?
Yes, you can use thawed chicken tenders. I would recommend using a smaller pasta with shorter cook time than corkscrews (elbow macaroni would work well), and cook for 3 minutes high pressure instead of 6. Just like with the frozen tenders, allow 6 minutes natural release.
I like using frozen chicken tenders because they are really easy to keep on-hand (no thawing or pre-planning required!). Just pull them out of the freezer and go!
Can I Use Chicken Breasts?
I do not recommend using chicken breasts. The cook time will be too long to cook alongside the pasta.
If you want to use chicken breasts, cook them separately from the pasta and then add the diced chicken to the pasta after cooking the pasta in the instant pot.
Substitutions for Sharp Cheddar Cheese
You can use any cheese or combination of cheese that you like. Personally, sharp cheddar is my favorite for mac and cheese. I would avoid any stringy cheeses such as mozzarella, because your sauce will not be as creamy and smooth.
If you have time to shred your own cheese, that can also help your cheese sauce to be more creamy.
How to Freeze Leftovers
This recipe does freeze well. I freeze individual portions into small plastic containers. To reheat, thaw in microwave using defrost setting and then cook in microwave at 50% power until heated through.