These delicious air fryer potato wedges are crispy on the outside and fluffy on the inside! These make the perfect healthy potato side dish!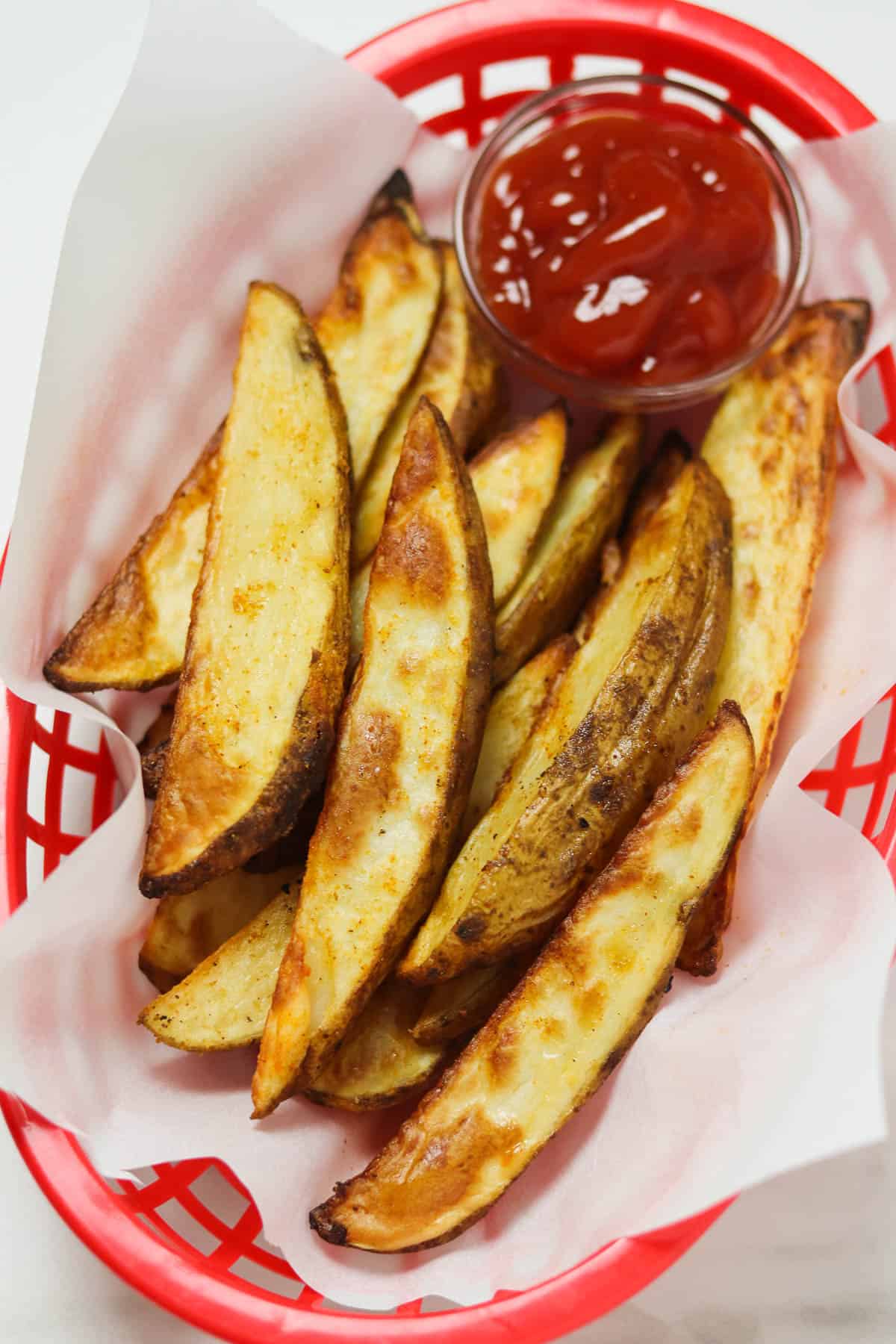 Made with only 3 ingredients, these are really easy to make. Cutting potatoes into wedges is also much less of a hassle than cutting the potatoes into french fries.
These seasoned potato wedges are the perfect side to go with burgers, chicken tenders, or chicken nuggets! This is a versatile side dish that can go with almost any meal.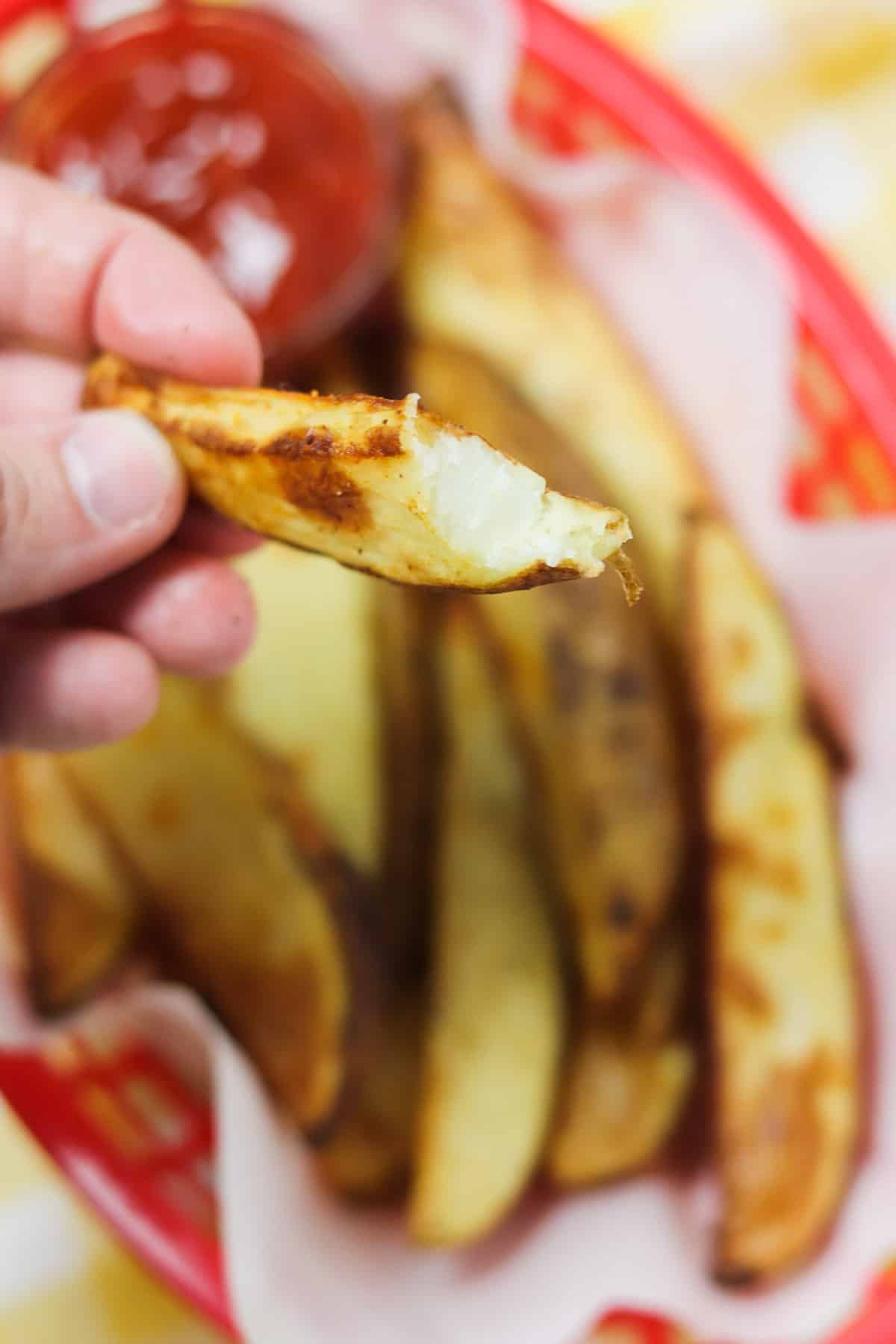 Cooking potato wedges in the air fryer means less oil and fewer calories than frying! The air fryer also cooks them faster than regular baking in your oven. Much like my air fryer roasted potatoes, these turn out crispy, flavorful, and delicious!
Jump to:
Ingredients
Here's what you'll need:
4 medium Russet potatoes (about 1.5 pounds of potatoes)
1 tablespoon canola oil (or your favorite oil of choice)
2 teaspoons seasoned salt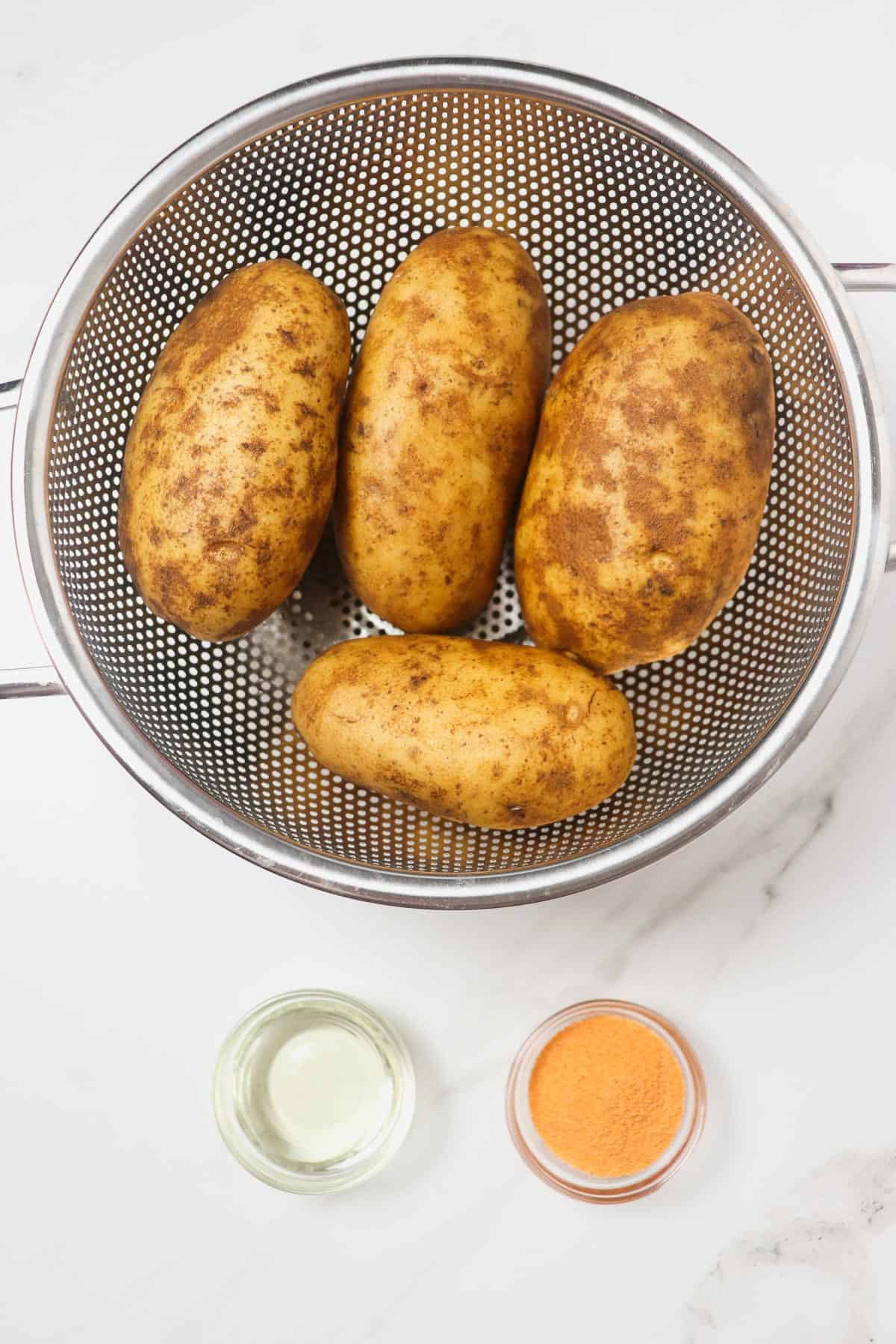 What Kind of Potatoes to Use
I recommend Russet potatoes for for making potato wedges. Russets are commonly used for french fries and potato wedges since they crisp up nicely on the outside while being soft and fluffy on the inside. You could try using another type of potato, but I have only tested this recipe with Russets.
How to Cut Potatoes into Wedges
To cut potatoes into wedges, start by cutting potatoes lengthwise into two halves.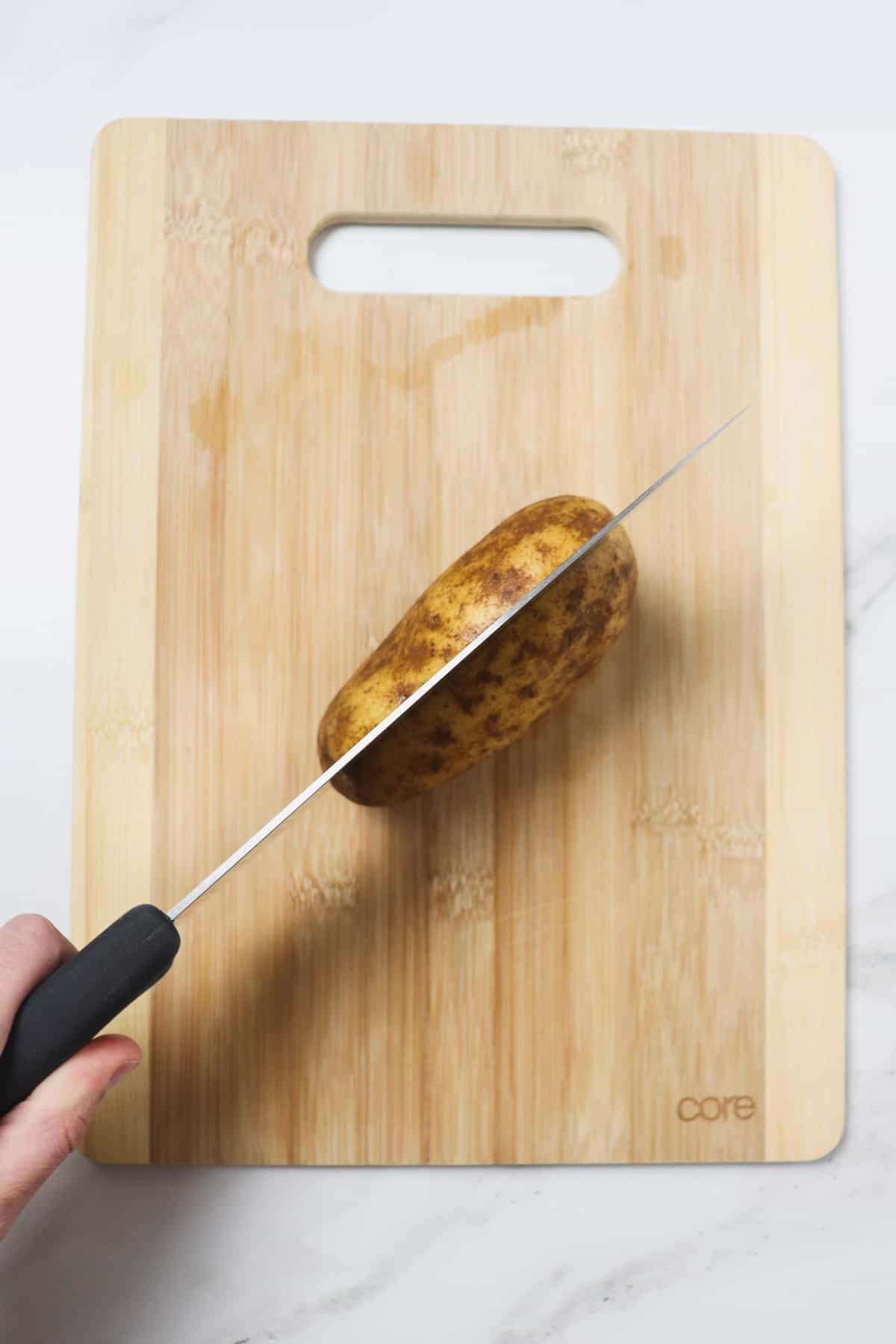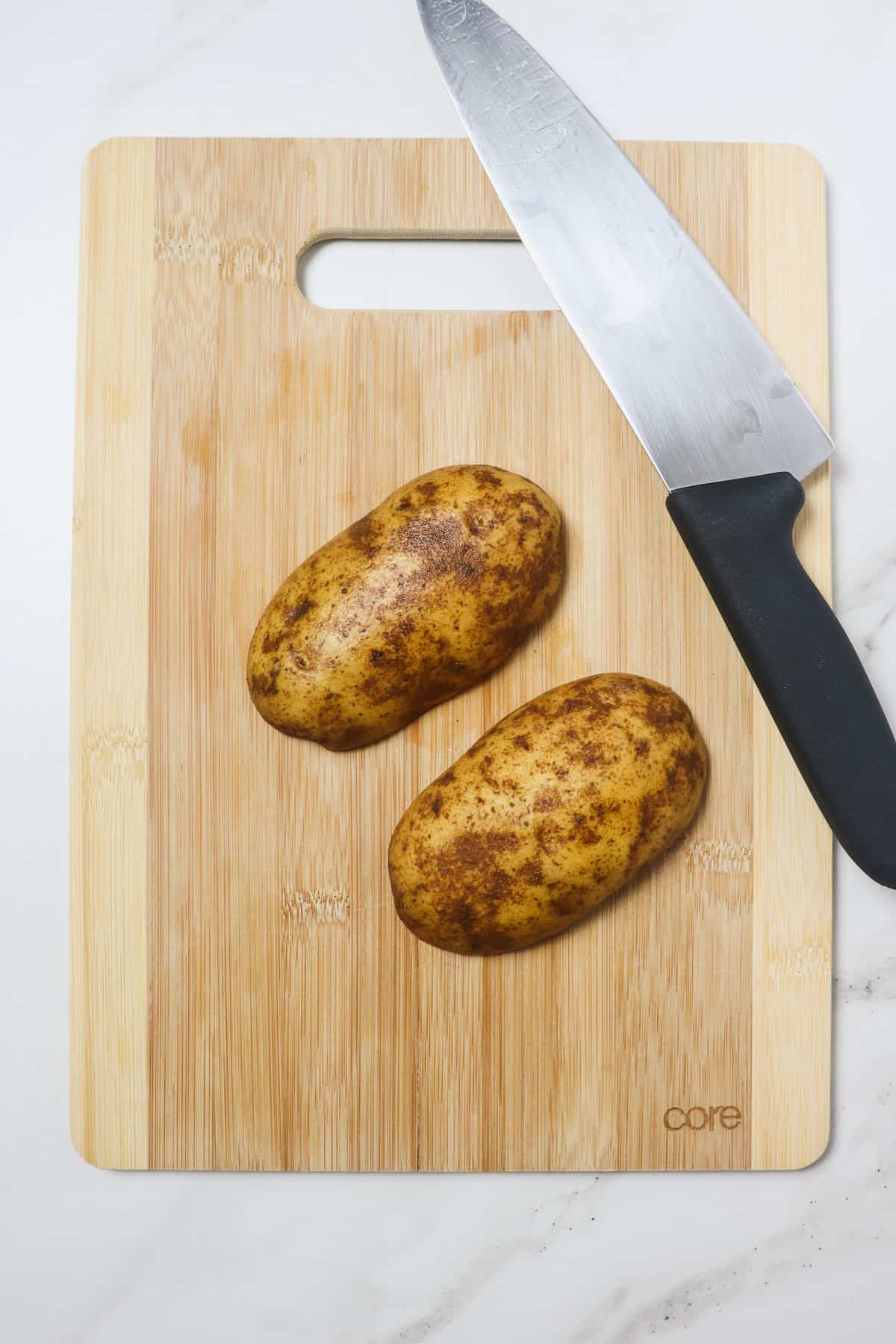 Next, cut each potato lengthwise into wedges. How many wedges per half depends on the size of the potato:
For small potatoes: cut 3 wedges per potato half
For medium potatoes: cut 4 wedges per potato half
For large potatoes: cut 5-6 wedges per potato half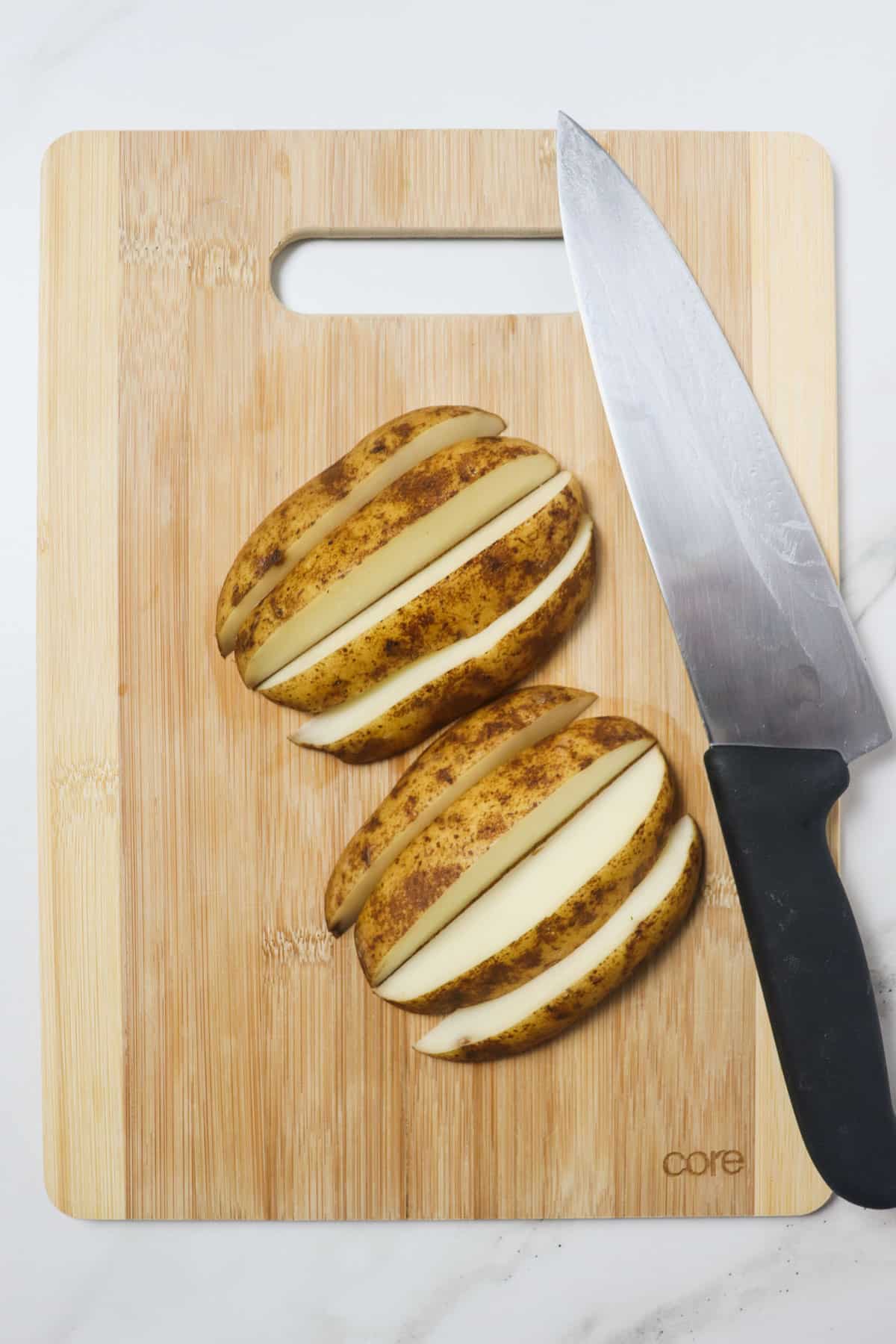 For most of my potatoes, I cut each half into 4 wedges (8 wedges per potato). Keep cutting until you have about 1.5 pounds of wedges.
Trim off any black or dark spots in the potatoes.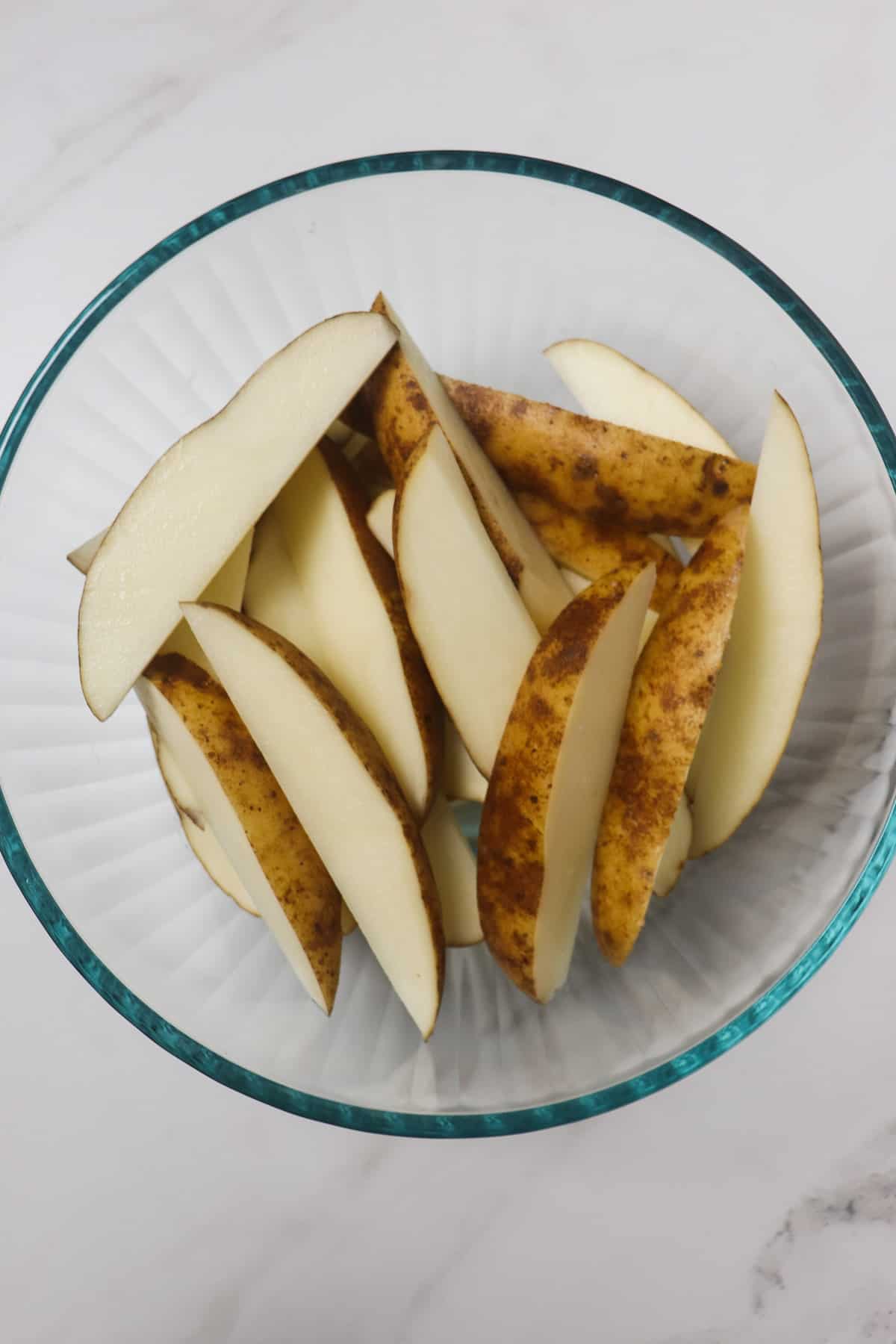 How to Soak Potatoes
Soaking the potatoes for a few minutes in warm water helps remove excess starch from the outside of the potatoes. Excess starch can absorb moisture and prevent the outside of the potato wedges from getting crispy.
Place cut potato wedges in a large bowl and cover with warm water. Allow wedges to soak for 10 minutes.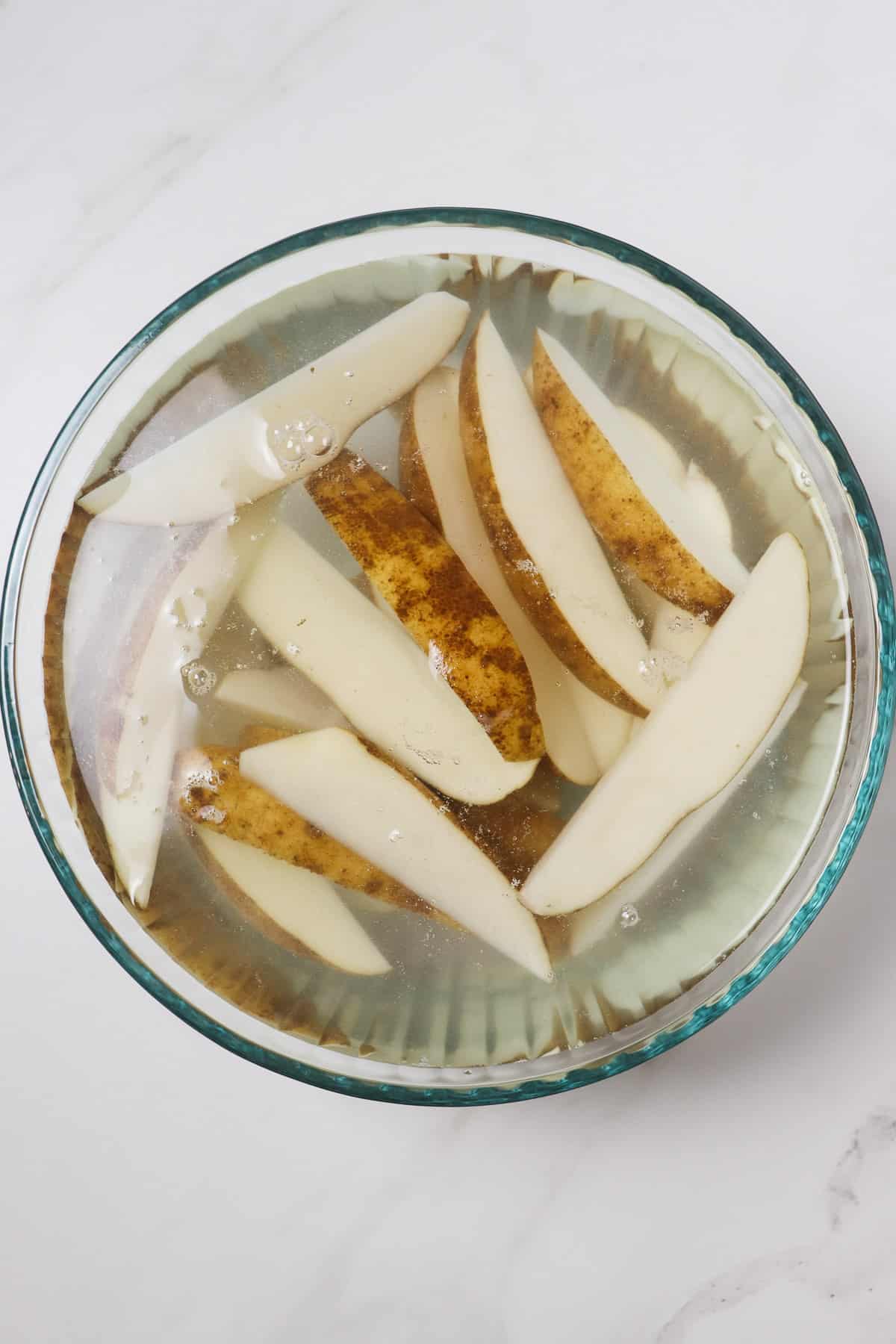 Drain water and pat wedges dry using a lint free towel.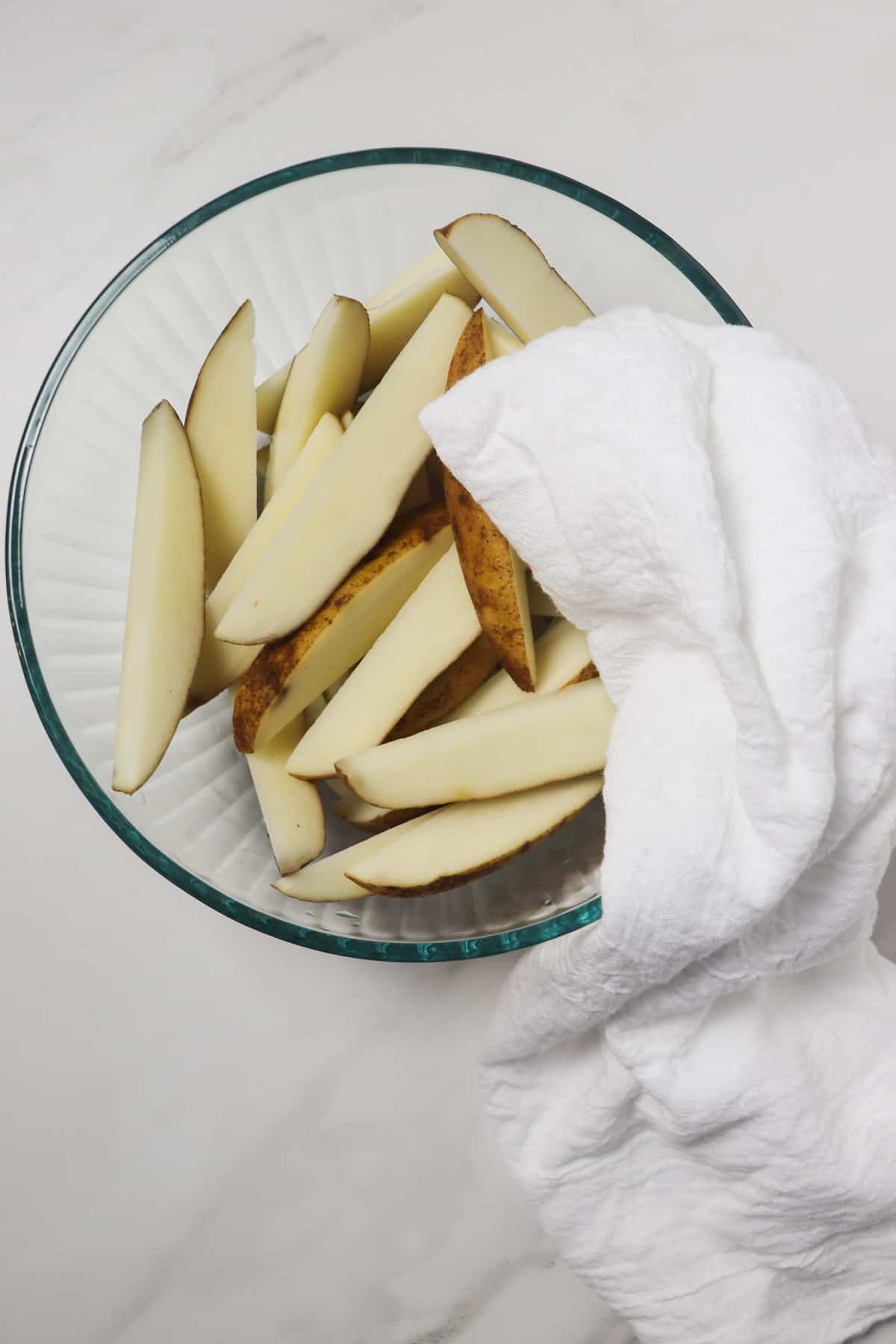 How to Season
Toss potato wedges with 1 tablespoon oil (I use canola oil) and two teaspoons of seasoned salt. You can substitute your favorite seasoning to make your flavor of choice.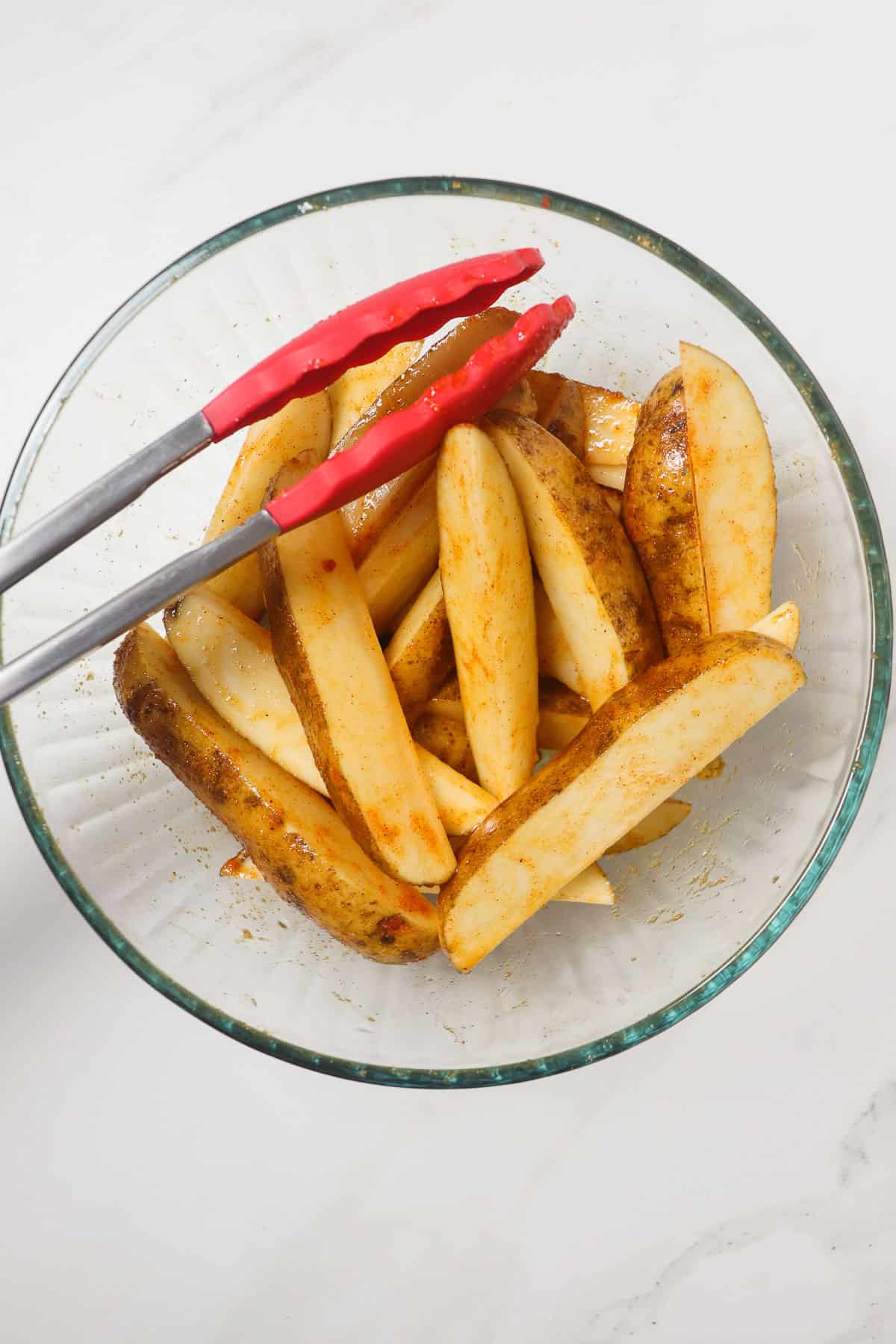 More seasoning ideas:
Sea salt and pepper
Garlic salt and parmesan cheese
Salt and cajun seasoning
Air Fryer Instructions
Preheat your air fryer to 400 degrees. Place potato wedges in a single layer in your air fryer basket, making sure that wedges do not touch. This will help the wedges crisp up on all sides.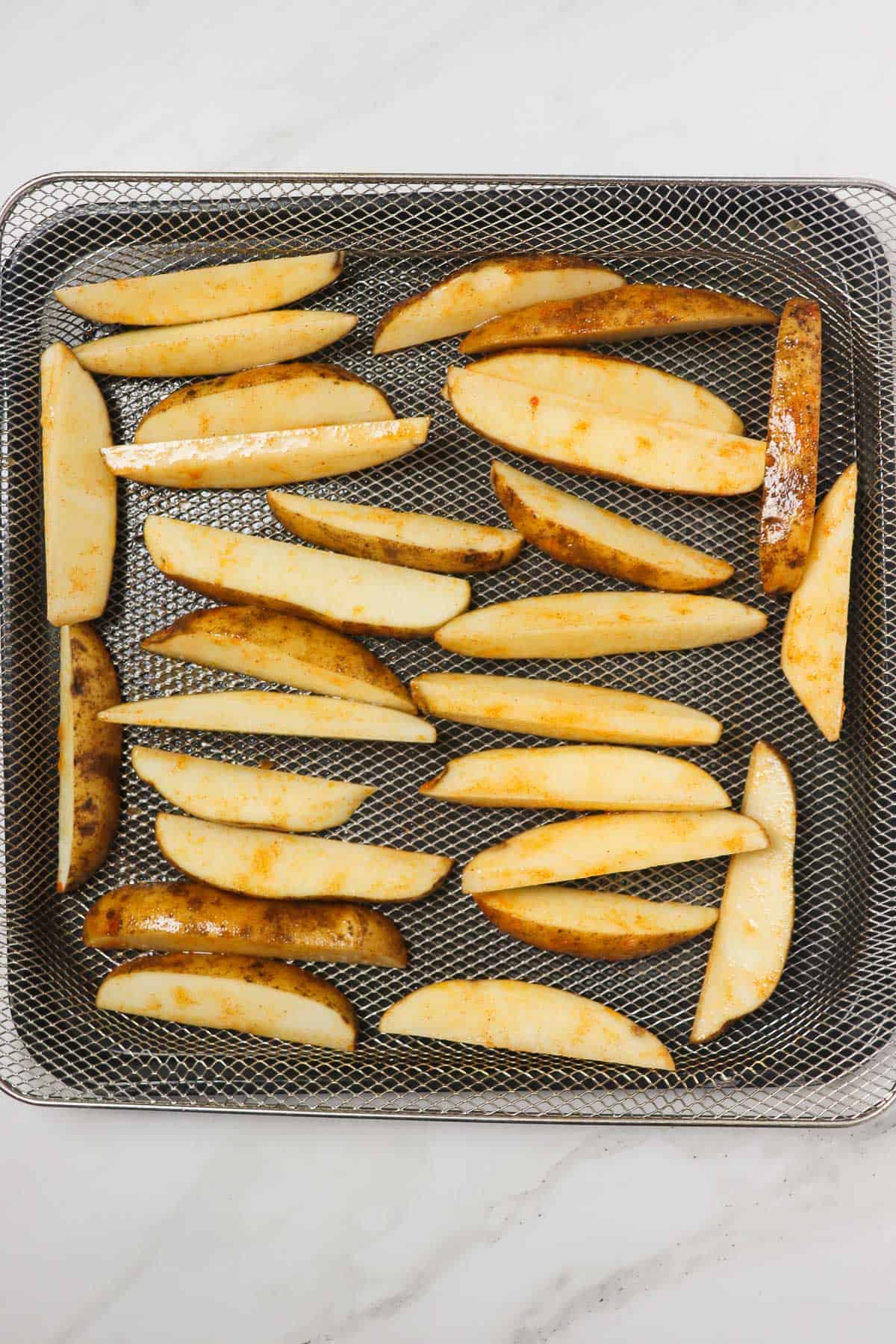 If your basket is too small, you may have to cook them in two batches. My oven-style air fryer can hold ani entire batch (1.5 pounds) of wedges.
Air fry potato wedges at 400 degrees Fahrenheit for 20-25 minutes, tossing wedges halfway through the cooking time. Cook wedges until the outsides are golden brown and crispy. Time may vary slightly depending on your air fryer model.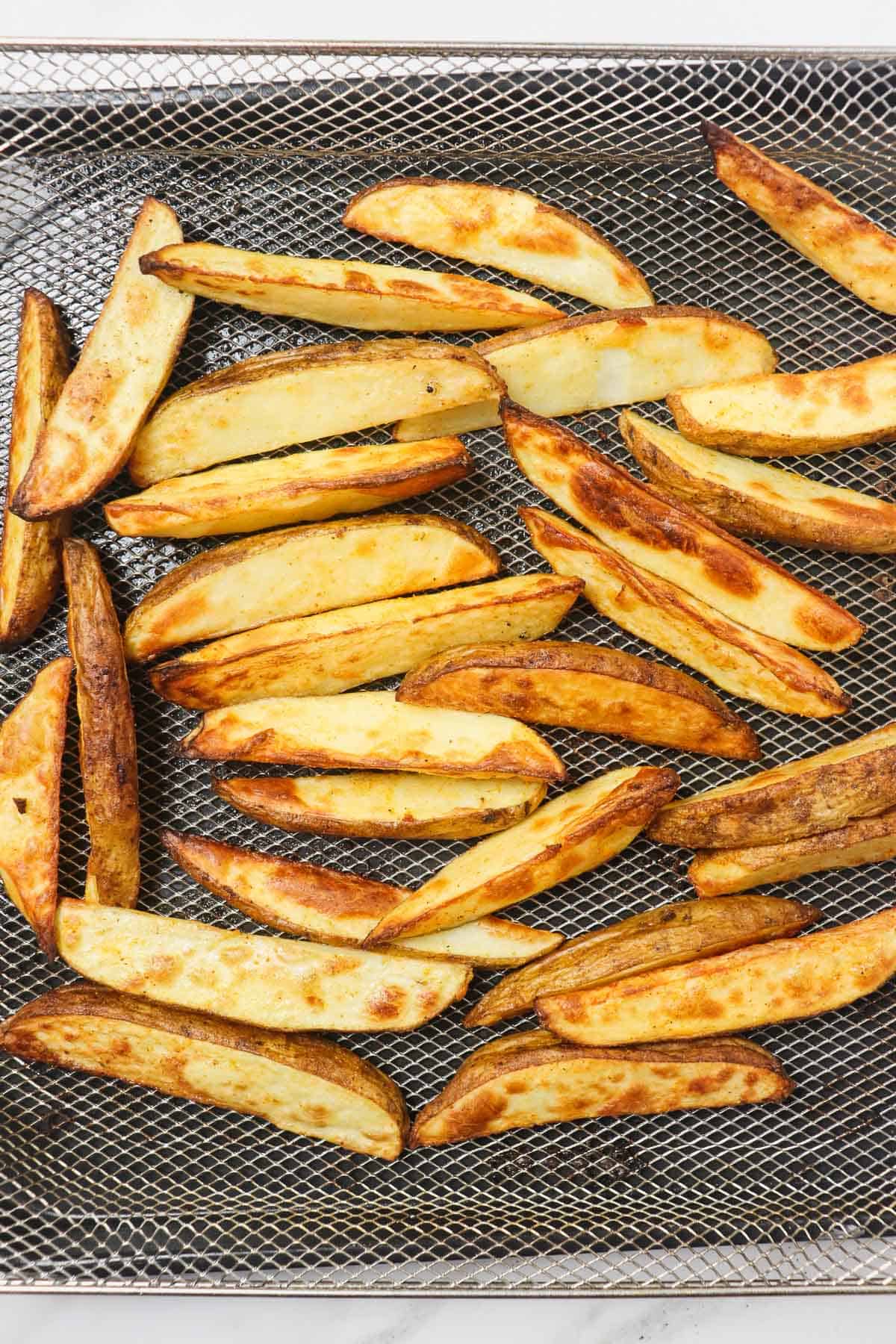 How to Serve
These potato wedges can be served with your favorite dipping sauce. Options include ketchup, ranch, bbq sauce, or honey mustard! Ketchup is always a good option for a lower-calorie dipping sauce.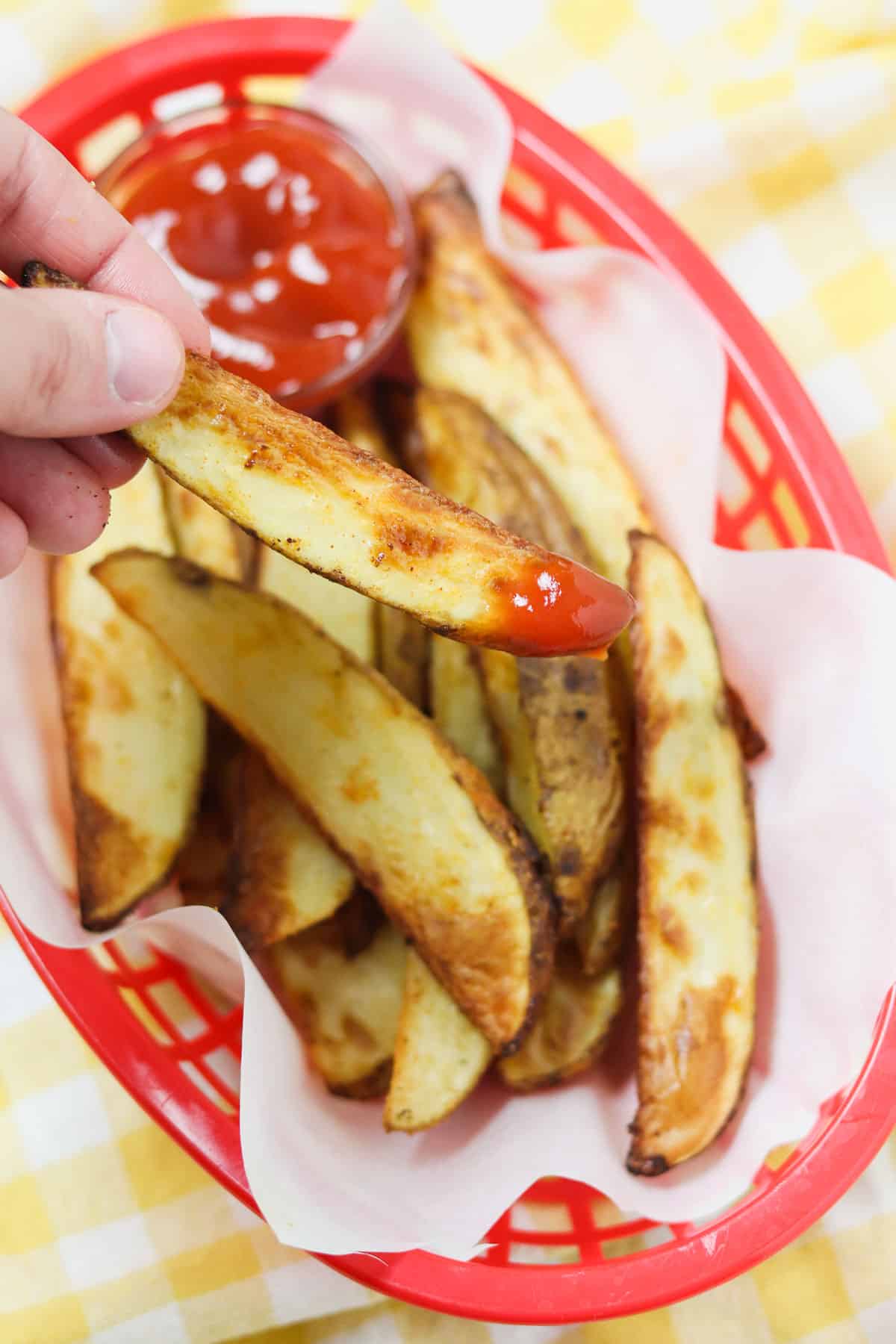 These can be served with nearly any dish. Popular pairings are burgers, chicken tenders, or chicken nuggets.
Can I Skip Soaking the Potatoes?
While you could skip soaking the potatoes, it really does help the potatoes get crispier on the outside! That 10 minute soak makes a big difference in the final product. Don't skip it!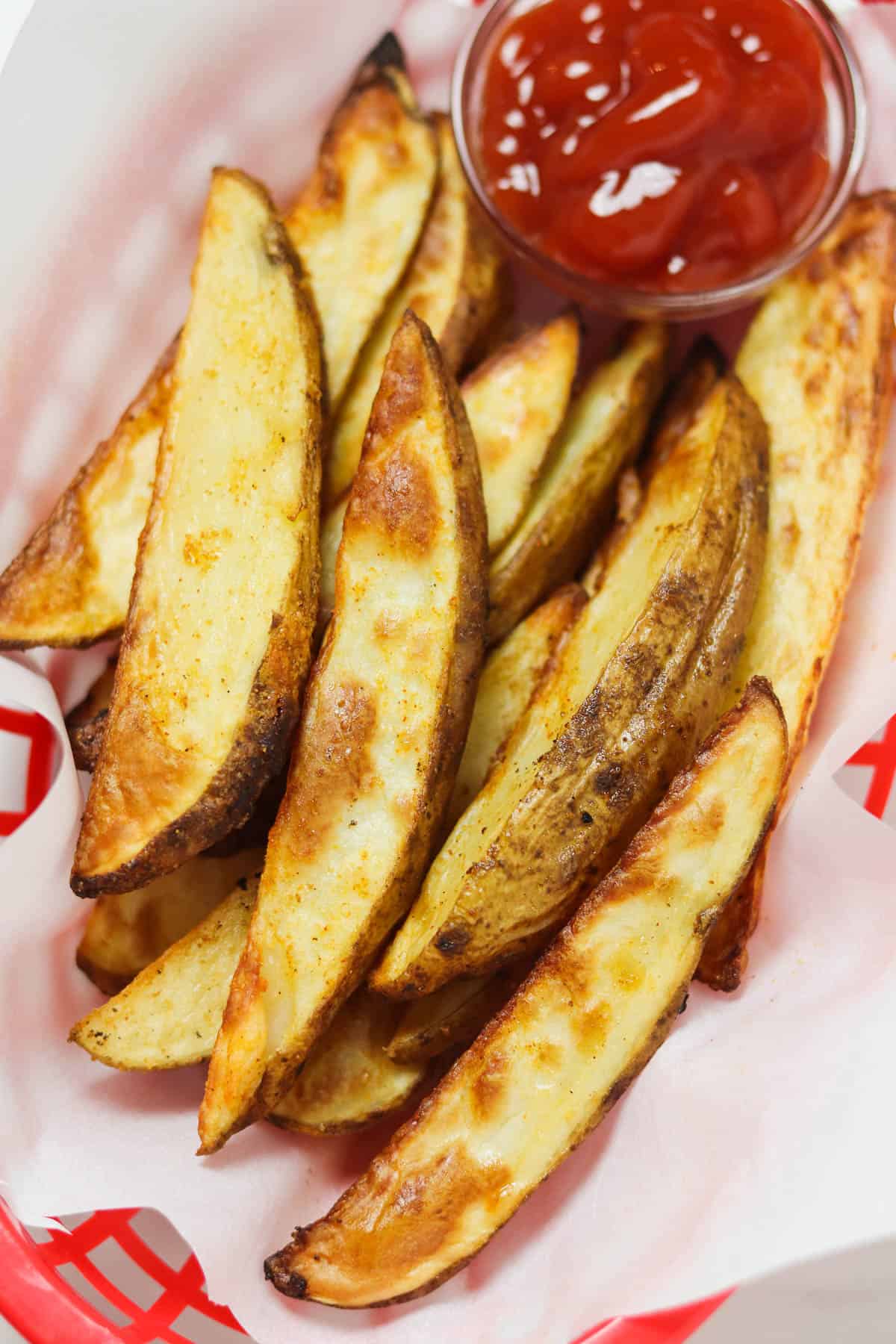 Calories Per Serving
A serving size of 4 oz (or about 5 wedges) has around 130 calories. This recipe makes 6 total servings. To get an accurate calorie count, make sure you weigh your potatoes. It's hard to rely on a count of wedges since the size of the potatoes can vary significantly.
Compared to deep-fried potato wedges, these are much healthier and lower in calories! It only takes a small amount of oil (1 tablespoon for the entire recipe) to make potato wedges in the air fryer. Potatoes are absolutely NOT low-carb, but they can definitely fit in a low-calorie diet in moderation.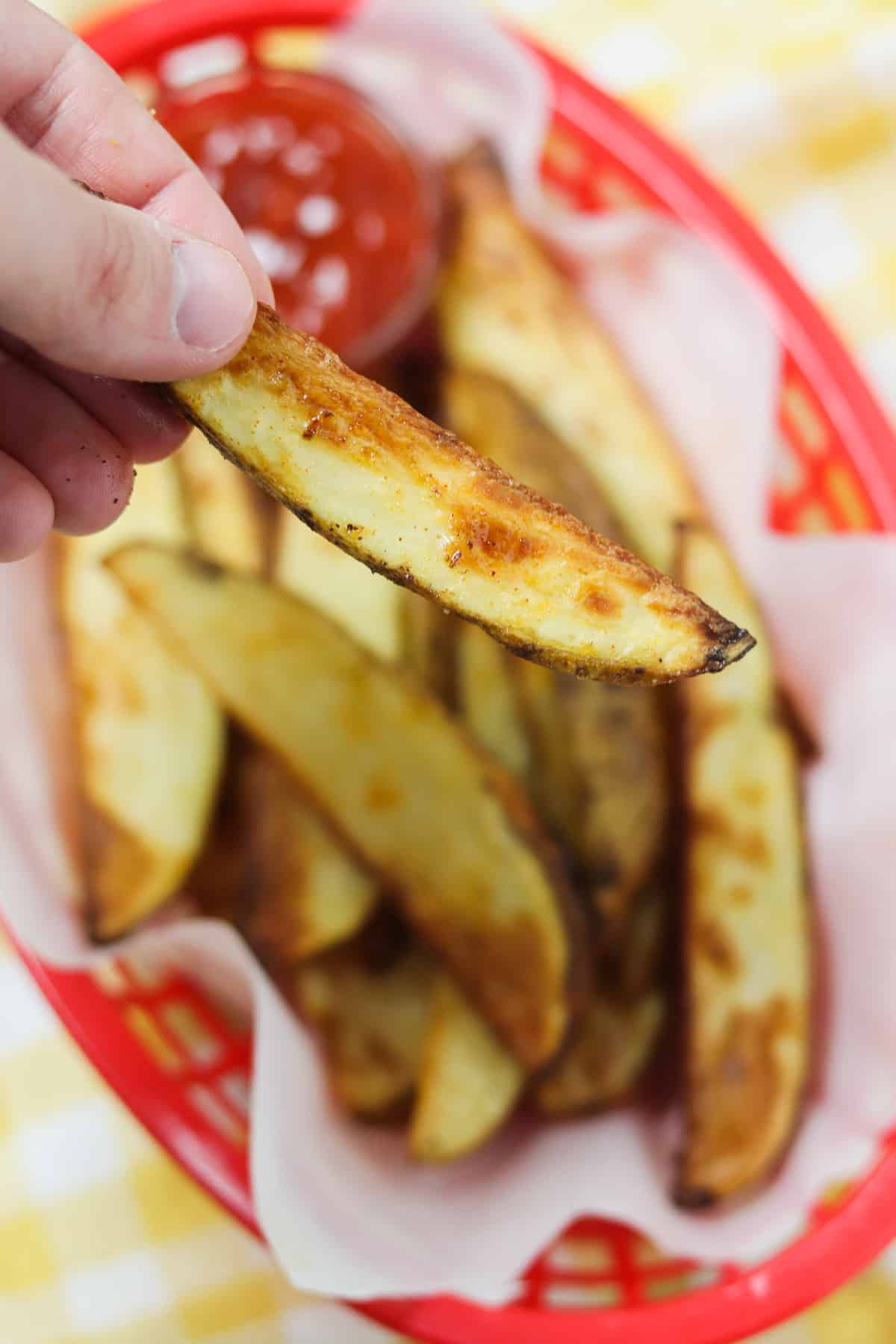 Recipe