These quick and easy peanut butter cheerio bars make for a delicious treat! With only 100 calories each, you can enjoy these as a guilt-free breakfast, snack, or dessert!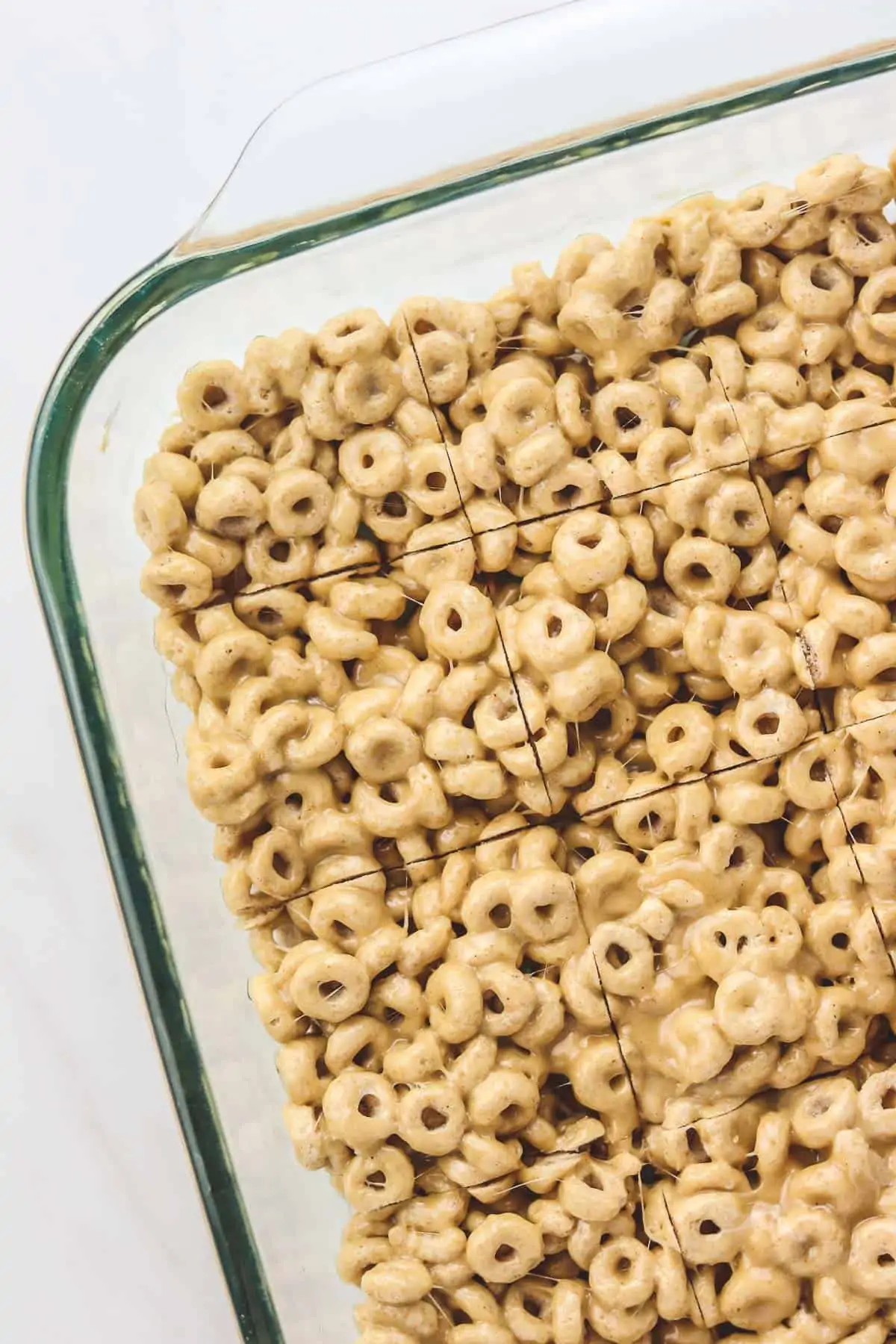 Made with cheerios, peanut butter, marshmallows, and butter, these no-bake bars are ready in minutes! You can even make them in the microwave - no stove required!
These are similar to peanut butter rice krispy treats, but the cheerios give them an added crunch more like a granola bar. The cheerios also add healthy whole grain oats.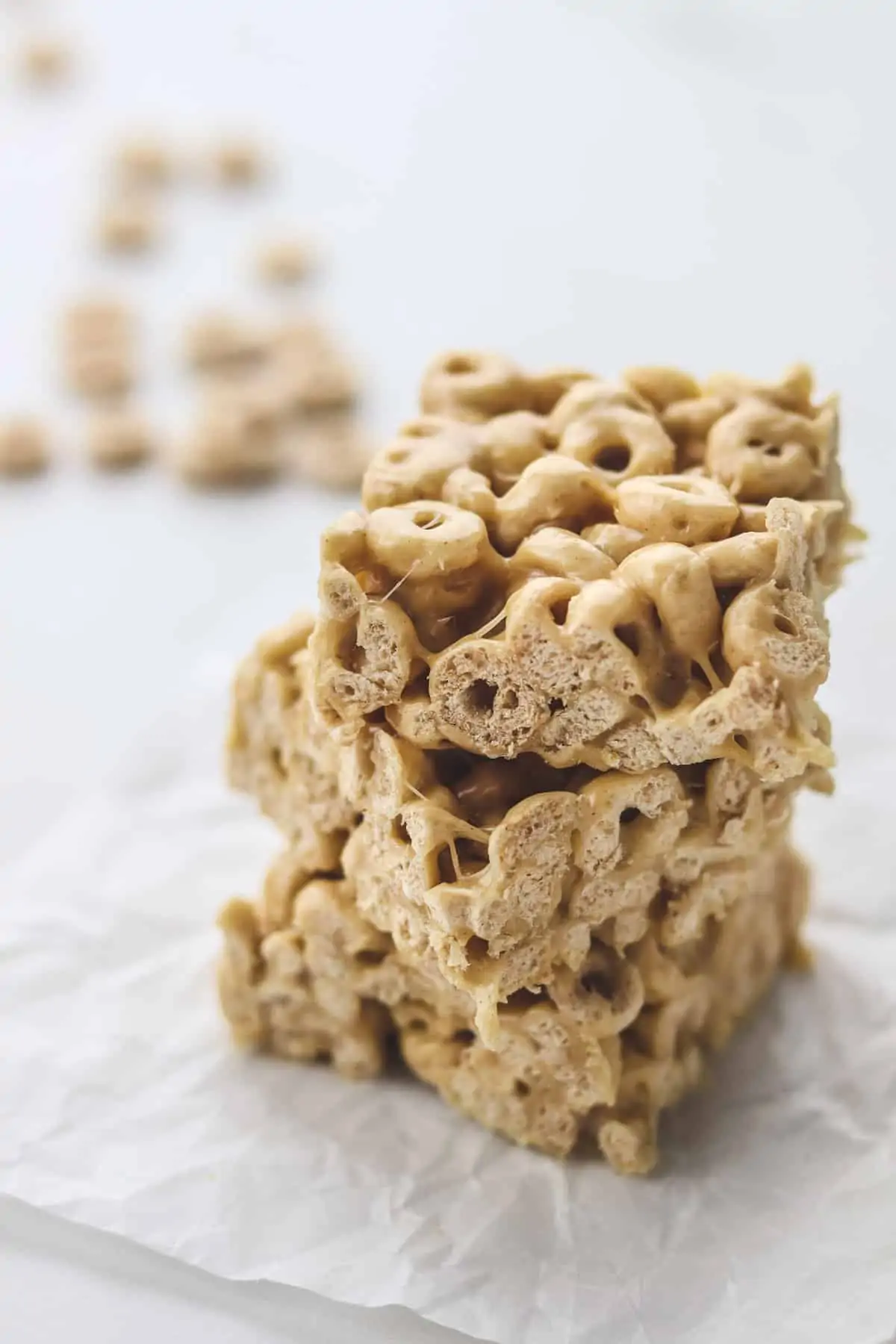 Cheerio bars are great for kids, on-the go-snacks, or for packing in a lunch. I often enjoy these for a light dessert!
Jump to:
Ingredients
You will need:
5 cups cheerios
10 oz package mini marshmallows
½ cup peanut butter
2 tablespoon butter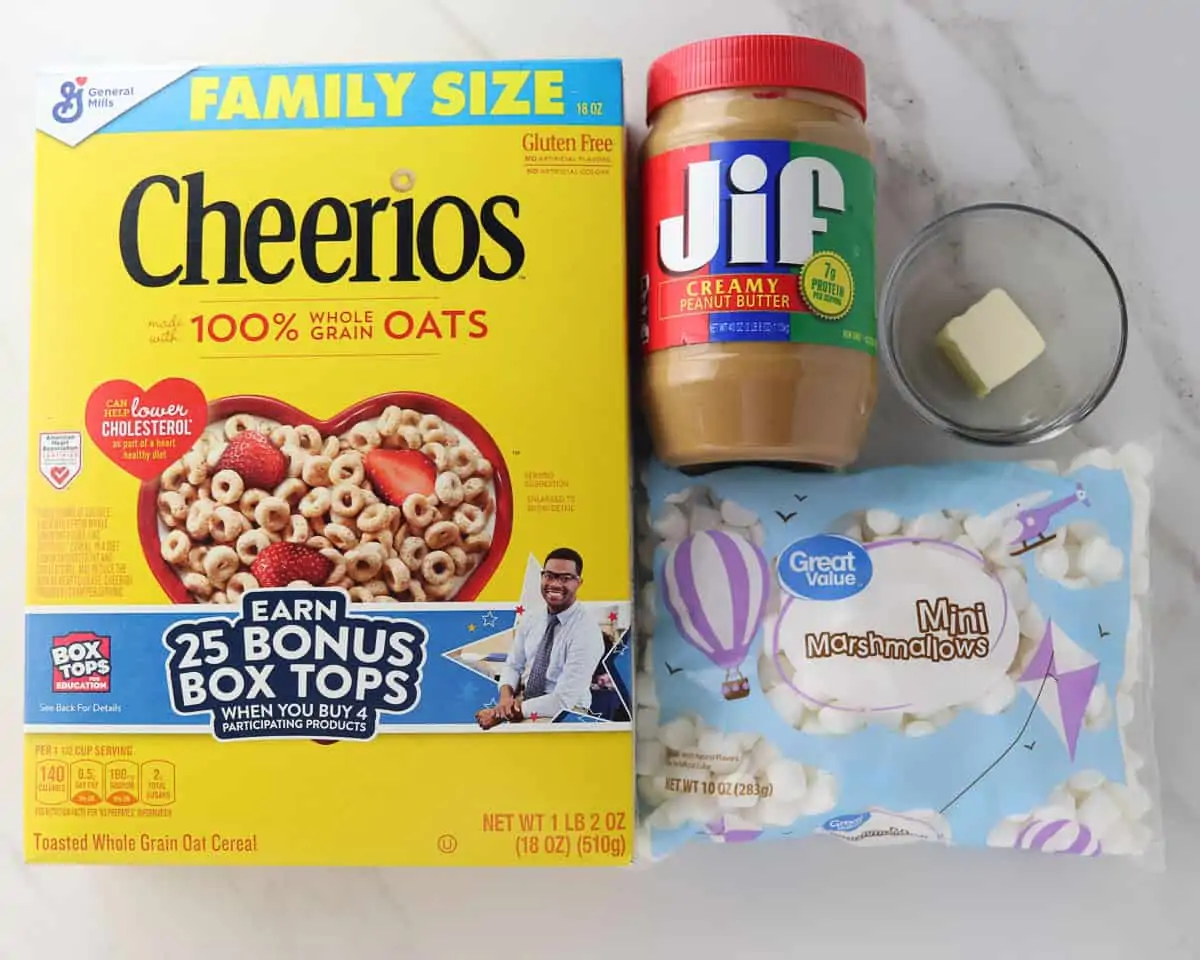 Substitutions
Cheerios - you could substitute a different kind of cereal instead of cheerios. You could use rice krispy cereal or another similar cereal. The Multi-Grain Cheerios are also a great option!
Peanut Butter - you could substitute almond butter, Nutella, sunflower butter, or any other type of nut butter. You can also leave off the peanut butter entirely if you prefer plain cheerio bars.
Instructions
First, add the marshmallows, peanut butter, and butter into a large microwave-safe mixing bowl. I use a large glass bowl.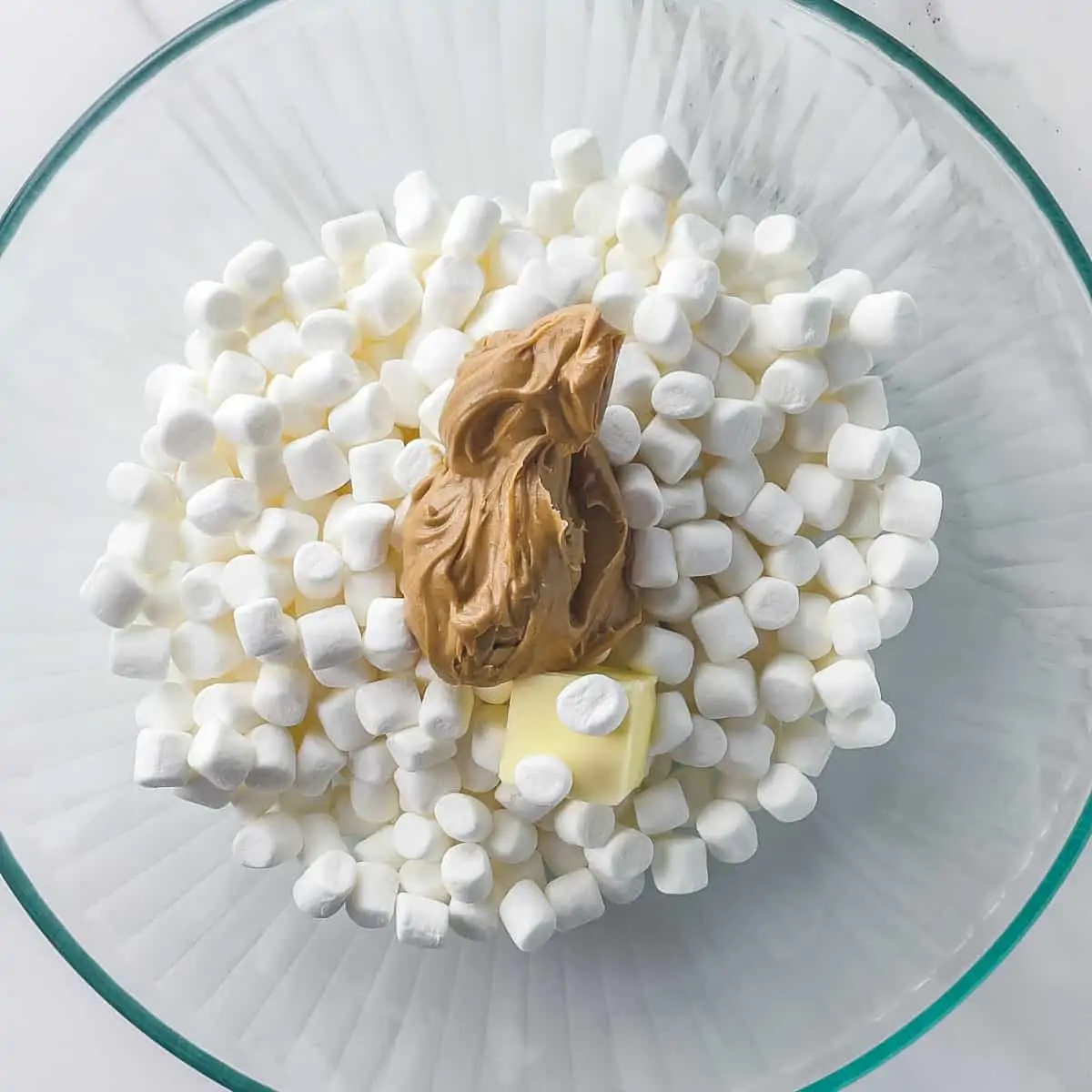 Microwave for 60 seconds and then remove and stir. Continue microwaving for another 30-60 seconds until the mixture is fully melted. The marshmallow will expand in the microwave as they heat up.
Stir to evenly mix the marshmallows, peanut butter, and butter.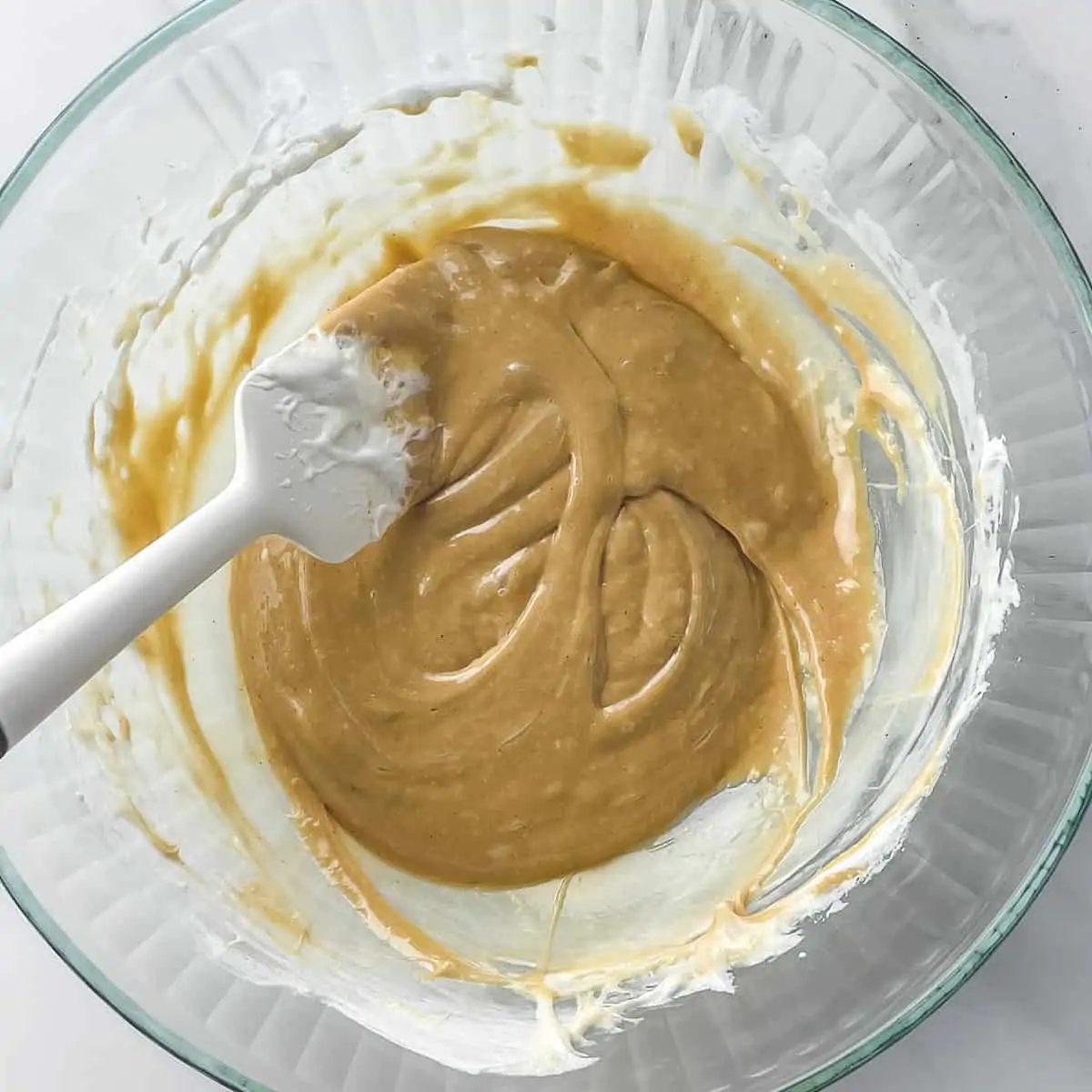 Fold the cheerios into the marshmallow mixture and stir until well combined.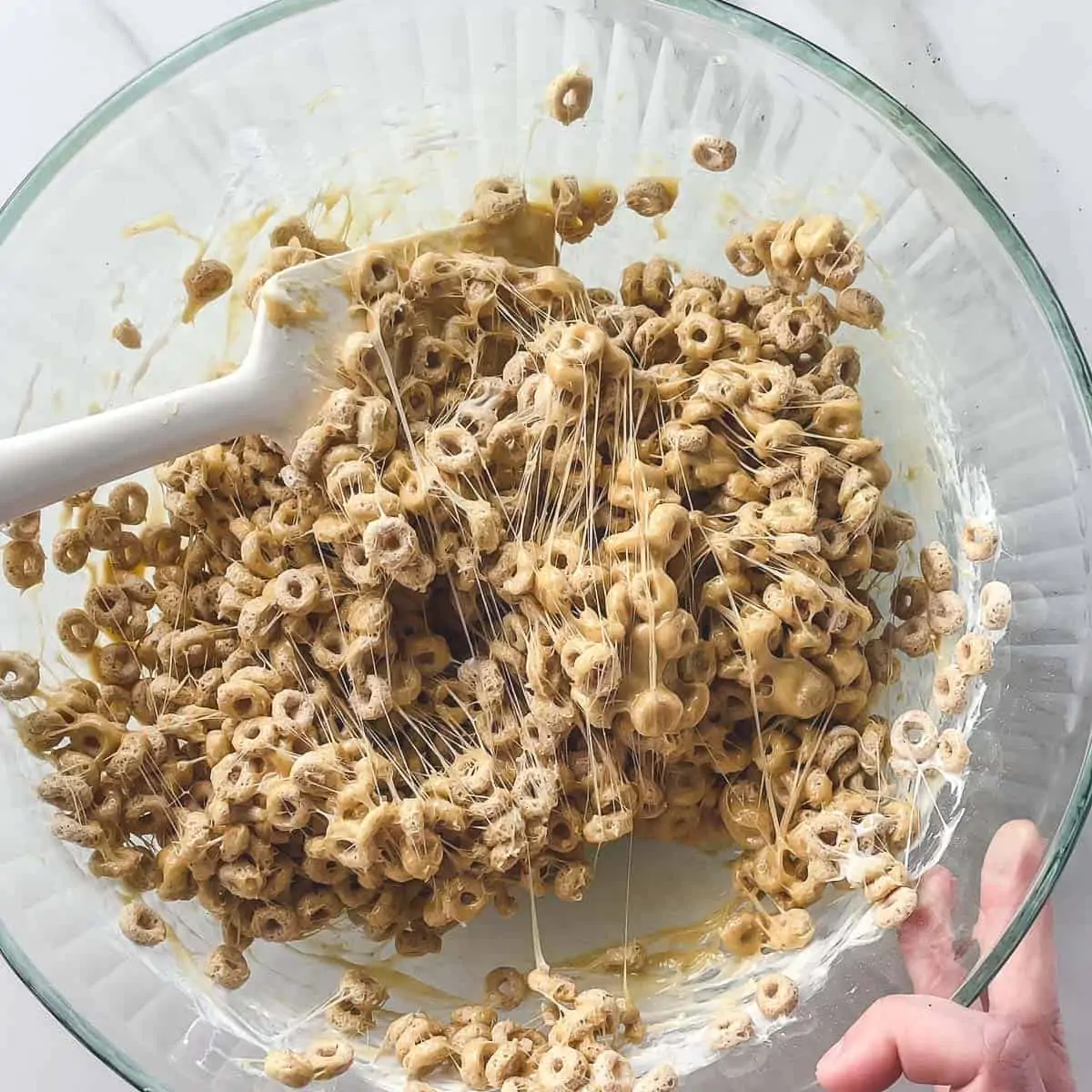 Grease a 9x13 pan with nonstick spray. Pour the cheerio mixture into the pan and smooth it down into an even layer. Spraying your utensils or hands with nonstick spray will help make this step a little bit easier.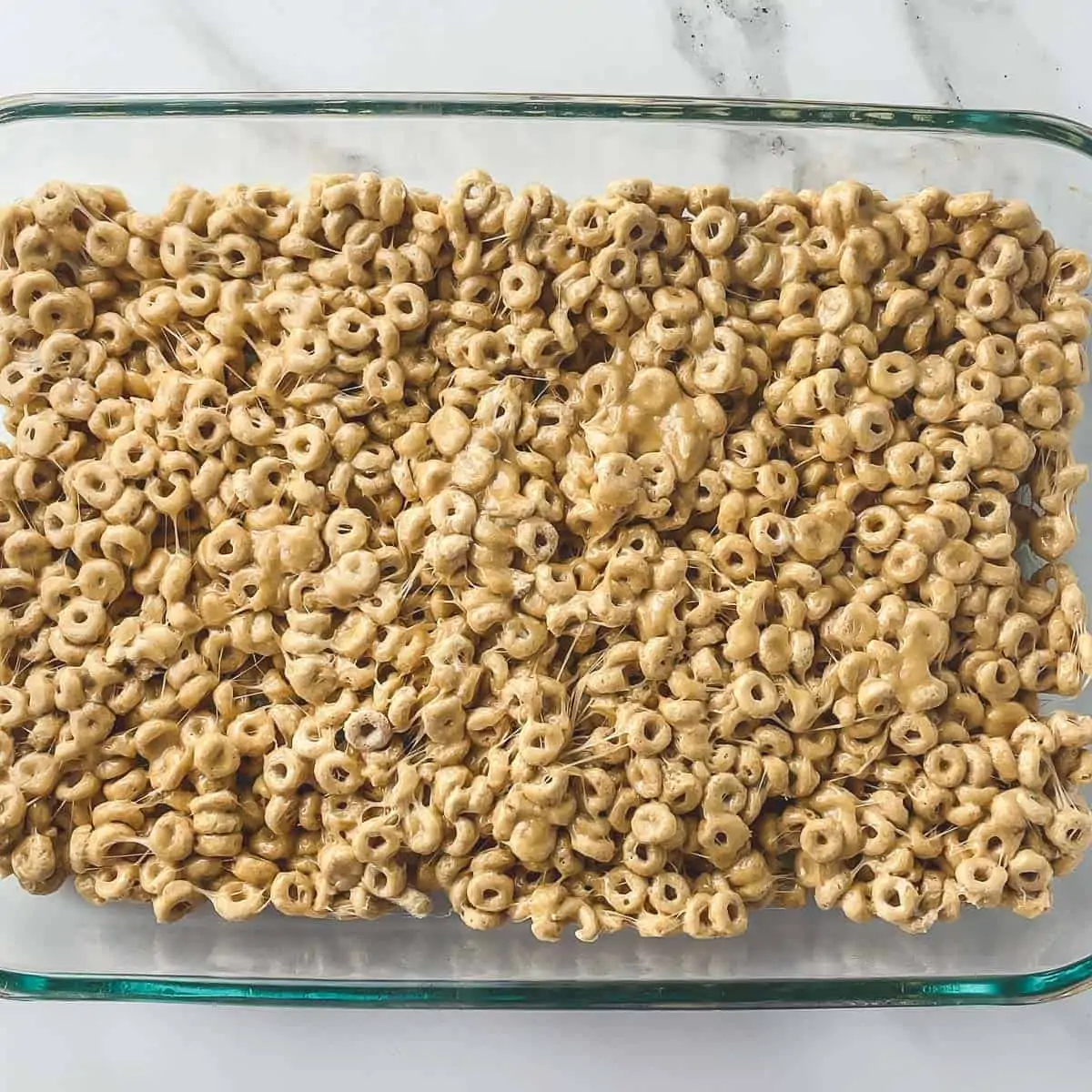 Allow the bars to cool completely in the pan (about 1 hour), and then slice into bars. I cut mine into a 4x6 grid to create 24 square bars.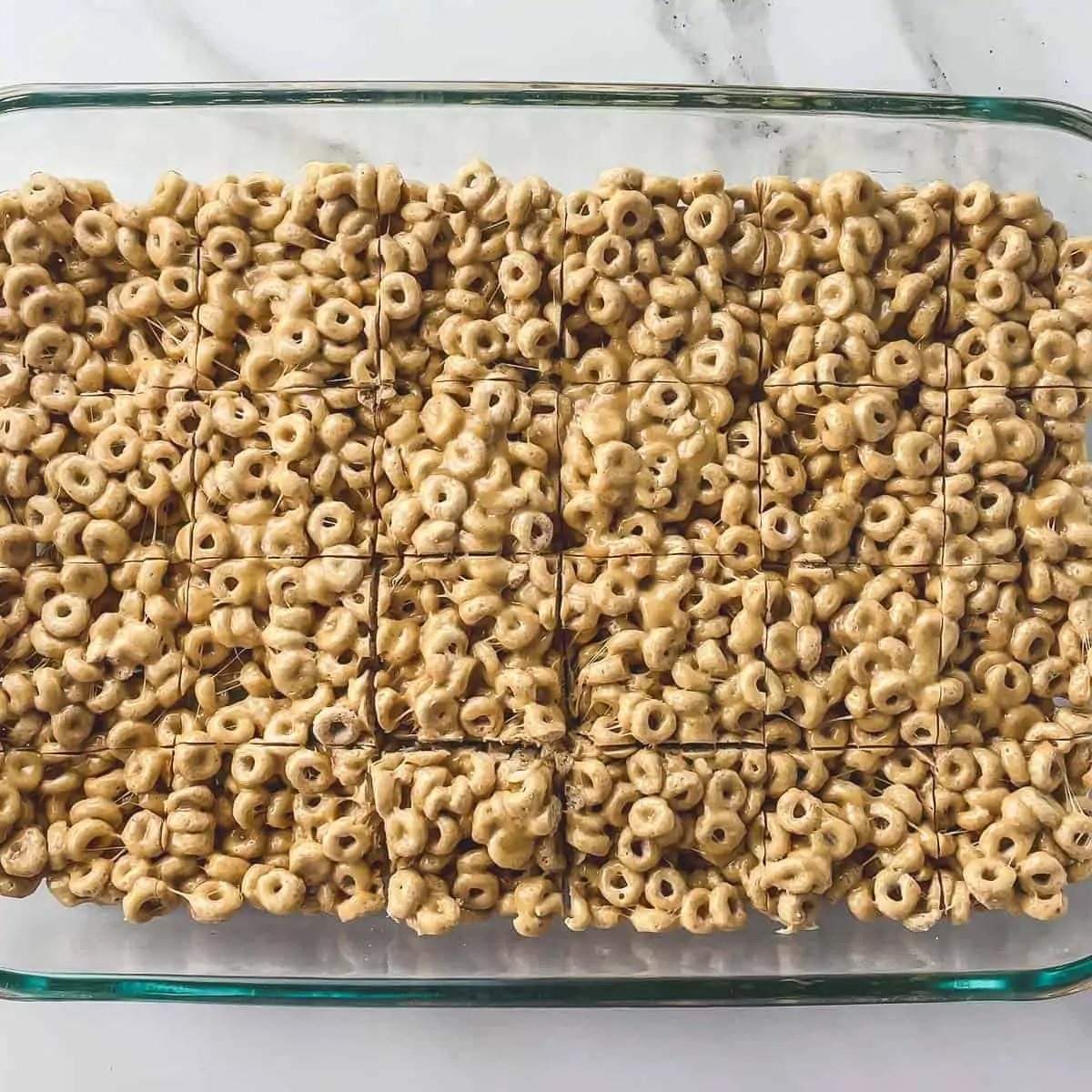 Tips and Tricks
Use nonstick cooking spray to help prevent your hands, bowls, and utensils from sticking to the marshmallow mixture. It can get VERY sticky so the nonstick spray will help prevent it from sticking to everything.
You can individually wrap bars in plastic wrap for an easy on-the-go snack. Make sure to wrap them tightly!
For a peanut butter-free option, you can use almond butter or sunflower butter instead.
To make chocolate cheerio bars, swap the peanut butter for Nutella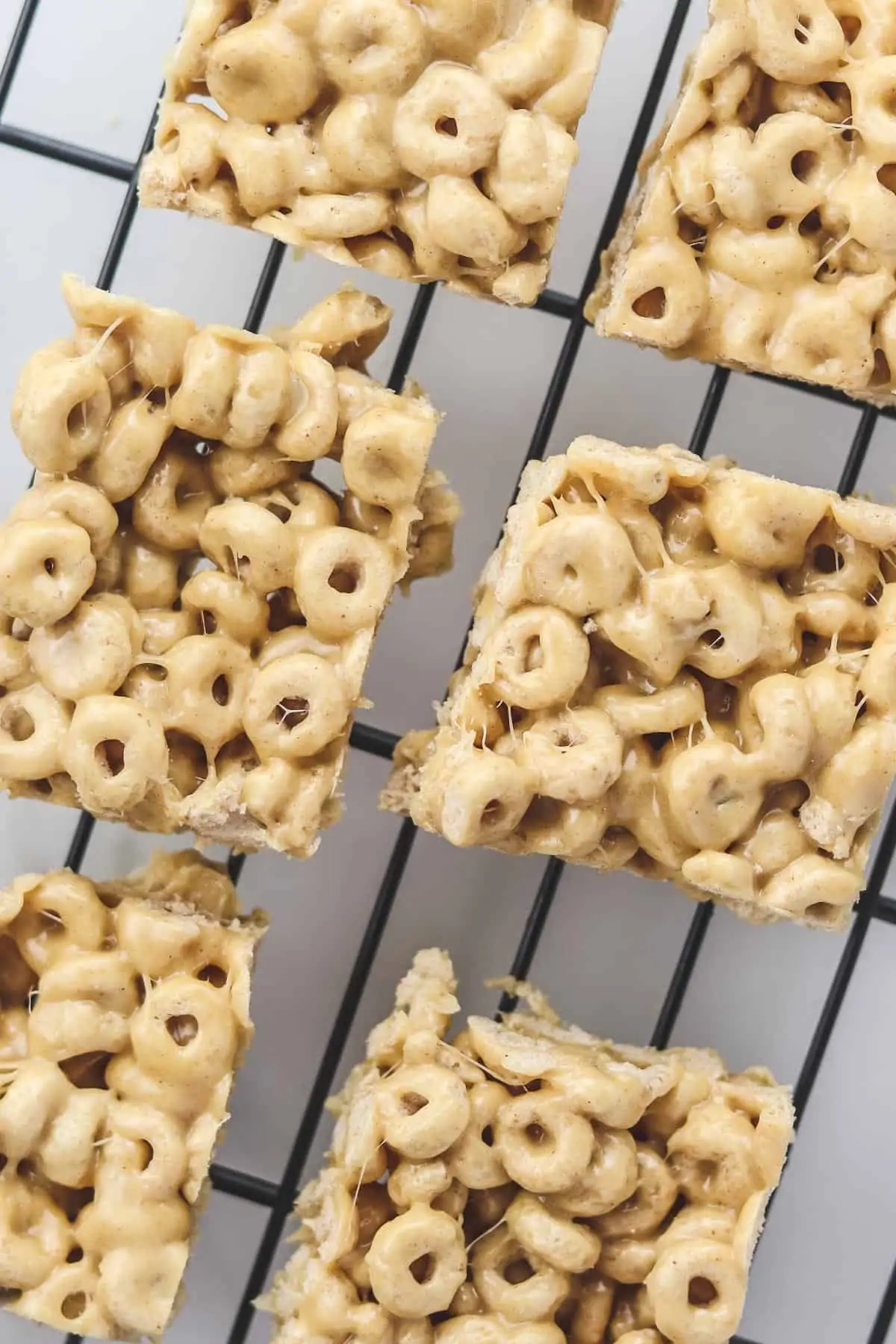 How to Halve the Recipe
If you'd like to halve this recipe, you can use an 8x8 pan instead of a 9x13. You can cut the bars into either a 3x3 or 4x4 grid.
The easiest way to halve the bag of marshmallows is to weigh them out using a food scale to measure out 5 oz.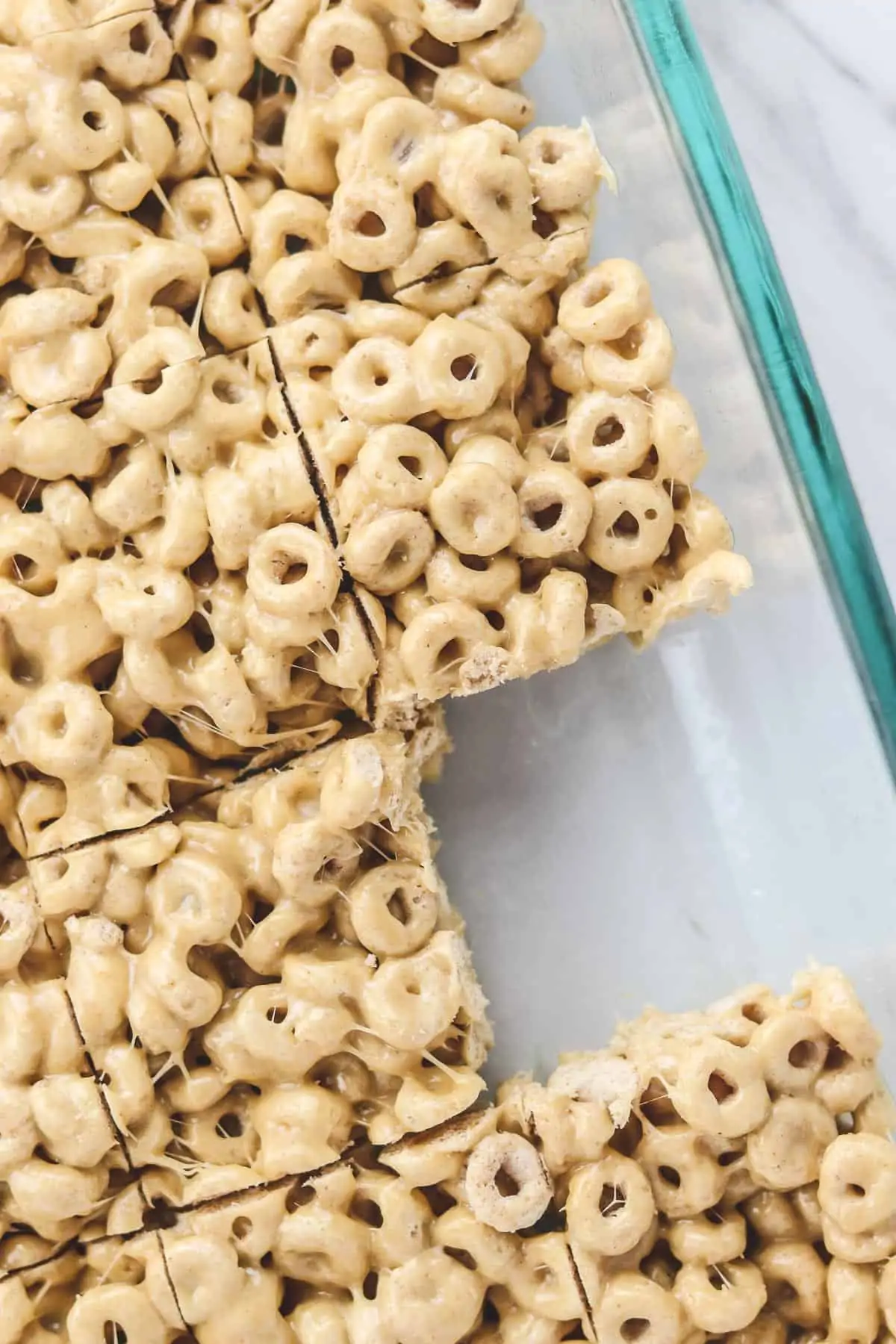 How to Store
These bars are best enjoyed within a couple of days of making them because they can dry out over time. Be sure to store them in an airtight container or ziploc bag at room temperature. Individual bars can also be tightly wrapped in plastic wrap.
They will keep for about a week, but the are best if enjoyed within a couple days of making them. They do start to get a little bit stale after a couple days.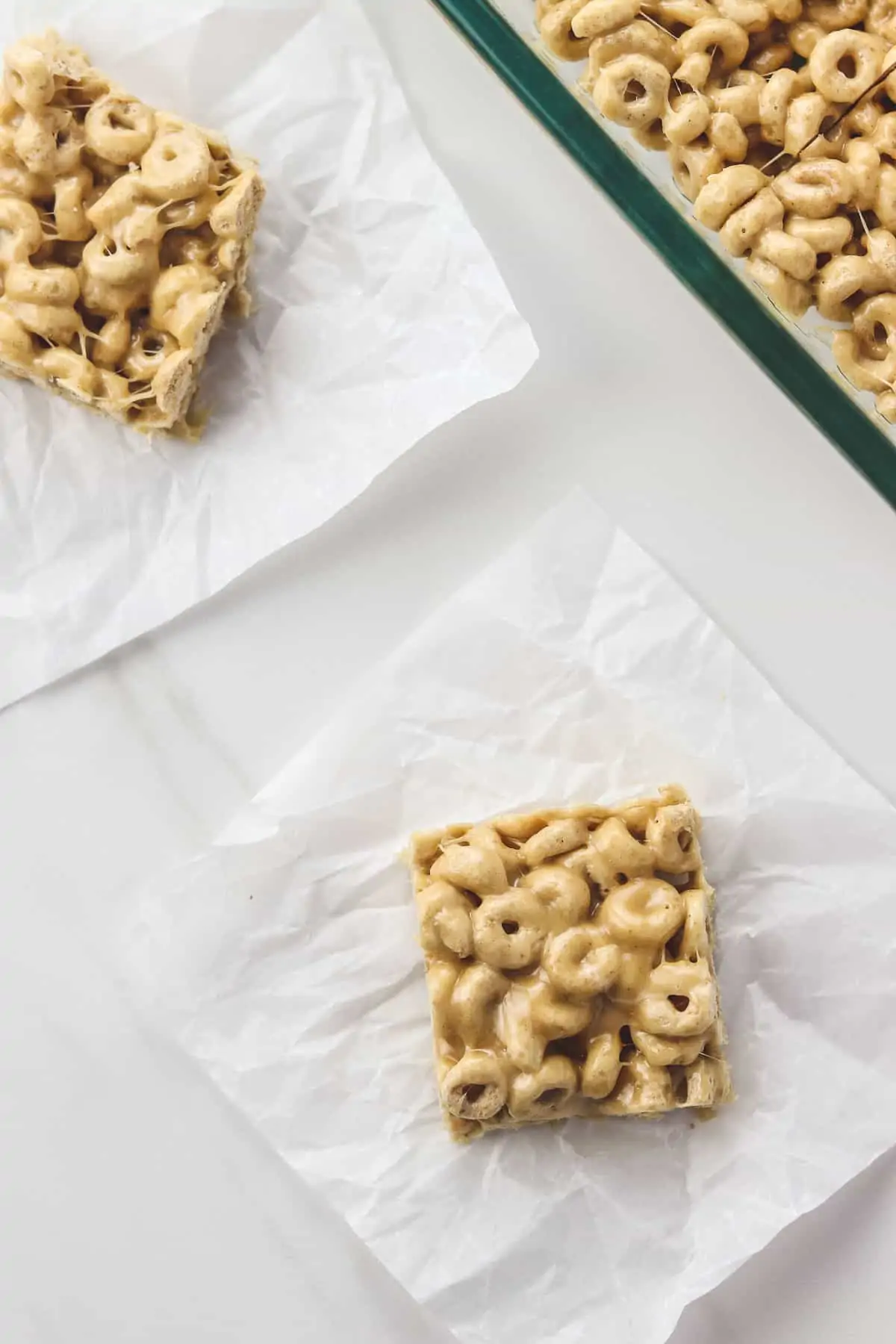 Calories & Serving Size
One serving size (1/24 of the recipe) is about a 2" by 2" bar. If you slice a 9x13 pan into a 4x6 grid, you will end up with 24 bars. Each bar will have about 100 calories.
Cutting the bars into a different size will change the calorie count, so make sure you recalculate if you slice them up differently.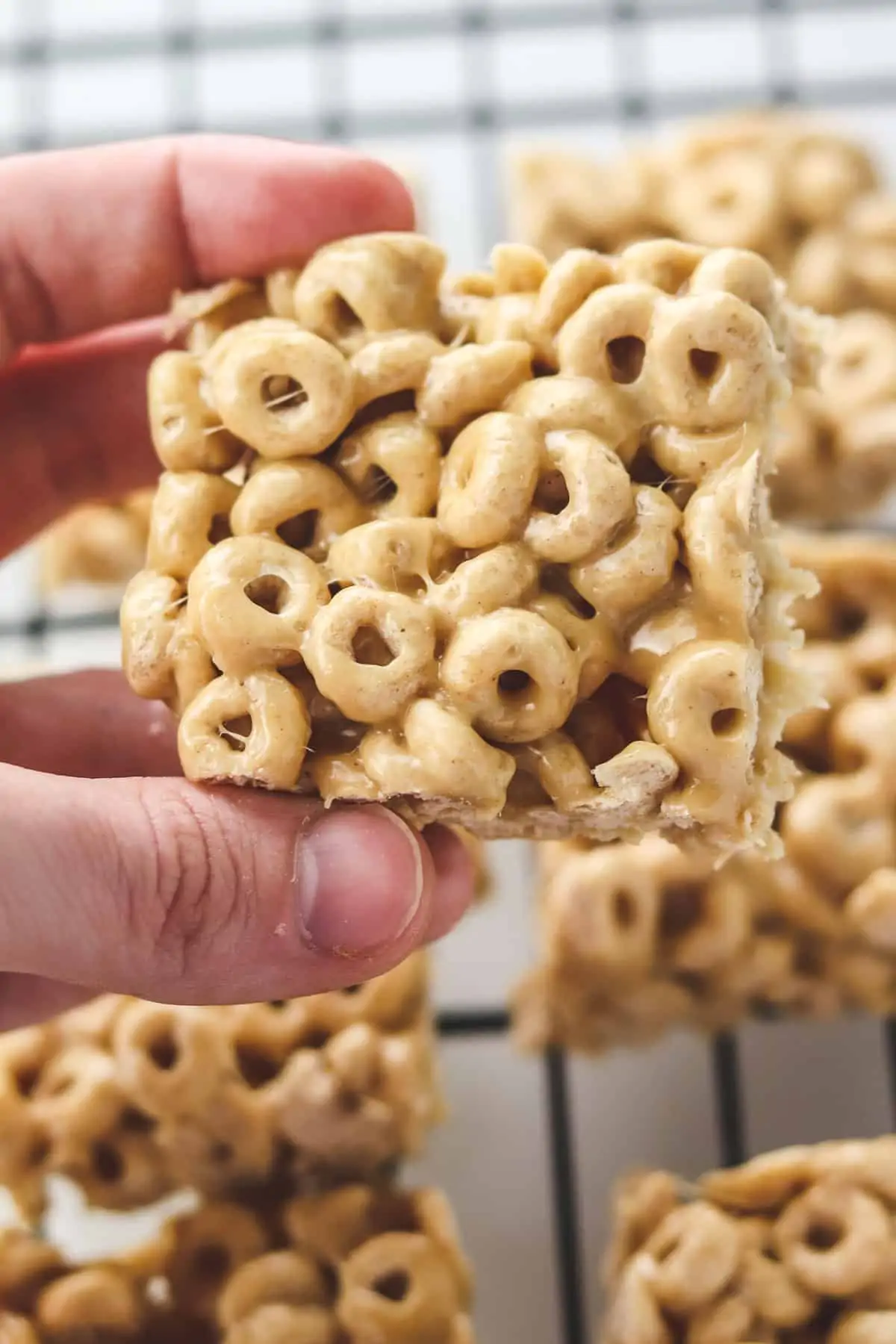 More Snack Recipes
If you liked this recipe, check out these other low-calorie snack recipes!