It's so easy to make homemade tortilla chips in your air fryer! Air-fried tortilla chips are a delicious and healthy alternative to deep-fried tortilla chips!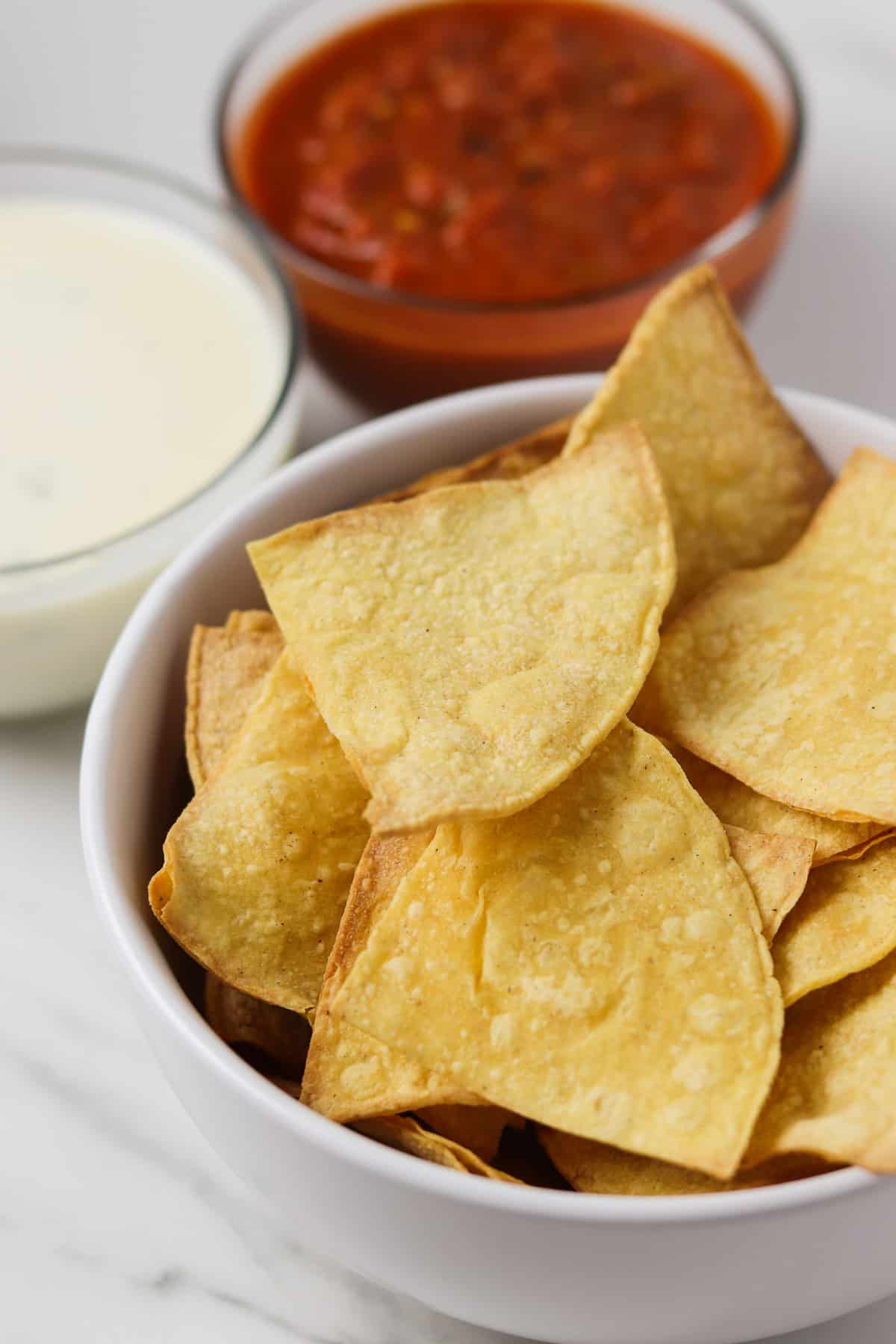 By using very little oil, these chips are much lower in calories than traditional tortilla chips, which are deep-fried in oil.
It takes only a couple minutes to prep the tortillas and throw them in the air fryer. I make them often for nacho night or for a quick snack! I love to dip these in queso, salsa, or guacamole!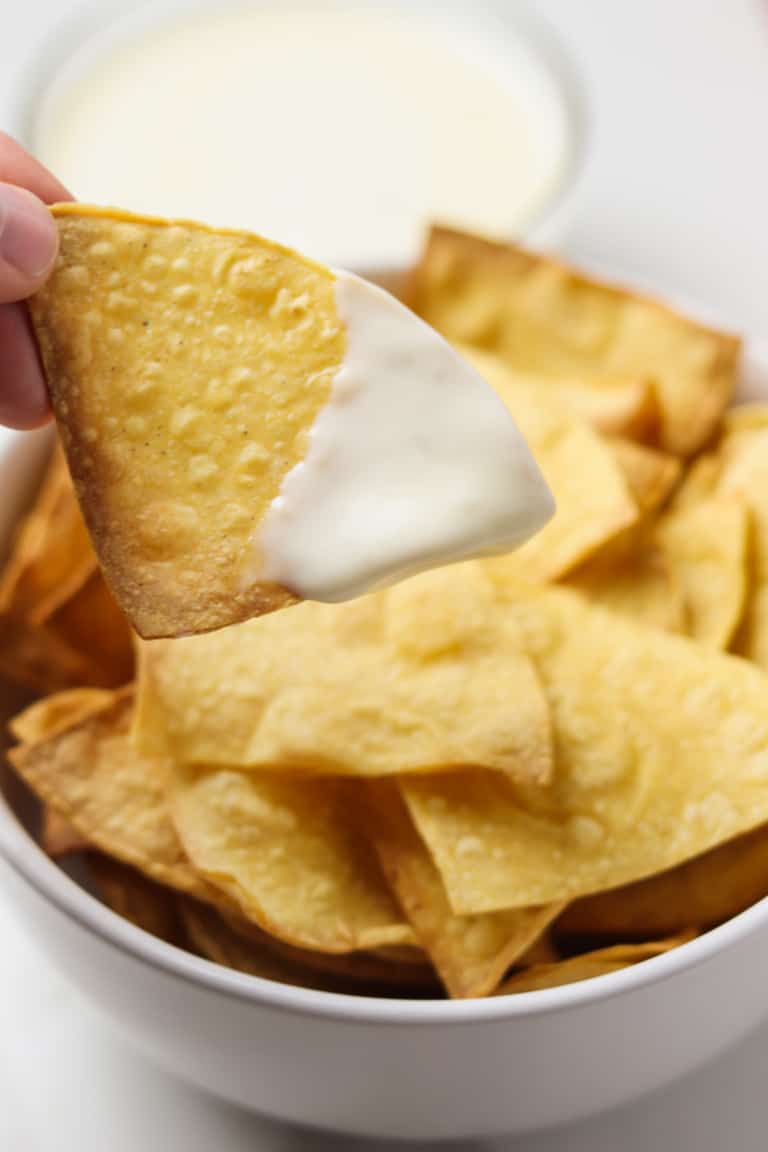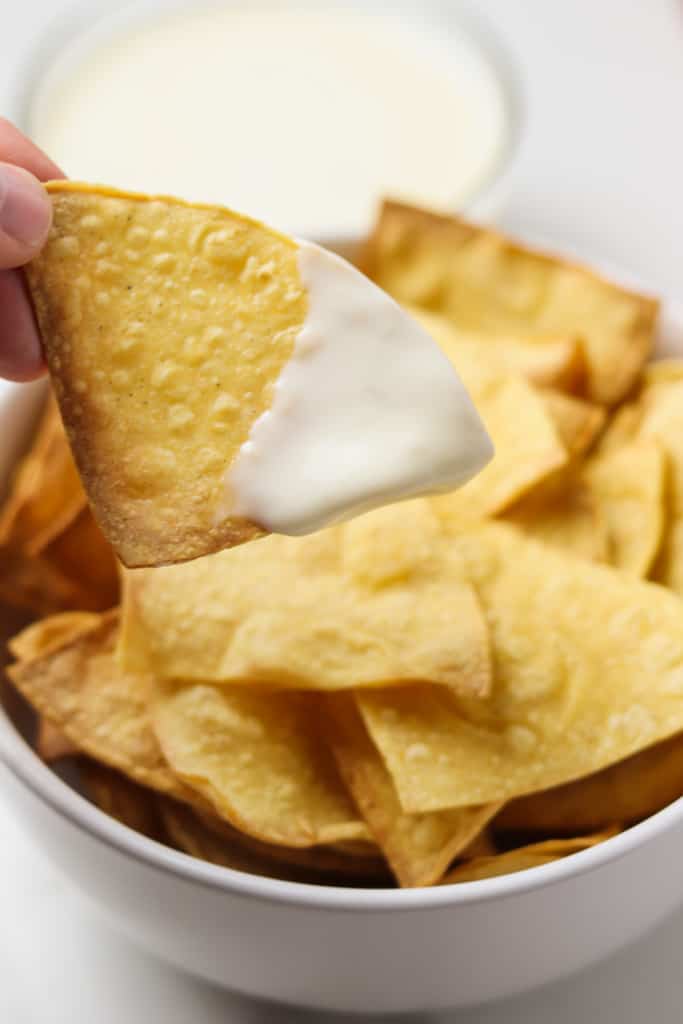 Jump to:
What Kind of Tortillas to Use
I tested this recipe using three types of tortillas:
Corn tortillas
Low carb whole wheat flour tortillas
Fajita-sized white flour tortillas
My favorites were the corn tortillas and low carb whole wheat tortillas! The corn tortillas were the closest to traditional tortilla chips you would buy at the grocery store.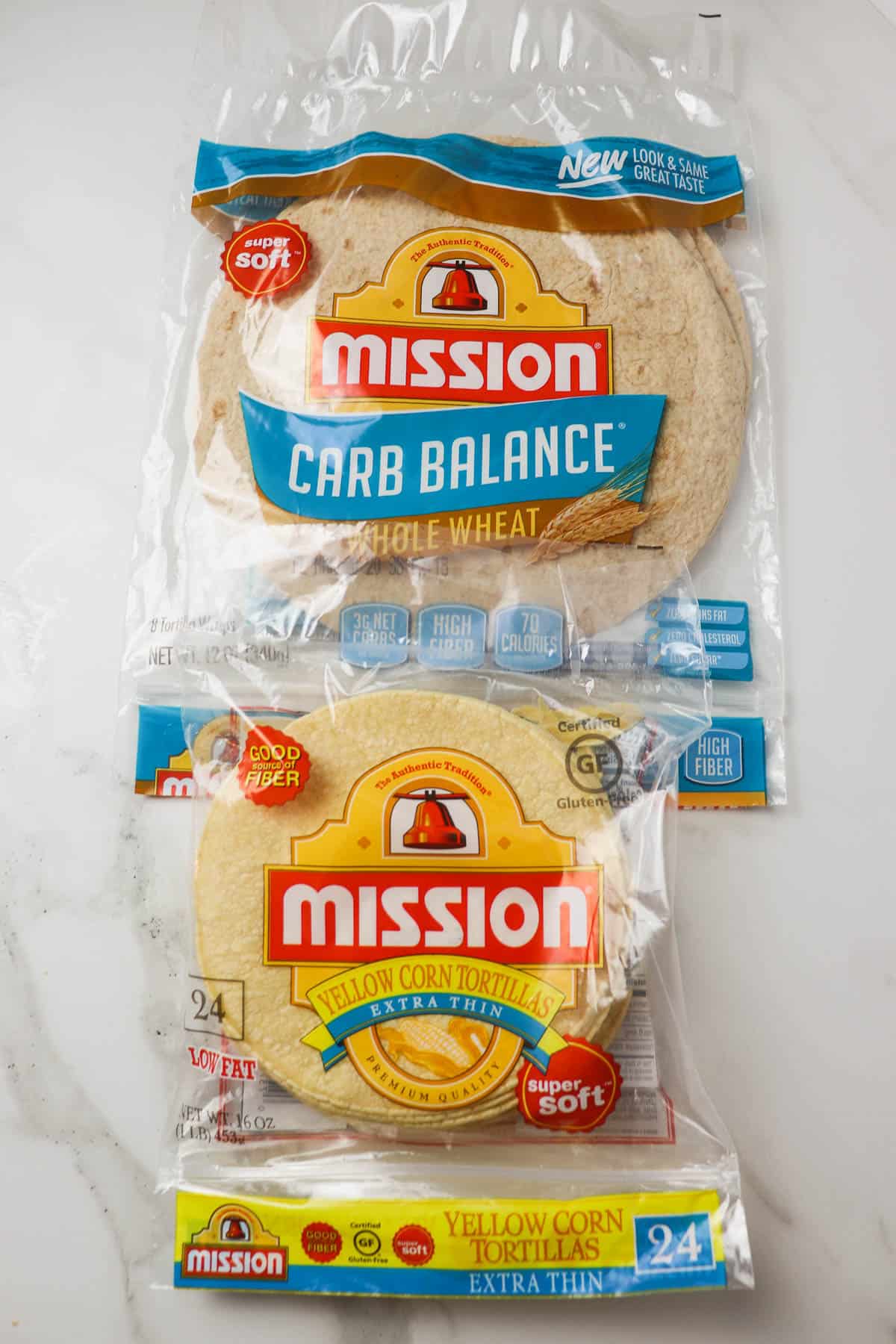 While you can make this recipe with regular flour tortillas, I found them to be a little too thick (and they also have many more calories than corn or low carb tortillas). It is difficult to get the flour tortillas crunchy before they start to get too browned.
Instructions
First, prep your tortillas by cutting them into chip-sized pieces. If you start with small corn tortillas or fajita-sized tortillas, you can cut them into quarters.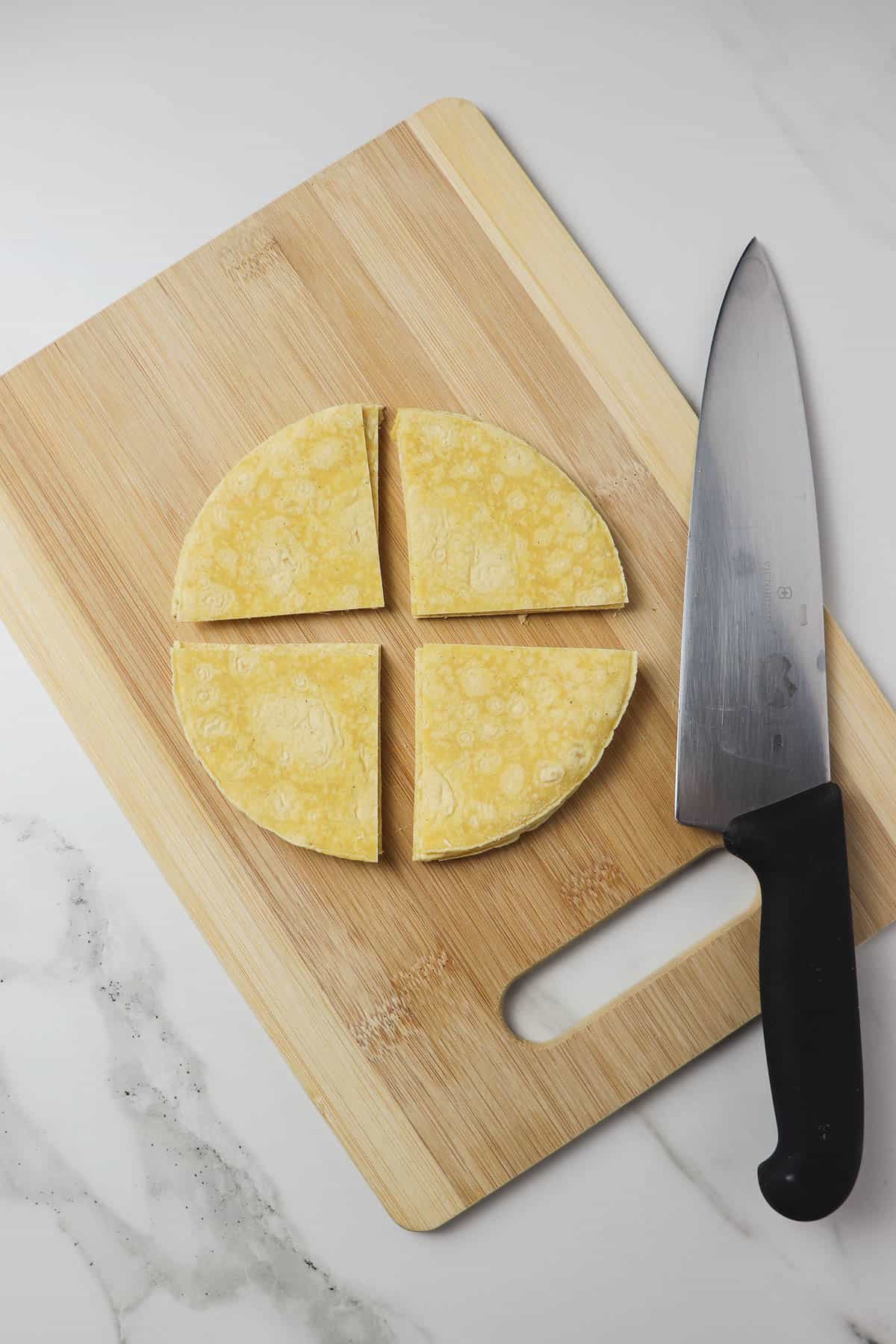 If using larger tortillas, you may need to cut them into a 3x3 or 4x4 grid. Aim for the pieces to be about 2" wide.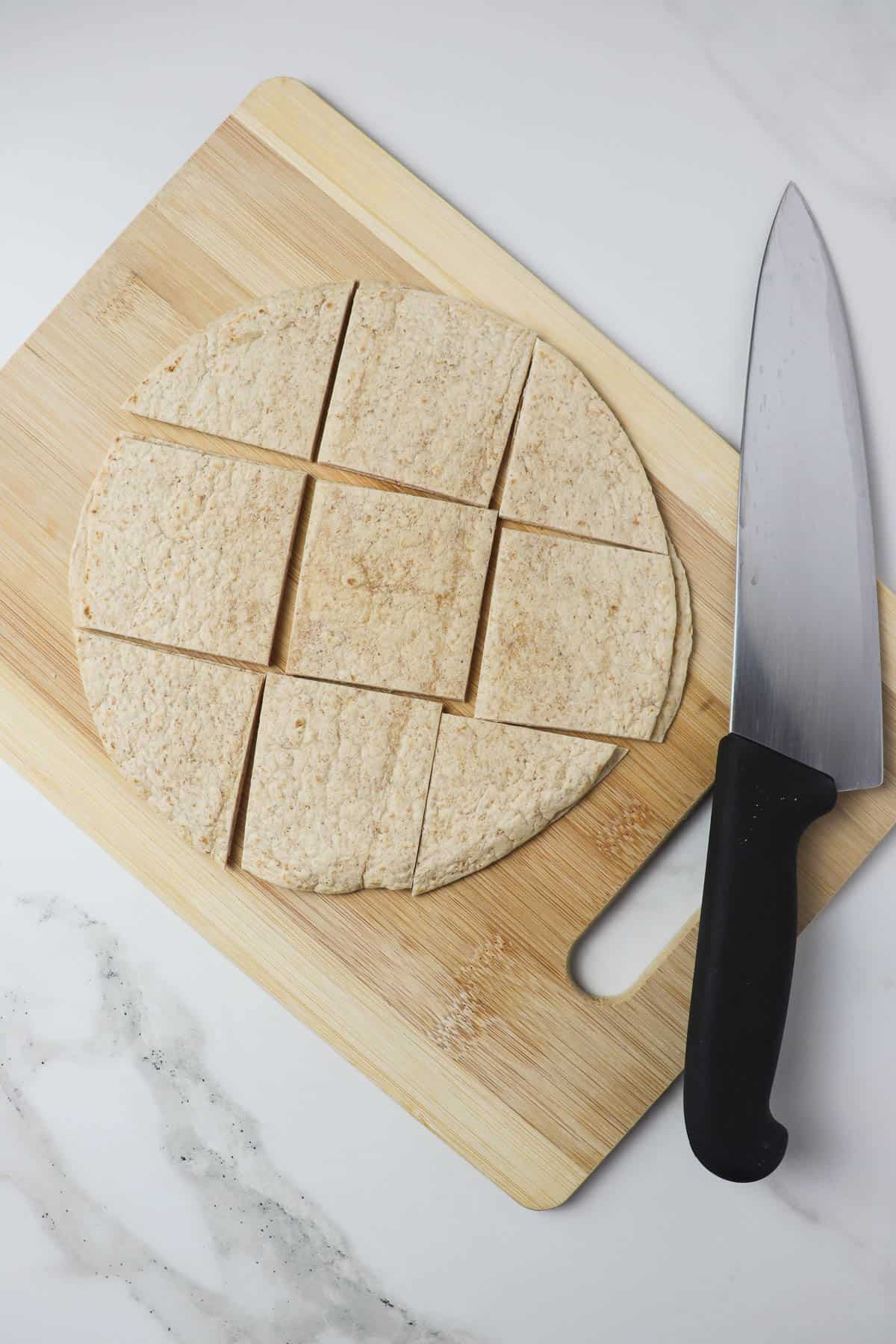 Next, lightly spray the tortillas with oil on both sides. I use a canola oil spray, but any type of spray oil should work. Lay tortilla pieces in a single layer in the air fryer basket.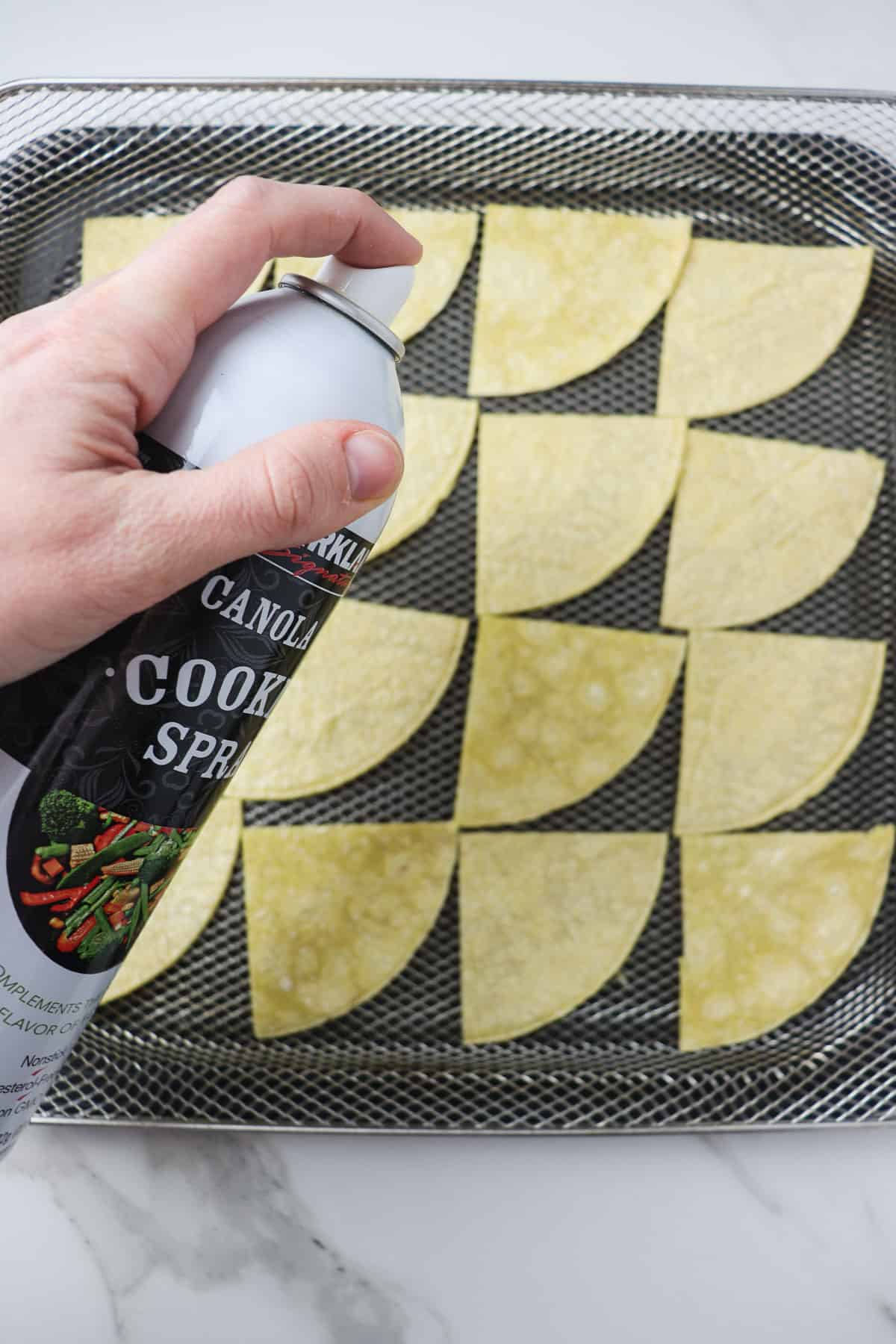 Optional step: lightly salt chips, if desired. The salt should stick to the oil.
If your air fryer is small, you may need to work in multiple batches. Do not stack the tortillas, or they will not crisp up correctly.
In my larger oven-style air fryer, I can fit about 16 chips in my tray (from 4 corn tortillas).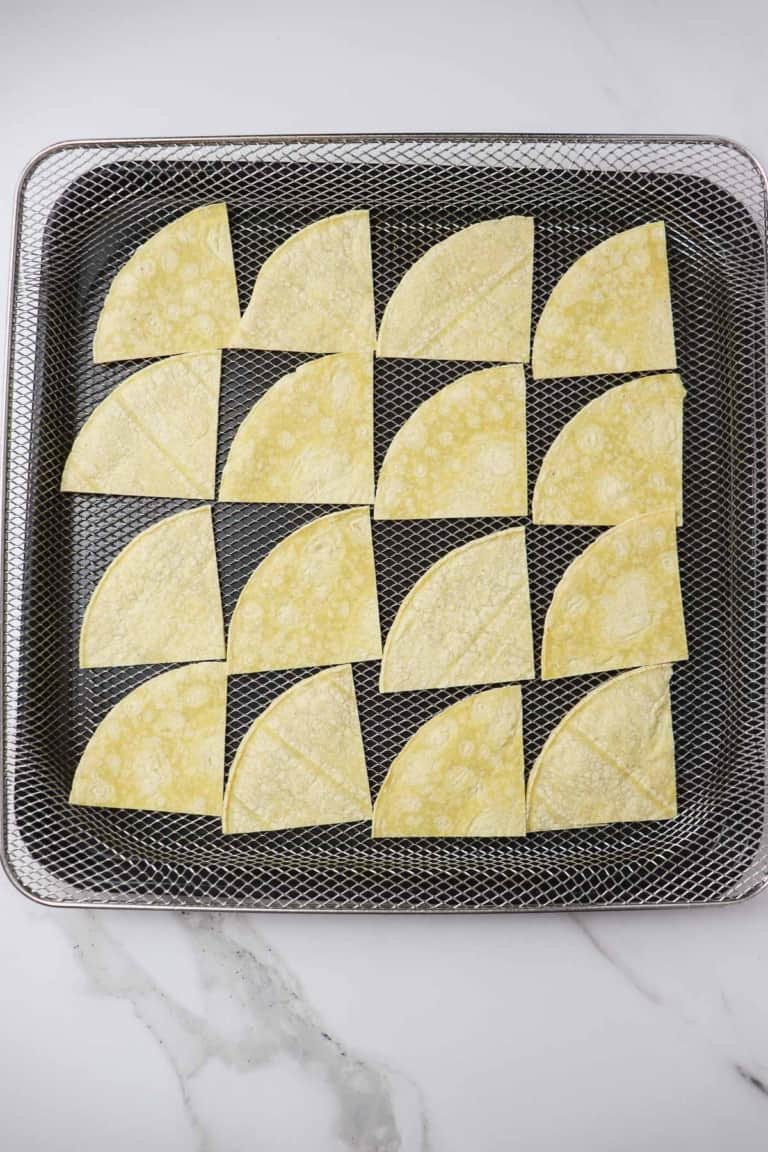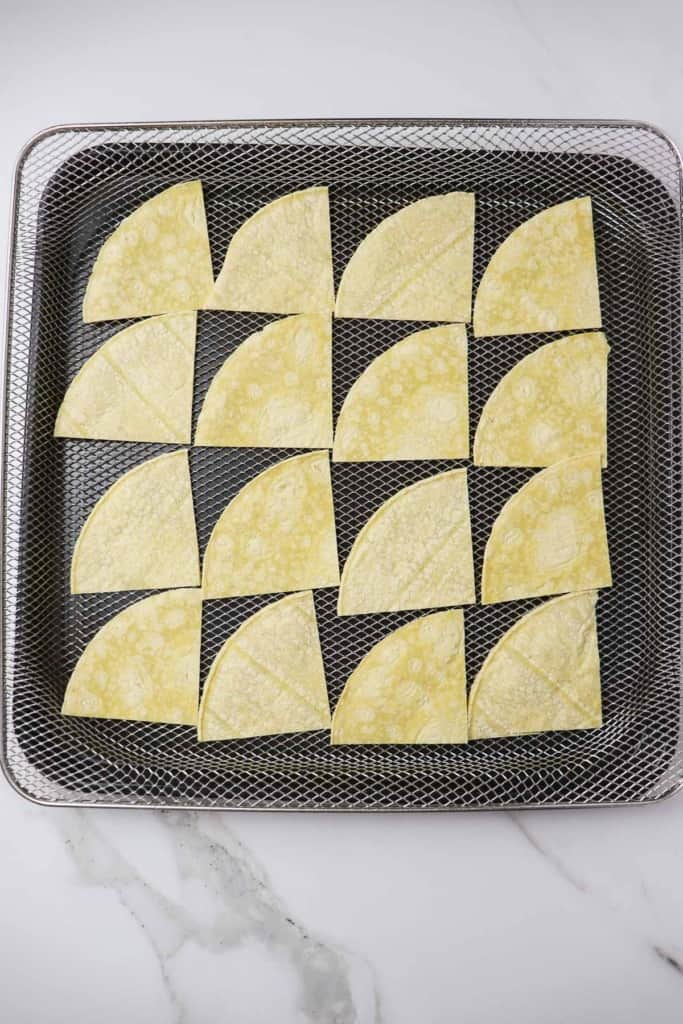 Cook Time by Tortilla Type
Preheat your air fryer to 400 degrees. For any type of tortilla, I recommend air frying at 400 degrees. Cook time may vary slightly by your air fryer model, but here is my reccomendation:
Corn tortillas: 5 minutes
Low-carb tortillas: 5 minutes
Flour tortillas: 6 minutes
Finished chips should be golden brown, but not too burnt on the edges! You want to make sure to cook the chips enough that they are not chewy on the inside.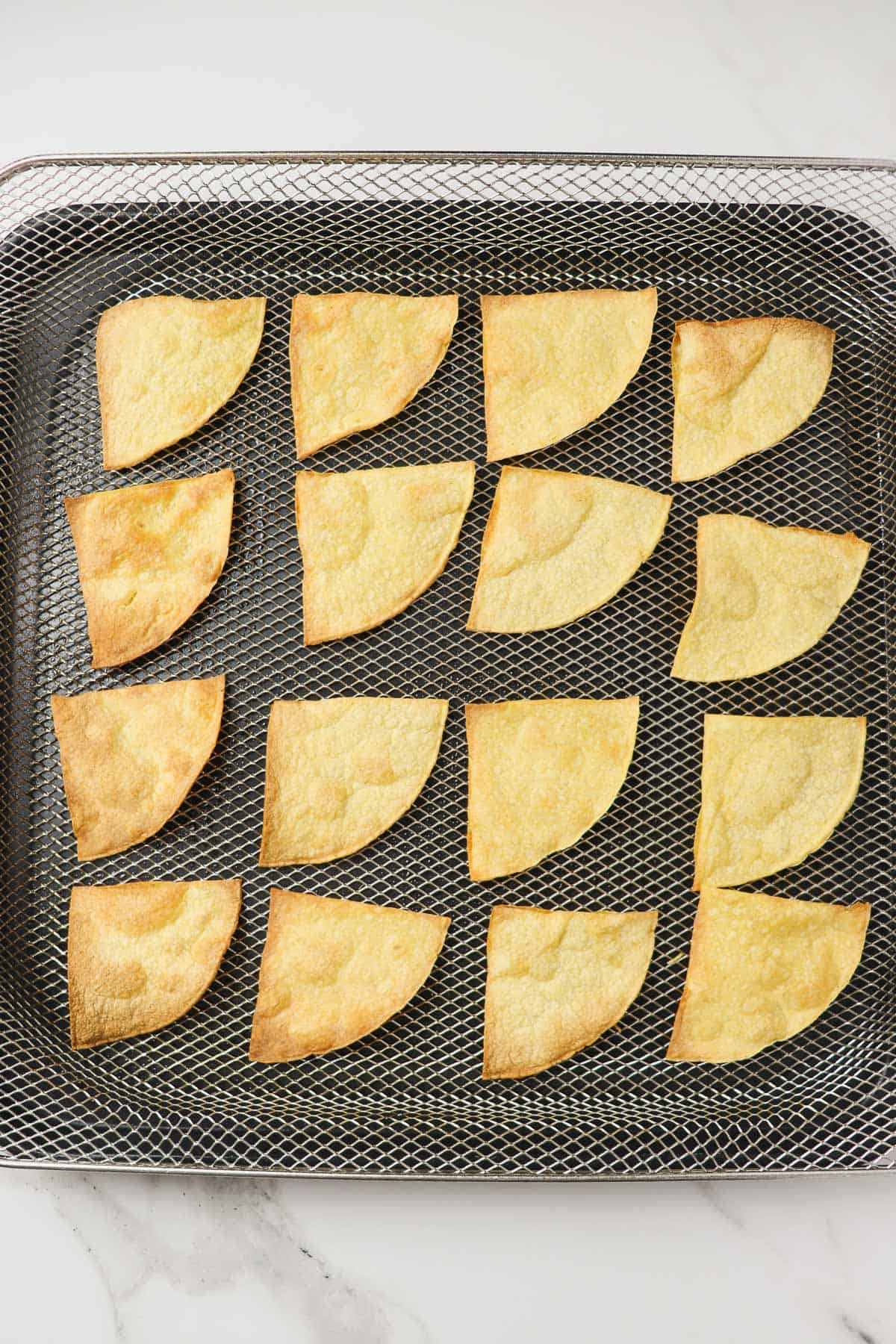 How to Make Keto Tortilla Chips
To make Keto-friendly tortilla chips in the air fryer, use low-carb whole wheat tortillas. The mission brand soft taco sized "carb balance" tortillas have only 3 grams net carbs per tortilla.
You can cut each tortilla into 9 chips, so a serving size of 9 chips would only be 3g net carbs!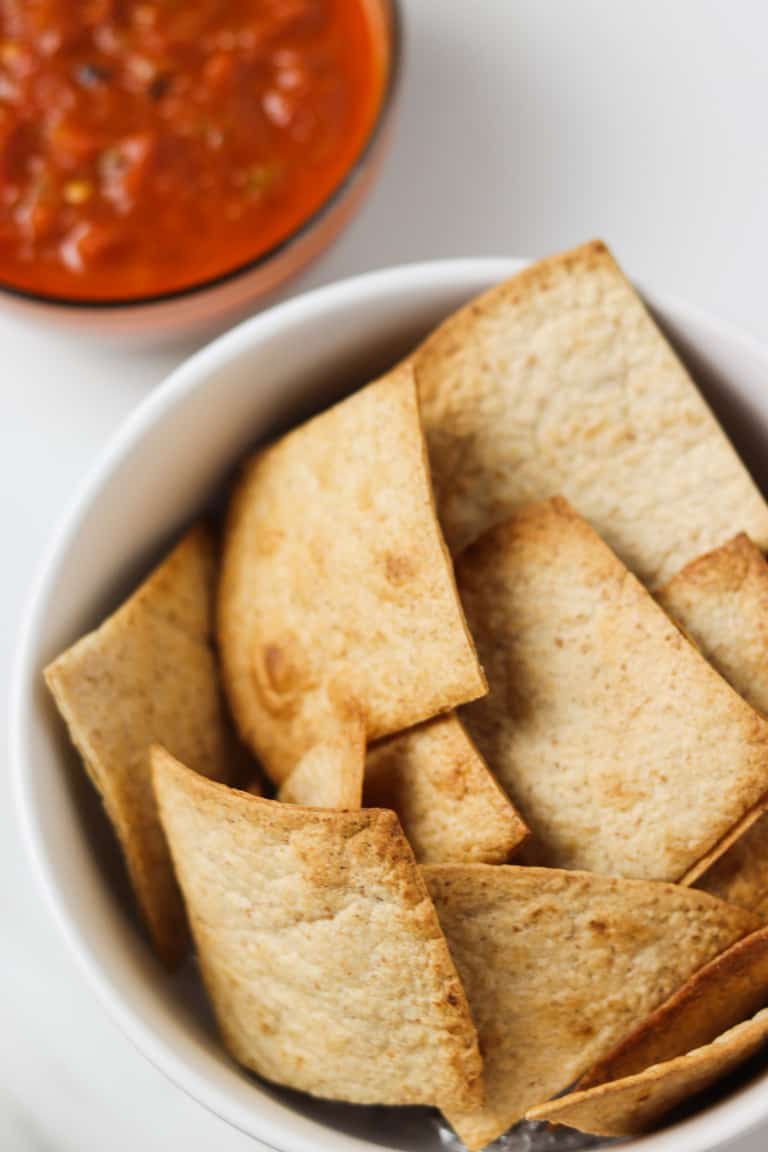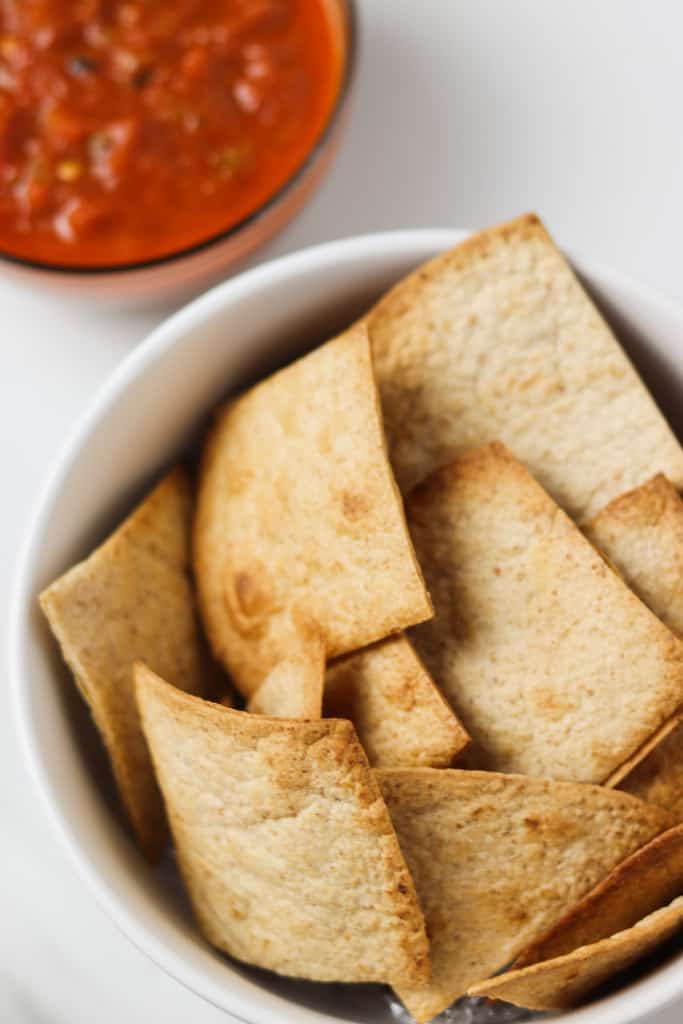 I thought that the low carb tortilla chips were quite good! The thinner low carb tortillas actually work better than the thicker, full-carb tortillas.
Top Tips and Tricks
Here are my top tips for making air fryer tortilla chips:
For best results, use corn tortillas. These were by far my favorite when I experimented with several different types!
You don't need to flip the chips. Since the tortillas are so thin, I found that flipping was not necessary! Mine cooked evenly without flipping.
Don't skip adding a little salt. A touch of salt really makes them taste much better!
Be careful not to burn chips. Since the tortillas are thin and cook quickly, they can burn easily. You want the edges to be lightly golden brown but not dark brown.
Cook in batches! Ensure chips are cooked in a single layer in your air fryer basket.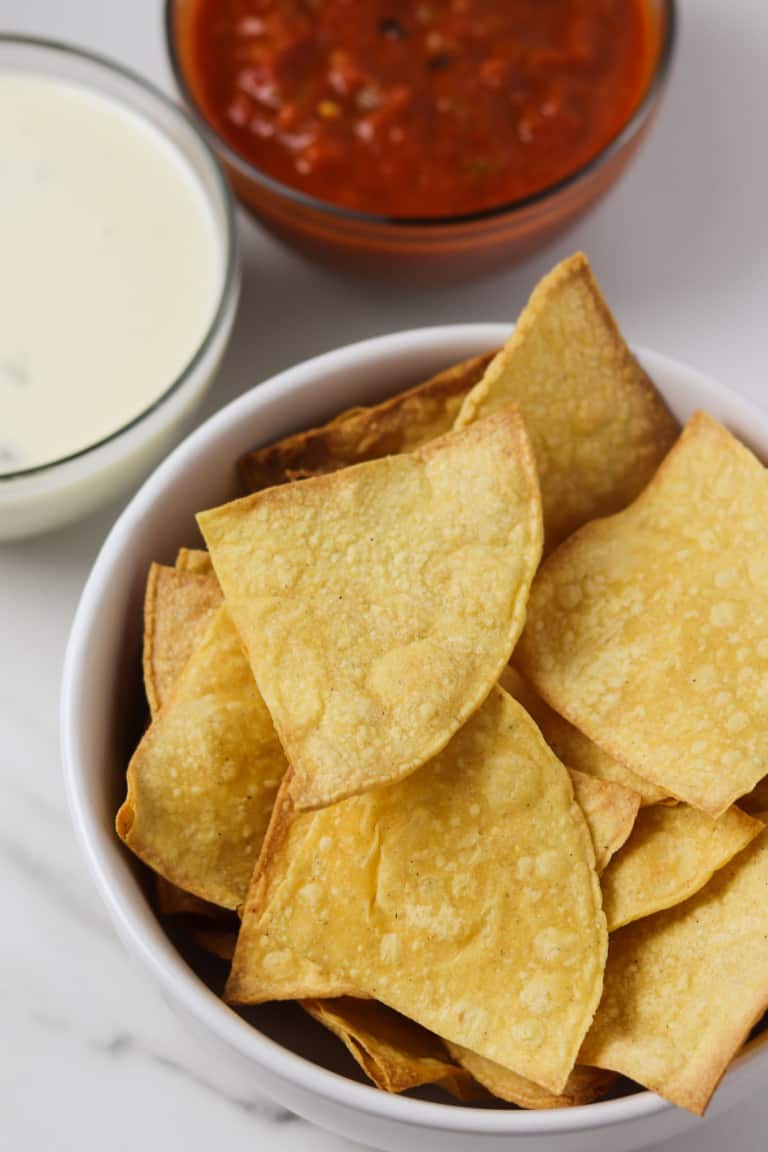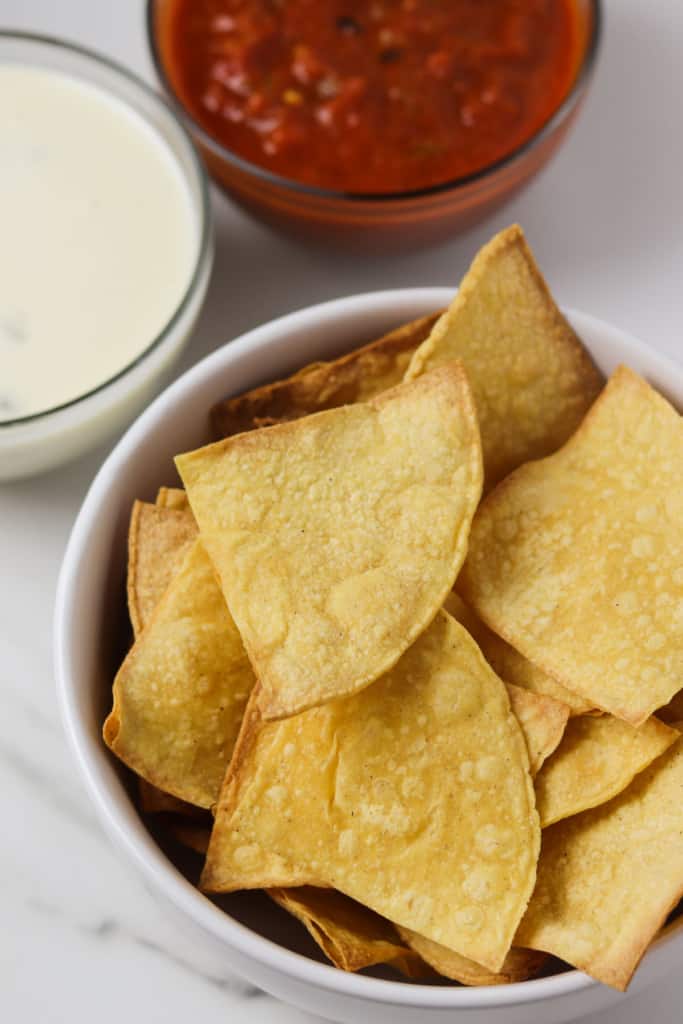 How to Serve
Air Fryer Tortilla Chips are sturdy chips that make a great base for nachos! They are also great for dipping in salsa, queso, or guacamole.
For a yummy dip, try making a batch of Crock Pot Mexican Chicken! To make it a meal, add a side of Instant Pot Mexican Rice!