Air fryer carrots make a healthy, delicious, and easy side dish! Baby carrots roasted with garlic and olive oil come out perfectly tender in the air fryer!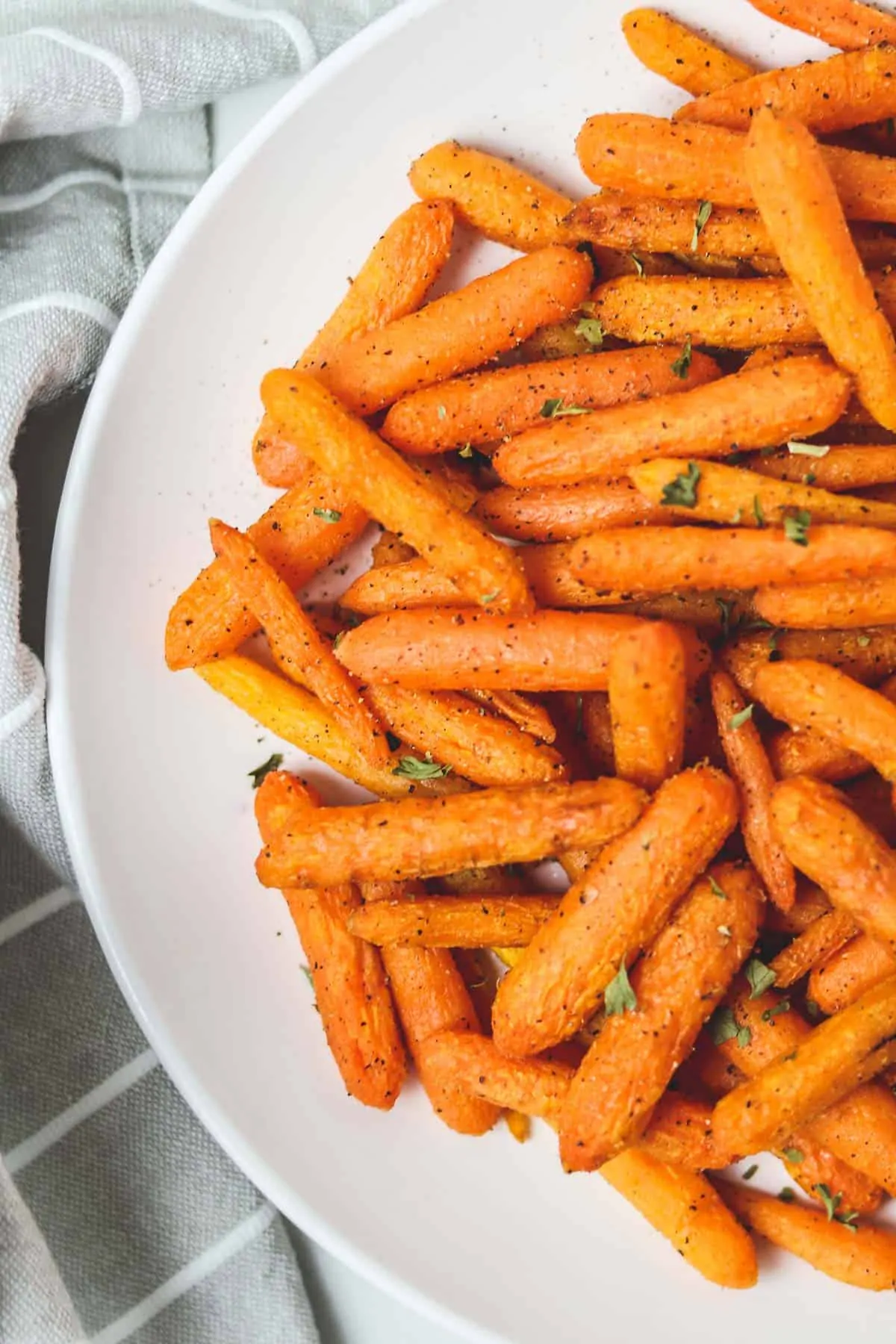 This is a very simple and easy side dish to put together with only 5 ingredients! It's quick and easy for any weeknight meal. Using baby carrots makes this very simple with no peeling or chopping required.
Carrots have a slightly sweet flavor that balances well with the garlic, salt, and pepper after roasting. They come out so delicious and tender!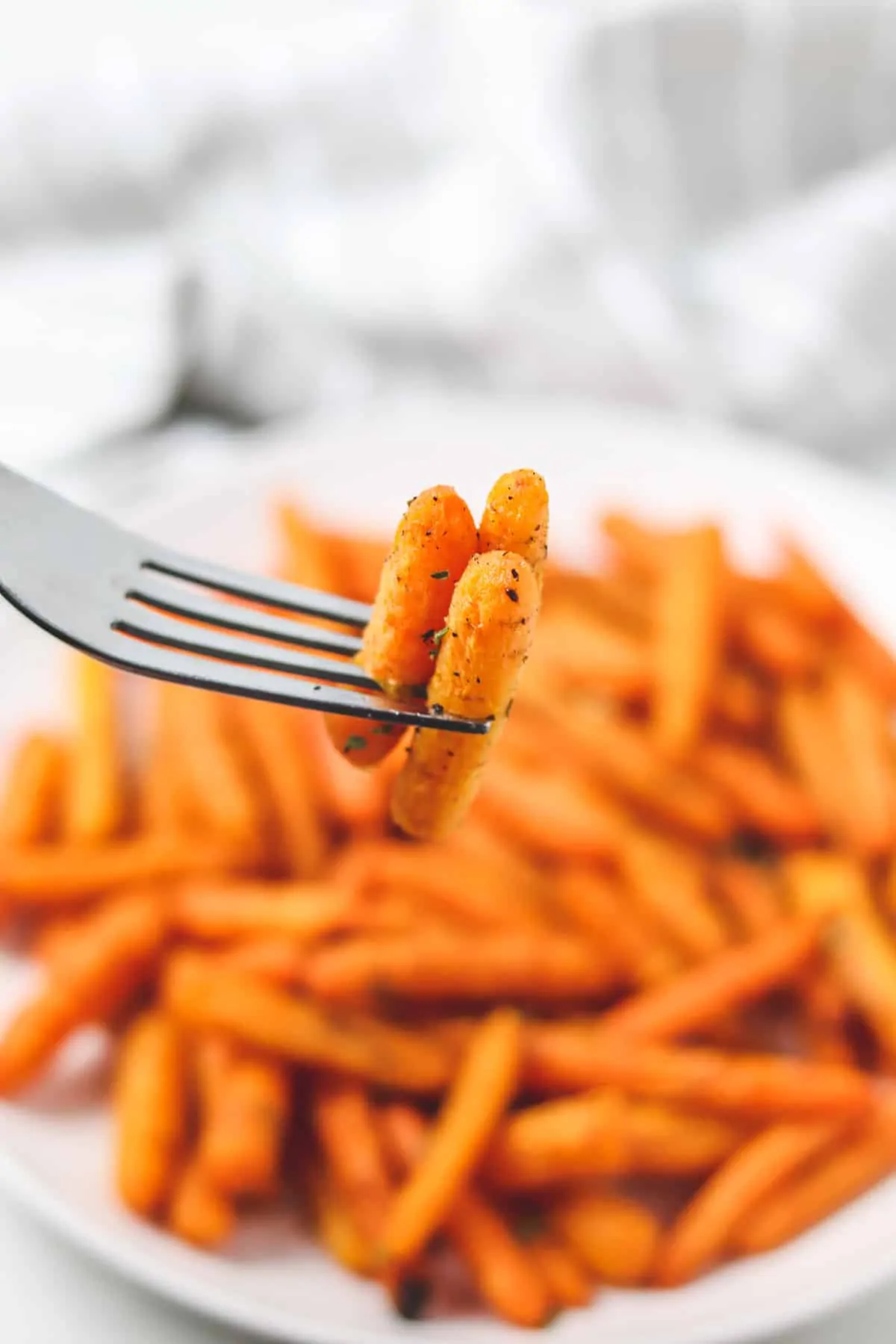 Carrots are naturally low-calorie which makes them a great healthy side dish option. This recipe does not slather the carrots in butter and sugar, either.
These are also kid-friendly and family-friendly! If you want an easy, low-calorie side dish, you can pair these roasted baby carrots with almost anything.
Jump to:
Why use the Air Fryer?
As opposed to roasting in the oven, the air fryer really speeds up the cooking time. Carrots will cook faster and without all of that preheating time that the oven requires. Also, in the summertime, you can avoid heating up your house by running the big oven!
Air fried carrots also have a really good texture - they are very tender inside with a roasted exterior!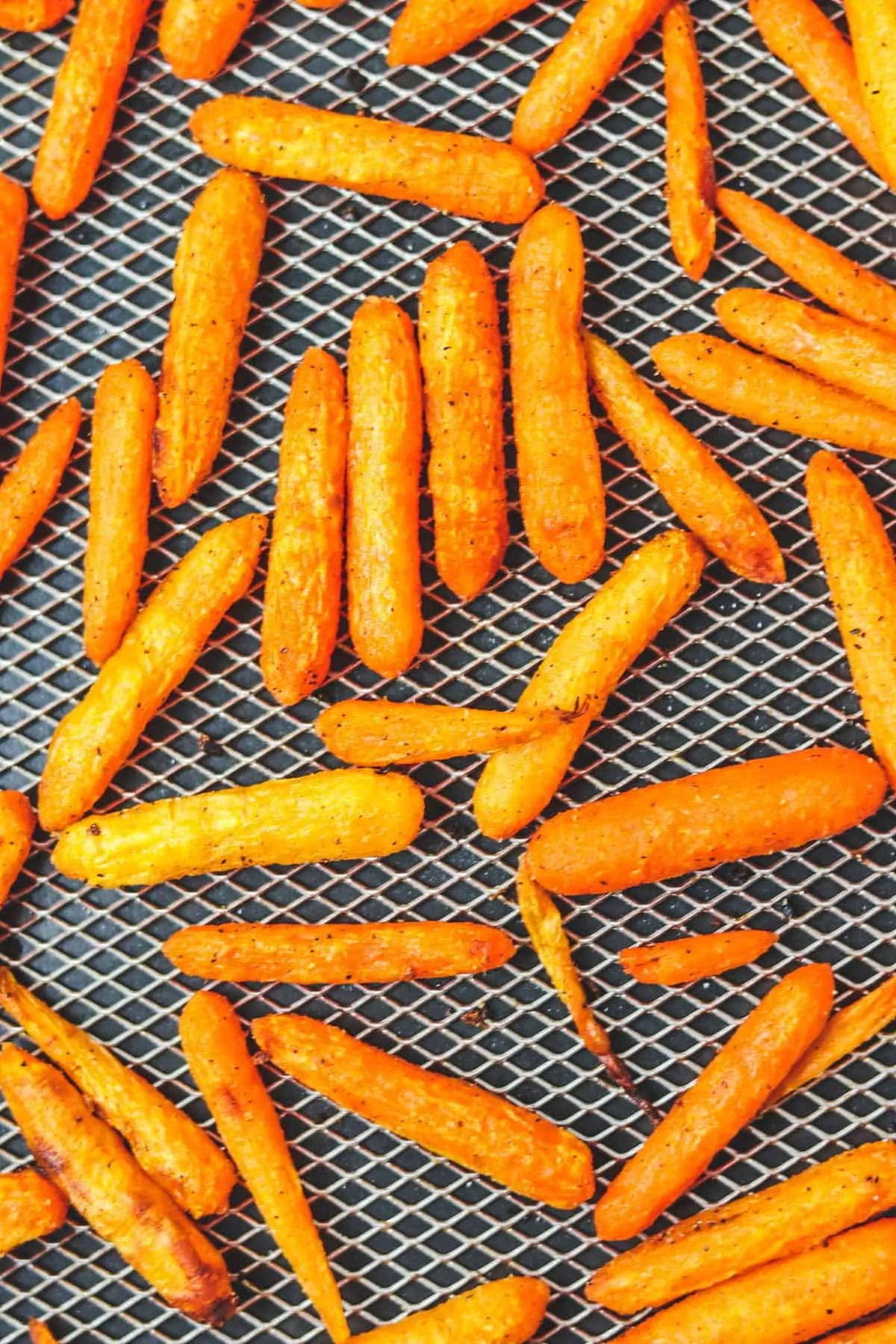 Ingredients
You will need:
1 lb baby carrots
1 tbsp olive oil
1 tsp minced garlic
¼ tsp salt
¼ tsp pepper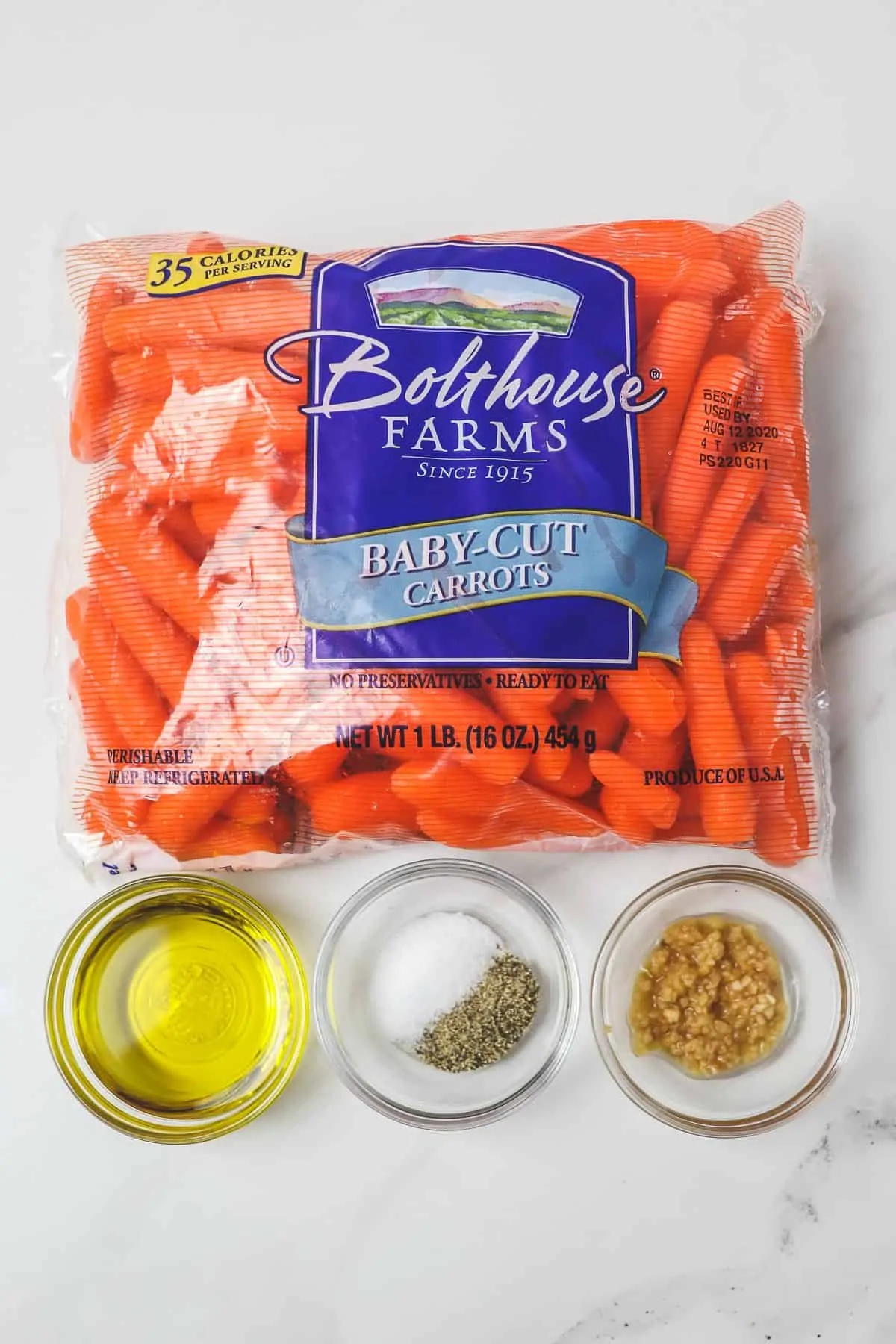 Substitutions
Baby Carrots - I like to use baby carrots because they require no prep work, but you can also use regular carrots. To use full-sized carrots, peel them and then cut them into smaller strips, roughly the size of baby carrots.
Olive Oil - you can substitute any kind of oil in place of olive oil. Vegetable or canola oil also would work fine.
Garlic, salt, and pepper - this is a simple seasoning blend, but you can definitely mix up the seasoning to however you like your carrots. You can leave out the garlic and just use plain salt and pepper.
Equipment
Air Fryer - I absolutely love my oven-style air fryer which has a large sheet-pan style basket. This allows me to cook a pound of carrots at once in a single layer.
Mixing Bowl - a simple glass mixing bowl works great for mixing up the carrots with the seasoning blend.
Instructions
First, use a paper towel to dry the baby carrots thoroughly. Sometimes there is excess water in the bag of baby carrots.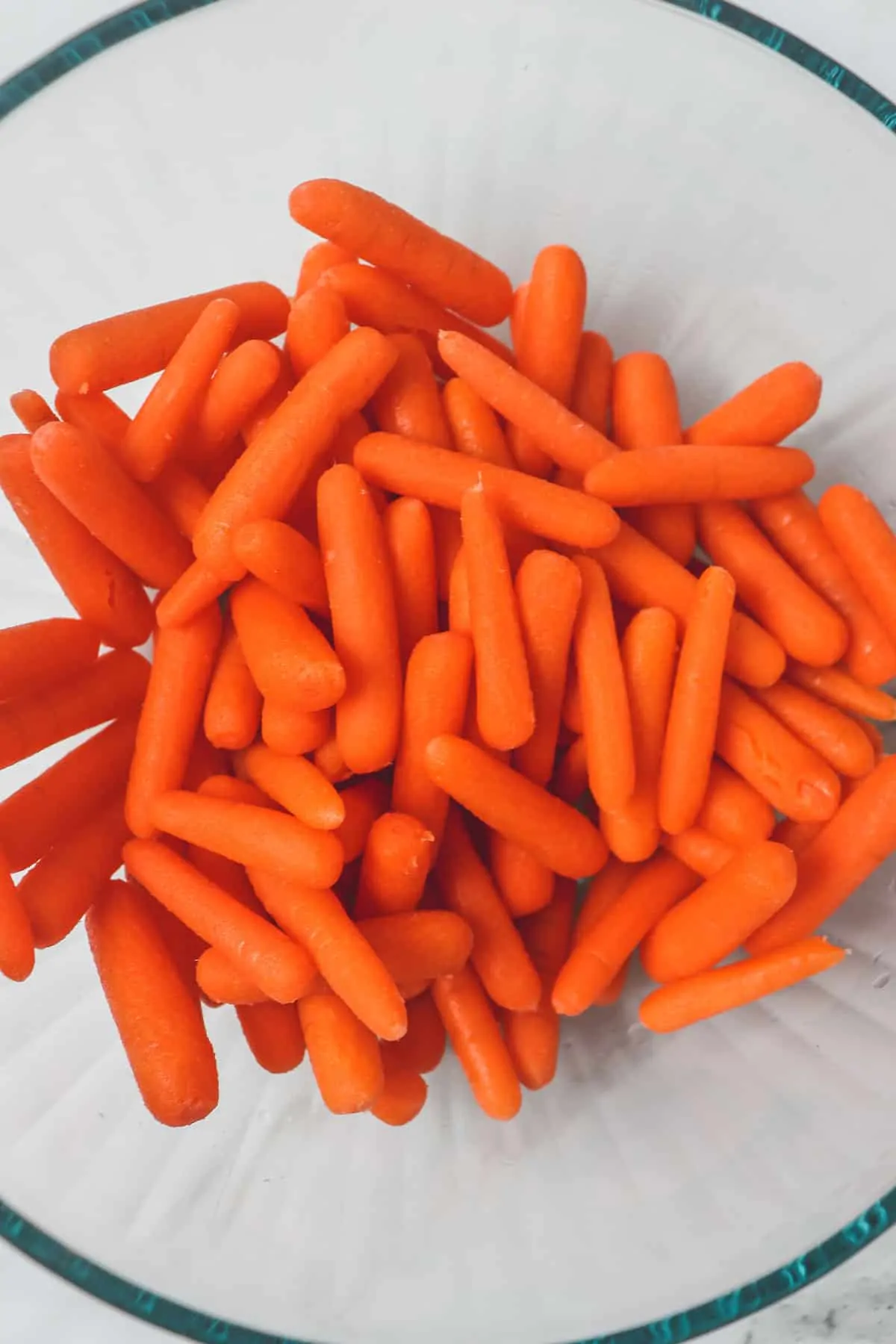 Next, mix the carrots with the olive oil, garlic, salt, and pepper. Toss thoroughly until seasoning is well distributed.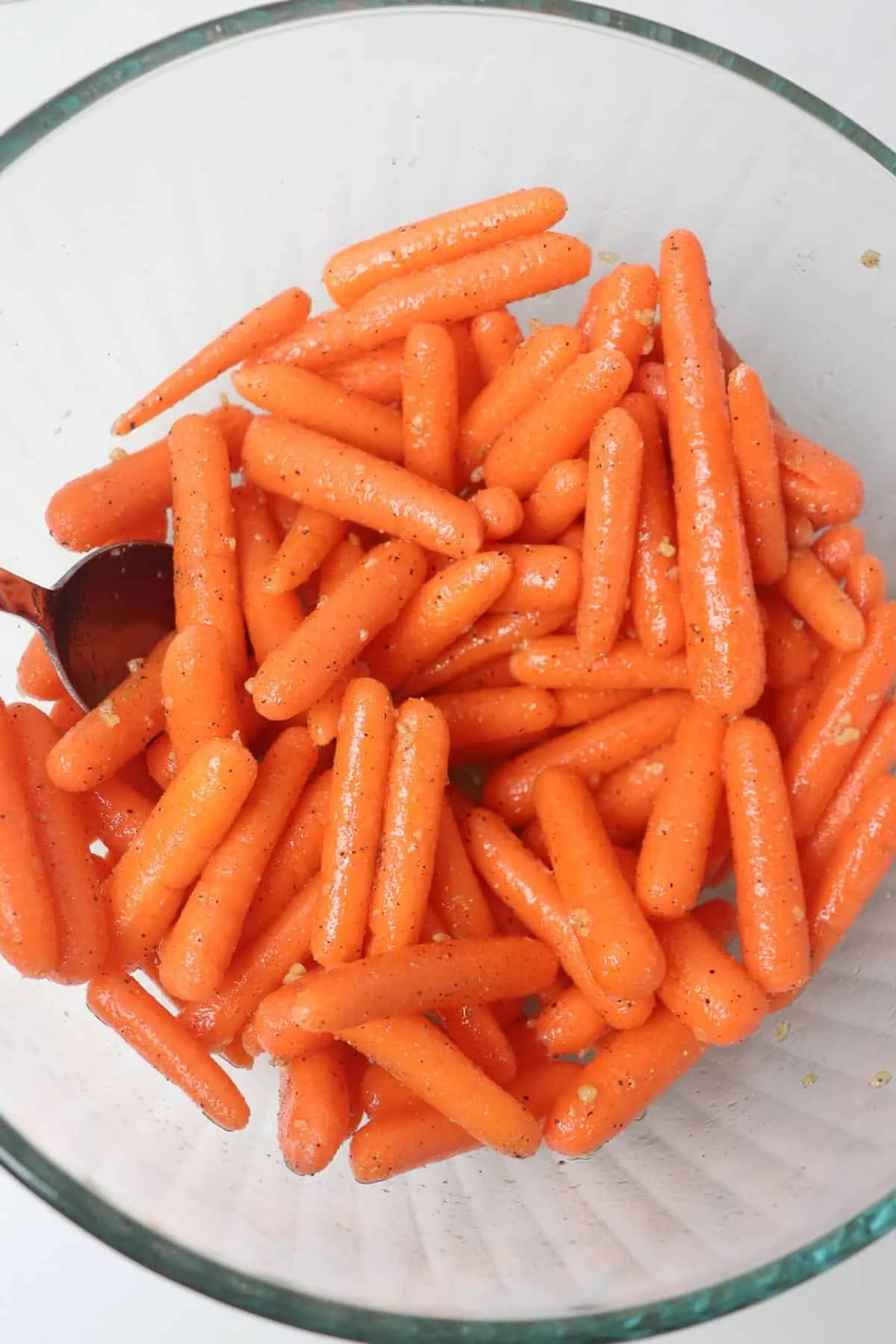 Spread out the carrots evenly into your air fryer basket, making sure carrots are in a single layer if possible.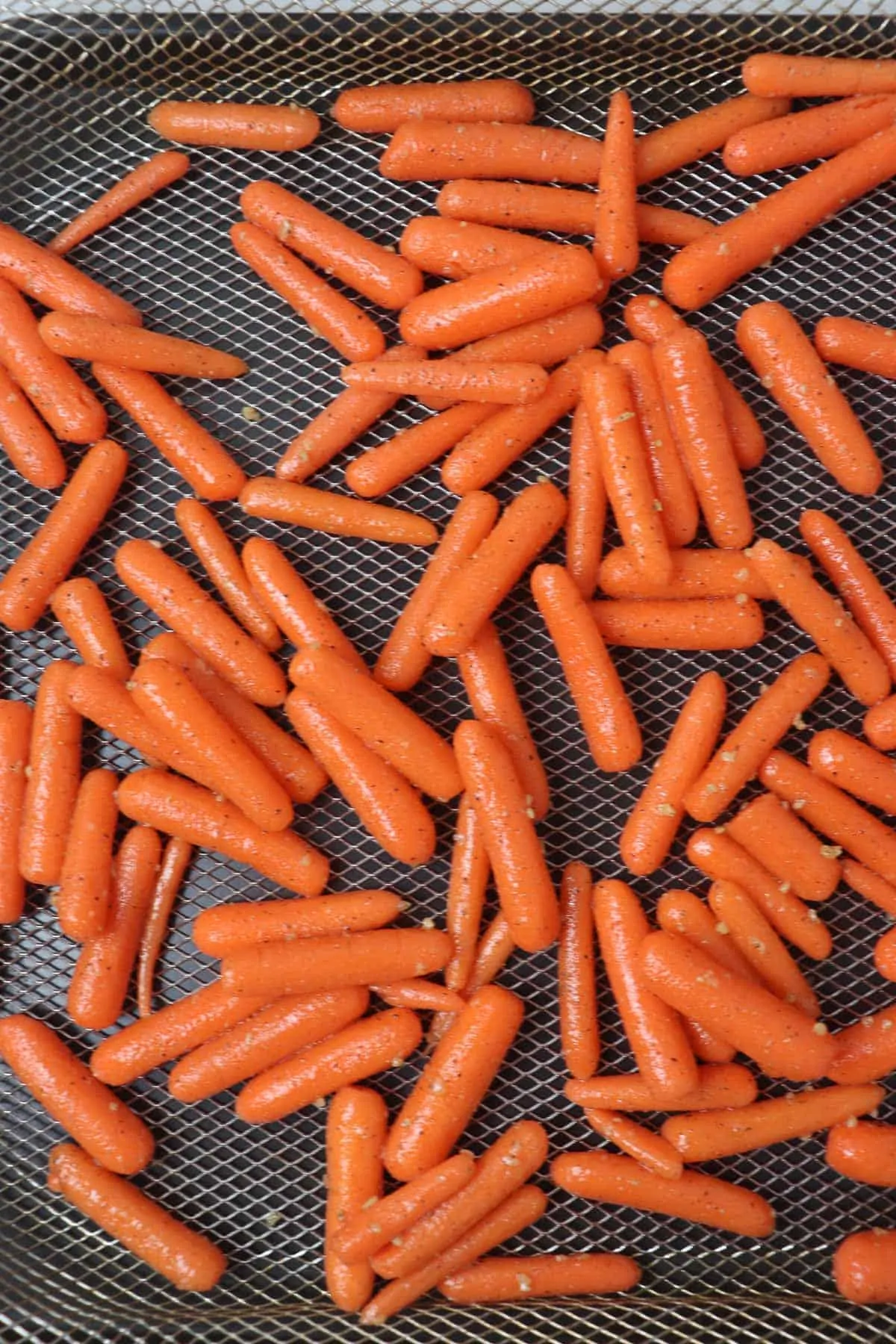 Air fry at 375 degrees for 10 minutes, toss carrots, and then air fry for an additional 10 minutes until carrots are tender and lightly browned.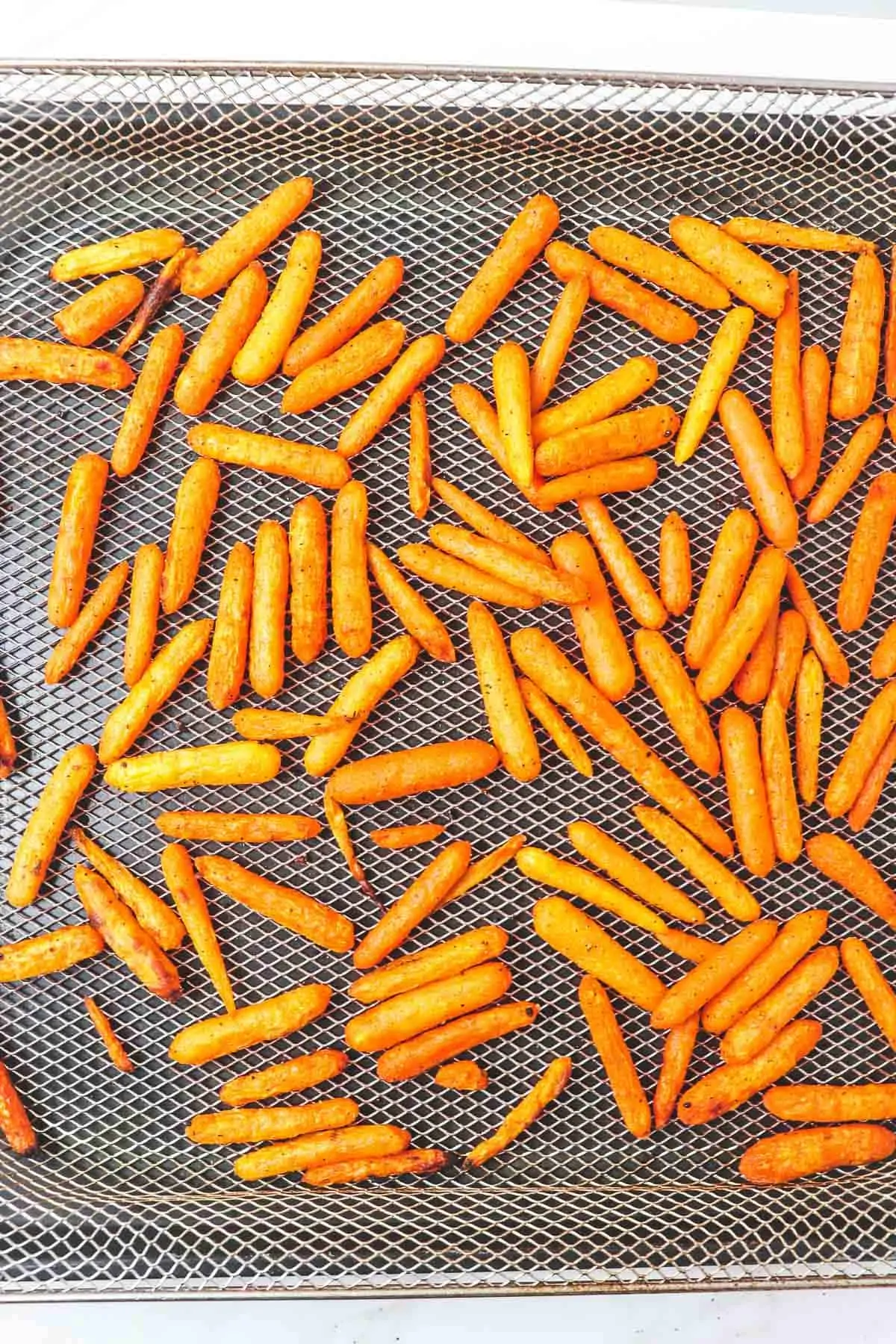 How to Serve
Air fryer carrots make a great side dish for almost any meal! I enjoy pairing them with meat dishes such as air fryer chicken tenders, chicken parmesan, or bbq chicken tenders.
This recipe also works well for a healthy meal prep, because carrots reheat easily in the microwave.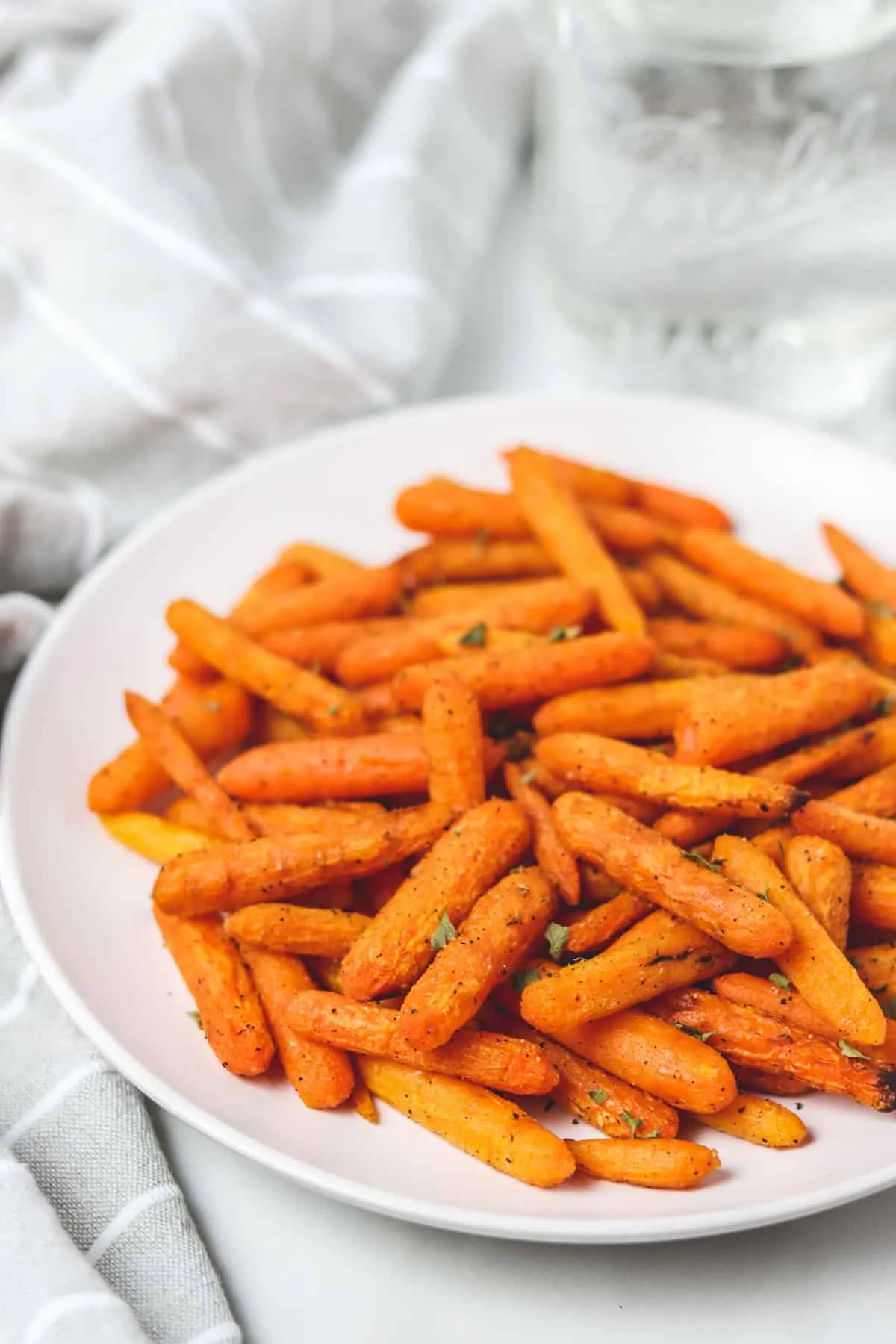 How to Double the Recipe
If you want to double the recipe, I would cook in two batches to avoid overcrowding the air fryer. If you can get the carrots into a single layer, they will cook more evenly.
How to Make it in the Oven
To make this recipe in the oven instead of the air fryer, preheat the oven to 425 degrees and cook for about 25 minutes, tossing carrots halfway through the cooking time.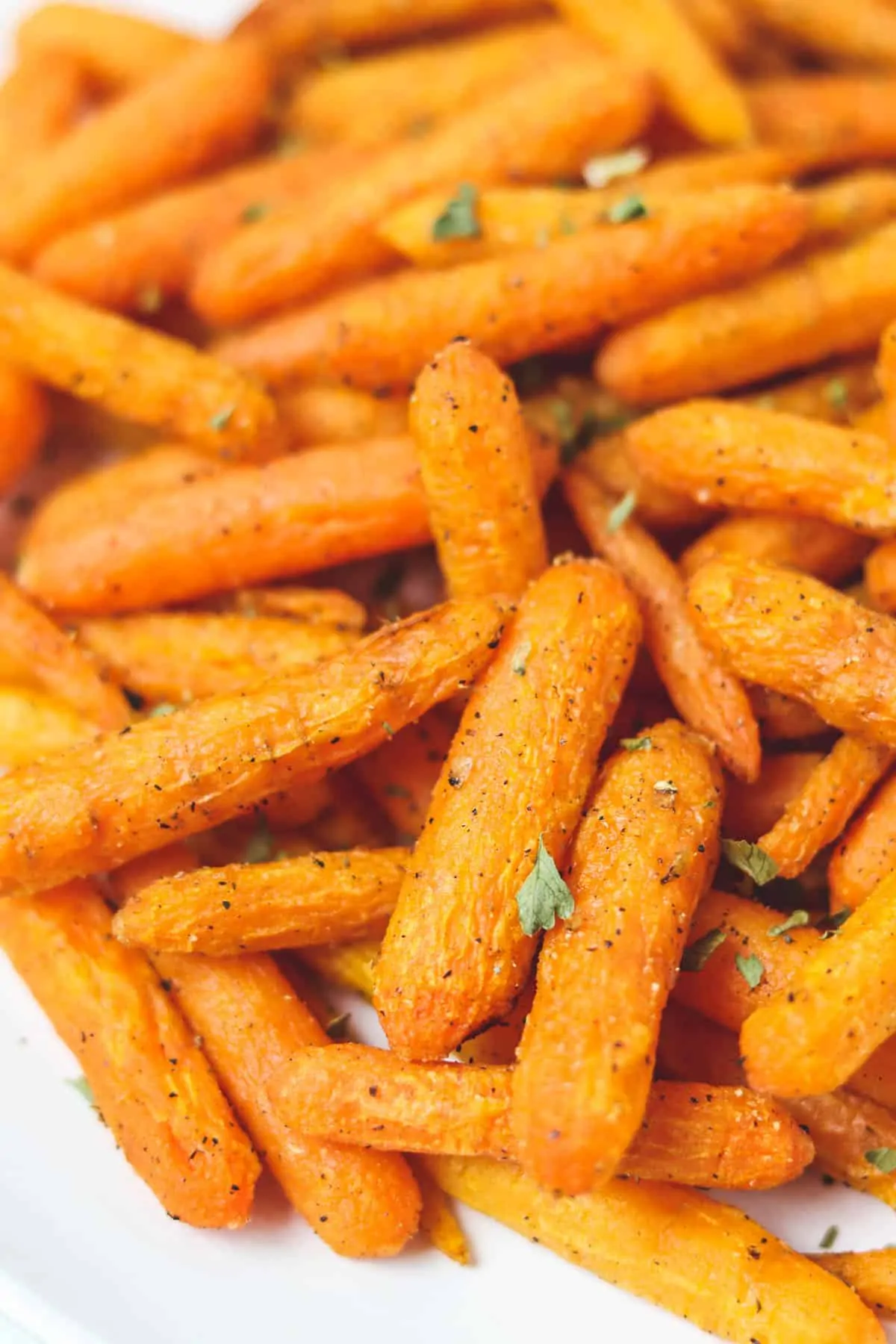 How to Store
Refrigerate leftover carrots in an airtight container for up to 3-4 days in the refrigerator. I would not recommend freezing because that may mess up the texture of the roasted carrots.
Calories Per Serving
One generous serving of 4 oz only has about 70 calories. This recipe makes 4 total servings.
This is a great option for a side dish under 100 calories!
Recipe