These no-bake cinnamon apple slices make the perfect healthy dessert or snack! Cinnamon and brown sugar turn regular apple slices into an indulgent sweet treat!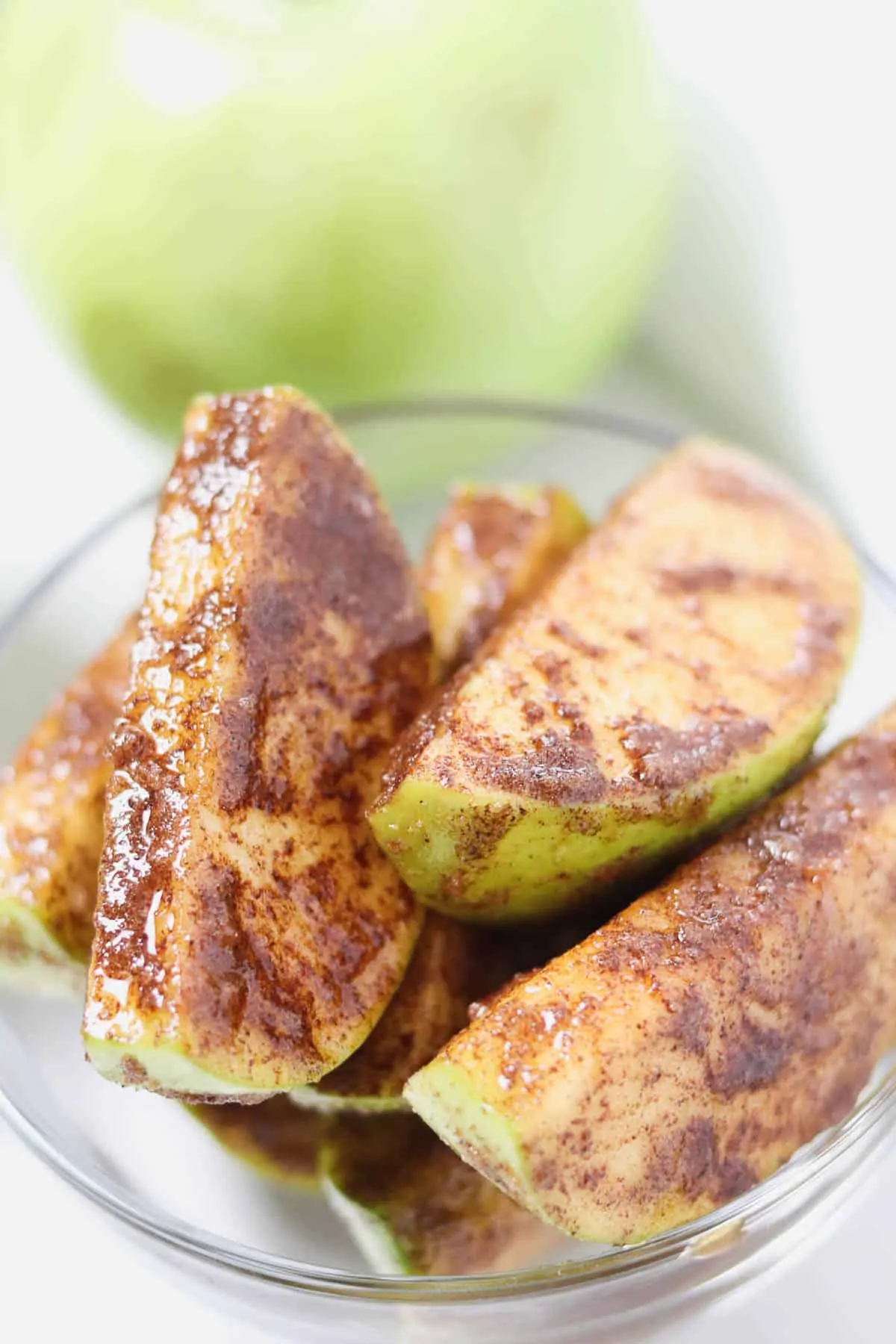 One day when I was making an apple crisp recipe, I happened to sample a raw apple slice with some cinnamon and brown sugar on it. I couldn't believe how good it was! The next day I decided to slice up an apple and recreate the recipe.
Unlike apple crisp, this recipe doesn't require any butter, oats, or any baking at all! I like to keep it simple with just brown sugar and cinnamon.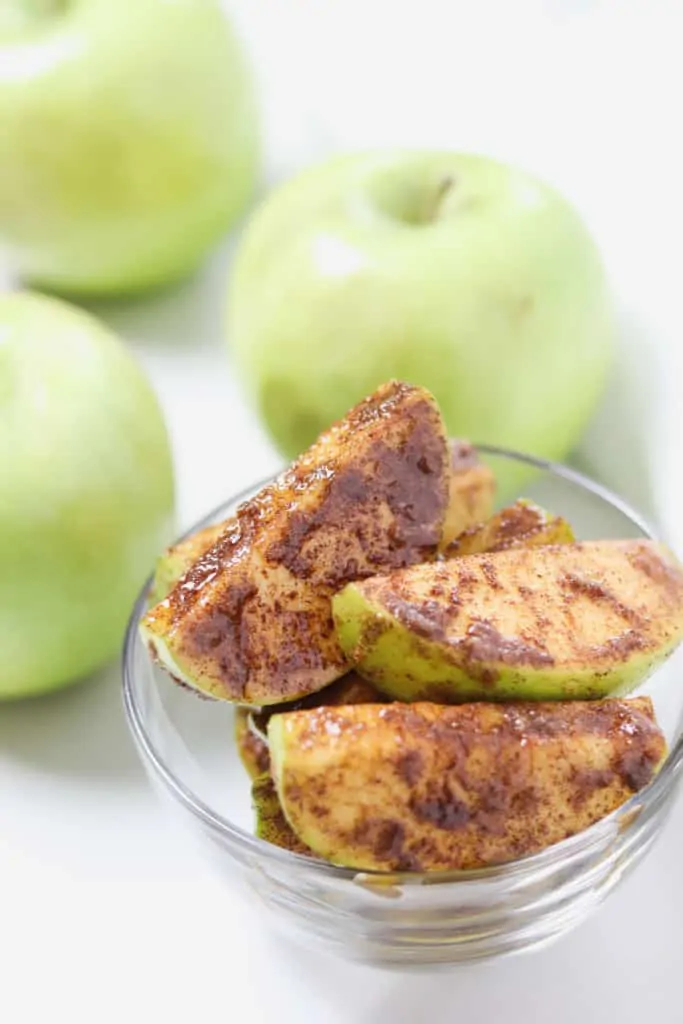 If I'm craving something sweet, this my healthy go-to. Kids will love these apple slices, too! It makes a great healthy snack option that you can throw together in only a few minutes.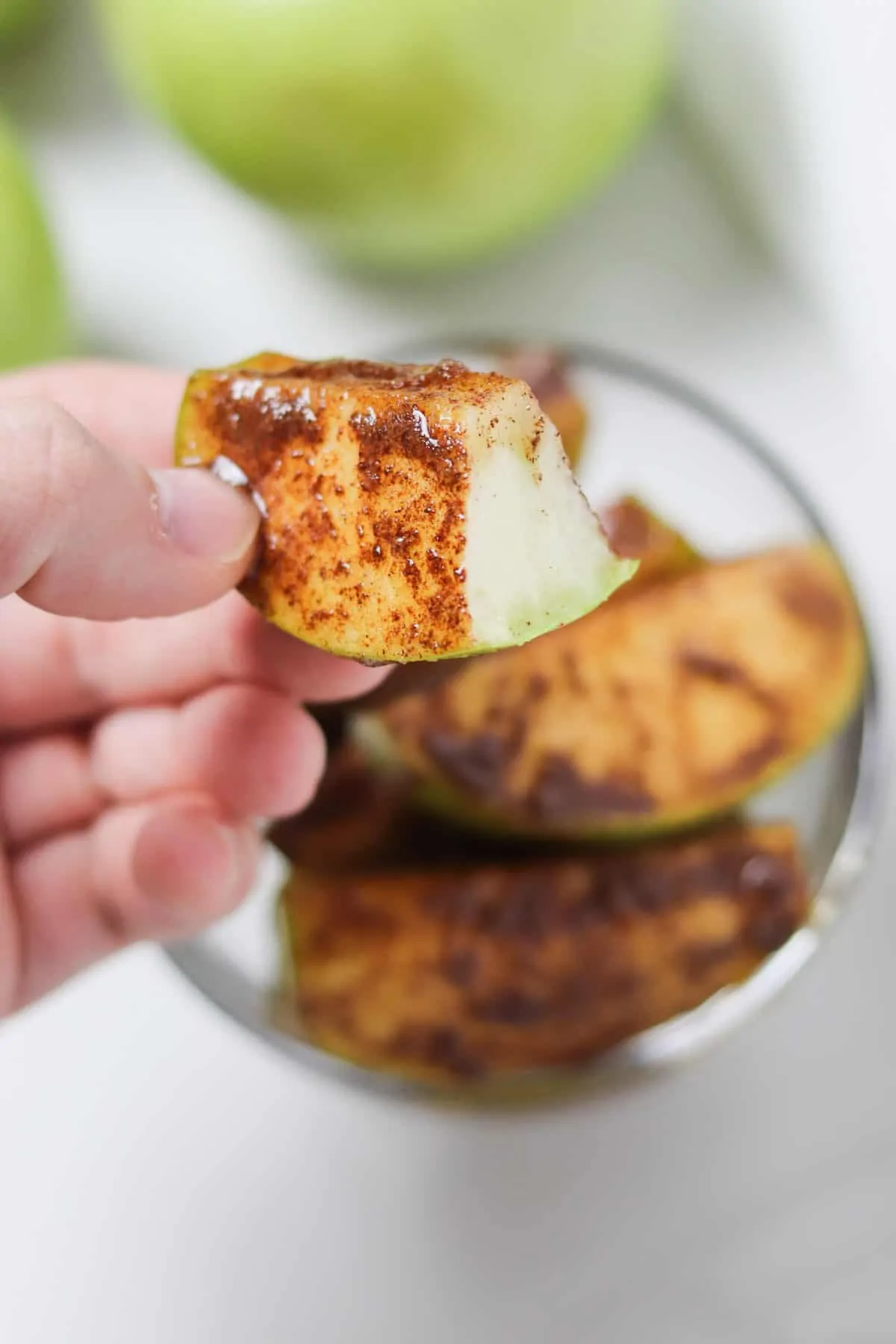 Jump to:
Ingredients
Here's what you'll need:
1 granny smith apple, cored and sliced
1 tablespoon brown sugar
½ teaspoon ground cinnamon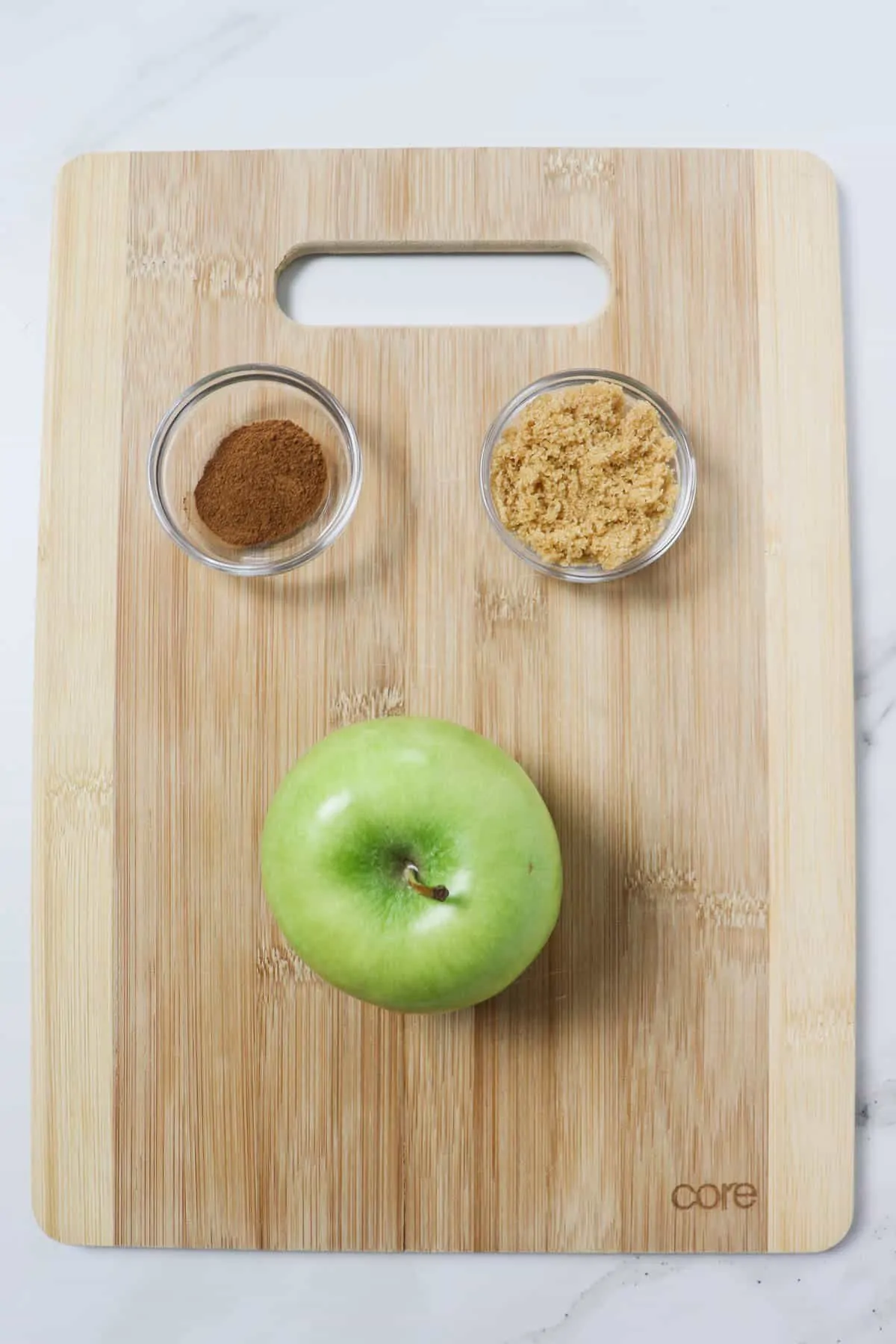 Substitutions
Granny Smith Apples: granny smith are my favorite for this recipe because the tartness goes well with the sweet brown sugar. Of course, you can use any type of apple that you have on hand. Red delicious, gala, pink lady, or any other type of apple will work fine!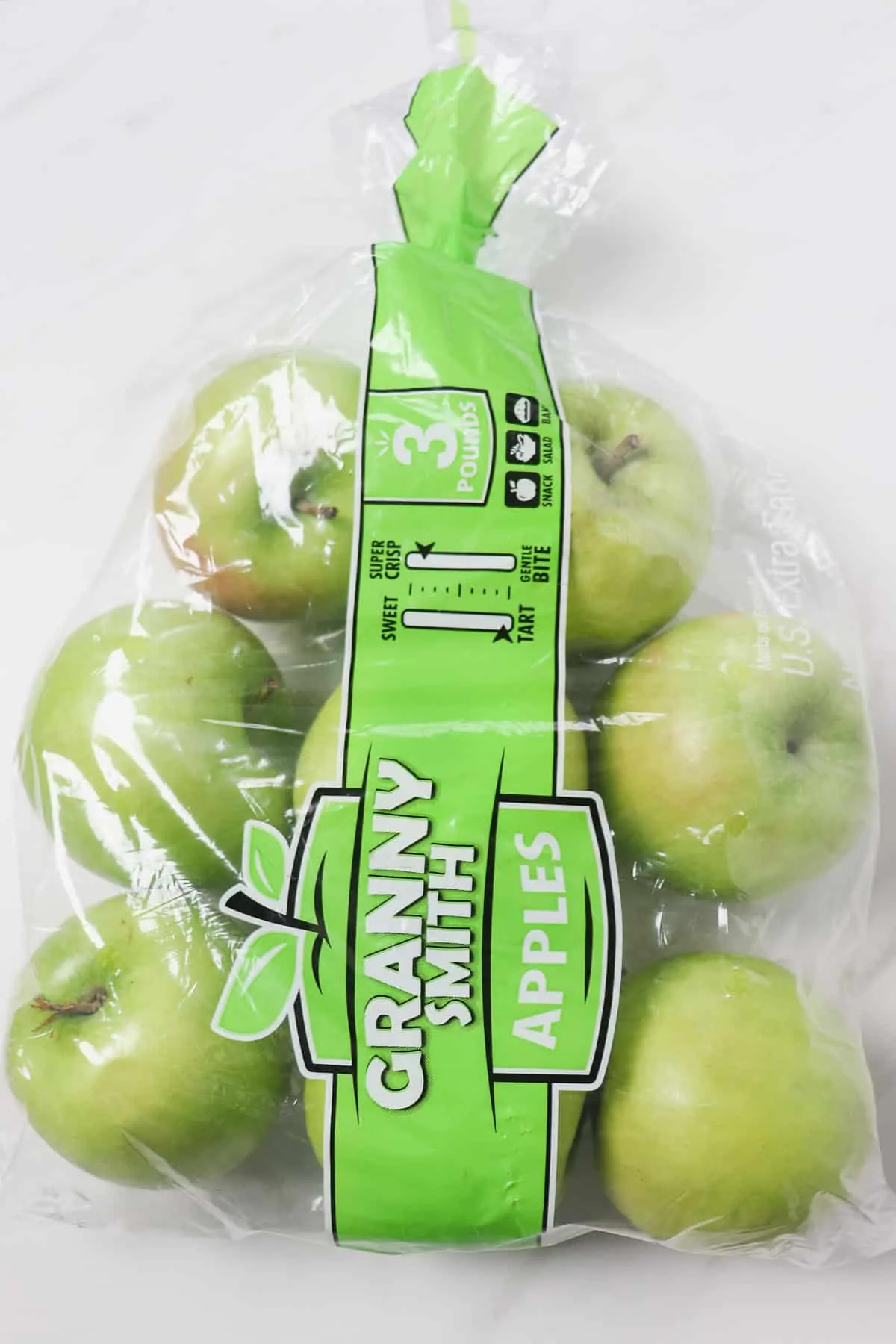 Brown Sugar: you can eliminate the brown sugar completely to make just plain cinnamon apples. You can also substitute a brown sugar substitute, such as Splenda or Swerve brown sugar blends.
Since this recipe only uses 1 tablespoon of brown sugar, which is only 17 calories, I normally just use real brown sugar.
I don't recommend swapping the brown sugar for granular, because it's too gritty. The texture of the brown sugar works better for this no-bake recipe.
Equipment
You will need an apple slicer tool to cut the apples into wedges. This can be done with a knife, but an apple corer is much safer and easier!
You will also need a quart-sized plastic bag. A bag makes this easier, but you could just use a bowl instead.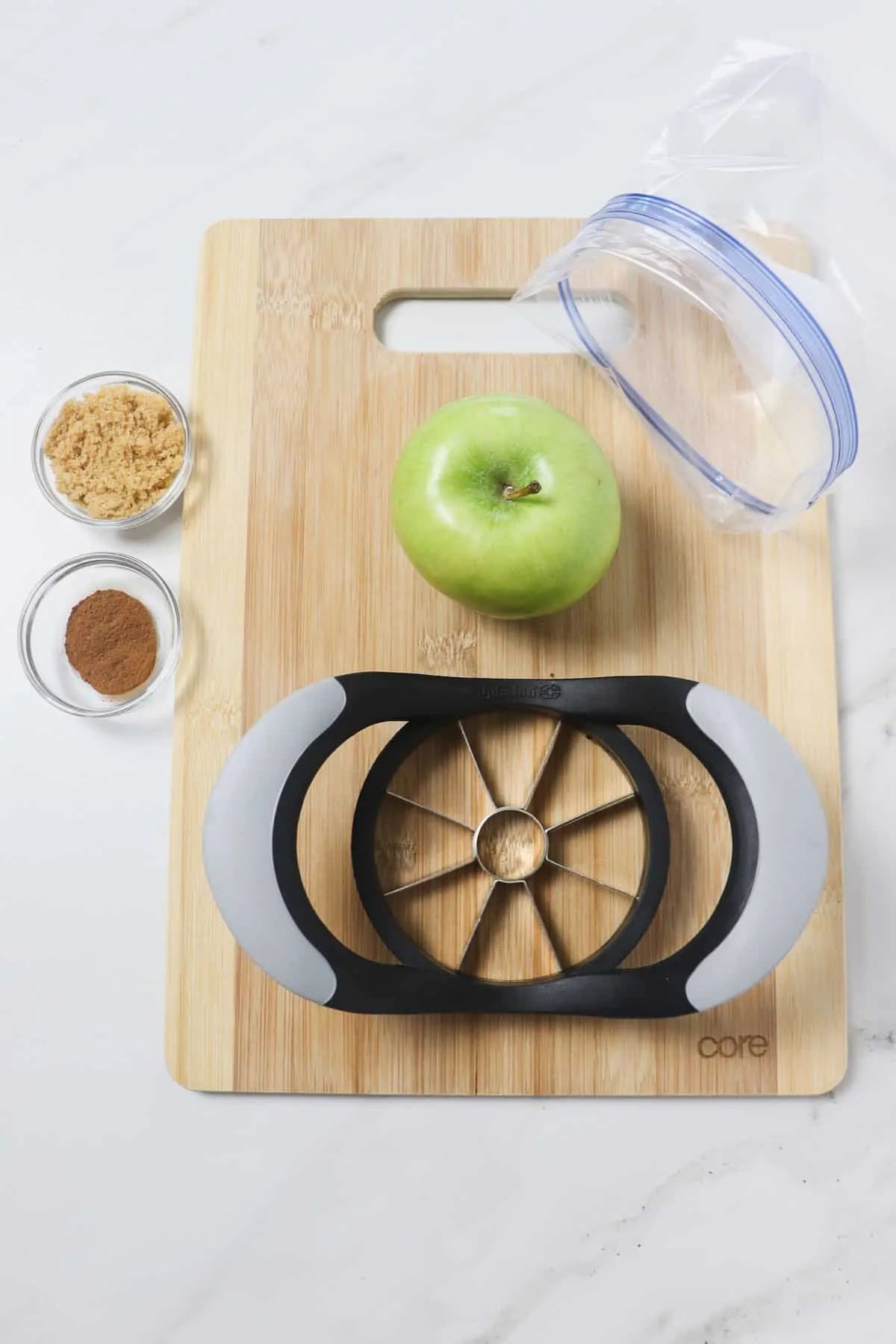 Instructions
Because it can be a little difficult to stir apple slices in a bowl with a spoon, I like to make this recipe using a plastic bag.
Start off by coring and slicing your apples. An apple slicer tool makes this really easy! Optionally, you can peel your apples. However, the apple peels are very nutritious so I normally don't peel mine.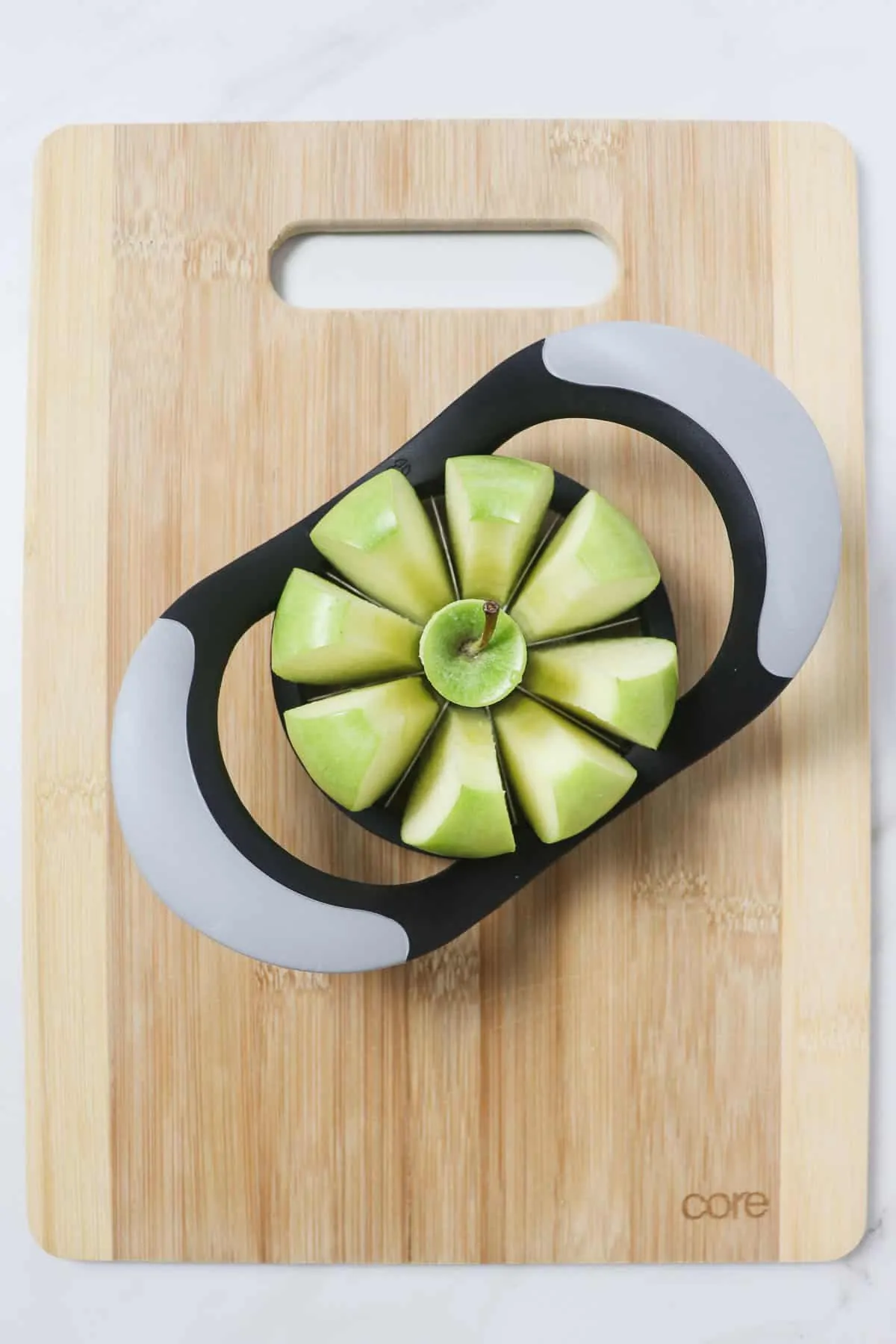 Next, toss your apple slices, brown sugar, and cinnamon into a plastic bag.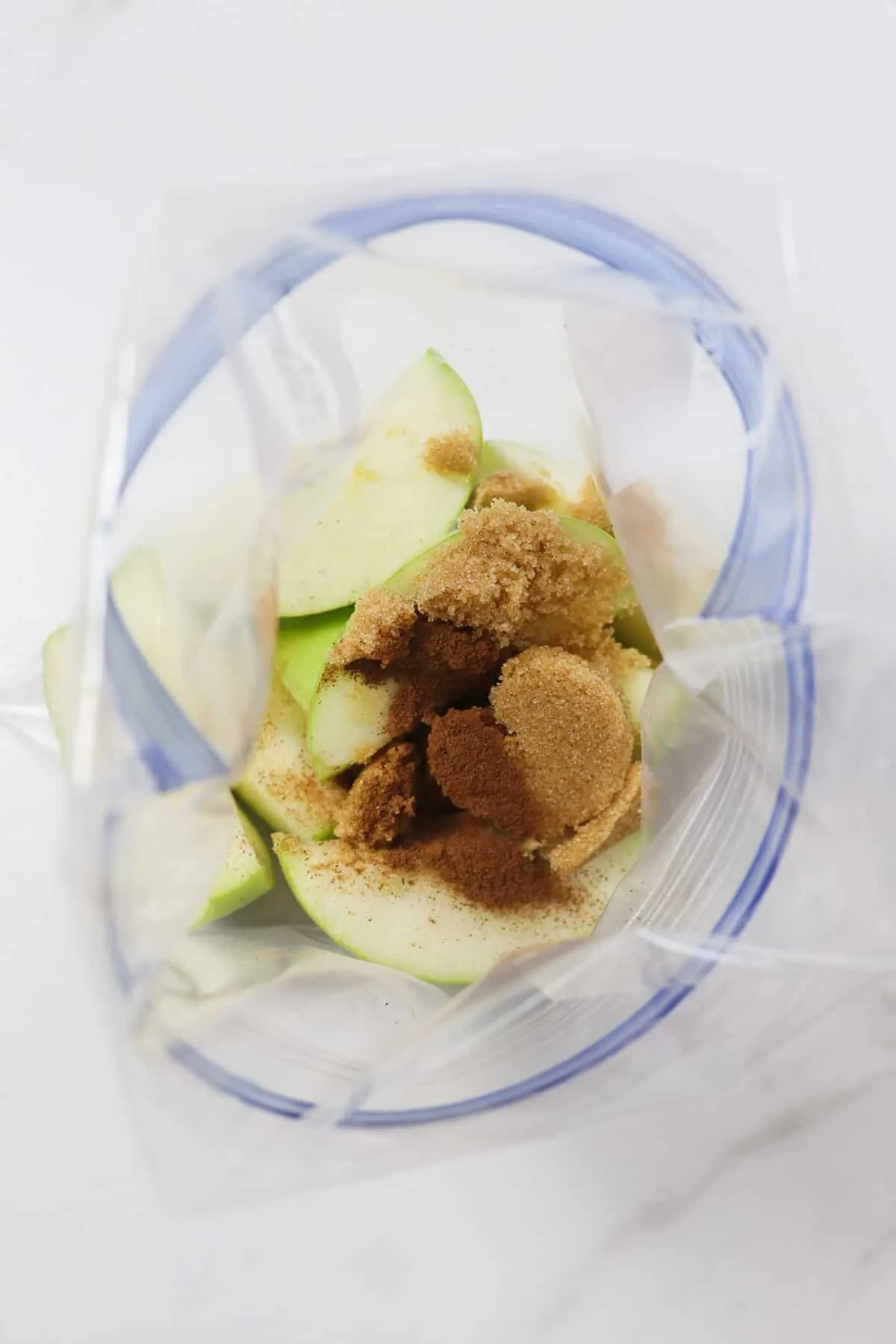 Zip the top of the bag and get ready to shake it! Shake for about 30 seconds, or until the cinnamon and sugar is well distributed.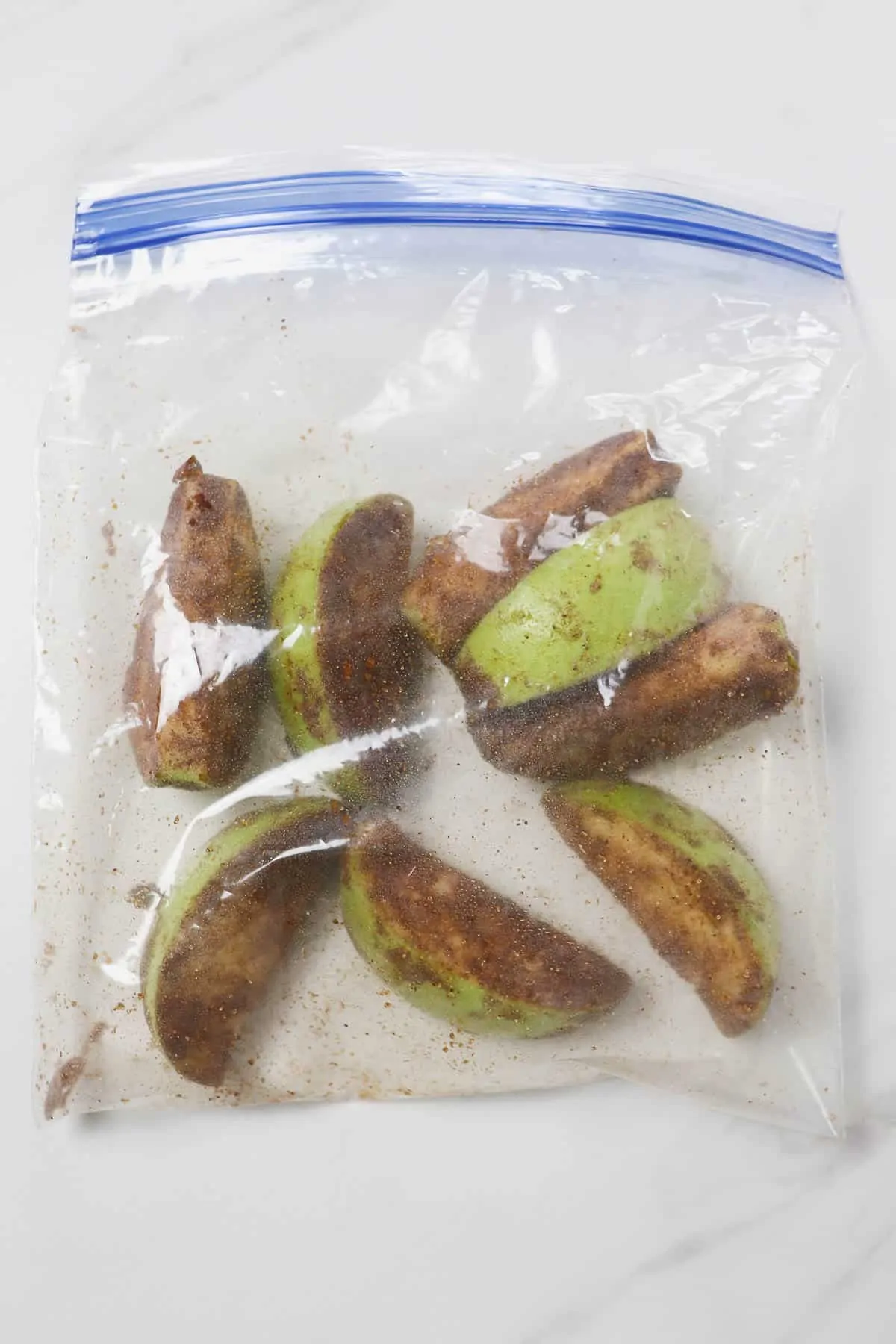 Dump out your apple slices into a bowl and serve.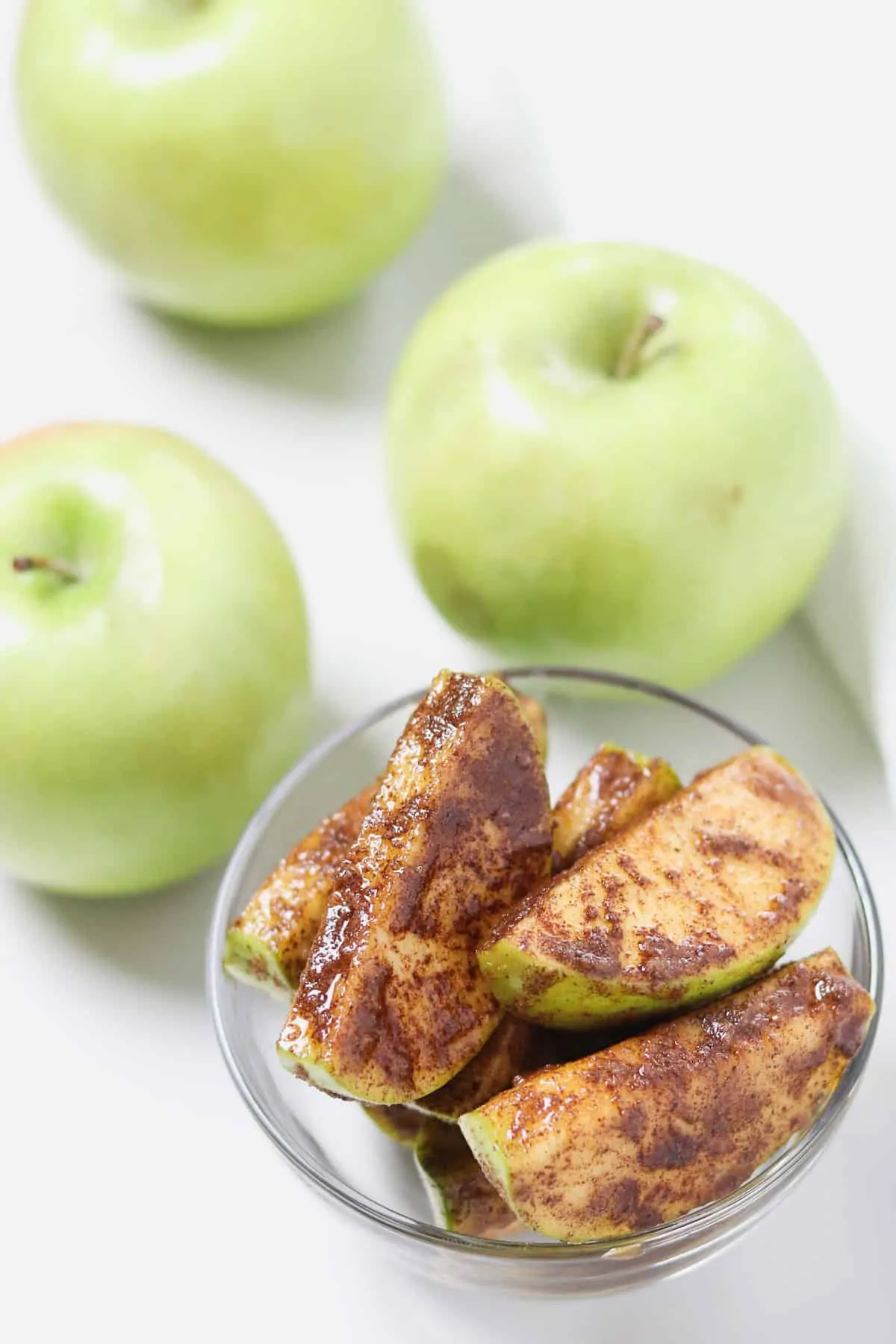 How to Make a Large Batch
To make a family-sized batch (4 servings), you can use these quantities:
4 apples
¼ cup brown sugar
2 teaspoon cinnamon
Make sure you use a large, gallon-sized plastic bag and shake for a couple of minutes to make sure the cinnamon sugar gets well distributed.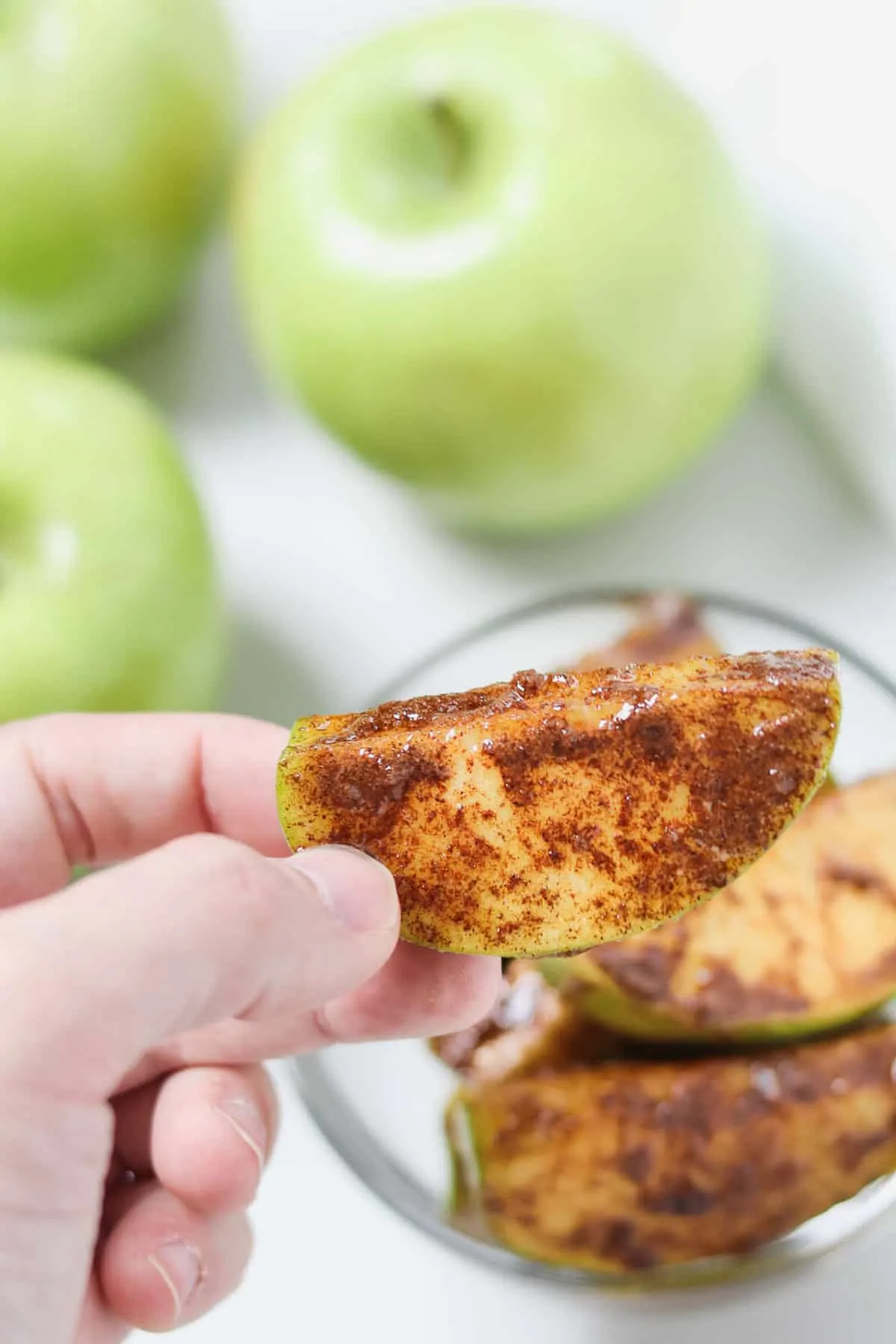 How to Make Ahead
Normal apple slices will turn brown within minutes, but coating the apple slices in cinnamon sugar will prevent them from browning as quickly. These will keep fresh in the refrigerator for 2-3 days.
Keep apple slices sealed in a plastic bag in the refrigerator until you're ready to serve and eat. It also helps to remove as much extra air from the bag as possible.
Because you can make these ahead of time, they are a great option for a healthy snack or dessert in your school or work lunches!
Calories Per Serving
This recipe is very filling and satisfying for only 110 calories per serving! This recipe makes exactly 1 serving using a single apple. You could even halve the recipe to make a 55 calorie snack or dessert.
Recipe