These 30 low-calorie dessert recipes will satisfy your sweet tooth without breaking your calorie budget! These yummy desserts make the perfect low-cal indulgence!
One thing I have never been able to skip is dessert. Finding low-calorie desserts that I like and enjoy has been critical to me for maintaining a healthy diet. Yes, you absolutely can enjoy dessert while you lose weight!
Making yourself one of these healthy, low-calorie desserts will satisfy that sweets craving before you start reaching into the cookie jar.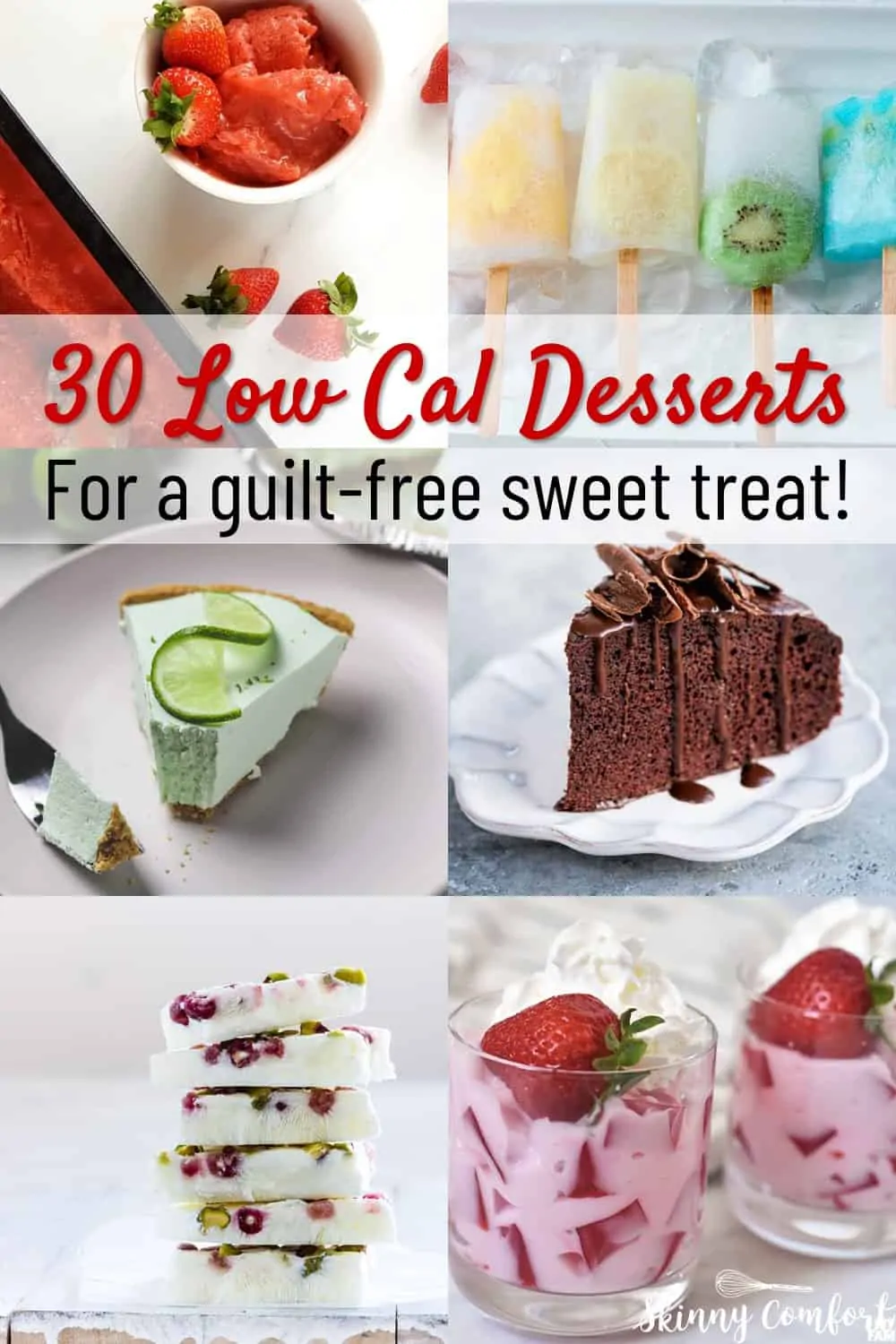 Favorite Ingredients for Low-Calorie Desserts
There are a few common ingredients that appear in many of these recipes. These light but sweet ingredients are key to making healthier low-cal desserts!
Light or sugar-free cool whip is light, fluffy, and delicious! With only 20 calories for 2 tablespoons, this is the base of many of these desserts including my famous sugar-free strawberry fluff.
Sugar-free jello mix packs a ton of flavor with barely any calories. It can be mixed with other ingredients to get a fruity punch of flavor - such as the lime flavor in my key lime pie recipe. It comes in many flavors - strawberry, lime, orange, lemon, and more!
Sugar-free pudding mix also comes in lots of flavors and gives you a thick, creamy, and sweet texture without adding a ton of calories.
Nonfat yogurt can be used in desserts to add a creamy, thick texture. I usually go for nonfat greek yogurt to add lots of protein without any fat.
Fruit is nature's dessert! Many fruit-based desserts are healthy and low-calorie, as long as you don't add too much sugar and butter to them. Fruits are naturally sweet and delicious! My favorite fruits for desserts are berries - strawberries, blueberries, and blackberries make delicious desserts!
Zero-calorie sweeteners - when you need to add sweetness without adding extra calories, keto or zero-calorie sweeteners can save the day! Sweeteners such as splenda, truvia, monkfruit, swerve, or stevia can be used in many recipes. Be sure you follow the recipe and use the recommended sweetener for that recipe. Some types of recipes need sweeteners that are designed specifically for baking, while other recipes can be used with any sweetener.
What Kind of Desserts are Low Calorie?
In general, these types of desserts are lower in calories, or can typically be made with lower-calorie ingredients. Of course, it always depends on the exact recipe. Many of the recipes on this list fall into these categories:
Frozen desserts, such as popsicles or sorbets - eating a frozen dessert means that you can enjoy it for longer. Because they usually take a while to eat, they are great for satisfying that dessert craving and feeling like you ate a big dessert without having many calories.
Fruit-based desserts - fruit isn't too high in calories, as long as you don't use too much sugar with it
Fluff or mousse type desserts - these often don't have too many calories because they contain a lot of air. Fluffs or mousse can be great options if made with sugar-free or low-sugar ingredients.
Tips for Counting Dessert Calories
If you are counting your calories, one key thing with any recipe is to make sure you measure out the correct portion size. If you accidentally eat 5 servings of a 100 calorie dessert, suddenly you've just had 500 calories - oops!
The easiest way to measure your portion is by using a digital food scale. This is how I measure out my portions most of the time.
If you aren't sure how much a single portion weighs, you can measure out the entire recipe and then divide it up to figure out the portion size. Use the "tare" button on the scale to subtract out the weight of the bowl or plate before measuring the recipe.
If you are using the nutrition information included in the recipe card, make sure you are exactly following the recipe. If you substitute any ingredients, your calorie count could be a little bit different.