These grilled pineapple chicken tenders are a delicious and healthy option for your next summer cookout! Marinated in a sweet and salty sauce and topped with grilled pineapple rings, these grilled chicken tenders are sure to please the entire family!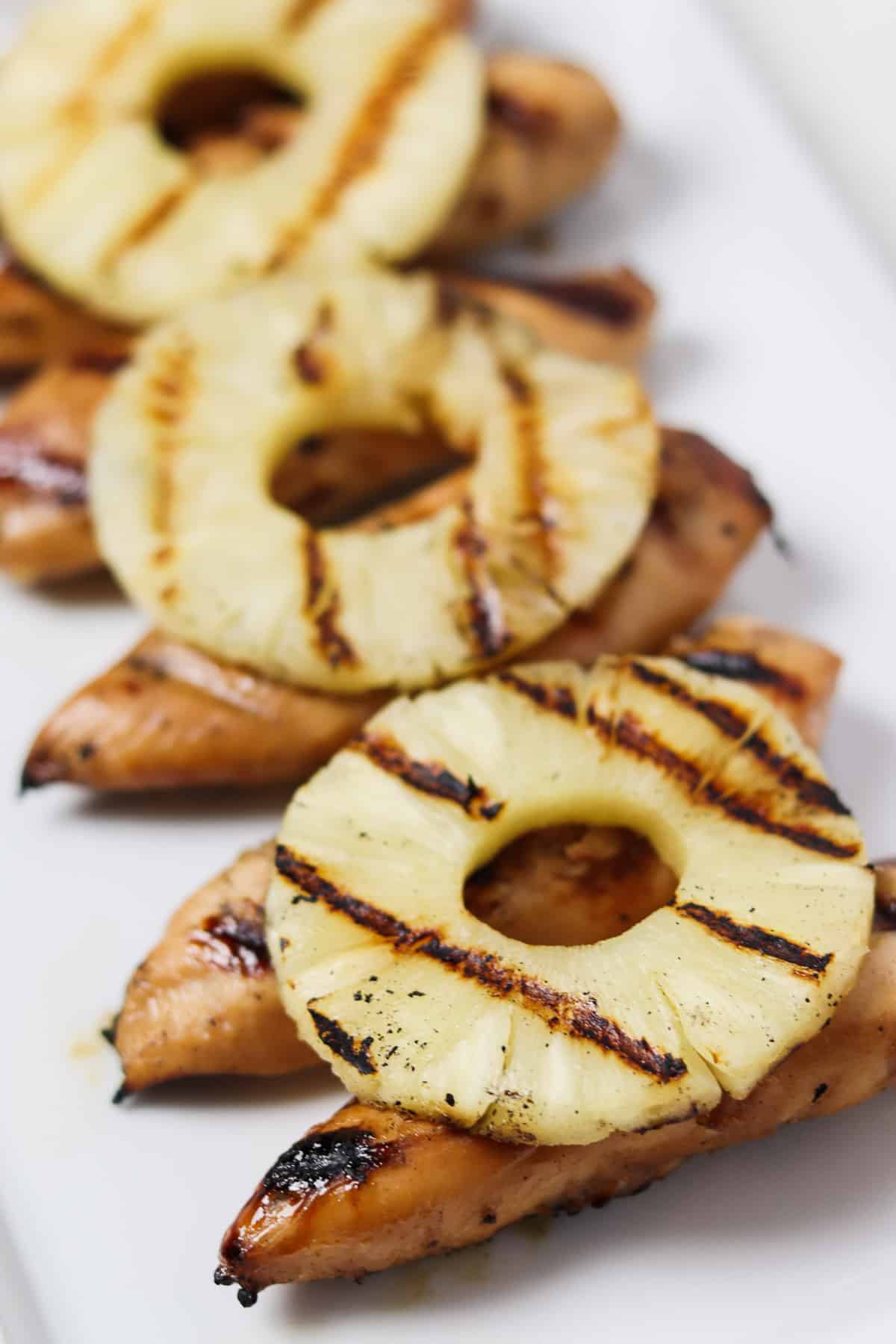 Grilled pineapple is one of my favorite foods! It makes a delicious sweet topper for these pineapple chicken tenders.
This is an extremely easy recipe with only 4 total ingredients! Using canned pineapple rings, you can throw together the marinade in only a few minutes.
This easy marinade features pineapple juice, brown sugar, and soy sauce. It's similar to a teriyaki sauce but with a stronger pineapple flavor.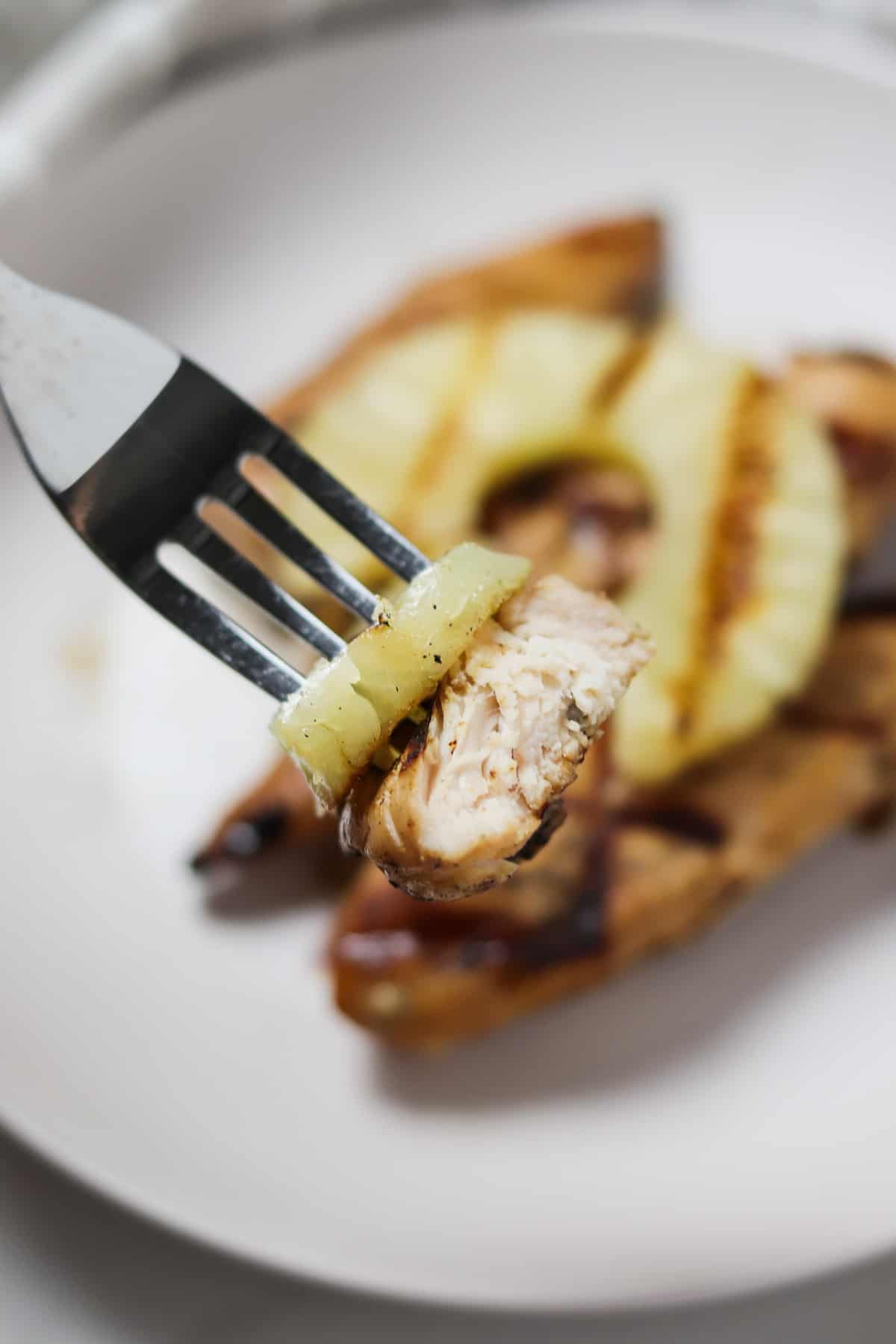 This recipe is kid-friendly and picky-eater friendly. Kids will love this sweet and simple chicken! This is one of my go-to grilling recipes. You really can't go wrong with pineapple chicken!
Jump to:
Ingredients
You'll need only 4 ingredients for this recipe!
1 lb chicken tenders (fresh)
1 can pineapple slices in juice (20 oz)
⅓ cup brown sugar
¼ cup soy sauce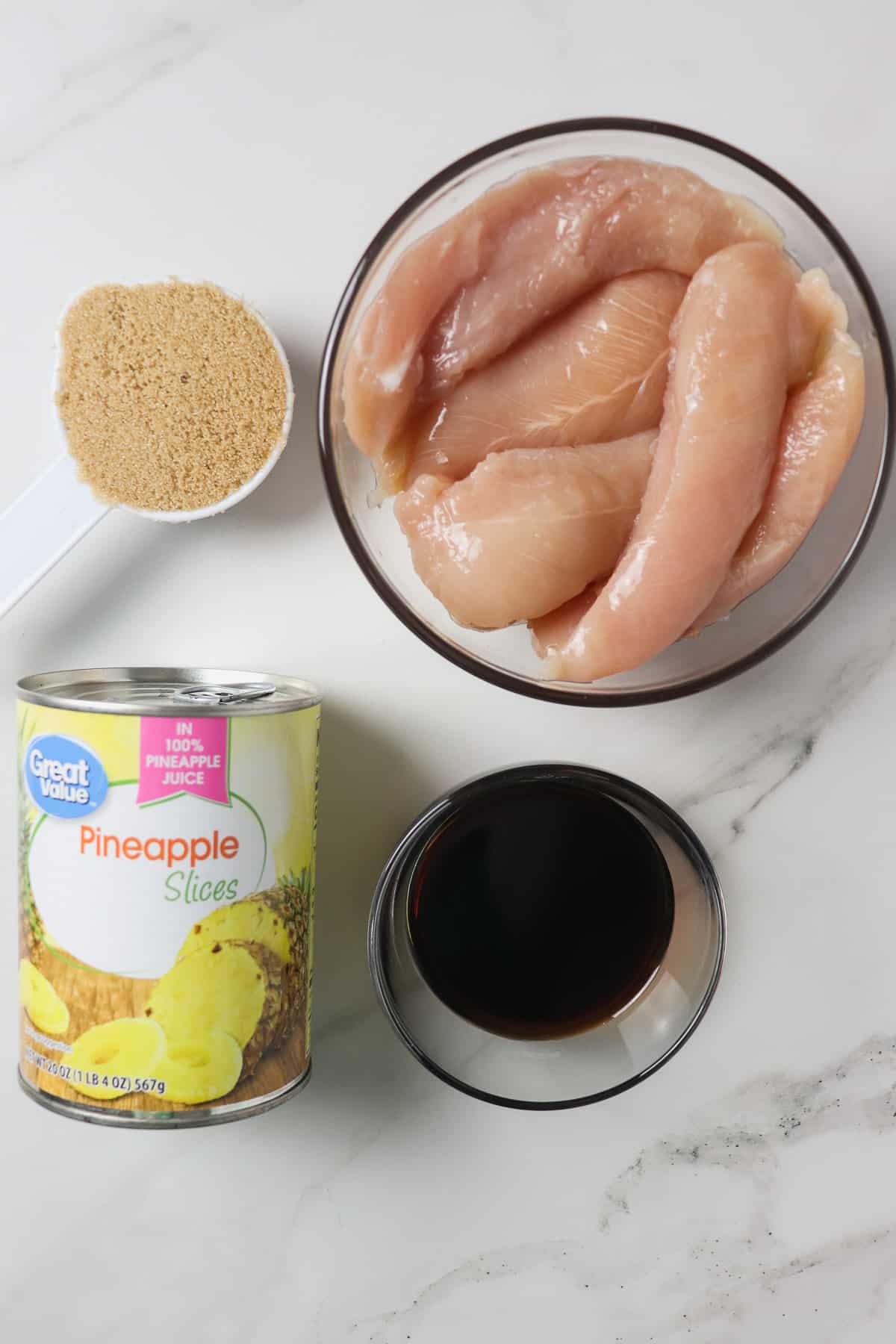 For easy prep, I like using the can of pineapple slices in juice. The juice is used in the marinade, while the pineapple rings are ready to grill.
How to Use Fresh Pineapple
To use fresh pineapple instead of canned pineapple rings, you'll need to cut out some pineapple rings. A pineapple corer tool makes this part much easier!
To make the marinade, measure out ¾ cup of pineapple juice. You could make your own pineapple juice with a juicer, or you can buy pineapple juice. ¾ cup of juice will give you about the same amount of juice as the can of pineapple slices.
How to Marinate
First, you need to make the pineapple chicken marinade. Open the can of pineapple slices and drain all of the juice into a large plastic bag. You should get about ¾ pineapple juice from the can.
Set the pineapple slices aside for later. Put the pineapple rings into an airtight container and store them in the refrigerator.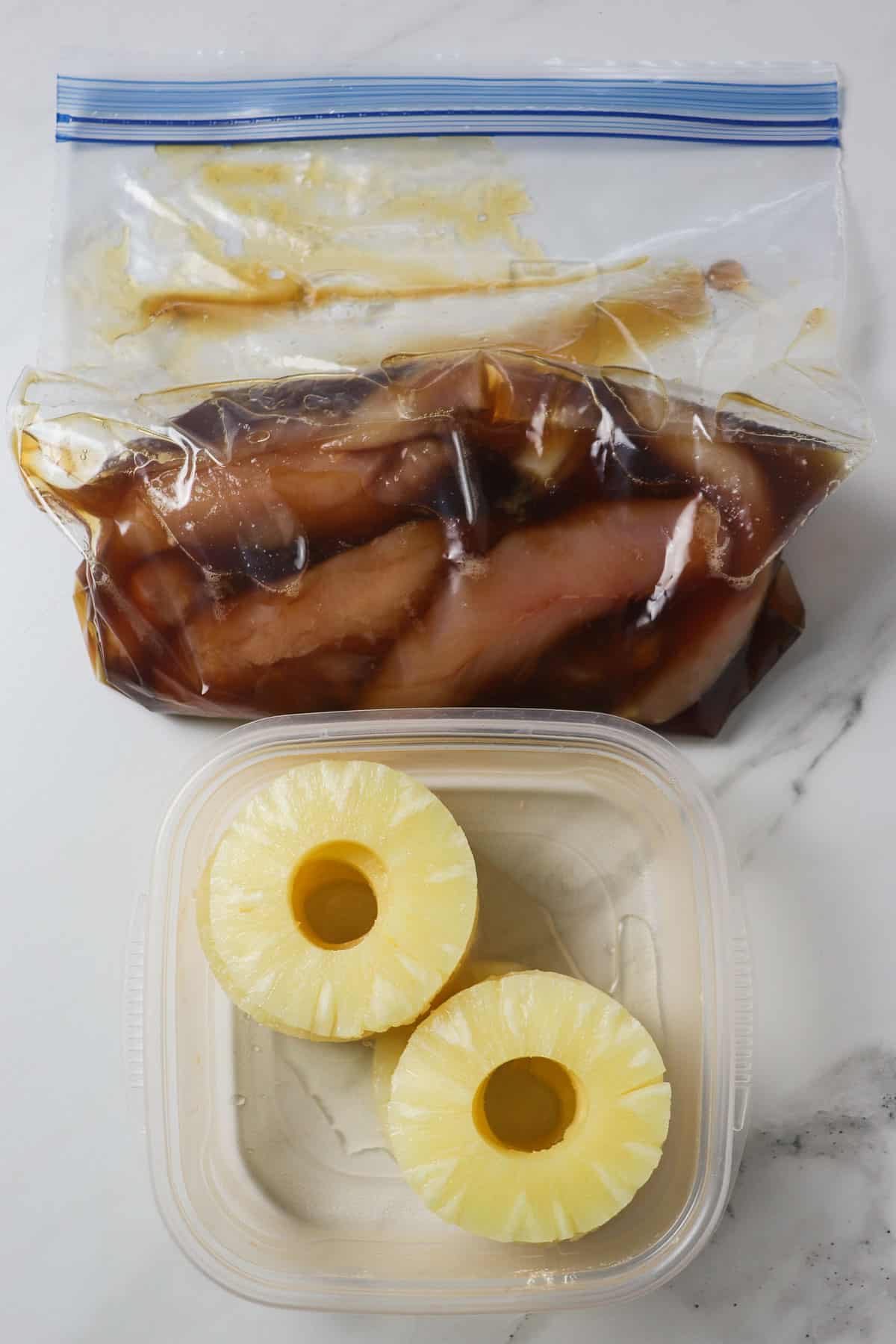 Add the brown sugar, soy sauce, and chicken tenders into the bag with the pineapple juice. Marinate chicken tenders for at least 2 hours, or overnight.
How to Grill Chicken Tenders
Preheat your grill on medium-high heat and cook chicken tenders for 4-5 minutes on each side. Use a meat thermometer to verify that chicken reaches at least 165 degrees.
How to Grill Pineapple Rings
To grill pineapple rings, preheat grill to medium heat. Cook pineapple rings for 2-3 minutes on each side until lightly browned. If you want the pineapple to be a little bit sweeter, you can sprinkle a little brown sugar on top.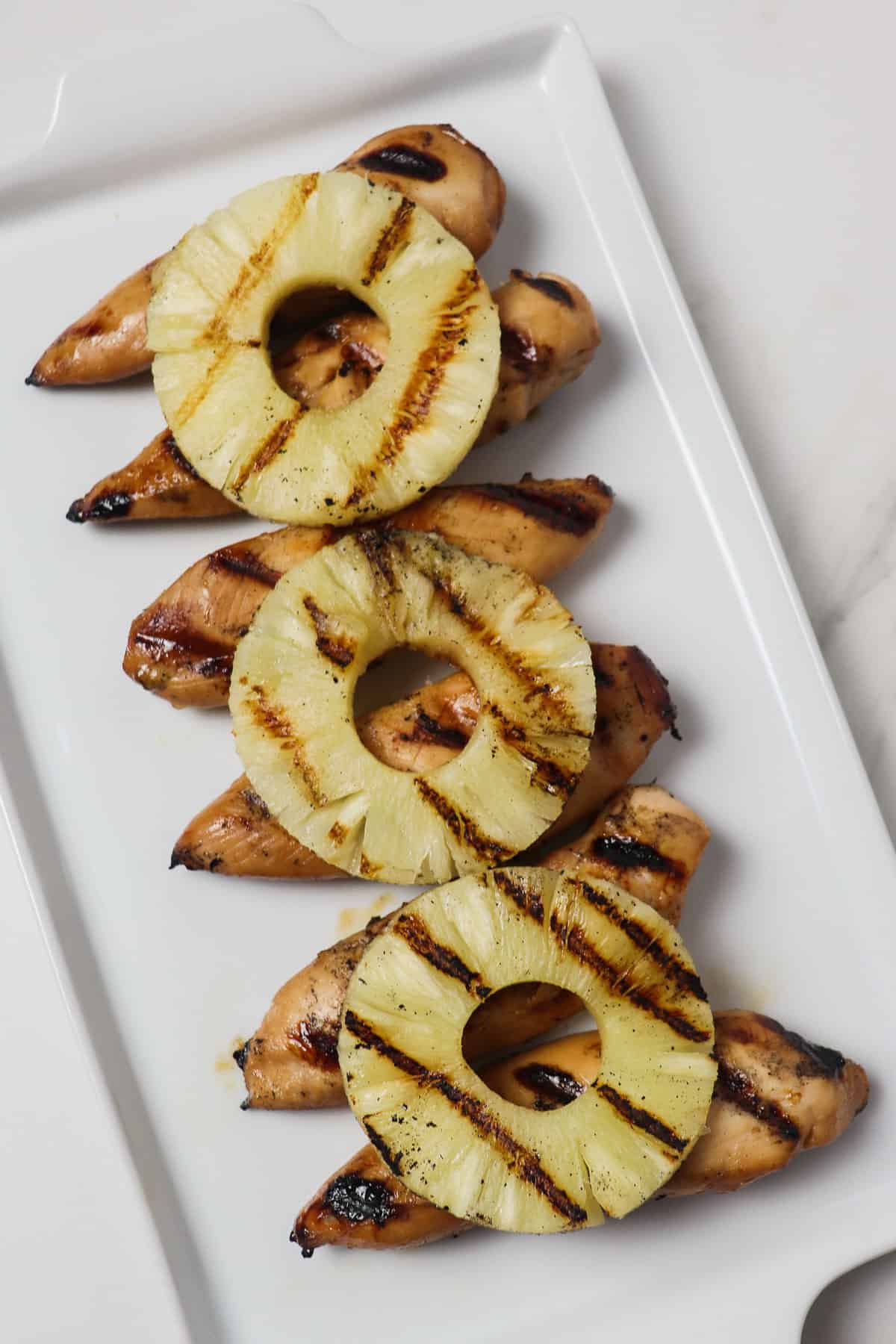 How to Make it on the Stove-top
I recommend grilling the chicken for the best possible flavor, but you could cook it on the stovetop instead. Put 1-2 tablespoons oil in a skillet and cook chicken for 5-6 minutes on each side, until chicken is cooked through. Use a meat thermometer to verify that chicken reaches at least 165 degrees.
Cooking on the stove-top won't give you the nice and pretty grill marks, but it should still taste pretty good!
How to Use Frozen Chicken Tenders
If your chicken tenders are frozen, defrost them before putting them in the marinade.
To defrost chicken tenders, it's best to place them in the refrigerator for about 24-48 hours. In a pinch you can also defrost them in the microwave or place them in a cool water bath for 1-2 hours.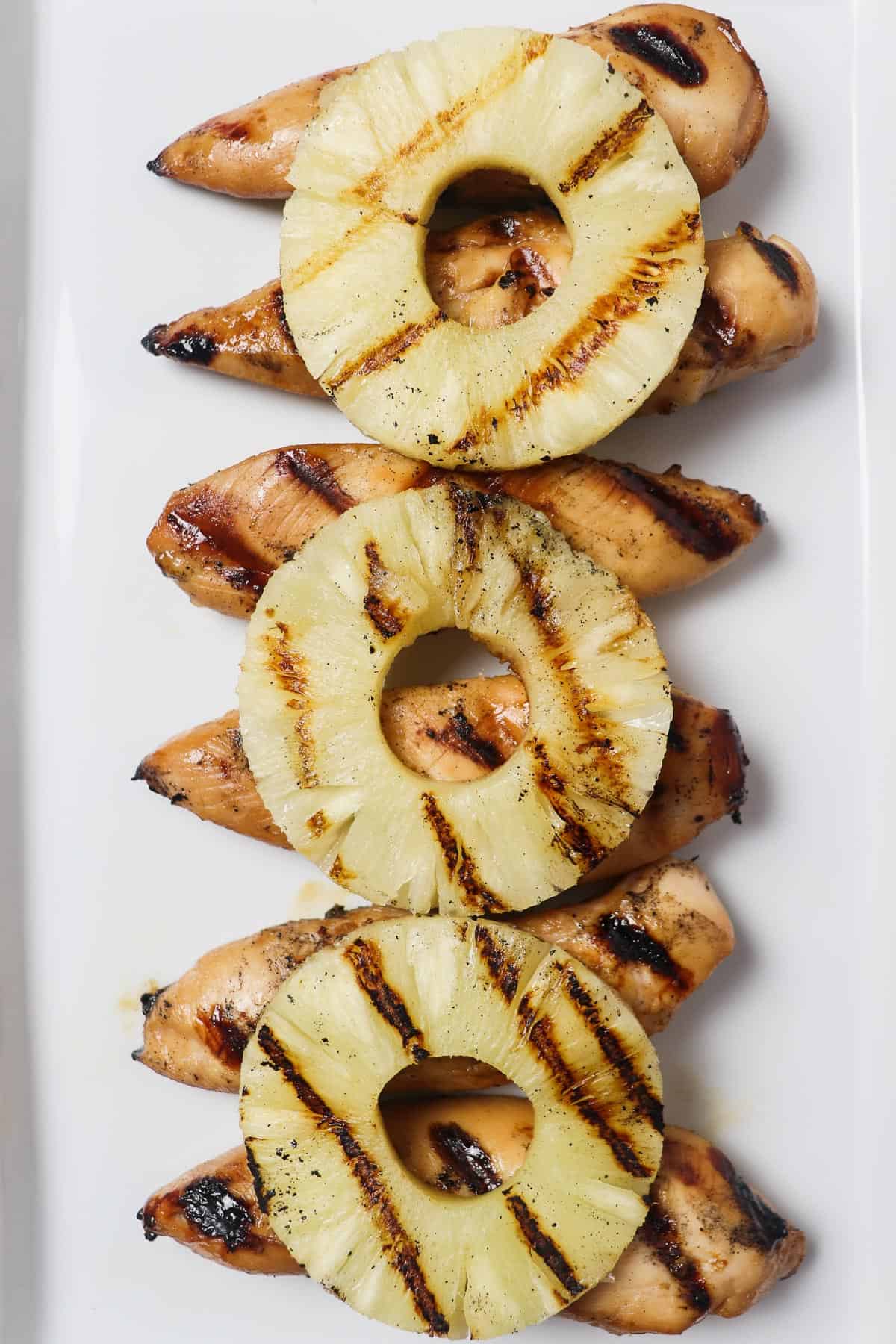 How to Serve
These chicken tenders are delicious served over a bed of white or brown rice. You can also serve with a potato side such as Air Fryer roasted potatoes or Instant Pot mashed potatoes!
For a veggie side, make some simple steamed broccoli or Instant Pot green beans.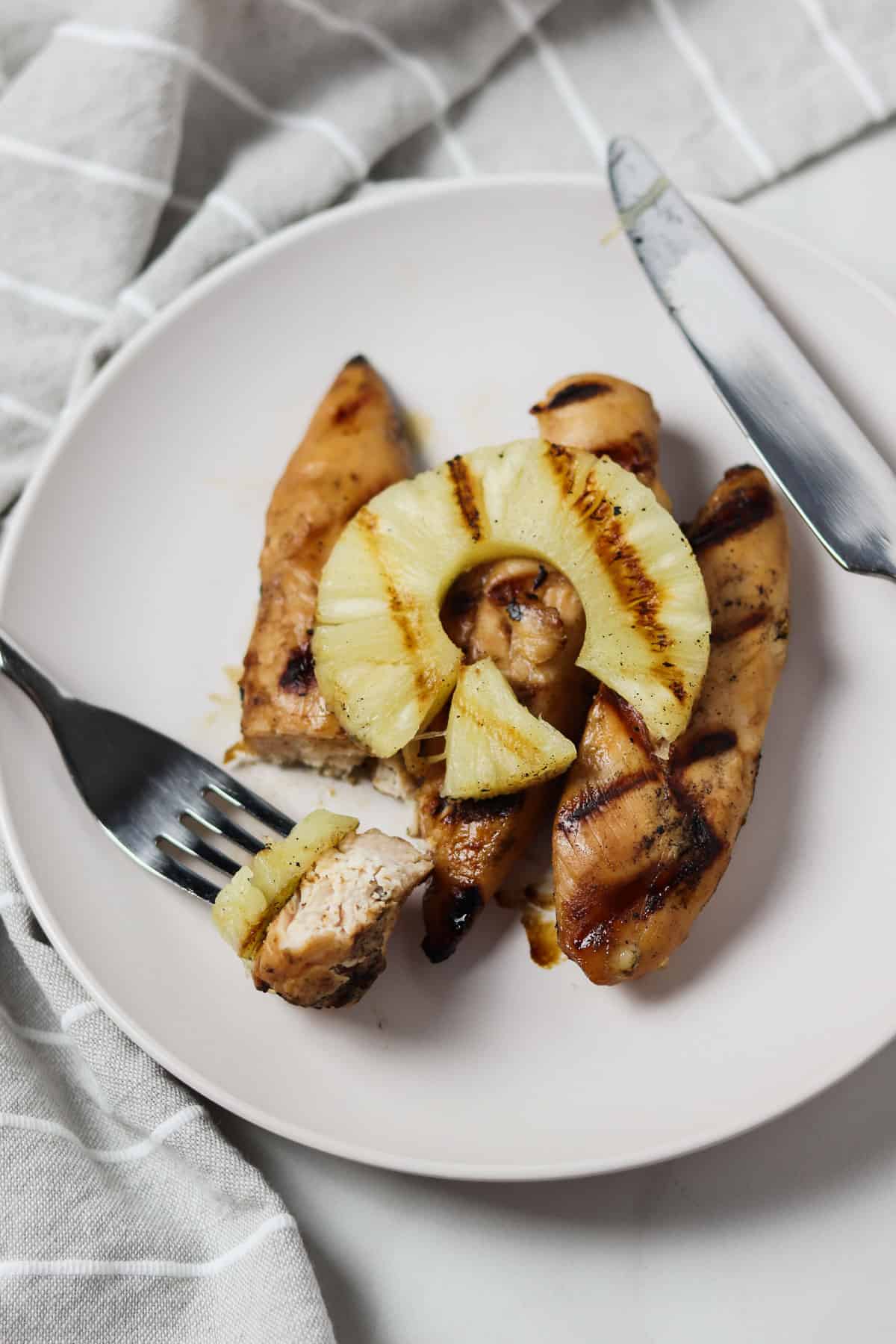 How to Meal Prep
This makes a great meal prep recipe! Make a batch of chicken tenders, rice, and some broccoli or mixed veggies. Place, chicken tenders, pineapple rings, rice, and veggies in meal prep containers to make a week's worth of lunches!
Calories Per Serving
Grilled chicken tenders are extremely lean and healthy! Even though the marinade has sugar in it, most of the sugar doesn't make it into the final product.
¼ of the recipe (about 2 chicken tenders and 2 pineapple rings) is only around 273 calories! This recipe is great for a low-calorie diet. If you are on a low carb or keto diet, I would recommend skipping the pineapple rings, which contain most of the carbs in this recipe.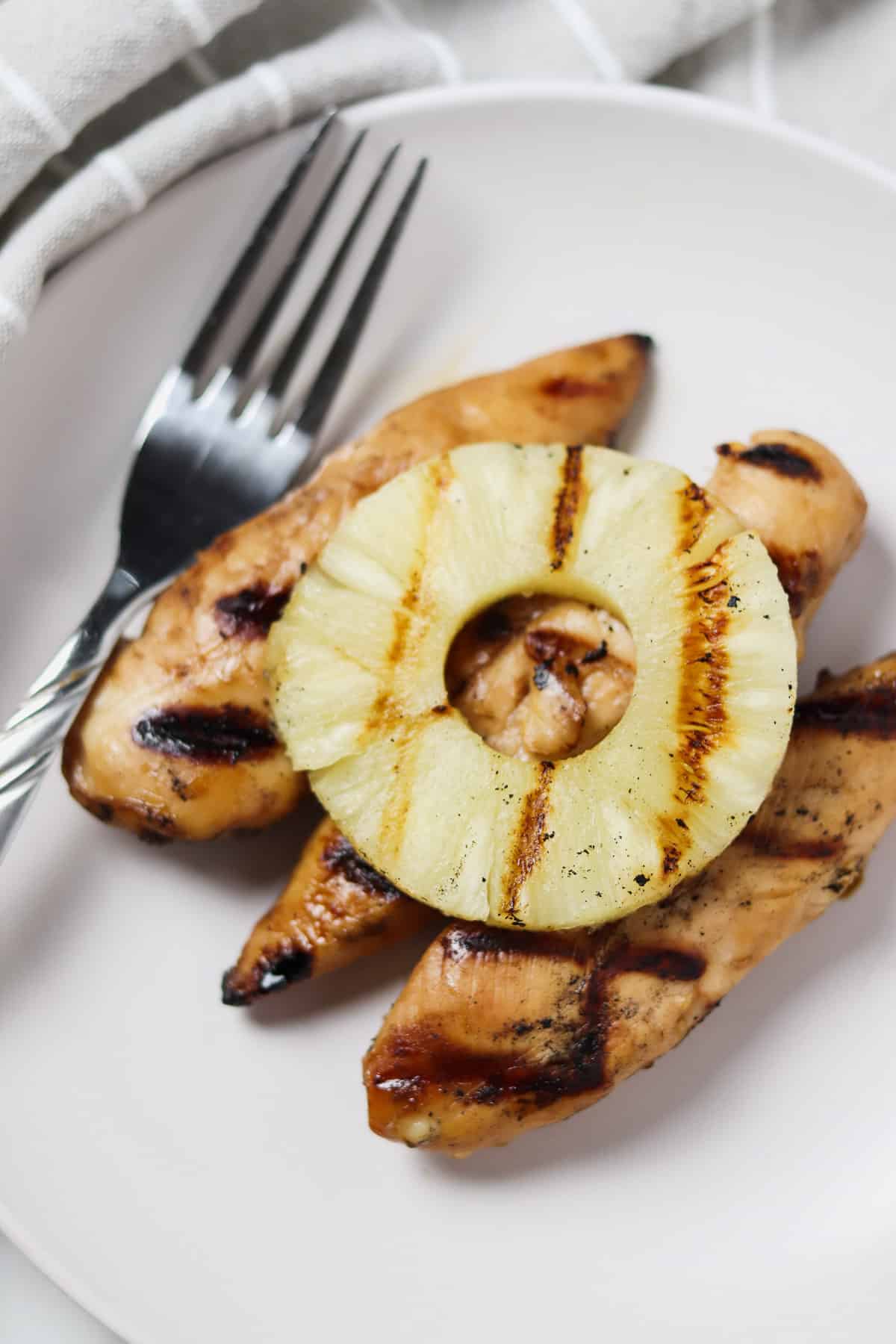 Recipe