This Instant Pot Ground Beef Stroganoff is an easy, delicious, and comforting one-pot dinner! Made with lean ground beef or ground turkey, this is a healthy pasta dinner your entire family will love.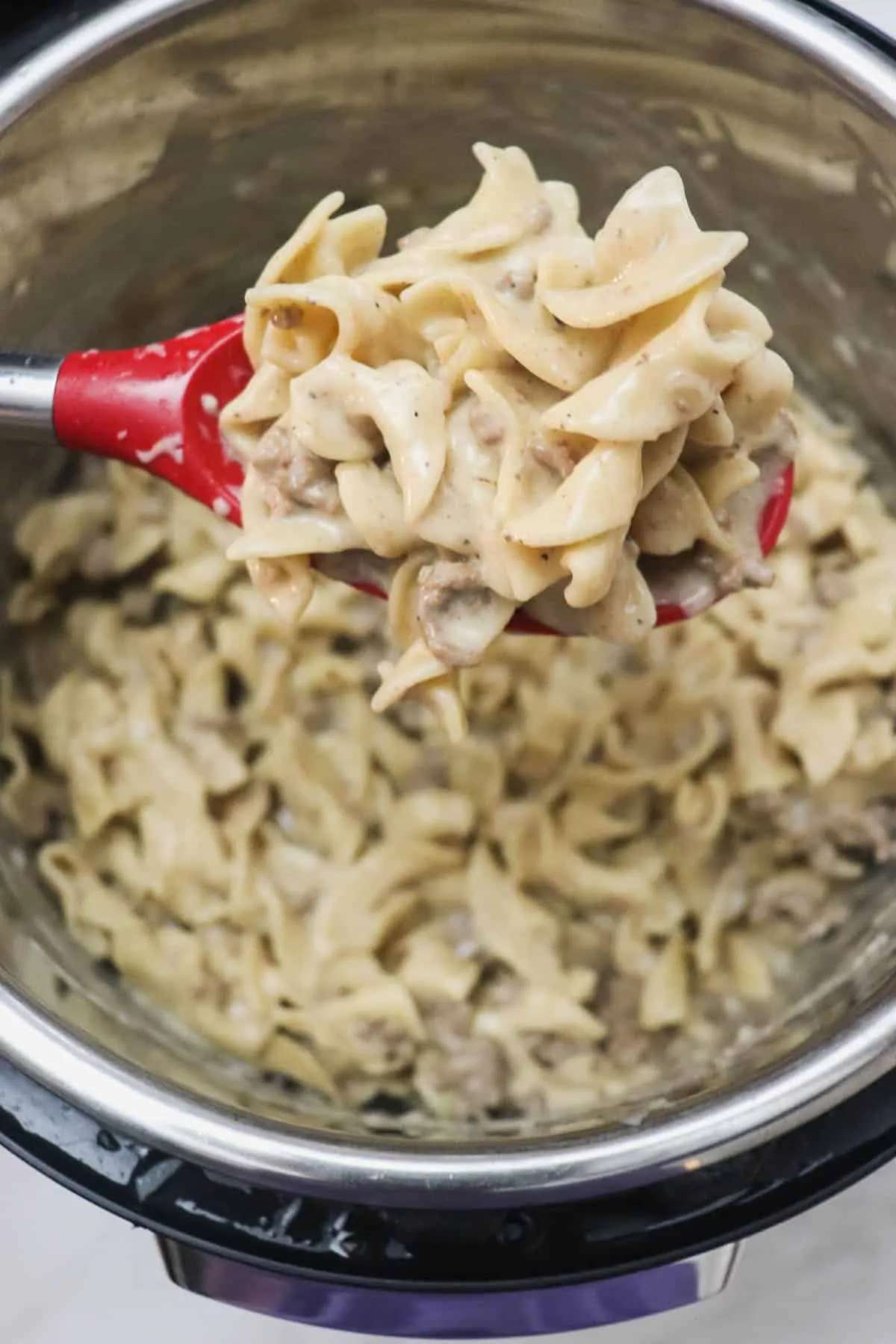 This version of hamburger stroganoff is a little lighter in calories thanks to the lean meat and light sour cream. But it is still thick, creamy, and full of flavor!
Cooking the noodles in beef broth gives it an amazing flavor without having to include all of the fat from the beef. The sour cream mixed in at the end makes the sauce thick and creamy.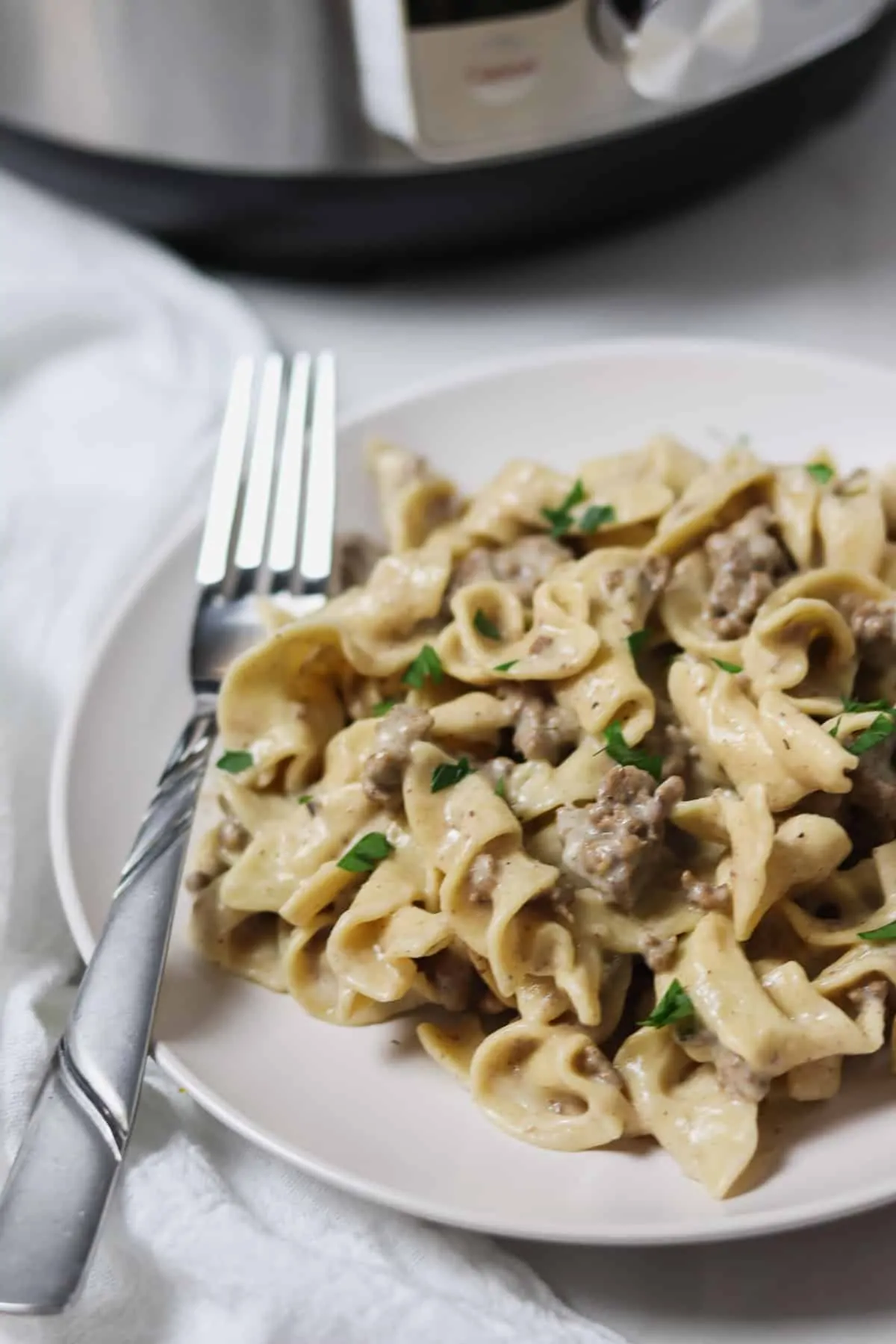 The Instant Pot also makes this recipe a breeze - just brown the meat, dump in the ingredients, and hit start! I love Instant Pot recipes because I can get so much done around the house while my meal cooks without needing constant attention.
This easy beef stroganoff recipe is frequently on my weeknight dinner rotation - it's simple, easy, and quick to throw together!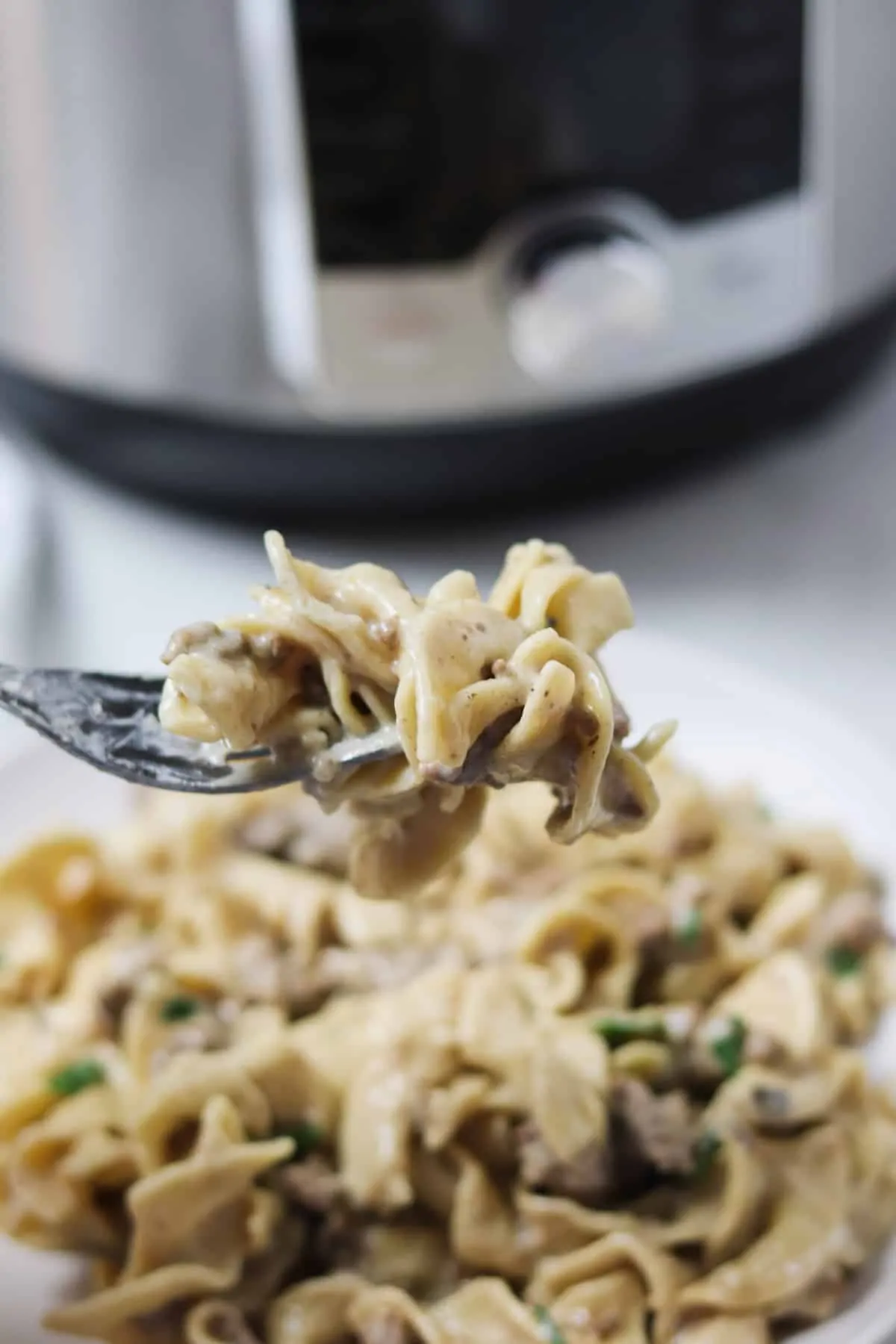 Jump to:
Ingredients
Here is what you'll need to make this recipe:
1 lb lean ground beef or lean ground turkey (93% lean)
2 teaspoon minced garlic
2 tablespoon dry minced onion
12 oz wide egg noodles
3.5 cups beef broth
1 teaspoon Worcestershire
½ teaspoon salt, to taste
½ teaspoon pepper, to taste
10.5 oz can cream of mushroom soup
1 cup light sour cream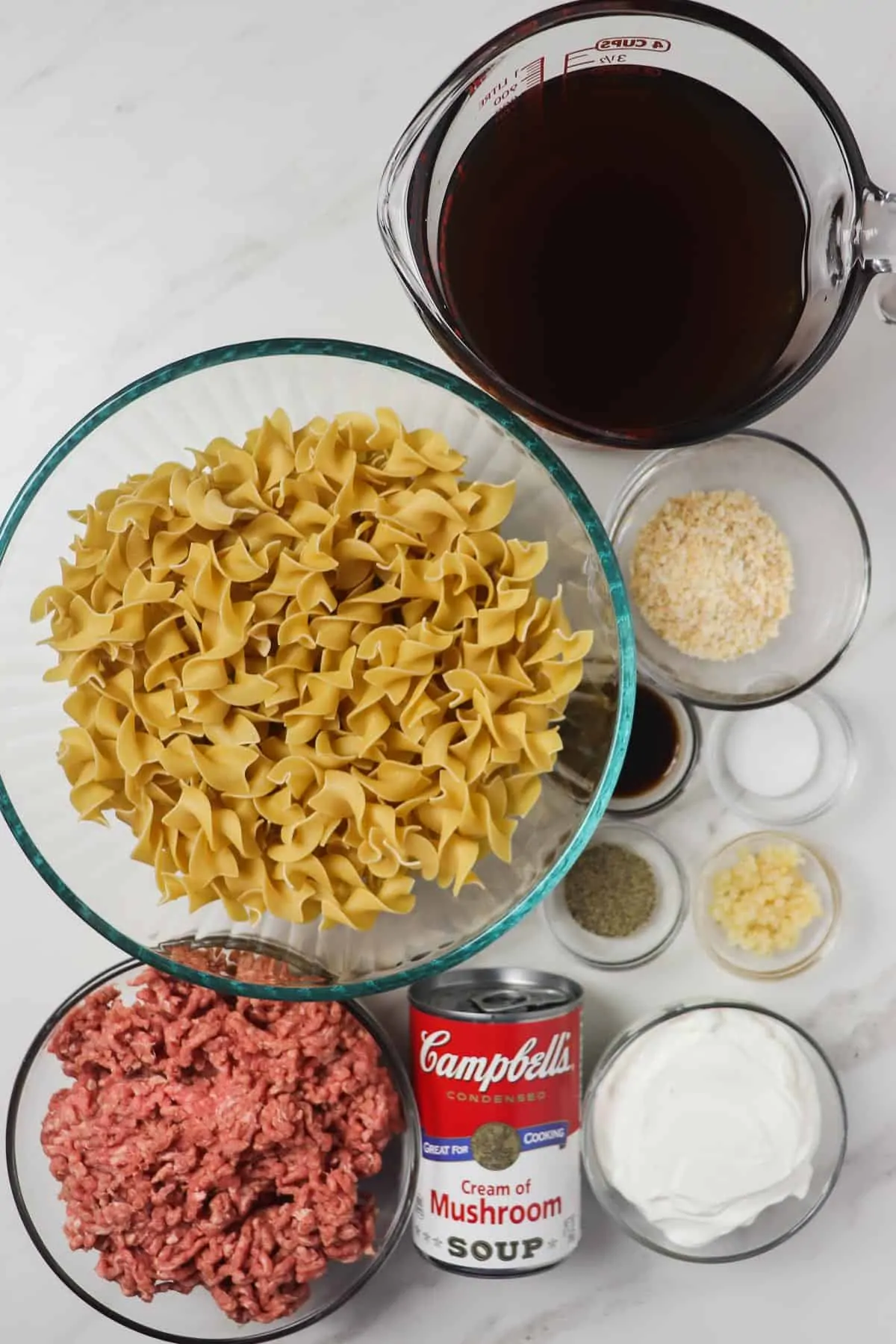 Substitutions and Add-Ins
Mushrooms: If you like mushrooms, you can add about a cup of sliced mushrooms to your stroganoff. Add them when you add the noodles.
Sour Cream: you can use full-fat sour cream instead of light if desired. But I find that light sour cream gives plenty of taste while also cutting out a bunch of calories! If you can find fat-free sour cream, that is also a good option.
Lean Ground Beef: I recommend using lean beef or turkey (93% lean / 7% fat). I think the beef version tastes a little bit better, but turkey is also a good option if you're looking to avoid red meat. If you have higher-fat content meat, be sure to drain all of the excess fat after browning. You don't want all that extra fat in your pasta!
Dry Minced Onion: I love using dry minced onion for the convenience and flavor. To substitute for a regular onion, dice up 1 medium onion and add it to the Instant Pot while browning the beef. You could also use about 2 teaspoons of onion powder.
Cream of Mushroom Soup: If you absolutely hate mushrooms, try substituting cream of chicken soup. I do prefer the flavor of the mushroom soup, but cream of chicken soup would also yield a similar result. My family doesn't like mushrooms so I usually pick out the large mushroom pieces from the cream of mushroom soup.
Equipment
You will need an Instant Pot for this recipe. I love my Instant Pot Ultra!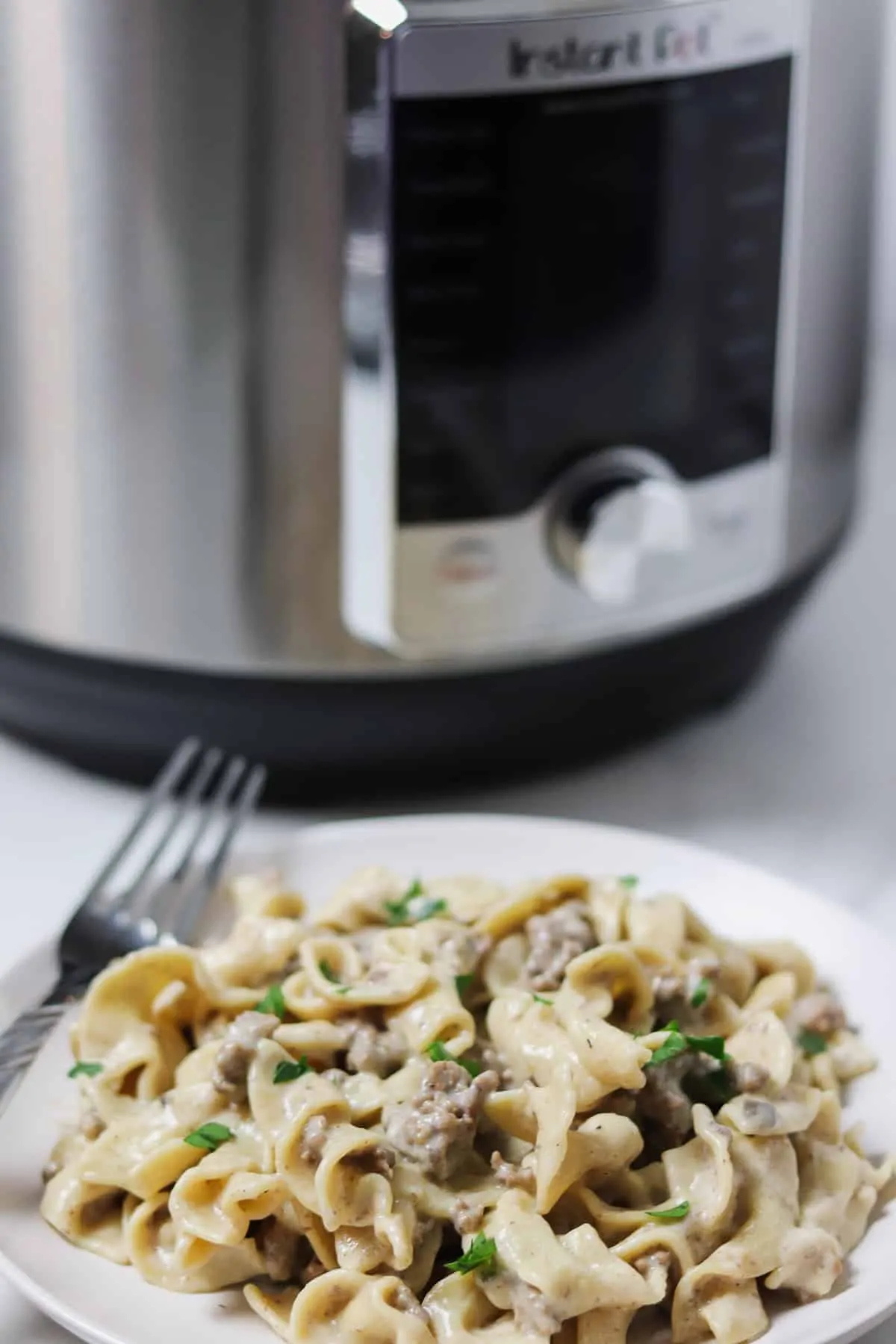 A meat chopper is also really handy for chopping up the ground beef, but not required!
Instructions
Brown and Drain the Meat
First, you'll need to brown the meat in the Instant Pot. Set the pot to Medium, Sautee and add the ground beef or turkey.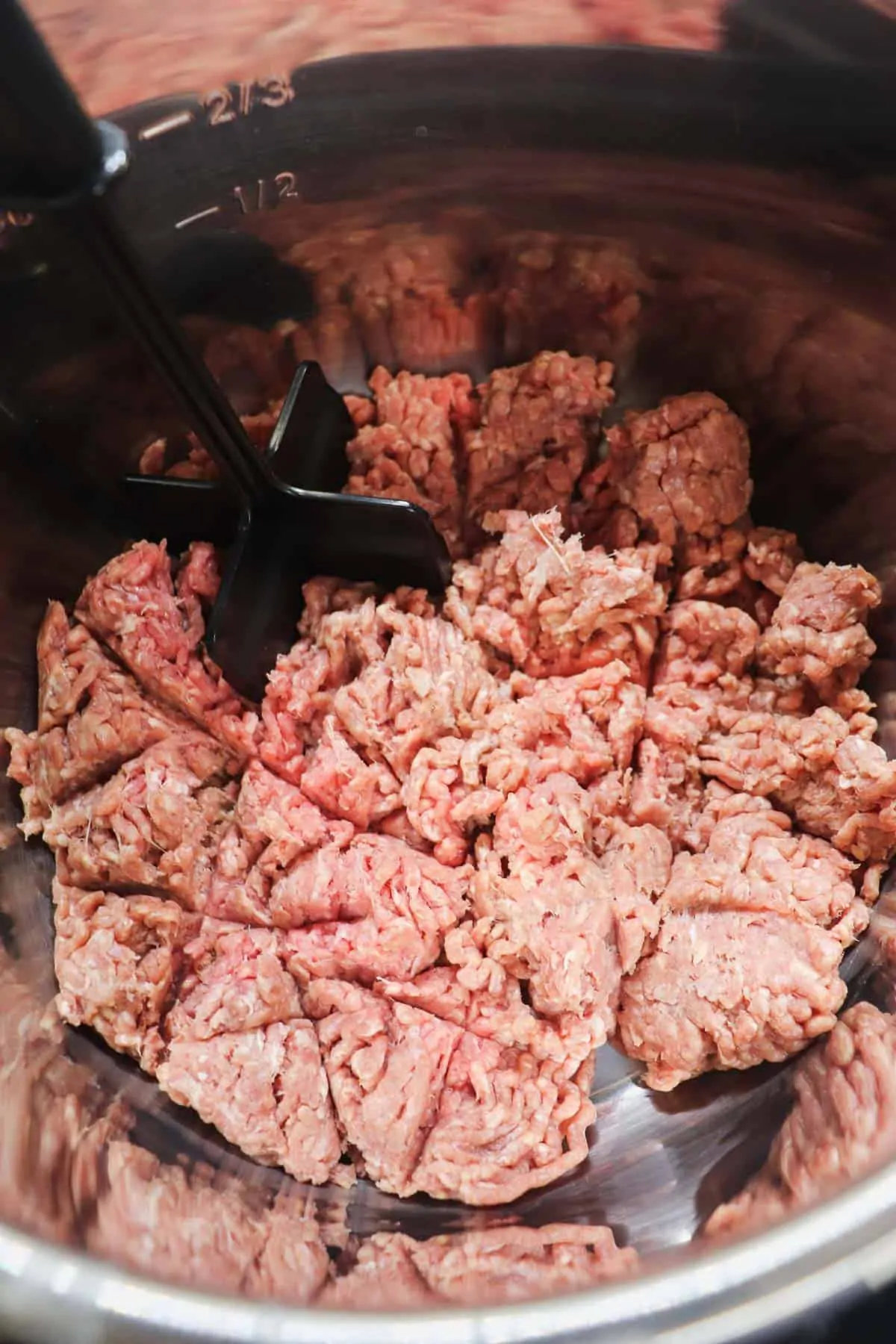 Brown meat for 5-10 minutes, or until no pink remains. Use a meat chopper to chop meat into small pieces.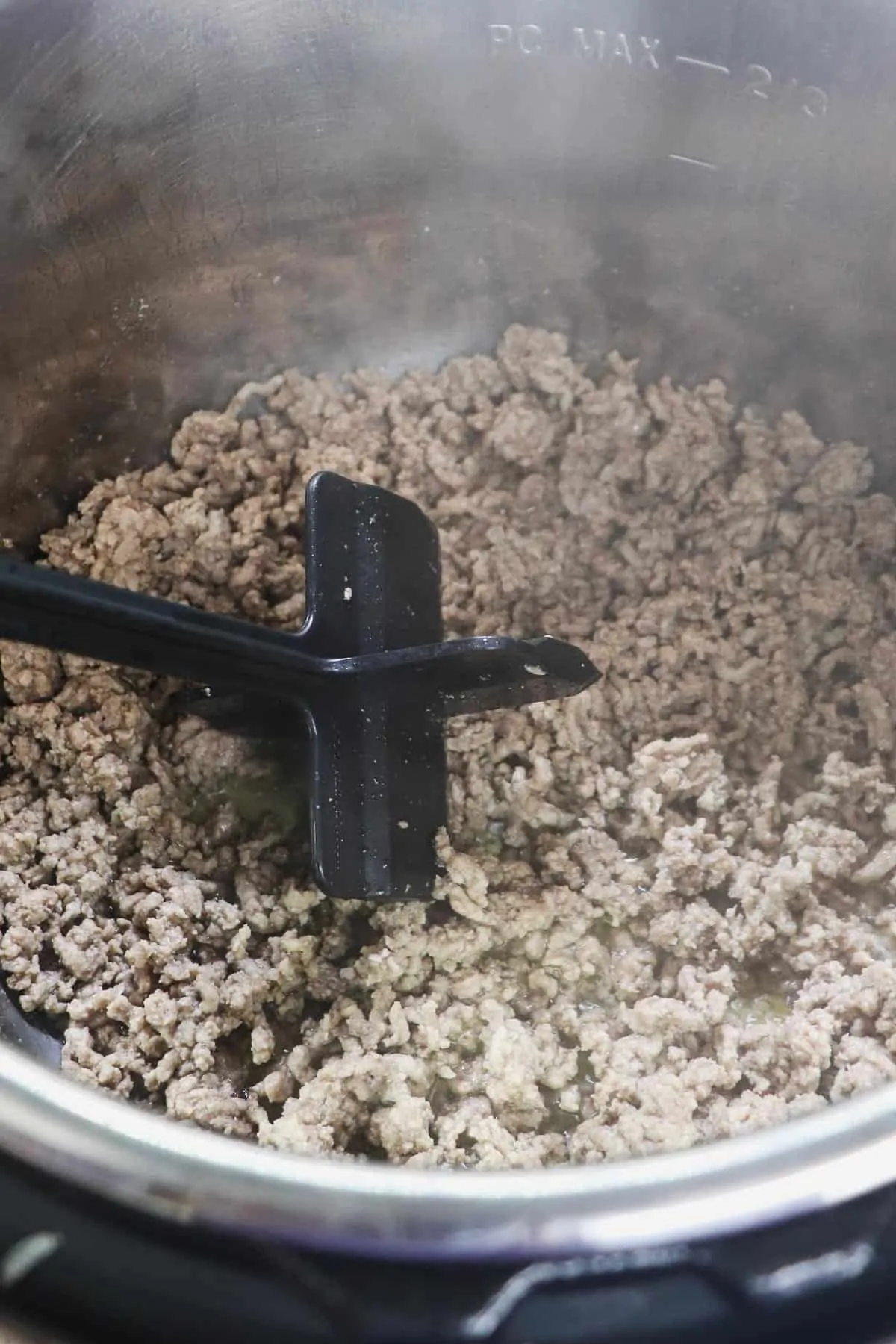 After the meat is fully cooked, drain the excess grease from the Instant Pot. The easiest way to drain the meat is by using a metal strainer. You can also try to separate the meat and fat by tipping the Instant Pot liner to one side, and then removing the grease using a spoon or paper towel.
I highly recommend draining the excess fat, even if you are using lean ground beef or turkey. It still helps the calorie count to remove any extra fat that cooks out!
Deglaze the Pot
To deglaze the Instant Pot liner, add about ½ cup of the beef broth and scrape any burnt bits from the bottom of the pan.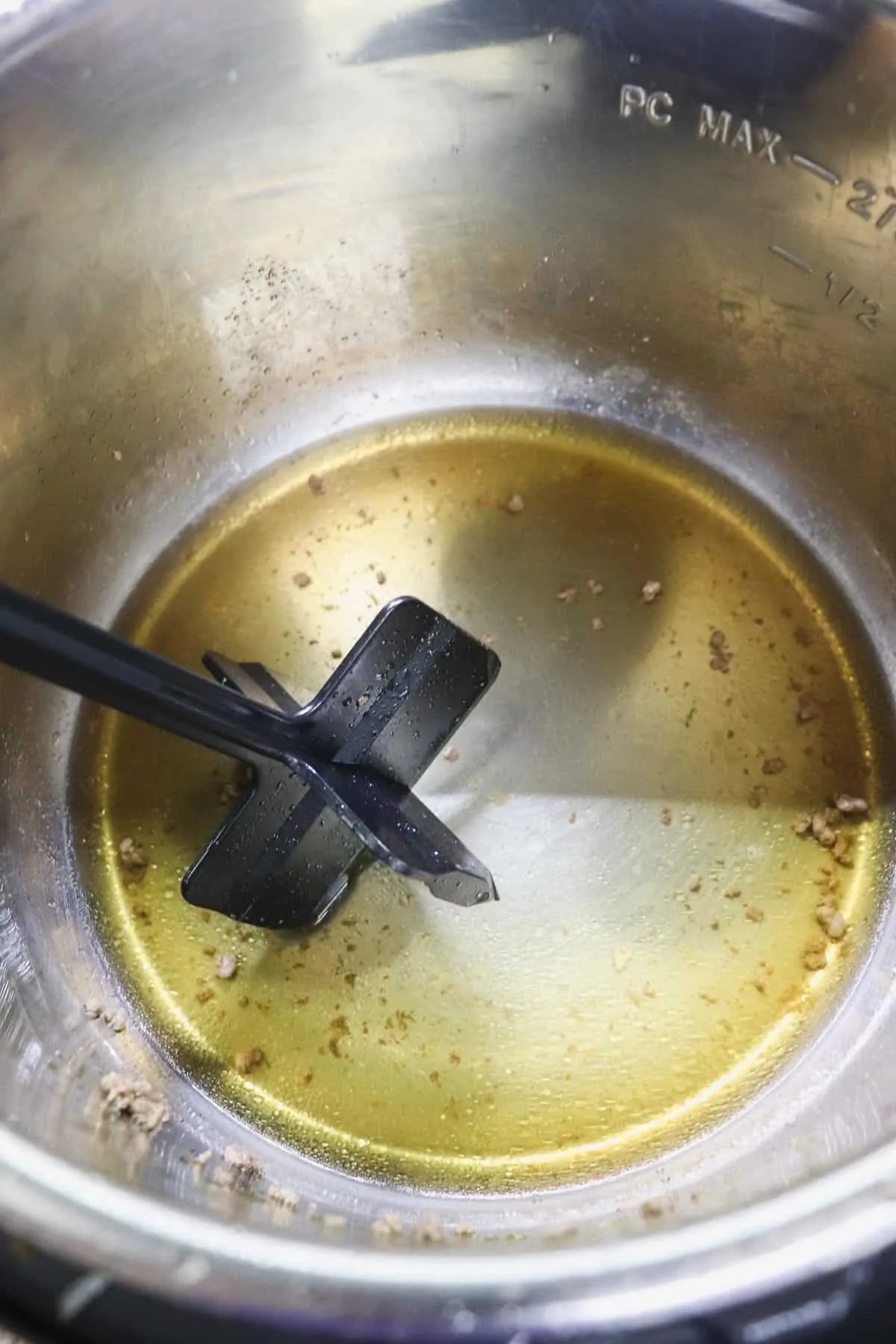 Don't skip this step! Removing any burnt pieces from the bottom of the liner will help prevent the dreaded "burn" notice.
Layer Ingredients
After deglazing the pot, return the ground beef to the pot. Add the minced garlic, dry minced onion, egg noodles, the remaining beef broth, worsteshire sauce, and salt and pepper (to taste). Stir the ingredients together and push noodles down into liquid.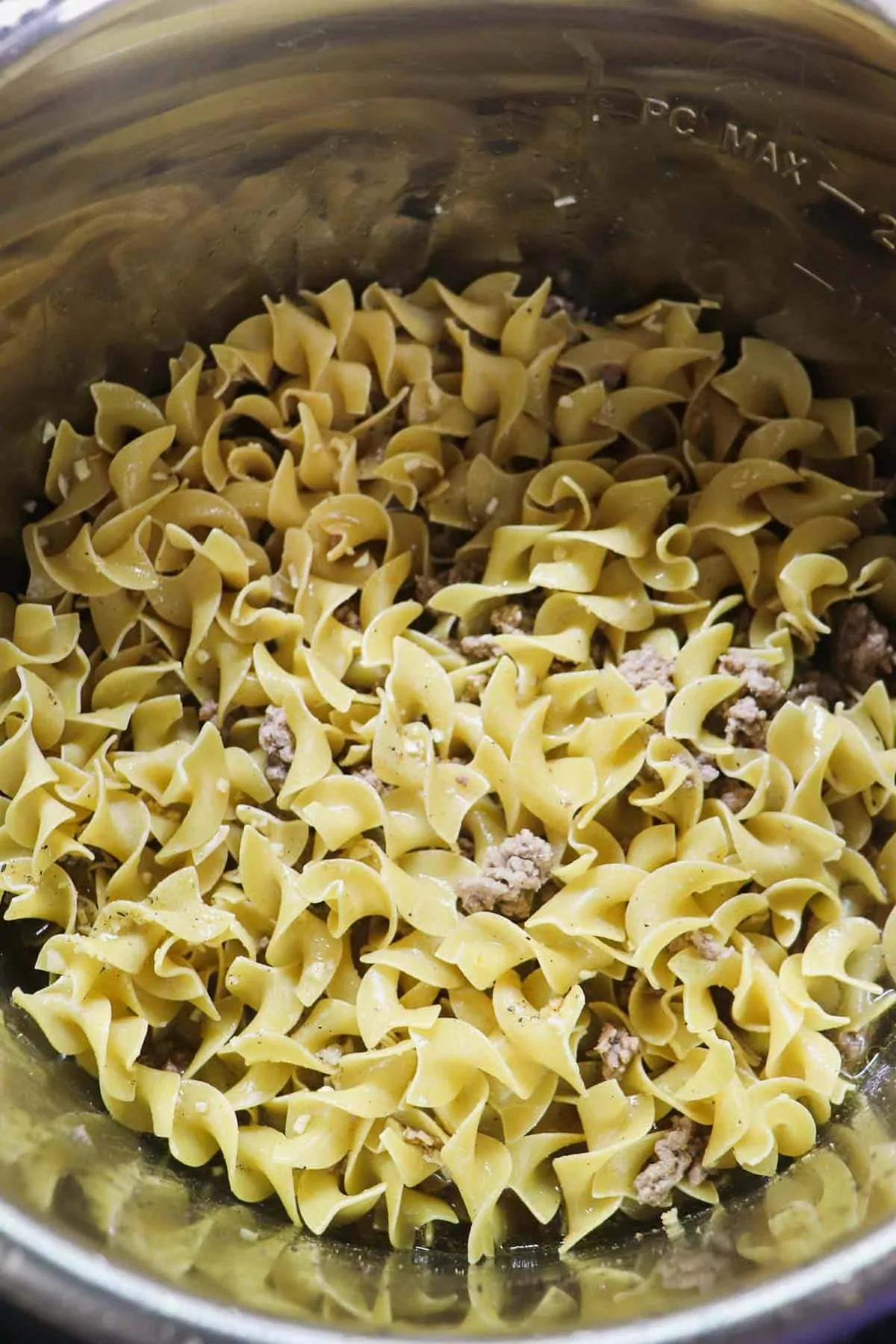 Finally, add the can of cream of mushroom soup on top. DO NOT STIR the soup. Leave it sitting on top of the noodles.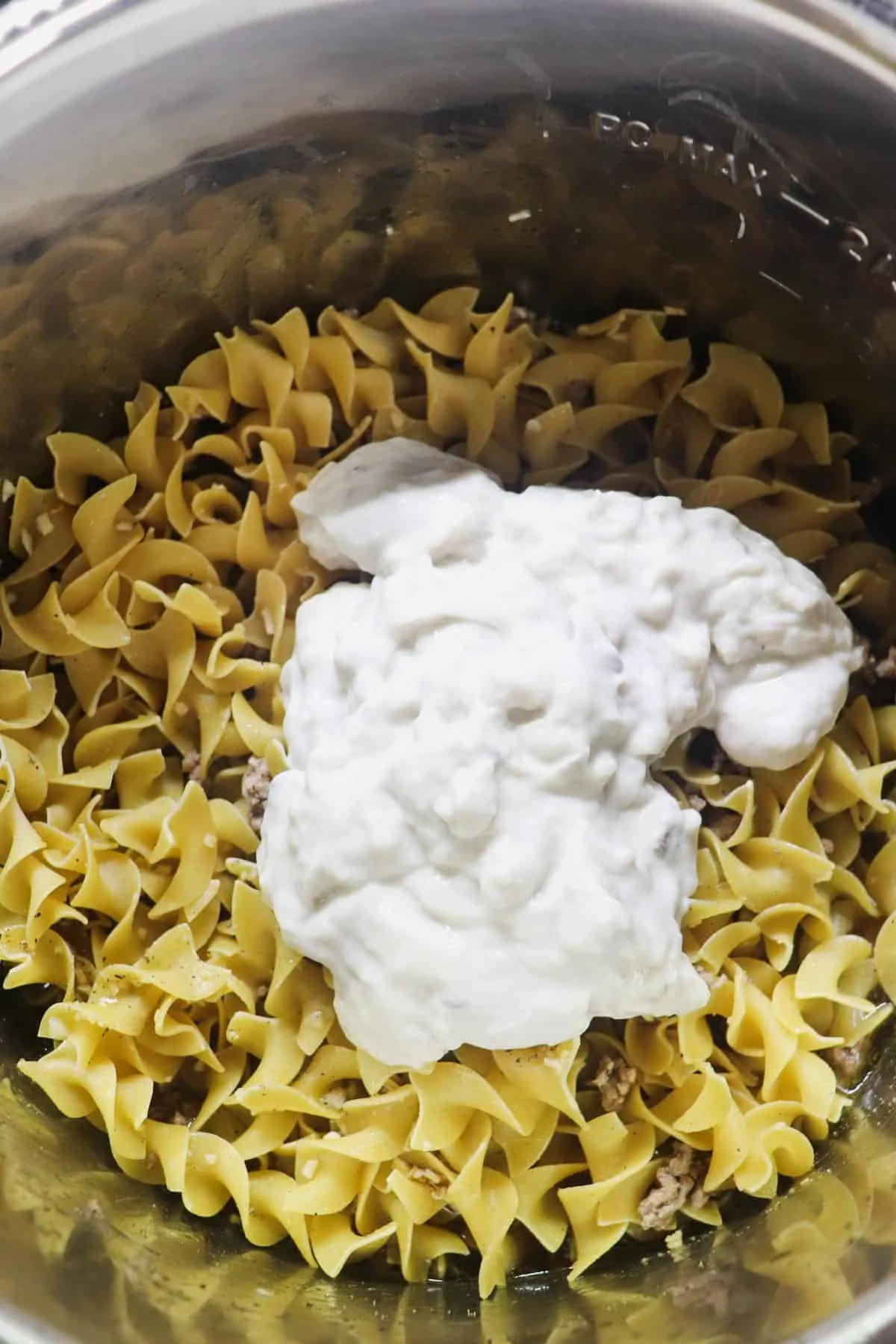 Note: the sour cream is not added until after the noodles are cooked. Don't add it now!
Pressure Cook
Put the lid on the Instant Pot and cook for 5 minutes, high pressure.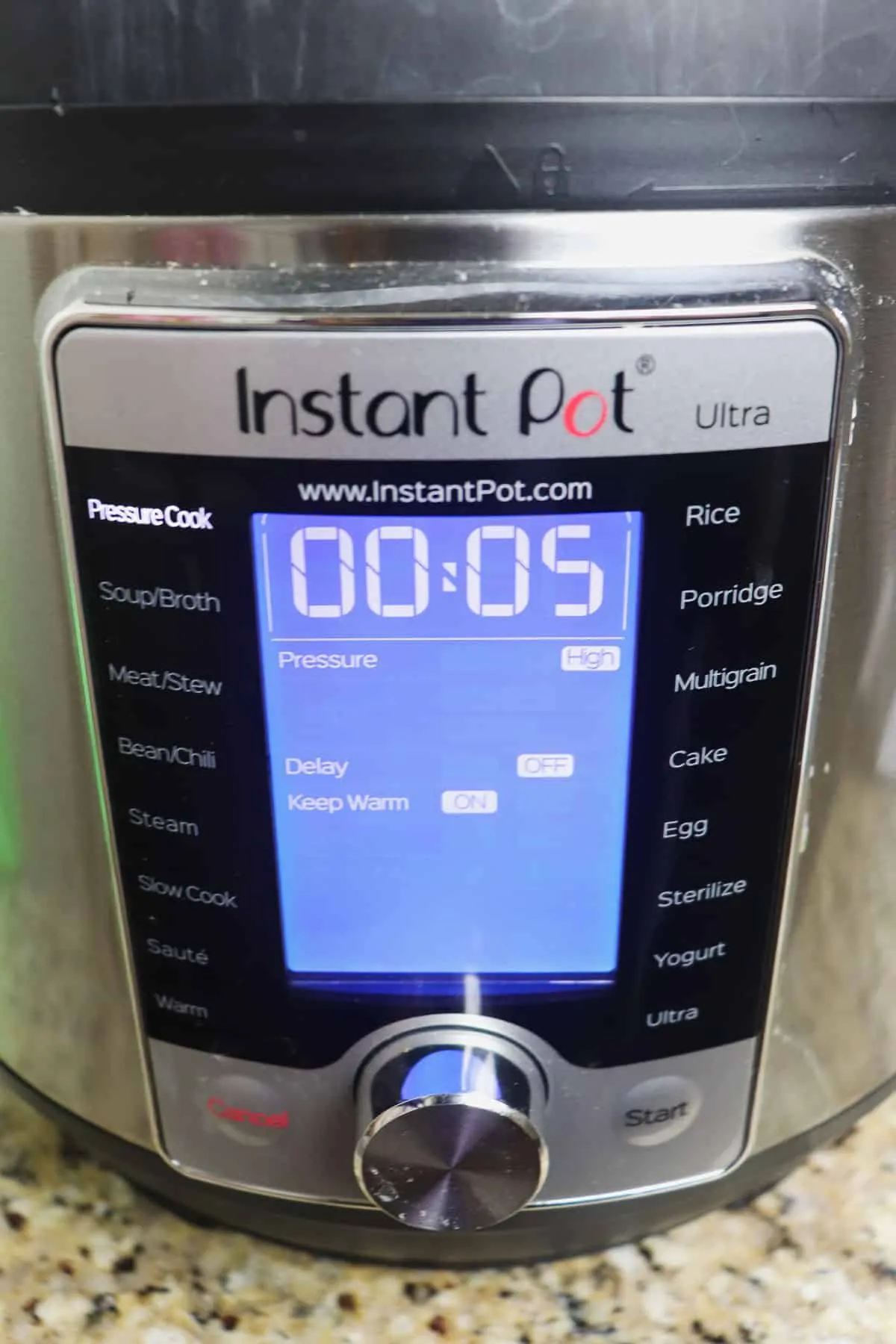 After 5 minutes, do a quick release and remove the lid. Stir and gently break apart any noodles stuck together.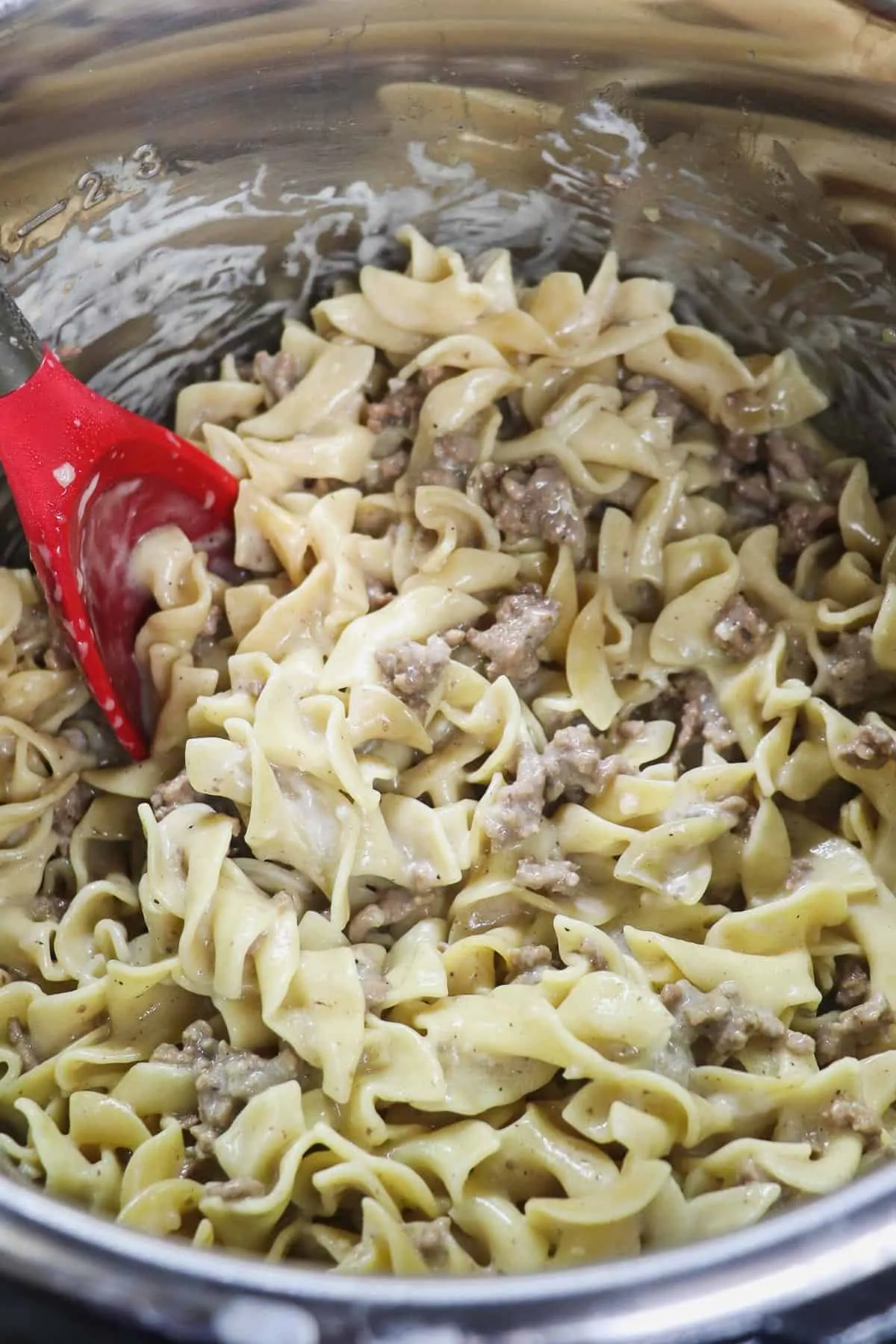 Add Sour Cream
Finally, add the sour cream and stir.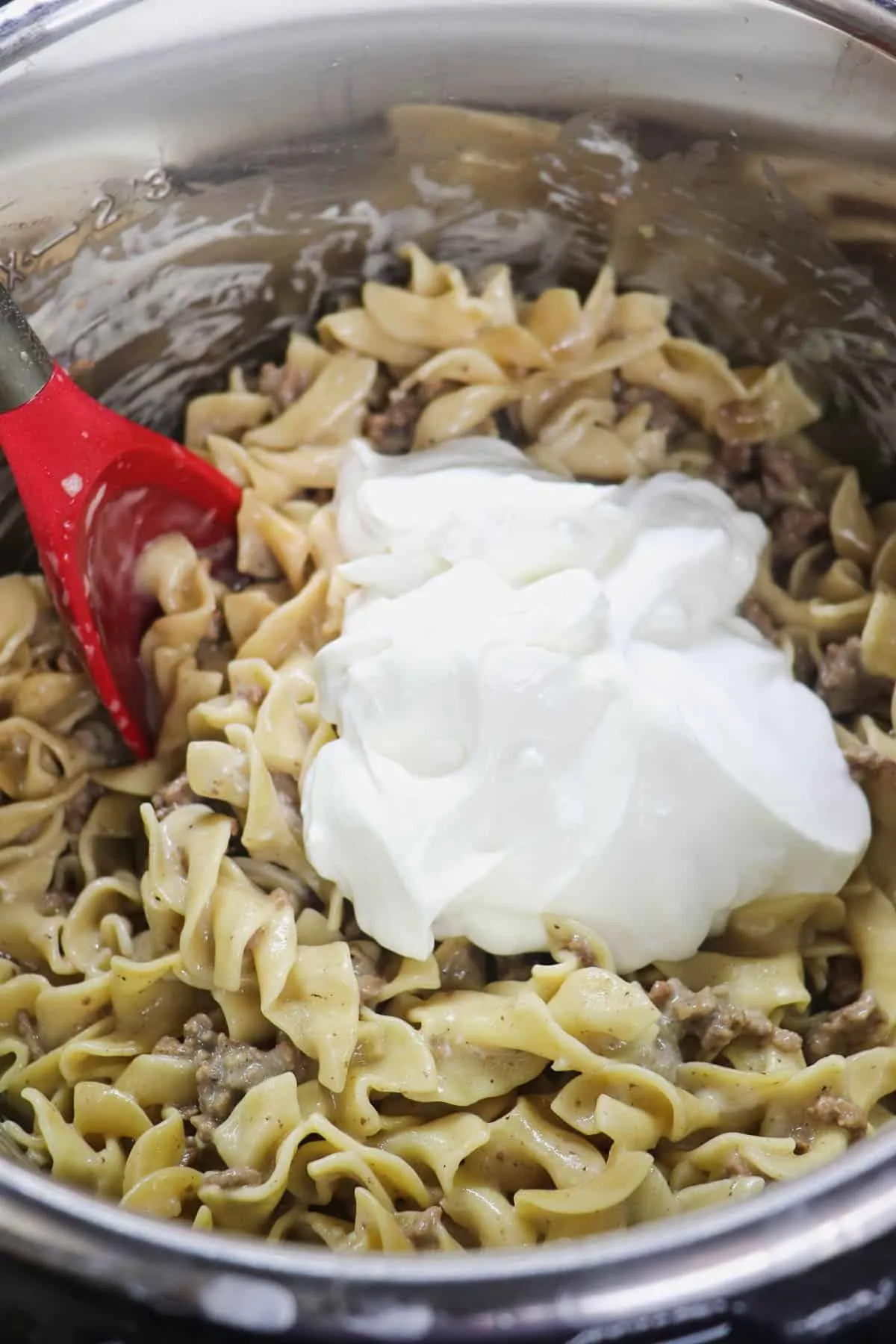 Serve hot! Sauce should be thick and creamy.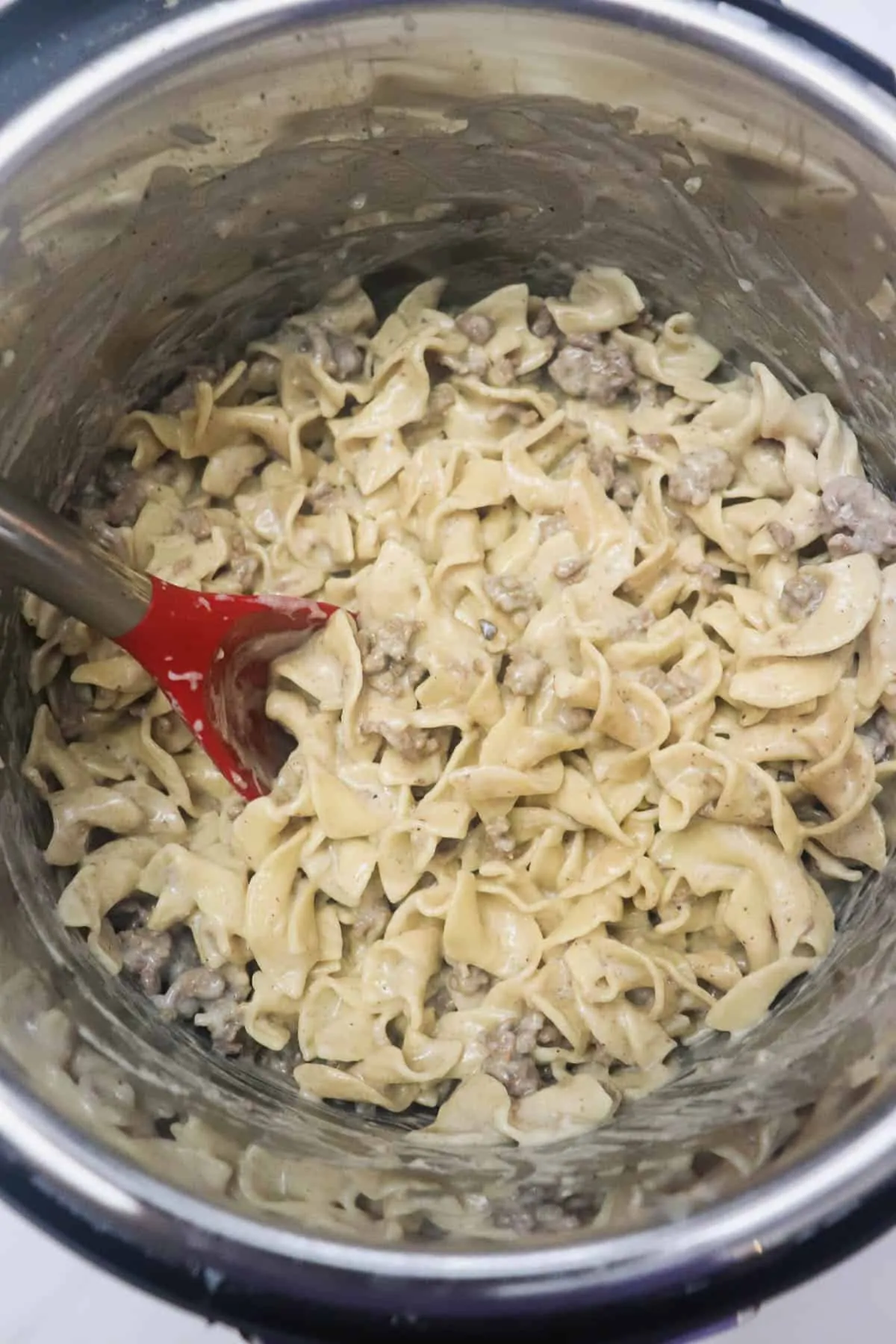 How to Serve
This is pretty much an all-in-one meal! All you'll want on the side is a simple salad or veggie, such as my Instant Pot Green Beans.
Optionally, you can garnish with a little bit of parsley.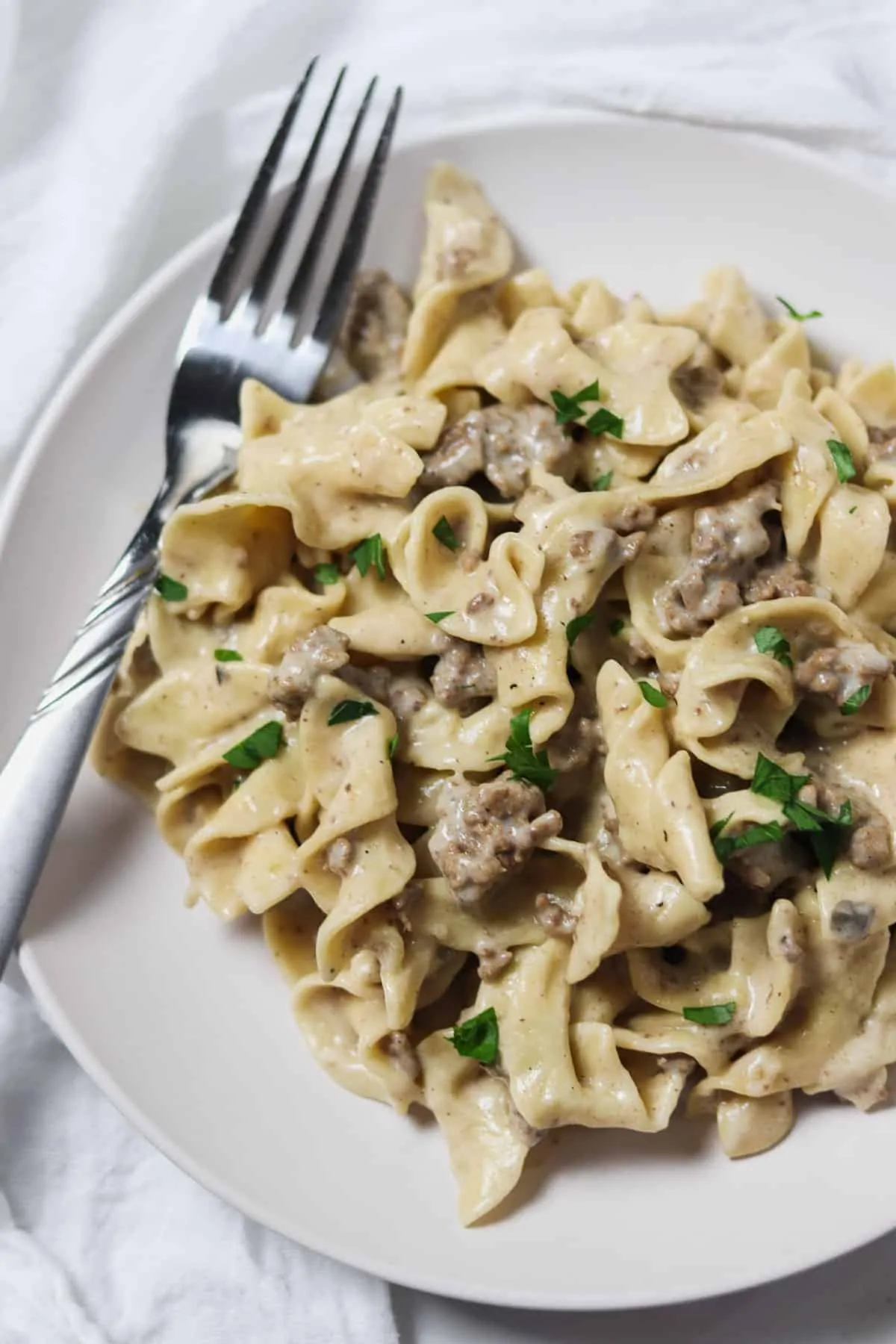 How to Double the Recipe
I don't recommend doubling this recipe in a 6 quart Instant Pot because it fills up too much space in the pot. I think you could double this recipe in an 8 quart Instant Pot. Just makes sure you don't fill up your pot past the Max Fill line!
How to Store
This recipe is a good freezer meal. You can freeze leftovers in plastic containers for 1-2 months. To reheat, allow pasta to thaw in the refrigerate overnight and then reheat at 50% microwave power until warmed through.
If you skip the overnight thawing skip, you can defrost in the microwave. However, defrosting slowly will yield better results!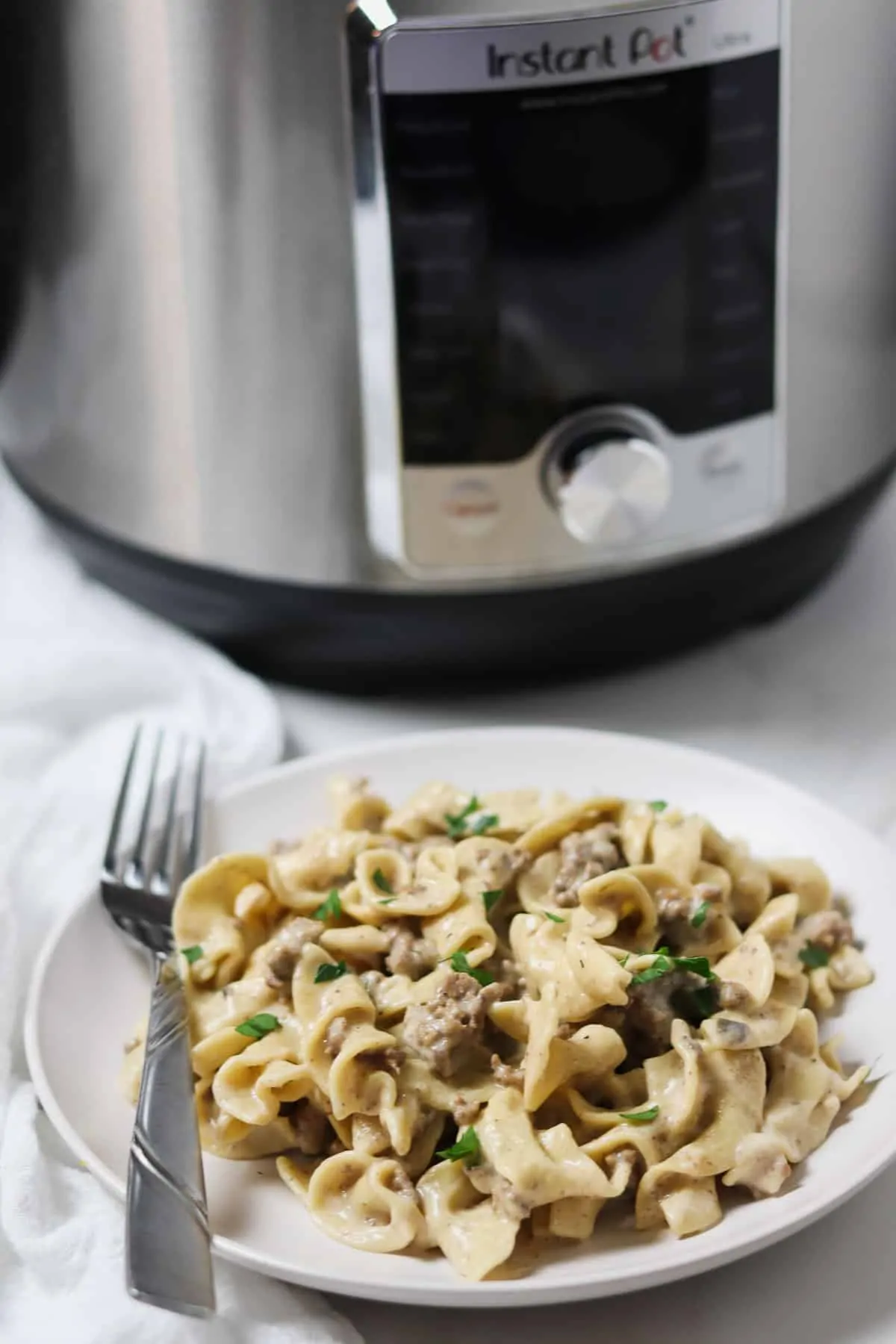 Calories Per Serving
This recipe has about 375 calories per serving. There are 6 servings in this recipe, and 1 serving is about 12 oz or 1.5 cups.
When eaten in moderation, this recipe is a great option for a low-calorie diet! Add on a side salad of about 100 calories to make a filling dinner under 500 calories!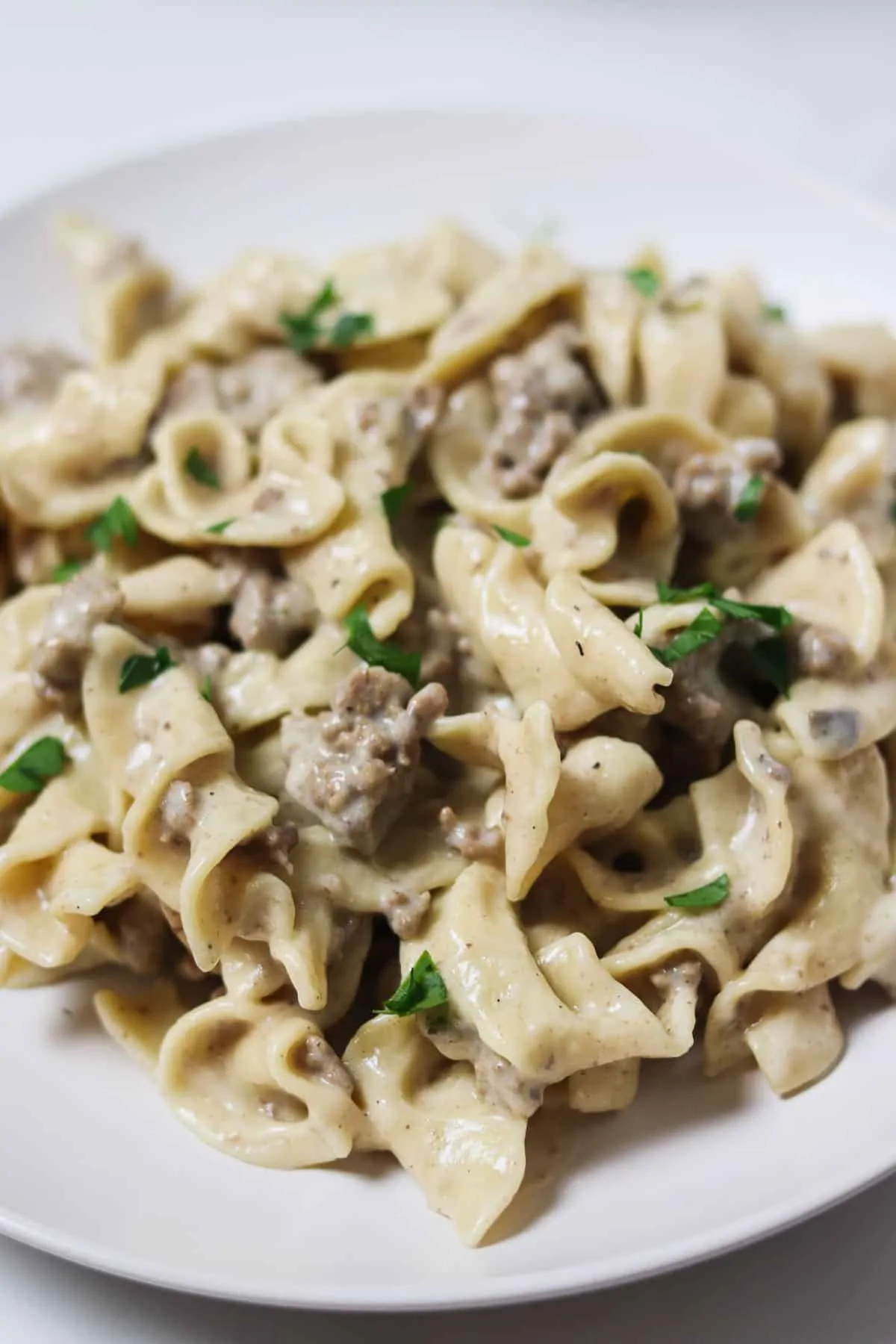 Recipe