These healthy air fryer biscuits are low in calories, fat-free, and made with only 4 ingredients! You won't believe these fluffy and delicious biscuits only have 90 calories each!
The secret ingredient of these biscuits is Greek yogurt. A slight variation on the popular 2 ingredient dough, this recipe adds milk to give the biscuits a fluffier texture. An added touch of sugar helps balance the tang of the Greek yogurt.
Your family won't even guess that there is yogurt in these biscuits. Trust me, they don't taste like yogurt. While they may not taste 100% like the buttermilk biscuits your grandma made, they are pretty darn close for a low-calorie alternative. They will definitely satisfy your biscuit craving without busting your diet!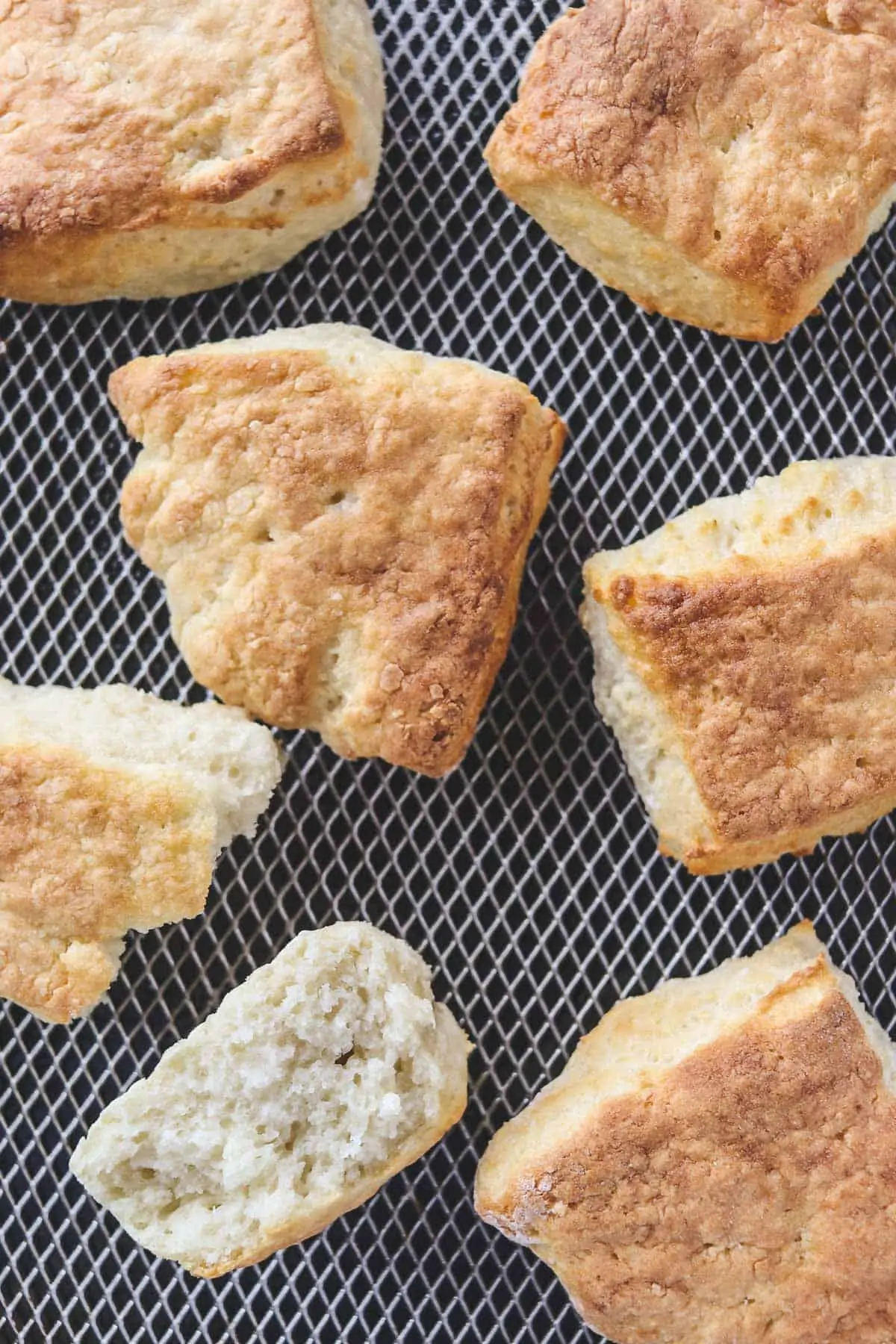 With only 4 ingredients, this is such a simple and easy recipe to throw together! These can be ready for a quick morning breakfast in no time.
Jump to:
Ingredients
You will need:
1 cup self-rising flour, plus extra for rolling
½ cup plain nonfat Greek yogurt
¼ cup nonfat milk
1 teaspoon sugar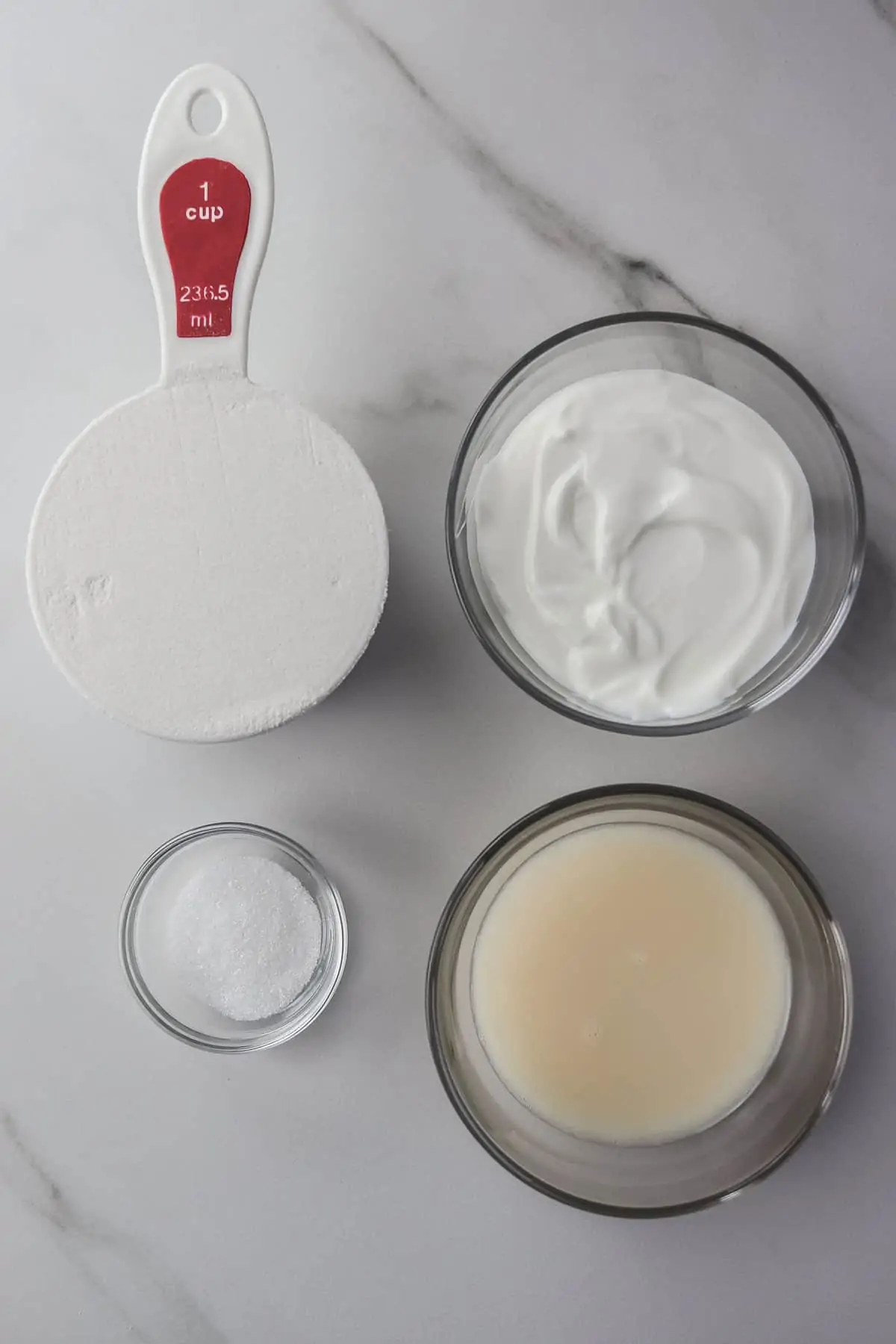 For the lowest-calorie options, stick to nonfat Greek yogurt and nonfat milk. However, if you want to use regular varieties that will work too.
You can also use 2 tablespoons of evaporated milk plus 2 tablespoons of water instead of fresh milk. I often do this if I don't have any fresh milk in the fridge.
The one teaspoon of sugar helps balance the tang of the yogurt. You could substitute the sugar for a granular sugar substitute, such as swerve.
How to Make Self-Rising Flour
If you don't have self-rising flour on hand, you can make your own. Combine 1 cup all-purpose flour, 1 ½ teaspoons baking powder, and ¼ teaspoon salt.
If you use premade self-rising flour, it will just save you a couple steps.
Instructions
First, you will start out by mixing the dough. Add the self-rising flour, yogurt, sugar, and milk to a small mixing bowl.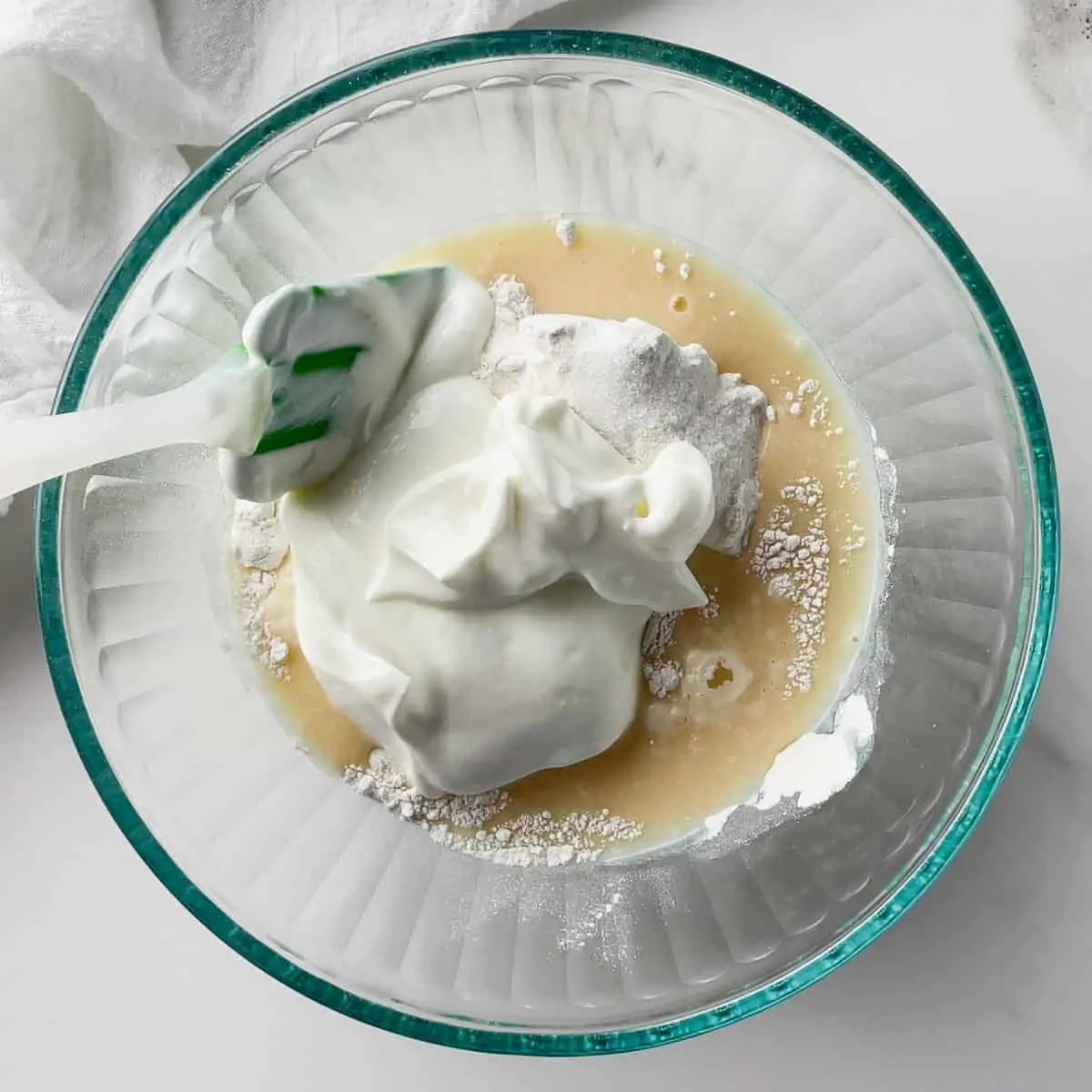 Stir until all of the flour is incorporated and a ball of dough forms. The dough should be thick and slightly sticky.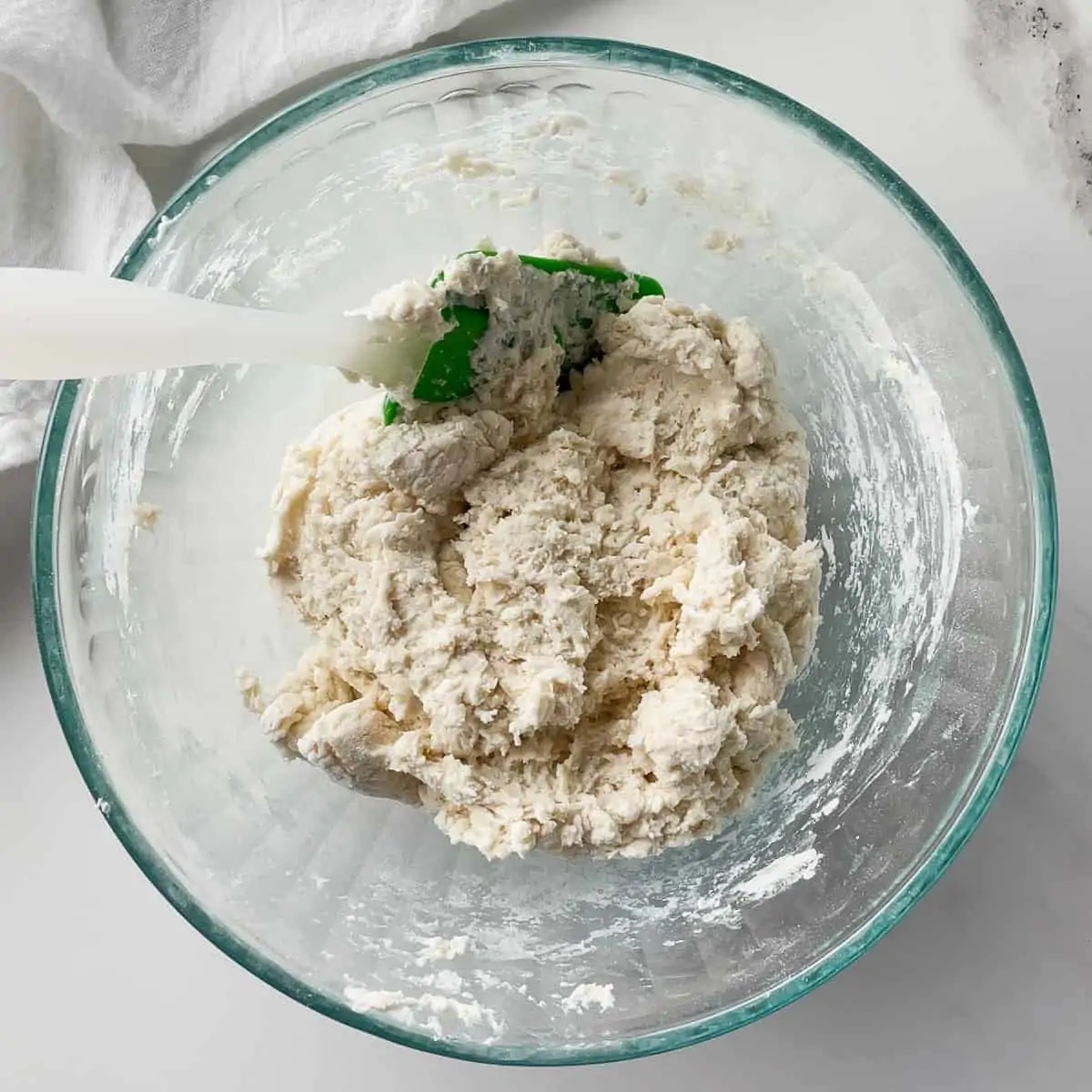 Lightly flour a cutting board or flat surface. Place the ball of dough on the floured surface and sprinkle a little bit of flour on top of the dough ball.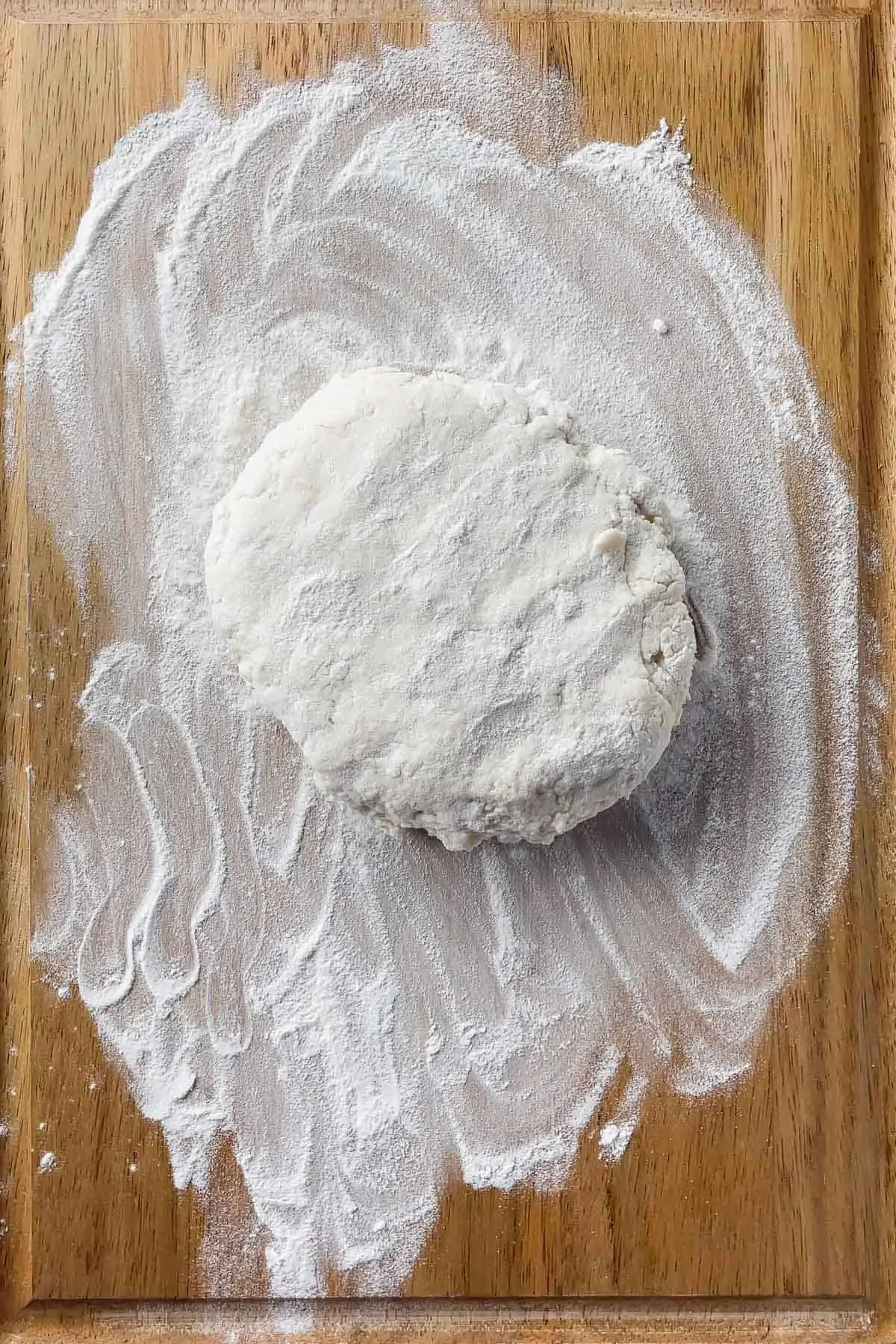 Using a small rolling pin, roll dough into a rectangle about 1" thick. If dough is too sticky to roll, you can sprinkle a little extra flour on your rolling pin.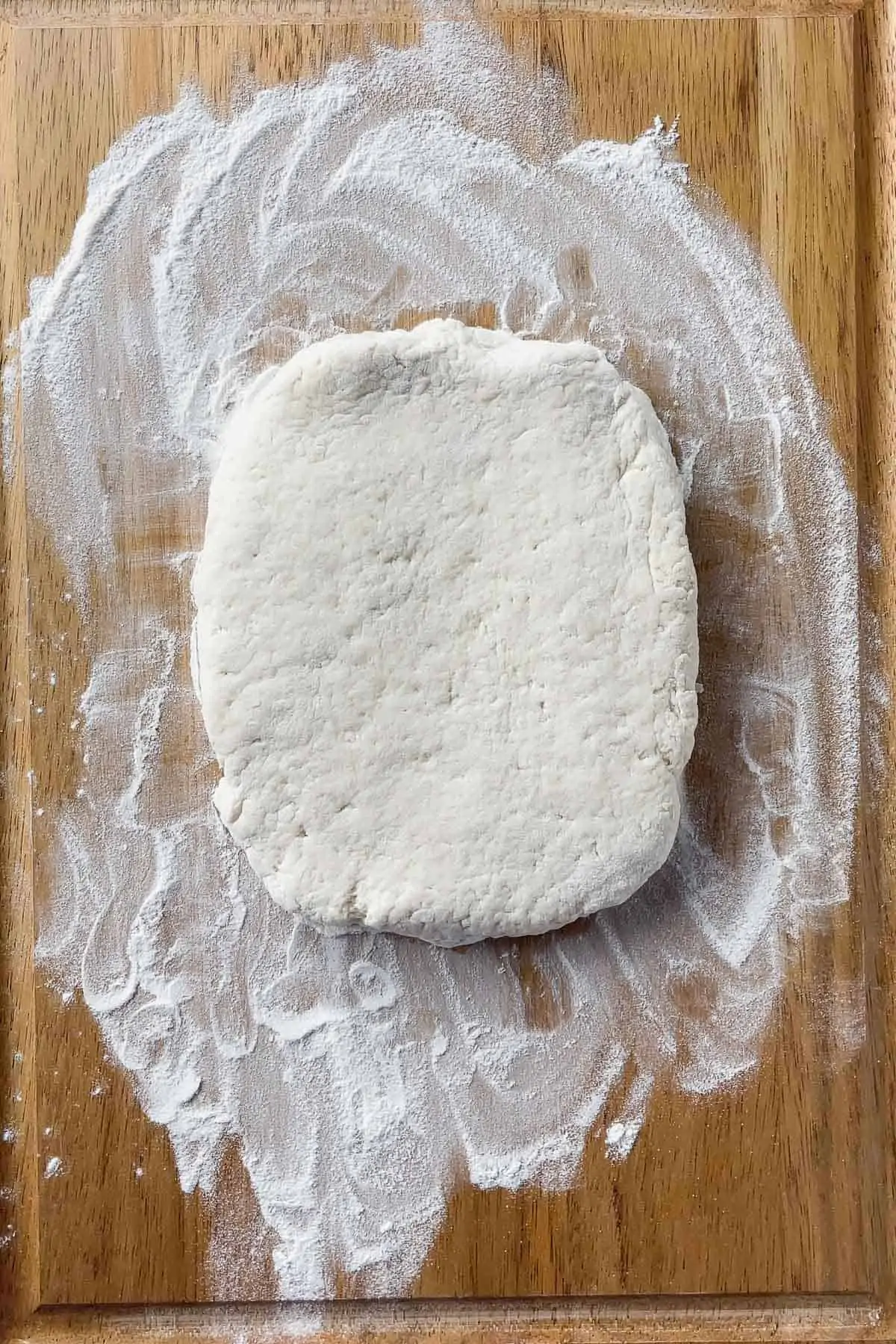 Next, cut the dough into 6 pieces to form 6 biscuits. You could use a biscuit cutter to make them perfectly round, but I usually just slice them into rectangles. This makes it easy to divide into 6 even pieces.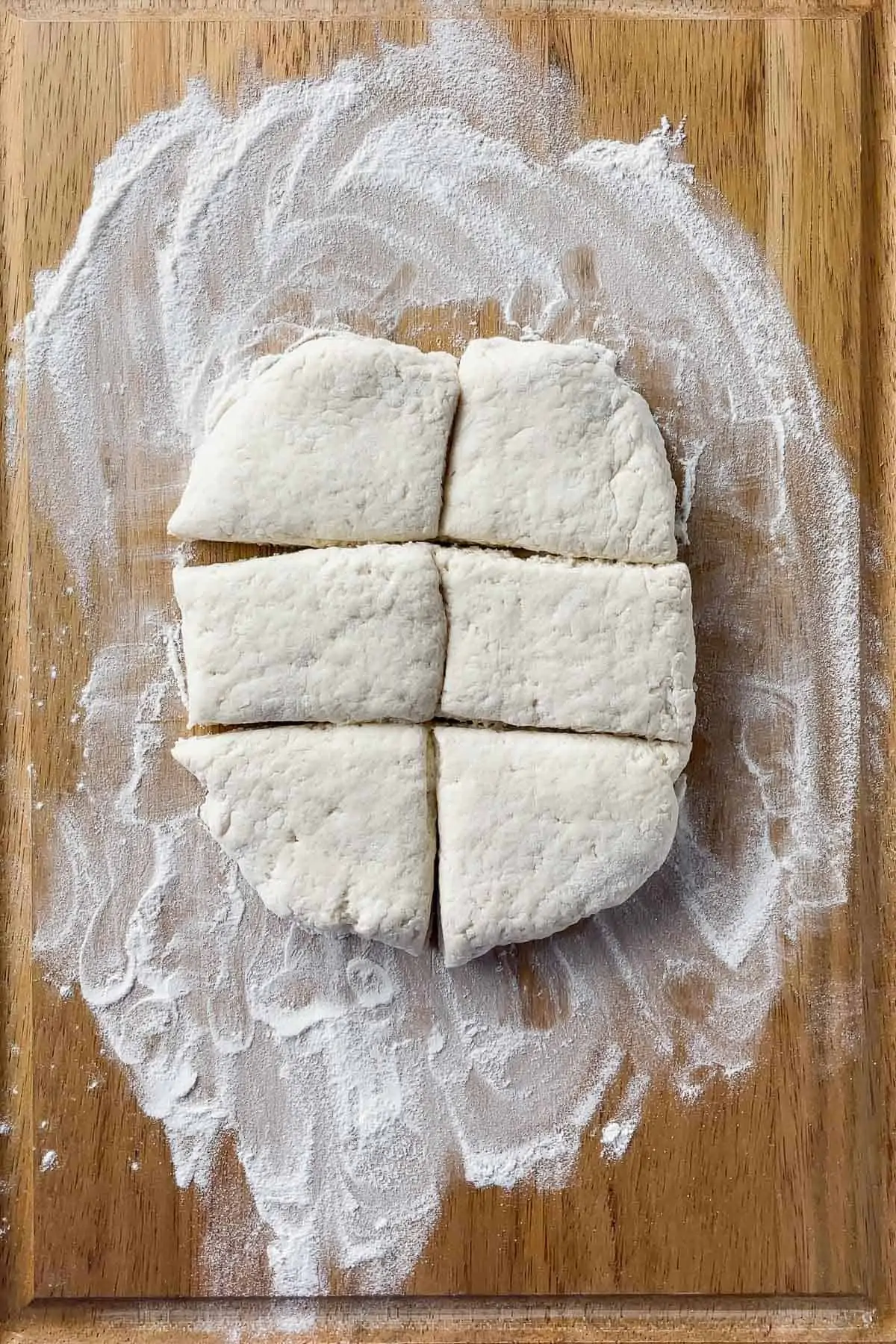 Spray the air fryer basket with nonstick spray and place the biscuits in a single layer. Biscuits should be separated by at least about 1".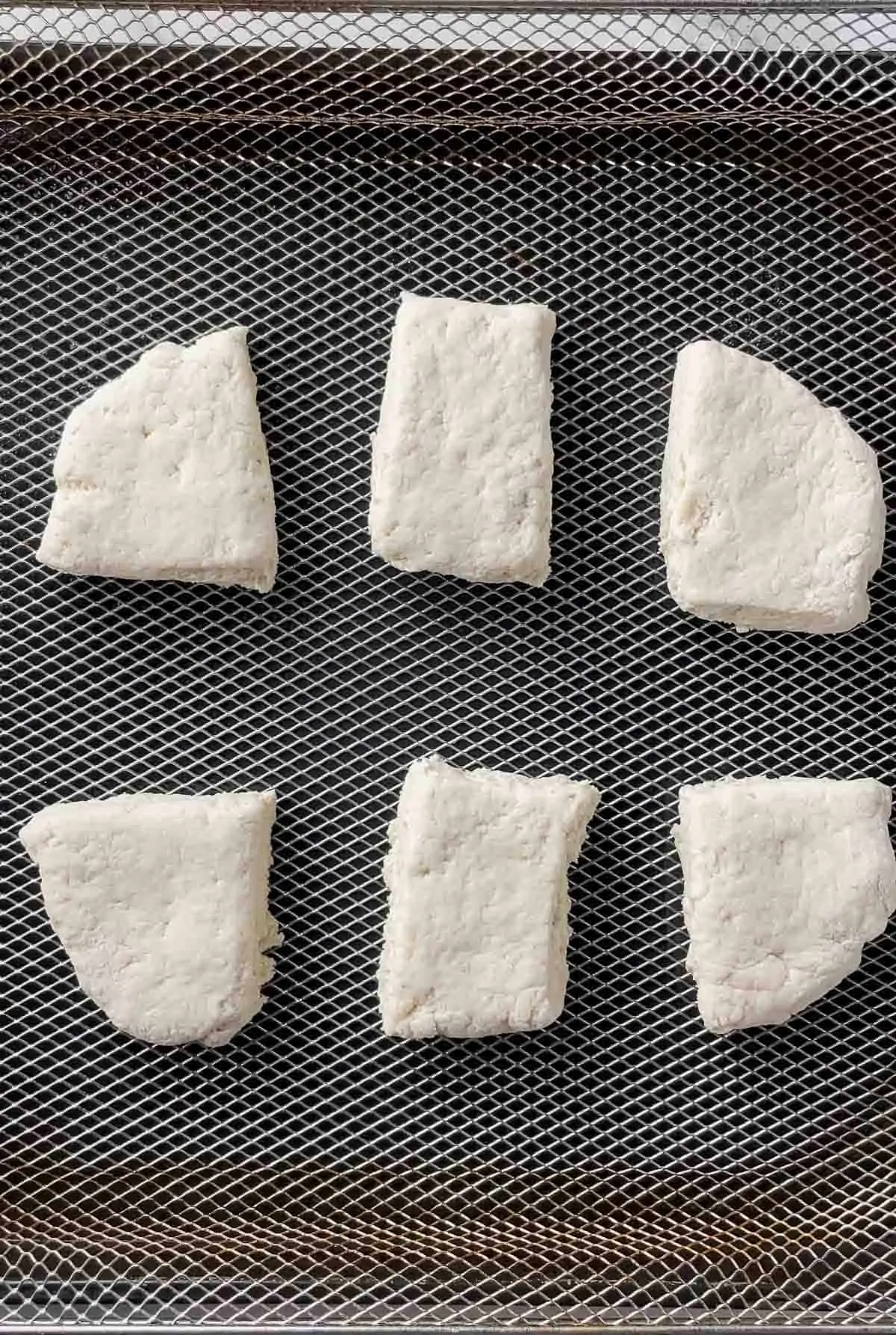 Air fry at 350 degrees for 8-10 minutes until the tops are lightly golden brown. I do not usually flip the biscuits, but if you want the bottoms to be more browned you may need to flip them halfway through the cooking time. Exact cook time will depend on your air fryer model.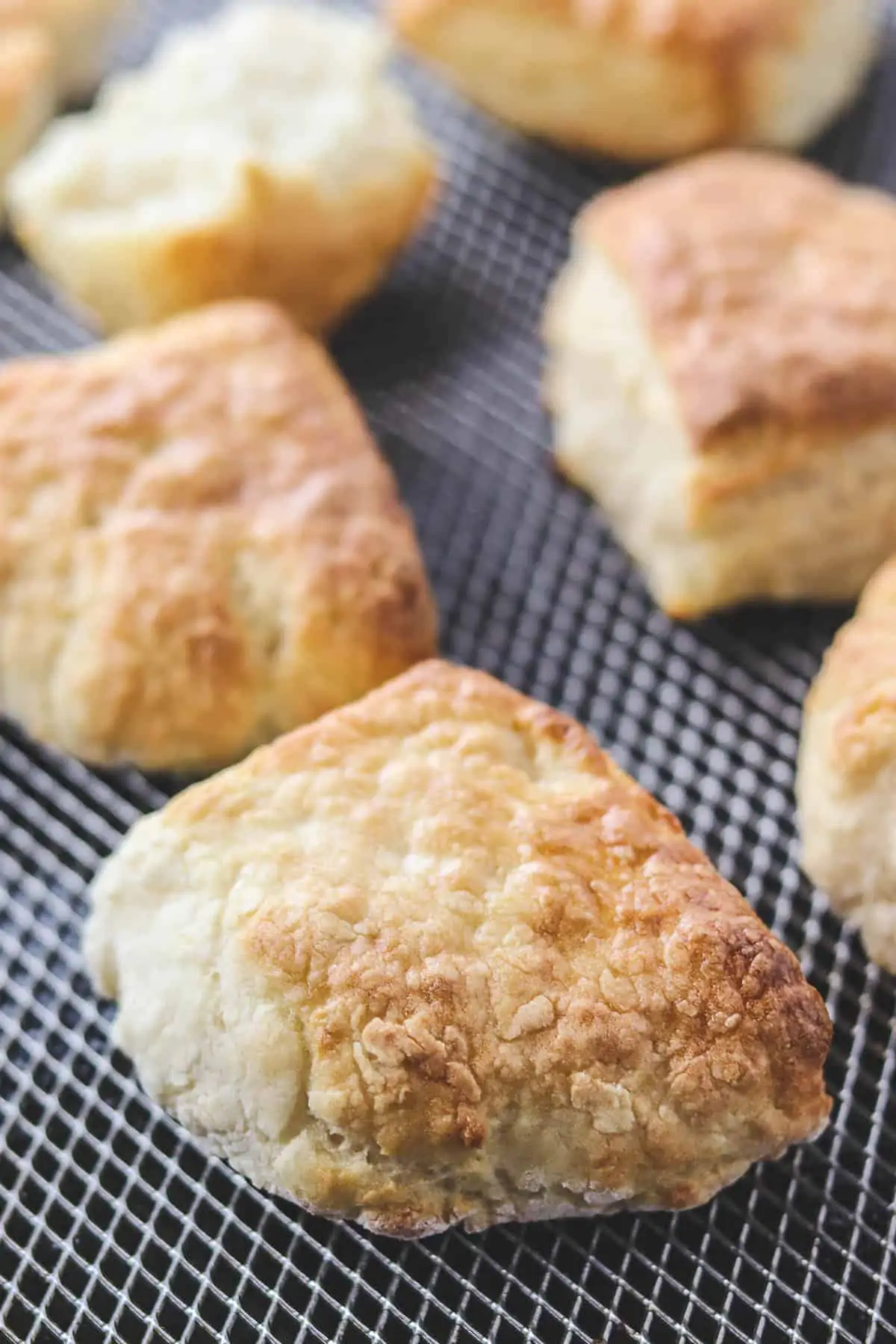 The tops may appear slightly floury after cooking. You can lightly spray them with oil or brush with melted butter to soak up any remaining flour on top.
Top Tips
If dough is too sticky to work with, add in a little more self-rising flour, one teaspoon at a time.
If dough is too thick and won't incorporate into a ball, add in a little more milk, one teaspoon at a time.
If the bottoms of the biscuits are not brown enough to your liking, you can flip them halfway through the cooking time. I find that in my air fryer, this isn't necessary.
Brush cooked biscuits with a little bit of melted butter or spray with oil. This will help absorb any flour that might be remaining on the tops.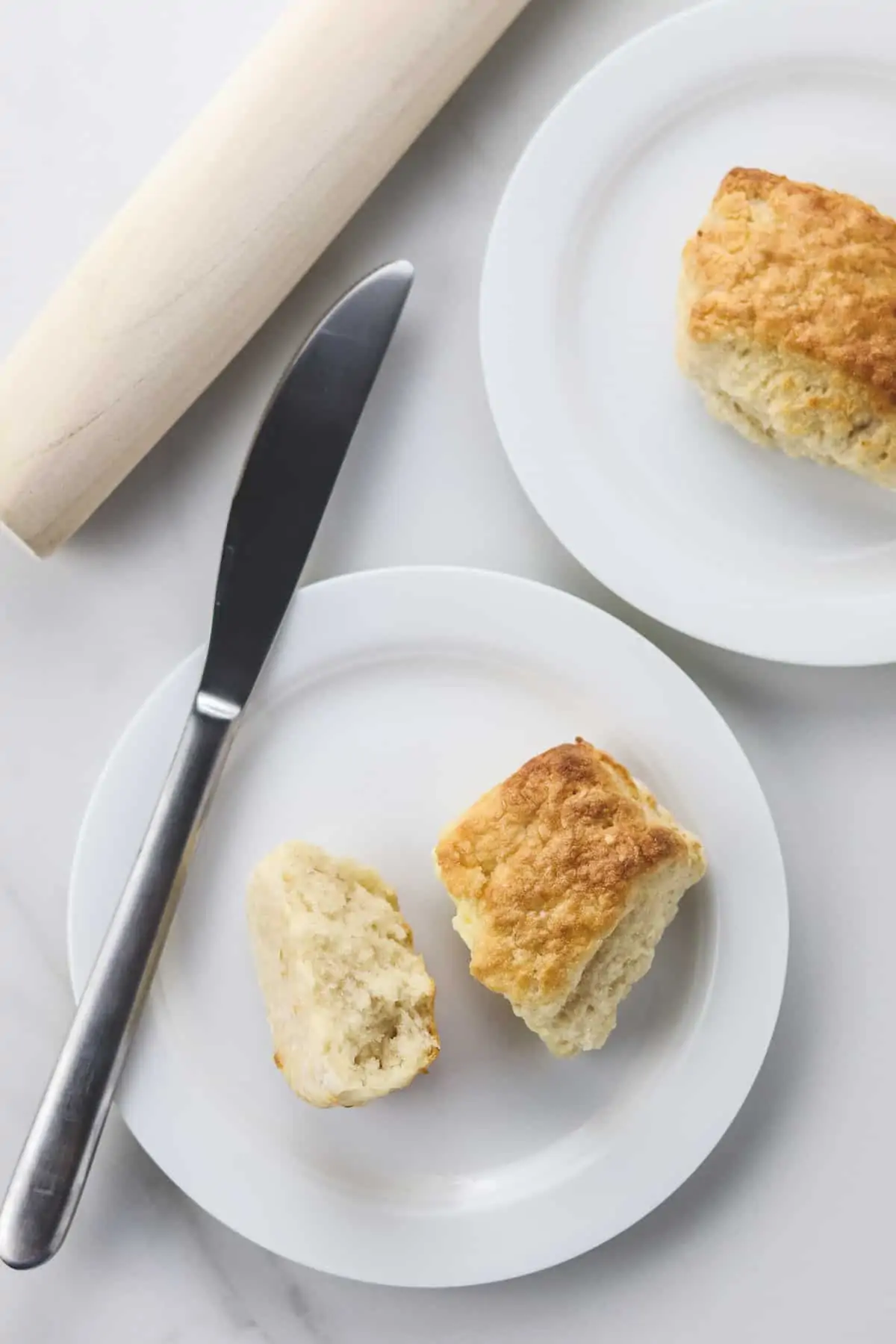 Toppings
There are many delicious healthy toppings you can use for your biscuits! Here are some ideas:
Sugar-free jelly or preserves (a great low-calorie option!). These come in many flavors such as grape, raspberry, strawberry, and peach.
Melted butter and ground cinnamon
Light whipped cream and fruit, such as blueberries
Make it a sandwich with a fried egg, turkey bacon, and cheese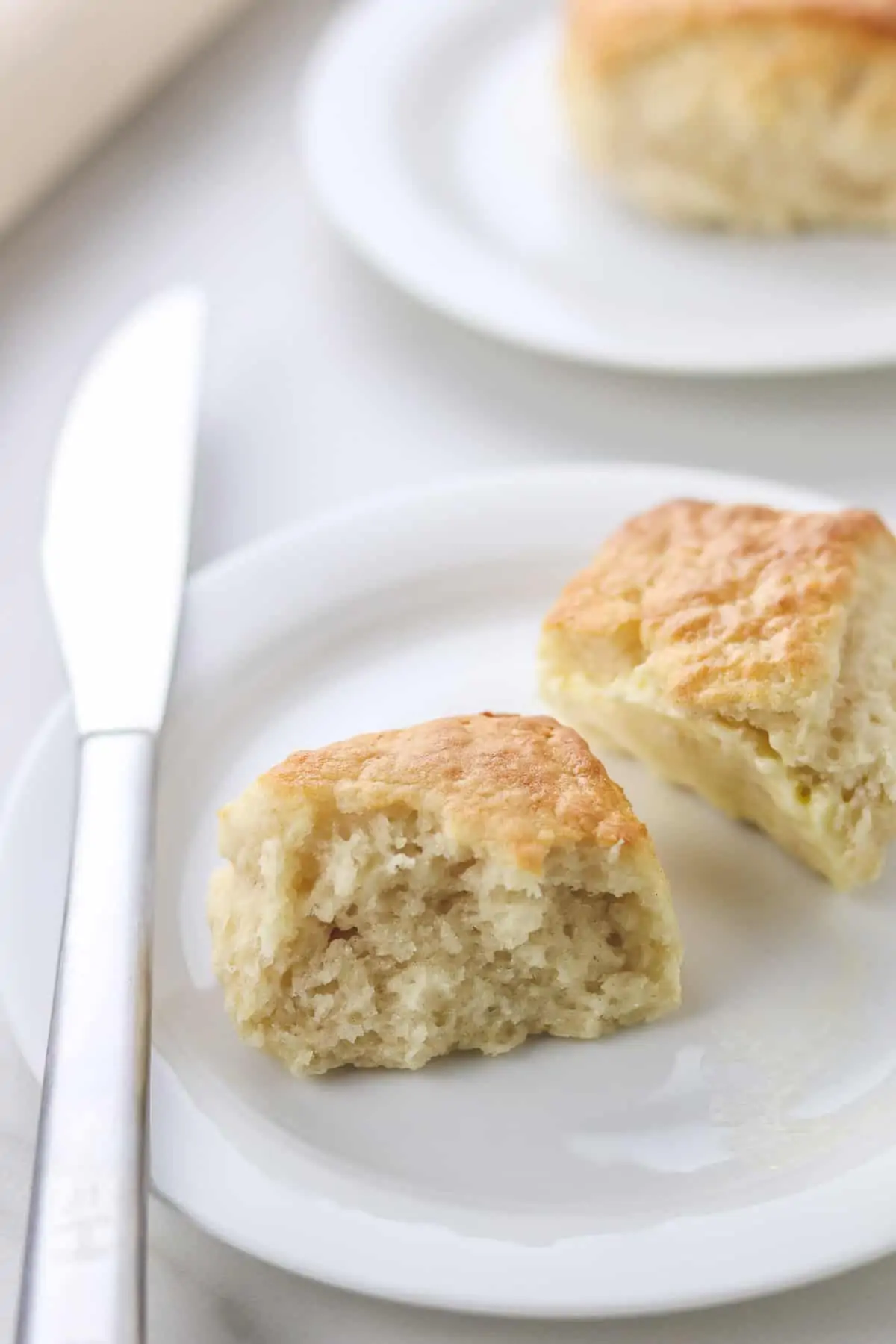 How to Double the Recipe
If you have a small air fryer, you may not be able to fit more than one recipe's worth of biscuits at a time (one recipe makes 6 biscuits). If you have a large air fryer you might be able to fit a double recipe (12 biscuits). Otherwise, you'll have to cook in batches to double the recipe.
Do not stack biscuits or place them so close together that they are touching. Biscuits should be separated by at least about 1" so they have room to expand.
How to Store
Leftover biscuits can be stored in an airtight container in the refrigerator for 3-4 days. Reheat biscuits in the microwave by heating for 15-30 seconds until warmed.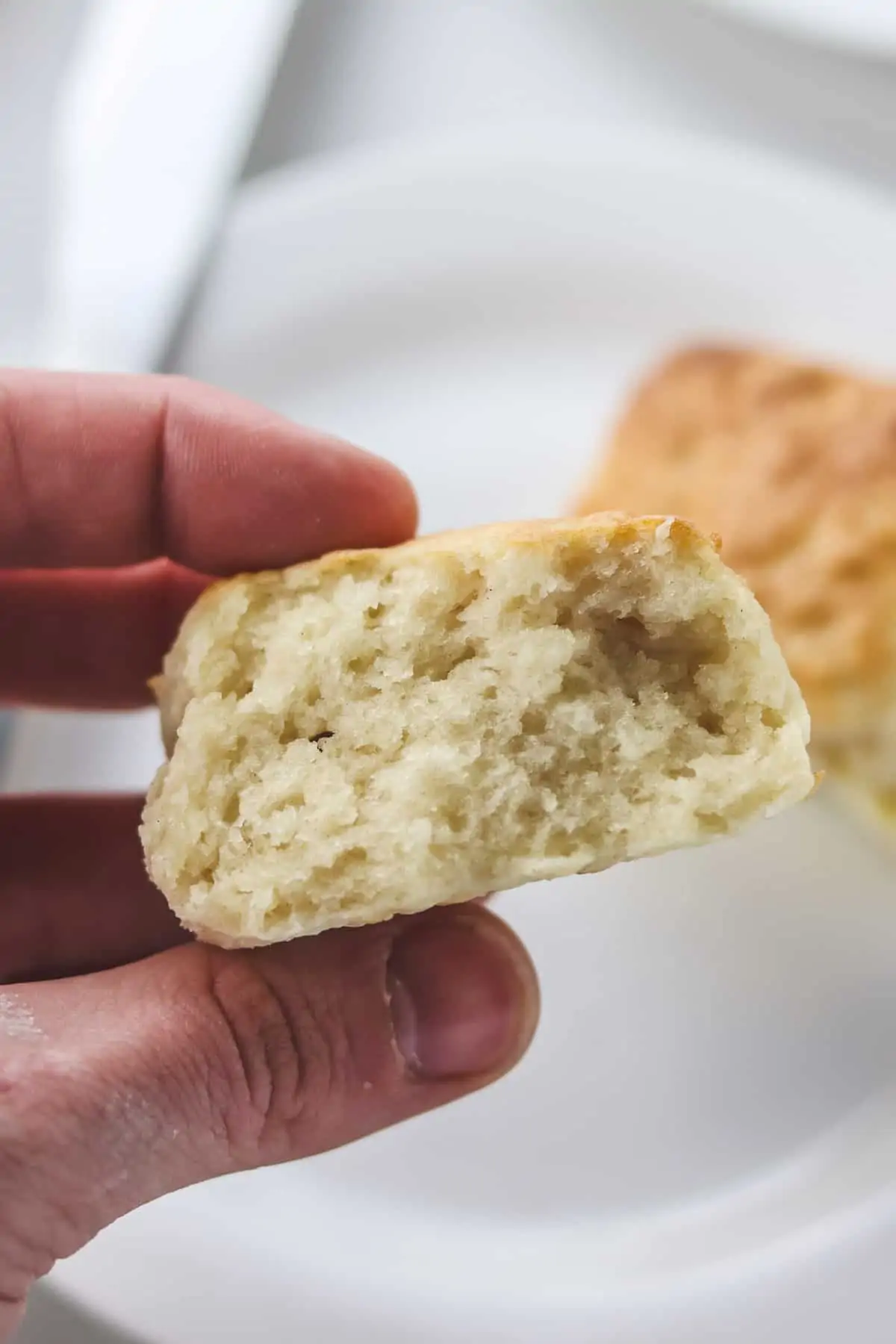 Calories & Serving Size
The finished biscuits (⅙ of the recipe) have about 90 calories each. If you follow the recipe exactly and slice into 6 equal rectangles, you should end up with biscuits less than 100 calories each! A serving size is one biscuit.
More Healthy Breakfast Recipes
If you liked this recipe, check out these other healthy breakfast recipes!