This sugar-free strawberry fluff is an easy low-calorie dessert. One serving is only 60 calories!
Strawberry jello and cool whip combine to make a creamy sweet dessert. Also, I can't help but enjoy the fun pink color! Top with a dollop of fat-free reddi whip for only an extra 5 calories for 2 tablespoons.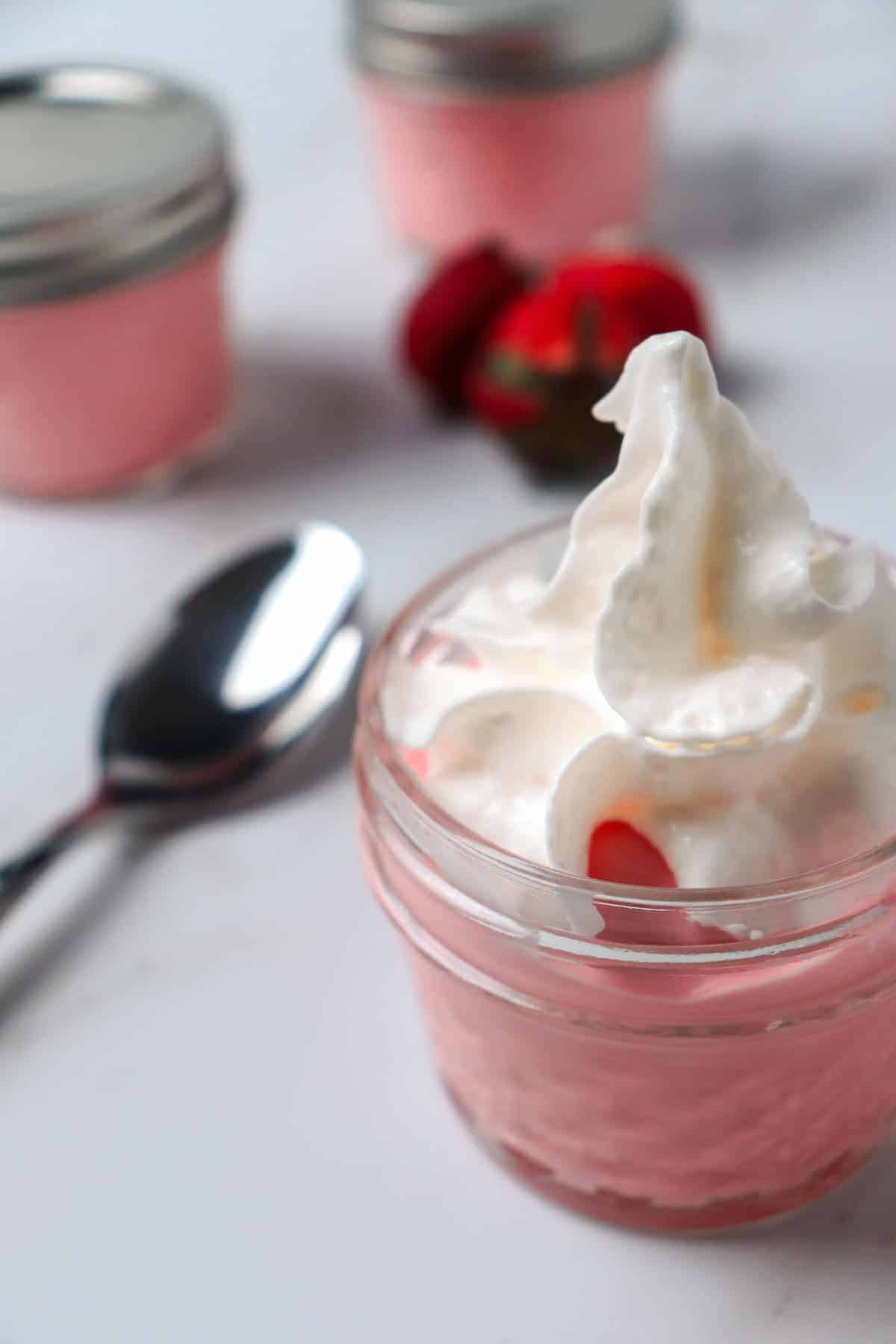 This is a sugar-free dessert, making it a diabetic friendly dessert that is great for anyone trying to cut back on sugar.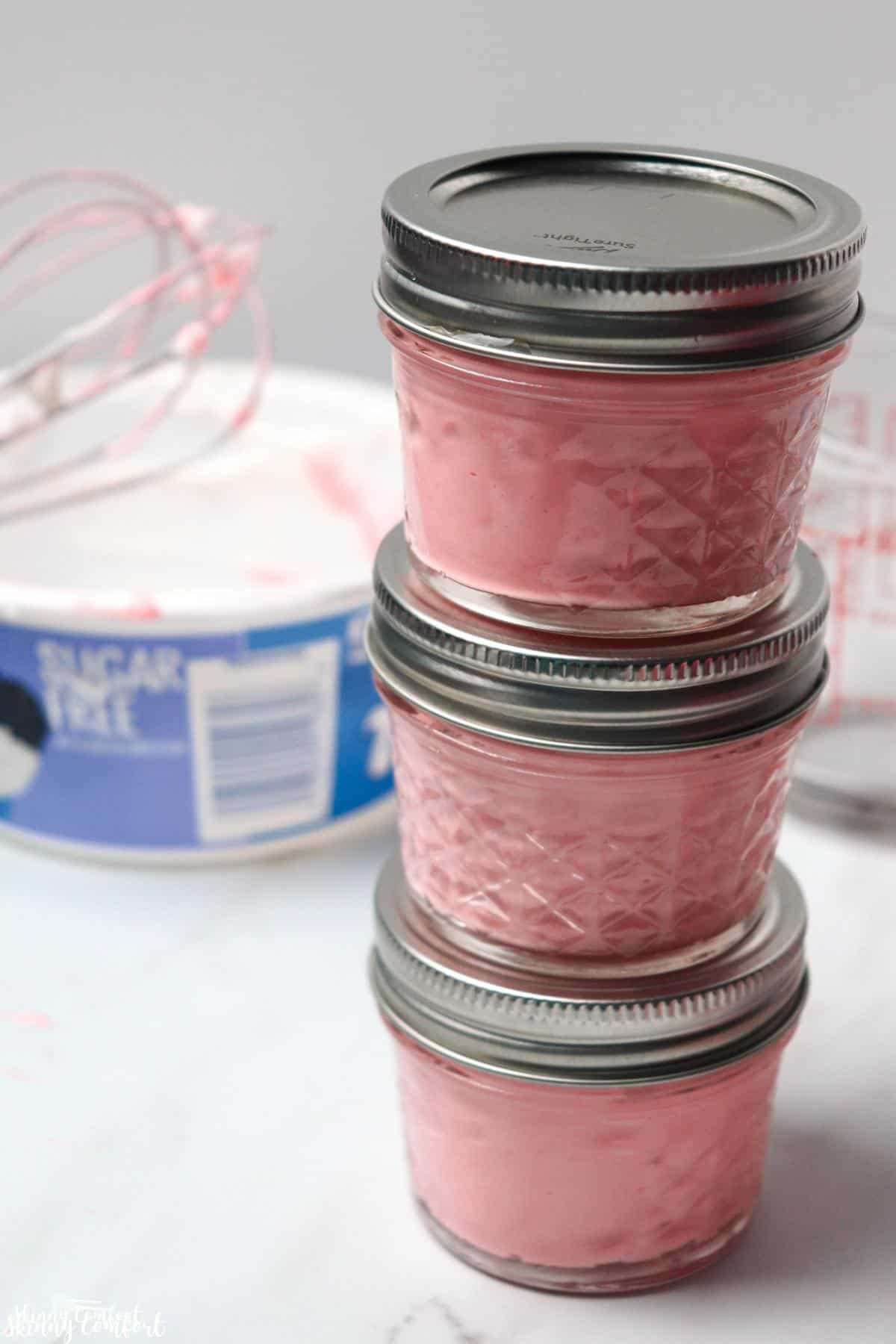 Ingredients
Strawberry fluff is made with 3 easy ingredients:
Sugar free strawberry jello mix
Sugar free cool whip (or light cool whip)
Water: ¾ cup boiling water and 1 cup ice water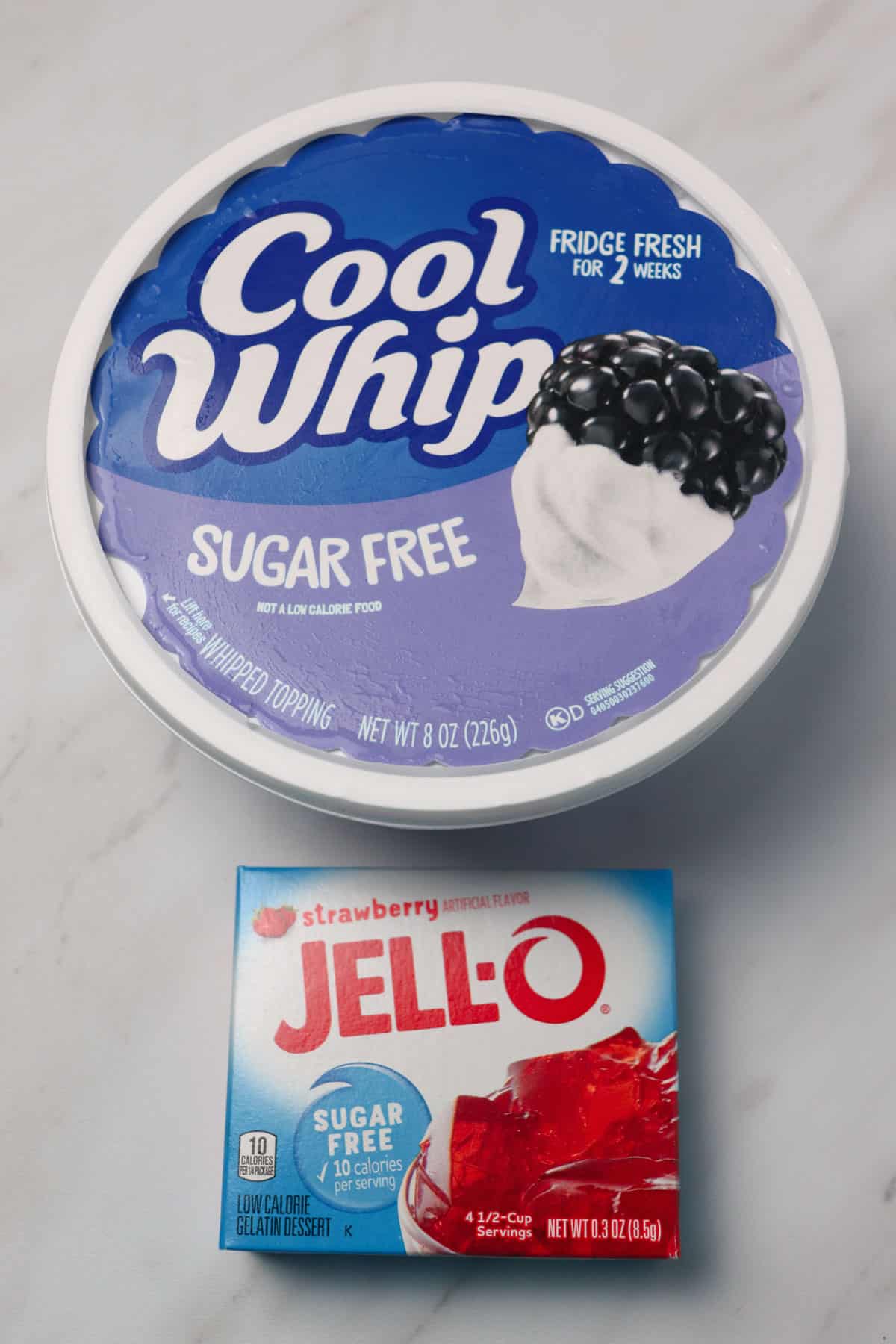 Instructions
Dissolve the jello mix in boiling water
First, boil ¾ cup of water. I use a glass measuring cup and microwave the water until I start to see bubbles (about 3 minutes). In a large mixing bowl, whisk the strawberry jello mix into the boiling water until it is fully dissolved and starts to thicken slightly (about 2 minutes).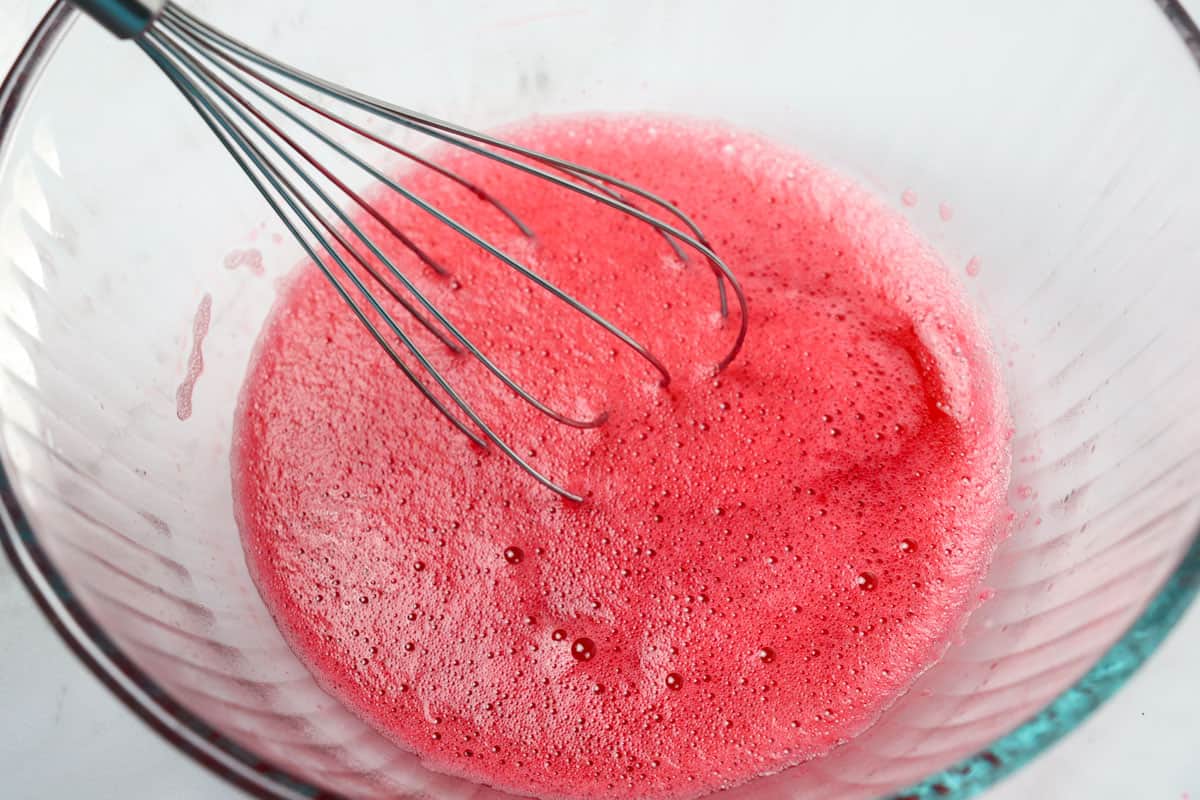 Whisk the Ice Water into the Jello
Prepare 1 cup ice water by filling a measuring cup with about 1 cup ice cubes, and then topping with cool water until it measures exactly 1 cup. Whisk ice water until warm jello mixture until well combined and ice is completely melted.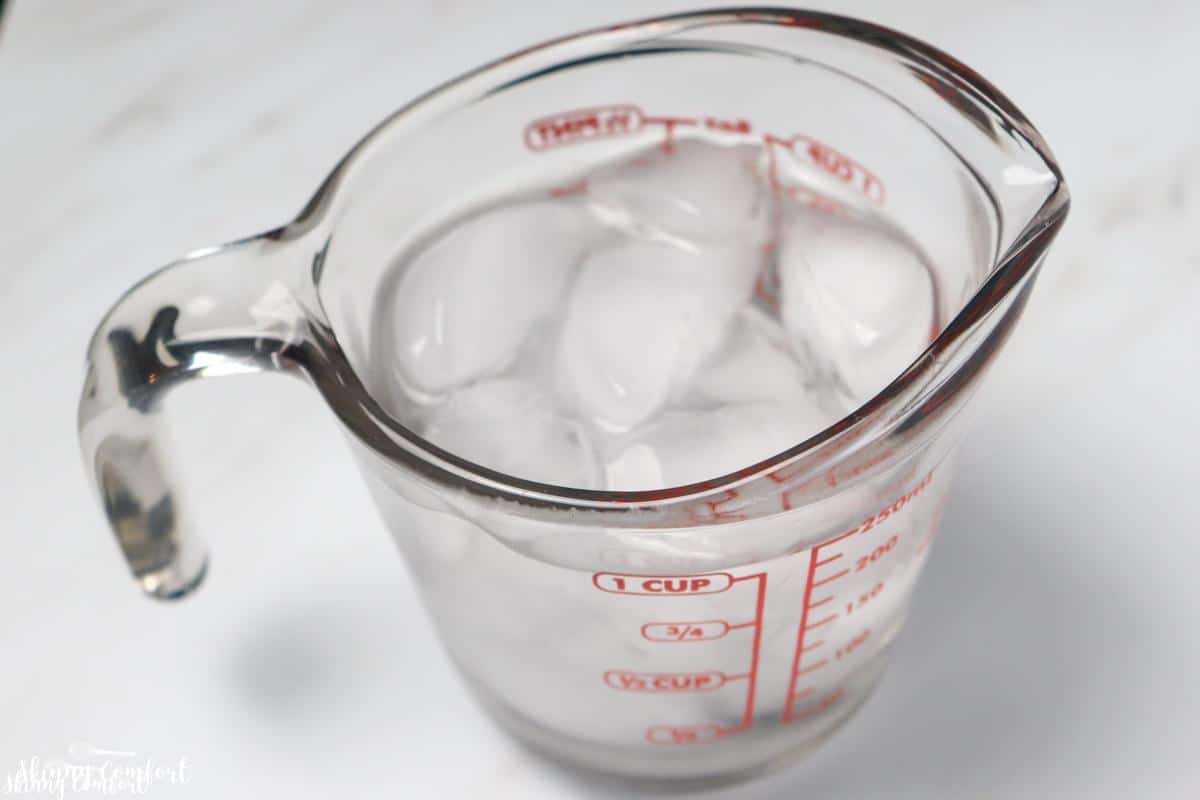 If any ice cubes will not melt completely, scoop them out.
Whisk the Cool Whip into the Jello
Make sure your cool whip is thawed and soft. Whisk cool whip into the jello mixture until completely smooth. It will turn into a nice pink color.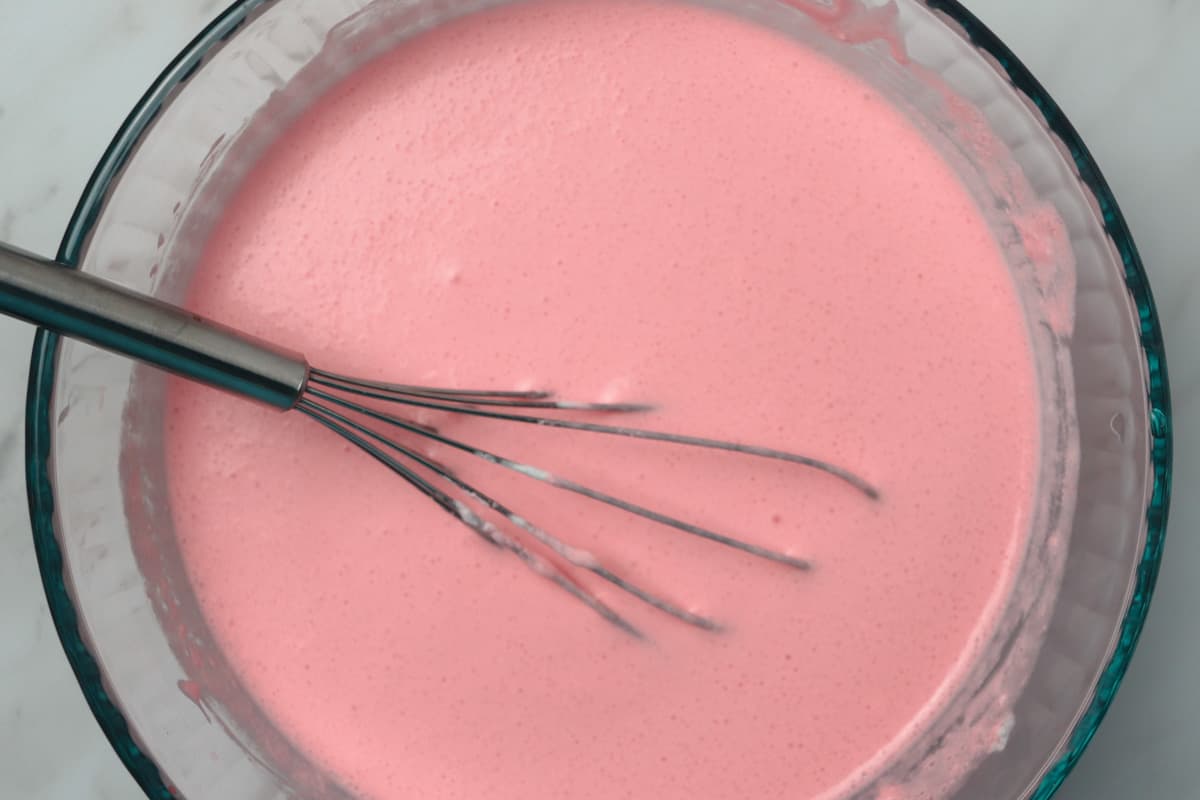 It may take 2-3 minutes of whisking to get the cool whip completely mixed. The mixture should be smooth with no lumps.
Refrigerate 10 minutes then Pour Into Containers
Refrigerate jello mixture for 10 minutes. This allows it to slightly begin to set up.
Pour into individual containers or a casserole dish if serving for a group. I really like using the 4 oz mason jelly jars to easily measure out ½ cup servings. These are easy to grab and go or throw in a lunch box for a quick sweet snack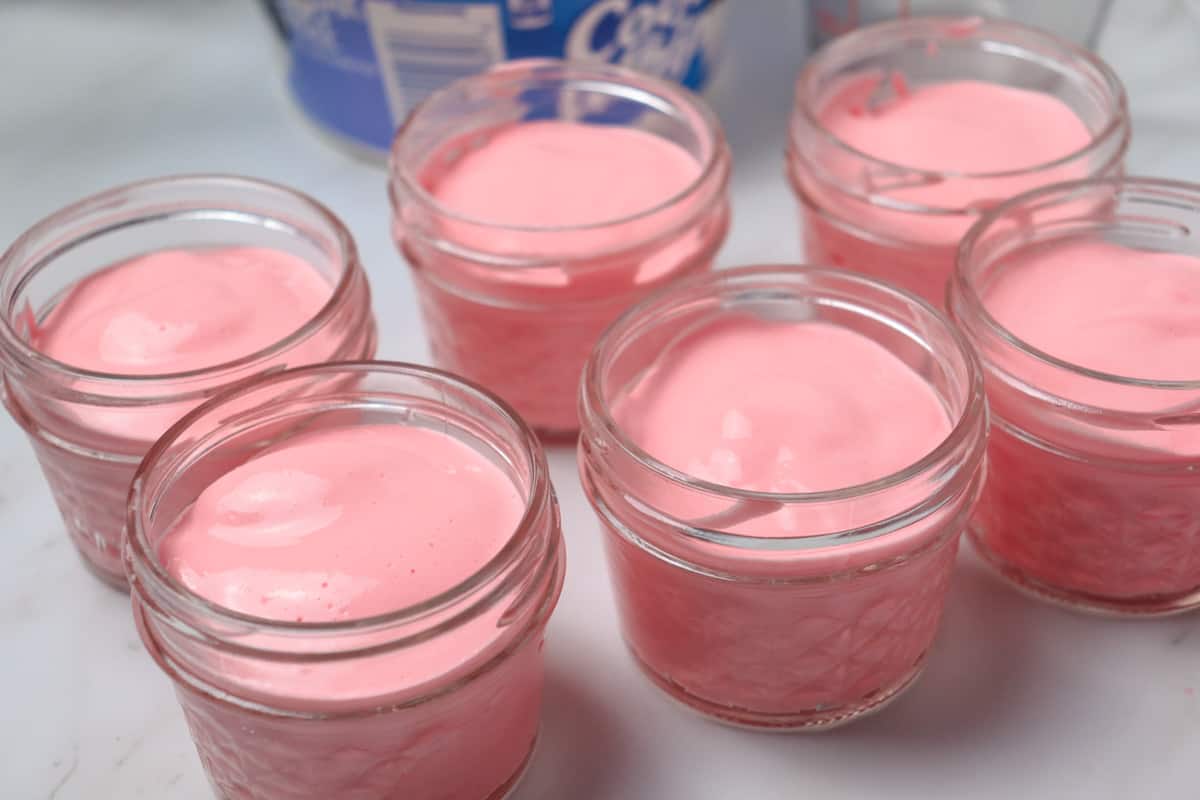 Refrigerate 4 Hours until Completely Set
Refrigerate jars for at least 4 hours for fluff to be firm and completely set. Jars should keep for 1-2 weeks in the refrigerator.
Calories per Serving
A ½ cup (or 4 oz) serving has only 60 calories and 0 g of sugar. This is a great healthy dessert for when you are trying to cut back your calories.
How to Thaw Cool Whip
The best way to thaw cool whip is to put it in the refrigerator for 4-5 hours, or overnight.
In a pinch, you can also use the defrost setting on your microwave. Microwave for 30 seconds on defrost then stir. Keep microwaving in 15 second increments until the cool whip is softened.
How to Use Full-Sugar Ingredients
If you don't want to make this with sugar-free ingredients, you can definitely use regular jello and cool whip. This recipe will work with either version!
If preferred, you can also use light cool whip instead of sugar free.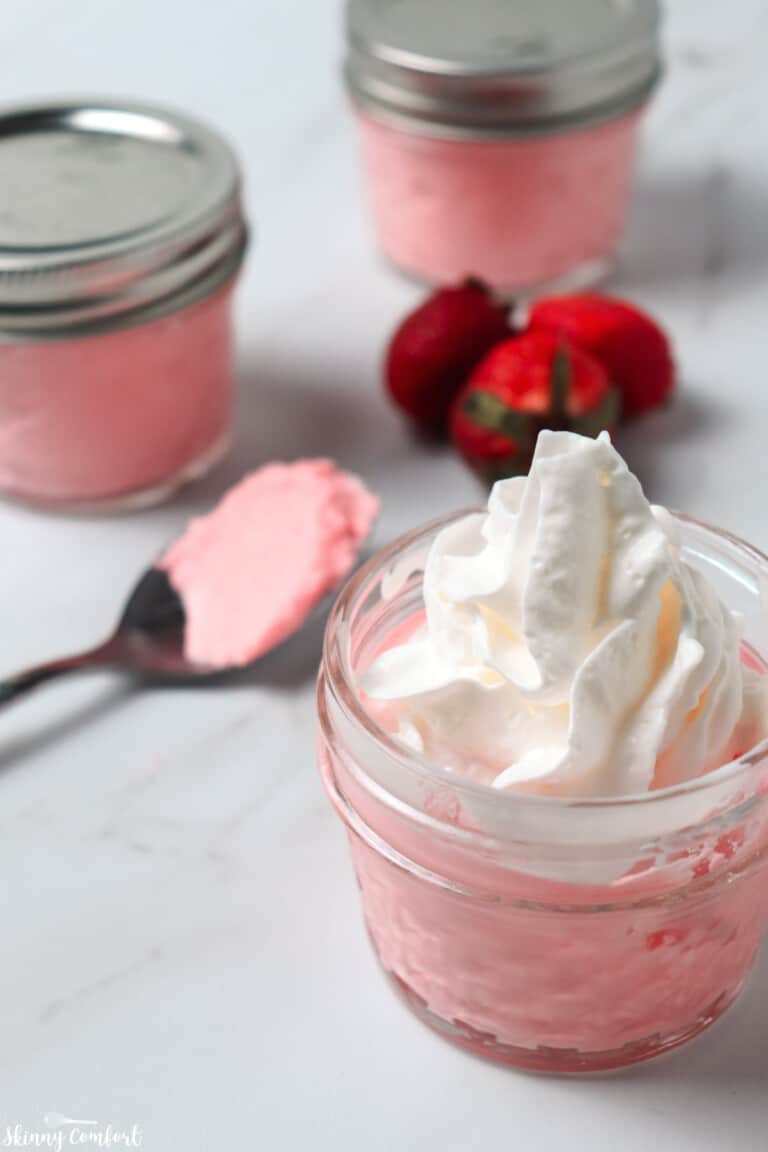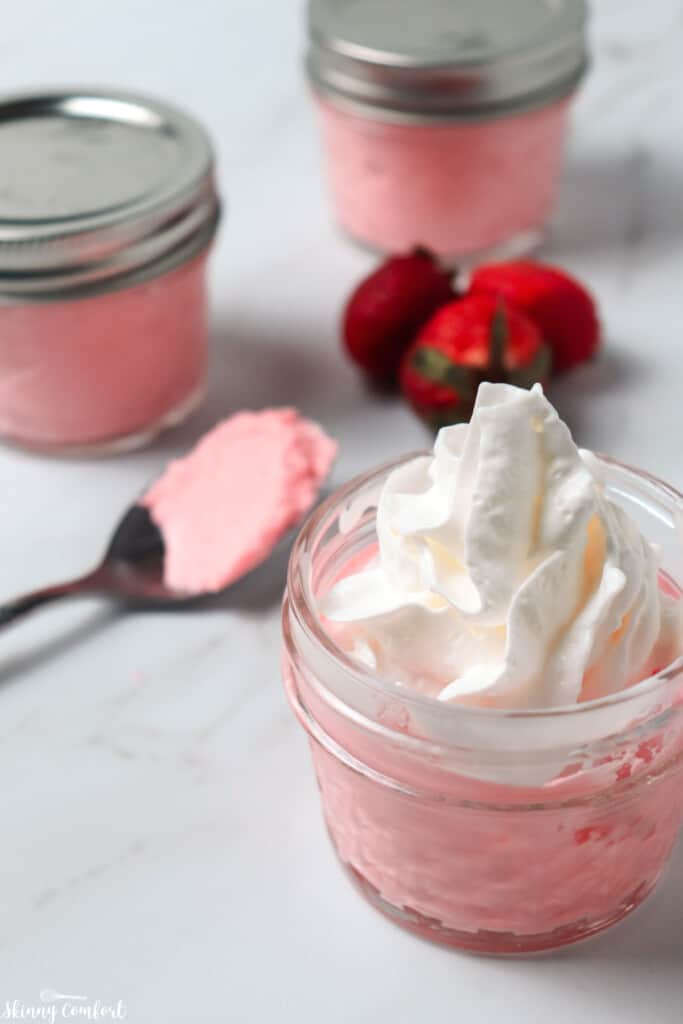 Using Other Flavors of Jello
I think this would also be yummy with lime or orange-flavored jello. Any flavor of sugar-free jello would work!
Where to Serve Strawberry Fluff
Strawberry fluff would be a great pink dessert for baby showers, Valentine's Day, or any pink-themed birthday parties.
Strawberry fluff is also a great weeknight low-calorie dessert or sweet snack. I like to bring the small jars in my lunch to enjoy a low-calorie sweet treat after lunch.